Here we share the best sunroom color ideas guide in choosing the perfect sunroom paint colors and wall color scheme recommendations for a light and breezy vibe from the outside.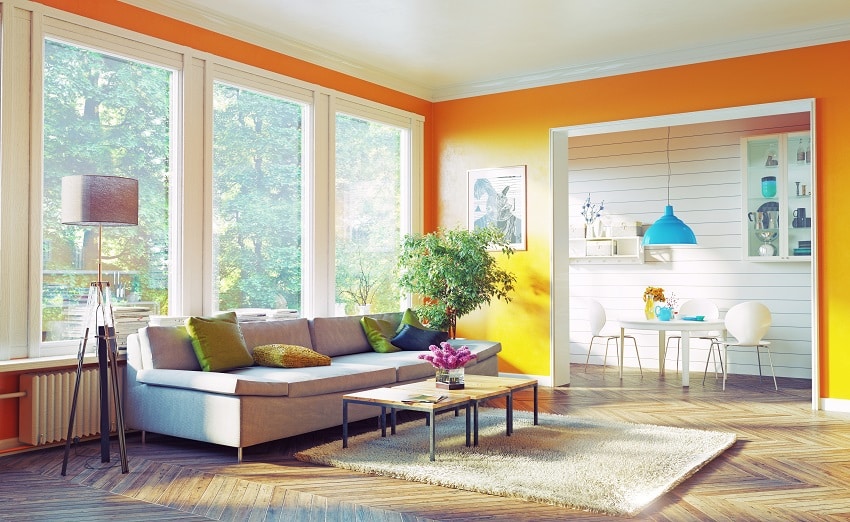 Nowadays, home owners have become particularly savvy, especially when it comes to the aspect of sunrooms. Selecting sunroom wall colors have become quite important as it can really contribute to increasing the overall value of the home.
If you happen to be lucky enough to have a sunroom in your home, it can really be a source of interior designing joy, not just for you but for the people that you hire out to upgrade it as well.
After all, they're the perfect spaces to relax and experience the outdoors without ever being exposed to the elements.
Sunroom Wall Colors
When choosing sunroom wall colors, the amount of natural light you're getting for the space and where you're getting them from should be considered. This means that you need to be smart when you're selecting a paint color for your walls if you're planning to upgrade.
Craving more sunroom color ideas? If you aren't that much into the minimalist movement and you crave a little more personality for your sunroom wall colors, there's a way to achieve that as well.
Yellow shades happen to be a popular choice. It really allows you to double down on all of that natural light coming in without sacrificing the need for some extra pop of color.
This shade works well with an earthy or rustic color palette as well as with pastels. What's great about mixing and matching shades of yellows with other earthy tones is that it isn't too distracting or overpowering yet at the same time, it can still add personality and character to the sunroom you are trying to update.
What Is The Best Paint Color For A Sunroom?
White. There's just no way around it. We've mentioned it above but we'll mention it again because it really is something worth noting and is something that works almost universally for sunrooms in general.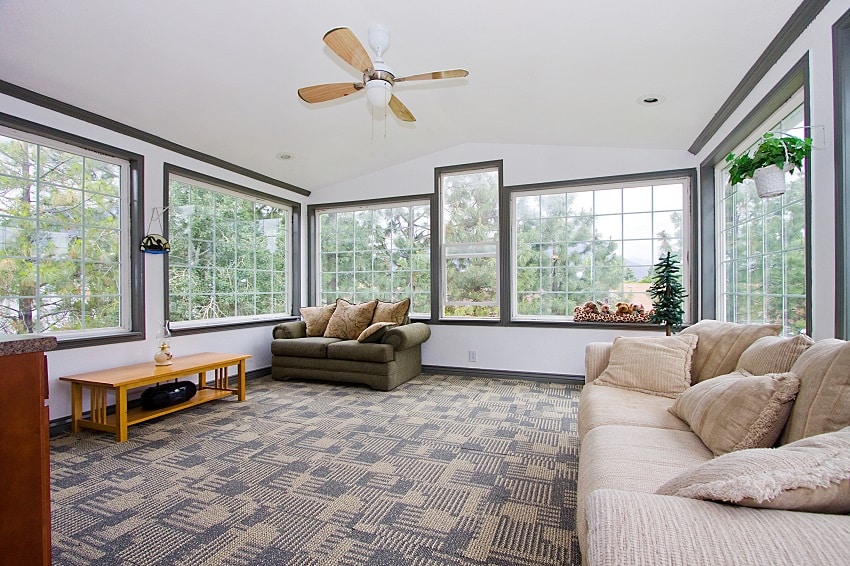 Keep in mind that your sunroom is basically an extension of your outside environment. What this means is that you would want to borrow the light, peaceful and airy vibe from the outside and bring it in.
That's what the concept of having a sunroom is all about. A shade of white works best with all surfaces but it works particularly well with the walls and ceilings for your sunroom.
It's also a color you can never go wrong with. There literally isn't any color in the color wheel that clashes with whites.
This is something that you can leverage because you can choose to go down the minimalist route and paint your sunroom all white but still be able to inject some sense of personality or character into your space through pops of color from your curtains, your furniture, some pillows, and all the other sticks of furniture and accessories you might want to include in your sunroom.
Plants aren't a bad idea either so go crazy and be as creative and as artistic as you would like to be. White gives you the perfect canvas for that. Your sunroom will be a work of art in no time.
Sunroom Color Schemes
Here's our picks for the most popular sunroom color schemes to help you find the best design style for your personality.
Nature Inspired Colors
What better inspiration can you get for your sunroom than from nature itself, the very space it's trying to simulate? If you have this color scheme in mind, think of the colors that you can usually see on the outdoors.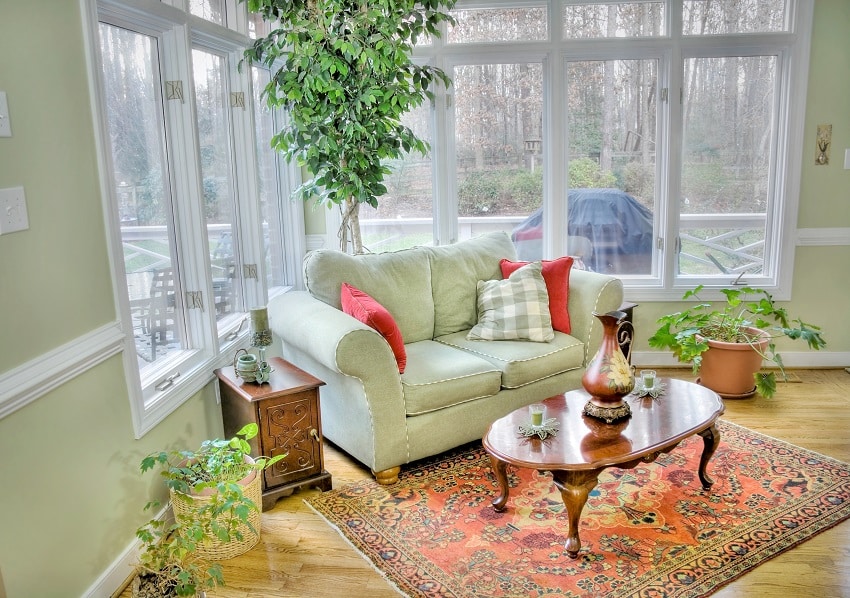 Shades of green for grass and other foliage, shades of blue for the sky, shades of browns and yellows for trees and other shrubs. These color patterns can be great all around the sunroom.
Just remember to keep your walls light-colored so that you can really play up the rest of the other elements. Pale greens and soft yellows will work well on your sunroom walls for this palette and it can create a seamless blending of your outdoor and indoor environments once done.
Neutral Color Schemes
There are homeowners who prefer to showcase the beauty of the outdoors and not have any type of competition in the sunroom. Choosing a neutral color scheme will help you achieve this.
It also brings in a sense of calm and quiet and can turn out to be quite relaxing. Light beiges or grays on your sunroom walls can achieve this look for you.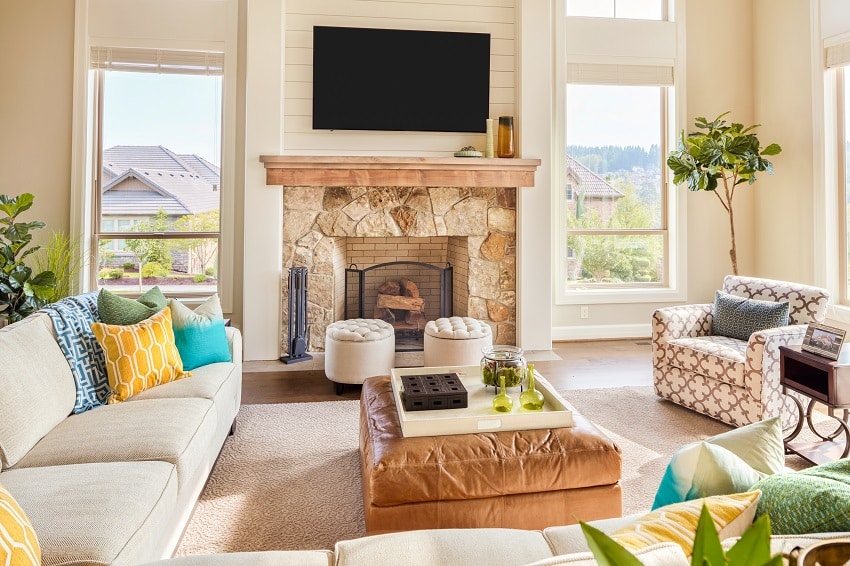 This will create a background that will unify your walls with whatever colors you might bring in for your furniture and other accessories you want to include in the space.
Pops of Color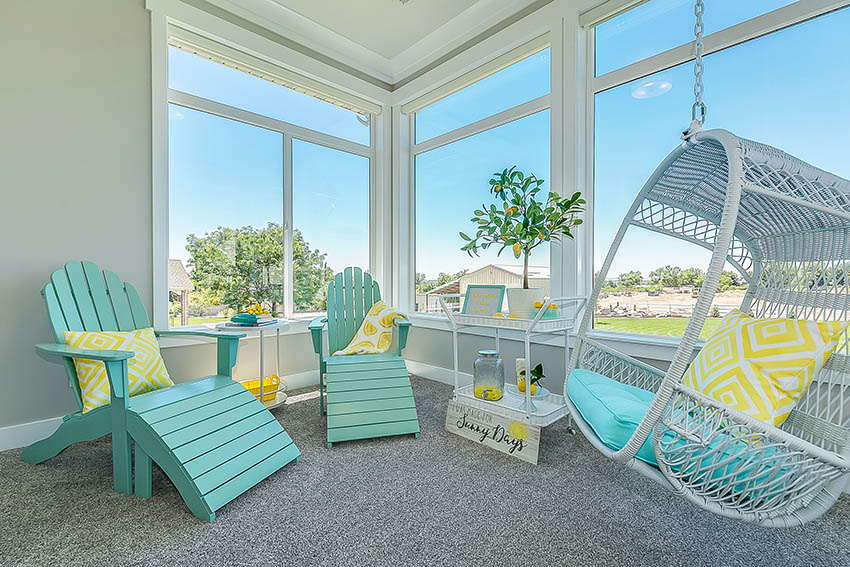 If you want something louder, there's no need to stifle how passionate you can be with your sunroom. You can add in your favorite bright colors through the help of potted plants and even furniture pieces and other accents.
You need to make sure that you're not all over the place though as it might mess up the look and feel of the sunroom. Keep it level by painting the walls in your preferred shades of green or white and going dark on the rest of the other elements for the sunroom.
This will create a sense of contrast, giving you that pop of color you're going after.
Best Small Sunroom Colors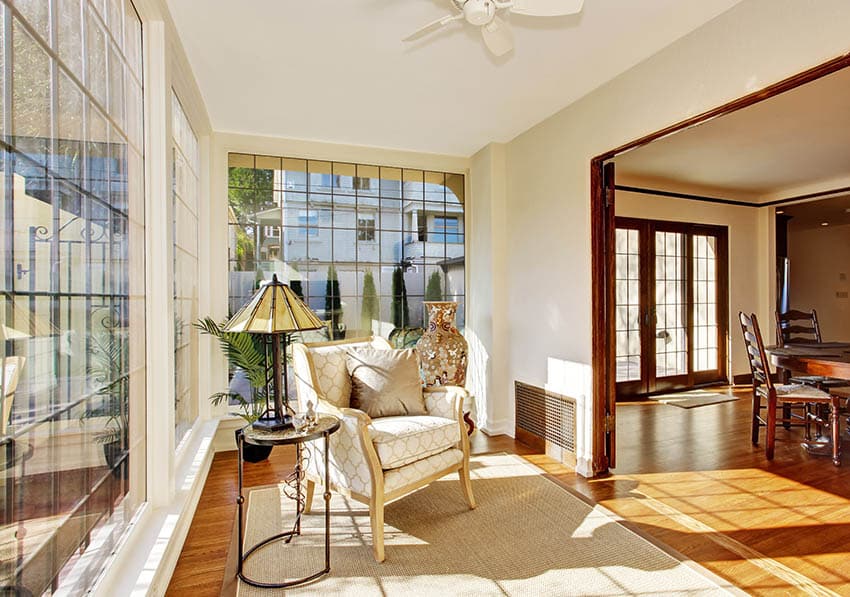 Space-challenged sunrooms. It's rare to get sunrooms that are large in square footage. More often than not, sunrooms work with limited spaces.
For small sunroom color ideas we suggest that you go with a neutral palette for your paint options. To be honest, the best color for small sunrooms is white or off-white.
A nice coat of white on the walls, windows and even the ceilings could really work well in a space starved sunroom. White also pairs well with natural elements such as wood, natural stones, bricks, teak, bamboo, wicker, etc.
Sunroom furniture, after all, are usually just a step up from your outdoor patio furniture and white works best with almost all of them.
Avoiding dark shades also works well for the flooring. Using lighter shades of sunroom flooring is another consideration that can help keep things from feeling too cramped.
What Kind Of Paint Do You Use On A Sunroom?
Eggshell and satin finishes are the best kinds of paints to use on a sunroom. You need paints that have high light reflective abilities and these paints deliver that quite excellently.
Here's why you should keep these paints top of mind when picking out your paints for your next sunroom remodeling:
Eggshell Finishes
They're subdued and not glossy. Eggshell finishes are recommended for rooms that get moderate to high foot traffic and sunrooms do get a lot of foot traffic during the day.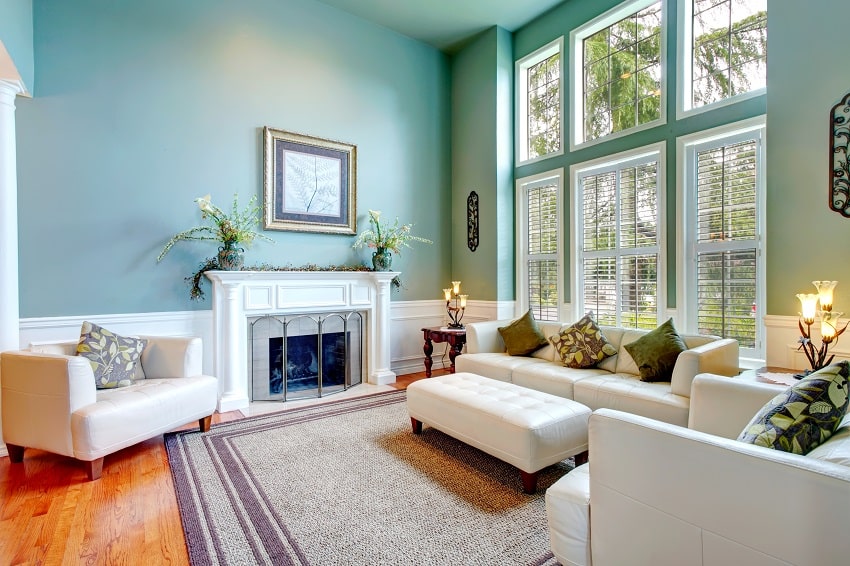 It's practical and easy to maintain and more than that, it can be quite attractive. Any smudges on the walls can easily be wiped away with a soapy damp cloth.
It also has a soft look that minimizes glare which can be an issue in a space like a sunroom that tends to get a lot of natural light.
Satin Finishes
They are slightly shinier compared to eggshell finishes but are more or less similar in traits. They are also great for high foot traffic areas and can also be cleaned easily.
This is a known paint finish for easy cleanup and durability and is actually a preferred type of paint for most of the areas of the house, including the outdoors.
For more related sunroom color ideas visit our gallery of sunroom designs.