Welcome to our gallery of the best man cave ideas. A man cave is the perfect male retreat to escape to a place where they can do as they please and enjoy their favorite activities without disrupting the household. Man caves are typically designed to inhabit a spare room, basement, backyard shed or garage to become a sanctuary for a man's personal space.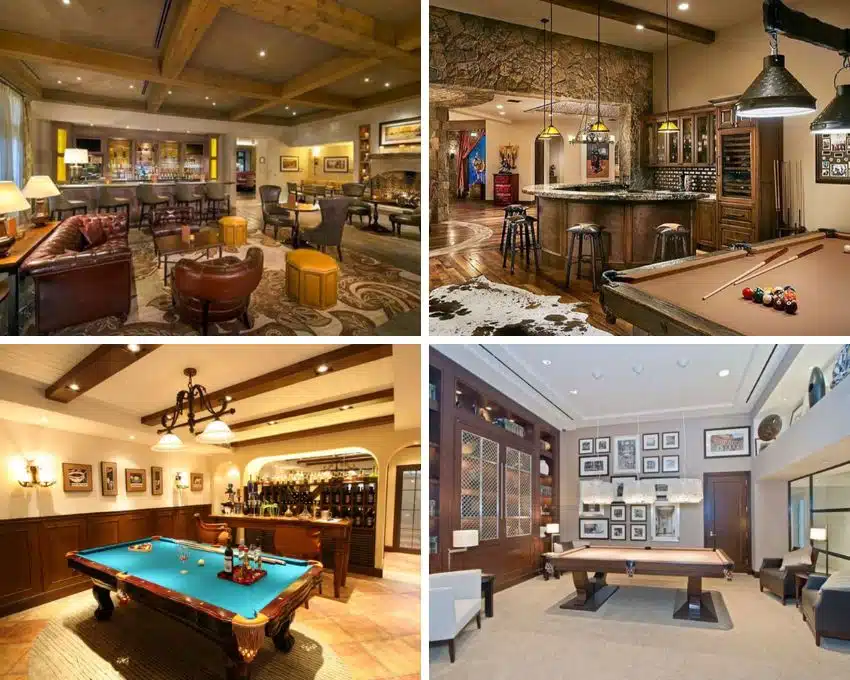 The man cave in the picture above features very masculine elements, using heavy brown tones for its interiors as well as split stone siding for the space's pillars. The well-stocked bar is finished in dark wood cabinets and casework and is topped with a dark marble stone countertop.
The half-moon setup of the bar, topped with vintage glass and black iron lamps, encourages a drink and conversation among buddies. The pool table to the side, in brown felt, is a fun way to unwind and relax after a tiring work day.
This guide to Man Caves includes the following categories and subcategories, including specific elements and descriptions of each space, to help you choose and create the Man Cave of your dreams.

Ultimate Man Cave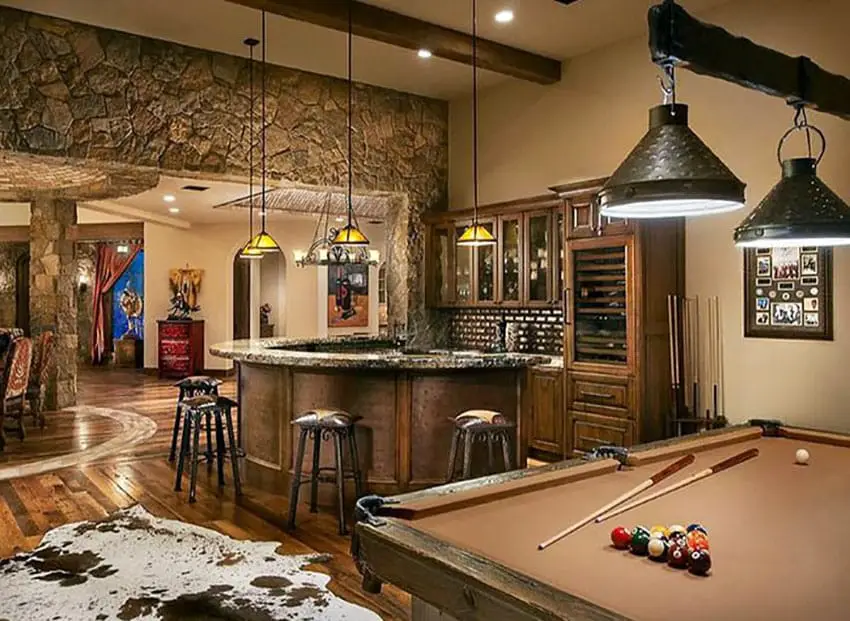 When it comes to designing the perfect man cave there's many options to consider. Here's some of the primary tips to help you get a cohesive design that you'll love.
Central Theme – At the heart of every man cave is a central theme consisting of the owner's hobbies, interests and pastimes. Most man caves revolve around this central theme, and basing decor and furniture on this theme could make for an awesome man cave.
Central function – Some can take their man caves literally and mix their hobbies and interests with a cave-like interior. The modern man cave needs to serve a function – either as a space for Jacuzzi, watching TV, having a drink or even playing pool.
Masculine colors and finishes – Although men are free to choose what color and finish to use in their own man caves, most showcase hard wall finishes either in neutrals or bright, solid colors.
Finishes such as stone and wood are also great at bringing out that manly vibe while being warm enough to be a great space to stay and relax.
Entertainment furniture – TVs, pool tables, arcade games, video games, etc. are common to any man cave. Although a space could look amazing, it won't be enjoyable if there is nothing to do inside. Games and movies are a great way to de-stress and have fun in one's very own man cave.
Relaxation space – Despite all the masculine finishes in the man cave, a soft, comfortable couch or lounge chair is definitely a need. After a long day at work or at the gym, a huge couch or even a massage chair in your own private space could be all you need.
Enclosed / Private space – Although your house could be for your whole family, having a private space to unwind is important for the man of the house. Most man caves are enclosed and have minimal windows, to ensure nothing can distract you from your guy time.
Bright Feature Lighting – Important to any space, feature lighting is important in keeping the man cave's ambiance relaxing and fun. This is also important for when the man cave is being used as an individual or as an extra space to receive guests, especially game buddies.
Separate Living Space – The typical modern man cave is a space where a man can get away from their worries and enjoy a habitat that is perfectly suited to his individual likes. He can design and decorate the room to his preferences without worry of offending the woman of the house.
The ideal space is a room that is out of the way from other high traffic areas of the home. The room should give the man of the house a feeling of privacy and a chance to enjoy themselves in their space.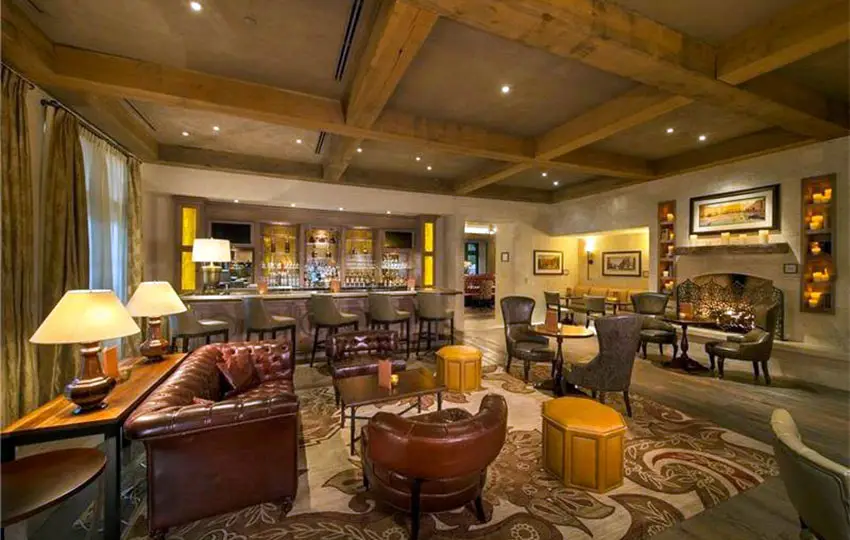 This vintage style Man Cave is reminiscent of a old fashioned cigar room. The room features bare grey plastered walls and ceiling recesses, paired with exposed wood beams and a raw wood plank finish for the floor.
The furniture used brings life and color to the room, starting with the Chesterfield couch in brown leather deep button upholstery with a console table behind it.
The lounge area features a paisley patterned rug underneath and also houses another pair of deep button upholstered armchairs, two rounded stools and a small tea table with seats.
The back wall features a fully-equipped bar with glass cases and matching grey upholstered bar stools. The vast man cave also features another long couch beside the fireplace and another tea table set in front of it.
The fire place is set apart by intricate black iron grilles and has recessed shelves on either side, topped with a decorative plate rail and panoramic painting.
Game Room
Below are some popular man cave ideas for creating a game room style design:
Game Table – A central indoor game table, usually pool, becomes the focus of the entire space. The game becomes the main activity or social center of the space, and other elements and furniture are arranged around it, supporting the main point.
Accent lighting over game table – Functioning as both task and accent lighting, having a central lighting fixture, such as a chandelier or decorative down lights over the the central game table is required in any man caves meant to be used as a game room.
Aside from sufficiently lighting up the table, it draws the eye to the center of the room and creates a conversation piece for the man cave.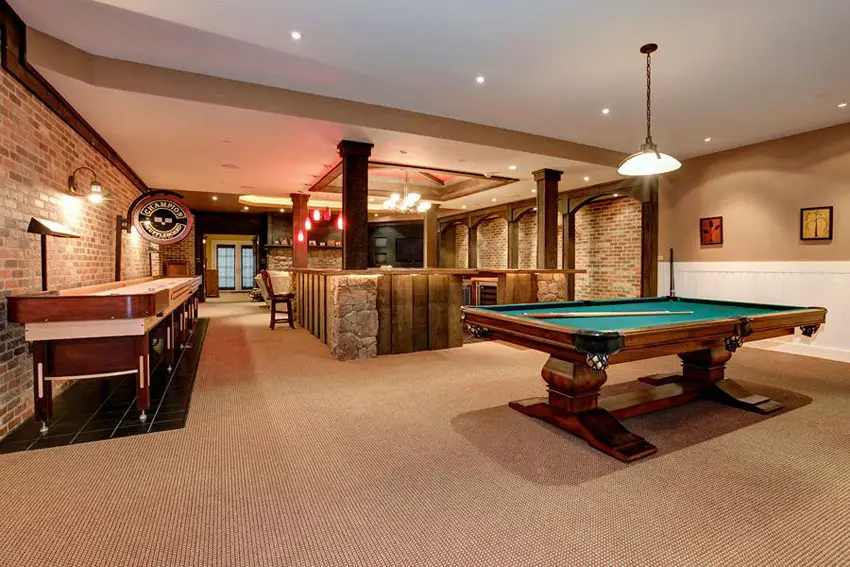 This large man cave features three different main spaces, seen not only in their function, but also in the accent lighting that highlights each space from above.
The first space is the heavy wooden pool able with a helmet pendant lamp hanging over it, and the shuffleboard table to its left, lit by a wall-mounted hanging lamp. To the back is the largest space, the bar with seating area lit by a modern steel chandelier.
The entire space is in a linear brown carpet, but features walls unique to each space. The pool area features a clapboard base terminating in a neutral brown painted wall with small square artworks. To the left, the shuffleboard area features vintage red brick and black ceramic tiles on its base.
The bar area still has vintage red brick on its back wall but incorporates ornate wood arches over it, and mixes with the reclaimed wood and split face stone finishes on the base of its bar.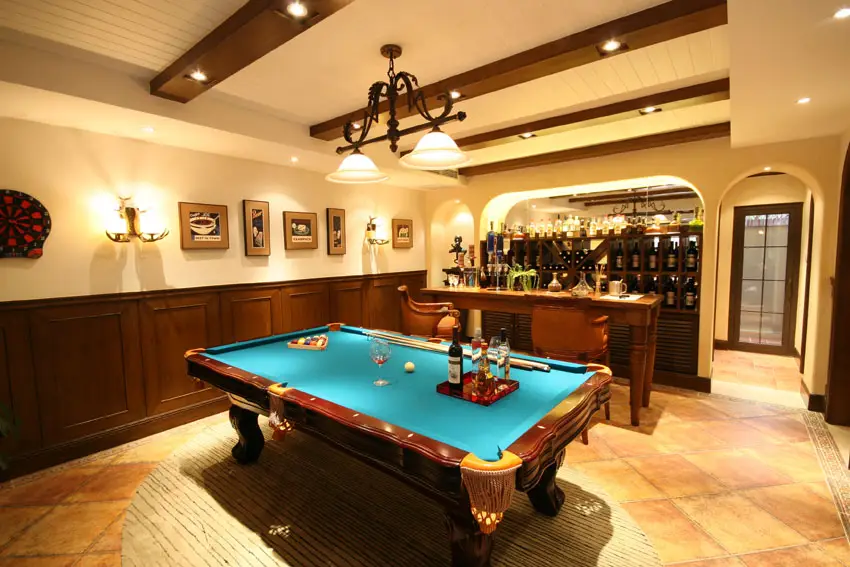 The center of the man cave is the classic dark wood and green felt pool table topped with a dual-shade pendant lamp in black iron and glass, hanging of the beadboard ceiling supported by exposed wooden beams with embedded down-lights.
The floor is in a rustic Italian ceramic tile laid diagonally, with a circular striped rug at its center for the pool table.
On the bar side is a standing wooden bar with high bar chairs and a wooden back wall with space for liquor, display cases and storage.
The sidewall connecting the bar and pool table features dark wooden panels on its base terminating midway into a mild white wall decked with dart board, photo frames, and antler-shaped wall sconces.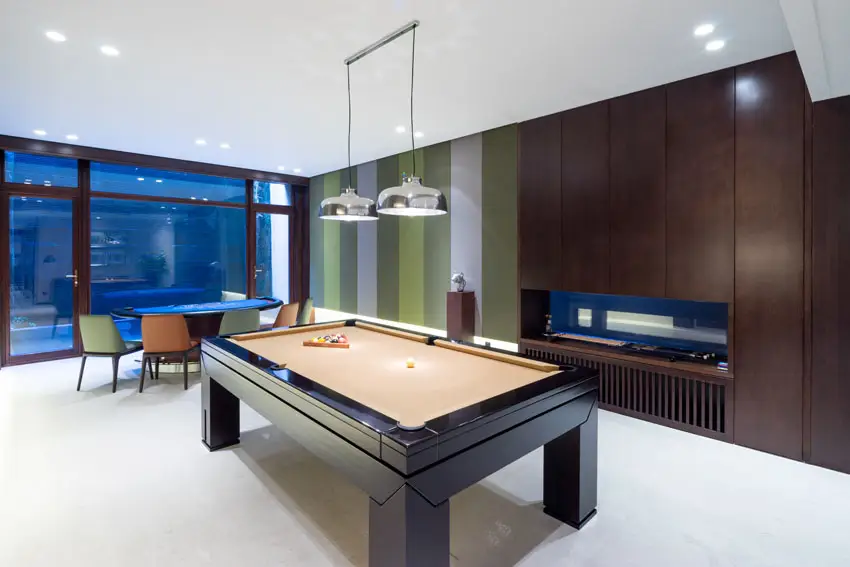 This sleek, modern man cave features a large picture window to one side facing the outdoors. By the window is the poker table, with modern dull green and orange chairs and a green and white accent wall to the side.
The sleek, black and beige billiards table is topped by a pair of stainless steel industrial lamps, and a sleek wooden built-in flushed with the wall completes this modern game room man cave.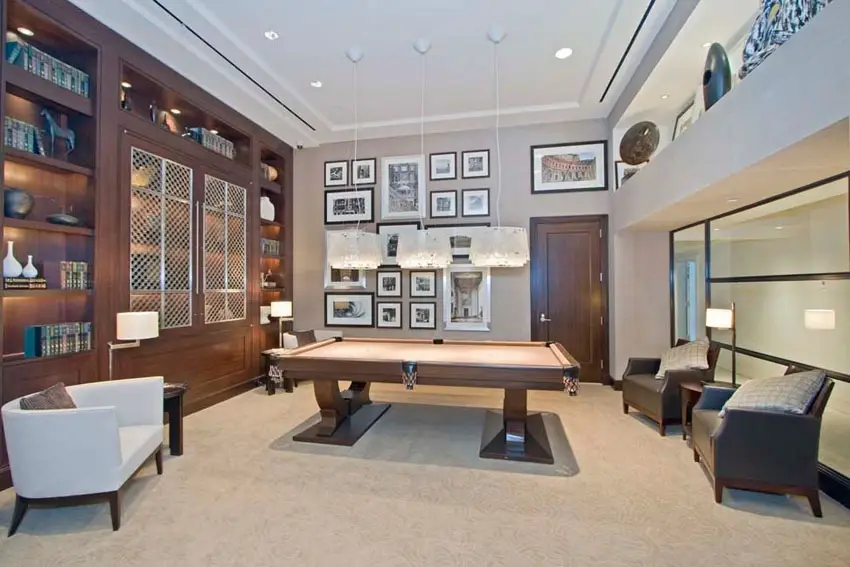 This game room man cave features a clean, timeless look, starting with the light brown and beige pool table at its center with carved wooden base.
Topped with a trio of hanging pendant lamps that illuminate the entire space, the center is framed by a back wall full of framed photos and paintings in perfect alignment.
On one side of the pool table is a floor to ceiling wood built-in meant to display books and decor, while the other side is a glass picture window, ensuring the man cave is best viewed from the hallway.
A sneaky clerestory above the picture window provides additional space for decor and light. Standing lamps and comfortable modern armchairs are scattered around the room, giving the man cave a homey, lived-in vibe.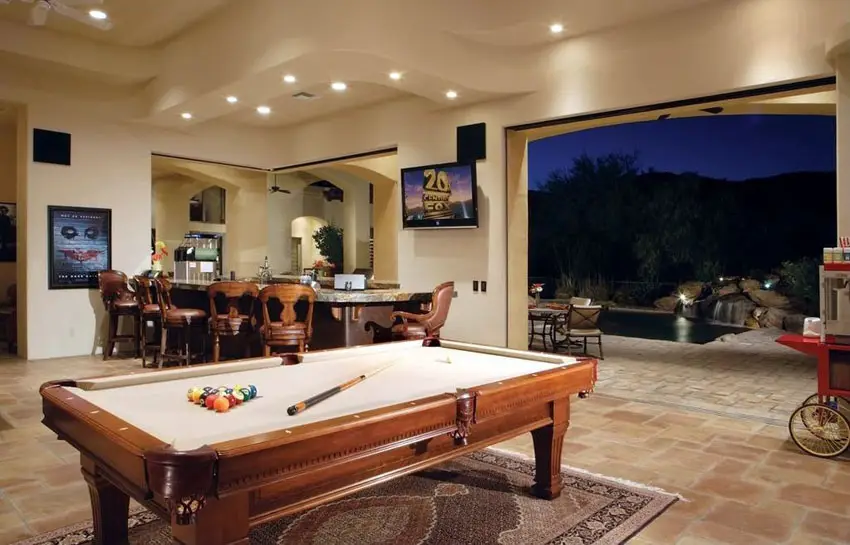 Opening out into the outdoor pool and patio, this man cave features flagstone random course flooring. The center of the space features a Persian carpet topped with a wood and white felt pool table.
To the side, a long peninsular bar has seating space for many guests and faces a wall-mounted TV. The drop ceiling over the bar follows the bar's curved contour and provides additional lighting for this social space.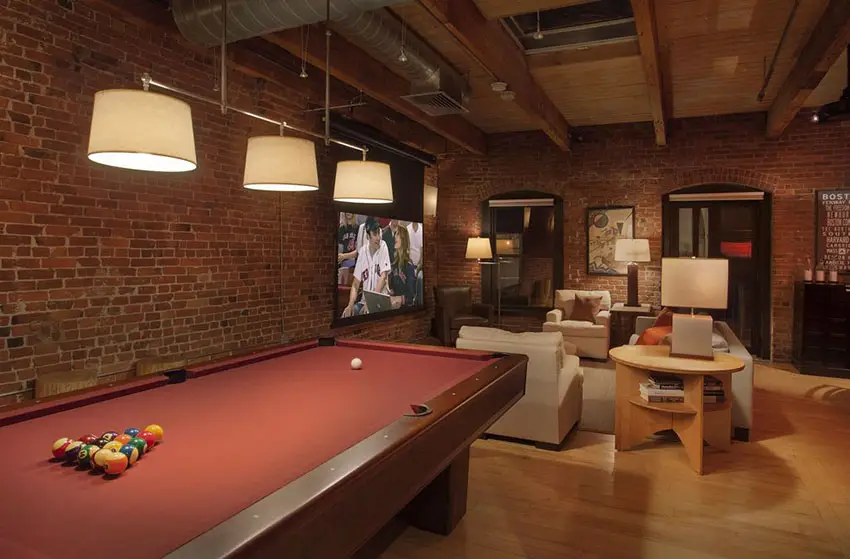 This Contemporary Rustic man cave features a pool table in dark wood and maroon felt topped with a trio of modern lampshades hanging on a lithe steel bar.
The other side of the room features two double-hung windows, arched at the top, as well as a social space featuring light beige couch and armchairs centering around a woven fiber carpet.
A smaller leather armchair sits by a floor lamp near the window at the end of the vintage red brick wall. On this vintage wall is a mounted flat screen TV, perfect for movie or game viewing parties.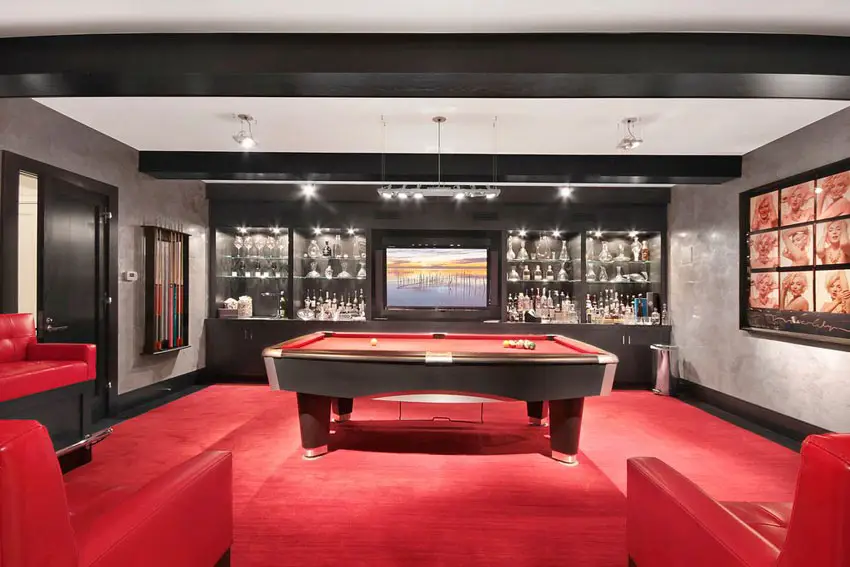 This retro man cave features red and black furnishings and a classic Marilyn Monroe vinyl poster at the end of the room, on the textured plaster walls.
The room, with red carpet flooring features a Modern pool table at its center with red felt and topped by a low hanging ceiling beam with embedded downlights.
The backwall features a floor to ceiling display cabinet for liquor and glasses, and has a wall mounted flat screen TV at its center. Red upholstered armchairs around the room also go with the red and black retro feel of this man cave.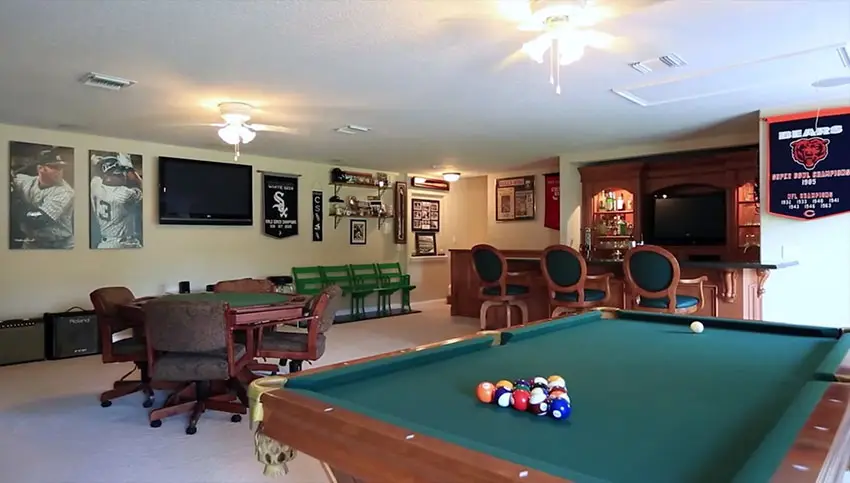 This man cave is divided into three separate spaces but ultimately tied together with the sports materials and memorabilia decorating its walls.
The classic wood and green felt pool table sits opposite the octagonal cards table, also in classic wood and green felt, and topped with a ceiling fan with light.
On the far wall, a wooden bar with green upholstered bar stools match with the wood and green upholstery of the two game tables, while the floor to ceiling casework displays and lights up rows upon rows of specialty liquors.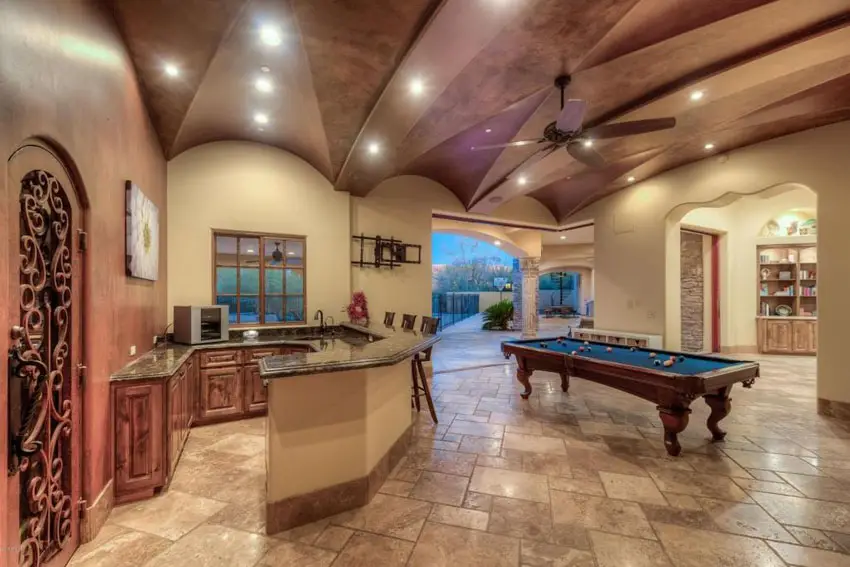 This large man cave has a great hall – like vibe, with its high ceilings, done up in a vaulted profile using rusticated sheets. More rustic materials is seen in the warm wood finish for the backwall, door and undercounter cabinets, as well as the random course granite tile flooring.
A dark wood and metal ceiling flan hangs over the center of the space, divided between the carved wooden pool table and U-shaped kitchenette complete with bar seating.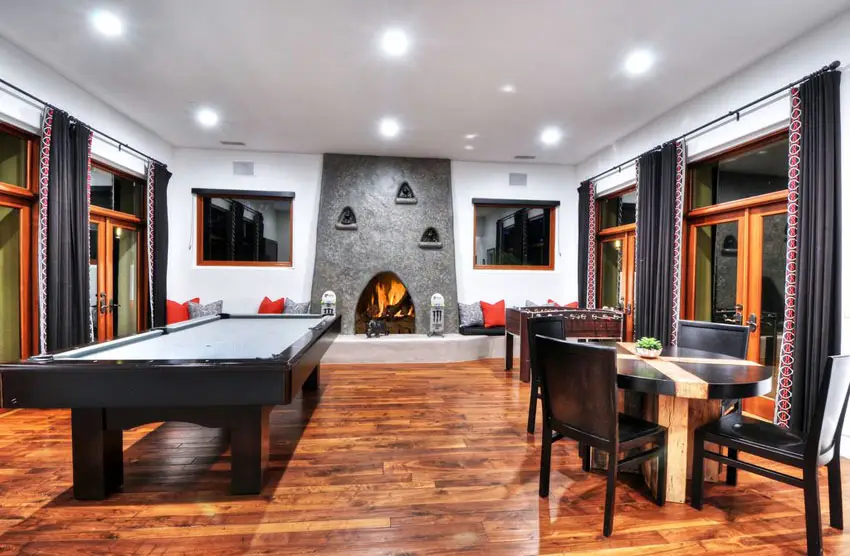 A stone-clad fireplace is the main focal point of this man cave, and even features a molded stone bench at its base with fluffy grey and red throw pillows, making it a great place to cozy up in the winter.
Either side of the man cave features double French doors in wood framing opening up into the outside and separated by a sea of warm wood plank flooring, giving the space a cottage vibe.
Dark wood was used for the pool table, topped with grey felt, the small coffee table, with a splash of light wood, and even the foosball table at the end.
Quirky patterned curtains covered by dark blackout curtains are not only useful but match with the grey and red throw pillows by the fireplace ledge.
This man cave goes for a retro futuristic look, featuring a sharp-edged wood and steel pool table with red felt, a deep red throw rug, and bar stools with bright orange upholstery and yellow acrylic backing.
To the back a glass display case is lit with cool white strip lights, and the single bowling alley to the side is lit with an array of standing neon lights.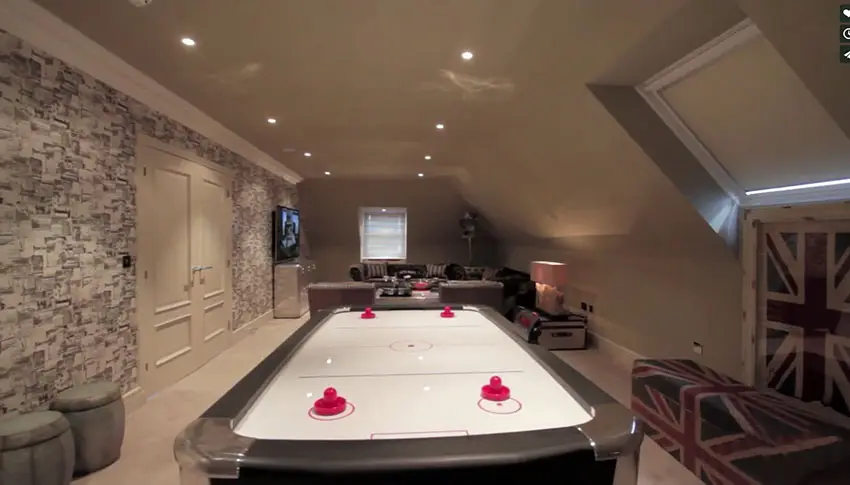 This simple man cave turns an old unused attic into a useful game space, being able to include an Air Hockey table for four at its center.
The slanting ceiling is offset with the quirky grey and white wallpaper used on the sidewall and frames the double door entrance nicely. A lounge area towards the back features a full couch and armchair set facing a wall-mounted flatscreen TV.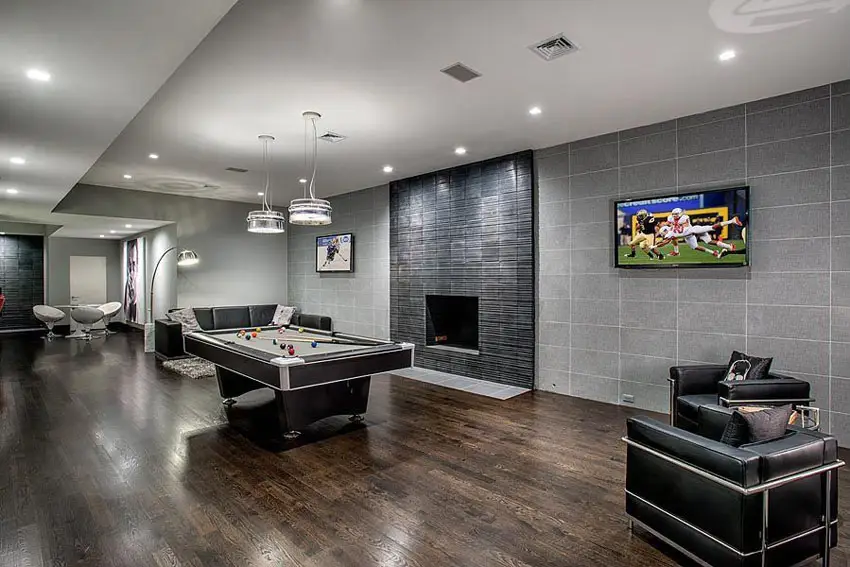 With a darker palette and a more modern look, this man cave features a grey pool table at its center lit by a pair of silver drum style hanging pendant lamps.
The wall in front of the pool table features a fireplace, with its exterior done in a darker wood tile compared to the light grey stone tile in its adjacent wall area. Flanked by a pair of wall mounted flat screen TVs, the darker wood tile center also matches the dark wood plank flooring.
The wood flooring spans from the pair of chrome frame and black leather arm chairs on one side to a black leather couch on the other end with matching light grey throw pillows and shag rug.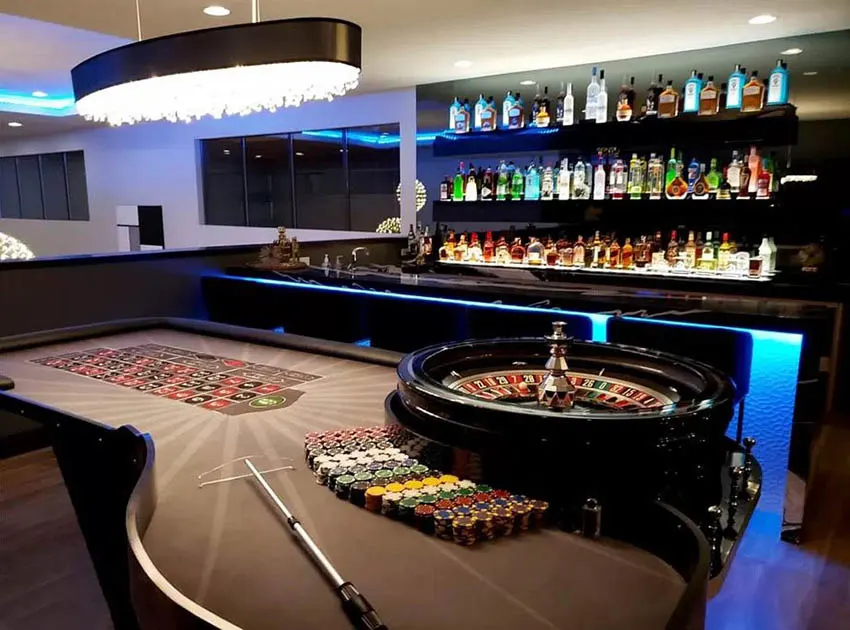 This room design features a full size roulette table and home bar with cool under cabinet lighting.
This man cave parts at the center, with a shuffleboard table flushed to the right wall and a bar table with kitchenette on the left side facing a white shuttered window.
The bar table features an aged wood panel base topped with green and grey marble countertops and lit by a trio of small glass lamps hanging from the ceiling's exposed wooden beams.
The bar stools are also in an aged wood finish and feature black upholstery while the kitchenette backsplash features a more earthy stone subway tile.
The entrance of the man cave features a classic arched wrought iron gate with glass and the wall features warm wood paneling terminating at a straight course of grey and brown splitface stone.
Poker Room
Specialty Poker Table – Poker tables come in many shapes and sizes, which is great because it means you can choose one that suits the shape and setting of your man cave best.
Other customizable features include the number of people who can sit at the table, as well as what kind of topping the table has, in case it has to serve different purposes.
Comfortable social seating – Poker games and discussions among buddies take a while, so seating needs to be very dapper and comfortable. Rich, upholstered seats with wooden bases are great choices, providing a relaxing chair that can withstand wear and tear.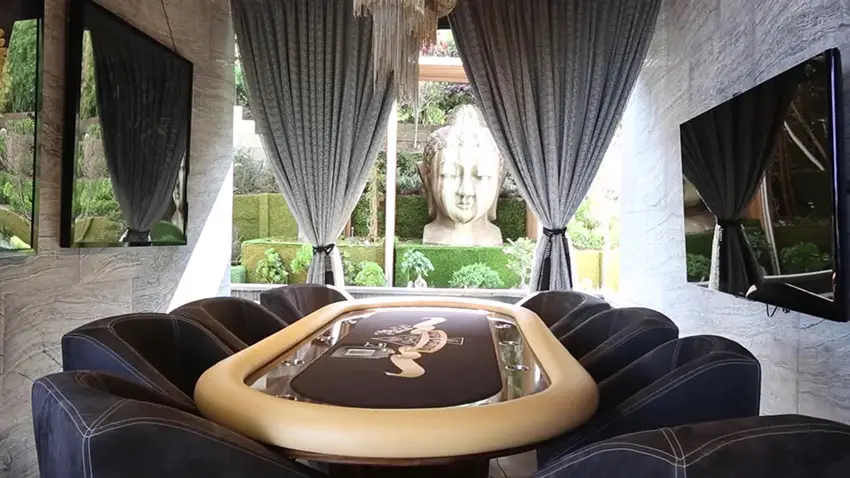 This luxury poker table man cave is more rectangular, featuring a long table at its center enough for eight players. The table has a glass face and is bounded by an upholstered beige border. The seats are in black upholstery back-stitched in premium white threads.
The backwall is a sliding door viewing the beautiful Asian-inspired garden, and features curtains if more privacy is required. The longer walls are in a light grey travertine tile, matching the natural stone finish of the Buddha bust outside.
These walls are also fixed with a large wall-mounted flatscreen TV on one side and a pair of framed artworks on the other.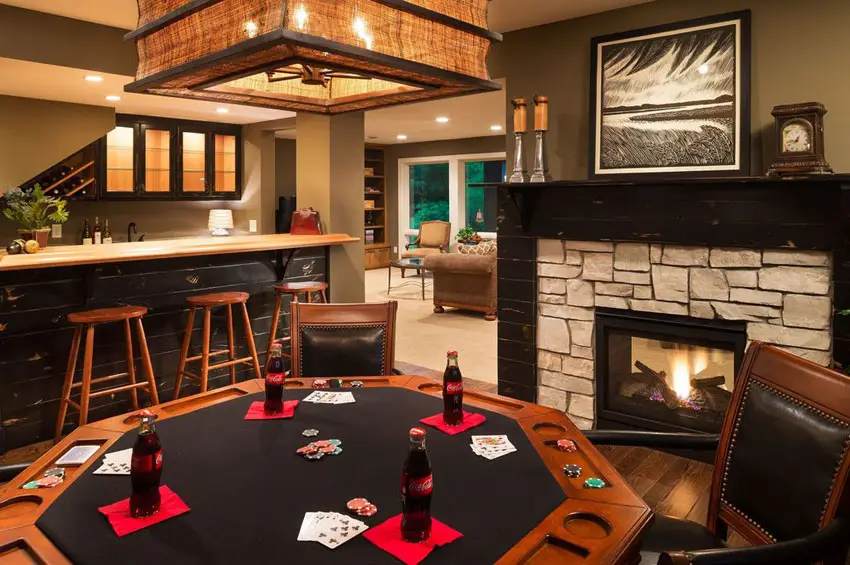 This tropic-inspired man cave is centered on the octagonal poker table done in rich warm wood and black felt. Enough for four players, the chairs are also in a rich warm wood and upholstered with black leather and bronze studs.
The rest of the man cave brings out the tropical vibe using a beige splitface stone for the fireplace and plate rail, the wood and fabric hanging lamp over the table and a framed mantelpiece painting of the sea.
The bar table also features the same rich warm wood, as does the countertop, carried by a darker wood casework base.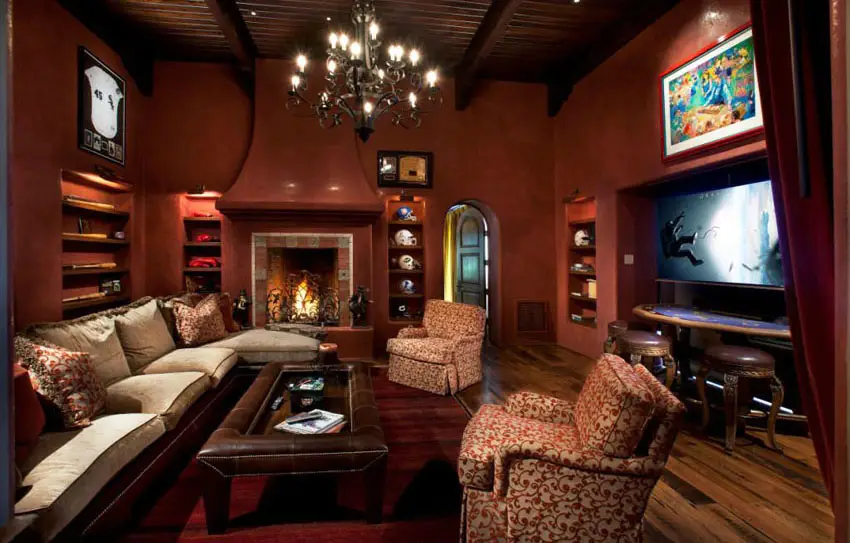 This old Classic style man cave stems from its use of burgundy tones on its textured plaster walls that mix seamlessly with the dark wooden floorboards on the ceiling held up by exposed beams.
A black wrought iron chandelier hangs low from one of the exposed beams over the upholstered brown leather and glass low coffee table at the center of the living room set.
The living room set features a long sectional sofa with beige upholstery, in contrast with the armchairs in front of it, inlaid with red vine motifs.
The front of the room features a large standing type flatscreen TV with a half-moon poker table and three old fashioned carved wood and leather upholstered stools.
To the side of the room is a well-curated display of horizontal shelves with baseball bats lit by elegant cove lighting and separated from the helmet displays by a large fireplace framed by red and grey Spanish tiles.
A brightly colored and lit surrealist painting over the large TV lights up the dark-toned room with its bright colors.
Video Game Room
Colorful arcade consoles – There are two important things to take note of when designing a man cave with arcade and video games as the main focus.
Video game console – If you want to focus on video games you'll need a game console with a library of your favorite games. Pick up an Xbox series X or Playstation 5 to access the best console to play with friends and family.
First, it is better to have the consoles lean against the wall, as these games need to be plugged in, and most of the sensitive machinery is at the rear, so it's better to keep it protected.
Next, when choosing furniture to pair with the arcade games, a man cave can go for a more youthful look and stick to neon colors and bold shapes, or go with a more retro modern feel and pair it with neutrals and natural finishes.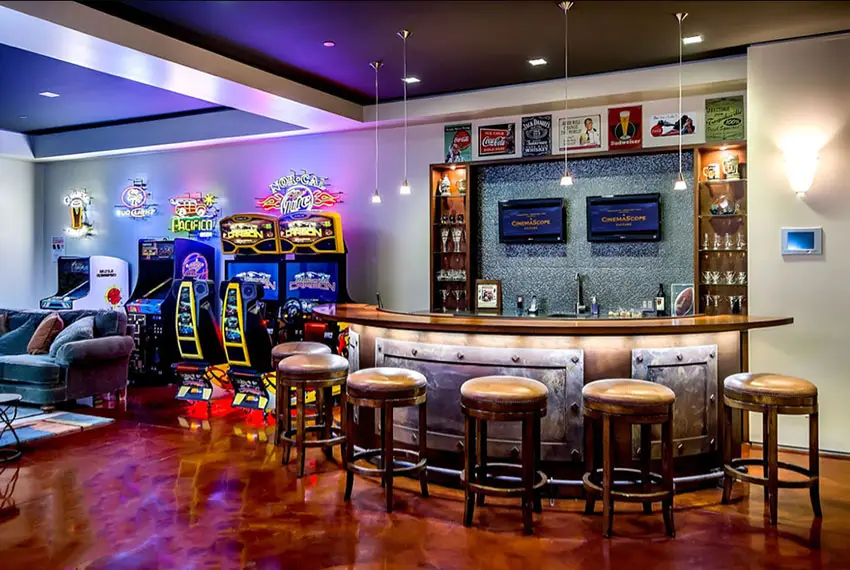 This man cave features arcade games to one side with a comfortable blue couch and brown throw pillows in front – the perfect lounging space after playing on the arcade all day.
For a more grown-up twist to the best buddies' basement, a semi-circular bar becomes the centerpoint of the room. Featuring rusticated metal paneling at its base, the bar is topped with a highly polished wood countertop and lit with small hanging pendant lamps.
The back wall, framed by a pair of wood recesses with glass shelves, features two flatscreen wall-mount TVs on a rough metallic surface. The top of the bar backwall features vintage posters and signs.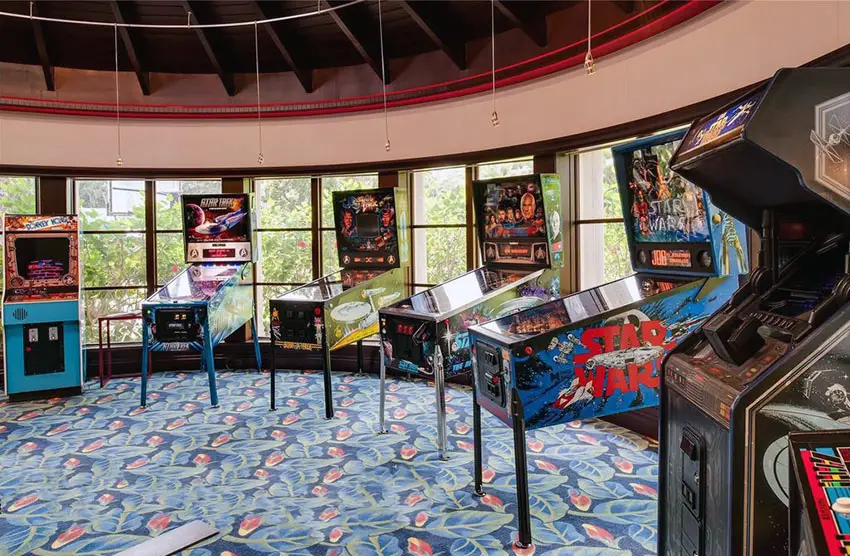 This man cave features an array of retro video games arranged in a half-moon shaped room. With double-hung windows all around facing the trees, the blue, green and red carpet goes with a more natural yet vibrant look with its leaf and flower patterns.
The ceiling also goes with a more natural look, with exposed wooden beams and wooden planks running along its width. Spotlights hung from the ceiling illuminate each arcade game machine individually.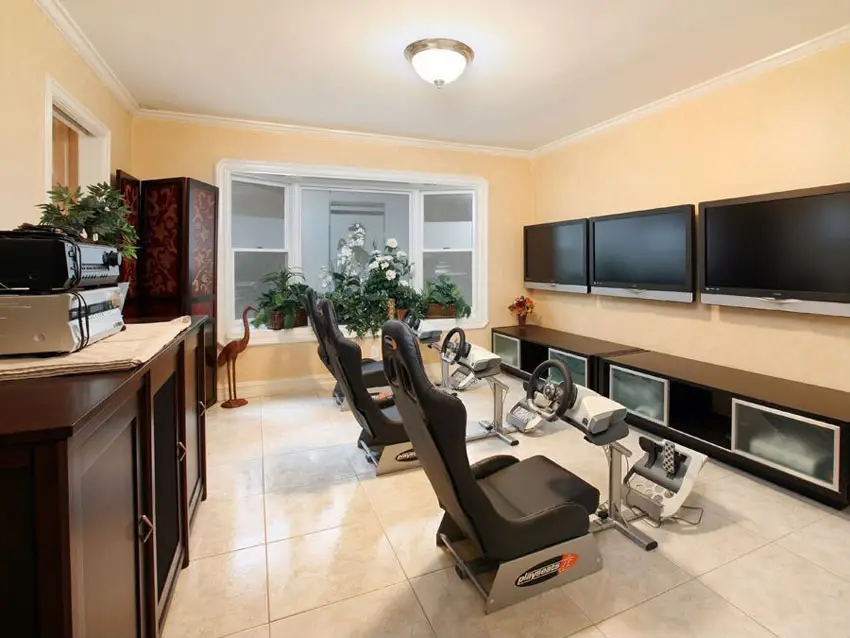 This smaller man cave features basic white and beige ceramic floor tiles and beige textured walls, but the trio of NASCAR racing seats, each with matching steering wheel and monitor suggest a more thrilling activity for this space.
The dark wood console table and white framed bay window give this man cave a more homey and comfortable feel. The antique bronze and glass ceiling lamp gives the man cave a retro 70's element.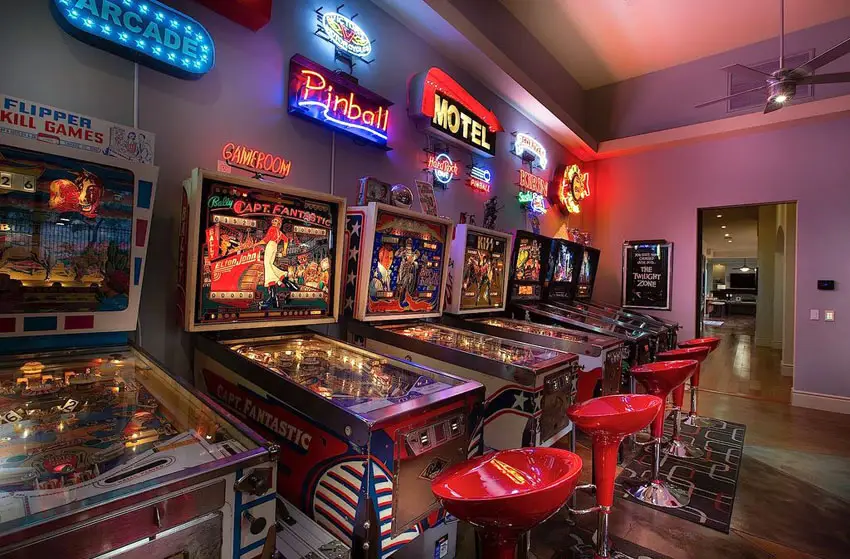 This man cave features a whole wall of arcade games flushed against the wall. To accentuate the bright colors of this man cave, additional neon signs were posted on the blank white walls topped with a thick, cubic cornice.
Each arcade game includes a pair of adjustable bright red acrylic stools positioned on several geometric area rugs in black with cubical lines in neon colors.
The floor is in cool neutral colors pigmented into the polished cement surface, making this retro man cave more similar to 80's basements and arcades.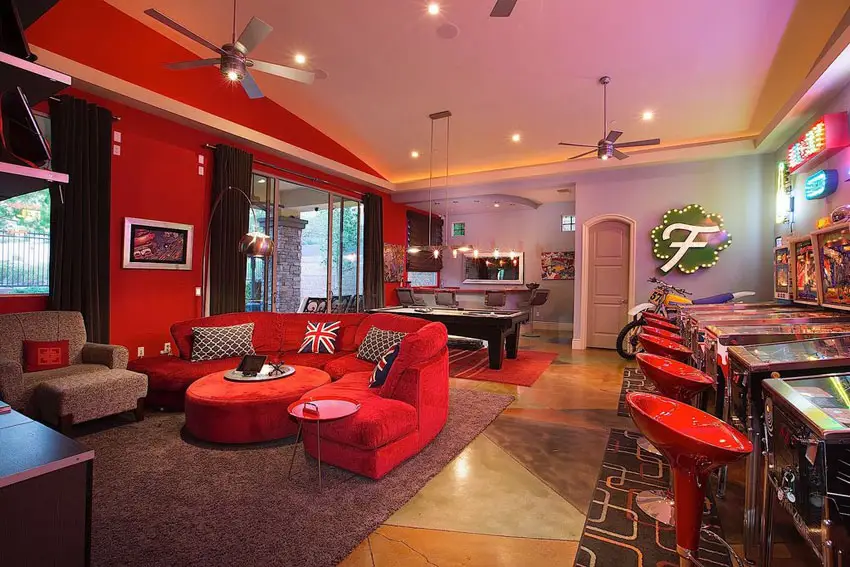 With the arcades, stools and area rugs on one side, the other side features a bright red space decked with a C-shaped couch in bright red corduroy and matching patterned grey and British flag motif throw pillows.
The walls are red but are toned down by dark blackout curtains, as well as the grey area rug for the lounge and a large armchair with footstool in grey upholstery.
At the far end, the man cave features a classic wooden pool table on a red area rug with lines and topped by a linear hanging pendant lamp. The backwall features a bar with four barstools for entertaining and refreshments.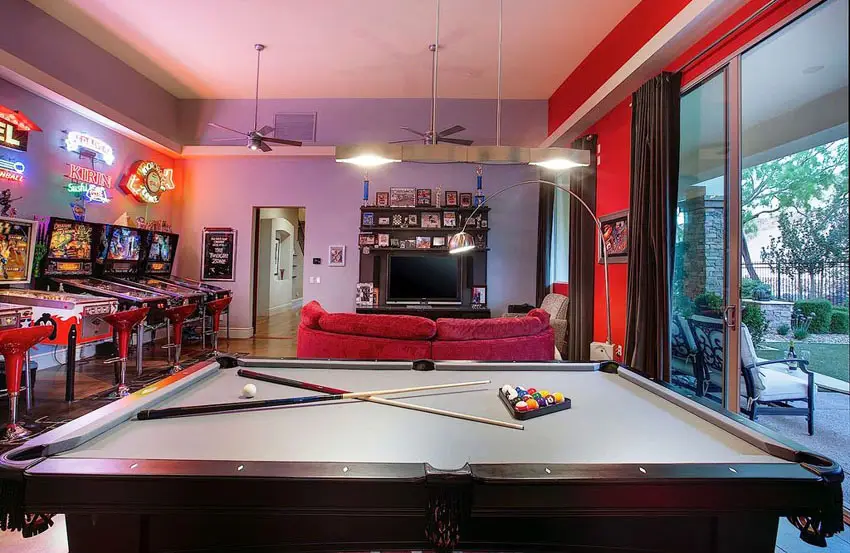 With a beautiful view to the outside patio and garden, this man cave mixes arcade games with more natural tones befitting the semi outdoor space.
The arcade game space lines against the side wall lit up with kitschy neon signs is accented by the solid red back wall with matching red furniture. The lounge area, lit by a stainless steel floor lamp faces a dark wood TV cabinet with a variety of picture frames.
The grey felt on the dark wood pool table provides a more relaxed neutral tone, lit by a Modern style stainless steel linear pendant lamp.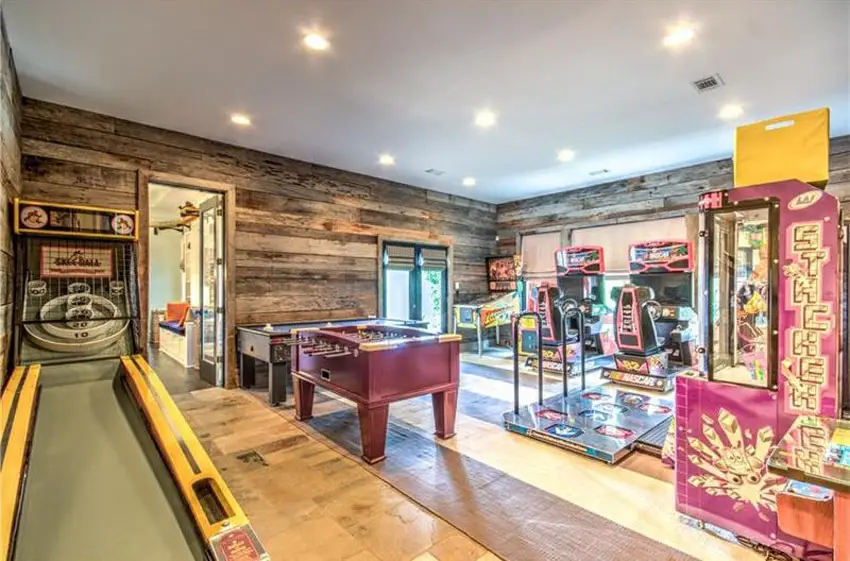 This man cave features some of the best arcade games of the century from skeeball, foosball, Dance Revolution and Racing.
This amazing lodge-style man cave is brought together with light plywood flooring in varying sizes and grains and reclaimed wood panels used as sidings for its walls.
Tons of natural light comes in from the pair of French doors on the side leading out to the balcony and downlights on the plain white ceiling illuminate the whole space.
Home Theater
Large TV – The main purpose of the home theater man cave is to watch movies, and the most important part is the TV. With the dawn of flatscreen TVs, less and less space is needed to deliver high quality movies. Pair this off with an amazing sound system, and you never have to visit the cinema again.
Grand Seating Options – Larger home theater man caves may feature tiered stadium type seating, with risers providing different levels of seating. Smaller ones may opt for a gang-type recliner chair or several individual armchairs.
Most of these seating types should come with holes for drinks and snacks, as the movie is never complete without popcorn and drinks.
Carpets – Most home theater designs are fitted with full carpet flooring. Besides the comfort of sitting in a carpet-covered room, the many fibers block outside noise and ensure the sound quality coming from the movie is at its optimum.
Acoustic Treatments – Walls and ceiling also need to be fitted with acoustic paneling. These panels come in a variety of shapes and colors and can also be utilized to either reflect, absorb or enhance sound.
Usually baffles and spikes help reduce echo, while slanted walls and ceilings project the sound further down into the room, providing a richer experience.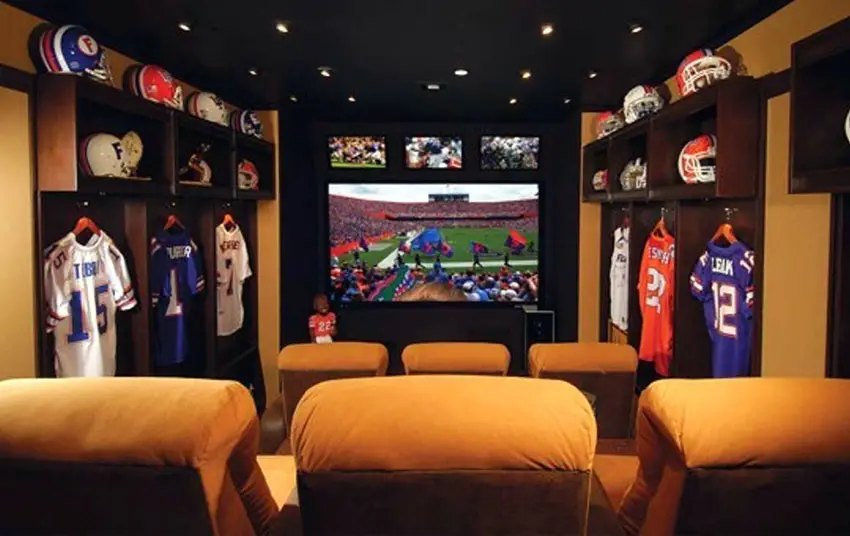 This movie room is decked out with football team decor such as football helmets, sports memorabilia and team jerseys.
With space for six to in one of the plush upholstered seats there's plenty of opportunity for relaxing and watching the game. The large screen TV also has three additional TV's mounted above to enable you or guests to monitor other games in progress.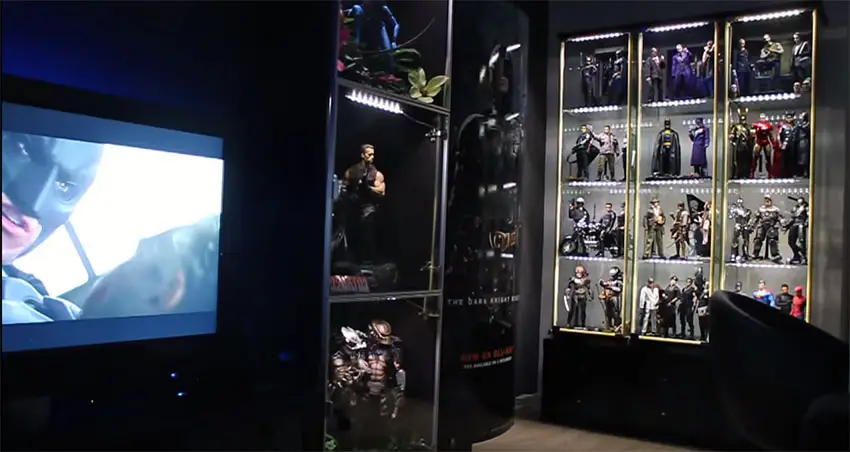 Glass shelves and cabinets line the periphery of this dimly lit man cave, the perfect place to display action figure figurines and marvel hero collectibles, with each case featuring its own strict downlighting in the form of strip lights.
A large TV sits on one side of the man cave, perfect for watching superhero movies. The room is also fitted with light wood floors and a Modern-looking egg-shaped chair.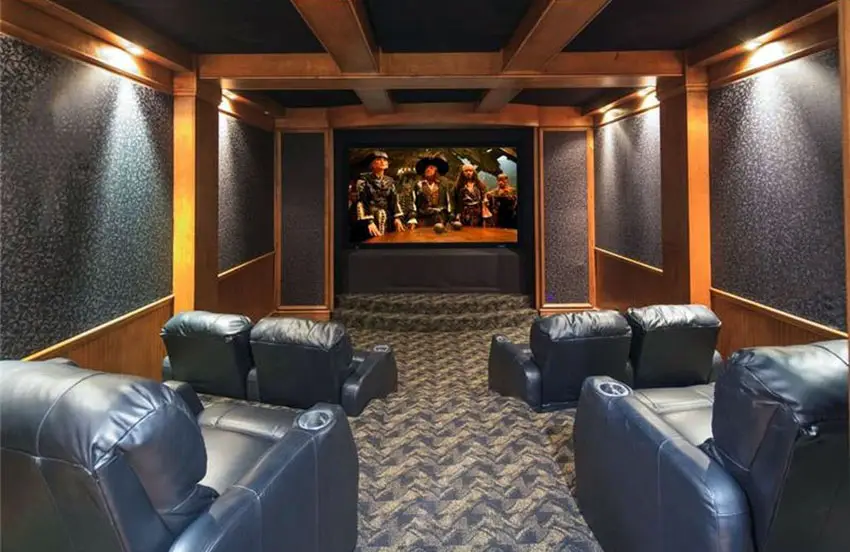 A large wall-mounted TV at the end of the room is framed by a wood built-up with acoustic treatment in the form of textured metal paneling. Continuing along its other walls, the textured paneling diffuses sound and delivers a richer sound to the audience.
Seated on pair loveseat-type recliners, this man cave features two tiers of seats, enough for eight people to comfortably watch. The ceiling, featuring wooden coffers and black painted recesses further diffuses sound while the geometric brown and black carpet absorbs unnecessary echo.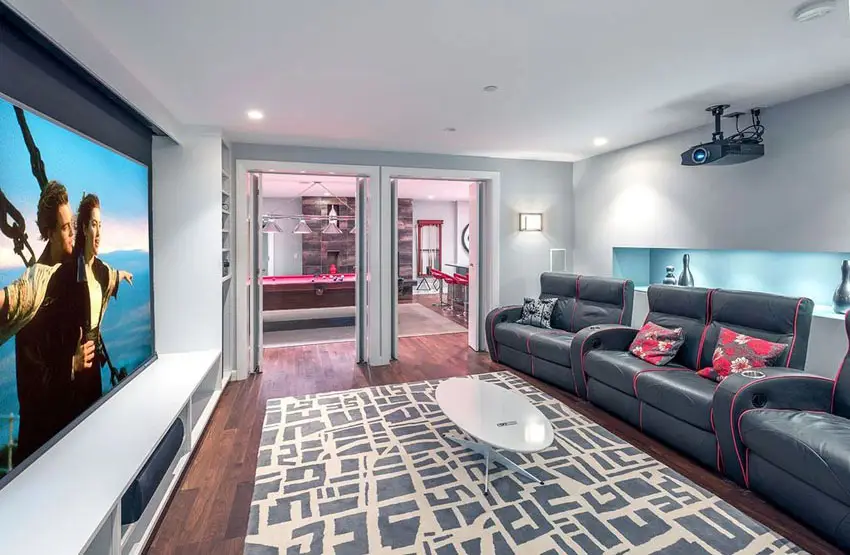 A lighter, more modern rendition of the home theater, this man cave starts with a wooden pool table with red felt, lit by four stainless steel industrial pendants hanging on a steel bar.
Two double French doors lead in to the theater room, which features light grey walls and three pairs of black upholstered recliners. The back wall features a small cove with downlighting for decoration.
The floor, in a dark wood plank pattern, is given sound absorptive qualities using the large white and grey geometric area rug. The viewing screen is pulled down from under the cove, framed on its side and bottom with white melamine shelves, while the movie projector is hung from the plain white ceiling.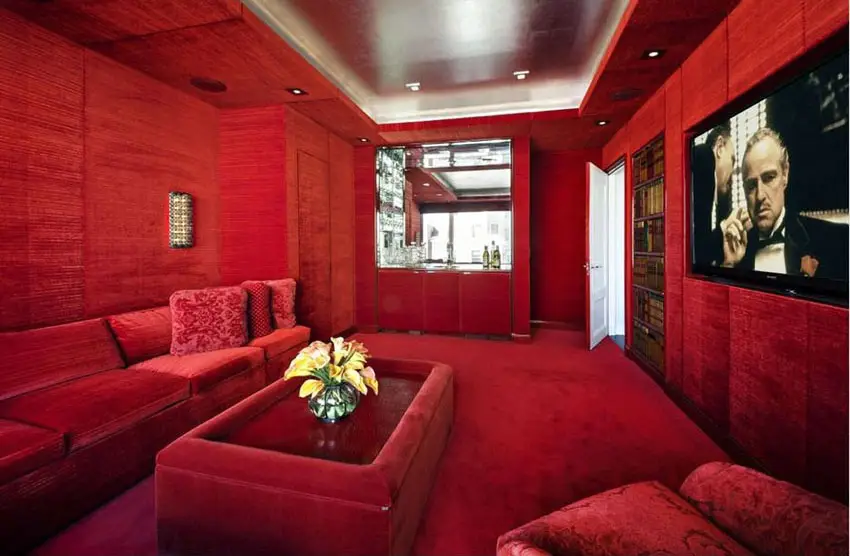 With high sound absorptive qualities, you can turn up the volume in this home theater man cave without ever disturbing any of the other people in the house.
The red carpet is featured not only on the floors, but also on the walls and ceilings. The furniture such as the large couch and center table are also in this red carpet finish.
The only respite in this room from the red carpet are the large flatscreen TV mounted on the wall, the bookshelf flushed right beside it, and the recessed ceiling above with cove lighting.
Music Studio
Musical Instrument setup – Enough space and General Purpose Outlets (GPO's) must be provided in the music studio man cave to make sure all instruments fit and are plugged in.
Drum sets usually have area rugs beneath them to avoid scratches, keep them in place and to lessen echo from the set.
Reworking Space – In the digital age, music needs to be edited and re-edited before it can be released. Sometimes these modifications are done within studio.
The best place to polish music can be in the very confines of your own man cave, as long as enough space for equipment and working is provided.
Lounging Space – When writing song lyrics or thinking up melodies, a creative space is needed by the recording artist. Usually a couch, an armchair, a bean bag or even just a carpet gives comfort and allows those creative juices to start flowing. This soft space is a prerequisite to the music studio man cave.
Acoustic Treatments – For the best quality audio, sound proofing baffles, panels and boards are installed all over the studio in conjunction with the carpets and equipment in order to ensure that the recorded track is of top quality sound, minimizing echo and distortion while maximizing soul and tone.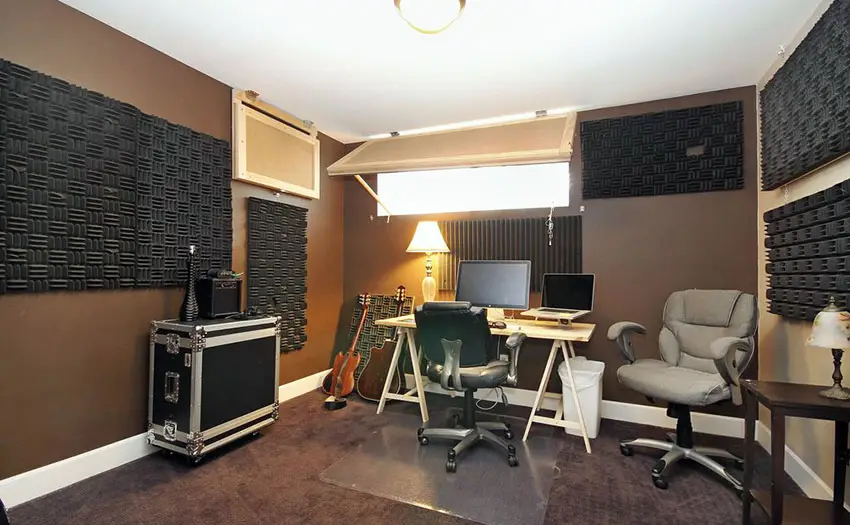 This small recording space features a grey carpet on the floor with an acrylic sheet just for the office chair on the reworking table. Acoustic panels with baffles line the walls, making sure sound is dissipated evenly.
The clerestory window on top of the desk provides natural light into the space, while the brown and beige walls give it a nice warmth.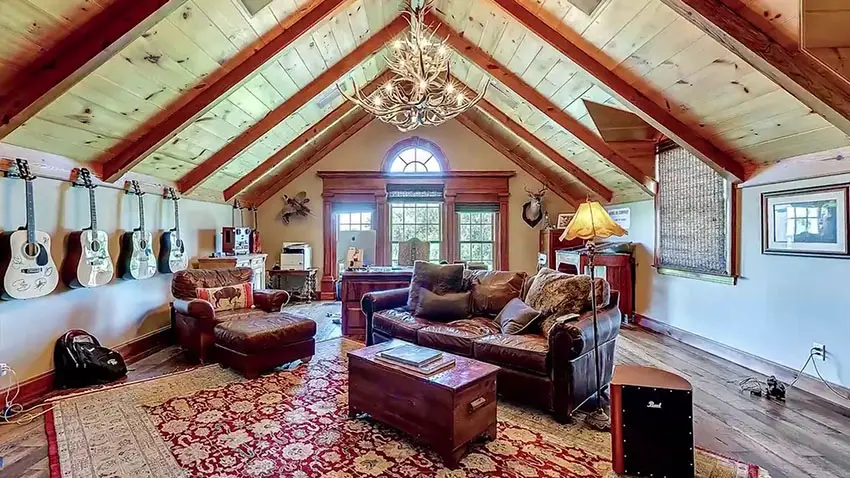 This attic turned recording studio features a slanted wood plank ceiling held up by exposed wood beams. The same soft wood type is used on the floors, good for absorbing sounds while recording or jamming.
The large red and beige Persian carpet at the center of the setup also adds to the sound absorptive qualities of the space. Brown leather upholstered couch and armchair with Ottoman living set is centered on a wooden centerpiece chest, topped with a metal antler-shaped candelabra.
The side of the jamming studio features guitars on hanging racks, while the very back wall features three large mullioned windows in classic carved wooden framing with fanlight at the top, looking out into the garden.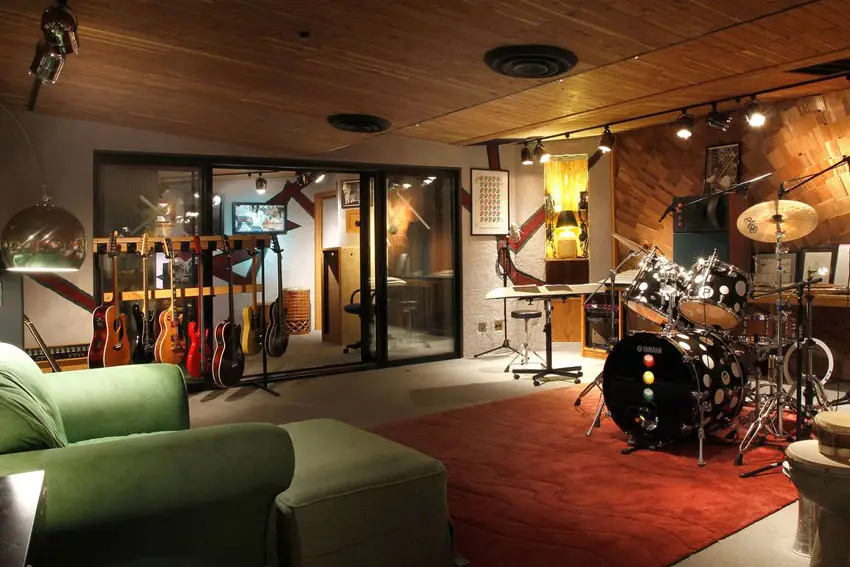 Wood parquet figures into the design of this music studio man cave, used as small wood strips on the ceiling and as parquet tiles for the back wall, directly behind the drumset.
The red carpet flows from under the drumset to under the mint green upholstered armchair and footstool, lit by stainless steel floor lamp.
A large glass sliding door set with a rack of guitars right beside it can be closed off, leading to the audio reworking area. The floors and the rest of the walls are in a textured plaster, diffusing sound and lessening unnecessary echo.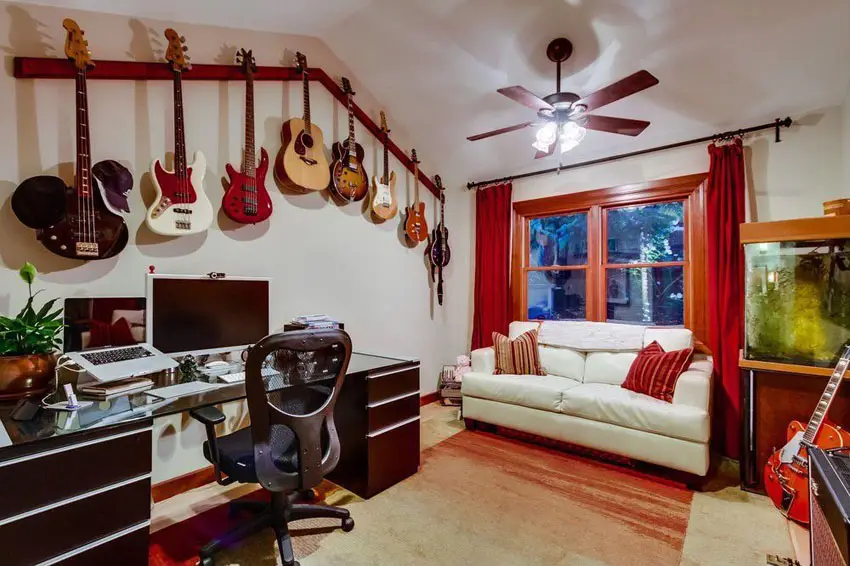 Although relatively small and simple-looking, this music studio man cave has all it needs to record a decent track. The re-purposed attic, with its sloping ceilings, features hanging guitars and a hanging ceiling fan.
By the window, a white leather sofa with red throw pillows becomes an idea-generation space. Flushed against the wall facing the guitar display is the glass and dark wood computer table complete with everything needed to record a song.
Elements such as the orange throw rug and the heavy red carpets work well in optimizing sound by absorbing unnecessary echo and reverberations.
Sports Memorabilia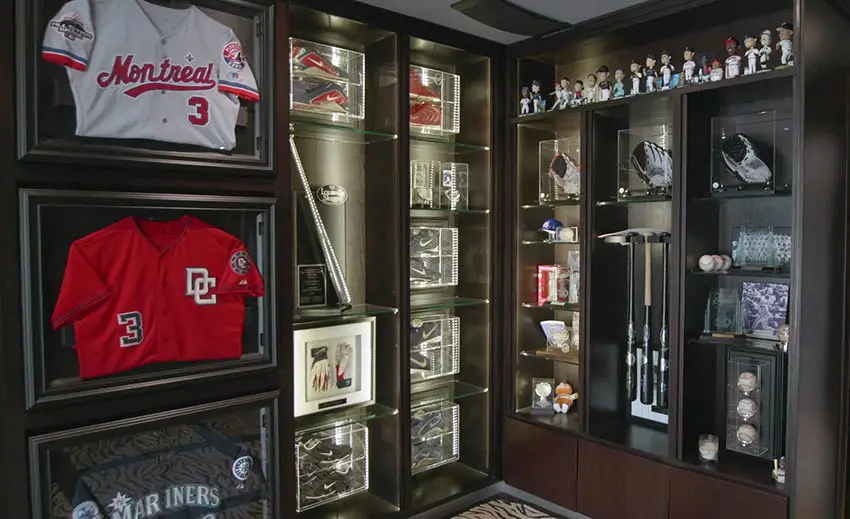 Sports Memorabilia – Whether your dream sports Man Cave is going to be used mainly for watching the game with the boys or working a sweat in your very own home gym, the sporty Man Cave needs its fair share of inspirational posters and legendary collectibles from your favorite sports heroes.
These memorabilia are a great way to dress up the space and to make it feel more dynamic, so consider arranging them in an organized and central way. Simply leaving memorabilia and posters lying around your man cave makes it look more like a storage basement than anything else.
Large screens – Flatscreen TV's mounted on the walls are becoming the new norm, but some are opting for a projector screen wall with the projector hung on the ceiling. This allows for more space in the area and givesa more of a movie theater vibe.
Carpet flooring – Just like in home theater man cave arrangements, the sound quality in Man Caves focusing on watching sports events needs to be top of the line.
Besides hooking up the latest in sound system technology, the room needs to react positively to these sounds. Carpet flooring helps reduce echoes and vibration to provide a richer sound quality experience.
Seating arrangement – Some bigger Man Caves might opt for multi-tier stadium-type seating, more reminiscent of watching the game at the actual stadium, albeit in comfier reclining armchairs.
Another great option is to have seating arranged in a U-shape. This provides a more social space for the Man Cave, where buddies can reach across and share food and drinks, and rewind and review play-by-plays together.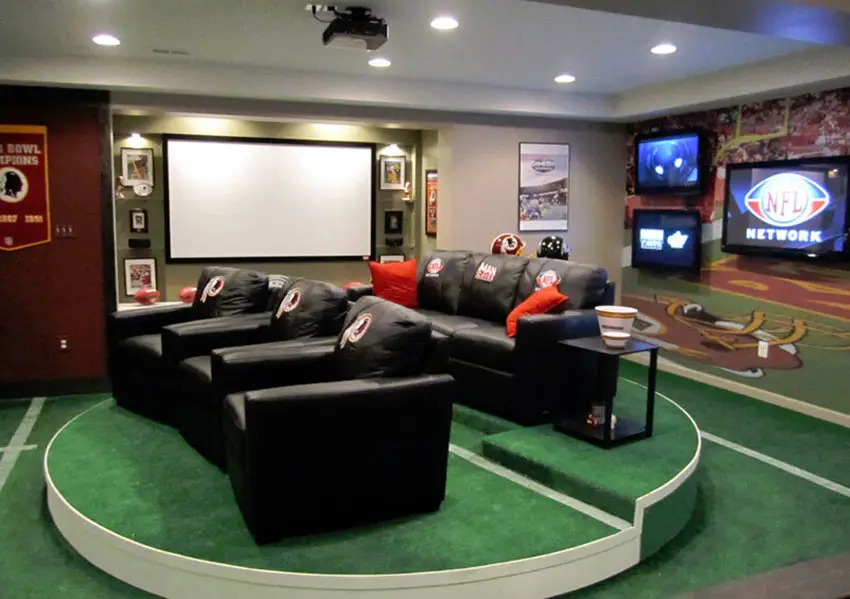 This sporty man cave features a round turning platform with two tiers of 3-gang armchairs embroidered with the logo of favorite sports teams. The platform can rotate to face either the big projector screen or the backwall with 3 flatscreen TV's mounted onto the wall.
The flooring of the man cave is in a green textured carpet, allowing users to feel like they are in an actual sports field. The ball park design features an elevated platform by the flatscreen TVs even painted with the helmet insignia of their favorite sports team.
The projector screen wall is also decorated symmetrically on either side with framed signed pictures and lit by wall-mounted spot lights.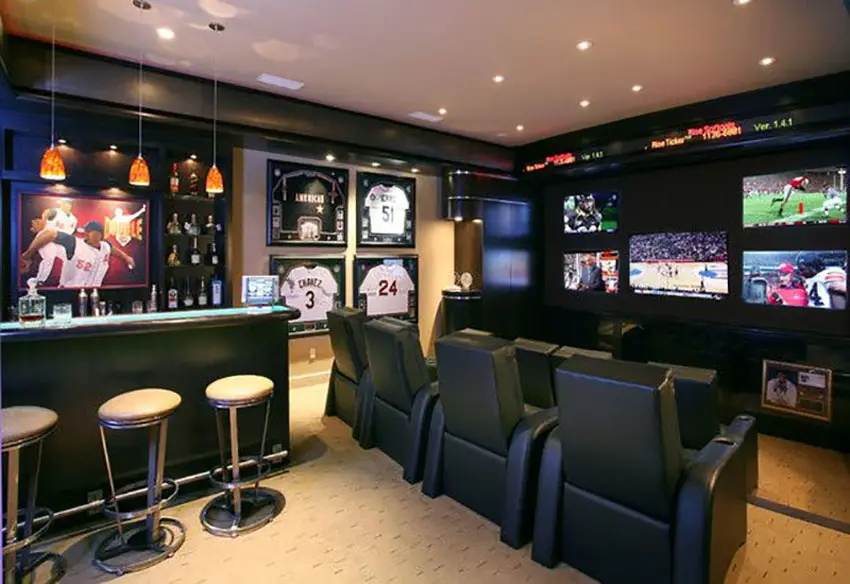 This sporty man cave features a 4-gang armchair set facing a dark wood wall embedded with five flat screen TVs and even a scrolling sign above it documenting the latest game statistics.
The floor is a simple beige carpet with grey lines, while the rest of the room features the same dark wood in the bar counter and backwall.
The bar counter is lit by a trio of small orange hanging pendants and the stools are in a stainless steel base with beige upholstery. Sports jerseys are tastefully displayed on a sidewall, framed and lit by ceiling-mounted down lights.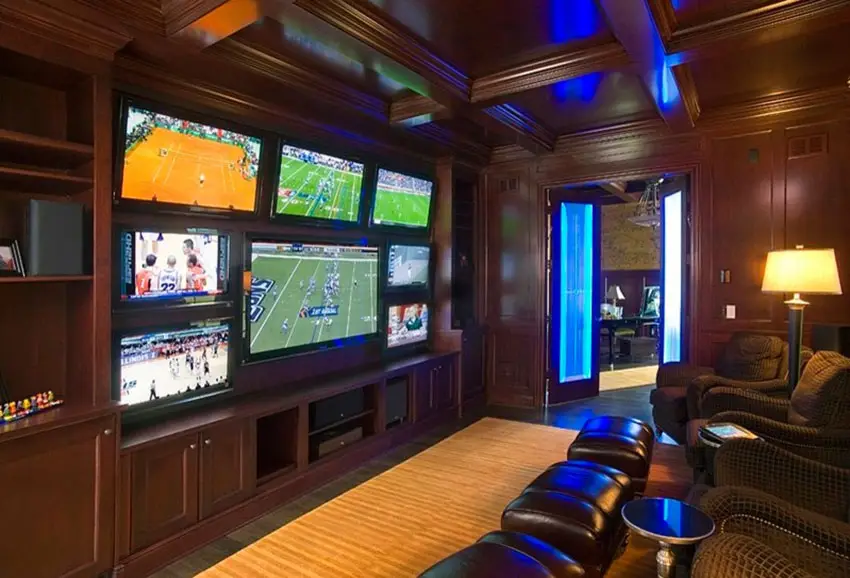 Can't decide on what sports game to watch? Why not monitor all of your favorite teams at once from multiple TV's setup to play different games at the same time. Just like your favorite bar you can invite over the friends and everybody can catch their team playing from this large built in multi-media console.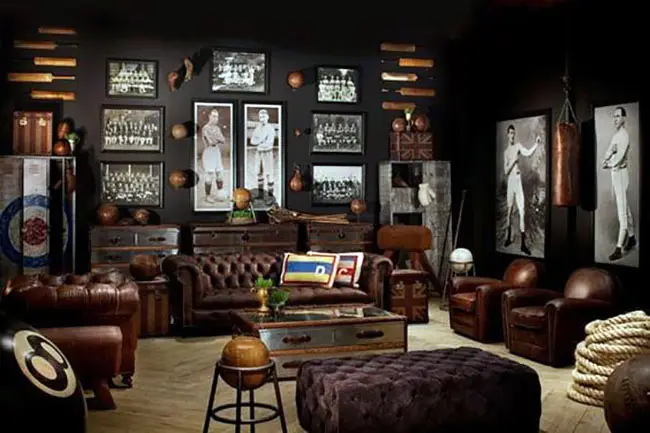 This old school man cave has the makings of an old gentlemen's club. Leather figures mainly into the vintage man cave designed, being used in most of the furniture, with the Chesterfield sofa, Ottoman and armchair in deep button-style upholstery.
Vintage sports memorabilia also dot the room; the black walls are a great background for the old black and white framed posters and wood and leather vintage sports equipment.
The centerpiece coffee table is made of a repurposed wood and metal chest outfitted with a glass top and cabinet handles, sitting on the chevron-patterned plank floor in a pale wood finish.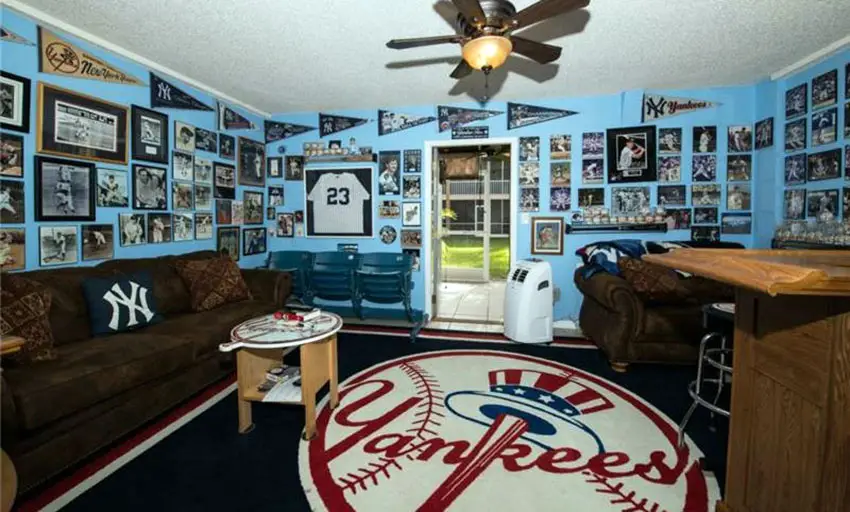 This room is dedicated to owner's favorite baseball team with championship pennants and team themed decor. A portable home bar sits in one corner of the room with team branded bar stools.
Some standout decor of the space include a large team area rug, small coffee table and genuine bleacher seats from the old Yankee stadium. A lounge room's not complete without a comfortable couch and chairs for hanging out and relaxing.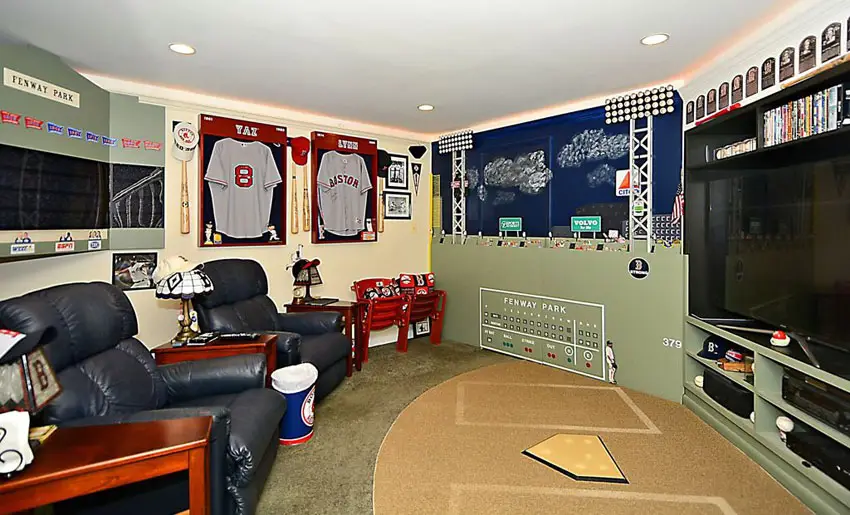 This sports viewing man cave is small and curved, but arranged in such a way that the two people watching the game here will have the time of their lives.
The two large black upholstered reclining armchairs are flanked by wedge-shaped side tables with antique lamps inlaid with sports team insignia. The back wall, in a simple off-white color is decked with a neat display of jerseys, bats, caps and framed pictures and a large scoreboard.
To the side of the standing flatscreen TV and console is an olive green painted wall section featuring a diorama mural of the ballpark complete with players, signs and spotlights.
The flooring has also been made to reflect the baseball stadium, with a semicircular line dividing the dark brown side of the carpet and the lighter brown side featuring two lined squares and the home plate. Visit this page for more man cave paint ideas for your space.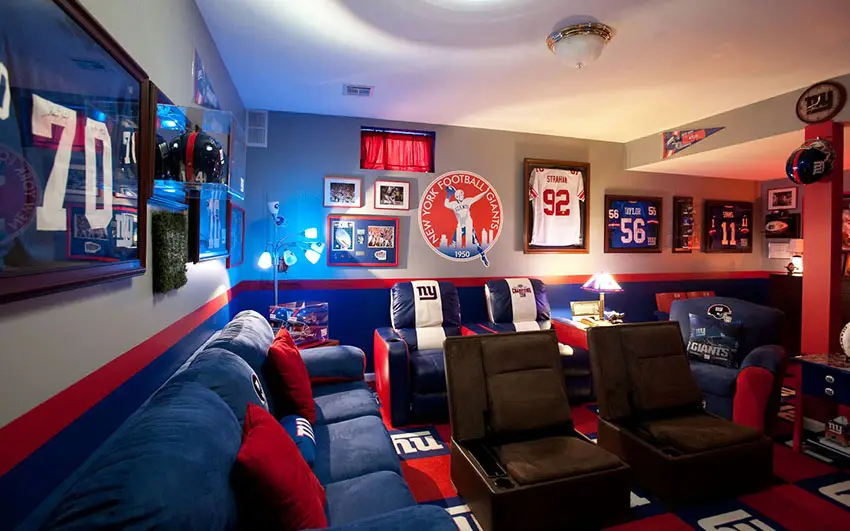 This football themed man cave is like a shrine dedicated to their favorite team. With NFL team decor such as reclining chairs, sports jerseys, team lamps and carpets it definitely sets the mood for game day. Football helmets,pennants, and posters are displayed prominently and help give this room its unique look.
Sports Themed
Specific Sport Themed Room – A great way to showcase your favorite sport is to dedicate an entire room to it. Whether its football, baseball, soccer , basketball, or hockey there are plenty of decorating options to deck out your room and get you in the mood for watching games and hanging out.
Social Seating – Many sports fans come together to join a sports club (fantasy baseball, football, soccer leagues, etc.). Having your own Man Cave can be a pleasurable way to entertain and host the sports club for drinks, discussions and watching the game.
Man Caves focusing more on becoming a venue for sports club should make sure there are enough seats for everyone. In addition, these seats need to be not only comfortable, but arranged in such a way as to encourage dialogue and socialization.
Sectional sofas and armchairs arranged in a circle with a centerpiece are common ways to achieve this. Linear arrangements are also achievable when there is a bar in the room.
Museum-like Arrangement – Being part of a sports fan club means memorabilia is not just to be stored here, it must be displayed proudly so that other fans can view and marvel collectibles.
In this case, the arrangement need not only be neat, the shelves or cabinets that display also need to be well-curated and suited to the things it will display.
Game / Sport Area – For a sporty man cave featuring indoor games, a designated area for the game table or space is separated from the rest of the space.
Usually a table like pool or foosball, the table is usually the main center point of the design and can be accented with pendant lighting or a decorative rug.
Viewing area – This lounge space is for spectators when one person is taking their turn in the pool table or bowling lane. The space should be comfortable yet easily accessible from the play area. In addition, it must have prime view of what's going on in the game area.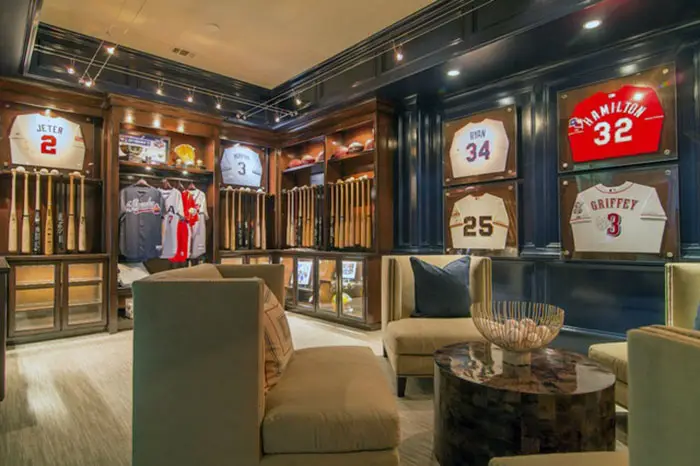 This Man Cave features more neutral tones with a linear beige rug and beige armchairs with throw pillows arranged to face each other over a circular wood parquet coffee table.
The central ceiling cove is also in beige, to contrast the black painted wood casework featured all around the room.
Black painted wood panels highlight the framed sports team jerseys mounted onto the wall while a warmer wood finish was used as the background for bat hangers and cap shelves. Warm colored downlight run along the fascia of the casework and down light the memorabilia from above.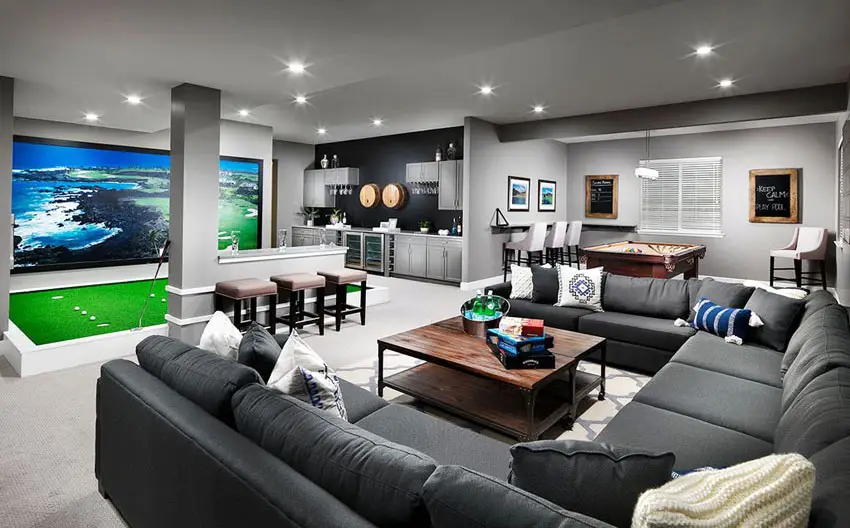 Starting off with a dark grey U-shaped sectional sofa with white and blue throw pillows, this sports club man cave focuses around a cubic black metal and dark wood coffee table with a beige and grey Arabesque-themed geometric rug under it.
The rest of the room features light grey tones in its walls and raked carpet flooring. The kitchenette back wall is in black, bringing out the color of the lighter grey raised panel cabinetry.
Another section of the room features a billiards table in classic warm wood and beige felt, also surrounded by taller upholstered back barstools. The front of the room is a huge panoramic all-mounted screen with a putting green right in front of it.
Separating that from the sectional sofa area is a small ledge with bar seating for three, a great way to view and discuss the game on the wide screen.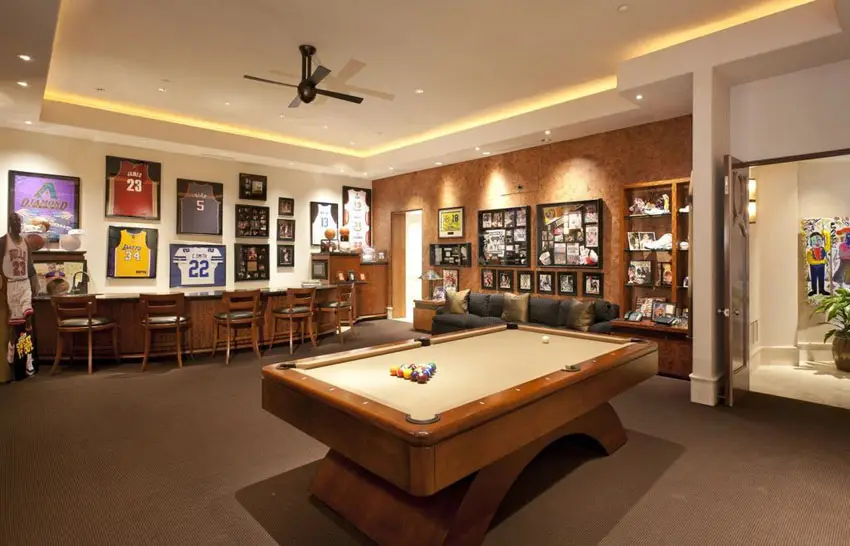 This man cave features a heavy light wood and beige felt pool table with a curved foot base, sitting on brown carpet flooring. The other end of the space features a few bar stools overlooking a wood paneled bar counter with black stone countertops.
The bar faces a wall of framed collectible posters and jerseys and even a cutout of Michael Jordan. Beside the bar area is a chill lounge couch in black and gold flushed against the brown corkboard wall.
The wall is lit with downlights and displays more framed photos and collectibles. The ceiling features a central cove lit by concealed strip lighting.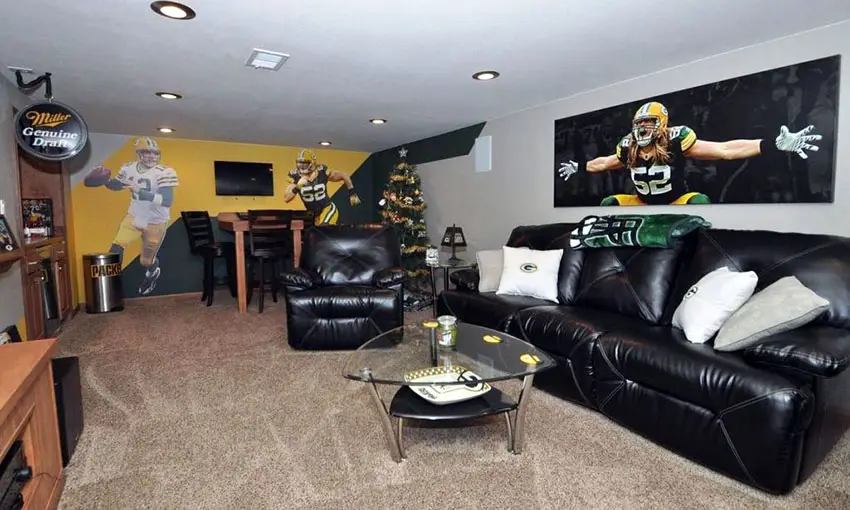 This football themed man cave goes all out for their team with a wall sized mural and large player posters. With leather couches and a reclining chair there are several options for kicking back and watching the football game.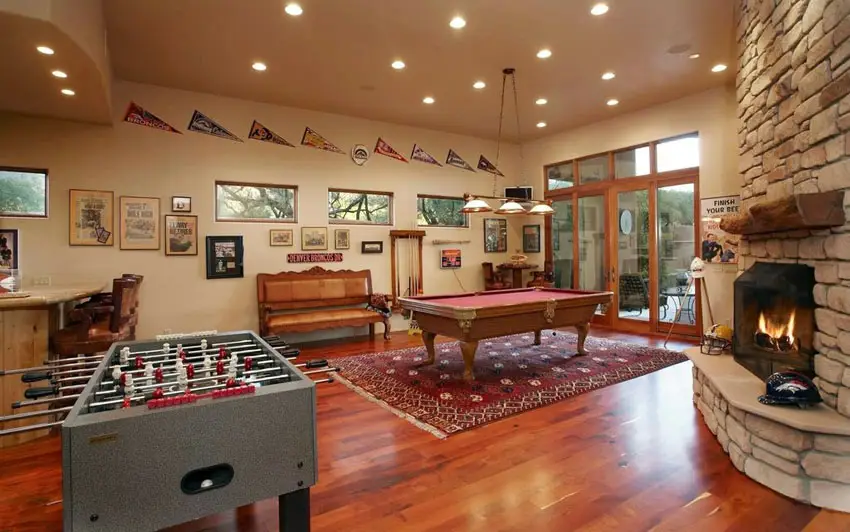 This Man Cave features red wood plank flooring all over, matched with pale rounded stones stacked to form the fireplace. The warm wood and red felt pool table sits at its center with a maroon Persian carpet and a trio of bronze pendant lamps hanging over it.
A foosball table also sits near the pool table beside the bar counter in a lighter wood finish. The back wall spanning from bar to outdoor space has three small picture windows to bring in light and is decked in different sports memorabilia.
A quaint camelback sofa in wood and brown upholstery is flush against this wall, acting as a small lounging space to this country style man cave.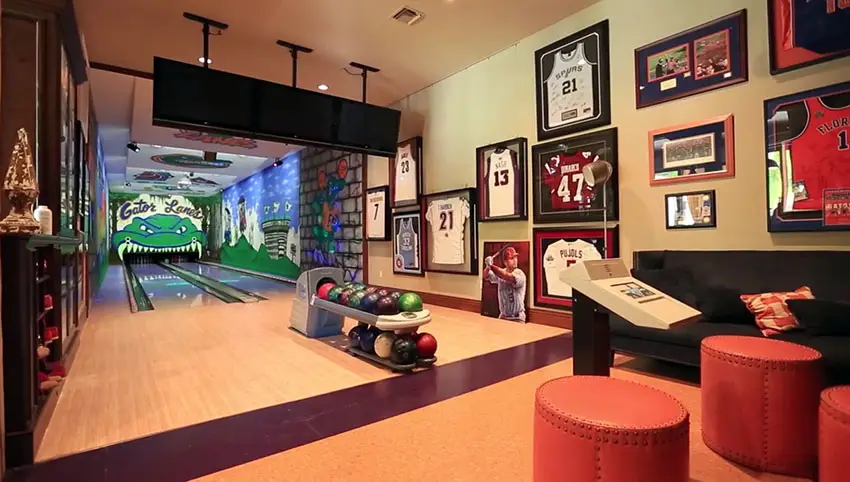 This large man cave features a two-lane bowling alley, complete with wall murals at its end and along its sides. The alleys are in warm wood and a scoreboard hangs on its ceiling.
The lounge area features a small black couch and individual barrel-shaped red leather upholstered stools – perfect for those waiting for their turn on the bowling alley.
The back wall in beige sorts an array of baseball and basketball jerseys and memorabilia artfully framed and arranged in a linear fashion.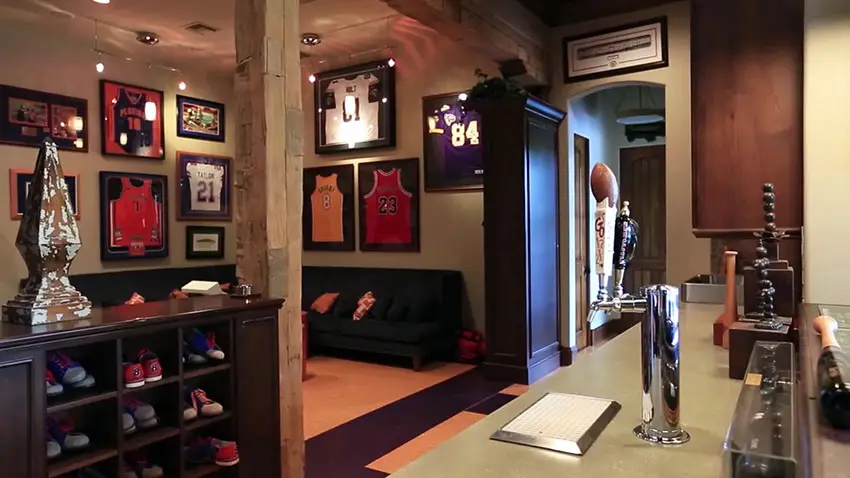 This side of the man cave holds a small cubbyhole for bowling shoes and focuses more on the chill and social aspect of the sporty game man cave.
On one side is a row of beer taps in classic wooden handles. The other side, enclosed with walls full of framed sports memorabilia features a black L-shaped sectional sofa flush against the corner and orange floor carpet.
This golf-simulator inspired man cave features a combination of digital and physical putting green. A central stand in green grass turf enclosed by black carpet and a semi-circular entrance leads towards the wide screen where golfers can practice their putting precision.
The rest of the room features a pale beige carpet mixed with dark brown walls decked with framed inspirational golf paintings.
Gym
Special gym equipment – Depending on your sport, any man cave can be designed to become a great place to train. Man Caves turned into personal gyms should take heed that different kinds of sports will require special treatments.
For example, a rock climbing man cave needs higher ceilings or a safe place to fall. In addition, some gyms need enough space for big equipment and some useful tools like mirrors to ensure proper form and even a TV for better entertainment value while working out.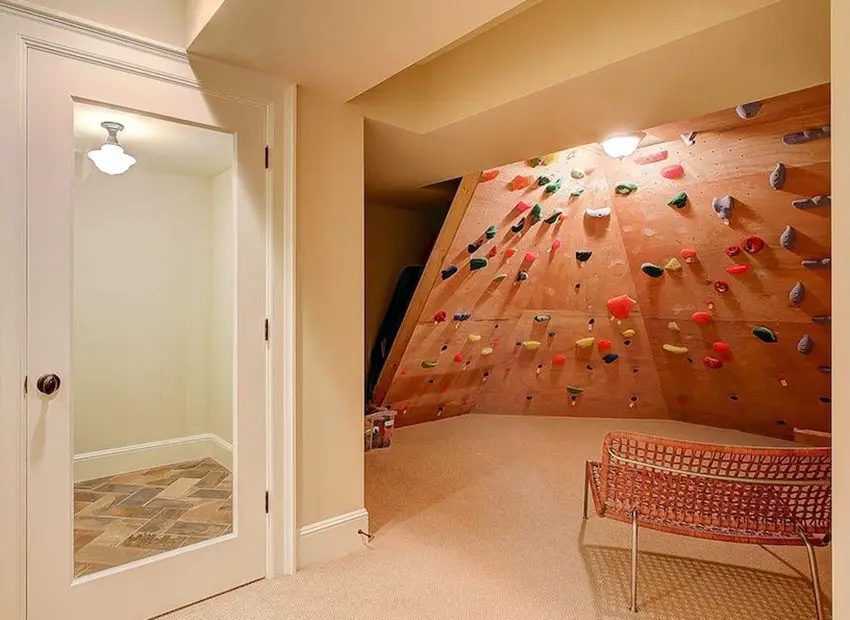 This man cave features an indoor rock climbing wall. The design is smaller and lower than a typical rock climbing wall but steeper. The floor is decked in a beige carpet, making it a soft landing in case of any falls.
The beige tones of the room and of the woven rattan chair are a good backdrop to the bold colors of the hand grabs and foot holds on the wall. The man cave is accessible via a white wood framed glass door from the outside hallway with stone tile flooring.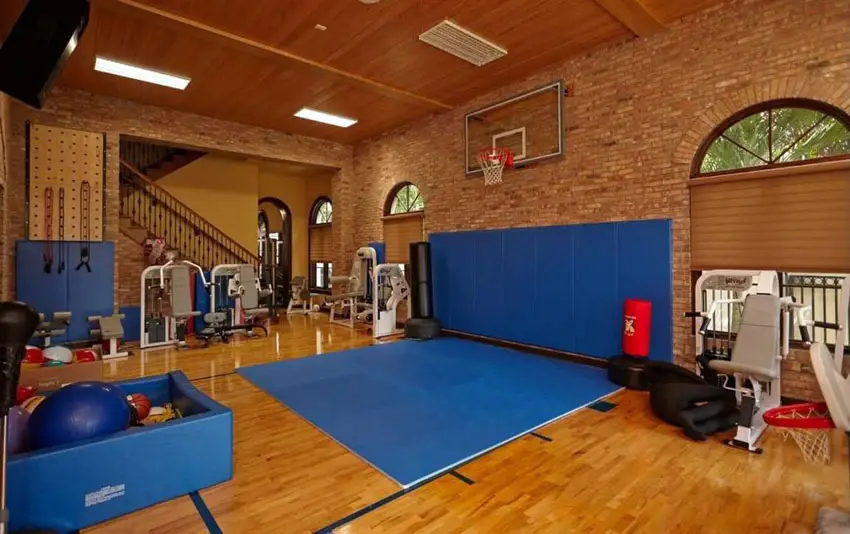 This fully equipped indoor basketball court and gym features a hoop, enough space for conditioning exercise equipment and blue rubber foam for safety.
The man cave features high bay fluorescent lights on its wood plank ceiling with semi-exposed beams. Leading from an upstairs stairway, the room also features vintage red brick all over.
A series of windows on the wall are in vintage brown painted metal and have a fan light above, with the rest of the window shaded with a roll-up blind. The floor is in polished light wood parquet and has the proper markings for a half-court.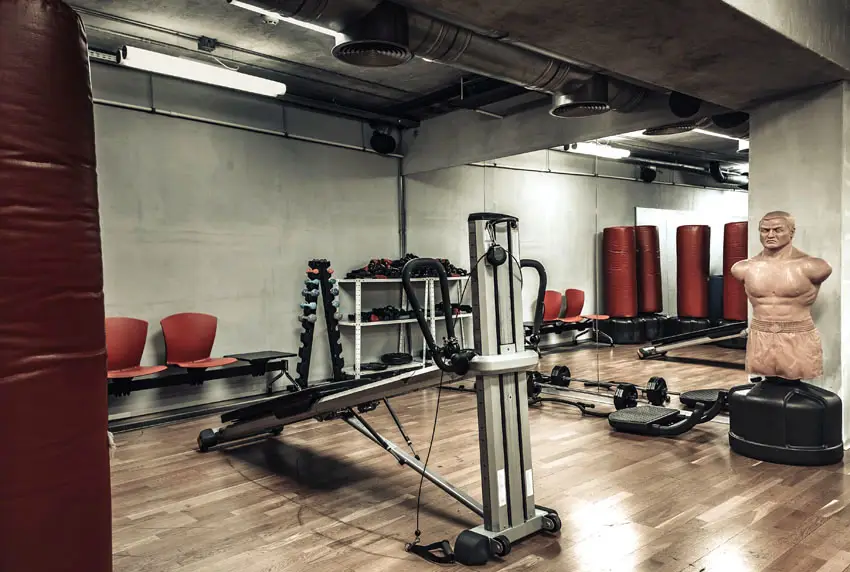 This industrial style gym man cave features enough space for a multitude of exercise equipment as well as striking dummies and bags.
Done in masculine, dark tones, the floor is in a grey-brown wood strip and is paired with bare grey plastered walls.
The ceiling is also stripped to the bare minimum with fluorescent ceiling lamps hanging directly from the plastered grey ceilings along with air ducts and sprinkler system.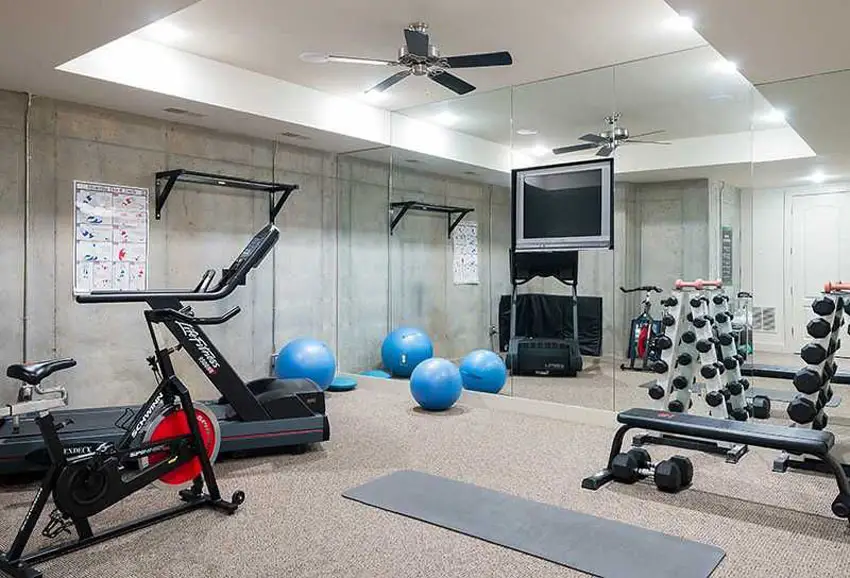 This gym man cave also features a more industrial look, having chosen unfinished grey plaster for its walls. The carpet also goes with this monochrome finish, being in a speckled grey and brown finish.
On one end, a full wall of mirrors reflects the whole room with a TV neatly recessed into it. The ceiling features a large central recess where downlights were installed alongside a metallic ceiling fan.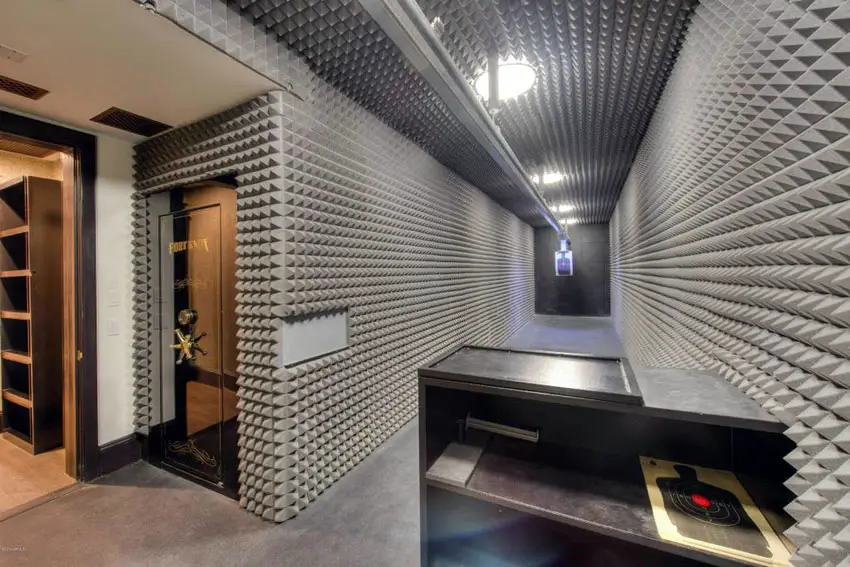 This in home gun firing range features a very long corridor with the solid black wall at its end. Used for target practice, the corridor is equipped with the linear system on the ceiling allowing the user to re-position the clipped on target.
A minimal black table at the end of the concrete-floored corridor serves as a stand and shelf for target practice, while a glossy black gun safe is embedded into the wall beside the door.
The whole man cave's ceilings and walls are outfitted with soft, spiky black cushioning. The shape and texture of these wall panels effectively absorb sound and provide appropriate soundproofing for a very noisy hobby.
Home Bar Ideas
Bar area – A social space requires some refreshments to drink over light, friendly conversations. Usually a bar display with a sitting area, these can serve as a working space for preparing drinks or the space for socializing.
High bar – Bars are usually built high so that those seated on bar stools are still eye to eye with others who may not have secured a chair. This is a great way of ensuring that despite the absence of enough chairs, there is still a way of socializing over the bar counter.
Comfortable bar stools – Drinking parties can go on for ages, so upholstered barstools are a must. Some can even have an upholstered back.
Accent back wall – The back wall the bar stools face needs to look good, being the center of attention of the entire counter all night. The back wall can feature a unique finish like stone or wood or just a bold color. This is also a good place to put memorabilia or collectible items.
Liquor storage – Depending on how much liquor the man cave is expected to hold, efficient and well-designed storage can allow liquor to not be just storage items but also display items.
This is especially important for collectible wines and other specialty spirits which can be displayed in a glass case and other ingenious furniture.
Ample seats and couches – Heavy and comfortable upholstered couches and armchairs are great to chill in for hours. Some man caves can be considered men caves, being the grown-up extension of the "boys only" tree houses if our youth, where you and the guys can spend hours talking , laughing and just plain having fun.
In warm wooden tones all over, this lodge-style man cave features a large open bar with a double level island – the lower level for preparing drinks and the upper one paired with tall wooden bar stools.
This bar is lit by four matching steel and glass pendants hanging from the coffered wood plank ceiling. Both the walls and floors also feature this warm wood plank finish, while the storage shelves and undercounter cabinets are in a dark paneled wood finish.
Shelves feature an X-shaped cross bracing which is not only aesthetic but is a good way to sort different liquors.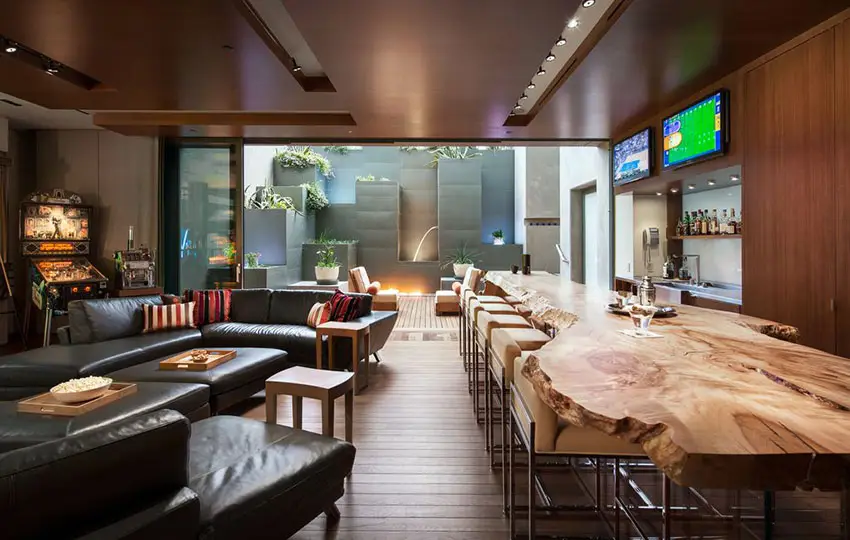 This luxe man cave features large glass sliding doors opening out onto a feature fountain wall with greenery.
Brown aluminum clad ceilings with embedded track lighting matched with linear wood grain bar casework give this luxe man cave a more modern feel, along with the black leather upholstered L-shaped couch set with center Ottoman.
A more organic element is present in the hewn wood table on the right, enough to seat six with chairs in a Modern steel and beige upholstery.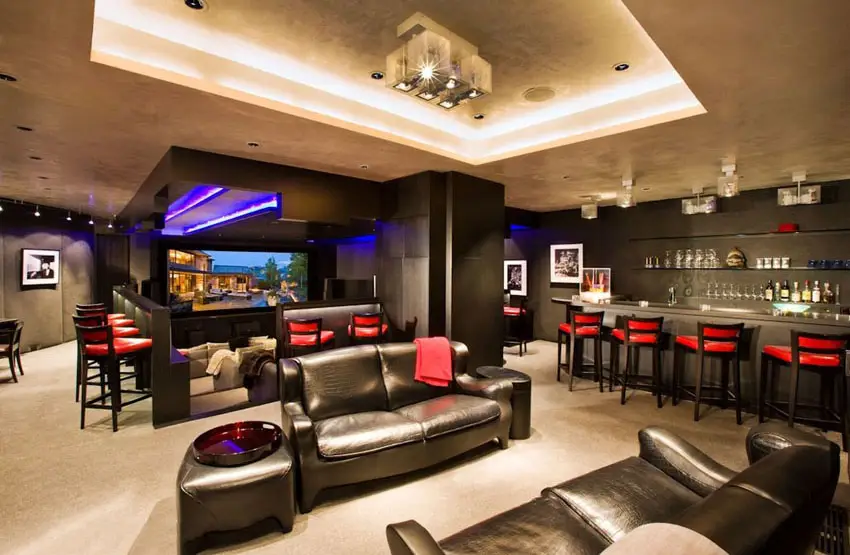 Two couches are set face to face with small ottoman side tables and is topped with a recessed ceiling with cove lights and a center accent lamp.
The right side of the room also features a Modern style bar setup with glass countertops and shelves, and lights that match the main accent lamp.
Further along the room, the same black painted wood and red leather upholstered barstools are set along an L-shaped ledge facing the pool and backyard of the house. The man cave's floors feature a neutral beige carpet.
This Contemporary style wet bar for the man cave features a bar counter island with a hanging second level supported by wood posts.
The countertop is lit by a trio of hanging pendant lamps and the base is in dark wood paneling. The same wood is used continuously for the rest of the hanging cabinets albeit mixed with glass panels to serve as display cabinets.
The back wall of the hanging cabinets are in split face stone strips of grey and orange, contrasting with the somber black marble countertop. The flooring in between the island and main counter is also in the same stone finish, separated from the rest of the man cave's dark wood panel flooring.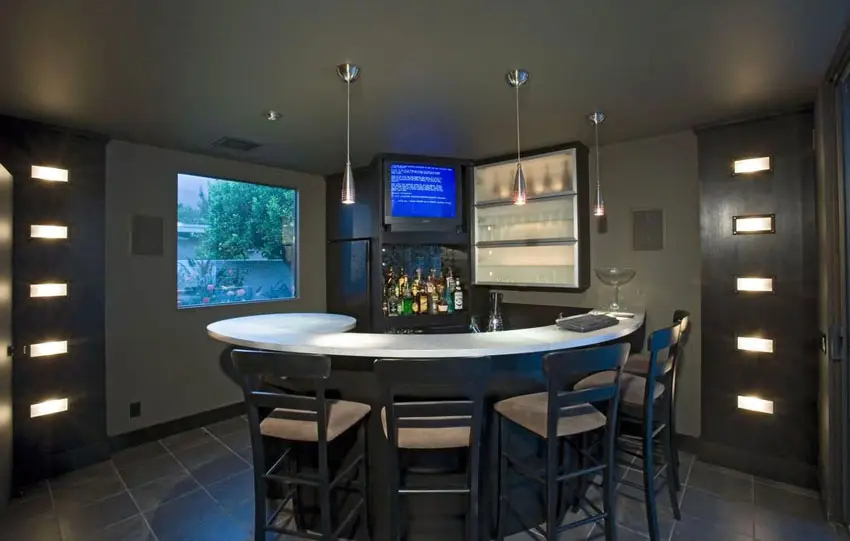 This Contemporary style semi-circular bar features a curved white quartz countertop with a circular tail on one end for serving drinks. High bar stools in dark wood and light brown upholstery line the dark wood base of this island, lit by a trio of Modern style conical hanging pendant lamps.
Facing a vintage-style TV, the bar back wall also features frosted glass for its liquor storage cabinets. The outer corners of this man cave's bar feature a pair of feature walls in dark brown wood with a line of horizontal wall mounted lamps embedded into the build-up.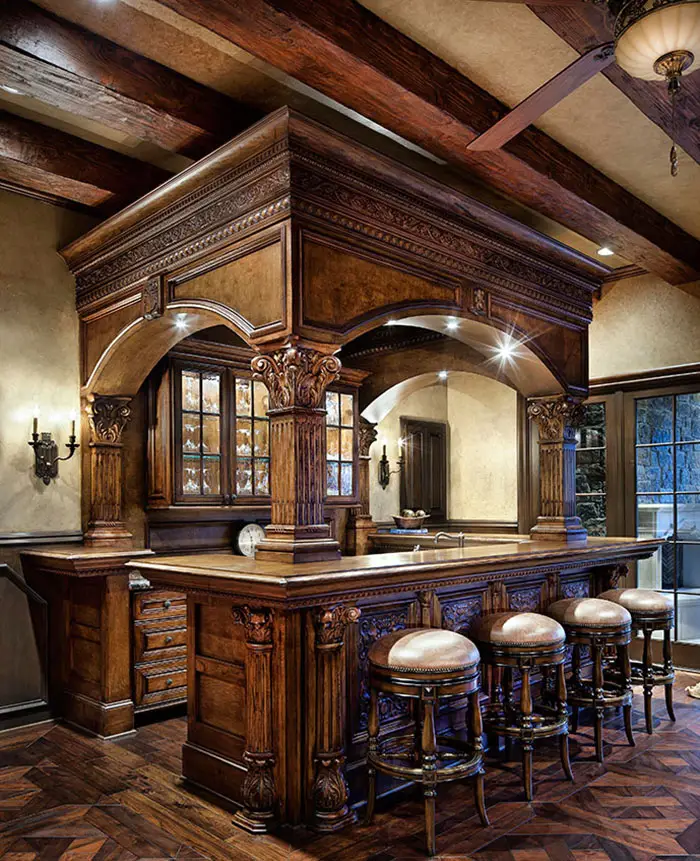 This old Gentleman Club-style man cave's bar features intricate wood carvings in the crafted niche, with its own Corinthian columns, crowned architrave and elaborate cornice work.
The base of the bar also features elaborately carved panels, holding up a light beige marble countertop held up by a carved wood molding. The backless barstools match the same wood tone and carving style and feature a plumped up beige upholstered seat.
The rest of the room mimics this vintage style with its dark wood parquet flooring and dark wood exposed ceiling beams. A pair of French doors leading to the outside adds additional light, while lighting fixtures such as wall-mounted candelabras and hanging ceiling fan are also vintage finds.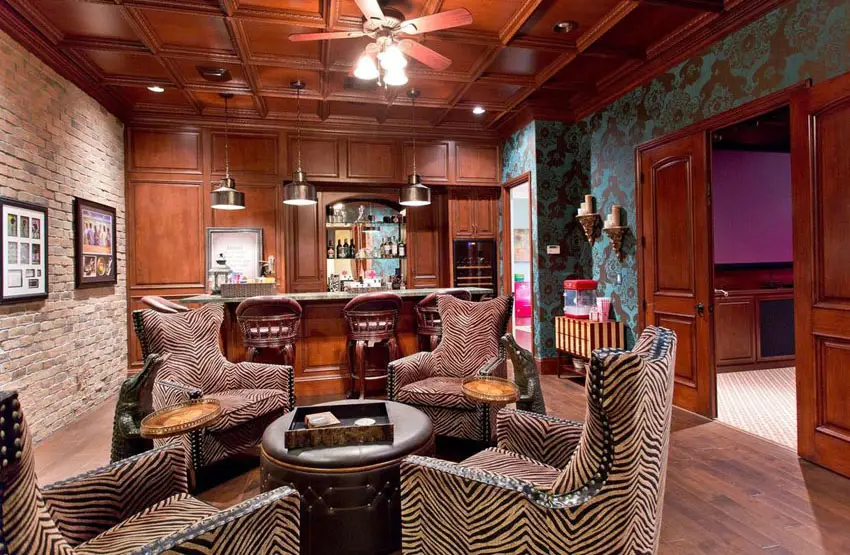 This Contemporary Classic man cave starts with a warm wood paneling for its coffered ceilings and bar back wall and base with matching wood-backed bar stools and metallic hanging drum-shaped pendant lamps.
Other elements add an amount of eclecticism, in the form of a kitschy turquoise and gold wallpaper and zebra-stripe fabric upholstered armchairs facing a central brown leather upholstered barrel-shape coffee table. The whole room features vintage wood plank flooring and lined on its side with a vintage red brick wall.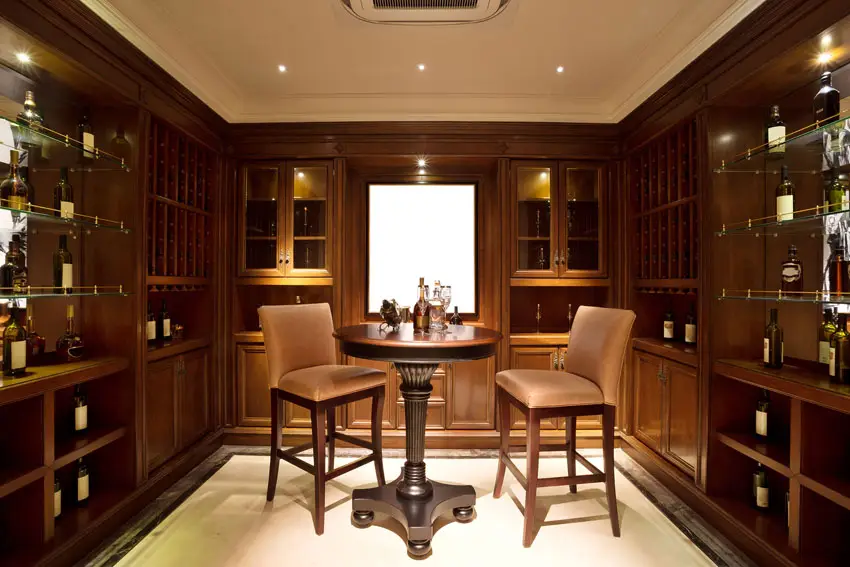 This Classic style man cave leans more on the vast collection of wines and liquors the owner possesses. A U-shaped cabinetry set lines all 3 sides of the room with open glass shelves and glass cabinets in a rich wood body.
Each shelf is provided sufficient downlighting to ensure the display is clearly seen and enjoyed. The ceiling is in a plain white, as is the flooring, bordered by a dark green tile border.
The center of the room is two high barstools with backing in tan leather upholstery. The center table is tall and circular and features an intricately fluted wooden vase.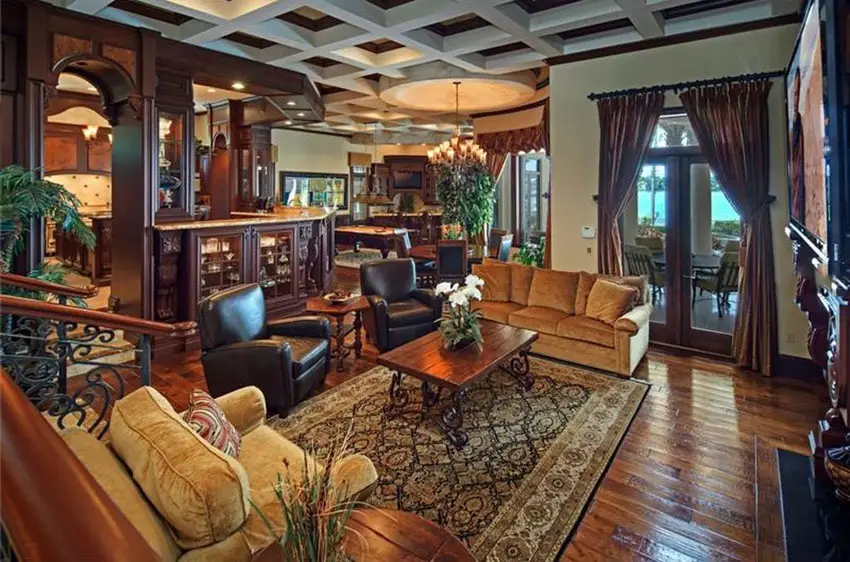 This old library style man cave with bar starts off with a large lounge area at the foot of the stairs, demarcated by a rich Persian carpet with a wrought iron and warm wood coffee table, and bordered by a light brown corduroy sofa and armchair on one axis and on the other side, a pair of black mini armchairs with a hexagonal side table.
The lounge set faces an intricately carved framing for the fireplace, and has a pair of French doors to the side opening up to the outdoor patio.
The coffered ceiling and warm wood plank flooring continues the open space concept into the polygonal J-shaped bar counter on one side, which features a warm wood finish for its framing and drop ceiling with embedded downlights.
The countertop is in a beige marble finish and the under counter cabinets are in framed glass, allowing for more display cabinets in the area.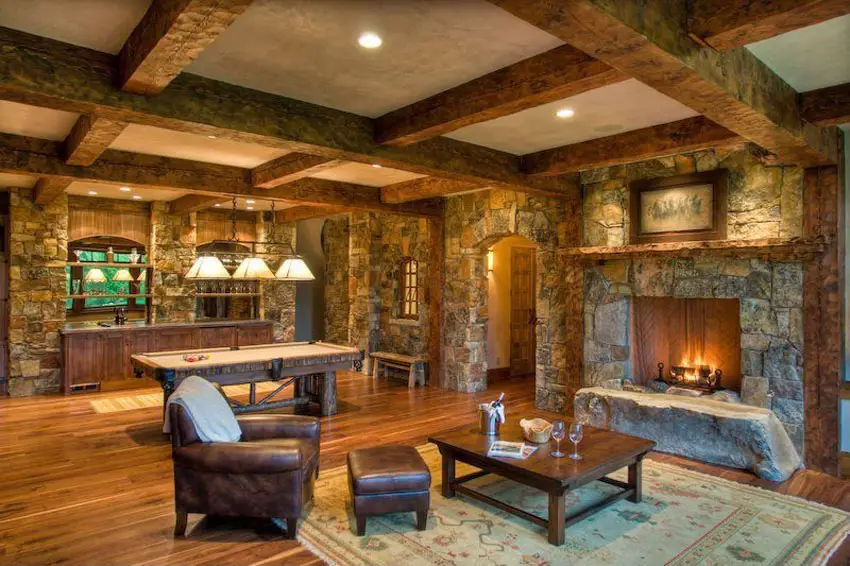 This Man Cave for one features one special leather upholstered armchair with footrest sitting diagonally from a wooden central coffee table with matching pale patterned rug facing the fireplace.
The fireplace, the plate rail and the surrounding walls are built up from irregularly shaped orange and grey rock, as are the exposed ceiling beams.
The warm wood strip flooring continues on into the other spaces in the man cave, with the center featuring a trio of shade pendant lamps hanging over a vintage pool table, and the bar-style back wall. The back wall features open shelving for alcohol and mirrored backing, giving a better depth of field.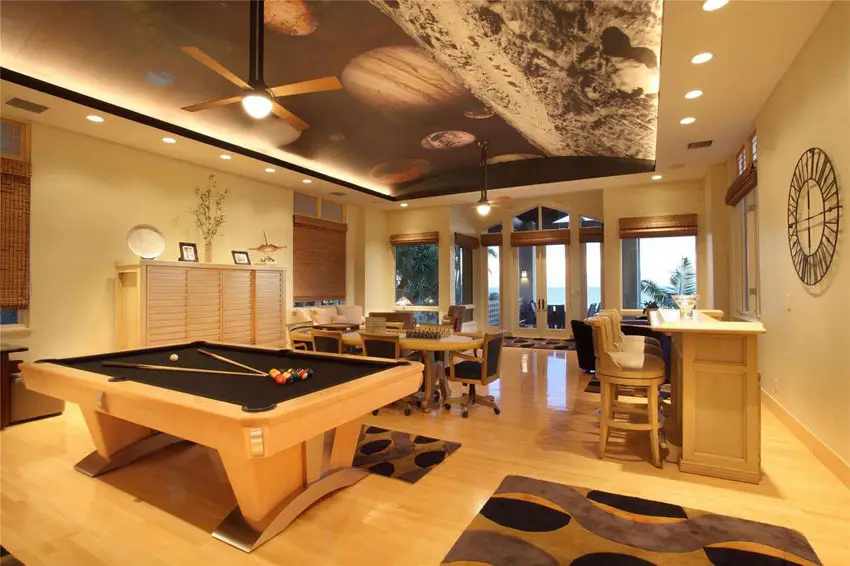 This clean modern man cave has a big feature ceiling in the form of a realistic space mural set in the recessed ceiling, lit by cove lights.
The ceiling also features a pair of hanging modern ceiling fans. The rest of the walls are in a pale off-white color, matching the pale wood plank finish for the floor, broken up only by area rugs in geometric mauve, mustard and dark blue shapes.
The furniture, from the pool table, storage cabinet, bar counter and stools and poker table all feature the same pale wood finish. The far end of the man cave features a pair of French doors and many picture windows looking out into the outdoor view.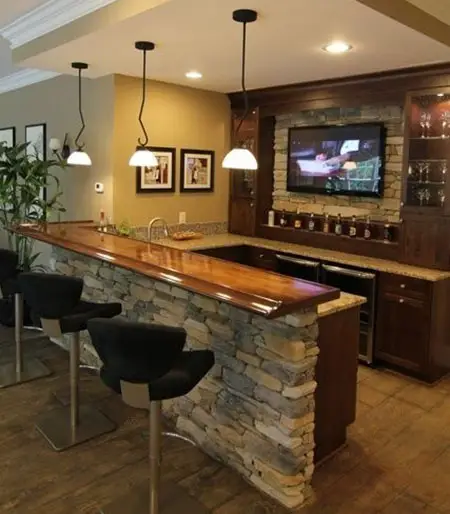 This U-shaped wet bar features a stacked stone front with pale orange and grey stones. The bar counter on top is in a polished wood finish, lit by a trio of hanging pendants and paired off with some chrome and black upholstered seats.
The lower preparation counters are in a warm salt and pepper granite finish, supported by dark wood paneled cabinets.
The back wall features a wall-mounted TV with a background similar to the stacked stone bar front. It is surrounded by dark wood caseworks with glass shelving and downlighting embedded into the ceiling.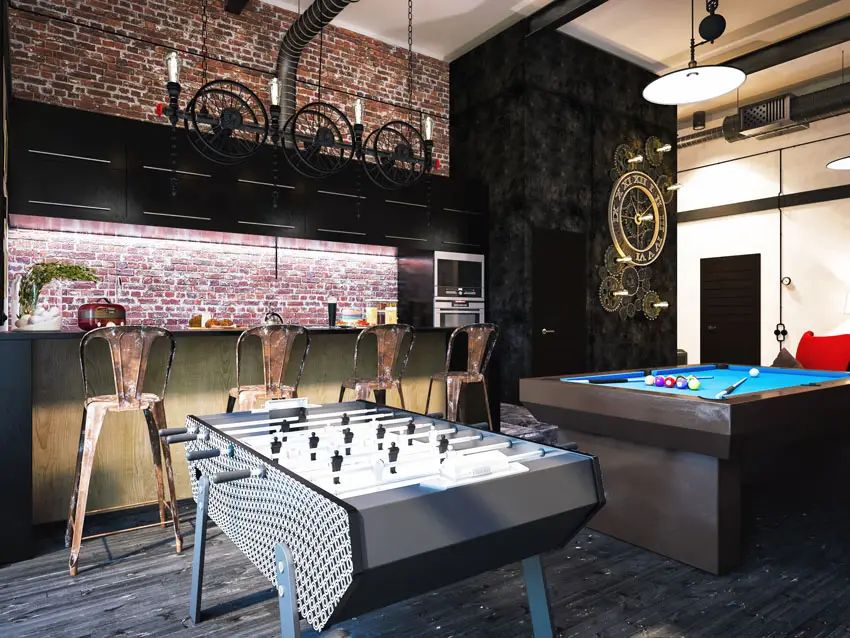 With the pool table and foosball table as the main activity in this man cave, industrial features are heavily used here, starting with the black cement background for the entrance area.
The industrial look follows into the bar area which features cove-lit vintage red brick walls with black hanging cabinets. The bar counter is also in a black stone countertop with a lighter toned wood for the base, bringing out the color of the rust-metallic seats.
Aside from the exposed ducting, the man cave also features other vintage finds such as the large hanging wall clock, the wheel-inspired hanging bulbs over the foosball table and the flat industrial style high bay lamp hanging over the pool table.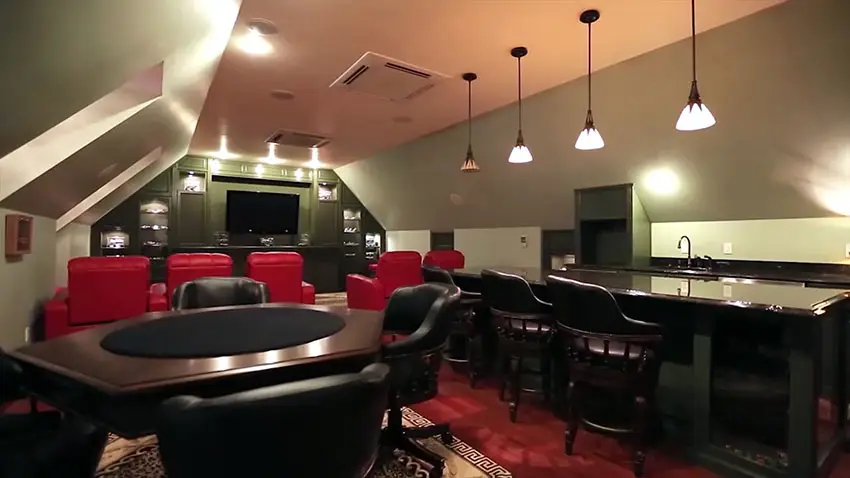 This Classic man cave takes advantage of the attic's sloping ceiling, and arranges its spaces along the perimeter of the space. The back most wall features an olive green built-up with shelves and a mounted TV, with five red leather upholstered armchairs facing it.
Behind it is a long wet bar with black granite countertop matched with dark wood and black leather upholstered chairs, lit by four small hanging pendant lamps.
Behind this is a hexagonal cards table with rolling dark wood and black leather chairs and featuring a beige and grey geometric rug for its base.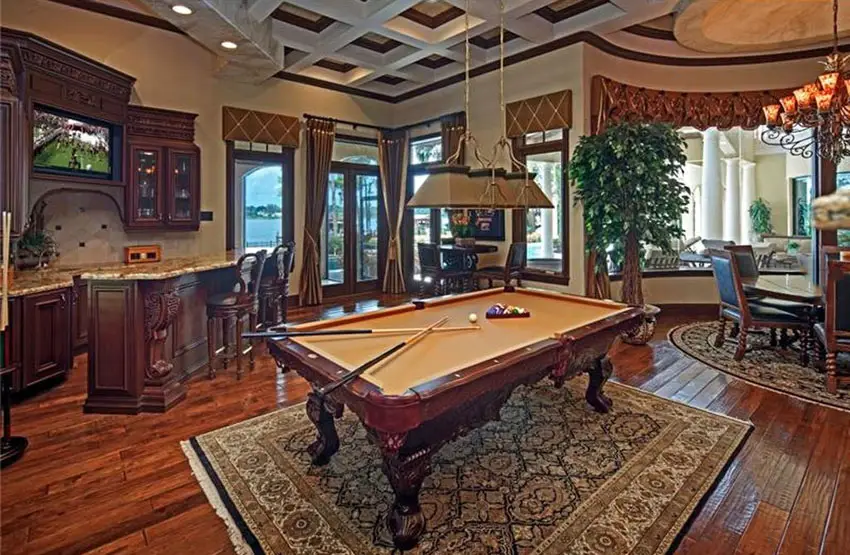 This old classic style man cave features a dark wood and beige surface pool table, lit by a trio of lampshade pendant lamps and an ornate Persian rug beneath its clawed wooden feet.
The flooring is in a warm wood plank and continues on to the next space, the corner bar counter with ornately carved wooden base, cabinets, architrave and cornice.
A lighter salt and pepper granite countertop was used, and a marble-finished drop ceiling has downlights embedded to light over the wet bar.
To the right, the coffered ceiling changes into a dome marble-finished ceiling, reflected by the rounded qualities of the wooden table, as well as the rounded textured rug beneath it.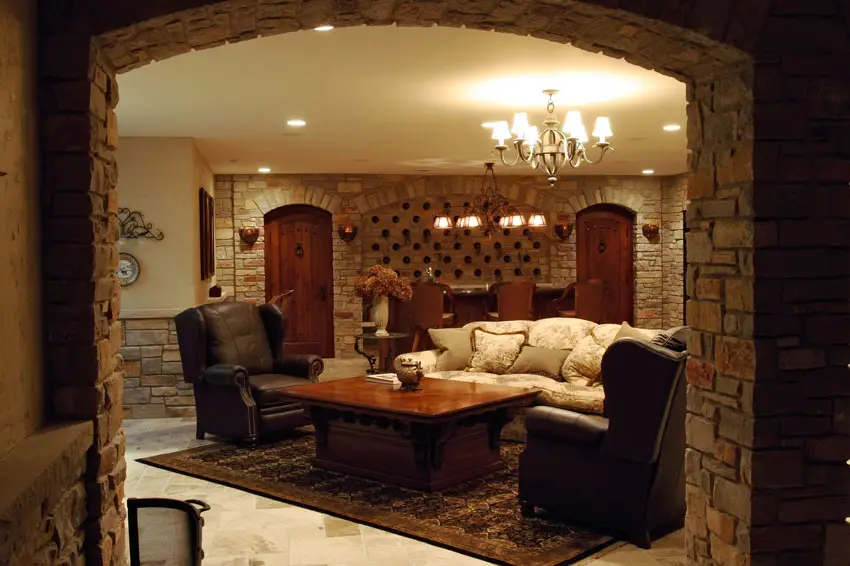 This basement Man Cave goes for an earthier feel, featuring the use of rough hewn stone all around its walls, including the arch leading inward. The back wall features two separate heavy wooden doors with a central wall with cutouts used for liquor storage, and serving as back wall to the bar counter in front.
The floor is in a lighter random course stone tile and features a diagonally set lounge area with a cream-colored couch and two black leather upholstered armchairs on either end of the central warm wood coffee table.
The bar counter and lounge area are both lit by lampshade chandeliers, albeit each features a different color and design.
This Classic wooden man cave features exposed wood beams on its ceiling. The floors also feature a warm wood plank flooring, as does the semi-circular bar with raised panels and embedded downlighting on its drop ceiling.
The walls are painted a textured olive green and still have hints of the warm wood finish in its inlaid shelves and architraves over the full-length windows. The brown leather upholstery of the bar stools match the upholstery of the arm chair by the lounge area.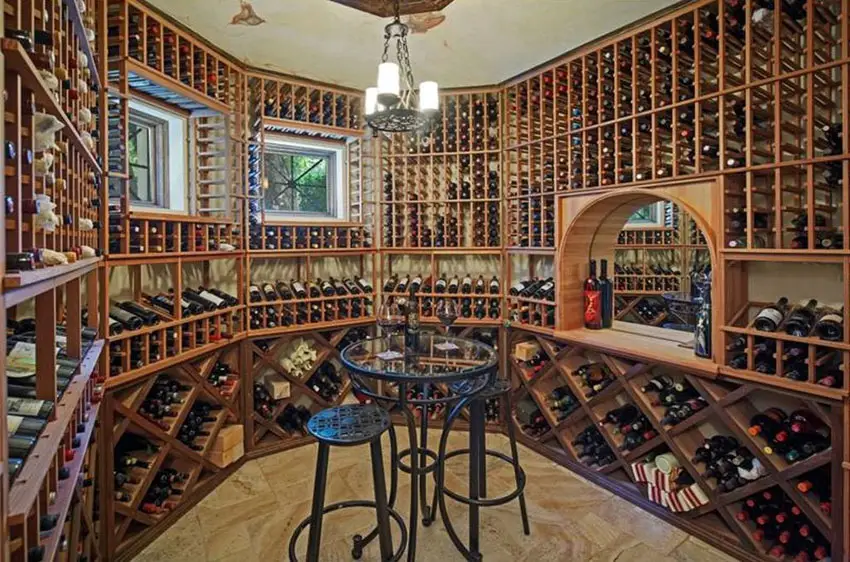 Focusing mainly on being a wine cellar, this man cave features rows upon rows of storage for precious wines and specialty spirits. The lower shelves feature a cross-hatched wood framing, with multiple bottles being stored per section.
The higher ones have rounded pegs providing more space for individual bottles. Although the whole room is bedecked in wine storage, the wood casework frames two windows and a small peephole with carved wooden cornices.
The center of the octagonal room, the wrought iron high table set for two, is lit by a trio of candle-type lamps hung by a chain to the ceiling.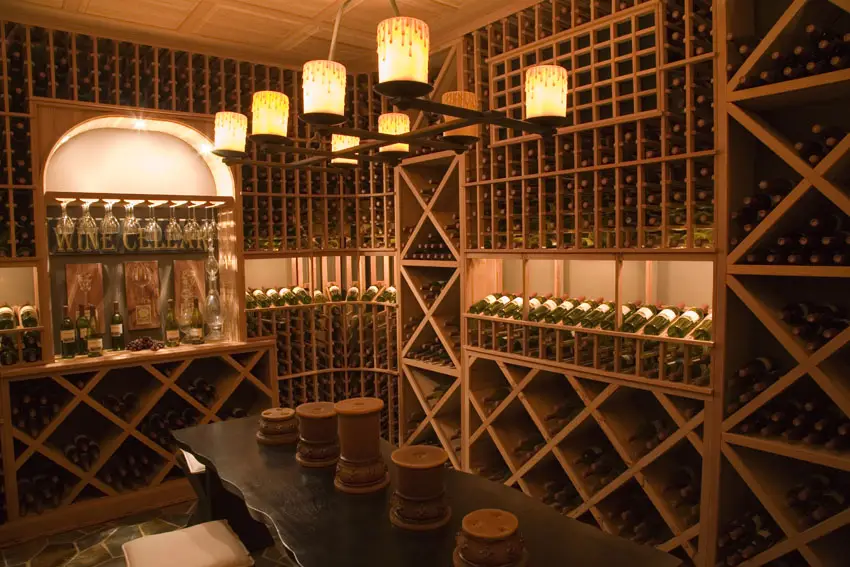 This luxurious wine cellar man cave features an array of shelving varieties using a lighter wood variant. There are X-shaped bracings with space for storage in between, leaning storage with wooden stopper, and smaller holes with rounded peg supports for individual bottles.
The centerpiece is a long table in irregularly-shaped dark wood, lit by an old candle holder style chandelier hanging over it.
Basement
A basement man cave can become the perfect mini retreat to get the man in your life out of the living room. A finished basement can become a great place for entertaining by adding a television, games, sound system and comfortable furniture.
By adding decor representing a favorite sports team, neon lighting or classic nostalgic memorabilia you can decorate the room to the style you want.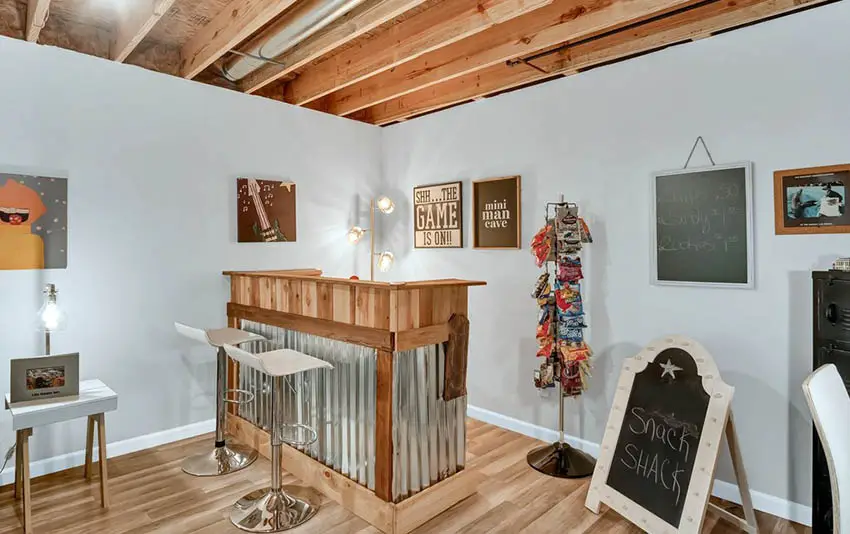 This basement man cave features a custom DIY home bar that's made from a combination of cedar wood and corrugated aluminum siding.
This man cave features a more laid back beach house-style vibe. The pale stone tines match well with the dark grey walls, and make a good background for the more vibrant furniture, starting with the large black leather armchairs with matching flower textile upholstered Ottomans facing the projector screen TV.
To its side is a game table set with carved wooden framing and a red felt top. Around it are green fabric upholstered seats, sitting on a green area rug. The bar's beach house style stems from the corrugated metal sheet panel for the base put into the place using reclaimed wood planks for its frame.
The back wall, in vintage red brick, features glass shelving with embedded downlighting from above, and a wall-mounted TV embedded into its center.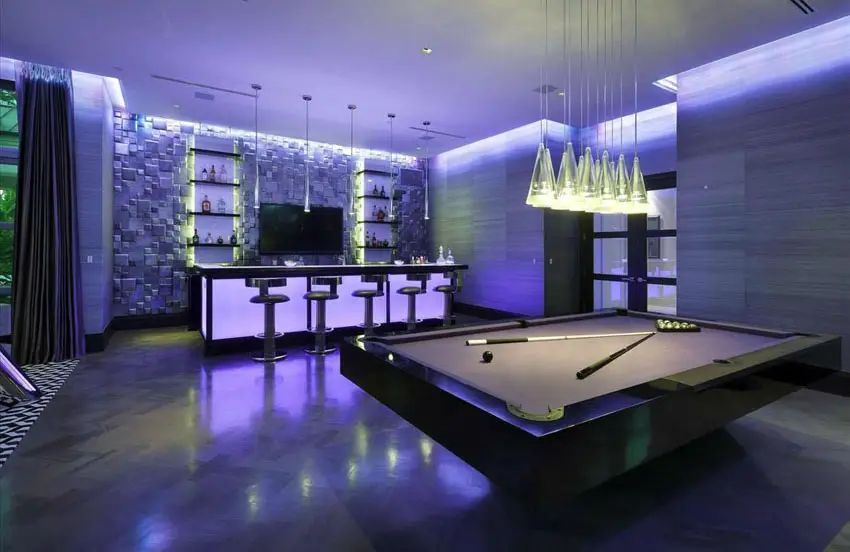 This Modern-style man cave features purple lighting all around, emanating from strip lights from the ceiling line and an inner light within the bar's acrylic base.
A large dark wood pool table is lit by many hanging conical chrome pendant lamps on one end of the room, while a large bar area is set adjacent to it.
Space-age rounded bar stools line the front of the black countertop bar, facing a tall back wall with stacked stone finish, featuring a mounted flatscreen TV and liquor shelves on its sides. The rest of the room features a grey wood parquet for its flooring and linear travertine stone tiles for its walls.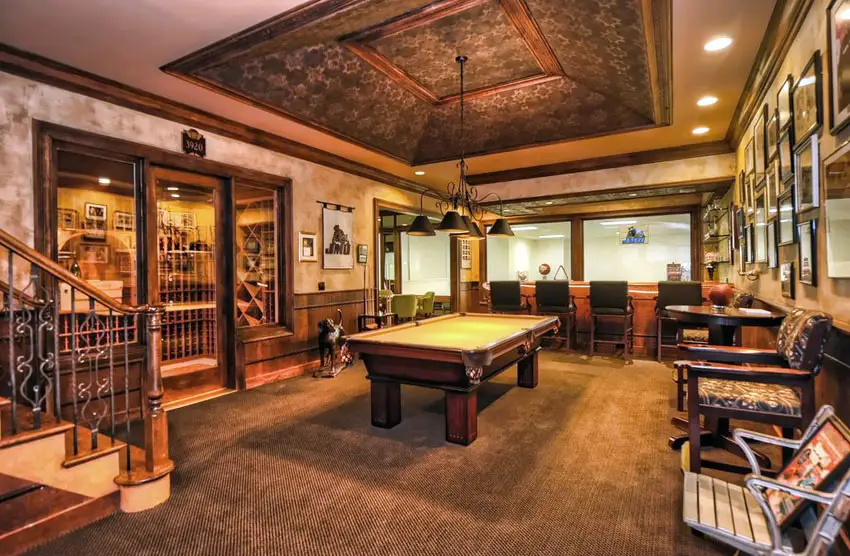 This cozy man cave is at the foot of the warm wood and black iron staircase. The middle of the room is dedicated to a dark wood pool table with beige felt topped by a hanging accent lamp in matte black hung from the featured pyramidal ceiling, with the recess done in a Classic brown and gold wallpaper.
The floor features a grey rug, accenting the wooden panel base of its surrounding walls terminating midway to give way to plain white walls hung full with photographs and memorabilia.
Assorted chairs sit below these framed photos and a small bar at the back wall has enough space for four black leather barstools.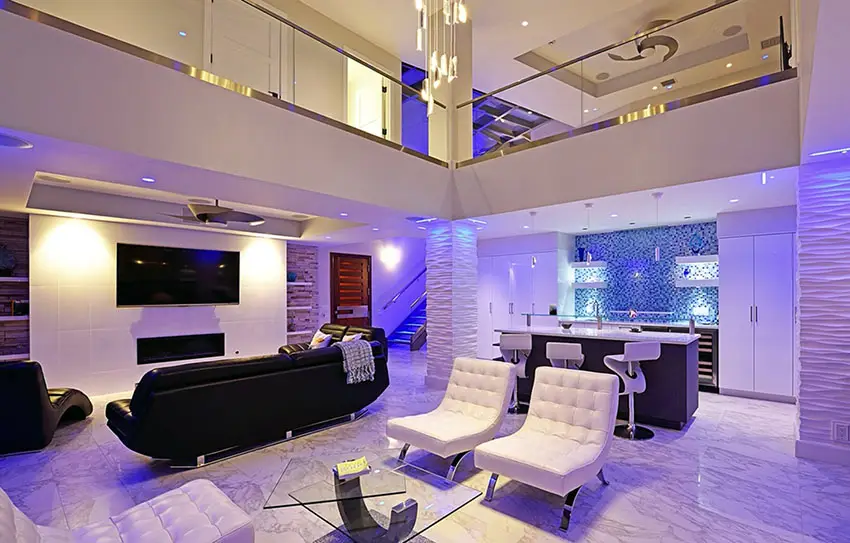 This amazing modern lounge space is decorated with stylish black and white leather furniture pieces and offers spectacular neon mood lighting.
The modern home wet bar is equipped with chrome bar stools a wine fridge, large high gloss cabinets, chrome pendant lights and blue mosaic tile backsplash. Textured wall pillars and marble floors give the space a luxurious feel that is sure to impress.
Garage

A garage is often the perfect spot for a man cave as it offers space for all the necessities. Whether its tinkering on the engine of a classic car, wood working or hanging out with friends a well designed garage can make a great hangout.
Most garages offer separation for the rest of the home and offer privacy for a quick escape from the worries of everyday life. Here are a few of the essentials to creating the best garage man cave:
Cars and motorbikes – The measurements of vehicles requires a different focus from usual indoor dimensions used in interior design, so take note of entrances, exits and heights when designing a Garage Man Cave.
Industrial Style – Usually Garage Man Cave ideas are designed in the industrial style because of all the extra mechanic space needed for automobile and motorbike maintenance. This includes plain panel walls, resilient flooring, and storage and mechanic space and racks.
High Bay lighting – Usually, these Garage Man Caves have high-ceilings, meaning they also require very bright high-bay lights. Besides being good for display purposes, repairs and maintenance works on the cars or motorbikes are done here, so enough light must be present. In addition, the Garage Man Cave can double as a tool shed or invention space.
Sound System – Listening to music in the garage is a must whether working on cars or hanging out.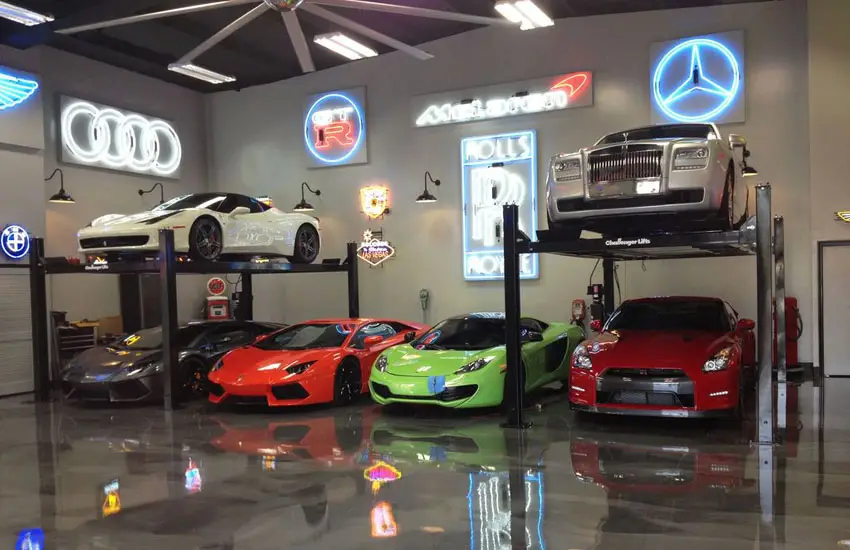 A large metallic industrial fan, along with several fluorescent lamps in trenches, hangs from the black paneled ceiling and onto the glossy concrete flooring below. This industrial-style Garage Man Cave is outfitted with display racks enough to fit six cars.
The walls, in a matte grey plaster finish, are filled with neon signs of luxury car brands. Alongside these neon signs, wall-hung black metal downlights are placed along the perimeter of the display area.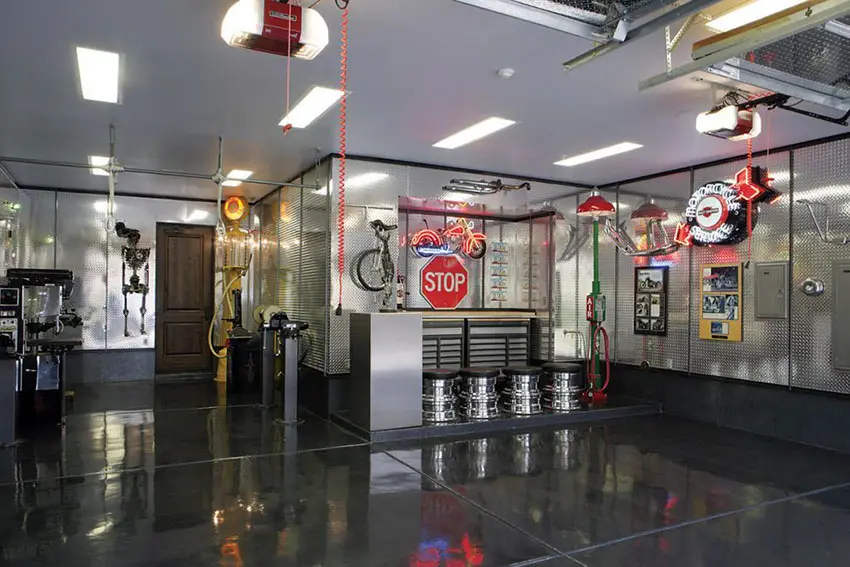 This retro vintage Garage Man Cave features polished black concrete floors and a flat white ceiling with embedded fluorescent light troughs. The walls are fitted with all sorts of neon lights, road signs and bicycle parts.
The walls are in a reflective aluminum cladding, further adding to the retro vintage feel of the man cave. To the side, four small metallic canisters upholstered with black leather are re-purposed into stools, so that the area turns into a small pocket lounge for this man cave.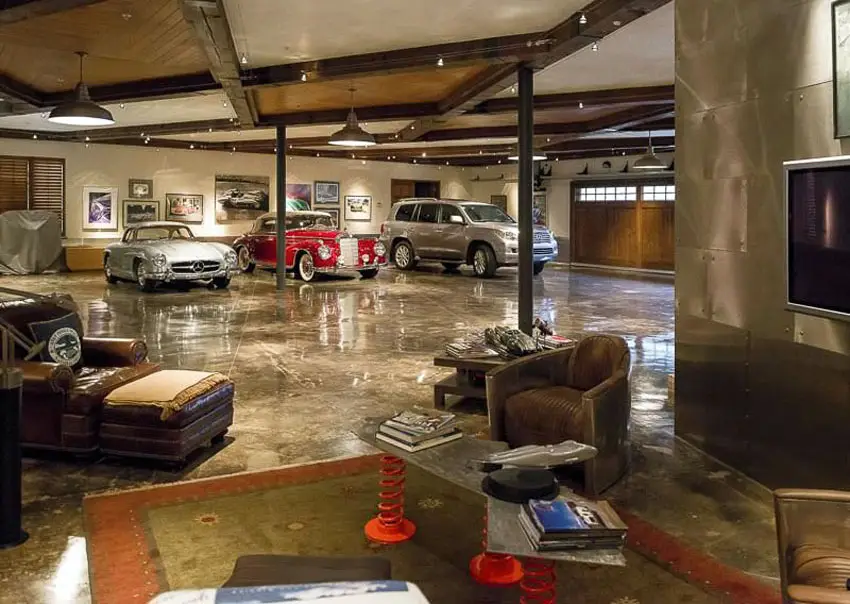 This vintage Classic man cave features not only vintage cars, but an assortment of Classic-style furniture, with the brown leather armchair with footrest and old-style area rug, paired off with a more modern spring-inspired coffee table in bright orange.
The flooring of this man cave is in a glossy muddy brown finish, while its ceiling features exposed metal beams with wooden recesses and industrial pendant lamps hanging off the beams. The back wall, painted in white, also features a nice array of vintage automobile pictures.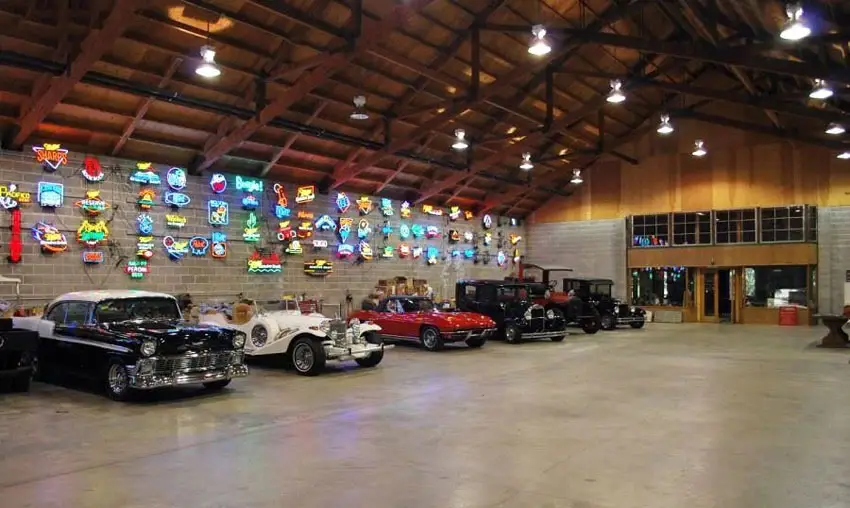 This huge garage features exposed wooden ceilings with trusses and wood panels with high bay metallic industrial lights hanging off the rafters.
This large warehouse to man cave conversion still features the massive concrete floor and concrete hollow block walls, but is softened by the warm wood panel accents and framed glass windows by the entrance.
The multitude of neon signs behind the displayed cars also gives the space more character, perfect for holding man cave social parties among amazing vintage cars.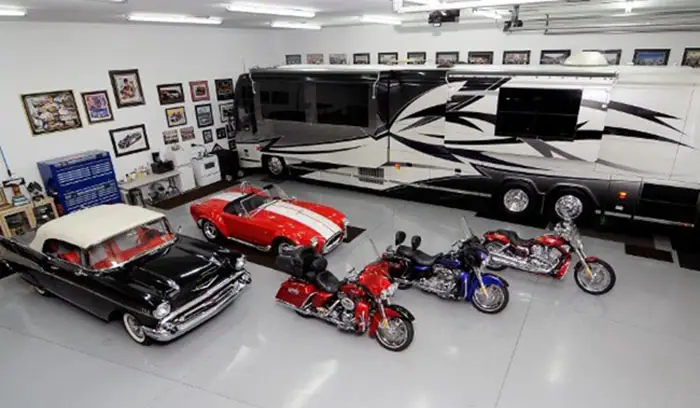 This luxury garage has it all, plenty of storage space for an RV, classic cars, motorcycles and tools. The entire back wall is utilized as a workshop area with table, workbench, toolbox, and beer fridge.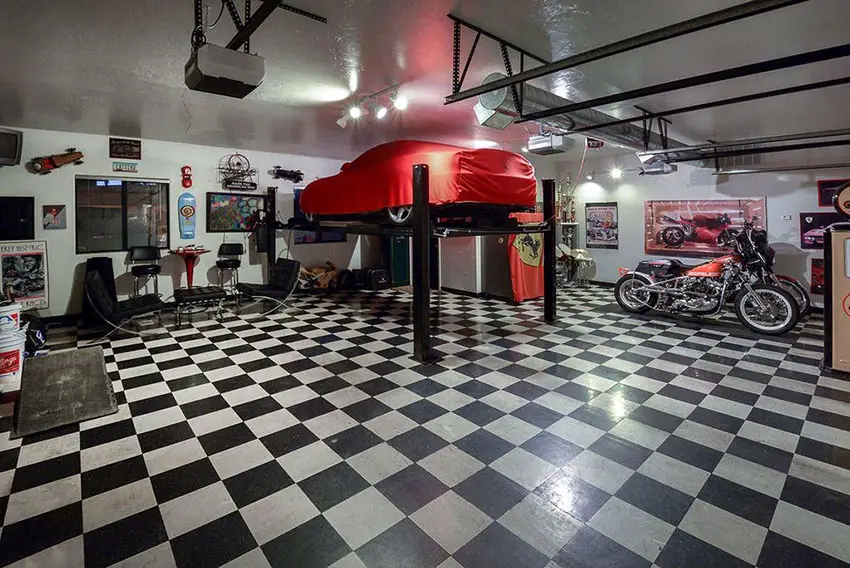 Although it contains vintage cars and motorbikes, this Garage man cave goes for a more contemporary look. With checkerboard vinyl tile floors all over, the man cave also features a small lounge set to the side with a pair of black leather and metal legged Barcelona chairs with a central ottoman.
The plain white walls are decked in colorful images and collectibles, while the bare bones white ceiling has several tracks, track lights and ducting running along it. Besides the industrial garage look it provides, it is also essential to have proper rigging and ventilation for a garage style man cave.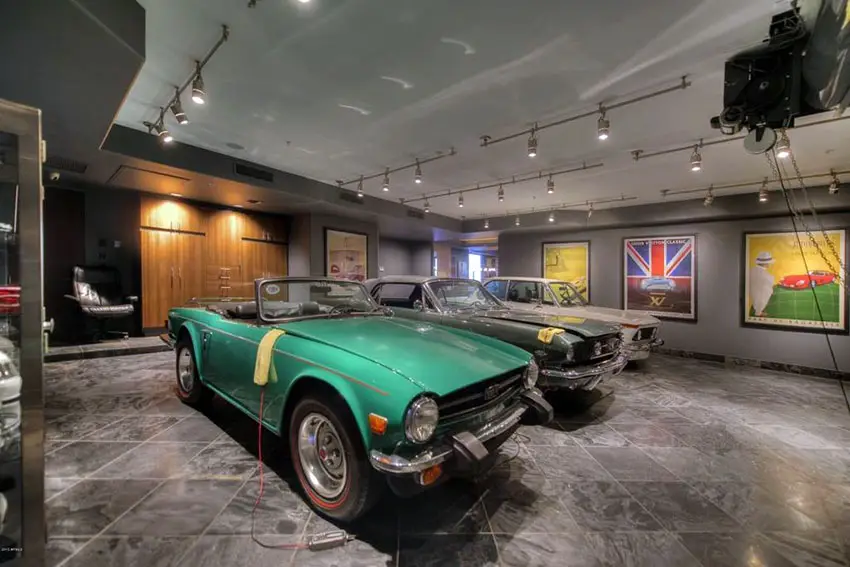 This garage man cave may house classic vintage cars, but its grey theme and clean lines speak of a more Modern style. The floor tiles are in a textured grey, with porcelain being a good choice for heavy loads.
The grey walls are decorated with large framed posters of vintage car advertisements, lit by sleek grey track lights hanging from the plain painted ceiling.
Towards the back, a retro-modern armchair in brown leather is placed next to a set of cabinetry in warm wood, lit by a pair of downlights, giving the garage man cave a warmer vibe.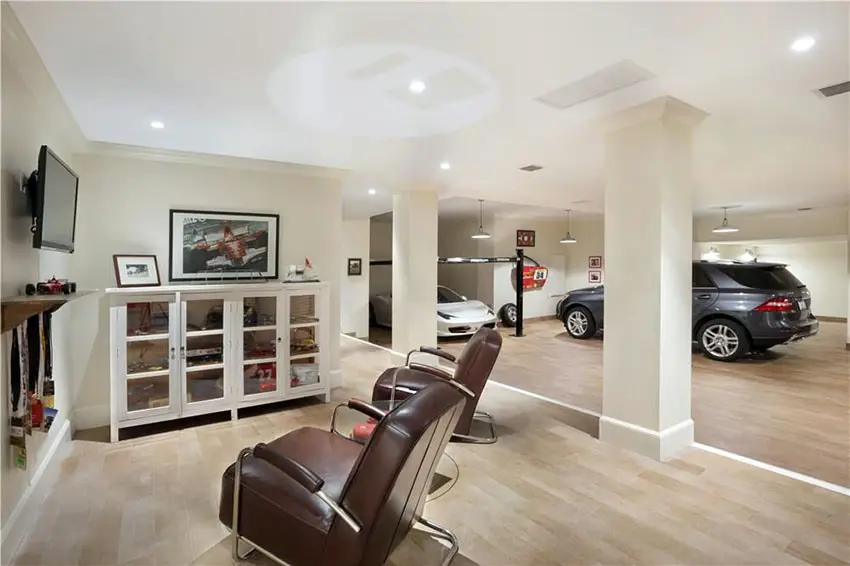 This Contemporary style garage focuses more on the comfort of the man cave, featuring wooden plank-like flooring. For heavy duty floors that can withstand the weight of a car, porcelain tiles or resilient flooring materials with wood grain are suggested.
The rest of the room features white painted walls and ceilings with downlights embedded on them and hanging pendant lamps over the car display area.
In the corner space created by the volume of the two columns, a lounge was created for the man cave, with two Contemporary style armchairs in brown leather and steel framing.
The corner features a glass display cabinet with paintings and a hanging ledge with memorabilia below the wall-mounted flatscreen TV.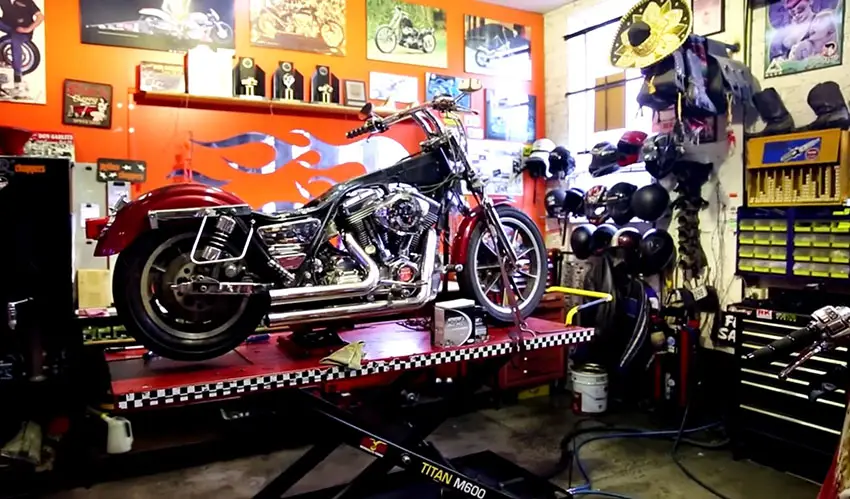 This garage style man cave featuring just one specialty motorbike is small but vibrant, with a solid orange wall at its back, decked with different images of motorbikes and a hanging shelf with trophies and certificates.
The rest of the man cave features helmets, hats and assorted bike parts along its walls, while the tough sealed concrete flooring supports the hydraulic platform for the big bike.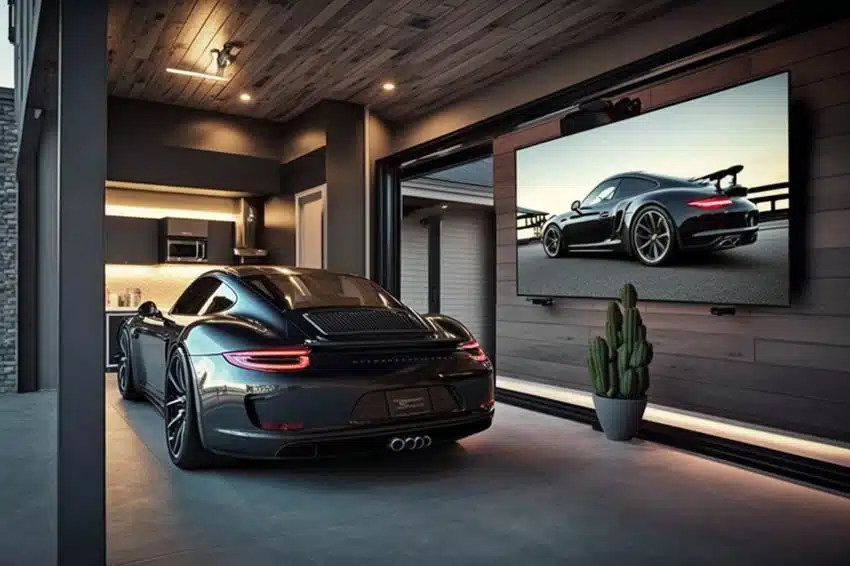 This stylish tandem garage is the perfect spot to hang the flat screen TV and enjoy the built-in home bar. With recessed, linear, above and below cabinet, and baseboard lighting there's plenty of illumination to provide emphasis to the modern finishes.
This man cave garage bar idea features a bar countertop with neon under-counter lighting to create the right mood for a garage hangout. A refrigerator is a must for a cool hang-out like this with plenty of storage for your favorite drinks and plenty of counter space to pull up a chair with a friend.
Backyard Shed

Backyard Shed – A backyard shed man cave can become a good place to have a drink and entertain friends. Since the space is in the backyard, the space needs to become a focal point of the backyard yet match with the surrounding landscaping.
Having a nice garden feature, with a properly designed shed can look aesthetically pleasing and enhance the resale value of your home.
Some great ways to integrating the shed into the back garden is the use of windows, opening up the space to the outside and make it flow in to the yard. Another way is the incorporation of a deck, expanding the outdoor living area for a smaller man cave space.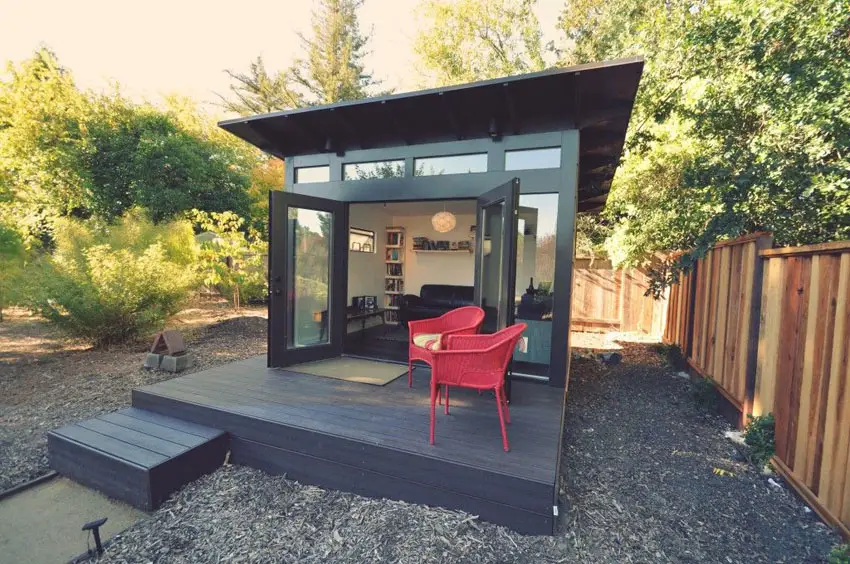 This black painted wood backyard shed goes with a more Modern feel, amidst the warm wood perimeter fence and dried leaves on the ground. A small built step leads to the outer deck that features two bright red woven chairs for outdoor seating.
A pair of wood-framed glass doors is surrounded by two full-length windows and clerestories above it, leading to the small lounge space with black leather sofa and hanging shelves for books. The shed's roof is in a simple slant, but exposing the rafters gives the shed more character.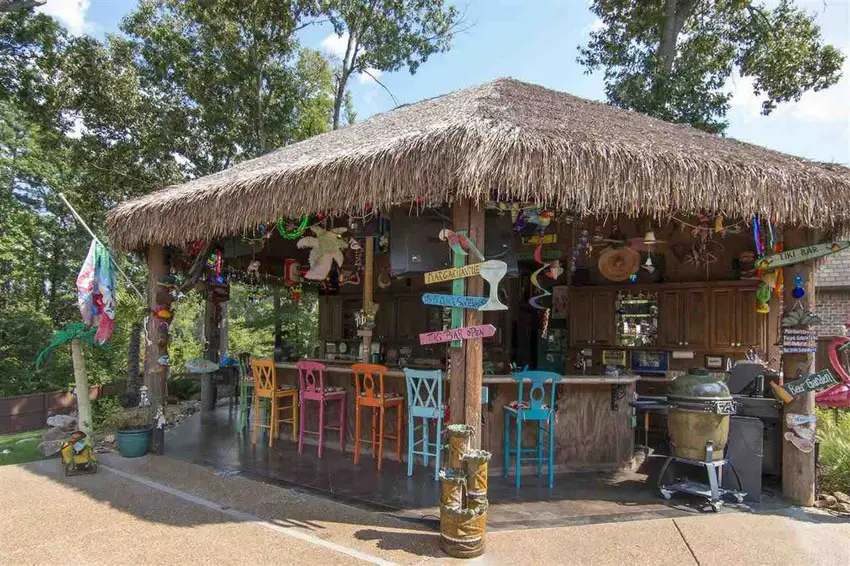 Instead of creating an enclosed man cave, this backyard shed was converted into a tiki bar, very open to the outside trees and garden with its wooden post perimeter and thatched roof.
The bar area features unpolished wood panel cabinets and a base for the bar counter. The bar counter stools are in varying colors and designs, matching the post-nailed signs at the front pillar, and all the other colorful hanging décor under the pitched roof.
This small backyard shed features a simple gable roof with grey painted wooden clapboard sidings. The front entrance features white mullions on its door and double-hung window, giving it a quaint country look.
The small shed extends out into the lawn garden with a dark reclaimed wooden deck matching the wood grain of the perimeter walls. The deck is decorated with a sofa and armchair in woven rattan, topped with cream colored pillows with a few pale blue and green accents.
This old beige clap board style backyard shed was converted into a man cave, first by opening up the window and hanging it with chains to the walls, creating a canopy for the new bar counter, decorated with an American flag below it, and a vintage dart board and accessories all around it.
In front of the makeshift bar are a trio of industrial style steel bar stools, well-heated by the umbrella-type heater by its side, perfect for a drink on cold nights.
This wooden backyard shed features a hexagon-shaped pitch roof with grey shingles, complete with skylights above it, which provides light into the inner space. With the back wall of the all-wood bar filled with liquor shelves, the bar stools are a perfect place to catch a drink.
Additionally, two large rattan woven armchairs with floral-printed pillows and matching coffee table were added towards the entrance. Two heavy wooden barn doors keep the entrance looking rustic and protected from outdoor elements.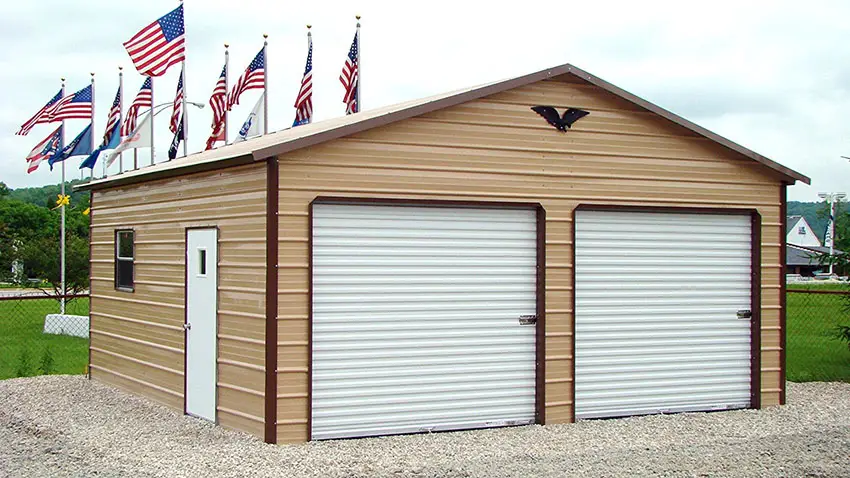 See this all steel garage shed at Amazon
This easy to assemble All Steel Boxed Style Garage features a double entry steel roll-up gate. This is perfect if you want your man cave to function as a real parking garage as well.
One steel roll-up door can be for the car parking, while the other is great to use as a tool shed, invention desk or even a great place to pass the time, given the right furniture and design elements.
It even features a side door with windows, making it easier to access and giving it some light in its interior. The 24 feet by 36 feet dimensions of this garage offer plenty of room.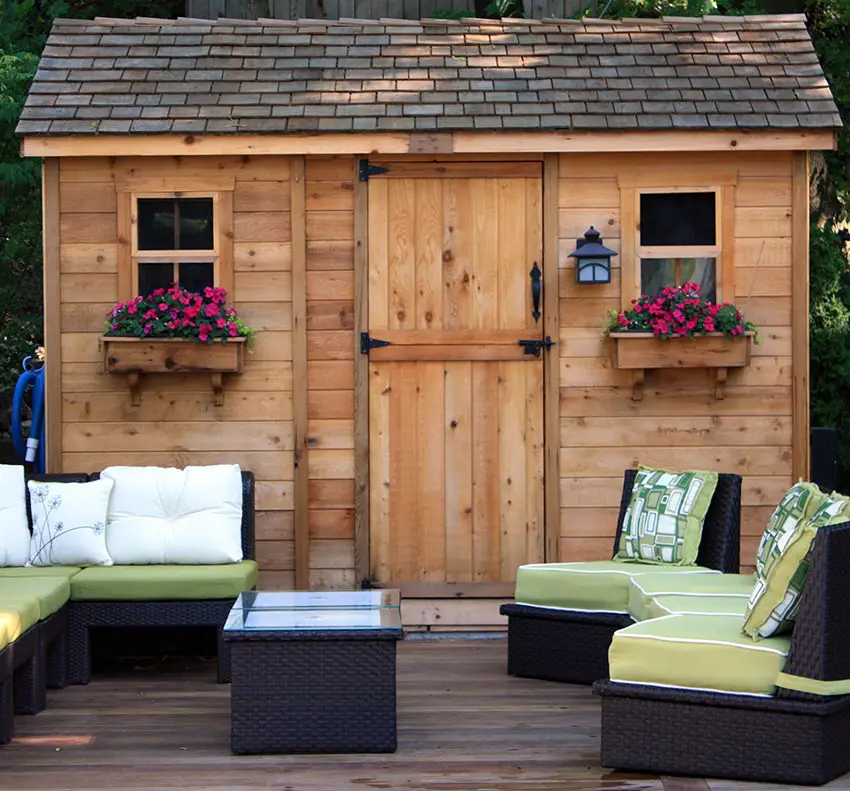 See backyard wood cabana plans at Amazon
This backyard garden shed is not big at 12 feet wide and 8 feet deep, however it is a low cost way to create an additional space for storing items or getting out of the house.
When attached to a deck and decorated with outdoor furniture it can extend your living space and offer another spot to socialize with friends or family.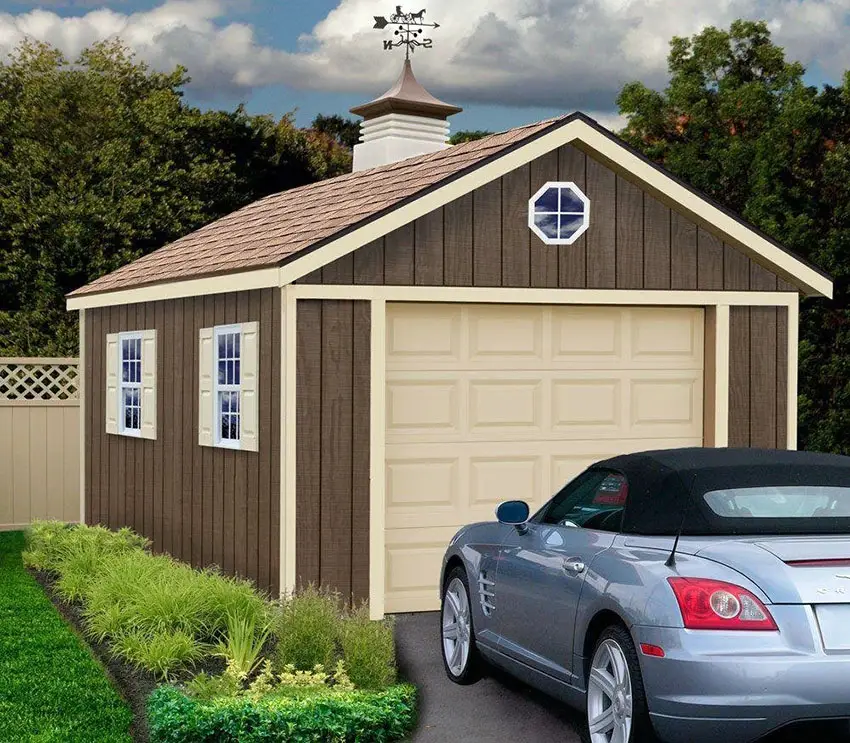 See this wood garage kit at Amazon
This Classic garage with the red asphalt shingles on its roof, dark wood panel walls and white pine trim is only 12 ft. x 24 ft., and features a neat white paneled wood roll-up garage door at its front, perfect for parking a car, or even better, for converting into a man cave.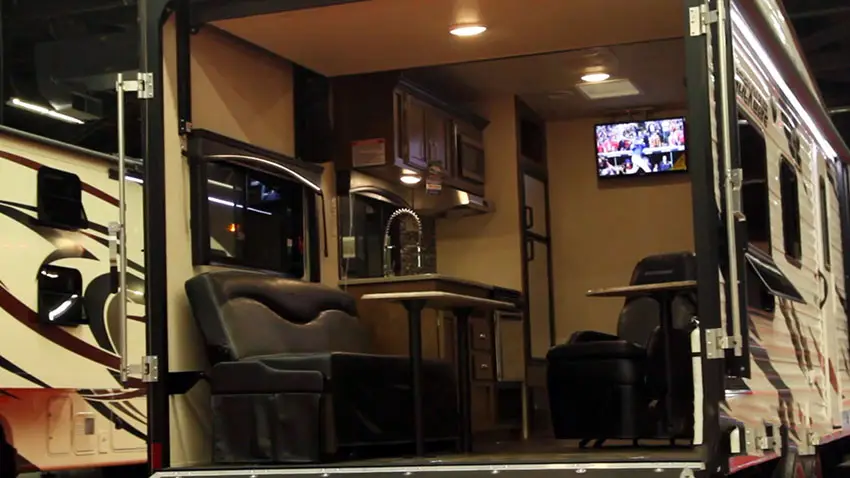 An RV can be parked in the backyard and repurposed into a personal man cave. Already having the essentials of a countertop sink and kitchen cabinet space, it is only a matter of finding furniture matching the existing interior.
In this case, a black leather loveseat was placed in front of the pre-installed bar table, and an armchair and ottoman were placed opposite of it, by the wall-mounted TV. The small space is lit by only two downlights, cozy enough for a man cave for one.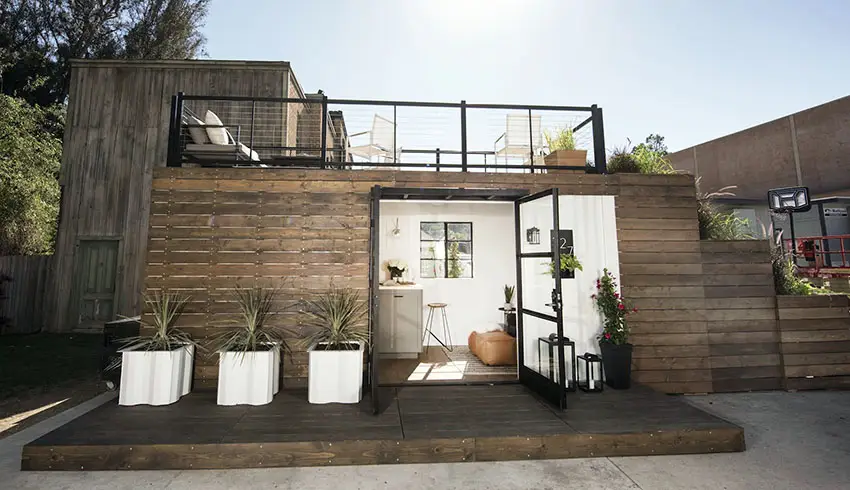 This small box-style man cave is actually a repurposed shipping container. Covered by dark wooden pallets, the space is immediately transformed into a warmer, more welcoming space, as opposed to its corrugated steel interiors, now painted in a clean white color.
The door features glass in a black steel framing, also used in the window and the railing on its roof deck, decorated with its own outdoor lounge set. The steps leading to the upper deck also have the same dark wood pallet finish and feature wild plants on its sides.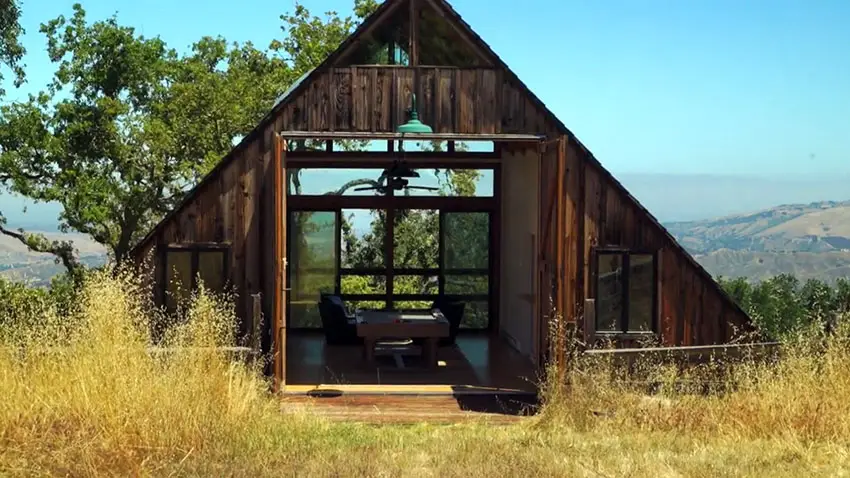 This Barn-style man cave features a more dynamic triangular profile, with dark reclaimed wood used on all its walls and a steeply sloping shingle roof reaching all the way down to the ground.
Large windows, particularly facing the mountain view, open up the space to the beautiful scenery and to the tall grasses in its exterior.
The interior features an exposed truss ceiling where a ceiling fan is hung over a low dining table in light wood. The floors are in a beige ceramic tile, matching the idyllic setting on the outside.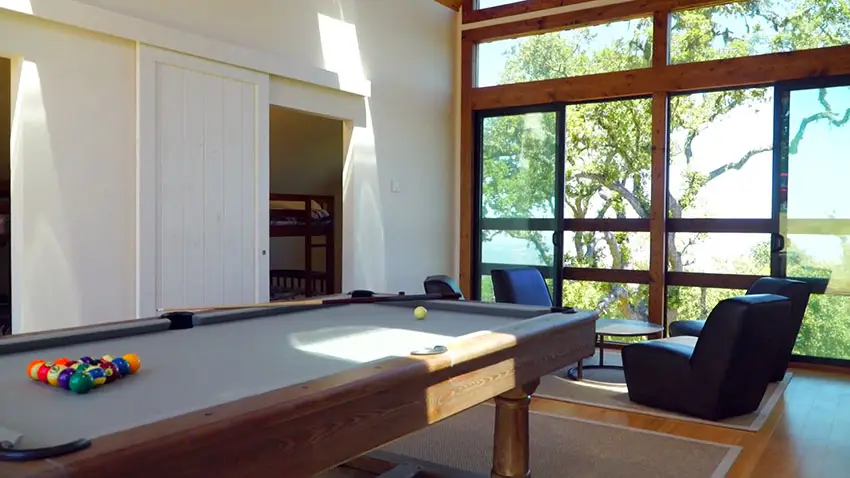 This is an interior view of the bar man cave shown in the picture above. Featuring large seamless sliding windows looking out into the view and overhead skylights that bring in tons of natural light, this man cave needs minimal decoration.
A set of upholstered seats by the window huddles over a small coffee table and beside it is a light wood pool table with grey felt, the only two sets of furniture in the entire room. Both are underscored by matching beige rugs, a great accent to the light wood plank flooring.
To the side, the white wall entrance features a white sliding barn door with the tracks concealed under a neat white fascia.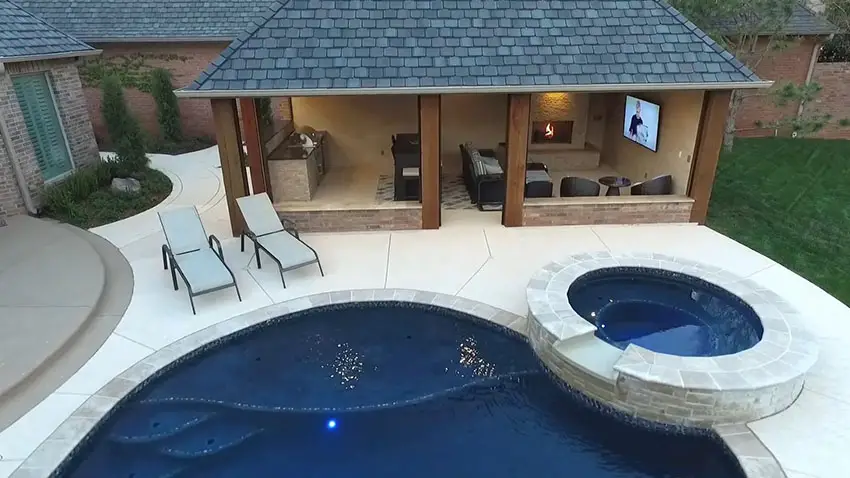 Fronting a beautiful white marble lined pool and Jacuzzi, this pool house, with its slate grey shingle roofing is the perfect outdoor man cave space.
Set apart from the rest of the yard by small knee-high build-ups in brown brick and framed by heavy timber pillars, the interiors are also in a warm beige tone tile.
The same brown brick is use for the undercounter for the wet bar to the side, as well as the build-up by the fireplace. A flatscreen TV is mounted on the wall, in front of a couch and armchair set.
Cave Design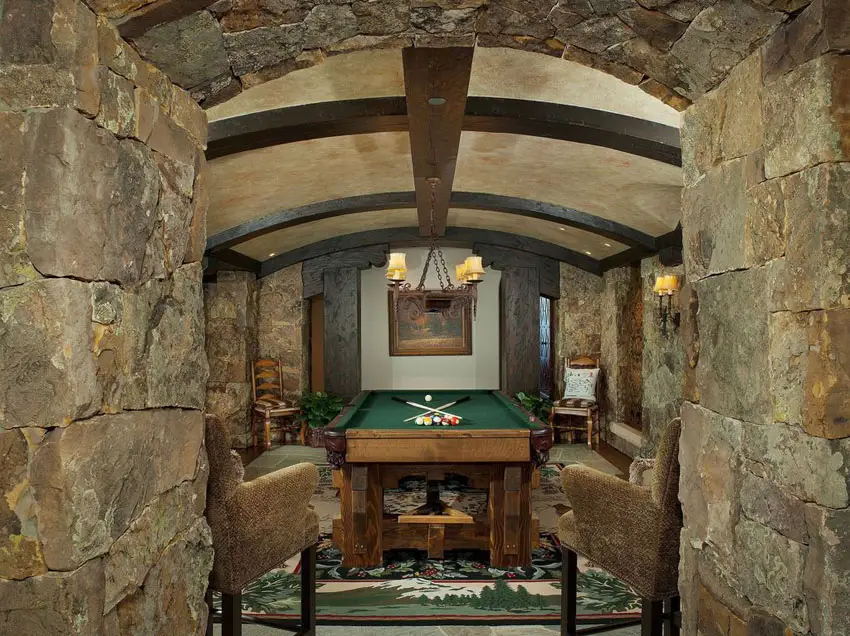 At the center of this very rustic man cave is a heavy wooden pool table, surrounded by four non-identical chairs on each corner of the room.
The pool table is topped by a heavy rusted bronze medieval chandelier hanging from chains on the arched ceiling with exposed wood beams.
Rough hewn stone finishes surround the entirety of man cave's walls while a large woven carpet provides softness and color in the masculine space.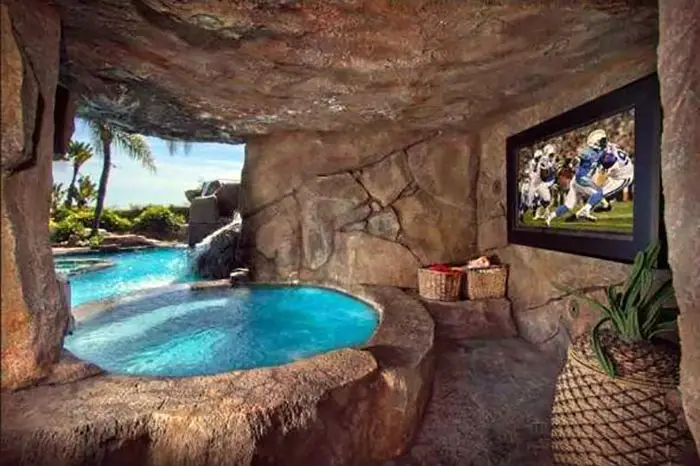 This man cave opens out into a larger boulder-themed outdoor pool. The interior, however, is a great place to spend time lounging in the Jacuzzi, either in summer or winter, while watching TV.
The woven storage baskets match well with the rustic brown boulder finished used for the walls, floor, ceiling and hot tub. A kitschy pineapple basket to the side adds quirk to the man cave.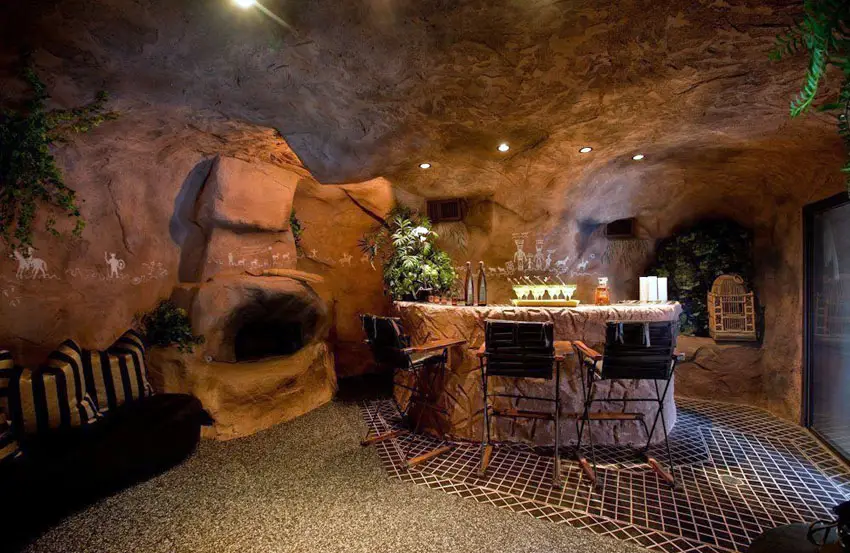 This man cave is a more social space, ideal as a space for drinks and small parties, with its intimate rock bar. The black couch on the side is simple but provides a chill space in the all-rock interior of this man cave.
Cave paintings are a quirky addition to the space, while more functional elements such as the rock fireplace and mosaic tile flooring for the mini bar also fit in with the man cave's theme.
Small Layout Ideas
A small man cave design usually considers either of the following scenarios:
Man Cave for one – Formerly called a study or office, these spaces have evolved into becoming not just a good place to work, but also to unwind and entertain oneself.
A Man Cave for one features furniture and fixtures usually good for the use of just one individual, keeping furniture few and efficient.
Re-purposed space for Man Cave – When older spaces are emptied, the opportunity for a man cave may arise, despite how small the space is. The trick here is taking into consideration the features and opportunities an old space may have for this new purpose, no matter how small the space may be.
Man Cave mix with separate space – Sometimes, the Man Cave can be mixed with an already existing area like a living room extension, empty guest bedroom or patio.
The Man Cave can adapt to these spaces to being an exclusive space when needed, yet usable when the initial need is called upon.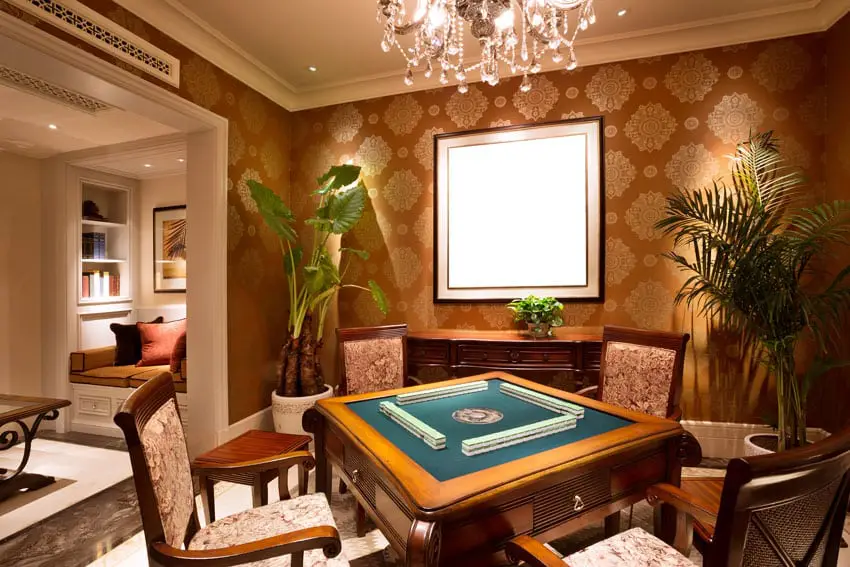 This small but luxurious man cave is tucked away beside a small reading nook, complete with under seat storage, side shelves and brown seat pillows matched with red throw pillows.
The man cave centers on a Classic mahjong table in warm wood, surrounded by floral upholstered seats on its four sides. A luxurious crystal chandelier hangs over it, and the floral motif on the seats is continued in the gold wallpaper all around inlaid with floral motifs.
The back wall features a warm wood console table with a large framed mirror on top, and potted tropical plants bring in a more natural element.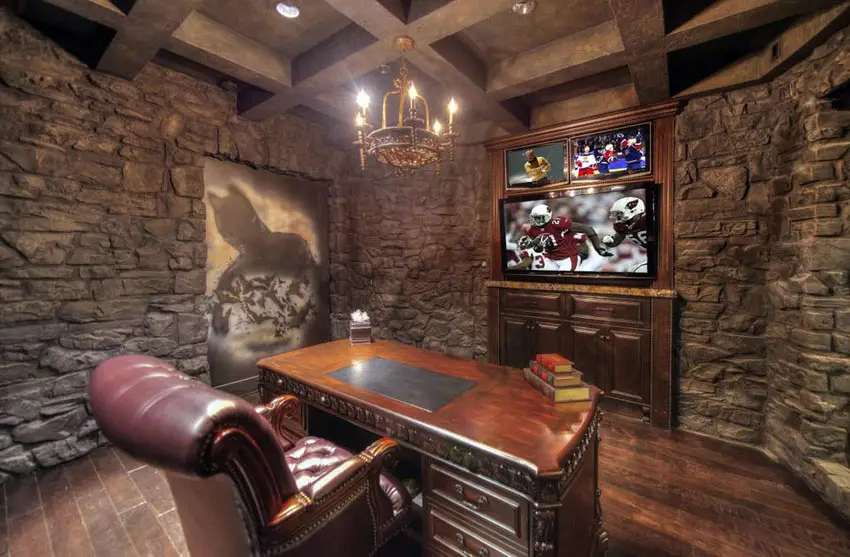 This man cave office for one has a bit of an "secret underground lair" feel, starting with the batman mural to the side, embedded in the stone walls all around.
The coffered ceiling in a rough brown cement finish features a solitary hanging bronze chandelier over the heavy warm wood Classic-style office desk with black leather pad. The desk comes with a matching maroon leather button-upholstered armchair with wooden base.
The floors are in a darker wood finish, matching the built-up cabinetry towards the front that has flatscreen TVs embedded into the woodwork.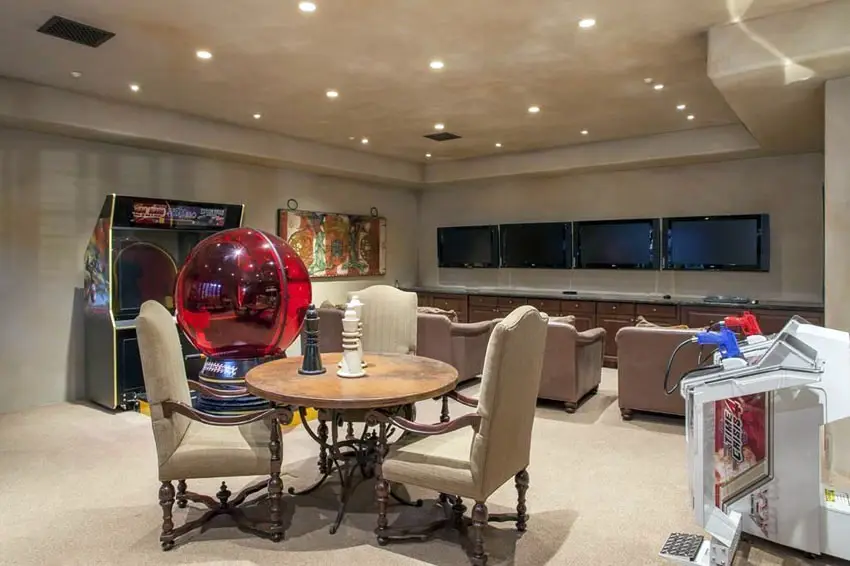 Although this man cave provides a lot of different seating options, it is more compact, given that it has several arcade game consoles scattered around the room. In addition, the back wall features four television sets.
Mounting a flat-screen TV onto the wall is a great way to save space, and three large armchairs were fit in front, along with a small counter with cabinets along the back wall's length.
The center of the room features an ornate black iron round table with warm wood top surrounded by a trio of beige fabric chairs with carved dark wood base and arms.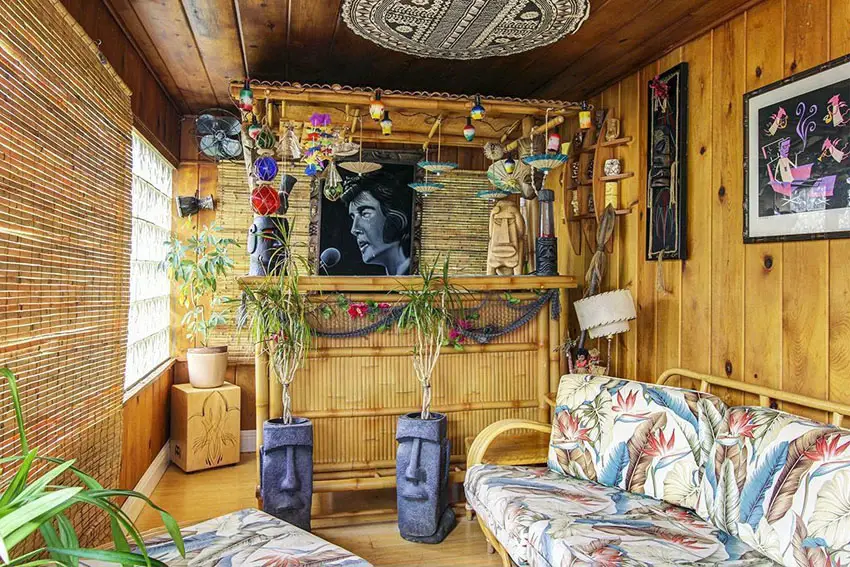 This small man cave has the feel of a tiki bar on the beach, with a yellowish light wood used for its wall and floor panels and a darker wood for its ceiling, decorated with a central circular piece of embroidery in tribal patterns.
The bar is made up of bamboo and decorated with stone heads, tropical plants and small colorful umbrellas. The lounge set also goes with this look, having bright floral upholstery in its woven rattan frame.
To the side of the bar, the wall of glass blocks brings in light in distorted ripples, mimicking the light from under the sea.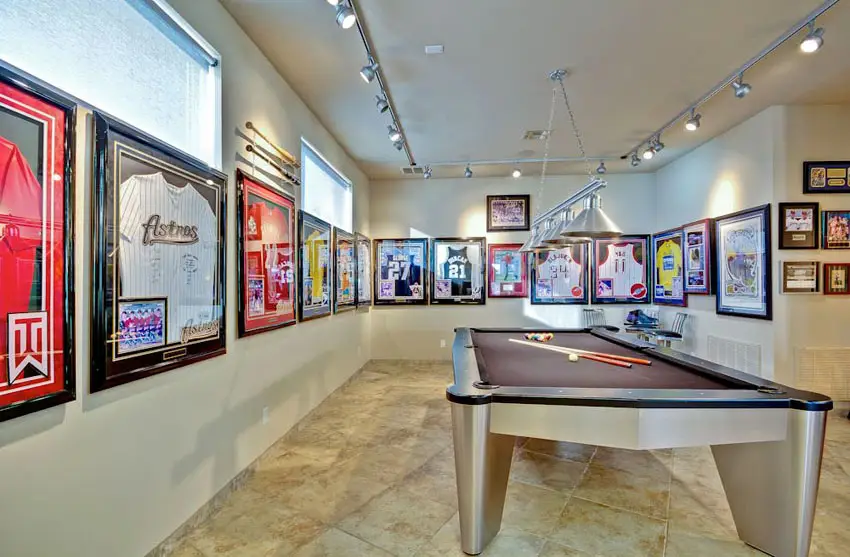 The futuristic looking pool table with silver base and dark top occupy most of the space of this smaller sized man cave and features accent lighting over it in the form of conical lamps hanging from a steel rod attached to the ceiling with a chain.
The room's flooring uses a rustic orange tile set diagonally that complements well with the all-white walls. The walls are filled with framed jerseys and other small memorabilia and are lit by a series of ceiling-hung silver track lights. One wall features a pair of horizontal frosted glass windows to bring in some light.
Decor
Creating the perfect hangout spot is all in the details. With the right decor you can reinforce the theme you want and showcase your favorite interests and pastimes.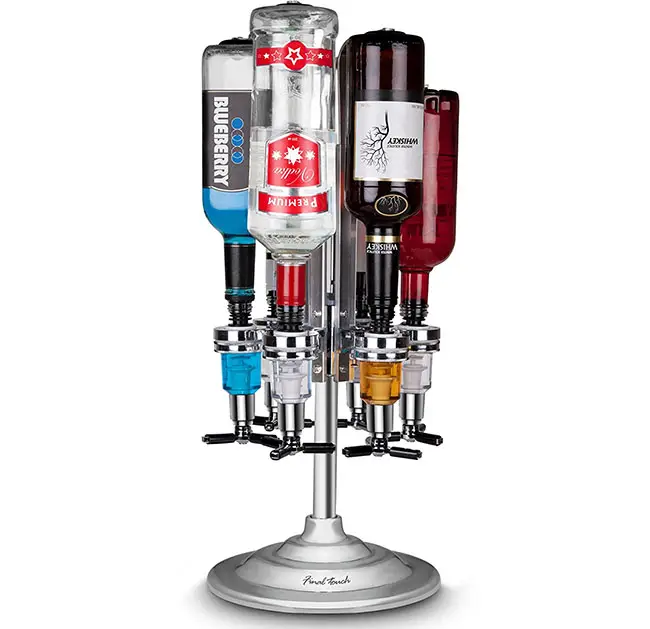 Not just a great way to dispense drinks, but also an innovative way to color up the room, this liquor dispenser comes in a circular array, perfect for turning.
Different liquors are neatly dispensed with the taps at the bottom and the unique stacking system makes it easy to differentiate each beverage. The dispenser comes in a sleek stainless steel body, good for matching to any man cave, be it industrial, classic or modern.
Signs
Man Cave signs can range from witty sayings to a big graphic decal. The important part when considering man cave signage is the theme of the man cave being built and the personality of the man in charge of the space. Some man cave signage can even be custom-made to suit a certain look, style or text.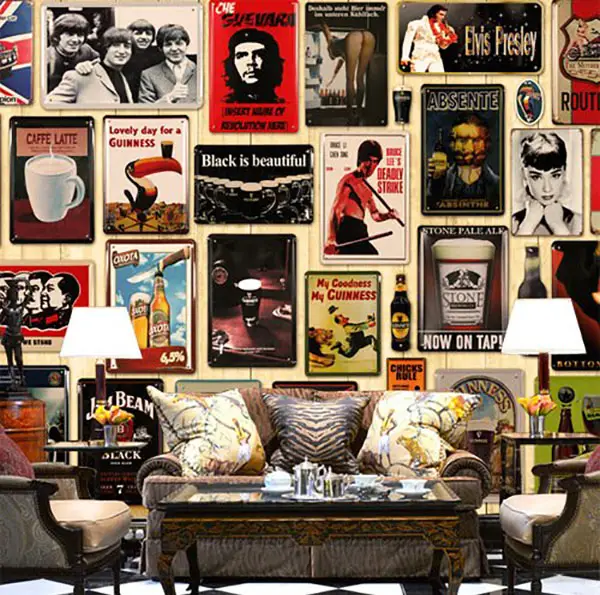 When it comes to decorating and choosing man cave signs its a good idea to find your favorite interests and display them proudly. Whether its your favorite type of beer, sports team, movie actor or musician you can find a sign to represent your likes.
The more signs you add the more your personality can show and you can point your personal touch on the space.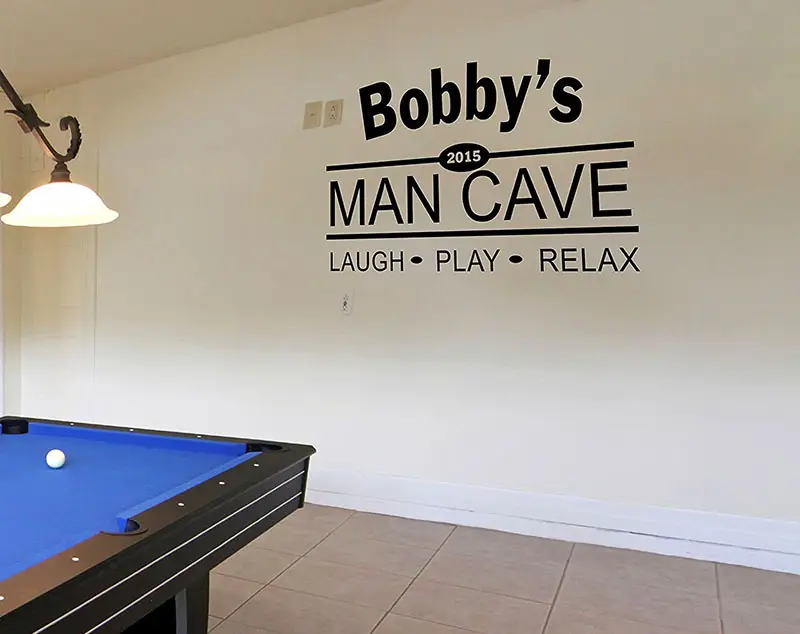 Another great idea is a personalized man cave sign can let you to show all visitors that this is your designated space. A customized sign with your name is inexpensive to purchase and can easily be created to your exact specification.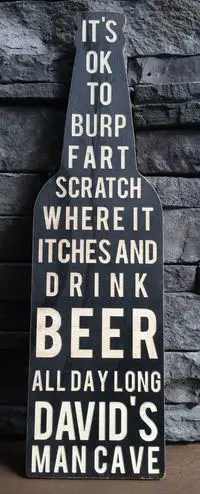 This personalized man cave sign features the outline of a liquor bottle with a funny quote and the aptly entitled "David's Man Cave". Many shops provide this service and can cut a custom sign out of chip board, balsa wood, acrylic and even aluminum sheets.
In addition, signage need not be hung or mounted, it can lean against a textured wall, in this case, a rough grey stone wall.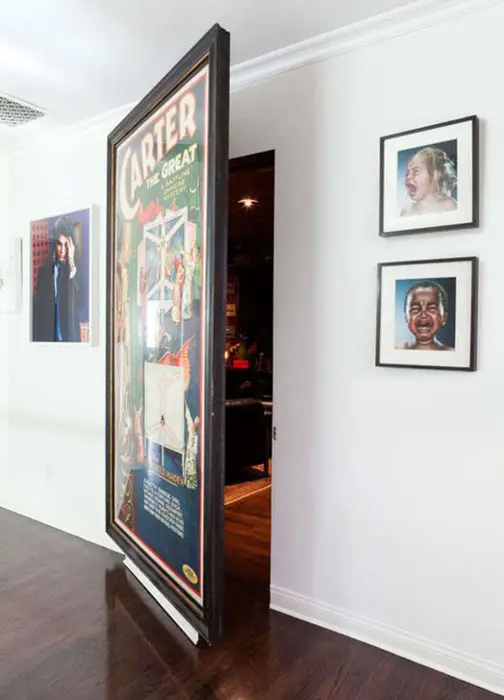 Other man cave signage can go for a more subtle approach, incorporating it with the actual door to the man cave and creating a secret passage.
In this case, a plain white wall with a large framed poster of a favorite movie can conceal the tucked away entrance to a great man cave.
Keep the secret door less conspicuous by adding different framed photographs and paintings alongside it, creating a beautiful picture wall for your lounge when the frame-door is closed.
This stylish luxury man cave shows off picks from the homeowners favorite celebrity decor. Using large images of Jim Morrison and Clint Eastwood to set the tone for a California vibe.
A large wet bar stocked with a massive liquor selection and a comfortable custom l-shaped bench creates the perfect party pad.
Gifts
Some of the best man cave ideas are ones that target a favorite hobbies or passion. Whether its golf, home brewing beer, skiing, body building, classic car restoration, watching sports, biking or photography think about the interests that best represent the person.
What better way is there to spend your time off work than being surrounded by the interests you love.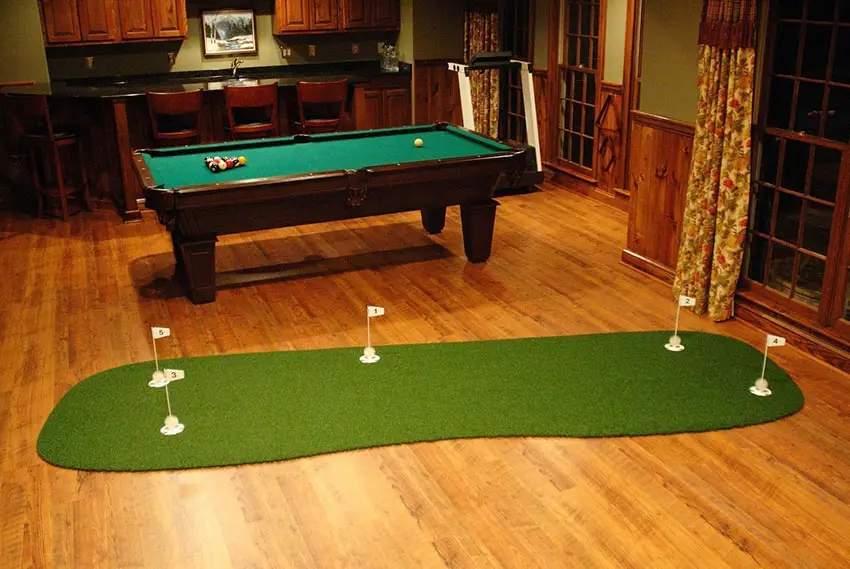 Perfect for a sporty yet laid-back man cave, this putting green with 5 different holes can be assembled indoors. This turf and hole set comes in sizes of 9'x1.5', 10'x3', and 12'x6', perfectly customizable for the size of your current man cave.
In this case, the putting green is paired with a classic dark wood pool table and more natural grained wood accents in the room's strip flooring and wall paneling and French door mullions. It even has a small bar area towards the back wall with hanging cabinets and a set of three bar stools.
Get more information about this indoor putting green at http://amzn.to/2jwaGEV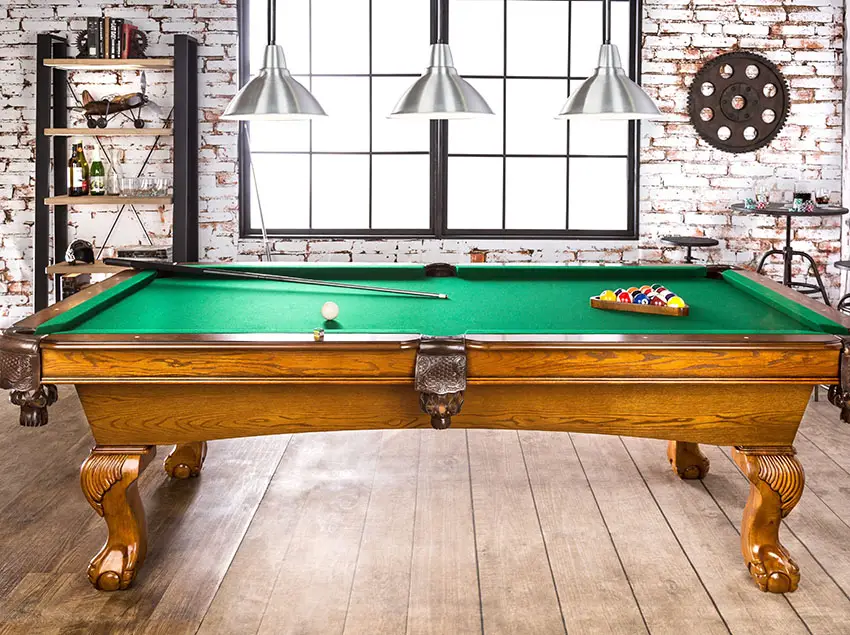 See this man cave pool table at – Amazon
The pool table is a standard for most man caves, and this simple yet elegant pool table is a great addition to any style of man cave. This Corryn Pool Table is 8' long and has ornately carved lion claw feet in oak wood finish.
The top is in soft green felt leading to side drop pockets and comes with a complete set of pool essentials such as a racking triangle, table brush, chalk, pool cues and a set of billiard balls.
In this man cave, the pool table was paired off with a vintage industrial style. A trio of metallic hanging lights illuminate the top and a background of faded white painted bricks frames the black mullioned black window that brings in light.
The table's sturdy legs lay on some dark wood plank flooring while other industrial elements such as the rusted cog, vintage table and stool set and cross-braced wood shelf go well with the classic look of the pool table.
Furniture
Every guy's room needs comfortable furniture that is perfect for relaxation and entertaining. Here are a few of the popular choices for man cave furniture:
Furniture with sports team logo – Creating a themed room dedicated to a favorite sports team is a popular choice. Furniture can be found that is printed, or stitched with a favorite sports team's logo to really focus on the theme of the room.
Reclining chair – What guy doesn't like a reclining chair? This room is the perfect spot for the comfy beat up recliner that looks rough around the edges and doesn't quite fit in anywhere else in the home.
Sectional couch – Sectional couches are also a favorite furniture piece that can be arranged to fit different room layouts and accommodate a group of guys hanging out to watch the game.
Bar stools – If the room has a home bar having bar stools is a must. There are many different choices that can be selected based on the design style of the space.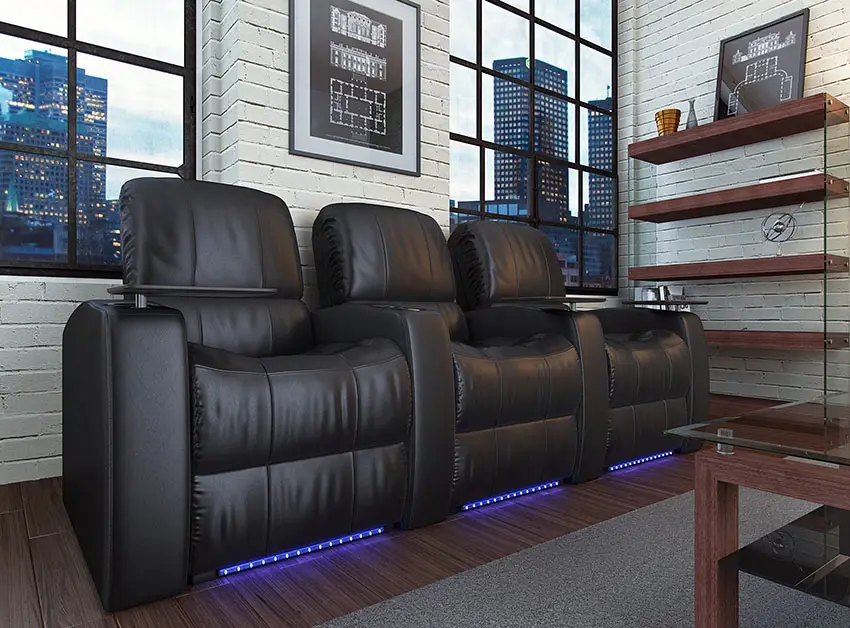 See this 3 seat recliner at Amazon
A wonderful addition to any man cave, particularly those with a home theater system, is the Blaze XL900 Home Theater Recliner. With three comfortable armchairs separated by arms fitted with cup holders and accessory docks in lightweight aluminum construction.
The upholstery is of top grain genuine cowhide leather and the base features a blue ambient lighting. The XL900 allows users to recline and lift the footrest with the simple touch of a button.
In this case, the XL900 was set in a man cave where its black upholstery complements well with the white painted brick walls and black mullioned high windows. Wood accents in a dark grain also dot the man cave, used for its flooring, table and shelving.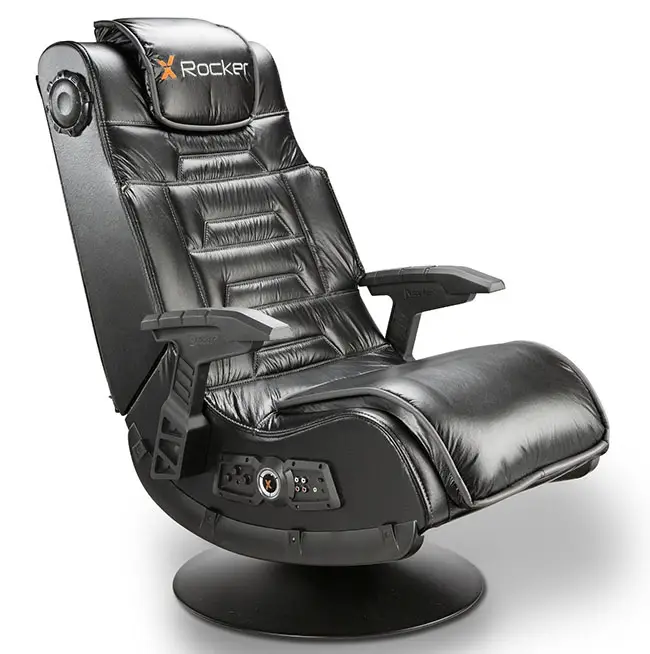 See this gaming chair at Amazon
The X Rocker video gaming chair is a great addition to any man cave. The chair can tilt and swivel and comes with an amazing ergonomic design with its shape and cushioning.
Best of all, it features two speakers and a subwoofer for a total sound immersion experience. There's also built-in headphone jacks for quiet game play.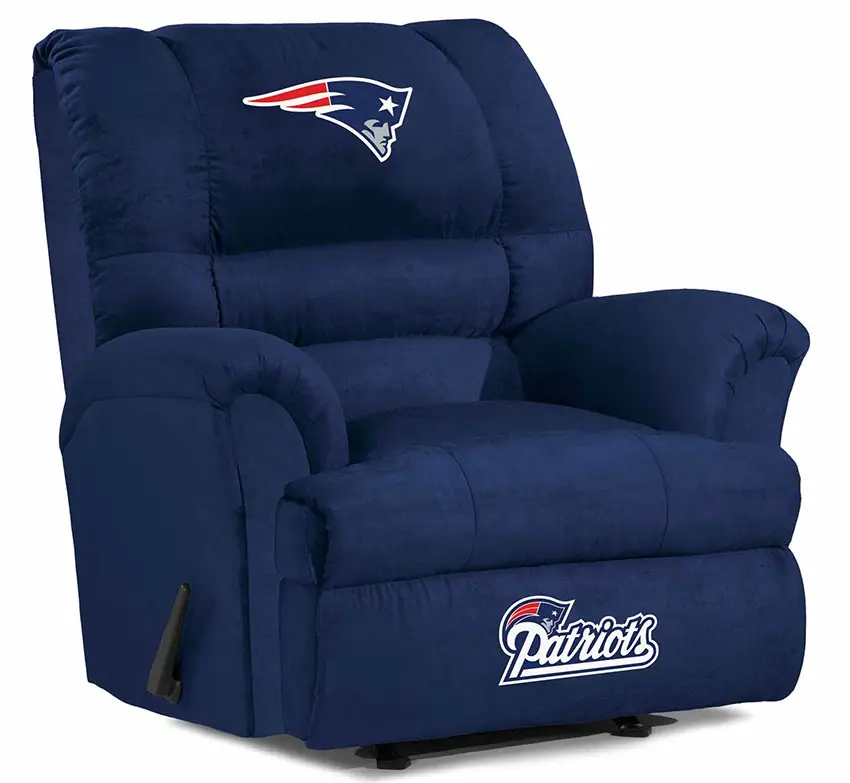 See this NFL reclining chair at Amazon
A great way to represent your favorite football team is through your own NFL team reclining chair. This soft microfiber upholstered recliner features an embroidered patch logo on its headrest and footrest and is officially licensed by the NFL. Truly made for true fans of the game, the upholstery is highly durable and stain resistant.
Couch
In man caves, couches play an important role, being the main vessel for relaxation in the space. It is imperative that couches are comfortable and of a decent size and texture, but it is also important that the couch matches the vibe and theme of the room, otherwise it becomes an eyesore.
Many different profiles, shapes and textures are available for couches. Some good finishes can include a wood or steel base matched with leather, corduroy or other fabric upholstery.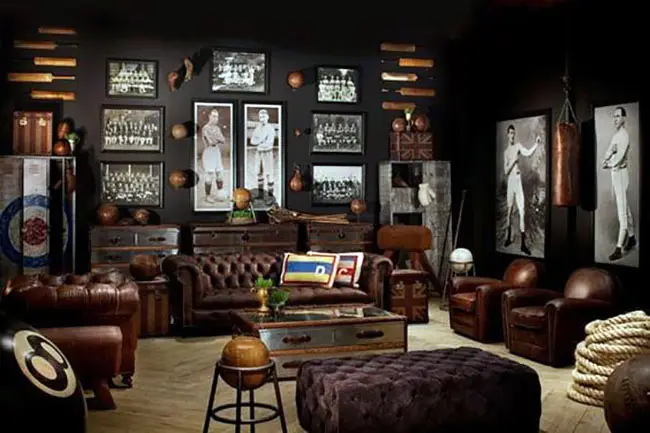 This Chesterfield sofa features deep button setting for its dark brown upholstery. The style matches the surrounding armchairs and Ottoman and also goes with the overall style for the room.
The room goes for a more "old English gentleman" look, featuring vintage finds and black and white framed photographs.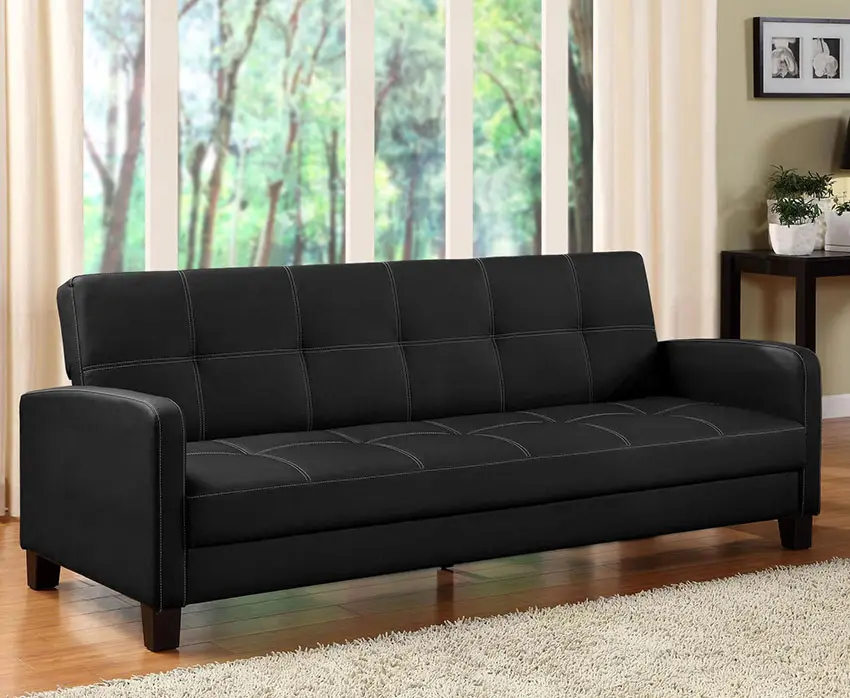 Get more information about this black sleeper sofa at Amazon
This Delaney sleeper sofa is a stylish addition to a man's lounge room with black faux leather finish that can easily be wiped clean.
Not only does it have a stylish design, but it also opens to a bed easily for those nights when the man of the house is sleeping on the couch or has friends crashing for the night.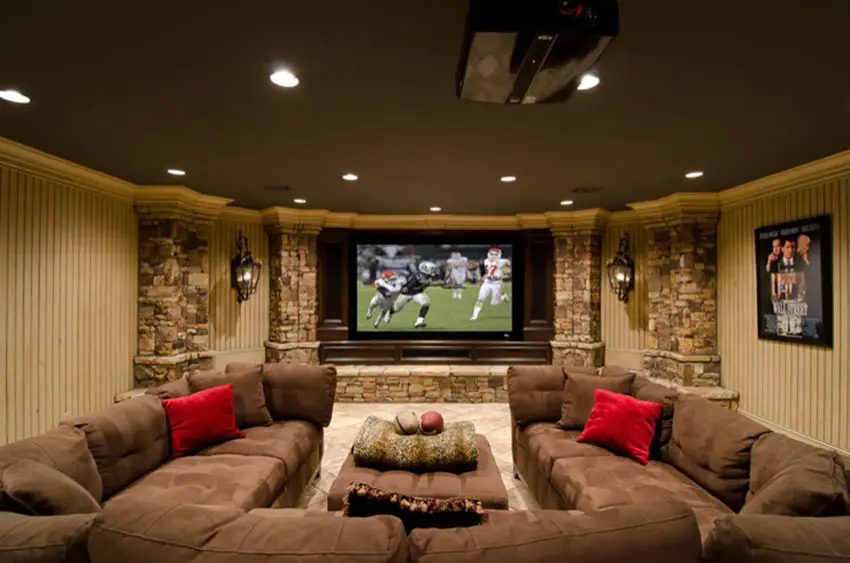 This Classic rendition of a Contemporary man cave nods off to older cellar-type man caves with a pair of hanging wall lamps in glass and black iron framed by pillars of rough hewn stone in grey and orange. The walls also feature vertical bead board panels in an off-white tone, contrasting with the medium grey ceiling.
The central area is a U-shaped sectional couch in brown suede, facing the large flatscreen TV mounted on a dark wood carved console. The center of the sectional couch is a shorter Ottoman style coffee table also in brown suede.
The U-shaped sectional sofa with matching brown backrest and red throw pillows provides a lot of seating space, especially in front of the wide screen TV.
The dark earth tone of the sofa goes well with the paler off-white walls, floor and stone finished pillars. The soft corduroy fabric encourages staying long hours in this basement man cave, possibly even a great place to crash for the night.
Room Ideas On a Budget
Just because you are stuck with a budget, doesn't mean you can't achieve your own man cave. Here are some ways to achieve a personal space for you and your hobbies without making a large dent on your house budget.
Mixed-use man cave – The man cave can be combined with other rooms in the house such as the den, the living room, the outdoor deck or even the bar and kitchen.
This is perfect for those who are more inclined to share their man cave with outsiders, and for those wanting more privacy, carving out a little nook and adding divisions is a budget-friendly way to create a man cave.
Minimal décor – Sometimes all you need is space. Investing more on what really matters to you in a man cave such as a study table, a TV or just a recliner for one is what makes the man cave truly yours. Just one statement item in a customized space could be the start to your very own man cave.
Thrift shop finds – Man caves live off of the personality of their user being able to fill it with things related to their personalities and hobbies. Thrift shops and garage sales can be a great place to find collectibles and vintage pieces you can decorate your man cave with.
Easy to assemble man caves – Some hardware retailers sell easy to assemble outdoor sheds and garages. The simple act of assembling your very own man cave gives an unbeatable sense of fulfillment and ownership.
Besides being closed off and separate from the entire house, this self-assembled man cave can be customized and decorated with a variety of collectibles and furniture. The best part is that these mass-produced sets are very budget-friendly considering their space and durability.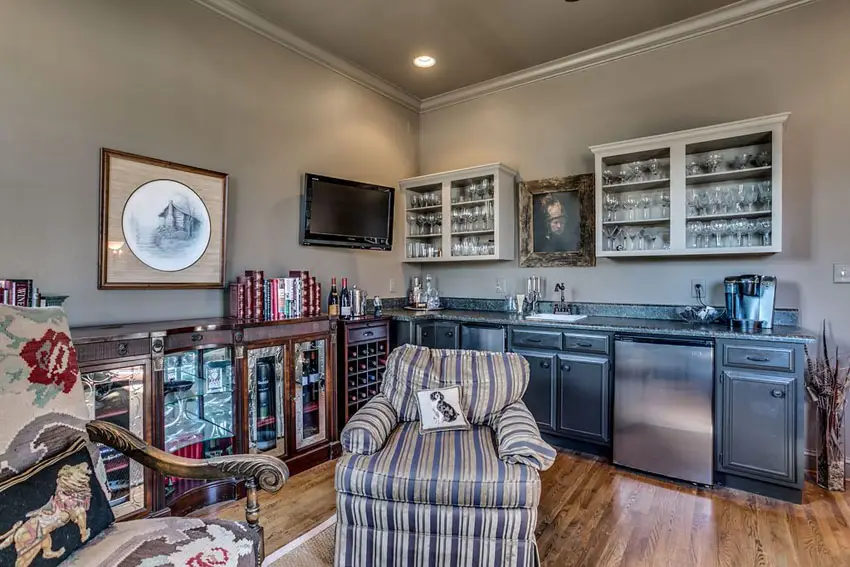 This small cottage-style man cave is incorporated with the house's open bar area. The open bar, tucked into a corner features light beige walls with white glass paneled hanging cabinets above the L-shaped bar counter.
The bar counter itself features a black speckled granite stone countertop supported by a dark wood paneled base complete with wine chiller and under counter refrigerator.
The warm wood strip flooring runs all around the house and a small area with a woven fiber rug provides lounge space for a man cave with two unmatched chairs, a small plush pinstriped armchair and an ornate old century style chair with embroidered upholstery and carved wooden arms.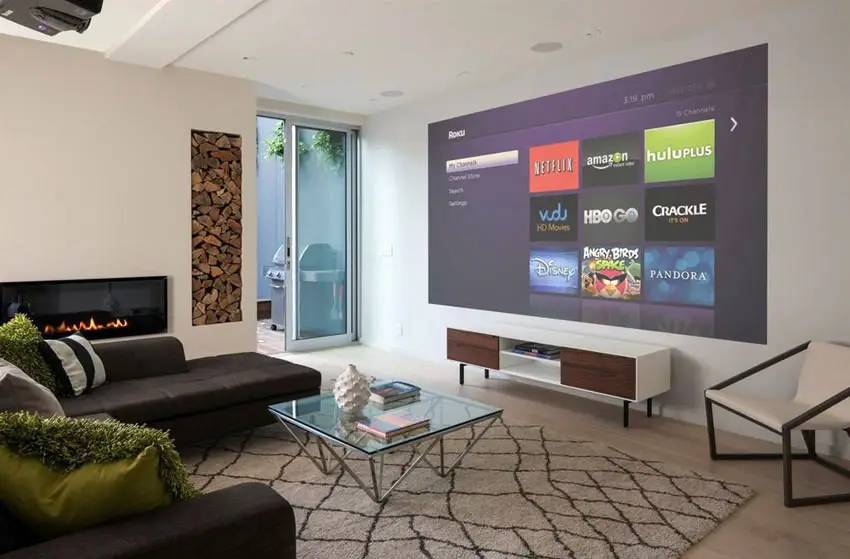 This living area can be turned into a man cave with just the touch of a button. A projector, cleverly concealed in the ceiling cove can produce images on the opposite wall, way larger and cheaper than any large screen TV. The white wall underscored by a low white laminate and dark wood cabinet is the perfect place to watch movies and series.
The living area is set with a black leather L-shaped sectional sofa with a patterned beige area rug and modern-style steel and glass coffee table.
To the side, a sliding door leads to the outside, adjacent to a wall-recessed fireplace. The stack of firewood beside the fireplace adds a more rustic feel, as does the accent chair to the side of the white laminate cabinet.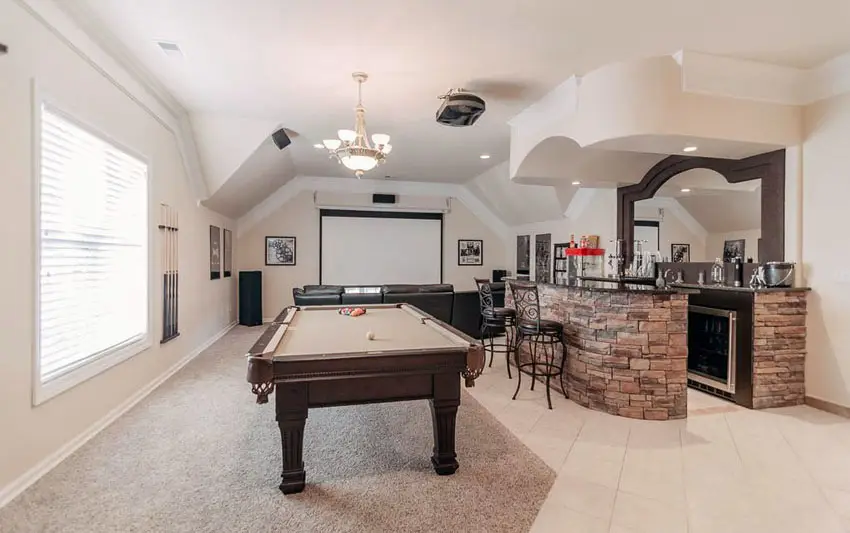 This man cave features light beige walls, which called for a white retractable projector screen at the end of the room, flanked by a pair of square framed paintings.
The projector is hung on the ceiling next to the hanging chandelier over the classic dark wood and beige felt pool table. To one side of the room, the pool table is supported by a beige shag carpet and to the other side, the wet bar.
The custom home bar design with its split stone base and black granite countertops, is set over beige tile porcelain flooring. The slanting roof cove towards the end of the elegant bar suggests that this is an addition to the attic, and the cove over the bar area gives this area more intimacy.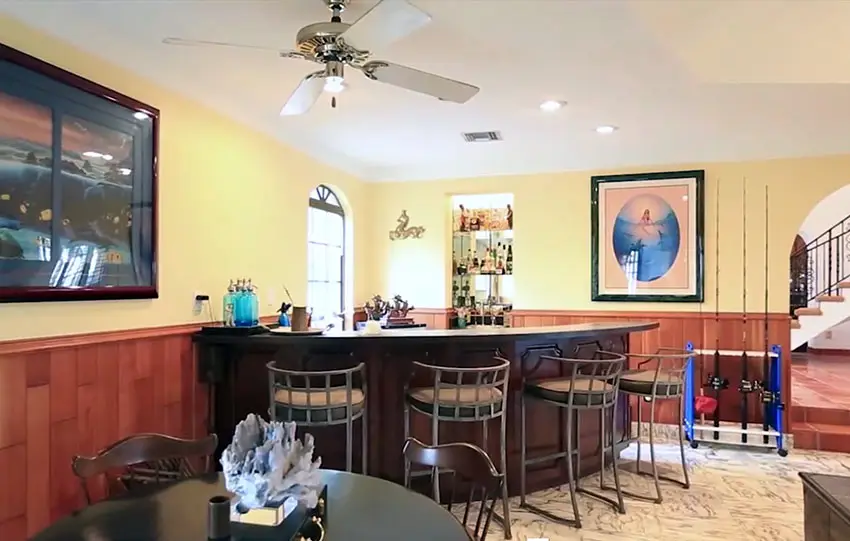 This simple basement area gravitates towards the corner home bar to the side, a portable piece of furniture which can be assembled and disassembled.
The curved dark wood paneling on the outside complements well with the warm wood base panel on the walls and the yellow painted walls above it.
A vertical bar shelving behind it provides ample space for wines and spirits and the fishing pole rack to the side reflects the owner's hobbies and interests. The flooring is in a marble-esque floor tile and the ceiling is topped with a suspended ceiling fan.
This man cave exudes a retro cool style with all the varied and interesting décor inside. Originally a simple room with grey walls, grey carpet and light wood doors, diner furniture in bright red and stainless steel automatically gives this room some added spunk.
Other additions such as the old wooden juke box, metallic wall clock, futuristic red sofa and floral area rug under the coffee table are all easy to find at a thrift store or garage sale.
The end wall features a large round wall accent with a fully stocked half-moon shaped bar underneath with matching metallic and bright red bar stools.
Another simple man cave with light grey walls and textured grey tile flooring is made more exciting with the plethora of Coca-Cola collectibles in its side bar and bar stools. Arcade games also line the walls across the quirky red felt pool table.
Framed vintage paintings all around also give the man cave more attitude and mix well with the vintage feel of the colorful striped sofa towards the back wall.
A small rock climbing wall to the side is another quirky addition, while the outdoor patio's weathered brick walls and wrought iron bench goes for a more classic approach.
This small room with grey walls and a grayish wood parquet flooring features a shuffleboard table flushed to the end of the room, creating a linear space and accented by indoor games portraits hanging on the wall.
The bare space also features a dart board, a small pinball machine and a wall-mounted flat screen TV. Not cluttering the center of the room allows more space for social gatherings and entertaining.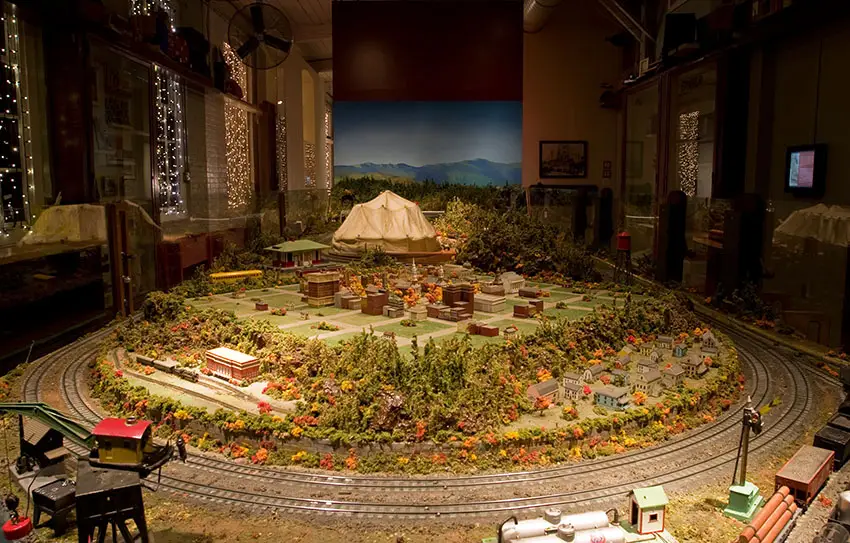 Man cave ideas often get inspiration from childhood wishes that never came true. A model train man cave is the perfect way to revisit a long time want and create a space that could be shared with friends and family alike.
This model train man cave's biggest feature is the large custom model train with terrain at its very center. The back wall of the room features a wall-sized backdrop of mountains, further adding to the grandiose feel of the train set.
All around, the white mullioned windows are decorated with Christmas lights, giving this man cave a boyish charm amidst all the heavy wooden furniture around the room.
[expand title="Show Image Sources" swaptitle="Hide Image Sources"]
1. Action figure room
2. Home wet bar
3. Hangout room
4. Pool table room
5. Motorcycle garage
6. Steel shed
7. Neon lounge room
8. Sunset View
[/expand]