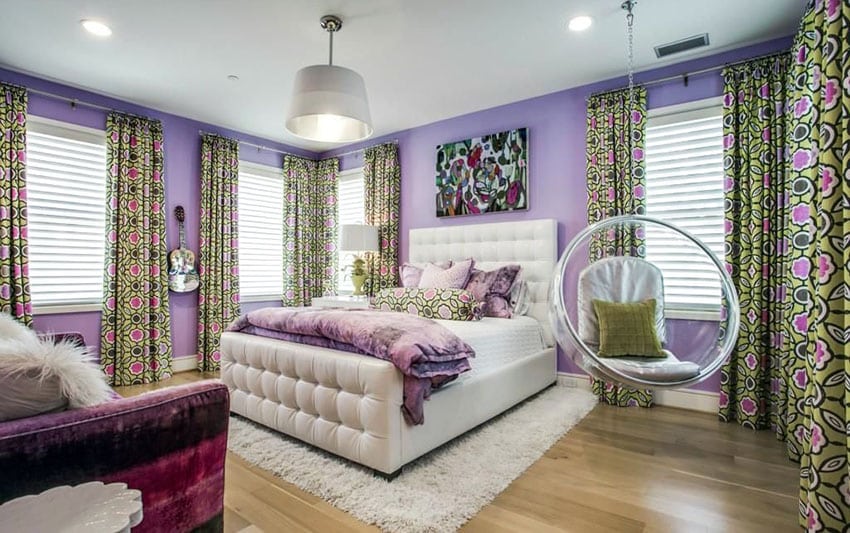 Welcome to our picture gallery of cool hanging chairs for the bedroom. A swinging chair can liven up a bedroom space and create a cozy spot to curl up with a book, enjoy views from your room, or just hang out and relax. Below you'll find a variety of different hanging chair ideas to give you inspiration for decorating your own room.
This see through swinging bubble chair fits right into this teenager's bedroom, with its Contemporary shade of purple and geometric green curtains. Hanging along with the swing chair is the modern style shade lamp over the white button upholstered leather bed frame. The hanging chair is made more comfortable via a white back and seat cushion and a quaint moss green throw pillow. Made of acrylic and chrome plated metal for its chain, this hanging chair is sturdy and can withstand some pretty rowdy swinging.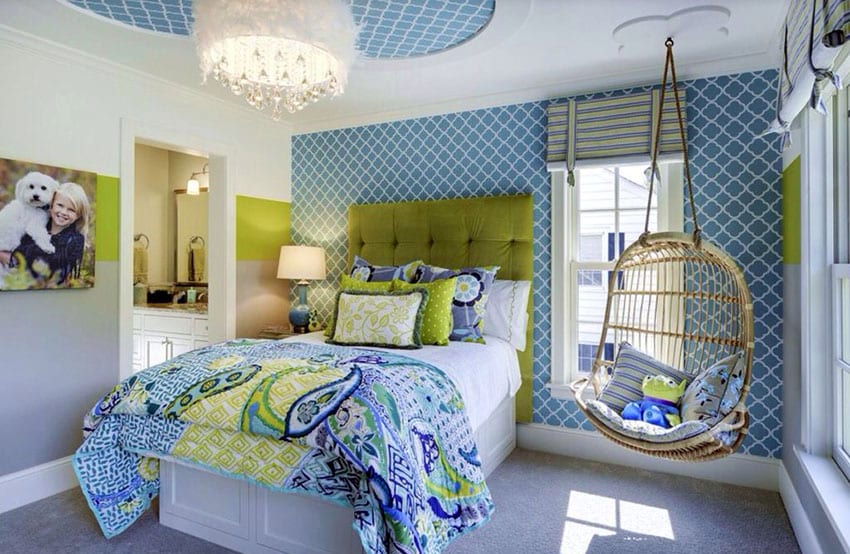 This ultra-stylish kid's bedroom features a rattan swinging chair near the double hung window, letting in a lot of natural light. The chair is right beside the large white box bed with a lime green tufted headboard. The colorful blue and green patterns on the wallpaper, bedspread and curtains are also reflected on the throw pillows and seat cushion used on the rattan swinging chair. The whole room is completed at its center with hanging glam style feather chandelier on a geometric Moroccan print ceiling recess.
Indoor Swing Chair Ideas
Swinging chairs may seem like just a novelty item to have in a home—something to swing around in and to consider as just more of a statement piece. However, given the proper setting and style, it could potentially one of the best used pieces of furniture you could ever install. There are several important aspects to consider when it comes to choosing your swinging chair.
Mounting –There are usually two configurations for a swing or hanging chair, to have it hang from a sturdy base on the ground from a fish-pole style rod, or to have a rope or series of ropes attached to the ceiling to support the chair. A hanging chair with a base is preferred if the piece of furniture is meant to be moved around the room.
It is also a better option for outdoor configurations so that it can be safely stowed during bad weather. On the other hand, a ceiling-hanging chair is great for people wanting to get more swing from their chair, providing a larger swing radius. In addition, it's also a great conversational piece and, when using several different ceiling tethers, has the potential for more seat space. Lastly, the ceiling-mounted hanging chair saves on floor space, as it just hovers over the ground.
Location—It is important to consider where the chair will be placed, especially if it is in a bedroom. Placing it near the window is typically a good idea, as it is a great way to view the outdoors and to maximize fresh air coming in from the outside. If placing near the bed, it is important to take note of the distance, as users may bump into it when it is dark. There is also the option of hanging it at the center of the room as the main conversation piece. This is extremely good for rooms where the ceilings are cathedral-style, with the hanging chair mounted at the peak.
Material—Some of the more common materials used for hanging chairs are rattan and textile. These are both good options because they are light, flexible, sturdy and let air pass through. Some more modern hanging chairs may be made of acrylic or handmade knit or crochet. Usually the base and/or frame of the chair will be in a stronger stainless steel or powder coated aluminum. Steel is less prone to dents and bends, but powder coated aluminum is lighter and resists scratching.
Style—Ranging from its color, material and style, there are many different types of hanging and swinging chairs to fit any bedroom configuration. More modern style bedrooms may favor the acrylic hanging bubble or contemporary profiles made of synthetic rattan. Bedrooms that aim for a cozier, more cottage-style vibe can consider going for natural abaca weave patterns or yarn knit / rope patterns.
Heavy duty textiles such as cotton and synthetic tent fabric are also a good idea if the chair is meant for two, or if the chair is going to be placed outdoors or in a sun-filled room. Another type of hanging chair is the cocoon style that envelops the user and comes in a variety of colors and designs. Get other ideas for a cocoon chair here.
Cushioning—Cushioning is basically the best way to accessorize and put complementary accents on the hanging chair. Besides bringing aesthetic balance to the chair, it also creates a more comfortable hanging chair experience. Some hanging chairs even come with cushioning already pre-installed, so it is important for the buyer to test the chair or to test the chair with a cushion, before committing to their new bedroom addition.
Hanging Chair for Bedroom Ideas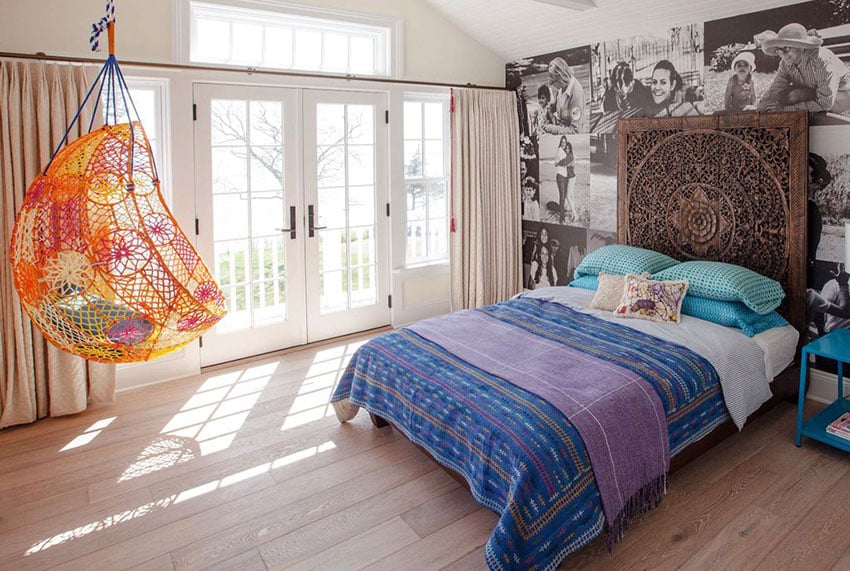 This Bohemian style bedroom starts with very minimal white walls and muted wood plank flooring. A large set of windows and French doors in white mullions leads to the outdoors and is flanked by heavy cream drapery. The colorful yarn hanging chair adds a pop of warm colors to the room, brightly accenting the blue and green shades used for the bedspread. It also reflects the pattern of the antique teak wood headboard leaning against the black and white photo accent wall.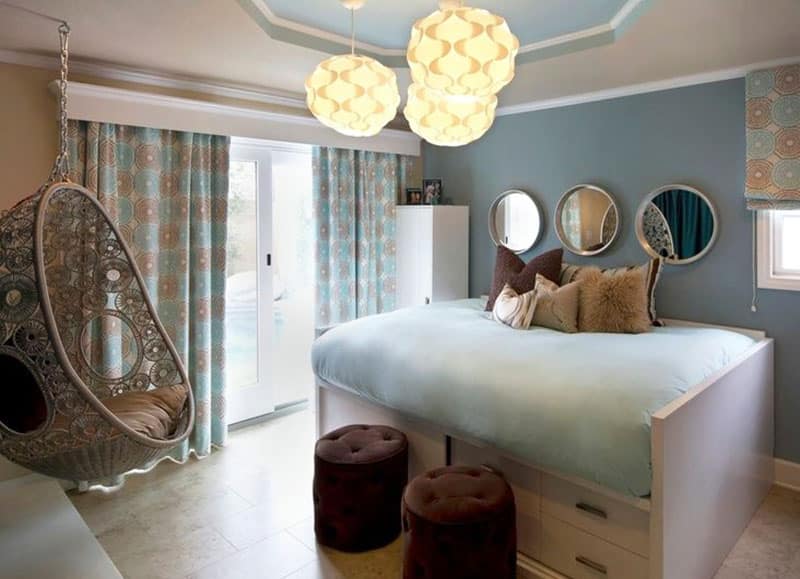 This compact bedroom features a double-layer bed with drawer storage space underneath in plain white wood. The walls are in a muted blue, while the curtains feature rounded geometric patterns. The rest of the room also features spherical design elements such as the two cylindrical foot stools at the foot of the bed, the trio of wall mounted porthole mirrors, and the trio of Contemporary style hanging pendants.
The main aspect of this room is its hanging rattan chair, done up with circular woven patterns and done in a dark brown color—a good accent to the pale blue used in the rest of the room. The interesting platform day bed with storage is adorned with two plush ottomans and fluffy pillows. See more types of beds on our gallery page.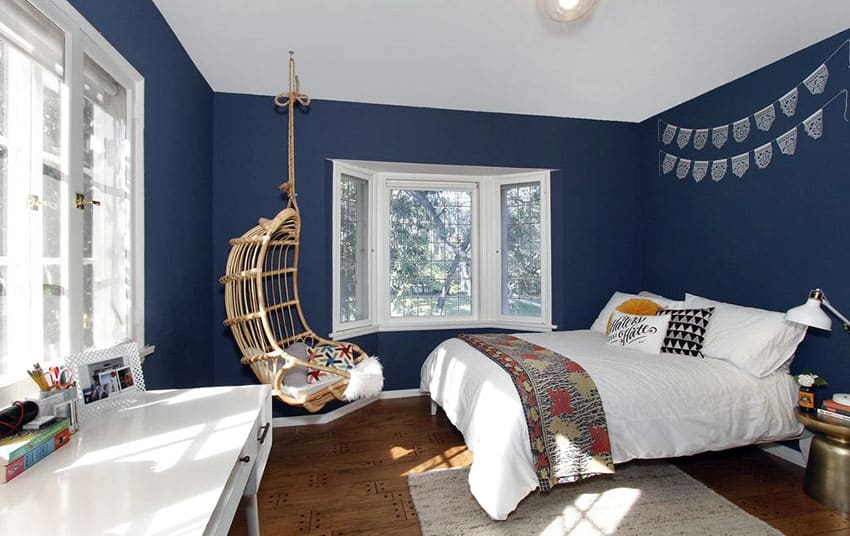 With the capacity of 175 lbs., this Contemporary style woven rattan material is a good fit to an active teenager's bedroom. Hung by a rope to the ceiling, the rope and rattan material combination is a good accent to this room's dark blue walls and white window frames, trims and desk. The carpet, also done in an organic woven fabric, also serves as an accent on the short wood plank flooring.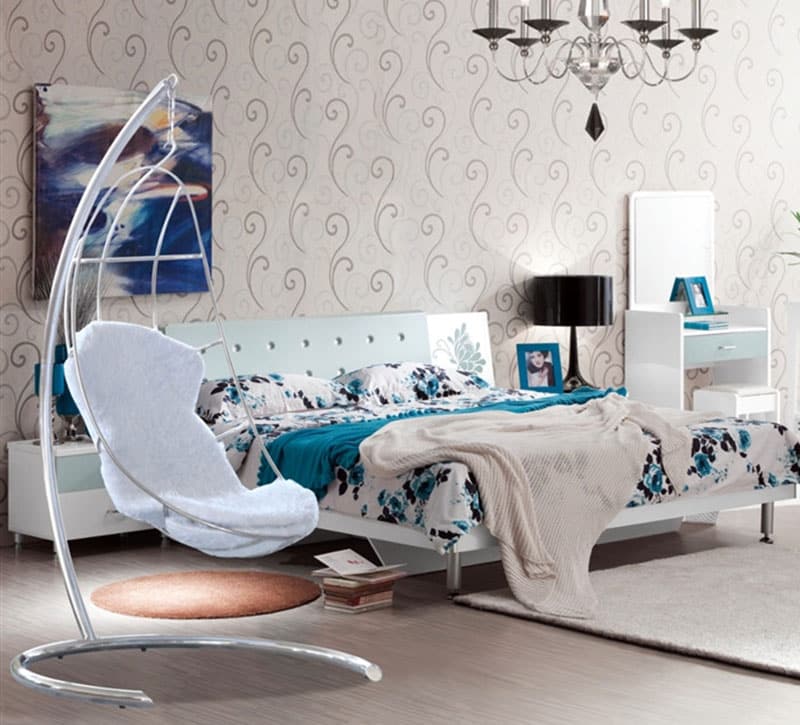 Shaped like the moon, this hanging chair goes exceptionally well with this Contemporary romantic style bedroom. With a steady base of powder coated iron and stainless steel, the seat is sturdy enough for swinging, yet comfortable with its wool fabric seat cushioning. The white chair is a good addition to the white and grey bedroom with blue accents on its bedspread and accessories. The whole room features curved grey and blue patterns and centers on a Contemporary style linear candelabra.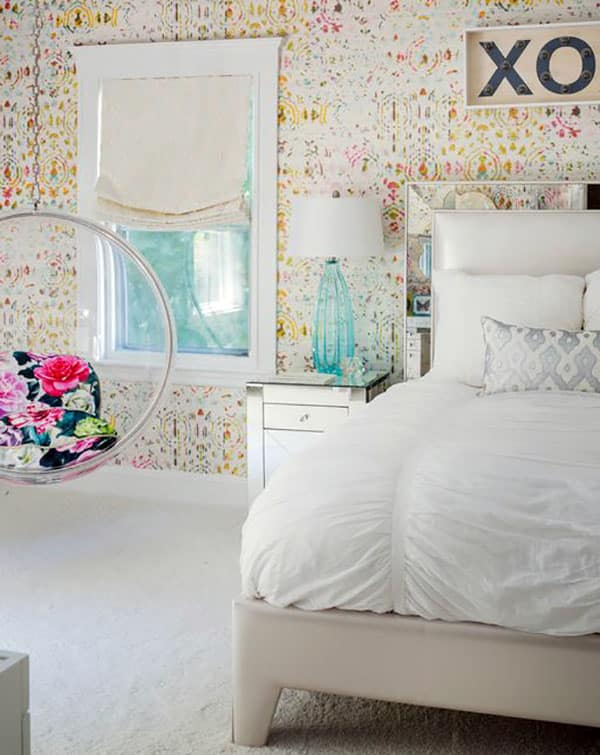 This bubble hanging chair is a playful addition to this colorful girl's bedroom. The throw pillow on the seat is a good match to the light floral patterned wall paper. The rest of the room features more muted white tones in the bedspread, bed frame, furniture and carpeting. A pop of solid color is lent by the blue wire table lampshade.
Click here for more information about this hanging bubble chair from: Amazon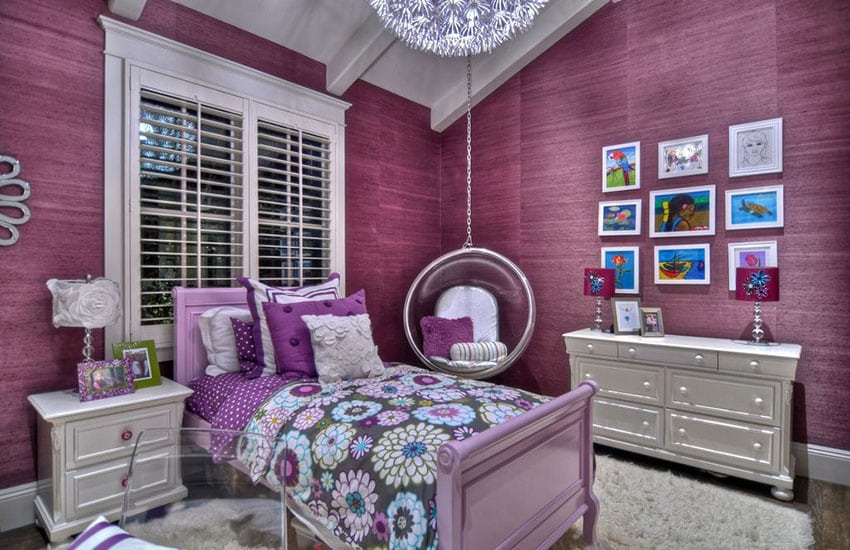 This Contemporary kids' bedroom features a wall of drawn pictures in Classic white frames, hanging against a purple combed abaca wall textile. Used all around the room, the purple wall treatment is reflected in the purple accents on the bed frame, bed sheets, lampshades, and even the throw pillows and seat cushioning on the swinging bubble chair. A white shag rug is placed under the bed and touches the periphery, leading up to the working desk, tallboy and hanging chair.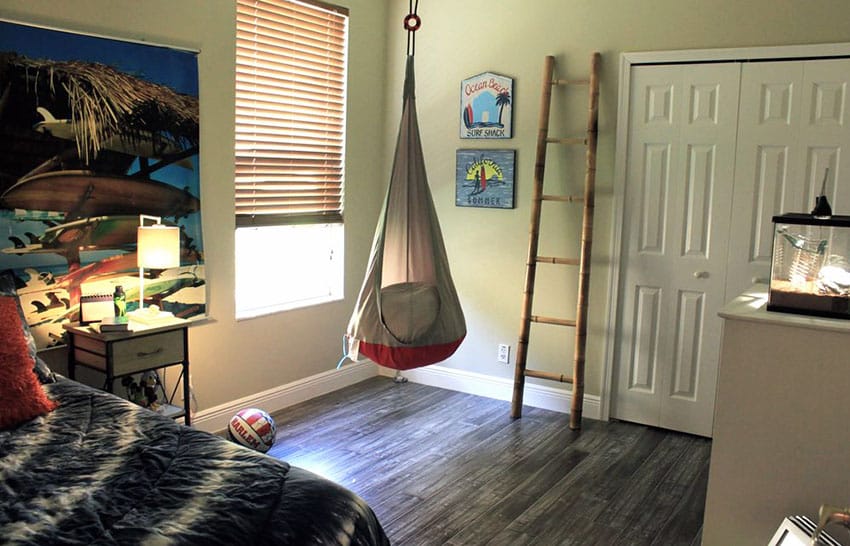 This hanging chair is tent-like in its composition with a tough but thin fabric keeping it held up to the ceiling. This is very much in line with the beach shack feel of this teen's bedroom, complete with pet reptile terrarium. The beach style signs and bamboo hanging ladder complement the adventurous spirit of the hanging chair, and is further emphasized by the surfboard painting on the wall and the blue tie-dyed bed sheets.
Hanging Chair for Girls Bedroom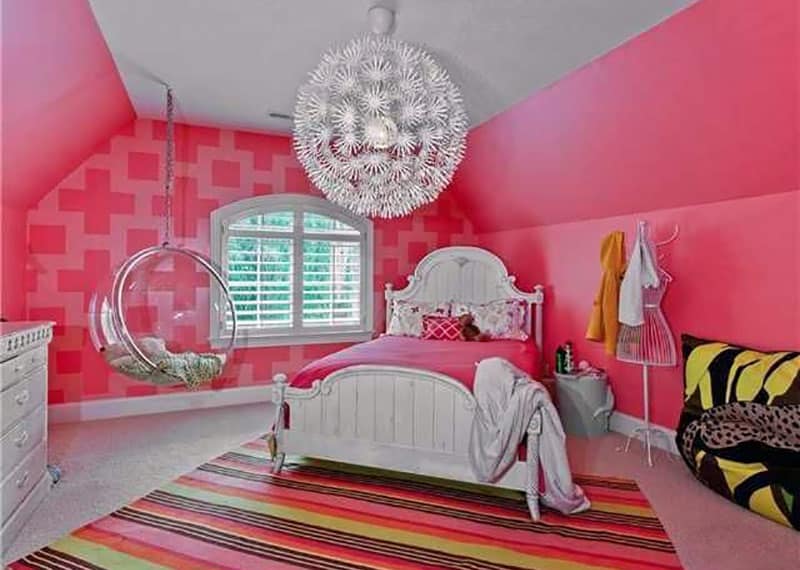 A favorite for bedrooms that highly feature one solid color, the hanging bubble chair is a great addition to this Contemporary style girls bedroom in the attic. Set at a corner, the princess-style bed is laid out with a linear rug at its foot, and faces the hanging chair on its side. A similar circular element, the large modern style hanging lamp with fins lights up the whole room.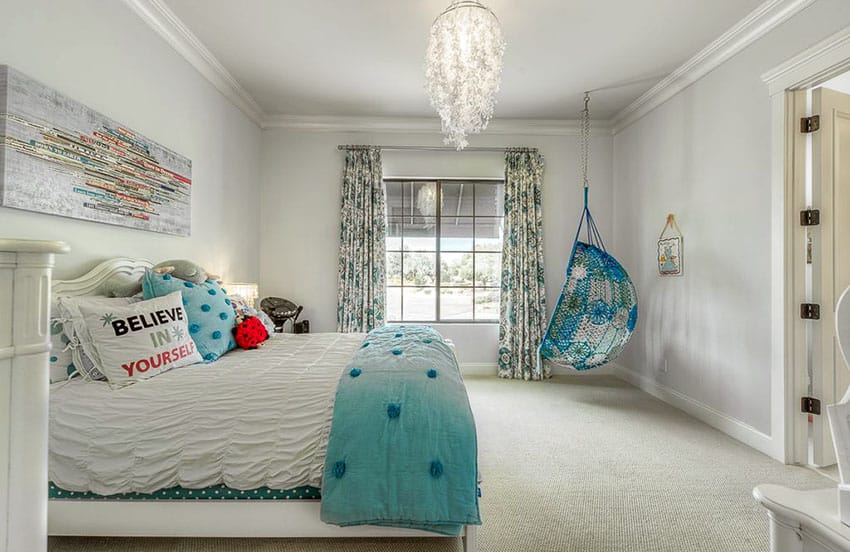 This whimsical Etsy-style bedroom features a lot of handmade homemade items around its clean white base carpets and light grey walls. Starting with the pompom quilted ombre bedsheets, the room also features a recycled painting mural above the headboard and a feather chandelier. The hanging chair, knit up in aqua colored yarn and with floral patterns, is situated right next to the large open window, bordered by blue floral drapery.
Teen Hanging Chair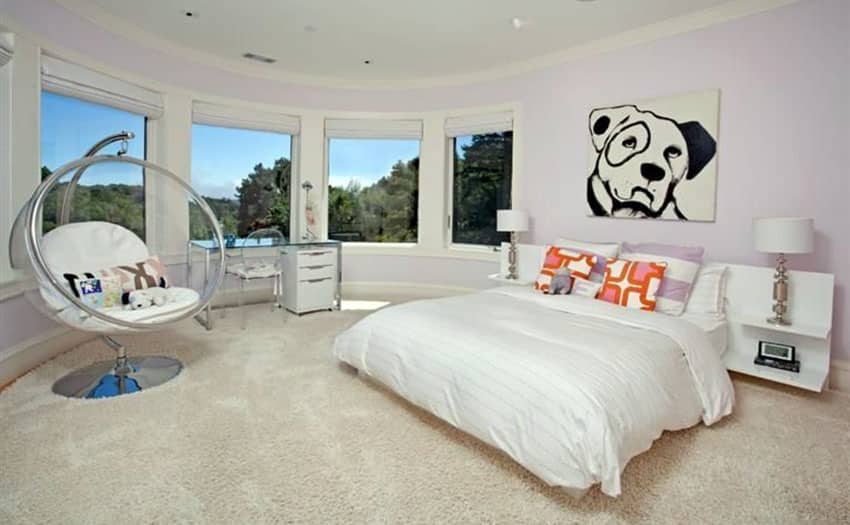 With the globe-style hanging chair a favorite of Contemporary style bedrooms this one gives the chair a more sophisticated vibe by giving it a wide circular base and pole hook in stainless steel. Placed in this circular room, the series of windows on the outer wall bring in a lot of natural light and bring out the bright hues of the light purple walls, cream colored shag carpet and geometric print throw pillows. A hanging dog painting above the bed ties the room together in an eccentrically contemporary way.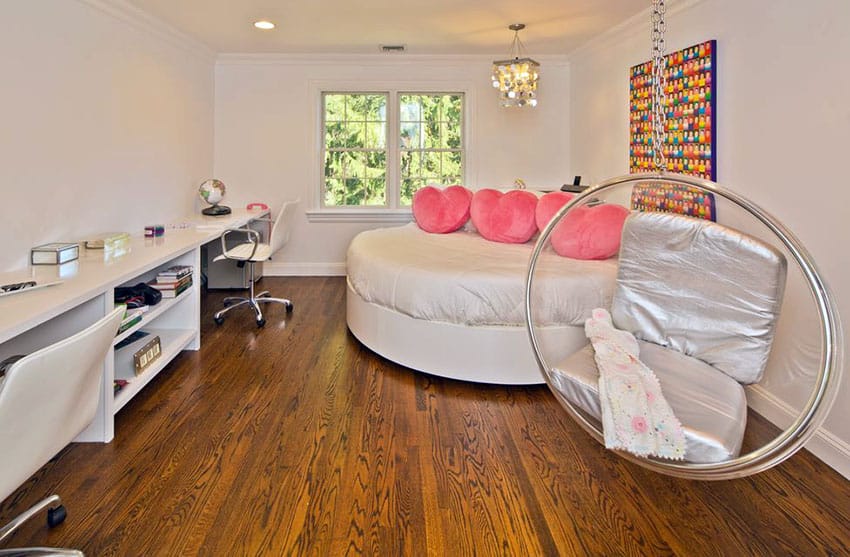 This quirky modern style bedroom features a hanging bubble chair with silver cushioning that goes well with the circular bed's silver bed sheets and pink heart cushions. The rest of the room is done up in more neutral light grey walls, heavy grained wood plank flooring and a long desk set for two running along one whole wall. A colorful hanging lamp and mosaic style mural painting near the bed are the only other colorful elements in the room.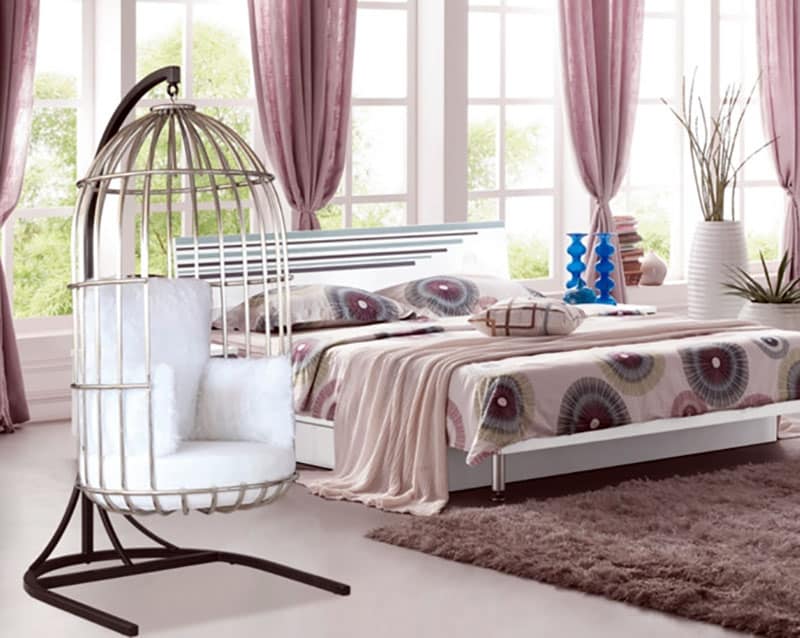 This bird cage swinging chair features white plush seat cushioning and stainless steel for its sturdy U-shaped stand base. This light grey room features neutral mauve elements in the drapery, bed spread and shag rug at the foot of the bed. Despite its simple Contemporary feel, the bird cage chair gives this room a more playful vibe.
Cool Hanging Chairs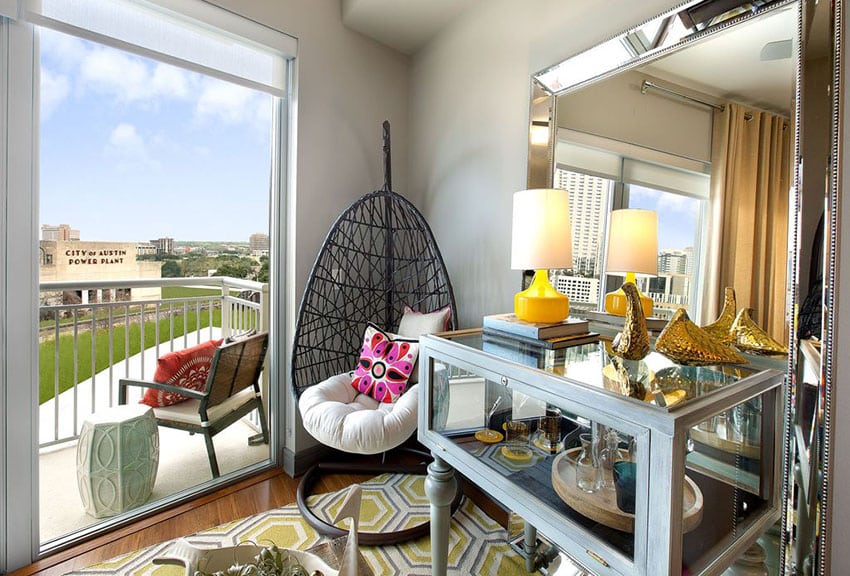 This cozy luxe bedroom features a hanging bird's nest style wicker chair on one corner, right by the large floor to ceiling window leading to the balcony. The balcony is decorated with a lounge chair and a small Contemporary Chinese ceramic stool. The plain dark brown chair goes well with the interior's white walls and warm wood floors. The rug's geometric pattern and large silver gilt mirror highlight the luxe feel of the place, while the glass encased display table gives it a more bohemian vibe.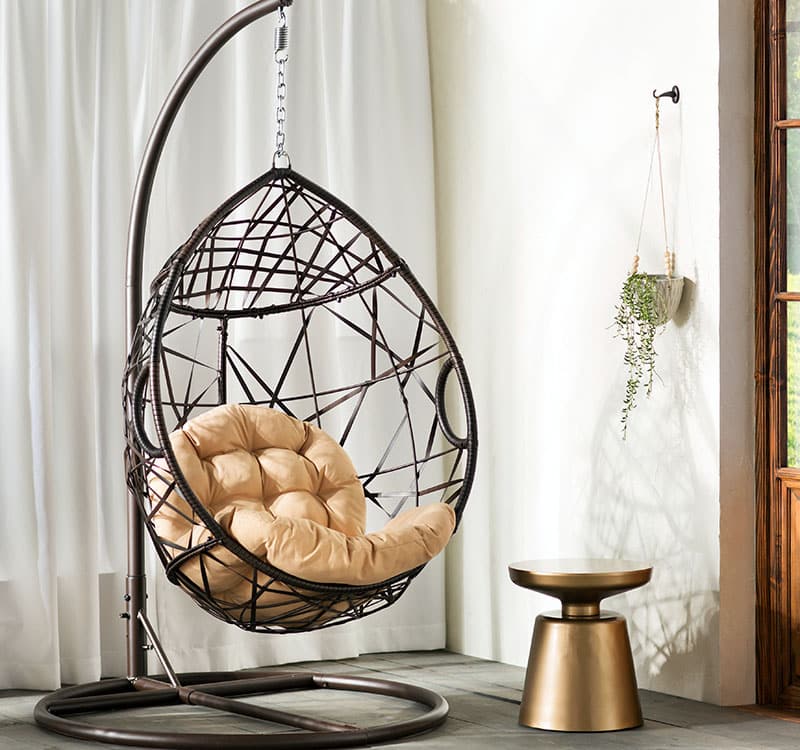 Set against a minimal background of white wall and long curtain, this floor-mounted hanging egg chair is the perfect addition to a minimal room. Perfect for indoor or outdoor use, the frame is made of sturdy iron and the tufted cushioning is available in several neutral colors. There is also the option of hanging the chair from the ceiling in lieu of using the stand.
Tear drop swing chair source: See on Amazon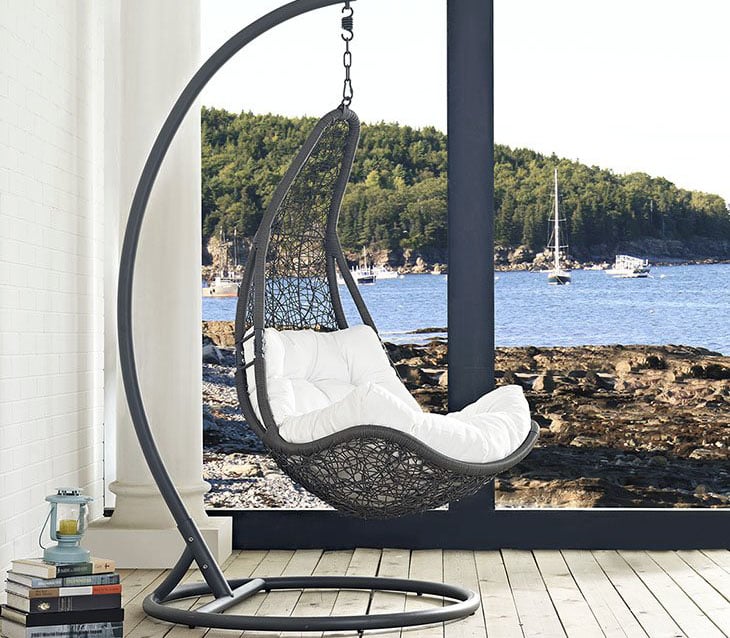 This bird's nest style hanging chair features abstract rattan patterns in black all around its seat, which features a white tufted seat cushion. Placed at a large picture window with wide black framing, the chair is a good addition to the natural lake shore scenery of the outside, and is also complemented by the weathered wood strip flooring on the deck.
Swing chair with stand source: See at Amazon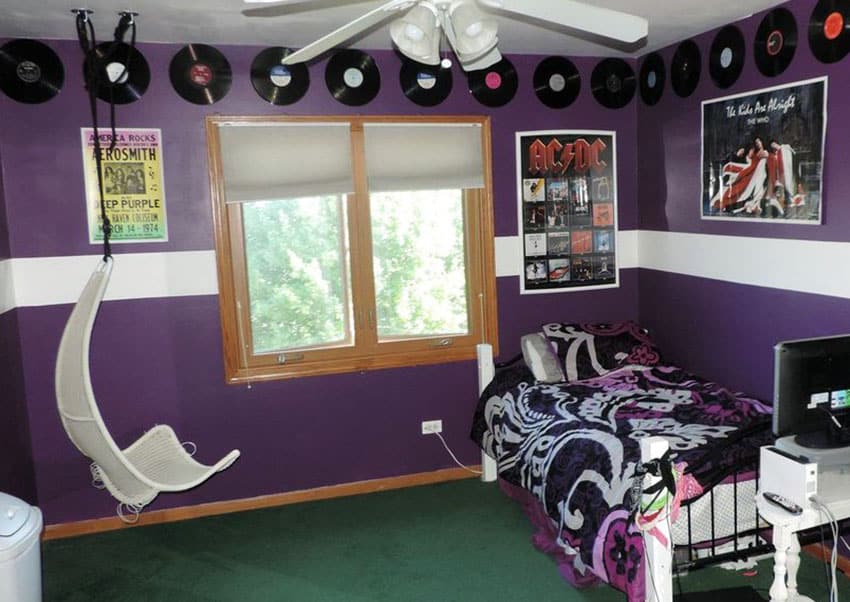 This quaint white rattan semi circular swinging chair is an easy addition to any teenager's bedroom. The chair can even be handmade and DIY-ed into the room, making for a fun weekend of crafts and bonding. In this example, it goes well with solid purple bedroom walls, forest green carpet and a collection of rock and roll vinyls and posters.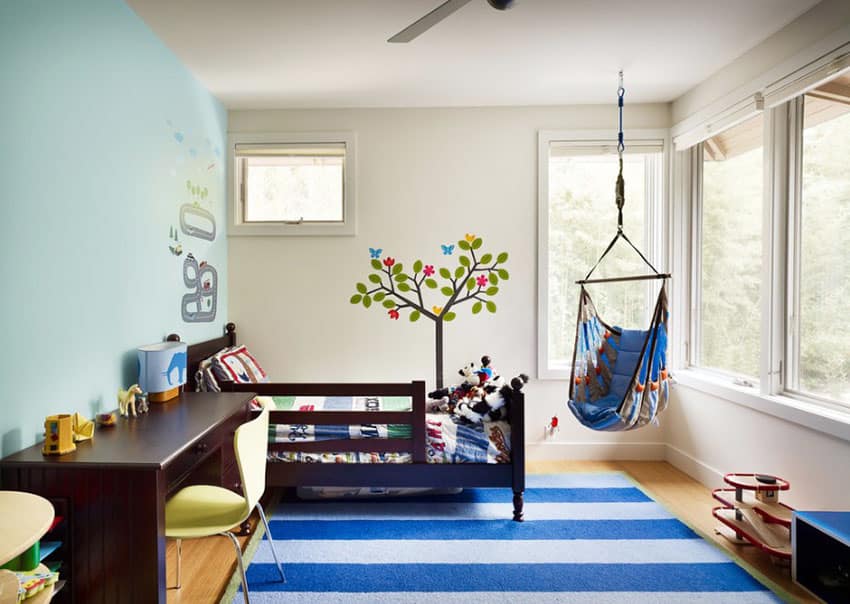 This child's room done mostly in white features great views of the outdoors with its large awning windows. Dark wood furniture, a pale blue accent wall and a large pinstriped area rug contrast with the plain white walls and cedar wood flooring. The corner angle featuring the two large windows is a great opportunity for the hanging textile chair, made of blue and orange textiles and rope—perfect for adventurous children.
For more information about this cotton swinging hammock chair visit Amazon
This totally relaxed hanging chair for kids is made of organic cotton and comes in several vibrant colors, perfect for brightening up a bedroom. The chair can be hung either indoors or outdoors, but in this case, a lighter green area rug was set below it on the light wood plank flooring. It also stands out from the plain white walls, light brown wood furniture and large French doors leading to the outside decorated with sheer white curtains.