Welcome to our gallery of painting ideas for kids room including a variety of patterns & colorful designs.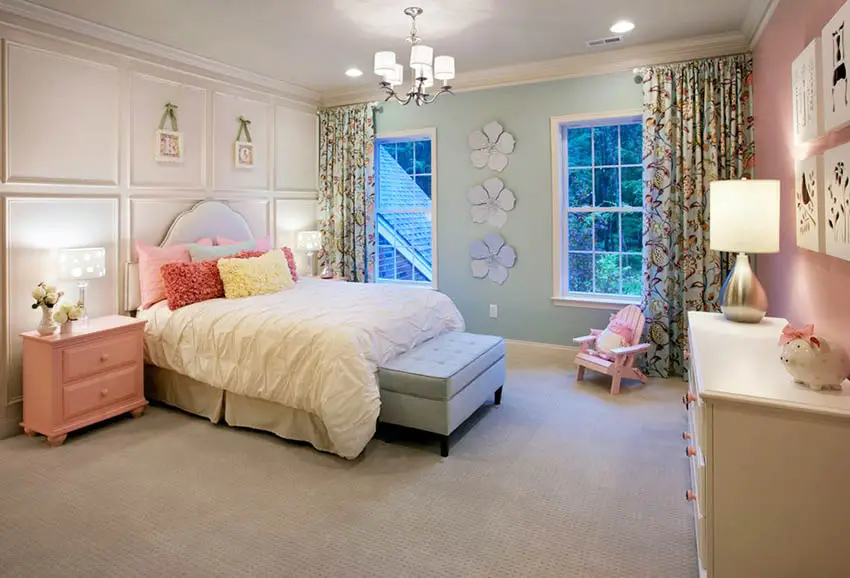 Kids rooms are so much fun to design. Their imaginations are so big and their minds are so open, they really don't have many limits when it comes to how many colors to use or even what style they want. However, kids are fickle, they might like ninja turtle green today and Minecraft dirt brown tomorrow. And that princess mural that your 9 year old loved isn't so cool once they turn 13.
So how do you come up with cool paint ideas that will work with a variety of fads, styles, and last a few years? Here are some tips of the trade for creating a cool look with paint.
Chalkboard Paint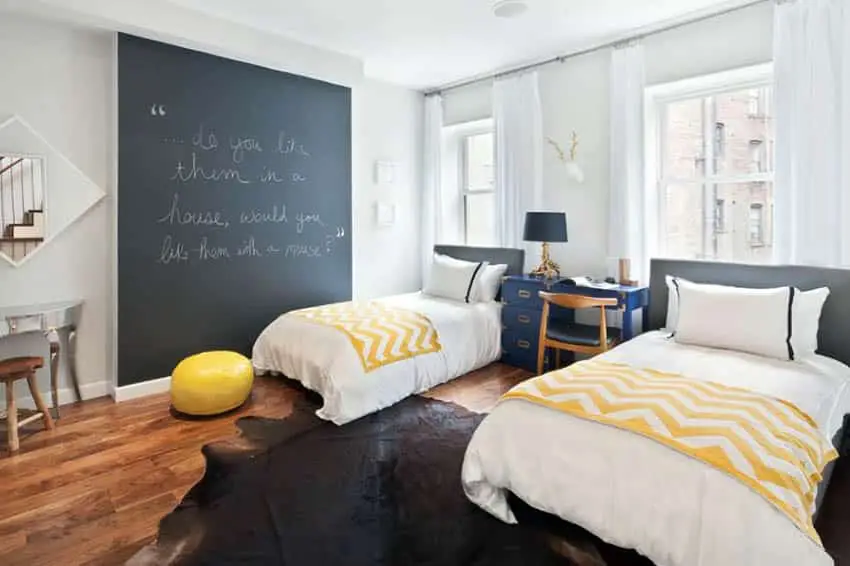 Paint that is a multi-tasker is a good starting point. And there are many multi-tasking paints out there, the most popular are magnetic paint and chalkboard paint. Paint an entire wall in chalkboard paint, supply your kiddo with some chalk markers or paints, and watch them create a new masterpiece every day.
Make a calendar with some colorful washi tape so they can chalk in their sports schedules and homework assignments, making it easy for them to stay on task and organized. Younger kids might choose to draw dinosaurs or make menus for their pretend tea shop while older kids might try their hand at graffiti-styles or making study charts or wish lists.
If a whole wall of charcoal grey chalkboard paint is a bit much for you, create a faux chair rail and just paint the top or bottom part. Or simply paint a few squares of chalkboard paint on the wall and frame them out, your child will have an every-changing gallery at their disposal. Magnetic paint is another great multi-tasker.

Magnetic Paint
Paint a large stripe of magnetic paint around the room and give your kids a space in which to hang artwork, schedules, and even small magnetic shelves and pencil holders.
Layer this paint under another type of paint, such as chalkboard paint to make a functional, fun, focal wall.
As an alternative to this you can purchase a large sheet of magnetic galvanized steel from a local hardware store to create the same affect. Magnetized steel will allow you to avoid using paint which may take many coats to work properly.
Creative Paint Designs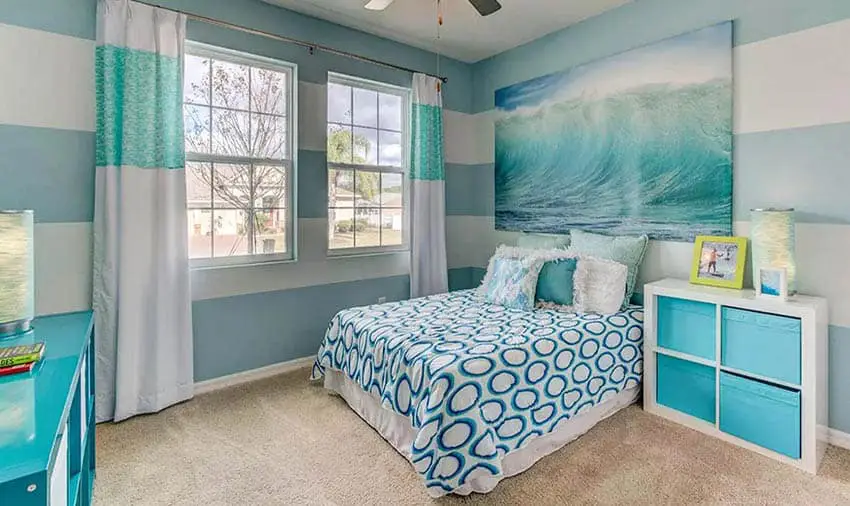 Painting techniques can also be useful when painting a kids room. You can get creative with your child's favorite colors and use two colors with great results. A striped painted wall gives an uplifting and fun vibe for the space.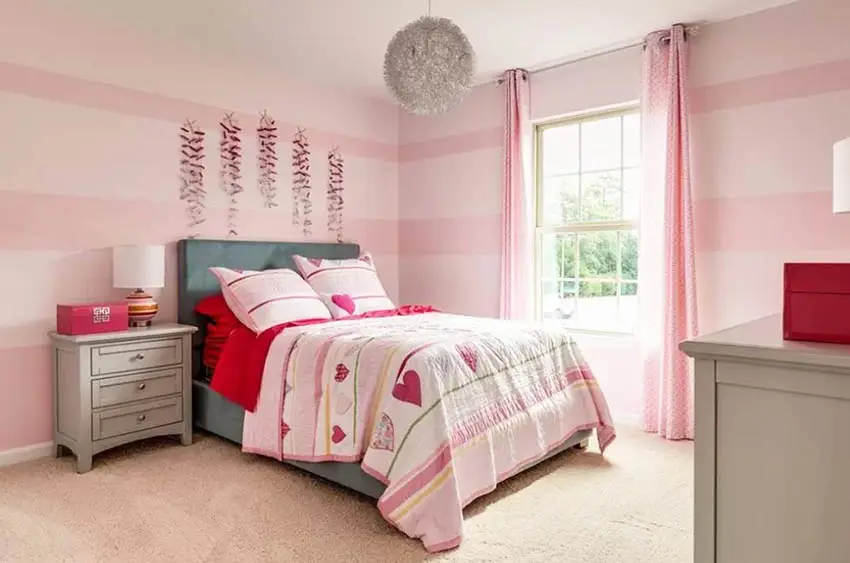 This bedroom uses a pink and off white paint to create an inviting space.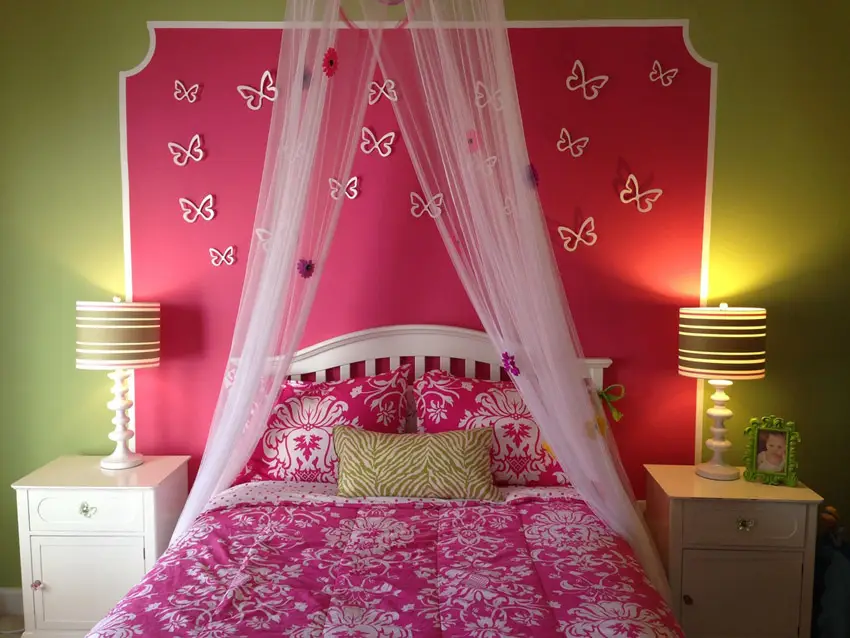 This design frames the bed to give it a large painted headboard on the wall that can be adorned with decor pieces such as butterflies. A girl's bedroom design with princess curtain can add a touch of fairy-tale ambiance to the space.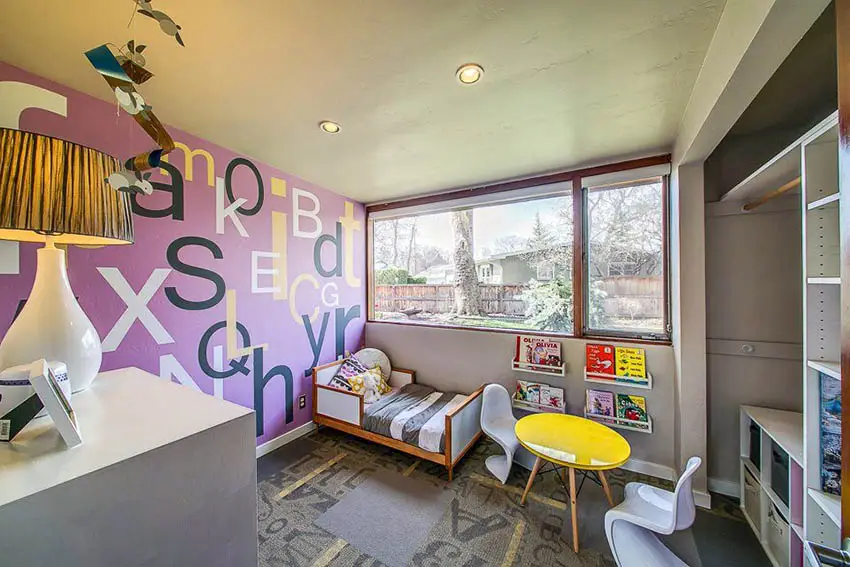 This child's bedroom uses a painted alphabet wall for a fun and whimsical design.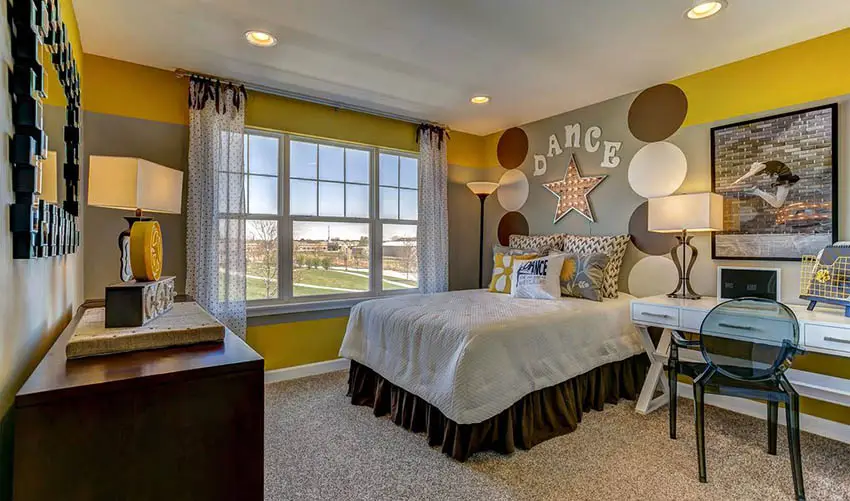 Another idea is to paint the middle ¾ of the wall in a neutral grey, then paint the top part of the wall whatever crazy color your kid is into this year. You might be repainting it more often, but it is only ¼ of the wall so it isn't time consuming and won't use that much paint. It also allows the color to act as an accent rather than take over the whole room. To add more visual interest leave a roughly 2" stripe of white between the paint colors.
Zig-Zag and Geometric Paint Patterns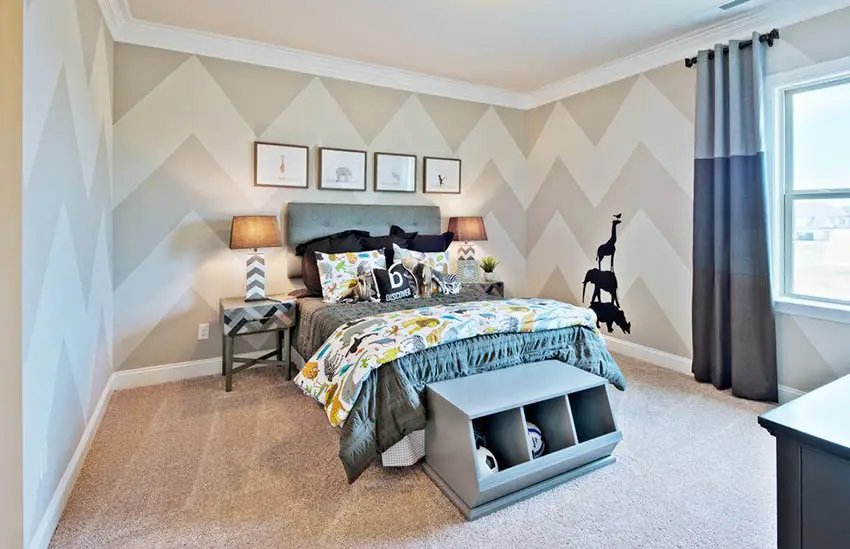 Instead of leaving a stipe of white, indicating a faux molding, you can use a wavy line or zig-zag to make it more visually interesting. For even more interest, leave the walls white and paint a silhouette of a city skyline with black paint. This creates a backdrop that can be used in a variety of ways. For your superhero lover, it can be Gotham or Central City, for your fashionista it can be New York or Milan, it can change and grow as they change and grow.
Paint the Ceiling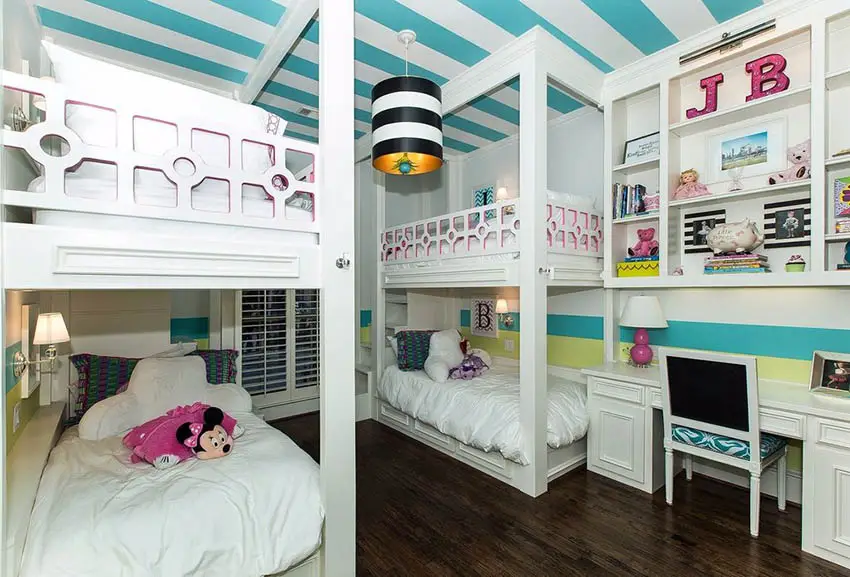 Painting the ceiling and the walls can have a dramatic affect on the look of the space. When selecting a paint for the ceiling make sure it is flat rather than glossy, does not splatter and has a long drying time (also known as long open time.)
Paint the Child's Name on the Wall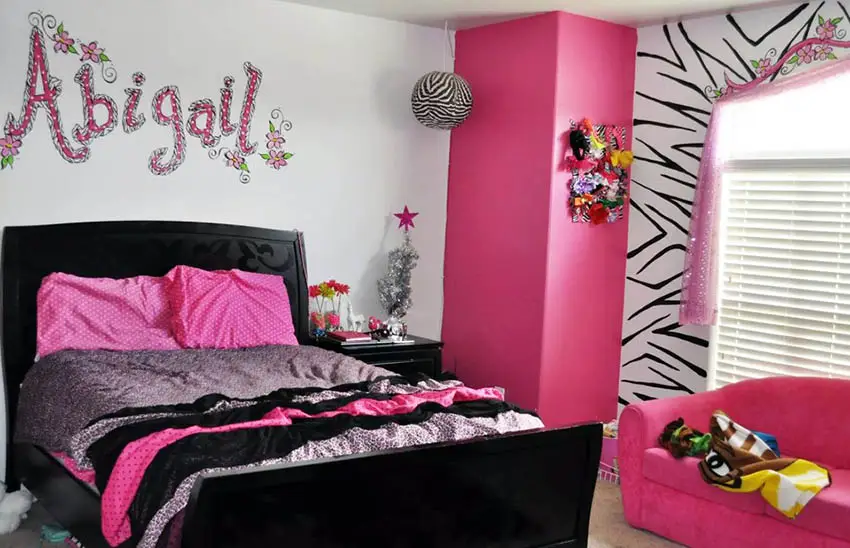 Having your child's name painted on the wall is fun way to provide them with their own space and allow them to let their own creativity shine through. Adorning the name with their favorite flowers, animals, activities, sports teams or characters are all fun ways to personalize the design.
Teens Bedroom Graffiti Wall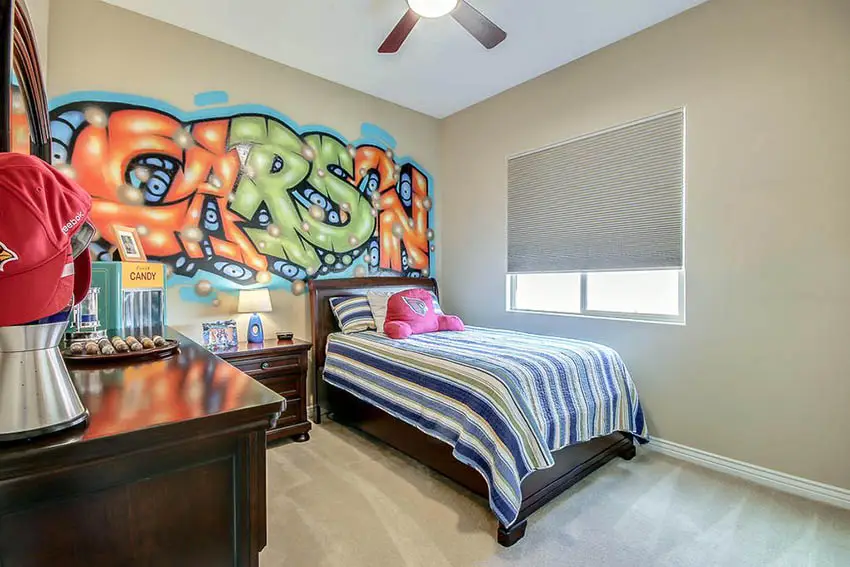 A teens personalized name graffiti wall is a good way for them to unleash their own creativity and sense of style. By selecting their favorite paint colors they can get a design that's unique and meaningful to them.
Themed Bedroom Design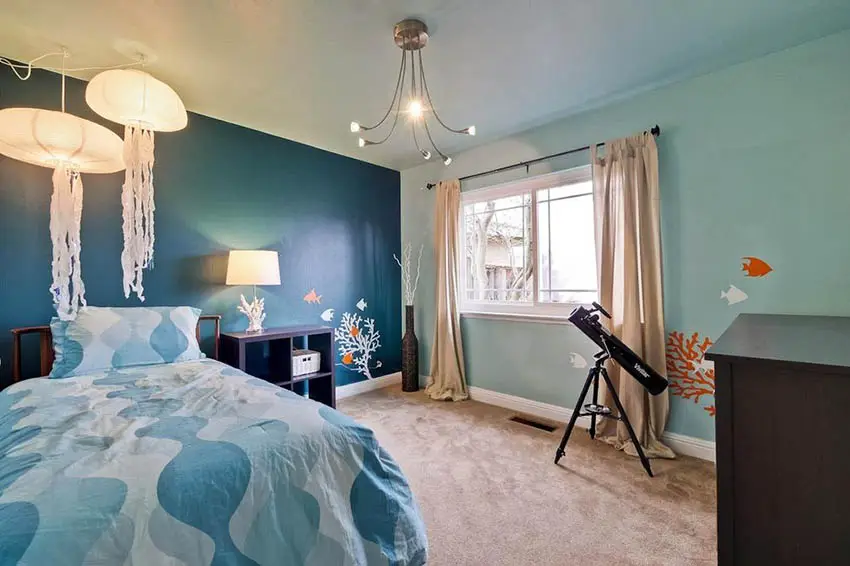 A themed bedroom such as this under ocean design can harness your child's creativity. this room uses two types of paint to color the undersea environment with painted fish and coral on the walls and even jelly fish themed lighting for added affect.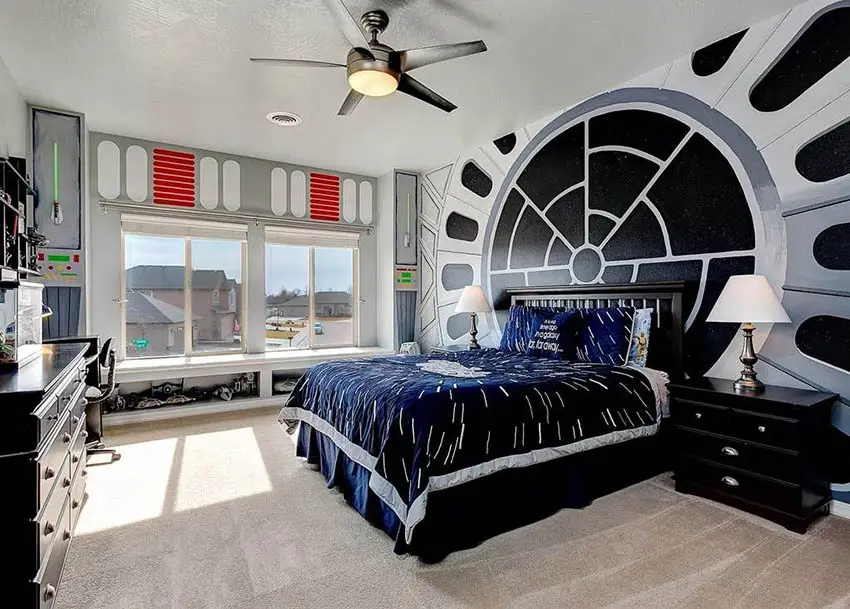 A movie themed bedroom like this star wars themed bedroom is the perfect way to share your child's favorite movie interests. For this design paint was used to create the inside of the space ship with other decor items related to the movie throughout the space.
Paint a Wall Mural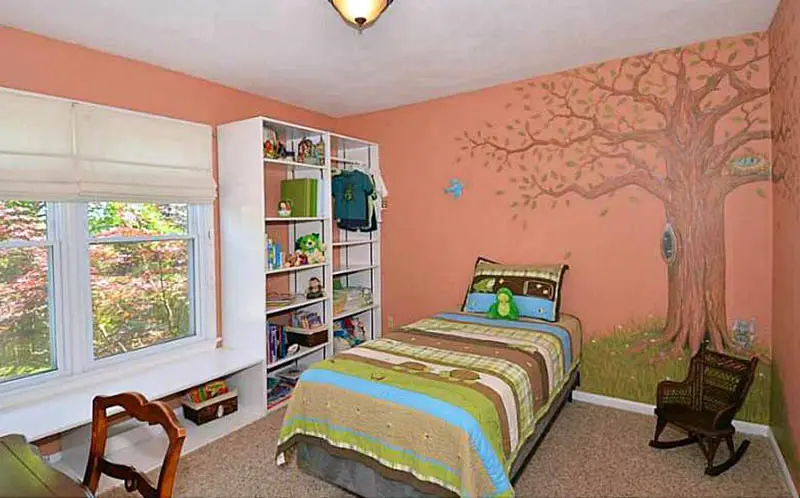 A wall mural can be a great way to set the scene of your child's bedroom space. Bring the outside in by adding elements from nature such as trees, mountains or rivers. The only limit is your imagination with what type of bedroom wall design you can paint.
Personality Paint Colors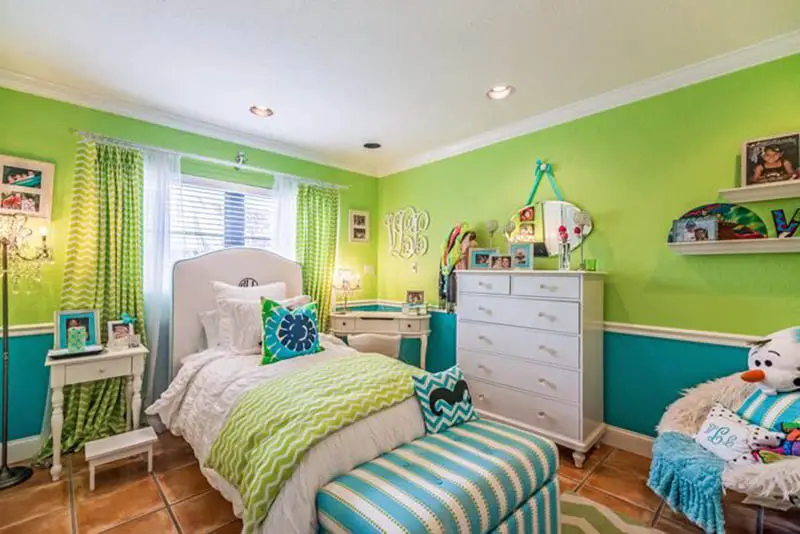 Another way to choose paint colors for your child's room is to take their personality into consideration. If they are active or easily agitated, then a red room isn't going to suit them no matter how much they love the color. Paint in more calming hues of blue and green would be perfect for the kiddo who has difficulty calming down or sleeping.
On the other hand, a teen may benefit from an energizing red or sunrise orange paint color to nudge them out of bed before noon or rouse them to finish that research paper on time. Visit here for more teen bedroom design inspiration.
Paint the Furniture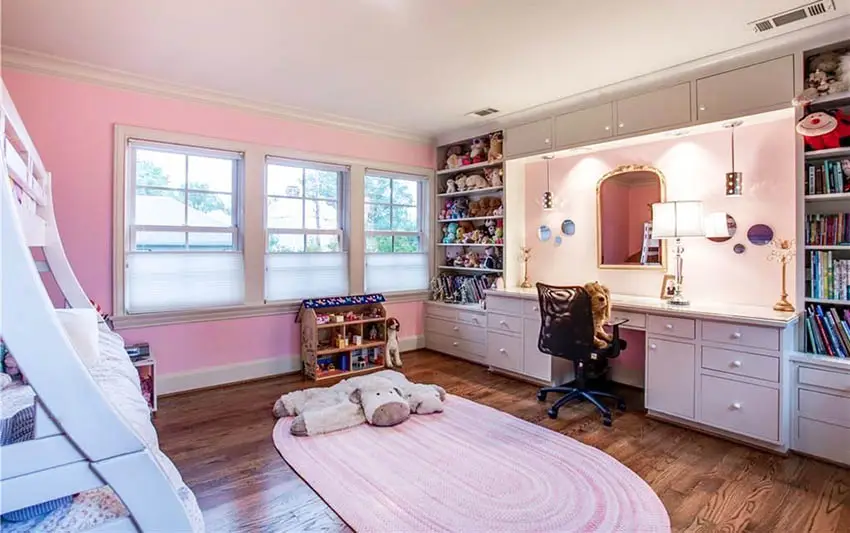 Of course, paint isn't just for the walls. If you live in a place where you aren't allowed to paint walls and you really want that pop of color, paint your kid's furniture. A dresser with chalkboard paint on the drawer fronts will allow your kids to draw and write what is stored in each drawer.
Or paint the dresser bubblegum pink for an unexpected jolt of color. Paint the bedside tables with different superhero symbols or to look like Minecraft blocks. Paint the footboard of a bed to look like an aquarium to use as a background for undersea play.
A simple bookcase can be transformed into a stunning focal point with a few coats of paint. Whether you just paint the backing, allowing the color to peek-a-boo from behind the books or paint the whole thing, you can create texture and interest with just a little bit of paint. Visit this page for more little girl's bedroom ideas here.