Welcome to our gallery of bedroom sitting area ideas including a variety of ways to create an inviting space for reading & relaxation.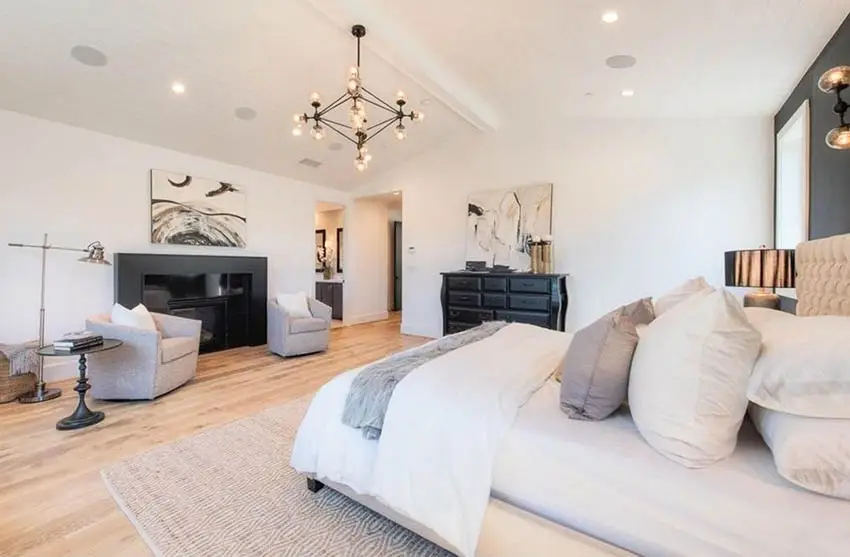 Your bedroom can be a haven for luxury and comfort by adding stylish lounge seats. To spark ideas for the purpose of designing, we've put together a list of tasteful and practical bedroom sitting area ideas for your bedroom space.
Master Bedroom Sitting Area Ideas
Like your living room, the bedroom space holds many opportunities for added leisure and relaxation. Unlike the living room, your bedroom offers a private space to unwind and release the tensions and toils of everyday grind. Whatever type of bedroom space or theme you have, there's always a suitable bedroom layout for sitting to match. Be inspired by the following bedroom sitting area ideas.
Sitting Area with A View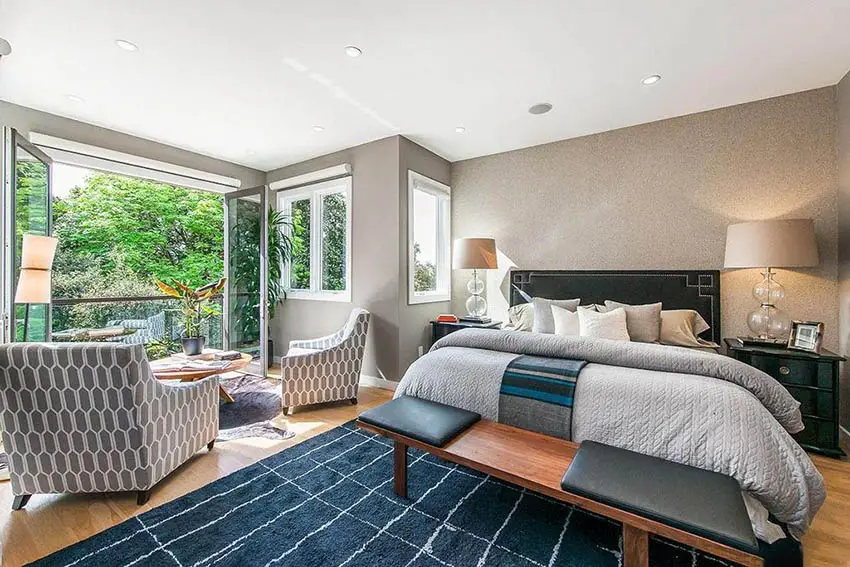 A scenic view such as this deserves a spotlight in your bedroom space. The sofa chair with a deeper seat length is just the perfect lounge chair when bringing in the outdoors into your interior space. Like a patio recliner, you can stretch out and enjoy the sun and views that are perfectly framed by the patio doors.
It also helps if you employ the same design elements in your bedroom, like the geometric patterns on the sofa lounge that matches the overall bedroom design.
Sitting Area for Two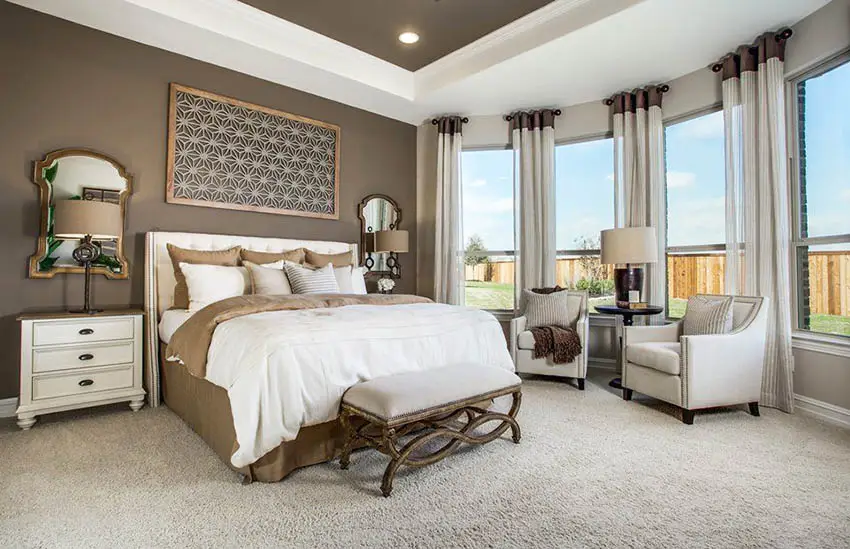 A pair of luxurious sofa chairs by the large bay window can be a comfy nook for any couple. With the generous daylight and views, the backdrop is an inviting spot to enjoy hot beverages early in the morning or as a private venue for heartfelt conversations during the night. Don't forget a side table and a dedicated lamp on the side, as nightly readings can commence in this comfortable space.
The lounge area is the perfect retreat, utilizing the alcove space within one's bedroom. For a cohesive design, the flare tapered sofa arms goes well with the elliptical elements seen in the bedroom interior.
With much space, you can add a footstool for convenience when changing shoes. You can move the accent stool in front of the sofa chairs to relax your limbs while sitting.
Bedroom with Armchairs & Ottoman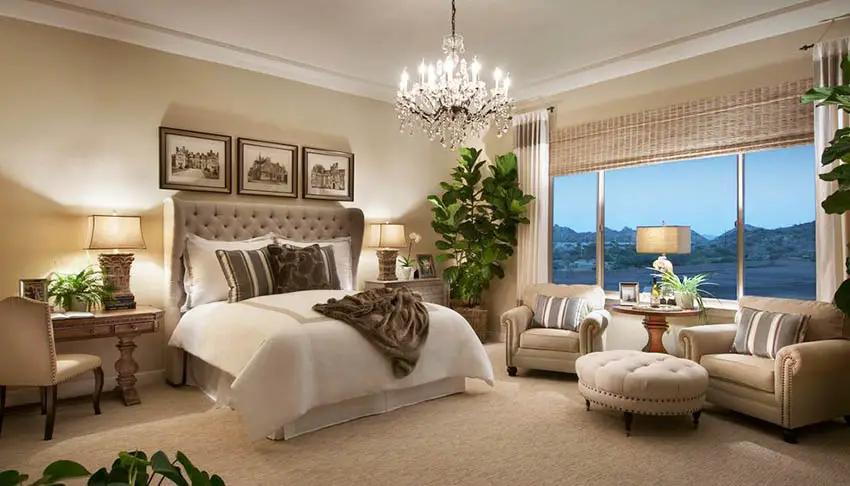 This bedroom uses up space efficiently without overcrowding the room, where the sitting areas are strategically placed near the walls. This way, it opens up the center of the interior.
For a cohesive flow of design elements, the sofa loungers use classical elements, such as nailhead trims and ruched sofa arms. To tie up the look, an ottoman footstool with tufted cushions are paired with the vintage sofas.
If you plan to do work on your laptop or do a lot of writing, you can place a dedicated study area separate from the lounging space.
Bedroom with Two Sitting Areas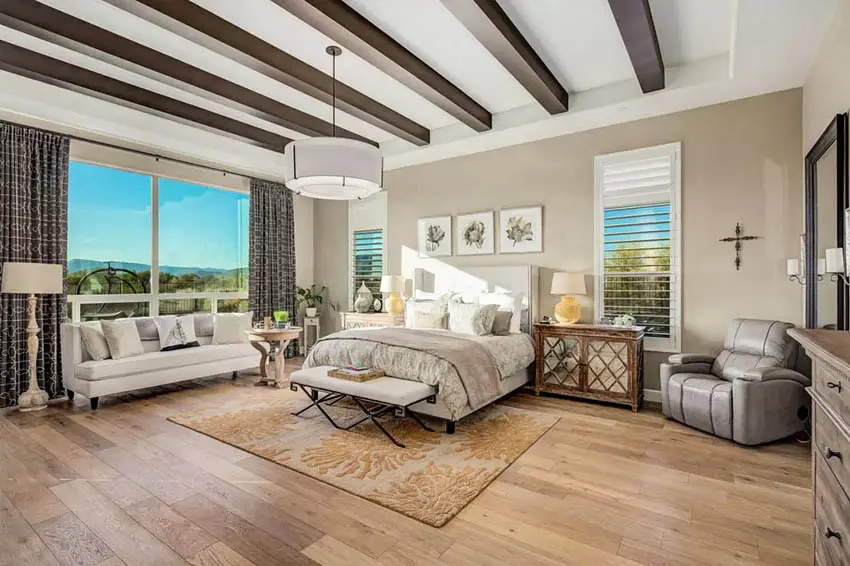 What more can you do with a spacious bedroom? Define two different sitting areas to fill in the void in your bedroom space. This space utilizes two sitting options for a transitional interior design.
For this Scandinavian inspired bedroom, a club sofa chair is placed aback in the corner of the room getting a full view of the room and a peek to the surrounding vista. While the armless sofa against a large window is the perfect lounging spot to catch up on your reading.
Bedroom with Chairs at Foot of Bed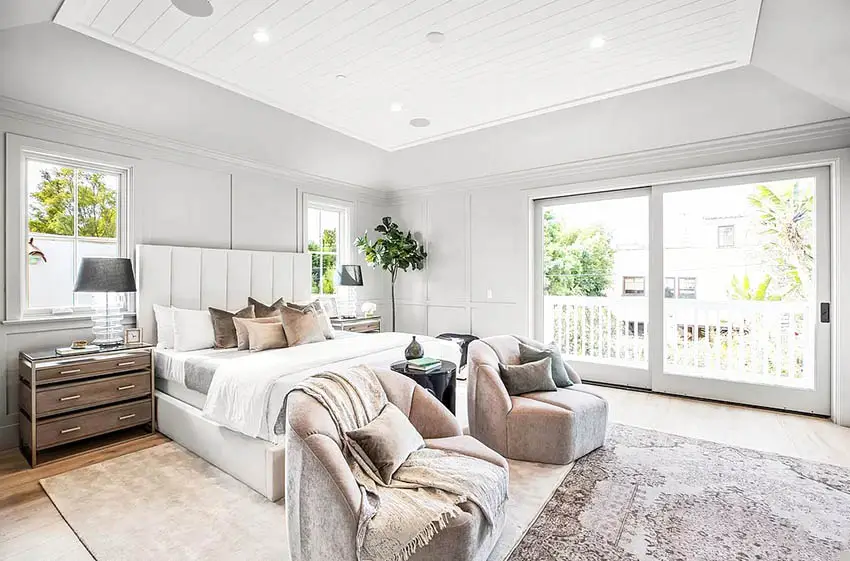 An iconic gable sofa can effortlessly provides a cozy atmosphere to any vintage bedroom styles.
The pair of gable sofas are perfect accent chairs for this mid-century bedroom. Positioned along the bed's foot rest, the butterfly sofa chairs offer a relaxing space, any time of the day.
Long Window Seat Bench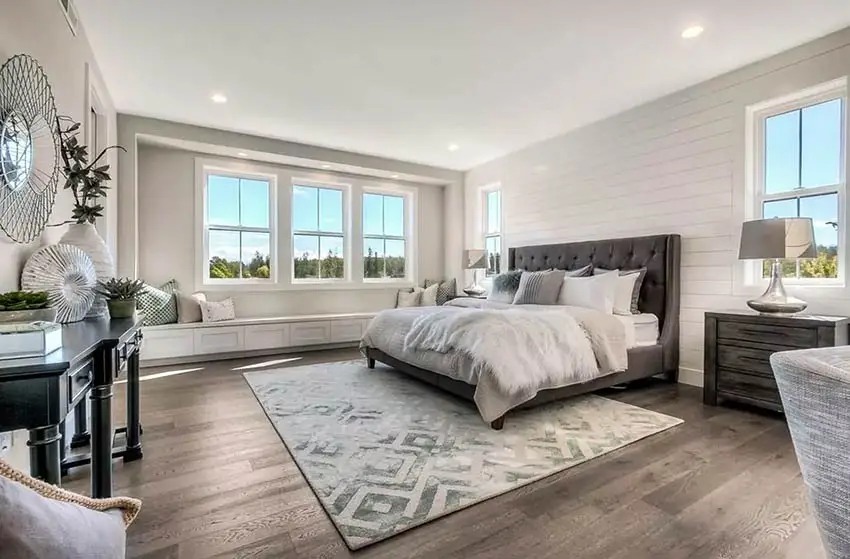 Long window seats cohesively built with the surrounding them of Avant Garde living. The built-in window seating stretches all throughout one wall leaving unobstructed views of the outdoors.
Synced with the existing horizontal lines of the bedroom interior, the long lounge is an inviting sitting space perfect for the leisure hours. See more bedroom built-in ideas here.
Sitting Area with Stylish Winged Chairs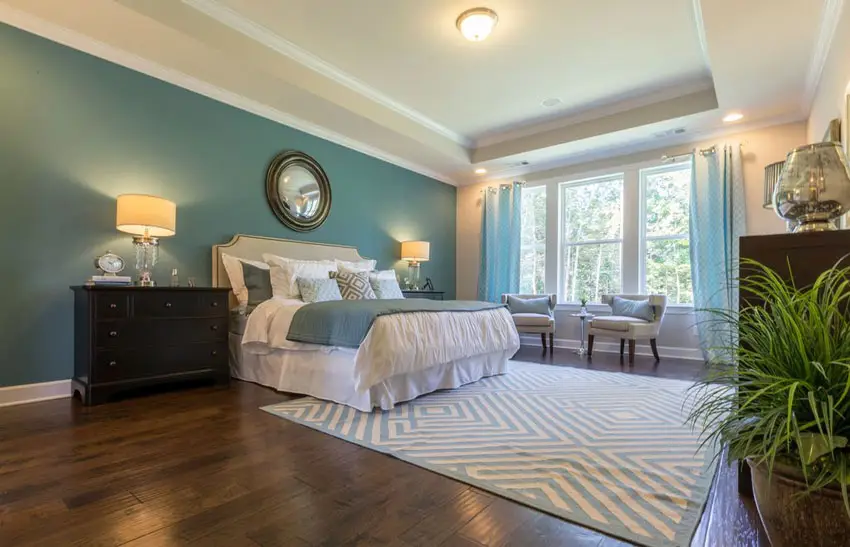 Enjoy the morning sun or the afternoon view with these beautifully designed slipper chairs in a coastal themed interior.
Strategically placed behind these large windows, these comfortable winged armless sofa chair fills in the void of the bedroom space while drawing the eyes to the large frame of the outdoor environment.
For spacious bedrooms, it is ideal to place a bedroom sitting area that is closely confined and in view of the entire room. Formal yet inviting, the pair of white sofa chairs sits well with the teal and celeste colors of the bedroom space.
Nursing Mother's Retreat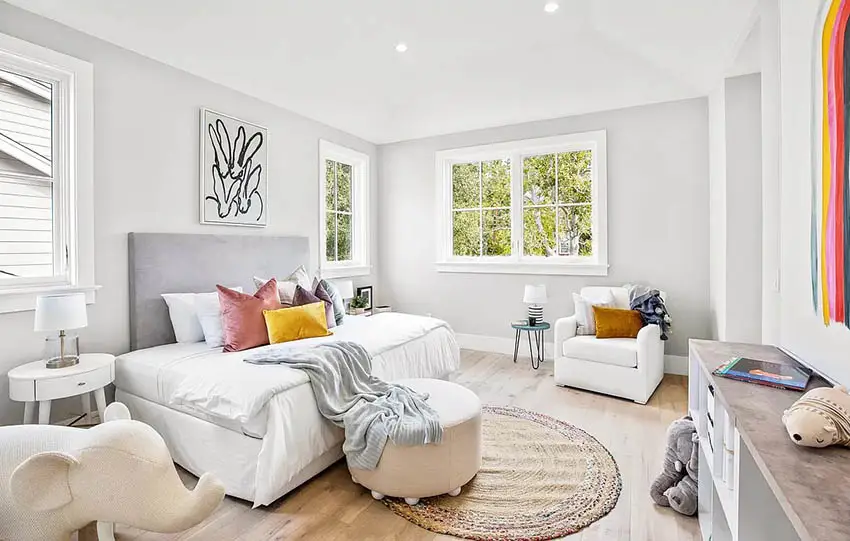 There's nothing more homely and comforting than a plush fully-cushioned sofa chair.
For a nursing mother's retreat, it is important to provide spacious and fully-supported seats where she can spend time tending comfortably. Aside from the white upholstered sofa affixed against a wall, an ottoman chair is provided that can be easily moved around the bedroom space.
Spacious Guest Room with Desk Facing Window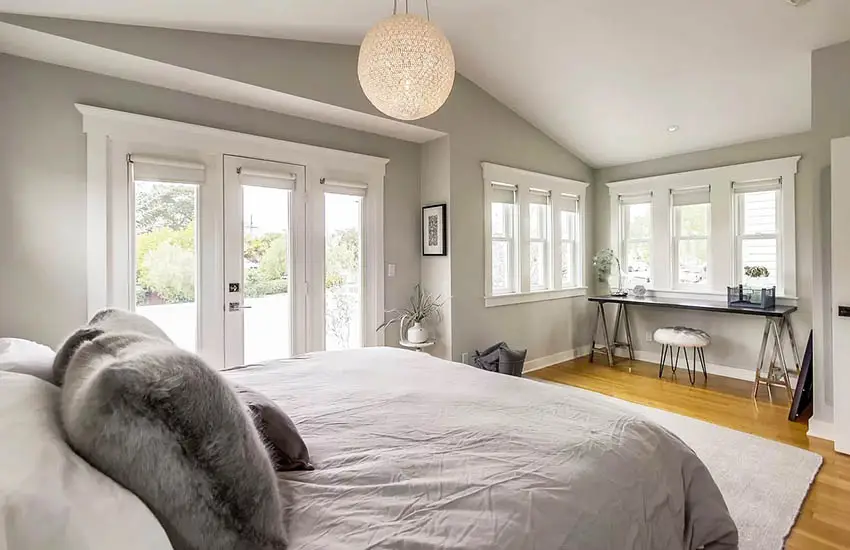 Accent furniture is the perfect décor when you want to add interest into your monochromatic interiors. The hair pin legs on the accent chair along with the long task table creates a dynamic and contrasting effect to the existing horizontal and vertical lines of the bedroom space. Too stool chair can be conveniently moved around the bedroom space.
Seats for Natural Light and Views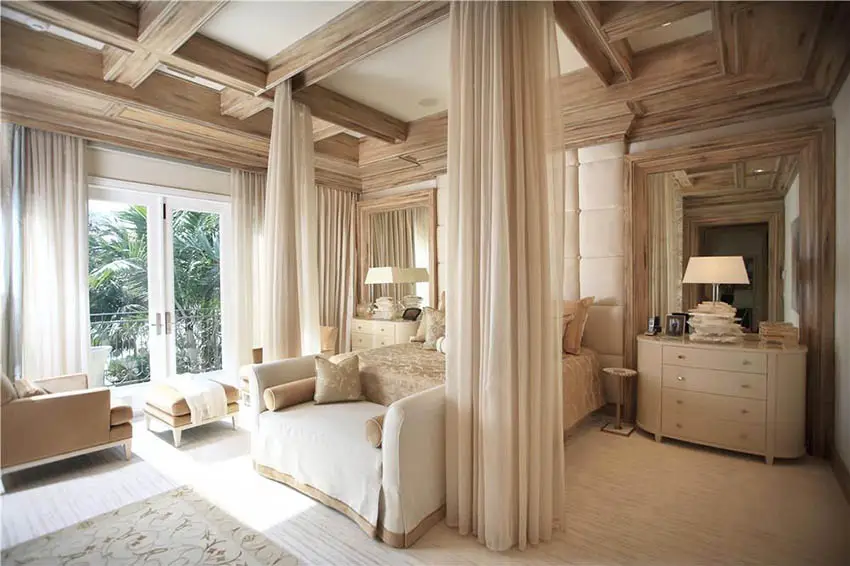 Enjoy natural light and views through luxurious and comfortable lounge seats that perfectly converge with the dreamy bedroom space.
Instead of a footstool, why not use a daybed chaise as an extra seat. Besides, a lady should always be surrounded by feminine comforts at home, especially in her private retreat.
The deep seat chairs are perfectly spread across the bedside, leaving the views and light coming from the glass doors unobstructed and in full-view from all parts of the room.
Fun & Relaxing Swinging Chair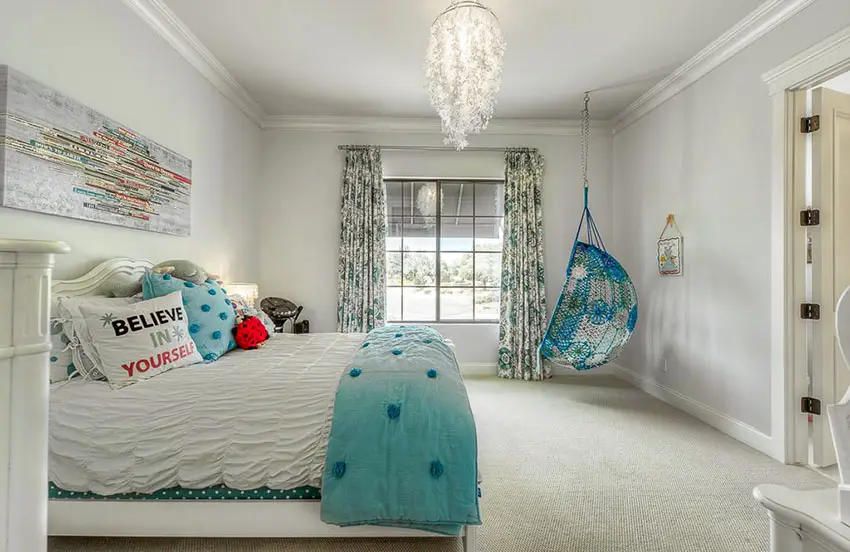 A girl deserves a swinging break, curled up in reading or, for the millennials, a spot-on texting lounge for a fun and relaxing personal hub.
With hints of the bohemian vibe, a hanging chair is a fitting addition to any child's or teenager's bedroom space. The suspended chair doesn't take up much space making it perfect for small to medium-sized bedrooms.
Window Seat for a Cozy Bedroom Nook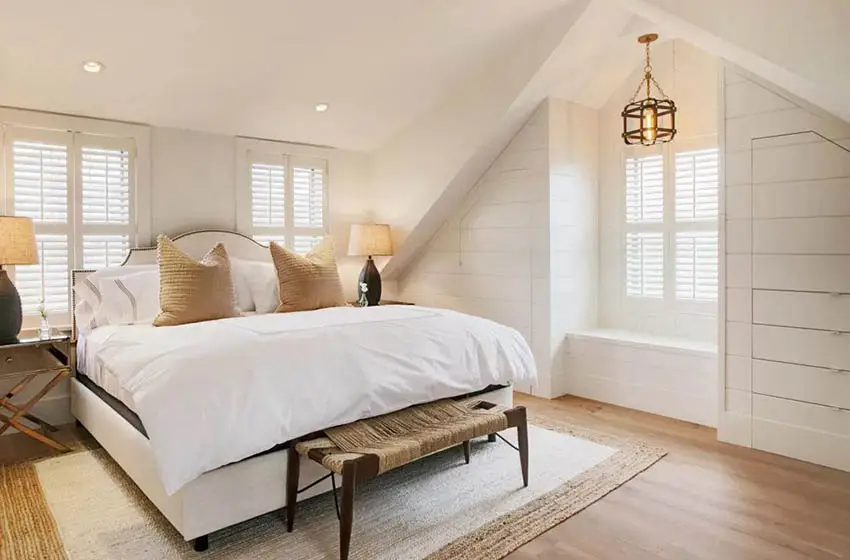 Seeing this charming window seat just makes you want to curl up in the cozy nook for an invigorating morning coffee.
Your bay window is the perfect spot to create a simple lounge area for your bedroom. You can tie-up the look with a foot stool, just like this stool which is made from interlocking threads.
A feature of Scandinavian interiors is the absence of drapery and curtains, this allows maximum natural light to pour through the bedroom area.
Sitting Area for Long & Narrow Bedroom Layout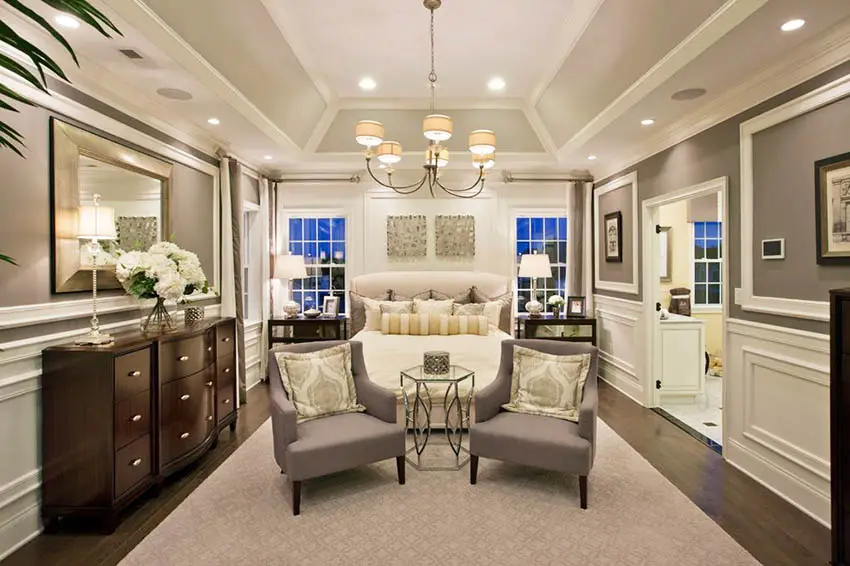 When you have a narrow bedroom, opt for a symmetrical arrangement, like having a pair of tapered armed sofas that are positioned incoherence to the balanced view. The classical chairs effectively utilize and breaks off the long blank space as well.
It helps to add light and airy décor pieces such as the metal-framed glass side table in between the pair of armed chairs. The transparent features create a contrasting effect on the heavy upholstery and fabric elements.
Glam Bedroom with Chaise Lounge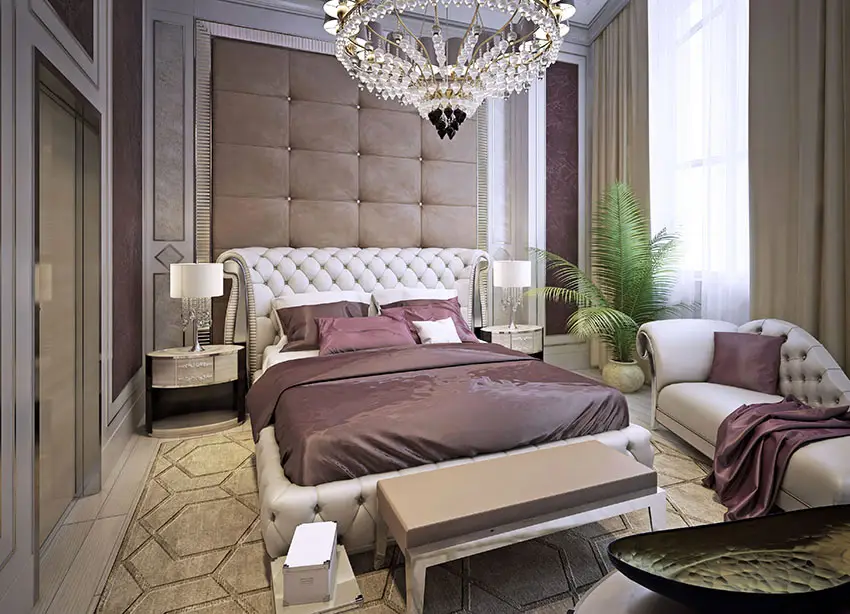 A chaise lounge is a fitting choice when you have a luxury master bedroom. With similar design attributes such as the color and the deep button tufting it makes a unified part of the classic bedroom theme. When a king-sized bed takes much of the space, choose for long and sleek seats to make room space flowing.
Modern Loveseat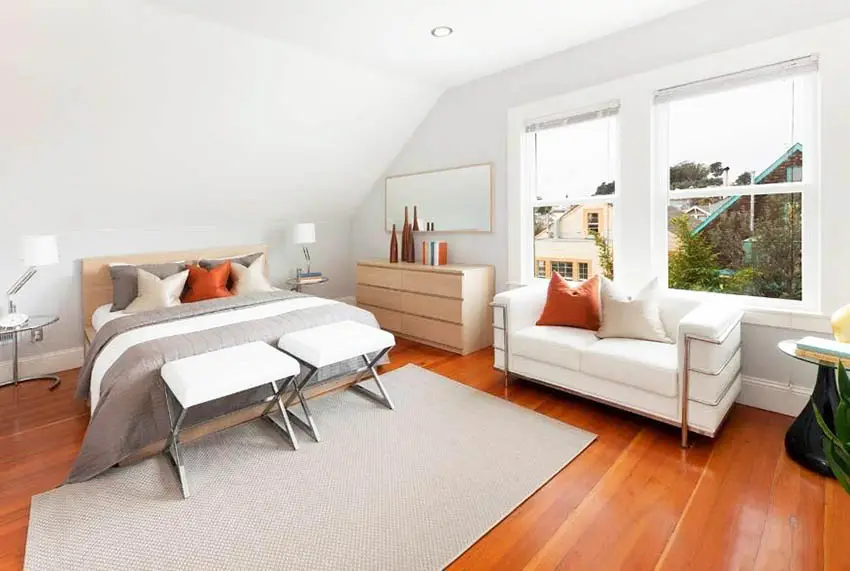 A charming modern loveseat is a perfect corner for couples to cuddle and unwind during the wee hours.
With a warm-colored wood floor, choose white or light-colored furniture to highlight the modern elements. The loveseat is complemented with movable chairs, making it convenient when you need to transform your lounge area into a study or breakfast nook.
Modern Masculine Bedroom with Sitting Area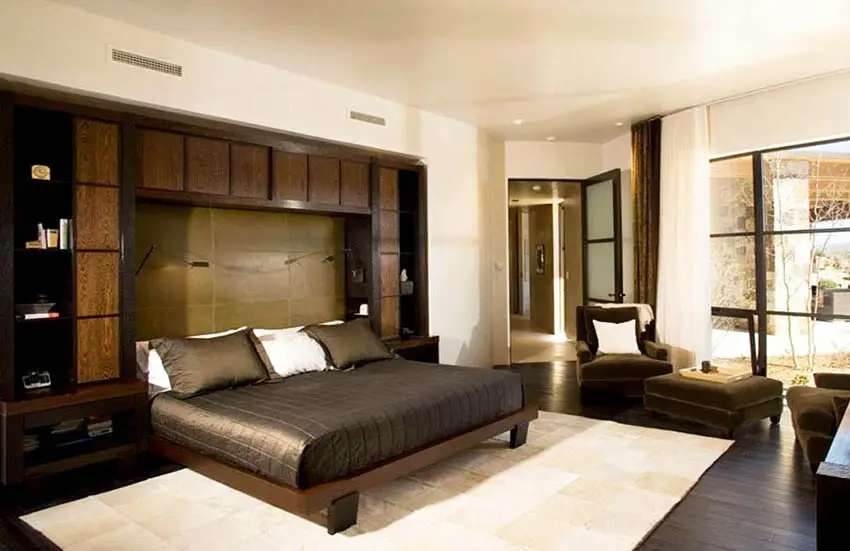 For the modern gentleman's bedroom, expect clean and strong lines with heavy set of dark wooden elements. Leather club chairs started in the early 20th century and became increasingly popular before the start of Art Nouveau and Art Deco.
Leather club chairs are of the norm for men's interior, but for this master bedroom, the velvet cloth is used instead for a softer complement to the glossy furnishings. Positioned on a side of a large window, the set of sofa chair and foot stool creates a comfortable lounging area. Vintage club chairs are a great choice for those who want to exude sophistication and elegance. Visit this page for more ideas for mens bedroom color and designs.
Bedroom with Built-In Sitting Nook & Moroccan Inspired Interior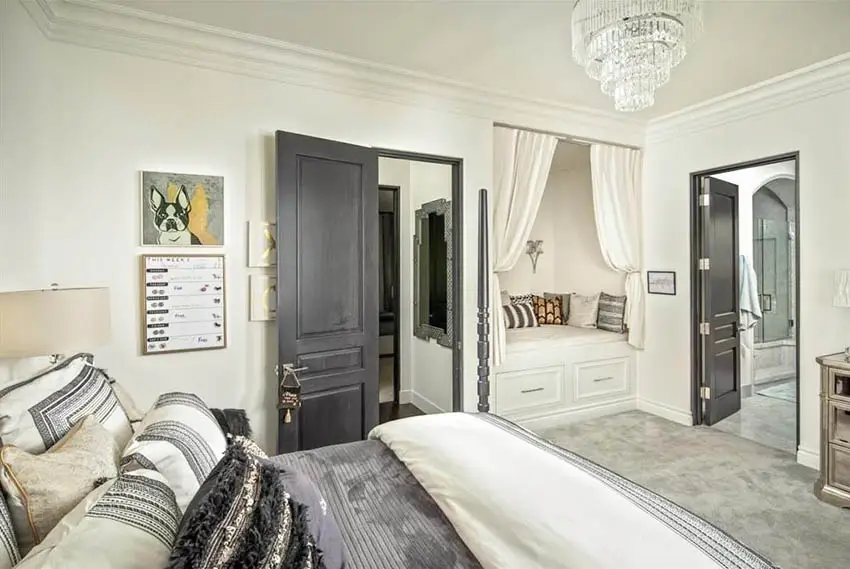 Pocketed neatly in this bedroom is a sitting nook. The sitting nook is a great option for medium-sized bedrooms. You can transform your unused built-in closet or see if a pocket room can be extended from your bedroom area to accommodate your desired lounging space.
Classic and Sophisticated Lounge with Foot Stools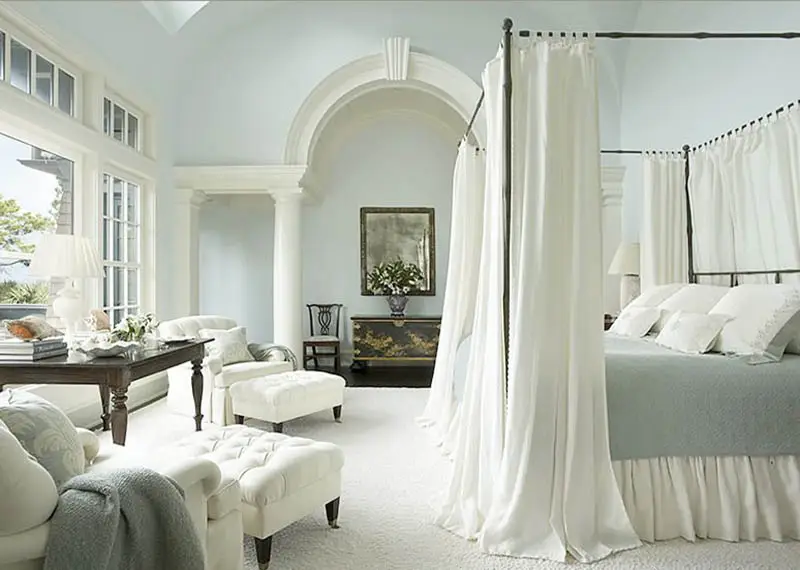 The tufted white sofa chairs paired with footstools seemed made for the Palladian themed interior. To make the lounge area more functional, a large study table is placed in between, where books or the morning newspapers can be nonchalantly piled up on the vintage table.
A stately master bedroom deserves a classic and sophisticated lounge area complete with other furniture with matching colors. With an almost all-white interior, design elements can afford intricate details that can be more appreciated in a monochromatic setting.
Master Bedroom with Separate Sitting Area
The bedroom designs below all have separate sitting areas that create a detached and luxurious space.
Sitting Area with Deluxe Seats for Luxury Bedroom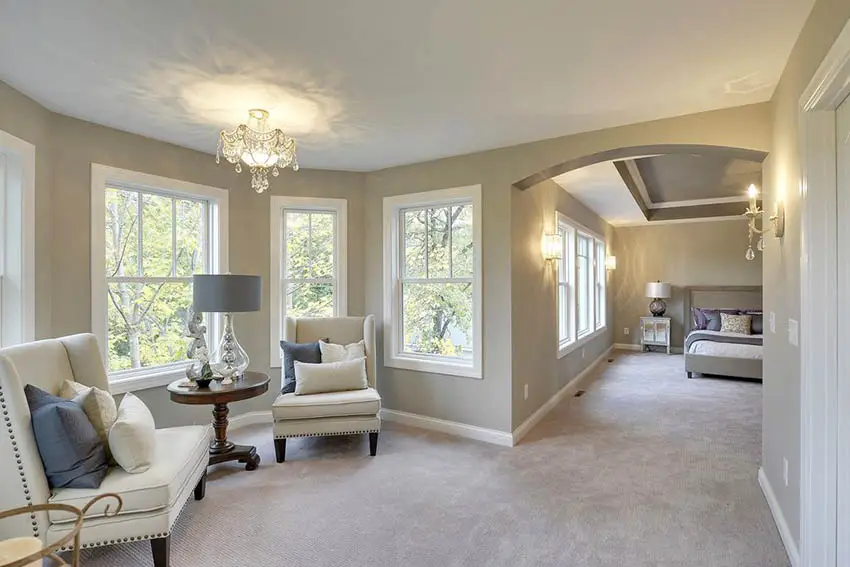 With a generous amount of bedroom space and a bay window to boot, you can go on and sprinkle on accentuated furniture and décor; just like a pair of high—back sofa sequined with nailhead trims to fill in the spacious area.
Wood, glass, and metal accents are added to the design to create a variety of textures to the flat and plain look. For the texturing, throw pillows placed along with pops of dark gray colored items and are integrated throughout the bedroom interior.
Farmhouse Style Bedroom with Club Chairs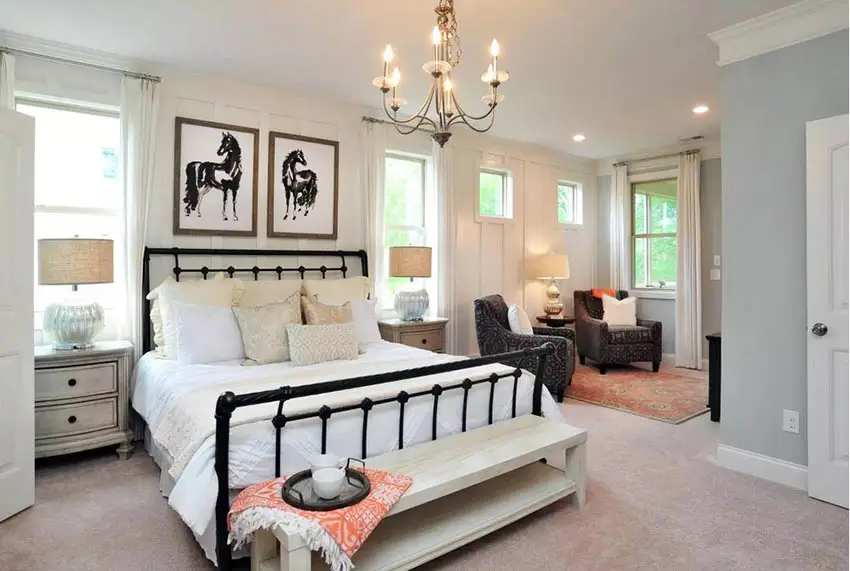 Indulge in light and vintage décor with patterned sofa chairs. With a heart-of-the-country vibe, perfectly pocketed is this pair of classic upholstered sofa chairs. A separate lounging space for a heart-to-heart talk with a family member or the perfect lounging area to spend the lazy afternoon.
The black and gray colors of the vintage sofas set depth and contrast to the all-white country styled bedroom. Since separate bedroom sitting area ideas are so inviting for an afternoon tea, you might as well protect your expensive carpeting with a colored throw rug underneath.
Luxe Bedroom with Chaise Lounge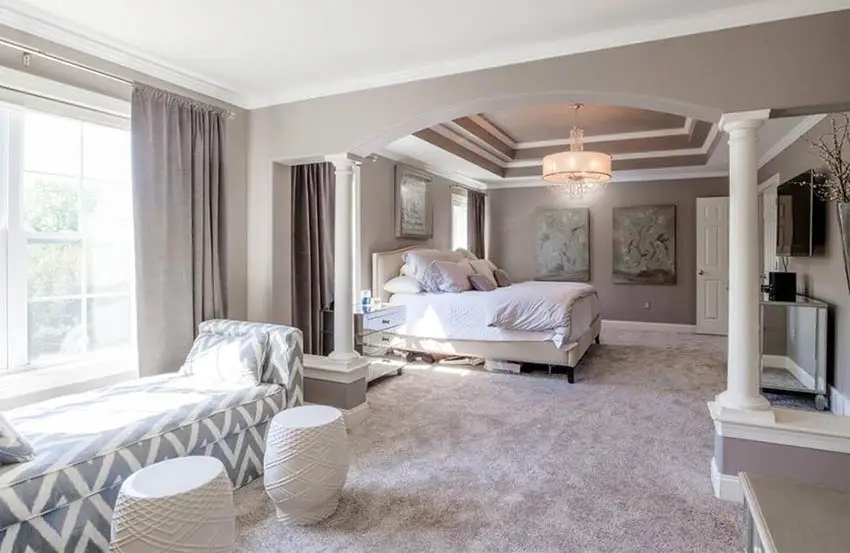 A chaise lounge is the perfect hallmark of indulgence for a classic interior space. With a spacious room to boast you'll have enough area for a dedicated lounging area. The geometrically patterned lounge is placed along a ceiling-high window, a right spot to spend the wee hours for sentimental thoughts.
With transitional interior, you can choose modern designs for your master bedroom sitting area. Make sure though to use color schemes that can blend well with your existing interior.
Master Bedroom with Sofa Sitting Area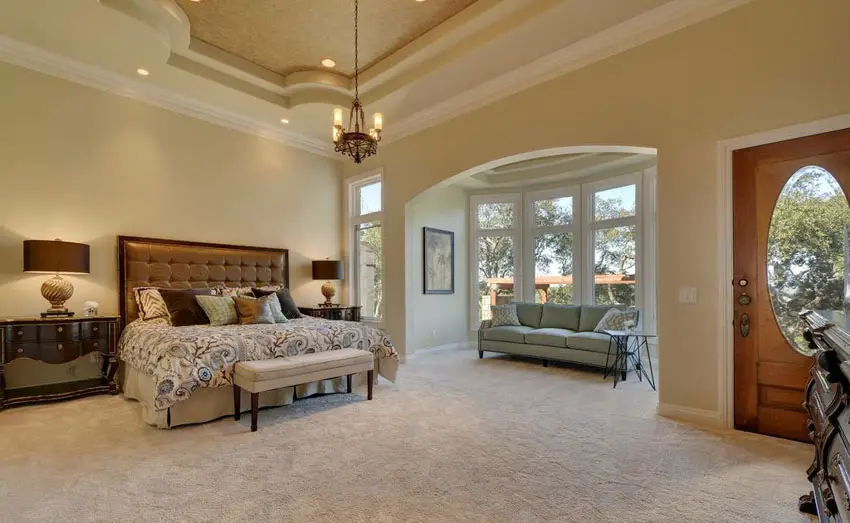 The grand sofa is just the perfect fit for such a grandiose of a master bedroom. The master bedroom sitting area is beautifully framed by arched room divider. To further showcase the spacious bedroom is the large French windows that becomes a dramatic backdrop of the sofa lounge.
Tufted Armchairs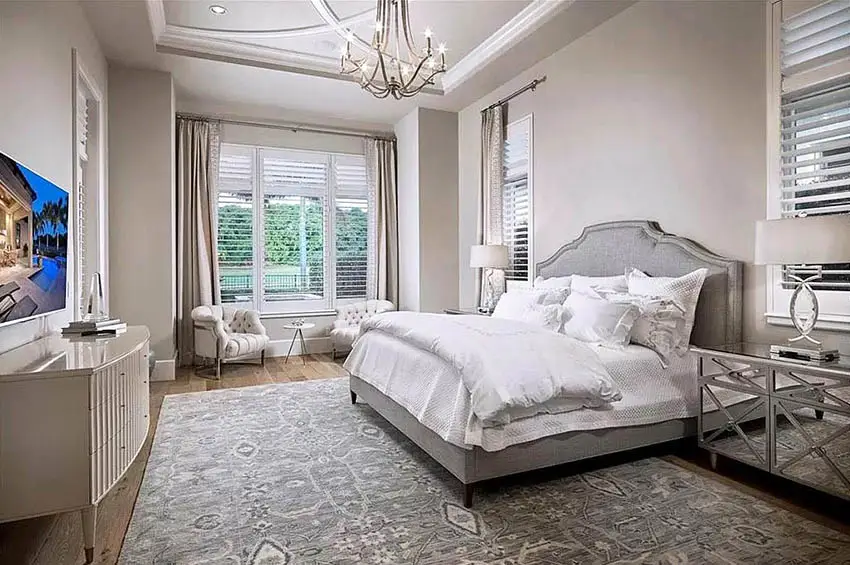 A stately king-sized bed deserves a pair of sophisticated tufted lounge chairs to match. The tufted chair cushions effortlessly do the trick, with their stately and rich appearance.
For a long window, when using a pair of armchairs, spread them to match the width of the window. This way, you can fully enjoy the view and natural lighting unobstructed and well balanced.
Master Bedroom with Fireplace & Sitting Area
These next bedroom designs all have spaces for sitting along with the backdrop of beautiful fireplaces.
Stone Fireplace Lounge For Two
For bedrooms shared by two, a sofa chair with individual lighting and side tables are great options in defining one's space. A fireplace must remain free of obstruction. Thus, whether guests are on the bed or lounging, they can still enjoy the warmth and view of a crackling flame.
Modern Minimalist Bedroom with Black Accent Wall Fireplace & Barrel Chair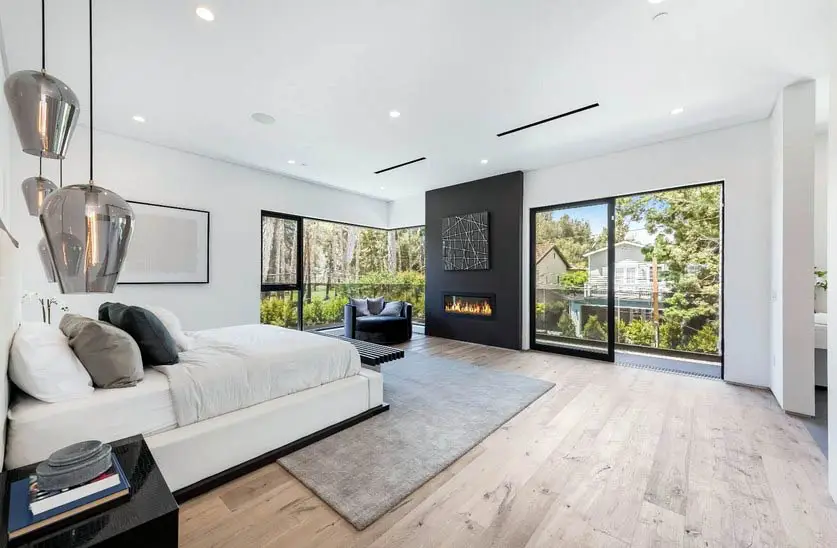 A comfy barrel chair to complement a minimalist master bedroom. We are used to having a pair or a set of lounge sofas around a fireplace mantel, but with just a single relaxing lounge chair it can still speak volumes into your master bedroom. With a backdrop of beautiful greenery, the black barrel sofa is quite distinctive creating a sophisticated yet simple look.
Bedroom Lounge Area with Center Fireplace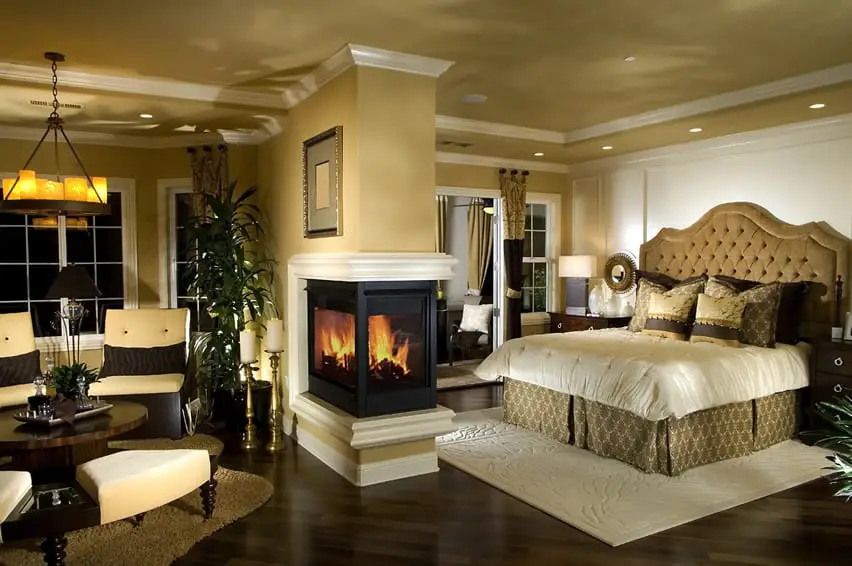 A complete set of slipper chairs to go with the love of a beige interior. To achieve a semi-private lounge area, folding glass panel or a lattice screen can define your sleeping area from your lounging space. For this regent-inspired master bedroom, it cleverly used a fireplace divider that allows both areas access to the relaxing views of the flames.
When choosing which lounge sofa to integrate into your existing interior, take note of the overall theme of your bedroom. Hinted by the existing beige color and black accents of the room, a choice of soft cream upholstery and dark brown color tone is used for the slipper chair sofa set. See more tan bedroom ideas here.
Sofa Chairs that Kindle Warmth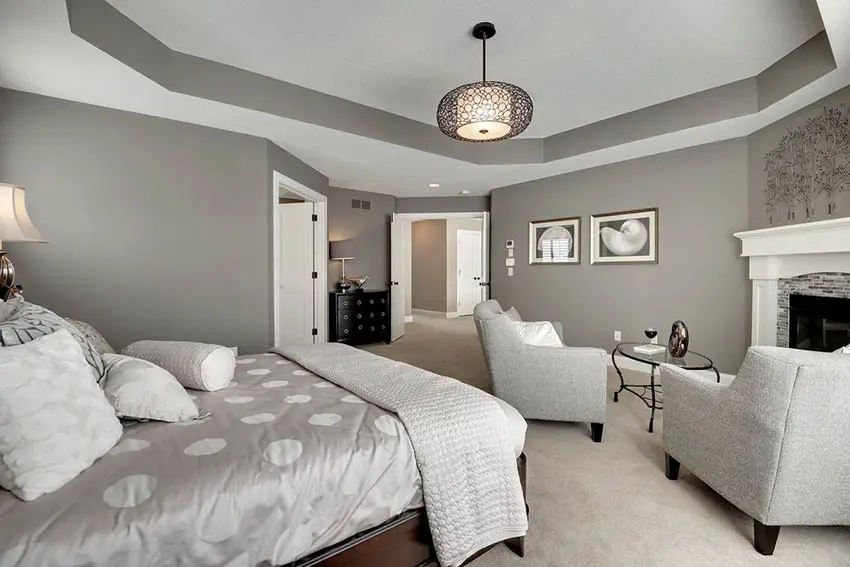 Create visual interest in a monochromatic interior. When you have a monochromatic bedroom interior, it helps to layer textures to create visual interest. The pair of upholstered sofa chairs kindles a welcoming atmosphere into the spacious room.
Takeaway: Modern bedrooms in many homes are usually straightforward. Just a bed and a dresser are usually enough for the most part, but there are still better ways to enhance the relaxing experience while accentuating the look. So, we hope that we've inspired you from our list of bedroom sitting area ideas for that next designing venture of your personal space.
Small Bedroom Sitting Area Ideas
For those who have a large bedroom it may be no challenge to create a sitting area. However, for those with smaller bedroom layouts a little more creativity may be in order. Here are some ideas to help.
Small Solace Retreat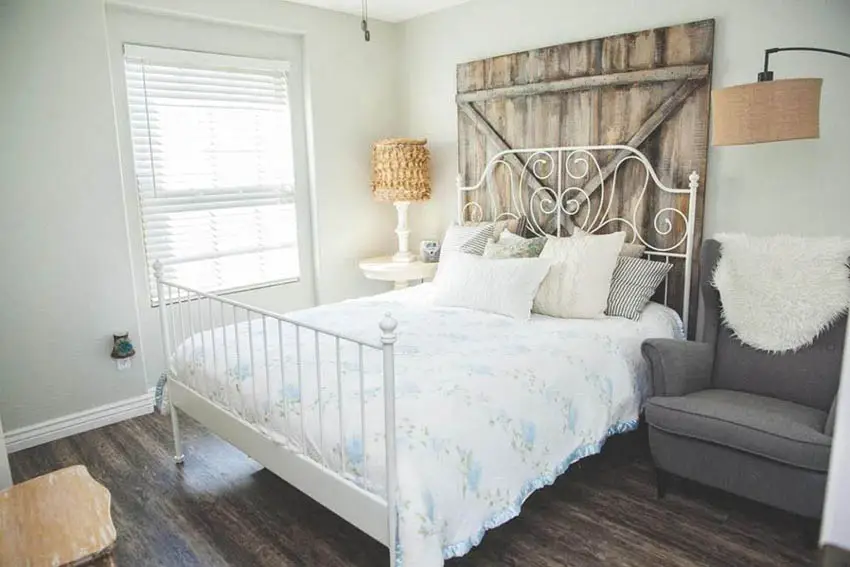 A sofa by your bedside is great. Some of us tend to doze of when lying down when reading and that's just counter-productive, isn't it? This gray sofa with a soft white fluffy covering on top is great for a variety of functions from reading books (and conveniently there's a lampshade just above) to watching the television from across the room. You'll need a wide TV at this distance, of course.
The perks of going solo is that you'll have every piece of furniture all to yourself. Just like having a luxurious throne by your bedside. The comfy seat makes a cozy spot for binge-watching from your tablet or phone, or, better yet, catch up on your reading while you lounge. You'll need an extra chair of course to maneuver around just in case you need an extra chair for reaching something up above.
The Intimate Loveseat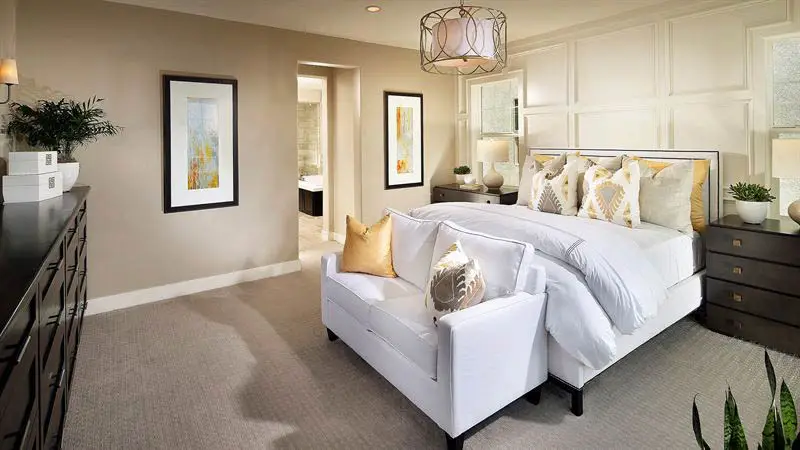 A loveseat with plump cushions is a great alternative to a footstool. The versatile loveseat adds a luxurious feel to a bedroom plus a more convenient seat for your nightly conversations with your partner.
Loveseats are great for other functions like a temporary seat while you change shoes, read books, or just as an accent chair for the bedroom. With such a simple piece of furniture, it can be a space saver.
Bedside Bean Bags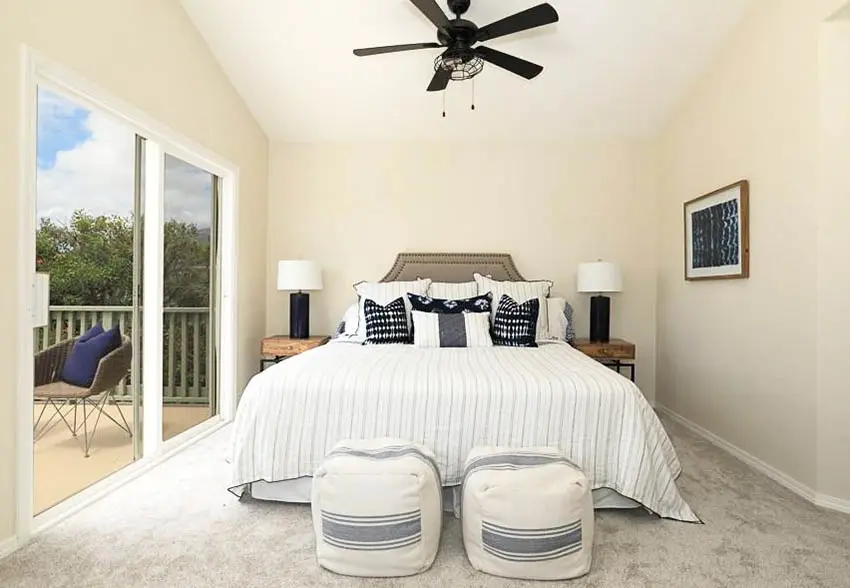 Bean bags are a youthful twist for your modern bedroom. For kids, teenagers, or adults alike, the hippie lounger is a playful alternative to the traditional sofa sets. They're as comfortable as an upholstered sofa and comes with a variety of colors and shapes to match any contemporary or modern themed bedroom.
The Iconic Barcelona Chair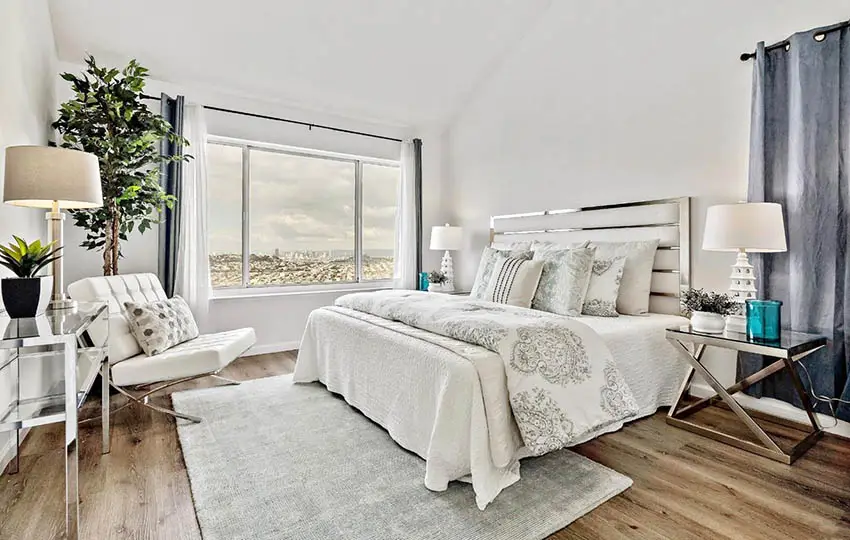 If you want the upholstered sofa but want to a lighter and easy on the eyes, Barcelona chair might be what you're looking for. It is elegant and sophisticated but not overbearing compared to the traditional Chesterfield sofa and other heavy-set loungers. Plus, no heaving lifting when moving, and it's easier to clean underneath the lounger.
Minimalist Bedroom Bench
Amidst a heavily adorned interior, simpler-looking objects can stand out better to an observer. Sometimes simplicity speaks louder than complexity, just as this contemporary love chair.
It pays to play around with this mixture so as to give the observer something to admire(complex) and a moment to rest one's eyes and thoughts (simple) to avoid being overwhelmed such as in the case of an overabundance of complex designs. A throw rug underneath your sofa lounge can further soften the look for your bedroom sitting area ideas.
A Plush Loveseat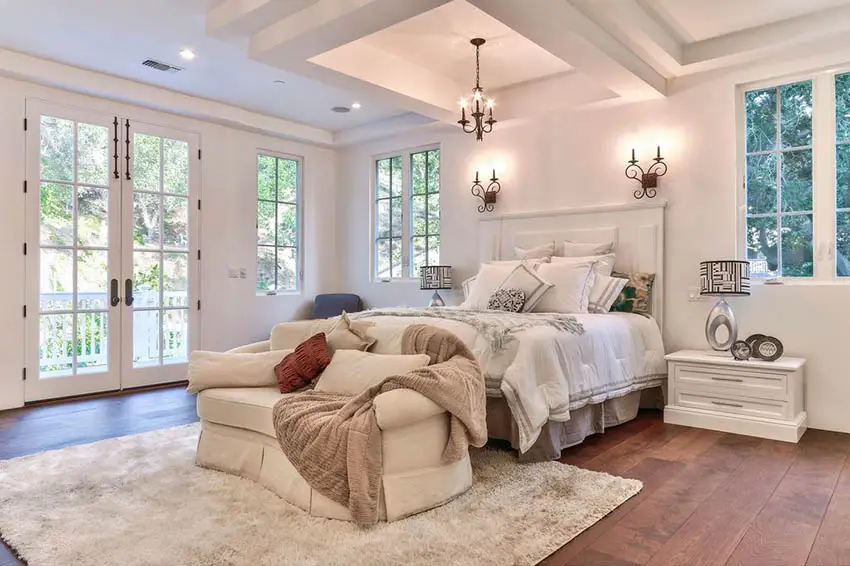 A loveseat makes a comfortable bed-end seat, making it a good alternative to the standard footstool. You can throw in soft pillows to the luxury sofa to make it more inviting.
Suitable for small to medium-sized bedrooms, the length and size enable the loveseat to be easily moved and positioned easier into the different parts of the bedroom.