Check out the most popular types of bedroom styles including traditional, contemporary, modern, coastal, and romantic interior designs.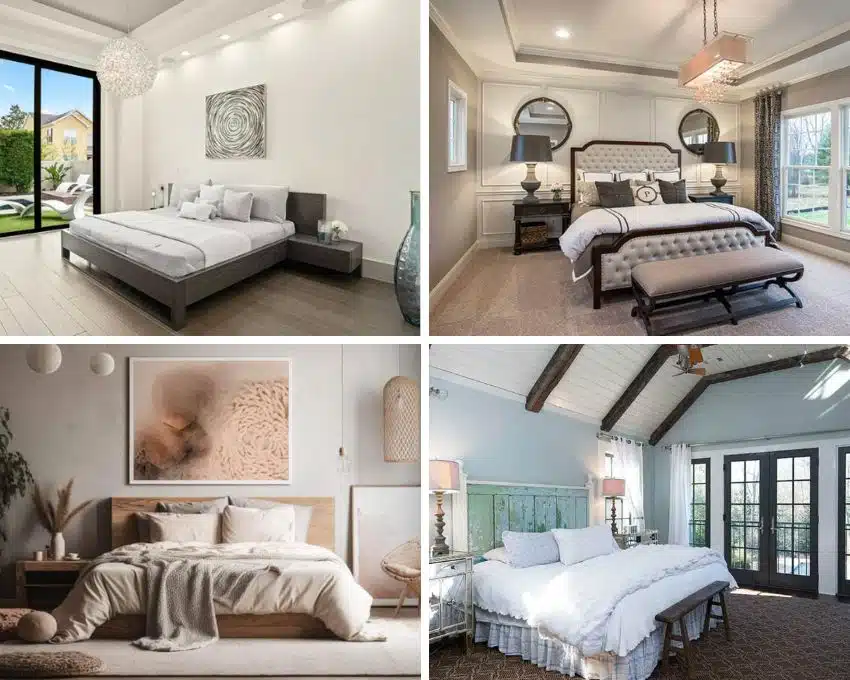 The type of bedroom style you choose is important because it reflects your unique personality. It's the place where you begin and end your day. With that in mind, it's important to select an interior design for the bedroom that gives you a feeling of positivity, inspiration, and peace.
By changing the style, finishes, colors, and decor, you can drastically change your environment. Here are popular bedroom design styles for ideas and inspiration.
Contemporary Bedroom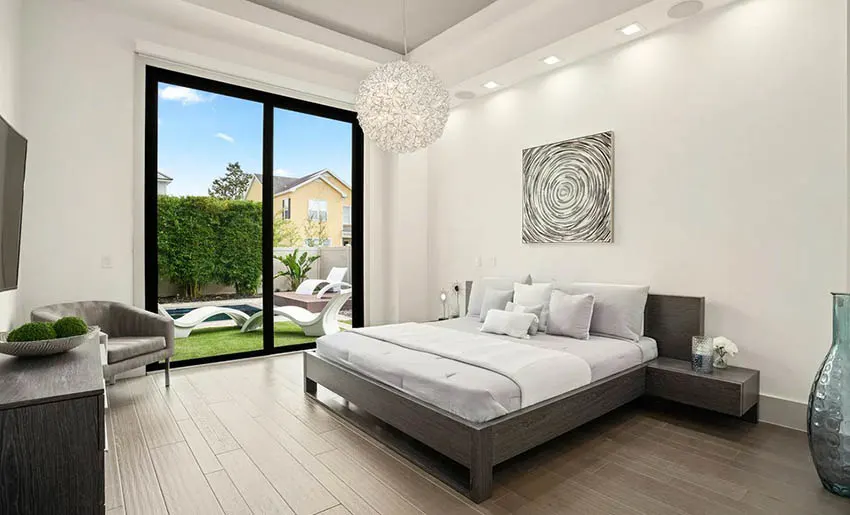 Creating a contemporary space involves incorporating a few key elements. Contemporary design right now includes styles from the end of the 20th century, where design veered a little from modern design and into a more natural and soft look.
The important thing to remember about contemporary design is that it changes; the meaning of contemporary is that it is the present style, and what is trendy here and now. Some of the key elements are as follows.
Light – Light is one of the most important parts of contemporary bedroom designs and it is why you see so many giant windows in this style. Natural light is something that the coming generations adore, and for a good reason, natural light is good for you and the environment!
Skylights, floor to ceiling windows, and glass walls are all common design elements that are common in contemporary design. While bedrooms may want more privacy they could incorporate a textured glass that allows light though but less visual intrusion.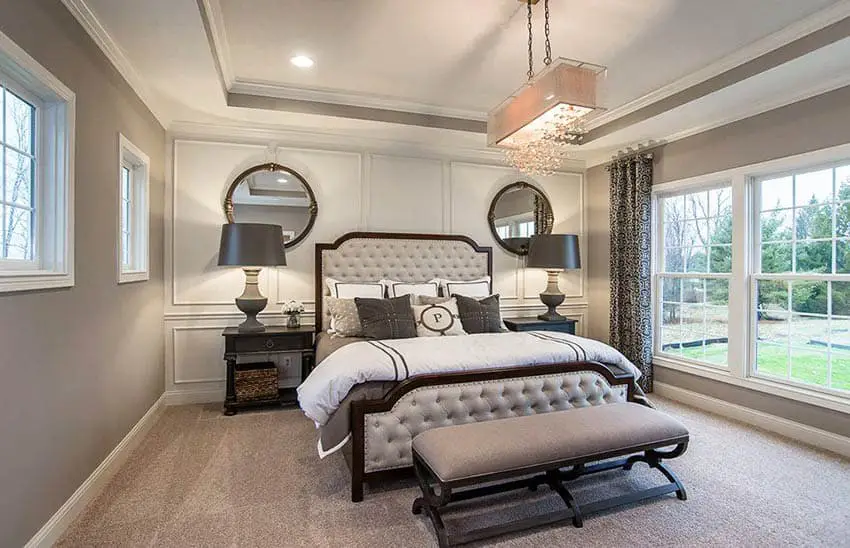 Natural Colors – The color palette for contemporary bedrooms is on the neutral side. Whites, Browns, creams, beiges, and any taupes or tans are great choices for contemporary design. As for the wood tones contemporary design is all about the extremes, the wood tones are either extremely dark or light, no mediums.
A dark wood floor can be great contrast when incorporating a cream for lighter tone beige to the paint furnishings of the room. There are many other wood tones that can be used even if the flooring is not hardwood; dressers or vanities can be in espresso wood colors or a light ash color.
Contemporary Design Tips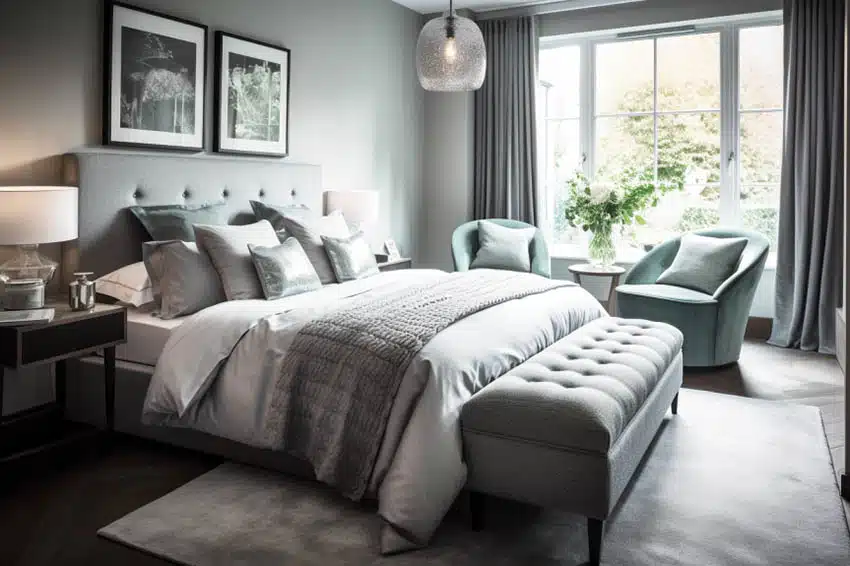 For the design tips sections we consulted with interior designer Rachel Razal Padilla to get her thoughts on how she styles her spaces.
Comfortable, cozy, and inviting. In general, contemporary style spaces are welcoming, comfortable and warm using simple design elements. The whole space has to be uncluttered and focuses on creating a cozy, relaxing and modern retreat.

Keep your color scheme simple. Stick with a few neutral colors like black, white and gray for your contemporary bedroom's color palette. The benefit of having these colors as the foundation of your room's overall scheme is it makes it easy to add in any accent color later on.
You can incorporate a splash of color like mustard, teal or rust using accessories, pillows, artworks or an area rug. Opting for contrasting colors adds more depth and dimension to the look of the space and also creates a modern eye-catching vibe.
Mix Materials – Combine different materials and finishes all throughout your contemporary bedroom to give it added visual interest.
Use metal, stone, glass and wood for the walls, floor and furniture, then to soften up the space, add in some heavily textured fabrics like jute, silk, cotton, wool or linen pillows, rugs or window treatments.

Furniture pieces should make a bold statement. Opt for furniture pieces that are simple, unornamented and have clean, strong lines and geometric profiles.
For a bedroom setting, a low profile platform bed with geometric pillows or a streamline dresser can offer bold statements and can serve as the focal point of the space.
Avoid furniture and furnishings that are highly ornamented. Remember, contemporary design elements must be basic, bold and bare. Avoid using furniture with skirts, tassels or fringes, excessive carvings and details.

Keep accessories to a minimum. Do not over decorate your space. Avoid putting on too much accessories as this can veer away from a minimalist aesthetic.
Instead, choose a piece of modern art, a decorative vase or a few pieces of decorative pillows to add visual interest without overwhelming the space.
If using artwork or framed pictures, hang them close together to look like a large piece. Avoid putting too many pieces or collections.
Take advantage of structural elements. One of the most distinctive characteristics of contemporary style spaces is the emphasis on lines.
Vertical and horizontal lines can be found in architectural details like windows,high ceilings, exposed pipes and air ducts.
These structural elements are as important as the other design features in the space. Try to highlight them by painting them in bold contrasting colors or finishing them in a different material.
Stick with two tone prints. If you want to add prints to your contemporary style bedroom, stick with simple two tone prints rather than colorful, busy ones.
Some of the best prints that work for contemporary style bedroom pillows and area rugs are stripes in two to three colors, animal prints like zebra or leopard skin patterns.
Add some greenery. To soften the look of contemporary style bedrooms, add some plants and flowers in large, simple containers. Instead of placing numerous small arrangements, opt for a single large piece placed on the floor.
Add statement lighting. The key to any well designed space is right lighting. If the rest of the space is neutral, you can try adding a statement lighting fixture to create a big impact. For contemporary style bedrooms, the best statement lighting to use are oversized chandeliers, modern lamps placed on night tables or wall sconces.
You can also use directional lighting to highlight other features in the space, like artwork or accent wall. This will help draw the eyes to the pieces you want to focus on.
Modern Style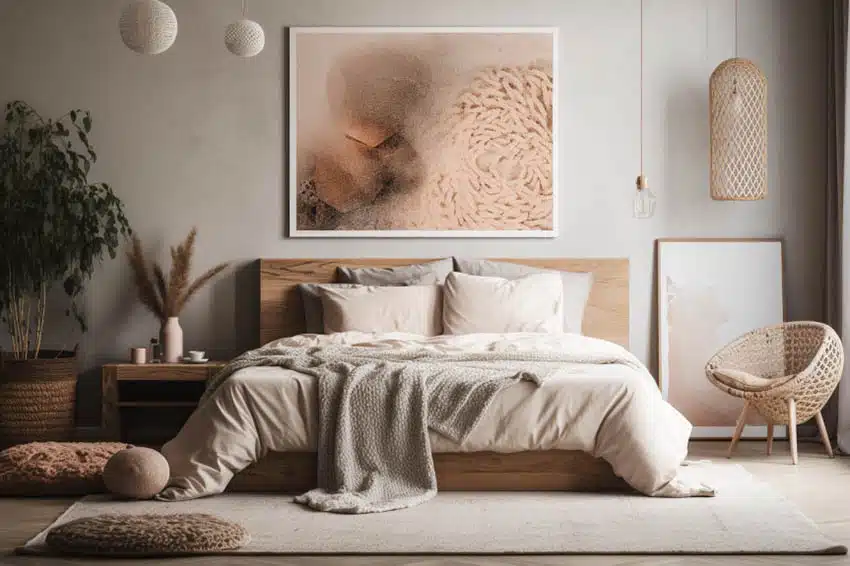 What is "Modern" Style? The modern style was born out of a design movement which flourished in the 20th century. This design style aims to create a simple, clean and uncluttered look while putting emphasis on form, function and practicality.
Key Features of Modern Style Bedrooms
Practical and Functional – In general, the most significant feature of modern style interiors is functionality and practicality. Furniture pieces and furnishings all have their own purpose in the room. Sticking with this philosophy then results in an uncluttered space.
Uncluttered spaces – The overall look of modern bedrooms is clean and uncluttered. Essentials and other personal belongings are kept away in built-in storage systems and furniture to keep them out of sight.
Natural lighting and large windows – Modern style bedrooms have an open and airy feel. Thanks to natural lighting brought by large glass windows that instantly brighten up the space.
Windows in modern style bedrooms are also unornamented and typically make use of simple window treatments like sheer curtains or blinds. These large windows also give homeowners maximized access to natural lighting, while bringing the outdoors in.
Monochrome or neutral color palette – Neutrals like white, black, gray and brown are the most dominant colors in a modern style bedroom's palette.
In some cases, an accent color, often in a primary hue like red, yellow and blue is sparingly added into the bed room interior. Think neutral walls and floors complimented with natural or earth toned accents of wood, metals and stone.
Simple and unadorned – Because the modern style is heavily influenced by German and Scandinavian architecture, the resulting look is super simple and void of any excess ornamentation.
It strongly adheres to the design principle "form follows function" which aims to emphasize the practicality and purpose of the design elements rather than the aesthetics.
Simple and Clean Lines- The modern master bedrooms put emphasis on horizontal and vertical lines so think of structured furniture like streamlined beds, a simple night table and structural elements like exposed concrete or beams.
Functional furniture – Modern furniture focuses on form, function, and practicality. In modern style bedrooms, you'll often see furniture pieces with clean lines, typically made with natural materials like wood, steel, chrome, leather or glass. The surface is smooth and has no unnecessary ornamentation.
Modern Design Tips

Modern style bedrooms strictly adhere to the design philosophy, "Less is More". Stick with the basics. If it doesn't have a purpose in the space, do not add it into your design.
When formulating a color scheme for a modern bedroom, start with 3 neutral colors. Not only is the resulting palette well balanced but also very versatile as you can easily add in any accent color later.
Add in a rug to soften the look of your modern bedroom. Finishes like glass and metal can easily render a hard industrial feel in a space, if you want to tone it down and make your room feel more comfortable, adding a soft element like a rug works.
Traditional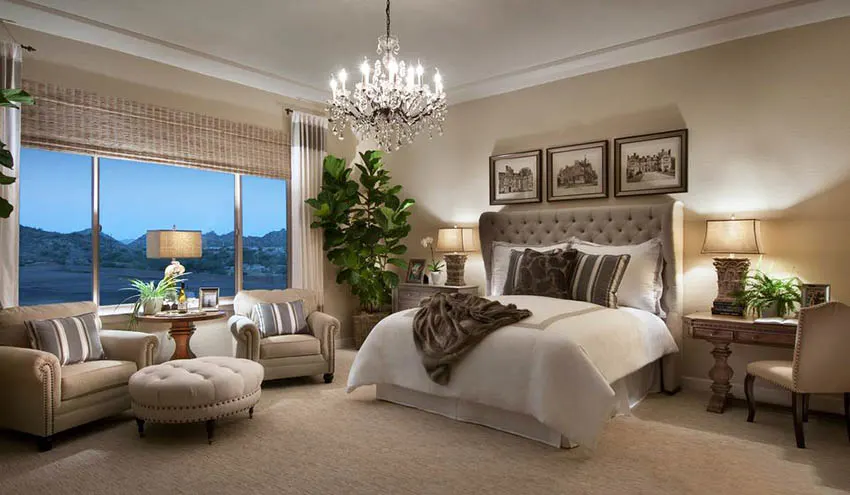 While traditional design may ring as a little old, or dated, it does not have to be! The style never changes and is rooted to the past but the design can be embraced to create a beautiful look that fits a bedroom today! Some key factors are:
Symmetry – In a traditional bedroom (if it is planned to the architecture) any built in casework or closets is placed in the center or have mirrored items on either side of the bedroom. In some cases the room is designed before the traditional interior design style is selected, and it can still be worked in with furnishings.
Everything comes in pairs. Matching ends tables and lamps, any sofas or chairs are mirrored across the room. This technique balances the space around a focal point, typically the bed in the center of the wall farthest from the door.
Rich colors – Another key element to traditional design are it's used of dark woods and rich tones. To pair with the darker wood and allow for the furniture to be the accents the paints and wall coverings are typically medium neutrals.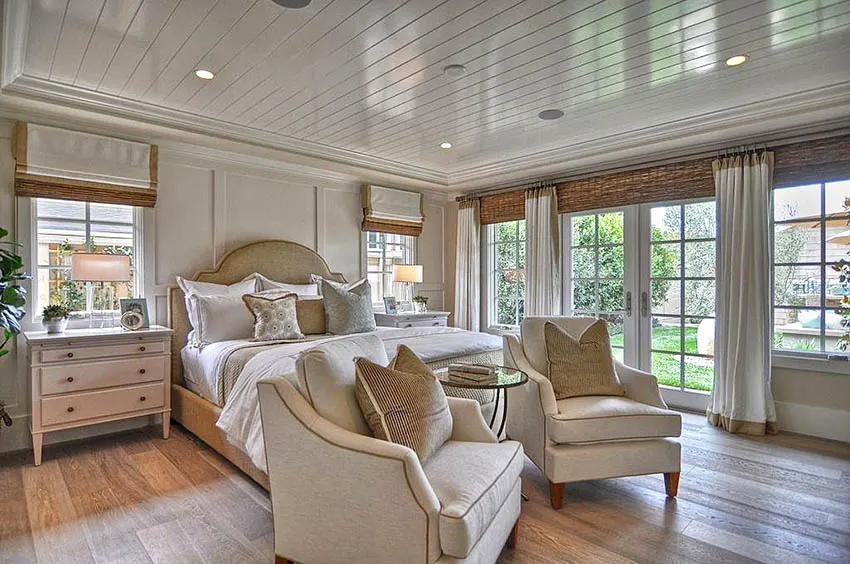 Hardwood flooring is an iconic part of the traditional design incorporating the rich wood with mahogany, cherry or walnut on the flooring. The accent colors range from deep red and browns to greens and other jewel tones.
Traditional design uses paisleys as well as plaid and striped in its patterns, especially on bedspreads and draperies in bedrooms.
Furniture – Traditional interior design focuses a lot of its attention on furniture, using great detail and weight. Traditional bedroom furniture is heavy duty stuff, made out of woods like mahogany, maple or cherry. The fabrics used are thick, high end and classy, such as velvet, leather or silk.
The attention to detail shines through with clawed feet on pieces, button tufting on upholstered items, and ornate carvings and metallic designs in the furnishings.
Some popular examples of chairs and furniture in this design style include (but are not limited to): wingback chairs, wingback couches, Queen Anne furnishings, Chippendales, and Sheraton furnishings. Not only are the pieces themselves detail-orientated the accessories atop the pieces scream elegance.
There is a great use of china, sconces, mirrors, and chandeliers, even the throw pillows were decked out. Gold or silver is a technique used to add sophistication and elegance, especially for the heavy curtains or drapes in this style.
Traditional Design Tips
Excess is best. Traditional interiors tend to be the opposite of minimalist. So feel free to layer textures and decor to give your bedroom a cozy and homey vibe.
Embrace classic design. Oftentimes, the word "traditional" is associated with something outdated, boring or dull — like a room full of heavy antiques or historical artifacts.
However, in design, the term traditional refers to a style that is deeply anchored in the past. It has historical influence, is classic and timeless.
When designing a traditional style space like a bedroom, embrace classical design elements like rich color scheme, symmetry and attention to detail. The resulting look should be formal yet exudes warmth and comfort.
Incorporate splashes of color in your scheme. Another common misconception with traditional style spaces is that they are dark and heavy.
Aside from neutral colors, you can introduce pops of colors throughout the space to bring in more visual interest.
For a traditional style bedroom, incorporate blues, purples or greens in soft furnishings like the beddings, window treatments or rugs. Alternatively, you can also use small accessories like vases or artwork as accents.
Use drapes instead of sheer window coverings. Heavy lined drapes are a signature of traditional style spaces. Instead of using sheer window curtains, cover your bedroom windows in full length drapes in brocade patterns for more texture.
Not only does it create a bold, dramatic statement but it also makes the space visually taller and airier. If you want to go all out, you can match it with valances or trims and cornices.
Go for prints and patterns. Rich patterns and ornate prints are favored in traditional style interiors because of the luxury they bring into a space.
Some of the best ones you can use for traditional bedrooms include florals, damask and brocades. These can be applied to your wallpaper, area rug, textiles and upholsteries.
Emphasize symmetry. Symmetry is another distinctive element of traditional style spaces. Symmetry brings balances and creates a more formal look. When designing a traditional style bedroom, accessorize and bring in furniture in pairs.
Some examples are matching nightstands with table lamps on both sides of the bed, two artworks on a wall or two decorative pillows on a bed.
Old World Traditional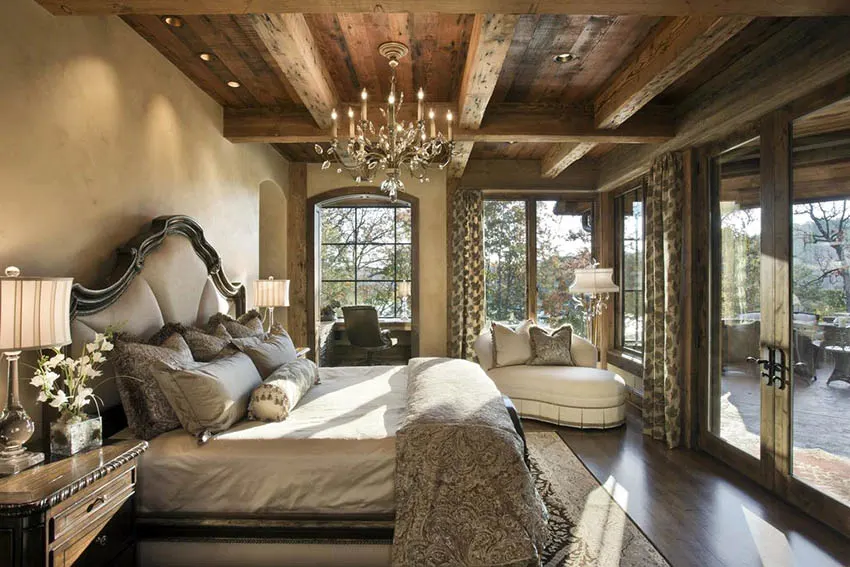 The old world design style is similar to the traditional design style mentioned above including rich colors such as: burgundy, cream, forest green, navy and dark woods.
One big difference is that old world does not contain any built in furnishings but stay true to the heavy pieces. Some other key things to include in and old world designed bedroom are: rugs, damasks with floral patterns, velvets and tapestry patterns.
Old World Traditional Bedroom Design Tips
Combine different European influences. Old world style consists of a mix of different European influences like French Country, Tuscan, Spanish, Mediterranean, French and Italian.
You can get inspiration from one or combine design elements from various influences to create a comfortable, timeworn look. For example, use French antiques as accessories to your bedroom.

Avoid anything bright colored. Choose rich, warm colors for the walls and beddings to create a timeworn effect. Some of the best hues are deep brown, burgundy, gold, navy, forest green and ochre.
Go rich with fabrics. Similar to traditional design, the fabrics used for Old World style bedrooms are ornate, detailed and rich. Opt for brocades, damasks, leather and velvet for the curtains, bedspreads, etc.
For the pillows, window treatments and accessories, accouterments like tassels, fringes and beaded trims add to old world charm. You can also incorporate large tapestries, scrolls and Aubusson rugs as part of the bedroom design.
Layer contrasting textures. Contrast is one of the most significant visual elements in creating a stunning Old World style bedroom.
Add rough textures with natural materials like wood, stone and distressed metals like wrought iron. You can incorporate a textured wall behind your headboard or a wrought iron chandelier at the center of the room.
When it comes to the flooring, distressed, honed and matte finishes are more favored over glossy, polished finishes. However, for the accessories, you can introduce a subtle contrast through the use of polished ceramic vases or jars.
Incorporate a generous amount of accents. Accessorize with plenty of Old World accents like tapestries, decorative mirrors, artworks, ornate frames and pottery in your bedroom.

Consider a four poster bed for added drama. There is no other best furniture that screams Old World charm other than a four poster bed. Opt for one made of heavy dark wood and with a brocade canopy for the full dramatic effect.
Use plenty of soft lighting. Soft yellow or warm white lights add to the cozy ambiance of an Old World style space. Use a table lamp or wall sconces with yellow bulbs beside your bed to create a relaxing feel.
Industrial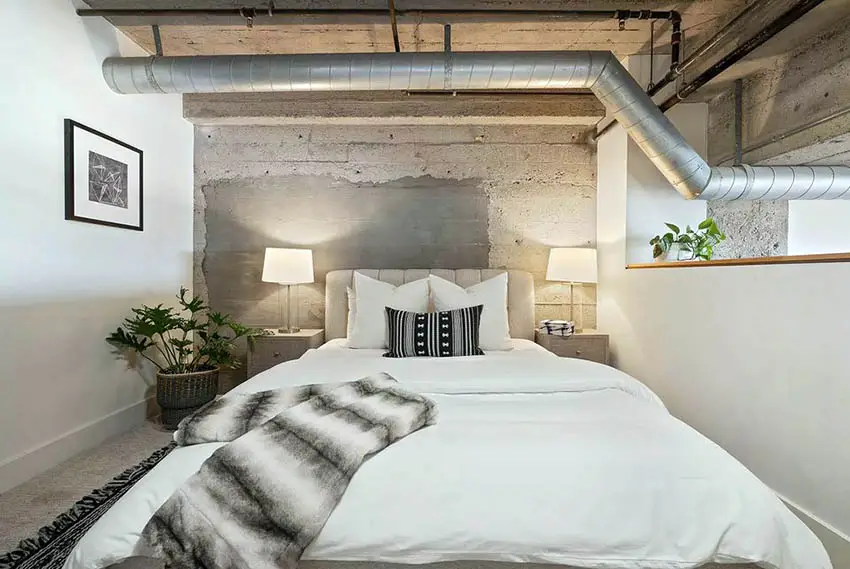 The industrial design is different from other styles due to it embracing the elements that other styles work so hard to cover up. Industrial bedroom design does its best to combine both practicality and beauty in the same space. However, there's no denying that the industrial style is primarily a masculine bedroom design.
Exposed Ductwork – Exposed ducts and pipes are the most significant staple of the industrial style, using the commonly tucked away pieces of equipment and using it as an art piece. This began with the transition of a few former industrial use spaces into living quarters, which became a popular design choice.
This was initially done to cut extra construction costs but also leads to more open floor plans and ceilings. Plus you get to see more architectural features usually covered by a ceiling grid. From a maintenance standpoint, fixing something is much easier if it becomes in disrepair.
Neutral Materials – With the use of exposed ductwork and piping the design style incorporates primarily neutral colors and metallic finishes. Copper, silver, chrome, and nickel are paired with wood surfaces to keep the space's industrial feel.
Stainless steel finishes are commonly used as well as other exposed metal furniture pieces, as a play on the other elements that are being preserved. Greys, whites and greiges are primarily used whenever metal or wood cannot be used. You can see more examples of similar loft bedroom designs here.
Industrial Bedroom Design Tips
Form over function. Industrial design focuses on functionality and practicality, so the furniture pieces are utilitarian. Opt for no-frills furniture — one that has a straightforward design, simple and has clean lines.

Consider incorporating raw materials into your bedroom design. You can add visual interest to industrial design bedrooms by incorporating plenty of textures from various materials like exposed bricks, metal and concrete. One of the most common design tricks is also to leave walls unfinished or beams and pipes exposed.

Showcase vintage finds. The perfect accessories for an industrial style bedroom are vintage and antique pieces like maps, old signs, machinery or metal art because they give out a unique interest in the space. You can find most of these in flea markets and online.

Add texture with textiles. Industrial design has the tendency to look a bit too sterile or cold and one way to effectively add warmth to the space is through the use of soft furnishings and textiles like throws, curtains and area rugs.
When choosing these items for your industrial style bedroom, make sure to stick to your chosen color palette.
Choose your lighting fixture. One of the most significant features of industrial style bedrooms are metal lighting fixtures. Use warm white or yellow toned bulbs for a cozy ambience.
For a bedroom setting, you can use hanging lamps with exposed bulbs, wire mesh or metal cages light fixtures and place it on top of the bed. For primary bedrooms with bathrooms, continue the theme with metal light fixtures and matching hardware.
Cottage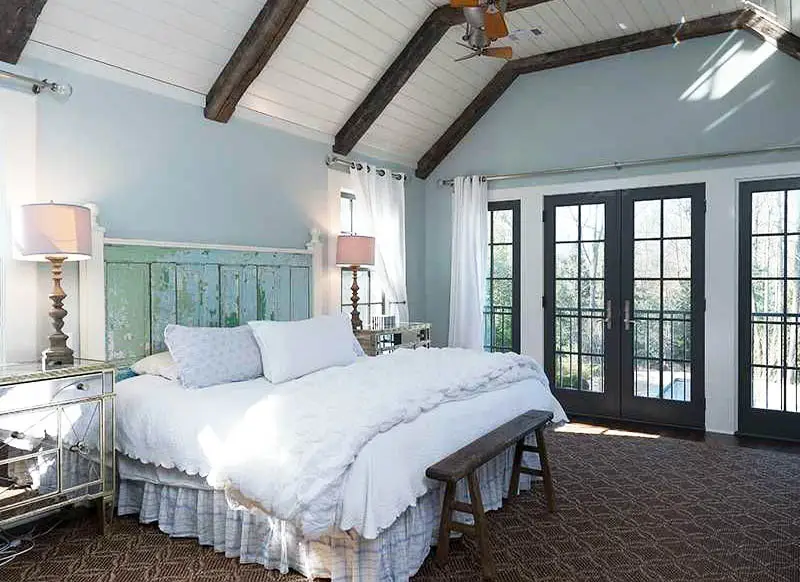 To create a soft, inviting cottage style bedroom there are a few key elements that need to be incorporated. Lucky enough, none of them are too difficult or expensive.
Light Colors – The cottage interior design style is drenched in brightness, lightness, and openness. This means the color palette begins with a neutral base, typically a nice, bright white! Pastels and softer primary colors are frequently used as accents and pairing colors with the white, or everything can be white for an easy clean look.
If all white is chosen it is good to use many shades of whites and off whites to give some dimension to the space. Another way to add dimension is with floral patterns and sheer draperies.
Eclectic Furnishings – Cottage style bedrooms are very unique by nature, where each piece of furniture has a past, present, and future. These vintage pieces should be one of a kind, bought at flea markets, garage sales or antique stores.
Often these pieces need a quick paint job, or a change of some knobs and they adjust well to the cottage theme you have set up.
Cottage Bedroom Design Tips
Integrate floral patterns all throughout the space – To add to the whimsical charm of cottage style bedrooms, make sure to integrate floral patterns through your beddings, curtains and wallpaper.
For a more updated look, you can integrate florals through framed artworks or for more subtlety, add fresh flowers in a vase and display it.
Use floor length curtains – Compared to half curtains, floor length curtains add a more romantic touch to bedrooms. When choosing the right fabric for a cottage style bedroom, opt for light, flowy fabrics for a more airy look and relaxed vibe.
Display a mix of vintage and modern decoration ideas – For a timeless yes current look, combine vintage pieces with modern design elements.
Examples of vintage accessories that work best for cottage style bedrooms include a gallery wall of antique frames and mirrors, a birdcage or an old suitcase. For a more personalized touch, you can print out photos and hang them instead of artworks.
Soft lighting – Using soft light sources is the best design trick to creating a cozy and inviting atmosphere. Make sure to incorporate dainty table lamps or yellow toned fairy lights to your bedroom.
Add a striking wall feature – The wall behind the headboard or the bed is the best place to put an accent wall in a bedroom. For cottage style bedrooms, you can create a striking wall feature by painting it in a different color from the rest of the walls.
Alternatively you can finish it wallpaper, add a mural or even use wood or paneling to make it the space's focal point.
Experiment with color combinations – Another way to add visual interest in a cottage style bedroom is to combine unexpected colors in your scheme.
Instead of going for neutrals and a lot of browns and beiges, why not complement soft pastels or muted shades together, like old rose and mint green, sage and coral, blue and yellow or teal and blush.
Use a distressed wood headboard – Cottage style furniture typically has a distressed or weathered look. You can incorporate this finish in your bedroom by using a wooden headboard painted in chipped antique white or you can also give it more character with peeling paint finish.
Layer pillows and beddings – Layer a mix of plain and printed soft furnishings for more visual interest. Add plenty of pillows, a soft throw blanket and a woven area rug for a contrast of textures .
Romantic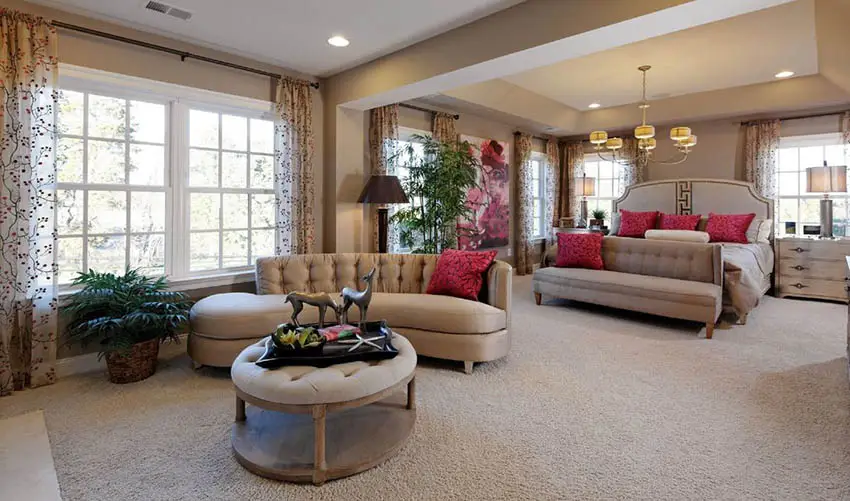 Creating a romantic bedroom design is a big deal! It is probably the make-it-or-break-it point for the end of a good date night, so include these key elements to get the right vibes.
Warm Colors – As it is commonly known, when wanting to heat something up you need to use some colors from the warmer end of the spectrum.
Reds, and pinks especially are key players in this type of design, but it is important not to overdo it. Using color in your decor items is a good way to incorporate some visual interest in to your bedroom design without becoming too overwhelming.
Too much pink can give a childish vibe and too much red can just turn gaudy if not used correctly; adding a splash here and there with sophisticated grey tones elevate the romantic vibes in the space.
Keeping these warm colors bright with pastels and off whites can also give a lighter romance aesthetic versus the reds and grey; both still great combinations. Adding lights with a warmer color also gives a great appearance to the space to set the tone.
Unique Textures – Focus on the bedding, this should be a focal point for the room, the bed should be soft and inviting for a romantic bedroom. Adding ruffles or other minor detailing to the bed sheets calls more attention to the bed. Another way to call attention to it is with a unique headboard.
This can be a leather or velvet upholstered headboard with an extraordinary design or eye catching color to really make a statement. If a headboard is not in the cards trying out something like a canopy could also help capture the attention of the room.
Romantic Bedroom Design Tips
Allow feminine touches to dominate – The romantic style is strongly characterized by being feminine — think curved lines, graceful shapes, floral patterns, gold and silver accents and soft textures. Products such as scented candles and an aroma lamp can help set the mood.
Go all out with luxurious fabrics – Incorporate luscious materials like velvet, silk and satin for the beddings, pillows and curtains. Mix and match these fabrics for a variety in texture. You can also use a plush rug, a soft throw or a fluffy comforter.
Hang romantic artwork – Choose artwork with romantic themes as part of your bedroom decor. Art pieces that feature themes of love, passion and nature help set the romantic mood.
Incorporate personal touches – Add personal touches to your bedroom like sentimental objects, mementos or photographs because they help evoke a feminine vibe into a space.
Coastal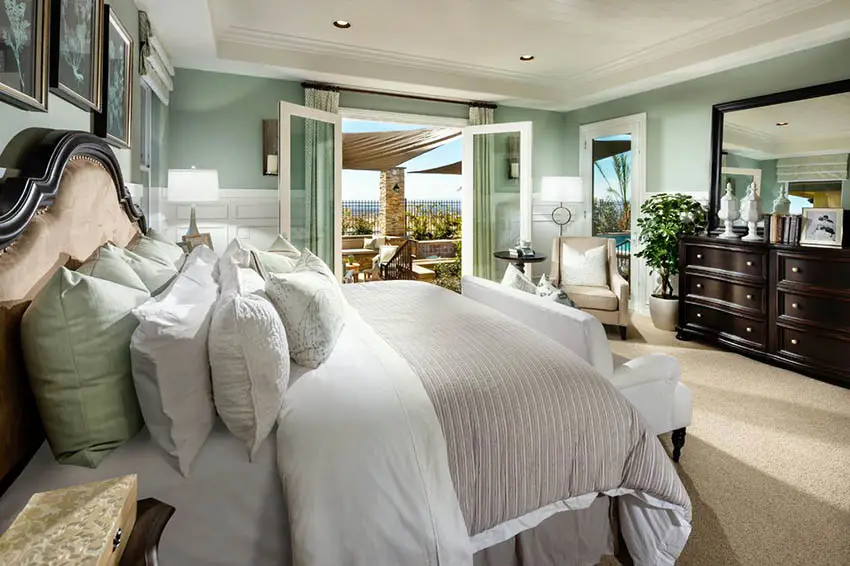 Many dream of glorious coastal vacations, but less actually get to do it. Why not just design you bedroom in a coastal style to pretend like you get to go on a vacation every night?
Or maybe you own a coastal property and want to embrace the design style for yourself or the users of the space. Either way some key elements should be included to properly embrace the coast.
Coastal Colors – Coastal colors use a great deal of blues, in all different shades and hues. Light blue, dark blue, green blue, navy blue, etc are all great choices for a coastal bedroom. Water is a big part of the theme so it makes sense that blue is so present in this design style.
Other colors that are used are colors of sand and the sun. Yellows, beiges, and whites pair great with different shades of blue. These colors quickly brighten up a room.
Beach themed art – Including sea creatures and other things found along the coast can either bring the vacation home or embrace the vacation being had! Starfish designs and images of coral reefs can show what is out in the ocean and even inspire the users to get outside and see them for themselves.
This artwork could even be something that the users had taken pictures of themselves, adding a personal touch to the coastal bedroom. Seashells and other types of accessories help tie the theme in.
Coastal Bedroom Design Tips
Bring in the light – Coastal style interiors bring in as much as possible natural light in a space so take advantage of windows. Use sheer or soft white curtains to allow light to enter into your bedroom.
Add bright accents for contrast – Although coastal style spaces typically have color schemes composed of shades of blues, greens and white, you can add an accent color to keep the palette more lively.
For a bedroom setting, try incorporating decorative pillows in coral orange, yellow accessories or a salmon pink throw. This keeps the color scheme interesting without being too overwhelming.

Bring in the outdoors – The coastal interior design style generally emphasizes bringing the outdoors into your home.
You can do this by using natural elements like wood, stone, rattan, wicker, jute and fibers like cotton or linen. Combining these finishes together can help render an organic feel to a coastal style bedroom.
Choose furniture pieces with crisp, clean lines to balance out the rougher, textured decor in the space. – This creates a more updated, modern look in a coastal style bedroom. Try an upholstered bed with simple, straight legs and headboard.

Showcase beach themed accessories – Beach themed accessories can be a great way to bring the coastal theme to life. You can add accent pillows with seashell patterns, a painting of a beach in a wooden frame or marine life prints and motifs.
Nautical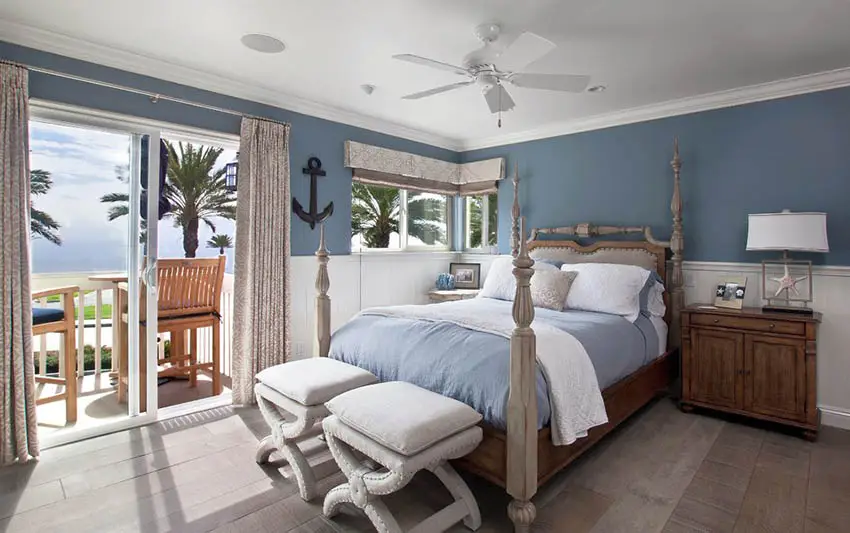 Similar to coastal design in the sea and water aesthetics there are a few differences between the two design styles.
Nautical design includes the color red and uses patterns such as anchors and compasses. This style embraces more boat living and marine life than the coastal design.
Nautical Bedroom Design Tips
Remember that nautical-themed decor is different from coastal-themed decor – Nautical themed interiors and coastal themed interiors are two different design styles.
Coastal decor reflects the natural elements of coastal living while nautical decor focuses more on the motifs like a lifebuoy hung on the wall, blue and white stripes, prints like anchor,ropes, compasses, boats, ships or sails.
Make your palette more interesting by adding in a contrasting accent color – The standard color palette of nautical style bedrooms is inspired by the ocean, so it is mainly composed of shades of blue, white and beige.
However, you can introduce one accent color like warm shades of red, yellow or orange to add contrast and visual interest to the space.
Scandinavian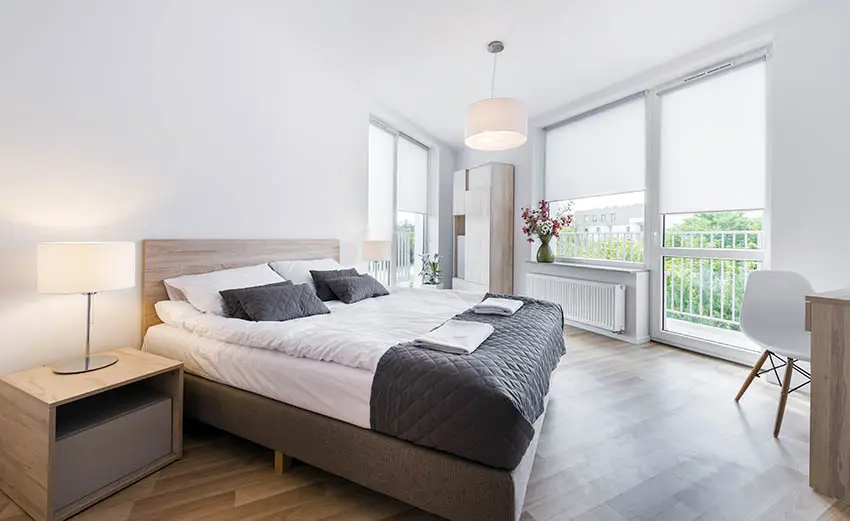 Scandinavian design is the height of minimalism. With a focus on functionality as well as simplicity this design style says what it means and means what it says. Some of the key elements to keeping it spic and span are as follows.
Light and Neutral – Scandinavia can have as low as 7 hours a day where there is sunlight, meaning lighting of the space is a main focus in the design style. This also affects the circadian rhythm, meaning the lights need to help balance the body into knowing what time of day it is.
Light and natural finishes are just as important as light sources. Flooring is often wood left in its natural color or painted light like white. Greys, whites and browns are most commonly used in Scandinavian style with accents of pastel pinks and sea greens, which are used sparingly.
Clutter Free and Natural– Keeping things clean and clutter free are an essential attribute to the design style. Clean furniture lines are a must and the items resemble that of mid century modern style with improved functionality.
If it is not functional, it is not in the space. The living elements (plants and flowers) are where the color and accenting is brought in.
Scandinavian Bedroom Design Tips

Bring more "hygge" – One of the most significant elements of Scandinavian lifestyle is hygge. Hygge is a Danish word that translates to "cozy togetherness" and strongly refers to warmth and comfort.
You can bring in this sense of hygge into a space by incorporating things that bring you happiness, relaxation, comfort and coziness — like soft blankets, scented candles or unfolded throws.
Personal touches and well loved items like framed black and white pictures can also help render the same warmth in a space.

Focus on the essentials – Scandinavian style spaces strongly adhere to the principles of minimalism, so make sure to focus only on the essentials and keep the room clutter free. In addition, avoid any excesses to create a serene and calming bedroom space.
Add some greenery to soften the look of the space – One of the best ways to tone down the sterile look of Scandinavian style spaces is by incorporating plants in the design.
Opt for simple, easy-to-maintain indoor plants like a small potted succulent, a rubber fig or snake plant. Incorporating greenery will also bring in a refreshing feel to a Scandinavian style bedroom.
Mid-Century Modern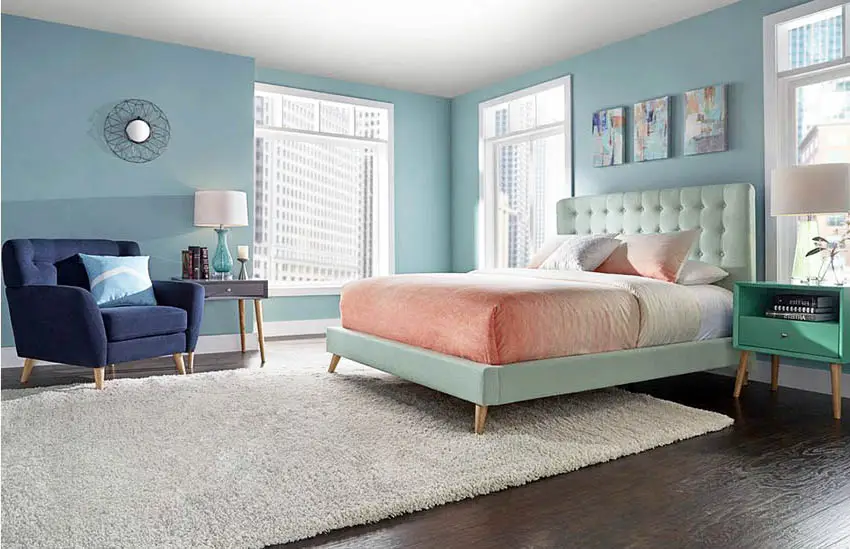 Similar to Scandinavian in the functionality aspects and keeping things light and neutrals there are only a few differences between the two design styles.
Mid century modernism includes art pieces that include abstract print, or geometric patterns that Scandinavian design would never have. You can find furniture with tapered legs made from organic materials like wood, wool abnd leather.
Mid century modernism adds a few brighter colored accents and is slightly more relaxed than the previously mentioned design.
Mid Century Modern Bedroom Design Tips
Feature a bold accent wall – Create a boldly patterned accent wall using geometric patterns such as triangles, squares, and circles in textiles or artwork to add visual interest to a Mid century modern bedroom. You can feature this on the wall at the back of your bed's headboard.
Incorporate iconic pieces as a focal point of the space – Classic Mid century modern furniture pieces like the Eames chair, womb chair or Barcelona chair can be placed at the corner of your bedroom to make a bold statement in the space.
Use a sunburst mirror as part of your accent wall – The sunburst mirror is an emblem of Mid Century design. You can place this just above your bed and make it the primary decor of your bedroom.

Shabby Chic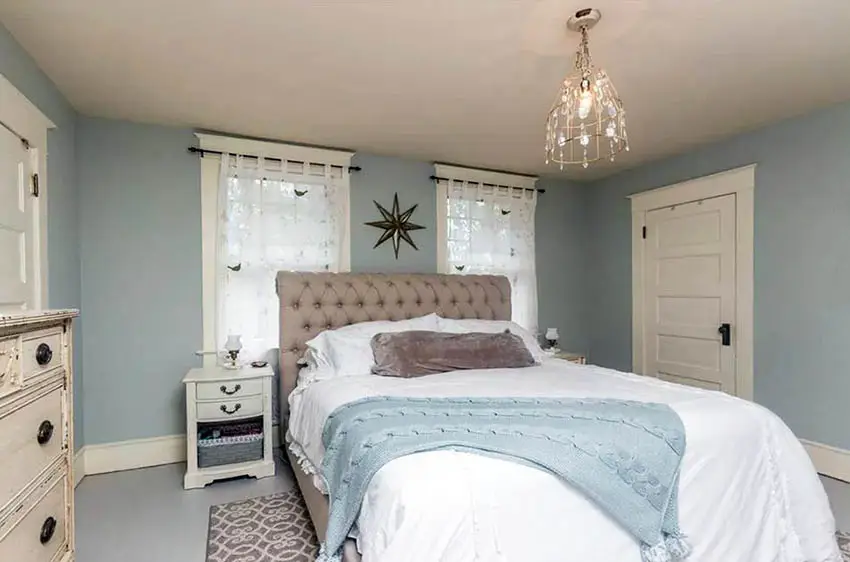 With an air of relaxation and piecework shabby chic is a look that screams creativity and freedom. While this style seems thrown together on a whim, it has come key elements that make it what it is.
Natural and Neutral– Starting with a neutral clean base gives the array of accessories chosen a lot better of a chance if coordinating with it, let along with each other.
Structural elements such as walls and floors are typically a brown, tan, or taupe, and can even be in the cooler family with grays and whites. Flooring can be something light and natural such as bamboo or a beech wood.
Mix and Match – With the neutral background set, the furnishings and accessories is where the personality really lies. All sorts of décor is best for this space, throw pillows and blankets along with rugs and wall hangings (tapestries, canvases, customs artwork, stellar finds).
Incorporating various finishes, textures and patterns is good but try keeping the colors in the same general theme, this keeps things looking cohesive and not cluttered.
Shabby Chic Bedroom Design Tips
Add feminine touches to your bedroom – Think of the Shabby Chic style as a more elaborate version of the modern farmhouse style — more florals, more romantic charm, but the same clean and comfortable aesthetic. It is very similar to French Country style, and is inspired by the design of European cottages.
Explore different color combinations – Traditional shabby chic color palettes are composed of classic floral inspired pastels.
A more modern take has adapted moodier tones and dusky hues like mauve, warm gray, sage and burgundy. These colors are richer and darker but bring in the same romantic, feminine touch to a space.
For a bedroom setting, think gray beddings paired with burgundy and old rose throw pillows, a printed floral curtain with muted hues and dark brown wooden bed.
DIY! – The shabby chic style is known for its Do It Yourself accessories and decor. To add personal touches to your shabby chic bedroom, DIY some of your accessories or even your furniture. Refurbish an old dresser, repaint a thrifted night stand or if you have the skills, sew dainty pillowcases.
Try out these romantic shabby chic bedroom furniture pieces – Shabby Chic design incorporates traditional style furniture. The pieces look like they have been passed on to generations.
Many local stores carry vintage inspired furniture pieces that are very well suited for the Shabby Chic theme like beds with arched headboards and nightstands with carved elaborate details.
Wrought iron bed frames are also perfect for this style of bedroom because of their cottage charm. The headboard also offers versatility in terms of design since you can add personal touches to it, like floral or tulle drapery.
Another type of bed which fits the romantic vibe of Shabby Chic are canopy beds. Look for pieces that have decorative finials and turned posts, while for the canopy, use a soft pastel colored fabric.
Tufted headboards are also perfect for Shabby Chic bedrooms because of their timeless aesthetic. This type of bed comes in many colors and patterns. Opt for upholstery like linen or suede for a formal yet down-to-earth vibe.
Rustic Style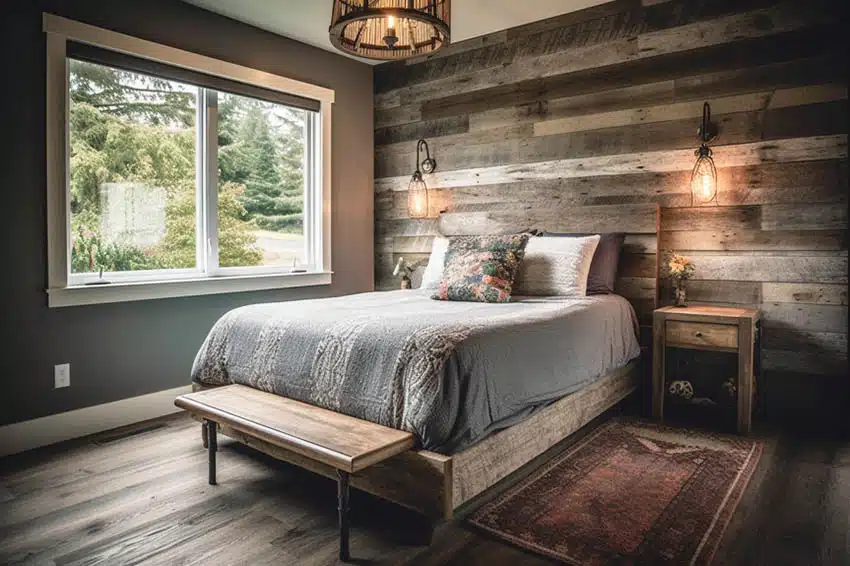 What is "Rustic" Style? Natural, organic, weathered and rugged are some of the words that best describe the rustic interior design style.
In essence, it is the exact opposite of the sleek, streamlined look of modern and contemporary interiors. Overall, this style draws inspiration from nature to create a warm and welcoming design.
Key Features of Rustic Style Bedrooms
Warm ambiance – When you see a rustic style space, you immediately feel the warmth and coziness of the space. Rustic style design focuses on creating a comfortable, relaxed and inviting ambiance.
Rough timeworn appeal – Imperfect, distressed aesthetic but it generally exudes warmth. Unlike modern styles, rustic design looks "heavier".
Simple – Rustic style design is overall simple because it does not focus on the design but rather on the material being used.

Natural materials – The rustic style puts emphasis on being as natural as possible. This can be achieved using raw and natural materials like solid or reclaimed wood, stone, real or faux fur, leather, woven textiles, bedding or blankets, etc.
Finishes for metal fixtures are pewter, copper, oil rubbed bronze, brass and iron. Layers of these natural materials for the walls, floors, ceiling and decor of your bedroom design create a rustic feel.
A lot of layered textures – Since rustic decor uses a lot of natural materials, there are a lot of different textures present in a rustic style bedroom, more often rough. Veer away from anything smooth or glossy as it doesn't fit the rugged aesthetic.
Use of wood – Whether it may be solid, weathered or reclaimed, wood remains to be the most dominant finishing material used in rustic style interiors.
When designing rustic style bedrooms, add a variety of wooden finishes like hardwood planks for the flooring, exposed wooden beam ceilings, paneled walls and wooden furniture pieces.
Earth colors – The color scheme of rustic style bedrooms draws inspiration from nature. Think brown, warm shades of white like beige with muted accent colors found in nature like tan, blue, green, yellow and red, gray. Its overall tone must be warm to achieve that inviting mood.
Rugged, imperfect furniture silhouettes – Another trademark of rustic style bedrooms is its rugged aesthetic. Furniture pieces such as cabinets, dressers and nightstands often have rough, imperfect silhouettes. Additional examples are bulky wooden beds with large mattresses, leather accent chairs and a wooden night table.

Handmade accessories and decor – Rustic decor are typically handmade pieces that have a unique character to them. Opt for handmade items, pillows with simple patterns and natural elements like stone, antlers, animal hides and fur.
You can also add different textures by using braided area rugs, jute, burlap, canvas and woven baskets. For the beddings, consider organic cotton or linen in neutral colors.
Exposed beams – Exposed beam ceilings are one of the trademarks of rustic interior design. This ceiling detail can be used even in bedrooms

Rustic Style Designer Tips
Draw inspiration from nature when choosing your color palette for a rustic style bedroom. Keep it muted and add in some subtle shades of green like sage and olive as these hues have a refreshing and calming effect in a space.
Bring the outdoors in. Nature inspired pieces are the best decors to complement rustic themed bedrooms. In addition, incorporating plants to your rustic style bedroom gives an organic touch and a pop of color.
If you plan on putting an accent chair in your bedroom, opt for leather upholstered furniture to help create a more rustic vibe in the space.
Play with the senses to create a warm and inviting ambiance. You can light a cinnamon or forest scented candle to complement the natural aesthetic of a rustic style bedroom.
Farmhouse Style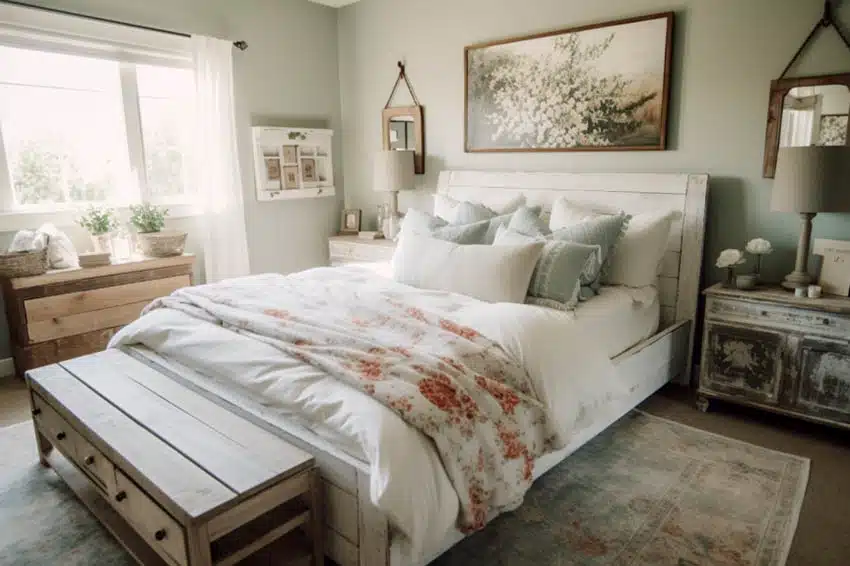 What is Farmhouse Style? Farmhouse style design puts emphasis on practicality and simplicity through the use of natural materials.
Like the rustic style, farmhouse interiors focus on bringing the outdoors in. However, they are entirely different because the farmhouse style is more simple, minimalist and less "heavy".
Key Features of Rustic Style Bedrooms
Rustic charm – In general, farmhouse style interiors have a weathered, timeworn appearance yet it is very homey, charming, warm and inviting.
Cozy and laid back ambiance – The general ambiance of a farmhouse style bedroom needs to be laid back, comfortable and cozy.

Simple and minimalist – Similar to modern and contemporary styles, farmhouse style is also based on minimalism. Most of its design elements are very simple yet invokes plenty of warmth. The space is generally uncluttered and does not use excessive furniture, furnishings and decor.
Practical furniture – Unlike traditional furniture which features heavy ornamentation and details, farmhouse style furniture is simple and utilitarian. Instead of focusing on the design, it puts emphasis on comfort and function.
When decorating a farmhouse style bedroom, opt for comfortable furniture pieces that make you feel at home and relaxed.
Natural materials – Farmhouse style favors the use of natural materials like solid or reclaimed wood, stone, woven rattan or wicker furniture and natural fabrics like cotton, linen, jute and canvas. Think wooden beds with big, comfy pillows, organic cotton bedspreads, woven area rugs and handcrafted accessories.
Textural variety – Since there are a lot of different natural materials used in a farmhouse style bedroom, there is a wide textural variety.
Combined, these textures add more depth and character to a simple, neutral space. It also prevents the space from looking too dull and flat.
Some of the best materials you can use to incorporate a variety of texture in a farmhouse style bedroom are natural wood, stone and non-shiny metals. Incorporate canvas upholstery, matte finishes and distressed wood accents to create warmth and a rustic feel in a farmhouse style bedroom.
Distressed and reclaimed wood – Reclaimed and weathered wood are a common feature in farmhouse style bedrooms because they add to the rustic charm of the space.
When choosing furniture for a farmhouse bedroom, do not be afraid to go with those that have scratches and knots because it adds visual character.

Warm neutral color palette – Farmhouse style spaces lean toward a natural color palette. When decorating your bedroom, make sure to incorporate warm neutrals like beige, cream or ivory, cool neutrals like white and gray and earth tones such as shades of brown for the walls, floor and ceiling. For the accent color, stick with organic hues like blues and green to create some contrast.
Farmhouse Designer Tips
Embrace imperfection. The farmhouse style is leaned towards a less coordinated look. One effective way to achieve this is to mix and match items.
Do not be afraid to combine finishes like reclaimed wood and matte metals or to juxtapose vintage accessories with contemporary furniture pieces.
Bohemian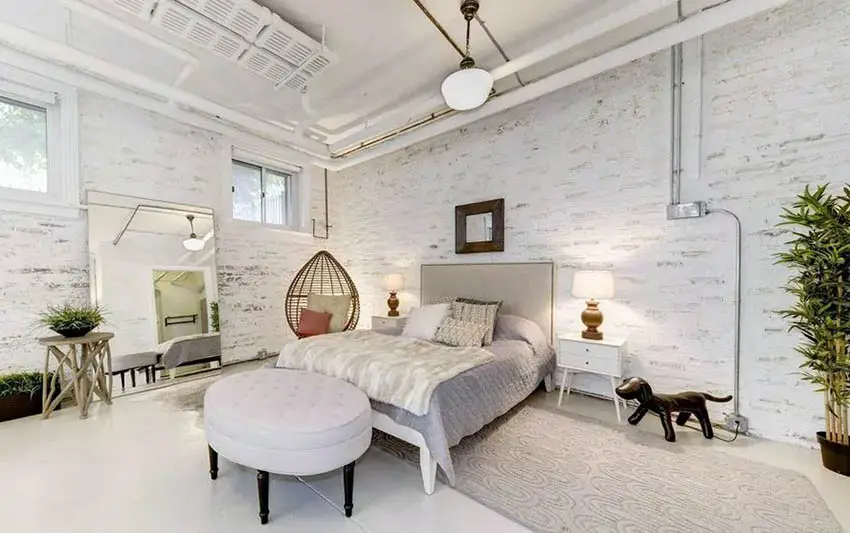 Bohemian design greatly resembles shabby chic as described above with the incorporation of a few additional considerations. Using low lying furniture is a big part of boho design as well as ornate rugs to look at while hanging out down there.
Maintain a carefree vibe and aesthetic – starting with a neutral base and layering colors and items is an element of bohemian design ideas, bright color usage, and a great deal of art usage.
Bohemian Bedroom Design Tips
Maximalism reigns – Boho style bedrooms are the exact opposite of minimalist modern spaces. It goes all out with decor and finishing by mixing various contrasting textures, using vibrant color palettes and employing eye catching patterns. Mixed materials like wood, rattan, burlap are staples in boho style bedrooms.
Balance the warm earthy color scheme with greenery – Boho style spaces love the use of greenery like potted plants. Hanging vines in woven planters, large indoor palms and ferns are some of the most common plants used in boho style bedrooms.
Try out different headboard ideas – Instead of a headboard, you can hang a tapestry on the wall behind your bed and use it as the space's focal point. Alternatively, you can use a mandala-patterned rug or even a "sarong."
Welcome as many contrasting patterns, prints and colors – Stripes, florals, mandalas, paisleys and geometric patterns are all embraced in fun boho-style bedroom ideas.
Use these patterns generously in your soft furnishings like beddings, pillow cases, upholstery, rug, curtain, mural and wallpaper.
Tassels, fringes and macrames – Textured details like tassels, ruffles and woven macrames meet the elaborate and artistic aesthetic of boho types of bedrooms. Look for pillows with these designs and layer them in your bed for added visual interest.
Create a cozy hangout spot using a swing chair – Instead of an armchair, you can place a swing chair beside your bed and create a cozy reading nook and hangout spot. Most boho style swing chairs are made of macrame.
Urban Modern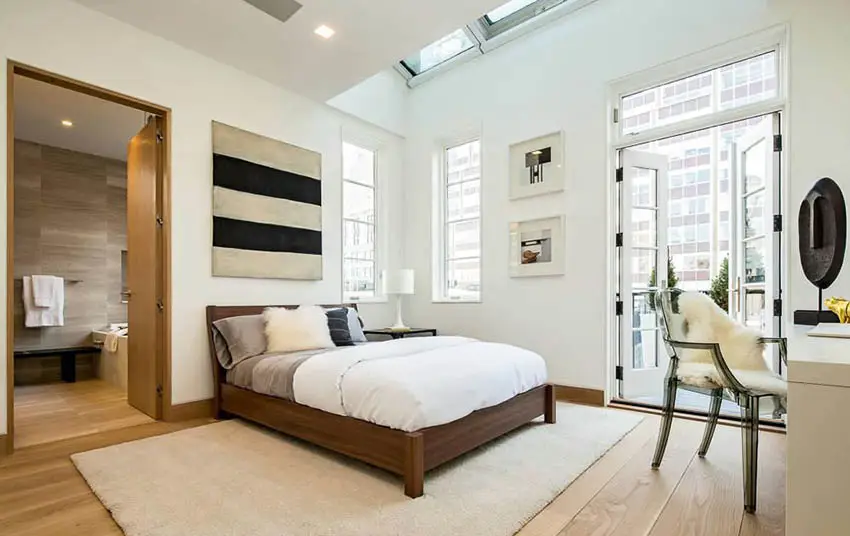 Urban Modernism is a sophisticated design style for city living folk. This preppy design style combines contemporary, industrial and modern design influences.
Soft – Soft furnishings in soft tones is exactly what urban modernism calls for. Rugs are essential to the style, whether they are large and thin or smaller and thick. All of this will use soft neutral colors to let the accents speak.
Statement Pieces – Adding personality to this style is of utmost importance, and statement pieces are the best way to do that.
Every room should include either a daring piece of art or a loud piece of furniture that captures the attention of the space. This piece must be a talking point that is noticed but does not overwhelm the room itself.
Urban Modern Bedroom Design Tips
Combine modern, contemporary and industrial design influences – cosmopolitan living, elevated design, emphasis on comfort and city life.
Open spaces, modern touches, streamlined furniture. But compared to other styles, urban modern has a softer side to it because it is more relaxed.
Think of ways to implement multi-purpose room ideas – The urban modern style is often found in high density areas where space is at a premium. Create a multi-use home office space by adding a desk or cabinets that can work as a desk.

Add a calming feel through the use of cool tones – Paint a feature wall or recess wall with a muted green or blue so your urban modern bedroom does not feel too overly industrial. Avoid vibrant and bright tones because they can be a bit overwhelming for a bedroom.
Play with scale – When accessorizing an urban modern bedroom, try to play with the scale for more visual interest. Juxtapose oversized pieces with smaller ones — you can do this with vases, artworks, frames and even plants.
Modern Farmhouse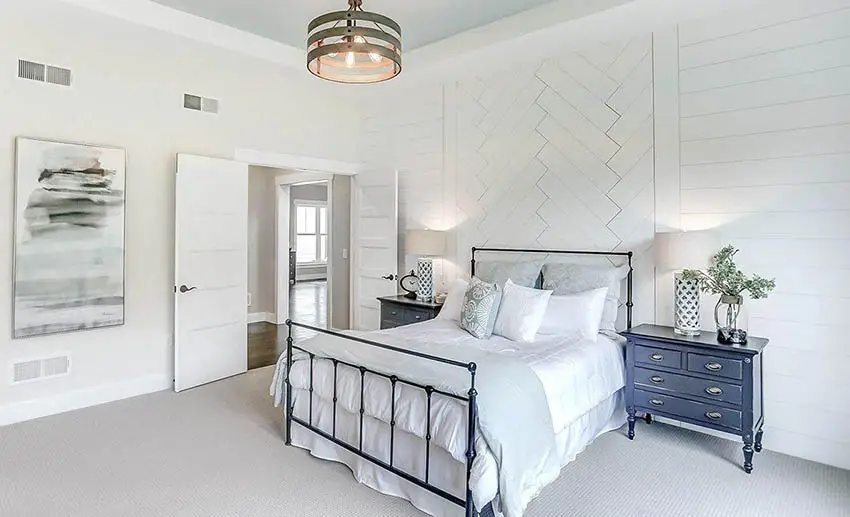 Combining two popular styles farmhouse and contemporary, the result is the modern farmhouse style. It's all about creating a cozy, warm atmosphere within the home with modern materials and fabrics while providing an authentic rustic feel.
You'll find plenty of natural materials inside this design, with muted or distressed colors combined with vintage elements.
Heavy and Light – Having a large, heavy duty wrought iron metal bed paired with some lightly upholstered chairs will embrace the modern farmhouse bedroom design style. The heavy furniture pieces are iconic to the design, and the lighter elements give it a good balance.
Rustic – Incorporating different types of weathered woods, reclaimed woods, terracotta pottery and metal accents give a highly desired rustic charm regarding the farmhouse design style.
Using these materials in exposed beams or wall panels gives a great breakup of the spaces and helps make the space feel homier.
Modern Farmhouse Bedroom Design Tips
Add repurposed touches – Repurposed materials are the perfect accessory to modern farmhouse bedrooms.
Try to accentuate your space with reclaimed and repurposed items for a down to earth and homey vibe. For example, upcycle old wood into a new headboard, reuse old metal as drawer pulls for dressers and night stands.
Use simplified patterns – Keep patterns simple. Instead of bold prints, use stripes or pared down florals to give visual interest to a modern farmhouse bedroom. Another way to break minimalism in a modern farmhouse bedroom is to use textures instead of patterns.
Try a shiplap headboard – Shiplap is one of the most practical wall treatments you can use to evoke a modern farmhouse feel in a bedroom.
A white shiplap wall can be used as an accent wall without veering away from a neutral color scheme. You can install it vertically, horizontally, diagonally or in a herringbone pattern if you want more character.
Opt for coverlets and quilts instead of duvets – Beddings and bedspreads are an integral part of a bedroom design because they ground the overall look and palette of the space.
Quilts and coverlets can be used in place of duvets for a cozy farmhouse aesthetic. They also look extra charming when layered.
When choosing the fabric, opt for linen, brushed or cloud cotton, sateen and percale. These fabrics are comfy , casually elegant and have a sophisticated aesthetic.
Transitional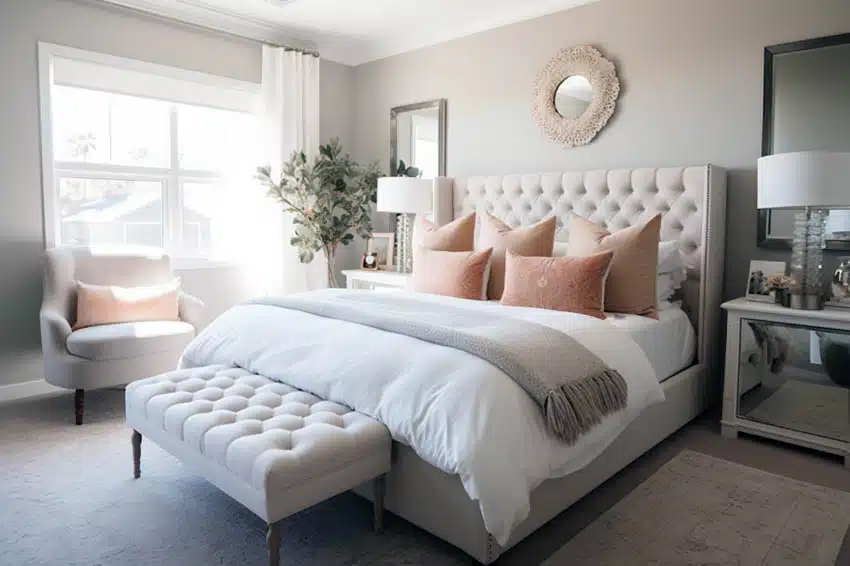 What is Transitional Style? The transitional style brings together old and new design elements to create a cohesive look that has a homey, cozy and comfy feel.
It balances both traditional style and modern style and updates the classic through the tasteful combination of materials and finishes.
Key Features of a Transitional Style Bedroom
Comfort is key – When choosing transitional style furniture, opt for pieces that have ample spaces, luxurious soft upholstery and high-quality craftsmanship. Comfort is the number one priority, so veer away from furniture pieces that are too stiff.
Warm, cozy ambiance – When you look at a transitional style bedroom, the first thing you feel is natural warmth, coziness and comfort.
Balance between old and new design elements – Transitional style spaces balance traditional and modern design and combine old and new elements.
You can mix and match items from different styles in your bedroom — like a modern wooden nightstand with metal legs combined with a classic fully upholstered bed.

Layered textures and mixed materials – A variety of textures coming from both natural and synthetic materials and finishes give visual interest to Transitional style spaces.
For a bedroom, try combining smooth surfaces like mirrors, glass and metals with rough textures like a pile rug or woven accessories to achieve a unique, eclectic look.
Light colored wood – Unlike traditional design that typically features dark colored wood, transitional design tends to use light wood that ranges from creamy white to pale brown because of its relaxed appeal. Look for bed, nightstands, dressers and bookshelves made of oak, maple or walnut.
Neutral color palette – Transitional style bedrooms favor the use of neutral color schemes composed of cream, white, beige, taupe, gray and shades of brown.
Accent colors are muted, subdued and subtle shades of green, blue and yellow. These colors are perfect for bedrooms because they promote rest and relaxation.
Transitional Bedroom Designer Tips

Carefully select your furniture pieces and do not overly decorate. Use accessories sparingly so the resulting overall look is clean and still minimalist.
Mixing and matching is one of the best design tricks you can use in designing transitional spaces. You can effectively pull off the mixed and matched look by choosing a style which will be the foundation of your whole design. This will give your bedroom a cohesive look, even as you combine different styles.

Use as a statement piece. Transitional style bedrooms often feature statement pieces. Create a focal point in your bedroom using a bold headboard, a unique piece of artwork or wall decor.
Art Deco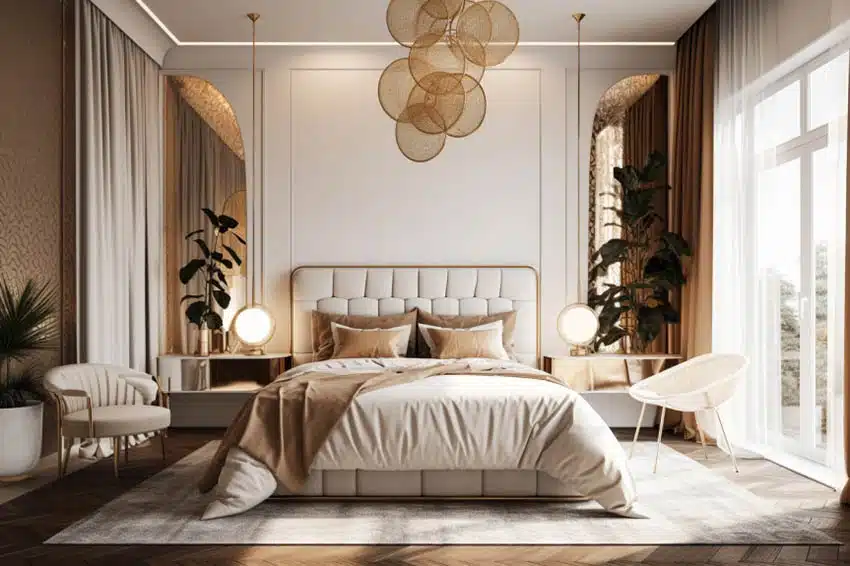 What is Art Deco style? Short for "arts décoratifs", the Art Deco style is a result of a movement that started in France in the early 1900s which gained popularity in the 20's and 30's.
Modernity is one of the main principles it follows, embracing geometry, symmetry and balance. While traditional design tends to be more organic and curvier, the Art deco style is more rigid and straight profiled.
Art Deco style furniture, art, interior and architecture was characterized by its streamlined look, geometric ornamentation and emphasis on sharp lines.

Key Features of Art Deco Style Bedrooms
Streamlined forms – The Art Deco style puts emphasis on sharp lines and streamlined forms when it comes to furniture and architectural details.
Symmetrical – Symmetry is one of the most distinct characteristics of the Art Deco style. It often starts from a focal point with balance created on both sides.
Geometric forms and motifs – The Art deco style also uses a lot of shapes such as triangles, squares, trapezoids and others as ornamentation.
Patterns like zigzags, chevrons and sunbursts are also prominent in the wall finishes, decor and furnishings. In a bedroom setting, this is often reflected in the window treatments, area rugs, bedspreads, wallpaper and floor pattern.
Bold and rich color palette – Jewel tones like emerald, gold, and sapphire, complemented by neutral shades like beige and creams.
Use of manmade materials – Unlike traditional styles which utilizes natural materials, Art Deco bedrooms make use of a lot of synthetic materials like glass, metal and plastics.
Metalwork – Metalwork and metallic colors like gold and chrome are also prevalent in Art Deco style spaces. Think metal ornamental lighting fixtures like sconces and chandeliers, bronze, silver or gold accessories and chrome hardware.
Patterns and prints – Art Deco style bedrooms also embrace the use of patterns and prints. Wallpapers are often in geometric patterns, soft furnishings and textiles are typically printed with rigid lines and shapes.

Art Deco Designer Tips

Modern interpretation. You can also effectively pull off the Art deco style by having your own modern interpretation of it.
To get the style right, make sure to stick with the correct color palette and a lot of geometric forms and lines in your walls, floors, furniture and furnishings, then you can add your own eclectic mix of items from different design styles like a modern bed or vintage accessories.
To achieve symmetry and balance, start with a focal point like a bed, then put two nightstands on each side. Make sure to mirror the design you put on the ride side to the left side to create a sense of balance and rhythm and balance in your bedroom.

Asian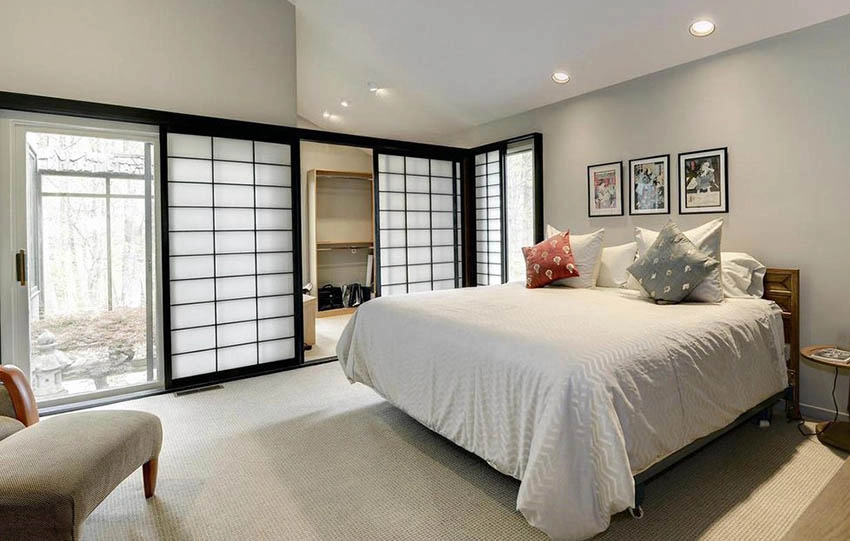 Asian inspired interior design includes many Asian traditions that cover a broad spectrum of traditional to modern designs.
Simple natural tones – The colors chose in this design style are meant to create a calming atmosphere. These colors are often pulled from natural elements that are also incorporated into the spaces. Any colors accents are usually found in art pieces or small accessories.
Luxury – Using luxurious materials give a luxurious vibe, and that is what Asian inspired interior design intends to do. Marble is frequently used as flooring with large rugs to soften the spaces. Gold is another popular material used in the accessories of the homes, which allude to expense.
Asian Bedroom Design Tips
Fusion of styles – In essence, the Asian style is a fusion of several different design ideas and influences which range from Chinese, Japanese to Indian.
It is important to know watch of these and the elements which make them distinct — for example, the Chinese style is opulent with a rich color palette of golds and reds, while the Japanese style is more minimalist, and simple.
It draws inspiration from nature, while the Indian style is more exotic and is best known for its elaborate details on furniture and fabrics.
Embrace the fusion of styles or choose a single style which will dominate the design of your bedroom.
Choose a soothing backdrop – When designing Asian inspired types of bedrooms, it's best to keep the backdrop as neutral as possible because of the different design influences present in the space.
Choose between shades of white, cream or light gray as wall color for your bedroom so the resulting ambiance would still be relaxed. A neutral backdrop will also make introducing other colors and decor easier into the space.
Balance is key – Balance is an integral design aspect of Asian design. The colors, textures, and other styling elements in the space must harmonize with each other to create a soothing and relaxing ambiance. Make sure that not one element in the bedroom overpowers the others.
Minimalist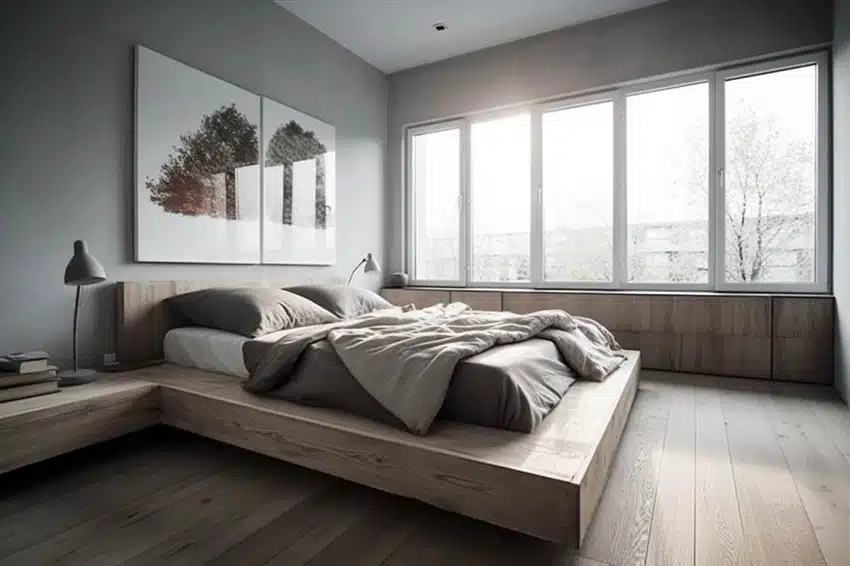 What is Minimalist style? The Minimalist style emerged in the 20th century as a reaction to the elaborate styles of the past. Compared to traditional styles which are often elaborate and highly detailed, the minimalist style is void of any ornamentation.
Giving utmost priority to what is essential, the minimalist style steers clear of any excesses to achieve elegance and a clean uncluttered look.
This design style makes use of limited materials, simple forms and neutral colors, while giving emphasis to simplicity and functionality.
Key Features of Minimalist Style Bedrooms
Simplicity and functionality – The key to creating a minimalist style bedroom is to focus only on what is essential and functional. Even the smallest detail has a function and purpose in the space.
Streamlined – The furniture pieces for minimalist style spaces have clean and simple lines. The overall design is very streamlined and sleek.
Decluttered and open- Everything has a place and purpose, if it doesn't have a purpose, it is not included in the design. And because of the absence of clutter, the result is an open and airy space.
Natural light – large windows which are often unadorned are a common feature in minimalist style spaces. These windows help bring in maximum natural light and keep the space looking airy, bright and open.
Unornamented – As mentioned, the minimalist style is known for its lack of ornamentation and heavy details and gives emphasis on sculptural form. Stick with bedroom furniture that do not have decorations, carvings and embellishments.
Minimal furniture pieces – It only uses essential furniture pieces. For a minimalist bedroom setting, this includes a bed, nightstands and a dresser.

Monochromatic color palette – The colors of a minimalist style bedroom are limited and often use one accent. It is dominated by neutrals like white, black, gray and beige to create a calm and peaceful environment.
Polished finishes – Metal, concrete, steel and glass are some of the most suitable materials for minimalist style bedrooms because of their polished finish which help render a sleek look.
Seamless integrated storage – Built in cabinets and streamlined storage systems are often incorporated in minimalist style bedrooms to create a seamless, uncluttered look. This also offers an effective way to hide other items in the space.
Minimalist Bedroom Designer Tips
Invest in quality furniture – Keep furniture simple and choose a piece which would stand out to give your minimalist bedroom more interest. A statement piece could be a bold piece of art or a stunning light fixture.
Avoid cluttering the space with too much furniture and decor. Avoid putting unnecessary items in your bedroom because it will make the space feel too heavy and cramped Also, to avoid clutter from building up in your bedroom, you can organize your stuff regularly.
Less is more – In other words, "simple is better". Modern design strictly adheres to these philosophies. You do not need a lot to achieve an elegant looking space.
Tropical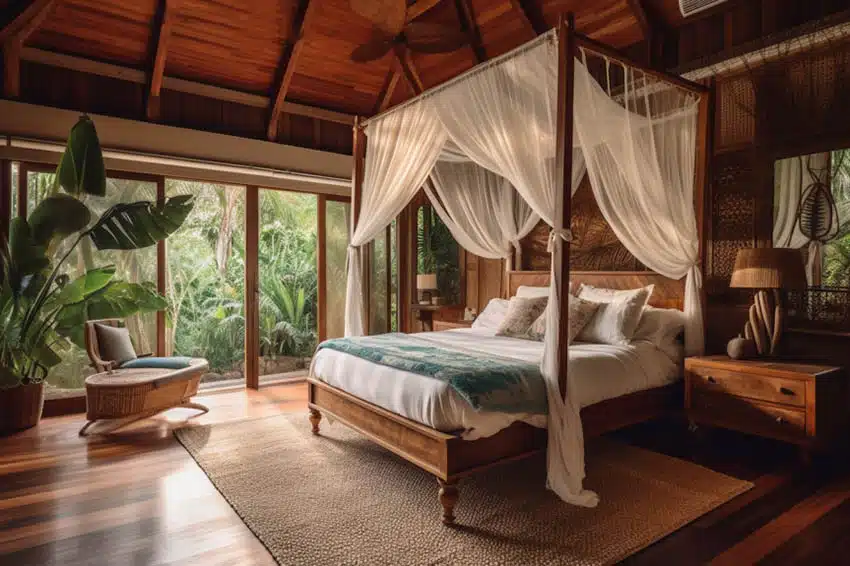 What is Tropical Style? Taking inspiration from tropical destinations like Hawaii, the Caribbean, Asia and other exotic destinations, the tropical interior design style takes inspiration from the natural beauty and casual relaxing atmosphere of an island retreat.
It strongly renders a resort style feel using natural textures, wooden accents and a color palette reminiscent of the sand, ocean and the tropics.
Key Features of Tropical Style Bedrooms
Resort feels- Tropical style bedrooms are best known for their relaxing, refreshing atmosphere. When you stay in it, it reminds you of a cool, recharging day at the beach.
Natural materials – Tropical style bedrooms typically feature natural materials for the furniture and finishes. You can find wood, natural textiles like canvas, linens and woven items all throughout the space.
For bedrooms, opt for wood floors, wooden bed and nightstands and wicker decor as these add texture and warmth to a space. These materials can also add a sense of comfort and relaxation.
Tropical hardwood furniture – Use bedroom furniture made from tropical hardwoods like teak, bamboo, rattan and balsa. Alternatively, you can also use rattan and wicker.
Organic colors – Tropical style bedrooms utilize color palettes that are inspired by nature. Neutrals such as different shades of brown, khaki, ivory and beige are typically used as the base.
This is often complemented with cool hues like blue (turquoise and aqua) and green (olive, sage, pine). Overall, the tropical color scheme has a calming and soothing effect.
Bright accents – To add a splash of color, bright pops of red, coral, violet and fuchsia are incorporated in tropical style spaces. For bedrooms, this is often found in the accessories.
Tropical patterns and motifs – Pineapples, palm trees, banana leaves and florals are the signature motifs of tropical style spaces.
Use these patterns and prints in the rugs, beddings, curtains and throw pillows. Botanical prints, exotic flowers, birds and beach scenes are also commonly featured.

Plants – – A tropical themed home isn't complete without plants. Lush greeneries like monstera, ferns, rubber plants, bamboo and indoor palms are some examples of great houseplants that add a refreshing element to a bedroom. If you want flowers, you can try orchids or birds of paradise.
Textured and handmade accessories – Handmade accessories are the best decor to use in tropical style bedrooms because they add a beachy and coastal feel to the space. Think bamboo rugs, sea grass, rope, abaca and jute baskets and wall decors.

Light fabrics- Light, airy and sheer fabrics like linen, cotton and silk are favored in tropical style bedrooms because they add a breezy, comfortable feel to the space. These textiles can be used for the beddings, curtains and soft furnishings.
Natural light – Another characteristic of tropical style bedrooms is the abundance of natural light. Allowing natural light to flow into the room enhances the beachy vibe of the space. You can achieve this using sheer window coverings.
Tropical Bedroom Designer Tips

Bring nature indoors. The primary inspiration for tropical style spaces is nature, so make sure to bring the outdoors in using natural materials and textures. Avoid using plastics and metals because they tend to render a strong industrial feel to a space.
French Country

What is French Country Style? A classic style which emerged in the 17th century, the French style tastefully blends comfort and elegance in a space to create a warm and inviting atmosphere.
Reminiscent of beautiful landscape of southwestern France, known for sprawling vineyards, calming lavender fields and rich olive groves, this style strongly embraces the use of intricate decor, furniture and accessories while maintaining a sense of refinement
Key Features of French Country Bedrooms
Comfortable and warm – French country style interiors are best known for blending comfort with history. The design elements are refined and very elegant and have a well lived-in appeal.
Curvy and intricate furniture – Furniture and architectural details exhibit grace because of their simple and complex curves. Look for beds, nightstands and dressers that have carved details, cabriole legs, tufted headboards and paneling.
Wooden finishes – This style mainly uses natural materials, specifically wood and stone. Some of its features are wooden beams and stone floors.

Tinted neutrals – The color scheme of French country style spaces is generally composed of tinted neutrals like off white, beiges and grays and pastels like sage green, powder blue and soft yellow.
Antique metals and distressed wood – Iron, brass and brushed nickel are the perfect hardware to use in recreating a French country style bedroom. Furniture pieces are typically in distressed white finish or antique finish for a warm, weathered appeal.

Vintage accessories – You'll notice that French country style bedrooms often have simple walls because it allows the decor and accessories to stand out in the space. You'll find colorful baskets, ceramics, large wall clocks, ceramics, rugs, paintings and mirrors with ornate gilded frames.

Wide range of patterns – Patterns range from stripes to plaids to more complex ones that depict natural motifs. Printed fabrics like toile are also frequently used for the beddings, pillows and other soft furnishings.
French Country Bedroom Designer Tips

Balance the old with the new. You can mix antiques with new pieces to achieve a more updated French country style bedroom. Just remember that when furnishing your French country bedroom, the resulting overall look must be romantic and very ornate.
Japanese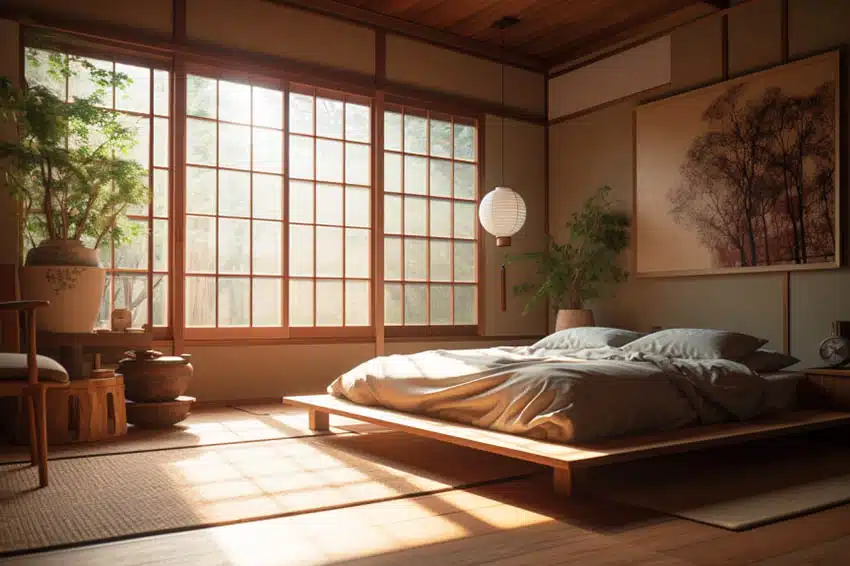 What is Japanese Style? Known for its serene aesthetic, the Japanese style uses the region's deepest principles to create an interior that is strongly inspired by nature.
Deeply rooted in minimalism and simplicity, this style boasts of an idealistic design approach that results to a calm and soothing environment.
Key Features of Japanese Style Bedrooms
Simplicity – This timeless style is grounded in simplicity. Furnishing, furniture and decor are kept at a minimum. It focuses on the basics and sticks only with what is needed in the space.

Strong connection to nature – Another distinct characteristic of Japanese style bedrooms is their strong connection to nature. It aims to bring the outdoors in without having to use too much decor.
Focus on function and emphasize practicality – Japanese style bedrooms emphasize exceptional functional design in the most compact way possible. Furniture pieces are utilitarian and all items in the space have a purpose.
Evokes a feeling of serenity and tranquility – Japanese interiors are known for creating "zen". The general mood or vibe of a Japanese style bedroom makes you feel peaceful and relaxed.
Features clean lines – Unlike traditional design which has a lot of curves, minimalist styles like the Japanese style features a lot of clean straight lines and sleek forms.
Natural materials and texture – The serenity of Japanese style bedrooms rely on the use of natural materials like wood and stone. Light wood like oak and birch are often used on the furniture, floor and even the ceilings.
Neutral color palette – Japanese style bedrooms often employ only two main colors — shades pf white and browns. The walls are typically treated with white or a light beige plaster, the floor in a light toned wood and the accessories in white.
Simple Furnishings – Even the accessories used in Japanese style bedrooms are very simple and minimal. There are no intricate decors, patterned soft furnishings or over the top accessories.
Uncluttered – Because the design elements are very minimal, the resulting overall look is uncluttered. The absence of unnecessary items also makes Japanese style bedrooms look open, relaxed and peaceful.
Japanese Bedroom Designer Tips

Simplicity is key. Japanese style spaces prefer less decoration so keeping your bedroom as simple as possible is the best way to approach it.
Victorian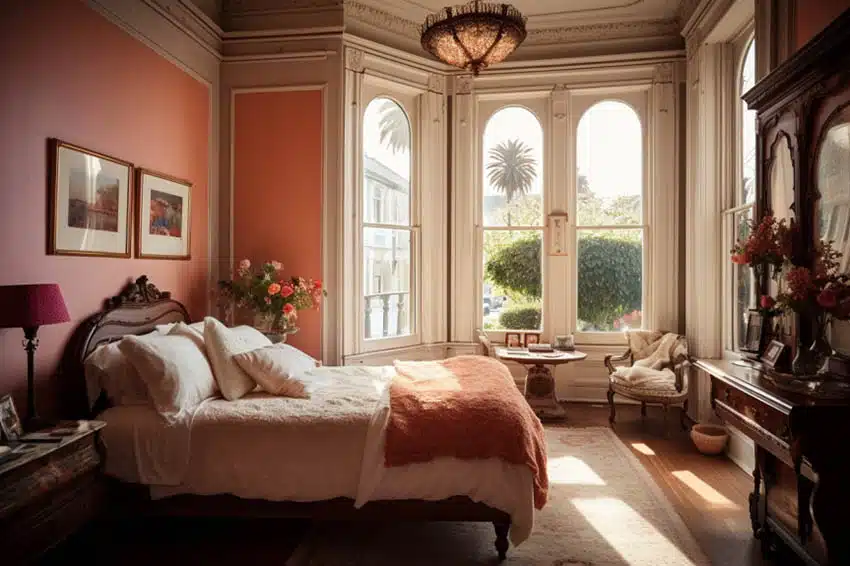 What is Victorian Style? Victorian interior design owes its name to Queen Victoria, a prominent royalty in 19th century United Kingdom. This style epitomizes opulence and extravagance using rich color palettes, indulgent textures and excessive use of ornamentation and detail.

Key Features of Victorian Style Bedrooms
Opulence – The Victorian style is best known for its opulence and extravagance. When it comes to furniture, furnishings and interior details, everything is highly detailed, ornamented and richly detailed.
Rich dark colors – Rich dark tones like wine, ruby red, burgundy, forest green, navy blue, deep purples and dark browns make up the dramatic color palette of Victorian style bedrooms.
Decorative woodwork – Decorative woodwork is present not only in the furniture pieces but also the interior and architectural details as well.
This includes cornices, moldings and chair rails. Carved wood pieces like decorative frames, lamps and other accessories are also added in the space.

Wood flooring – Wood flooring, specifically parquet, is one of the most common floorings used in Victorian style bedrooms. When choosing the right hardwood flooring to use for your Victorian style bedroom, opt for rich dark woods like mahogany, ebony and walnut.
Elaborate walls – Forego white walls and embrace deep colored paint and wallpaper. Choose dark paint colors and wallpapers with leaf, vine and floral motifs.
Ornate patterns – Ornate patterns consisting of nature inspired motifs like florals, vines and foliage are extremely popular during the Victorian era.
For a bedroom setting, opt for beddings, pillows, upholstery and wallpaper with these elaborate patterns and prints. You can also add an accent chair with embroidered cushions and lace doilies.
Heavy drapes – Windows featured heavy fabric drapes such as silk, wool or velvet curtains.

Art and fancy home decor – Fancy accessories are prominently displayed over every surface in Victorian interior design. Examples of which are a gallery wall with ornate framed paintings, precious China, vases and souvenirs.

Queen Anne furniture – Victorian style furniture is best known for the excess use of ornamentation. Opt for overstuffed cushions, tufted headboards, button back armchairs and wooden beds that are decoratively carved.
Victorian Bedroom Designer Tips
Go all out. You can also add some built in furniture to your Victorian style bedroom to complete the extravagant look. For example, add a bookcase with some crown molding and cornices. You can also install wall paneling and wainscoting.
Gothic Style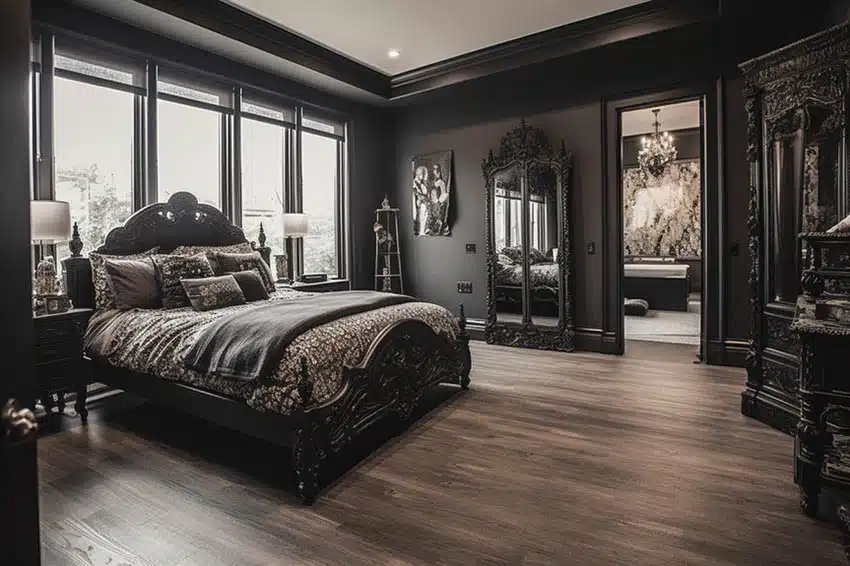 What is Gothic Style? The Gothic style captures the timeless elegance and bold drama of the High Middle Ages — a time that brought some of the most remarkable architectural structures like the Abbey Church of Saint-Denis and the Canterbury Cathedral.
This style aims to create a space that evokes boldness using rich, dark color, ornate details and rich textures.

Key Features of Gothic Style Bedrooms
Dramatic flair – Gothic style bedrooms are all about opulence and maximalism. The overall design is super detailed, elaborate and ornamental but has a bold, dark feel to it.

Architectural details – Ornate architectural details like high arches, stained glass windows, wooden beams and wrought iron accents are common features in gothic style bedrooms. Almost every wall and window are intricately decorated to create a distinct elegance.
Heavy dark wood furniture – The furniture pieces for gothic style bedrooms are generally "heavy", very sturdy and decadent.
The finishes are typically in dark colors, often using dark wooden species. For a gothic bedroom, think mahogany, walnut and ebony four poster beds and carved nightstands.
Ornate design – Aside from dark wood, ornate details are also present in gothic style furniture. Oftentimes, they are reminiscent of traditional church furniture because of elegant spires and arches on the backs of the chairs, beds and storage.

Dark, rich color palette – Deep, rich colors are typically used for wall paint, fabrics and other decor. Gothic colors are composed of jewel tones that evoke extravagance lines ruby, emerald, purple and gold. Black is also dominantly used all throughout the design elements.
Heraldic symbols – Heraldic symbols like a shield, coat of arms, crest, cross and saltire are some commission motifs used in Gothic style interiors.
In addition, you can also find vertical strips, diagonal stripes, chevron, quatrefoil and cloverleaf patterns in fabrics, soft furnishings and wallpaper.
Detailed and rich fabrics – Fabrics used for window coverings, upholstery, carpet, tapestries, beddings and pillows are also very rich and often have bold patterns. The windows are typically covered in heavy velvet drapes instead of sheer curtains.
Rich fabrics like velvet, silk and satin in dramatic bold colors are best used in this style of bedroom. Think silk pillows and satin bedding which all scream "fit for a royalty".
Printed wallpaper- Walls are typically lined with elegant wallpapers in intricate, repeated patterns and rich, dark hues.
Accessories – Gothic decor includes art, tapestries, candles, marble sculptures, wrought iron and metal works.
Gothic Bedroom Designer Tips
Accessorize! The key to pulling off the gothic style bedroom is to choose the right type of accessories. Using the correct finishing touches will unify the whole design. Incorporate portraits, paintings, art and elaborate tapestries and line them up in the walls.
Alternatively, a regal looking lamp and sconces can also be featured as part of the design. You can also use a large chandelier as the centerpiece to make a grand statement in your gothic style bedroom.
Retro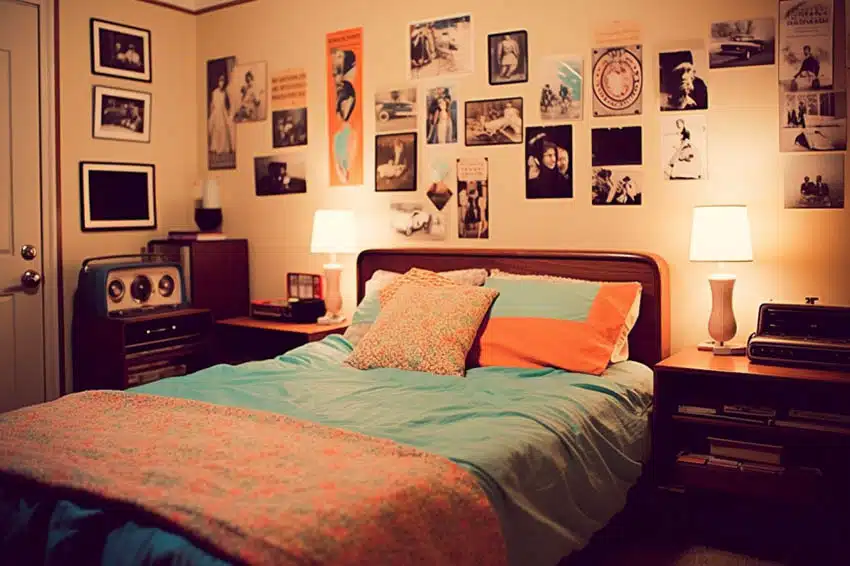 What is Retro Style? Commonly associated with the 50's, 60's and 70's, the retro style combines the influences of the past like the Art deco, rococo and mid modern century to create a vintage design that boasts of bold, vibrant color palettes and finishes.
Key Features of a Retro Style Bedroom
Mid-century modern furniture – Mid-century modern furniture is one of the facets of the retro style. Retro furniture has a curved or angled form, uses metal like chrome and is typically finished in bold colors.
Because it looks like a work of art, it can easily function as the focal point of the space. For example, a bright green bed with an upholstered headboard or a yellow platform bed.
Vibrant color palette – The retro style features bright colors like firetruck red, avocado green, electric blue, teal and orange.
Bold patterns – Psychedelic patterns and bold prints are often used in wallpapers, rugs, carpets and soft furnishings.
Abstract art – Oversized abstract art is the most common form of retro style decor. Often featured as a statement piece, abstract art is typically placed on an accent wall or over the headboard in a bedroom setting.
Vintage accessories – Vintage accessories add to the iconic look of retro style bedrooms. Popular pieces include pop art, iconic posters and vibrant accessories made of glass and metal.
Hollywood Glam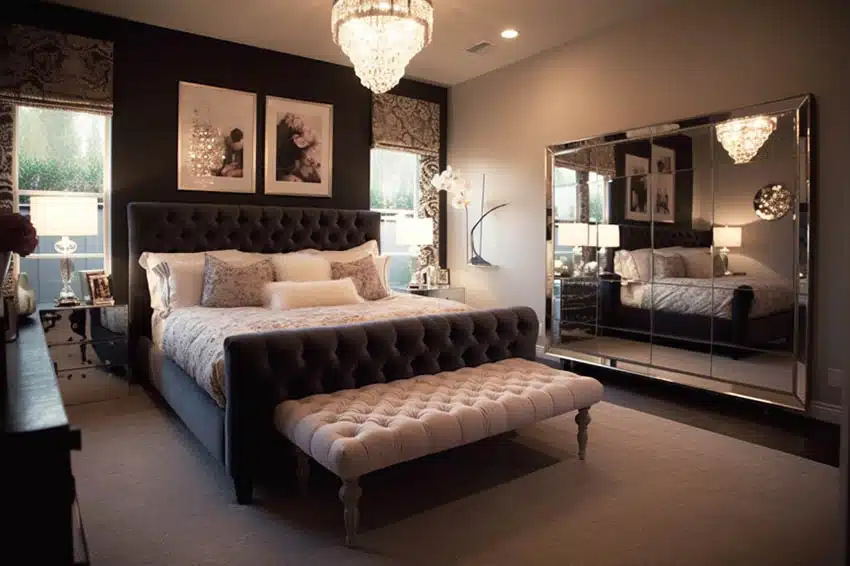 What is the Hollywood Glam Design Style? A style which dates back to the 1930's, the Hollywood Glam style pays homage to the golden age of Hollywood.
Sometimes referred to as Regency Moderne or Hollywood Moderne, Hollywood Glam embraces decadent finishes and a mix of neoclassic, mid-century and art deco styles to create an iconic look that screams excessive everyday glamour.

Key Features of Hollywood Glam Style Bedrooms
Sophisticated, bold and timeless – Hollywood glam interiors combine carefully curated design elements to achieve a sophisticated and timeless look.
Classic colors – The overall color palette of Hollywood glam style bedrooms is simple, often focusing on two to three complementary hues.
Black and white are the most popular combination for this bedroom style, but it also features accents like purple, gray, red, turquoise and gold.
Rich fabrics – Rich fabrics with plush textures like fur, satin, leather, velvet and silk are often featured in this style to reflect luxury and elegance. Invest in luxurious beddings with these high-quality fabrics or go with something that has ruffles for an extra touch of glamour.

Bold patterns – Patterns in Hollywood Glam style bedrooms are bold and timeless like geometrics, animal prints and art deco motifs.
Metallic Details – Metallic accents like gold, brass and chrome are featured as furniture components, lighting fixtures or wall decor.

Indulgent textures – Since Hollywood glam style is defined as "excessive everyday glamour", the prolific use of varying textures is essential to achieve a luxurious look.
Think high shine finishes like lacquer, sumptuous fabrics like velvet, silk or satin pillows and metallic accents. Wallpaper and carpet flooring is also commonly used.
Vintage accessories – Bold vintage accessories like oversized chandeliers, gilded wall mirrors, vintage table lamps and old clocks.
Floor to ceiling window panels – To bring added drama to Hollywood glam style bedrooms, use floor to ceiling sheer curtains.
Hollywood Glam Bedroom Designer Tips
Start with a neutral color palette and highlight the decor in the space. Create a foundation of black, gray and white walls, floors and ceiling then add accent colors in small doses. The overall look should result in something very iconic and romantic.
Southwestern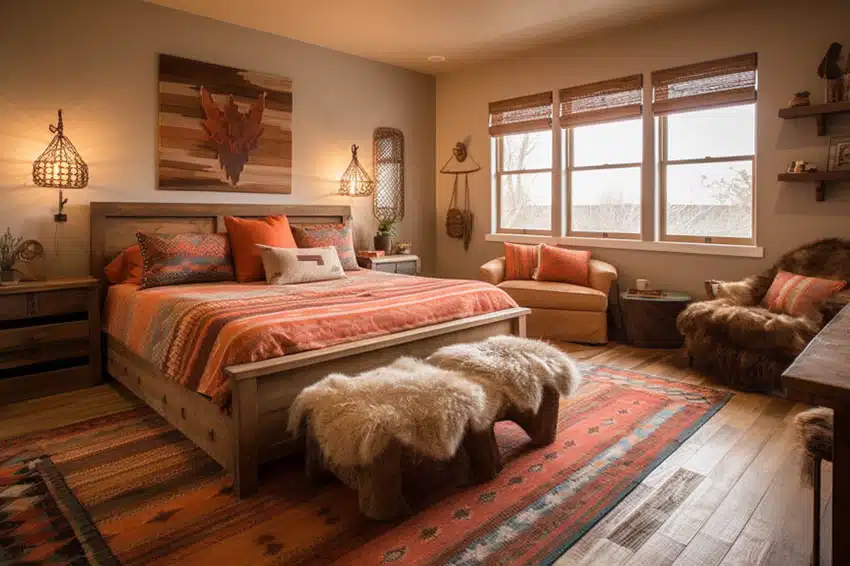 What is Southwestern Style? Also sometimes referred to as the "All American style", the Southwestern style takes inspiration from the culture and history of the Native Americans, Spanish settlers and the wild west. This interior design style is known for combining indigenous influences to create a perfectly rustic look.

Key Features of Southwestern Style Bedrooms
Rustic, earthy look – The Southwestern style has a strong rustic, timeworn, earthy look.
Earthy color palette – The color palette used in Southwestern style bedrooms mimics the surrounding desert and indigenous materials. Think earthy palettes composed of shades of brown, terracotta and turquoise.
You can reflect these colors in your space by painting plaster walls with white, using dark wood furniture, installing terracotta flooring and turquoise accessories.
White walls – Simple, white walls are a signature feature of Southwestern style bedrooms. It serves as a backdrop for handwoven accessories and wooden accents in the space.
Layered textures – Because southwestern style bedrooms make use of natural materials, the resulting look has a lot of layered textures.
Wooden furniture – You'll often see wood finishes in Southwestern style spaces. Typical features include wooden beams and heavy solid wood furniture which give a rustic vibe to the room.
Natural accents – Natural accents like a longhorn skull, a mix of accessories made with hand carved wood, leather work, hand hammered metal or natural stones like geodes are the best decor to display in Southwestern style bedrooms.
Hammered metals – Utilitarian objects like hand hammered meals are also a common feature in Southwestern style bedrooms. Examples of which are light fixtures in finishes like copper, brass and aged bronze.
Southwestern Bedroom Designer Tips
The secret to pulling off the rustic, old world feel of Southwestern style spaces is to incorporate a lot of rough textures and natural materials in your space.
Try looking for handwoven materials like jute rugs, baskets and wall tapestries. These items are widely available in most home goods stores and online.
Urban Style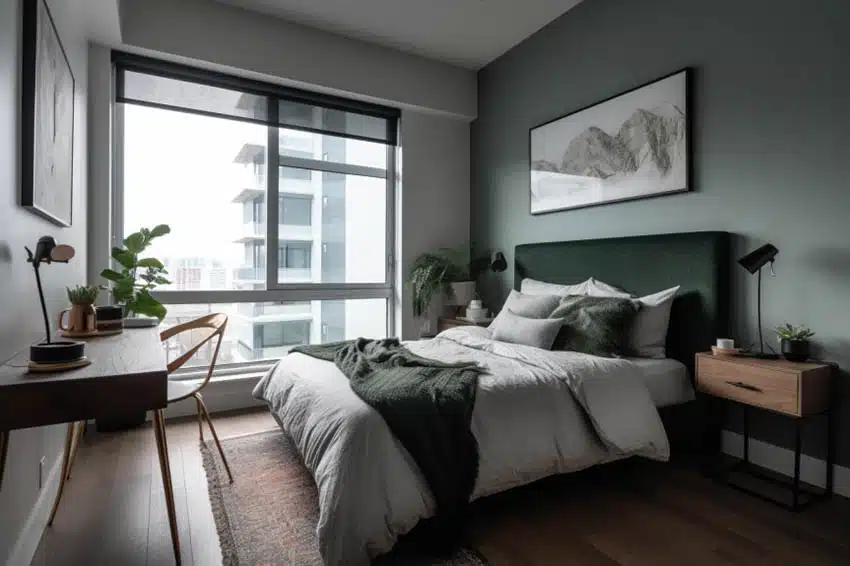 What is Urban Style? A style which reflects cosmopolitan living, the urban style combines contemporary, modern and industrial elements to create a savvy yet very comfortable space.
Often associated with industrial lofts and modern apartments, the urban style has a more well lived in and homey look compared to its other modern counterparts.
Key Features of Urban Style Bedrooms
Neutrals paired with a contrasting accent – The urban style aims to create a soothing yet welcoming environment. This can be achieved by using a perfectly balanced color palette with warm and cool tones.
The dominant features like the walls, floor and ceiling are typically in shades of white, gray or brown, while the accessories and furnishings are in cool hues of green and blue or warm hues of orange or yellow.
Wood and stone flooring – Wood and stone flooring are the perfect foundation for an urban style bedroom. The material does not have to be natural or authentic, you can also substitute with modern alternatives like vinyl or laminate in wood or stone patterns.
When it comes to color, the most popular flooring palette for urban style bedrooms is usually white, gray or shades of brown.

Comfortable furniture pieces – To prevent the space from looking to industrial, urban style bedrooms make use of soft, comfortable furniture pieces like couches or beds with large cushions and pillows. Often, these furniture pieces are in warm hues or earth tones to create an inviting feel.
Contrasting furnishings – Create an earthier look by using soft and hard accessories that contrast with the neutral walls dominating an urban style bedroom. Some examples of contrasting yet complementary furnishings include metal railings, mirrors, and gold picture frames.
Soft furnishings are also very significant when designing an urban style bedroom because they help tone down the modern industrial feel of the space. Incorporate neutral-colored rugs made of natural materials.
Select soft pillows and throw in browns, creams or grays. You can also bring in an extra pop of color to the space by opting for textiles in greens or blues.
Urban Style Bedroom Designer Tips
Urban style spaces have the tendency to look too contemporary or industrial because of the similarity of the materials being used in both styles. The key is to soften up the look of the space by using relaxed furnishings and choosing pieces that scream comfort.
Choose a statement piece. Statement pieces are a common feat in urban style bedrooms. Choose an item which would serve as the focal point of the bedroom like large artworks, an area rug or floor to ceiling window treatments or a lighting fixture/.
Incorporate greenery. Plants and botanicals help render a light, refreshing feel to a space. In addition, they bring in a pop of color to a neutral color palette. When designing an urban style bedroom, make sure to include easy to maintain indoor plants as part of the design.
Mediterranean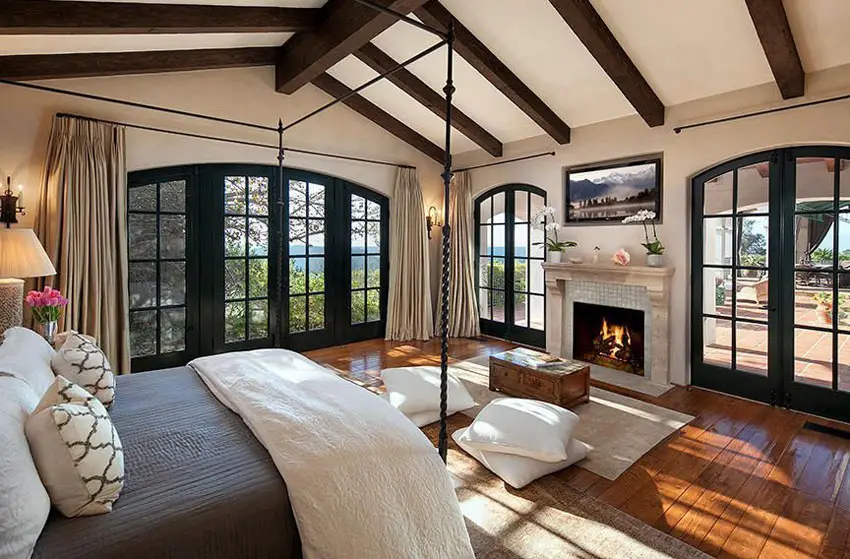 Mediterranean inspired interior design alludes to the styles from Greece and Italy. These places are known for certain features brought to life in the design aspect.
Greek Mediterranean – Includes stucco walls in white as well as the doors. This style uses the accent color of cobalt blue and creates a fascination with its columns and arches and its use of patio like furniture throughout.
Spanish Mediterranean – This design uses accents of blue and purple paired with terracotta flooring. Mosaic are a large part of this subcategory of Mediterranean design.
Italian Mediterranean – This design uses cast iron and mostly earth tones including: orange, deep yellow, deep red and many different browns. Textured walls find its way into all the Mediterranean design subcategories.
Mediterranean Bedroom Design Tips
Use the color blue in unique ways – One of the signatures of the Mediterranean style is the color blue. You can use this color in so many ways — whether in the walls, ceiling, furniture, furnishings and other decor.
For a bedroom setting, try pastel teal, cerulean, turquoise, or navy to invoke the imagery of the sea. You can introduce these colors in small decor items like a decorative pillow, a rug, an artwork or a throw.
Showcase terracotta decor – terracotta is more commonly used as a flooring material, however, it can be used in so many ways to add an earthiness to a Mediterranean bedroom. A small terracotta pot, planter or wall decor are subtle touches you can feature in your space.

Feature a wooden headboard – Rustic wooden headboards are great additions to Mediterranean style bedrooms because of their rough, textured aesthetic. Especially when paired with a wooden night stand or dresser, it helps create a more cohesive look.
To help visualize your interior designs there are a variety of bedroom layout planner software programs. Using these programs you can change your room's layout, try out different furniture styling, colors, and finishes before you buy anything. This is especially helpful if you're not sure what type of bedroom style is right for you.