In this types of bedroom furniture guide, you'll see the different styles, their uses, features, sizes, bedroom design tips, and benefits of popular furniture pieces.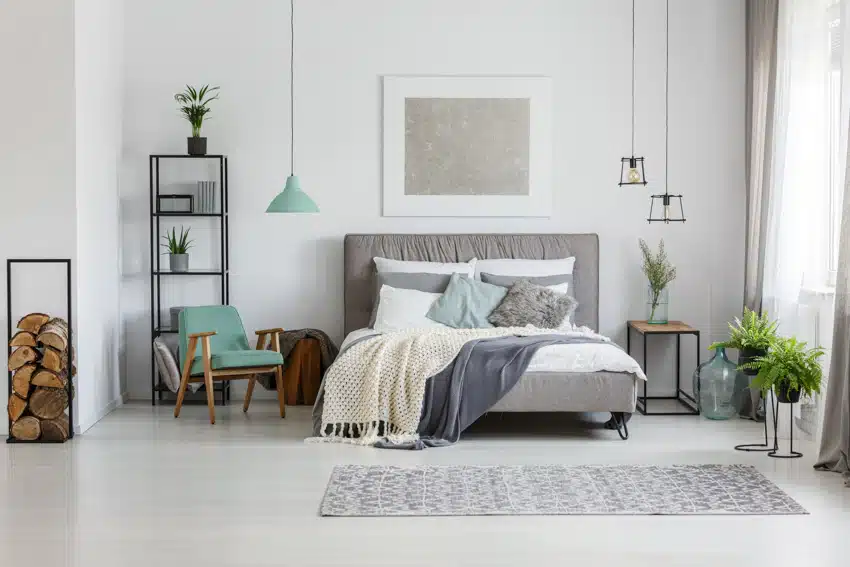 When building a home, many design decisions must be made, but ultimately a finished home isn't complete without choosing the right furniture to fit your needs.
The best furniture also should enhance your lifestyle and the aesthetic value of your interior, creating a harmonious and comfortable atmosphere. But before furnishing your room, it is best to know the different types of bedroom furniture to include in your list, and gather necessary information about each piece.
Bed Frames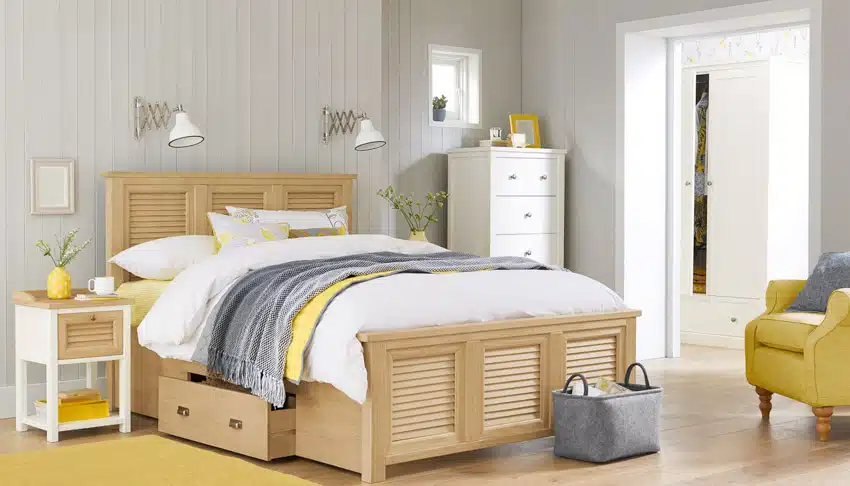 Also known as a bedstead, a bed frame functions as a structural support or base that holds in place and carries the mattress and the box spring of a bed. The bed frame's side rails prevent the mattress from slipping sideways.
Commonly, the platform is made from metal or wood. Traditional bed frames include a headboard or header, posts, and a footer. Read about all the individual parts of a bed here.
A canopy bed frame is the most recognizable classic bed frame with the posts extending vertically to hold a cover (canopy) typically made of light material such as fabric or wood sheets. The advantage of a canopy bed frame is that bed netting can be installed, that act as an additional layer of privacy or helps protect sleepers from insects.
Although you'll also find bed frames that double as a storage unit with a hollow compartment where the bed can be folded up to reveal storage units underneath.
Typical Sizes for Width and Length:
• Full size: 54 inches x 75 inches
• Queen size: 60 inches x 80 inches
• King size: 76 inches x 80 inches
• California King size: 72 inches x 84 inches
• Twin: 38 inches x 75 inches
• Twin XL: 38 inches x 80 inches
You'll also find bed frames that accommodate bunk beds or double-decked beds where one bed is stacked on another to reduce footprint area, thus utilizing space.
This is among the certain types of bedroom furniture that will include a built-in ladder or stairs on the side used as access to the bed above. Custom-made bed frames can accommodate different owners' preferences, such as bigger or longer mattresses.
Bed Headboard
A headboard is an upright board placed at the end of a bed where the head is positioned when sleeping. When wall insulation was not yet available, headboards were among the types of bedroom furniture that are used to protect one's head from the cold. But when insulation came about, headboards became an optional piece and more of a decorative function.
Bed headboards can be made from upholstered fabric such as leather or velvet. There are also designs that are made of wood or metal, from simple to intricate designs, falling into various categories of bedroom furniture.
Inspired by different construction techniques, these designs appeal to a variety of personal tastes, making a room feel truly unique. The colors, fabrics, and upholstery used in these designs further enhance their charm and can be used to reinforce a particular theme or room style.

There are no standard heights or lengths of bed headboard sizes, but they will typically follow the width of the bed with as low as 1 foot and as high as 7 feet or flushed up to the finished ceiling line.
Bed Footboard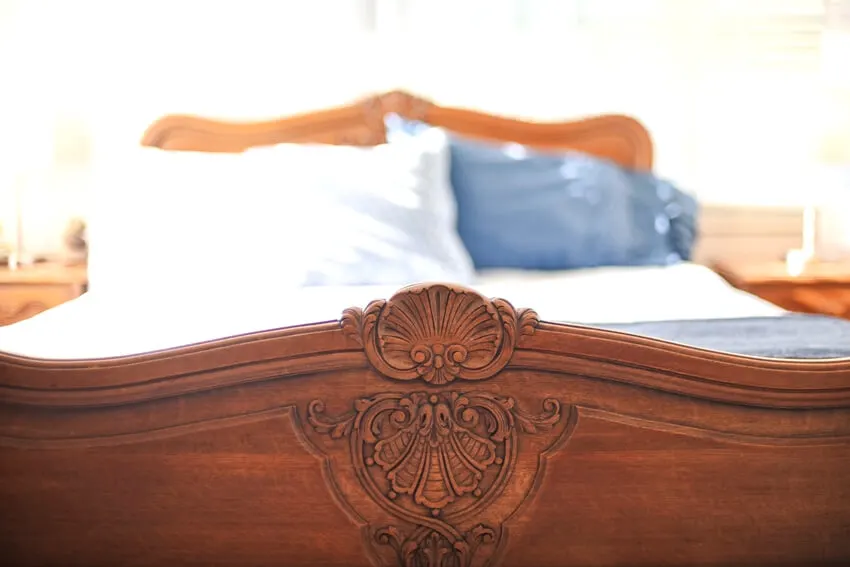 Similar to headboards, footboards are optional boards mounted upright at the foot of the bed. A bed's footboard will usually be the same as the material used for the bed frame, where it is usually made from wood or metal and is typically attached using a bracket. These footboards often come in a variety of colors and fabrics, allowing you to find the perfect match for the rest of your décor.
The main function of a bed footboard is to prevent bedsheets from touching your feet since the fabric is pressed between the footboard and the mattress.
Bedroom Set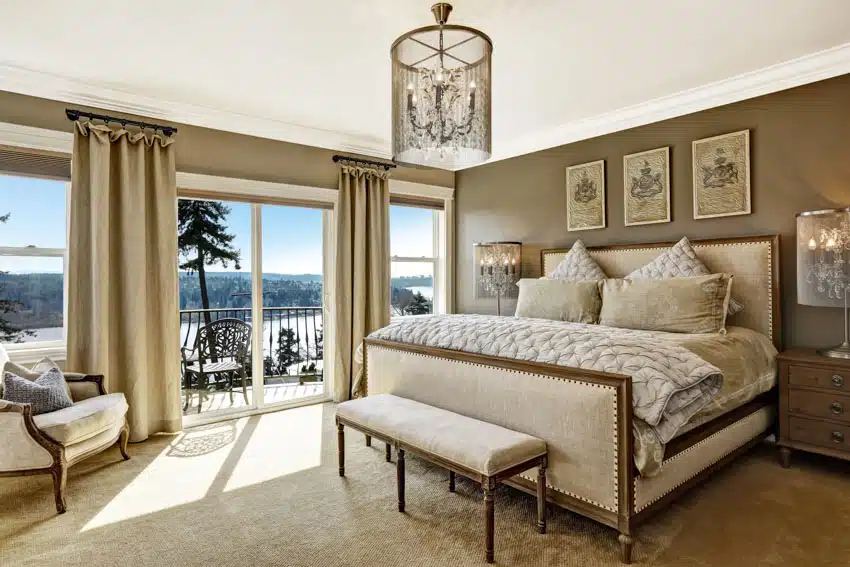 A bedroom set is a combination of bedroom furnishing sold together, which has the basic items, the bed, nightstand, and dresser included. From this 3-piece set, you'll also find 4-piece sets, 5-piece sets, 6-piece sets, and 7-piece sets.
The usual types of bedroom furniture includes a bed, nightstand, dresser, dresser mirror, drawers, side tables, and an armoire or wardrobe.
These items, which often incorporate different upholstery options and stylish design features, work together to create a cohesive and inviting bedroom atmosphere.
Generally, a bedroom set does not include the mattress or a boxspring. It will include a bedframe and it is to be paired with a mattress and box spring if needed. However, most mattresses these days do not require a box spring at all unless it is a coil-type mattress.
Dressers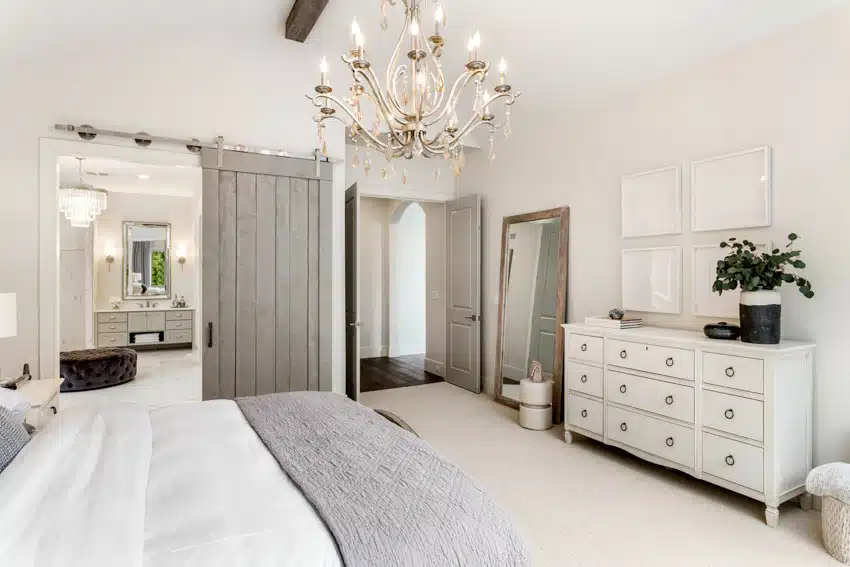 A dresser is among the types of bedroom furniture that are typically placed in the bedroom or walk-in closet. They can be easily identified by their long and low profile, with several drawers that are used to store clothing or other items.

As there are no rules in using a dresser, the furniture can store other items, which can include office supplies, kid's toys, dog toys, or any other items that need to be stored and organized. Dressers provide both functionality and aesthetic appeal to a room, serving as sources of inspiration for the overall design.
Dressers can be made from different materials, with metal and wood as the most common. There are plastic or PVC dressers available that are lightweight and easily moved. they can be tailored to evoke a particular feel, thanks to a wide array of colors and fabrics.
Dressers also come in a variety of sizes and designs. The usual height of a bedroom dresser is 26 inches to 44 inches or around the waistline. However, customized types of dressers will be designed according to the user's needs, taking into account details such as feel, colors, and fabrics

• Width: 36 inches to 60 inches
• Depth: 16 inches to 20 inches
• Height: 26 inches to 44 inches
Depending on the manufacturer, there are various lengths for dressers, and they can be customized to fit users' needs. However, the typical length of dressers is from 36 inches to 60 inches or 91 cm to 152 cm.
Dressers are usually interchanged with chests, but the difference is that dressers traditionally come with a mirror. When it comes to types, dressers are commonly found with the standard horizontal, double, and small dresser sizes.
Drawer Dressers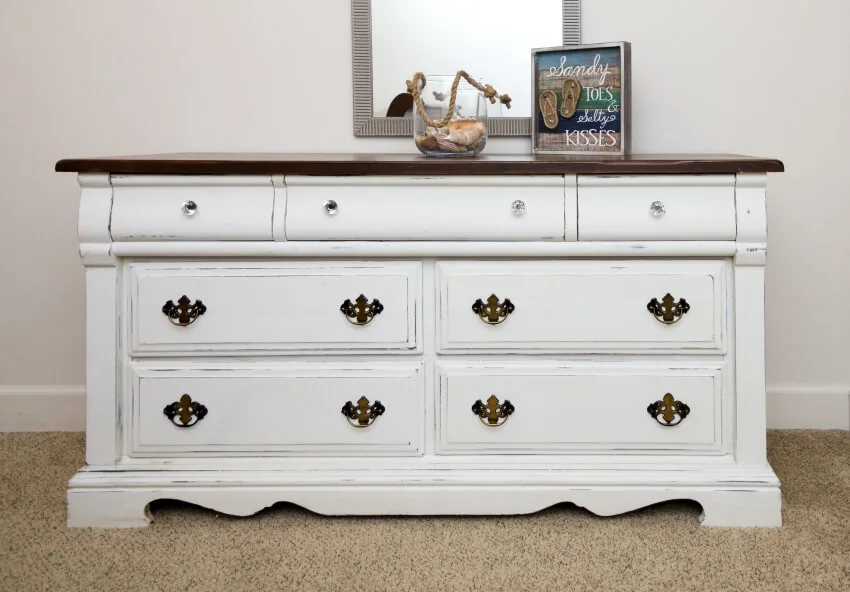 A drawer dresser is a general term that refers to low and long furniture that has drawers stacked in rows that are mainly used to store clothing and other items in a bedroom. The bedroom furniture can also function as a decorative piece, with design features, colors, and fabrics that work together to create an attractive and cohesive space.
Typical drawer dressers are made from wood, metal, or laminate wood with different designs. Solid wood is the best choice when it comes to quality and durability, suitable for accommodating items such as bookcases, accent chairs, and even kids' furniture.
Laminate wood is lighter than solid wood and metal, making it easier to move around and so cheaper. Metal is also durable and can provide a contemporary look to a bedroom. Décor pieces can also be showcased on top of the dresser, creating a stylish area for displaying items such as a boxspring, bedframe, or a cozy blanket, quilt, or throws.

Horizontal Dressers

Also termed the standard dresser, a horizontal dresser composed of two or three rows of drawers where the stacked drawers are typically used to store clothing and other items.
The space above the horizontal drawer can be used as an additional storing space or showcase collectibles such as books, stuffed toys, figurines, or décor, allowing for harmonious organization alongside other furniture like bookcases and accent chairs for kids and adults alike.
Vertical Dressers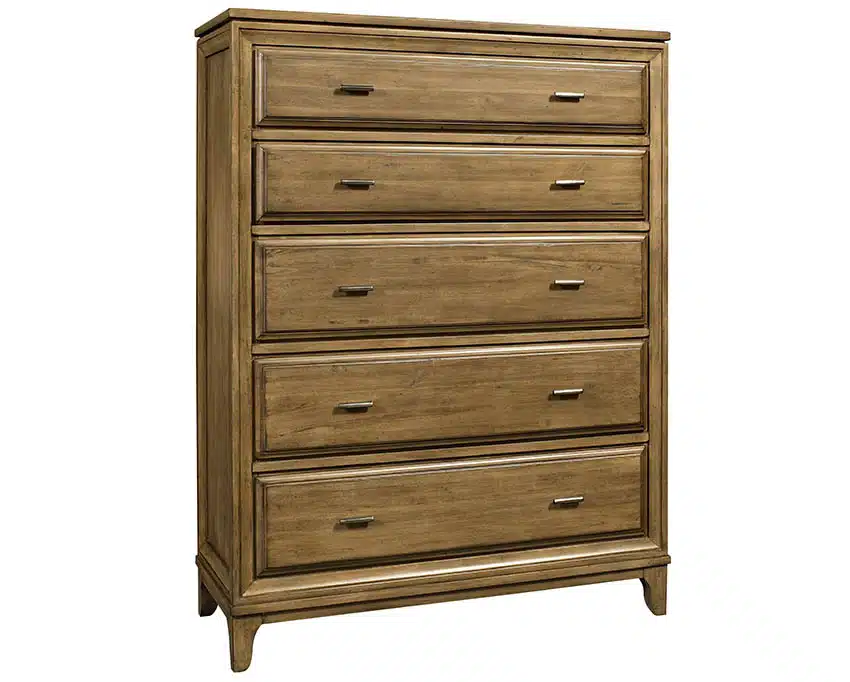 A vertical dresser is narrower and higher compared to your horizontal dresser with one to two rows of drawers. The vertical dresser, though lower than your vertical chest, comes with the typical hutched mirror.
Double Dressers
With two rows of wide drawers, a double dresser is great for a couple of bedrooms. Since they have a wide profile, the double dresser is among the best types of bedroom furniture for medium to large spaces to accommodate its size.
Some couples choose to share one large double dresser when their bedroom layout does not allow two separate pieces, providing ample space for storing blankets, quilts, and throws alongside their clothes.
Combination Dressers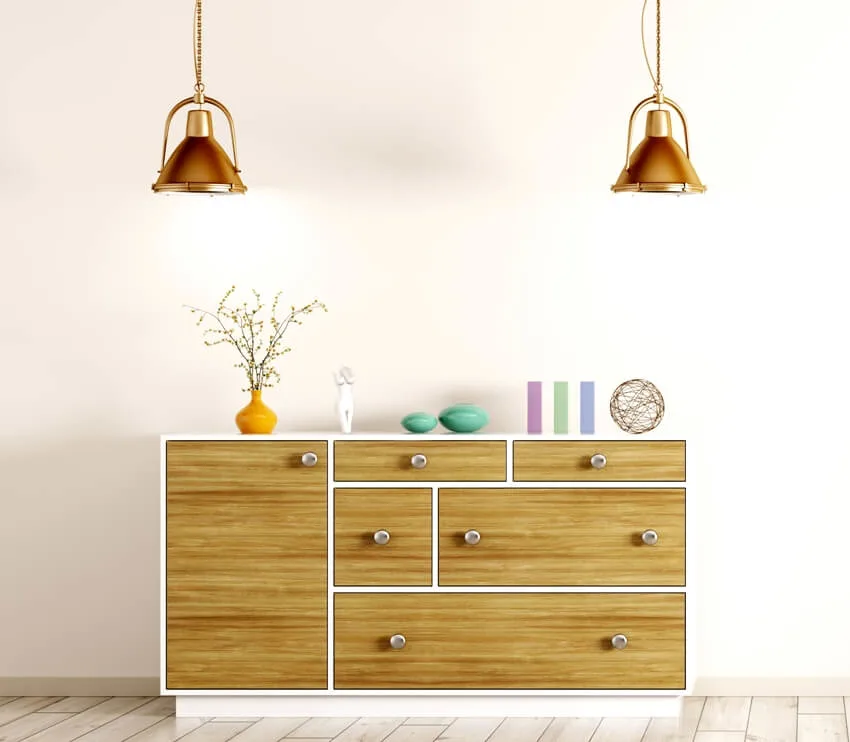 Similar to your standard dresser, a combination dresser will have drawers in one or two rows, but the difference is that the drawers will have varying sizes and sometimes will include shelves.
The different sizes and open shelving is useful for storing bulky items such as bags, hats, or scarves that are easily accessed without opening drawers.
Chests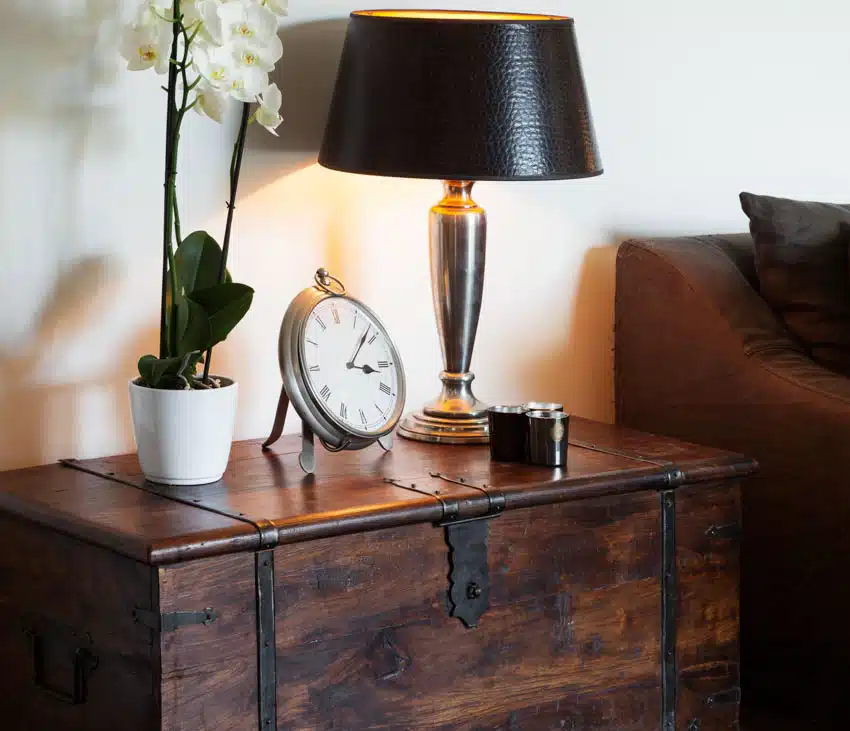 To differentiate a chest and a dresser, chests usually are taller and narrower than a dresser. A chest of drawers tends to be tall and narrower, while dressers generally are shorter and wider.
Dressers are also more defined storage options for clothes, linens, etc. So, when a corner chest of drawers can be used to store anything in a bedroom, living room, or office, dressers with mirrors are more suitable for large.
Chest of Drawers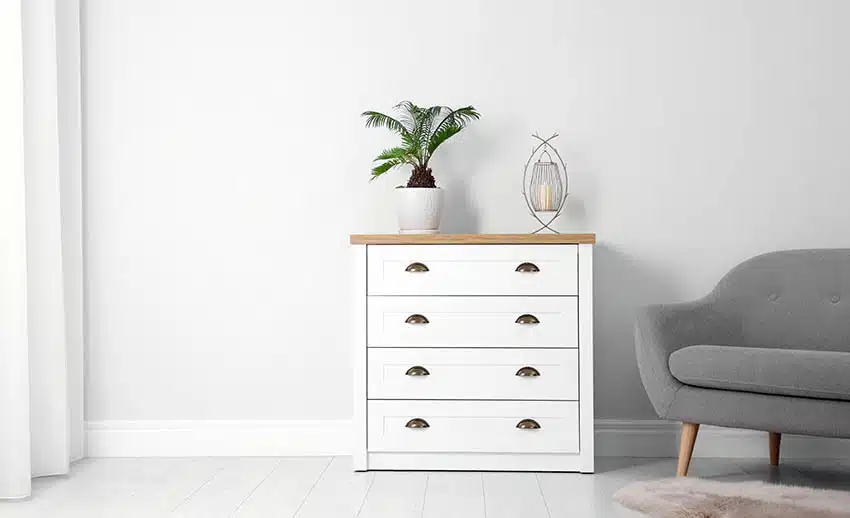 A chest of drawers also termed a bureau, where drawers are stacked in rows. Usually interchanged with a dresser, chests generally are taller and thinner than a dresser.
This is among the types of bedroom furniture that are great for smaller bedrooms as the slim and tall profile will not accommodate many footprints but instead uses vertical space.
Clothing and other essential bedroom items are conveniently stored in the chest of drawers and are usually placed beside or near the bed area. They can also be used for storage for cozy blankets or quilts to complement the bedroom set.

Vertical Chest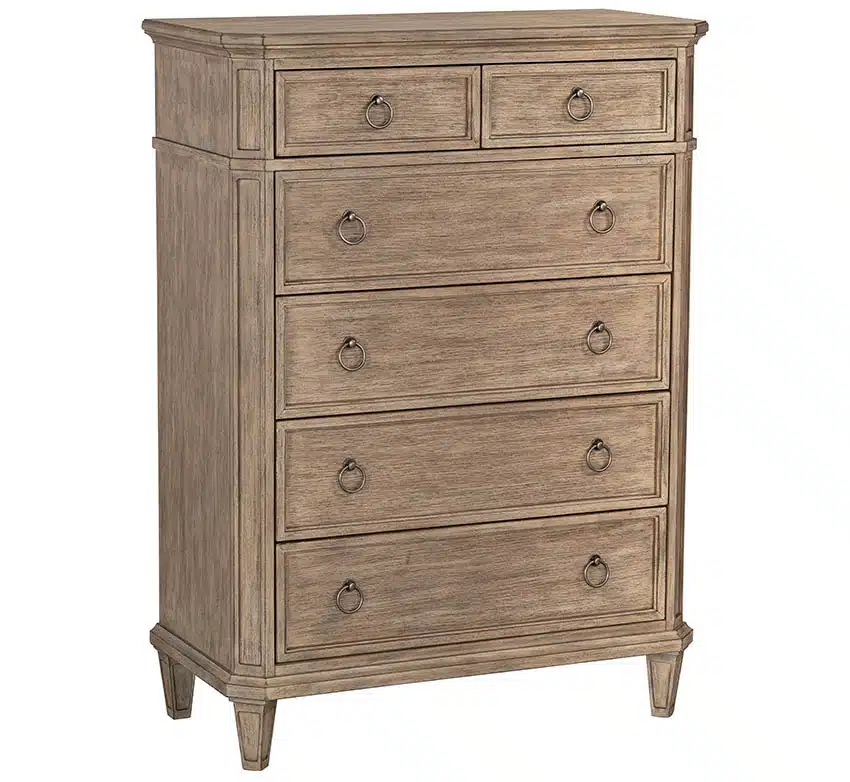 Like most chest furniture, the vertical chest is narrow and tall, with stacks of drawers of different heights that are ideal for placing clothing and other items. This makes vertical chest space-saving storage furniture for small bedrooms.
The typical height of vertical chests is from 44 to 55 inches. The shoulder-high chest will have a usual width of 30 to 39 inches width.
Bachelors Chest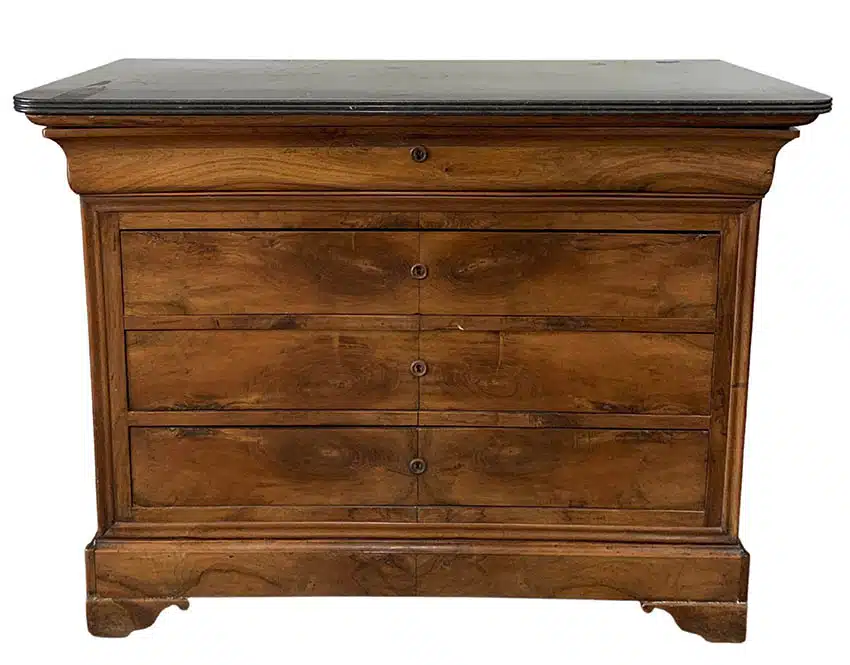 Distinguished from your gentleman's chest with its narrower width, the bachelor's chest is intended for a person who doesn't need much clothing storage. Compared to your typical chest of drawers, the bachelor's chest is smaller and larger than a nightstand. You'll usually find 3 to 4 drawers with no cabinet for hanging clothes.
Traditionally, bachelor's chests were modeled in Georgian furniture with a foldable top that could be used as a writing table. Due to their smaller size, bachelor's chest today is used in bedrooms, and modern designs can be a piece of storage furniture for other functional rooms such as the home office and living room. Bachelor's chest can also double as a nightstand or an end table.
Gentleman's Chest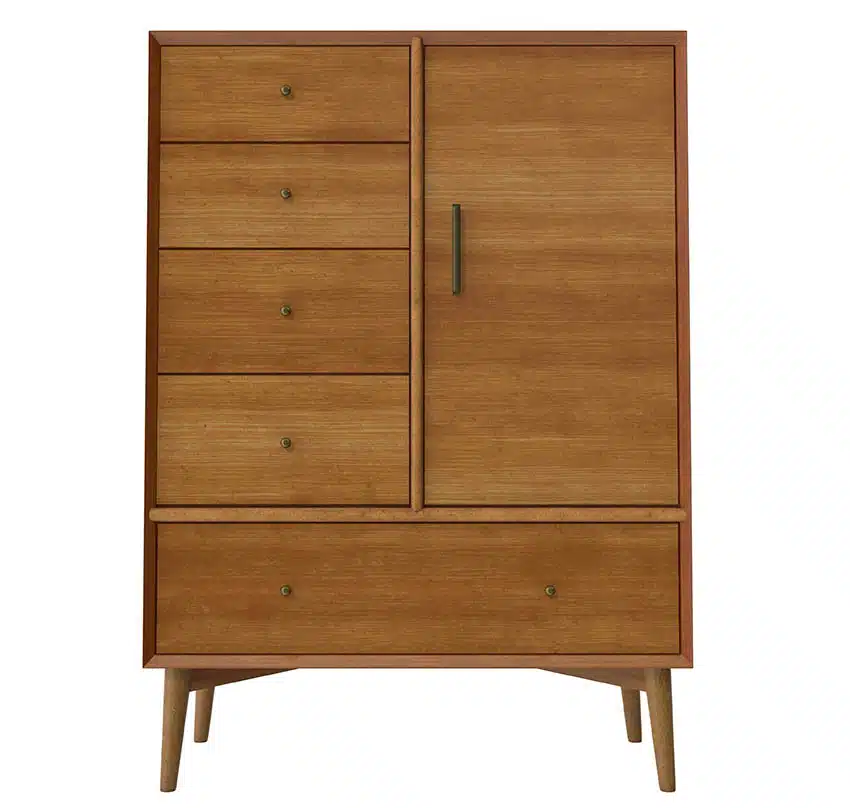 A gentleman's chest is wider than a bachelor's chest, with the typical row of drawers and a large cabinet for hanging clothes.
The combination of drawers and a hanging cabinet is brought about by the first gentleman's chest that was used in the Victorian era, where men in those times had more than accessories in their wardrobe, such as hats, gloves, neckties, handkerchiefs, and watches.
Lingerie Chest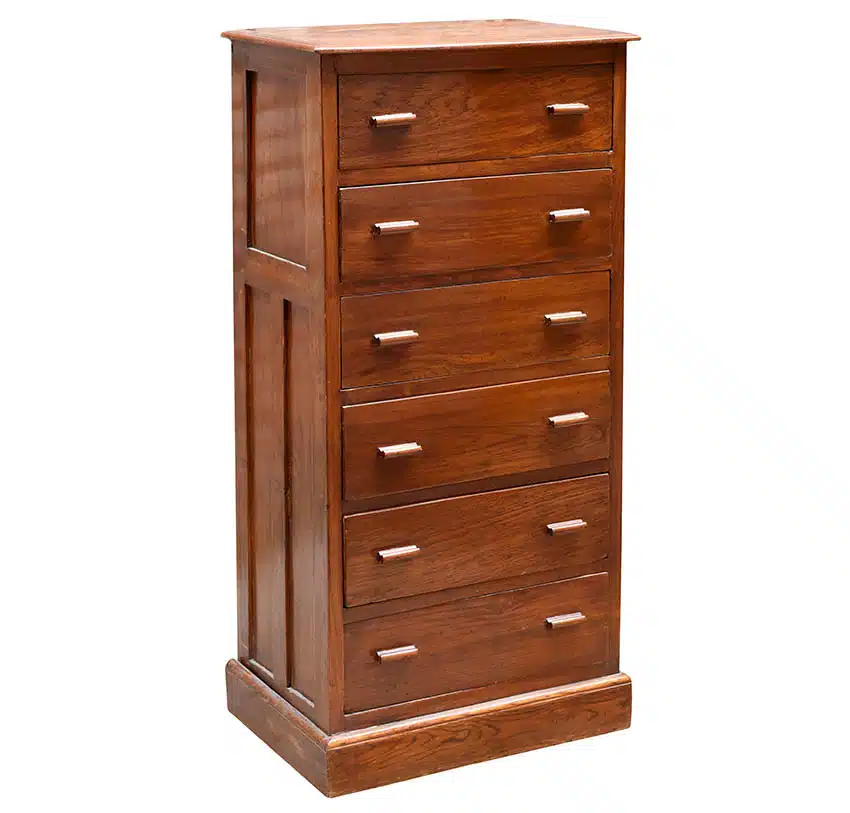 As the name implies, a lingerie chest is intended for storing underwear. Due to its narrow width, usually having a single row of 5 or more stacked drawers, it can be positioned in a corner or any other smaller space.
Today, a modern lingerie chest is among the types of bedroom furniture that are also used to store smaller items, such as bedding, jewelry, and toys.
Nightstands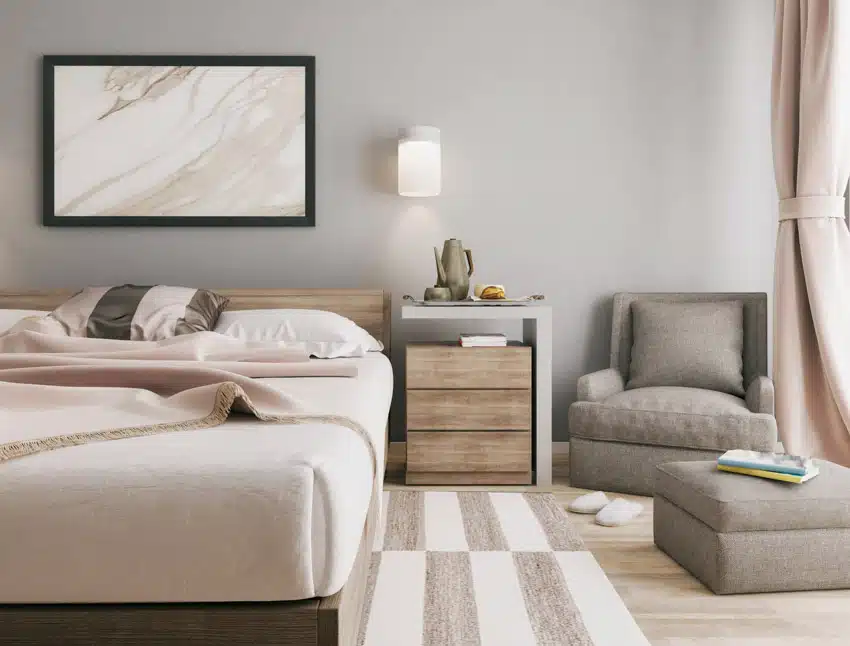 A nightstand is among the types of bedroom furniture that is used to store items in its drawers and has a top platform where items can be placed or taken from when in bed. A side lamp and alarm clock are the typical items placed on a nightstand.
Modern types of nightstands will usually have a built-in charging station with a circuit outlet or USB port so that mobile phones can be charged. Thus, nightstands are placed beside the bed where the head is positioned.
The couple's beds will have nightstands on each side. Nightstands are not only functional but create a complete look for the bed set. When choosing a nightstand, its top should be around 2 to 4 inches above the mattress. This way, it is easier to grab items even in a laying position.
Typically, a nightstand has a length of 29 inches, 21 inches in width, and 28 inches in height. Also called a night table, day stand, or bedside cabinet. Modern versions of nightstands will have one or occasionally more drawers and a small door.
Smart or hi-tech types of nightstands are becoming popular, which come with outlets and wireless charging pads, enhancing the overall user experience. Other built-in electronic devices, such as Bluetooth speakers, are useful for playing relaxing music.
Lighting and motion-activated machines can also be integrated, where an application can simulate the light and noise of a sunrise. Nightstands also have multi-levels that separate items, such as placing a cup of coffee or drinks and not worrying about slipping into your books or décor.
One of the most popular options today is the floating nightstands. These are great for providing a cleaner and more modern look in a contemporary bedroom. Floating nightstands are usually built-in or attached to the wall, which clears the space below the furniture.
In this way, it is easier to clean underneath, or the extra space below can be used to place additional storage hampers. Although installing a floating nightstand can be more challenging to install, it's worth an investment if you want to maximize your bedroom space. Geometric-shaped designs such as cubes or boxes are also trending nightstand design options.
Wardrobes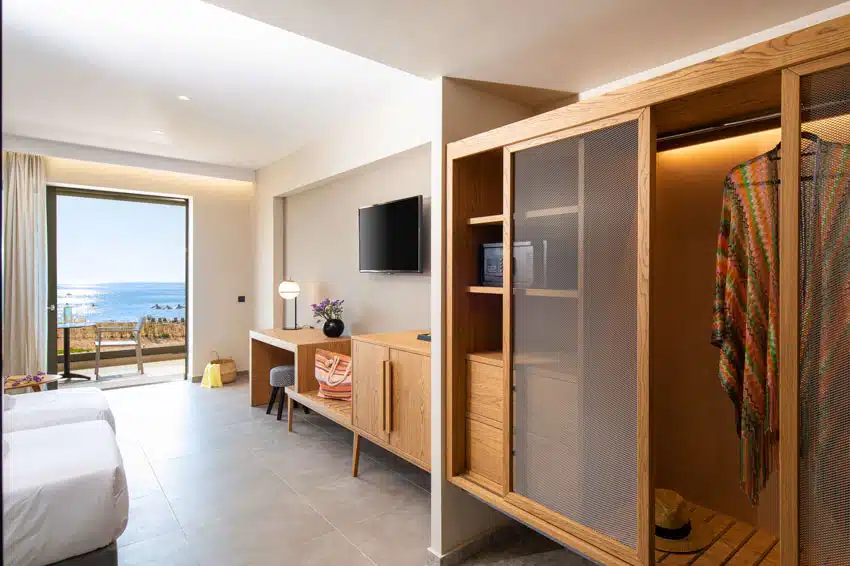 The built-in version of a wardrobe is called a closet; like the closet, wardrobes are intended for hanging clothes. Therefore, it is tall furniture with a long cabinet where clothes can hang freely without creasing.
Typically, wardrobes not only have long cabinets built in but will include a row of drawers at the topmost part or below, which act as additional storage for small items. Pull-out step-up drawers are also built-in to add height when reaching the topmost part of the wardrobe.
There are also designs that come with a mirror installed on the front or back of the furniture's door. Wardrobes can have either hinged or sliding doors, where sliding doors can save space, especially with wardrobes close to the bed area.
Generally, there are two types of wardrobes a built-in and a standalone. A built-in gives a more contemporary look as the surface can have the same color as the walls concealing the wardrobe and providing a minimalist look. Standalone, meanwhile, provides versatility as it can be moved anywhere in the bedroom when needed and can be chosen for a more personal touch.
Other layouts available are wall-to-wall wardrobe and floor-to-ceiling wardrobe. Wardrobes can be made from solid wood, MDF, laminate, MDF, and plywood. There are wardrobe designs that incorporate transparent or frosted glass to easily see items inside.
• 24″ (Depth): Most wardrobes have 24″ depth, providing ample space where items are easily still accessible. A wardrobe with a depth of 24″ will be hard for items to be reached inside.
• 42″ (Height): A 42″ height for wardrobes is ideal as it hangs clothes at full length.
Armoire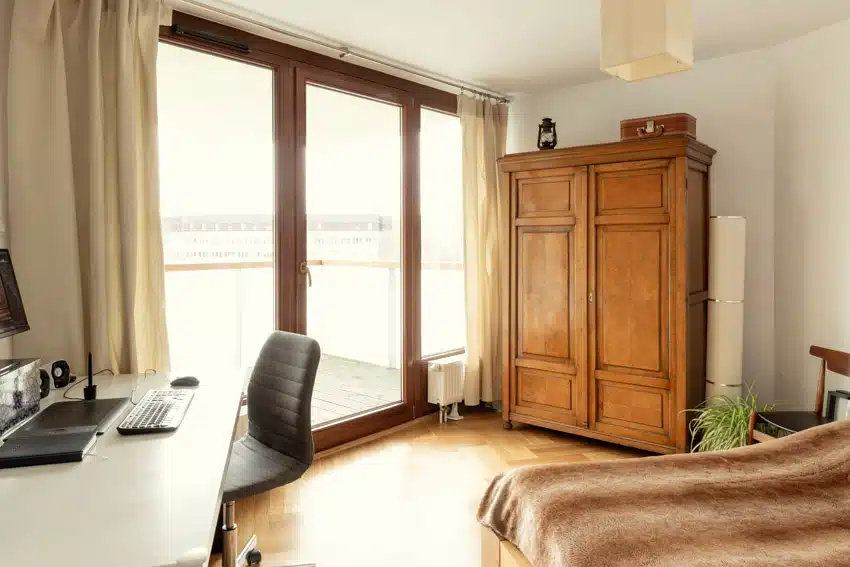 Pronounced ärm-ˈwär and like the wardrobe, the armoire is intended to hang clothes. The difference is that the armoire is typically larger in size with more elaborate designs. Additionally, the armoire, unlike the wardrobe, has fewer if no drawers, which makes the furniture primarily used to hang the wardrobe.
An armoire is typical in walk-in closets where rows of furniture are placed when additional storage is needed or when you want to secure other valuable items. Modern armoire designs will have built-in TV cabinets where doors can conceal or reveal the TV set. The traditional armoire will usually have two doors with hidden shelves and drawers.
A jewelry armoire is a version of an armoire with smaller drawers with or without a hollowed section for hanging clothes. The jewelry armoire can resemble a chifforobes but are thinner in width.
A built-in mirror is also provided that can be folded out when needed or mirrors on the door. Armories can have foldable wings on the sides, whereas necklaces can be hung for easy access.
Armoire usually has the same recommended depth of 24 inches or 61 centimeters for easy access and hanging of clothes, accommodating the standard sizes of hangers.
There are armoires with 20 inches or 51 centimeters in depth for smaller bedrooms. Aside from the bedroom, a repurposed armoire can be used in kitchens or living rooms to display items or collectibles.
Vanities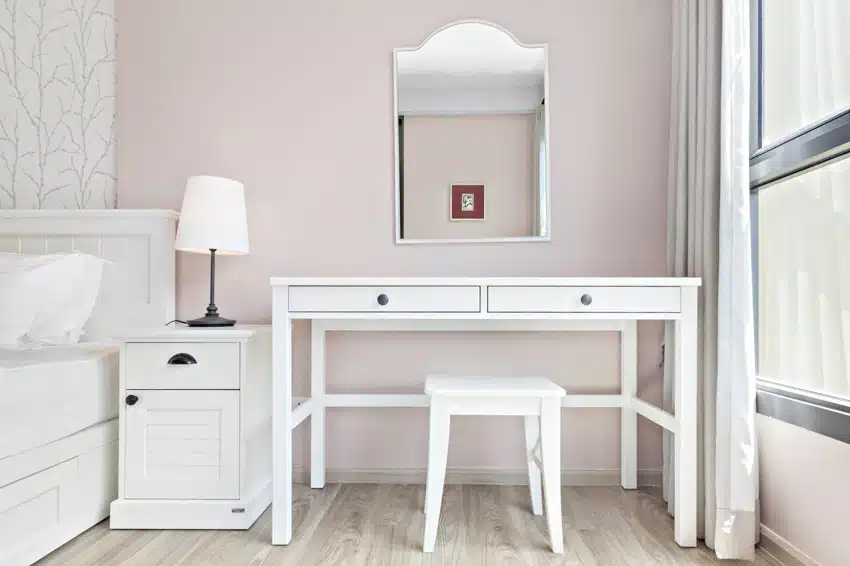 A vanity, also called a vanity unit, is a type of furniture with a counter, built-in types of shelves and drawers, and a mirror. Unlike the traditional bedroom vanity, modern versions no longer have built-in basins.
Although, you'll still find designs that do have a built-in sink that can be useful when you want quick access for washing. Vanities will have drawers or shelves where makeup, bedsheets, and clothing accessories can be stored and easily reached when fixing oneself in front of the mirror.
Vanities can be bought as a set or unit complete with a mirror, counter or table with shelves, and stool. There are many designs to choose from to accommodate preferences. Drawers, for instance, can come with hidden compartments or stools with a backrest.
Makeup Vanity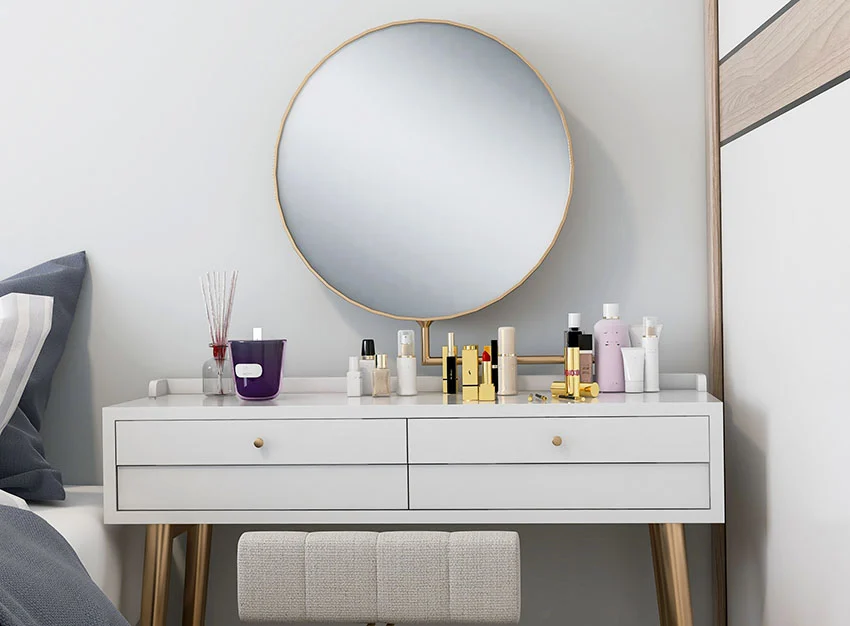 Often called a lowboy in America, the makeup vanity, as the term implies, is a type of furniture used to apply one's makeup. The standard makeup vanity will need a mirror, a table, and a few drawers or shelves below.
There are only a few drawers below, as space is needed for the legs to go through when sitting down in front of the makeup vanity.
Lighting around the mirror can also be an option, as light is much needed when applying makeup or fixing hair. There are also makeup vanities that include caster wheels on their legs so they can be a mobile furniture around the bedside.
Corner Vanity
To utilize space, a corner vanity is a great option. The corner vanity will have your typical built-in drawers, a platform or table, a mounted mirror, and a stool. Like most types of vanities, a corner vanity can be purchased as a set complete with a stool; there are also corner vanities where the mirror is purchased separately.
Corner vanities are useful in maximizing space as it utilizes the corner area, which is the least part of a bedroom to be occupied. The corner vanity can be installed floating or have a standalone cabinet. Corner vanities can also extend upward and a long mirror or folded.
Vanity Desk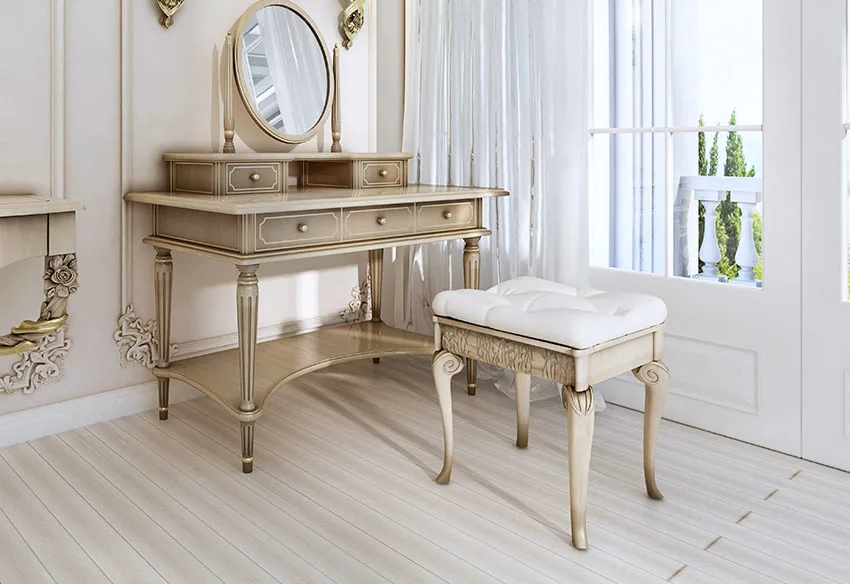 As the term suggests, a vanity desk or table is primarily used to do makeup and place and store beauty products. Most vanity desks will have a side or both sides, with drawers easily accessible below the desk.
The small drawers or shelves can store makeup, toiletries, and other personal items needed. A vanity desk typically comes with a mirror and a stool or chair. Vanity desks are a type of bedroom furniture used not only as a beauty station but can also double as a study or crafting area.
Ottomans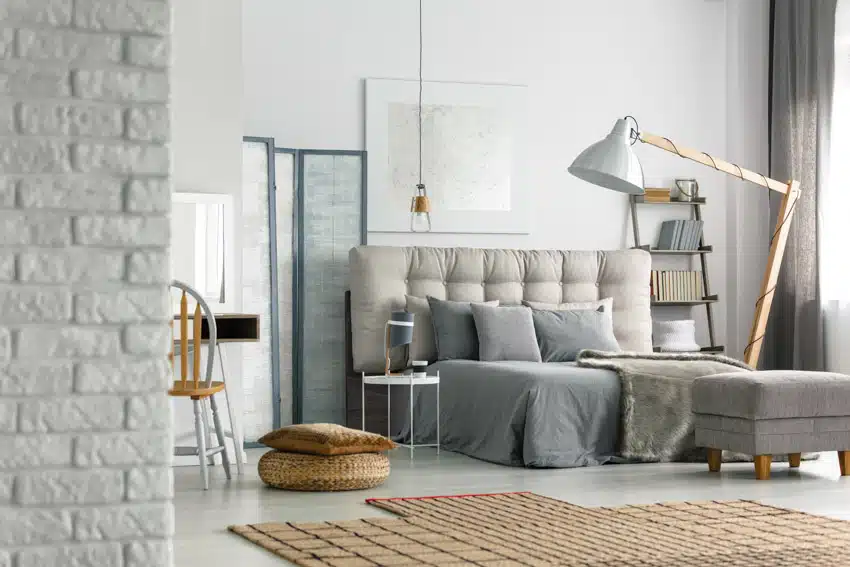 This is among the types of bedroom furniture that have no back or arms and is usually upholstered or has a cushioned seat. The ottoman is generally used as a stool or sometimes as a footstool or table.
Ottomans can also come with a lid or seat covering that can be popped open to reveal a hollow inside where items can be placed and stored. Ottomans can be purchased separately or come with a complete set of sofa furniture, including gliders or armchairs. Other terms associated with ottoman include footstool, pouf, or tuffet.
The average height of ottoman furniture ranges from 13 inches to 20 inches (33 to 51 centimeters). Today, square and round ottomans are still popular as they can be versatile to integrate into contemporary homes.
There are also rectangular ottomans that can accommodate a two-person bed or an end stool. Sleeper ottomans are also available, which can be unfolded and converted into a bed.
A tufted ottoman is a traditional type of ottoman that is popular for transitional and traditional bedrooms. The tufted furniture is created by having buttons laid in a grid pattern that pushes the fabric down, creating small intervals. The tufted surface creates a dynamic look and enhances the luxurious appearance of velvet and leather.
The Ottoman glider is a modern type of ottoman with built-in caster wheels. The wheels make it convenient to move around while sitting on an ottoman chair. There are ottomans that combine the features of a storage compartment and the wheels, which makes it easier to move the ottoman furniture even with the added weight from the stored items.
If you plan to have an ottoman to double as a table as well, the cocktail ottoman is the perfect option, as the flat surface is sturdy enough to hold items such as cups or trays. Many fancy cocktail ottomans can add a luxurious look to your bedroom interiors, such as skirting like a waterfall or fringe.
Benches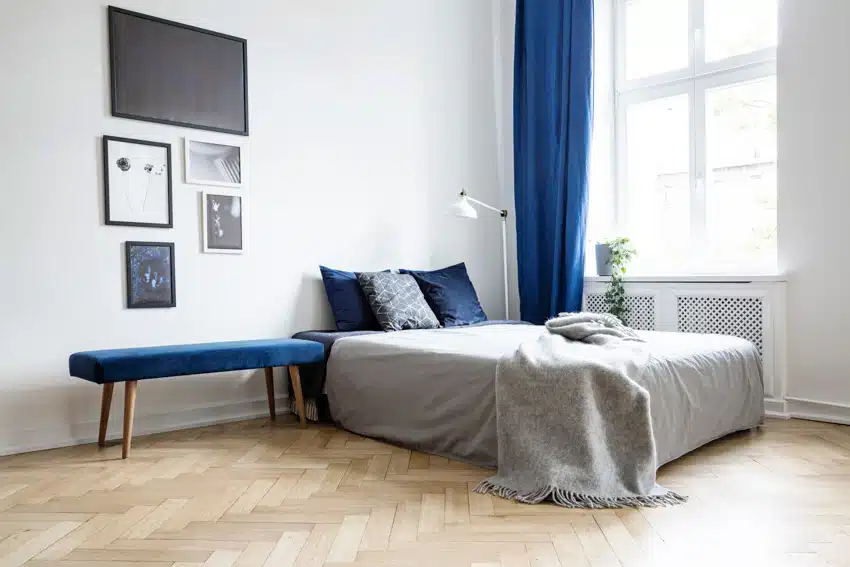 A bench is a long piece of furniture typically placed at the edge of the bed, which acts as a seating area or footstool. Benches will have a long profile with a usual height of 18″ to 20″.
Benches also make a good storage area for making a bedroom set look complete and adding volume. Benches that are large enough usually can serve as a storage chest where items can be stashed away, such as different types of linen fabric, socks, or books.
Plain benches without any drawers or hollow space inside which can make moving the bench around the bedroom much easier. From a simple wicker material to black leather surfaces with acrylic legs, there is a plethora of designs to choose from that can match any bedroom theme.
Built-in benches can also accommodate an empty wall or become a beautiful window seating area. They can be placed below a window for curling up with a book, or built around elements such as to cover unsightly radiators.
Other than these, there are numerous types of benches to choose from with different materials and profiles. When choosing benches for the bedroom, be sure to prioritize comfort before choosing which is the best-looking bench.
Mirror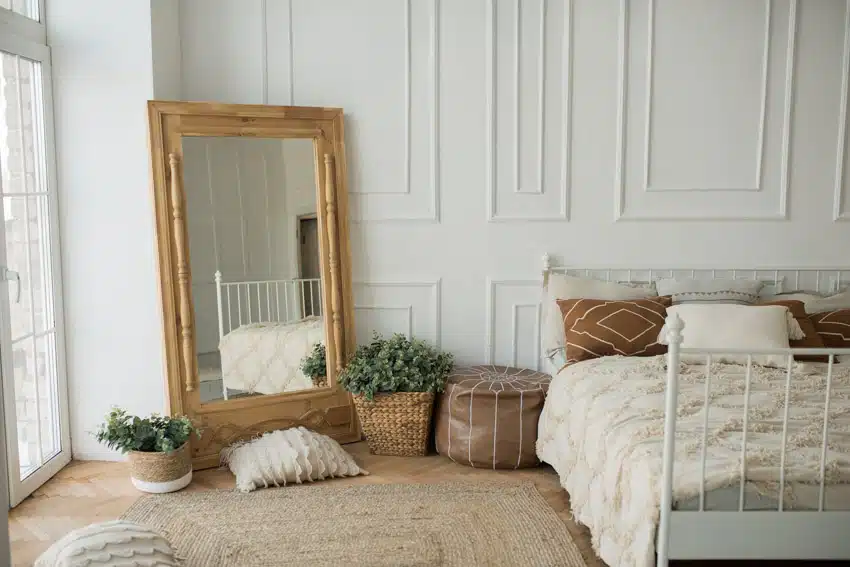 Although not strictly considered furniture and more of an accessory, mirrors are undoubtedly important in a bedroom. Mirrors come in a multitude of sizes, shapes, and designs and are usually made with metal, wood, or PVC (plastic) framing.
Mirrors are essential to be placed in a bedroom as one can conveniently look at oneself when waking up, and they can be installed beside or above a drawer or vanity unit. Mirrors are also known to amplify light and have an illusion of a bigger space as it creates depth and cut off the wall boundary.
There are also built-in mirrors in furniture that can be folded or unfolded whenever needed. Standalone mirrors are also popular, which can be placed and moved around the bedroom.
See more related content in our article about the best bedroom layout ideas on this page.