Here's our ultimate guide to the types of bunk beds including the different designs, styles, materials, details on ladders, rails, dimensions, mattresses, and best bunk bed safety tips.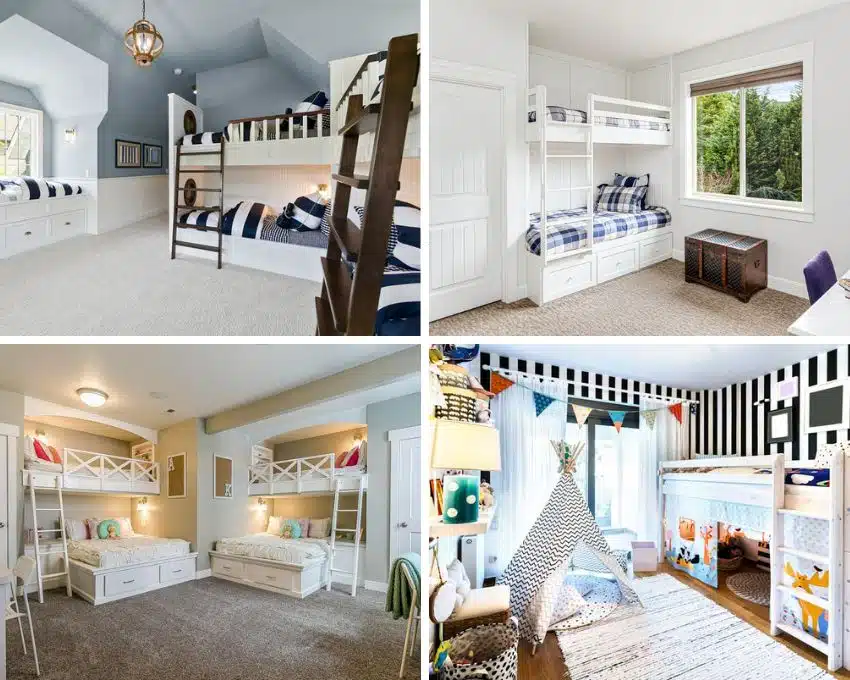 A bunk bed is an excellent piece of furniture ensemble composed of two beds with one on top of the other. This combo helps save space in your room and home since the typical space can accommodate one standard bed but with these, you can fit in two standard beds.
The term "bunk" is popularly used in trains and ships, where the sleeping area has limited space. Soldiers became the first users of bunks, allowing more people to sleep in a single room. And as time goes by, bunks became an element of the home, from uncomfortable beds for soldiers to trendy, fun, and space-saving beds for children.
These beds have also evolved in time, coming in different designs, styles, and colors. With more options at hand though, choosing gets more overwhelming. If you want help to have less stress in the process, explore the options you have and compare them with your needs and priorities.
And with options, there are three categories of bunks to check out, including the designs, styles, and materials they are made of. By breaking down the different bunk beds based on these factors, you will have a clearer vision of the options you can consider.
Quicklook: Different Design Types of Bunk Beds
• Standard Twin
• Twin Over Full Bunk
• Full Over Full Bunk
• Triple Bunk
• Bunk With Desk
• Bunk With Slide
• Bunk With Stairs
• Bunk With Trundle
• Futon Bunk
• Built-In Bunk
• Loft Style
• Corner/L-Shaped
• Bunk With Storage
• Low-Profile
• Bunk Couch
• Toddler Bunk
• Murphy Bunk
• Adult Bunk
• Treehouse
• Playhouse
• Convertible Bunk
• Custom Bunk
Bunk Bed Designs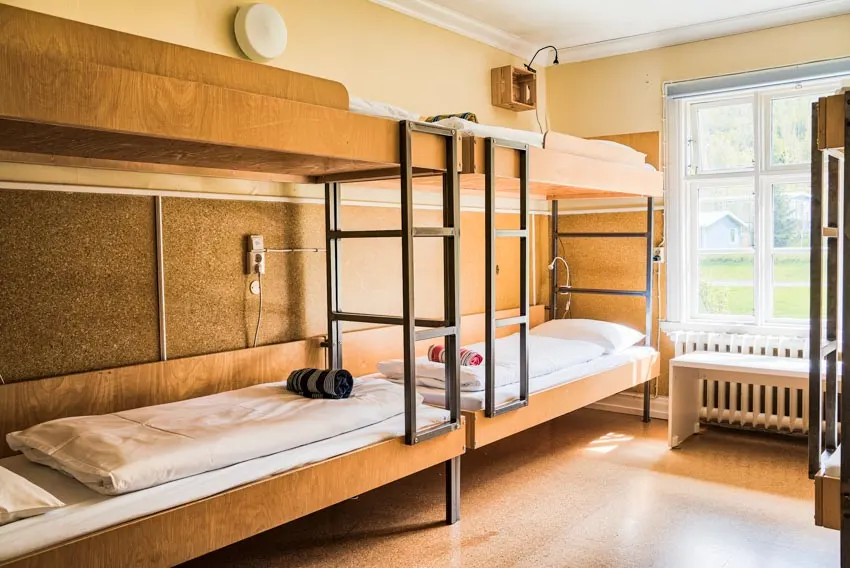 Bunk bed designs are focused on the functionality of the piece of furniture. And even if the main purpose of bunks is to provide a sleeping space, many types of bunk beds are designed differently and so can have varied characteristics and features you can benefit from.
How a bunk is designed can be considered the most important factor to consider, since it will decide the effectiveness and convenience of using this furniture.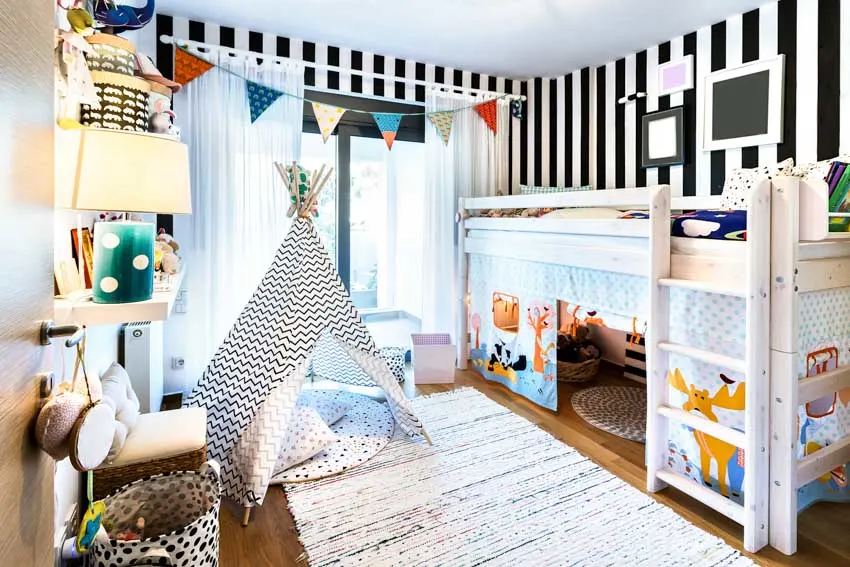 From a more space-saving option to a more practical design integrated with elements that make them more convenient, you have many choices to check out. To serve as a guide and help you along the way, here are some bunk designs you can explore and compare to each other.
Standard Twin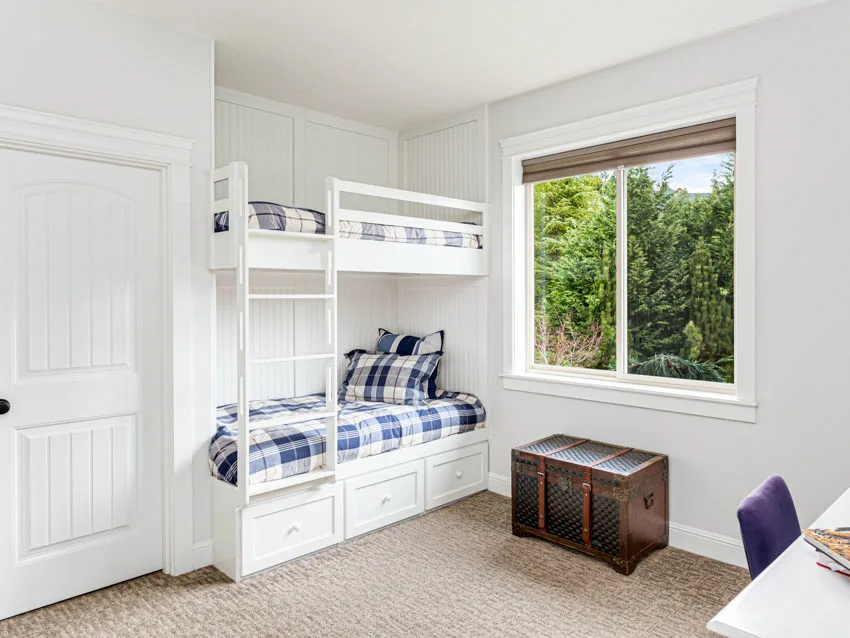 The standard twin bunk is the most basic design for a bunk, where two beds are offered as a package and placed one on top of another. They usually come in two twin beds, balancing each other since both beds are of the same size. Many designs for twin bunks are structured in a way that the two beds can still be separated and individually used.
This bunk bed with twin over twin combo is considered a simple and small option, as well as one of the most affordable. This standard bunk usually has guard rails on the upper bunk so that the person on top will not fall off. A ladder is also normally set to make it easy to climb to the upper bunk.
One of the things kids like so much about bunk beds is climbing the ladder . It must be built to last and be able to endure lots of abuse. – Arts & Crafts Woodworking Projects: 11 New Designs in the Stickley Tradition, Robert E. Belke
With the limited bed size, the standard twin bunk is usually associated with children. But there are other standard twin bunks built to be wider to be able to accommodate adults. This is the reason why it's vital to know the dimensions of the bunk beds to decide if it is a good option for you or not.
Twin Over Full Bunk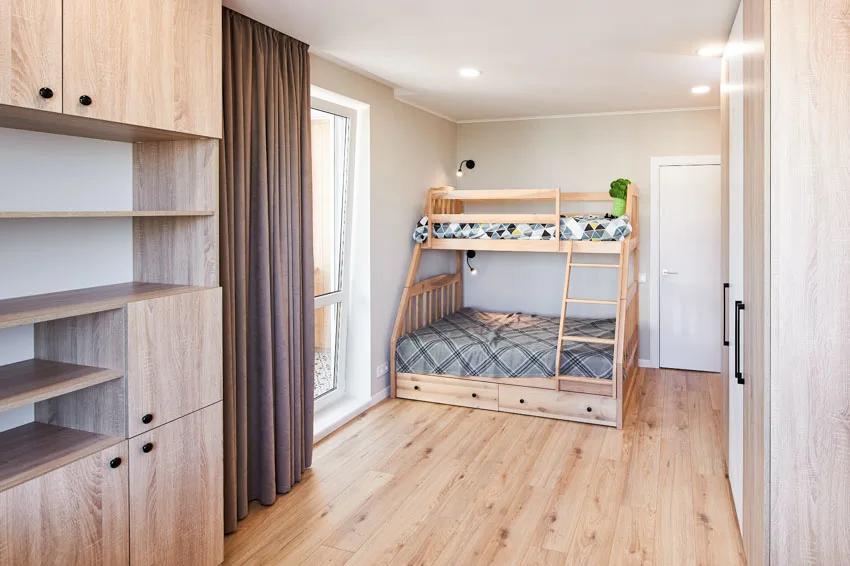 A twin over full bunk bed is a type of standard bunk that features a twin-size bed on the upper bunk and a wider full bed on the lower bunk. The difference in sizes works excellently if you have significant children with age gaps, so one child may be way bigger than the next child.
Twin over full bunk also has a trendy and chic look that makes it more aesthetically pleasing than the standard twin-on-twin bunk. This type of bunk bed is considered less common compared to the other types.
Full Over Full Bunk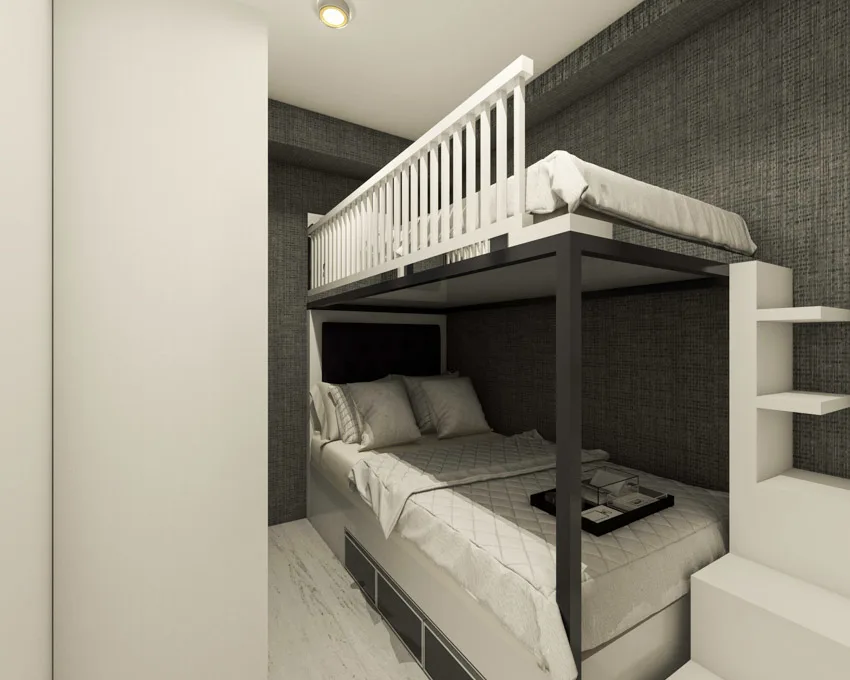 A full over full bunk bed features two full beds structured in the upper and lower bunks. Compared to the standard bunk, this bed can easily accommodate adults and not just children.
The size makes it a good option for those in need of functional guest room essentials because of its space-saving appeal and convenience, maximizing the floor and sleeping space in your guest room.
When choosing full over full bunks, make sure to take into account the weight limit of the bunks, head clearance for the sleepers in the bunks, and flexibility, as well as other functions you can enjoy (like transforming the bunk into one large bed).
Triple Bunk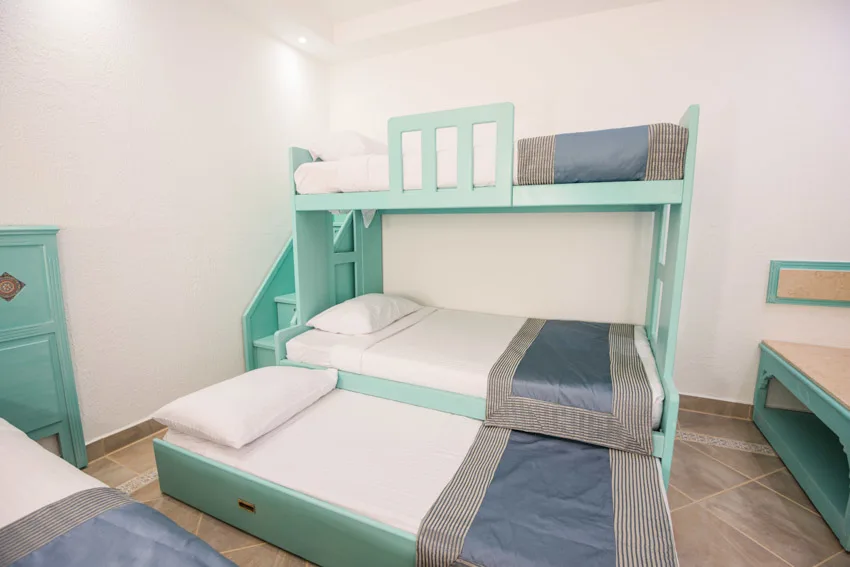 The triple bunk bed, just as its name suggests, features three sleeping spaces which means that it can accommodate more people compared to the standard bunk. This option is commonly used in dormitories and hostels.
With more sleeping spaces though, some conditions need to be met for it to work. First, the room needs to have a ceiling high enough to accommodate three bunks. And yes, this means that the person on the uppermost bunk should be able to comfortably sit on the bed.
Second, make sure that the bunk is strong enough to carry the weight of three people. Most triple bunks are made from hardwood because the material is sturdy enough to carry the weight allowance.
With triple bunks, the usual arrangement and setup consist of a twin bed on the uppermost bunk, a full bed on the middle bunk, and a queen bed on the lowest bunk. Of course, there are other triple bunks with different variations of the layers and beds on the different decks.
And finally, with three bunks to consider, they usually have two ladders for the middle and upper bunks. Some may only have one that can be used in both bunks.
Bunk With Desk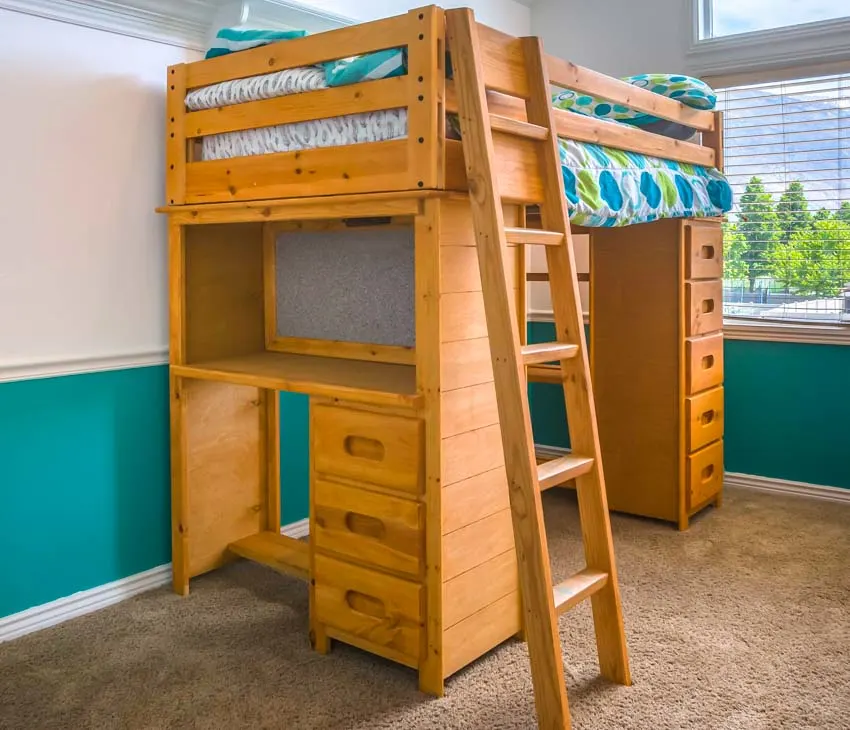 One of the trendiest designs created with bunk beds involves a desk. Also known as the study bunk, the is among the types of furniture styles that feature what's aesthetically similar to a standard loft where the bed will be on the upper bunk and the lower level will showcase a desk.
This piece of furniture is a two-in-one ensemble of a bed and a desk, saving space by using single floor space for two different functions.
Perfect for school dormitories, this bunk option will be great for your child's room since he will have more privacy and peace while studying. Some versions of this bunk with a desk even feature a built-in shelf for books and other similar important materials for studying.
Bunk With Slide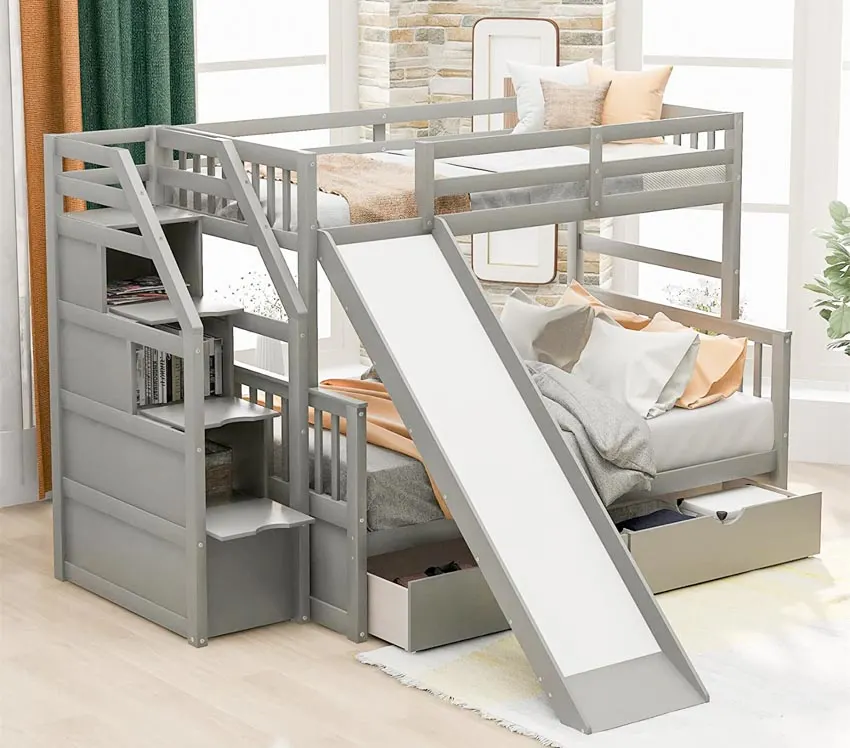 See this bunk bed with slide at Amazon [sponsored link]
If you're looking for something fun to integrate into your children's bedroom, you can go for a bunk bed with a slide. You get a room where the kids can relax yet at the same time have fun when they feel up to it. And yes, you don't even need to be in a playground just to have your children play on a slide!
The good thing when considering a bunk with a slide is that it does not take up additional space. Bunks are originally designed to save space and to install a slide that can take up too much space is counterintuitive.
But this is not the case since the slide will just be installed where the stairs would usually be, taking up the same amount of space. You also won't have to worry about climbing up and down the upper bunk since you can do it using the slide.
Bunk With Stairs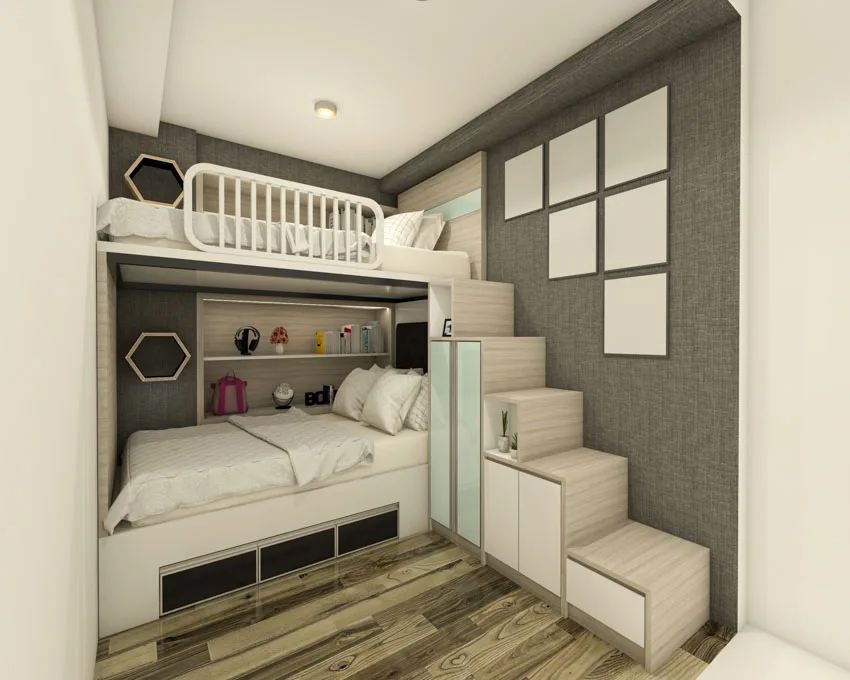 If you're not that keen on a slide to be paired with your bunk bed and you feel like a ladder is just too boring, you can always go for stairs instead. A bunk with stairs, while less fun when compared to a slide, is more convenient to be used and aesthetically trendy to look at.
The stairs will require more room to be installed compared to a ladder but they are significantly more stylish and safe to use. One great design of a bunk bed with stairs is the specific piece of furniture where each step is used for storage. This gives a whole new meaning to multi-functional!
Bunk With Trundle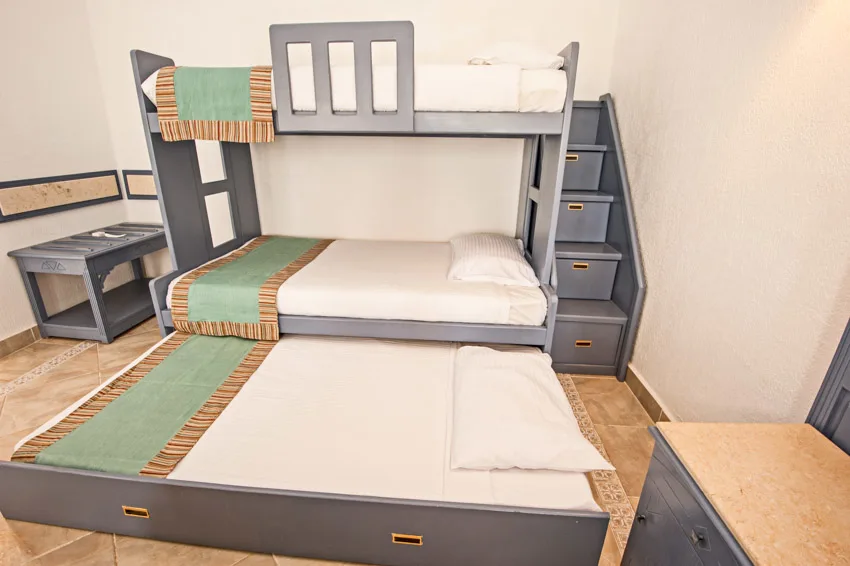 Another innovative version of a bunk bed is that which comes with a trundle bed. This ensemble features a standard bunk and an additional trundle bed, which means that it can accommodate three persons.
A trundle bed is an easy slide-in bunk that you can pull out whenever you want to use it and push in (underneath the frame of the bunk) when not in use. Trundle beds also come in a variety of designs.
Some are structured to be used as a comfortable seat and then turn into a bed when the situation calls for it. And in some models, the trundle bed is like a secret feature of the bunk that's invisible when not needed.
Futon Bunk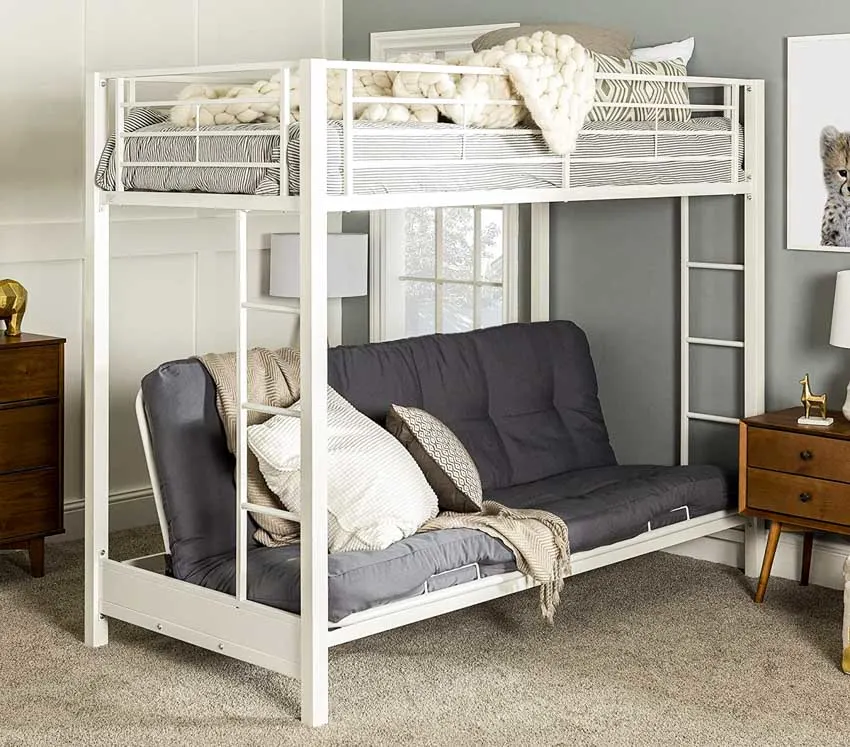 See this futon with bunk bed at Amazon [sponsored link]
While it may be less popular compared to other types of bunk beds, the futon bunk offers a standard upper-level bunk with the lower level featuring a futon. The standard futon bunk has a metal ladder and frames, with a backrest on the lower level, making it possible for the futon to serve as a sofa.
The use of a futon in the lower bunk adds another functionality to this ensemble since you can use the futon as a sofa when spread out and in use. The futon can be an excellent choice for movie and game nights.
A futon bunk is a new innovative idea that's appealing for small and studio apartments. Most of the time, the mattresses are not included in the package when they are bought. This gives you the freedom to choose one of the most comfortable types of futons you can find in the market.
Built-In Bunk
If you're going for something more personalized and customized, built-in bunk beds are the way to go. With built-in bunks, you have control over almost every aspect of the bed, from the materials used to the size and the design you want to incorporate.
Budget, the size of the room, and your imagination are the only factors that can hinder your plans. You don't even have to be limited to 3 persons for the bunk since you can make it to accommodate 6 or even 8 people at a time. In fact, many homeowners are going for built-in bunks, adding their own personality and charm to the piece of furniture.
The best yet at the same time worst thing about built-in beds is that you design everything. It is the best thing if you have knowledge and experience in DIY-ing home constructions and renovations. And it is the worst thing if you are entirely clueless about it. Make sure to ask the help of professionals if this is the case.
Loft Style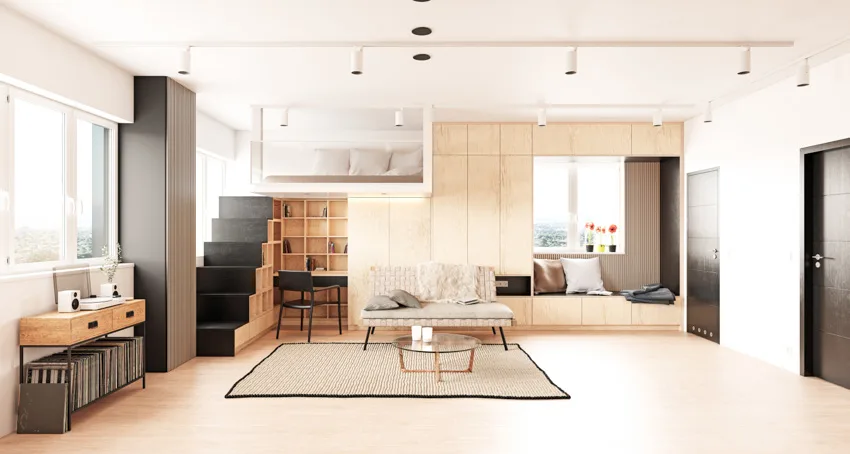 Loft is gaining popularity with homeowners because of how creative the design is when it comes to maximizing the space in the room. It is a good option for your kid wanting to have privacy when studying.
The design starts with a loft bunk that's suspended in the air, clearing and emptying the space below so that you can use it for other purposes. You can use the space for a study area, entertainment area, or even a mini walk-in closet if that's what you want.
One drawback of a loft bunk is that it's only designed for a single person since instead of installing a second bed in the lower back, you're choosing to use the space for a different purpose.
Corner/L-Shaped
See this corner bunk bed at Amazon [sponsored link]
A corner or L-shaped bunk bed refers to a piece of furniture that's been designed to look innovative in its aesthetics and structured to be able to accommodate two persons without the one on the lower bunk feeling claustrophobic.
With a corner or L-shaped bunk, the beds are arranged perpendicularly at a right angle. The requirement though is that you need to have enough space to accommodate this design.
While it's chic and aesthetically pleasing to look at, it is also not the best option if you're prioritizing space-saving since it takes up a lot of floor space. Despite that though, it also means that you have more space you can use for storage.
Corner/L-shaped bunks are categorized as loft beds, considering the extra space below the upper bunk that you can do anything you want to, from the study area to storage units.
Bunk With Storage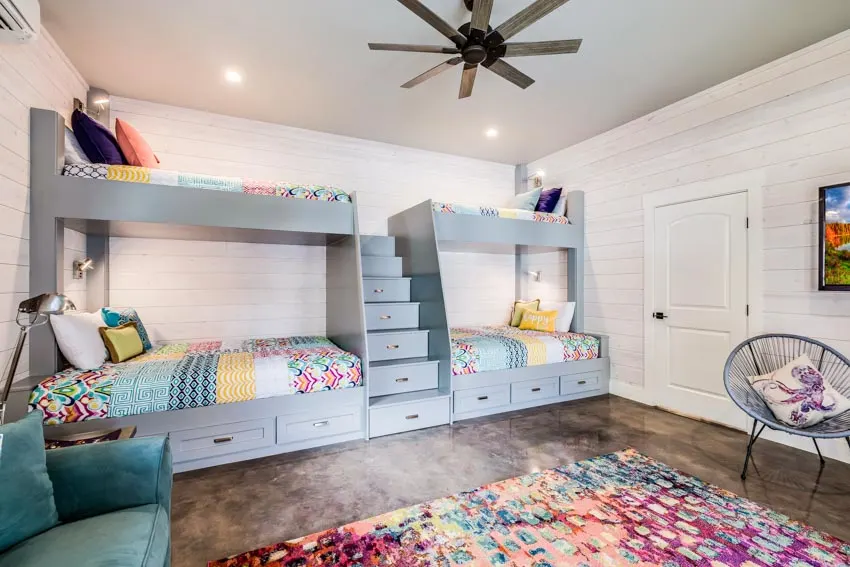 The best thing about bunks with storage is that they are constructed creatively to give way to storage space. The upper and lower bunks can be structured in a way that they are not perfectly parallel with each other to give way to enough space for storage.
In some designs, the second bed is lengthened to the right or left side, allowing the added space to be made into a closet as extra storage. There's also a design where each step on the stairs to help climb to the upper bunk is made into drawers for storage.
So, if you're going for a bunk with storage, you can get as creative as you can to expand and accommodate how much storage space you want.
Low-Profile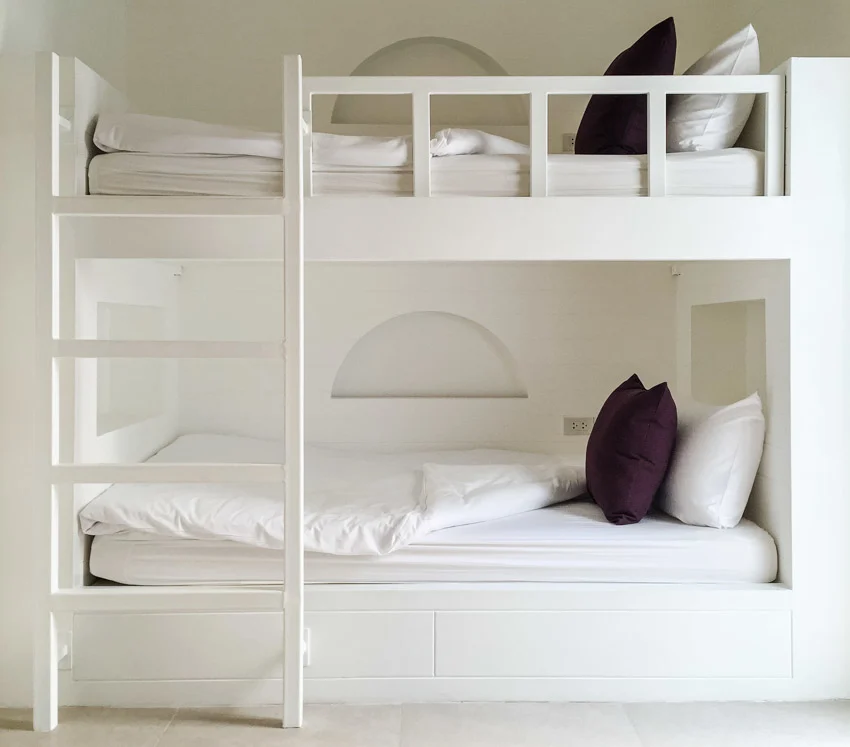 A low-profile bunk bed is designed to be discreet and a bit lower in height compared to standard bunks. This is a good option for a child's bedroom, making the trek to the upper bunk safer since the less height the upper bunk has, falling won't be as scary and dangerous.
This is a good starting point for children and you can just adjust the height and change it as the children grow old. Start with a height of under 60 inches, where the bed just seemed to be raised rather than having a "second story" bed.
Bunk Couch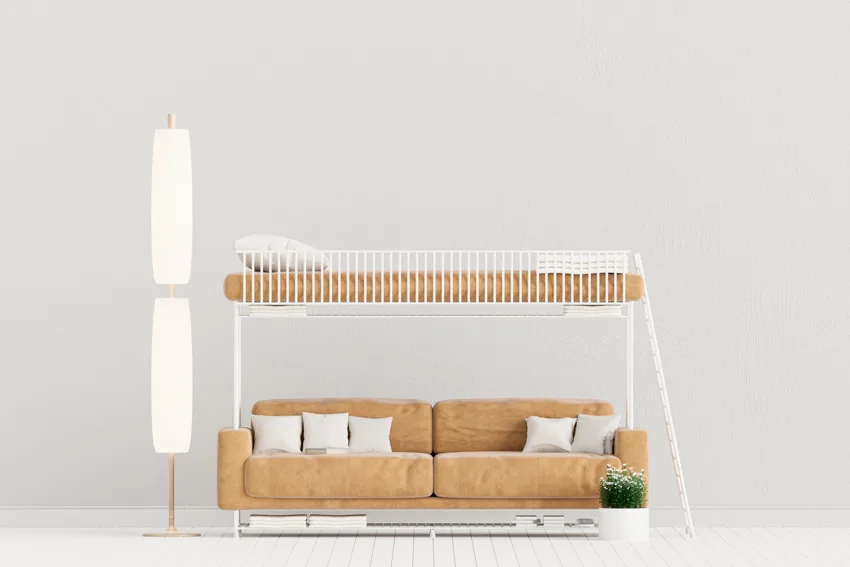 A bunk bed couch features a modern innovative design that may seem futuristic in style. It has a construction of a couch and can be cracked up using a contraption to elevate the top part of the piece of furniture, turning it into a bunk.
Many bunk couches are cramped and usually smaller in size than when you turn them into the version you can sleep on, you will need to bend your knees.
This type of bunk bed can be installed in the living room, where you can turn it into its sleeper mode when you have guests over. It is also ideal for a small or studio apartment, where the space is limited and a small bunk-bed couch can fit excellently.
Toddler Bunk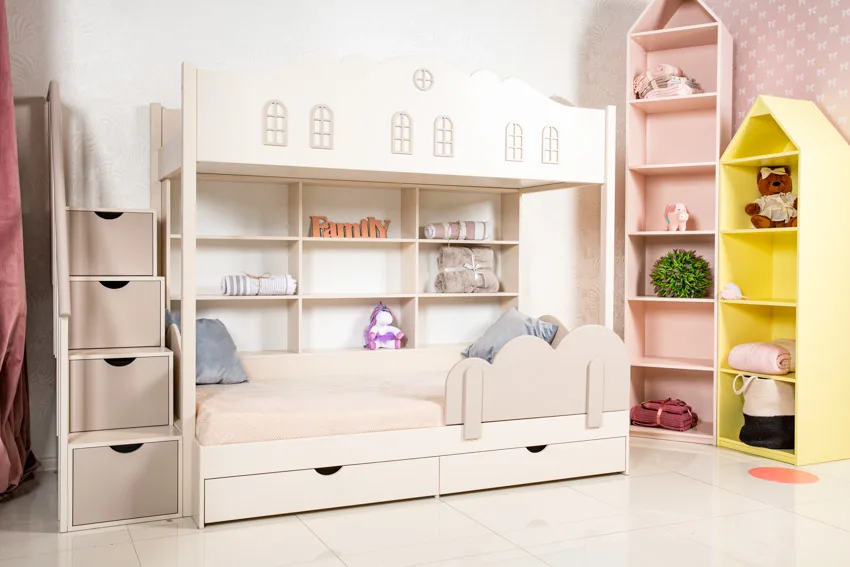 Toddler bunk beds, also known as shorty bunks, are made for young children and toddlers. They are designed to be low and short so that it won't be terrifying to climb the upper bunk, which is around less than 3 feet off the ground. Technically, the children will only climb three steps to reach the upper bunk.
More than just lessening the height of the bunks, stairs or slides are also preferred compared to ladders in order to increase their safety net. This is a great option for twins or for kids who are close in age.
Murphy Bunk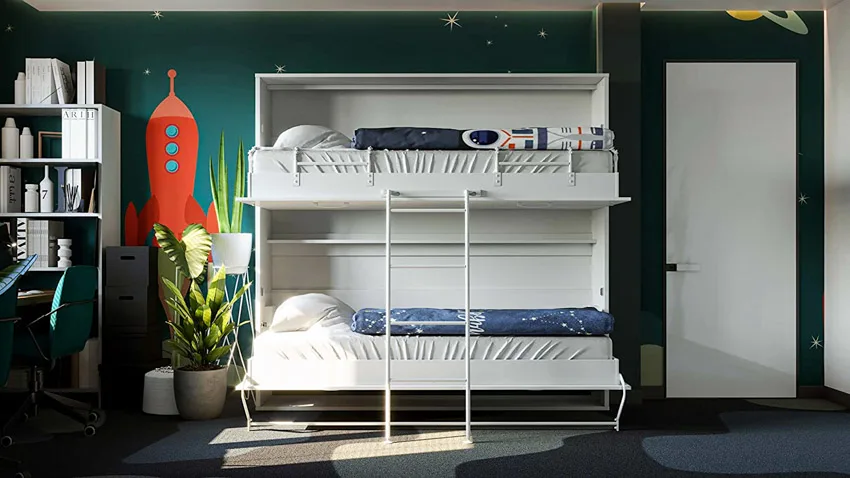 See this murphy bunk bed at Amazon [sponsored link]
A murphy bed is popular for rooms and homes with limited and tight space since you can fold it and hide it in a cabinet and yes, you can actually have murphy bunks to save more space.
Murphy bunks with a built-in ladder can be folded when they are not in use so that you can have this space for another purpose. While they can come in the standard twin bunks, there are also models with full or queen-sized beds. They can be built either horizontally or vertically depending on the manufacturer and designer.
The guard rails for the upper bunk are detachable and can easily be set up when in use. And when you finally open and lower your murphy bunk in place, make sure that you lock it in for a stronger and sturdier base and foundation.
Adult Bunk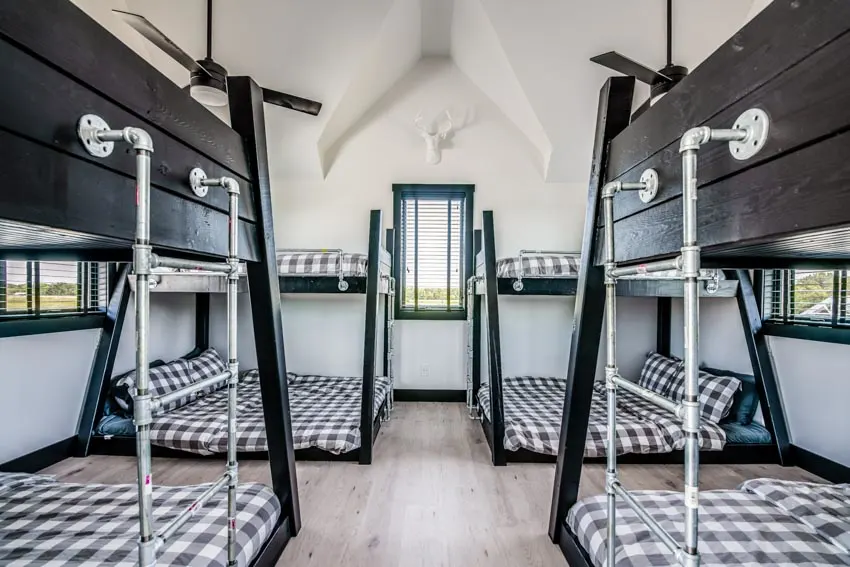 Adult bunks are simply the types that are durable and sturdy to carry the weight of an adult. They usually come with metal or hardwood frames to accommodate the possible heavyweight. Functionality-wise, this is the priority to think about for adult bunks. So they can come in a variety of styles and designs.
Treehouse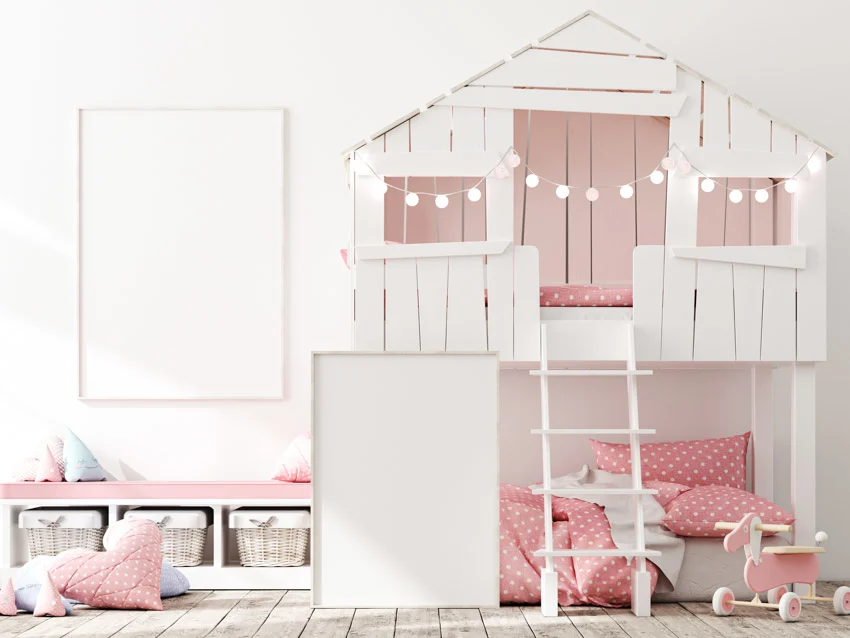 Treehouse is the epitome of a cool hideout for kids and you can set it up so that this element can be found inside the children's bedroom by choosing a treehouse bunk for them to sleep on. The treehouse bunk is achieved by having a very low bunk and the upper bunk designed to look like the top of the tree.
The lower bunk is the sleeping area while the upper bunk is most usually set as the play area complete with closed space and a window for added aesthetics. And most of these bunks are made from wood to make the treehouse feel even more authentic.
This is one of the novelty bunk pieces that you can check out for your children. Some models don't have a mattress installed in the lower bunk, making the entire ensemble a play area rather than a combination of a play area and a sleeping area.
Playhouse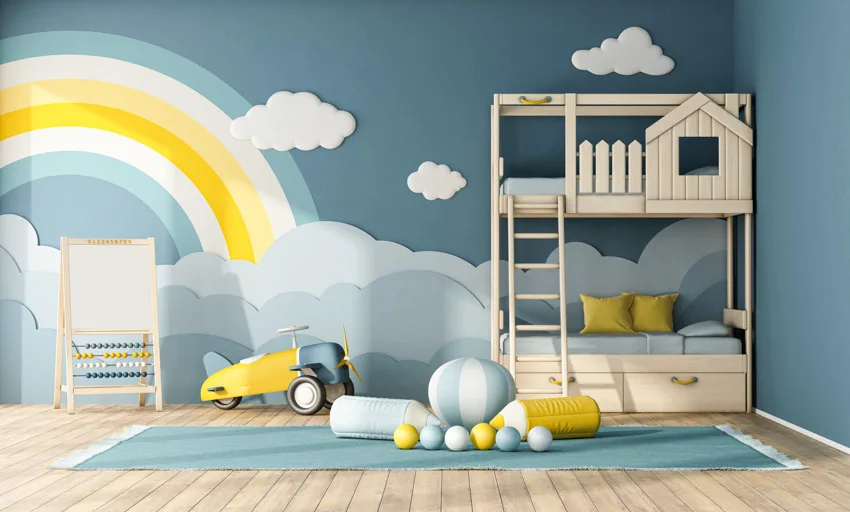 Another novelty bunk bed piece, the playhouse bunk has a whimsical theme that depends on the gender of the child staying in the room and his or her preferences.
While the playhouse may be leaning more on a baby girl, complete with her own pretend castle. You can add elements that can support the theme you've chosen for your child.
You can go for sports if you have a baby boy or you can have a castle and dollhouse for your baby girl. Style these novelty beds with quirky and colorful shapes and images so that they can add aesthetic value to the piece of furniture.
Convertible Bunk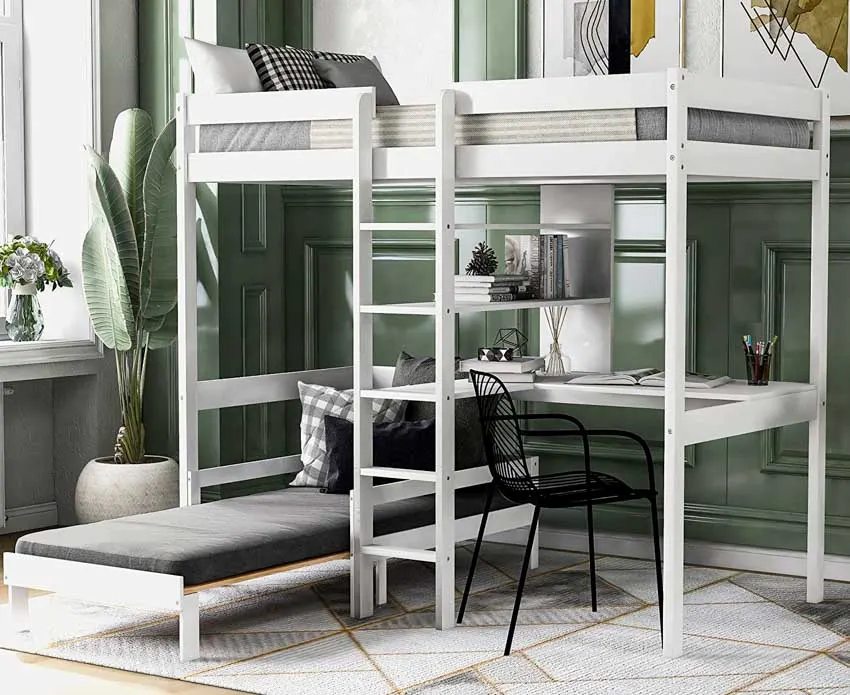 Convertible bunk beds are simply the ones that offer more function than just the usual sleeping area function for bunks. One of the best examples of a convertible bunk is the bunk bed couch. You can use it as a couch and at the same time set it up as a bunk by just popping and elevating the first layer of the couch.
The murphy bunk may also be regarded as convertible seeing as you can fold them and convert them in the model where they can easily be kept in the cabinet when not in use. In the same fashion, you can just assemble them when it's time to sleep.
Custom Bunk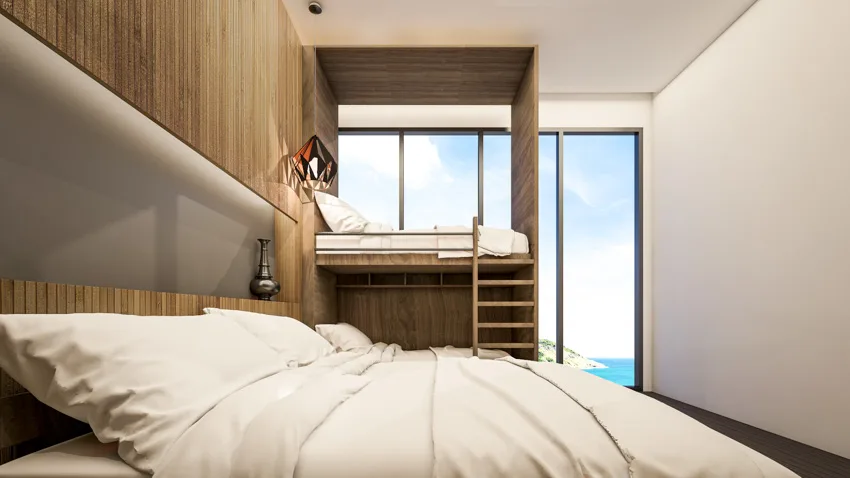 A custom bunk bed simply refers to the ones that are not ready-made. You can either have manufacturers and builders design and make your own bunk for you or you can DIY the entire thing, given that you have the knowledge and tools needed to make this possible.
The best thing about custom bunks is that you have the say in how it looks and how you want them to function. The downside though is that if you don't choose to DIY it, you are bound to spend more than what you would have paid if you either create it yourself or bought a ready-made one.
Bunk Materials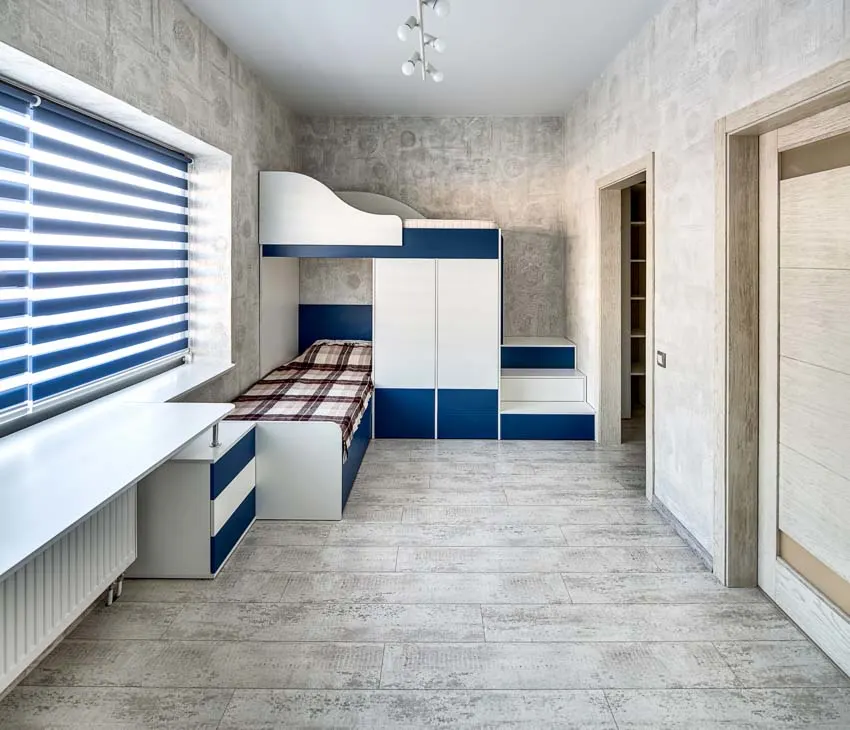 Besides the different designs you can explore when considering bunk beds, the materials they are made of also play a vital role in making sure you don't regret your choice.
The two most common materials used for bunks are wood and metal. Both have their respective benefits and drawbacks that you have to take into account. Make sure that you know your options well and consider who will be using the bunk when choosing the material.
Many bunk s can be made entirely of wood or metal or even both, depending on their construction and functionality.
Wooden: Bunks are mostly made of hardwood, primarily because they started as such in the first place. Wooden bunk beds are known to be sturdy and can last a lifetime with proper care and maintenance, especially if you are using hardwood. Some of the popular hardwoods used for these beds are cherry, maple, and oak.
More than just its durability, wood is known for its versatility since you can find it in different shapes and styles. There are even different colors you can consider them in, from different stains to different paint colors. They even come with additional desks and drawers if that's what you're looking for. See pictures of different bedroom styles here.

It is a popular choice for children, especially since wooden bunks are known for their durability. Parents are then drawn more to these beds thinking they can make their children feel safer and cozier. They are also crack-resistant adding to that charm of wooden bunks, besides their incredible aesthetic appeal.
Metal: Metal is the other common material used for bunks. Metal frames, while less common than wooden frames, are lighter in weight and so easier to work with, install, and move around. Compared to the lifetime lifespan of wooden beds though, metal bunks are expected to only last for 10 to 15 years.
Metal bunks offer a minimalist and industrial look so if you're going for that vibe, they might be a good option for you. They also have a modern appeal to them that you can take advantage of.
Compared to wooden bunks, metal beds are also more affordable. Some may not come with additional features, but they can be an excellent consideration if you have a tight budget.
Bunk Styles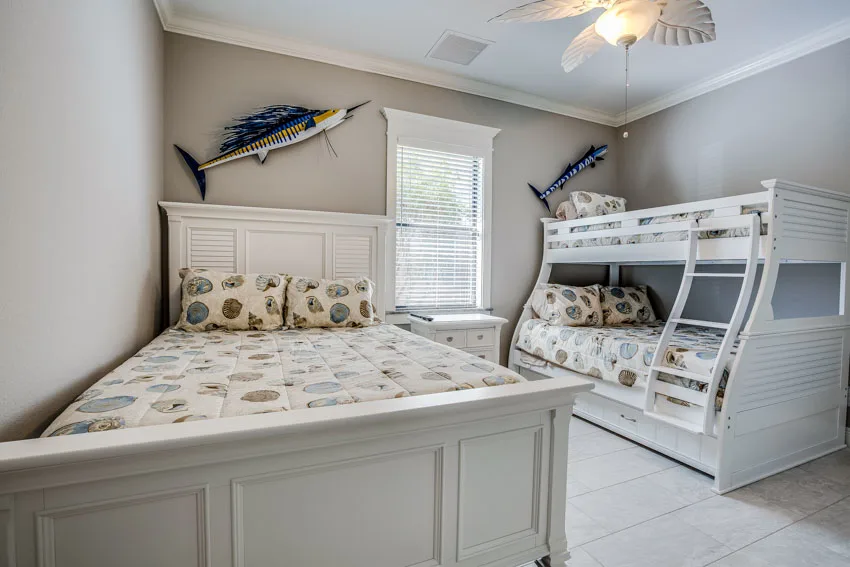 Another category you can take into account when exploring your bunk bed options is the style and vibe you can get from them. It is vital to sync the style of your chosen bunk with the current aesthetic choice of the room you're installing it in.
The bunk style can either balance the ambiance of the room or add to it so make sure to consider the style and ambiance of the room when choosing the bunk bed for you.
Traditional: The traditional style offers a timeless look that you can only find in wooden bunk beds. Consider how these beds started in the first place and you will have a vision of what a traditional one looks like.
The construction of a traditional bunk is straightforward, focused on its function, and not aesthetically forward. This style focuses on the basics and the gist of bunks and how they were first used, which is as a sleeping area for rooms with limited space.
Traditional bunks are made of wood, mostly hardwood, with a more open design that might include bedposts and headboards, depending on the manufacturers. The best thing about these beds is that they are sturdier and bound to last for a long time.
Farmhouse: The farmhouse style refers to those beds with a rural and country feel. These farmhouse bunks will have more texture since they will be rougher and more rugged to look at. They are ideal for homes on a mountain or in a vacation cottage.
Rustic: You will go for rustic if you want something nostalgic and natural. Therefore rustic bunks come au natural, with the wood left in its basic unpainted form. They are normally carved out of wood, giving them the appeal of a handcrafted masterpiece.
Like farmhouse bunks, rustic beds have more texture on them with their rugged and unfinished appeal, making them perfect for summer cabins and similar lodgings. These are great for summer camp venues too and other jungle or nature-inspired homes and infrastructures.
Contemporary: Contemporary bunks are more flexible in combining materials, textures, shapes, and terms. They can be a mix of traditional and modern styles. For example, these beds can have a wooden frame but with metal springs and elements that make them more convenient to use and easier to manipulate.
Contemporary bunks are excellent middles between the traditional and modern styles. They offer an excellent marriage between practicality and convenience and aesthetic appeal.
Modern: Modern bunks showcase innovative design with modern elements and aesthetics. Modern style offers a clean and efficient vibe, making modern style bed bunks great for rooms and homes with minimalist styles. They can be made from wood, metals, and even both.
Modern bunks are said to be more practical and functional, integrated with innovative features and capabilities. Some examples of beds with modern features and capabilities are bunk beds with trundle, bunks with storage, and even murphy bunks.
Industrial: Industrial bunks are also straightforward when it comes to their purpose and function. When considering the materials they are made of, these beds are metal forward with study and hard-edged construction.
The aesthetics of industrial bunks include sleek and sharp lines, as well as metallic or bronzed finish. Most full over full bunks have an industrial vibe to them with durability and sturdiness a priority in them.
Bunk Ladders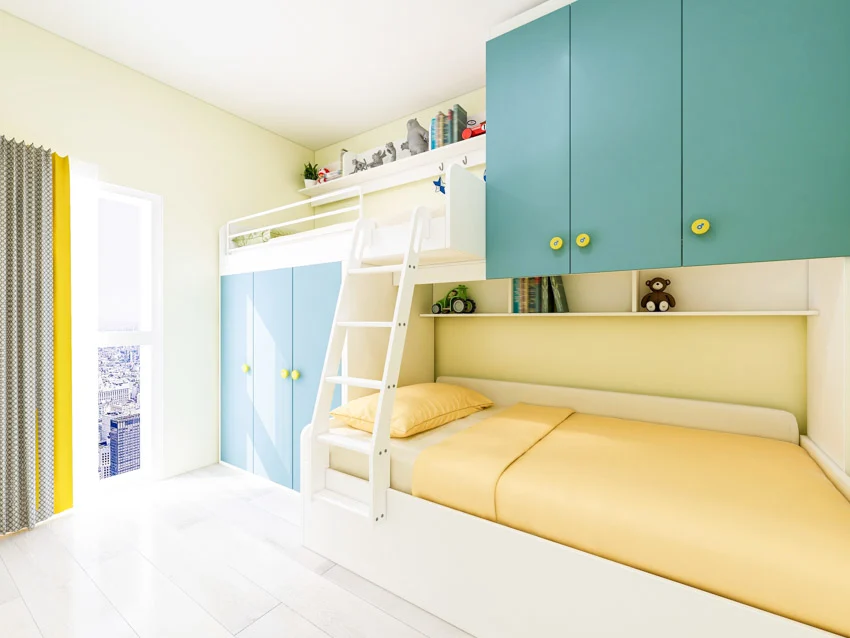 Bunk beds typically have built-in ladders in them, allowing easier access to the top bunk. Ladders are cheaper and can take up the least amount of space since it is installed vertically, which is why this element was ideal for bunks in the first place.
If you believe that adders are too traditional and boring, you have the option of choosing stairs instead. While they take up more space, they are also safer and more versatile to be multi-functional since the steps can be turned into shelves and drawers, adding storage in the bunk bed, and maximizing the space that it covers.
Bunk Rails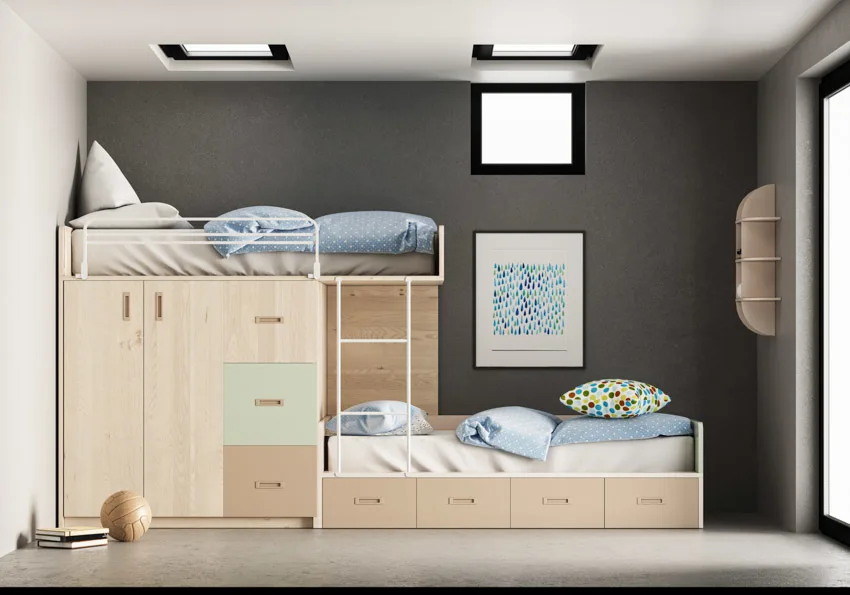 Bunk bed rails are a must consider since they provide safety precautions to anyone sleeping on the top bunk. They are the metal or wooden stripes located on the side of the top bunk, usually built-in but can also be attachable.
Enough and appropriate guardrail needs to be installed in the bunk for it to be deemed safe. These bed rails are particularly necessary if children are using the bunk bed.
Bunk Dimensions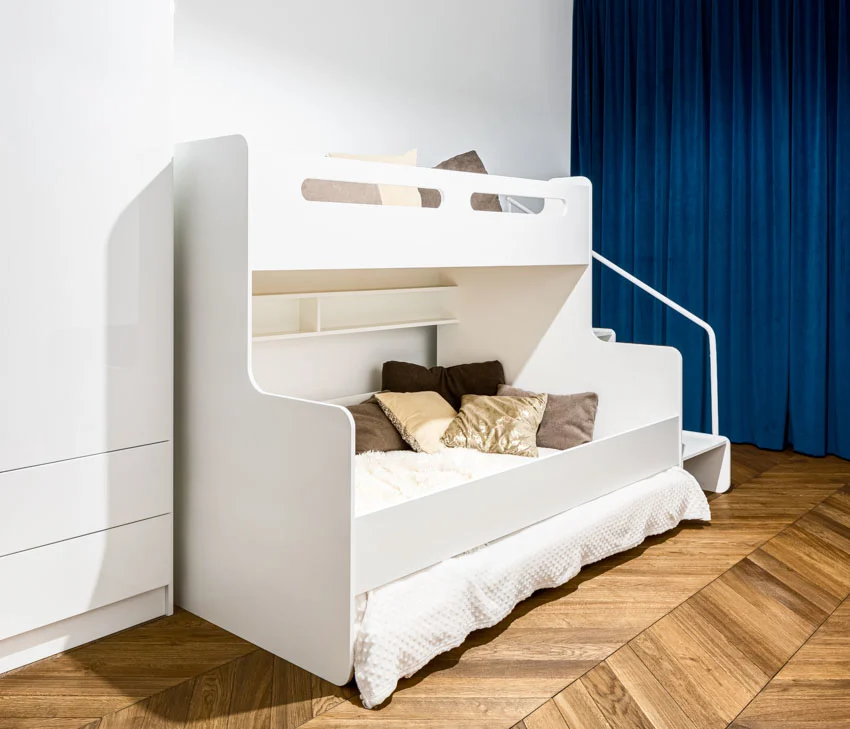 Bunk beds come in different sizes and dimensions. The dimension depends on the type of bunk bed you have and the top bunk can always have a different dimension from the lower bunk. As a guide, here are some of the dimensions of the basic types of bunk beds you might be considering:
| | |
| --- | --- |
| Type of Bunk Bed | Dimension (LxWxH in inches) |
| Standard | 75 x 39 x 65 |
| Full over full | 75 x 54 x 65 |
| Queen | 80 x 60 x 65 |
| King | 80 x 76 x 51.5 |
These are the different dimensions of the beds that can be used for bunk beds. Different types of bunk beds can be a mix of these bed sizes.
Bunk Mattresses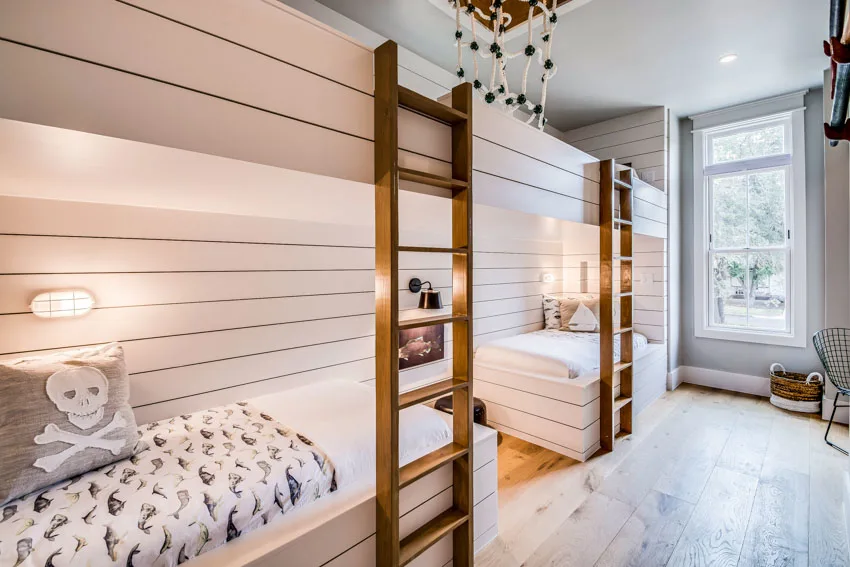 Bunk bed mattresses are normally sold separately from the bed frame but you can always go for a package that includes both. When sold separately though, you have the opportunity to choose the softest and most comfortable mattress you come across.
The most common types of mattresses used in bunk beds are twin-size mattresses. In fact, the standard bunk bed comes with two twin-size mattresses. If you're looking for a mattress to match the dimensions of your bed bunk, here are the dimensions of the different mattresses.
| | |
| --- | --- |
| Types of Mattress | Dimensions (W x L in inches) |
| Twin | 38 x 75 |
| Twin XL | 38 x 80 |
| Full | 53 x 75 |
| Queen | 60 x 80 |
| King | 76 x 80 |
| California King | 72 x 84 |
Bunk Safety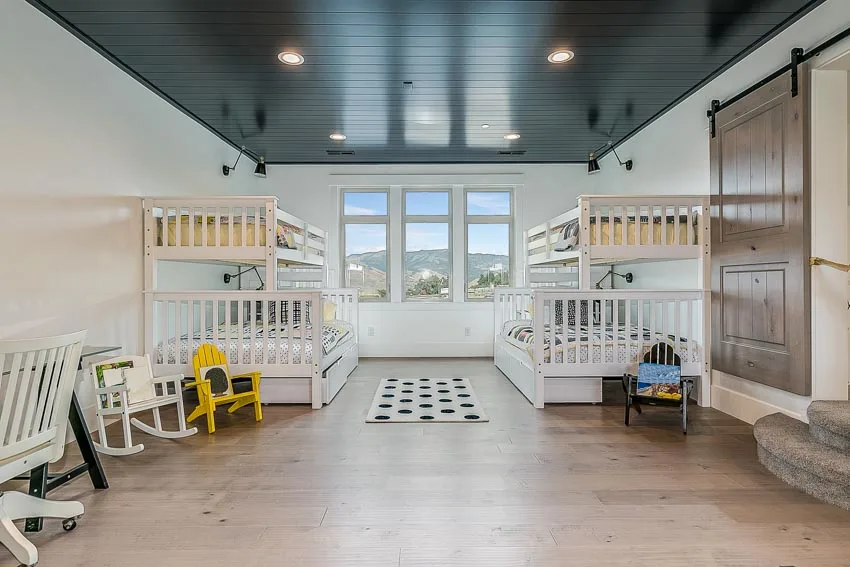 Safety is one of the constant issues when considering bunk beds. Parents are terrified of their children falling over the top bunk (whether asleep or not) or even simply slipping from climbing the ladder to the top bunk. Injuries can range from a simple scratch to something fatal like a major neck or head injury.
This is the reason why bunk bed safety must always be taken seriously. And one of the ways to lessen your worry is to choose the safest bunk bed you can come across and follow simple tips that will help you make the top bunk safer.
Some quick tips you can use to help promote good bunk bed safety are:
You can limit the top bunks to only be used by children over six years old.
Install a bunk bed guard rail.
Secure the ladder in place.
Support the bed slats to avoid the mattress from falling down.
Make sure the mattress has a tight fit without crevices.
Do not allow playing on bunk beds.
Place the bed up against a wall in a corner of the room.
Bedroom layout designs also play a part in providing a safe environment. By positioning the bed against the wall, in a corner you can help avoid additional areas where children can fall. In addition make sure not to use a bunk bed next to a staircase or railing that could increase potential falling distance.
Are Wood Or Metal Bunks Safer?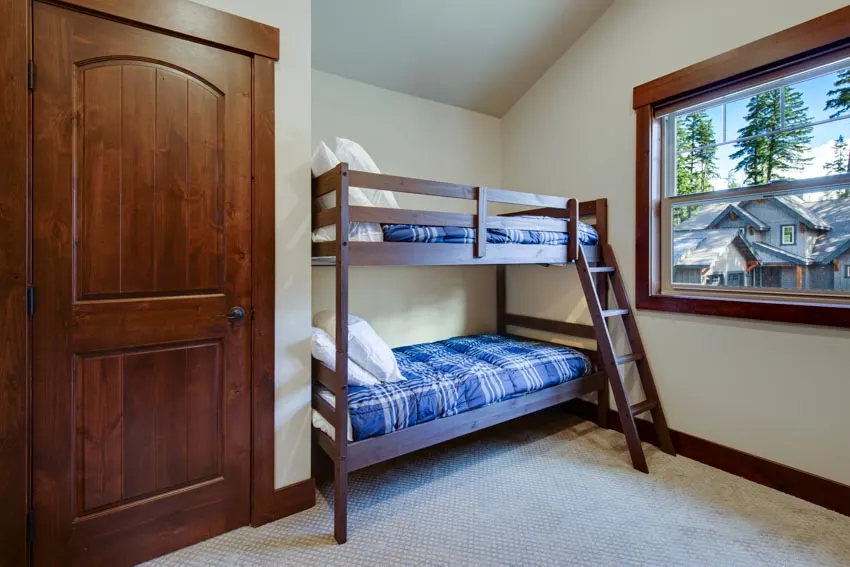 In terms of materials, wood bunk beds are regarded to be safer than metal bunk beds because they have a more stable foundation and sturdier construction. Metal bunk beds on the other hand are known to be lightweight and so can wobble given a specific circumstance.
Many are also scared that the hard metal frames can be dangerous, especially for children who have the tendency to move around a lot while playing.
How Do You Make A Top Bunk Safer?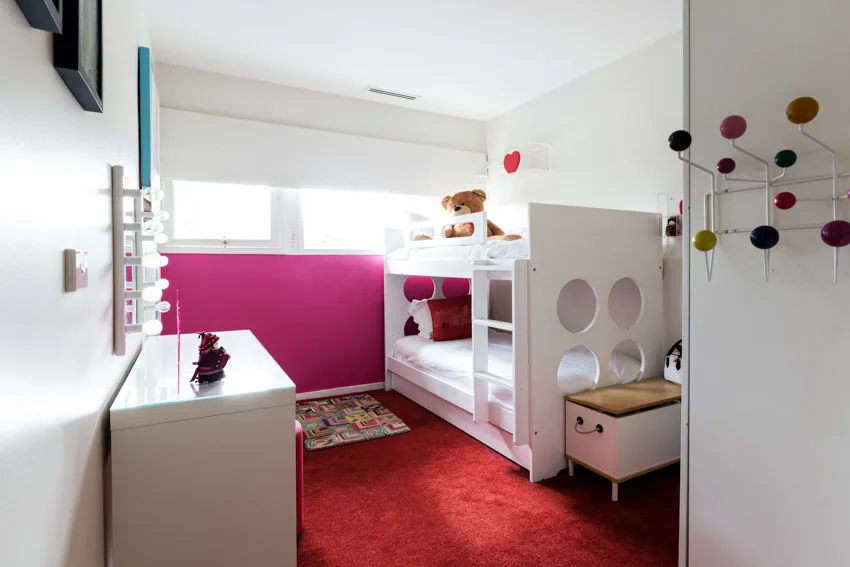 If you are still worried about having your kid on the top bunk, making it safer is only the best step to take. Here are simple tips to follow to make your top bunk safer:
1. Make sure that the bunk bed is properly installed, especially if it's made from metal complete with screws and attachments.
2. Choose bunk beds with fixed ladders that won't wobble or give in.
3. Make sure that the top bunk has guardrails on both sizes and no large gaps. According to Nationwidechildrens.org a bunk bed should have gaps of 3.5 inches or smaller to prevent injury and gurardrails should extend up at least 5 inches from the mattress.

4. Choose a mattress that matches the size of your bunk bed and has an excellent foundation.
5. Secure slats if you have wooden bunk beds so that they won't be wobbly.
6. Do not install the bed bunk in a room with a ceiling fan (Or at least make sure to keep the top bunk away from the ceiling fan)
7. Install night lights on the ladder or stair so that moving at night will be safer.
How To Choose A Bunk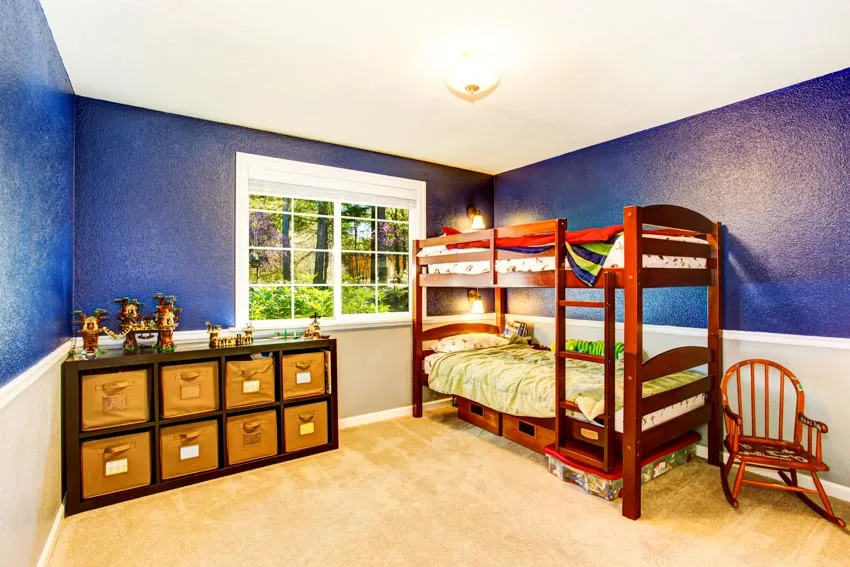 There are several factors to consider when choosing a bunk bed and you can start prioritizing them before getting overwhelmed by the number of options you have. These factors include:
• Budget: Can you afford it? Before you skim through a list of bunk beds, consider your budget and how much you're willing to spend on it.
• Room size: Get a bunk bed that can actually fit your room and make sure that the top bunk is not too close to the ceiling that you will feel cramped and claustrophobic sleeping on it.
• User of the bunk bed: If your children will be sleeping in the bunk bed, choose the safest one you will find and make sure that it's proportionate to the children's sizes. If they are toddlers, choose the lowest and shortest you can find to avoid accidents and make sure they have sturdy guardrails on the top bunk.
• Functionality: Some bunk beds have other innovative functions you can enjoy so you can always check that out too.
What's The Difference Between A Bunk And A Twin Bed?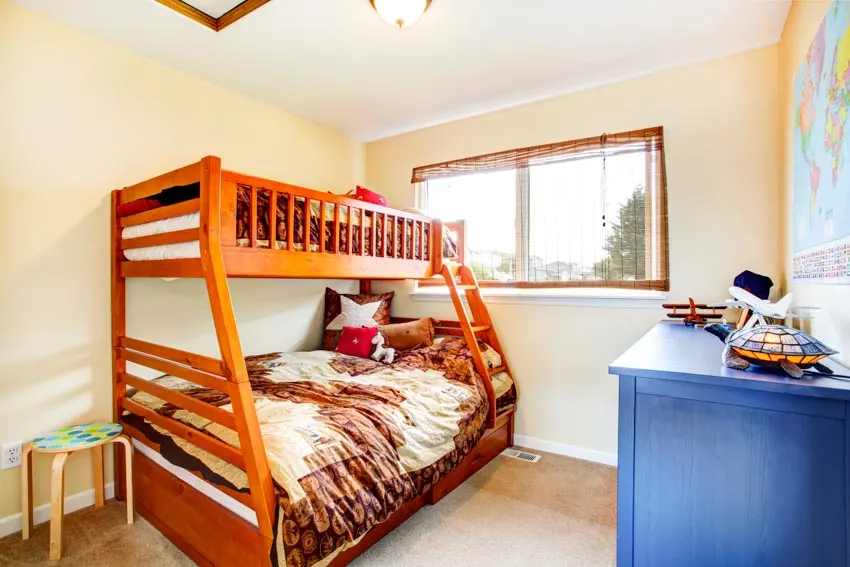 A bunk bed and a twin bed are very different from each other. A bunk bed is composed of two beds constructed to be one ensemble with one on top of the other.
A twin bed, also known as a single bed, is a specific size of bed you can choose which has the dimensions of 75 inches long and 39 inches wide. Though the standard bunk bed includes two twin beds, it can also come in different designs and sizes.
What Age Should You Stop Having A Bunk?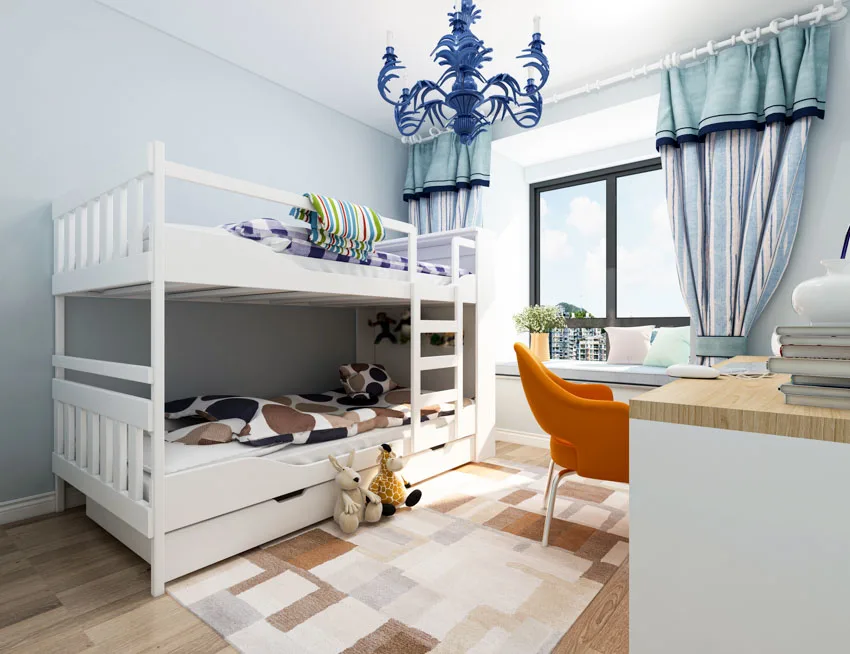 Standard bunk beds are mostly used by children in the past but that's not true anymore today. Many innovations and developments have introduced new designs of bunk beds that cater to different ages, from toddlers to adults.
So nothing can really stop you from having a bunk bed, whatever your age may be, provided that you choose the right bunk bed for your size, weight, and comfort.
How Much Weight Can The Top Bunk Hold?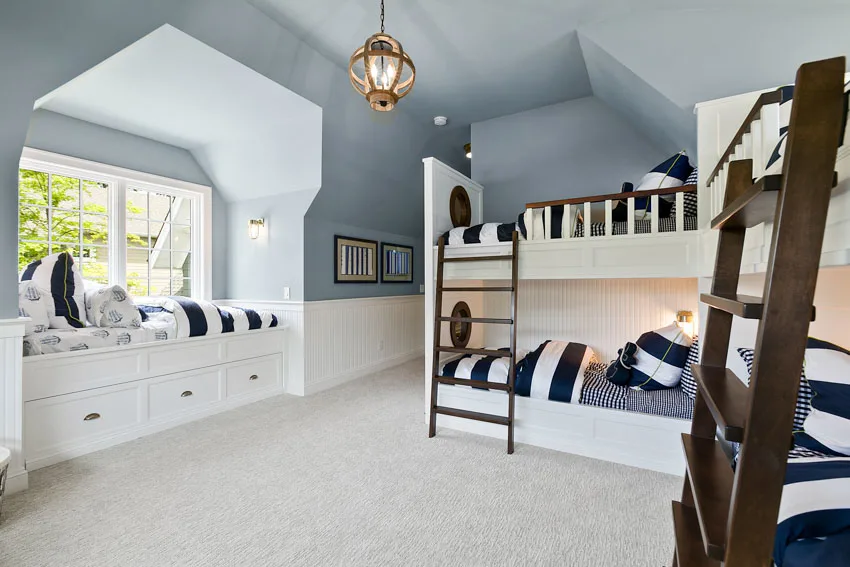 The weight capacity of the top bunk bed depends on the type of bunk bed you have. This may take into account the materials it is made of, its size, its installation, and the general design of the bed. To give you an idea of the weight capacity for the basic types of bunk beds, check this one out:
| | |
| --- | --- |
| Type of Bunk Bed | Weight Limit (in lbs) |
| Standard bunk bed (Wooden) – top bunk | 165 |
| Standard bunk bed (Metal) – top bunk | 200 |
| Twin over full bunk bed (Wooden) – bottom | 400 |
| Toddler bunk bed (Wooden) – both bunks | Up to 250 |
| Adult bunk bed (Metal) – both bunks | 450 |
See more related content in our article about the different types of beds on this page.