Discover all you need to know about Japandi style furniture including what it is, its characteristics, furniture ideas for living rooms, bedrooms, and outdoor spaces.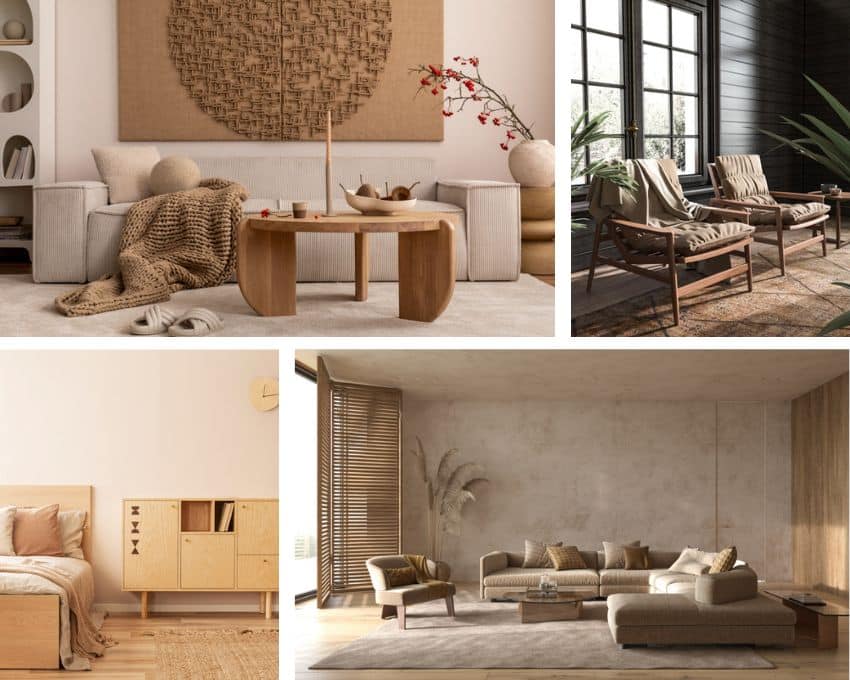 The peaceful house we all yearn for is created by Japandi interior design, combining a seamless fusion of practicality and aesthetic. Japandi is a minimalist home design that achieves the ideal balance between simplicity and nature.
Japandi, also known as the Scandi-Japanese style, is a peaceful synthesis combining Scandinavia and Japan's unique elements.
But just what is Japandi style furniture, and how can you be sure you're doing it correctly? This article guide to Japandi fashion provides our best advice for nailing this timelessly stylish look.
What Is Japandi Style Furniture?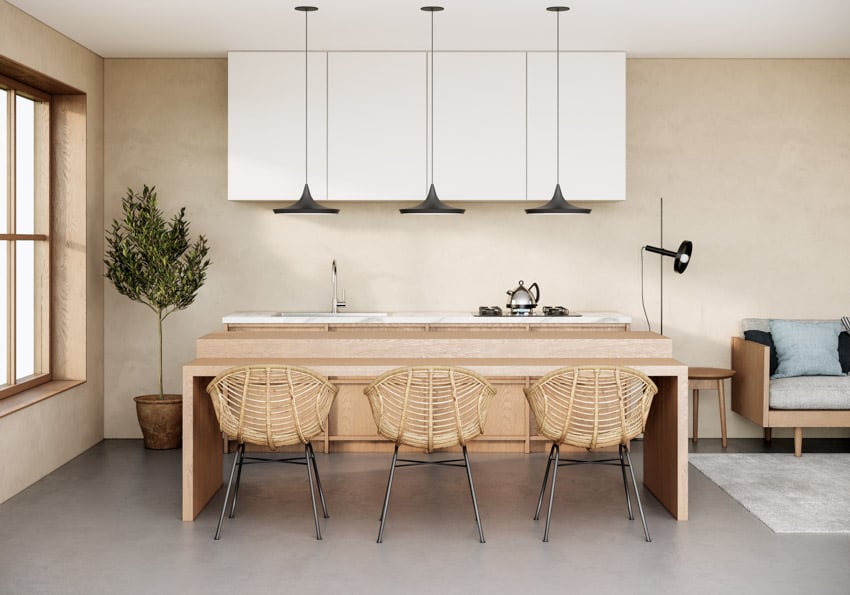 As the name implies (Japanese and Scandi), Japandi is a fusion of Japanese and Scandinavian design. Inspired by the Scandinavian concept of hygge, it values coziness, comfort, and wellness and the ancient Japanese philosophy of wabi-sabi, a way of life that emphasizes simplicity, contentment, and unhurried living.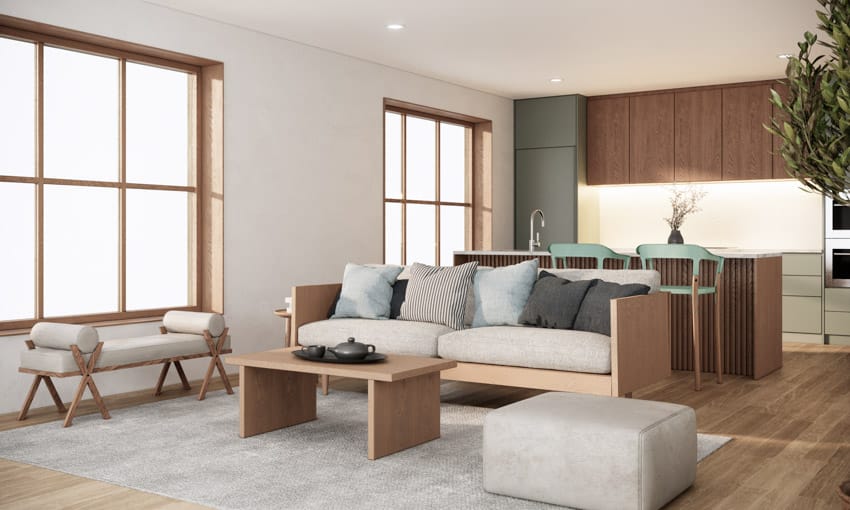 Japandi style furniture combines the sleek, contemporary lines of Scandinavian design with the elegant simplicity and practicality of Japanese aesthetics. It employs natural materials, plenty of textures, and neutral colors while warm and inviting.
This pattern has so far withstood the test of time. While Japanese interior design is about soft, exquisite minimalism, the Scandinavian style brings simplicity via the lines of architecture and cozy, uncomplicated interiors.
Colors And Materials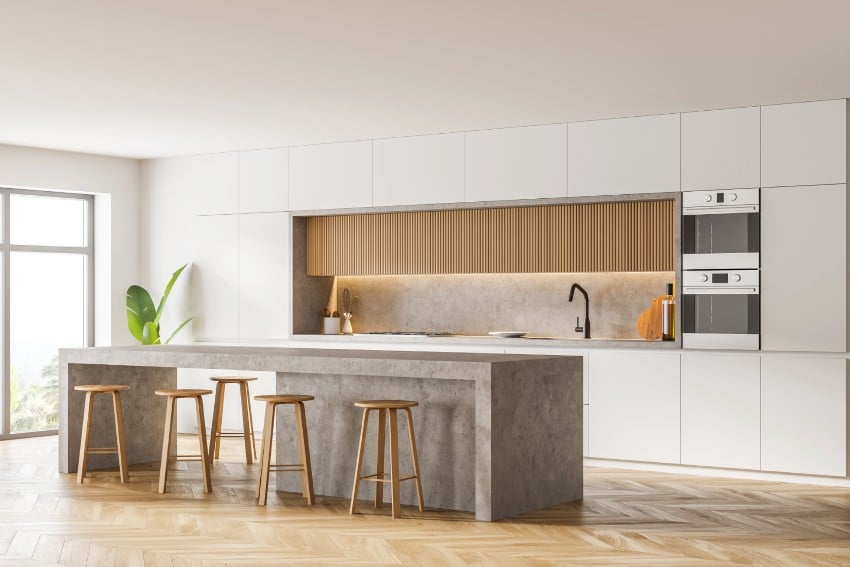 In Japandi style furniture, neutral, subdued colors are ideal. Consider shades of stone, sand, milk, taupe, and beige. Avoid anything that is overly bright or white. Nothing ought to grate, jar, or dominate. Your goal is to create a serene, harmonious environment with your Japandi furniture.
Japandi style furniture uses light-colored natural fibers and environment-friendly materials, including bamboo, rattan, cotton, and hemp. You may also use some metals for aesthetic intrigue.
Additionally, various neutral paint colors are suitable for Japandi furniture and decorations. Usually, the usage is calming and muted color schemes, and it must be subtle and meaningful when there are stronger hues.
Furthermore, sustainability is vital in Japandi fashion. It is a terrific trend since natural materials and straightforward designs are standard. Japandi's success is not surprising, given that more and more people are now into eco-friendly options and non-toxic furniture pieces.
Furniture Characteristics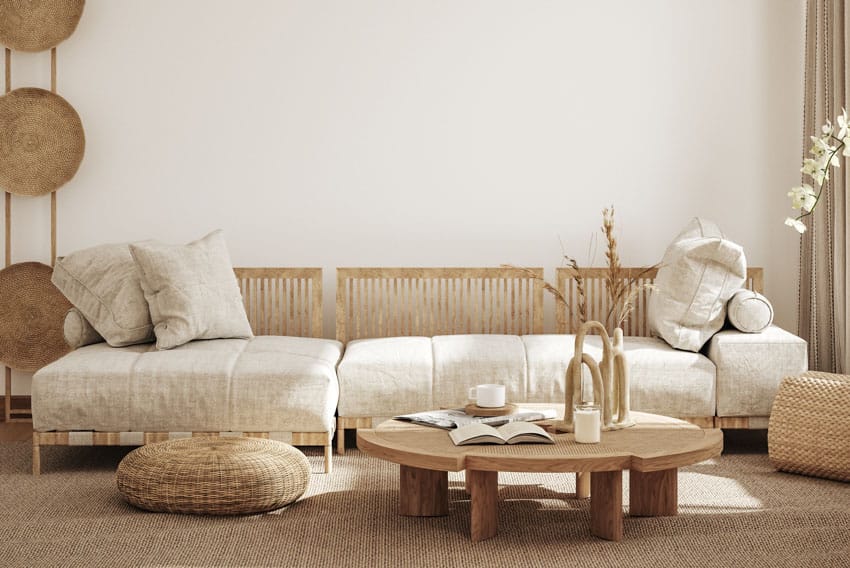 Clean, uncomplicated lines are a common characteristic of Scandinavian design. In contrast, bent furniture and dyed or painted wood are more prevalent in Japan.
Mix and match the two styles to add more visual appeal. Wood, bamboo, and rattan are common materials for Japandi furniture. Make sure the items you choose are of the highest quality.
Both bright and dark wood materials are ideal. However, try to match your wood's color as closely as possible. This style powerfully unifies space and gives it a contemporary, harmonic flair.
The primary characteristics of Japandi style furniture are as follows:
1. Minimalism: Japandi design encourages simplicity, and each piece of furniture is purposefully placed and has a particular function. Clear, straight, or curved lines and open spaces are encouraged by the absence of clutter.
2. Neutral color schemes: Japandi design prefers neutral color schemes that imitate the natural environment. Warm neutral hues like beige and tan and cold neutrals like gray or blue are often typical in furniture palettes. Bold colors accentuate and evoke a sense of peace and tranquility.
3. Sustainability: Japandi design places a strong emphasis on sustainability. Most furniture is high caliber, shows excellent artistry, and is ageless.
Each item is carefully selected to fit the room and from natural materials like wood and bamboo or natural fabrics like rattan, linen, and cotton. Terracotta, ceramic, stone, and glass are ideal for handmade decorative pieces.
Bedroom Furniture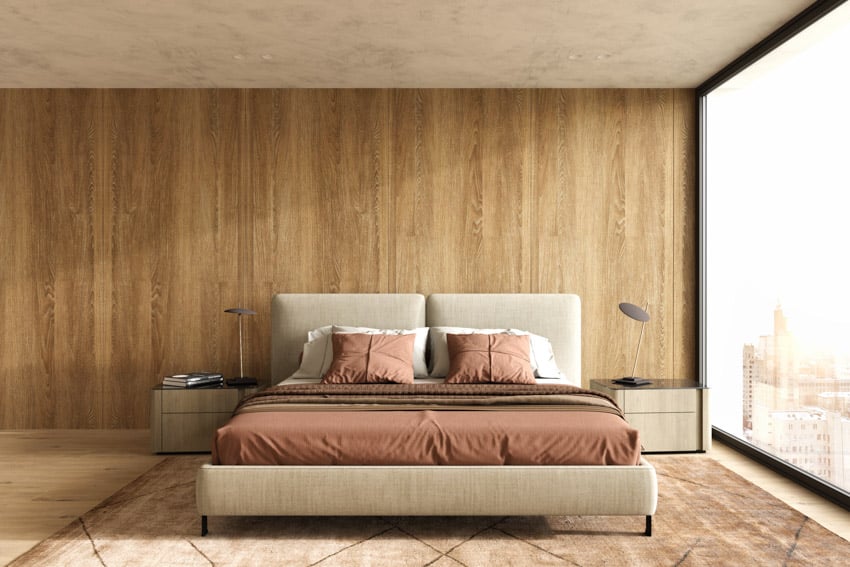 Your bedroom should be your refuge and a place you love spending time after a stressful day. Move away from overfilling your bedroom with many pieces of furniture if you want to achieve the Japandi bedroom style.
Instead, emphasize practical items and strive for a tidy aesthetic flow by allowing plenty of space in your bedroom. We advise adhering to the Japandi furniture characteristics stated above, particularly regarding your key bedroom furniture components and products, such as your bed frame, mirror, nightstands, and drawers.
For instance, rather than having your bed against a wall, you might put it in the center of the room. You could also use a Japanese room divider to split various portions of the room rather than something more significant or permanent, like a partition wall.
You can go right with some wood Japandi bedroom furniture, particularly models highlighting the material's distinctive colors and veins. Think about using fabrics instead of only wood in your Japandi bedroom. Choose natural textiles like cotton, linen, and wool for anything from blankets to plush pillows and bed benches.
You may further enhance the warmth that defines hygge by surrounding yourself with objects that are thick or have a lot of texture. You may take it further by taking specific furniture's legs off.
A floating console desk might be an example, or you could use the same concept for other furniture pieces like nightstands. This design will make your Japandi bedroom seem more spacious and result in a cleaner visual flow.
Living Room Furniture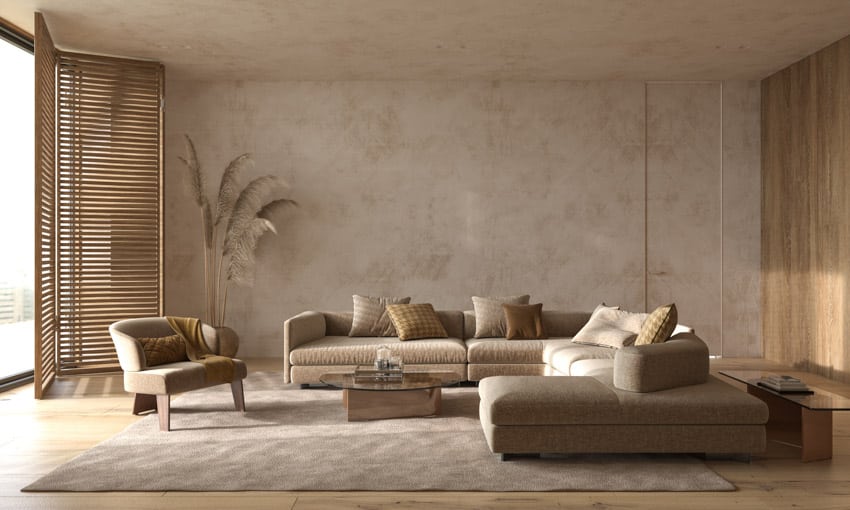 The living room is the focal point of the household. It must be the most welcoming space in your home, furnished with living room essentials like a couch for reclining, armchairs for reading, and coffee tables for gathering.
When we consider Japandi living room furniture ideas, it is often the case that they don't come with hefty price tags or demand a lot of work from the homeowner.
In a Japandi living room, clutter-free living is paramount. Less is more. Invest in a few great things you like that will last a lifetime.
Mirrors, picture frames, artwork, wall hangings, table lamps, and carefully chosen carpets may change a living room's atmosphere to make it seem cozier without adding clutter.
The easiest method to give your Japandi living room furniture some warmth and charm is to employ a variety of textures and materials.
In light of this, form plays a crucial role in the minimalism of these spaces. Whereas décor may be sparse and colors muted, vibrant furniture shows the sophistication of minimalism.
​​You can incorporate accent chairs, sofas, armchairs, coffee tables, televisions, and side tables in a Japandi living room. Ensure all fabrics, lighting, and furniture are necessary, made of natural materials, and pleasant.
Sustainable and eco-friendly: Sustainability is at the heart of Japandi living room design. This style is very eco-friendly because of its use of natural materials and the reuse or recycling of others. Japandi furniture is superior to eco-friendly suppliers in terms of quality.
Because of its durability, you may invest in a few items that will last a lifetime rather than buying new stuff yearly. The sustainable components of Japandi work together to offer the fashion an enduring appearance and feel.
Craftsmanship: The aesthetic of Japandi furniture is commonly handcrafted. It makes sense, given that Japan is renowned for its expertise in wood.
Wood is preferable for everything from construction to furniture to décor. Scandi design, on the other hand, emphasizes comfort and simplicity.
As a result, Japandi furniture is wonderfully crafted but simple and cozy. Natural materials like rattan, cane, wicker, wood, and bamboo are often ideal in Japandi living room furniture. You may also anticipate organic fibers like muslin, cotton, and linen.
Outdoor Furniture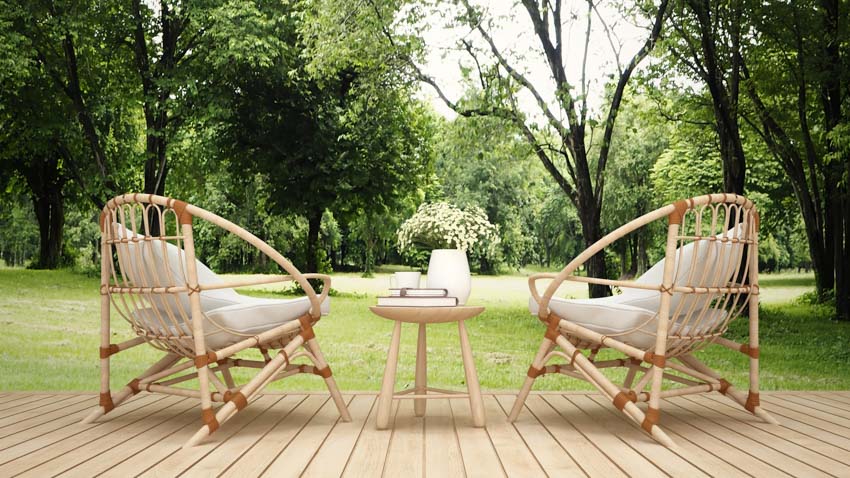 Japandi also works outdoors. A Japandi outdoor space has a tranquil and calm design; a great location to escape the pressures of daily life. Some people like to keep things simple using traditional rattan chairs, while others choose various colors.
For instance, a lovely handmade rattan armchair that is lightweight yet sturdy and looks fantastic with a circular table, or a Grignoon rattan armchair is the ideal complement for a Japandi outdoor setting.
Using neutral colors and earth tones like olive greens, smokey red colors, or creamy oatmeals can help your outdoor area seem more Japandi. This design will create an engaging visual combination and a cozy, welcoming environment you and your guests can enjoy.
Make sure that these types of outdoor furniture are constructed from natural materials and built to withstand the worst weather conditions. It should be of high quality, weatherproof, rust- and corrosion-resistant materials.
Additionally, the furniture must be lightweight, portable, and simple so you can set it up quickly and enjoy your outside space comfortably.
Make Comfort A Priority: The Scandinavian aspect of "Japandi" particularly shines when adding coziness to your home and is best shown in your outdoor sitting area.
Furniture designs should be straightforward, practical, and, most importantly, comfy. So, if you're a fan of outdoor sofas, choose classic square frames with simple designs.
An L-shaped couch is ideal for dividing your sitting space and creating a cozy gathering place for your loved ones. Remember that Scandinavian and Japanese design aesthetics value natural textures.
So, when buying outdoor furniture, avoid anything too plastic and stick to classic, long-lasting materials like wicker, treated wood, or stone.
You could also use soft materials such as weatherproof throw pillows, blankets, and outdoor rugs to soften rough textures and create a cozy atmosphere during chilly fall nights.
Furniture Brands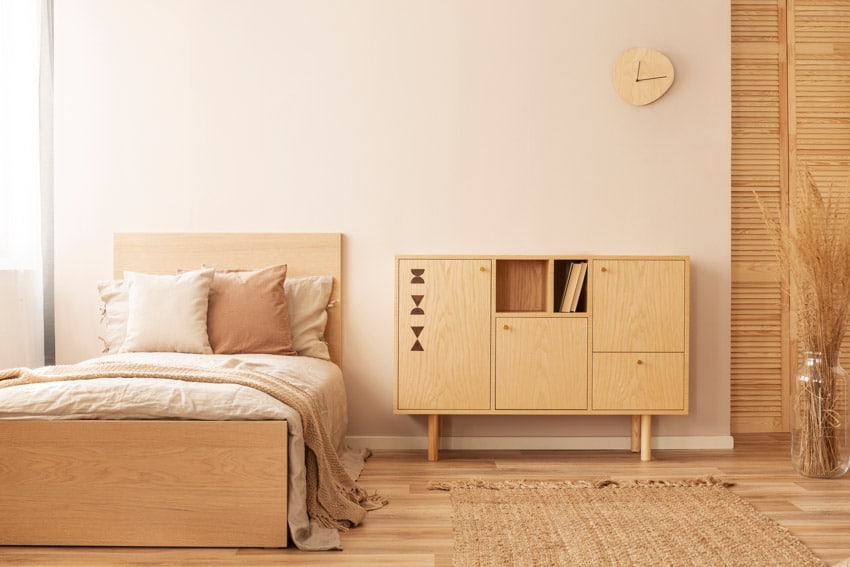 The Japandi trend in interior décor is seen from a fresh angle thanks to an unwavering respect for traditional production methods by these Japandi furniture brands.
Nikari: Nikari has been in business since 1967 and has a long history with Japanese culture. Their early years influenced cooperation with Finnish design and architectural luminaries. The concept of trying to bring out the finest of wood in modern design forms the basis of this brand.
Ariake: The Japanese furniture company Ariake is known for its "commitment to traditional techniques." They create a range of furniture inspired by urban living environments and Japanese culture's spirituality, combining the best of hand and machine craftsmanship.
Skagerak: Skagerak by Fritz Hansen is a Danish company specializing in high-end indoor and outdoor furniture and accessories, established in the late 1970s.
Their selection includes traditional items that have been around for a while and contemporary items just beginning to make history.
Artek: Formed in 1935, in a design statement influenced by functionalism, Artek company's mission was to "sell furniture and to promote a contemporary culture of habitation."
Since its inception, Artek has participated in the nexus of design, architecture, and art, establishing Finnish design and Alvar Aalto's furniture as global icons.
Furniture Stores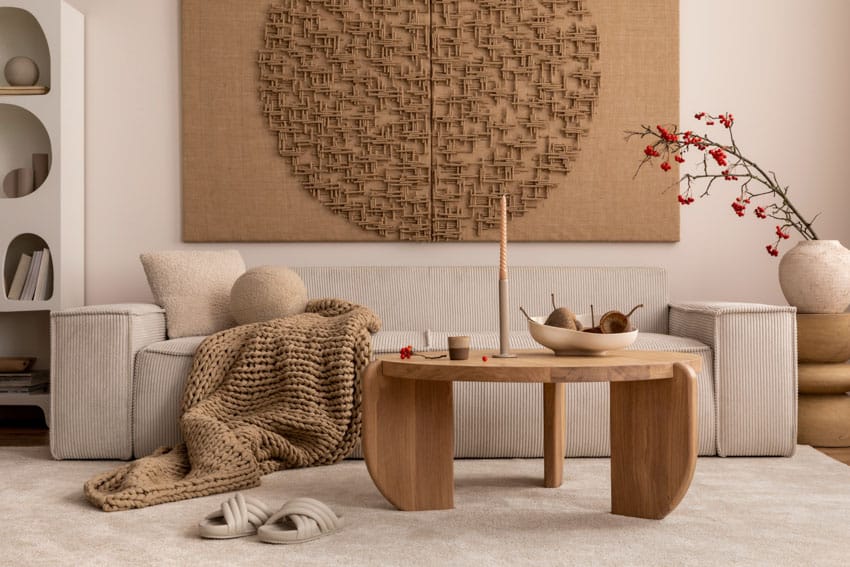 Here are several online stores where you can find Japandi furniture, including benches, footstools, tables, chairs, beds, lights, and accessories.
Lulu and Georgia: There is no doubt that the Japandi collection on Lulu & Georgia is excellent. You will discover one of the best things here, from absolutely low-height beds to attractive ottomans and coffee tables.
Scout & Nimble: You'll discover some interesting Japandi furniture items in this store. Even if the collection needs to be sufficiently diverse, you could come across some notable items authentic to Japandi.
Crate & Barrel: The Japandi collections from Crate & Barrel are great examples of elegance. Don't forget to look at the artistic Bomen Black Oak Console Table and distinctive Bram Decorative Sconce to create a striking statement.
Additionally, you may discover some genuine jute and wool carpets that perfectly capture the Japandi design.
Etsy: Although it isn't an online store for furniture or home goods like the others, you may still discover some unique items here. In addition to the accessories, you may also get some incredible rattan benches, seats, and chandeliers. You name it, and it's yours!
The Den & Now: The Den & Now is an independent online home goods retailer. They have a carefully chosen collection of unique antique, reclaimed, industrial, and Scandinavian home types of furniture, lighting, and accessories.
Maker & Moss: Your dining room will have natural minimalist zen and hygge warmth thanks to their carefully chosen Japandi furniture, such as the Bok dining set or the Mikado Japandi dining table, created by Ethnicraft furniture.
Design Your Own Interior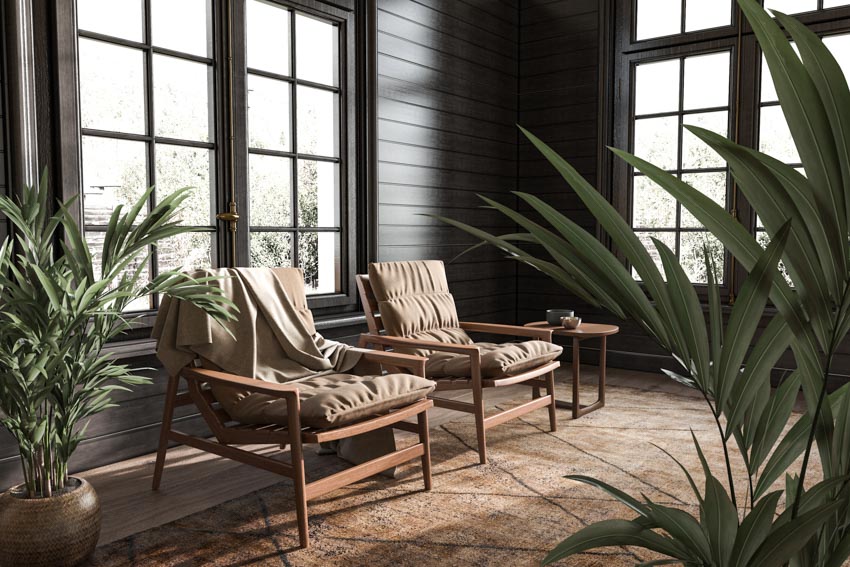 With its basic but tasteful and subdued style and peaceful, neutral color scheme, the Japandi style deserves to be evergreen in interior design. As many variations as there are, you may produce designs by combining different pieces.
To realize the style, select furniture choices with clean, streamlined designs with a minimalist look while keeping decor and accessories to a minimum. Choose neutral colors and natural materials. Use rugs, pillows, and throws to add color to the room.
In Japandi style, every piece has a purpose. Conduct an assessment of your space and various items in it to determine what to keep or toss. – Olga Trusova, Calm Living
Japandi is refreshing with its essential, elegant, modest aesthetic and capacity to adapt to our current way of life. So go ahead and produce something Japandi for your home.
See more related content in our article about Japandi kitchen on this page.