Find out all about bohemian style furniture including what this style is, how it is used in living rooms, bedrooms, outdoor spaces, and where to buy them.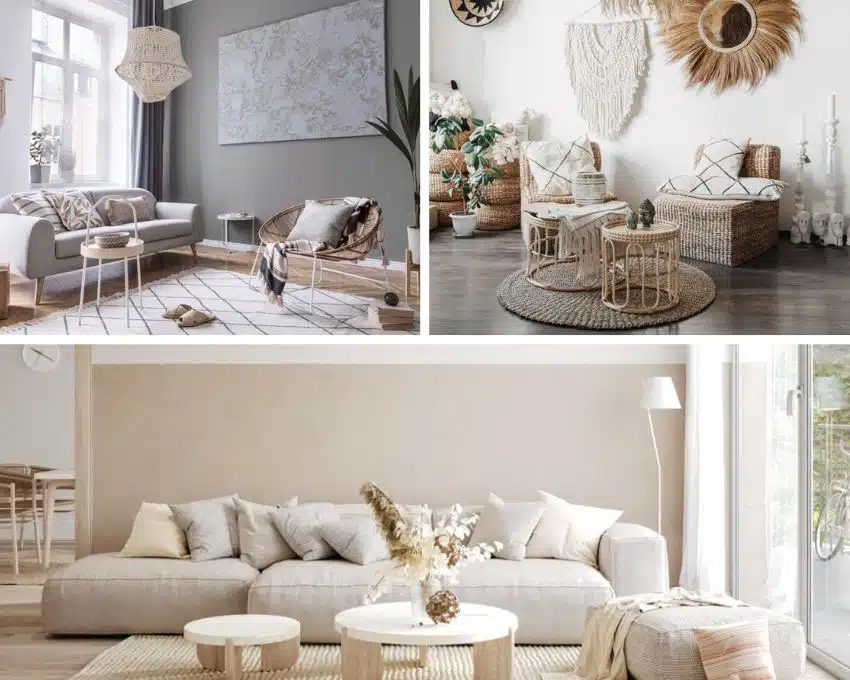 Bohemian-style furniture has been smashing it in recent times, charming with its offbeat, eclectic character! It's all about showing off your unique personality and celebrating freedom – which makes it a must-have to give any home an edge.
Living the bohemian life is all about being creative, unconventional, and free-spirited. Think artists, musicians, poets – living life on their own terms. The furniture and decor typically comes from random places near and far to capture an air of globe-trotting adventure. It's a way of expressing yourself through different cultures – following your dreams with a wild spirit!
Let's find out where Bohemian furniture style came from and what it looks like! It's got a unique style that's sure to turn heads – let's unearth its mysterious past and discover all it has to offer. From exotic accents to deep, rich colors, this bombastic furniture certainly packs a punch.
What Is The Bohemian Furniture Style?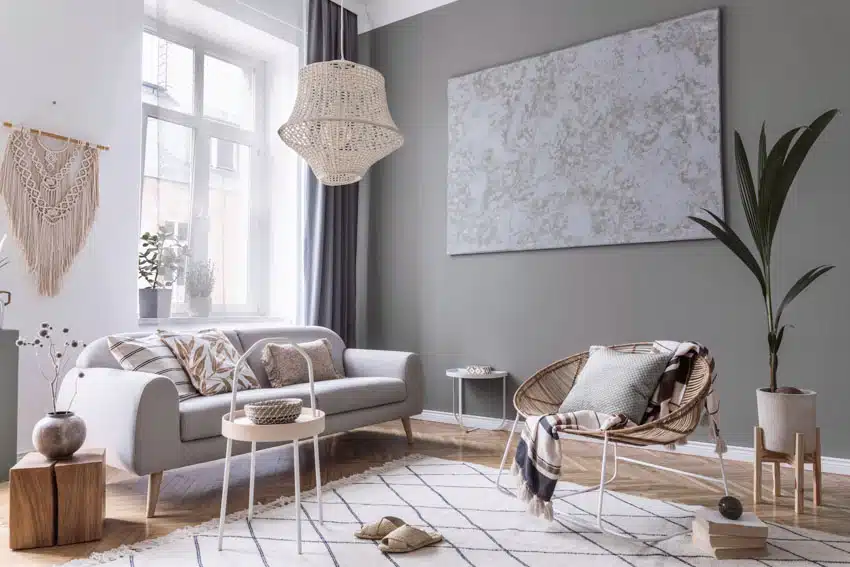 Bohemian furniture style – a.k.a boho style – is a creative way to express yourself! Drawing inspiration from the vagabond and artistic lifestyle embraced by bohemians, it's the perfect choice if you're looking for something totally unique. It'll really make your home stand out from the crowd.
In bohemian homes, there is always room for the artistic creation that adds a sense of flair and originality. – Bohemian Style, Elizabeth Wilhide
Embrace the Bohemian-style furniture by mashing contrasting materials, textures and patterns – bringing together vintage and modern features. Let your interior style reflect all of your adventures by layering with mementos from your travels. Chill-out in an invitingly evocative atmosphere that you won't soon forget. Mix, blend, explore and overlay for a genuinely unique look.
BoHo furniture styles incorporate natural materials like wood, wicker and handwoven textiles, with international influences – think Moroccan or Indian designs. Not to mention the one-of-a-kind pieces often upcycled or recycled.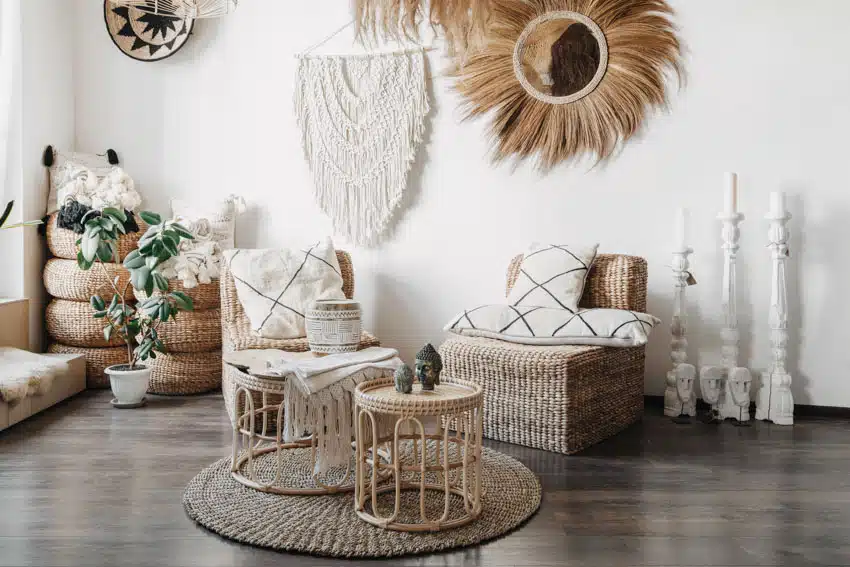 Bring a touch of color to your home – jewel hues for the bold, warm earthy tones for cozy vibes, or flashes of bright colors that create a unique energy and flashes of brilliant bohemian paint colors.
A Bohemian style sanctuary is all about showcasing your unique taste and personality. Inviting in layering, matching, and unexpected elements for an eclectic, lived-in feel– sure to wow. It's a concept that says 'more is better' and the result? An abode full of character!
The roots of bohemian-style furniture can be traced to the dawn of the 19th century, when people full of creativity and imagination chose to break away from society's limiting rules and lead a more free-spirited, extraordinary lifestyle. This bohemianism trend took off in the hippie movement of the '60s and 70s, specifically in Paris' Bohemian District– home to numerous talented artists.
Bohemian Bedroom Furniture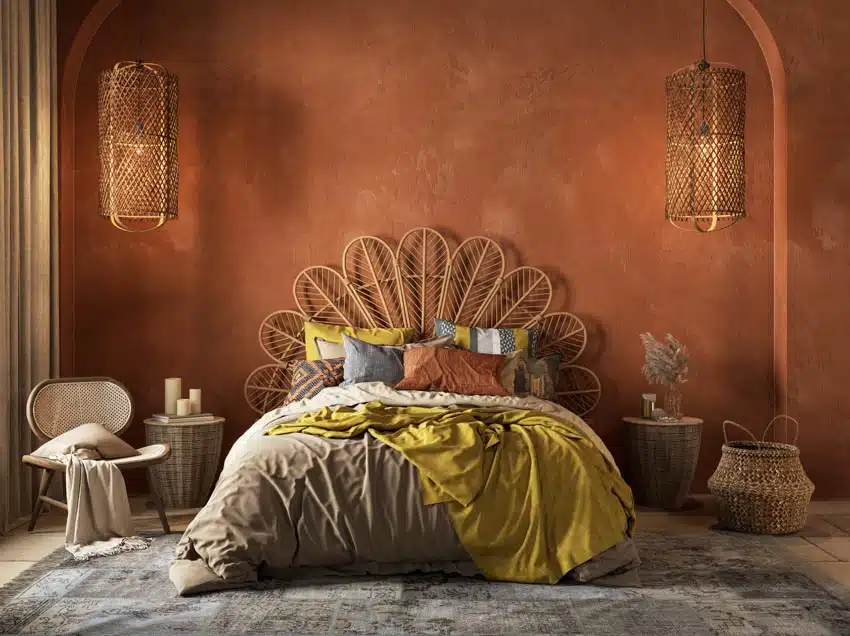 Make your sleeping quarters stylish with Bohemian furniture. Get ready to create a totally 'on trend' paradise with boho bedroom pieces that will be the envy of all! From statement headboards to inviting cushions, find a unique style not available elsewhere.
Add character and charm for an effortlessly cool space. Strike the perfect balance between relaxed vibes and decorative detail by bringing in beautifully-crafted furniture that'll have you daydreaming of your cozy bedroom escape.
A cozy bohemian getaway starts with the bed! It's an essential part of creating that inviting and special atmosphere that showcases one's individual style and creativity.
Are you looking for that relaxed, bohemian style? Then get ready to infuse your bedroom with some serious chill vibes – starting with a low platform bed or metal frame topped with a wood or rattan headboard.
Bring in cozy textiles like old quilts, handwoven blankets and multicolored throw pillows to give your room that inviting bohemian touch. It's sure to make you feel right at home!
Ready for a boho bedroom makeover? Amp up your space with a vintage dresser, stylish retro bedside table, or eye-catching accent chair. If you're going for the natural look, why not try wood, wicker or jute!
And don't forget to give furniture pieces a whimsical spin by throwing in some vibrant paint colors – think sunny yellow and peaceful blue. Or keep it simple and let the uniqueness of the original piece shine through!
Bedrooms with boho vibes are all about mashing up different pieces of furniture! Think, an antique dresser paired with a mod chair, or a shabby-chic wooden couch with a sleek side table. Interior designers swear by this mix-and-match approach!
Aside from that, these furniture pieces come with one-of-a-kind lighting fixtures to really inject some personality into a bohemian bedroom. To create a cozy and inviting vibe, why not add string lights, colored lamps, or even an elegant chandelier?
Bohemian Living Room Furniture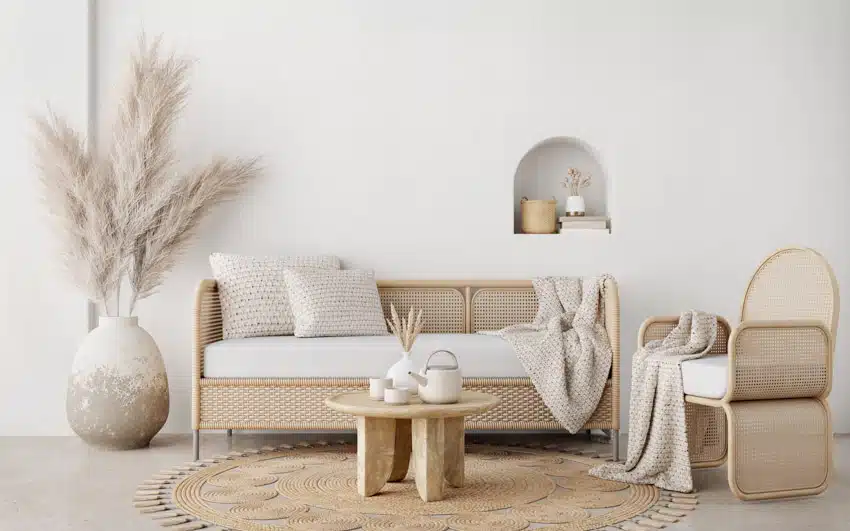 Bohemian-style living room furniture stands out with the use of natural materials, like rattan, wood, leather and suede. Think antique couches or armchairs, vintage coffee tables and intricately carved panels – oh, the possibilities!
Create a unique and cozy atmosphere in your living room with contemporary Bohemian furniture spruced up with luxurious Moroccan poufs, handcrafted porcelain vases, and quirky thrift store finds. Give your space some character and personality for an inviting vibes like no other!
Green's known as nature's primary color – so it only make sense that Bohemian living rooms lean heavily on green furniture. Soft, neutral accents like a beige rug, bamboo coffee table and wicker egg chair set the tone for paradise.
Meanwhile, living room items, like rattan side tables with glass panes, spherical coffee tables, compact ottomans and accent chairs give those tropical vibes even more of a boost!
From cool second-hand finds to vintage gems, this eclectic bohemian living room is a masterclass in mixing and matching. Each piece of furniture tells a story, so why not get down to your local thrifting spot and let your eye do the shopping? Still need some inspo? Let nostalgia guide you – who knows what hidden treasures you'll stumble across!
For an inviting, bohemian living room, plush seats and couches in bright colors are sure to be a hit with homeowners and visitors alike. Woven rugs or chunky floor pillows add the perfect touch of coziness for floor seating. But forget sleek or stiff furniture – you need something more relaxed and relaxing, like chaise lounges or butterfly chairs. Go ahead, get comfy!
Try hanging pictures inside the shelves. – Justina Blakeney, The New Bohemians Cool and Collected Homes
Bohemian Outdoor Furniture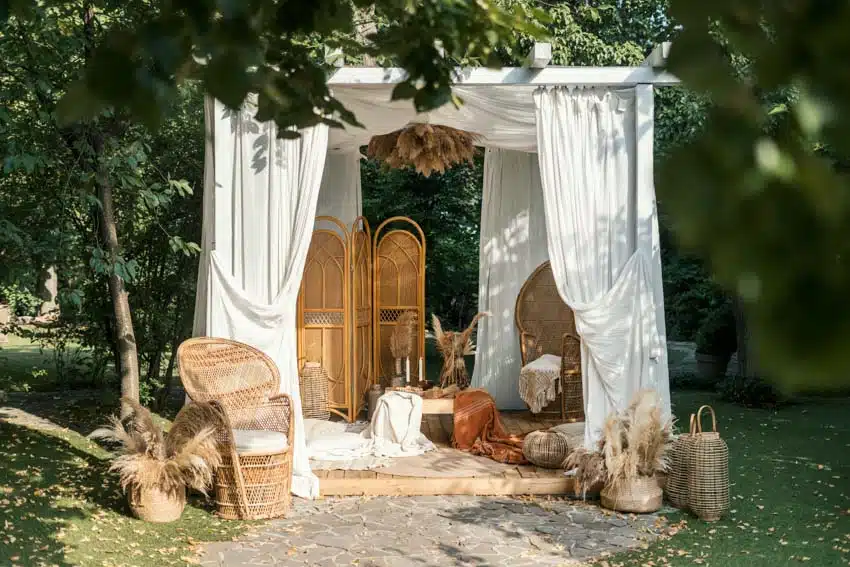 Mixing rattan and wicker, natural wood, and some asymmetrical pieces of furniture outdoors can really capture a boho-esque vibe.
Throw in some string lighting fixtures as well as lots of houseplants, decorative pillows, and comfy throws – that's the final touch! This boho look is great since it works with anything, plus there aren't any rules – yay for freedom!
A pair of bamboo-effect armchairs are just what you need to turn your outside space into a bohemian showstopper.
Dress them up with cushions and throws and why not add some garden rugs for an effortlessly chic look? Wooden or bamboo tables will really drive home that relaxed boho vibe – perfect for a garden, balcony or summer patio.
A stunning rattan swing chair would add the perfect finishing touch to a boho-inspired interior. Crafted from woven poly rattan and set on a metal frame, this chic piece is ready to keep you comfy come rain or shine. Not only that, but it's also ready to move indoors during winter if you need – versatile and oh-so stylish!
Boasting a boho look, why not pop a jute floor cushion into your outdoor space? Whether it be a gazebo or shaded spot – the addition of one of these beauts can really bring the wow factor!
Pair with other jute accessories, an eye-catching rug and potted plants and voila – an enchanting refuge from the hustle and bustle! Choose between stripes, flowers or geometric shapes for that lively, whimsical feel. With just a few touches – you're all set to garden in style.
If you're after a timeless luxury that'll let you kick back and relax in your outdoor space, it's hard to go past a hammock. Double hammocks give off major boho vibes with their pure cotton construction and hand-crocheted fringe accents.
Nothing else brings that effortless chill quite like a comfy bohemian-style outdoor furniture setup – so grab some of those giant cushions, poufs and grab the perfect spot to recline!
Modern Boho Furniture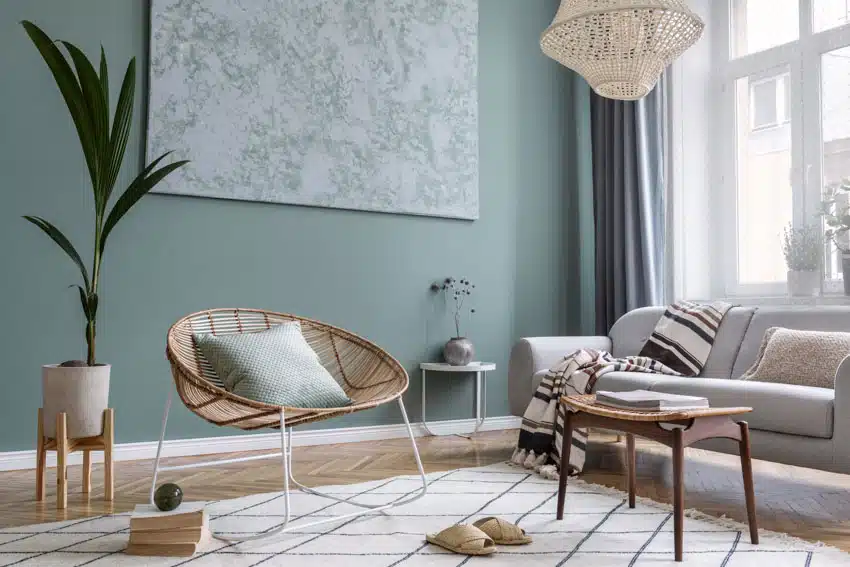 Love the look of boho-style furniture but want to keep your home looking modern? Don't worry! Modern Boho home décor is here to save the day.
Combining the bold, eclectic pieces of traditional Bohemian style with contemporary, laidback touches, it pays homage to all things natural – think ethnic patterns, bright colors, and organic textures! Now you can have that gypsy feel without sacrificing a chic and streamlined look.
The beauty of modern bohemian flair! From its sleek lines and understated minimalist designs to its eclectic, eye-catching appeal, this furniture style mixes the best of both vintage boho with contemporary chic. No intricate details here – just a straightforward modern vibe that still oozes plenty of personality.
Want a modern boho look? No problem! Contemporary Boho furniture is all the rage, and you can quickly achieve it by mixing bohemian elements – Moroccan carpets, macrame wall art, and handwoven baskets for starters – with minimalistic sophistication.
Remember, though – we're talkin' modern boho here – so don't forget to add those trendy touches too!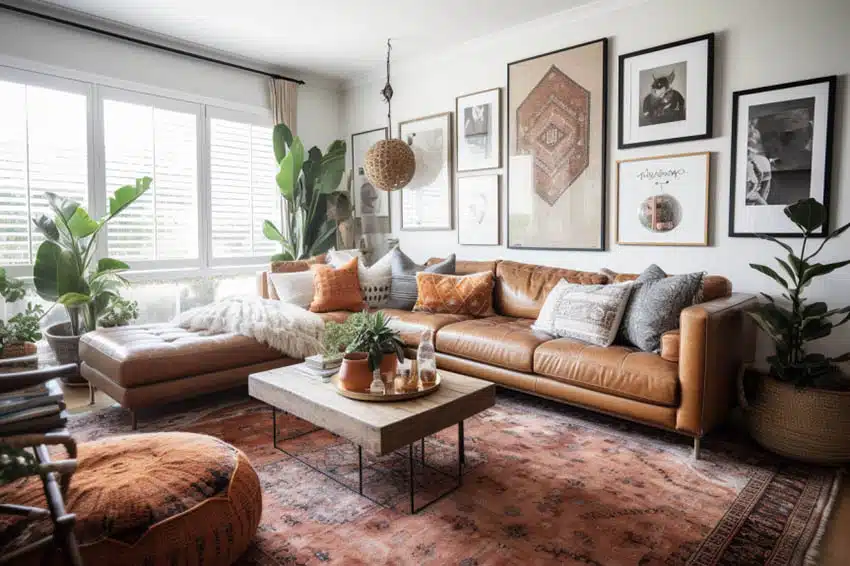 Woah-oh, things are getting all kinds of wild with modern boho style – too much of everything. But the key is to keep it mellow and casual.
For a modern boho living room, why not try a glassy modern coffee table paired with some timeless bamboo-framed armchairs? It's the perfect way to strike an unconventional balance between thrifty chic and contemporary cool.
For your modern boho furniture, get creative with vivid colors and fun patterns like ethnic prints, florals, intricate designs, and motifs. Or go for a subtle look by trying out grays, beiges, mustards, yellows, or olive greens – the choices are endless.
Bohemian Furniture Stores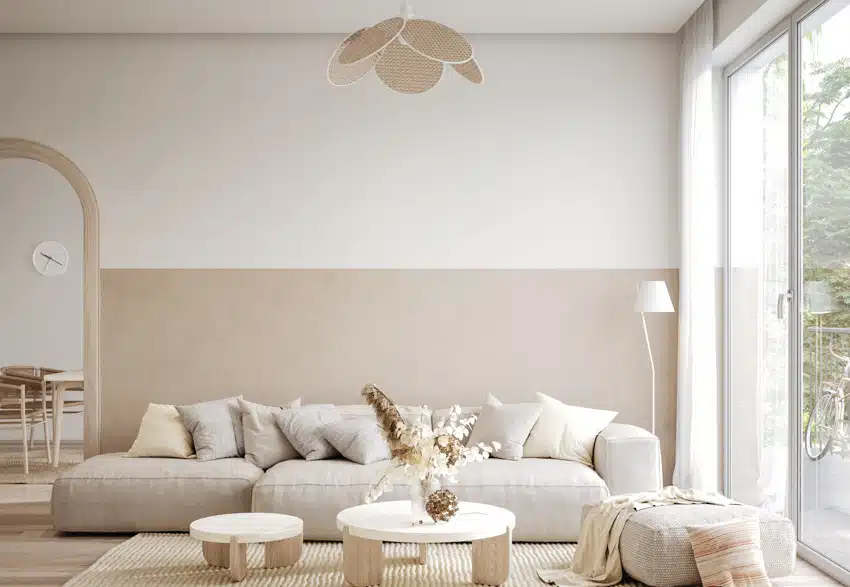 There are various furniture stores, both in-store and online, that sell Bohemian-style furniture pieces. You may consider the following choices:
● Urban Outfitters. Urban Outfitters has got the comfiest couches around, plus unique accent chairs that'll really make a statement! Plus, add vibrancy to your space with their eye-catching Bohemian rugs and fabrics; they'll liven up any room.
● Wayfair. From funky accent chairs to sweet and sassy headboards and shaggy carpets and pillows – in every bright hue imaginable – it's got the goods for an urban hippy vibe. It's an online paradise, offering Bohemian-style furniture from an array of companies.
● West Elm. Whether you're on the hunt for a classic sofa, a cozy throw pillow, or an art piece that blends with your boho-chic décor, this store has got your back.
● Anthropologie. The shop for totally eye-popping Bohemian beds and sofas, poufs, and wicked carpets.
● World Market. From carved wooden coffee tables to multicolored woven armchairs, there's an eclectic bohemian-style furniture selection that won't break the bank.
See more related content in our article about the different types of furniture styles on this page.