Find out all about bohemian style furniture including what this style is, how it is used in living rooms, bedrooms, outdoor spaces, and where to buy them.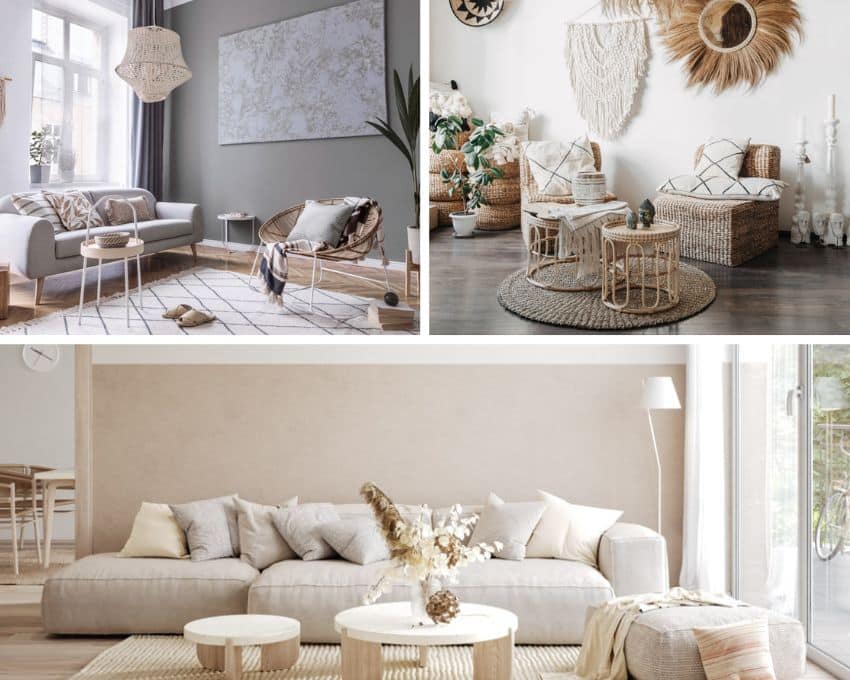 With its casual, unorthodox, and eclectic character, bohemian-style furniture has grown in popularity in recent years. It is known as a furniture style that values uniqueness, originality, and freedom.
The bohemian lifestyle is generally linked with artists, musicians, poets, and other creative people who reject the conventional and favor self-expression.
This style's furniture items and decorations are frequently sourced from various places internationally, evoking a sense of exploration and adventure. Let us discover the provenance and characteristics of the Bohemian furniture style.
What Is The Bohemian Furniture Style?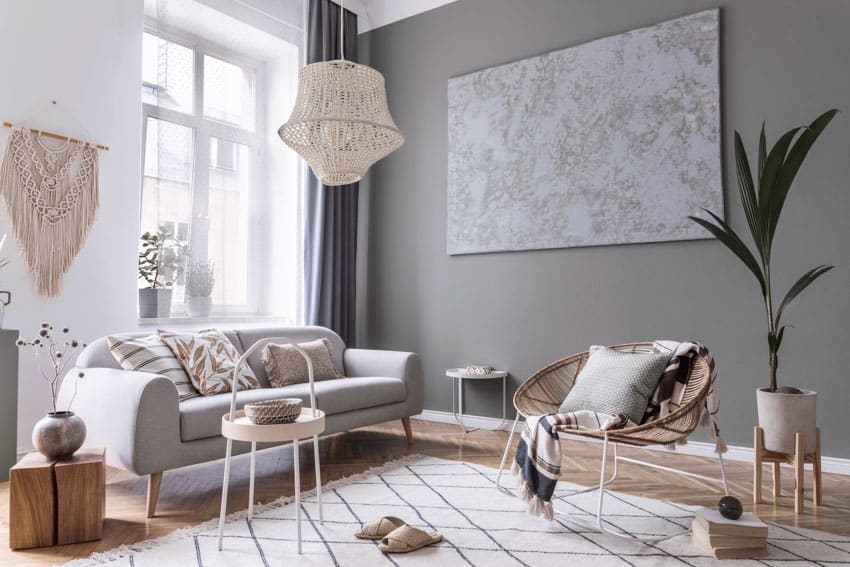 Bohemian furniture style, often referred to as boho style, is an eclectic and unique design approach that emphasizes creativity and the openness of self-expression. This furniture design is influenced by the bohemian way of living, which embraces a wandering and artistic way of life.
In bohemian homes, there is always room for the artistic creation that adds a sense of flair and originality. – Bohemian Style, Elizabeth Wilhide
This furniture style is distinguished by a variety of materials, textures, and patterns, and it frequently merges vintage and modern features. The trick to embracing Bohemian-style furniture is to mix, blend, overlay, and explore; use mementos from your adventures; and create a comfortable and memorable environment.
In addition, natural materials like wood, wicker, and handwoven textiles are commonly used in bohemian-style furniture, as are international influences including Moroccan or Indian designs.
It is not unusual to come across one-of-a-kind pieces of furniture that have been recycled or upcycled. Furniture palettes of this style are often rich and lively, with bold jewel hues, warm earthy tones, and flashes of brilliant bohemian paint colors.
Furthermore, the bohemian furniture style is all about establishing an appealing and inviting place that reflects the owner's personality and preferences.
It is a concept that invites layering, matching, and introducing unusual components. The overall result is a space that seems lived-in and full of personality.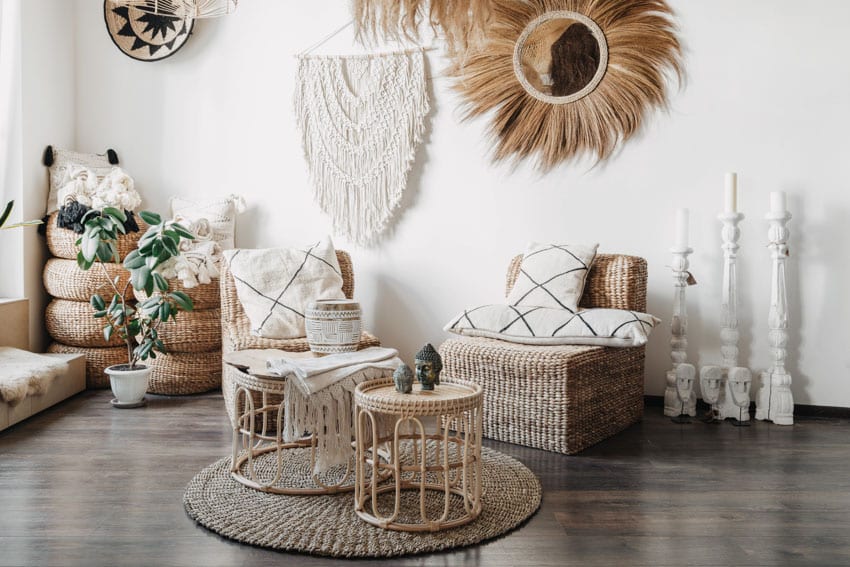 The origin of bohemian-style furniture may be traced back to the early 19th century when all types of creative people rejected society's existing norms in favor of a more unrestricted and atypical way of living.
As part of the hippie era in the 1960s and 1970s, bohemian-style furniture saw a rebirth. The trend became recognized as bohemianism and focused on Paris's bohemian neighborhood, where numerous artists resided and worked.
Bohemian Bedroom Furniture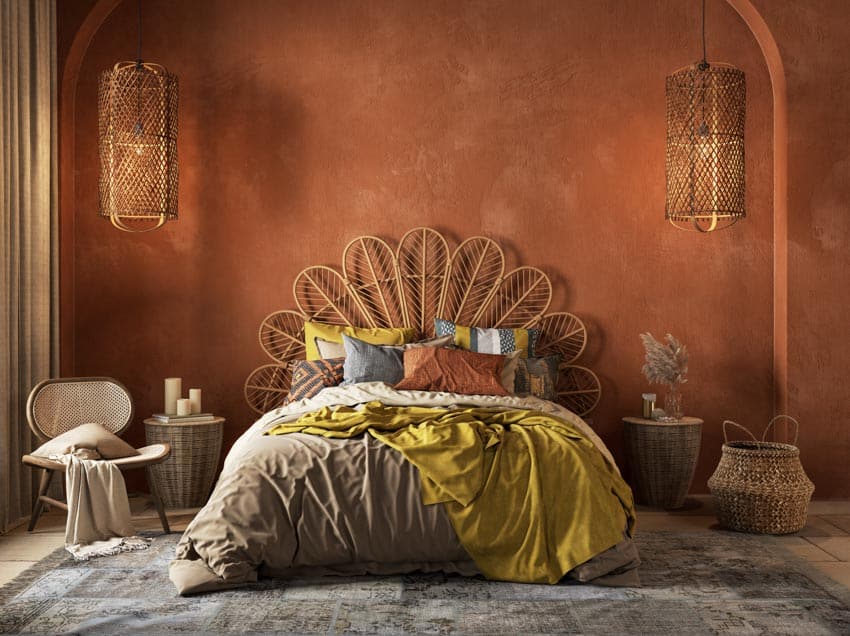 A bohemian-style bedroom focuses on establishing a pleasant and hospitable atmosphere that represents the bedroom owner's unique characteristics and ingenuity. To begin with, the bed is a crucial component of a bohemian-style bedroom.
A bohemian-style bed frequently consists of a low platform bed or a basic metal bed framework, with a headboard constructed of natural materials like wood or rattan.
Pieces of textured fabrics such as old quilts, handwoven blankets, and colorful throw pillows, are essential in a bohemian-style bedroom.
An antique dresser, a retro-style bedside table, or a highly decorative accent chair might be included in a bohemian-style bedroom along with the bed.
Natural materials such as wood, wicker, and jute are frequently employed. These bedroom furniture pieces can look better in rich, vibrant colors or be left in their original state to highlight their distinct character.
Bedrooms in the bohemian design emphasize furniture mixing and matching. An ancient-style dresser with a modern decorative chair, or a rustic wooden couch with a streamlined metal side table, are common combinations interior designers use.
Aside from that, these furniture pieces are matched with one-of-a-kind lighting fixtures to bring a lot of personality to a bohemian-style bedroom. To create a warm and inviting ambiance, some homeowners even consider adding string lights, colored lamps, or an elegant chandelier.
Bohemian Living Room Furniture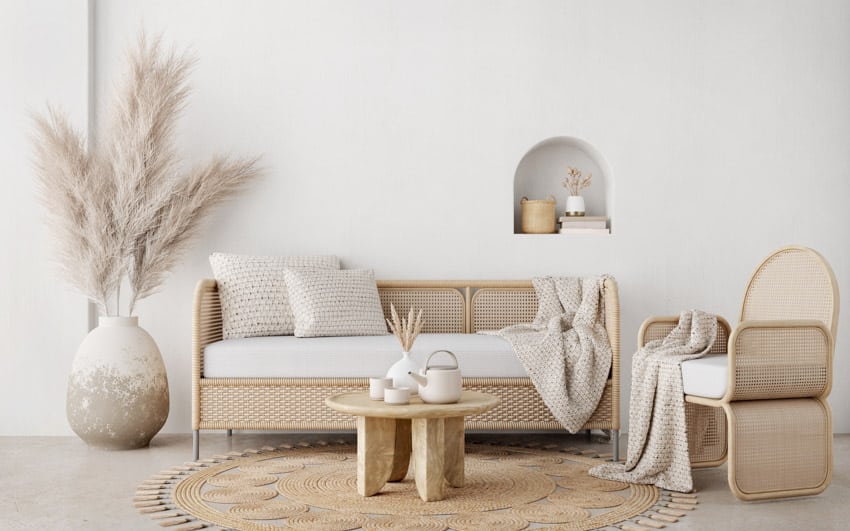 Natural materials serve as one of the distinguishing elements of bohemian-style living room furniture. Rattan, wood, leather, and suede are commonly used for furniture such as an antique sofa or armchair, a vintage coffee table, or an artistically and intricately carved panel.
Bohemian living room furniture is frequently mixed with other highly distinctive decorative elements such as a luxurious Moroccan pouf, a handcrafted porcelain vase, or a wacky thrift store purchase. These objects give character and individuality to the area, producing a sense of warmth and coziness.
Additionally, green is often known as the primary color of nature, therefore it seems to reason that green furniture would be abundant in Bohemian living rooms. It is prominently matched with neutral accessories such as a woven beige rug, a bamboo-made coffee table, as well as a wicker egg chair.
A rattan side table with a glass surface, a spherical rattan coffee table, a compact rattan ottoman, and a rattan accent chair can all help to make the living room more tropical.
Second-hand and vintage objects are quite at home in this style of living room, which is filled with various furniture pieces amassed over time.
Each piece of bohemian-style living room furniture should be unique and have a tale to share. Homeowners may enjoy researching local vintage shops and selecting each piece personally.
Try hanging pictures inside the shelves. – Justina Blakeney, The New Bohemians
Cool and Collected Homes
Bringing in, living room items, such as plush seats and couches in vivid hues will appeal to both homeowners and guests. Woven rugs or overstuffed floor pillows will provide a welcome ambiance for floor seating.
Nonetheless, since a bohemian living room must be inviting, sleek or straight-backed furniture will not work. You must select comfy and relaxing pieces, such as chaise lounges or butterfly chairs.
Bohemian Outdoor Furniture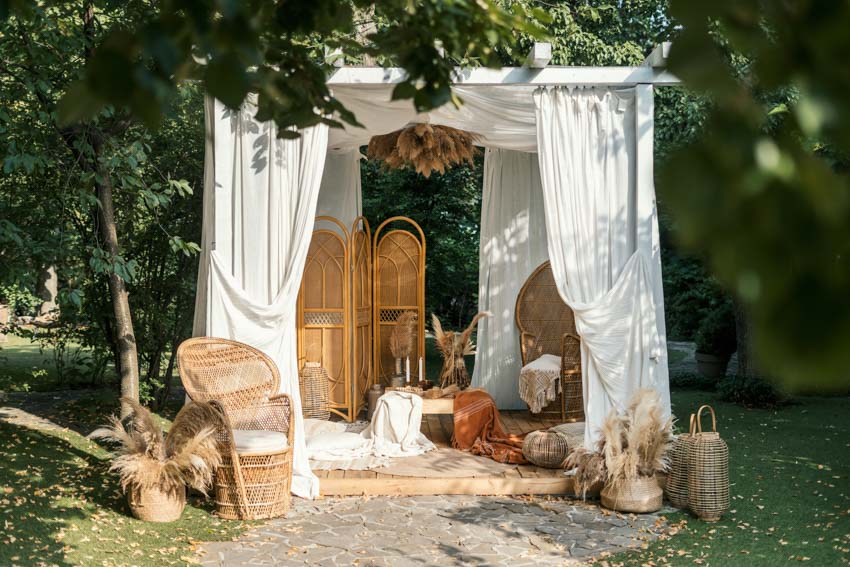 Regarding bohemian-style outdoor furniture, you may consider combining rattan and wicker, natural wood, and asymmetrical pieces to produce a hippie vibe.
To complete the bohemian aesthetic, you may pair them with string lighting fixtures, house plants, as well as a variety of decorative pillows and throws. This style is terrific since there are no restrictions; everything goes.
For example, a pair of bamboo-effect armchairs might create an eye-catching boho mood outside. You can even layer them with cushions and throws and pair them with a garden rug to deliver a casual bohemian aesthetic. To establish a relaxed bohemian vibe, wooden or bamboo tables complement a garden home, balcony, or summer patio.
A gorgeous rattan swing chair would also complement the boho-style decor well. This bohemian-style furniture is composed of woven poly rattan on a metal framing and can tolerate humid weather. This bohemian-style furniture piece may be brought indoors and used throughout the winter.
Moreover, a jute floor cushion may be a lovely addition to your outside space if you have a gazebo or shaded spot.
Pair it with other jute accessories, a patterned outdoor rug, and potted plants for a more trendy boho look. Designs such as stripes, flowers, and geometric shapes can be used to create a lively and whimsical design.
The goal of bohemian-style outdoor furniture is to create a calm and comfortable environment. This frequently entails seating choices like large cushions, poufs, and hammocks.
Ultimately, a hammock is hard to top if you search for timeless luxury and a place to unwind in your outdoor space. A double hammock is typically made of pure cotton and has hand-crocheted fringe to accentuate your bohemian motif.
Modern Boho Furniture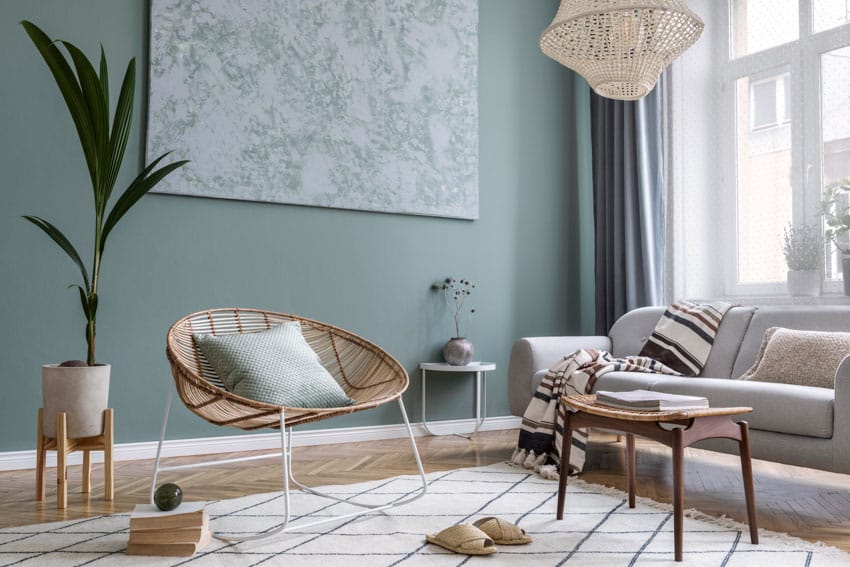 A modernized version of bohemian-style furniture is called modern boho furniture. Boho chic home décor combines the distinctive and bold pieces from its past with current streamlined and relaxed characteristics. Modern boho home decor highlights natural materials, cultural patterns, colors, and textures.
The calm and eclectic appeal of the bohemian style is combined with the sleek lines and the minimalist appearance of modern design in this furniture style.
In contrast to the original bohemian furniture, which might have elaborate and intricate features, Modern Boho furniture has a contemporary style and simple designs.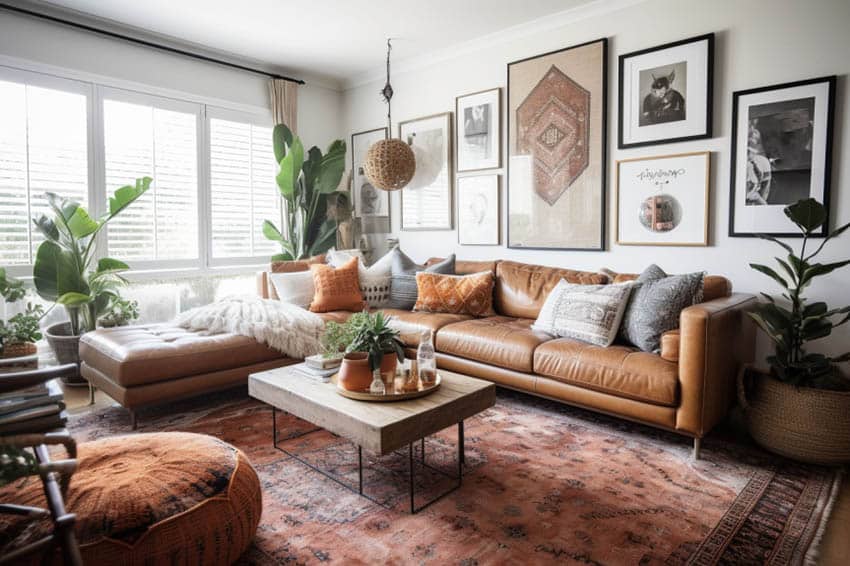 In addition, modern Boho furniture frequently integrates boho decorations like Moroccan-style carpets, macrame wall decorations, and handwoven baskets, but in a more minimalist and refined manner.
Since the term is not simply 'boho' but 'modern boho,' there is no doubt that you will require modern details in addition to bohemian features.
Things are overdone, unorthodox, and too much of everything in bohemian style, but in modern boho, you should keep it informal and comfortable.
For a modern boho living room, you might use a modern-style coffee table with a glossy surface and accompany it with classic boho furniture pieces like bamboo-framed armchairs. Doing so will make room for the unconventional and produce a unique harmony between boho and modern.
In modern boho furniture, you can use vivid colors and patterns like florals, ethnic prints, intricate designs, and ethnic motifs. Subtle colors such as gray, beige, mustard yellow, or olive green can also be good options.
Bohemian Furniture Stores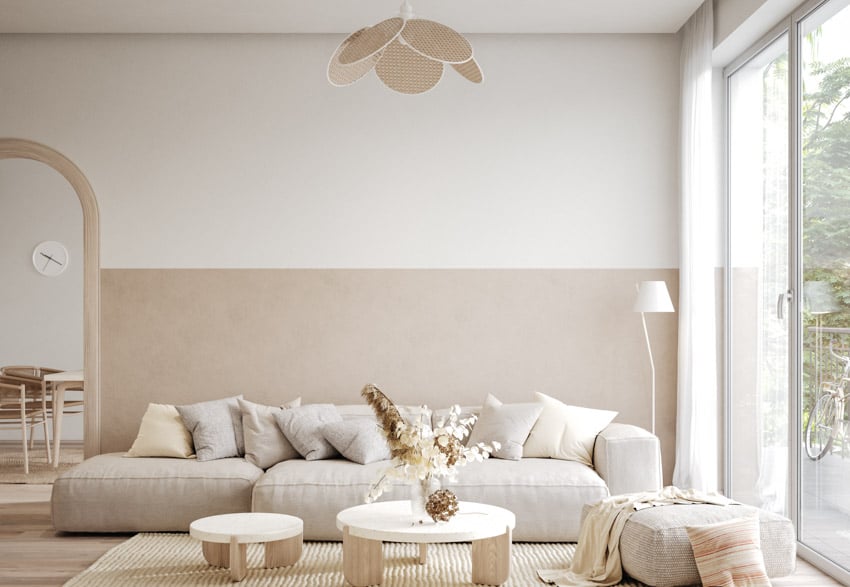 Various furniture stores, both in-store and online, sell Bohemian-style furniture pieces. You may consider the following choices:
• Urban Outfitters: This company sells comfortable couches, one-of-a-kind accent chairs, and vibrant Bohemian-style rugs and fabrics.
• Wayfair: This online site offers a wide range of Bohemian-style furniture from different companies, including bright accent chairs, boho-inspired headboards, and textured carpets and pillows.
• West Elm: With sleek sofas, textured throw pillows, and boho-chic wall art, this store strives to combine modern and bohemian trends.
• Anthropologie: This store sells eye-catching Bohemian-style beds, sofas, poufs, and carpets.
• World Market: For individuals on a tight budget, this shop provides a varied selection of bohemian-style furniture items, such as carved wooden coffee tables and multicolored woven armchairs.
See more related content in our article about the different types of furniture styles on this page.