In this chest of drawers vs dresser comparison guide you'll see the differences in their design, price, their uses, and how they compare to a bureau.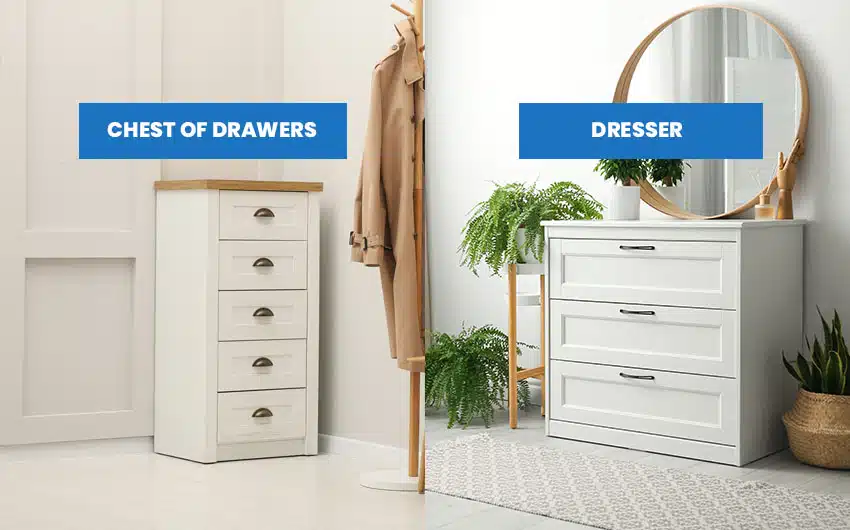 Choosing bedroom furniture is a very personal decision; however, there are pieces commonly associated with a bedroom, such as chaise lounges, armoires, loveseats, and a chest of drawers or dresser.
Shoppers tend to confuse a chest of drawers with a dresser when they aren't familiar with their differences and use, making it a difficult decision. A chest of drawers and a dresser are standard bedroom furniture pieces, but they come with differences found in the design, sizes, features, and how they're each used.
A chest of drawers and a dresser are standards for storing clothing and other belongings and can enhance any bedroom's style and design. Choosing a chest of drawers vs dresser for your bedroom starts with deciding which model will work in your space.
Difference Between A Dresser And Chest Of Drawers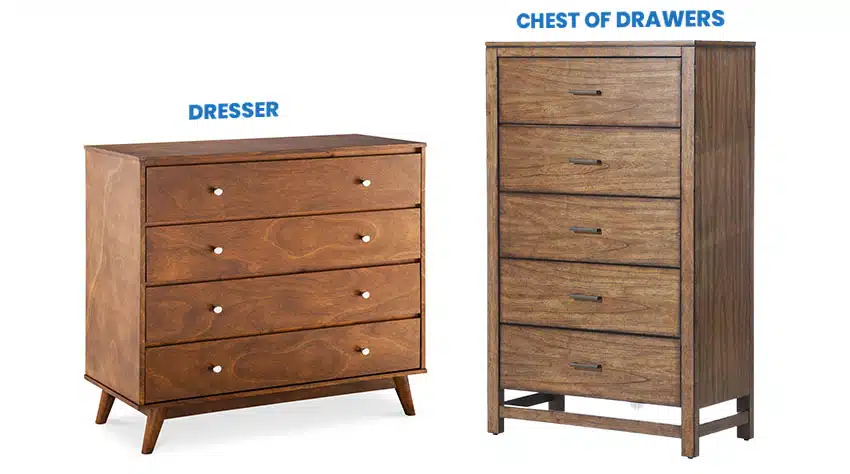 Both pieces of furniture are used to store clothing and other personal belongings in their built-in drawers. However, a chest of drawers is usually narrow and tall, whereas a dresser is wider and shorter.
Dressers are traditionally used in a bedroom to provide a place to get dressed and include a mirror that sits on, or is attached to its top. The shorter height, usually waist-high, allows a place to keep and display hairbrushes, combs, makeup, perfumes, accessories and other items needed to get dressed.
A chest of drawers, not reserved for bedrooms only, can be used to keep a range of items and, because of its smaller footprint, allows for extra storage in a smaller or crowded space. There's no limit to this versatile piece of furniture's usefulness.
Comparing costs, a chest of draws typically costs a bit less than a dresser. Still, the cost difference is minor, considering the size of the piece. The factors that influence the price are more dependent on the materials it's made from, its finish, and any hardware or additional design features.
Below are some samples of pricing based on type, material, size, and features.
TYPE
MATERIAL
SIZE
HARDWARE/FEATURES
SAMPLE PRICE
8 Drawer Dresser
Engineered Wood
32.17″ H

55.12″ W

15.85″ D

Foil Surface

Metal Drawer Runners

Plastic Handles

$508.99
6 Drawer Dresser
Natural Pine
62″ W

34″ H

23″ D

Amish Handmade

Stained

Lacquer Finish

$3,523.99
8 Drawer Chest of Drawers
Engineered Wood
36″ W

44″ H

15″ D

Laminate Finish

Beveled-edge Drawers

Metal Legs

$440.54
5 Drawer Chest of Drawers
Oak/Walnut
35″ W

53″ H

22″ D

Handmade

Hickory Log Bark Accents

$2,651.99
Dressers typically include more draws than a chest of drawers, and dressers are made to accommodate a mirror mounted at the top. Pieces with more drawers made from high-quality materials will cost more.
Dressers may have anywhere from two to four long draws the width of the frame, two or three rows of shorter drawers, or a combination of short and long drawers, depending on the design. A chest of drawers is usually a vertical piece with one drawer in each row.
Uses For A Dresser vs. Chest Of Drawers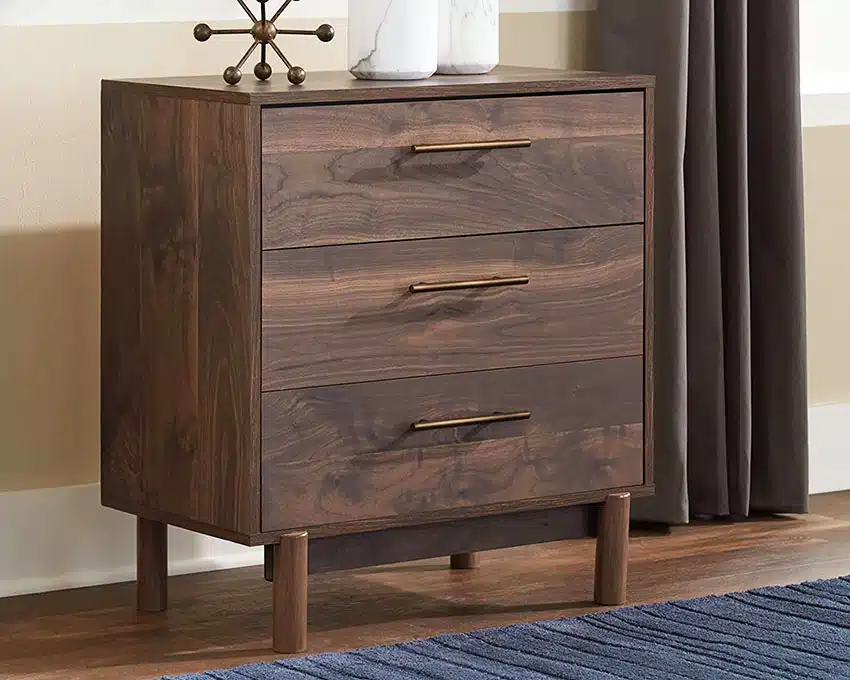 See this drawer chest at Amazon [sponsored link]
The term dresser is a shortened version of 'dressing table' and, as the name implies, it's made to store clothing and personal effects for getting dressed. The shorter height versus a chest of drawers allows a waist-high view and a place to attach or hang a mirror.
The top of the dresser makes a perfect place to put on makeup, style hair or put on jewelry and accessories before going out. A dresser makes getting ready in the morning more convenient and quicker, especially when on a schedule to get to work.
A chest of drawers can be used to store clothing but is typically used for general bedroom storage. Items such as extra sheets, pillows and blankets can be hidden away in a chest of drawers for guests or a day lounging around and watching movies in bed.
Chests of drawers also make a place to keep jewelry boxes, extra makeup, hats, scarves, mittens for the winter, and additional items you need to keep in your bedroom.
If you have a media room or family room with a media center, a chest of drawers is great for storing DVDs, media devices, cables, remote controls, and even older VHS tapes you don't want to keep.
Use it also for game cartridges, controllers, and storage for board and card games, keeping kids and teens organized and making clean up fast and easy.
What Holds More A Dresser Or Chest Of Drawers?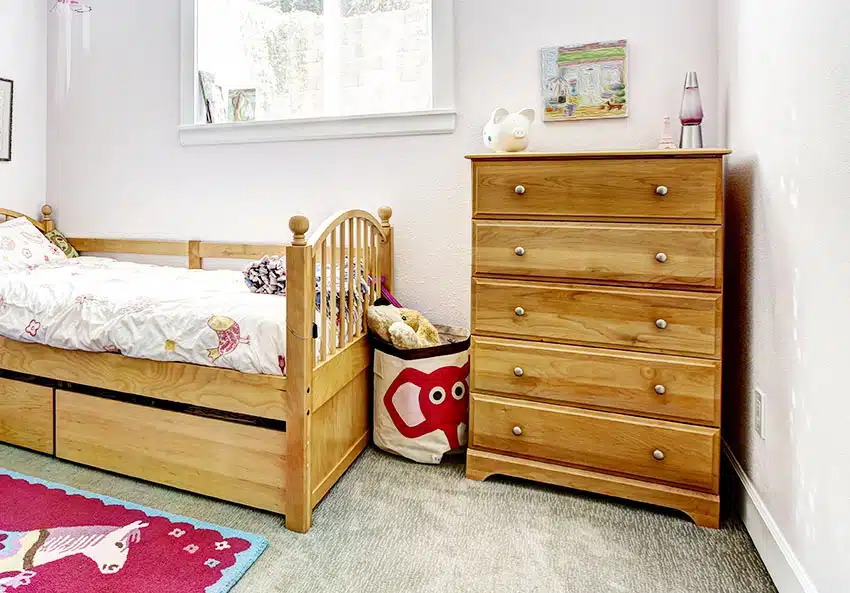 Both dressers and chests are available in many different sizes and configurations. Height, width and depth are offered in numerous dimensions and capacity choices, and drawers are often configured in standard or differing layouts.
Some pieces may have three same-width drawers and two or three smaller drawers on the top row, split up to keep items such as socks, stockings, and undergarments separated.
A dresser is also known as a 'low boy' and is designed to be larger than a chest of drawers in storage only, as it sits much lower than a chest and offers more room.
Generally, dressers hold more than a chest of drawers; however, the vast selections and designs of both essential bedroom pieces mean just as many variations in storage capacity.
A chest of drawers often called a 'high boy,' is perfect when floor space is limited. The narrow and tall dimensions allow for storage in bedrooms, kids' rooms, living rooms, dining rooms, and even entryways where space is at a premium.
It's a practical piece of furniture not limited to bedroom use and helps tremendously for storing items you don't want to have sitting around, creating a messy environment.
As with all furniture, each piece boasts a well-established function in your home, but each may be used anywhere you need storage. It all depends on your interior design, décor, and the room's purpose.
An older, well-used chest of drawers, with its taller height and narrow width, makes an excellent solution for a shop, greenhouse, or garage to store tools, flower and vegetable seeds, catalogs, and many other items common to an outdoor building.
Use your imagination, and you'll always find a way to make a chest of drawers a convenient and organized storage solution.
Bureau vs. Dresser vs. Chest Of Drawers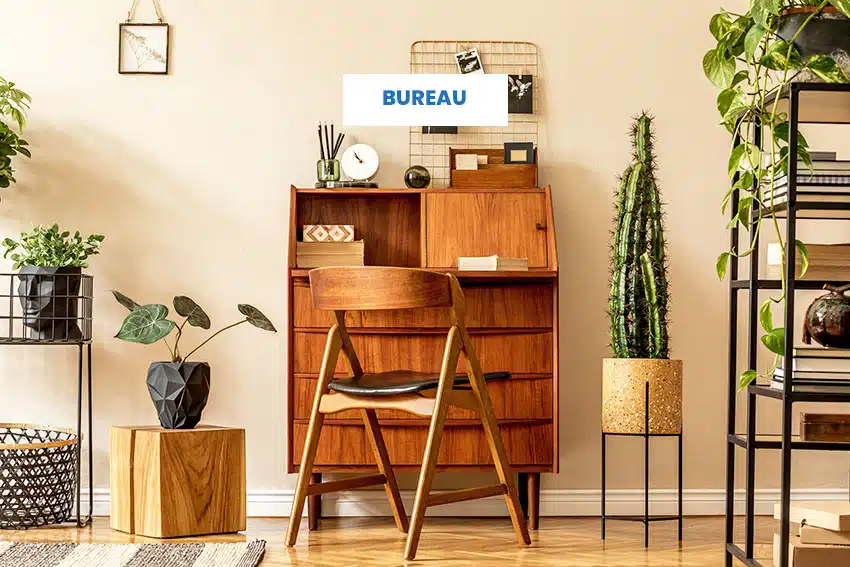 Bureaus are designed more like a dresser than a chest of drawers and are often placed in different rooms than the bedroom. They may be found in bedrooms but more often work as an efficient storage option for a closet, office, library, media room, or dining room.
Bureaus are hard to distinguish from a dresser but are easier to identify when compared to a chest of draws. It's a shorter and wider piece than a chest of drawers. The best way to tell the difference from a dresser and bureau is by where the piece is placed in a home and if it has a middle section without drawers for sitting comfortably.
A bureau is often used as a writing or secretary desk and may include a hinged writing shelf that opens when needed. Bureaus may also have pigeonholes that, when opened, are used to store pens, pencils, mail, writing paper and other office supplies.
Other storage options are small drawers and, at times, a cupboard. What's known as a vanity is actually a bureau with a kneehole in the middle for sitting that usually has one drawer above it, making it easier to sit and do makeup or hair. A mirror is often included for the top and vanities are the ornate version of a bureau.
For more related content visit our 29 dresser alternatives on this page.