Here's our gallery of colonial kitchen cabinets including their design features, style, cabinet doors, and hardware, as well as accessories & fixture ideas to complete the look of your kitchen.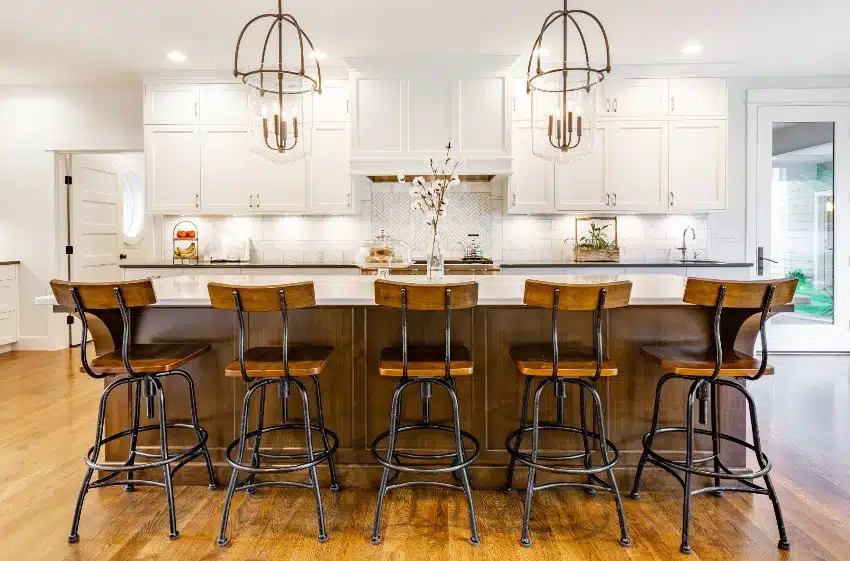 With an expertly crafted built, functionality and time-enduring style, the colonial kitchen cabinets are a historical piece that can give even a contemporary kitchen a zest of elegance.
Colonial kitchen furniture showcases straightforward features but displays high craftsmanship while providing that sense of home and comfort that we love about traditional styles.
So, whether it's from a collective sense of nostalgia or simply a need for a break from the world's modern sensibilities, colonial kitchen cabinets are the perfect addition to a cozy yet elegant kitchen space.
What Are Colonial Style Kitchen Cabinets?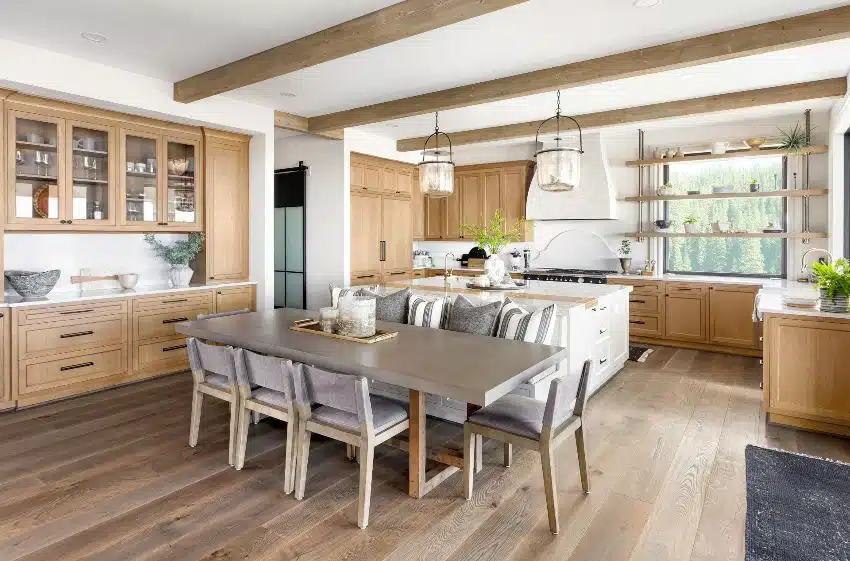 Colonial style kitchen cabinets are storage furniture that features the American classic kitchen design in the 17th and 18th centuries inspired by the European Colonial.
Since the colonial period lasted for 150 years, there are primarily four periods that have produced different kitchen styles. The Colonial style kitchen cabinets mainly feature an elegant and sophisticated aesthetic with practicality and functionality in mind.
The expertly crafted cabinets are traditionally made from hardwood available during the American colonial period, such as maple, pine, cherry, or oak, with mid-toned lumber as the common choice. Hardware is typically made of metal, whereas oil-rubbed bronze is a common match for natural wood.
Traditional kitchen cabinets come in a range of options, with their main character being elegant yet relatively straightforward in design and not overly ornate.
Typically, colonial kitchen cabinets have a shaker-style structure with simple lines that can be conveniently updated with handcrafted motifs. The simple lines also allow the easiness of sanding the cabinets and painting the surface.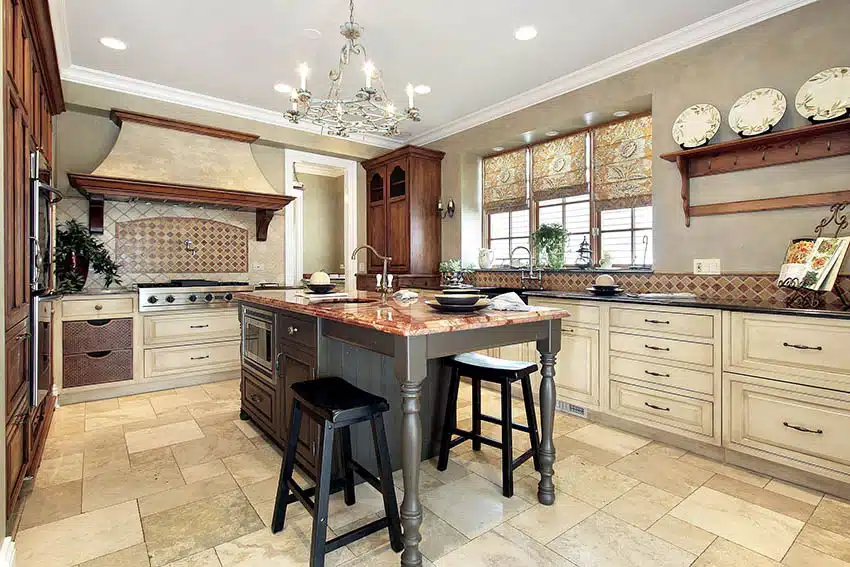 Colonial Kitchen Design Characteristics:
• Solid Wood Built
• Period Reproduction Hardware
• Wavy Glass
• Dovetail Drawers
• Beaded Details
• Inset Doors
• Integrated Hidden Appliances
Today, colonial kitchen cabinets used in modern homes tap a plethora of light-colored forefronts with a similar symmetrical and simple design made of a variety of hardwood quality materials.
Colonial Kitchen Design Features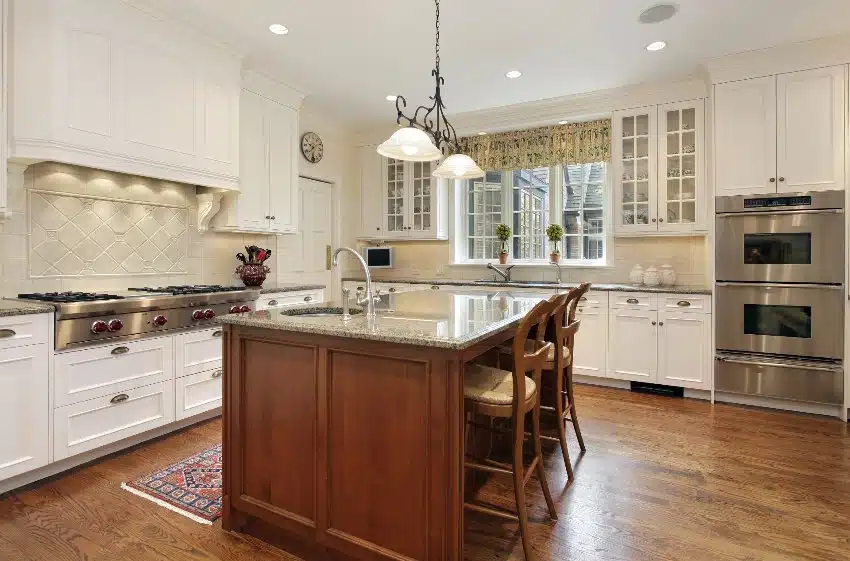 As seen in their traditional cabinetry, Colonial kitchen design takes in the simple yet refined lines of the European colonial aesthetic. The liberal use of wood materials such as exposed beams and warm yet muted tones such as white and creams integrated with antique décor are some main features of the colonial kitchen design.
To get an overview of what makes a colonial kitchen design, it is important to note how homes were built during this period. Since transportation was limited during this era, built-in cabinetry made from local wood materials was utilized in combination with adding heirloom pieces.
Tapping from its inspiration, the colonial kitchen features accessories from the Victorian period, such as artisanal pots, pans, and wooden ladles.
Other elements that are common in colonial kitchen designs are integrating a few simple arches and dental molding, which were drawn from the Federal and Georgian architectural styles popular during the colonial period.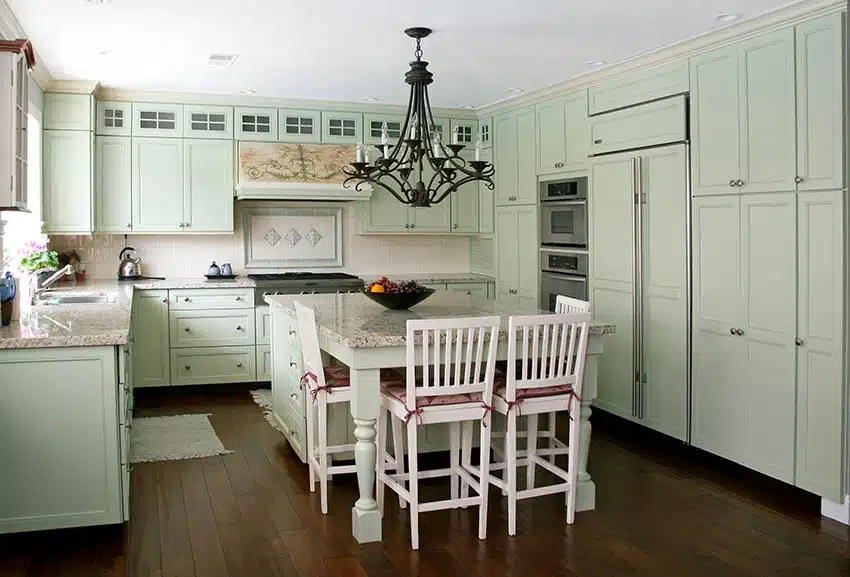 Primary Colonial Kitchen Cabinet Features:
• Extensive Use of Solid Wood
• Aesthetic Profile of European Classical Furniture
• Cabinetry Integral in Kitchen Interiors
• Extensive Work Space – Spacious Kitchen Island
• Built-in Cabinetry and Heirloom Pieces
• Natural and Muted Pigments
• Basic Rustic Look (Not too Rustic)
• Hardwood Floors with Oriental Features
• Simple Window Treatments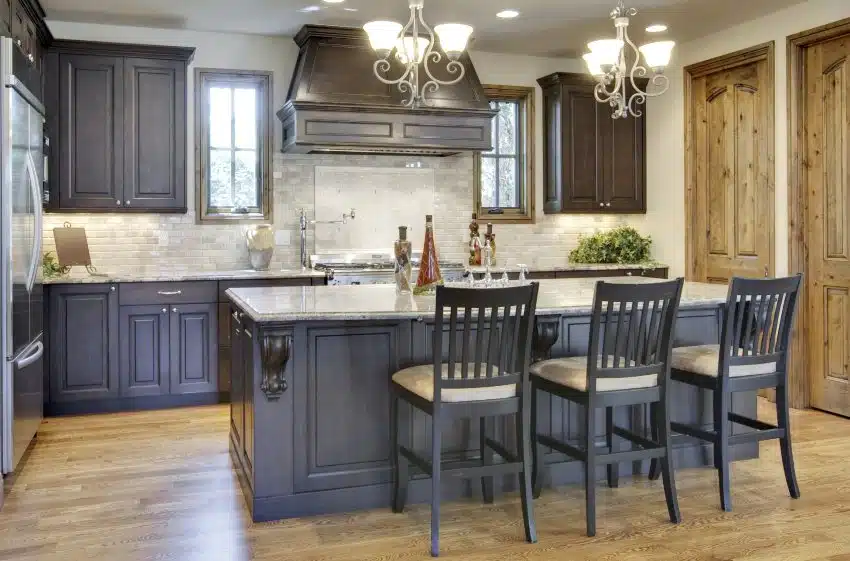 The classic colonial kitchens usually have a central brick-lined hearth which is not practical in a modern kitchen. Instead, a modern twist to the feature has a hearth with a brick wall with double ovens.
The spaciousness of colonial kitchens allows the desirable open plan to be functional while providing a visual richness that's not overwhelming. The extensive space also includes elements such as the kitchen sink, where deep farmhouse sinks are usually integrated to capture that workhorse environment.
Complementing the high-quality materials and providing a breather from the extensive use of wood, granite, and marble are commonly used for the countertop design. Modern touches of tiles and wallpaper with a stencil or toile design are also great in breaking off the solid wood aesthetic.
For floors, colonial kitchens primarily use hardwood but quarried stone such as slate can also provide that grounding effect and allow contrast among the elements.
Colonial Kitchen Cabinet Doors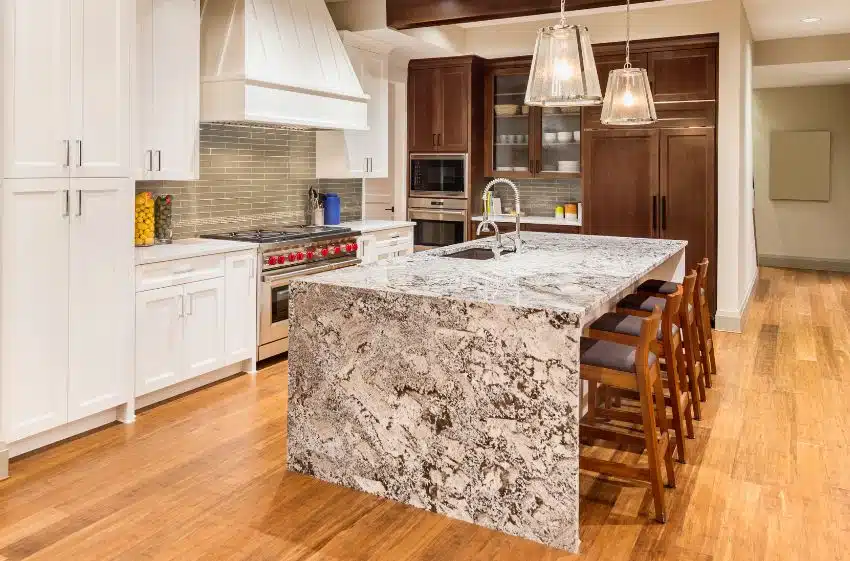 While open shelving was mainly used for storage cabinetry, colonial kitchen cabinet doors have since become a main feature of the colonial kitchen as the style developed through the 150 years.
As mentioned, kitchen cabinetry is an integral part of the traditional style, and for this reason, colonial kitchen cabinet doors showcase excellent craftsmanship made from natural hardwood.
The well-crafted cabinet fronts have conservative designs, where subtle details such as beading or high-top arches with raised or flat panels are commonly used. Shaker cabinets are popular, as well as the Georgian aesthetic, primarily with soft and delicate designs with ornate carvings, trims, and arches.
For that authentic classic colonial kitchen, custom wood cabinetry or refaced wood veneers can be used with forged iron cabinet hardware. The most common hardwood used in colonial kitchen cabinet doors is maple, pecan, cherry, or oak, with each bringing a distinct feature.
Common Features:
• Raised panel. These doors have a raised center panel and a recessed border around the edges. This style is often associated with colonial-style kitchens.
• Shaker. These doors have a simple, utilitarian design, a flat center panel, and a recessed border around the edges. They are a classic choice for colonial-style kitchens.
• Beadboard. These doors have a textured surface with vertical grooves, creating a beadboard-like appearance. They can add a rustic touch to a colonial-style kitchen.
• Glass-front. These doors have a clear or frosted glass panel in place of a solid center panel. They can add a touch of elegance to a colonial-style kitchen and also make it easier to see the contents of your cabinets.
Colonial Kitchen Cabinet Hardware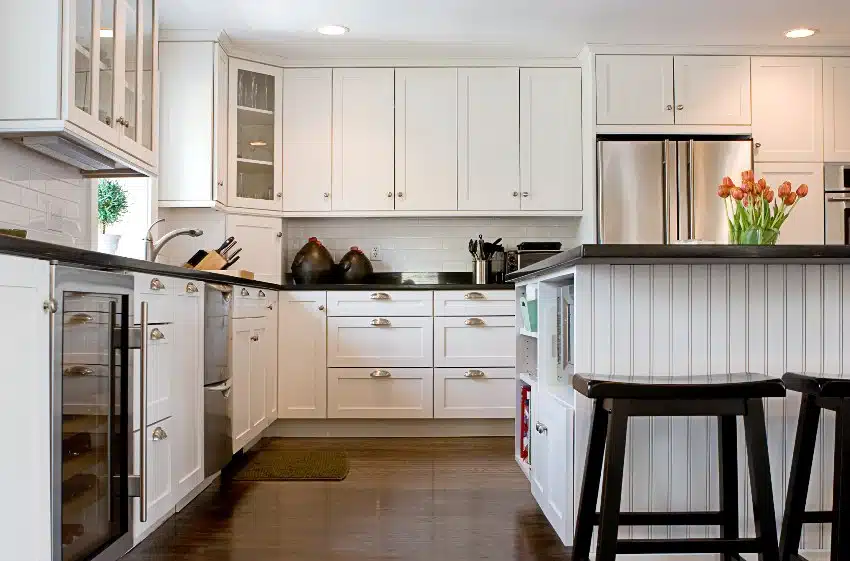 Colonial hardware and even screws were mainly handmade and initially constructed out of forged iron or wrought iron, with a few made from brass and bronze, as brass was expensive.
Brass materials are conserved by producing undersized doorknobs. Locks in the 1800s were imported from England, with a few small companies producing crude cast iron rim locks.
The most common hardware designs include:
• H or HL hinges.
• Cast iron pulls.
• Strap hinges.
• Shutter dogs.
• Hand-hammered pieces that give distinctive designs.
• Rosette and fine ribbed details are common designs for knobs.
Today, colonial-style inspired cabinet hardware is available in various finishes with the distinct antique profile of European cabinet hardware designs.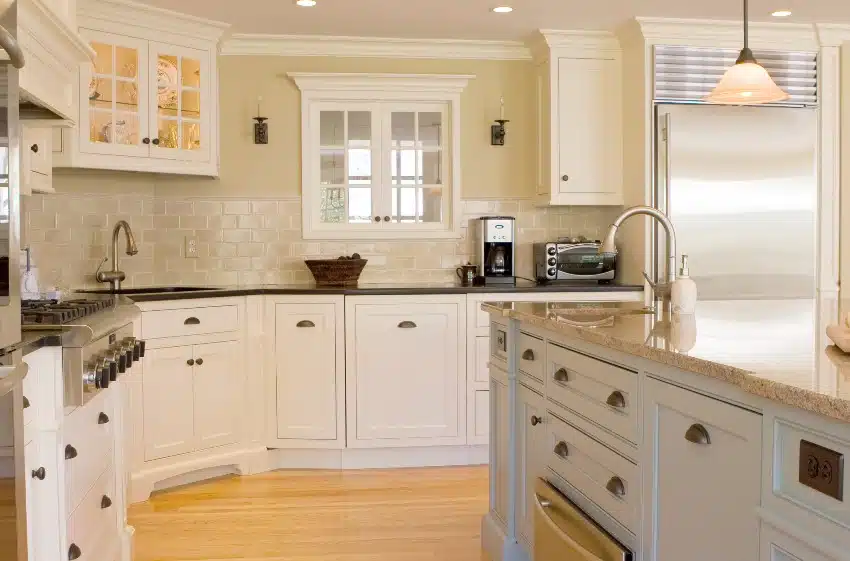 Best Cabinet Hardware Options for a Colonial Kitchen Design:
• Drop handles. These are long, decorative handles that are attached to the cabinet doors with screws. They are a classic choice for colonial-style kitchens.
• Knob handles. These are small, round handles that are attached to the cabinet doors with a single screw. They are a simpler option than drop handles and can work well in a colonial-style kitchen.
• Bail handles. These are similar to drop handles but have a curved or "bail" shape. They are a more decorative option that can add a touch of elegance to a colonial-style kitchen.
• Cup handles. These are small handles in the shape of a cup that is attached to the cabinet doors with screws. They are a more understated option that can work well in a colonial-style kitchen.
When choosing colonial-style kitchen cabinet hardware, it's a good idea to consider the overall style of your kitchen and select handles that will complement the design. Alternatively, handles made of natural materials, such as wood or brass, can add to the colonial feel of the space.
Colonial Kitchen Ideas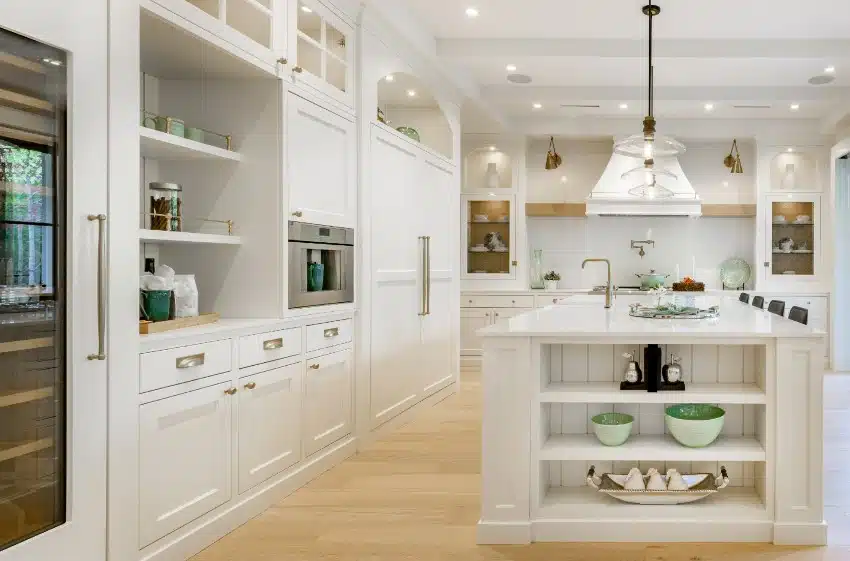 1. Widen Entryways. Updating a colonial kitchen to match a modern lifestyle is a challenge, especially if one respects the architectural aesthetic or when the building's structural integrity is restricted.
When a kitchen is cut off from a living area due to a large wall, widen and center the passageway instead of knocking down the entire wall. This also allows light and view to continue from room to room.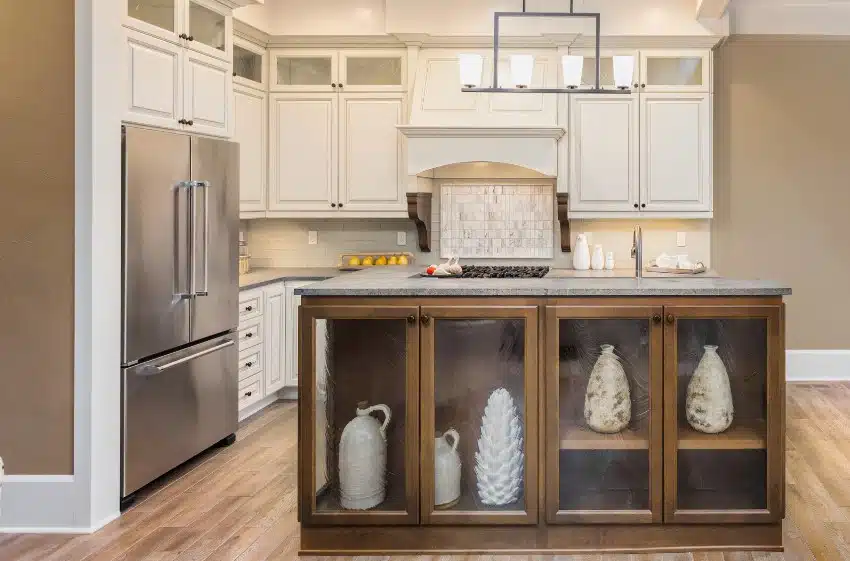 2. Old-World Pieces. While neutral and understated appliances are best for the traditional style, a piece of history, such as an old-world kitchen hood, can create a dramatic and eye-catching element to the kitchen. Handcrafted pot racks are also great accents to add to the ensemble.
3. Modern Mixes. While brass and cast-iron hardware complete the look of a colonial kitchen cabinet, adding modern hardware with sleek metallic finishes can add an interesting contrast to your traditional lines. Pair with copper, rose gold, or silver to whitewashed colonial-inspired kitchen cabinetry.
4. Stone Countertops. While woodblock slabs are common in the classic colonial kitchen, a light-colored stone countertop works best as it provides a breather from the extensive use of wood. Quartz and marble are common options as they match the elegant sophistication of the traditional style.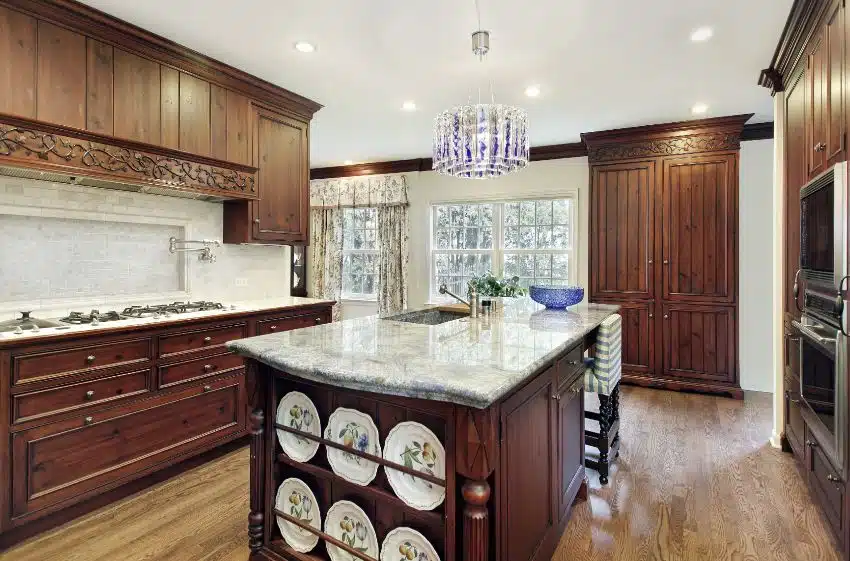 The classic look is achieved while providing a high-quality material for the kitchen space. Each stone material has its pros and cons.
Marble, for instance, is unmatched by its classical beauty but can be a high-maintenance kitchen countertop, not to mention it is expensive compared to quartz.
5. Inset Glass Cabinets. Another way to add a layer of texture to a colonial kitchen is by adding sleek glass. Choose glass for the upper cabinets, and it's also a practical option as items are easily seen inside. Fogged glass is also a great alternative providing a semi-transparent material that provides level concealment.
6. Add Hardware Backplates. Attention to detail can make a huge difference in a kitchen colonial kitchen. Add a hardware backplate that further enhances the kitchen cabinetry while also being a practical means to hide imperfections on the cabinet surface, especially when the hardware is replaced.
7. Colonial Accessories. Choose furniture and accessories with a colonial or early American flair, such as Windsor chairs, braided rugs, and metal or tin pitchers.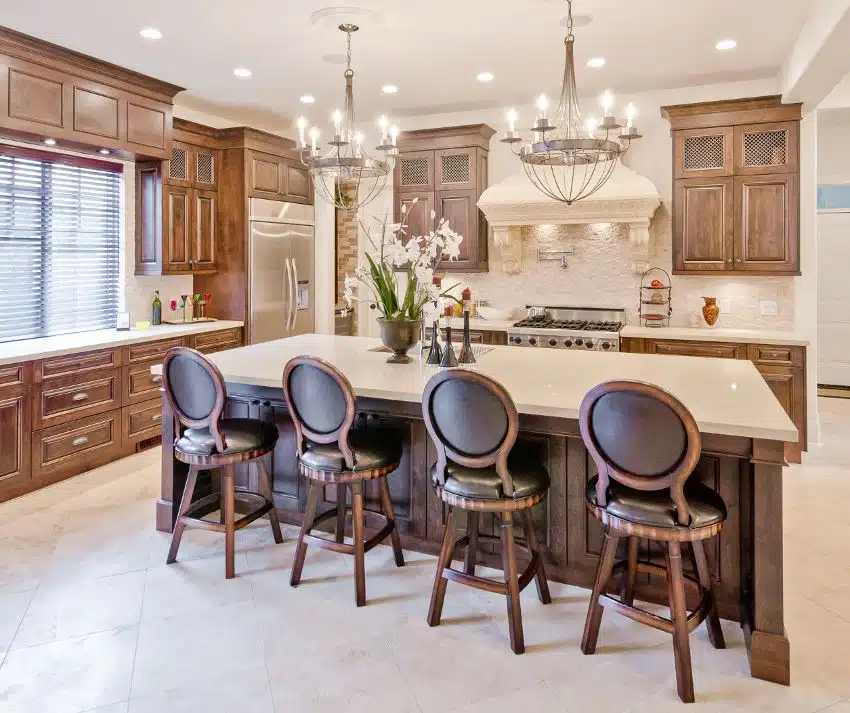 8. Period-inspired Luminaires. Best to use period-appropriate lighting fixtures such as lanterns or candlestick holders, and the colonial kitchen style inspires many lighting fixtures.
Visit our guide to kitchen colors for brown cabinets for more related content.