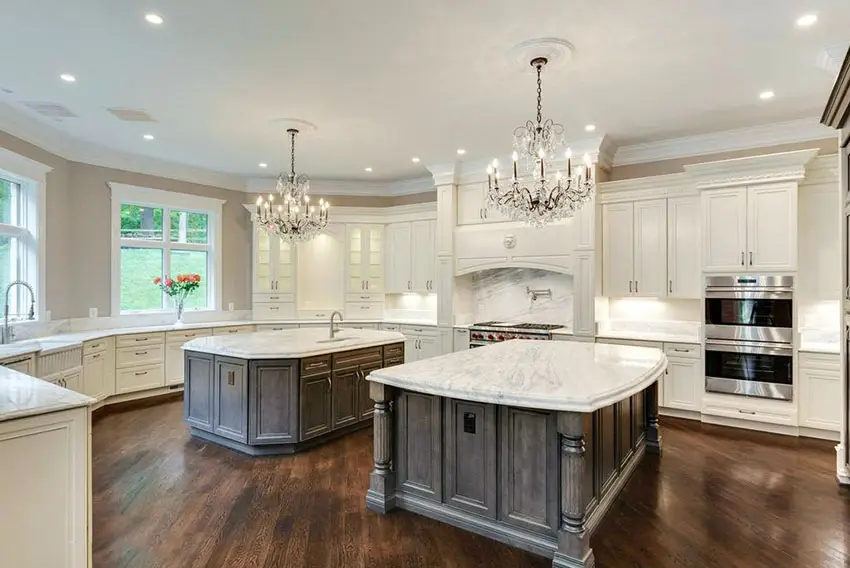 There is no material more graceful and sensational than marble. Over the years it has been used for various applications and is considered as a prime material for sculptures due to its translucency, richness and durability.
It has always been a great choice for flooring and bathroom and kitchen countertops in homes and there is no denying that it adds desired opulence and timeless elegance to our interior spaces.
Below you'll find the cost of marble countertops as well as some of the most popular types being used in new home construction and remodel projects.
Marble kitchen countertops are durable, ease of maintenance and stunning but there is always a cost factor that has to be considered. Marble is not a cheap material but remember that you are paying a price for the grandeur and lustrous beauty that it offers. Selecting marbles for countertops is more like selecting rubies as they both vary in grading, quality and cost that come along with it.
According to the interview conducted by The Marble Cleaner, an average marble countertop can cost $50-250 per square foot. And the total cost for a countertop can work out to be $3500 – 4000. visit this page for more about kitchen remodel cost.
The cost of marble countertops will depend on:
The quality of the marble used, thickness and various colors that play a role in the fluctuation of price. A polished marble will be relatively expensive than a honed piece. The average thickness of marble supplied today is 3cm and if you opt for 2cm or 5cm, the price will fluctuate.
Installation and labor cost that also includes the removal of the old countertop, cleaning etc. Depending on the complexity of the design and installation, average installation cost per square foot would be around $40-60.
Additional costs of cutouts, edging of counters, designing, sealing the surface etc. standard edges would not cost that much but a bullnose or ogee edge will soar up the cost of installation with additional $30-50 depending on the design.
Color is one of the biggest factors when it comes to stone. The whiter (yes whiter not lighter), as in the most concentrated white, purest white will be the most expensive. That same rule goes for black, the purest form will be the most expensive. From there you can get a creamier white or grayer blacks to reduce the cost of the stone.
Installation is a cost that will be a part of this project, so don't let that slip the mind. Obviously, the thicker the marble, the more expensive it will be. Any extra cuts in it, such as a sink hole, will add to the cost.
When looking into purchasing marble a few recommended vendors are: MSI Stone, Silestone, Daltile, and Cambria. Most of these manufacturers deal with not only home and kitchen marble but also commercial marble. This can mean that their prices are a bit more cost effective due to the mass quantities that the manufacture. When they make more of the same product frequently it allows them to keep a more competitive price.
Often when buying just a few pieces of marble you will not buy directly from the manufacturer. For example one may be searching on the MSI Stone website, and pick a perfect piece of marble from there, but would not actually purchase from them directly.
There are local distributors that they will refer you to. Basically when wanting to buy marble one will be connected with a local stone dealer to visit and see their selection in person. This is important since, just because the piece of stone looks exactly like what the buyer wants, it does NOT mean that it is.
Computer screens show different colors on every screen, every page. No matter how many times someone holds the paint color next to the computer screen you will not get the right representation! This is why when buying stone for a project one should visit the store or even order samples online from the manufacturers' website. Always get a physical sample.
As stated the quality of the marble plays a significant role in determining the total cost of the countertop and there are different qualities of marble available in the market. Although marble is found in different regions of Europe and Canada, most of it comes from the regions of Italy.
Popular Marble for Countertops
Carrara marble – this marble quarried in Carrara, Italy is one of the most common marble range and is the least expensive due to its wide availability. Its soft, linear grayish veins can give a stunning look for countertops.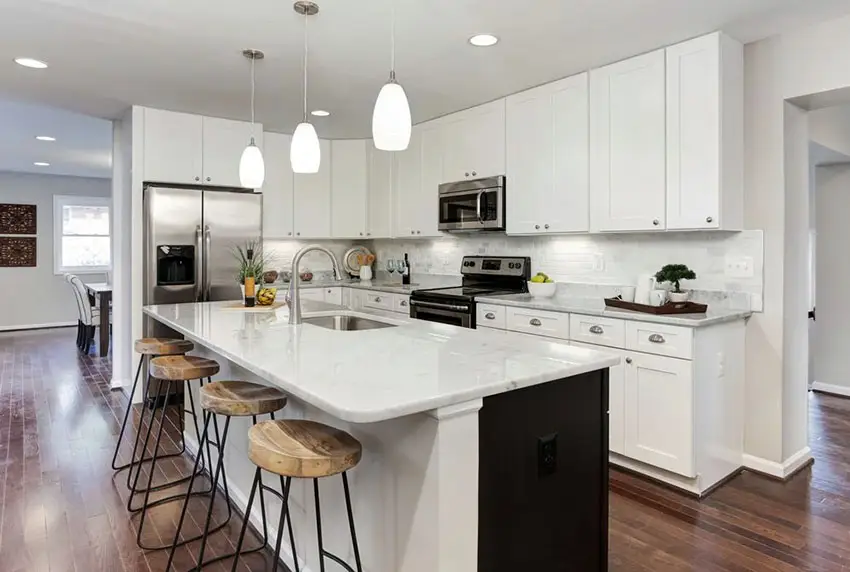 Carrara White Marble
Statuario – considered as a precious marble within the high price range with milky white look with deep beautiful grey veins that frequently runs through the material.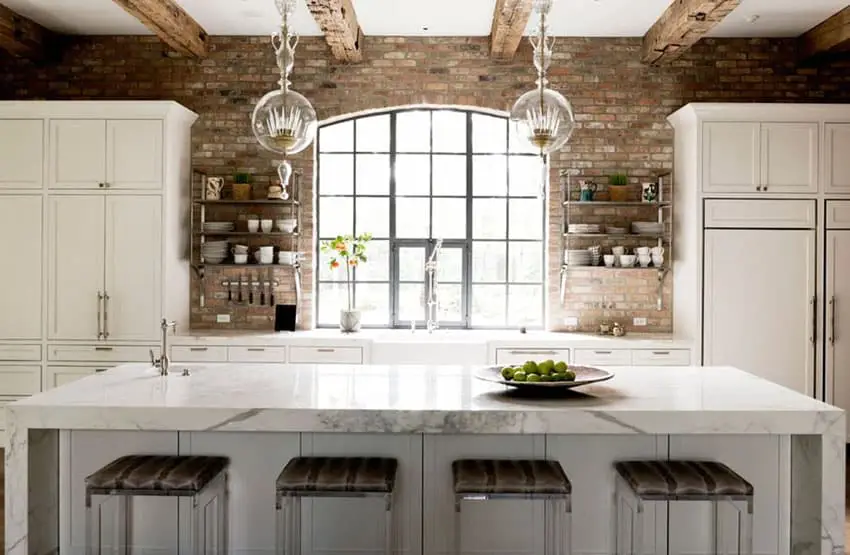 Statuario Polished Marble
Calacatta marble– It is more costly than the Carrara range of marble as it is rare with predominant large veining pattern and slightly lighter in color than the Carrara.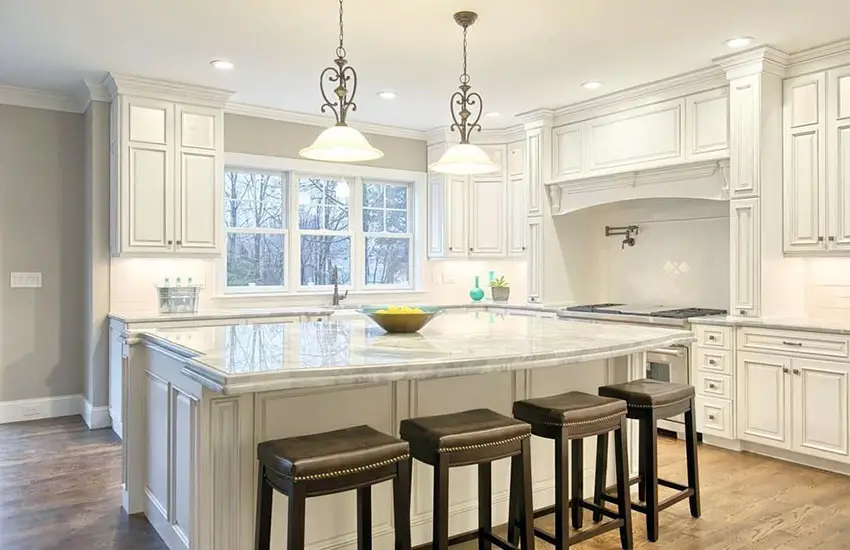 Calacatta Carrara Marble
The Price of marble depends on the thickness and type of stone used. Below you can see the variety in pricing for a few of the most popular types of marble.
Marble Thickness/ Type
Bianco Carrara – $37.00/SF – 3cm/ polished
Calacatta – $149.00/SF – 3cm/ polished
Bianco Statuario- $288.00/SF – 3cm/ polished
Arabescato Carrara Marble
Although marble is relatively expensive compared to other stone countertops, if you are a fan of marble or need to add a high end touch and wow factor in your kitchen then this beautiful material is definitely meant for you.
Related Interior Design Posts You May Like:
Types of Kitchen Counters – Marble Kitchen Countertops – Granite Countertop Colors – Kitchen Design Ideas