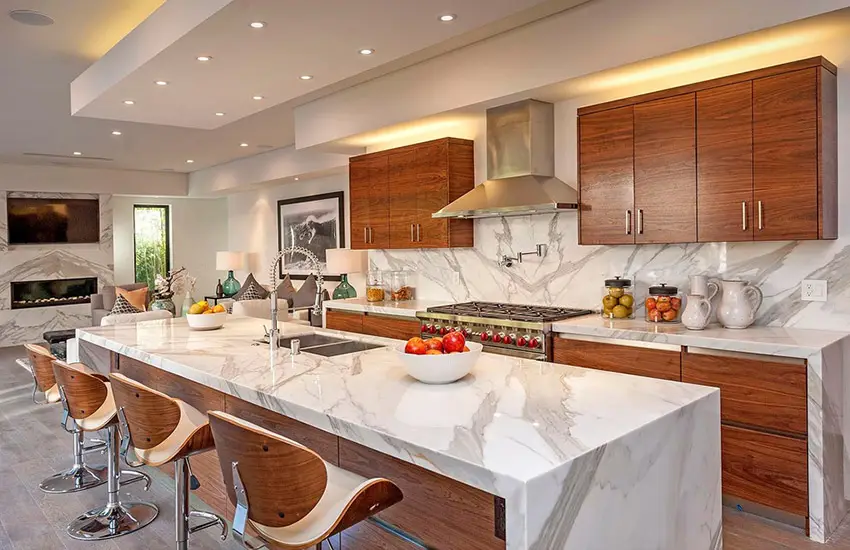 It is essential that you create a kitchen remodel cost guide so that your kitchen remodeling project does not break your budget. Whenever you think of doing a project the initial consideration should be how much is it going to cost you.
How to Estimate Your Kitchen Remodel Cost
To help determine your budget for a kitchen remodel project you may need to consider your kitchen layout style and personal preference. Check out our kitchen design ideas guide to see the most popular layouts and styles.
Factors Affecting the Cost of the Construction
o Kitchen materials that need to be repaired or replaced
o Your preference of cabinets, finishes, and appliances
o To include or not, the plan to move things around or to add more space in your
Setting your budget for your kitchen project will require some research. It will take some effort to find what materials, finishes, brands and features you will need for your kitchen that are available within your budget.
You can do this by going to showrooms, checking on the magazines, visiting trade shows, and doing online research for resources. Have a wish list then afterwards you can convert it as a reality list as it will already consist of the price tags for each item you want.
Be certain to have two option plans for the things you need like the appliances, tiles, countertops, and more. In this way, the designer will be able to work on your budget according to your final preferences.
In order to have a good estimation of the cost for your project, you can take advantage of the kitchen remodeling cost calculator. In this way, you will be able to breakdown the necessary expenses and have an approximate budget for each needed cost.
1. Square footage and flooring
2. Appliances, paint, and drywall
3. Cabinets, countertops, and lighting
4. Acquire your calculation
These are the steps of getting the calculation for your expenses. In order to get the most precise calculations, you may consider visiting the site, http://kitchen.installationcalculator.com, and begin your actual calculation.
Moreover, it can also be useful if you have knowledge on the breakdown of the expenses. Having the data will enable you to estimate your needs according to your budget and necessary adjustments can be done. Below is the list of the most needed expenses that you will encounter that will require prioritization:
Average Budget Cost Percentage for a Kitchen Redesign
– 35 percent for the cabinets
– 20 percent for the labor
– 20 percent for the appliances
– 10 percent for the windows
– 5 percent for the fixtures
– 3 percent for the fittings
– 7 percent for other expenses including the unexpected spending
Popular ways a kitchen can be remodeled
(Knowing this will help you with your budgeting)
– Cabinetry as well as countertops can be replaced with "medium-grade" components
– Changing the design layout to a L-shaped kitchen, u-shaped etc.
– Appliances used will be the newest energy-saving models
– Replacement of the countertops – upgrading to granite, marble, quartz or other contemporary counter materials
– installation of a new faucet and sink
– replacement of the flooring
– repainting of the trim and walls
– Adding a kitchen island or peninsula
Based on the Calfinder, approximately 70 percent of the cost of kitchen remodeling can be recovered upon resale.
Estimating Kitchen Cost Per Square Foot
When remodeling a kitchen there are many ways to calculate cost. For most projects it will be necessary to hire a contractor to complete at least some of the work. Often contractors are hired to perform work on electrical, installation, and plumbing.
Since many remodels will not be a true DIY project we have adjusted the price accordingly to account for additional contractor fees. Using high end finishes and upscale materials are also a consideration to make when determining your budget.
Remodel Costs for Small Kitchens (70 Square Feet)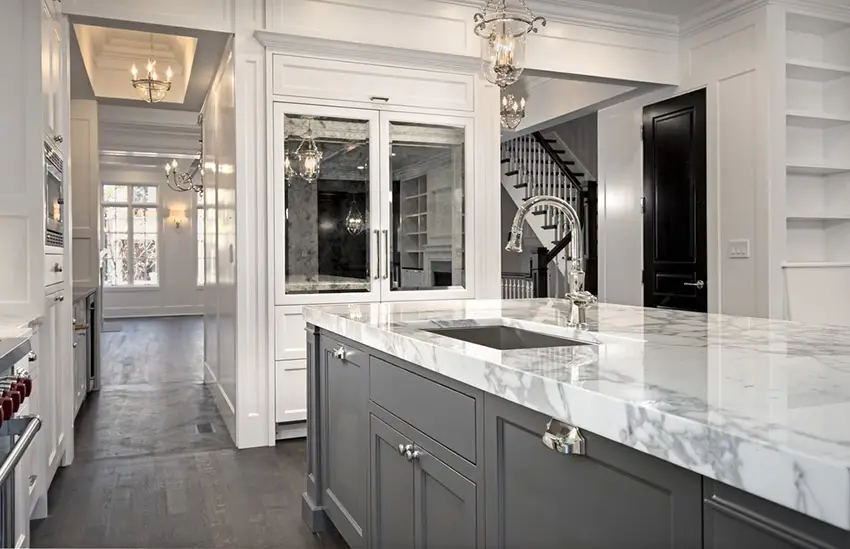 In the year 2009, the National Kitchen and Bathroom Association considered a small kitchen as small as 70 square feet or lower. You will have a limited option in remodeling a kitchen especially if your kitchen is small with little area to work with.
The cost for remodeling a small kitchen depends according to what will be installed, repaired, or upgraded. Most of the time, the average cost is approximately $5,000 to $15,000.
Below are the usual inclusions for a small kitchen remodeling and its costs:
– Faucet and sink upgrade
– Countertops installation or replacement with inexpensive materials
– Tile backsplash add-on
– Stock cabinets installation
– Appliances upgrade
– Ceilings and walls painting
– Energy-saving lighting in ceilings cabinets installation
An estimate for a small kitchen remodeling cost is shown below:
– Appliance installation $100 – $300 for each appliance
– Cabinets installation $1,200 – $3,200
– Countertops installation $900 – $1,100
– Faucet installation $130 – $230 for each faucet
– Flooring installation $700 – $1,700
– Sink installation $500 – $1,500
Renovation Costs for Medium Kitchens (100 sq ft)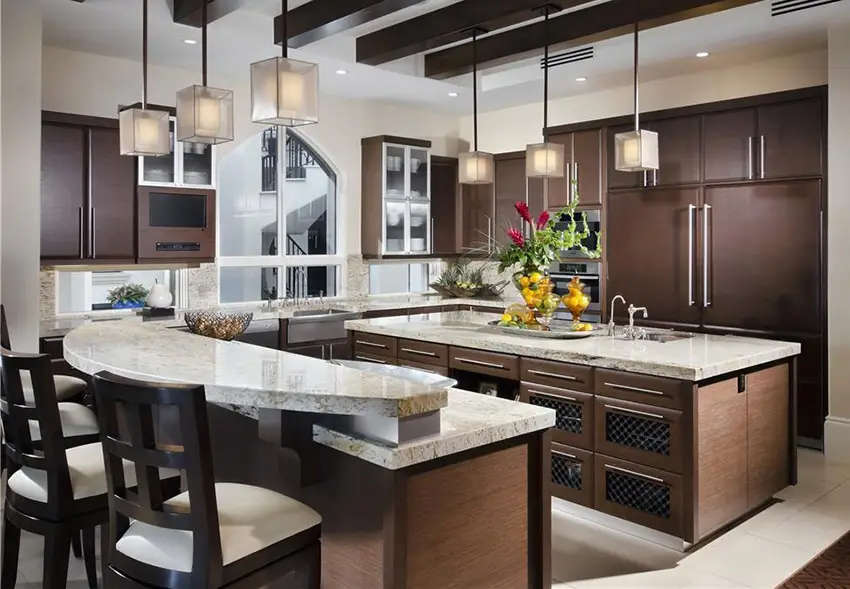 The medium or 10' x 10' kitchen has a measurement of 100 square feet. It is regarded as the standard benchmark for the estimation of the costs for kitchen remodeling. This type of kitchen is convenient for kitchen costs.
The space is enough to accommodate for the placement of major appliances. The floor space is just right so as not to overly factor into the estimation.
The elements for an average kitchen remodel including the expenses are shown below:
Appliance installation $400 – $600 for every appliance
Cabinets installation $3,500 – $5,500
Countertops installation $2,100 – $4,100
Faucet installation $330 – $430 for each faucet
Flooring installation $1,800 – $2,800
Sink installation $1,600 – $2,100
Refurbishing Costs for Large Kitchens (200+ Ft2)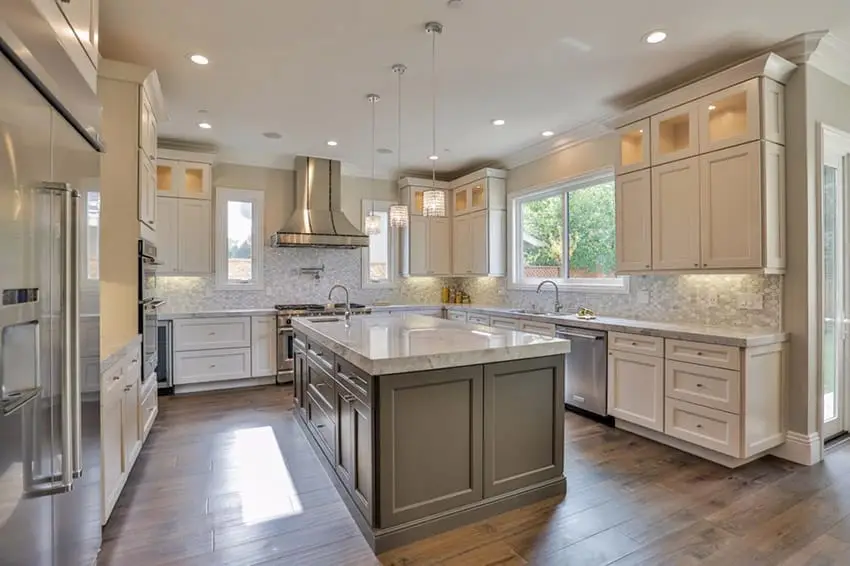 A 200 and above square feet kitchen is bigger than the standard kitchen size and it may already include a dining area. The cost of remodeling depends on the kind of changes that will be done, the materials to be used, and the cost of labor.
A 200-square-foot kitchen with 30 feet of cabinets will cost approximately $21,400. With the same floor size of kitchen, a mid-range remodel will cost at about $57,200. High-end kitchen remodel will cost an estimate of $111,800.
A major kitchen remodel cost including its inclusions is shown on the table below:
Appliance installation $700 – $900 for each appliance
Cabinets installation $6,500 – $8,500
Countertops installation $5,100 – $7,100
Faucet installation $530 – $630 for each faucet
Flooring installation $2,900 – $3,900
Sink installation $2,200 – $2,700
Kitchen Renovation Estimators
Kitchen remodeling cost varies according to the size as well as the scope of the project. It usually costs approximately $12,000 to $19,000, with an average cost of about $17,000. Listed below are the estimates for the costs of your kitchen remodeling.
– Kitchen countertops – the average cost for the installation is about $3,401; however the price will still depend on the kitchen size, layout simplicity, and materials used.
– New appliances – it is going to averagely cost approximately $471 for the installation of the appliances
– Kitchen flooring – an estimate average of $2,995 is going to be the cost for the flooring
– Sink installation – replacement of existing sinks will cost about $150 – $360, however, the installation of new sinks will already cost up to $3,500.
You can take into consideration of visiting the site www.houzz.com/remodeling-cost . They provide the average kitchen remodeling project cost according to your location. They have a list of products with its prices which you can check and select. They have guidelines that you can consider with regards to kitchen remodeling. Moreover, Professionals are listed along with their work of art on kitchen remodeling.
Furthermore, you can benefit from the estimating tool which is the kitchen remodel cost calculator. It will help you to have virtual calculation of the costs for the remodeling project which include the materials and labor. The prices for the materials as well as installation are calculated according to the type of kitchen whether basic, middle, or high-end. You may access the kitchen remodeling calculator online by going to http://www.remodelingcalculator.org/kitchen-remodeling-calculator/ .
Another website which you can take advantage of for calculating the kitchen remodeling costs is www.homewyse.com/project_costs. You will just need to input the needed data to get an instant estimation of the cost for kitchen remodeling in your area by zip code.
Kitchen Renovation Cost Guide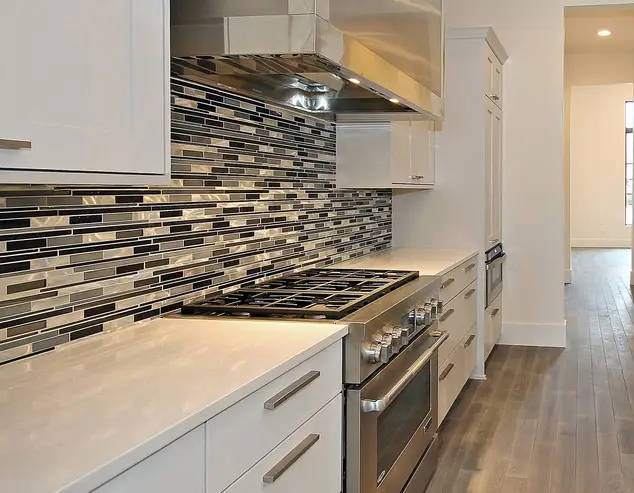 There are a lot of factors influencing the cost of a kitchen remodeling project including the basic construction, repairs, purchasing of cabinets or appliances, and many more.
The average cost for remodeling a minor kitchen is approximately $18,500. It will reach up to $54,000 to do a major overhaul of the kitchen. It is indeed essential that you will set your priorities right and in order, become flexible, and be able to stay on your budget as much as possible to finish the project.
Kitchen Cabinet Costs
The cabinets will consume thirty to forty percent of the total budget for your kitchen remodeling project. The prices for the cabinets differ according to the options that you select whether you will install new cabinetry, reface the existing cabinets, or refinish the cabinets.
– Average cost for the installation of new cabinets: $4,500
You are expected to pay about $300-400 to the contractor who will remove the old cabinets prior to the installation of the ones. The cheapest stock cabinets that you can get range from $70-400 for each linear foot. The semi-custom cabinets will cost $160-950 for every linear foot. Customized cabinets have prices $500 to $1,500 for each linear foot.
– Refacing of cabinets: $3,100
When refacing cabinets there are three options. These vary with prices however all three prices already include the materials as well as the installation.
o Solid wood – $3,500-4,700
o Laminate – $2,800-3,700
o Rigid thermofoil (RTF) – $2,100-3,000
– Refinishing of cabinets: $2,250
The materials and installation will cost between $2,100-3,000.
Kitchen Countertops Costs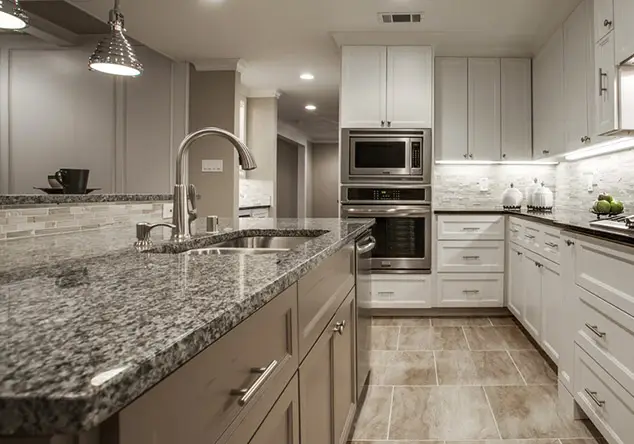 The countertops have wide variety of materials and their prices as well vary.
– Stone countertops (including granite, quartz resin, marble and other natural stone) – $4-$150 per square foot or about $120-$4,500 for the usual 30-square-foot kitchen countertop. Read more about the cost of marble countertops here.
o Stone tiles – $4-20 for every square foot
o Slab stone – $50-$150 for each square foot
– Laminate countertops – $7-$30 per square foot or about $210-$900 for typical kitchens
– Solid surface countertops – $40-$80 for each square foot or the typical kitchen will cost $1,200-$2,400
– Tile countertops – $1-$255 per square foot or about $30-$7,650 for the typical kitchen
– Wood countertops – $30-$105 for each square foot or approximately $900-$3,150 for a typical kitchen
– High-end countertops including the stainless steel, concrete, and copper – $75-$200 per square foot or more, or a typical kitchen will cost $2,250-$6,000
Kitchen Flooring Costs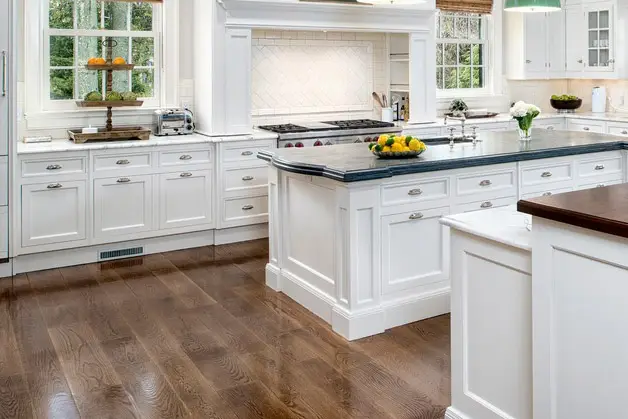 When purchasing or installing kitchen flooring, it is important that you take into consideration of these following factors:
– kitchen flooring appearance
– the comfort of the kitchen flooring
– how easy the kitchen flooring be installed or removed
– the endurance of the kitchen flooring
– how much does the kitchen flooring cost
Listed below are the different materials used for the kitchen flooring and their costs for installation:
– 12-inch vinyl tiles – the average cost for the installation of this kind of flooring to a 12×15-foot-room is about $460 which is done by a floor installer. If you plan to save approximately forty-two percent for the labor cost, you can buy the tiles for about $285 and do the installation by yourself.
– Vinyl sheet flooring – the average cost for this flooring of a 10×12-foot-room which is done by a pro will be about $722. Planning to do it yourself with regards to installation after purchasing the materials will just cost you $465.
– Linoleum – the floor contractor will ask you to pay about $1213 for the installation of the flooring to a 12×15-foot-room. In order to save thirty-four percent of the labor cost, having the installation done by yourself once you purchased the materials will only let you spend $795.
– Planks – a 15×20-foot-room for kitchen flooring by the floor installer will charge you $2,412. Doing the installation yourself once you have the materials will save you forty-seven percent and will only cost you $1,275.
– Lay quarry tiles – the average cost for the 10×15-foot room kitchen flooring by the tiling contractor is $1,233. To do the installation job will save you fifty-eight percent and will just let you spend $515 for purchasing the materials.
Kitchen Lighting Costs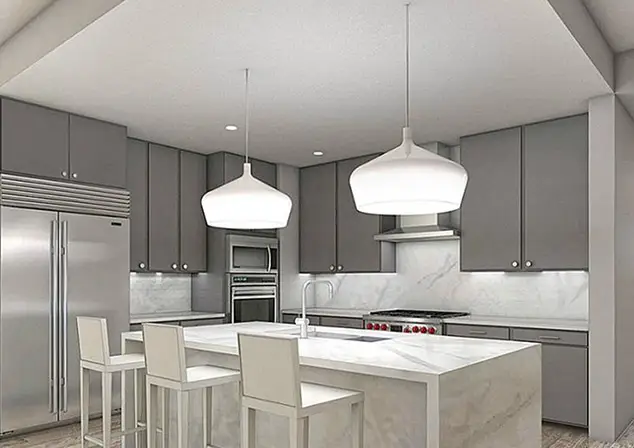 Good quality lighting in the kitchen has specific functions which matches the role of the kitchen to be a multi-functional area.
An ambient light is used in illuminating the whole kitchen space.
– Natural light – it makes use of solar tube products installed on the roof or at the house's outer wall and then a diffuser is installed in the ceiling of the kitchen. The tube has lining of highly reflective material directing the captured light to the diffuser and into the kitchen. The installation of the material as well as the labor will charge you $350 for a standard kitchen.
– Ceiling light – it is useful most especially during evenings and night. The cost per ceiling light fixture is $35 to $450. For every dimmer switch, it will charge you $10 to $65.
– Perimeter lights – fluorescent fixtures are installed surrounding the kitchen's perimeter. A famous way of doing this is the installation of the fluorescent strip fixture on top of the kitchen cabinets. The materials cost $12 to $35 for each fixture.
Task lights are used for the provision of illumination is specific work spots like the countertop areas.
– Fluorescent lights – used in work areas directly under or beneath a cabinet. The material costs $15 to $50 for every fixture.
– Puck lights – an under-cabinet lighting that provides more concentrated light than the fluorescents. Cost is $10 for each puck light and about $40 to $50 for a pack of five puck lights.
– Light bar – an under-cabinet light which fixtures are fitted with one, two, or three puck lights. The cost of material is $20 to $500 which depends on the number of puck lights used for each fixture. Cost of labor is $25 to $50 per hour.
– Recessed ceiling lights – provides adequate lighting coverage with shadowless illumination. Material costs are as follows: $15 to $100 per line voltage fixture, $80 to $155 for each low voltage fixture, $5 to $8 per every line voltage R20 or PAR20 light bulb, and $10 for each low voltage halogen bulb.
– Pendant lights – it works well over the sinks as well on the islands. It will cost $10 to $55 per pendant, $500 for each pendant with telescoping cord, and $150 for every combination pot rack or task light.
– Track lights – it makes use of highly visible fixture that provides individual lighting. The charge for each track with fixed-position lights is $30 to $130 and every track with movable lights is $120 to $270.
Cost of Kitchen Appliances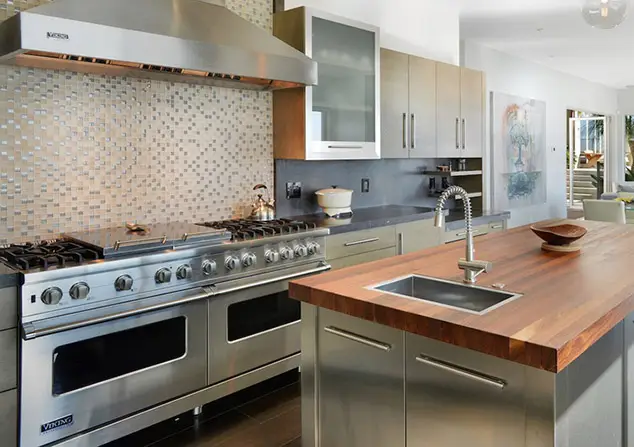 The average appliance installation cost is about $115 and $291.Below are the typical kitchen appliances.
– Refrigerators – prices range from $350 for top-freezer to $2,500 for bottom freezer with French doors and through-the-door water.
– Ranges – it cost $350 for entry-level electric coil range having a manual clean oven up to $2,000 and above for stainless dual-fuel range having a convection heating.
– Cooktops – cost range is $300 for basic four-burner gas cooktop and about $2,500 or above for 36-inch pro-style gas cooktop.
– Wall ovens – it will cost $700 for entry-level single wall oven reaching up to $3,500 for a double wall oven having a convection heating.
– Ventilation hood – price ranges from $175 up to $2,500 depending on the type.
Cost of Other Kitchen Elements
Below is a table of the cost of the typical kitchen remodeling elements:
Installation Option Cost in Order of Small, Mid-Range, and Major
Appliances $100-$300/appliance, $400-$600/appliance, $700-$900/appliance
Cabinets $1,200-$3,200, $3,500-$5,500, $6,500-$8,500
Countertops $900-$1,100, $2,100-$4,100, $5,100-$7,100
Faucet $130-$230/faucet, $330-$430/faucet, $530-$630/faucet
Flooring $700-$1,700, $1,800-$2,800, $2,900-$3,900
Sink $500-$1,500, $1,600-$2,100, $2,200-$2,700
Additional Remodel Costs to Consider
There are many things that spring up during a remodel project. Below we attempt to describe some of the most common items that you may have to deal with or want to consider upgrading before undertaking a kitchen renovation.
Lighting
It is important that the kitchen has good quality lighting for good design as well as atmosphere. Also, it provides safety measures especially when you handle sharp knives or other kitchen tools because lighting gives you a better view of what you are doing. Having a tight budget will not hinder your for the provision of good lighting in your kitchen.
Here are several tips for saving on lighting cost.
Stick-on lights – these come in handy beneath the cabinets to provide light on the countertop work areas, on top of the sink, inside the dark drawer, or cupboard corners. The cost for three pieces is $10.
Portable fixture having customizable functions – it is operated with batteries. Every trio of the light heads pivot by themselves and the brightness can be adjusted using the switch. It mostly used in him pantries or deep cabinets. The cost is about $14.
LED rope lighting – flexible for easy attachment that costs approximately $25. It helps with the illumination of cabinet toe kicks or on top of the cabinetry.
Plug-in wall scones – these are mounted on walls with their cords hanging down. These cost around $79.
Pendant lights – functions by boosting the task lighting. Its price is $194.
Plumbing
For kitchen remodeling, it is essential not to move the plumbing elements or you will be paying more for the installation of additional pipes averagely costing approximately $1,100. Relocation of the pipes will be done for major remodeling or rearrangement of sinks, dishwasher, or icemaker. It will let you spend high labor cost like an additional $800.
Gas Lines
As much as possible, avoid moving the gas lines. It costs a lot that ups the entire cost of the kitchen remodeling project. It is costly because you will need to move and run more gas lines in the kitchen plus you will upend the flooring and knock out the walls in order to get to the gas lines. Basically, the cost depends on the contractor price by hourly rates.
Extra Surprises
You should make sure of setting aside about 20 percent of your budget for the kitchen remodeling project because there will certainly be surprise expenses that will arise. This usually occurs when there are unexpected add-ons with the materials that you have already purchased or there are some changes with the plans. Having the spare budget will let you cater the unexpected costs and lead you to finish the kitchen project.
Preparing For a Kitchen Remodelling Project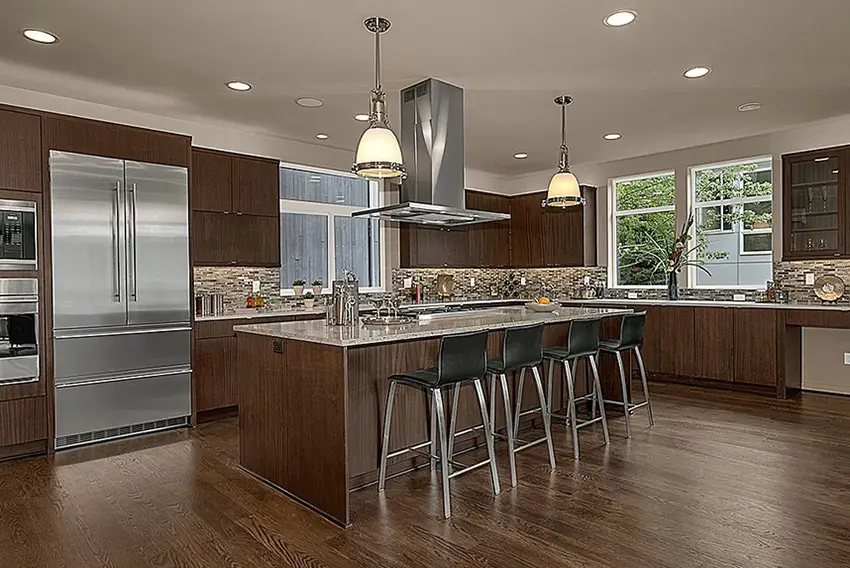 It is vital that you do the necessary preparation when you plan to do a kitchen remodeling project so that you will have organization and will go through the remodeling process smoothly. Prior to the start of the renovation, you should protect the things you want to keep like the appliances, floor cabinets, or fixtures.
In order to lessen the dust and dirt in other areas of the house, seal off the kitchen area. Rent and have a schedule with the delivery of a dumpster for your items which you do not need or use anymore. Do an arrangement with charity groups for hauling off usable construction goods, fixture, cabinets, appliances, or hardware after the demolition.
Submit a linoleum sample for the testing of asbestos. If the result is positive, make arrangements with the abatement team for the removal of the floor. If the result is negative, you may safely do on your own the removal of the floor.
Below are simple steps that you can consider of doing in the preparation for the kitchen remodeling:
Gather supplies which you will certainly need and these include boxes, packing materials, newspapers, masking tape, packing tape, plastic storage bags in quart size or gallon size, and markers.
Get the items that you use each day like the coffee maker, pots, tea kettle, mixing bowls, skillets, can openers, cooking utensils, and vegetable peelers. You may make use of disposable plates, cups, and dinnerware. Do not forget to have the storage containers for left-overs. Moreover, cleaning supplies must be available.
Disconnect the plumbing, gas, and electricity of the kitchen area.
Disconnect the drain pipes and the water pipes from the sink, dishwasher, and refrigerator.
Remove the connection of the gas from the oven and the electricity from the appliances which are directly hardwired into the wall.
Remove the glass shades from the light fixtures, heat registers, outlet covers, and window coverings.
Remove the appliances as well as the sink and faucet attachments. If the sink is on top of the counter top then lift it out.
Remove the base and upper kitchen cabinets by utilizing a pry drill or bar.
Get the old drywall and then plaster off the walls and ceilings by making use of pry-bar. Pull out the nails and insulation.
Clean the waste and clear the dust and dirt for the preparation of the new kitchen installation.