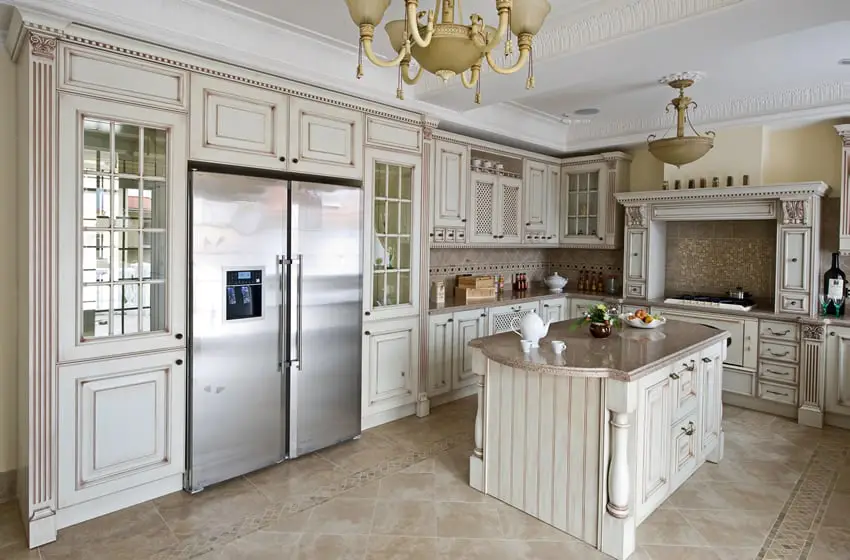 A classic cooking corner: The L-shaped kitchen design. L-shaped kitchen designs are a classic for a reason – it's cunningly shaped to make the most of even a small cooking area. With a work space made up of two adjoining walls perpendicular to one another.
As it only requires two adjacent walls, it is great for a corner space and very efficient for small or medium spaces. An L-shaped kitchen also presents a natural "kitchen triangle" from which a cook can work quickly and efficiently.
In the picture above a large L-shape kitchen features classic design aesthetics and Neo-classic details combined to create an elegant look. It has beige Tuscan tiles for its floors and the backsplash which complements the antiqued off-white cabinets.
The countertop material is brown granite with a tone similar to the backsplash tiles. There is also gold mosaic tiles for the range cooker backsplash area, giving it a little more highlight.

L Shaped Kitchen Layout

The L shaped layout is considered to be the most popular type of kitchen layout. With the inclining trend of open kitchen spaces and the dwindling need for a formal dining room in the home, L shaped kitchens have become a current favorite in the kitchen design scene. This type of kitchen layout offers practicality and perfect balance not only in terms of design but also in efficiency of use.
This type of kitchen layout is characterized by two adjoining walls that are perpendicular to each other. Its shape takes on an "L" form, thus the name L shaped kitchen. It can be small or large, open, closed or semi closed. While there is no limit to the size of an L shaped kitchen, the length of the "legs" of the "L" typically ranges anywhere from 12 to 15 feet long.
An L-shaped kitchen is good if your design includes a kitchen table. Can an island fit in your kitchen? Ideally, it should be at least three and half feet from the edge of the outer counters. – Room by Room: Kitchens: Your House Made Simple, Lillian Hayes Martin
The L shaped kitchen also has an efficient workspace that permits appliances or cabinetry to be installed along right angled walls while leaving an open area at the center. This open area can be used to include a kitchen island in the middle.
Compared to other kitchen layouts, the L shaped kitchen uses the "zoned approach" wherein specific areas are separately designated within the space. These setup include areas such as the cooking area, the food preparation or cleaning area , the wet and dry storage and the dining space.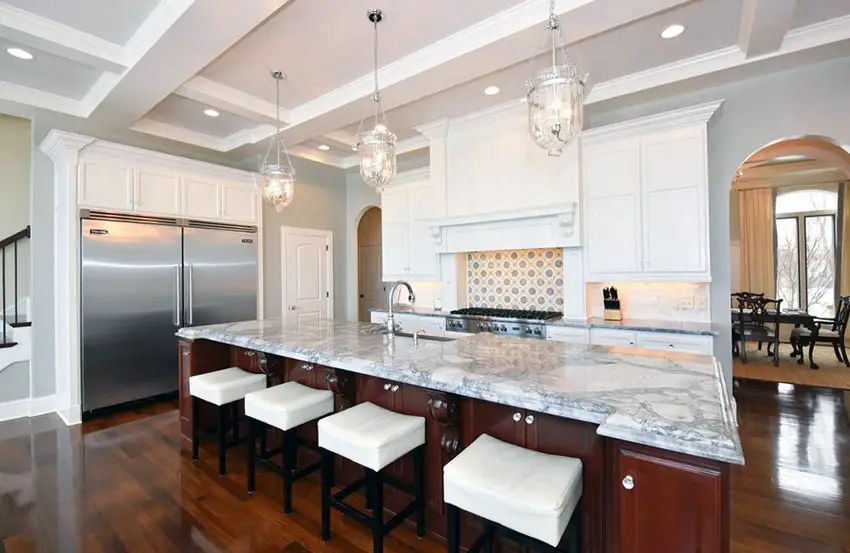 Aside from adding an aesthetic value to homes, there are a number of advantages to using the L shaped kitchen layout. Here are some of the benefits that an L shaped kitchen layout :
Functional – The L shaped kitchen can be utilized in a variety of ways. Since this layout is flexible in terms of design, it ensures that your kitchen accommodates different areas that can cater to a number of activities such as dining, cooking, food preparation and storage.
It also makes the most out of your kitchen space because it has a provision for the addition of a kitchen island – an extra counter space which is also very useful in terms of food prep and storage.
It is also one of the most popular solutions to transforming your regular kitchen into an upgraded "eat in kitchen". One leg of the "L" can be used as a casual dining area where you can set up bar stools and entertain guests and gather family members.
With the L shaped layout, ample storage area is also one of the least things you have to worry about. Since it is composed of two adjacent walls, this provides the perfect opportunity to incorporate overhead cabinets and under counter cabinets.
Versatile and flexible design – Functionality and aesthetics come hand in hand in order to achieve a perfectly balanced kitchen design. Flexibility in design is one of the advantages of an L shaped kitchen layout as it can be designed according to your own taste, depending on your specific needs.
With its ample space, you can maximize your storage and preparation areas without having to sacrifice visual aesthetics.
One or both walls may have built-in upper and lower cabinets, or it can be left as a simple open countertop. Depending on the size of the room, it can be fit with an island.
Storage units can be concentrated into a single wall or a linear setting. You can also use it to smoothly transition into other areas of your home. An L shaped kitchen can also accommodate permanent design features like a built in range or specialty features like a baking station in the island counter.
Adapts to any type of kitchen configuration – The L shaped kitchen conforms to any area and style of kitchen configuration, whether it may be open, closed or semi closed. Regardless of your kitchen size, the L shaped kitchen offers a smart design that is guaranteed to fit both small or large sized kitchens. For large spaces, an L shaped kitchen is very easy to install
Ensures efficiency of the work triangle – The L shaped kitchen helps maintain the correct spacing between the major areas of the kitchen namely the refrigerator, the sink and the range. Typically, one of the sides contains the cooking and preparation area while the other side contains the cold and dry storage spaces. If you are also a person who loves to cook, then this is the right kitchen layout for you.
Allows multiple users at the same time – One of the main advantages of an L shaped kitchen layout is that it simultaneously allows multiple users within the kitchen without being too overcrowded. With the sufficient space and proper designated areas for cooking and preparation, people can enjoy multiple activities at the same time.
If you are a person who loves to entertain, then this is also the right kitchen layout for your because it allows you to cook meals while happily conversing family. You can mingle with friends as you prepare food while they sit around your casual bar counter or you can enjoy kitchen tasks as a family bonding activity. Consequently, multiple users also allows work to be done faster and easier.
Improves traffic flow in the kitchen – With proper planning and design, an L shaped kitchen can promote an efficient and well organized work and traffic flow in the kitchen. People can move easily in and out of the kitchen comfortably without having to worry about coming in the way of others.
Optimizes small spaces – The L shaped layout adapts well to small spaces. It doubles up the storage space and the preparation area as compared to a galley kitchen which has a single span of counter.
Provides the perfect opportunity to incorporate an island in your kitchen design – Of all the types of kitchen layouts, the L shaped kitchen is the most "island friendly" because it is spacious. This island counter provides more room for cooking, preparation or hanging out.
Flowing floor plan – An L shaped kitchen with many openings creates a smooth transition between the other areas of the home as it integrates pleasantly into open spaces. It can be used to connect spaces to the dining area, the lanai or the backyard.
Contributes visual aesthetics – An l shaped kitchen is naturally attractive – with full cabinetry running along walls and expansive counter spaces, this layout offers the perfect venue to display rich finishes such as natural stone countertops or lush wooden cabinets with exquisite graining patterns and stain color.
Even simple or minimal decor can make this kitchen layout stand out. In return, a beautiful and well planned kitchen will add value to your home. In the event of a resale, you can attract more clients or prospective buyers.
Is there any disadvantage to using an L shaped kitchen layout? In some cases, there are several minor drawbacks to an L shaped kitchen space. One is that since there is more counter space, it requires more effort to maintain.
This type of kitchen layout also requires more finishing material, thus requiring more budget. Though not required, the optional addition of an island is also carries out an extra expense. On the average it is more expensive than galley kitchens.
Lastly, not all homeowners appreciate the spread out layout of the work triangle in an L shaped kitchen. Some might find walking back and forth between the sink, range and refrigerator tiring.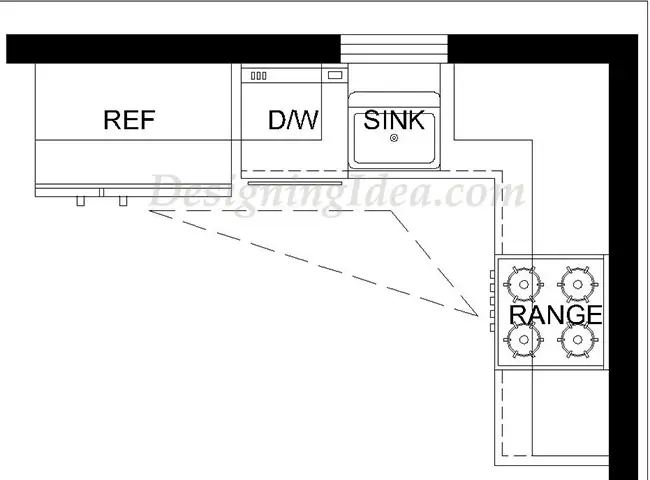 Here's an example of an l shaped kitchen layout:
The idea behind a kitchen work triangle is to place the three most common work sites at the most efficient distance apart to minimize traffic through the work zone.
These three areas are the cold storage area (refrigerator), the cleaning/ prep area (the sink) and the cooking work site (stove).
Typical L-shaped kitchen designs perfectly encapsulate the kitchen work triangle. The fridge can be place on one end of a leg, the stove on the other, and the sink in the center. The spaces in between can be given over to counter tops and storage space.
This design is great for open plan living as it can easily open up to another room. A great way to have an L-shaped kitchen is to have one leg be a continuous wall while the other is an "open" wall that can incorporate a counter or island that looks out onto the dinning or living room. This allows for a more breathable space that can creates a flow between different areas of the home.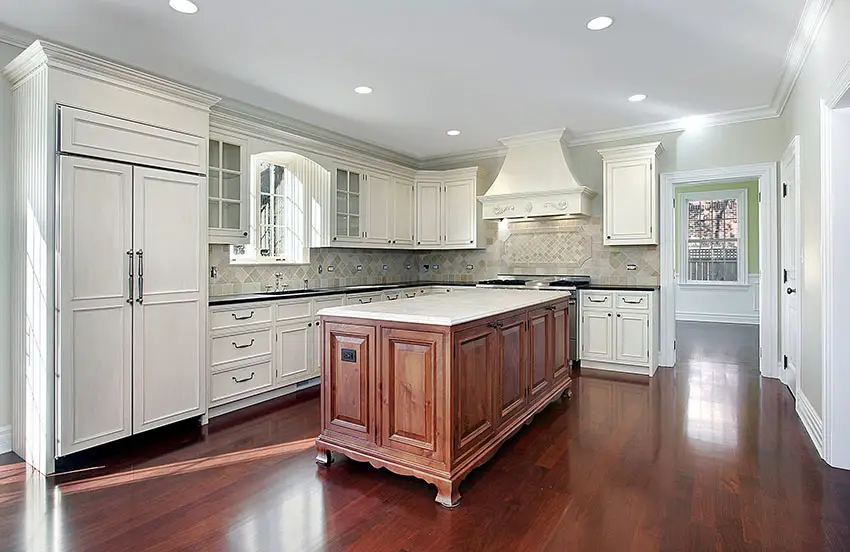 This expansive kitchen space features an l-shaped layout with long island. The white cabinets with glass doors contrast well against the wood of the island and cherry flooring. There are two types of countertops with a black granite for the main counters and a white marble for the island.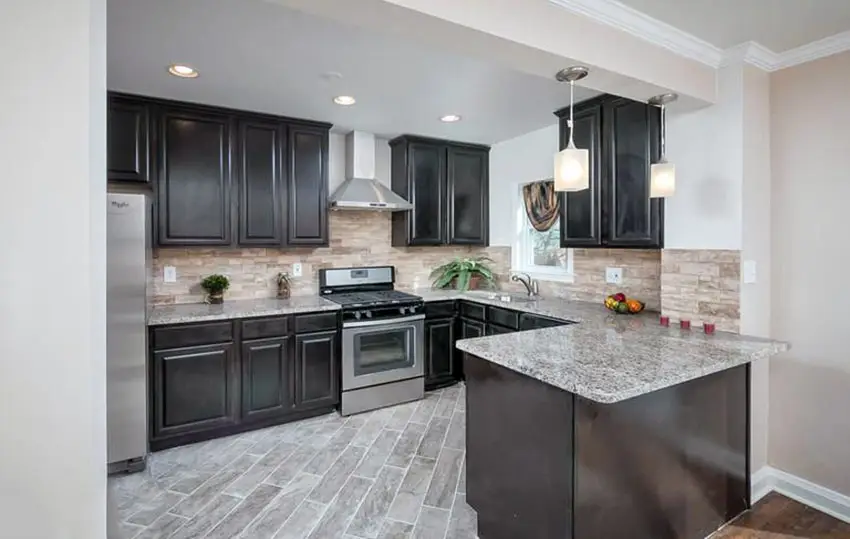 This contemporary kitchen with an l shaped design features dark brown cabinets with light granite counters and a small breakfast bar peninsula for eat in dining.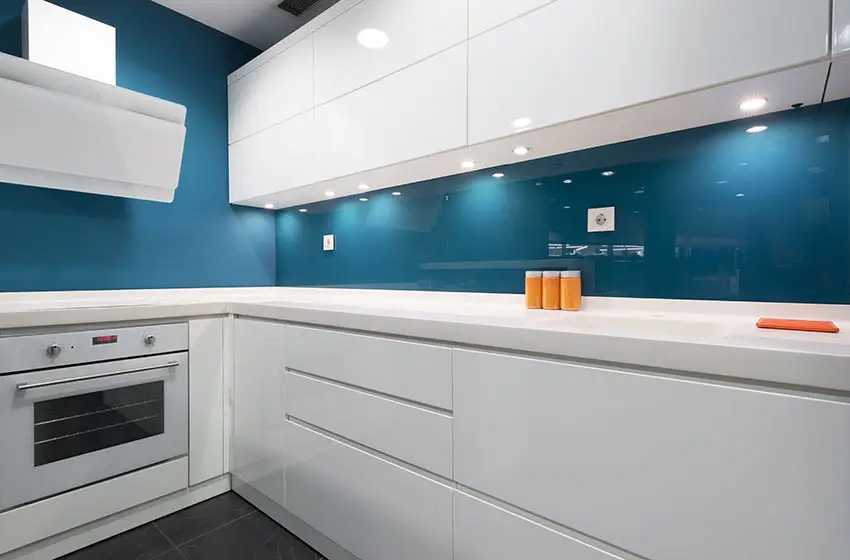 This modern l-shaped kitchen layout features white cabinets, a white solid surface countertop and a high gloss blue glass backsplash. The cabinetry has no hardware giving it an even sleeker design while under-cabinet lighting provides plenty of illumination for the countertops.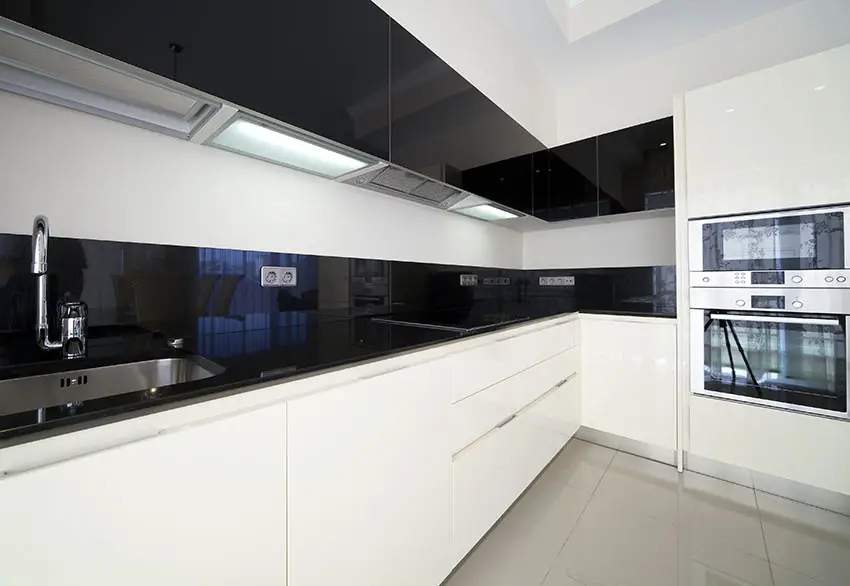 A modern l shaped kitchen layout with high gloss upper black cabinets, a solid surface black counter and high gloss lower white cabinets make a big impression. This ultra sleek kitchen design is light and bright with a large skylight over head and silver appliances and hardware.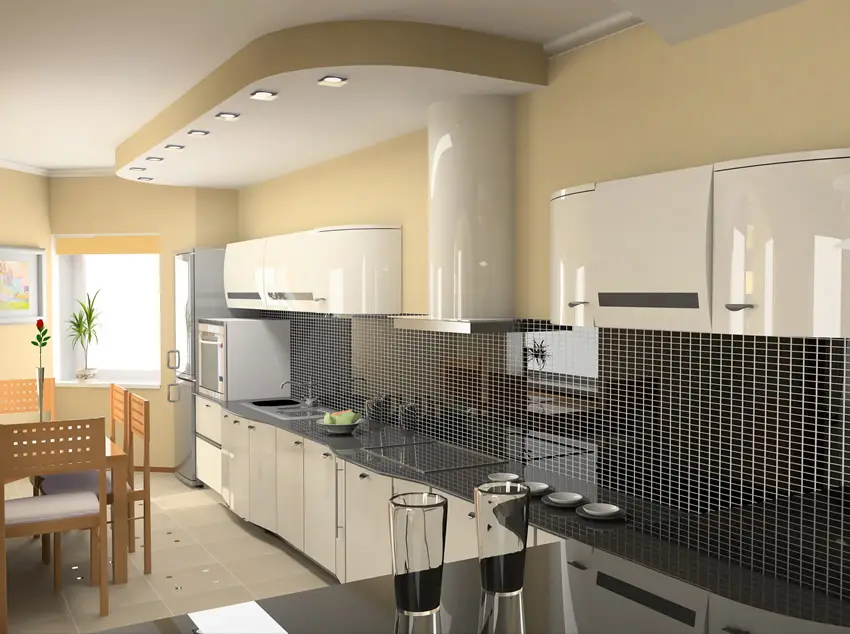 A kitchen design which gets creative with its use of curved cabinets which are finished with high-gloss white laminates. This kitchen has a futuristic appeal, especially due to the use of the bulbous overhead cabinets. For its countertop, it uses a simple and plain gray solid-surface and combines with black mosaic tiles for the backsplash.
L-Style Kitchen Layout with Island
In some cases, an L shaped kitchen has an abundant amount of the storage space you need but still lacks some workspace. To address this problem, an ingenious design solution was developed, thus came the island kitchen counter. L shaped kitchen designs with an island are very effective due to their layout. When properly set up everything should be in easy reach, with extra surface area on the island for food preparation or eat-in dining.
If you want to boost the functionality of your L shaped kitchen, then a kitchen island can help you do the trick. In addition to enhancing the visual aesthetics of your home, this design feature can help you maximize every inch of your kitchen space. This space efficient solution is guaranteed to improve the working conditions with your kitchen, providing for an ergonomically sound home.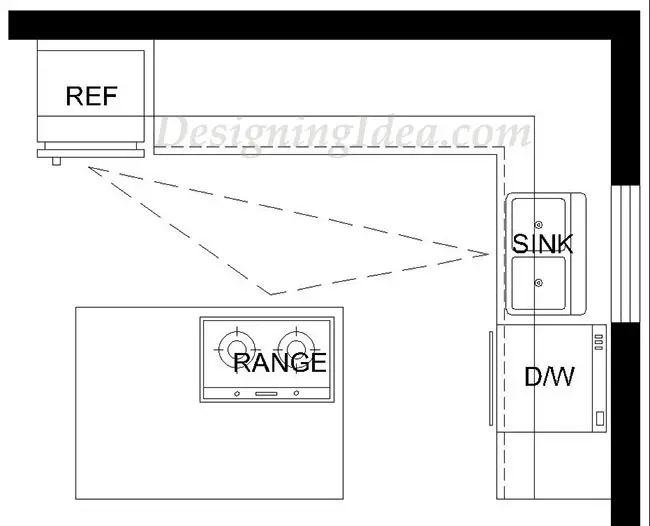 The island is a free standing working counter that is separate from the existing layout of the cooking area.
It is usually found at the center of the culinary space and has an average size of 3 by 6 ½ feet, at a height of 36 to 40 inches or 90 to 110 centimeters. This functional addition offers flexibility in terms of design and use.
The extra workspace provides an area for food preparation, extra storage or informal dining space or it can also be used to cater to specialized tasks like baking, butchering or bartending.
The addition of an island to an L shaped layout not only maximizes the space but enhances interaction by directing the work flow to a four way direction.
With the adequate clearance of 40 inches all around, it is easier to move around the culinary space and switch between tasks. Its centralized location allows for easy movement without overcrowding and eliminating the possibility of coming in the way of others.
Another benefit of it is that it contributes visual aesthetic to your home as a well-designed island can serve as a stunning focal point or main attraction to a space. With the wide variety of finishes that it can be furnished with, the addition of an island to your L-shaped culinary space creates endless rooms for design possibilities.
From simple tile countertops to extravagant natural stones like marble or granite, an island counter adds a distinctive character to your L shaped culinary space. Also, an L shaped layout with an island counter appears more luxurious classy and makes your house appear bigger.
There are variety of ways to design an L shaped layout with an island. Smooth surfaces such as wood, natural stone, tile or stainless steel can be used as food preparation counters or to allow hot foods to cool before serving.
A more advanced design may highlight a secondary sink or other features that are dedicated to specific tasks – a butcher's block set on top of the island counter easily transforms this into a butchering area.
A kneading surface and a built in oven instantly converts it to a baking station. An under counter wine cellar and a raised bar top makes a perfect place for mixing cocktails and enjoying casual drinks with friends.
A simple natural stone island counter can also be used to enjoy meals and casually dine with family or friends. Appliances such as refrigeration units, wine coolers, a grill or a griddle may also be added to your L shaped culinary space with island counter if you want to enjoy a more advanced cooking experience.
To summarize, L shaped kitchens with an island counter is both functional and decorative, providing an aesthetically pleasing solution to exhausting usable work space for your culinary space.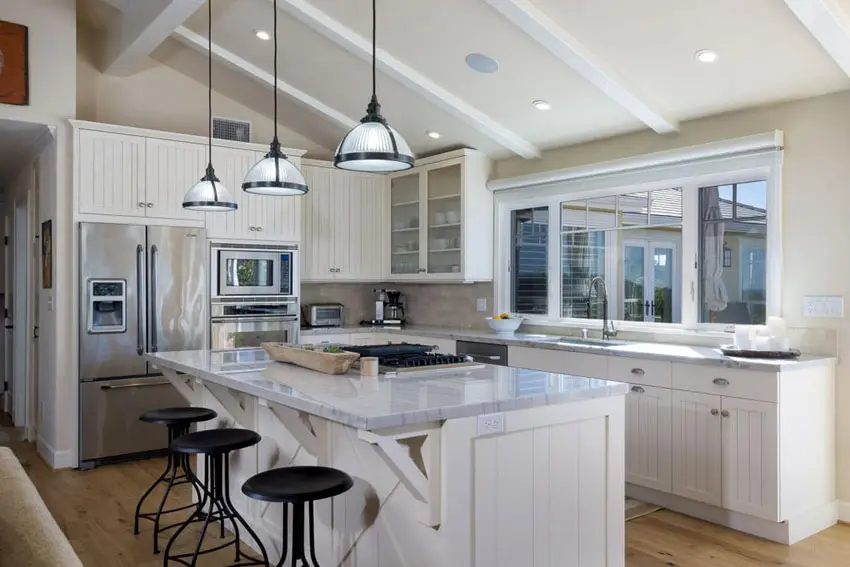 This traditional L shaped kitchen offers bead board cabinetry with a beautiful Carrara marble island and light wood flooring.
This contemporary kitchen features an l shaped with island design, European style cabinetry and light color granite countertops. The island has an overhanging counter for eat in dining with a built-in sink for easier food prep and cleanup.
A modern kitchen design which has a unique combination of colors. The sky blue walls provides a cool and soft-looking background for the Teak-laminated cabinets. It also has a kitchen island from built-up fiber board which is painted in the same sky blue color as the walls and topped with granite stone.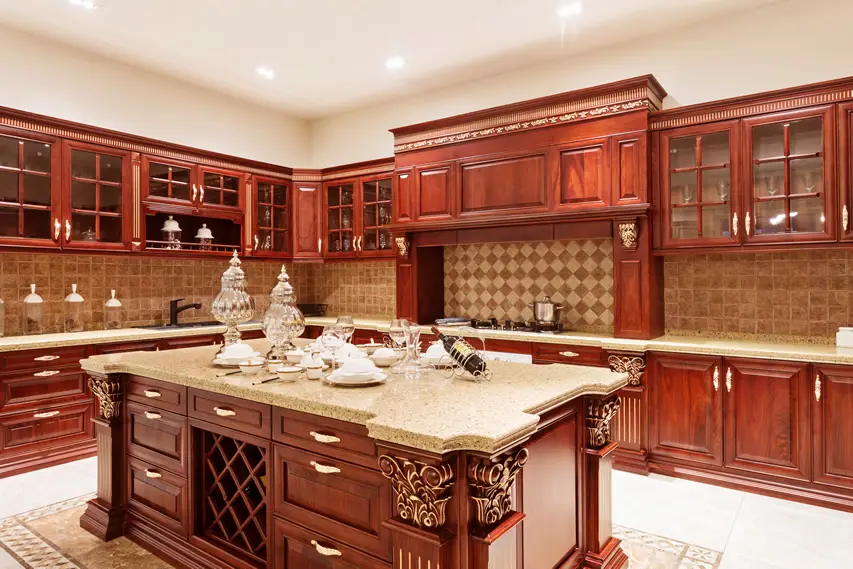 Another classic kitchen design which can be a little intimidating because of its size and the elegant choice of materials. It uses solid Red Mahogany cabinets with neo-classic details painted with gold. The beige quartz coutnertops help balance off the redness of the wood, while the tuscan backsplash tiles gives the space more texture.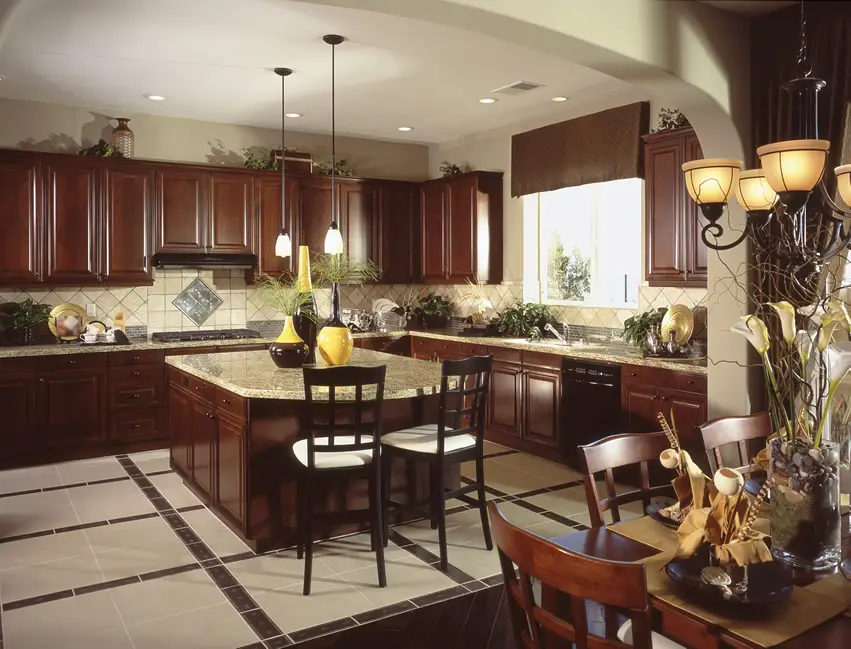 This modern kitchen draws its inspiration from traditional kitchens, and uses dark mahogany-stained solid wood cabinets combined with a gorgeous slab of stone for its countertop. It has a kitchen island in the middle with the same finishes as the main cabinets and uses light beige backsplash tiles and white floors to off-set the dark wood tones.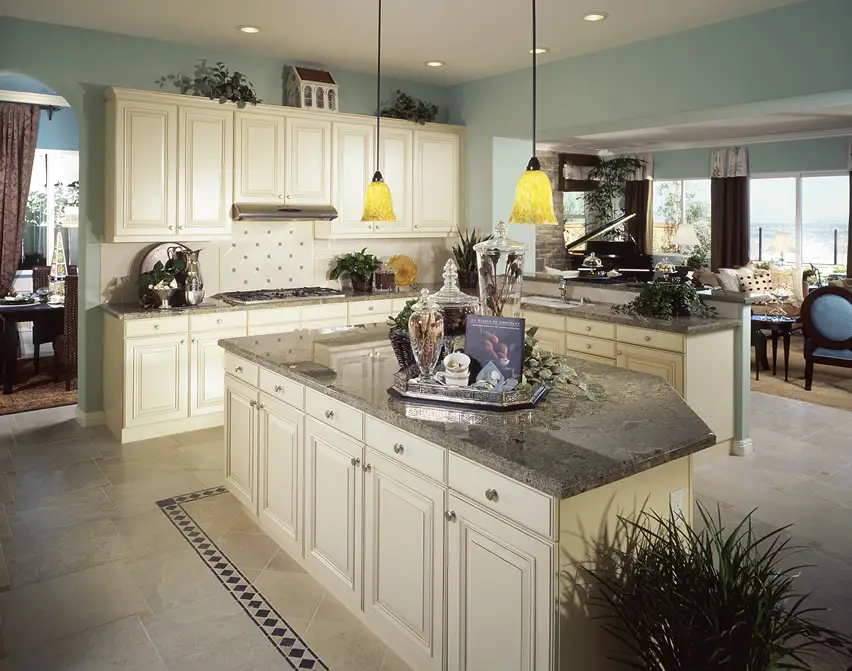 The mint-painted walls of this kitchen provides a cool background for this traditional-style kitchen, giving it a more feminine appeal. The paneled cabinets are in a off-white shade and topped with a thick slab of gray granite. Also noticeable is the unique-shaped kitchen island which gives this space more cooking area and more personality.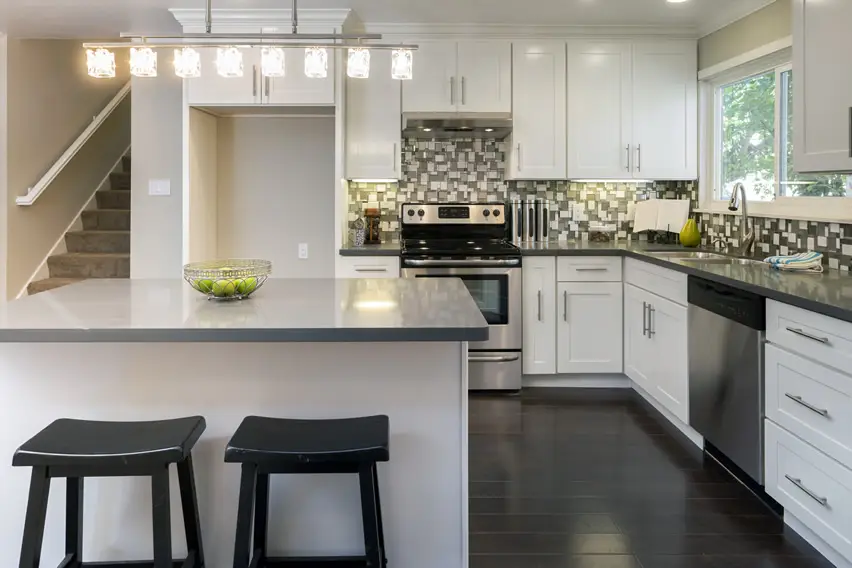 A modern L-shaped kitchen design with simple off-white paneled doors and gray solid-surface counters. It uses gray and white glass mosaic tiles for its backsplash to match with the cabinets and countertop, and it also features a large square kitchen island, providing additional work surface and dining space.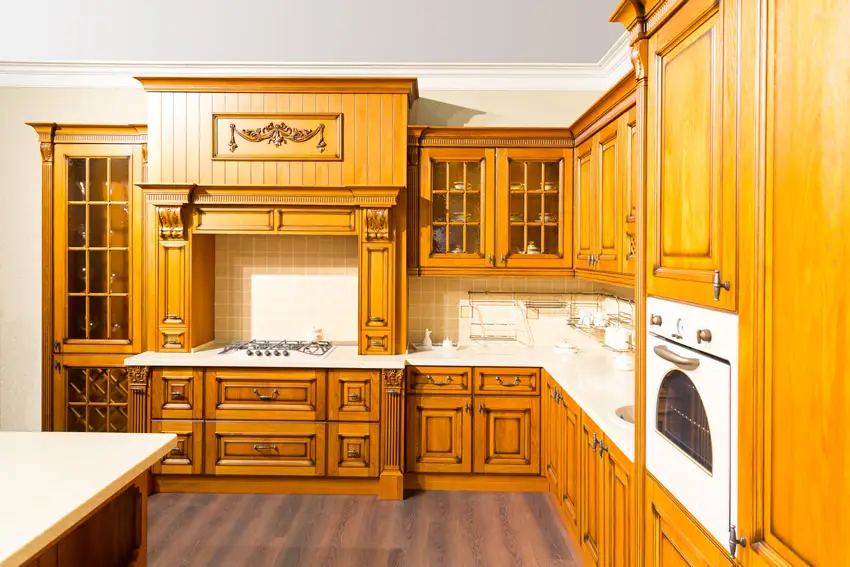 Another traditional style L-shape kitchen with heavily paneled cabinet doors and intricate neo-classic details. The orange tone of the wood stain gives the space a bright warm glow, which is neutralized with the use of white quartz countertop and the light beige walls. It has integrated the appliances into the cabinetry and also features a wine cabinet.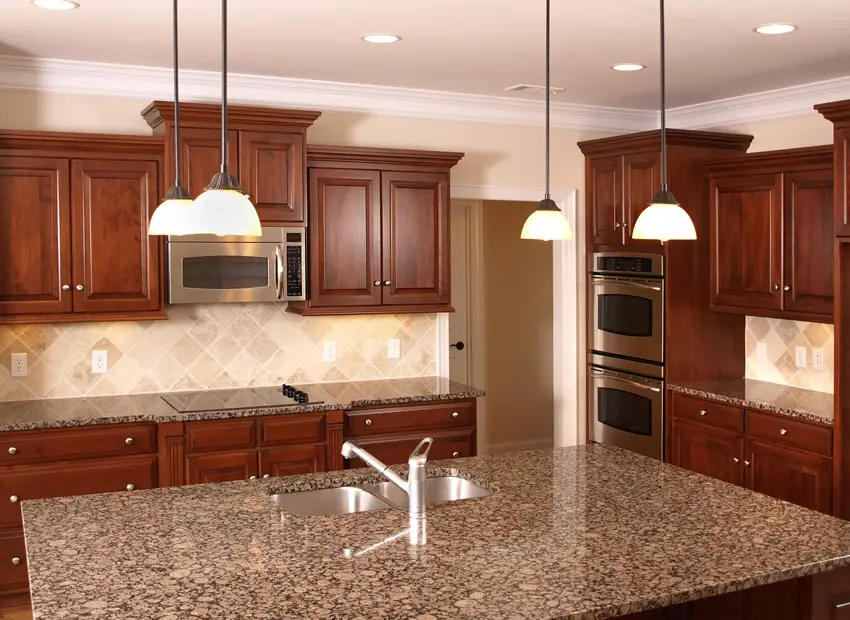 This simple kitchen stains its Beech wood cabinets in a red Mahogany stain, giving it a subtle gorgeous sheen. The countertop material is granite with pink and dark gray tones, while the backsplash uses light beige classic Tuscan tiles, giving the space added texture and classic appeal.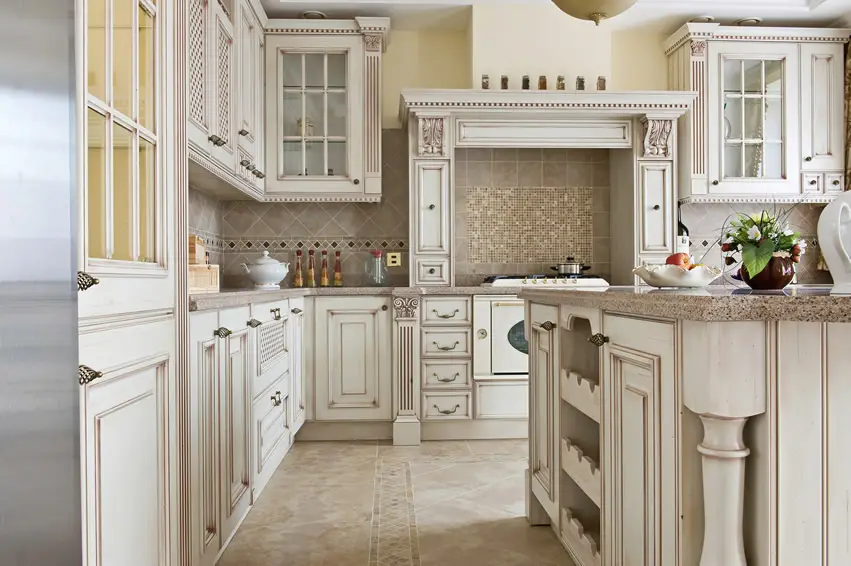 This is another view of the first culinary space feature in this article. From this angle, you will see the integrated wine rack found under the kitchen counter and a close-up view of the antiqued finish of the solid wood cabinet doors. You will also notice the classic brass pulls which perfectly complements the design of the kitchen.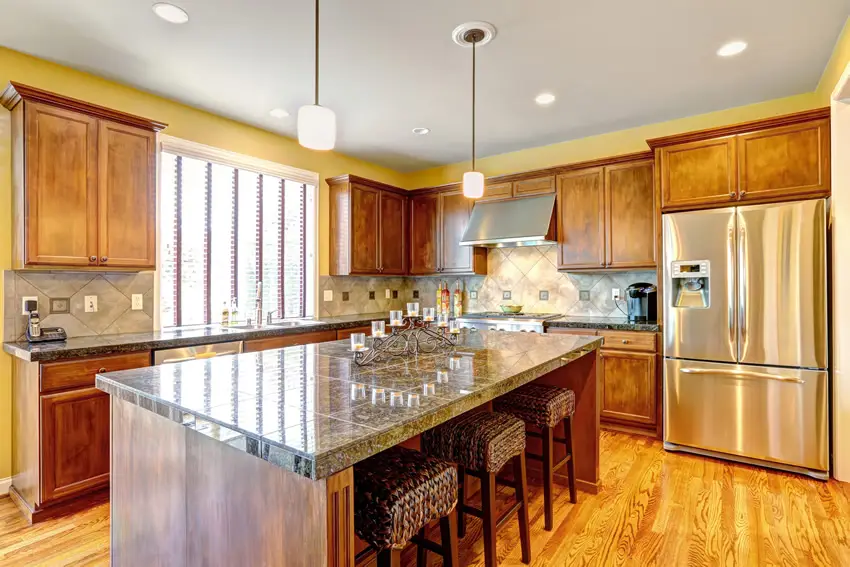 This L-shape culinary space design combines two wood tones to achieve this look. For the floors, it uses a golden oak floors, giving the space a yellow glow to match the yellow walls. The cabinets, however, uses a more orange wood tone. To counter the bright warm colors, it uses gray ceramic backsplash tiles and dark gray stone tiles for the countertop.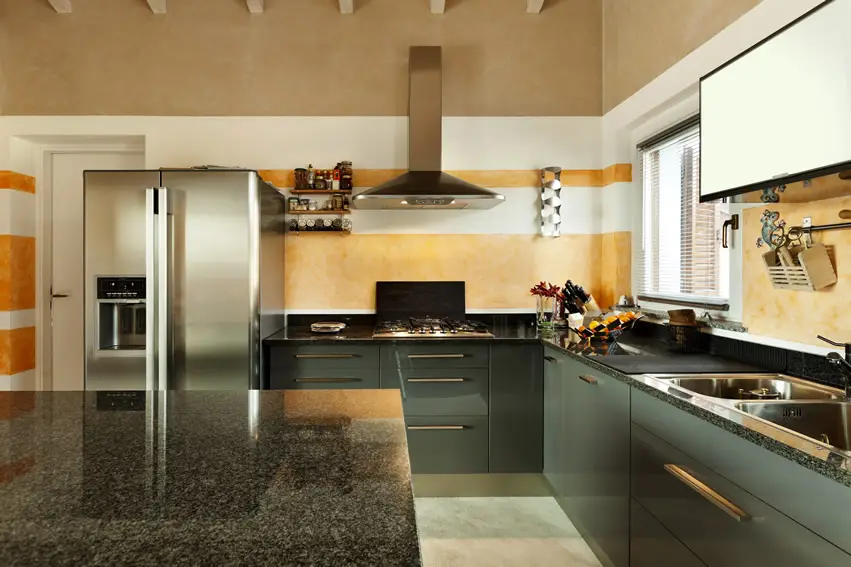 A modern modular culinary space design featuring cabinets finished in high-gloss teal laminates with stainless steel hardware and a gorgeous slab of black galaxy granite countertop. For the walls, it uses a unique combination of wall paints, with a white base color, brown rag-rolled paint for the upper wall and yellow-orange rag-rolled paint for the horizontal stripe patterns.
Another classic style culinary space with off-white paneled cabinets which amplifies the classic beauty of traditional kitchens. It uses black granite counters for the main kitchen cabinets and a thick slab of purplish granite for its island.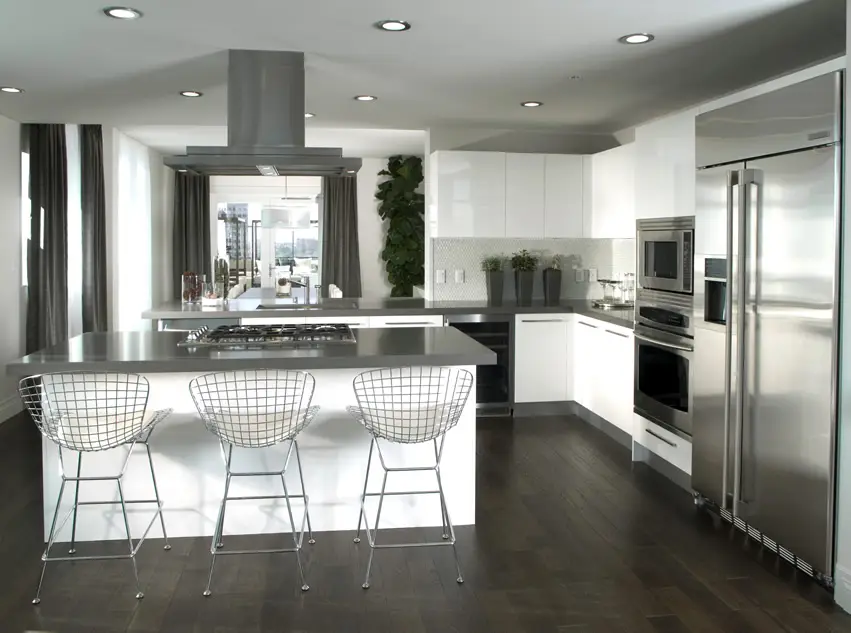 A modern cooking space design with minimalist aesthetic and a simple gray and white color scheme. All its cabinets are laminated in white, with a stainless steel kickspace and white mosaic tile backsplash. For the countertop, it uses a gray solid-surface material providing a seamless countertop surface.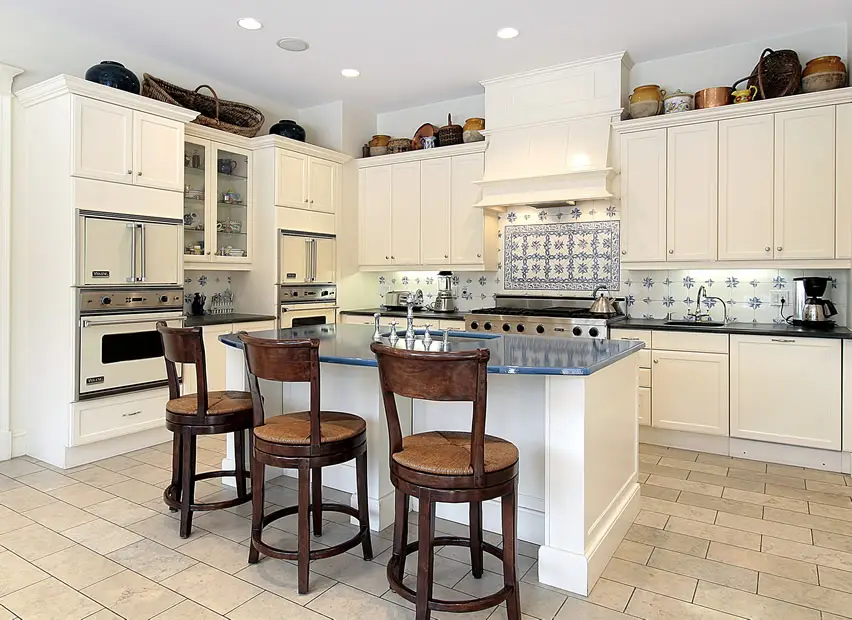 Drawing inspiration from blue and white china, this modern culinary area boasts of classic elegance. It has gorgeously finished white cabinets in an elegant matte finish combined with black granite counter and blue and white ceramic backsplash with floral patterns reminiscent of blue and white chinaware. To take the inspiration to the next level, instead of using the same black granite countertop for the island, it instead uses blue solid surface, making the island an accent piece in itself.
A large L-shape culinary area with the grandeur and elegance of classic kitchens, but equipped with modern appliances. It uses natural cream-colored stone tiles for the floors, and off-white cabinetry with classical Corinthian detailing. On top of the counters are granite stone, while the ceiling uses 2 crystal chandeliers, adding more elegance to the kitchen space.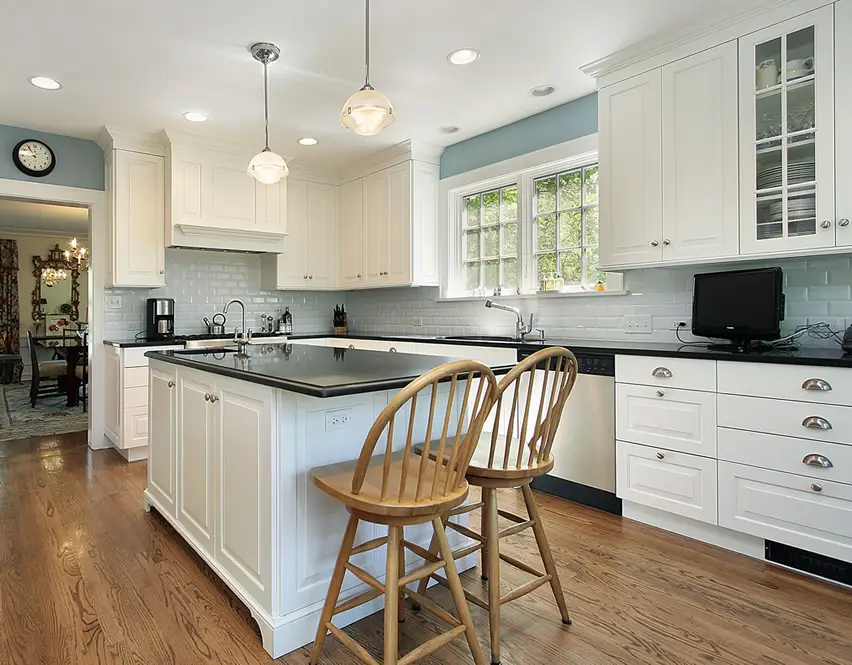 Small L-shape culinary layout look bigger when they are designed to be light and bright. This space manages to pull it off thanks to the light blue painted walls and overall lighter color scheme. The cabinets used are all white with paneling details and is topped with black polished granite countertops. For the backsplash, it uses white ceramic tiles in a subway style pattern. A light color wood engineered floor is matched by two wooden bar stools for dining in.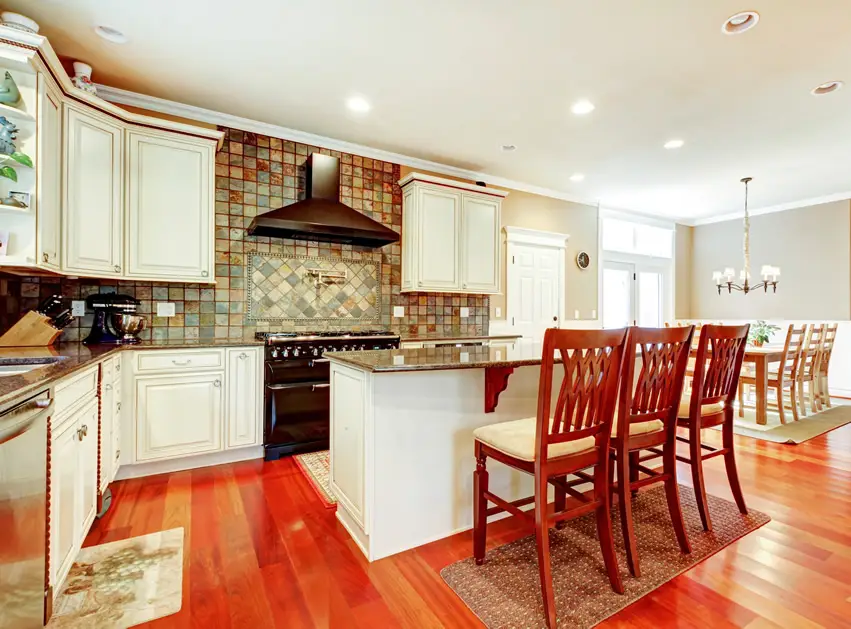 This culinary space design is set against a very bold backdrop of redwood laminate floors. To help tone down the red floors, the cabinets are of the classic off-white color and topped with a red sienna granite countertop. It also uses mosaic tuscan tiles in green tones to complement the reds of the floor and the bar stools.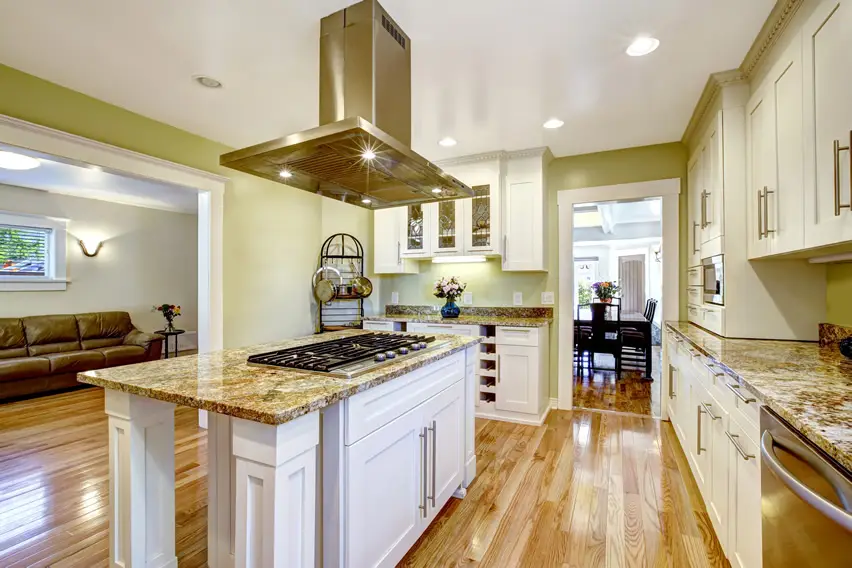 In this picture, an average-sized culinary space boasts a great combination of warm-tone wood colors. For the floors, it uses golden walnut, which matches the golden yellow granite countertop and the yellow-beige paint of the walls. To counter these yellow tones, the all-white cabinets allow you to neutralize the warm wood tones used in the space.
Small L-Shape Cooking Nook Designs
The L-shaped layout provides a smart solution for houses with limited culinary space. Adapting well to small spaces such as apartments or condominiums, an effective L-shaped cooking design offers benefits in a number of ways.
One of the primary reasons why an L-shaped layout is highly suitable for a small culinary space is that it maximizes the area by doubling up the storage space and the preparation counter as compared to a galley culinary space, which has a single-span counter.
Both of the adjacent walls can be used to mount overhead cabinets which can serve as storage solutions for different utensils. Shorter legs also mean there is less distance between the zones or the work triangle so it is easier to move around the refrigerator, the sink, and the range, thus a more efficient way to use space.
To efficiently work out an L-shaped layout for small cooking spaces, specialized sinks or storage systems may be used so that neglected or problematic areas such as corners may be utilized as well.
Corner spaces may seem awkward but in reality, they have lots of potential in terms of design. A corner sink, for example, frees up counter space, thus allowing the extra area to be used for other tasks. Specialized corner storage units that swing out easily allow you to use up even the back of the unit. Also, instead of built-in appliances along the center of the layout, the end of the "legs" of your L-shaped counters may be used to accommodate freestanding refrigerators or built-in ovens.
For tight spaces, a small island may also be incorporated into the L-shaped culinary space design, however, there may be no area for seating. In most cases, it just functions as an added prep workspace with a very simple counter design.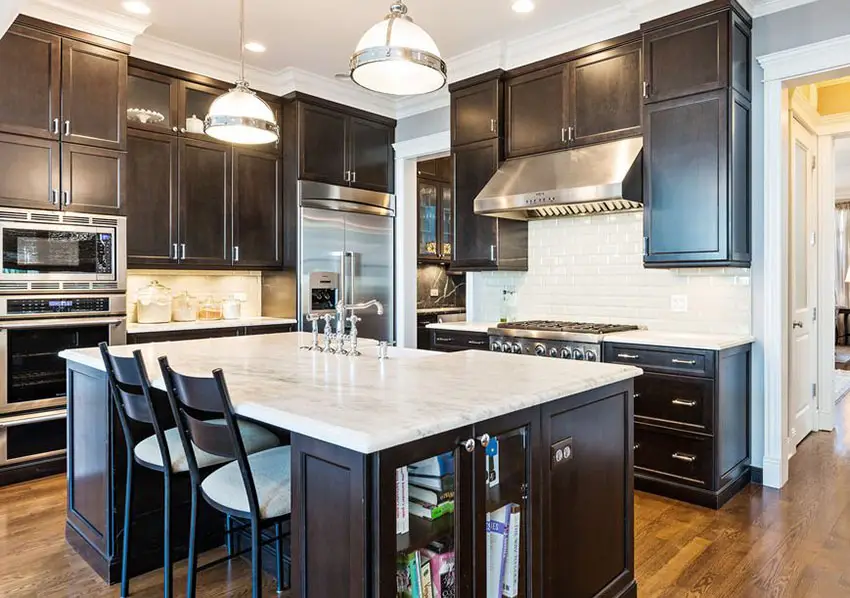 Gorgeous Calacatta classic marble countertops are the star of the culinary space with dark wood cabinets with a breakfast bar island. While the the cooking area is on the smaller side it is well-appointed with luxury stainless steel appliances, white subway tile and chrome pendant lighting.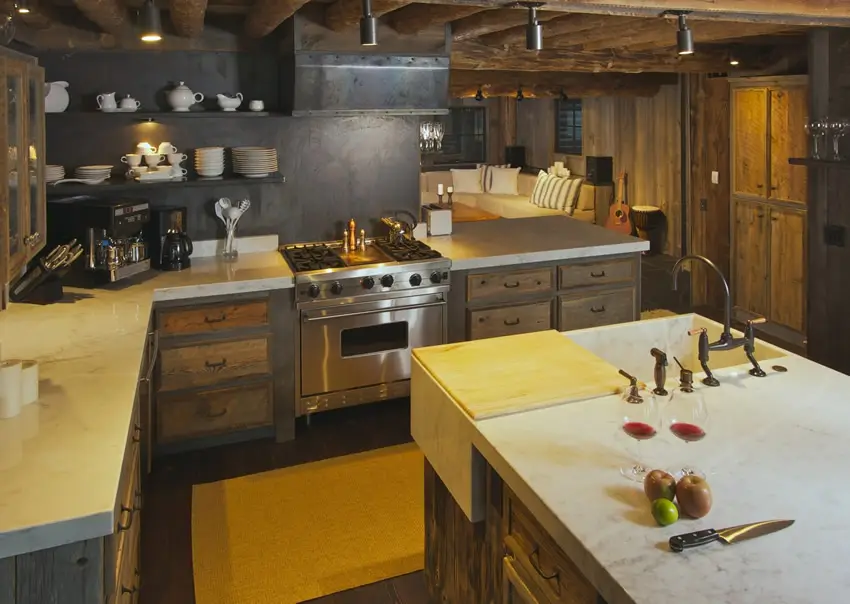 An industrial-style L-shape culinary space which uses natural weathered wood for the drawer faces and white solid surface for the countertop. The gray walls and hammered metal sheet add to the industrial aesthetic of the space, while the exposed wooden beams, warm lighting and wooden butcher's block add a touch of warmth to the space.
This contemporary culinary space has a large eat-in granite dining bar with modern bar stools. The flooring is a light color engineered wood in a rectangular pattern, while the island and cabinets are stained in a rich dark brown. to add contrast the dining bar is painted white with brown supports for the counter top. A high metal gloss back splash and accent tiles behind the stove top increase the glamour and overall aesthetics.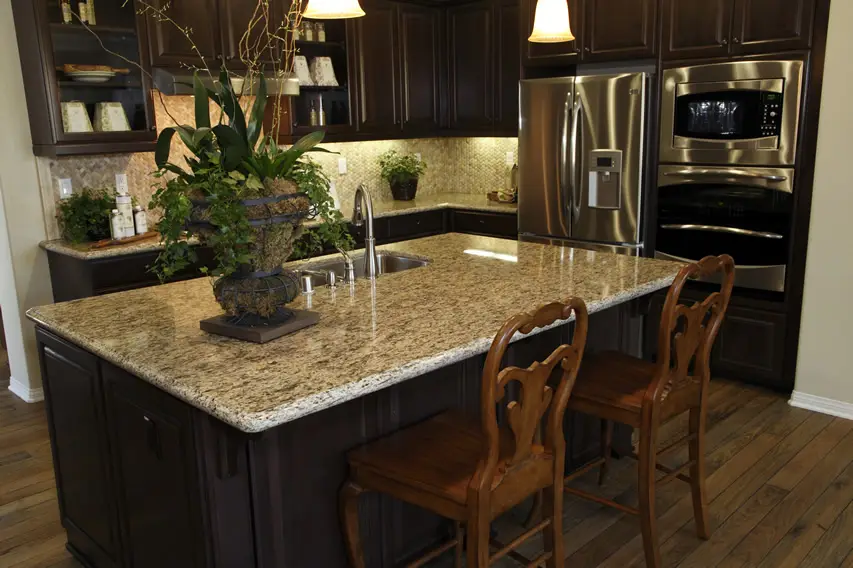 With a limited space, this L-shape culinary space manages to fit in the essentials for an effective cookery space design, and even adding an additional rectangular island which is able to accommodate 2 diners. The cabinets are of solid wood stained a dark wengue color and topped with a slab of gray granite.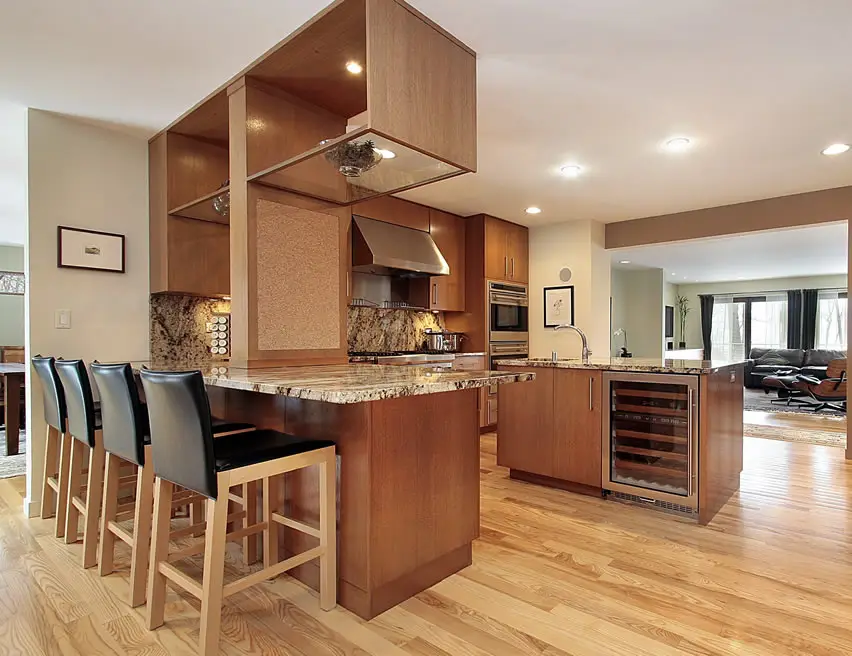 This unique L-shape culinary space uses modular cabinets laminated in mahogany and a large block of granite countertop which continues until the backsplash. It also features an island with a built-in wine fridge and a small bar counter area, which is able to sit up to 4 people.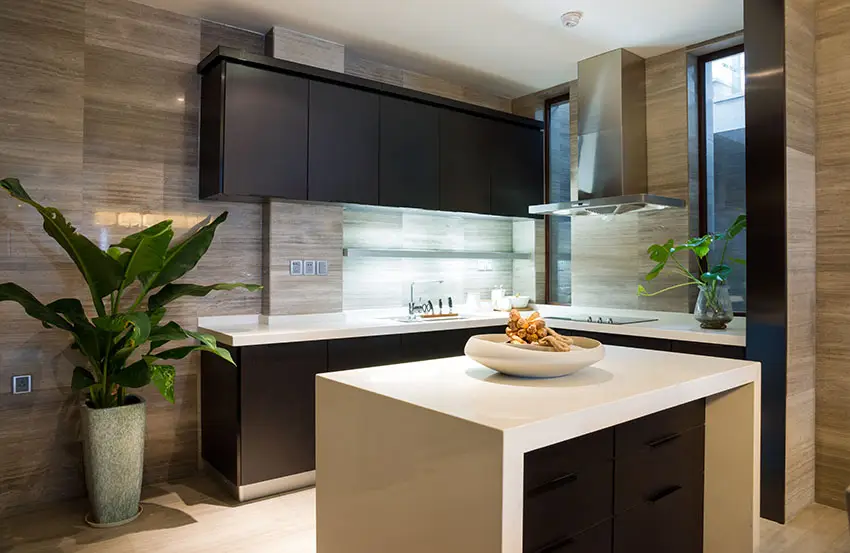 This small modern L- shaped culinary space with island has black cabinets with a white solid surface countertop. The walls and floors are clad in a wood grain porcelain tile providing a stylish backdrop. Under island storage provide extra space for utensils and pots and pans. Two rectangular windows help bring in some natural light to brighten the space.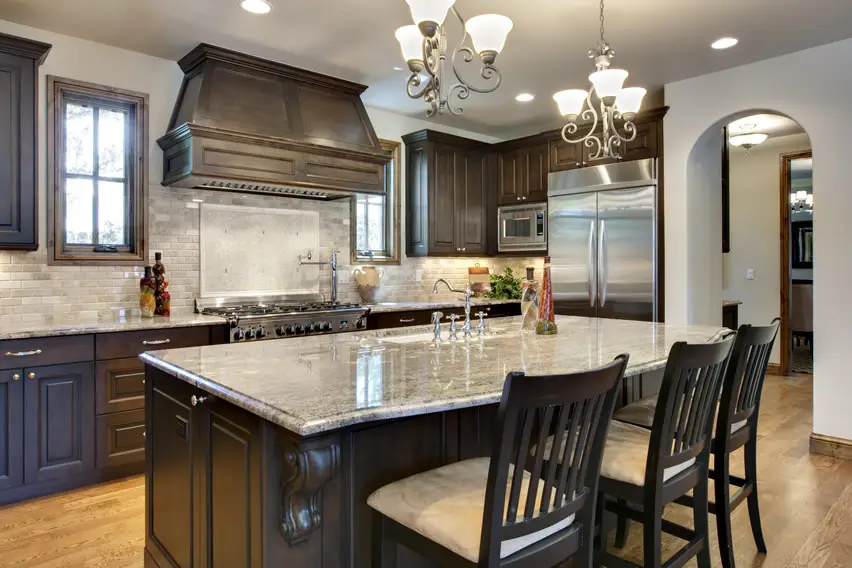 Another classic-style culinary space which is a little limited when it comes to space. It uses wengue-stained cabinets with paneling and Corinthian details and topped it with a light gray granite countertop. It also uses marble ceramic tiles in a subway tile pattern for the backsplash to match the gray countertop.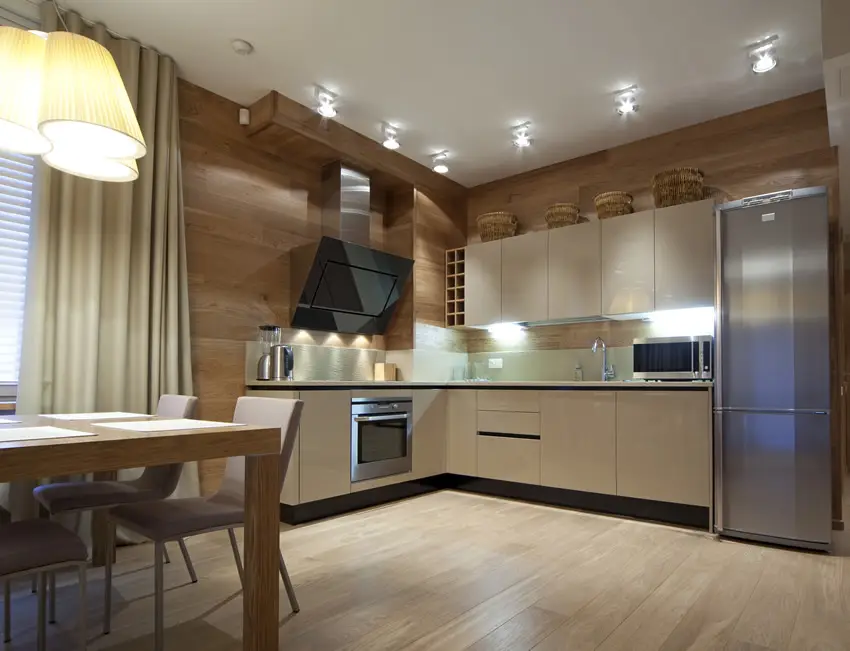 This culinary space may be small, but it doesn't fail to deliver in terms of design. While wood finishes are usually found on floors on kitchen cabinets, this kitchen design uses Golden Walnut wood on its walls instead, giving a nice contrast to the bleached oak flooring.
The cabinets are laminated in a light-beige high-gloss laminate and topped with beige resin countertop. it also features integrated under-cabinet lighting and compact appliances perfect for the size of the space.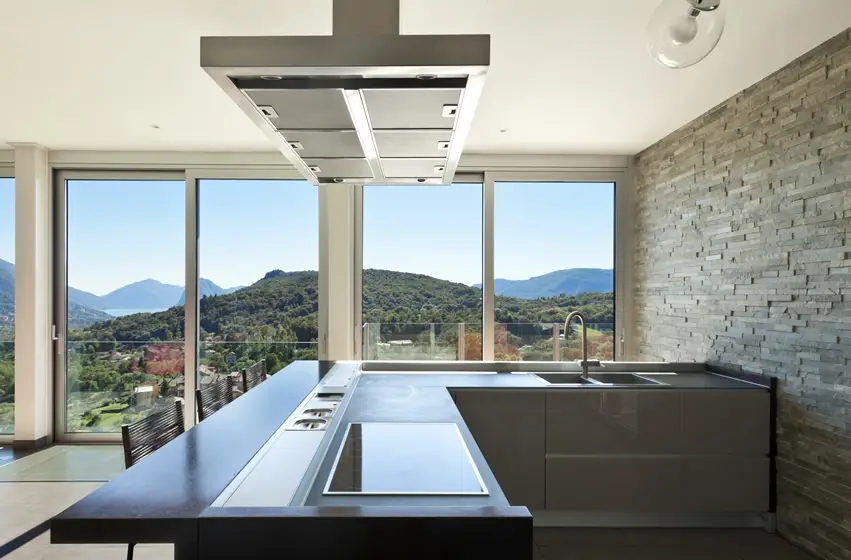 This culinary space is small but what it loses in size it makes up for in its impressive view of the countryside. The space offers a minimalist clean style with polished white cabinets, hidden appliances and low profile stove top built into a polished wood countertop. The stacked stone accent wall is rich in color and vibrancy and creates an upscale atmosphere.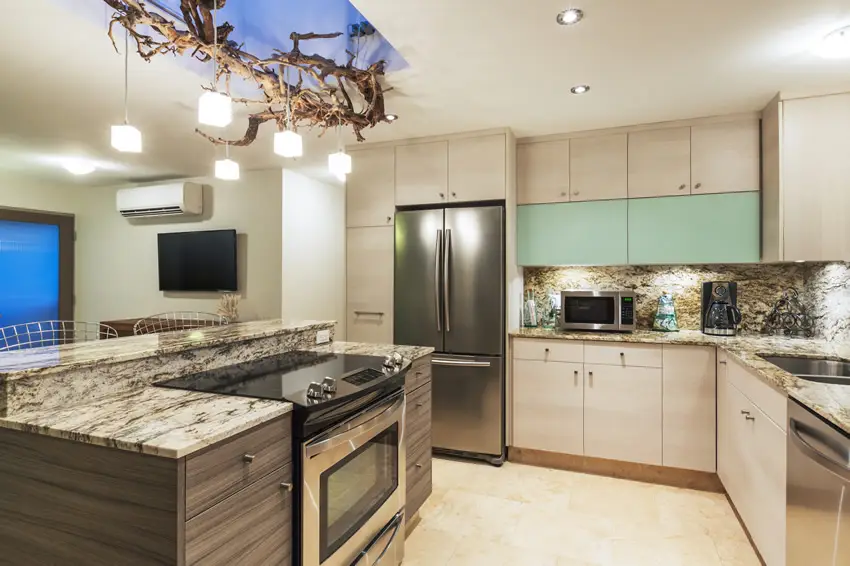 This modern culinary space combines plain finishes with wood tone finishes to give the space a variety of colors and textures. Most of the cabinets are laminated in an off-white color with minimalist cabinet and drawer pulls. Plain mint green laminates were also used as well as dark-stained oak laminate finish.
Related Kitchen Design Galleries You May Like:
143 Luxury Kitchen Designs – Small Kitchen Design Ideas – 77 Custom Kitchen Island Designs – U Shaped Kitchen Ideas