In this guide we share deep pantry organization tips including kitchen pantry clearing, arranging, best storage ideas, and how to organize a pantry with deep shelves.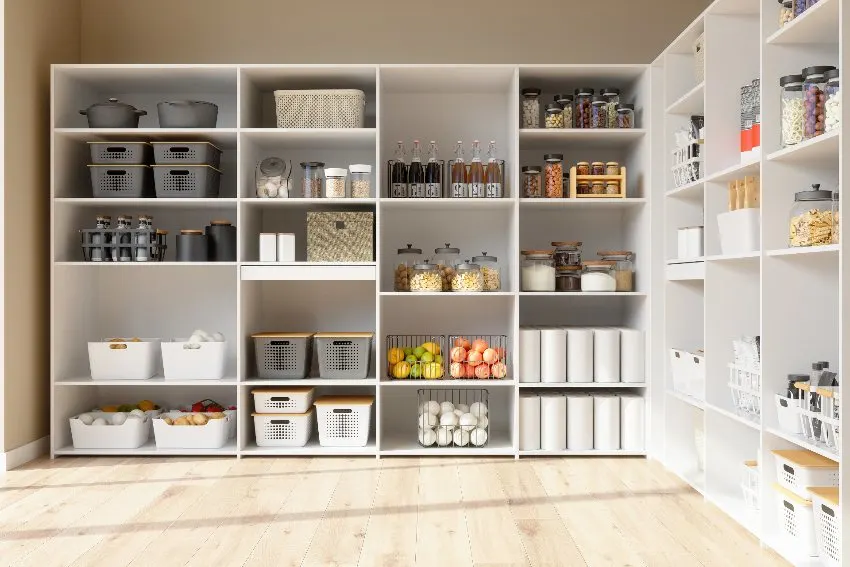 A deep pantry refers to an actual space in your kitchen devoted to storing all your food items. The best part about deep pantry organization is that you don't have to buy extra storage boxes or refrigerated cabinets.
Using a few different techniques you can save money and increase your food storage. With creative planning, you can even quickly build it yourself using your existing cabinets and drawers.
Do you have a large and messy pantry? Here are some tips to help you organize your pantry at home. But even if you have already organized and have excellent organizational habits — this article will lead you through some things that could help with your current storage habits.
Quick-look – How to Declutter and Organize Your Pantry
Plan your pantry organization strategy.
Classify and categorize items for efficient storage.
Choose the appropriate pull-out storage solutions.
Keep frequently used items easily accessible.
Place heavier items on lower shelves for stability.
Store snacks out of reach if you have children.
Reserve higher shelves for seldom used items.
Position new items at the back to rotate stock.
Arrange items based on size for optimal space utilization.
Invest in pantry organizers for enhanced organization.
Use coordinating bins or baskets for a cohesive look.
Store baking ingredients in transparent containers for easy identification.
Label each item for quick reference.
Remember to check use-by dates regularly.
Utilize hanging shelves on doors for additional storage.
Install plug-in drawers to maximize deep shelves.
Incorporate stylish design elements into your pantry.
Don't forget the convenience of a Lazy Susan!
Avoid overloading shelves to maintain organization and accessibility.
Deep Pantry Clearing (The First Step)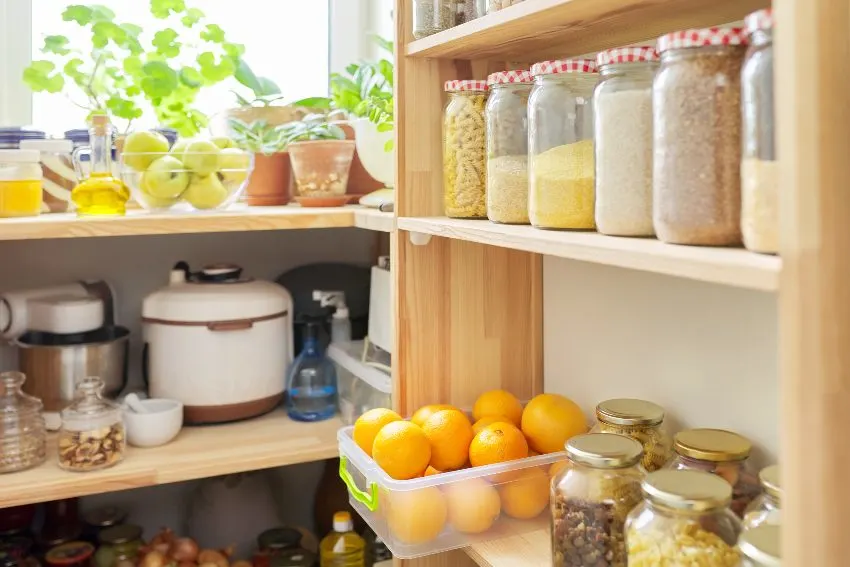 The best place to start organizing your pantry is by clearing it out of all of its contents. Although most people don't think of food as "clutter," your pantry may be hiding some secrets.
Even though it is tempting to begin this project when your pantry is looking bare so that you have less stuff to move about, it is crucial to understand what goods you keep in your pantry daily to ensure that you have room for it all moving ahead.
You can then clean and restock your pantry in a tidy manner. Go through every item in your pantry and throw out anything beyond its expiration date. If you don't keep an eye on all the stuff, you could be surprised at how many tiny items have flown past their expiration date.
A quick inventory of your possessions is also a brilliant idea at this time. Are any items tucked away in the back of your pantry that you could have overlooked? Is there a particular food that nobody has been consuming? So that you may stop purchasing it, make a note of it.
Before you begin placing your food back in the pantry, be sure to clean the shelves thoroughly. Given that the shelves are often stacked high with food cans or boxes, the pantry is one place that doesn't get cleaned as frequently as it should.
How To Organize A Pantry With Deep Shelves (20 Ways)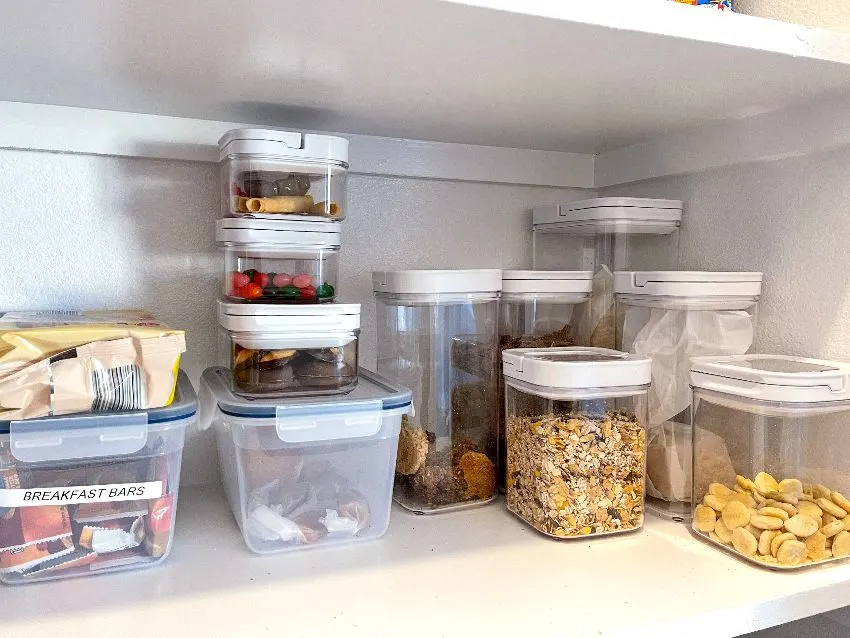 To keep your pantry essentials in good order, organized, and always within reach, we have compiled some of the simplest methods to arrange deep pantry shelves, from pantry storage ideas to decluttering techniques.
1. Planning
Firstly, plan and clear the shelves in the pantry. Remove anything beyond its sell-by date or that you don't think you will use by going through every tin, package, jar, and bottle. Do the same with kitchenware.
In this manner, you will know what to put at the back, and you may begin to designate spots. Before you replace anything, utilize sticky notes to indicate where you may put them briefly.
Check your floor space to see how much room you have for buying storage bins, pantry shelving and accessories if you find you need more space-saving solutions.
Planning will help you obtain a more comprehensive picture of your storage situation.
2. Classify and Categorize
Sort all your food into categories on your counters or kitchen table. You may create general categories, such as grains, snacks, and morning meals, or you can create particular categories, such as pasta, cereals, etc. Just be careful to group any similar meals.
3. Select Appropriate Pull-out Storage
It completely changes the game if you can upgrade to mounted drawers inside pantry shelves. You will have a lot more access to what you store. And visibility is the key to successfully using your pantry storage.
Use baskets, bins, or clear containers instead. For instance you can use ziploc bags combined with tupperware. this is especially valuable if you have a deep narrow pantry with little room to maneuver.
These alternatives serve the same purpose as kitchen drawer organization and have the extra advantage of being able to be pulled out, which is excellent for higher shelves.

Use kitchen organizers like dividers or custom inserts to keep everything adequately sorted when arranging drawers.
4. Set-up Areas Within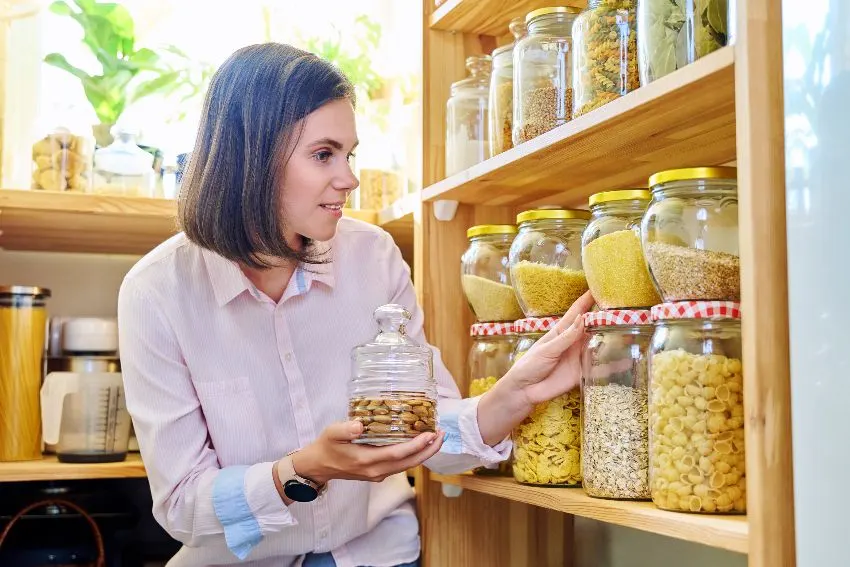 Having a well-stocked pantry is crucial when organizing. You need to know how many items you typically own in each category.
One zone has to be more significant if you have a lot of spaghetti. You should also create a large zone only for snacks if you often store several boxes full of fruit snacks and granola bars.
You will discover items more quickly in the future if you designate separate zones for each category. When searching for a can of beans or a bag of rice, you will know which shelf to visit, and you'll be able to track when you're running out of anything. Creating zones to prevent food waste is crucial when arranging a pantry.
5. Move Often Used Items To An Easy To Access Location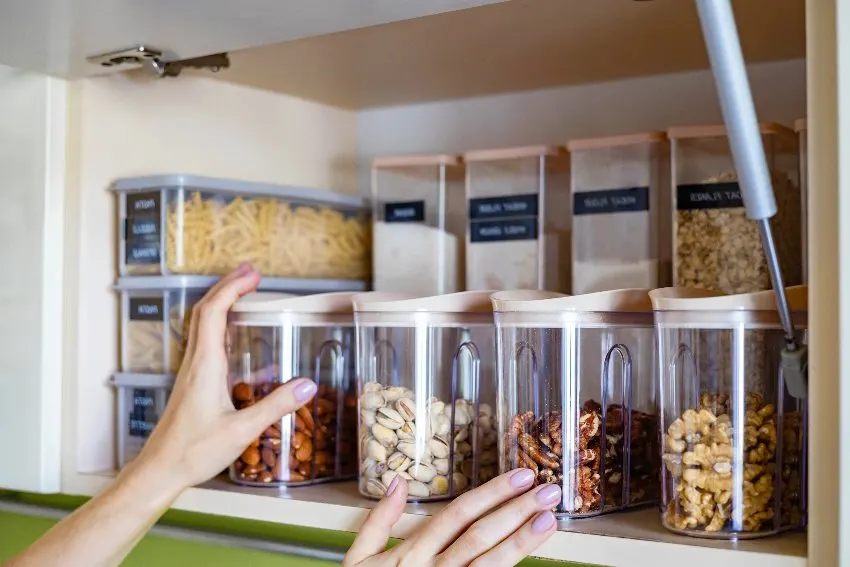 What pantry item is a daily need for your family? Cereal? Bread? Then place it in your pantry's most convenient location. Place the zone closest to the entrance of your walk-in pantry, if you have one, so you can easily reach in and retrieve anything. If you choose a closet or cabinet for your pantry, choose a shelf within easy reach.
6. Save Heavier Items For Lower Shelves
The space between the top and bottom of the deep pantry shelves makes it easy for chefs to reach inside and retrieve heavy products, lowering the danger of possible mishaps.
Shelves are also great for organizing pots and pans, stashing equipment, and keeping huge bags of overfilled food.
Similar to how you would organize kitchen cabinets when selecting what belongs, put the heavier goods on shelves that are accessible without reaching up or leaning down.
7. If You Have Children, Keep Snacks Up High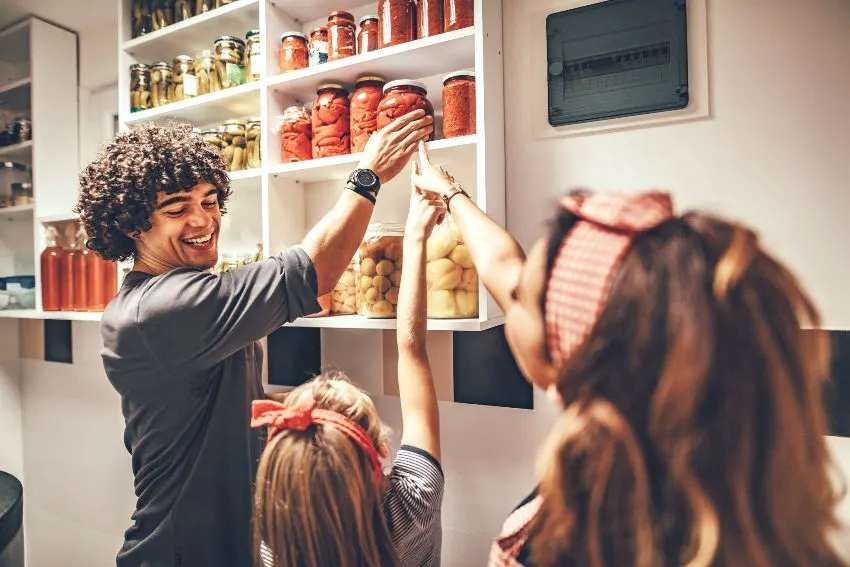 Most mums discover this advice the hard way. Have you ever seen your youngster nonchalantly exit the pantry with a little goodie they had chosen for themselves?
That's fun every time. Make sure any items are higher up or in a place where small hands can't readily get them if you don't want your kids to eat them on their own. Keep any objects you don't want your children to touch on a higher shelf.
8. Keep Seldom Used Items Up High
Set higher-up shelving for things seldom used, such as cocktail straws for parties or cookie cutters for Christmas. Keep fragile goods like glass jars or small appliances off high shelves to prevent unnecessary breakages.
9. Position New Items At The Back
When you purchase more of anything, place it behind what you already have. When attempting to put your groceries away, it is much too simple to toss your new food on the front of the shelf.
Make sure to move the products you already own to the front and place your new canned goods and other foods in the back each time you go grocery shopping.
Doing this may prevent your food from going bad or wasting away at the back of the cupboard. If your pantry has deep shelves, this works remarkably nicely.
10. Arrange Based on Size
It is a good option to arrange by size when deciding what to keep towards the back of deep shelves. In this manner, you can see everything on the shelf without the need to move anything. Even if you're arranging by basket, use this tip.
You may still arrange your products by size within each bin or basket if you use one for each category. When you stack items in height order, you can easily see what you have and prevent accidentally tipping over anything when you reach back.
11. Invest in Pantry Organizers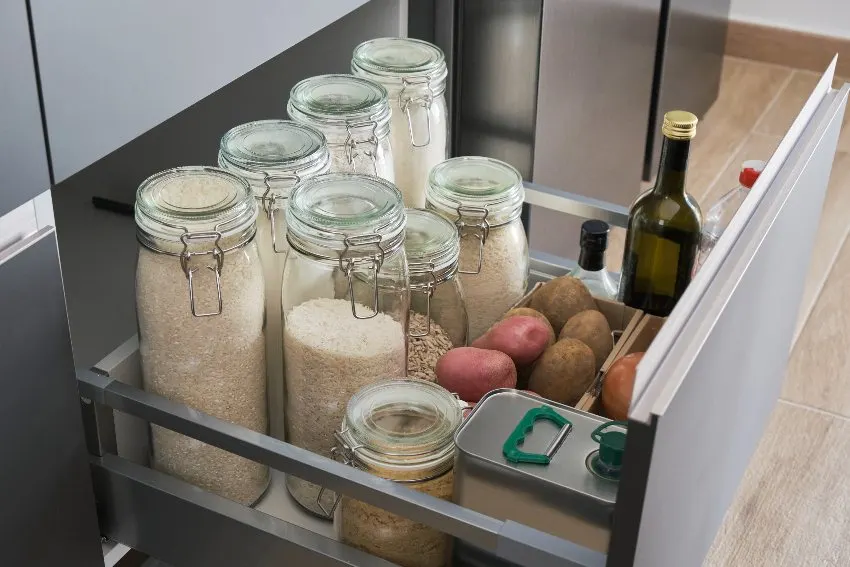 Although shelves provide a lot of room, their optimal use requires efficient organization. Investing in pantry organizers, such as wire racks, baskets, carousels, and risers, may make a difference. Consider which items would be most beneficial to you and which you wish to keep on the shelf.
Clear containers piled beneath may be incredibly beneficial to detect what you need without digging around immediately. Tinned food can be put on a shelf to the rear on risers to let you see what you have without digging through many layers of cans.
12. Buy Coordinating Bins or Baskets
Coordinating baskets or bins in a pantry gives the room a polished, organized appearance. If you want to arrange a pantry, bins and baskets are very beneficial since you can make divisions of stuff, and things won't become buried as quickly.
Make a plan and decide on the zones and categories you want, giving yourself enough time to purchase baskets and have them ready to go, or you can buy various sizes and see what works.
You may always create your bins or baskets if you don't want to buy a set. You will prevent unused storage space, and your pantry will remain orderly.
13. Place Baking Ingredients in Transparent Containers
Get transparent containers for baking ingredients, such as sugars and flour, and eliminate their bothersome bags. Clear containers should be simple to locate at a container shop.
When you attempt to open and seal those bags, flour and brown sugar always seem to pour out all over the place, and stacking them is almost difficult.
Getting large, transparent containers will allow you to stack these products neatly, keeping your pantry orderly and freeing up a room. Additionally, you can immediately tell when any of your baking materials are running short!
14. Label Each Item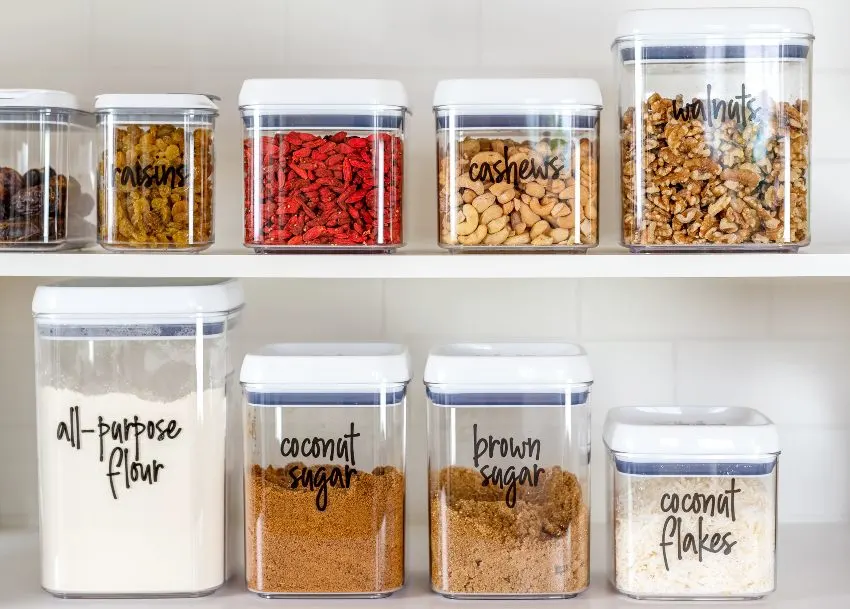 Bins and containers should have labels, but you should also mark the shelves. One of the most effective organizational strategies is labeling.
It will not only help you keep your newly organized pantry orderly, but it will also make things simpler to recognize while you're cooking.
When helping to unload groceries, everyone in the home can put things away in the proper place if they can see where everything belongs.
15. Remember The Use-By Dates
Items should be positioned based on when they will go off. This approach is known as the "FIFO" approach. Think first in, first out. When you buy anything, it moves to the rear of the grouping, ensuring that the product with the closest expiry date is always at the front.
16. Use Hanging Shelves on Doors
Make the most of every available inch, and the back of the door is no exception. If you utilize a closet as your pantry and are short on space, consider purchasing hanging shelves or door baskets.
They are suitable for storing spices, baking ingredients, cans, and jars! You can discover several over-the-door wire racks online that can provide you with the space you need, even if you have a separate pantry and require a few more shelves. See more kitchen pantry door ideas here.
17. Plug-in Drawers To Deep Shelves
Shelves with drawers are convenient since you can pull the drawer out and access everything. Drawers make it much simpler to keep things organized and save you from continually transferring objects from the front to the back.
Additionally, as the drawers will use the often underutilized vertical area, you will free up space on your shelves. Install a modest set of wire or basket drawers in your pantry.
18. Be Fashionable
When arranging deep pantry shelves, especially if they are open or have glass doors, it is essential to create a fashionable display since decorative kitchen storage solutions may significantly alter the appearance and feel of your pantry.
Sort goods into clusters of odd numbers, preferably three, then add objects of various heights and sizes to each cluster to maintain shelves that appear excellent, tidy, and thoughtfully designed.
Decanting dry items into cleanly labeled glass jars provides a lovely display and lets you quickly gauge when supplies run short.
19. Don't Forget the Lazy Susan!
A little lazy Susan is a game-changer for any odd locations or high shelves you can hardly reach. You won't need to take many items off the shelf to reach the cans or spices at the back.
When organizing a large pantry, lazy susans are pretty helpful. Allow enough room to rotate the lazy susan fast. It keeps your pantry organized.
20. Avoid the Temptation to Overload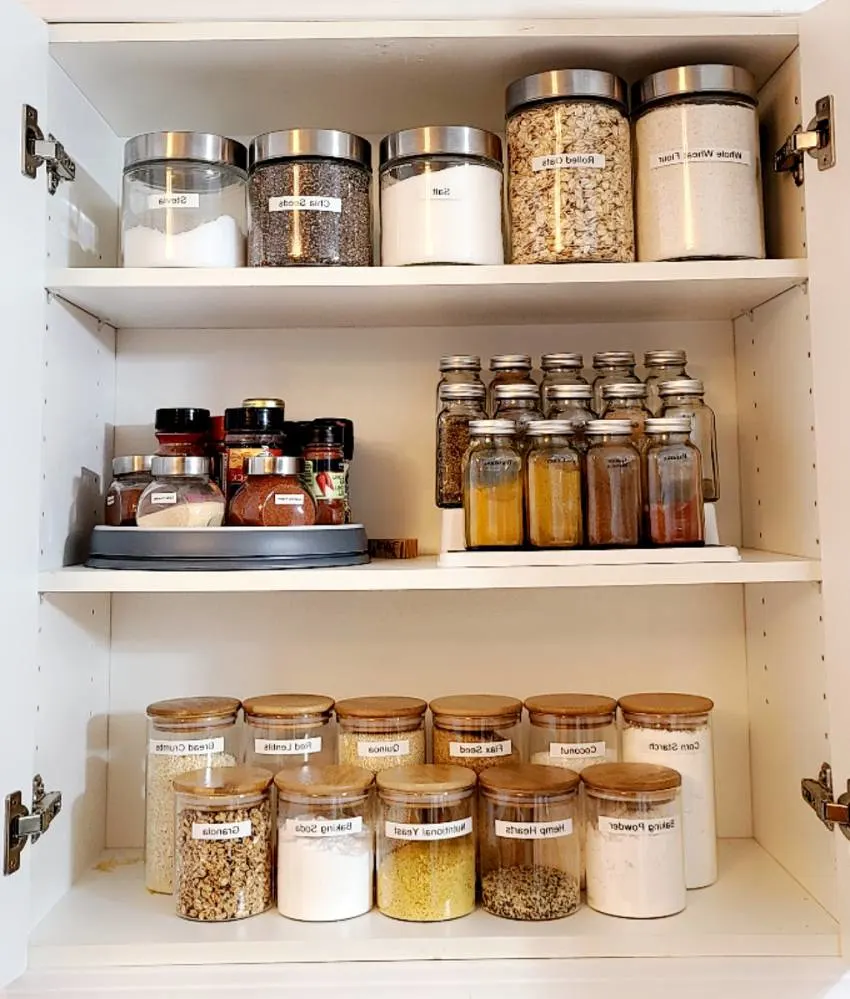 When arranging a tiny kitchen, it might be tempting to cram everything in, but this approach does not often lead to efficient storage. Deep pantry shelves help conceal a lot of clutter, but this does not always make them user-friendly.
Give each item its location, especially accessories and items you use often. If your non-stick frying pan is beneath five other saucepans of varying sizes and shapes, it won't be enjoyable every time you need to use it.
Organization Tips for Pantry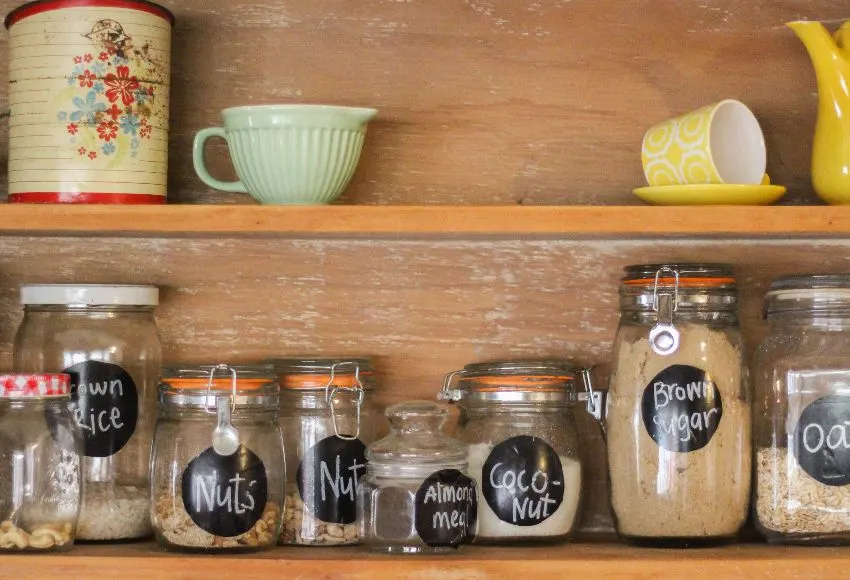 Remember that your pantry needs an effective system you can uphold as you plan and organize. Spending hours cleaning, organizing, and clearing your pantry will get disorganized the next time you bring food home. See more cleaning tips in our kitchen deep cleaning checklist guide.
Therefore, be sure that your deep pantry organizing strategy is effective for you. Be truthful about the foods you often consume and the tools you use most frequently.
As soon as you return from the shop, neatly put everything away. While storing fresh foods could take a little longer, it will ultimately be beneficial for keeping your floor plan tidy. Spend time organizing your pantry to work for you, and you'll see a dramatic improvement.
Hopefully, these deep pantry organization tips will help you manage your organization needs more effectively so that you can earn some extra space in your kitchen. Best of luck with your organizing!
Did we miss anything? Share your best kitchen pantry storage tips in the comments below. For more related content, check out the best pantry paint colors for more ideas.