In this guide we share the best pantry paint colors including options for your pantry walls, shelves, and doors like matte yellow, blue-violet, and alabaster white.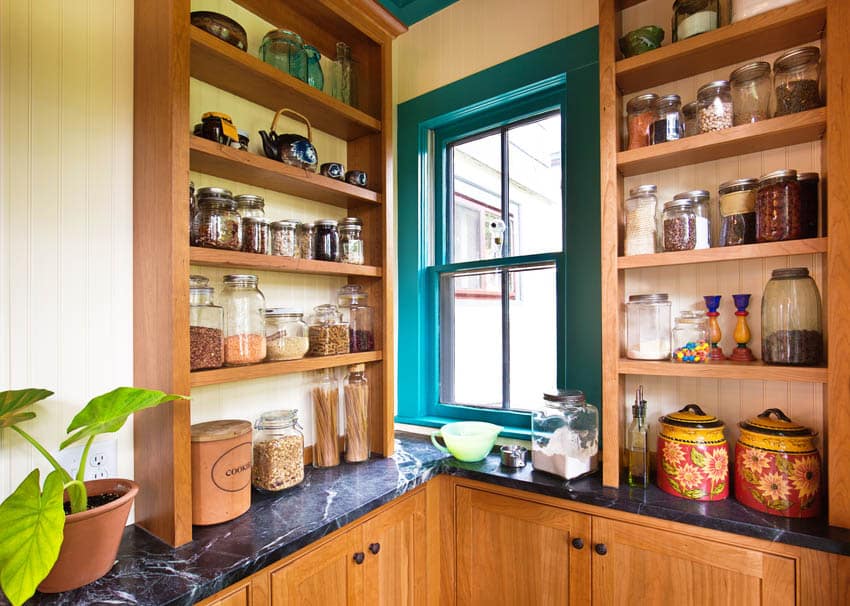 Putting together a healthy dish at home is one of the best ways to make sure you get that fresh, safe, and wholesome food on your table. That's also where having a well-stocked pantry comes in handy.
But more than a pantry brimming with food and goods, it should also be organized and conducive to keeping your food dry and fresh.
One of the easiest ways to spruce up your pantry is by updating the paint color. This may seem an easy task at first, but it's actually quite hard to figure out the best color to choose and whether you should go for a dark shade or a light one.
Read on to know the best paint colors for a pantry room, including pantry walls, shelves, and doors.
Should I Go Dark Or Light for My Pantry Color?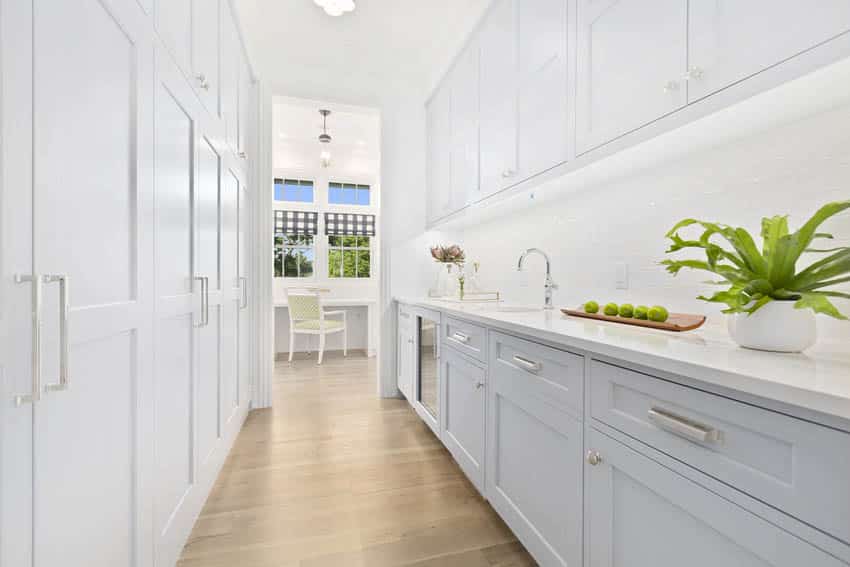 Ultimately, your preference will determine the paint color you should go for, but it wouldn't hurt to know the pros and cons of each color.
Walk-in pantries can typically get humid and warm during the summer months due to their size and the lack of ventilation, making cool colors a better choice for your wall paints.
While dark colors can make a room look cold, they're quite excellent at hiding wall imperfections, including dents and molds.
However, dark walls also tend to make the room dim, which means you need additional lights to illuminate each shelf level in your pantry.
If you find yourself stressing over these things, then going vibrant may be the way to go.
Best Paint For Pantry Walls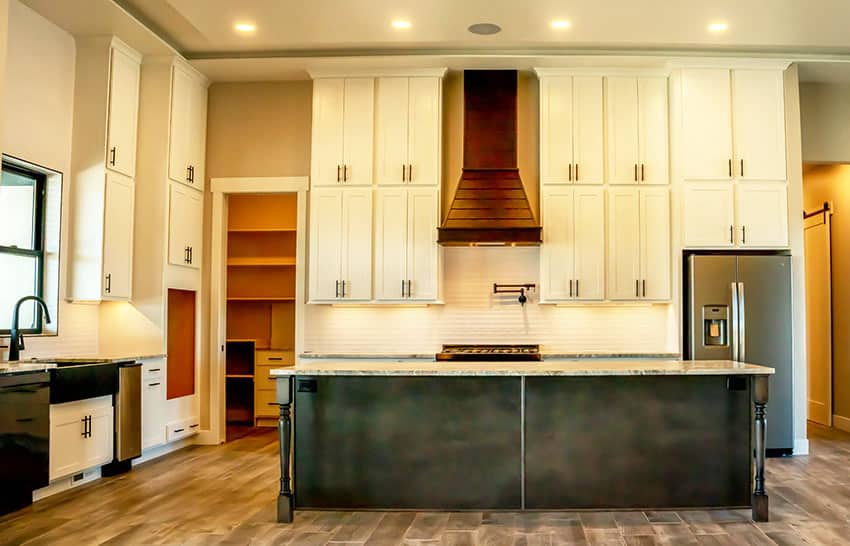 Here are the most popular paint colors for pantry walls including why they work for this space.

Light Gray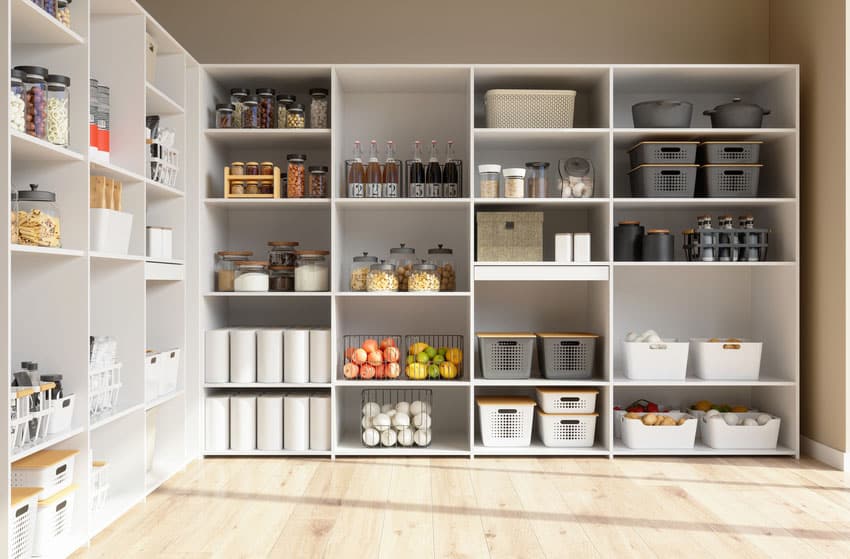 The light shade of gray is arguably the best color choice for your pantry walls. It's a neutral hue that balances out the dark and light tones but leaning towards more on your lighter tone.
The gray tone can brighten up your pantry without being too bright when the lights are on. In addition, you get to pair almost any shade with a neutral tone. Light gray also tends to hide stains and dirt easily.
Color Inspiration: GM General Motors Star Silver
Hex code: #D3D3D3
Matching Paint:

Behr Sterling 780E-3
Perracotta
You've probably seen this hue many times on your Instagram feeds. From minimalist apartments to fancy condominiums, this color is quite trendy nowadays.
The barely blush color is a mix of pink and terracotta, thus the name. This cool and bright hue goes well with neutrals like white, gray, and black.
You'd definitely want this color on your pantry walls as it has that feminine touch but still adds a strong personality to the space without overpowering other elements.
Color Inspirations:
Bristol Ocean Shell / P059-W3
Taubmans Ocean Shell / T12 22.C3
Hex Code: #f7baa1
Matching Paint:

Behr Siren P190-4
Laurel Green
A mixture of green and gray, laurel green is a refreshing color that adds depth and at the same time creates a lively space given the proper lighting and color combinations.
Laurel green is an excellent color choice especially if you incorporate metallic accents for your furniture pieces and décor. The refreshing hue pairs well with black, gray, peach, white, and honey tones like wooden shelves.
Color Inspirations:
Laurel green #a9ba9d
Cambridge blue #a3c1ad
Dark sea green #8fbc8f
Eton blue #96c8a2
Matching Paint:

Match of Pantone™ 15-6313 TPX Laurel Green
Matte Lemon
The vibrant yellow tone is a delightful surprise inside your pantry. This paint color is excellent at brightening up any room, including your pantry. Shelves painted in yellow are definitely a standout.
The yellow tone is also excellent for white frames and trimmings. Consider a matte finish with this kind of paint though, as a glossy finish can be too overbearing for a tight space.
Color Inspiration Hex Code: #feee91
Matching Paint:

Match of Coronado Paints™ 7864 Lemon Burst
Soft Blue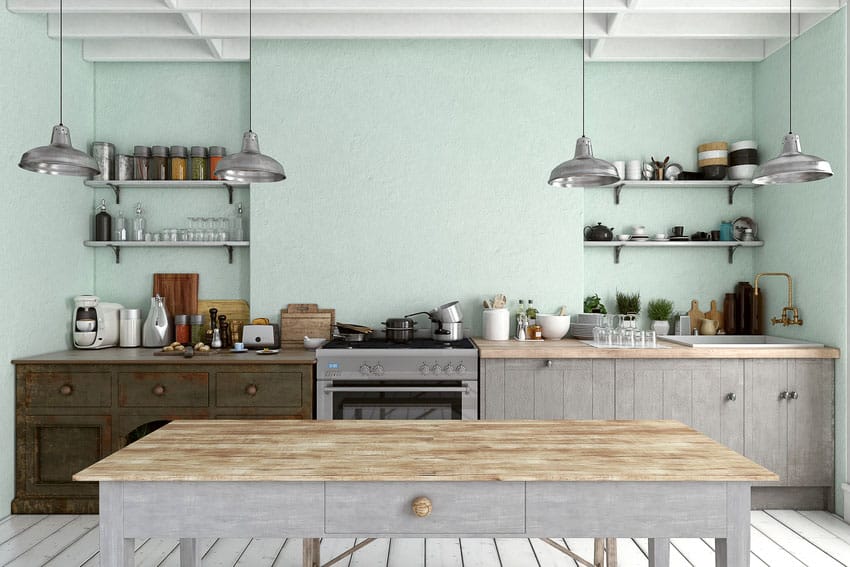 The powder blue tone is another recommended pastel color for your pantry which gives a modern and clean appearance.
You can blue paint sparingly for a small pantry area, and easily extend its use through the rest of your kitchen space.
Color Inspiration Hex Code: #cedde7
Matching Paints:
PPG Pittsburgh Paints Simply Elegant PPG1155-3
Best Paint For Pantry Shelves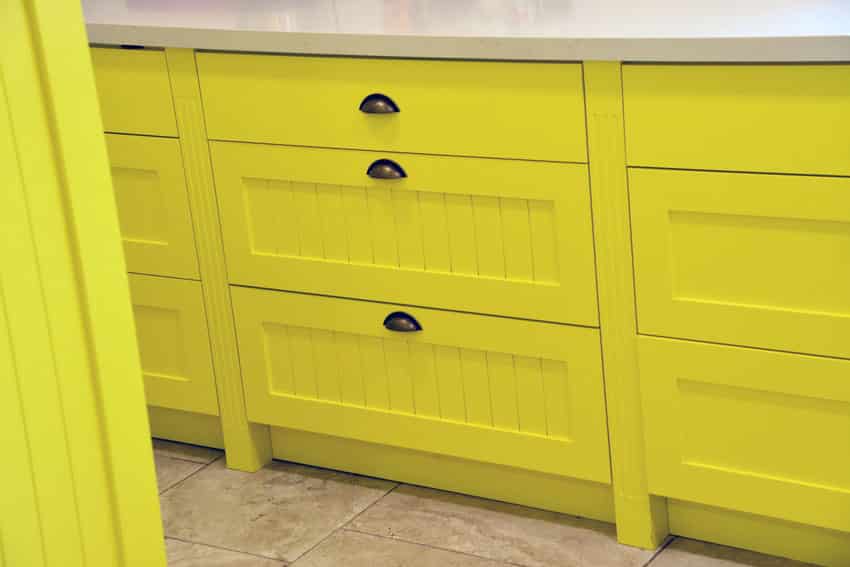 Color-blocking may be your best bet! The technique here is to use opposite colors on the color wheel for a dramatic effect.
Desert Pink
Another pale color is the engaging desert pink that matches with any gray or white pantry walls. Still, this color also blends well with darker tones such as black, creating a sharp contrast.
Desert Pink is chic and stylish. You'll love it on any neutral-colored pantry wall. Consider incorporating light fixtures into the room to create a dreamy mood.
Color Inspiration Hex Code: #d7bdb4
Matching Paint:

Dulux Desert Pink
Bluish Gray
This color looks best when paired with a white- or beige-colored wall. Bluish-gray is a favorable color for a more expansive pantry or if you've got a lot of shelves.
The cool color has a youthful feel and blends well into any interior design theme.
Color Inspiration Hex Code: #98a9b7
Matching Paints:

Sherwin-Williams Aleutian 6241


Ralph Lauren Spanish Bluebell RLVM283


Dulux Niagara Blues 3
Alabaster White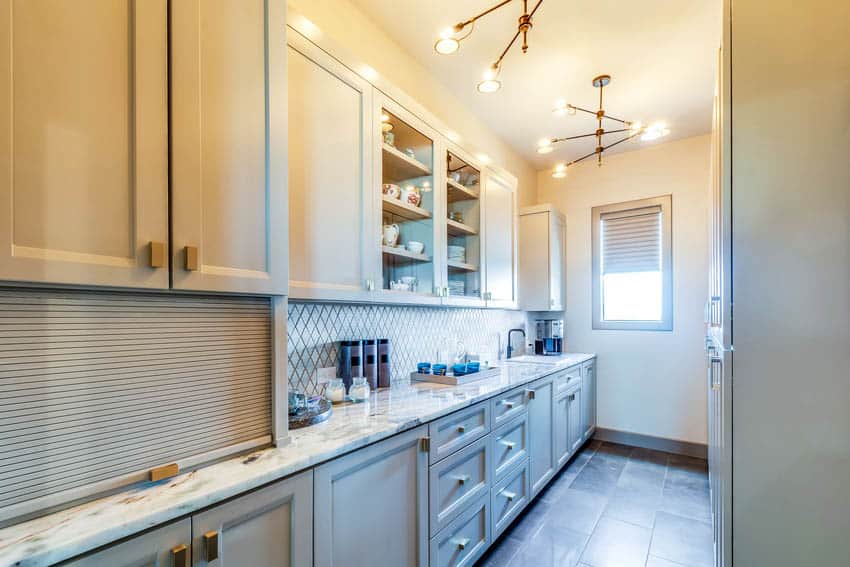 You can't go wrong with a classic white paint color. But take note that dirt and stains can appear quite visible with this paint color as white isn't capable of hiding flaws on your walls effectively.
Alabaster White, which is a warm shade of white, is the perfect alternative to your pure white that works extremely well with a broad spectrum of colors.
You'll find this classic hue effective in brightening up a small space too. Check out various DIY small kitchen ideas here.
Paint Inspiration Hex Code: #f3f0e9
Matching Paints:

Valspar Paint Ancient Relic R83B
Matte Black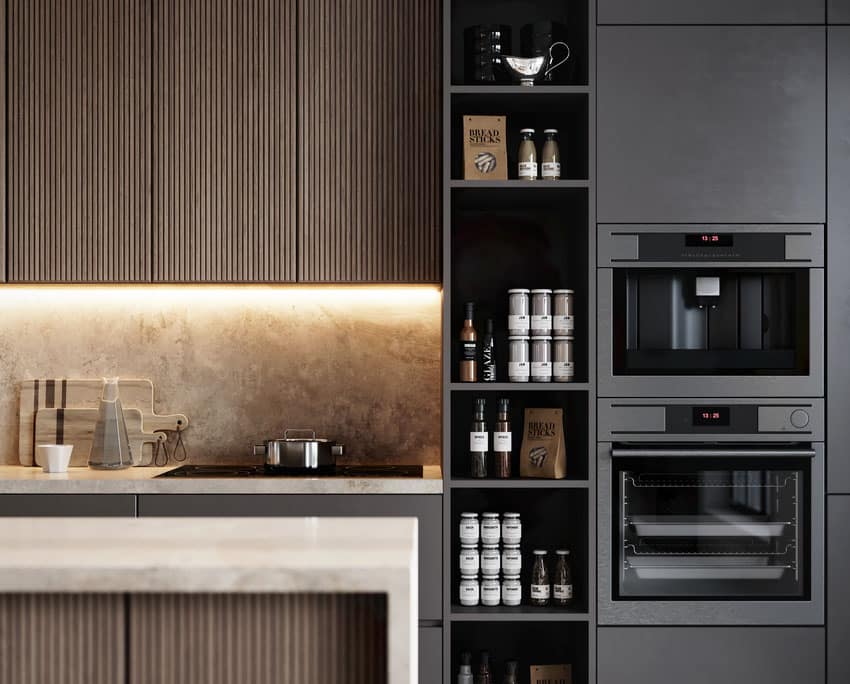 The dark tone is surprisingly hip for country-style interiors, creating an equally sophisticated and organized look.
This is especially recommended for painting short to medium pantry shelves. Because of its dark tone, it will also need ample natural or artificial light.
Color Inspirations:
802 Evonik-Degussa
Cannon Smoke GM / General Motors
Gunmetal Gray Ford
Hex Code: #383838
Matching Paint:

Benjamin Moore Black 2132-10
Blue Violet
A stronger version of bluish-gray with a tinge of red, blue-violet works well with the neutrals and any shade of yellow to create an energetic, vibrant atmosphere.
The blue-violet is a lovely color to color block as it still looks cool even when it covers both your walls and shelving. See more open shelving kitchen ideas here.
Color Inspiration Hex Code: #577abf
Matching Paint:

PPG Pittsburgh Paints Blue Violet 147-6
Best Paint For Pantry Doors
If you're still having trouble deciding on the best paint colors for your kitchen pantry door, let your wall colors guide you. If you have plain painted walls, you can either settle on a lighter or darker shade.
If you would like a more dramatic look, choose a color that is similar to the smaller details in your room. However, if you have wallpaper, that can also be your starting point.
You can use the dominant wallpaper color to create a dramatic look, or you can use the lightest tone for a more subtle approach.
Check out this walk-in pantry dimensions size guide for more related content.