Here we share our guide on how to make a galley kitchen look farmhouse, including what it is, design elements it needs to have, and different farmhouse decor ideas.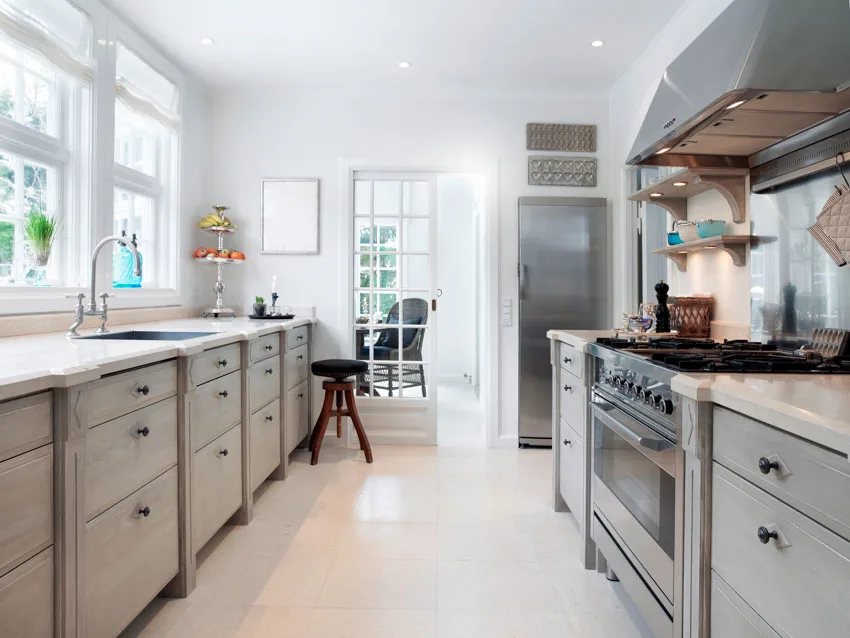 Farmhouse galley kitchens are becoming more and more popular because of the rise of popularity of small houses.
If you have a small galley kitchen and want to take it to another notch by going rustic, you can transform it to be a farmhouse galley kitchen.
And there are several ways you can do to make it possible. First, let's start with the basics. What's a galley kitchen and what's a farmhouse kitchen?
What Is A Galley Kitchen Design?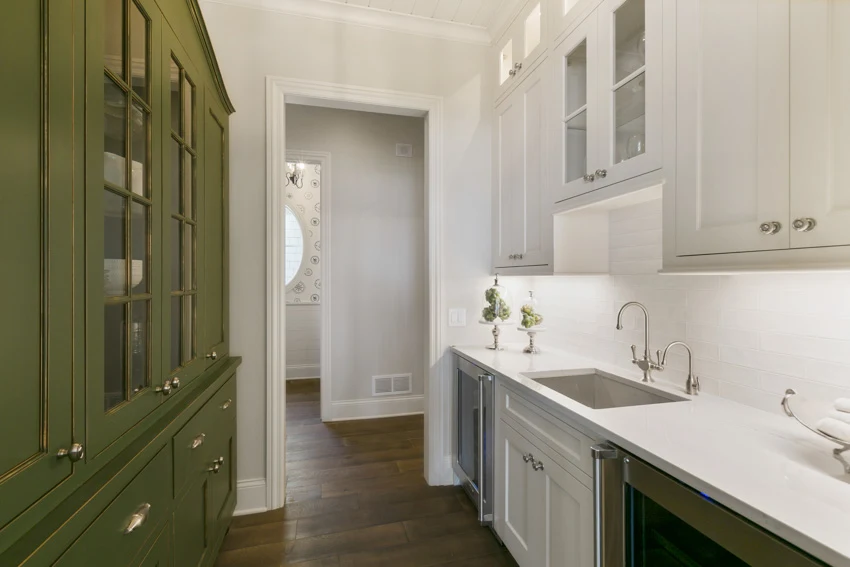 A galley kitchen design is a layout where two parallel countertops and workspaces face each other, creating a narrow walkway in between. This type of design is commonly used in smaller kitchens or apartments to maximize space and efficiency. It is often referred to as a "corridor" or "walk-through" kitchen due to its shape.
Galley kitchens are typically compact, making it difficult for more than two people to occupy the space simultaneously. They are commonly found in older homes and smaller areas where maximizing the use of space is essential.
A galley kitchens often has a narrow hallway sandwiched in between two walls parallel to each other. These walls may also be lined up with kitchen cabinets, counters, and kitchen appliances and the organization depends on whether the layout is either symmetrical or asymmetrical.
The standard galley kitchen is isolated from the home's main floor plan, making it a separate space where food preparation is hidden from guests.
Since the room is isolated, the curtains and furniture in other rooms will be protected from smoke and cooking smells. However, you also would need to walk several steps just to transport the food from the kitchen to the dining area.
With these kitchen layout dimensions, everything is within reach. This makes it efficient to work in your kitchen and effectively multi-task without needing to move around.
A modern galley kitchen is integrated with high-tech fixtures and hardware and makes use of built-in technology to maximize the use of the available limited space. This comes in the form of modular cabinet modules, pull-out pantries, and even upper cabinets.
What a Galley Kitchen Needs To Be A Farmhouse Kitchen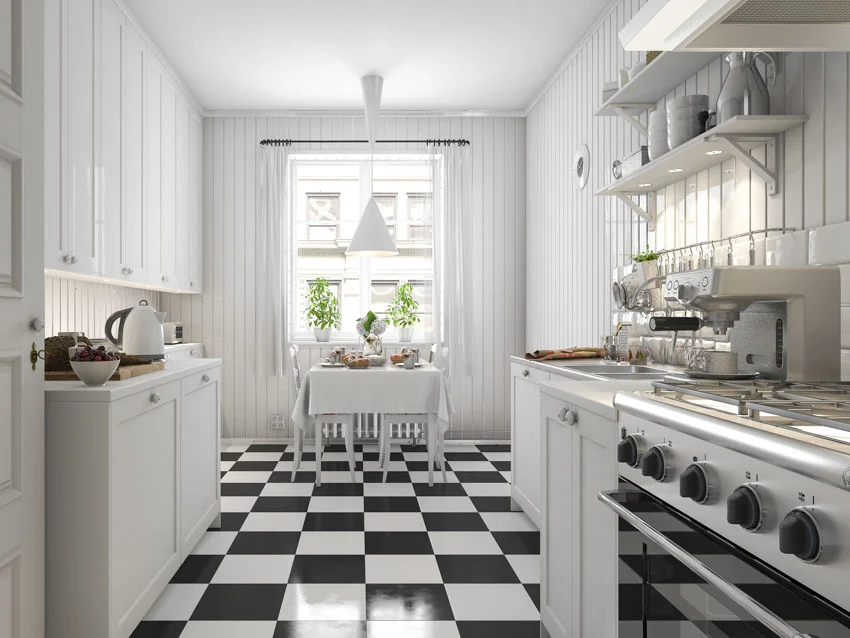 With what we know about the characteristics of a galley kitchen, what can you do in order to make it look similar to that of a farmhouse kitchen? So first, what are the characteristics of a farmhouse kitchen?
A farmhouse kitchen is popular in the Middle Ages, where the kitchen is used for food preparation, cooking, dining, and socializing. Poorer farmhouses have limited spaces, which is why the kitchen serves different functions all at the same time.
It is a different matter though for wealthier households in the Middle Ages and would instead separate the kitchen from the entertainment and dining areas, to avoid having the smoke from the kitchen enter these areas.
Farmhouse kitchens are known as smoke kitchens because, in the Middle Ages, modern stoves and extractor hoods are not yet used when cooking.
This is why wealthier farmhouses separate their kitchens from the dining and entertainment areas, to protect furniture and appliances from the smoke.
Inexpensive farmhouses on the other hand can't separate their kitchens due to limited space, which is why all three areas are combined in the farmhouse kitchen.
Farmhouse Kitchen Essentials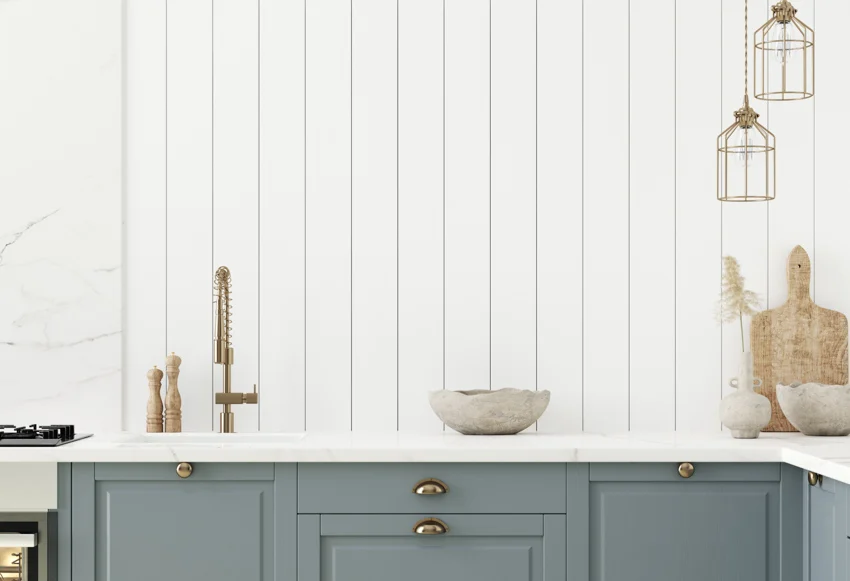 Besides all of these, what other elements do farmhouse kitchens have that are identifiable? Here are some additional distinctive elements that a farmhouse kitchen has:
• Natural materials: Use furniture and hardware made from natural materials like quality wood (Pine, oak, maple, and cherry). You can go for farm tables made of long oak planks and wooden chairs with the pastoral style of carvings
• Unpretentious and humbling design with a countrified theme: the kitchen should feel inviting and welcoming that guests will be comfortable staying in (with the farm-to-table style of dining)
• Straightforward and countrified flatware and rustic cookware and containers (E.g. flatware with rustic wooden handles and traditional mason jars)
• Classic wide and deep basic for its sink (made from either stainless steel or porcelain)
• Gingham, plaid, and toile curtains, placemats, and tablecloths featuring the farm and pastoral scenes
• Antique farmhouse-related equipment and materials as decor
Farmhouse Galley Kitchen Makeover Ideas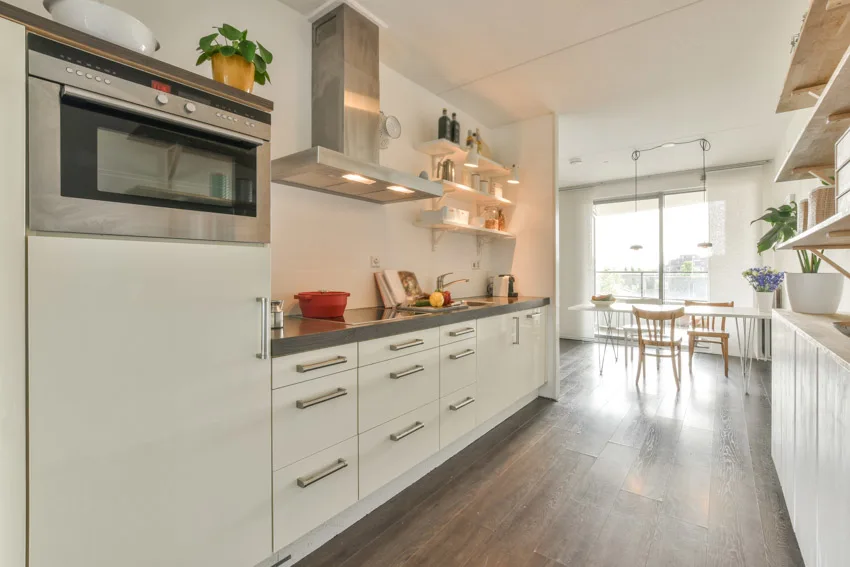 If you want to makeover your galley kitchen and transform it into a farmhouse kitchen, that's possible!
The standard farmhouse galley kitchen design way back in the Middle Ages is uninviting and gloomy. This in itself is one of the reasons why you need to do a makeover.
Let's start with the makeover using these ideas.
Open Up Your Galley Kitchen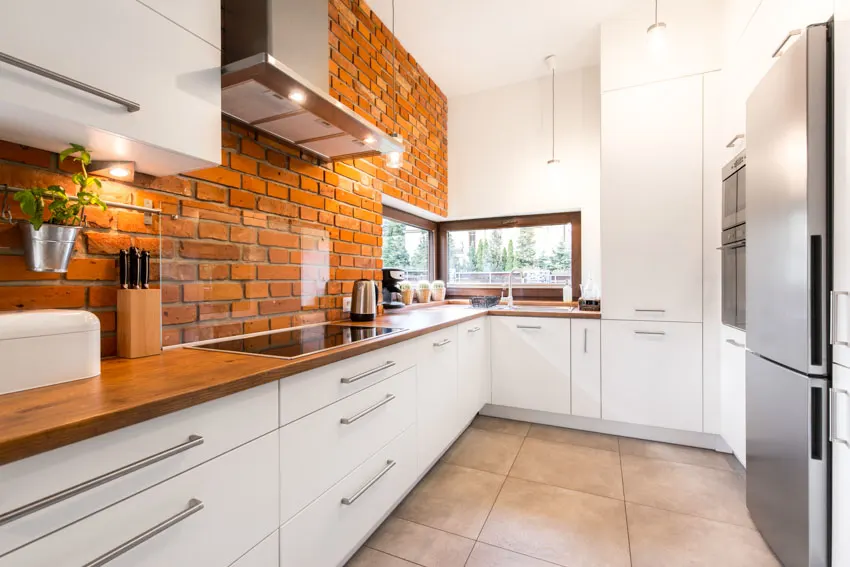 Galley kitchens are mostly narrow and small. Doing an open space makeover can help modernize your kitchen. At the same time, apply handy farmhouse kitchen ideas in the process.
From a dark and gloomy kitchen space, you can turn it into a multifunctional dining and gathering space for the family. Here are some ways to open up your galley kitchen:
• Remove one wall to expand the galley kitchen to the adjacent room (You can install an island as a divider and for more workspace if needed)
• Knockdown doors if a wall is not possible to stretch out the kitchen
• Add more lighting (natural light through a skylight if possible) to illuminate the space and create an illusion of the kitchen being bigger (You can also use shiny surfaces like glass, metal, or tile to create this illusion) See our gallery of galley kitchen lighting ideas here.

• Install a window if possible and turn it into a resourceful shelf, especially if it's built above the sink (To act as a dish rack) See our gallery of kitchen sink windows here.

Maximize Your Kitchen's Storage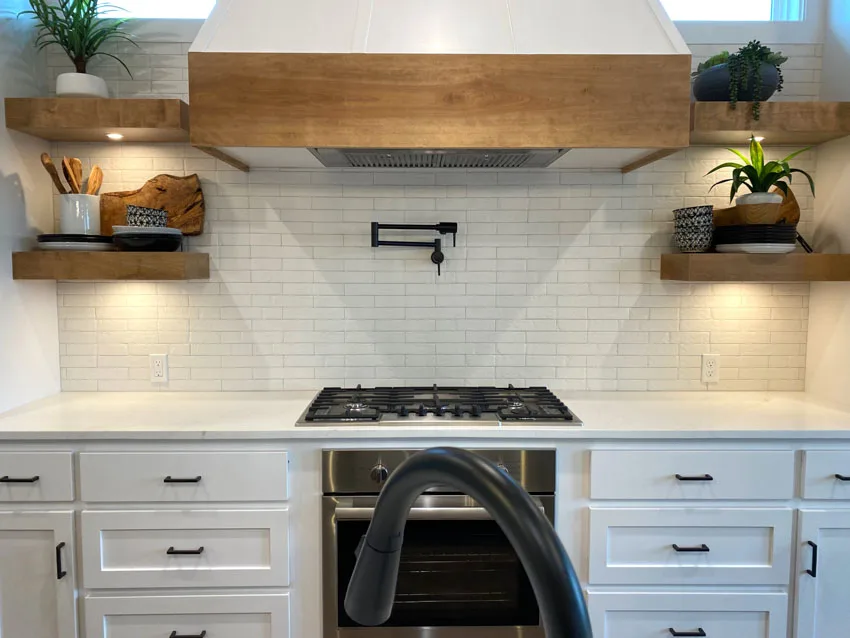 Make the most out of your kitchen's space by maximizing storage. Go for wooden farmhouse kitchen cabinets and storage for a more rustic appeal. Here are some storage options you can install:
• Floating shelves
• Hanging storage fixtures, such as organizers and racks
• Caddy over a closet or cabinet
• Upper cabinets that reach the ceiling
• Drawer dividers
Choose From A Variety of Styles And Designs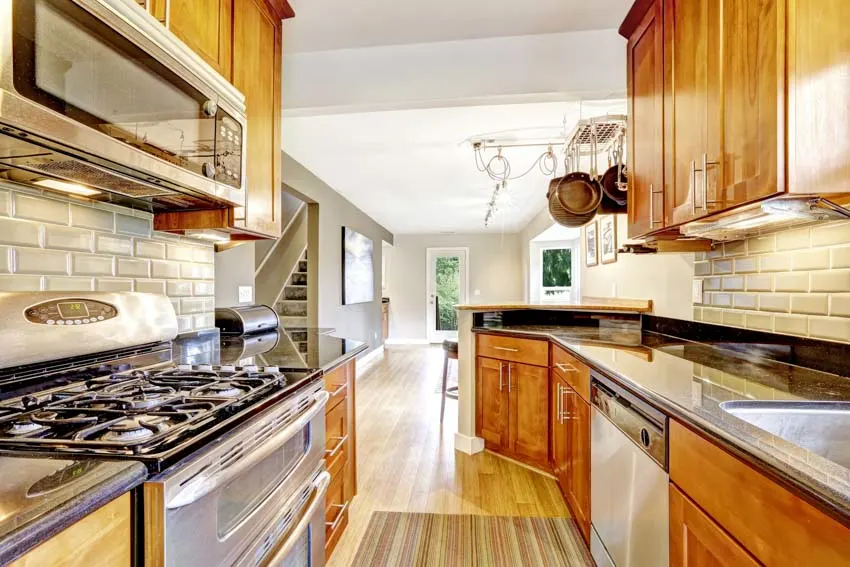 You can also integrate farmhouse-related styles and designs to make your galley kitchen look like a farmhouse kitchen. Here are some changes in the designs you can apply:
• Keep it simple and minimalist: with handle-less cabinets and doors, as well as neutral and monotone colors similar to farmhouse kitchen
• Install vintage farmhouse-related elements: use dark countertops, apron-front sink, and hand-finished surfaces
• Integrate hand-finished details like surfaces of wooden backsplash and center islands
• Transform your galley kitchen into an open and light multi-functional area where dining and entertaining are held. This is similar to the traditional farmhouse style where the kitchen and dining area is the same
Thanks to these tips, you can transform your current galley kitchen into something that looks more farmhouse.
See more related content in our article about modern farmhouse house plan on this page.