In these farmhouse galley kitchen ideas we share what it is, different decor, and steps to achieve a modern farmhouse galley kitchen design.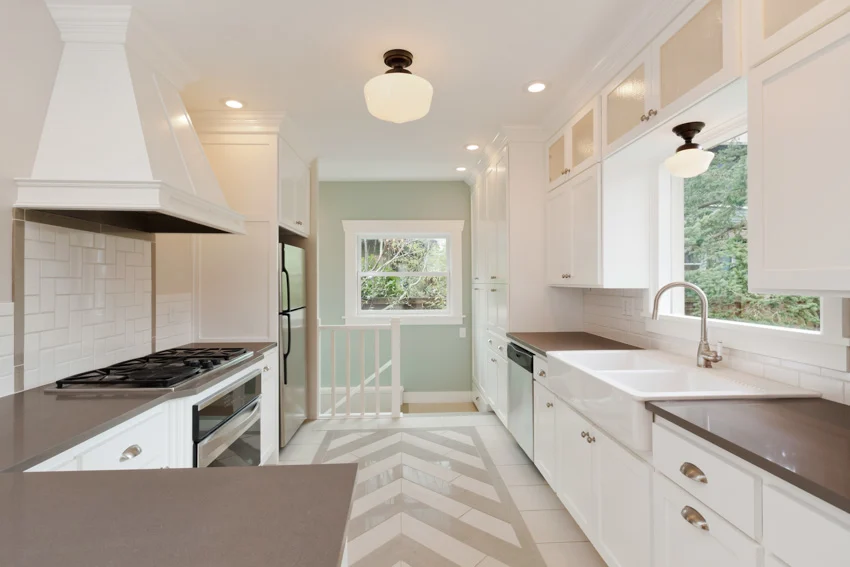 Farmhouse galley kitchens can be narrow and limited in space but it doesn't have to look small and unappealing.
With the rise of small houses, farmhouse galley kitchens are currently trendy. You can try it out but to start with, it is important to learn first what a farmhouse galley is in the first place.
What Is A Farmhouse Galley Kitchen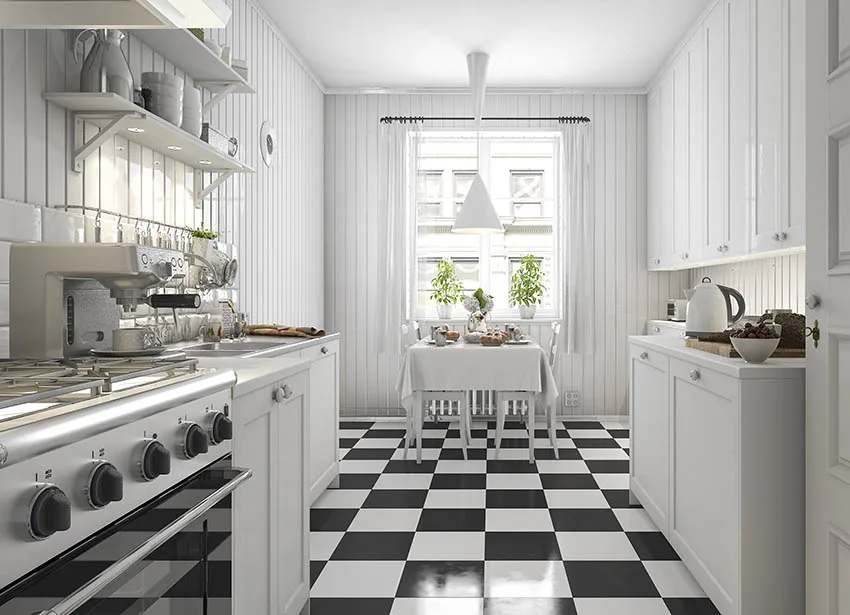 A farmhouse galley kitchen is a functional and stylish kitchen design that combines the classic look of a farmhouse kitchen with the efficiency of a galley-style layout. The term "galley" refers to the narrow, elongated shape of the kitchen, which typically features parallel countertops and cabinets along two walls.
In a farmhouse galley kitchen, traditional farmhouse elements such as rustic wood finishes, shaker-style cabinetry, and vintage-inspired hardware are combined with modern amenities such as stainless steel appliances and quartz countertops. This creates a warm and inviting space that is both practical and visually appealing.
Some common features of a farmhouse galley kitchen include open shelving, apron-front sinks, subway tile backsplashes, shiplap & beadboard walls, and pendant lighting. These design elements add to the cozy and welcoming feel of the space while also providing plenty of storage and food prep space.
Overall, a farmhouse galley kitchen is an excellent choice for homeowners who want to combine classic farmhouse style with modern functionality in their home's most important gathering place.
A galley kitchen is often seen in older and smaller houses like a farmhouse. A farmhouse kitchen on the other hand refers to a kitchen where both food preparation and dining are held.
These farmhouse galley kitchens are relatively smaller with 2 parallel walls and a narrow hallway in between these walls. These walls are usually lined up with one of the different types of kitchen countertops and cabinets.
Farmhouse Galley Kitchen Advantages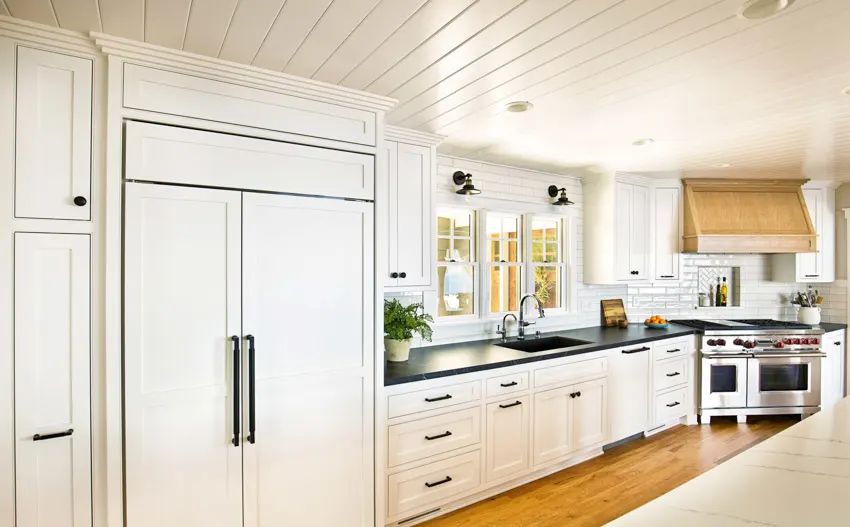 Here are some of the advantages you get when choosing a farmhouse galley kitchen.
• Excellent workflow efficiency allows you to multitask and reach different areas of the kitchen due to its small size.
• Has smaller area covered so can be more affordable when it comes to remodeling.

• It has a timeless style that combines classic farmhouse elements with modern amenities.
• The smaller layout means its easier to clean with fewer hard to reach spaces or corners to contend with.

One of the disadvantages that you might face in a farmhouse galley kitchen is that it can only accommodate two or fewer people working simultaneously inside the kitchen.
Wood is the primary choice for chairs, tables, and cabinets, and the common choices are cherry, pine, oak, and maple. The dining table has a generic long farm table design, with long planks.
Chairs that accompany the table are sturdily constructed with chair backs that have detailed and rich carvings of a farmhouse or pastoral scenes.
A farmhouse galley kitchen exudes a humble and comforting feel to anyone who enters the room. It normally has an unpretentious design built with natural materials.
The sink is usually a wide and deep stainless or porcelain basin. Meanwhile, for curtains, placemats, and tablecloths, gingham, plaid, and toilet are the common options that also feature farmhouse and pastoral scenes.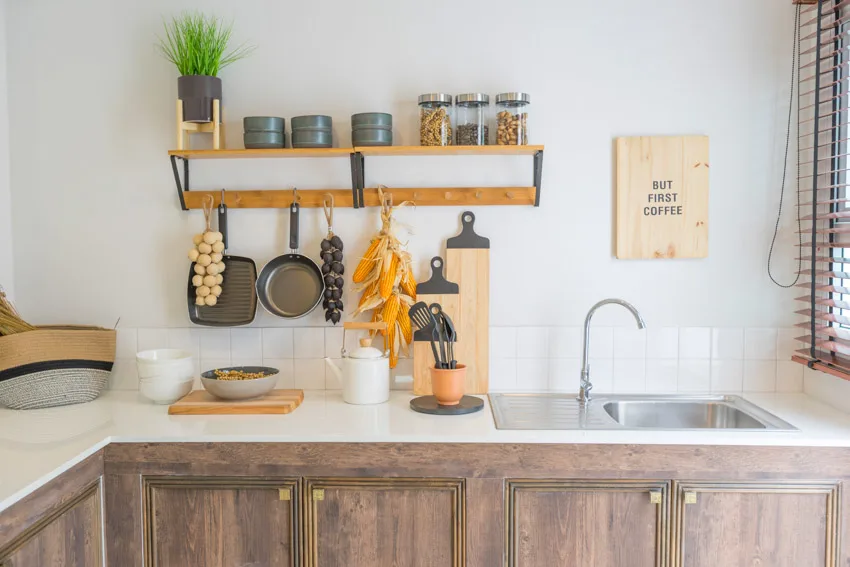 Cookware and containers are rustic in design and the artwork and decor usually feature farm equipment and other similar countrified devices.
With all of these details and specifications of a farmhouse galley kitchen, it does not mean that you need to strictly abide by them. In fact, the best part is being creative in modernizing what you have and choosing which rustic element to maintain.
Farmhouse Galley Kitchen Designs & Tips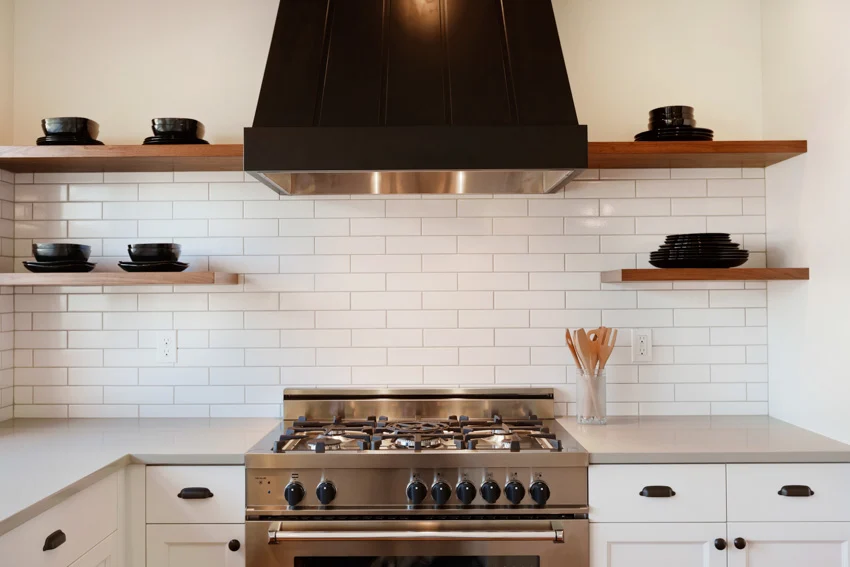 Don't know where to start with your farmhouse galley kitchen? There are a few ideas you can try out first if you don't know how to begin. Here are some of the basics you can follow.
1. Use your space wisely: the farmhouse galley kitchen is very small and limited in space but maximizing it is always possible by measuring your space and matching the space with the corresponding types of furniture styles and appliances that fit it (You can re-arrange them in
2. Explore different storage options smartly: since the area is limited, you should make sure that you maximize the space by installation multipurpose and space-saving elements like a pull-out pantry and over-head storage
3. Open up your farmhouse galley kitchen: create an illusion that the room is more spacious through open shelving and using pass-through windows. You can also open up a galley kitchen wall to create a more open plan.

4. Create a cooking work triangle: this U-shaped layout is one thing you can try out to have an efficient workflow in the kitchen, from food preparation to actual cooking
5. Balance every element of the kitchen: make the most out of the storage, aisle space, and light and find ways to create an illusion for bigger space
6. Conceal clutter and plan how you move in the kitchen: hide the dishwasher and fridge behind the cabinetry panes for a tidy look and plan how you arrange the appliances for better movement in the kitchen
7. Bring in the farmhouse style through decor: Apply an eclectic look within your kitchen's warmth and homey vibe through your decor pieces
Modern Farmhouse Galley Kitchen Ideas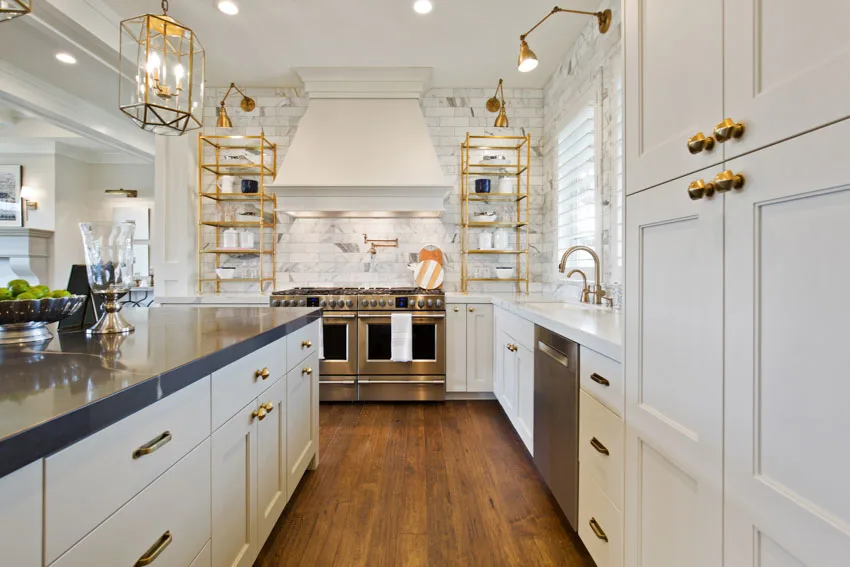 More than just maximizing how you use your farmhouse galley kitchen, you can also modernize the kitchen from its functionality to its aesthetics.
Integrate modern elements through your kitchen layout dimensions, floor plans, storage, finishes, and colors. Here are some ways you can modernize your farmhouse galley kitchen:
High-tech hardware and fixtures with built-in technology
• Make the space appear more spacious with mirror panels or light reflective materials

• White laminated module cabinetry with u-channel pulls can maximize the space in your small farmhouse galley kitchen and make the space look larger since white reflects light and create the illusion of the space getting bigger
• Install a push-to-open hardware and compact modular cabinets that offer a more seamless and clean look
• Install a multi-functional kitchen island you can use as an additional worktop, bar table, small dining area, and also a divider for open-space kitchens
• Choose a kitchen peninsula for extra counter space and you can make this possible by removing part of a wall and use the peninsula as a divider too
Try out different contemporary styles and designs
• Go for a rustic feel and recreate old farmhouse look by installing vintage-style fixtures like oiled copper faucets and basic sink
• Showcase a contemporary look through the clean and seamless look of white marble countertops
• Choose bold colors and design through white glass mosaic tile backsplash, glossy green cabinets, and black Corian countertops
• Go for an elegant and soft look with light maple wood and glossy gunmetal gray cabinets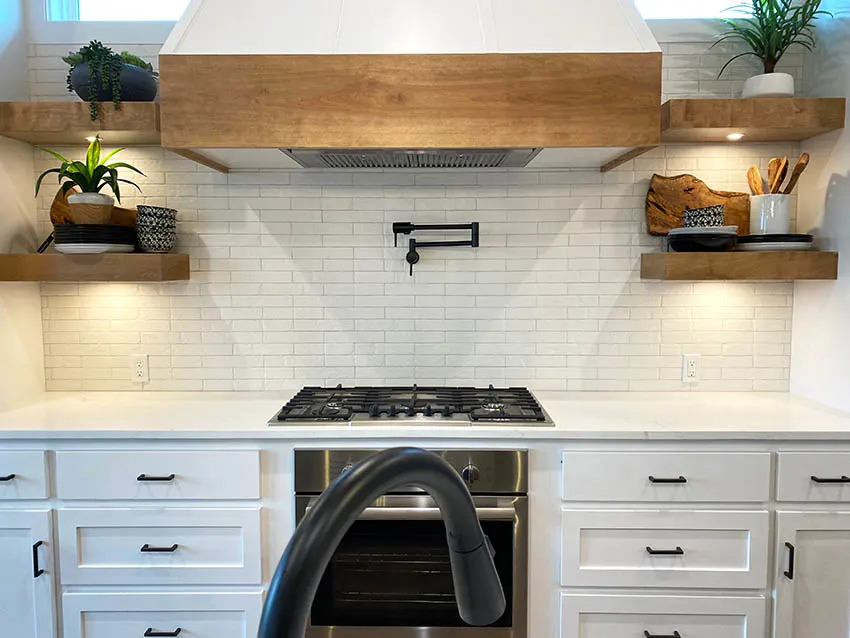 • Use wood accents such as butcher block countertops, wood shelving and finishes to bring in a touch of the outdoors.
• Minimalistic style is also possible for a farmhouse galley kitchen by using white countertops and cabinets with silver accents
• Choose fun and fluid style with curved countertops
• Try out mid-century modern style for your kitchen, which comes in the form of a soft palette and subtle accents like light colors and gold, and integrate vintage classic-inspired style through large windows and matte white
There are many other ways you can modernize your farmhouse galley kitchen and the list will just go on and on. It is important to match your preference with the space and elements you have in your kitchen.
Before you start adding details and elements, make sure to also consider their cost and the general vibe of the room you're going for. See more related content in our article about the different farmhouse kitchen ideas on this page.