Here we share our galley kitchen remodel and remove wall guide including ways to get more kitchen space, cost, and if knocking down a wall will add value to your home.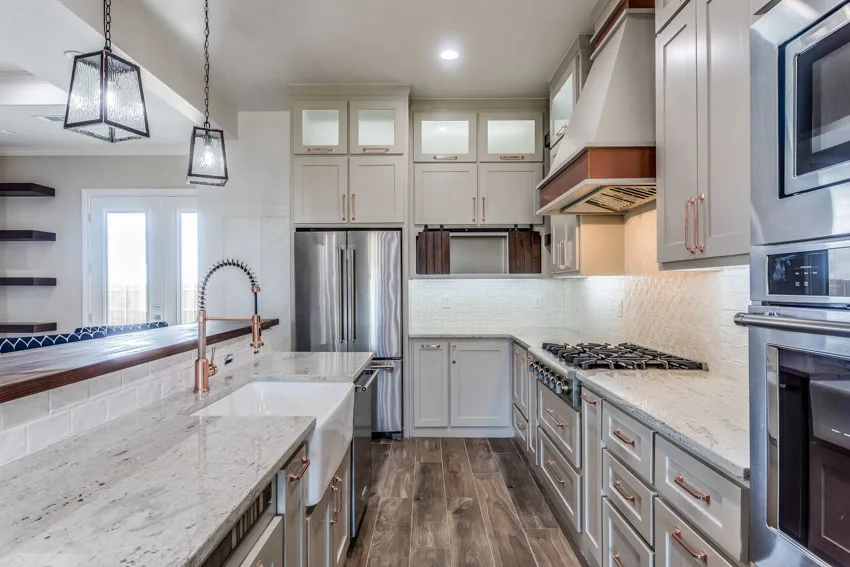 Popular for older houses with smaller spaces, a galley kitchen sports a narrow hallway sandwiched between 2 parallel walls These walls usually come with kitchen counters and cabinets.
It is may feel small but it is also efficient since you can keep everything close and within reach. Because of this, you can trim down the food preparation time. But if you feel like you need more space and have to feel like your kitchen is larger, the solution is to open it up.
It can be a challenging task to maximize your kitchen's space and if you believe this is the best decision for your kitchen, focusing on the layout is a must.
Galley Kitchen Remodel Options
The best option you have is to remodel your galley kitchen. To help you with this, here are some changes you can apply to your galley kitchen.
• Place a sink at the end of the kitchen's narrow hallway: to avoid congestion in the middle of the kitchen just because someone's washing the dishes.
• Choose open shelving over upper cabinets to increase space visually (If you can't get rid of your upper cabinets, extend them to the ceiling).
• Choose wisely between symmetrical or asymmetrical layout: symmetrical can be visually appealing with a lot of clean lines while asymmetrical can be a more cost-effective option.
• Add a lot of lighting (though natural light is preferred): you can install lighting overhead in the ceiling and under the cabinet if you are going for optimal effect.
• Customize appliances: Choose built-in appliances and items as much as possible to keep things off the counter and have more space for movement (E.g. appliance garages, microwave drawers, and pull-out pantries).
• Go for glossy surfaces: gloss reflects light which can add to the illusion of space.
Another way to remodel your galley kitchen in the name of opening it up is by removing the wall. If you want other ways you can do to remodel your galley kitchen and open it up, there are several other ways you can consider.

Opening Up A Galley Kitchen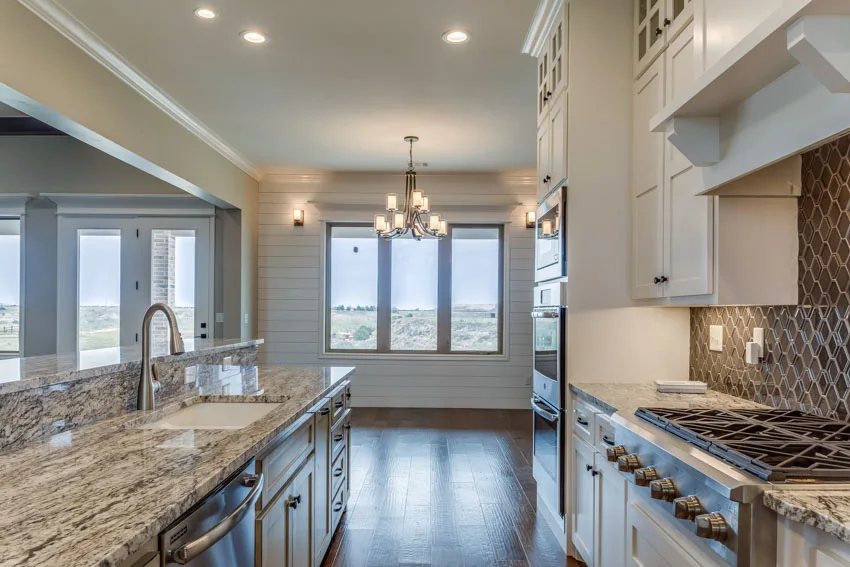 A galley kitchen with a parallel counter and narrow hallway can be both adorable and annoying, depending on who you're asking.
More and more people though are asking to open up their small galley kitchens in order to get rid of the claustrophobic vibe that it can provide.
Opening up your galley kitchen is guaranteed to also open up more space for your use. It can also improve the kitchen's functionality if you do it the right way.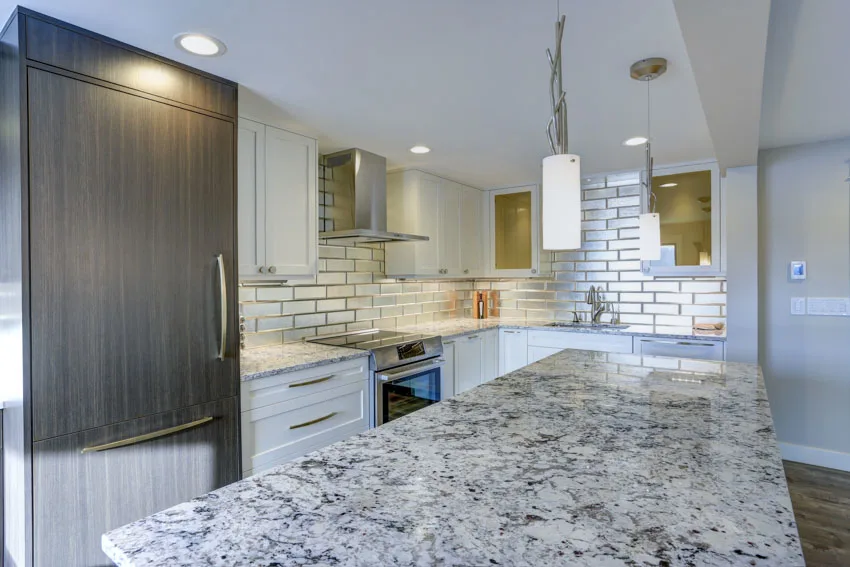 If you are planning to open up your galley kitchen, here are some ways to accomplish it:
• Remove doors: This can expand one end of the kitchen into an adjacent space (If you don't want to remove the door, you can just widen the doorways or add a peninsula)
• Remove kitchen cabinets: Allow the view into the adjacent room by removing the upper cabinets and improving the airflow in the kitchen
• Use kitchen walls to your advantage:
1. Open the entire kitchen to its adjacent room by removing one of the walls.
2. Turn a wall into a functional element of your kitchen, including turning it into a chalkboard for grocery list & menu for the week, transforming it to open shelving through decorative floating shelves, and constructing a built-in fridge nook or pantry if you can
• Let the light in: If you have windows in your kitchen, that's already a plus. You can also install large window panes, which are among the effective galley kitchen lighting ideas you can consider.
• Use an island: Once you take down a wall to open up your kitchen, you can use an island in the middle to still somehow be able to identify where the kitchen starts while at the same time increasing your kitchen's functionality and aesthetics with this addition
Galley Kitchen Remodel Cost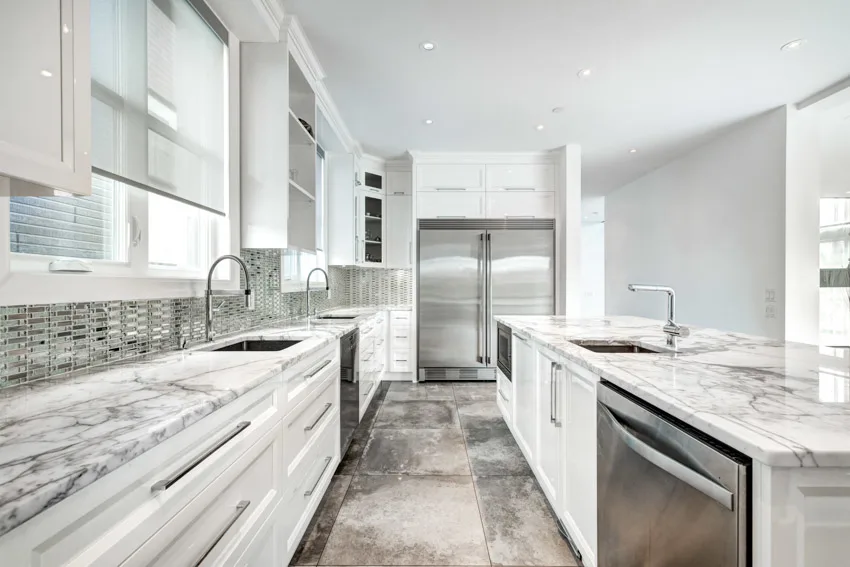 Let's face it, the kitchen remodel cost can be expensive. And yes, this is even if you have a galley kitchen that's smaller than other kitchens.
Galley kitchens focus on functionality rather than entertaining people in a gathering. But despite the emphasis on functionality, it doesn't mean that the aesthetic value is non-consequential. It is imperative to consider it too as you plan for your remodeling and compute for your budget.
For a galley kitchen remodeling, the average cost is around $17,000 to $21,000 in total. This covers your upgrades, from your flooring to your cabinets and countertops.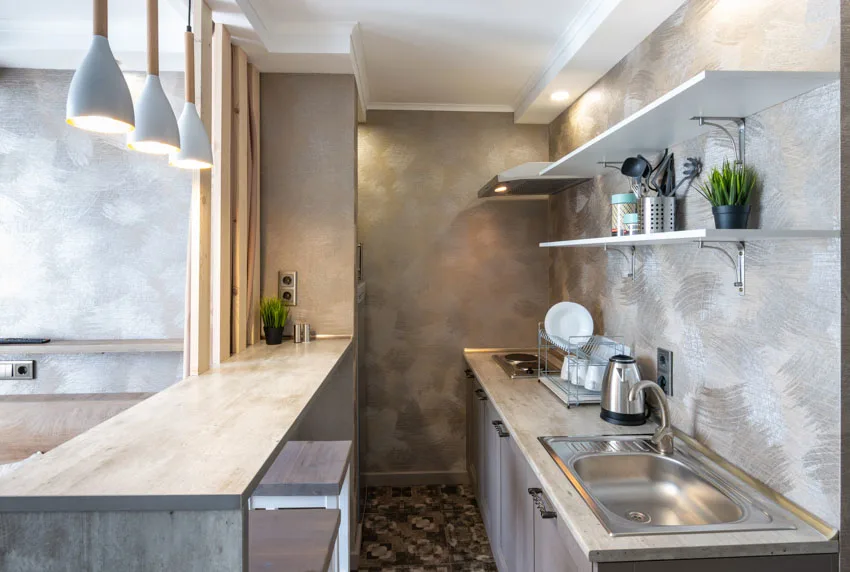 If you are only looking for a modest remodeling then you're looking at around $10,000 to $12,000 cost. To be more specific, you can expect the cost on average to be around $79 to $196 per square foot.
To be able to plan ahead, here are the factors that can affect the cost of your alley kitchen remodeling.
• Style of your kitchen: Are you going for basic, luxurious or modern galley kitchen remodeling? Many modern kitchen designs offer modular cabinets that may be easier and less expensive to install.

• Kitchen layout dimensions: the bigger the kitchen and the more complicated the shape and layout is, the higher the cost for its remodeling
• Construction materials: the overall cost of your remodeling is influenced by the cost of the materials you choose so the higher end the materials you choose, the higher the cost is
• Labor: hiring someone to remodel your kitchen will be an additional expense for you but if you choose to DIY, you're going to save more money from the installation
Does Knocking Down A Wall Add Value?
If you choose to knock down a wall, can it add value to your kitchen? While it may seem like you're subtracting something from your kitchen, it can actually result in more value as the open design may appeal to more home buyers.

Open-style kitchens are currently in the trend, which is a positive point to consider. More people see open-style kitchens as more aesthetically pleasing. In addition, families with small children appreciate open spaces so the one working in the kitchen can watch the kids and feel connected to what's going on in the house.

If the walls seem claustrophobic and that taking them down can improve airflow and open the kitchen up for more interior space, then it can definitely increase the kitchen's price tag.
Just make sure that the wall you choose to remove is not load-bearing. You can even get creative with what you do with the space you get from taking down the wall.
You can put an island or peninsula in its place to serve as a divider too or you can choose to leave it bare for the kitchen and the adjacent room to appear larger and more spacious.
See more related content in our article about the unique kitchen island ideas on this page.