Here we share our unique kitchen island ideas guide including how to make this fixture stand out and distinct designs you can use for inspiration at home.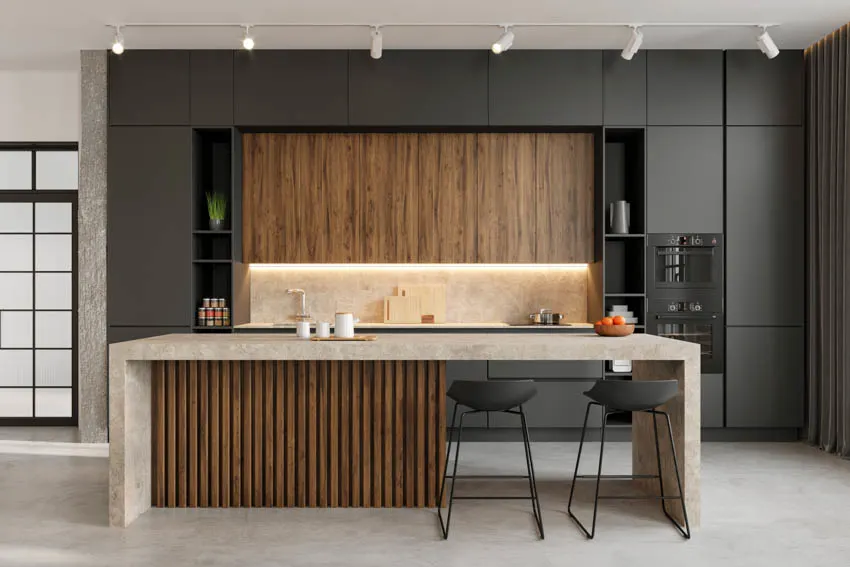 Kitchen islands are a staple when it comes to stylish and highly functional kitchens. If you have a small kitchen, you can still install a kitchen island in the middle of the room to provide more storage, serve as counter space, and even additional seating.
You can benefit from all of these and at the same time have the creative freedom to build and design your kitchen island however you want it to be.
When you install a kitchen island, you can maximize the space in your kitchen by turning it into a piece of multi-functional furniture. This is also how a kitchen island can fit even small kitchens.
What you need to think about are layout and proportions. Take into account how people will move inside your kitchen and how you can improve the flow of people in it.
There are different types of kitchen islands with their own unique styles. You can check them out and choose the one that will suit you the most. And if you want to be totally different and unique, there are also things you can do about that.
How to Make Your Kitchen Island Unique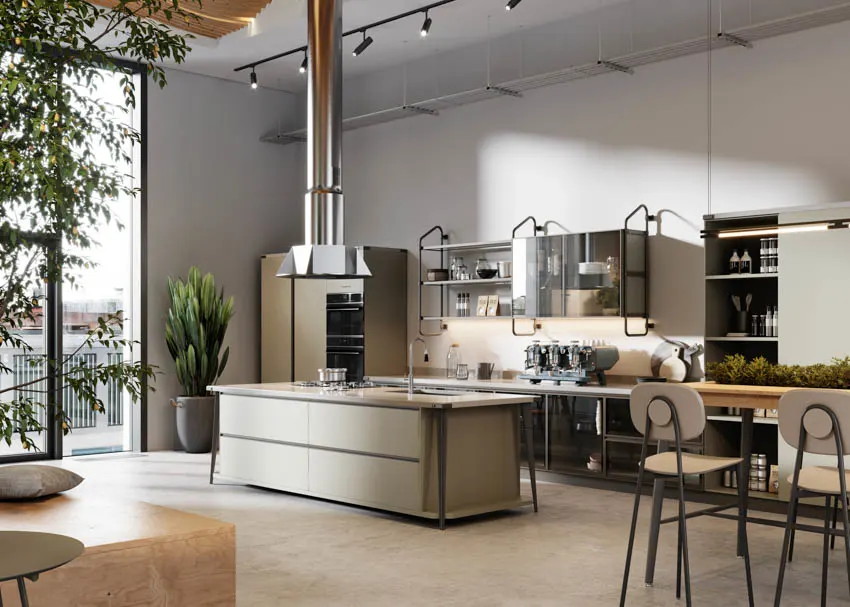 Once you decide to make your kitchen island unique, you have to devote your time, effort, money, and creativity to it in order to be successful. And the best thing you can design for your kitchen island is to make it multi-functional, practical, and unique all at the same time.
Kitchen islands are simple to design if you settle on their traditional look and use. However, if you are open to unique ideas, you can start with these simple tips to make your kitchen island one of a kind.
Add New Details And Design
You don't have to settle for a plain-looking kitchen island when you can add your own twist to it. In order to add value and aesthetics, you can improve its look by adding more details.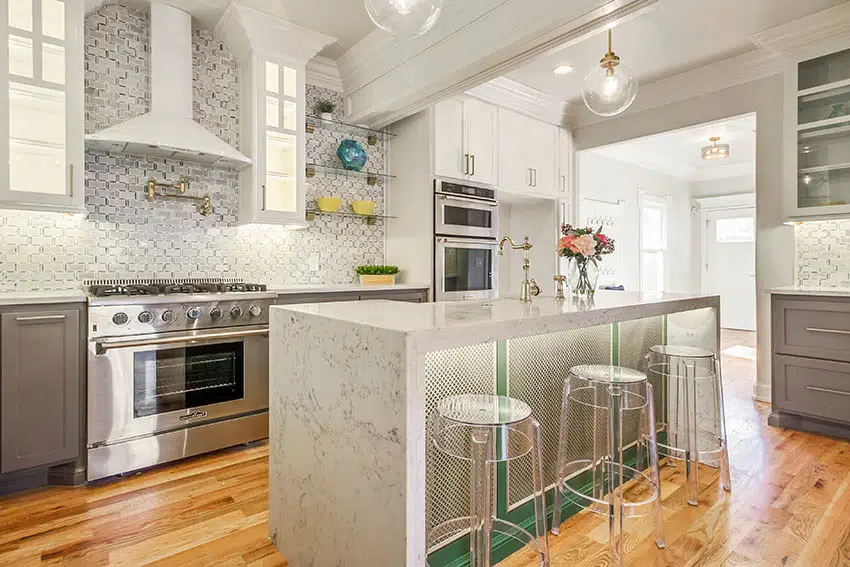 This kitchen island features a quartz waterfall countertop. What makes it unique, though, is the geometric design located on the sides of the counter. This small element helps this kitchen island stand out and be more than just a quartz island. The hanging lights are also a nice touch.
Make A Display With The Kitchen Island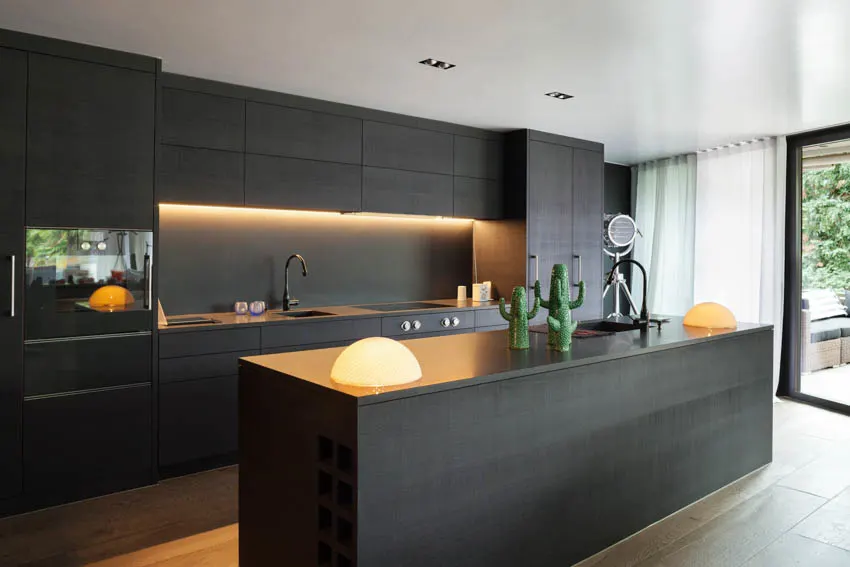 Let your kitchen island be more than just a countertop. One thing you can do is design it to be a shelf too. This can accommodate your home's decor and little trinkets to add aesthetic appeal to your kitchen.
The shelf can also house ceramics, glassware, and other collections you may have hidden. Stop hiding your collections and display them!
Add Color To Your Kitchen
Add color to your kitchen by using your kitchen island. Use complementing and matching colors to add character to your kitchen.
If you want a bolder look, you can go for contrasting colors. Just make sure that the countertop is warm and inviting, as well as clean to look at.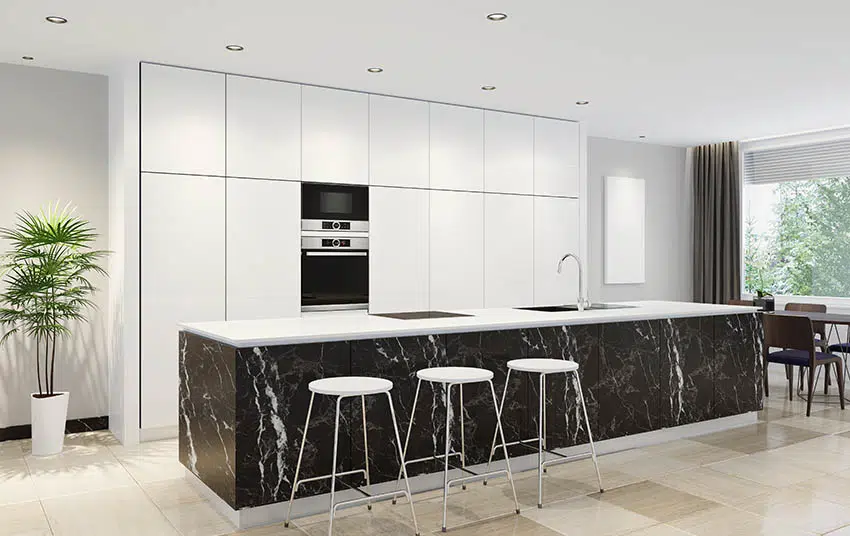 Among the unique kitchen island ideas, this one features black and white quartz. The contrasting colors effectively make a statement for this modern design kitchen.
The use of quartz also makes for a show-stopping aesthetic, along with the marble design on the black quartz. The white quartz is chosen for the countertop to have a clean and clear workspace.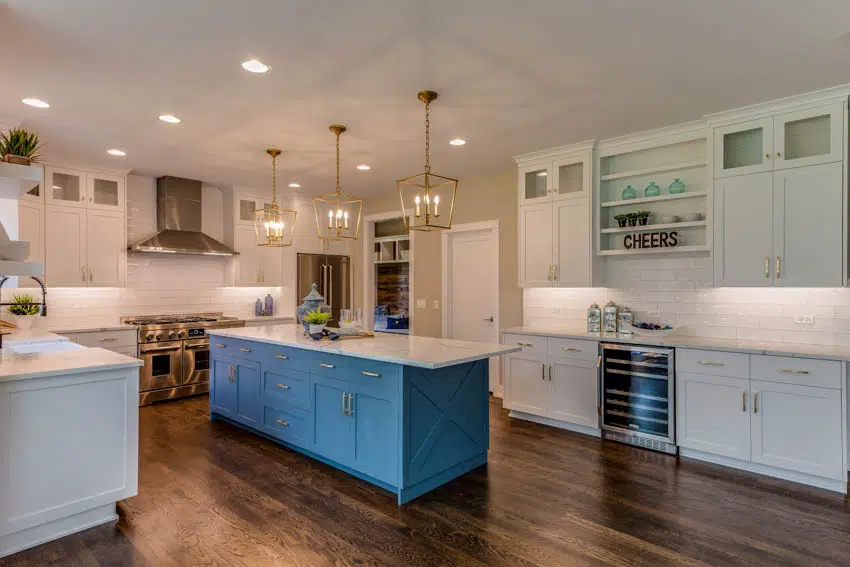 This classic kitchen with wooden floors and a blue center island has a large surface area where people can move around. The blue kitchen island installed at the center is a quirky addition in terms of colors but a smart move in terms of additional storage and space.
With the kitchen island's drawers and cabinets, it does not only serve as a counter but also extra storage. Read more about our guide on the different types of kitchen cabinet materials here.
Add Hanging Lights
One of the unique kitchen island ideas is to illuminate your kitchen island with trendy hanging lights. And more than just their obvious functionality, stylish hanging lights can also make a statement and add charm to your kitchen. Hang these lights above your kitchen island for maximum aesthetic effect.
And when considering the number of lights to install, odd numbers are considered more appealing to look at than even numbers.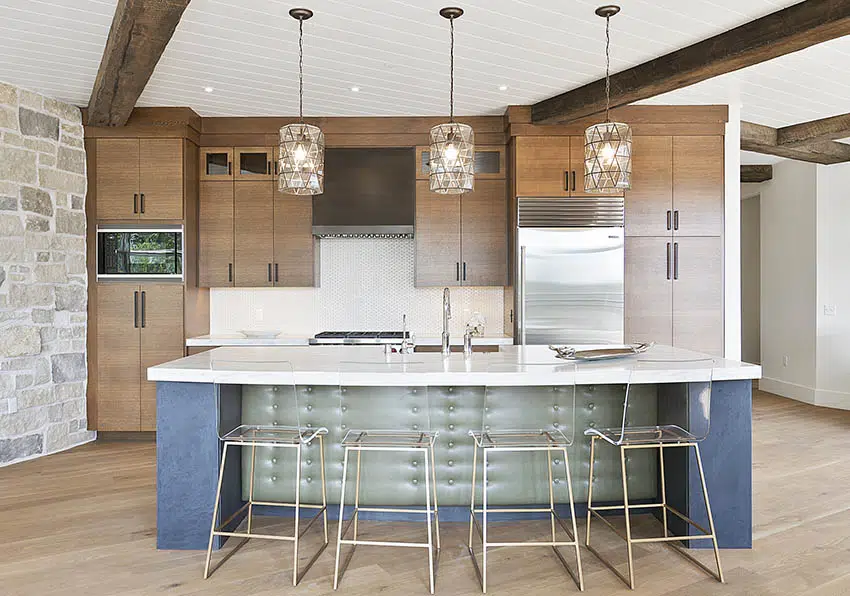 This unique blue-white combo kitchen island has a quartz countertop and is double-duty as a table, with the addition of 4 metallic stools.
What adds to its welcoming ambiance though are the 3 hanging lights installed above the kitchen island. While the kitchen island itself looks modern, the kitsch, along with the cabinets and hanging lights have a more rustic appeal.
Try Out Bookmatching For Your Kitchen Island
Bookmatching makes use of a slab of stone to reflect light for maximum effect, making it one of the more unique kitchen island ideas out there. The use of stunning and raw stones can be expensive but at the same time has an inspiring and stunning effect. You can choose to mount this slab of stone as your countertop.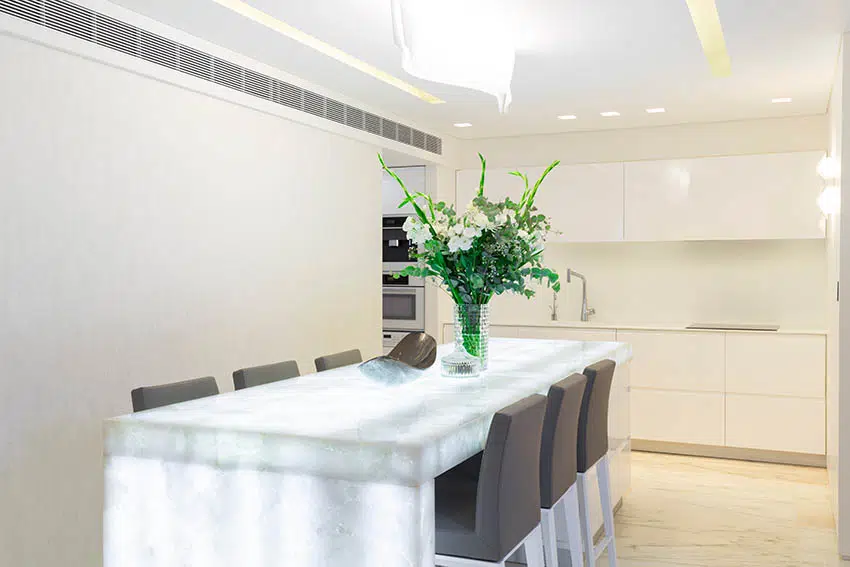 This unique and modern-style kitchen showcases an onyx kitchen island that also functions as a dining table. The onyx stone has this raw and rough charm to it that offers a unique and trendy style that you might appreciate and consider.
Unite Your Kitchen Island With Your Home's Material
Look around you and point out the dominating material of your home and kitchen. If your home is white-dominant, do something about your kitchen island to somehow complement that.
If your home screams rustic ambiance, make sure that your kitchen island is in cohesion with that ambiance. And if your home is made from old wood, try to consider that material for your kitchen island.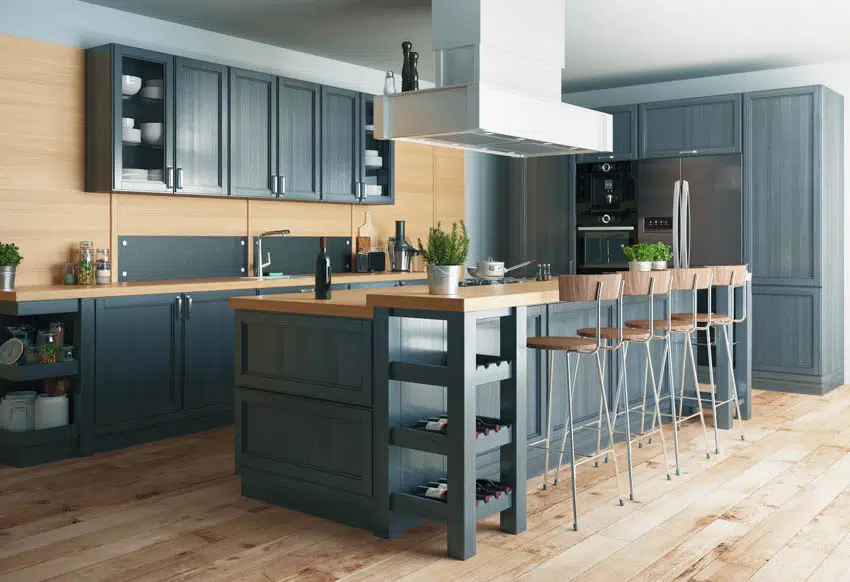 This kitchen has a black and wood theme and this is applied with the center island too. The matching wood floor seems to have the same material used for the stools, countertops, and part of the wall of the kitchen. And finally, the black theme of the lower half of the kitchen island is also applied to the kitchen cabinets.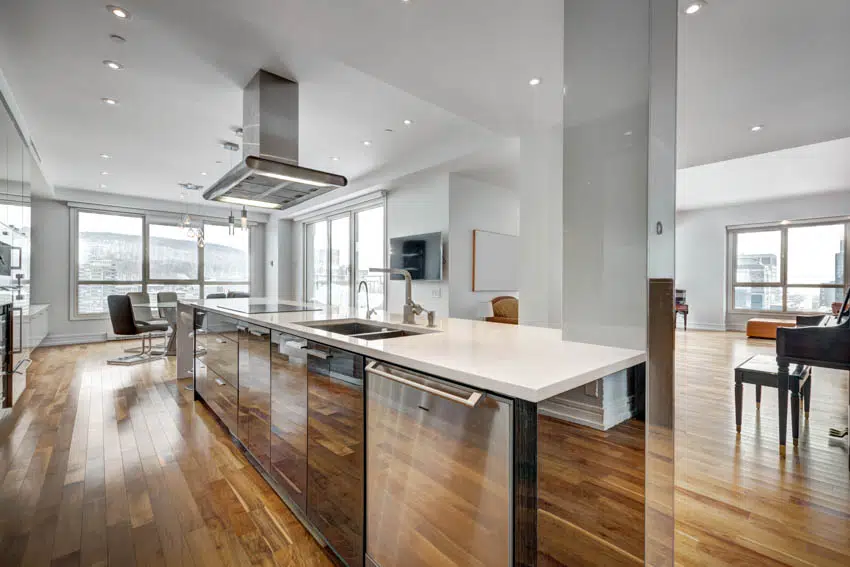 The entire kitchen island has a cohesive design with the entire home. Stained wood on the lower half, including the floor and the white color theme on the top half.
Unique Kitchen Island Designs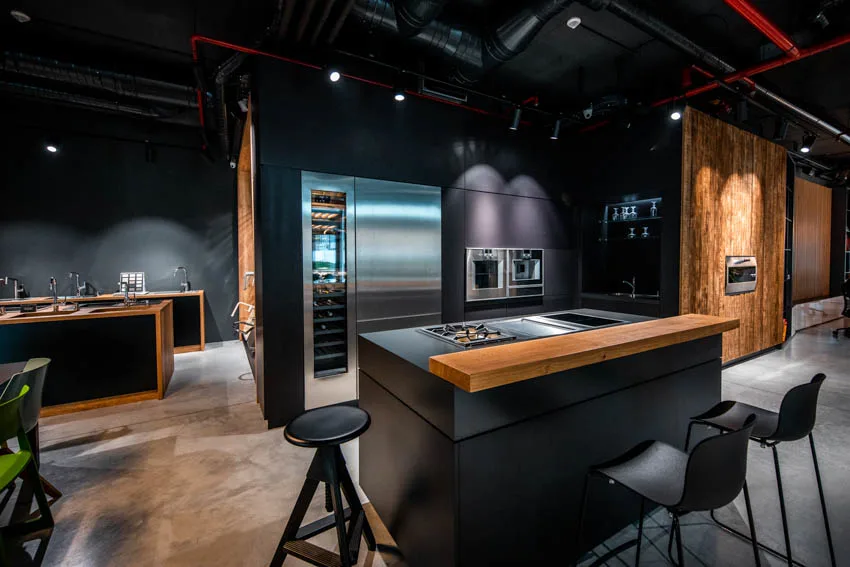 You can even be more creative when it comes to your kitchen island designs. The key is to be open-minded about it and explore your options. Try to be unique and at the same time think of the functionality of your kitchen island.
Make sure not to lose the purpose of having a kitchen island in the first place. If you are open to interesting ideas, here are some examples of unique kitchen islands you can try for your own home.
Max Out With More Storage Space
Since kitchen islands occupy space, it is a good option to maximize the space that it uses. And you can do that by turning your kitchen island into storage galore at the same time.
You can integrate cabinets, drawers, and shelves under your countertop to make use of its space. The space can accommodate your cooking and dining essentials, as well as small appliances you don't want to clutter your kitchen.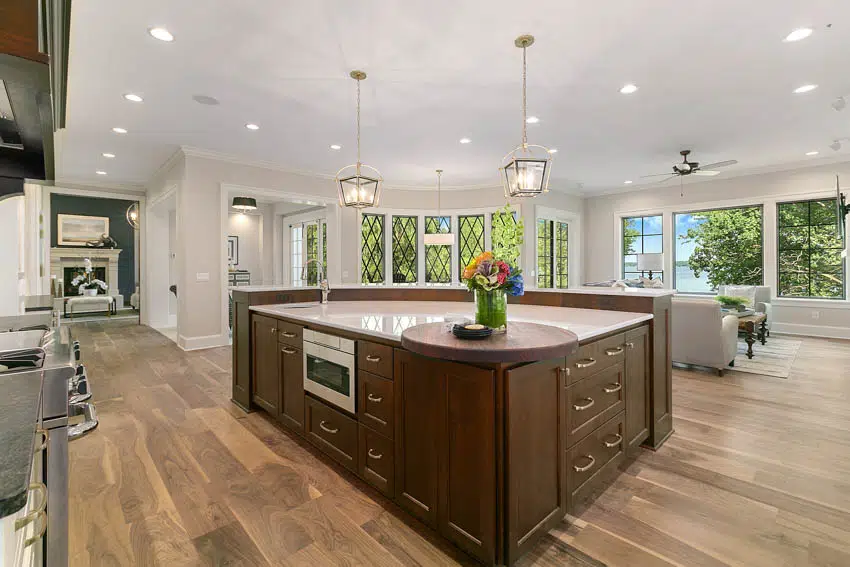 This large center kitchen island houses several drawers and cabinets that you can use for storage. Its wooden material gives it a grandiose vibe that matches the floor of the kitchen perfectly.
Unusual And Unique Shape
If you really want to be unique and trendy, you can always go for a kitchen island with an unusual shape. Face it, a rectangular or square kitchen island is so out of style.
Stay away from traditional shapes by choosing something curvier or even rarely used geometric shapes. The key here is to be different.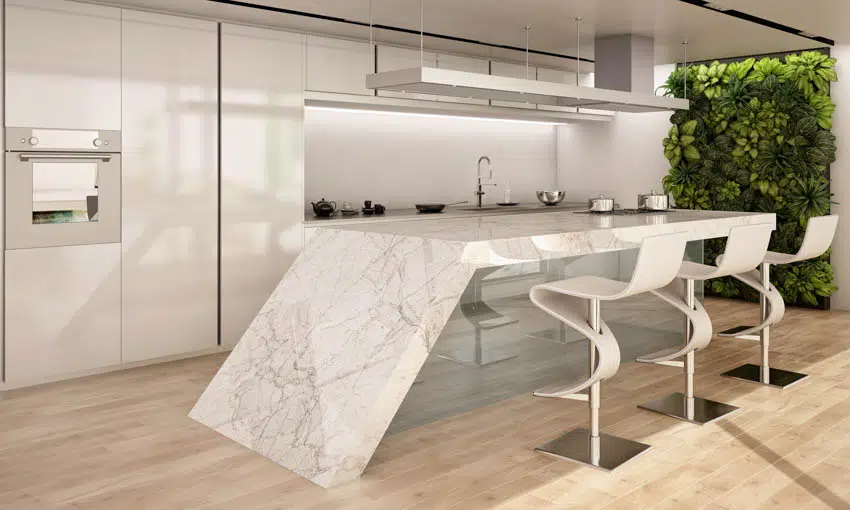 This kitchen island screams uniqueness with the structure of the countertop as well as the design of the stools. This geometric countertop may seem like a normal one at first but its other end has a slide. The stools on the other hand have a unique base, perched on a pole that stands on a square metal platform.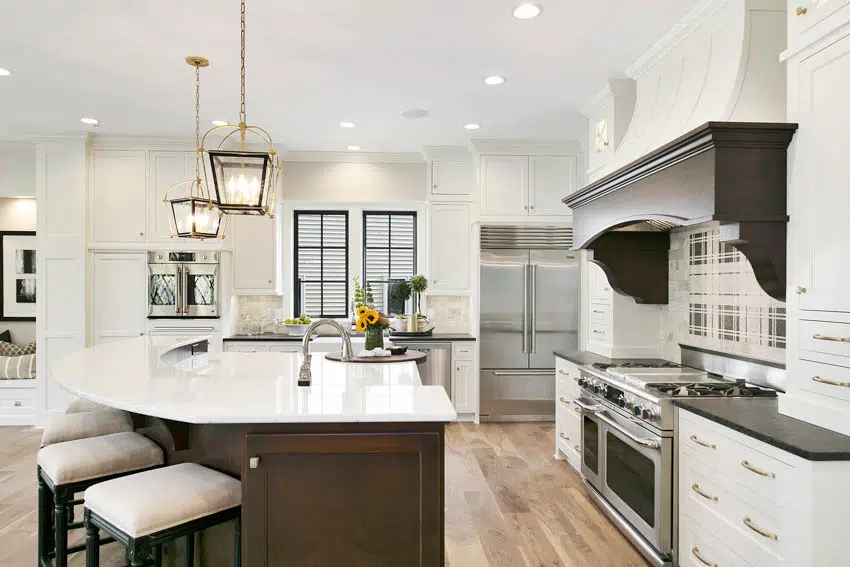 Do you want to have an L-shaped kitchen island but something unique and far from its traditional design? You can try this curved countertop instead.
Similar to an L-shape countertop, the curve it sports makes it entirely different. This kitchen island also serves as a table, with the use of several stools installed below it.See more types of kitchen layouts here.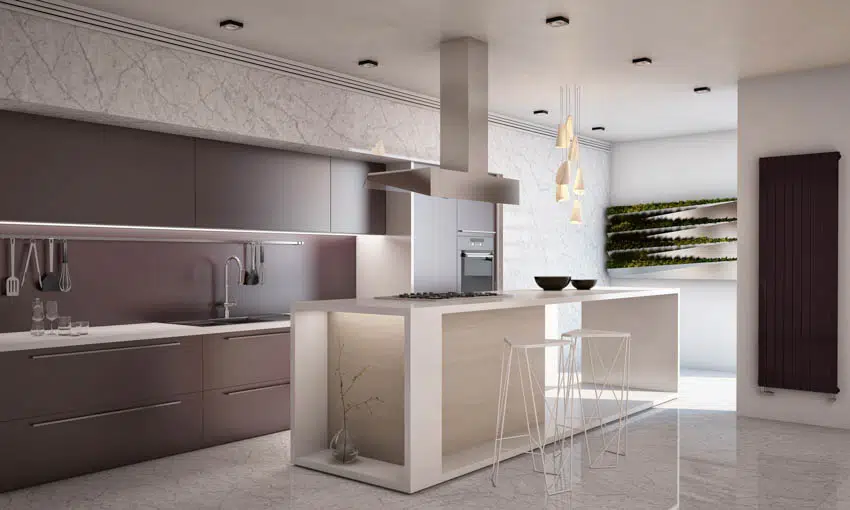 Among the unique kitchen island ideas is this structure in modern style. The look itself is contemporary, along with the countertop full of corners and the two stools in geometric architecture to match the kitchen island.
Build With Mixed Materials
Another way to make your kitchen island unique is by mixing different materials. The countertop may be built with one material while its legs and foundation are built from a different one.
This unique and minimalist kitchen island is made from wood and stainless steel. The countertop is made from wood while the entire island itself is all stainless steel. Read more about our guide on wood kitchen countertops here.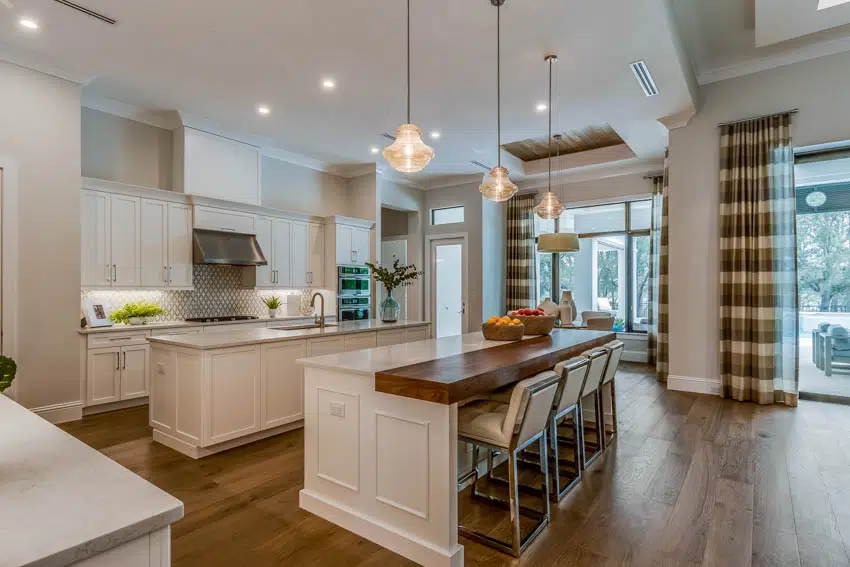 This kitchen island used two different materials in order to define areas. The workstation is in white while the dining area integrated into the kitchen island is made from wood. It is the area where the stools are also placed.
Roll Away With A Mobile Kitchen Island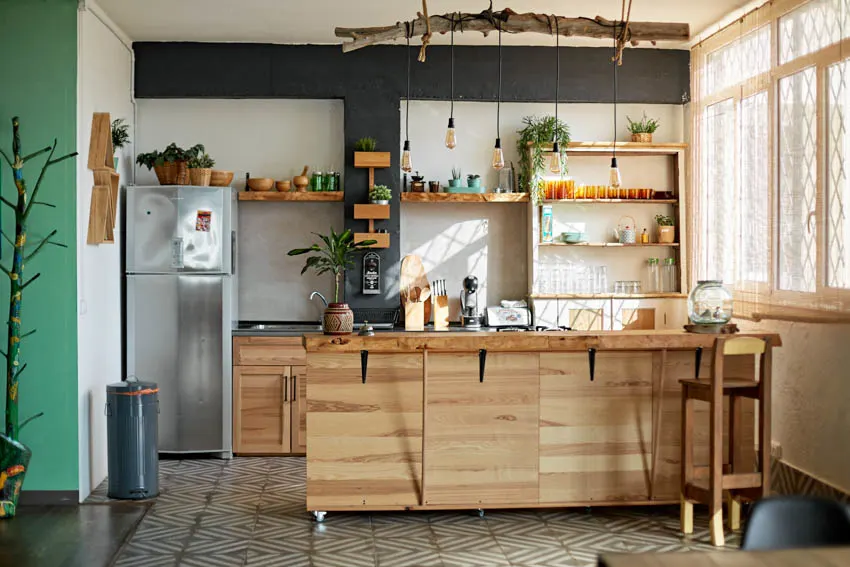 Another kitchen island you can try is a unique mobile one! This is especially useful for small kitchens. A flexible roll-away kitchen allows you to be versatile with the layout of your kitchen and have a multifunctional space.
Make Different Zones Using Kitchen Islands
A unique kitchen island is one with two or more zones. You can differentiate these zones either by using different materials, colors, or designs. More than just breaking up a long kitchen island, this also provides a new structure for the countertop.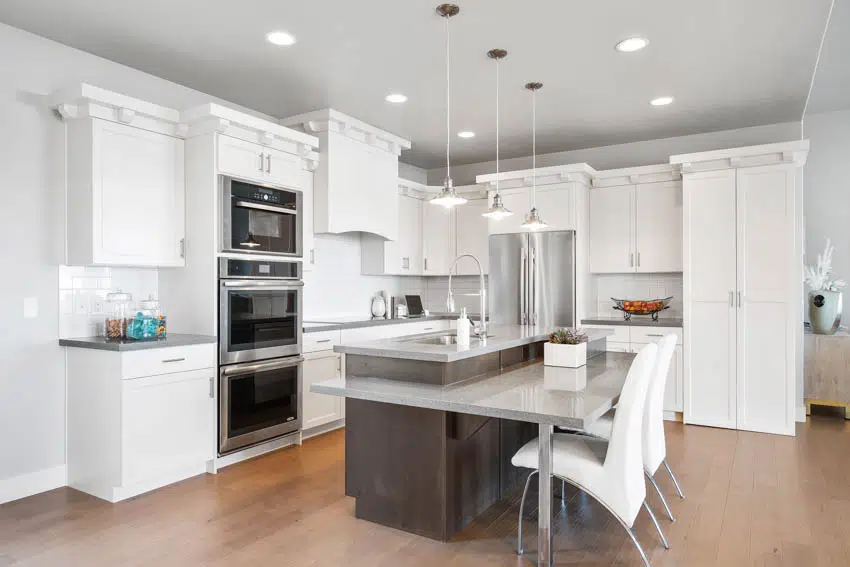 Differentiated by dark brown and grey, the two zones of this custom kitchen island include the countertop and the dining area. The dining area is emphasized by the two white chairs installed in it.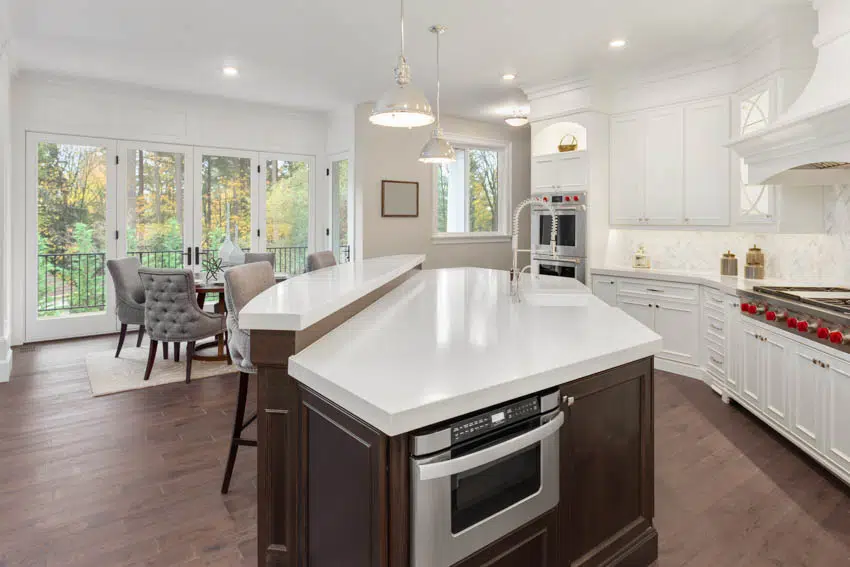 More than just colors and materials, the different zones of a kitchen island can also be separated by leveling one area up. In this case, the workspace or countertop is built lower than the dining space integrated into the kitchen island.
Make Kitchen Island The Central Workstation Of The Room
One of the ideal ways to make the most of your kitchen island is to make it the central workstation. Let it be where most of the action happens and it can be beneficial if it is installed in the middle of the kitchen.
Let your kitchen island be the area for food preparation, where you can be surrounded by all the appliances and silverware you need. You can even add a work table to the island to make it multi-functional. The key is to have a good layout, especially when it comes to where the fridge, cooker, and sink are located.
Worktables have become a trend. This modern and unique kitchen island idea can also incorporate a dining area to the island and turn it into a worktable whenever necessary.
This stylish modern-style two-tiered kitchen island is located at the center of the room with the idea that most work will happen in the area. The black center kitchen island is in an interesting hexagon shape and installed with an oven.
Meanwhile, the white kitchen island sports a breakfast bar. The space between them allows better flow and a better chance to move around.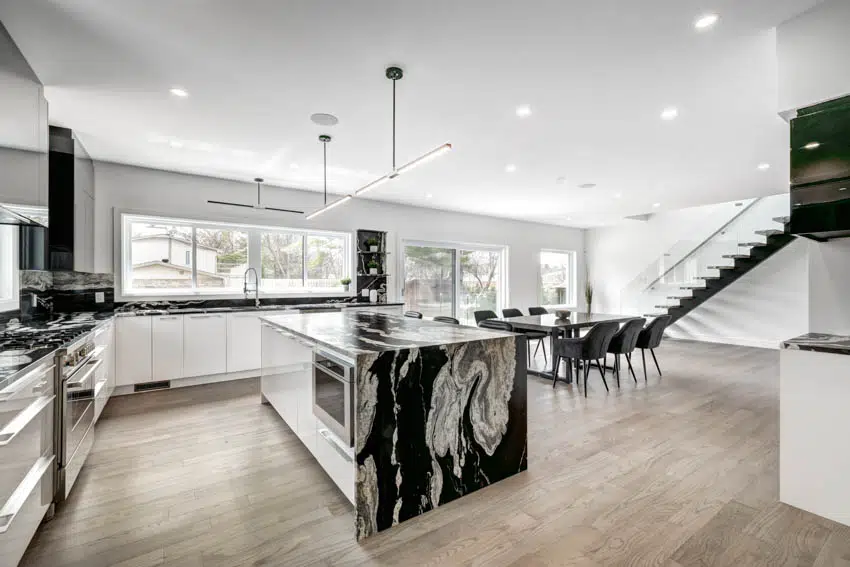 Installed in the white-dominated kitchen, this countertop has a black marble design with an oven installed in it. The modern kitchen island is also placed at the center of the room to encourage more movement surrounding it.
Combine Two Kitchen Islands Into One Grand Space
Finally, in an effort to be bold and more grandiose, you can combine two kitchen islands to turn into one larger workspace. This might seem luxurious but if you have the space in your kitchen for it you can always try it out.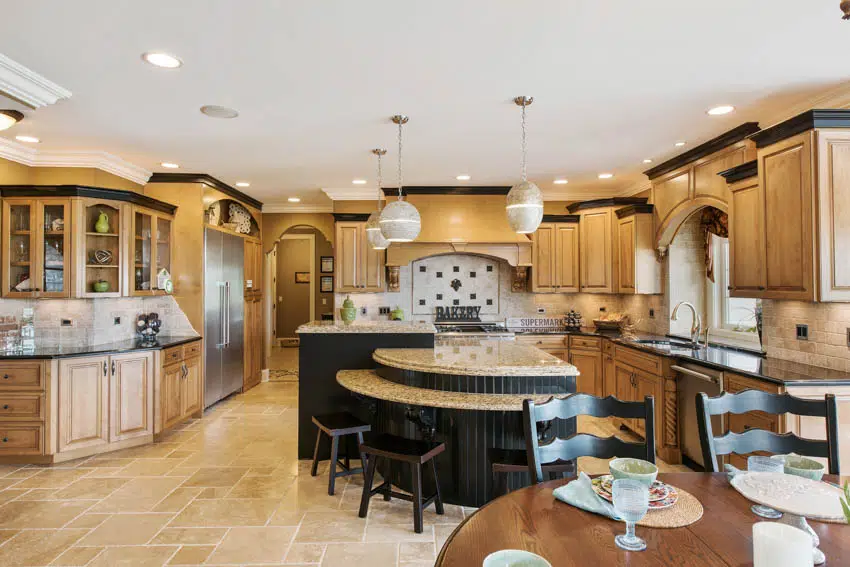 Two kitchen islands, one in a rectangle shape and the other in a pizza slice shape, were combined to build this giant kitchen island. The rectangle kitchen island serves as the countertop, where most food preparation occurs. The pizza slice-shaped kitchen island on the other hand is the dining area. It has several little stools situated below it.
Unique Kitchen Islands With Seating
Finally, let's talk about kitchen islands with seating. This might be one of the most unique kitchen island ideas, besides turning it into storage, that people do with their islands just to maximize space.
When you turn a kitchen island into a dining area as well, it adds to its functionality. But you have to do it seamlessly and cleverly, where the design adds value to the entire area rather than having a forced combo of the two areas.
Space-saving, this custom kitchen island and booth combo sports an L-shape countertop and a squared table for its dining space. Read more here about the different kitchen island size guidelines for planning your space.
Besides the built-in seating in the kitchen island, it also has several drawers and shelves for additional storage space.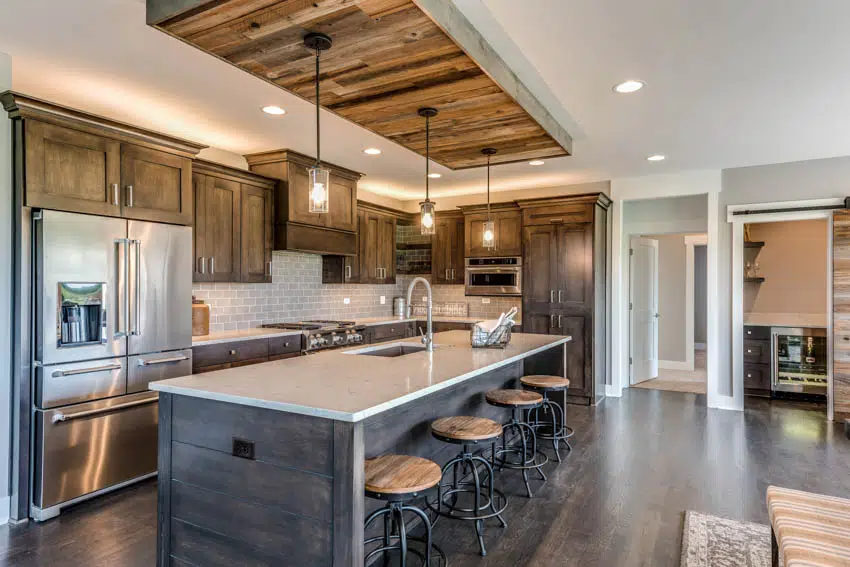 Sporting a bar-style design, this kitchen island is customized with wood accents and seating. While the left area of the island is for workspace and food preparation, the right area is for the dining area.
The wood accent used for the cabinets and stools also adds to the rustic feel of the entire kitchen. The three hanging lights also help warm the place up.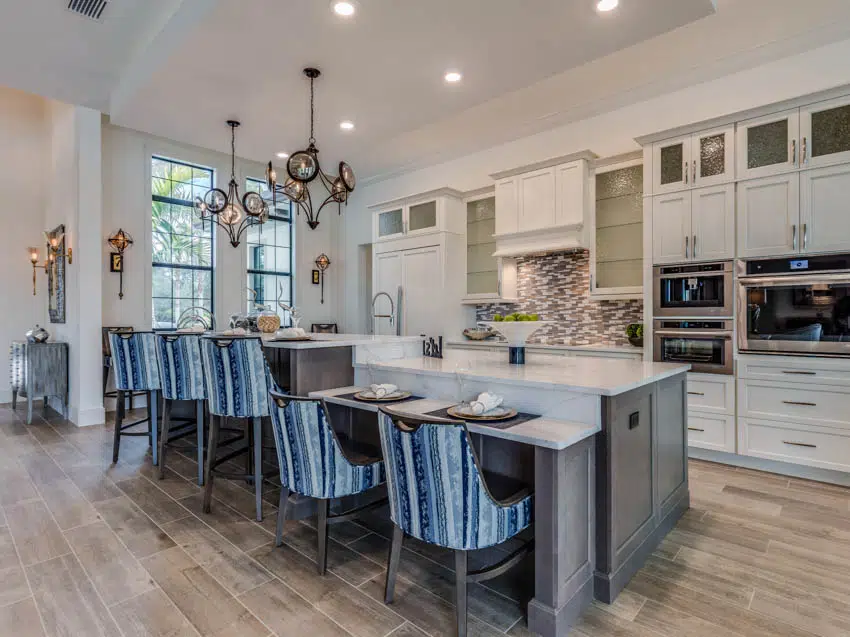 This modern and luxurious kitchen showcases wooden floors and chairs. Two hanging lights are grand and elegant to look at. The center kitchen island is also a mix of a countertop and dining area.
The use of neutral white, grey, and brown colors together with an accent of blue brings some sort of elegance and luxury to the kitchen. Read more about our guide on timeless kitchen cabinet colors here.
Choosing white walls and pieces of furniture for your kitchen makes the entire room feel bigger and more spacious. The center kitchen island with breakfast bar does the same thing and the space is maximized with the addition of the dining area noted by the wooden area.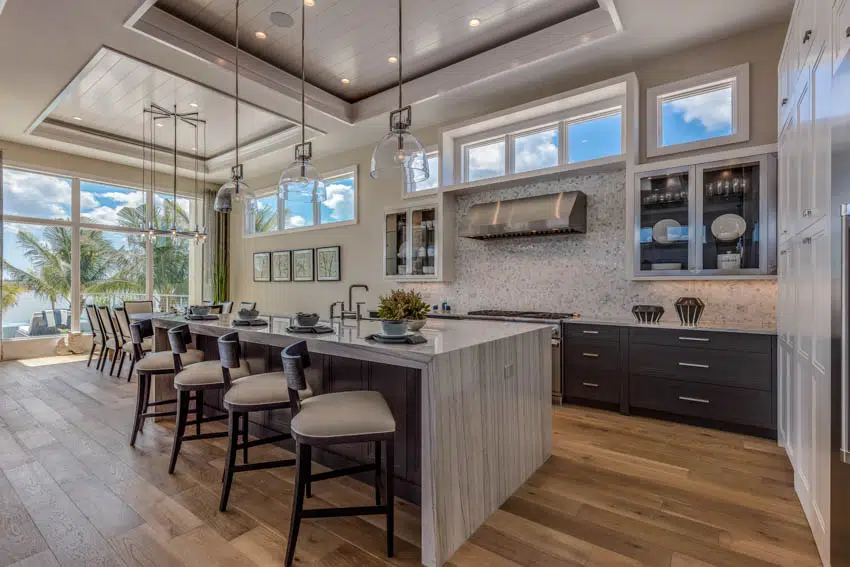 This luxury kitchen island combines the countertop and the dining area. The neutral colors in the kitchen provide a rustic ambiance to the room and the hanging lights add to its value.
The dining area on the kitchen island seems to be an extension of the dining room located at the left part of this kitchen and dining area combo.
See more related content at our article about kitchen booth ideas on this page.