Welcome to our kitchen paint colors with oak cabinets guide including best paint colors to use with dark and light oak wood cabinets together with the perfect color schemes for your kitchen.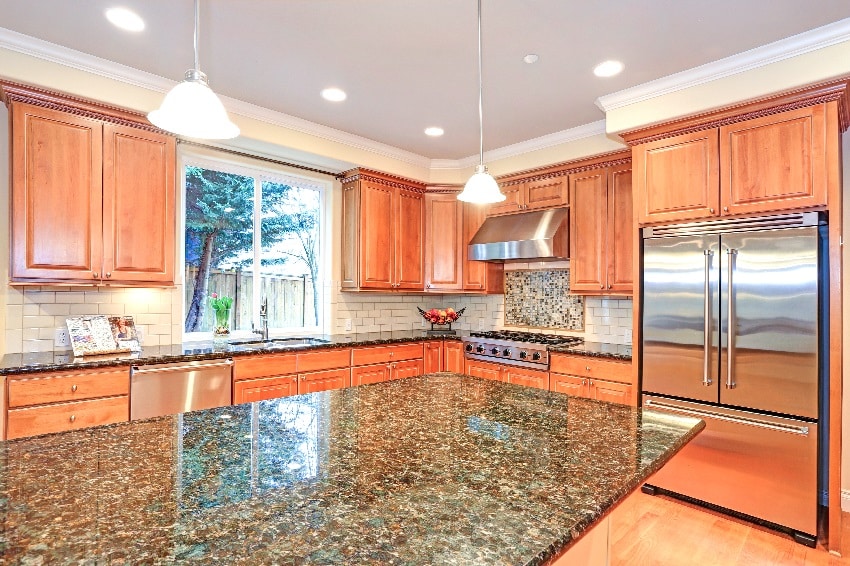 Breathing life into the kitchen is a breeze if one is wise enough to choose the right paint color. Unfortunately, it can be challenging if one has oak cabinets.
Many homeowners love oak in their kitchens because of its unique grain pattern, affordability, and cabinet fabrication ease.
Replacing their kitchen oak cabinets is out of the question. The only way they can breathe life into their kitchen is by painting it new.
The question now is what kitchen paint colors with oak cabinets homeowners should use? Let us find out.
Paint Colors That Go With Oak Cabinets
As mentioned, many homeowners love oak in their pieces of wooden furniture because of its grain patterns. It also brings more color to any room than any other type of wood.
Oak brings a warm orange color to the kitchen, except for White Oak. Most of the kitchen cabinets use honey oak, turning the kitchen into a cozy place.
The paint colors one chooses must coordinate with oak's orange hint or downplay it a little bit. Hence, one can pick a color that harmonizes with the orange undertone, such as red and yellow.
Unfortunately, having these colors in one's kitchen can make the room seem so loud and obnoxious. That is why many kitchen interior decorators say the safest route to enhance oak qualities is by neutralizing or toning the orange hint a little bit.
Any color on the opposite side of the color wheel should help neutralize the warmth of orange. Popular choices include the following.
White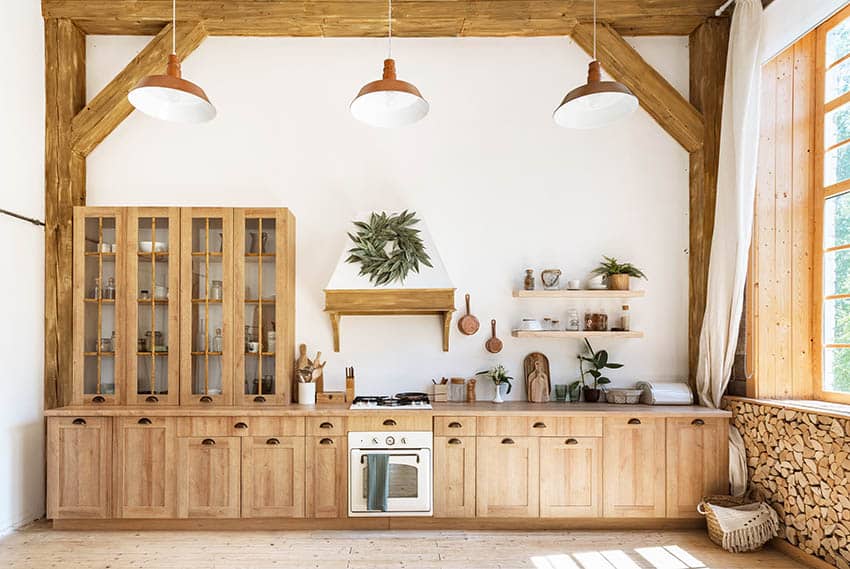 No other color can neutralize orange better than white. Homeowners can opt for textured white paint to add elegance to their kitchen while complementing oak's beautiful grain patterns.
White is neither cool nor warm, but it can brighten up any living space, including the kitchen.
Warm Beige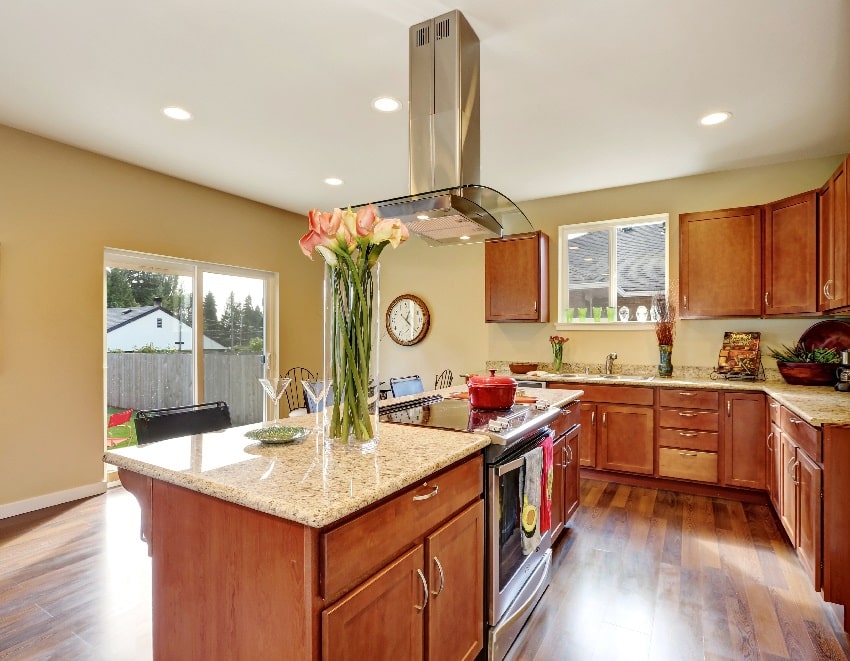 Any cream color will work to downplay an orange's warm glow. Beige still has a warm tinge but will not compete with the orange hue of oak wood kitchen cabinets. When painted on kitchen walls, beige will convey a general sense of warmth without overpowering the eyes' ability to focus on the oak cabinets.
Blue
This color is opposite orange in the color wheel, making it an excellent neutralizing tint. One can pick Aqua because it has a softer tone that compliments oak's dark grain patterns.
If one wants something darker, Charcoal Blue and Ash Blue are popular choices. There is also a light version of Navy Blue.
Gray
The different shades of gray are always excellent orange color neutralizers. They tone down the color's warmth while adding character to the kitchen.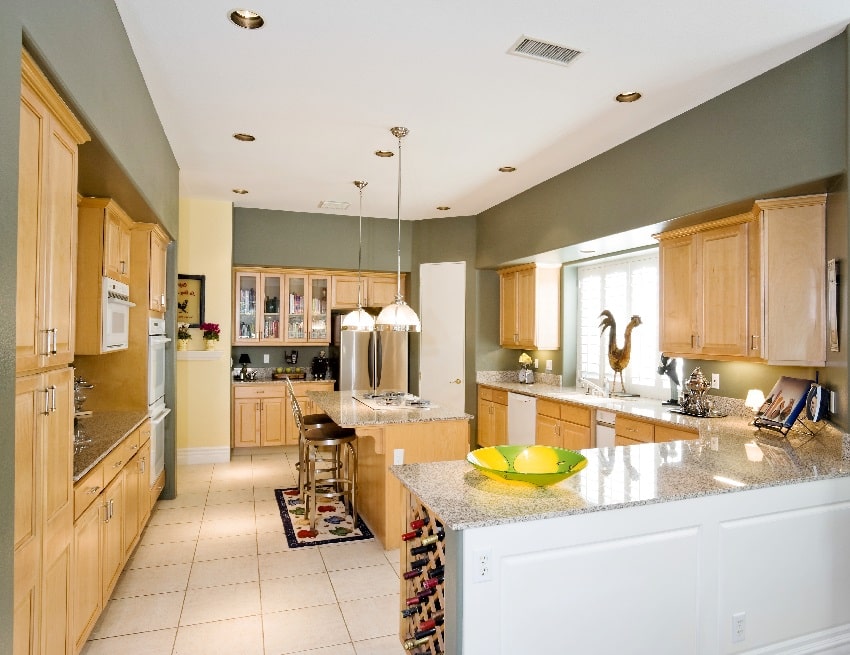 Light Gray is always an exceptional choice, although Greige (a blend of gray and beige) is not far behind.
Light Purple
Lighter shades of violet or purple can also make excellent color options for oak cabinets. These pigments have a bluish-reddish tinge that can complement the warmth of orange without bumping it up several notches further.

Green
Moss or Earth Green is a great paint color to have in the kitchen, especially with oak cabinets. It has an earthy tone to it that blends well with the orange-brown hue of oak cabinets.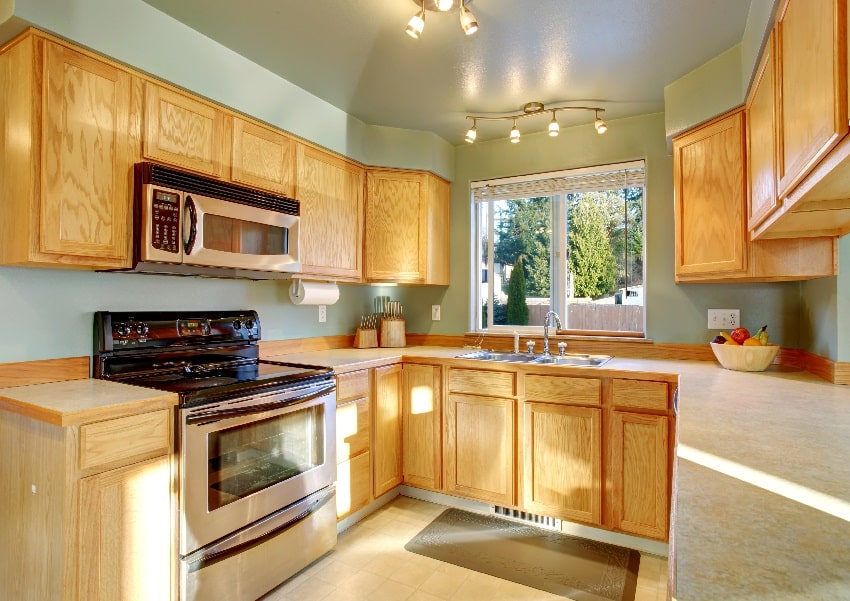 Lighter greens are always welcome in the kitchen, particularly if one has dark-colored oak.
Kitchen Paint Colors With Light Oak Cabinets
The best paint colors for kitchens with light-colored oak cabinets are those with a darker tone. The pigment must provide a contrast, depending on how lightly colored the oak is.
For example, if one has an oak cabinet with a natural finish, it would be best to use light gray, greige, aqua blue. These paint colors will complement the oak's natural grains, providing continuity with the pattern as if the cabinet is a natural part of the kitchen walls.
However, if one has an oak cabinet with a golden finish, a better option will be lighter paint colors. One can paint pure white on the kitchen walls to provide a dramatic background to the dark lines of the oak's grain.
Another option is to use textured white or off-white paint, such as beige, soft pink tulip, or cream. These colors will complement the darker hue of the oak cabinet. See more dark wood kitchen cabinets here.

Kitchen Paint Colors With Dark Oak Cabinets
Dark-colored oak cabinets will do best with paint colors of lighter hues. One can try cream, beige, light gray, or pure white to soften the warm glow of dark oak.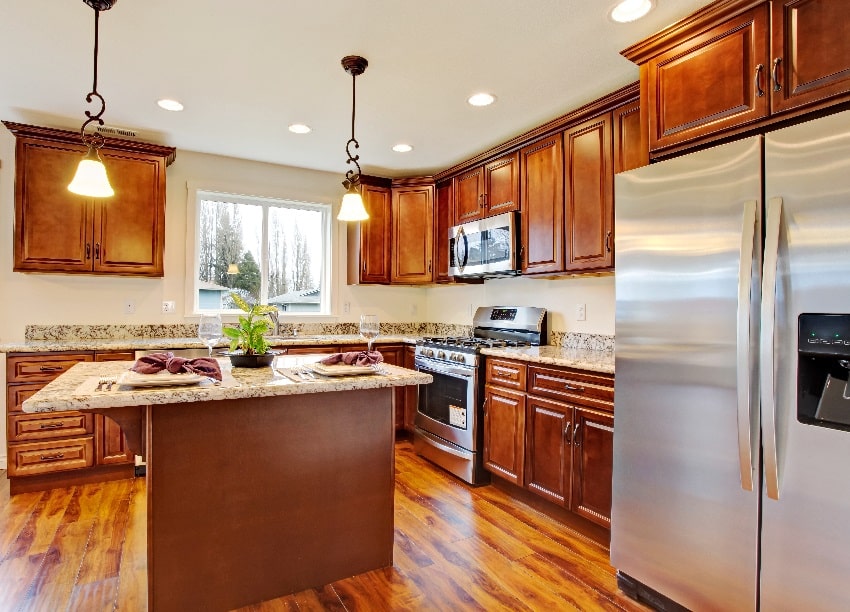 Homeowners can also pick a pastel yellow or a soft burgundy color to complement oak's orange hue. Both colors are naturally warm but are more on the softer side of the chromatic scale.
They will not compete for attention, allowing the oak cabinets to retain their importance in the kitchen.
A creamy and soft pastel pink tulip should blend beautifully with dark oak's reddish undertones. It still has an orange tinge, complementing the lighter colors of the oak grain.
For a more spectacular kitchen, one can try applying ripened tomato red color. It is lighter than burgundy, matching well with the oak grain's dark lines.
Kitchen Color Schemes With Oak Cabinets
Kitchen cabinets are not the only things homeowners must consider when painting the kitchen. It would be wise to look at the kitchen's totality, including the fixtures and appliances, to determine the best possible color scheme.
For example, if one has stainless steel kitchen appliances and white or light oak cabinets, painting the kitchen walls white or dark bluish-gray will be a great choice.

If there are red oak cabinets above stainless-steel appliances, an excellent color choice will be cream, beige, light gray, or aqua blue on the walls.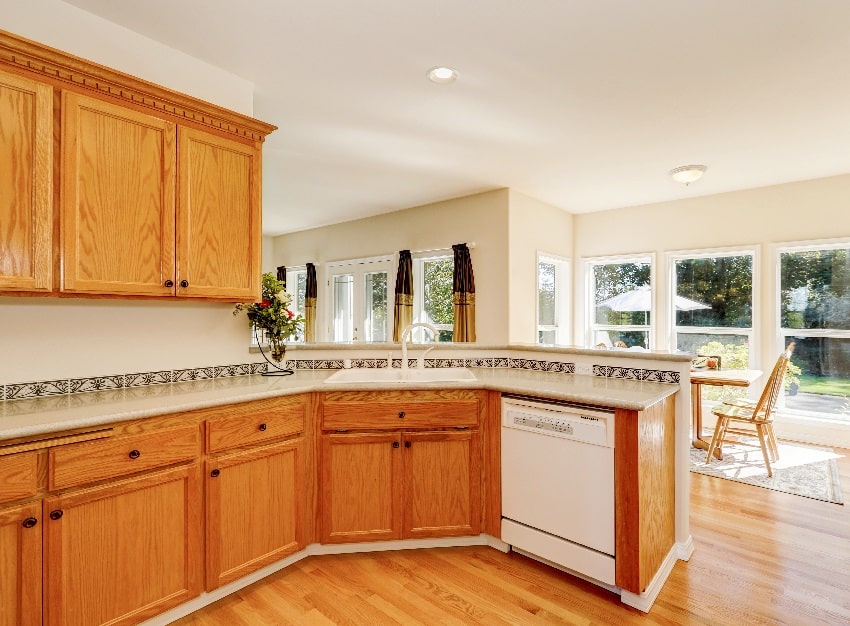 Households with black kitchen appliances should consider painting their kitchen walls in off-white or very light gray colors. One does not want to paint the room in another dark color because it hides the accents of the kitchen's different elements.
Conversely, if one has white appliances, the kitchen walls should come in dark colors. For example, dark blue paint will look nice in a kitchen with white appliances and honey oak cabinets.
Conclusion
Choosing the right kitchen paint colors with oak cabinets requires understanding the wood's unique color attributes. One can complement it by using a paint color several hues lighter or darker than the base tone.
Or, homeowners can also use cooler shades to neutralize the natural warmth of oak wood's orange tinge.
For more related ideas take a look at our gallery of the best kitchen paint colors to put together a cohesive design you'll love.