Here's our guide to the best low maintenance shower walls including shower wall materials, tile, and enclosure stalls to use for your bathroom remodels.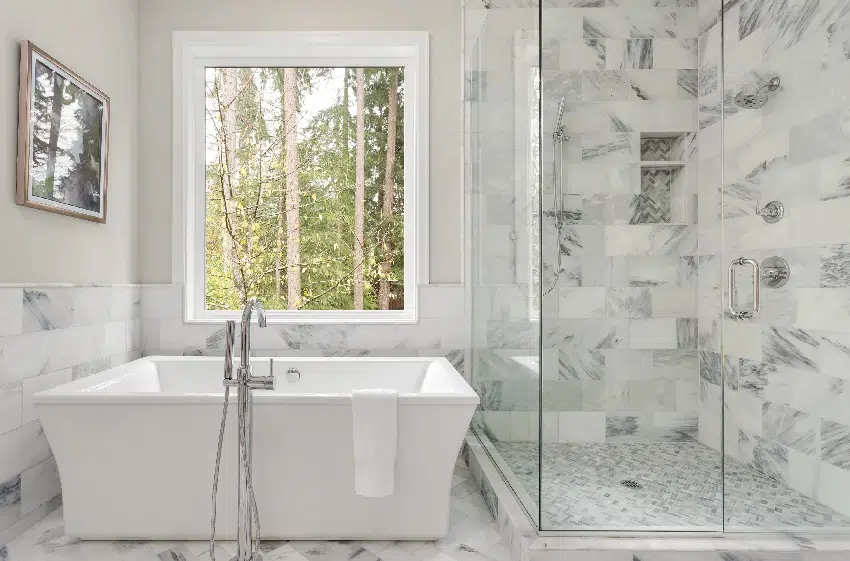 One of the major challenges for homeowners out there is how to find ways to increase the real estate value of their homes. If this is something that you're currently considering, you can rest easy in the fact that you aren't alone.
One space in the home that can really benefit a lot from a remodeling project is the bathroom. Bathrooms can be profitable for as far as flipping houses are concerned. After all, who on earth can turn down a great bathroom, right?
The other side of the coin on this though is that it can also be quite expensive. Plumbing fixtures, tiling, vanity updating, and so much more can drain your finances in ways faster than you would probably think.
One great way to do this though without burning a hole in your pockets is to update the shower walls. They're easy to do and they don't cost as much money compared to when you update the other parts of the bathroom.
An upgrade on the space is instantaneous and you will really get your money's worth out of it. but aside from saving a bit of money on the front end, you also have to take a look at it from a long range perspective.

Low Maintenance Shower Wall Material
Opting for low maintenance shower walls is just as important as the actual update itself. Here are some materials you can check out.
Tiles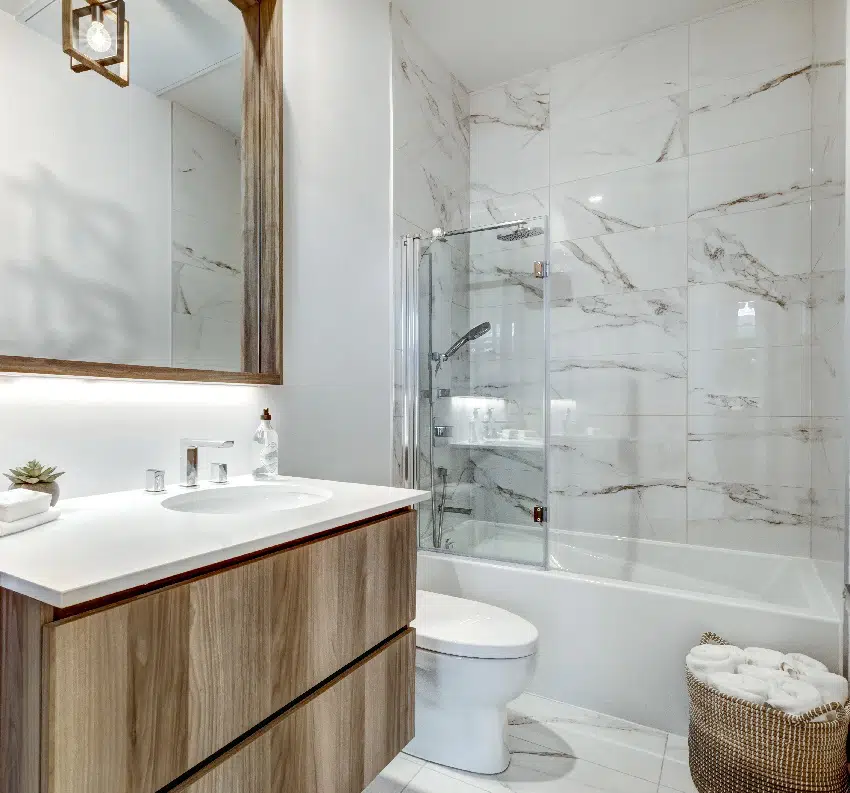 This is the obvious go-to choice for people redesigning bathrooms. There are so many tile designs that come in all shapes and colors that you are bound to find something that suits you.
It's also fairly cheap. The only downside to tiles though is the grout. Although the shower tiles themselves are pretty easy to clean, the grout might require some extra attention, especially for light colored tiles.
If you do go for tiles, just remember that the tile grout needs to be watertight.
Shower wall panels
You're in for a treat if you ever happen to consider this option. There are so many materials and styles to choose from in shower wall panels that to be honest, picking a specific design would turn out to be the biggest challenge.
Installation is easy and requires so much less than a tile job. They basically attach to the wall with the use of a single sheet adhesive that's also great construction.
The end result is something that is completely watertight, smooth, and uniform.
Porcelain or quartz panels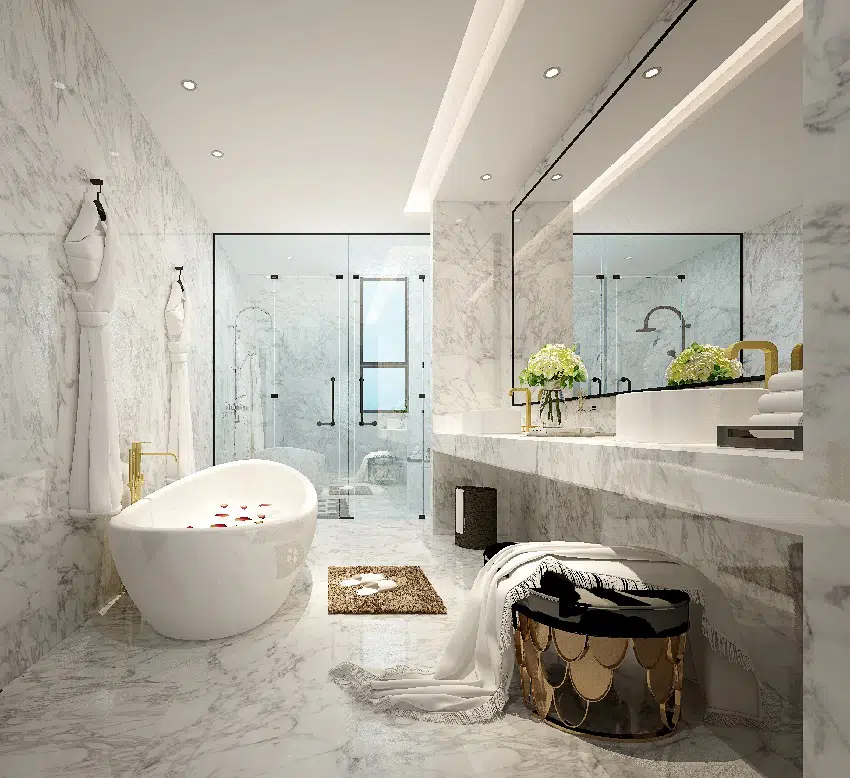 These materials can also come in cultured marble. This option can give you a seamless look that lends a vibe of continuity to your shower space, making it appear bigger than its actual size.
It is slightly pricier upfront but it actually saves you money in the long run as it requires little to no maintenance and has a lifespan that can last for over 2 decades. Read more about quartz shower walls on this page.

Easy Maintenance Shower Tile
Like we've mentioned earlier, tiles are a great option for the shower but maintenance might be a hiccup. Luckily, there are shower tiles that require less maintenance compared to the others.
Here are a few options that you ought to consider if you're looking for shower tiles that are easy to maintain:
Solid surface tiles
They're durable, versatile, and extremely low maintenance. This is seen more and more in bathrooms all over the country.
It is usually a combination of resin, pigments, epoxy, acrylic, or even polyester. It has no grout usage and has no grooves where mold and mildew can grow and stay so cleanup can be a total breeze.
One of the most popular types of solid surface material brands is Corian. You can read more about Corian shower walls here.
Fog-proof glass
Foggy shower panels can be a real pet peeve and they can turn out to be quite difficult to clean as well.
Opting for the fog-proof variety will help you save up some money on special cleaners because you wouldn't need any. It's a great option to go for your shower wall options.
Luxury vinyl tile
This can mimic the look and feel of natural wood or Italian slate but has all the benefits of a low maintenance requirement. They're also quite inexpensive and durable so they're perfect if you're updating your bathroom on a budget.
You only need a damp mop to clean up and deep cleaning is seldom required.
Easiest To Clean Shower Material
Acrylic and fiberglass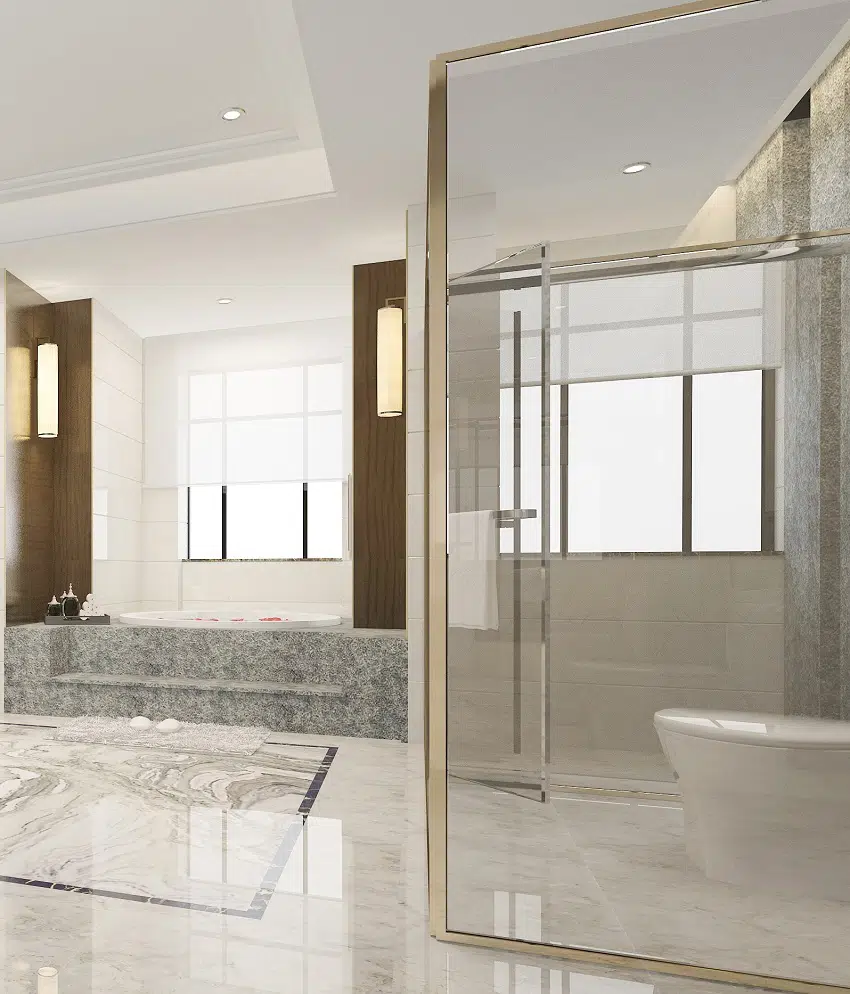 These materials are the easiest to clean because they come in a single sheet. There is no need for grout usage which is its best upside.
Grout can have puddles of water stuck in between them which means that they encourage the growth of mold and mildew. This isn't an issue with acrylic and fiberglass.
Wiping it up with some soapy water will do the trick. This is the best option to consider when you don't want a lot on your mind in terms of maintenance for your shower area.
The installation for this material is also pretty easy and for homeowners who are a bit on the handy side, this is definitely something that can be done without any skilled labor or professional help.
Low Maintenance Shower Stalls
Here are the most popular low maintenance materials t use with pre-made shower stalls.
Plastic shower stalls
Plastic shower stalls might sound like a cheap option but it actually isn't. It can be cut in a large piece to cover their entire wall.
It can come in a wide variety of styles and colors so your options can turn out to be extremely versatile. If you're looking for good value out of your money, then plastic or acrylic shower stalls are a great option to go for.
Fiberglass walls
This is another option for you to go for. They are somewhat higher priced than acrylic stalls but they have a higher quality in terms of appearance and feel.
Fiberglass retains a high gloss finish. They are also fairly easy to clean and maintain. They can really give you a great option for your shower stalls.
They also tend to last longer than the other shower stall materials out in the market right now.
Glass shower stalls
Tempered glass is the way to go as it's stronger and safer in the event that the glass breaks. It can make the shower appear bigger because it lets plenty of light in.
It also has a lot of etching options if you want to have more designs other than just plain glass. It's easy to clean because glass doesn't have grooves to soak up water but you do need special cleaners to make sure you keep hard water stains at bay.
Stone shower stalls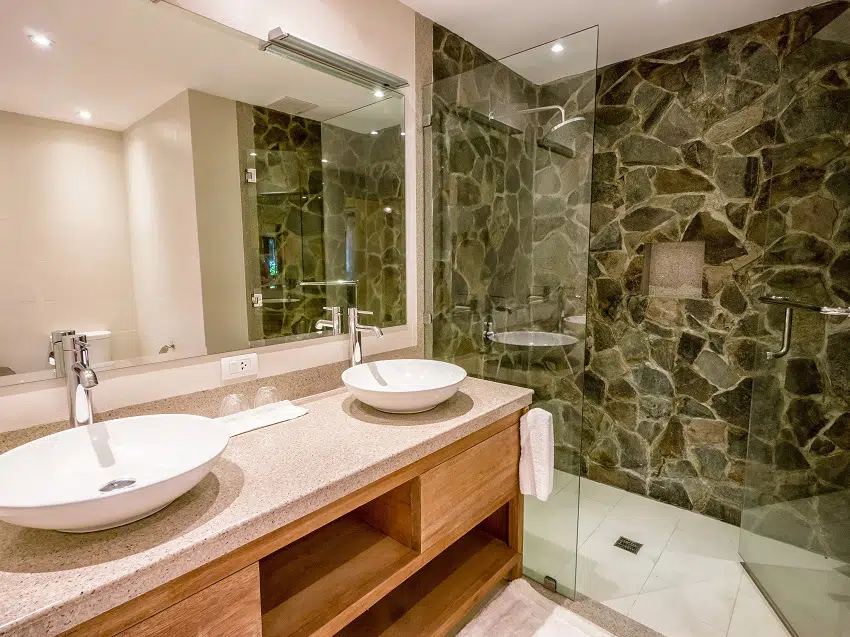 These materials are extremely durable so they last long, sometimes a lifetime. It's quite resistant to chipping, scuffing, or growing molds.
Stone shower walls with marble, granite and slate are all popular materials. They can be quite beautiful and bring in that luxurious feel to your shower space in the bathroom.
To see more types of bathroom showers check out this gallery.