Here we share our guide to the pros and cons of Corian shower walls including their cost and whether they are a good choice for your bathroom design.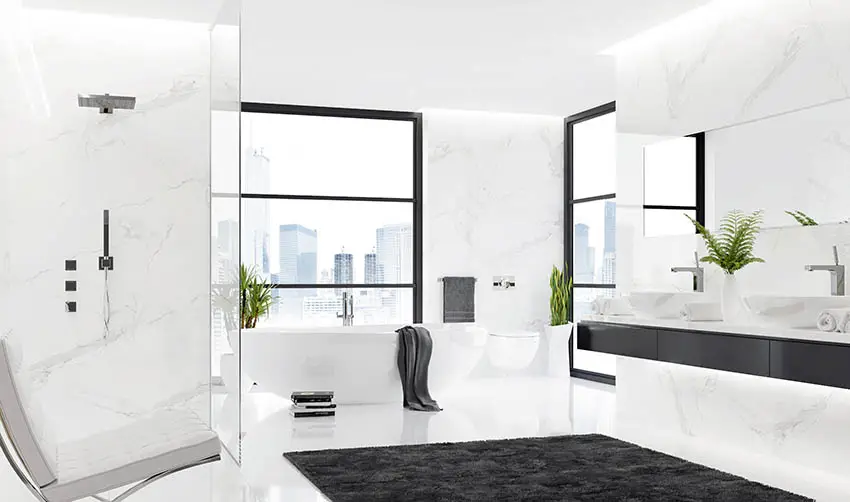 When you install a new shower or renovate your old one, you have a choice to make — panels or tiles?
Ceramic tiles are undoubtedly attractive, but difficult to install and maintain. Plastic shower panels are easy to install and keep clean, but they look cheap.
With Corian shower walls, you get the best of both worlds; stunning design that is hassle-free.
What are Corian Shower Walls
In 1964 a chemical company called DuPont started producing a brand new product under the brand name Corian. It had been discovered the year before when a DuPont scientist named Donald Slocum had a breakthrough.
He realized that it was possible to bind particles of natural material together with acrylic resin. Even better, the resulting solid surface material was non-porous, resistant to stains and damage, and easy to repair.
It's first applications were kitchen counters and sinks, but it quickly moved into the bathroom, where it can be used for flooring, countertops, sinks, or shower enclosures.
For 30 years, DuPont held the exclusive rights to produce this wondrous new material. Like Xerox or Kleenex, the name brand (Corian) became synonymous with the product itself.
When the patent expired, other companies started producing and selling panels made using Slocum's process. The manufacturers of these panels advertise them as 'hard surface' or 'solid surface' material.
Although the method to produce Corian is no longer protected by patent, DuPont has stayed relevant by developing new Corian-based products.
Some have been designed to mimic natural materials such as granite and marble showers, while others are more contemporary.
Today, they hold the patent on the first translucent hard surface materials, which can be backlit for a futuristic look.
Now lets take a look at the pros and cons of Corian shower walls.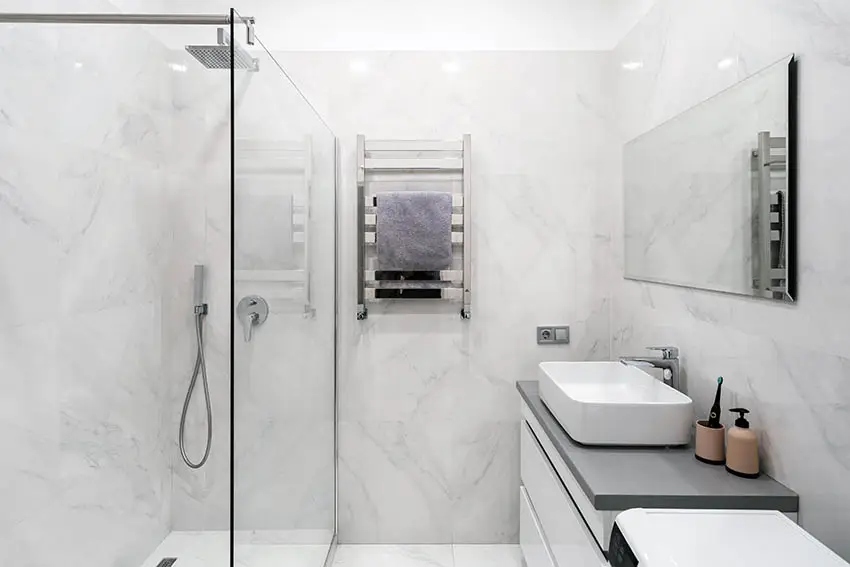 Corian Shower Walls Pros
Waterproof – One huge benefit of Corian shower walls over ceramic tiles is that they are non-porous and, when installed properly, waterproof. Rather than seeping into the groutlines, water rolls off the surface of Corian shower walls.
No grout lines – That brings us to our second benefit; no grout lines. Grout is the bane of every homeowner's existence. It looks great when installed, but due to high porosity it quickly becomes a home for mold and mildew.
As anyone who has spent an afternoon scrubbing grout can attest to, it is time-consuming and difficult to keep clean. Many homeowners turn to cleaning professionals to restore that 'like new' look, but this is an additional expense.
Doesn't need resealing – Corian shower panels don't have grout, but they do have joints. These joints must be properly aligned and sealed to prevent water from penetrating to the drywall underneath. Unlike grouted tile, Corian never needs to be resealed.
Easier to install – Compared with installing ceramic tile, hard surface bathroom shower walls can be installed much more easily and quickly. Rather than cutting tiles to fit a pattern, Corian will arrive at your home pre-cut to your specifications. Should you need to make an adjustment, it can be easily cut with a circular saw or even a jigsaw.
10 year guarantee – Corian-branded hard surface shower panels have a 10-year guarantee. This does not cover errors in installation. Most generic solid surface material has a similar guarantee, but check the manufacturer's specifications to be sure.
Assortment of colors – With the range of patterns and colors available on the market, it's a cinch to find a solid surface for your shower that will look great and last for years.
Can be restored – Should the surface sustain damage, it can be refinished to restore its appearance, unlike ceramic tiles which need to be removed and replaced.
Plastic shower walls can match hard surface products when it comes to keeping your drywall dry and are much less expensive. However, the low price shows in their appearance, making your shower enclosure look cheap.
Corian Shower Walls Cons
More expensive than plastic – Solid surface shower walls, whether sold under the brand name Corian or not, do have a few drawbacks. While they are less expensive than engineered quartz, for example, they are significantly more expensive than plastic shower walls.
Not as customizable as tile – When Corian was first produced, it was only available in one color — white. Hard surface shower walls are now available in a stunning array of designs and colors. And yet, nothing can match the customizability of tile.
With tile, not only can you select the exact color and design you desire, you can incorporate borders and inlays. Solid surface shower walls are usually one color or design throughout, giving them a seamless and streamlined look that many people love.
Corian Shower Walls Popular Questions and Answers
Is Corian Good for Shower Walls?
Corian is not only good for shower walls, it's perfect, especially if you intend to install it yourself.
The installation only has three steps. First, hang moisture-resistant drywall. Then, apply an appropriate adhesive. Secure the panels, seal the joints, and you're done.
Corian is easy to install and will look great for years to come. It's non-porosity makes it the obvious choice for wet environments, and no area of your home is exposed to more moisture than your shower walls.
Corian can also be thermoformed. By applying high heat to the material, it is possible to bend and curve it to fit the exact dimensions of your shower, no matter the specifications.
If you're looking for a low maintenance and long lasting material for your walk-in shower walls, look no further than solid surface materials such as Corian.
How Much Does a Corian Shower Cost?
Expect to pay between $42 and $65 per square foot for material. An average shower enclosure measures about 70 feet, with a depth of three feet, a width of four feet, and a height of seven feet.
Labor to install the Corian shower walls should cost approximately $150. When you add all of this together, the average cost to fit a shower with Corian should fall between $3,100 and $4,700.
Is Corian a Good Choice for Bathrooms?
Corian is a beautiful and durable waterproof construction material, making it ideal for bathrooms. Some people question the advisability of using Corian for the shower pan, or floor of the shower, due to its slick and slippery surface.
However, a non-slip gripping texture can be added to Corian, which makes it perfect for shower floors in addition to walls, shower benches, and countertops.
Did we miss any pros and cons of Corian shower walls? Let us know in the comments section to tell us what you think. For more related designs visit our page on bathroom remodel ideas.