Welcome to our guide to the SPC flooring pros and cons with what it is, cost and popular questions regarding this material.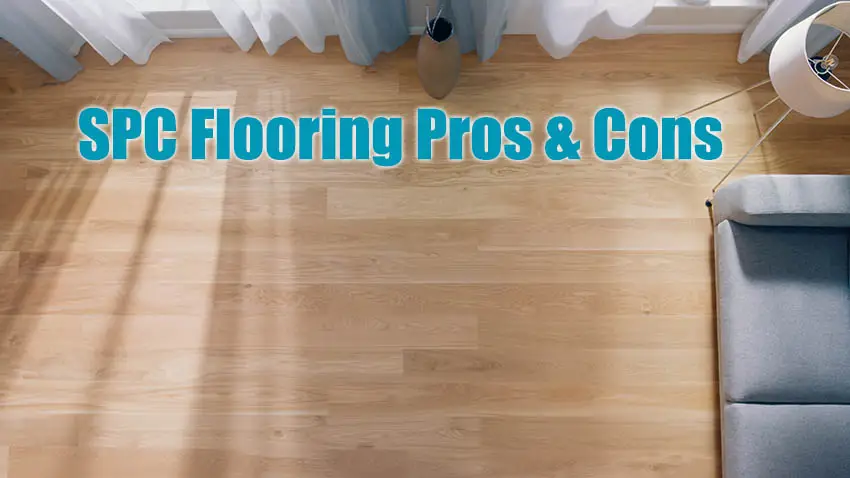 SPC flooring was created to replicate the look of real natural wood. Similar to luxury vinyl plank floors, SPC flooring provides many advantages that may make it a solid choice for your interior design.
What Is SPC Flooring
SPC stands for stone plastic composite or stone polymer composite. It is a subtype of vinyl plank flooring. SPC may also be advertised as rigid vinyl plank, waterproof vinyl flooring, or engineered luxury vinyl flooring.
Vinyl flooring typically has four layers. The bottom of the plank is an underlayment, which provides some cushion and sound reduction.
Next comes the core, which is the backbone or spine of the plank. A photorealistic design layer sits atop the core, lending the appearance of wood or stone to this man made product. Finally, the top layer is a clear protective coat called the wear.
Most of the difference between types of vinyl flooring comes down to the core. The defining feature of SPC is it's rigid core, made of limestone, polyvinyl chloride, and stabilizing agents.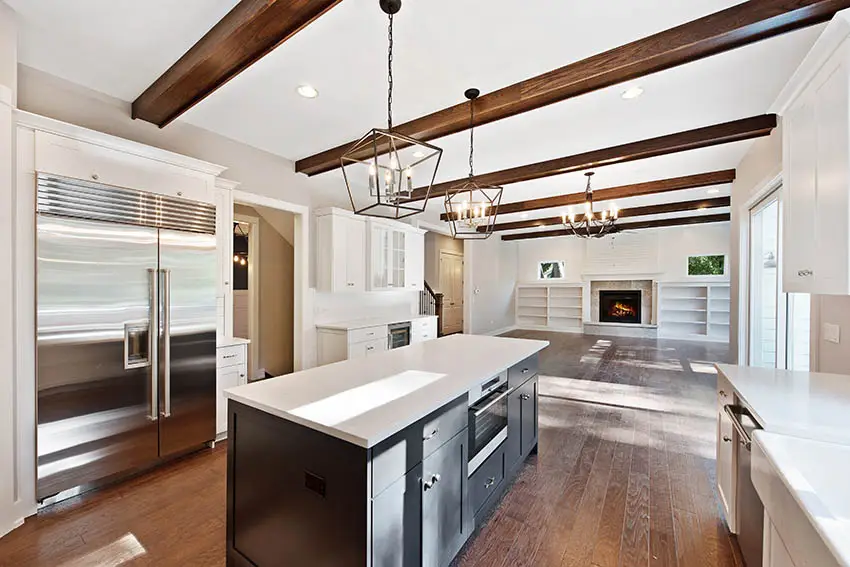 SPC Flooring Pros
Waterproof – SPC flooring is impervious to the effects of water, making it an excellent choice for basements, laundry rooms, bathrooms, and kitchens. Not only are the planks themselves entirely waterproof, the core is impervious to moisture-related expansion or contraction.
Easy to install – DIYers love SPC flooring because it is so easy to install. Most SPC products feature 'snap-together' installation, meaning no nails or glues are needed. Instead, the planks are designed with interlocking grooves. SPC flooring can be installed over any hard surface, without the need for extensive preparation.
Easy to cut – Cutting SPC planks to size couldn't be easier. While wood, tile, and stone require special power tools, all you need for SPC is a utility knife. Simply score the plank you want to cut, then flip it over and bend it away from the score line. The plank will snap into two pieces, with a remarkably even cut line.
Very durable – Compared with other flooring products, SPC is incredibly durable. Most manufacturers offer a 15 year warranty. With proper maintenance, SPC can last up to 20 years.
Ideal for high foot traffic – SPC is ideal for use in high traffic environments, and for this reason it is popular in commercial construction.
In residential construction, it is common to see SPC installed in hallways, kitchens, and bathrooms, because of its unique ability to stand up to wear and tear. Even heavy furniture won't dent SPC floors.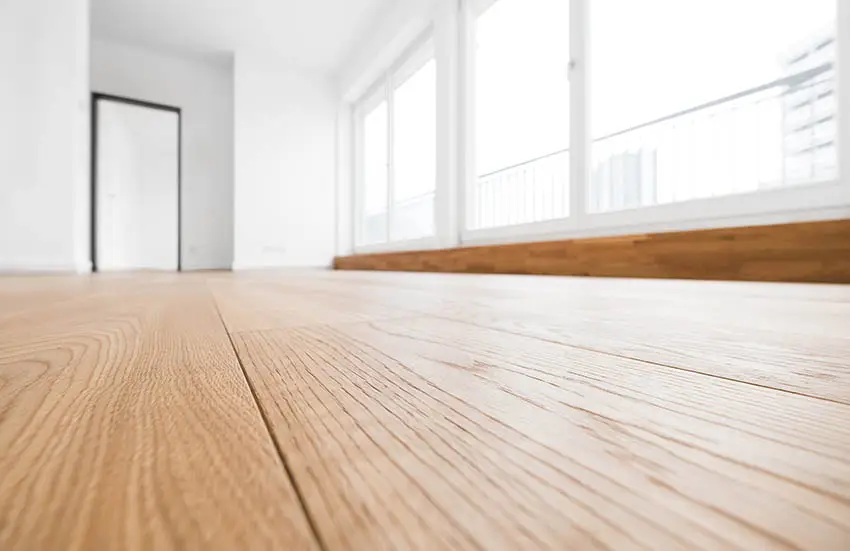 SPC Flooring Cons
More expensive than laminate – SPC flooring is considered a luxury product, and as such it is more expensive than laminate or other vinyl flooring products. However, it is significantly less expensive than the natural materials it mimics.
Less comfortable than other flooring types – While the rigid core of SPC makes it incredibly durable and wear-resistant, it also makes this type of flooring less comfortable and accommodating underfoot than more heavily cushioned choices.
How Much Does SPC Flooring Cost?
The cost of the material for a new SPC floor is calculated per square foot. Currently, SPC flooring can be purchased for as little as $3, with more expensive products costing up to $8 per square foot.
The average bathroom is around 40 square feet, so expect to pay between $120 and $320 for materials alone.
If you choose to install SPC in a standard sized kitchen (around 100 square feet), the cost for materials will be between $300 and $800.
While SPC flooring is more expensive than some other products, it is easy to install and requires minimal floor preparation, so you can likely install it yourself to save on labor costs.
SPC Flooring Popular Questions
Is SPC Flooring a Good Choice?
If durability, longevity, and ease of installation are important to you, SPC flooring is a great choice. This luxury vinyl flooring can reproduce the look of natural materials without the extra cost and upkeep.
However, if you are looking to add value to your home, natural stone or hardwood flooring is a better choice.
Is SPC Better Than Laminate?
Many people find laminate flooring to be more comfortable to stand on then vinyl flooring products. The core material of laminate is usually fiberboard, making it susceptible to moisture-related damage such as mold and mildew, while SPC resists this kind of damage.
The process used to create laminate flooring relies less heavily on toxic chemicals than SPC. SPC is more expensive than laminate.
Which is Better SPC or WPC?
In most cases, SPC can be considered an improvement on WPC (wood plastic composite). The difference between these two products is the content of their respective cores.
While SPC's rigid stone core is unaffected by moisture and changes in temperature, vinyl planks with a wood core are susceptible to shrinking and expanding with the weather.
Should moisture permeate the planks, the wood core will warp, producing an uneven and unsightly floor that needs to be replaced. With SPC, on the other hand, the core is indifferent to water and will not warp or change shape.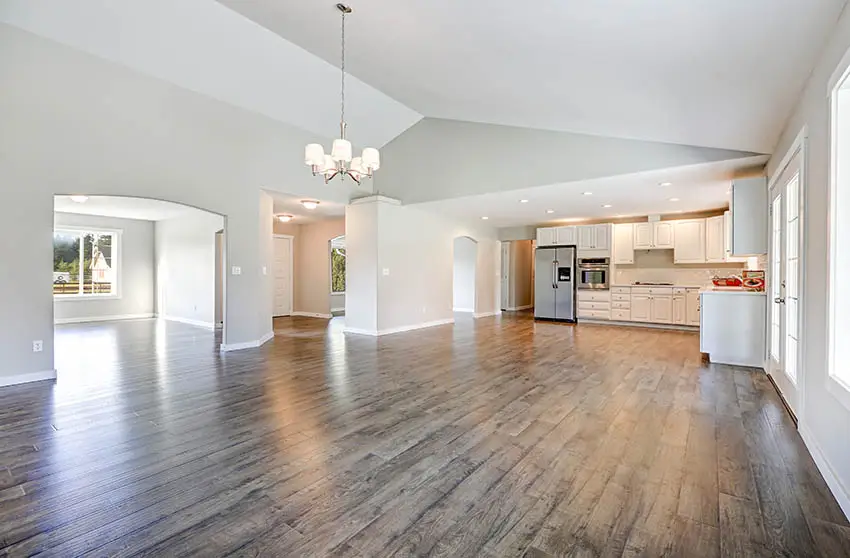 Does SPC Flooring Need Underlayment?
SPC flooring can be installed on any hard surface, including concrete and tile. While leveling may be necessary if the floor is wildly uneven, small irregularities do not need to be leveled before SPC can be installed.
It does not require a specific subfloor because underlayment is integrated into the bottom layer of the product.
Is SPC Flooring Toxic?
Volatile organic compounds, called VOCs for short, have been associated with adverse health effects in both the short and long term.
The list of conditions linked to high VOC exposure include respiratory issues and skin irritation. These compounds are released from common household products via a process called 'off gassing'.
As consumer awareness rises, manufacturers are responding with changes to their production process, reducing the amount of VOCs emitted by their products.
If you want to avoid off-gassing, you will need to choose a natural material for your flooring, such as wood or stone. All vinyl floor products will release VOCs to a greater or lesser extent.
The majority of compounds are released into the air during and shortly following installation. For this reason, it is important to keep the area well-ventilated for the first several days following the installation of your new SPC flooring.
While some products are advertised as being 'low-VOC', this isn't an official designation.
A specific chemical that has been linked with negative health outcomes is phthalate. Manufacturers have started producing phthalate-free SPC flooring for health-conscious consumers.
What do you think about these SPC flooring pros and cons? If there is anything we missed let us know in the comments. For more related content check out our gallery of living room flooring ideas.