See ledger stone designs including what it is, interior designs, the different material types, and ledger stone tile installation process.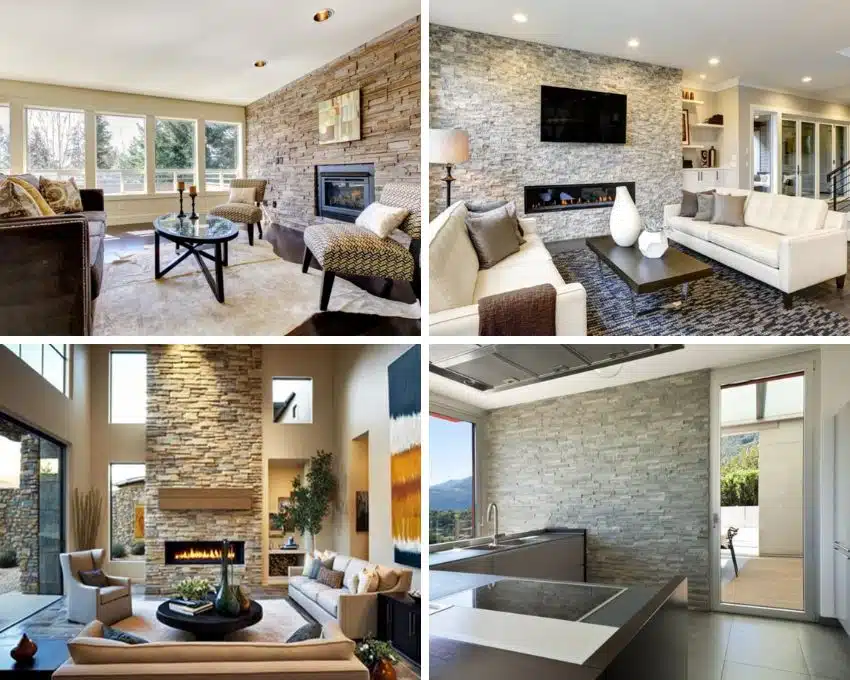 Create a stunning backdrop or highlight an architectural feature that lasts for decades with the natural beauty of ledger stones. An everlasting trend, ledge stone installments is a versatile design that is attributed to the balance of their organic quality while having that horizontal rhythm, a favored combination in today's aesthetics.
For this reason, this type of stone not only embellishes our traditional-styled homes but is welcome in transitional, industrial, and other styles in the modern design spectrum. The varying shades, texture, and rhythm innate in every stacked stone exude character while having the qualities of a natural stone, dense, fireproof, workability, and readily available.
Know more about how ledger stones and how the stonework can transform an interior or exterior space into a tasteful and inspiring built environment.
Quicklook: Ledger Stone Design Types
• Tile
• Veneer
• Panel
• Slate
• Fireplace
• Countertop
• Backsplash
• Wall
• Exterior
What Is a Ledger Stone?
A ledger stone is a type of wall finish using stacked quarried stones distinct with its emphasis on the horizontal joints and a thinner height profile of four inches or less. There are ledger stones that are also made from a mixture of concrete, stone, and iron-oxide pigments that are molded to simulate the look of real stones.
Ceramic and porcelain are also popular materials used to achieve the ledger stone look. The term ledger comes from the Old English leger or lygger which means to lie down much like a ledger book.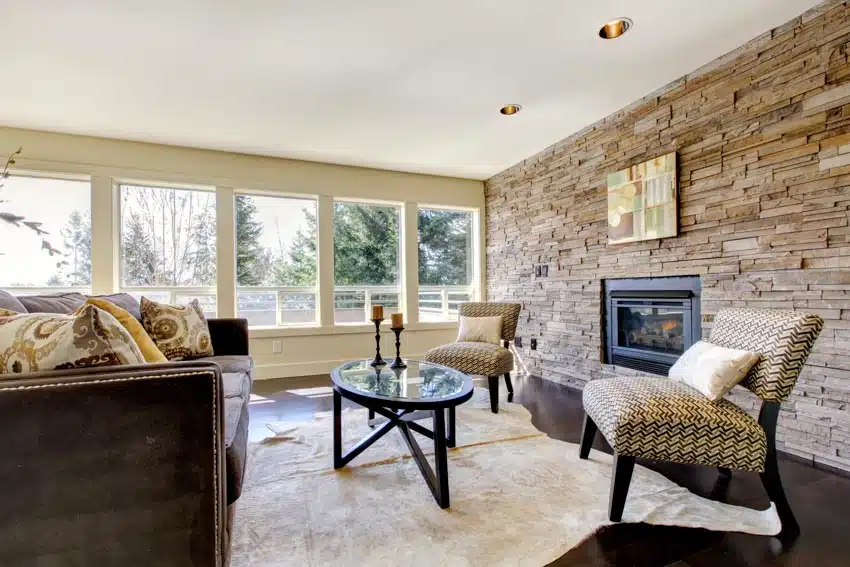 The common ledge stone tile sizes are 6 x 20 inches and 6 by 24 inches composed of four rows of stones glued together and arranged in a linear pattern. The ledge stones are typically arranged on mesh wiring and are lighter compared to traditional stone siding, typically 1 to 2 inches thick.
The stone veneer is popular for creating a feature wall or highlighting an architectural feature such as a fireplace or backsplash. Not only is stone design used as an interior accent but can also be used in exterior applications such as a siding material to emphasize horizontal elements.
Ledger stones on columns also create an eye-catching finish, adding a contrasting effect to the vertical pillars.
Top Designs for Ledger Stones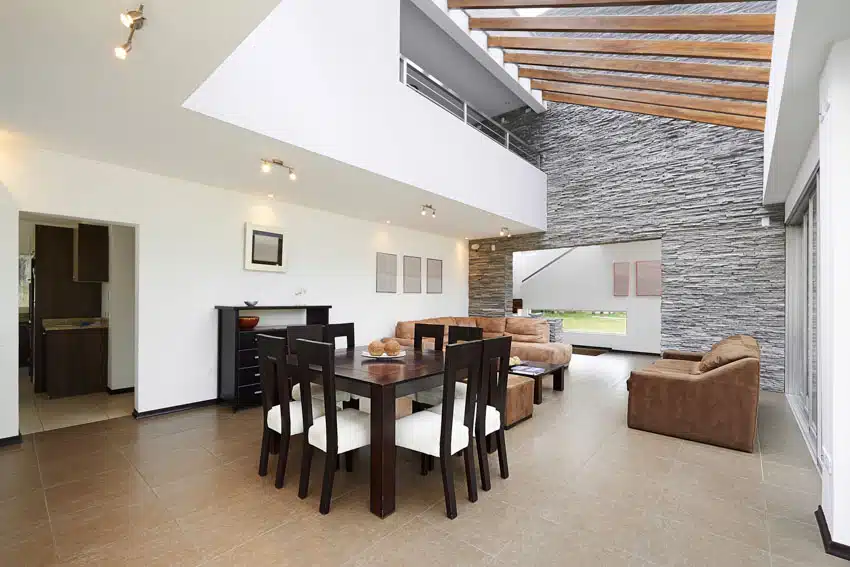 Variations of ledger stone come in veneers, panels, and loose tile. These stones come in a wide variety of designs and are also categorized based on the types of stone material used. The most common stone types used are slate, granite, marble, and limestone.
Tile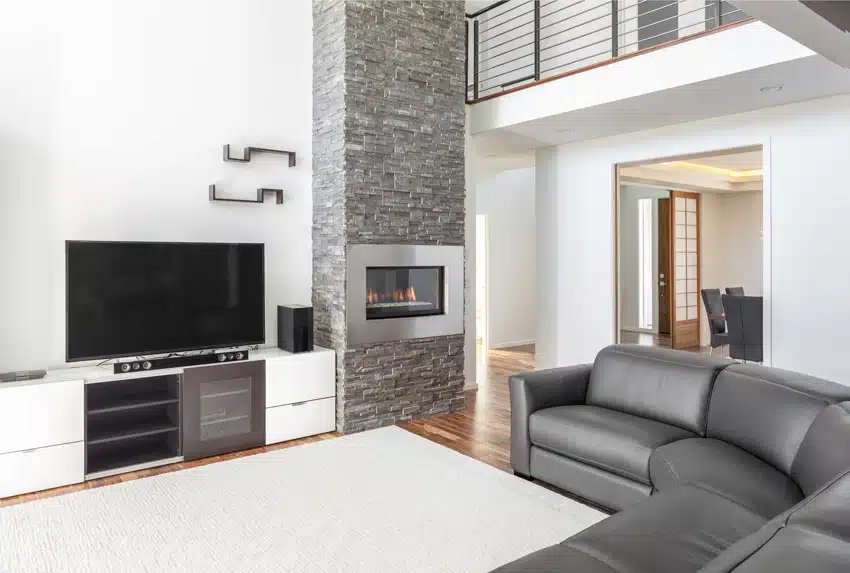 The ledger stone tiles are loose finishing materials that come in long rectangular shapes and are made from quarried stone which makes them heavy compared to ceramic or porcelain tiles.
These tiles can weigh around 8 to 15 lbs per square footage and the density of the tiles will depend on the type of stone. The most common eye-catching textures and coloring include limestone, travertines, slate, and marble.
Since tiles are smaller than your panel version, they can be installed on narrower elements, creating intricate details. If covering smaller surfaces, these stone tiles are a practical choice as they are a minimal waste of materials.
However, it takes longer to install ledger stone tiles and will need a knowledgeable installer, especially for the dry-stack method. Another benefit of choosing these stone tiles is the wide range of stone types.
Veneer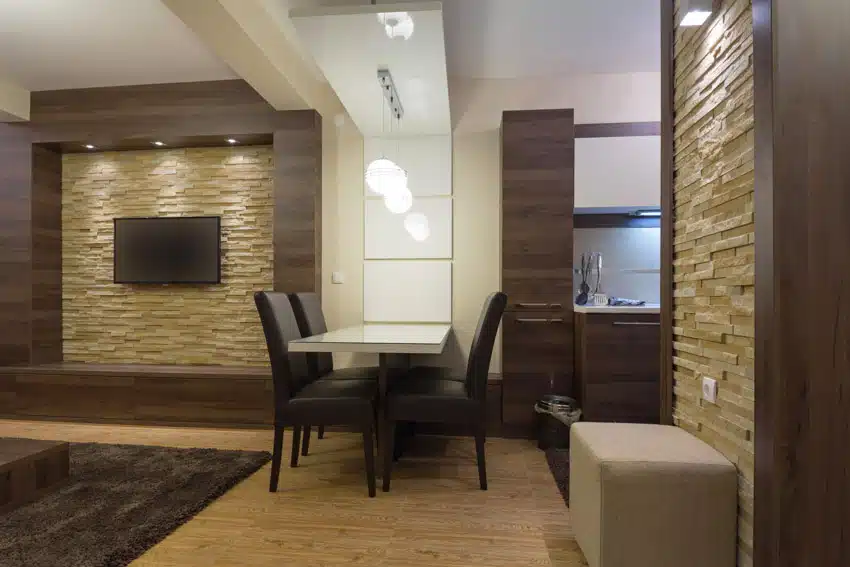 Also termed faux veneer, ledge stone veneers are a great alternative to your natural stone when opting for a cheaper type of ledger stone. Ledge stone veneers are made from a mixture of Portland cement, iron oxide pigments, and aggregates.
The mixture is then poured into a mold that contours the textured surface, simulating the natural look of natural stone. The faux veneer usually comes ½ to ¾ inches thick and since they are made from a man-made stone, making it more prone to cracking a substrate is needed.
For a house that is to be veneered in stone, the foundation needs to be wide enough to carry the frame and the stone veneer. – Masonry, 1997
Like other ledge stone variations, ledge stone veneer is a finishing material that is non-load bearing. The best substrates to use for ledge stone veneer are bricks and cement boards. Wood can serve as a substrate, but a metal lath and masonry scratch coating are needed.
On average, a ledge stone veneer can cost 50% less than your natural ledge stone. Aside from serving as one of the best interior accent wall ideas, stone veneer is a popular siding material due to being lightweight and easy to install. Owners can enjoy manufactured stone veneer walls from 20 to 75 years depending on the quality of the raw material and installation.
Panels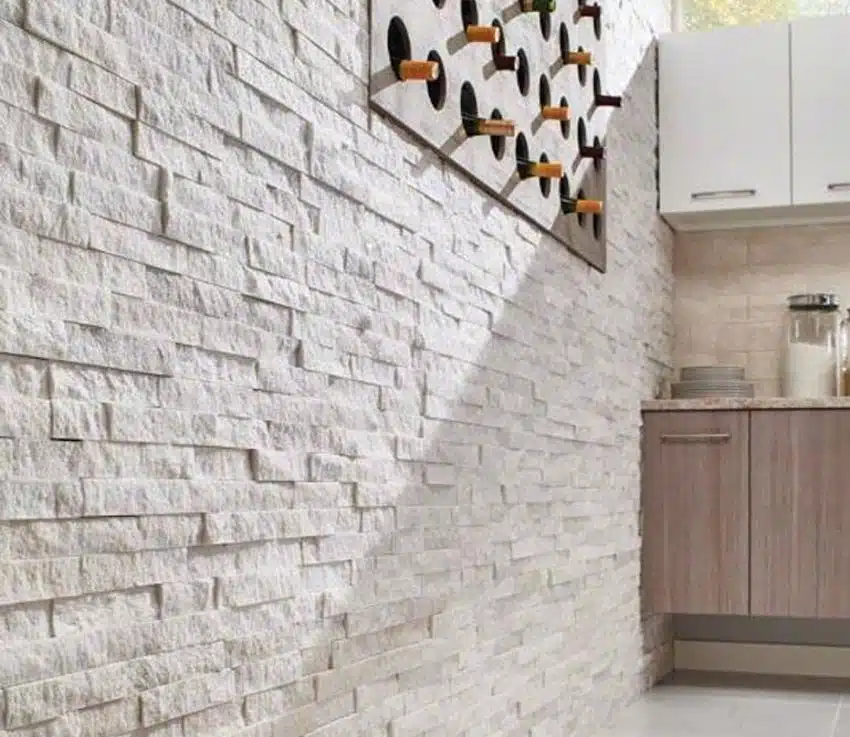 See this ledger stone panel set at Amazon [sponsored link]
A faster way to install ledger stones is by using its panel variation. Ledger stone panels achieve the appearance of stones stacked horizontally but instead of installing each stone individually, the panels contain a number of ledger stones already laid out and bonded together.
The standard modular size of these panels is 1 square foot per section. The panels cover a wider surface area making it ideal for creating feature walls or other areas that have larger square footage. A downside of ledger stone panels is that it is heavier and thicker to accommodate the need for a sturdier build.
These stone panels usually come in 1-1/4 inches to 2-1/4 inches in thickness. Since they are usually thicker than your average ledger stone tile it is more durable and can withstand weathering elements better than your ledger stone veneer. Most of these stone panels also come with a corner or L-shaped ledger to be used as an outside corner.
Slate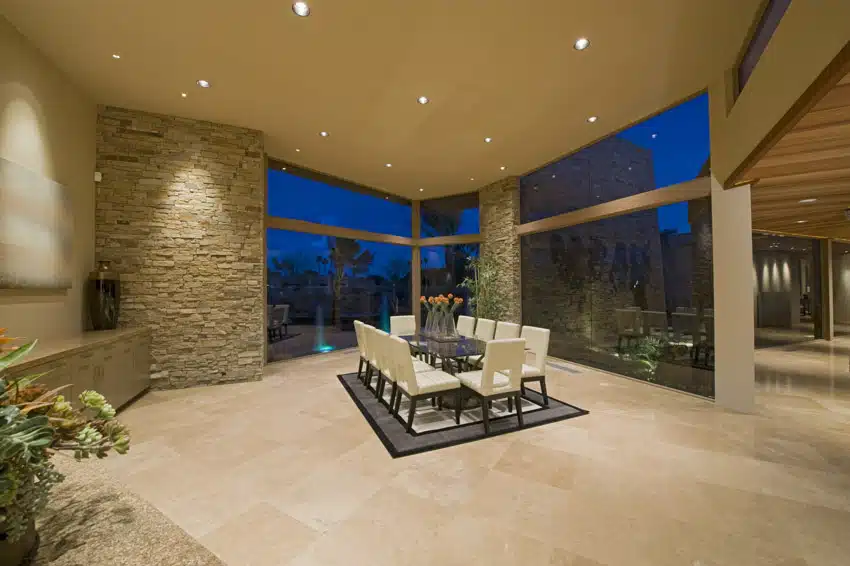 The slate ledger stone is a type of decorative stone tile that is typically used to create a feature wall or other architectural accent. It is made from natural slate, a type of metamorphic rock that is known for its durability, resistance to weathering, and natural beauty.
The natural variations in color and texture of slate give it a unique and rustic look but the most common slate color are shades of gray.
It is relatively easy to install and maintain and can be sealed to protect against stains and moisture, especially when exposed to very damp areas.
It can be cleaned with mild soap and water and can be resealed periodically to maintain its beauty and durability. The slate ledger stone is a bit more fragile than other types, however, it is also less expensive.
For the Fireplace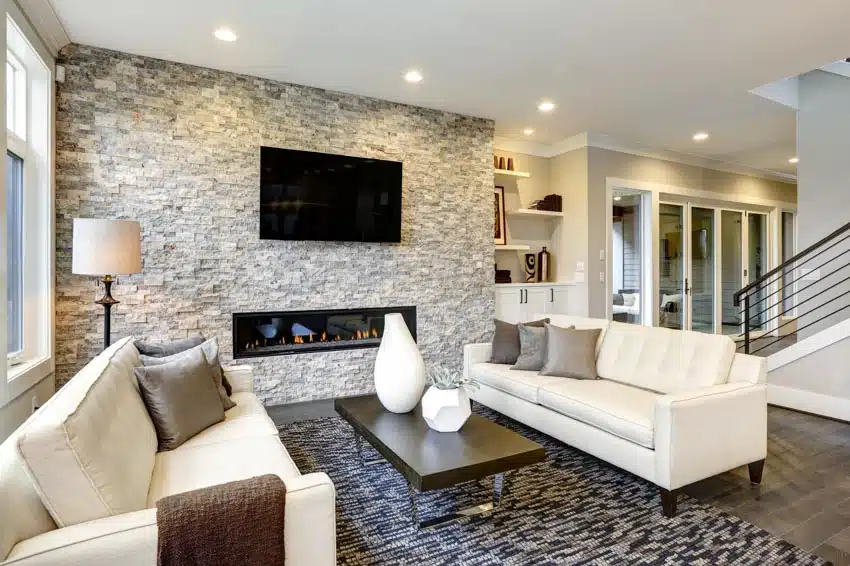 Whether adding dimension to a modern interior or recreating the rustic feel of traditional homes, a ledger stone fireplace is a great option to add character and create a statement piece.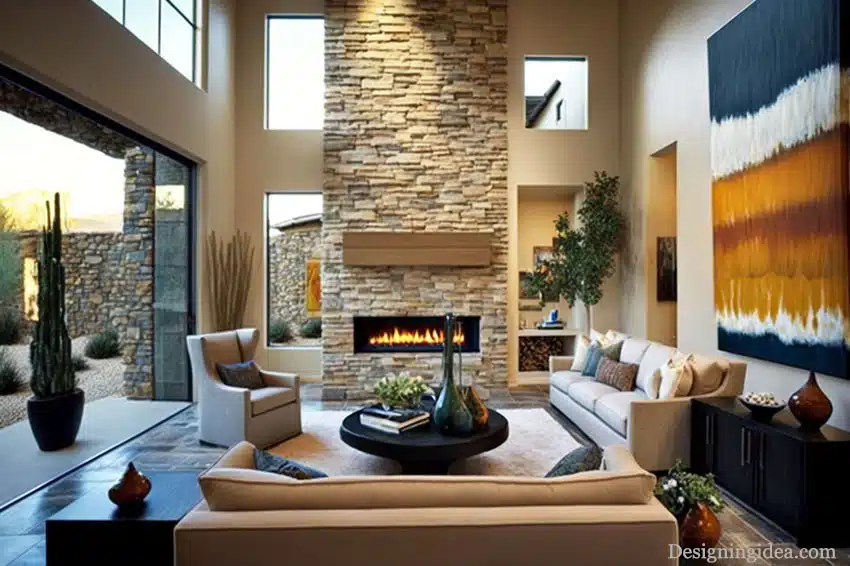 Modern fireplaces such as linear inbuilt gas fireplaces can be embellished with stone tile décor. A simple fireplace can stand out by expanding its volume with the stone design, either horizontally or vertically.
For Countertops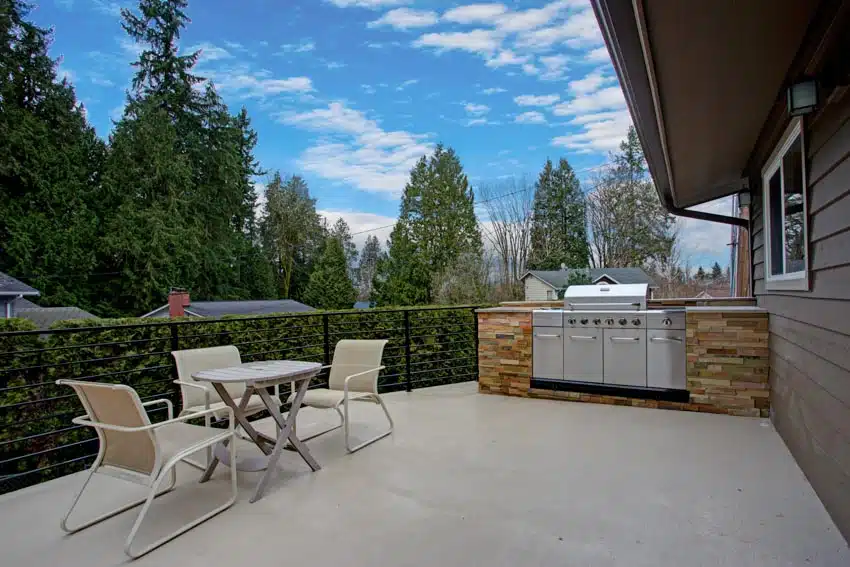 Due to their durability and natural organic quality ledger stones is a perfect finish for outdoor types of kitchen countertops. Create a stunning feature element for the outdoor patio with a kitchen island with ledger stone sidings.
Ledger stone countertops can be cut and finished in a variety of different ways, such as honed, polished, or flamed, to create different looks and textures. They can also be customized with different edge treatments, such as bullnose, ogee, or beveled.
It is recommended to seal off ledger stone countertops to prevent staining, but they may require regular maintenance to keep them looking pristine.
Moreover, these countertops are relatively heavy and require proper support, and also can be expensive to install. And also, due to its porous nature, it may need regular sealing and maintenance to prevent staining.
As Backsplash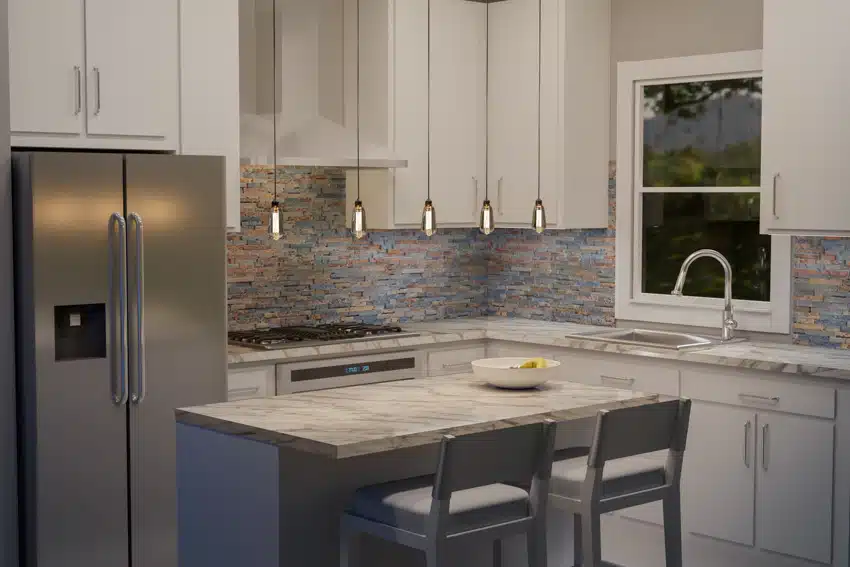 Due to its horizontal layout, it is easy to integrate along a countertop backsplash as most workspaces tend to have that elongated profile. To add variety, choose different shades or colors to add visual interest.
Stone tiles can come in a variety of finishes such as honed, bush-hammered, or brushed to add a unique appearance that can match any aesthetic.
Like your typical stone finish, a protective layer of coating is needed for this backsplash material to protect from constant exposure to moisture, especially when located in bathrooms or kitchen areas.
For Accent Walls
Visually expand architectural features with a ledger stone wall. A large blank wall in a loft area for instance can benefit from having a feature wall, either opting for emphasizing an art piece or a section of a wall creating a focal point.
Add dramatic types of lighting fixtures, such as track or cove lights. Add floating wooden shelves to create a layered look while enhancing the accents with cove lighting underneath.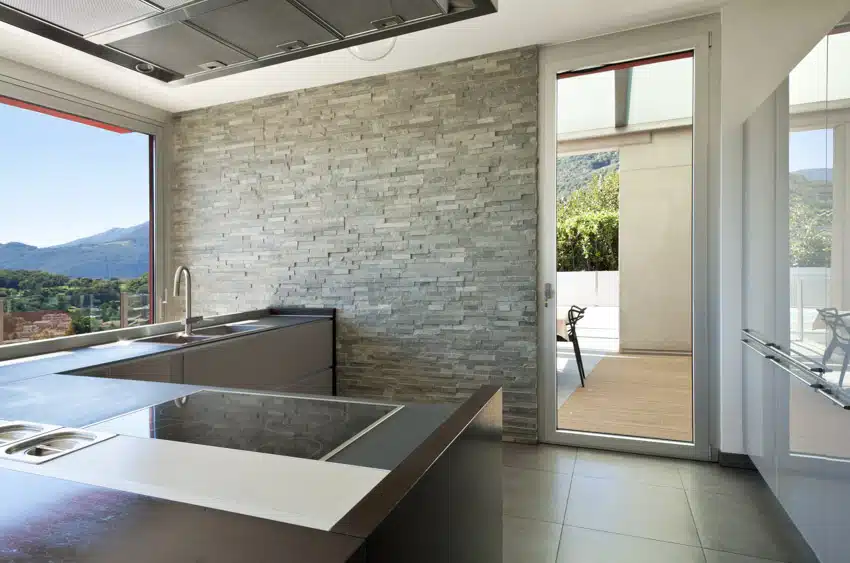 Since these installations are a wise investment as natural stone is considered a timeless aesthetic and has the potential to increase the resale value of a property.
For Exterior Walls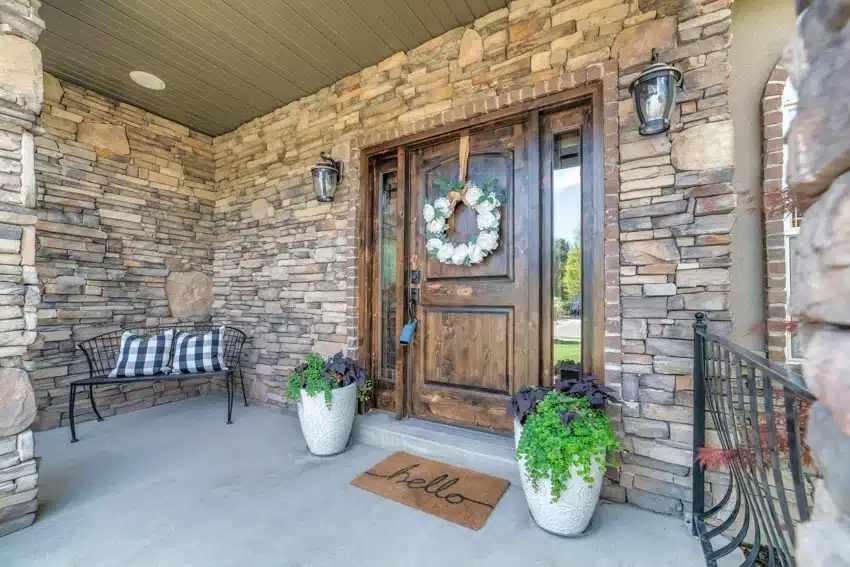 As a ledger stone wall adds volume and visual presence, they create depth in a monotonous façade. They are great as added features for columns, walls, and entryways or in a patio setting as an accent for countertops and outdoor fireplaces.
While this stone primarily acts as an accent piece, it also serves as additional insulation to the building shell as most types of natural stones do.
Make an exterior ledger stone stand out even at night with uplights or when illuminating a column or countertop, use a narrow beam to create that vertical illumination. Wider surfaces meanwhile will require a wider lighting distribution.
Popular Types of Ledgers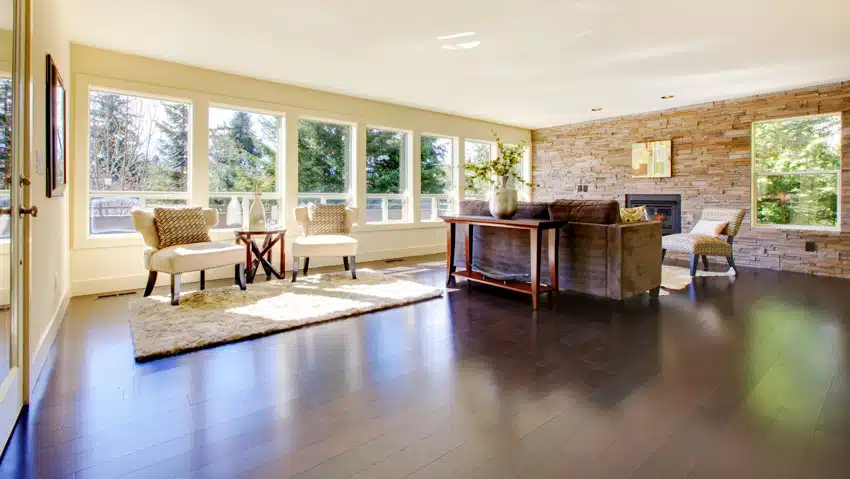 The ledger stone market provides a wide range of designs, most especially for natural stone, ranging from travertine to marble stones. The following are the most popular types of ledger stone that are adaptable to almost any interior design style.
Nordic Crystal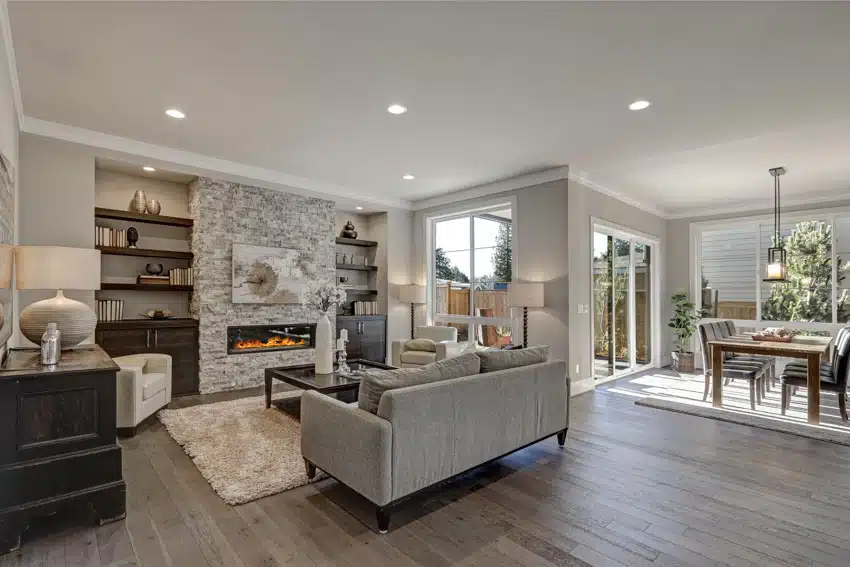 The variations of black, white, and gray of the Nordic Crystal Ledger stone make it the perfect option for contemporary aesthetics. It is a timeless choice that brings structure and flows within spaces. The coloring in particular has that rustic yet soft quality which makes it a versatile option for any interior style.
This type has several variations which include a combination of varying heights but a similar rectilinear profile. Some have noticeable exposure to stone graining and veins of darker gray hues, which adds a rich quality to the stone type.
Astro Silver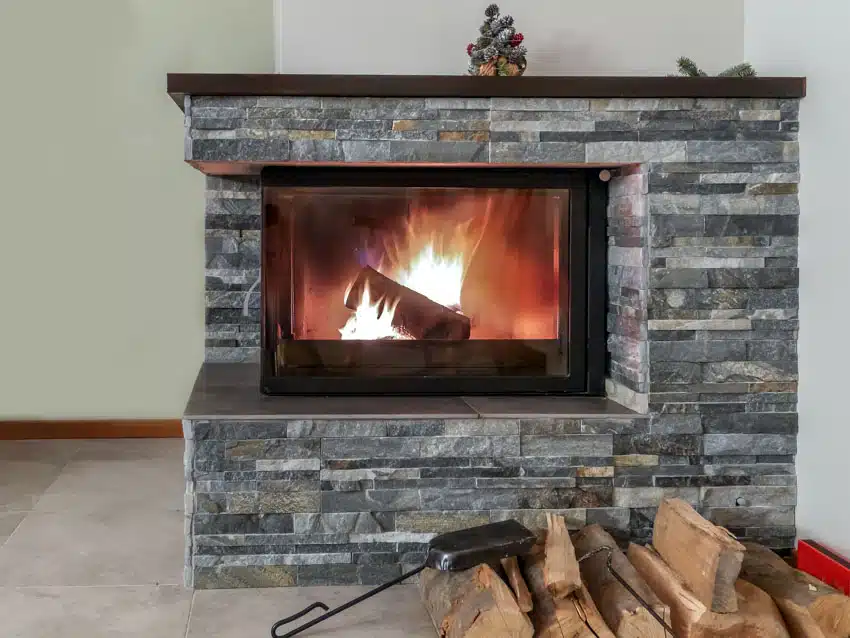 The Astro Silver Ledger Stone has a medium silver-gray coloring with occasional black specks. The thin stone is ideal as an accent element that adds contrast but does not come too strong like other darker gray shades.
This type of stone is available in a variety of sizes and finishes, including honed, natural, and split-face. The honed finish gives the stone a smooth, polished look, while the natural and split-face finishes retain the natural variations and textures of the stone.
It is a durable and versatile material that can withstand extreme temperatures and weather conditions, making it suitable for both indoor and outdoor applications. It is a premium product that is often used for high-end residential and commercial projects.
Pietra Art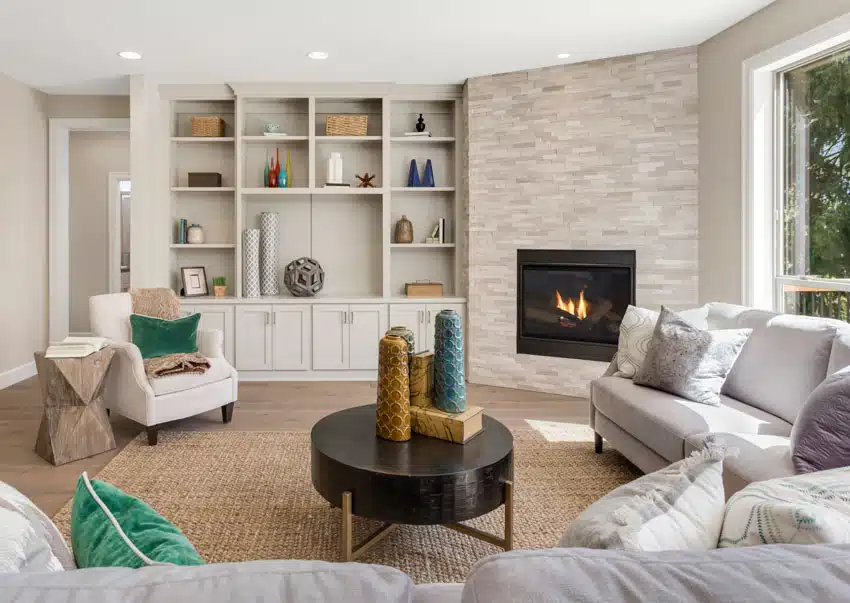 The Pietra Art Ledger stone is a series of stone designs available in 16 colors with the most popular being beige, brown, gray, taupe, white, and multicolor. Like most standard ledger stones, it comes in 6 x 24 format, mesh-mounted wall panels, and has an available corner or L-shaped panel to have a seamless finish.
The hand-assembled stone is recommended to be installed in a dry-stack method and is great for interior and exterior wall applications. According to its manufacturer, it is Greenguard certified, making it an environmentally-friendly option for a finishing material.
Arctic Bianco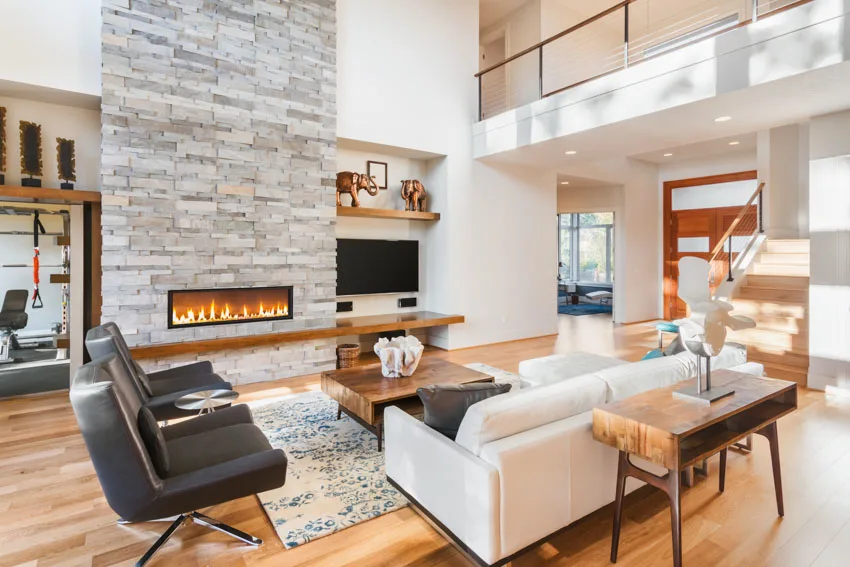 Having a classic look of marble and with low varying shades, the Arctic Bianco Ledger Stone provides that snowy quality for a clean minimalistic aesthetic. It can also be a striking feature against darker shades or on a pastel backdrop.
It comes with the standard 6 x 24 format with a split face surface. This type of stone can be installed on both interior and exterior applications. The finishing material is accredited as a Gold Greenguard material.
Like other marble products, Arctic Bianco Ledger Stone can be pricey, delicate, and can be easily scratched. Thus, it requires professional installation, regular sealing, and maintenance to prevent staining and discoloration.
Installing Ledger Style Stones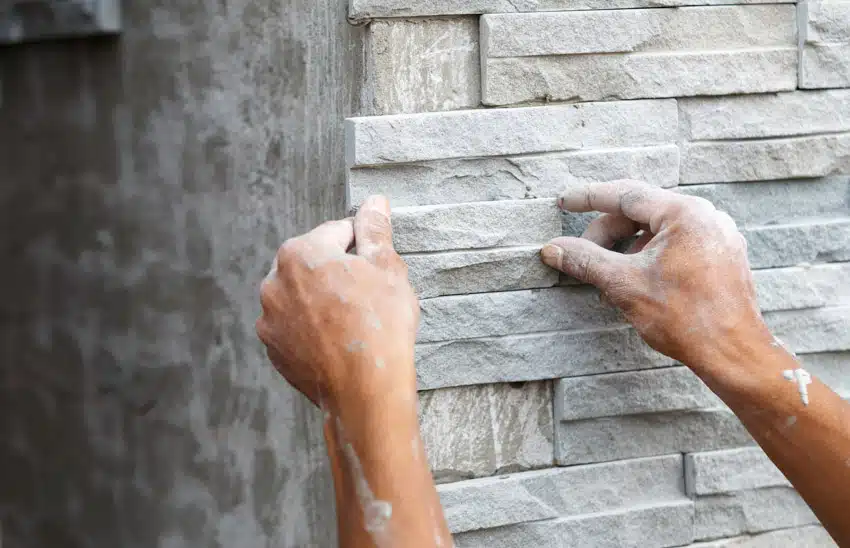 These stones can be installed either by the dry-stack method or by using mortar. When planning to install these natural stone finishes in their veneer variation either for an interior or exterior application, make sure the substrate (the material to which the ledger stone is to adhere to) should be able to carry the total weight of your ledger stone.
Ideal substrates for these stones are cement blocks or cement boards. Newly developed materials such as aluminum honeycombs or aluminum composite materials (ACM) can use the metal material as a substrate for commercial use.
Since drywall is the common wall material in interiors, homeowners have the option of using the drywall provided that it is covered by a 0.25 inches thick cement board to improve its structural integrity. Make sure panels are held in place with long screws that go through both the existing wall and cement board.
Ledger stones are typically adhered to the substrate surface using construction adhesive, mastic, or any stone veneer bonding agents. Panel versions can be easily installed using staple or drywall anchors.
The cost of installation depends mainly on the installation method, the type of stone used, and the area or square footage where they are to be installed. Drystack installation is expected to be more costly as a skilled mason takes time in fitting the stones together.
Installing ledger stone may not be an easy DIY project and will require some knowledge of masonry and construction. The following are general steps for installing this type of stone.
Get Measurements: Measure the area where you will be installing the ledger stone and mark it. This will help you determine how much ledger stone you will need to purchase. For panels, divide the area where it is intended to be installed by the area of your ledger panels.
The same principle goes with loose stones. Be sure to lot 5% to 10% of the total required tiles for extra pieces, especially for complex installations.
Wall Preparation: Make sure the surface should be clean, dry, and level. Remove existing paint or wallpaper and fill out dents, holes, or other imperfections with a putty solution and let the solution cure as recommended by the manufacturer.
Cutting the Ledger Stone: Using a wet saw or tile cutter, cut the stone to the appropriate size. Be sure to wear protective gear, such as safety glasses and gloves, when cutting the stone.
Apply the Bonding Agent: Using a notched trowel, apply a layer of bonding agent or masonry adhesive to the back of the stone. Be sure to apply the adhesive evenly and to the edges of the stone.
Ledger Stone Placement: Carefully press the stone onto the wall, making sure it is level and flush with the surrounding surface. Use a rubber mallet to gently tap the stone into place if necessary.
Grout the Joint: Once the adhesive has been set, use a grout float to apply grout between the joints of the stone. Be sure to fill all the joints and wipe away any excess grout.
Apply Sealant: Once the grout has cured, apply a clear masonry sealant to the ledger stone to protect it from stains and moisture. Make sure to use a sealer that is appropriate for the type of stone you are using.
Depending on the specific ledger stone being used, the surface it will be placed on, the adhesive and grout used, and other factors, the installation procedure may vary. If you're uncertain about the installation procedure, it's better to speak with an expert.
See more related content in our article about stacked stone on this page.