Here we share our ledger stone fireplace guide including what it is, its benefits, the different colors, and how to install this kind of fireplace.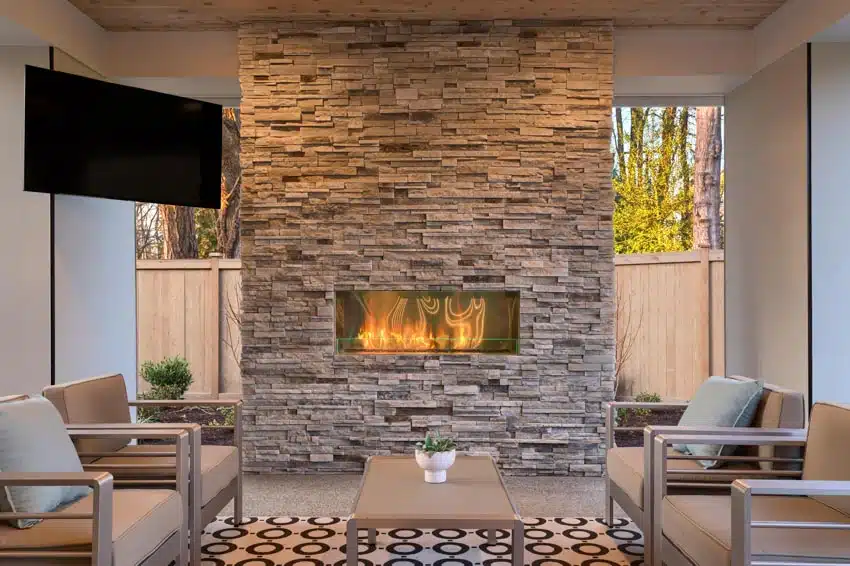 One element of the home that naturally stands out is the fireplace, especially when it gives off a luxurious and grand appeal that you just can't help but stare at. Changing the look of your fireplace can immediately affect the feel of the room where it's located, whether that's in your living room or bedroom.
If you want to spruce up your fireplace and make it stand out to create a good impression, you can turn it into a masterpiece by using ledger stone. With a ledger stone fireplace, anyone will gravitate toward it for a closer look.
What Is Ledger Stone for Fireplaces?
Ledger stone, also known as stacked stone, is a natural stone commonly used for walls and borders and popular for fireplaces. Different kinds of rectangular natural stone stripes are placed and arranged on a mesh, forming a veneer that will be installed on the walls.
Ledger stone often uses limestone when stacked on a mesh and most standard sizes come in 6×24 panels. Limestone is often combined with other ingredients, including iron-oxide pigments and a mixture of cement.
These materials are then all blended in a mold created from the contours and shapes of real stones. During the manufacturing process, these molds are vibrated and the final product is integrated with the color that will dominate the veneer.
Because of how they are created, ledger stones are lighter and easier to work with since you can form them into the sizes you prefer and need for your fireplace. You can even make them into corner pieces if they are what you need. With a wide variety of colors, styles, textures, and thicknesses, you can often find the one you are visualizing for your fireplace.

Ledger stones are also referred to as stone ledger panels and stone veneers besides being called stacked stones. If you're going to purchase them, make sure to ask using these names so it's easy to identify what you want.

When it comes to installation, ledger stones are easy to install, especially for homeowners who want to DIY the fireplace on their own. The pre-arranged stone panels can be affixed together because they can interlock with each other.
Benefits of Using Stone Ledger Panels for the Fireplace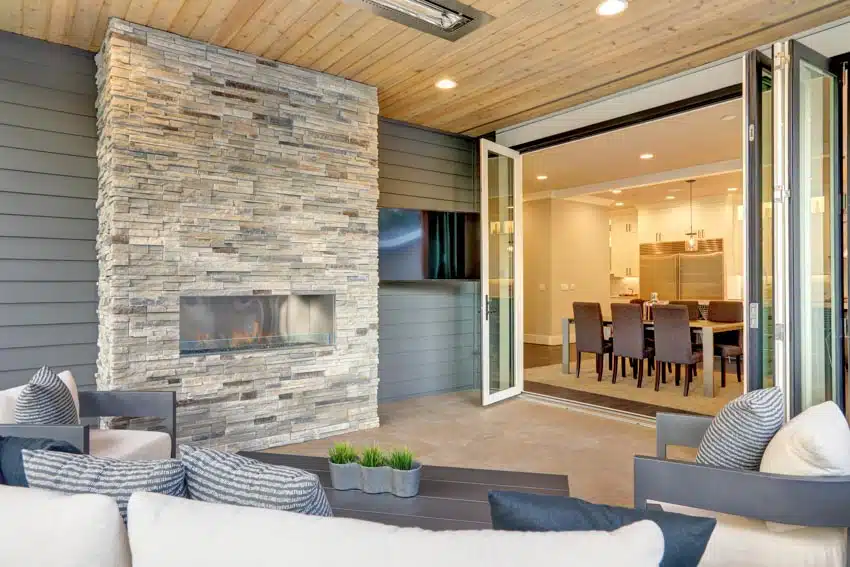 Ledger stones and panels can be an incredible investment for your home because of the advantages they can offer. Here's a few of the benefits.

• Stunning and timeless aesthetics and vibe: Fireplace ledger stone has this timeless look that will be trendy for a long time. The material is crafted from natural stone, making sure that they still have this authentic stone feek to the panels. The ledger stones also add sophistication, character, and warmth to the space where the fireplace is, elevating the look of your home fast.
If you're planning to make your fireplace the statement piece of your home, installing ledger stone on the fireplace will work well and create that wow factor. The standard weathered texture can improve the overall impression of your home and complement whatever architectural style is currently existing.
• Easy to install: Since the panels usually come with an interlocking system, you won't need a professional just to install them on the fireplace. DIY-friendly, the panels are also lightweight and you can do the installation on your own.
This also means that the delivery of the materials won't be an issue too. And since it is structured in a way that the stones are pre-arranged on a mesh, you get a pre-made masonry veneer that can make it infinitely easier compared to stacking the stones one by one.
• Incredibly versatile: When it comes to style, sizes, shapes, and colors, ledger stones come in a different variety that the limited options offered by natural stones can be easily compared. Even if trends come and go, with the variety of looks ledger stones come in, you can match them with the style and decor of your home.
• Highly durable: Ledger stone can be a good material for your fireplace primarily because of its durability. While the panels may not be all-natural, they still carry over the unmatched durability of natural stone.
They are also resistant to heat, making the material a perfect one to consider and install for your fireplace. And when installed and maintained appropriately, a ledger stone fireplace is expected to last for a long time.
• More affordable: Ledger stones cost less compared to natural stone options but they offer similar aesthetics since they are partly made of natural stone. Since they are easier to produce, they come with lower costs, and with low maintenance, they can also be considered cost-effective. Using ledger stone is a more affordable solution for elevating the appearance of your living space.
• Fade-resistant: A ledger stone fireplace is meant to last for a long time and won't fade as the years go by. Once you install it in your home, you can be sure that it won't lose its luster and extravagance.
The major downside with a ledger stone fireplace is that while it may be easy to install, it is still recommended that you hire professionals to do the work for you. The material may be lighter than natural stone options but it is still heavier compared to porcelain and ceramic tiles. This also means that you might need special tools for its installation.
A ledger stone or stacked stone tile system is pretty much maintenance free and is both texturally and visually interesting. – interior designer, Savannah Phillips.
Stacked Stone Fireplace Wall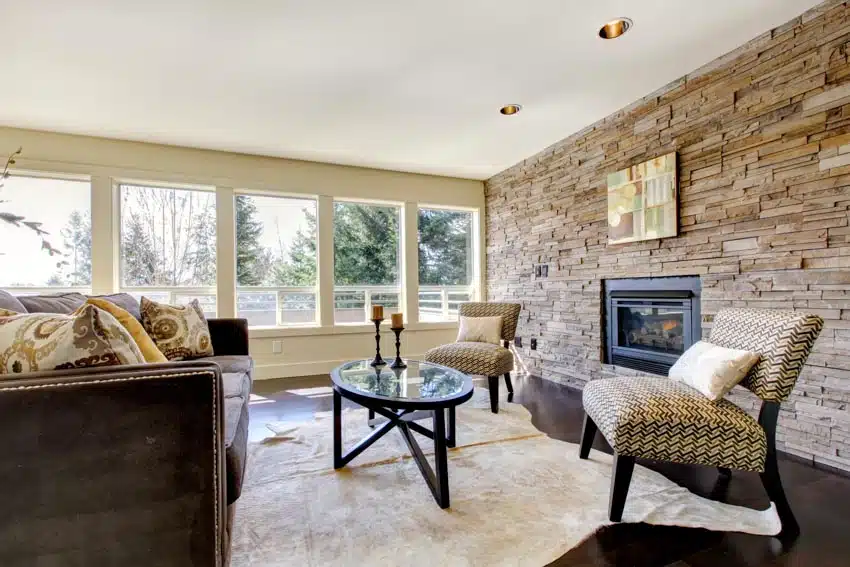 Ledger stone makes a great fireplace wall, not just because of the stunning and rustic aesthetics it offers but also because of it being heat-resistant. With ledger stones, you can easily integrate natural beauty inside the home, whether you are working on a traditional look or a contemporary one for your fireplace.
Ledger stone fireplace walls make it easy to accomplish and can become among the best accent wall ideas for your home, adding texture and dimension to the space. More than just physically warming the space with the fireplace, you also add warmth to the vibe of the room and home.
White Ledger Type Stone for the Fireplace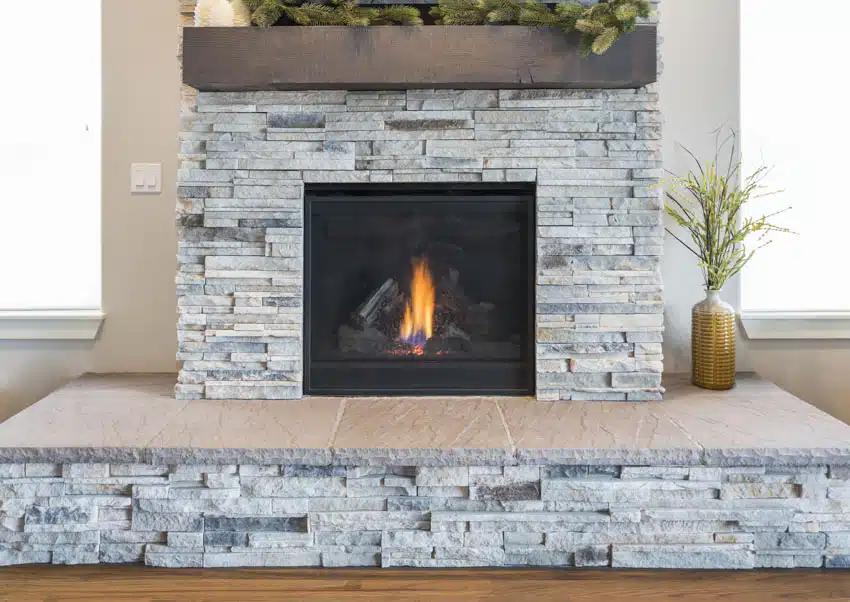 One of the colors you can apply for your ledger stone fireplace is white, which is technically a safe and safe-neutral color to consider for your home. A white ledger stone fireplace delivers an elegant and cool ambiance that can go with many design styles.

This colored ledger stone fireplace is also an ideal option for a modern-style home. Besides the clean lines of the stones and textures, the stacked stones create textures and layers that can add contrast to the home. The look is timeless and the best way to brighten a room with fewer expenses incurred.
Black Ledger Panels for the Fireplace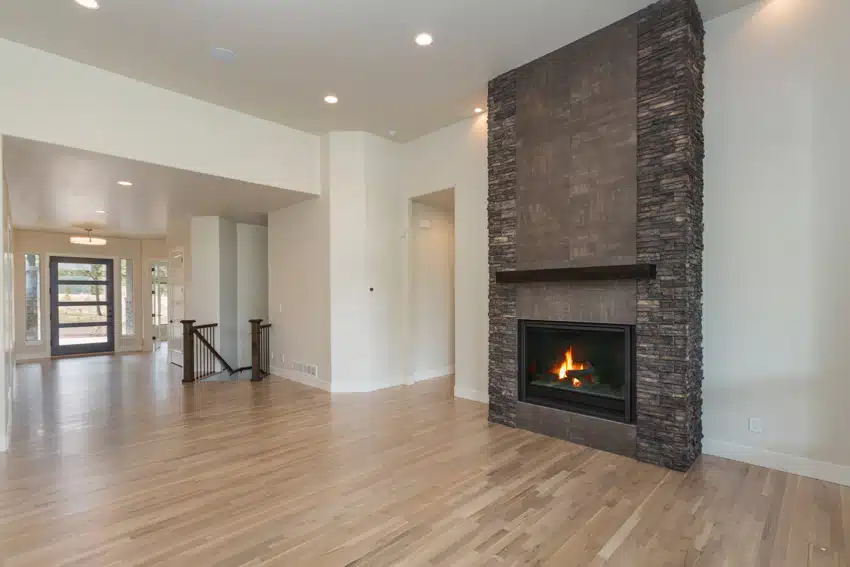 If you want a bolder and more dramatic look, a black ledger stone fireplace can be a good addition. The black ledger stone is popular for many interior and exterior applications, and at the same time delivers a trendy look that will surely stand out.
A black ledger stone fireplace comes with rich charcoal colors that will shine and be accented under ambient light. The edgy aesthetics offers more than just an elevated and unique look since because of the color, dirt is also not seen much and so you won't have to worry about the fireplace looking dirty.
Many of these products are crafted from split face slate that have been machine split to create a rough natural looking surface.
Gray Fireplace Stone Veneers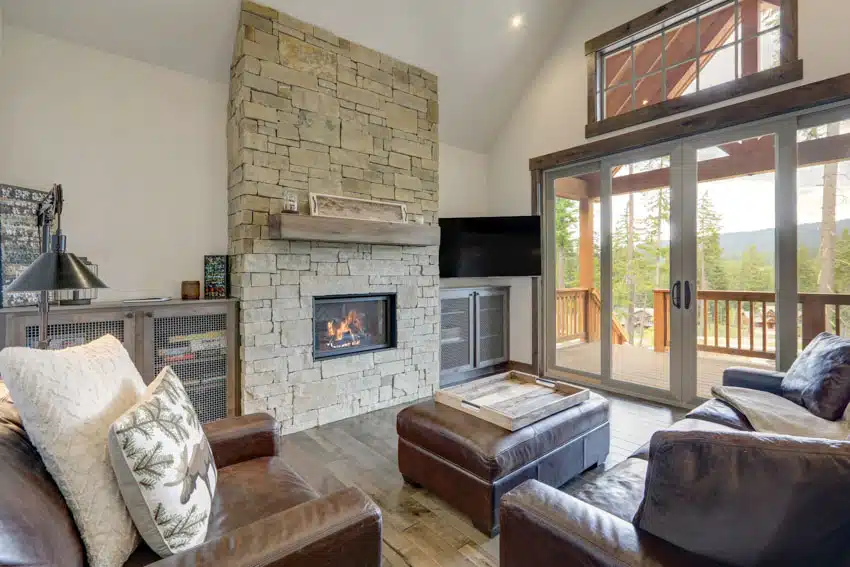 Gray is a neutral color that works well with many colors, depending on the undertone whether it's a warm or cool hue. The color is striking and dynamic and you also have the option of choosing dark or soft gray, delivering the aesthetic effect to the space.
For a dark gray ledger stone fireplace, you can soften the warmth inside the room and add a cool feeling to it. For soft and light gray, you can add brightness to the mix and even make your living room size appear bigger and brighter than it is.
Split face quartzite, Tevi gray travertine or Alaska gray marble or several propular products that offer a beautiful gray stone look.
How to Install Ledger Stones on a Fireplace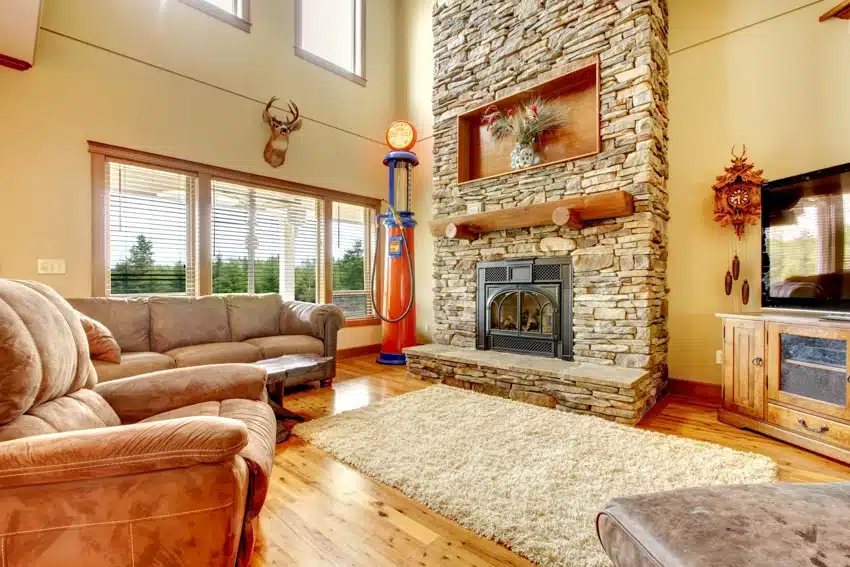 Installing ledger stone on your fireplace is recommended to rely on professionals and experts. But if you want to make this a personal project for your summer or free time, here are simple steps you can follow to help you.
Step 1 – Gather all the materials you will need: Make sure that you've collected all the materials and tools you will need for the installation, including but not limited to the following:
• Your choice of ledger stone veneer
• Tape measure
• Painter's tape
• Pencil
• Mortar
• Trowel
• Diamond blade
• Cement saw or grinder
Step 2 – Measure the dimension of your fireplace: Get your tape measure and get the fireplace dimensions, including the height and the width. Start at the bottom just right above the hearth and measure towards the top.
Get a pencil and mark the wall (while taking note of the measurements). You will then know how many veneer panels you will need and what sizes they should be cut to fit well to your fireplace.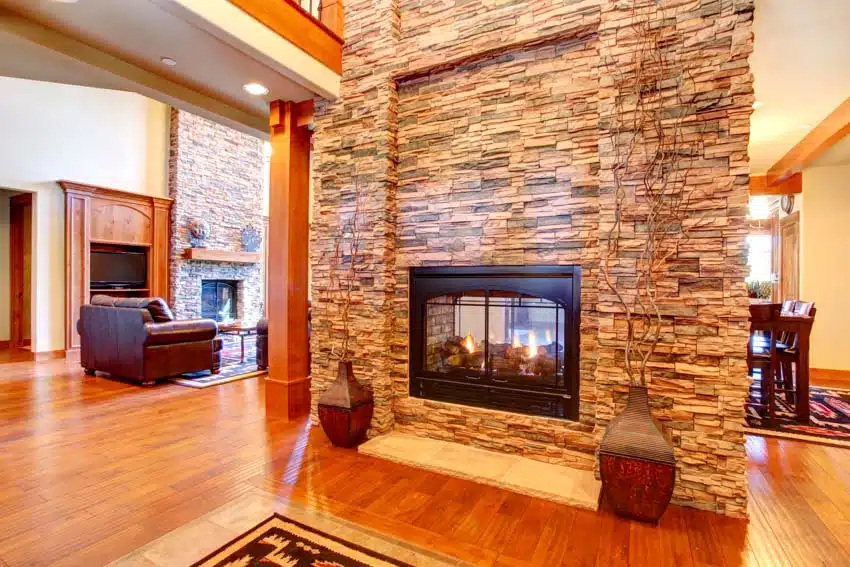 Step 3 – Cut the ledger stone panels: According to the measurement of your fireplace, cut your ledger stone panels. While hiring a professional to cut the panels will be easier, you still have the option to do it on your own.
You can use a grinder or cement saw to cut through the panels and create the shapes, sizes, and corners you want the panels to have. Make sure to use a diamond blade to be able to cut through the stone.
Step 4 – Ensure that you have the proper backing: Rather than attach directly over drywall or composite board, a ledger stone veener will need to be attached directly to concrete or cement board for a fireplace install. For the install make sure you choose screws that go with the type of backer board you purchase.
Step 5 – Install the ledger stone panels on the wall: After getting the correct-sized ledger stone panels, the next step is to install them on the wall. Apply painter's tape around the fireplace for protection and a clean edge.
Mix the mortar first and apply them on the wall and at the back of the panels using a notched trowel. Immediately stick the panels after the application of the mortar, especially since it dries quickly.
Make sure you mix the mortar in small amounts to avoid waste and install the ledger stone panels one small section at a time. Finally, remove the painter's tape you've applied around the fireplace.
Video on How to Install Stacked Stone on a Fireplace
For modern designs, stick with ledger stone tiles that have a clean look and a neutral color palette, while for traditional designs, opt for tiles that have a more rustic appearance. – interior designer Rachel Razal-Padilla.
See more related content in our article about an electric wall fireplace on this page.