In this electric wall fireplace guide we cover what it is, the different types, their benefits, features, the best electric fireplace ideas, and installation tips.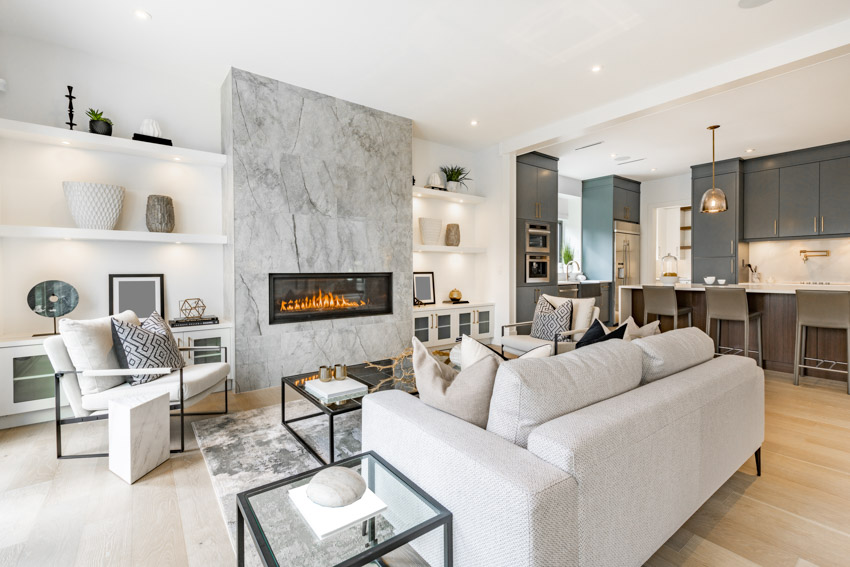 Electric wall fireplaces are the ideal heating option for homeowners who want simple elements as well as a sophisticated accent. These fireplaces are getting popular and will, without a doubt, remain to be a popular element of décor in people's homes all over the globe.
Indeed, electric wall fireplaces essentially come in a vast range of options, styles, and layouts. They are suitable for condominiums, renovations, and rentals. They all create a captivating bed of blazing embers with a genuine flaming effect. Almost all versions contain a moderate supplementary heat source that can be used separately from the flame.
What Is An Electric Wall Fireplace?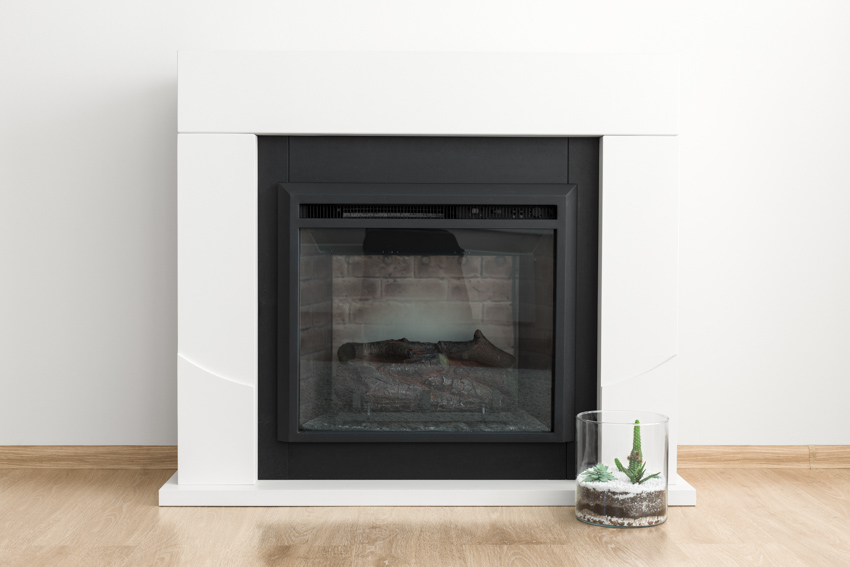 Electric wall fireplaces can be used and savored quickly after being connected to a power outlet. Practically all electric wall fireplaces are also safe to operate; they are all inspected to ensure that they meet UL (Underwriters Laboratories) standards and are thermostatically regulated.
Moreover, an electric wall fireplace is a major type of heating system that is designed to keep the system similar to a conventional wood- or gas-burning fireplace. Such fireplaces are mounted on a wall to save space. They plug into the electricity and may be adjusted to a "flame only" setting.
For those with limited space or who wish to add a stylish and cozy atmosphere to their home or workplace, an electric wall fireplace may be the perfect option. They have an appealing appearance and can even supply additional or zone heating whenever the weather turns cold.
Types Of Electric Wall Fireplaces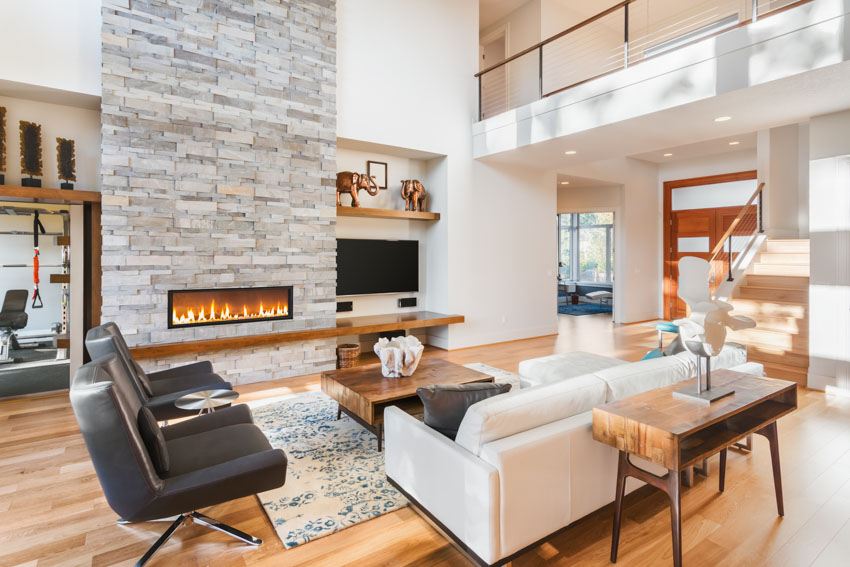 Here we share the different electric wall fireplace types and their respective benefits.
Wall Mount Electric Fireplace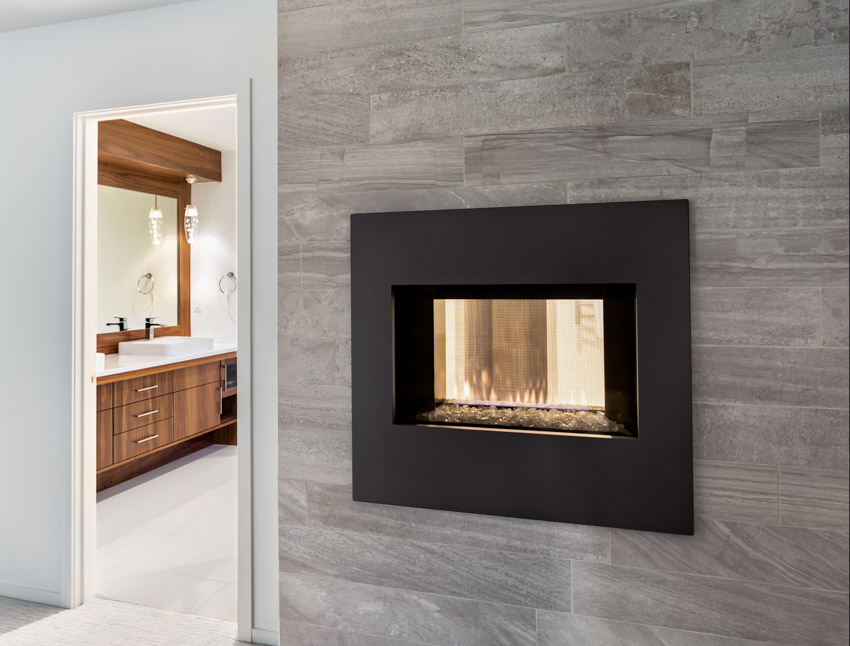 A fireplace that is mounted to your wall is called a wall-mount fireplace, and it has a more contemporary look. The fire is frequently shown as dynamic artwork on the wall that concurrently warms up any place it is situated without taking up too much space.
Wall-mounted electric fireplaces are simple to set up. They can be placed on any wall the same as what you will do to a flat-screen TV or a painting. Practically all wall-mounted electric fireplaces typically include brackets and installation accessories. You are not usually obliged to employ an electrician.
Just connect your wall-mount electric fireplace to a common power outlet and you are good to go. If you do not have that much space in your house, this would be a terrific method to install an electric fireplace without requiring a lot of space. It also adds a centerpiece to your space, thus if your living room lacks one, a wall-mount electric fireplace might be a terrific addition.
Built In Wall Electric Fireplace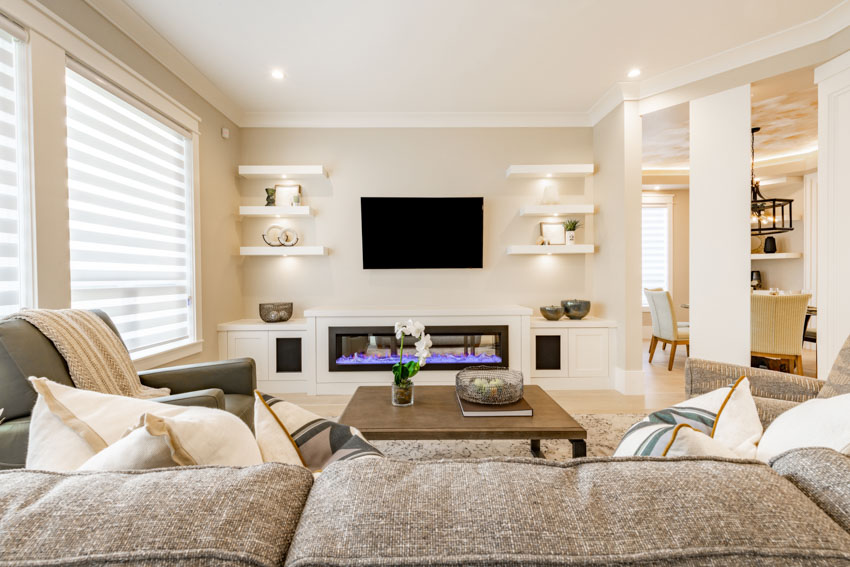 If you prefer a more contemporary aesthetic, a built-in wall electric fireplace is another alternative. These would also conserve space because they would be installed within a preexisting wall, either completely or partly recessed. Nevertheless, you will need to create a niche for this fireplace, which may necessitate additional renovation tasks.
Those individuals who do not want the renovation work to be finished should be aware that a built-in wall electric fireplace can still be installed on the wall. In any event, until it is set, it is a gorgeous appearance. It provides the fireplace with a 3D appearance that a wall-mounted electric fireplace does not have. This is due to their width and thickness.
Furthermore, a built-in wall electric fireplace is a ventless electric-powered fireplace simulation that is intended to be put inside a wall opening. The vast majority of built-in wall electric fireplaces include heaters and can heat spaces that are up to 1000 square feet.
Electric Fireplace Insert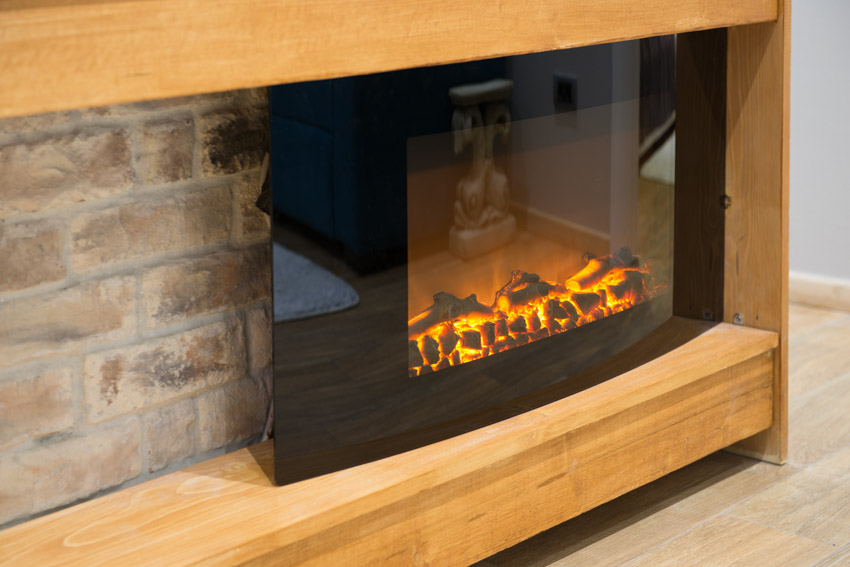 Electric fireplace inserts are an excellent option for homeowners who wish to preserve their existing fireplaces but require additional heat. Such units can be put in just about any preexisting structure and take up the same amount of area as an electrical outlet. They are also as easy to use as they get; simply connect it to the wall the same as a mobile charger.
Moreover, an electric fireplace insert employs comparable technology to a log collection. It is also a metal box that fits perfectly into your current wood-burning fireplace, featuring a surrounding trim that hides any gaps.
It comes with a textured wood set as well as a flame-like heating element. It may also incorporate components like accent types of lighting fixtures and ember layering material.
An electric insert's coordinated heater, the same as an electric log set, offers extra heat to your room through a blower, whereas the LED flame effect would be produced onto a flame panel in the insert. An insert provides a much more polished appearance and appears to be a classic fireplace.
Electric Fireplace With Mantel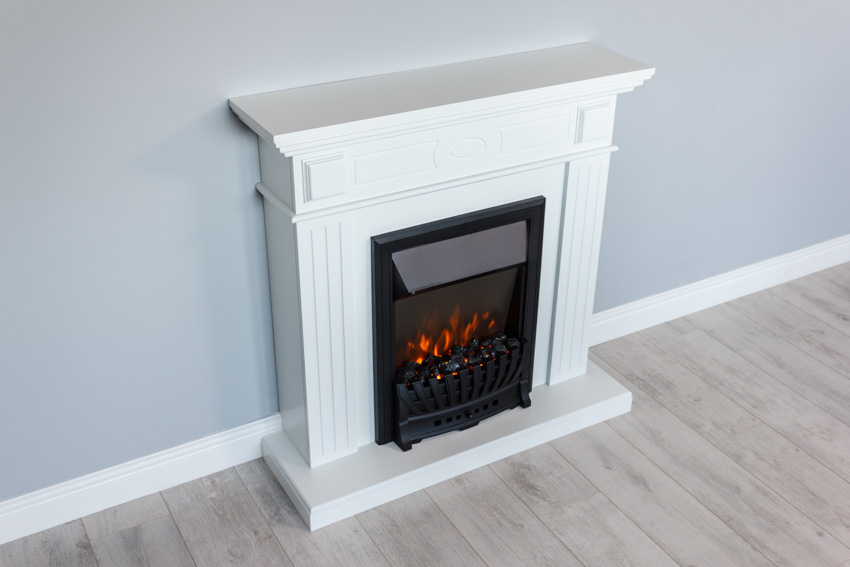 Probably, you like the beauty of a real fireplace and wish to replicate it. In that situation, an electric fireplace mantel will suffice. This form of the electric fireplace makes a bigger statement than a wall-mounted version.
An electric fireplace with a mantel is often a wooden enclosure that wraps around your electric fireplace's insert. Such fireplace mantels are usually constructed of wood or metal and have the appearance of a classic built-in fireplace. See pictures of wood fireplace mantels here.

Electric fireplaces provide the atmosphere of realistic flames without the inconvenience of burning wood such as ash cleanup or creosote accumulation on logs. Some variants also incorporate additional shelving for storing items inside when not in operation.
You can also acquire fireplace mantels made of solid stone or, in certain cases, marble. The weight of these fireplace mantels might reach several hundred pounds. Numerous electric fireplace mantels are also typically built by the customer using basic construction tools such as a screwdriver or a wrench.
Electric Wall Fireplace Features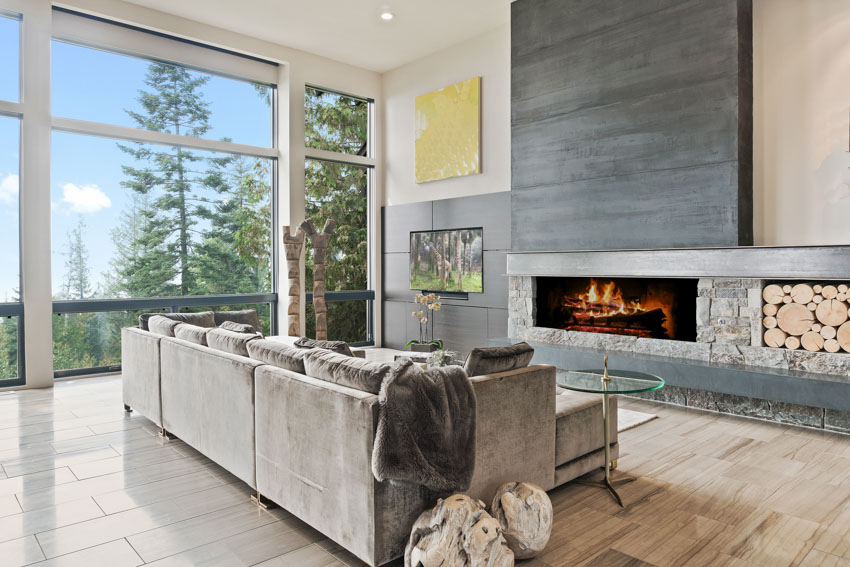 Electric wall fireplace systems nowadays provide the same comfortable feeling and features as classic fireplaces. You will appreciate snuggling out with a nice book and by the fire all year long if you want to without having to haul in firewood.
Without having to renovate your home, you can easily install an electric wall fireplace in any space, indoors or outdoors. The most crucial features of an electric wall fireplace listed below will help you determine what to search for.
Frameless Electric Wall Fireplace Style: Frameless fireplaces provide a sleek, modern appearance. The frameless style allows a bordering finishing element to link with the fireplace's frameless glass aperture, creating the illusion that the linear glass is floating off the wall. Such electric fireplace ideas improve and delineate a space by curving or flowing along a wall to partition a room and establish either indoor or outdoor zones.
Electric Wall Fireplace Safety Screen: A "hidden" mesh is often used in modern electric fireplace layouts. The safety screen frame is hidden within the wall, at the upper end, and underside of the fireplace component.
The screen utilized is so delicate that most homeowners must touch it to affirm its presence. The screen that comes with high-quality fireplaces is simple to remove and clean when needed. Changing the screen should not require the assistance of a specialist.
Linear Electric Fireplace: Linear electric fireplaces often referred to as rectangular fireplaces or modern fireplaces, are a form of the gas fireplace that can be built both indoors and outside. Linear fireplaces are noted for their unique, eye-catching design and capability to dramatically transform a room. Linear fireplaces provide a sense of luxury to business establishments such as restaurants and company waiting areas.
Dual Glass Solution: Because of the safety barrier, corner fireplace units as well as commercial usage solutions provide a bigger issue and are frequently sold with dual glass. The dual glass option maintains the appropriate level of safety without the need for a screen.
Furthermore, the dual glass decreases radiating heat projected through the front surface of the glass. The advanced electric wall fireplace with dual glass must not make the setup or disassembly of the glass any more difficult.
Smart Home Technology: Creating a blazing fire in an advanced electric wall fireplace is even quicker than it was in the past. Intelligent time-saving technology advancements are in high demand. Smart home features improve comfort and safety while also conserving energy.
Smart fireplace home automation is becoming a more popular solution in modern fireplace installations as better controls and capabilities are created. It does not circumvent the actual shutdown present on electric wall fireplaces, although it does give a centralized way to operate it without needing to look for the remote.
Electric Fireplace Wall Ideas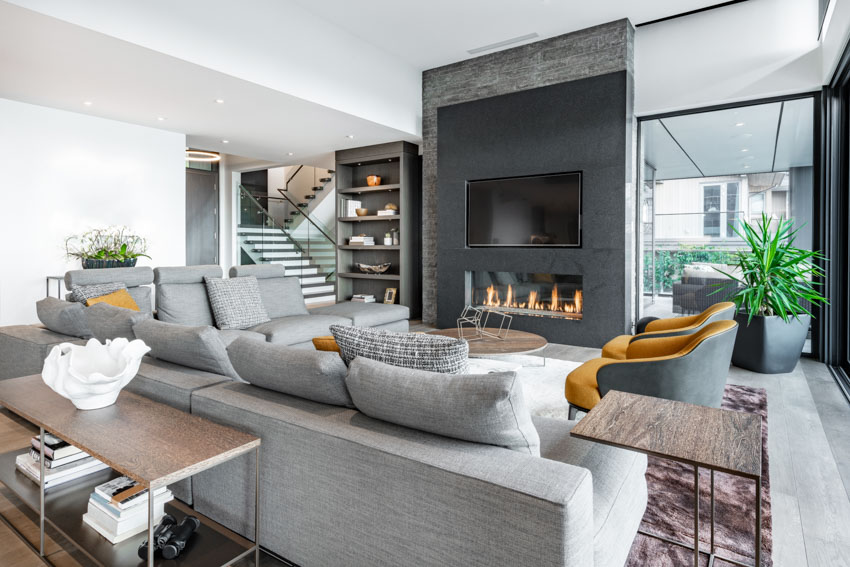 Here we share the best wall ideas for electric fireplaces.
Wall Mounted Electric Fireplace Under TV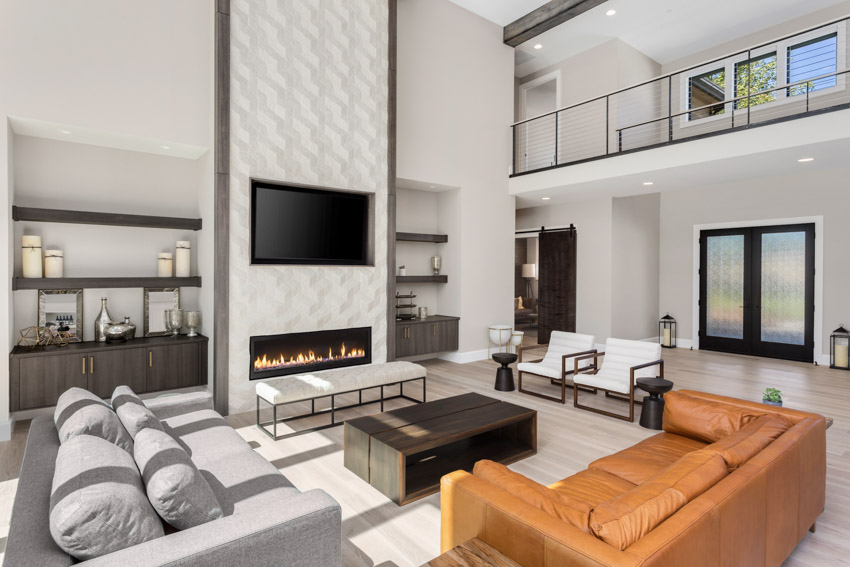 You can install a wall-mounted electric fireplace underneath a TV but only if the TV does not obstruct the electric fireplace's plug or does not get in the path of the heat.
An electric wall fireplace beneath the TV may add a stunning central focus to any space while also being a safe solution. It is not suggested to install a TV above an exposed wood fire thus this is the next best alternative.
Moreover, the heater in various systems of electric wall fireplaces will be situated in different locations. If you are going to install an electric fireplace under a TV, you can search for one with a heater positioned near the bottom of the component.
This will assist to keep the TV further from the heater as possible and will assist in keeping the TV from malfunctioning. See our TV dimensions guide for more help with positioning based on different model sizes.

Nevertheless, there is no fixed distance between a TV and an electric wall fireplace, although the greater the distance, the better it will be. You have to determine where the heater is situated on the electric wall fireplace and modify the distance between the fireplace as well as the TV properly. The TV must not be subjected to the heat produced by the electric wall fireplace.
Wall Mounted Electric Fireplace With Mantel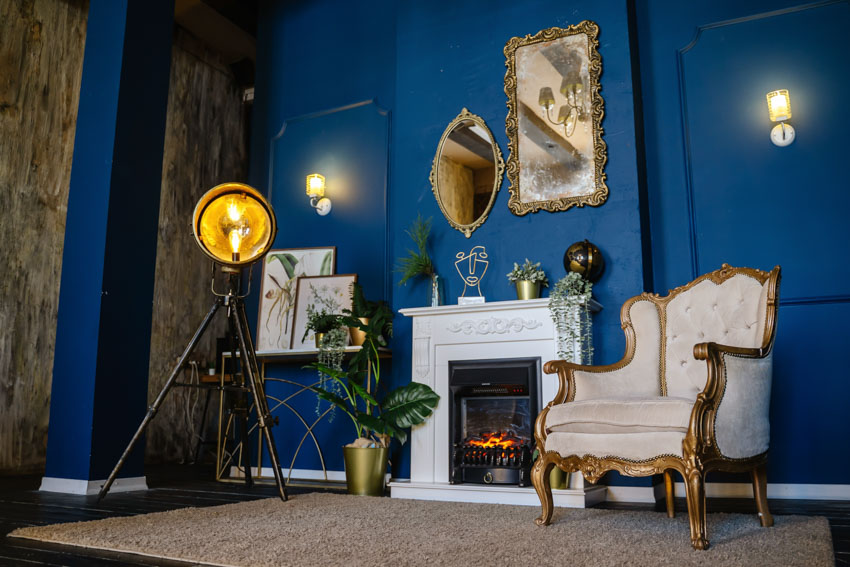 Instead of a standard mantel, wall-mount electric fireplaces usually have frames constructed of stainless steel or various materials. Certain individuals prefer to install a different floating mantel underneath the bottom border of the wall-mount electric fireplace since it already has a metal frame rather than a mantel.
A wall-mounted fireplace functions more as a ledge for some extra embellishments due to its height. Such models are available in a variety of fireplace sizes. You can purchase versions that are the width of a conventional fireplace, although you can also choose a big linear electric wall fireplace that spans the entire length of the wall.
Additionally, if you admire the charm of a genuine fireplace and want to recreate it, a mantel will be sufficient in that case. This type of electric fireplace makes a bolder impression than a wall-mounted model.
An electric fireplace featuring a mantel is typically a wood frame that surrounds the fireplace insert of your electric fireplace. These fireplace mantels are typically made of wood or steel and resemble the look of a traditional built-in fireplace. Read more about hanging a fireplace mantel here.

Electric Fireplace With Stone Wall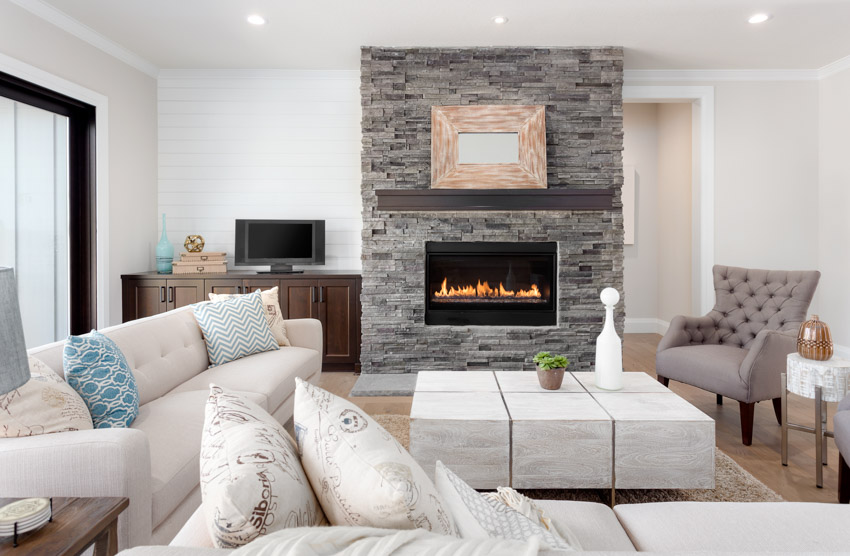 Electric fireplaces with stone walls, in fact, provide an earthy flair to your living space, bedroom, home theater, or workplace while providing warmth from its fan-forced burner. In actuality, a stylish electric stone fireplace may be the focal point of any space.
There are multiple varieties of stone-walled electric fireplaces. There are imitation stone electric fireplaces, fieldstone electric fireplaces, piled stone electric fireplaces, and more. Many manufacturers sell electric fireplaces that appear like genuine stone.
If you want a natural stone fireplace wall or enclosure and are into do-it-yourself home repair, this would be a wonderful alternative. Before you start, you can select a good-quality hidden insert from a reputable manufacturer of highly realistic-looking flame effects. Once you know the measurements of the fireplace insert, you can start making your own wall or enclosure out of genuine stone.
DIY Electric Fireplace Wall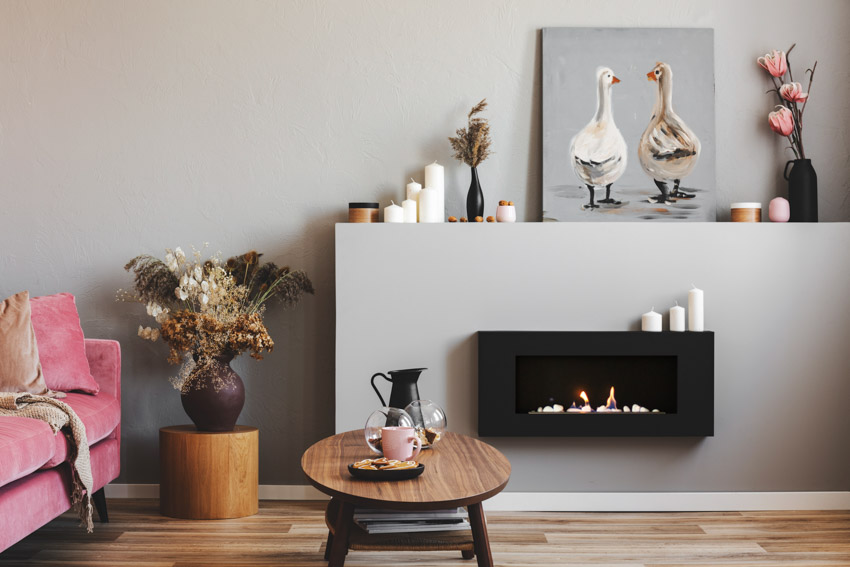 To make a DIY electric fireplace wall, you must first design and plan out the fireplace wall. Make a frame for your DIY electric fireplace wall box. After that, you may finish the electric fireplace box with MDF (medium-density fiberboard) or drywall and install your desired style of an electric fireplace. You must ensure that everything fits well and that it appears to be of good quality.
Moreover, you can trim out the fireplace wall. The crown molding around the top can be fitted, painted, and then nailed. After that, trim and add the cubby boxes. You can use a corner trim to shape the cubby opening. If you do not have a table saw, you could buy some pre-cut corner trim.
Small Wall Mount Electric Fireplace
Small wall-mounted electric fireplaces are portable, self-contained, and visually pleasing. They operate on ethanol and burn cleanly and without smoke emission. This would be a fascinating concept for a fresh addition to your wall design.
Small-sized wall-mounted electric fireplaces are ideal for mounting on a smaller wall in your living space that is either painted a contrasting color or stands out aesthetically.
Wall Mount Modern Electric Fireplace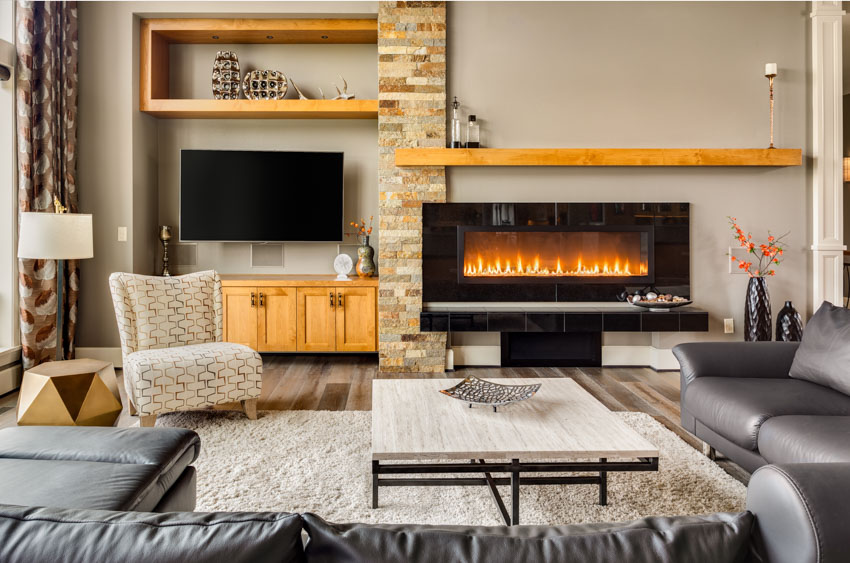 Technology advancements have culminated in wall-mounted modern electric fireplaces that convert ordinary homes into gorgeous hideaways. A wall-mount modern electric fireplace installed in your house can generate an unequaled mood that improves the attractiveness of your whole living space.
Wall-mount modern electric fireplaces typically include a vast glass fire aperture that can be recessed or fronted depending on your choices. They are frequently installed into a faux chimney breast or media barrier inside your living space to produce the ideal contemporary flame effect as well as a key focal point for your space.
Depending on the designer and options, these attractive flames can even be wall-mounted. Furthermore, a wall-mounted modern electric fireplace is a safer and more economical substitute for classic wood-burning fireplaces.
Nowadays, homeowners and tenants everywhere are appreciating the wall-mounted modern electric fireplace, which combines lifelike flames, cutting-edge design, and newfangled innovation to produce a truly one-of-a-kind home accent item.
Electric Fireplace Accent Wall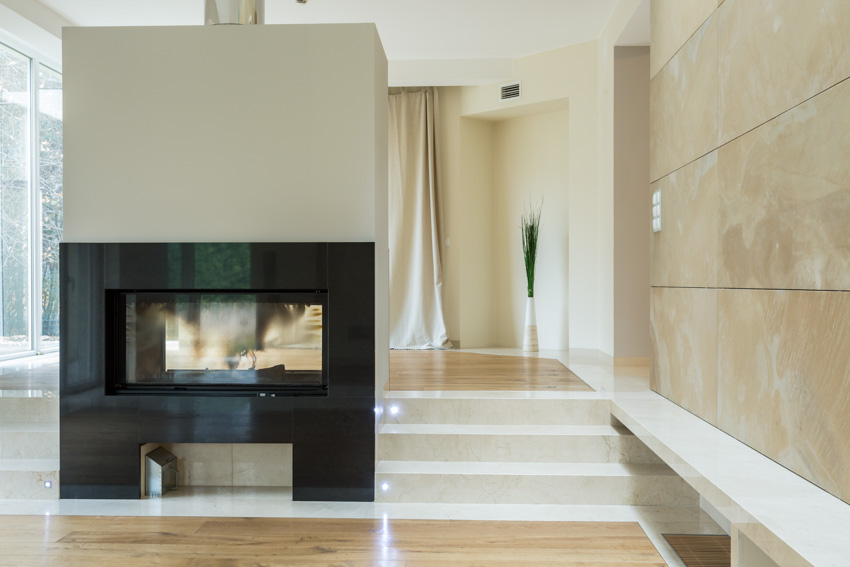 There are various opportunities to make the fireplace wall surrounding a fireplace an outstanding accent wall. With a creative and one-of-a-kind accent wall, you can bring emphasis to your fireplace.
There are endless choices for adding artistic and functional features to your fireplace, whether you create a massive craftsman-style mantel, incorporate built-ins surrounding the fireplace, or decorate the wall behind the fireplace with beadboard, wallpaper, or mosaic.
Aside from that, an electric fireplace accent wall is an excellent method to add aesthetical interest to a room that lacks it. Most fireplace accent walls shine out against the walls, creating a stunning centerpiece in your area.
Wall With Recessed Electric Fireplace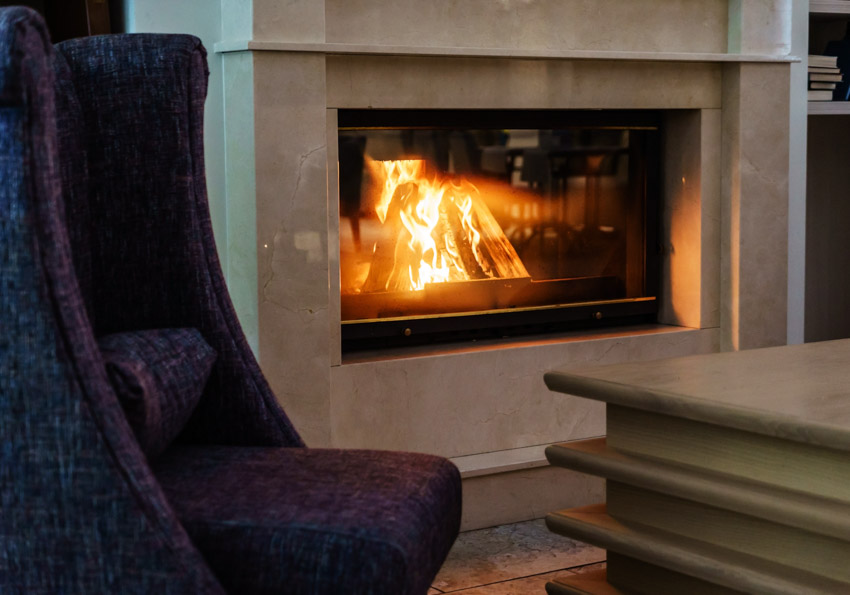 A recessed electric fireplace is installed in a wall cut-out so that the side of the fireplace gets obscured and merely the outside fireplace framing becomes visible.
The fireplace framing is flush with the wall, which is also referred to as a flush-mount installation. Since it may be installed into a wall, a recessed fireplace can also be regarded as a fireplace insert.
Several fireplace inserts may even replace a pre-existing wood or gas-burning fireplace with specialized chimney adjustments. An electrician will frequently hard-wire the recessed electric fireplace into the power connection. You can also use a regular outlet to power the fireplace.
How To Install An Electric Fireplace In A Wall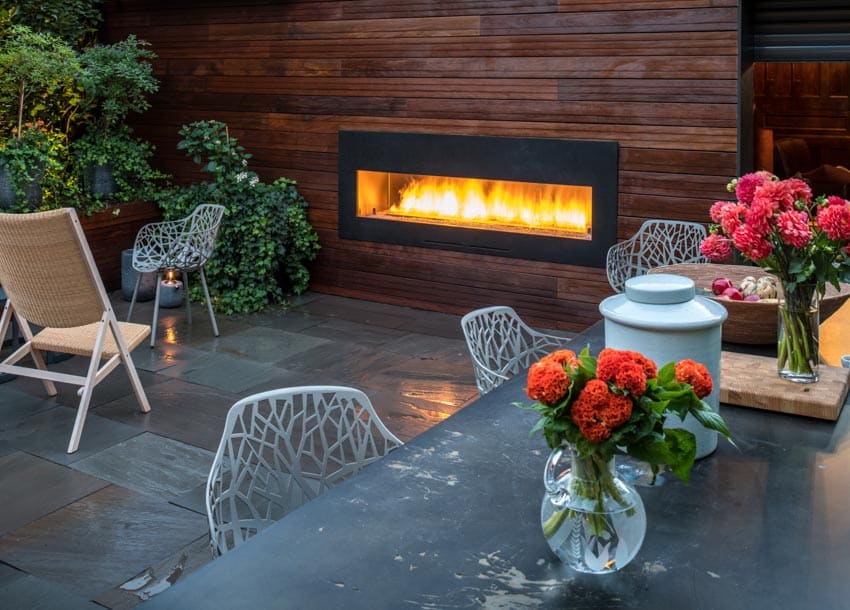 Check that the electric fireplace works properly before beginning the installation. Plug it in, test the heat and lights, and then proceed with the installation process.
We will go over the general steps for mounting an electric fireplace on a wall. However, keep in mind that these steps may vary significantly based on the manufacturer and your specific project.
Here are the basic steps you can take:
Locate a Safe Area Near an Electrical Outlet: Choose a spot close to an electrical outlet. Utilize an extension cord at all times. The main cord must be kept at the backside of the appliance and should not come into touch with any hot elements. Heat might come from the upper end of a wall-mounted electric fireplace, front, and bottom of the heating unit.
You must consider suitable clearances from combustible things surrounding the fireplace according to the type of fireplace you are dealing with; refer back to the product documentation for your specific fireplace.
Install the Brackets to the Wall: Your electric fireplace usually comes with wall-mounting brackets and every necessary piece of hardware. Because most fireplaces weigh between 50 and 200 pounds, you have to make sure that you find studs or use durable plastic-made anchors.
Install the Brackets to the Fireplace's Base: Several fireplaces include base brackets for additional stability. You can install brackets to the base of the unit if this is the situation.
Install the Electric Fireplace on the Bracket: On the backside of the electric fireplace, there might be holes or hooks. You can therefore either put the key openings on the backside of the fireplace over the hooks on the supporting bracket, or you can do both. Alternatively, you can line up the hooks on the backside of the electric fireplace with the holes on the wall bracket and insert hooks into the holes.
Connect the Electric Fireplace's Bottom to the Wall: If you do have a spare bracket at the base of the electric fireplace, install it to the wall immediately.
Connect the Power Cord: The power cord is typically made up of three connectors. An adapter should be used if a three-slot plugin is not provided. The adapter should be grounded correctly to the electrical box.
Electric Wall Mounted Fireplaces Clearance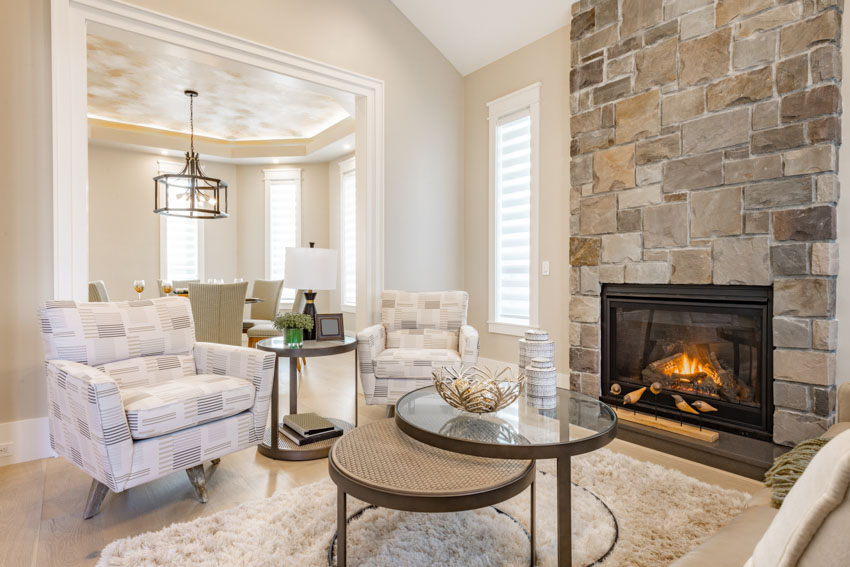 A 3-foot clearance distance must be maintained between flammable materials. Nevertheless, the general rule of thumb indicates that you must leave a 1-foot spacing around a regular fireplace.
However, the 1-foot spacing is not required since an electric fireplace can operate effectively without requiring any space. The backside of an electric fireplace is not heated. However, the processes within the fireplace can cause it to become slightly hot.
The only portions of an electric fireplace that necessitate a sufficient clearance distance of 3 feet are just the air inlet and outflow sections. Whenever the blower pushes over the hot coil, a part of the hot air flows backward, heating the fireplace's back. The heated backside has no hazardous effects.
Can You Put An Electric Fireplace On Any Wall?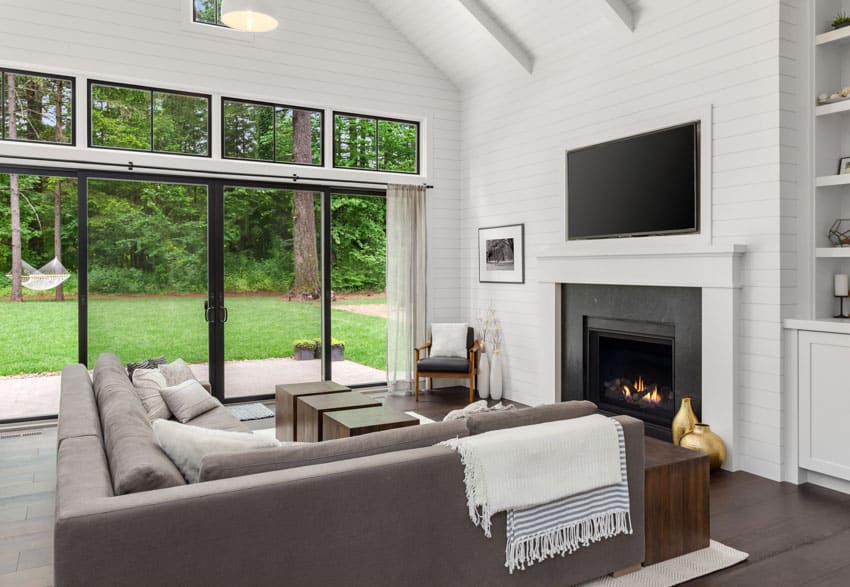 Yes! An electric fireplace can be easily put on almost any wall. Virtually all wall-mounted electric fireplaces include the necessary brackets and components for a successful installation.
Furthermore, because no structural alterations are required, a wall-mounted electric fireplace can be installed by a do-it-yourselfer. If you are building a larger unit, you might need to seek assistance because these fireplaces may be quite hefty.
How Thick Does A Wall Need To Be For An Electric Fireplace?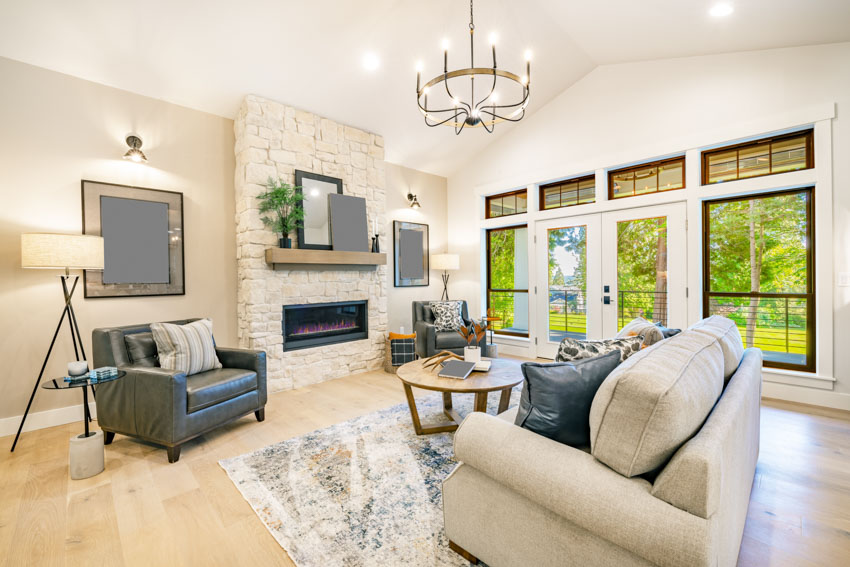 The majority of electric fireplaces can accommodate thicknesses ranging from 5 to 12 inches. If the space on your wall is minimal, it is advisable to be knowledgeable of this factor before beginning your search for an electric fireplace.
You will also have to consider if you want to create a hole in the wall to mount a recessed electric fireplace. If so, you will need to determine how much thickness you have to deal with in the wall. To make the wall work perfectly, you may need to construct it out into the space and hardwire it into your home's electrical network.
Can You Use Regular Drywall Around An Electric Fireplace?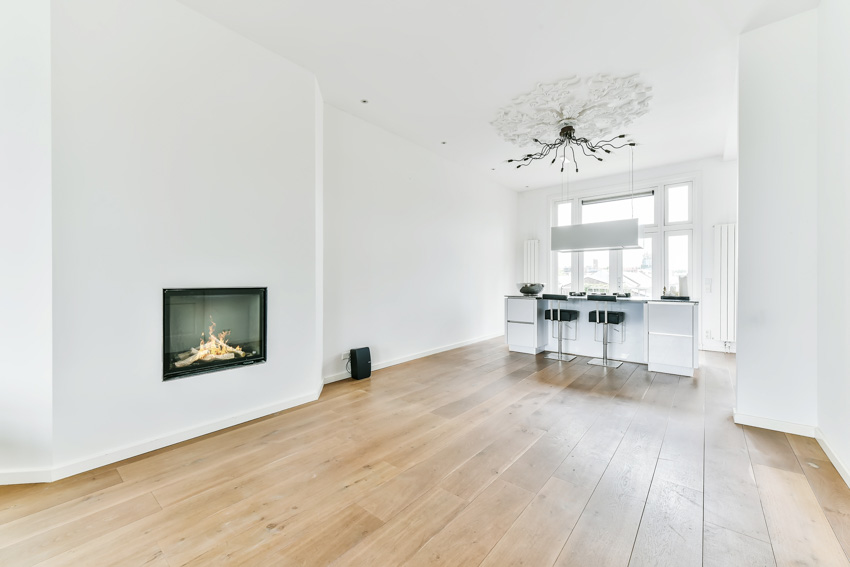 It is not advisable to use normal drywall around a fireplace because it is extremely flammable. Alternatively, non-combustible materials including tile, MDF, stone, or marble should be used to surround the fireplace. If you own a zero-clearance factory-built fireplace, nevertheless, then you can drywall around it.
Can A Wall Mount Electric Fireplace Be Built In?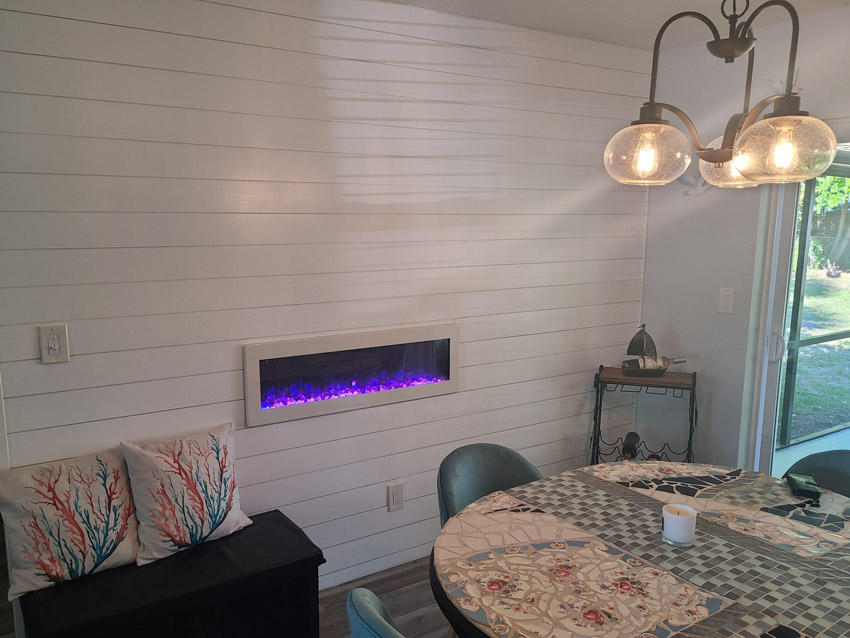 Wall-mount electric fireplaces are not intended to be built-in like electric fireplace inserts, but they can be partly or totally recessed into a wall. A wall-mount electric fireplace is a form of electric fireplace that is supposed to be mounted on a wall's surface.
The main advantage of a wall-mount electric fireplace is that it can be mounted on just about all walls in a house with a neighboring electrical outlet, saving floor space and rendering it ideal for compact homes or apartments. There is therefore no need to excavate a section of the wall to set up the electric fireplace.
How High Should A TV Be Above An Electric Fireplace?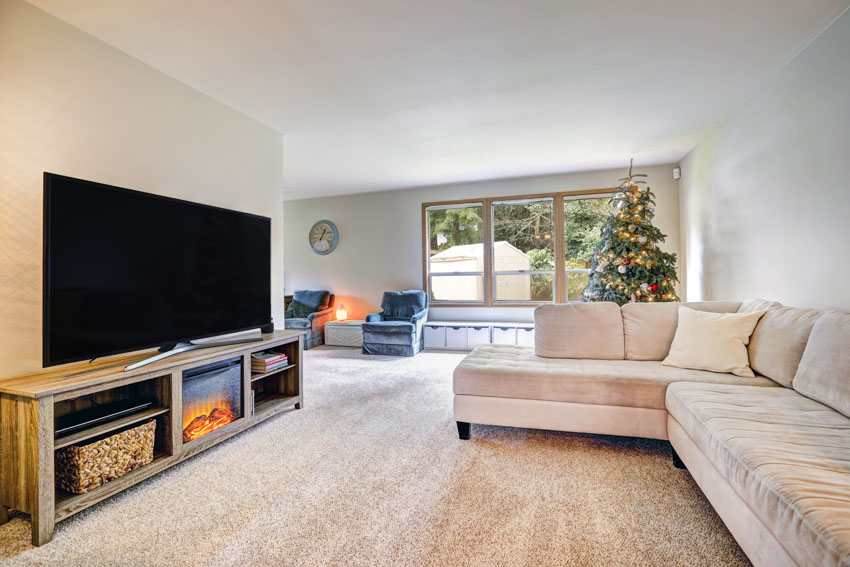 It is highly recommended to mount your TV 8 to 10 inches above an electric fireplace. Allowing sufficient space between your TV and electric fireplace is not only visually stunning but also safer for their components and operations.
We believe that a TV placed above an electric fireplace is absolutely suitable. In general, if you leave adequate room between the two, you should be alright.
However, as previously stated, 8 to 10 inches would be the suggested amount of space to allow between a TV as well as an electric fireplace, although we believe closer to 12 inches would be the safest option. Nonetheless, this is dependent on how hot your electric fireplace becomes and what design aesthetic you want to achieve.
How Much Does An Electric Fireplace Wall Cost?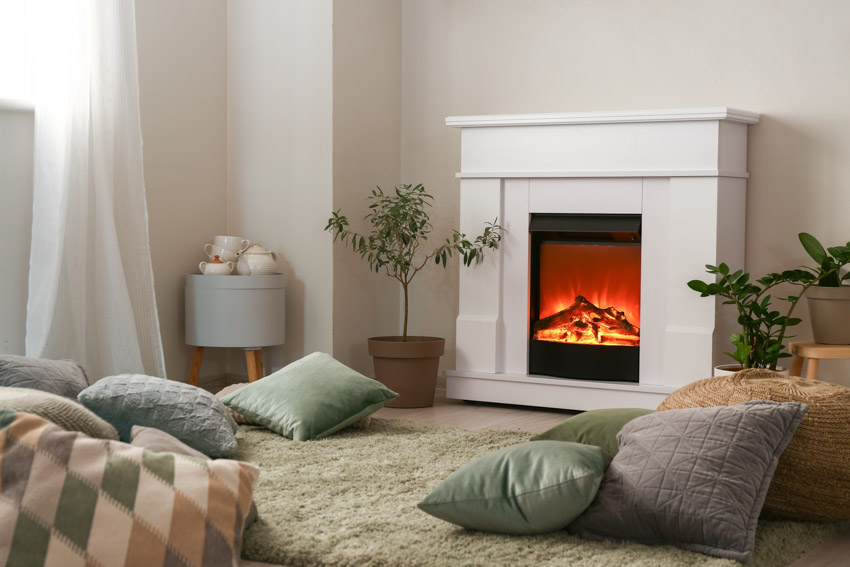 Installing an electric wall fireplace may cost around $500 to $2,000 for each unit. The labor might cost around $65 to $100. However, the cost to install and buy an electric fireplace varies depending on the dimensions of the unit, the complexity of installation, and who handles the installation job.
If you possess a pre-existing fireplace that has to be removed, the cost will be incorporated accordingly. Several homeowners want to have their pre-existing fireplace upgraded with electric or gas fireplace lines, which is a completely separate job.
Furthermore, a trim kit must be provided with your mounted unit. If trim is necessary but not yet included, it will be added to your overall construction costs. Several manufacturers provide free shipment, delivery, and removal of old heating units. This can help you save money and avoid the inconvenience of disposing of your old fireplace unit once you buy a new one.
Most high-end electric versions feature advanced settings, remote controls, timers, crackling and artificial smoke, and customizable flame brightness. These additions are supplementary and will raise the price of a basic device, thus keep this in mind when selecting an electric fireplace model.
If you are putting a unit in the wall, supplemental demolition work, drywall restorations, as well as other labor might be required to complete the project. To receive the most precise pricing for comparison, ensure that your installer includes all of these charges in your quote.
How Much To Build An Electric Fireplace Wall?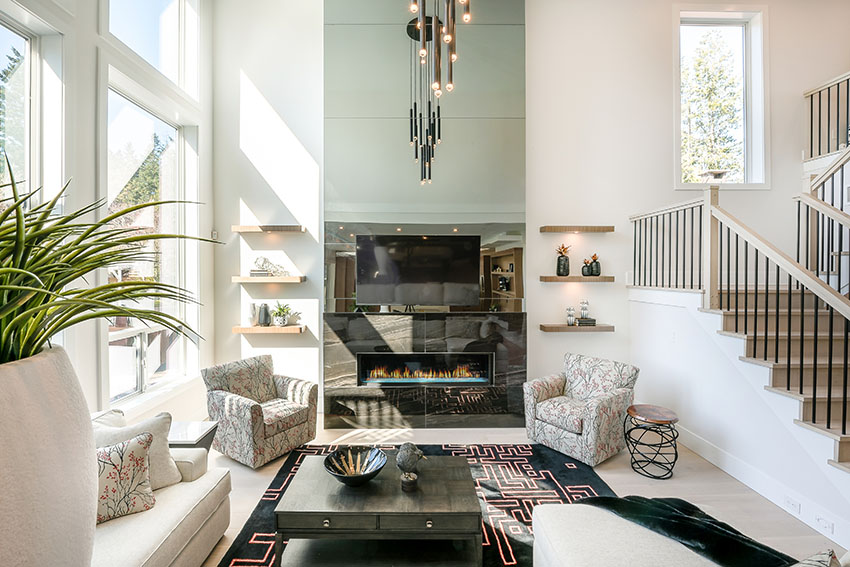 Building a customized electric fireplace installation typically costs between $2,000 and $10,000, which includes all materials and labor. Customized installations often imply that the electric fireplace unit is built into the wall or that a wall is constructed specifically to support the unit.
Do Electric Fireplaces Burn A Lot Of Electricity?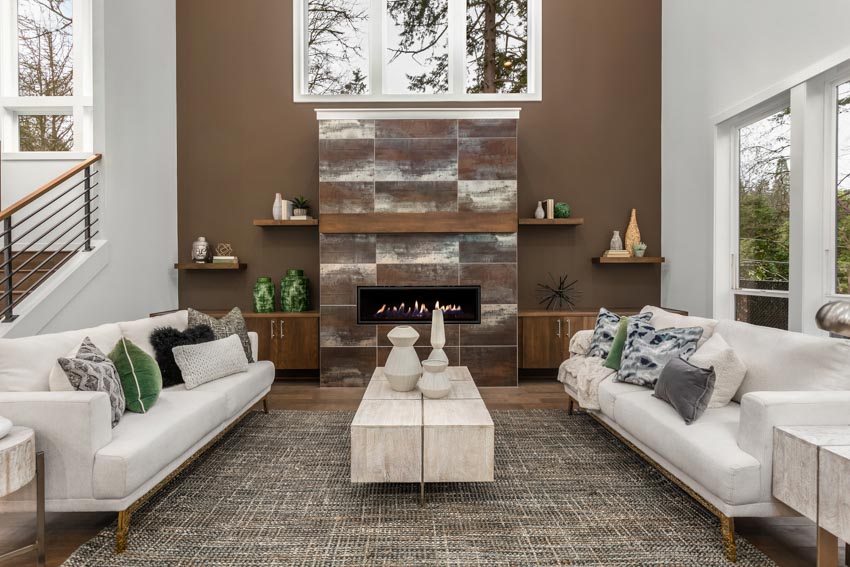 Electric fireplaces burn about the same electricity consumption as a typical space heater. Because most electric fireplaces are powered by a typical household outlet, they need 120 volts to drive the internal heater, which draws approximately 1,500 watts at 12.5 amperage.
When considering possible energy savings, an electric fireplace can be an even more economical solution. The use of an electric fireplace in a living space reduces the requirement for heat from various sources.
Letting an efficient electric fireplace occupy some of the heating activities can result in lower total electricity consumption than using the home's major heating system exclusively.
Are Wall Mounted Electric Fireplaces Safe?
Although inappropriate use and other safety concerns can emerge with any electric equipment, electric fireplaces are extremely safe to use. For this reason, many individuals prefer an electric fireplace over a standard wood-burning or gas fireplace.
Electric fireplaces are frequently the safest solution in comparison to wood-burning and gas fireplaces as they eliminate numerous possible safety concerns.
For instance, homeowners with wood-burning or gas fireplaces should take special attention to guarantee that their fireplace is examined and maintained consistently. If this is not addressed, it could result in fire incidents and carbon monoxide intoxication, both of which are major safety risks that could cause illness, harm, or even death.
An electric fireplace, on the other hand, requires almost no upkeep and requires no venting or examinations. They emit no harmful smoke or fumes, which makes them an excellent choice not only for those people who are safety conscious but also for anyone suffering from allergies or lung issues.
See more related content in our article about the best fireplace tile ideas on this page.