On this page we share our guide to the best fireplace wood mantle designs, including what type of wood to use, what to avoid and how to pick one for your space.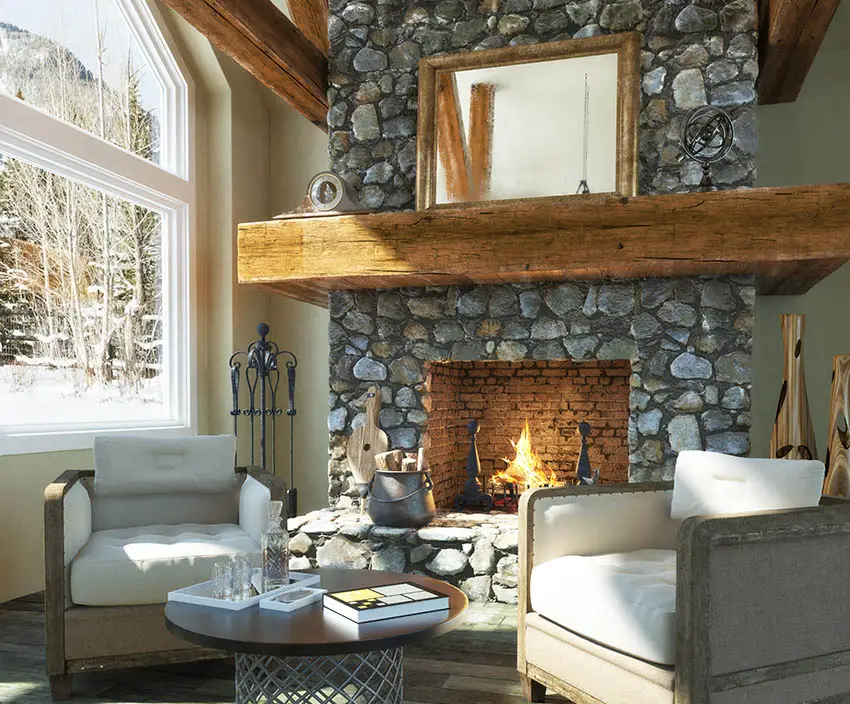 There's no better way to pull a room together and showcase a fireplace like the perfect mantel. If you're considering a wood fireplace mantel for your home, you need to know what kind of wood to use and how to make a decision that works best for your home.
Types of Wood to Use for a Fireplace Mantel
The first thing to understand about choosing wood for your fireplace mantel is that there are plenty of options. After all, different types of wood have different appearances as well as advantages and disadvantages.
Here, we'll take a look at some of the most popular options out there and available to you.
Hickory Fireplace Mantels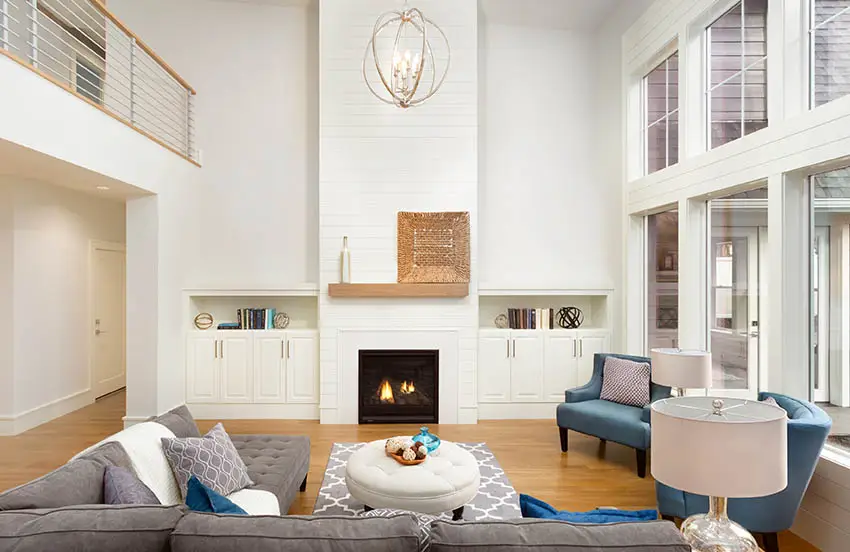 Gas fireplace design with horizontal white shiplap and hickory floating mantle.
If there's one thing that hickory is known for, it's the durability it brings to the table. This is why you often see it in practical applications such as tool handles. Since this is a part of a fireplace, it's a good idea to look for a wood that offers this durability and stress resistance.
In appearance, hickory has a wide range. Darker hickory can be a deep brown while lighter hickory wood can look nearly white. This offers plenty of range for a wide variety of decor preferences.
The main downsides to hickory are that it can be costly and it tends to rot if it isn't properly taken care of. Proper building and installation of your mantel are key.
Oak Fireplace Mantels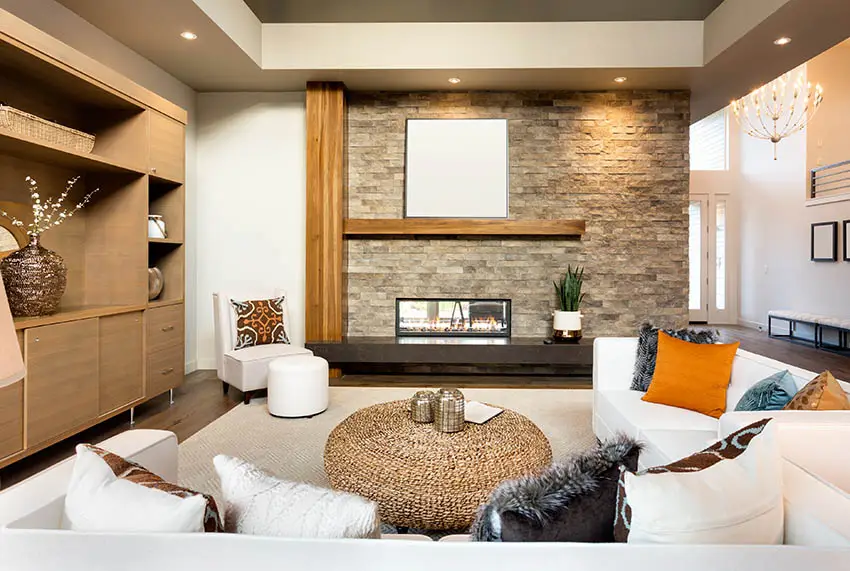 Oak is an interesting wood that's more easily recognizable by its strong grain structure rather than its color. Yet, you can still depend on a range of shades to choose from but oak tends to be light compared to other hardwoods.
Oak is also a good choice thanks to how durable it is. Specifically, it tends to warp less than other woods with heat changes. On the other hand, the high tannin content means you'll want to make sure you choose a finish that fits oak specifically.
See more floating fireplace mantle ideas on this page.
Maple Fireplace Mantels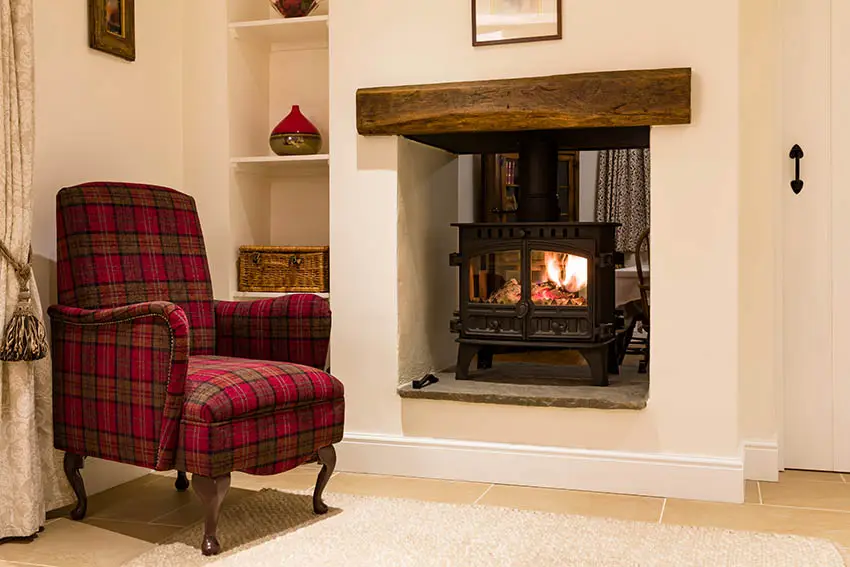 Maple falls into the aesthetic range of light brown. This makes it an excellent choice if you plan on a lightly shaded mantel. Much like oak, maple also features strong grain patterns, so you can take advantage of the wood's natural beauty.
On top of that, maple is an affordable wood that can be manipulated to mimic more expensive options. Unfortunately, this high demand does put maple trees at risk, making it a less environmentally-friendly choice.
Mahogany Fireplace Mantels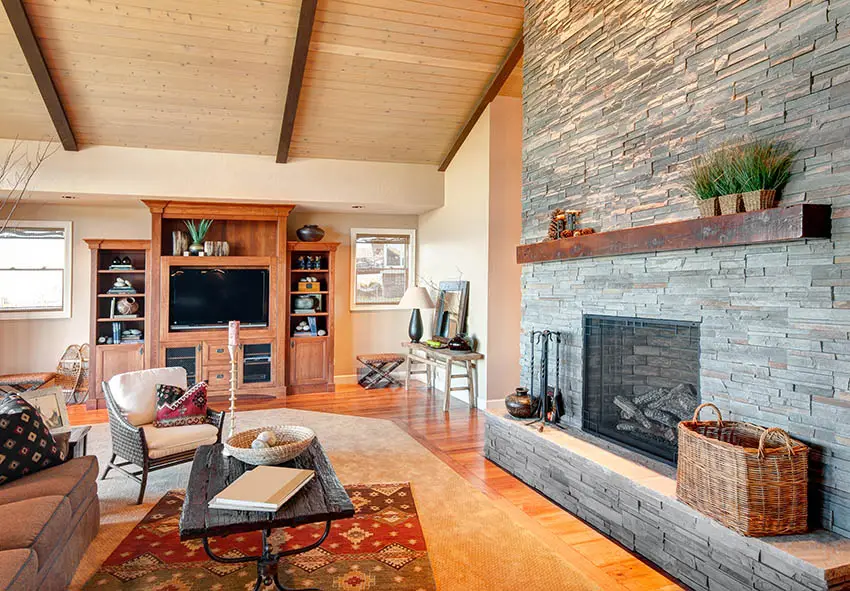 Mahogany is a classic wood that has a hue that falls in the range of medium brown to dark brown. Not to mention, once mahogany is sanded down, polished, and finished, you'll have a fireplace mantel with a smooth, glossy appearance.
This makes mahogany a good choice if you want your fireplace mantel to serve as the focal point of the room. It makes for an eye-catching hardwood choice.
If you have your fireplace mantel in direct sunlight, you should know that this can darken mahogany over time. In addition, mahogany is durable and highly sought after, making it an expensive choice compared to other woods.
Woods to Avoid for Your Fireplace Mantel
While we've looked at a few different options for fireplace wood mantle designs, there is something else you might want to consider. As we've mentioned, there are nearly countless options as to what you can use for your wood fireplace mantel. However, that doesn't mean there aren't options to avoid.
Specifically, it's best to avoid softer woods for your fireplace mantel. This includes options like pine or fir.
These options may look great once their sanded down and finished. On the other hand, they're more likely to crack over time and under stress. This means that they are far more likely to incur damage as a mantel than a hardwood option.
How to Choose the Best Wood for Your Fireplace Mantel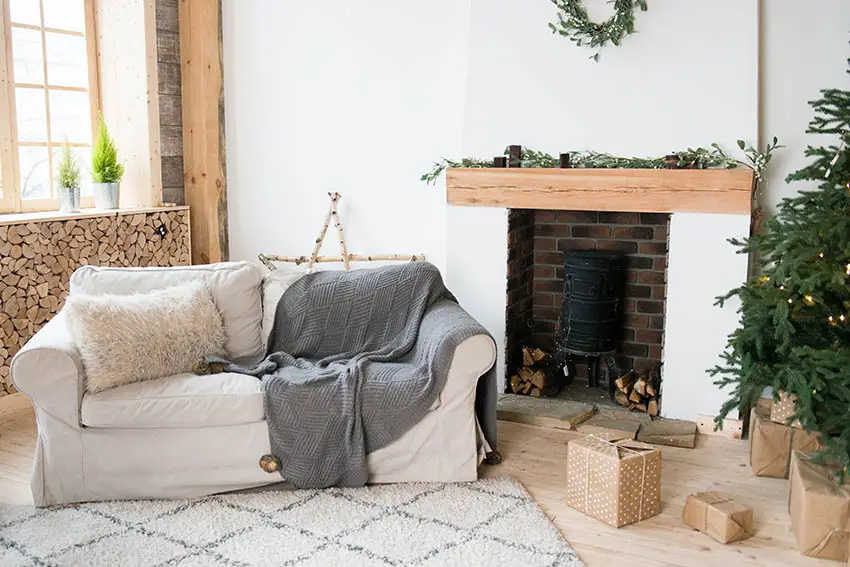 Whitewashed brick fireplace with rough wood mantle.
When it comes down to finding the perfect materials for your fireplace wood mantel designs, there is no one right answer. It's a personalized question with a personalized answer, so you need to know how to narrow it down.
First, determine your budget. If you're working on a lower budget, then you'll want to choose an affordable option like maple over a more expensive option like mahogany.
You should also consider how you want your mantel to look. Do you want a bold, eye-catching wood to be the focal point of the room, or do you want to stick to something subtler?
Remember, different shades and wood grains can change the appearance of your mantel. It can also help in this step to consider what a room is used for, the existing decor in the room, and how much traffic it gets.
Fore more related content visit our gallery of black brick fireplaces.