Here we share our guide to modern floating fireplace mantel designs including popular styles and ideas for your living room.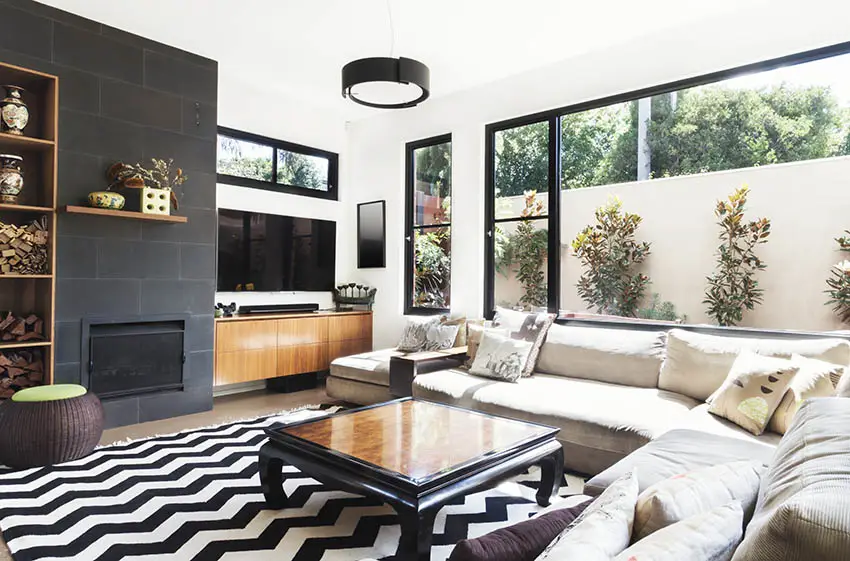 New technology has brought to many alternatives to keep our homes warm and cozy during colder months. Although there are many centralized heating systems available, there's a certain charm that only a warm light from a fireplace can bring to a home.
Thankfully, you don't need to have to deal with chopping wood and the smoke that comes with having a real fireplace, as many modern fireplace options provide the same warmth & glow to your homes.
Fireplaces are often the focal point of living areas that have them. Because it is as decorative as it is functional, fireplaces are often framed with mantels made from different materials and finishes.
Mantels are often an area where we can display precious memories, pictures, travel souvenirs, and other decorative items.
Since modern fireplaces are often thinner in profile than traditional fireplaces or are built-in to the wall, floating fireplace mantels are often used to add this important fireplace feature.
You can use virtually any material there is available, and you can experiment with many different colors and finishes to match the look you want for your home.
Modern Floating Wood Mantel
Floating wood mantel designs work very similarly to regular floating wood shelves. They usually use an invisible hardware system to achieve that "floating" look, and you can virtually use any type of wood, from solid wood (for a more premium look) to wood alternatives (like plywood or OSB).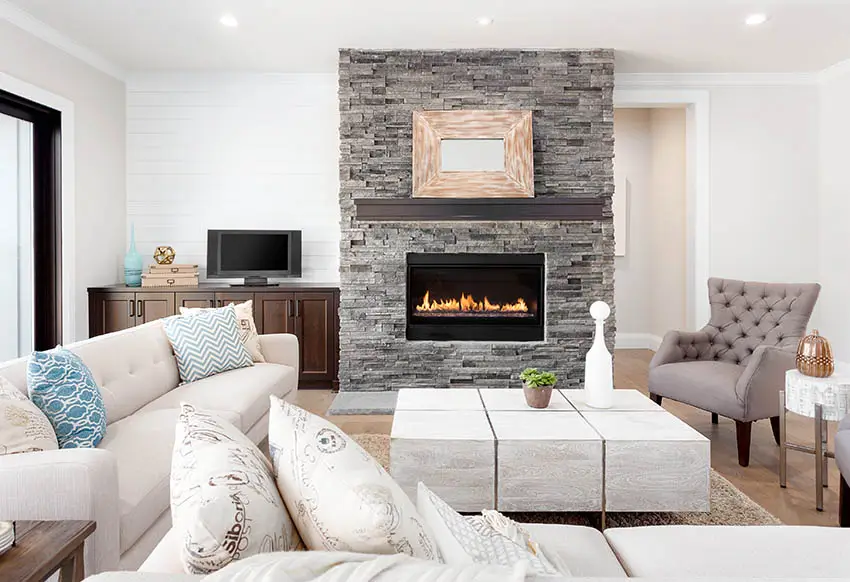 The slate mosaic tiles used on the fireplace wall will bring your eyes towards the fireplace area. This example uses a modern floating mantle, with a thick profile so that it stands out against the slate tiles.
Modern Fireplace Mantel Shelf
This similar to floating mantels, but instead of hiding the support system for the shelf, it is left visible and is treated as part of the design feature of the shelf. These are often found in more traditional style design and are often the style used if you want a more classic look.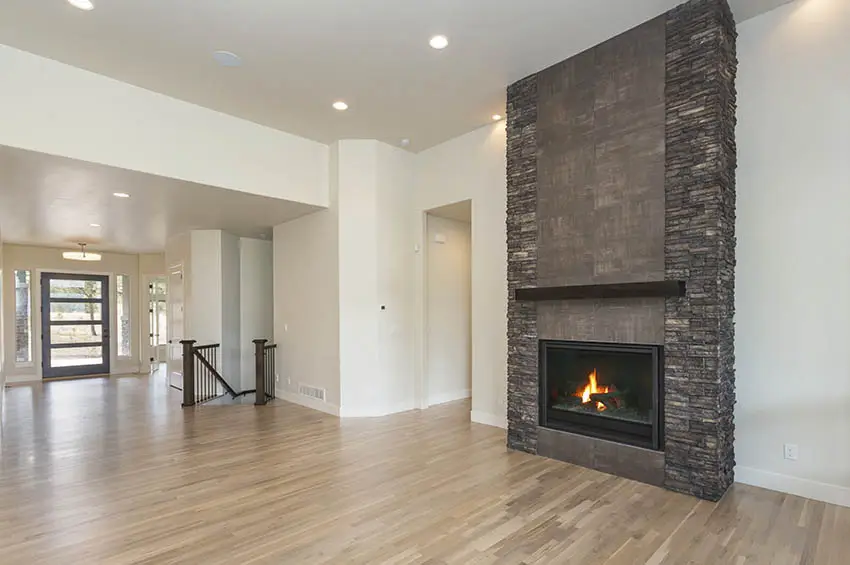 This modern fireplace has a small floating shelf placed above it with a dark wood finish to complement the overall color scheme of the fireplace area.
Modern Fireplace With Floating Mantel And Built-In Shelving
This combines both a floating mantel and built-in shelves into the design to maximize storage/display space. This is great if you want to maximize every space in your home or if you have limited storage space.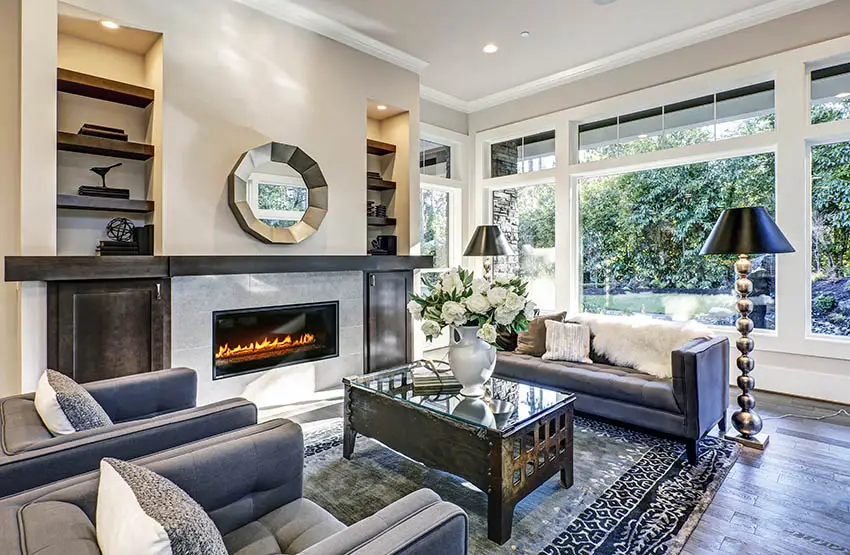 The two sides of the fireplace has deep enough space to add extra storage, so to maximize the space, the bottom sides were converted to cabinets, a wood mantle was added, and the rest of the upper mantle was converted into an open shelf to display various items.
Modern Fireplace With Floating Shelves
Floating shelves are common design elements in modern homes, and these can also be added to your fireplaces if you need more display or storage space.
You can make them yourself if you have available materials, but there are also floating shelf kits you can purchase in stores or online that you can easily install yourself.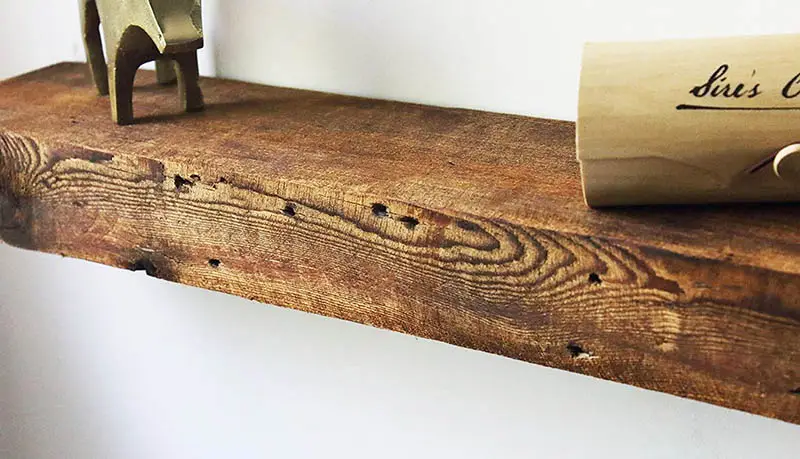 See this floating wood shelf on Amazon.
Solid wood floating shelves with natural imperfections can instantly add a rustic charm to any modern fireplace. You can use reclaimed wood and DIY them according to your needs.
Find a nice wood, sand, finish and treat it as per needed and make sure you also use appropriate hardware that can hold the weight of the wood piece you're using (and the weight of the items you're putting on top of it!
See this modern floating fireplace shelf on Amazon.
Pre-finished floating shelves are also a great idea if you don't want to deal with DIY. All you need are hand tools to install them on your wall.
Ready-made floating shelves often come in a set with all hardware include, and comes with a very wide selection of materials and finishes, like this unique metal finish floating shelf.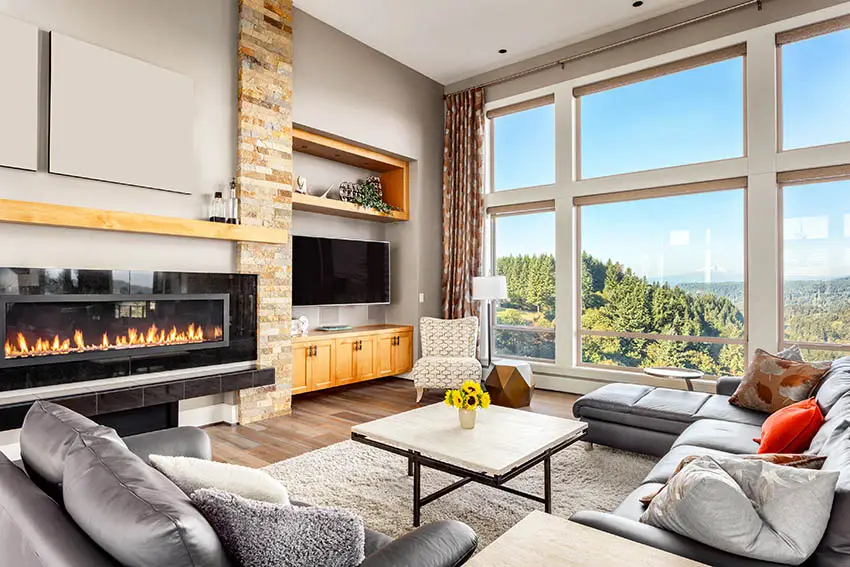 A lighter wood finish was used for this floating shelf to match the other wood finishes in the space. You can use a narrow wood shelf like this if you don't intend to place a lot of things on the shelf.
White Fireplace With Modern Floating Mantel
A more minimalist fireplace is very much achievable with the many modern fireplace options. Because they need wood and produce smoke like traditional fireplaces, you don't need to worry much about soot.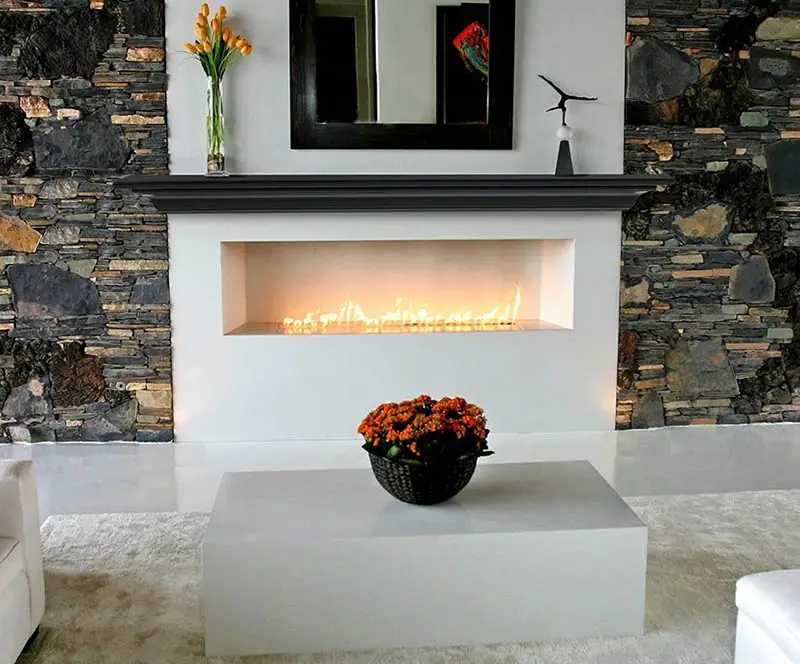 See this white fireplace shelf on Amazon.
This modern white fireplace has a very minimalist frameless design and is complemented with a simple floating wooden mantel in a black finish to add a bit of contrast. For more related ideas visit our post on how to whitewash a fireplace.
Modern Floating Fireplace Mantel With TV
Most modern homes only have 1 living area, which also doubles as the entertainment/family room of the house.
If you want to have a modern fireplace in your living area, you don't need to sacrifice the TV, as you can easily install them right above the mantel of your fireplace. You can use the mantel itself as the TV shelf, or you can also mount the TV on the wall.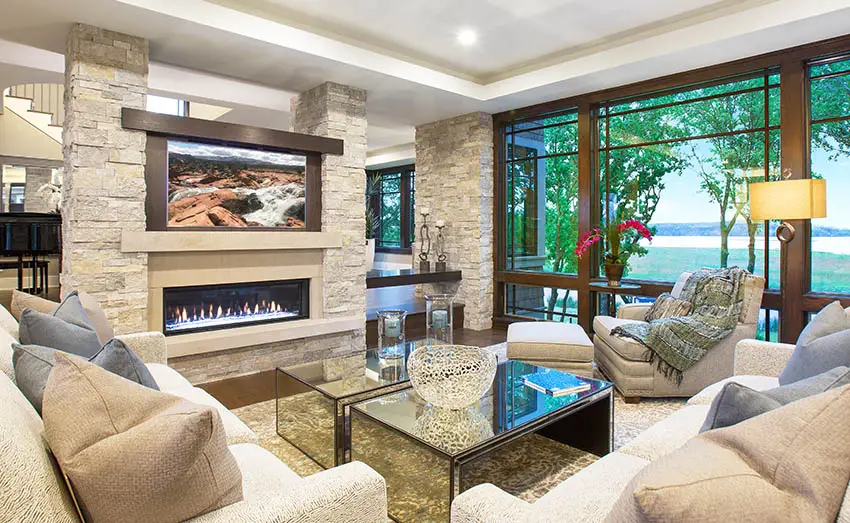 If you want both a TV and a fireplace in your living area, you need to double-check the sizes to ensure both will fit.
If there's an existing fireplace, you will need to base the TV size on the available space left by the fireplace, and vice-versa if you have existing TV but are just planning to install a fireplace later.
It will be best if you can purchase them together to ensure the visual balance. In this example, you will notice that the TV and the fireplace are the same widths, creating a balanced look.
Modern Fireplace With Low Floating Mantel
Fireplace mantels don't always have to be placed above the fireplace. In modern installations, you can find many examples of floating mantels placed below the fireplace, especially for small built-in fireplaces.
This modern living room combines the fireplace and TV area in a very unique way. Instead of putting the tv on the same wall as the fireplace, they were placed side by side, and shares one continuous solid wood piece.
This serves as a low floating mantel for the fireplace area, and a low floating console for the TV. The result is a clean modern look that perfectly matches the aesthetic of the space.
For more related designs check out our guide to gas fireplace designs.