This gallery features the types of ceiling boards with the different materials & design options, their pros and cons, and the most popular ceiling board ideas.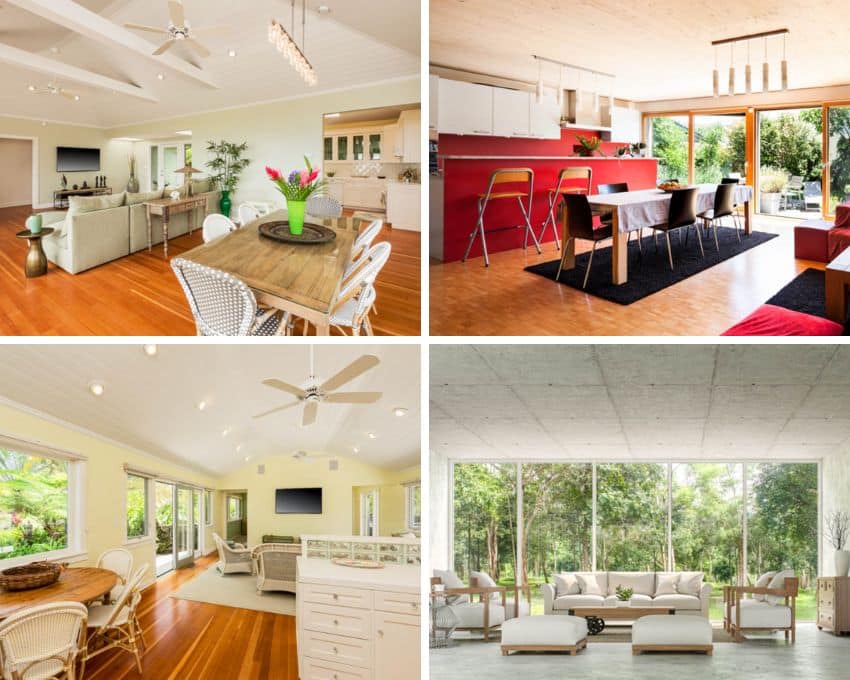 Whenever we construct or renovate our houses, we prefer to prioritize areas that are frequently utilized and have consistently provided a positive return on investment. For instance, bathrooms and kitchens seem to get the most interest in homes.
Some homeowners do not think that their ceiling is often the largest bare area in a room and that adding texture to that surface will tremendously enhance or transform the aesthetic of the room.
Indeed, ceiling design must be at the top of the priority list if you want to create a gorgeous area that you and your guests will love. A fantastic ceiling can assist in keeping the room calmer, improving headspace, making the space look larger, as well as enhancing the overall aesthetic of your interiors.
There are numerous types of ceiling boards to pick from, each with its own set of pros and cons. It all boils down to what you want to achieve with it.
Beadboard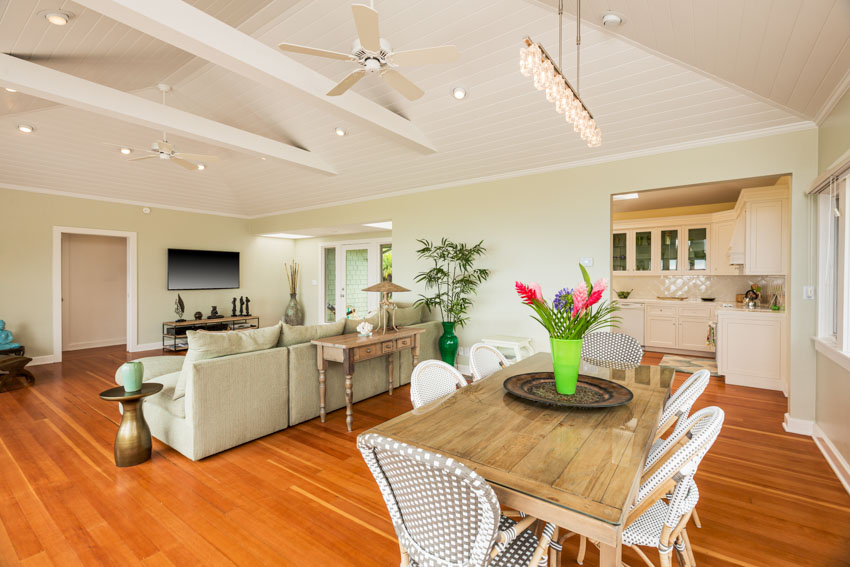 Beadboard is a popular paneling material that can also be used as ceiling material. The majority of beadboard is constructed of wood and fits together like tongue and groove planks. Beadboard is less expensive than many other types of wood and produces the same rustic look.
Beadboard has the ideal benefit of offering a broad collection of aesthetic options for ceilings, as well as being a low-cost investment suitable for a DIY task.
Beadboard is typically sold as smaller strips of a few sections of wood that fit neatly to form the larger beadboard surface, known as planks, or in boards that can be erected to the roof and affixed to the ceiling.
Beadboard types of ceiling boards are simply wood boards with a tongue-and-groove design, or bead, that seem as long, thin panels or as wide as 6 inches on the central core across the surface or ceiling and are typically constructed of pine.
Because of developments in beadboard, it is now broadly acknowledged to use MDF alternatively, saving the homeowner and the environment funds.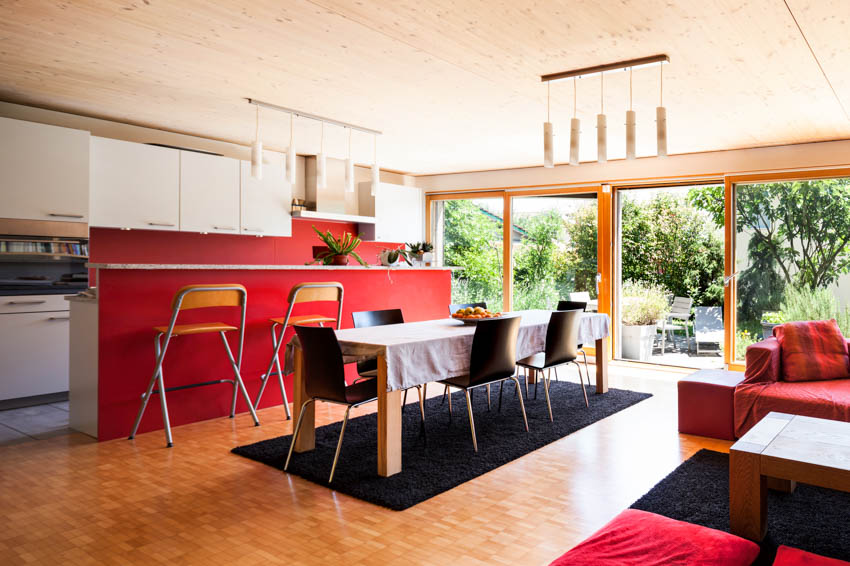 Furthermore, beadboard ceiling boards are frequently sold in sizes of roughly 8 feet by home construction stores or lumber yards, and they are extremely often put in white on most surfaces, particularly ceilings. Beadboard installed on the ceiling may be a fantastic focal point for any area.
Although certain home construction skills are required for the optimal end result with a beadboard installation, it is absolutely something that anyone with slight research and motivation could achieve. Beadboard ceilings offer great aesthetics for a wide range of home designs, from modern to vintage.
The decision a homeowner takes about which sort of beadboard ceiling boards to install is heavily influenced by whether heaving those larger boards up to the ceiling is doable or whether installing single boards is easier. Another factor would be the size of the area to cover, as well as the price of shipping these things straight to the owner.
It is common for more than one person or a specialized gadget to be used by a professional contractor to secure the boards and guarantee they do not shift against the wall during assembly.
Pros of Beadboard Ceiling
• Placing beadboard on your ceiling will completely improve the appearance of your room. The ceiling is the greatest visible surface in space, with only a light fixture or fan breaking it up. The use of beadboard pushes the eye upward and adds visual complexity.
• Beadboard is less expensive than other expertly installed ceiling treatments.
• A person with basic construction experience can install DIY beadboard kit solutions.
• Unfinished standard wood beadboard can be painted to coordinate with or accent the rest of the room's décor.
Cons of Beadboard Ceiling
• Traditional wood beadboard types of ceiling boards are not a do-it-yourself project unless you have carpentry skills. You can save money by having a contractor build it and then paint it yourself.
• Water-damaged beadboard caused by a leaking roof or defective overhead plumbing might necessitate rebuilding.
• Although you can remove beadboard by peeling each board or detaching the clip off individually, you might end up with several nail holes in the ceiling that must be patched before repainting.
Board And Batten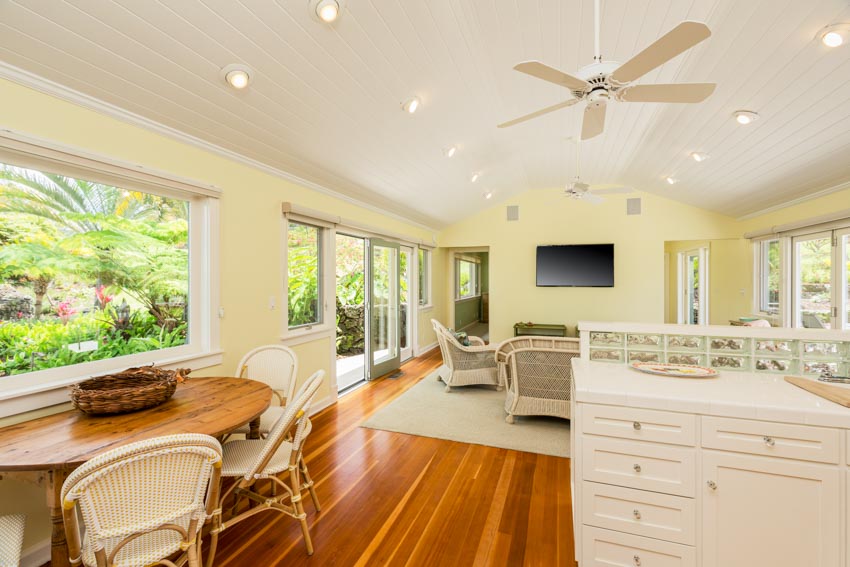 Board-and-batten paneling is a form of wood paneling that uses large boards fastened side by side, frequently vertically. A batten is a small piece of wood that is attached across the joints between wood boards to lend 3-dimensionality and uniqueness to the siding. Nowadays, this material is also used for ceilings.
Historically, battens were installed to make siding for barns and other constructions more energy-efficient. This kind of siding material is often known as barn siding. The most appealing aspect of this material is its warmth and curb appeal.
The basic trick in installing board-and- batten siding is to space the boards apart. How far depends on the kind of lumber you use, how wide it is, and whether it is flat-grained or vertical-grained. – Popular Science, April 1961
It gives a modern home an easygoing, provincial, and friendly atmosphere. It was originally one of the most common exterior types of house siding and has been used for generations.
You can take into account a board and batten square or rectangle design for your bedroom ceiling for a one-of-a-kind touch of grandeur. In a tray ceiling, this effect draws the attention upward. You may add visual interest and attractiveness to your huge back porch ceiling by using a wide board and batten arrangement.
This is among the types of ceiling board that adds sophistication and elegance to a room. It denotes that the room has been designed with particular care, attention to detail, and consideration.
If you choose a material that already has color, your options may be limited. However, if you use wood or fiber cement, you may wonderfully have any paint color you want for your board and batten.
These battens are interspersed with broader boards, resulting in a layered look for your home. Its design makes it watertight and durable. Many people love the distinct appearance of board and batten, which is why it is frequently preferred over other varieties.
Board and batten have been in use for hundreds of years and have established their worth and transformed over time.
Pros of Board and Batten Ceiling
• Board and batten types of ceiling boards can endure for numerous years, if not decades if properly placed and maintained. If you want to change your ceiling board as infrequently as necessary, this long-lasting option is ideal.
• Board and batten can substantially improve the aesthetic appeal of your interior, allowing it to sell faster and for a better price.
• This is one of the most adaptable forms of ceiling board. It can be efficiently employed in a wide range of applications. See popular board and batten dimensions here.

Cons of Board and Batten Ceiling
• Because of the large number of boards and battens that must be fitted with this form of siding, you must ensure that it is securely installed. This method can take longer than standard ceiling installation, specifically if done correctly the first time.
• Board and batten are considerably more expensive than other layouts, owing to the lengthy installation process. The installation must be done with extreme caution.
Gypsum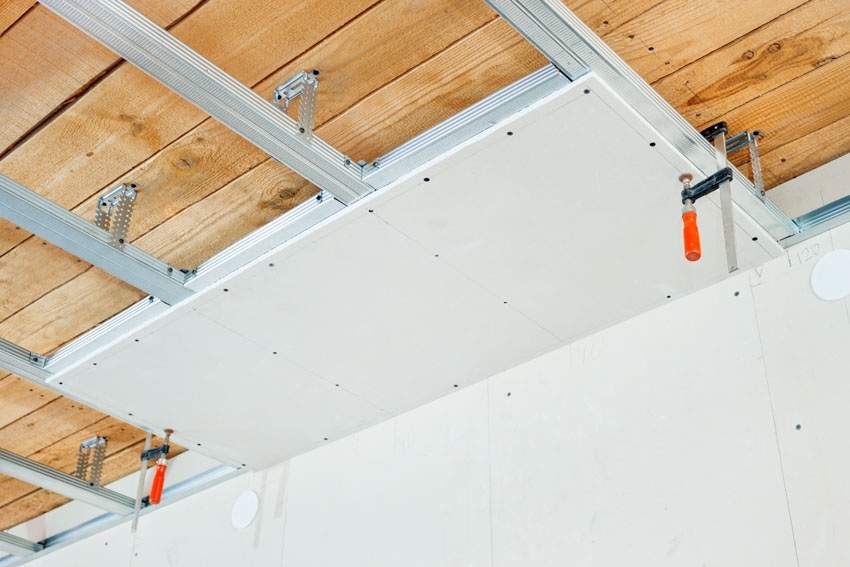 Gypsum ceilings can be made from gypsum sheets, boards, strips, or ceiling tiles. This material is available in huge sizes and is extremely versatile, durable, and cost-effective. They are extremely lightweight and simple to put together without revealing the seams.
Gypsum types of ceiling boards are made of compressed gypsum that has been covered in paper. Hence, they are not moisture-resistant, making them unreliable for external applications.
Rather, gypsum is best suited to interior uses such as a bedroom or living room. It is also the most popular material for drop ceilings because it is both soundproof and fire-resistant.
Gypsum is frequently used in square boards with metal framing supports. Ceilings made of gypsum board can thereafter be completed with wallpaper, laminates, as well as paints.
Furthermore, gypsum is more generally known as drywall. Drywall ceilings are often attached to ceiling joists using taped and mudded connections to conceal them. Drywall ceilings, if kept smooth, can be a significant source of echoes.
As a result, these ceilings are frequently textured to assist in deafening sound and concealing any surface flaws left over the following installation. Splatter, popcorn, and orange peel are all common textures. Musical studios often use gypsum boards for their ceilings due to their ability to bounce high-quality sound.
Pros of Gypsum Board Ceiling
• Gypsum boards are extremely versatile and come in a variety of designs and sizes.
• When combined with glass fiber, gypsum can be an excellent heat insulator.
• This type of ceiling board results in a fireproof ceiling. When exposed to flames, it produces water, which transforms into steam to put out the fire.
Cons of Gypsum Board Ceiling
• Gypsum boards are not ideal for moist areas such as bathrooms.
• These boards are quite hard to shape into specific forms.
• Gypsum boards can be difficult to recycle, resulting in their disposal in landfills.
Plasterboard

Plasterboard is a compressed panel formed of calcium sulfate dihydrate, generally known as gypsum, which has been previously mentioned. It is utilized in the construction of interior walls and ceilings. This ceiling material gained popularity as a quick substitute for traditional cladding and plaster.
Plasterboard is used by builders and designers to assist them in meeting building codes for fire safety, sound insulation, as well as thermal efficiency. It can also aid in the regulation of condensation and associated damage in high-humidity environments.
In addition, plasterboard ceiling systems are commonly utilized in residential structures due to their low cost, ease of installation, and aesthetically pleasing finish. This ceiling board is typically bolted into wooden or steel frames that establish the shape of the ceiling structure.
The ability to hide wiring and utilities above the ceiling while leaving ample space to apply insulation materials in the ceiling attics is one of the primary features of the plasterboard ceiling.
Pros of Plasterboard Ceiling
• Plasterboard is a tough ceiling material that produces a long-lasting surface that may be painted over. It is durable and the surface does not fracture easily.
• This is among the types of ceiling boards that require very little upkeep. It distributes smoothly and reacts well with water. It is also mold-resistant.
• Thicker variations of plasterboard are highly soundproof, which makes them ideal for music studios.
Cons of Plasterboard Ceiling
• Plaster is porous and readily absorbs moisture. That means painting over it can be difficult. You will almost certainly need more than two coats of paint to obtain the desired effect.
• The material is not appropriate for outdoor projects.
Cement Board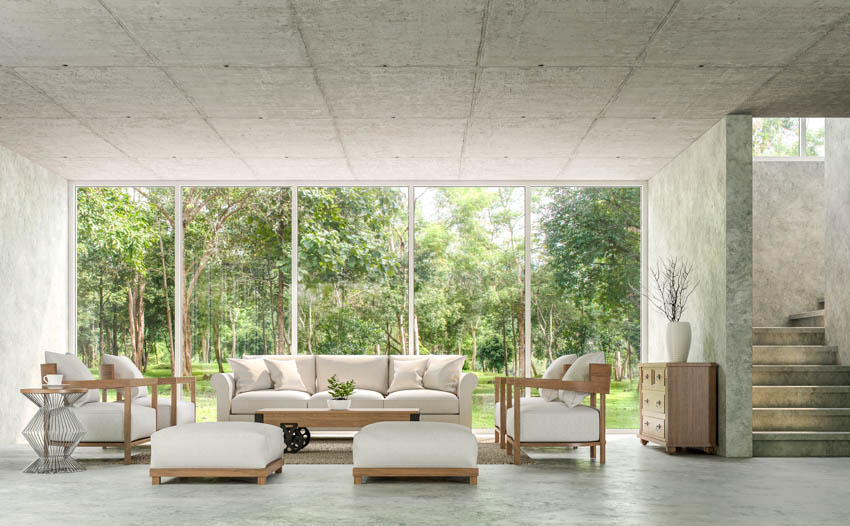 A cement board is made up of a cement layer on the inside as well as a fiberglass surface on the outside, giving it a drywall-like appearance. These panels are installed similarly to drywall, except they are far more water-resistant.
Cement board can be used as a wall or ceiling material, but it is two to three times more pricey than drywall. Due to its incredible water resistance, cement board is among the best ceiling materials for bathrooms or shower rooms.
A flat surface for installing tile is created with a cement board, also known as a backer board. If the board becomes moist, it will not warp or soften like drywall. You can use cement board on a bathroom ceiling and tile right on top of it. Cement boards can also be observed mounted horizontally to plywood for certain types of kitchen countertops, tile floors, and backsplashes.
Fiber cement, when used as a ceiling board, is heat- as well as fire-resistant and extremely durable in all inclement weather. Because these boards will not bend, decay, or expand, they can be used for both interior and outdoor purposes.
Cement types of ceiling boards enhance strength and damage tolerance to ceiling surfaces as compared to regular gypsum ceiling boards. Cement board is also manufactured in thin sheets using polymer-modified types of cement that may be twisted for curved uses.
Pros of Cement Board Ceiling
• Cement boards are impervious to fire and other harsh elements. They are also excellent for both interior and outdoor use.
• This sort of ceiling board is far more durable and reliable than gypsum.
• Cement boards are great for moist locations since they do not grow mold and mildew, and they do not deteriorate when exposed to leaks and moisture.
Cons of Cement Board Ceiling
• Cement board is not a sustainable material.
• This type of ceiling board is downright difficult to install.
• Installation is frequently expensive and labor-intensive.
Acoustic Mineral Fiber Ceiling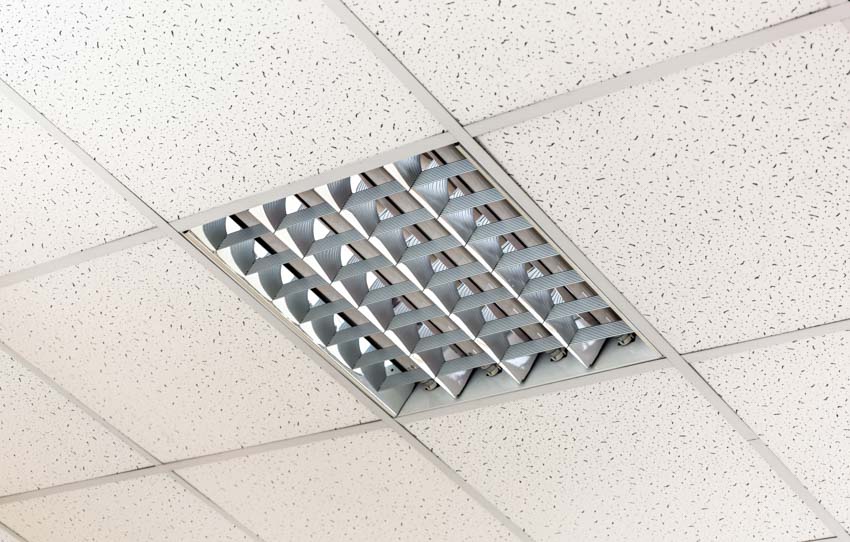 Acoustic mineral fiber ceiling boards are frequently utilized to adorn and improve building interiors. They are sometimes referred to as acoustical ceiling tiles, and due to their ability to extremely reduce noise, they are typically preferred over gypsum boards.
These ceiling boards are normally used in concert halls, theaters, recording studios, cinemas, and other places that require excellent sound properties.
These sound-absorbing types of ceiling boards are normally created from recycled paper, perlite, fiberglass, mineral fibers, and bonding agents. Due to their composition, the tiles must be handled carefully from production to installation.
Pros of Acoustic Mineral Fiber Ceiling Board
• The mineral fiber boards are lightweight, hence they are simple to handle and install. It also lessens the overall pressure on the construction of the building.
• These boards have a very high Noise Reduction Coefficient (NRC), allowing for a comfortable and peaceful environment to be created. Read more about residential NRC at this source.

• It helps to save money on heating and cooling by keeping the room at a normal temperature.
Cons of Acoustic Mineral Fiber Ceiling Board
• These ceiling boards are prone to mold and mildew growth, leading them to deteriorate quickly. Hence, they are not ideal for bathrooms or anywhere with high humidity.
Plank Board

Plank board is an easy-to-install ceiling material that is ideal for adding warmth and a vintage vibe to a room. You can select from a variety of wood colors and designs, as well as plank boards meant to absorb sound and improve a room's soundproofing properties.
If you do not want carved ceilings or a painted surface, these plank boards can be a classic element in your home. These boards can be purchased to meet curves, angles, and design aspects. When the boards have overlapping edges they are considered a shiplap ceiling design.

Pros of Plank Board Ceiling
• Plank boards can add richness to your space, giving a countryside ambiance.
• These types of ceiling boards are available in a multitude of colors and designs.
Cons of Plank Board Ceiling
• These boards are not ideal for areas with extreme humidity such as bathrooms.
• Some types can be expensive.
Vinyl Boards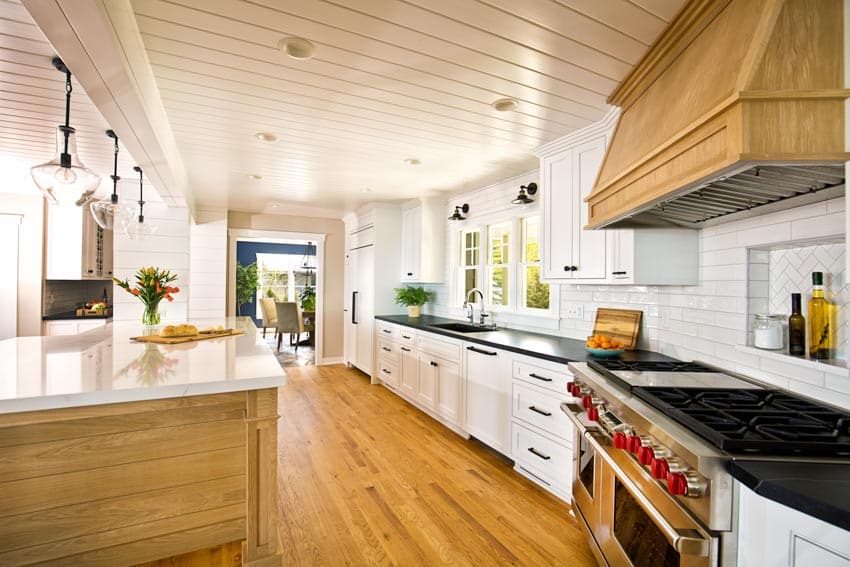 Vinyl ceiling boards are among the best ceiling options available. It is moisture-resistant and lightweight, and it helps stop water from soaking into the ceiling. Vinyl ceiling boards, not like wooden boards, do not swell or distort readily, are termite-resistant, and do not require painting before installation.
Vinyl ceiling boards are often easy to install and require little upkeep. They are simple to clean and provide a vivid and sanitary ceiling surface. Because these boards are non-absorbent, you may easily incorporate access passages, flush-fitting, ventilators, sprinklers, and lighting.
Vinyl types of ceiling boards are available in a variety of colors, making it simple to pick something that will complement your interior style.
Even though vinyl ceiling boards can be applied both indoors and outdoors, they can be costly. As a result, they are not suitable for large projects or those with a tight budget.
Pros of Vinyl Ceiling Boards
• Vinyl ceiling boards are resistant to moisture, termites, warping, and swelling.
• These ceiling boards are ideal for DIY projects as they are extremely lightweight, making them very easy to install.
• Vinyl ceiling boards are very durable and long-lasting.
Cons of Vinyl Ceiling Boards
• These ceiling boards can be costly.
• The design of this ceiling option is rather limited and basic-looking.
PVC Boards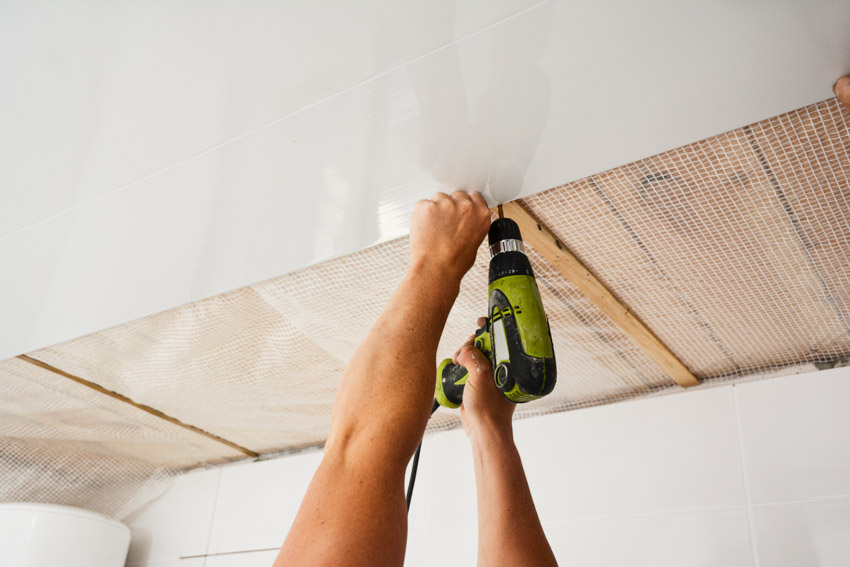 PVC ceiling boards are less expensive than most other materials, lighter, and easier to install on a level surface. PVC boards that appear like ornamental brass with a patina or sculpted plaster of Paris are available as well.
These durable ceiling boards are also available in sleek designs that do not conceal the plastic. For a more modern aesthetic, you can use interlocking panels instead of ornamental tiling.
PVC is an excellent choice for damp environments since it is resistant to water, mold, and mildew. Many contractors turn to PVC boards for laying out coffered ceilings in a grid and for the inside and beam construction.

Pros of PVC Ceiling Boards
• PVC types of ceiling boards are very lightweight and easy to install.
• These boards are very durable and are available in different designs.
• They are ideal for bathrooms or shower areas since they are resistant to water, mold, and mildew.
Cons of PVC Ceiling Boards
• Over time, PVC ceilings emit damaging chlorine gas.
• When burned, this material can be extremely hazardous.
Hardie Board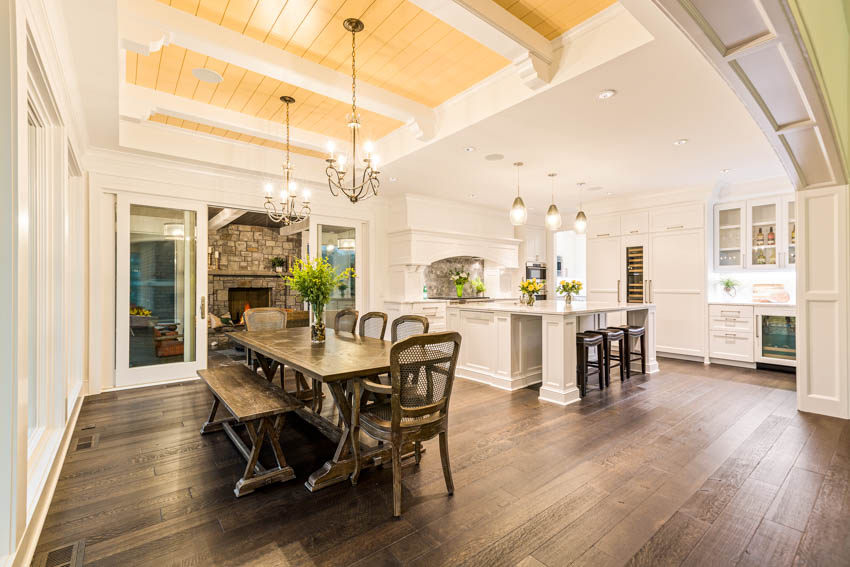 Hardie ceiling board, often known as HardieFlex, is one of the best interior home ceiling solutions. It is also a common choice for internal walls that encounter minimal traffic.
Because they are made of cement, these boards are fire-resistant and non-combustible. Furthermore, these boards are resistant to humidity, termites, and decay.
These flexible ceiling boards can be used in curved seamless, paneled, or patterned designs. It is also suitable for usage in wet areas like bathrooms.
Pros of PVC Ceiling Boards
• Hardie boards are extremely fire-resistant and non-combustible.
• These ceiling materials are very ideal for moisture-exposed areas such as bathrooms or shower areas.
• They can withstand termites and rot.
Cons of PVC Ceiling Boards
• These ceiling boards cannot withstand extreme impacts as they might shatter.
Tongue And Groove Boards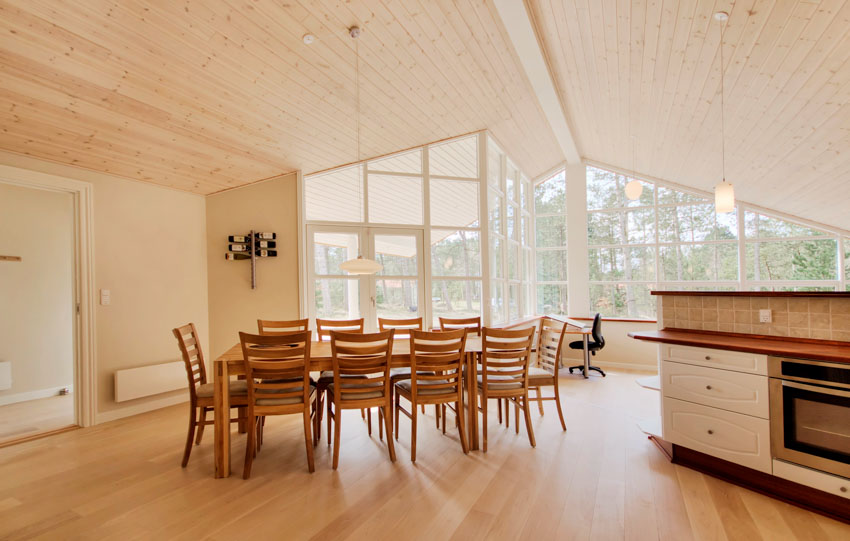 Tongue and groove ceiling boards feature one projecting tongue side and one obtaining groove side. On all four sides, the tongue and groove run the complete perimeter of the item. One board will slide into another neighboring board. This is a fairly simple DIY project that requires little bonding or nailing.
Tongue and groove ceilings can be left unfinished, stained, or painted. Each application will produce a unique result. It all depends on the appearance and vibe you want to accomplish. It is available in a variety of wood species, including knotty pine, clear pine, redwood, and cedar.
The elegance of a pine tongue-and-groove wood ceiling is its primary advantage. It is indeed magnificent, appears to be suited to the room, but is more expensive than a plasterboard ceiling. However, if done correctly, it can raise the value of your home.
Compared to huge types of drywall sheets, it is a little simpler to install, but depending on the size of the space, it may take longer because each board needs to be installed.
Pros of Tongue and Groove Ceiling Boards
• Tongue and groove ceiling boards are easier to carry and manage than massive drywall sheets because they are lightweight and slender.
• If correctly placed and completed, this type of ceiling board improves the value of a home.
• It is simple to conceal a poorly built drywall ceiling with this material.
Cons of Tongue and Groove Ceiling Boards
• This ceiling board necessitates several priming and painting procedures; overhead installation is quite difficult.
• They are less soundproof than drywall.
• It takes more time to install because numerous boards are required.
Foam Boards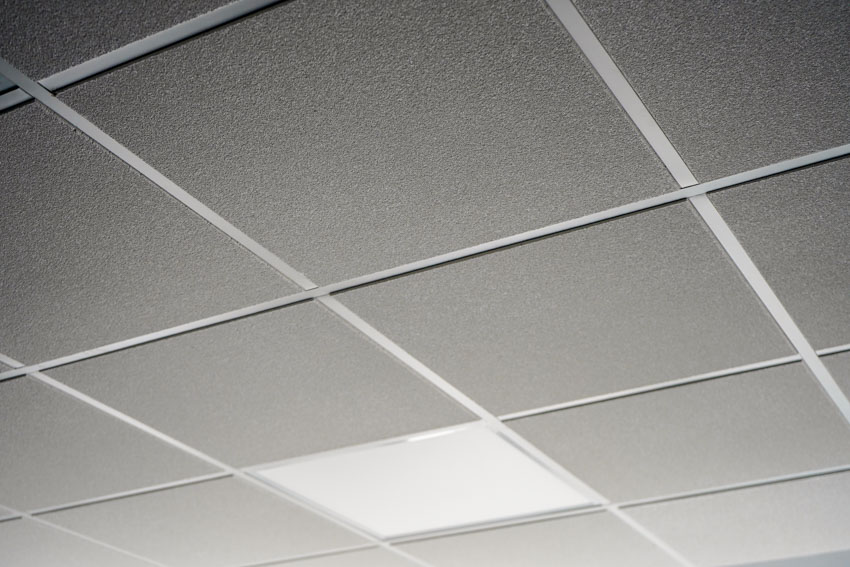 To enhance insulation, foam boards are often installed below your existing ceiling. Hence, foam board insulation would be an excellent alternative to the traditional fiberglass batt insulation found in the majority of modern homes.
Foam boards have a greater R-Value per inch of thickness, is moisture-resistant, and can be installed easier than many other materials.Most foam board installations are done in the garage or attic to help provide better insulation.

Pros of Foam Board Ceiling
• Foam boards can vastly enhance interior insulation.
• They are lightweight and easy to install.
Cons of Foam Board Ceiling
• These boards cannot be installed as a standalone ceiling. They are merely for insulating purposes.
Fiberglass Board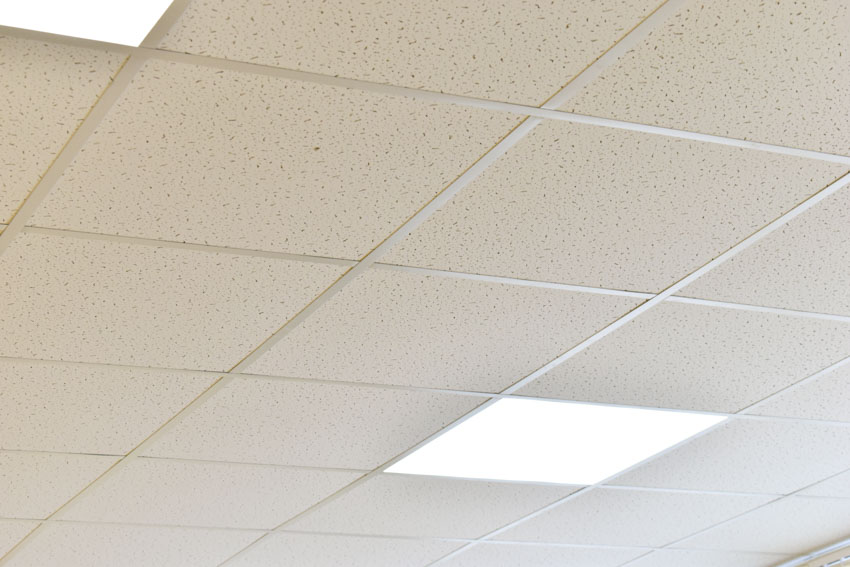 Fiberglass ceilings are most commonly found in drop ceilings in commercial properties, but several individuals prefer to install them in their homes as well. When functionality is more essential than design, a fiberglass ceiling could be a cost-effective and simple-to-install solution.
The tiles are made of pressed glass fibers and polymers. Indeed, these materials are often non-combustible and have good sound-dampening properties.
Moreover, fiberglass ceiling boards that are formed into shapes and patterns can make a fiberglass drop ceiling appear less industrial while saving you money on ceiling supplies. These compositions are frequently eco-friendly building materials; lighter panels can also be placed straight to the ceiling without incurring fading or sagging effects.
Knowing the various kinds of fiberglass panels can assist in making better selections for the specific needs of a place. Polyester resin fiberglass is a typical type, which is a liquid resin polymerized into a solid that is resistant to several solvents.
Fiberglass ceiling boards can also be laminated using epoxy resin, or they can be sculpted into glass-reinforced plastic structures, glass wool, or chopped filament mats of haphazardly placed small fibers.
Furthermore, a fiberglass ceiling board is inexpensive to make and may be effortlessly molded to fit uneven surfaces. The distinct properties of such composites ensure consistent stiffness and toughness in tension and compression stresses.
These qualities can be strengthened by layering additional layers with grains positioned in various directions. Features such as acoustics, indoor air purity, as well as light dispersion must be considered while selecting the best fiberglass ceiling panels for a given setting.
Fiberglass can be made into panels with varying degrees of firmness, ranging from fabric to semi-rigid panels painted with weaving textures, such as drop ceiling panels, to firm ceiling-mounted decorative panels designed for durability.
Ultimately, fiberglass boards are lightweight and may be hung from the ceiling without taking up too much space. They are usually attached using standard ceiling materials with adhesive.
Pros of Fiberglass Ceiling Board
• Fiberglass ceiling boards are affordable and eco-friendly.
• These boards are incredibly fire-resistant and non-combustible, making them an ideal choice for kitchens and restaurants.
• They can resist termites and other pests and do not rot over time.
Cons of Fiberglass Ceiling Board
• When installing fiberglass ceiling boards, it is critical to wear protective equipment since the tiny shards might settle in the skin. They can also be inhaled.
• Some fiberglass boards still contain formaldehyde as a binder, which might contaminate the environment.
Metal Panels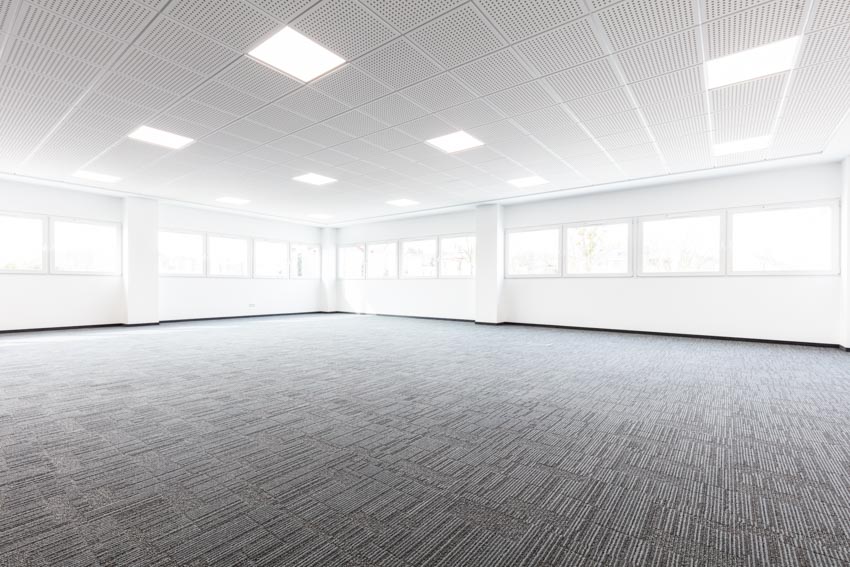 Metal is generally admired for its durability and luster. It is an excellent alternative for increasing the elegance of the inside of your home. Metal can be seen in tiles, planks, and panels when employed for ceiling projects.
Metal ceiling boards composed of aluminum and galvanized iron are the most common. Metal panels are available in a diverse array of sizes and thicknesses to meet your requirements.
Employing metal on your ceiling can give your living areas a very modern, industrial vibe. Metal ceiling board installation is relatively straightforward and takes less time than some other options.
Metal ceiling panels can also be detached and reattached, making all of the ceiling's hidden components easy to access. Thus, metal ceilings have cheap maintenance, repair, and installation expenses.
Pros of Metal Ceiling Panels
• Metal ceiling panels are fire-resistant and easy to maintain.
• These ceiling panels give a shiny atmosphere, providing your space with added illumination.
• Metal ceiling panels make it simple to reach ceiling components.
• This type of ceiling panel will not break or deform over time and will preserve its original form.
Cons of Metal Ceiling Panels
• Metal ceiling panels can be hard to install and might require professional assistance.
• These panels can be very costly, especially when installed for larger construction projects.
Most Popular Ceiling Material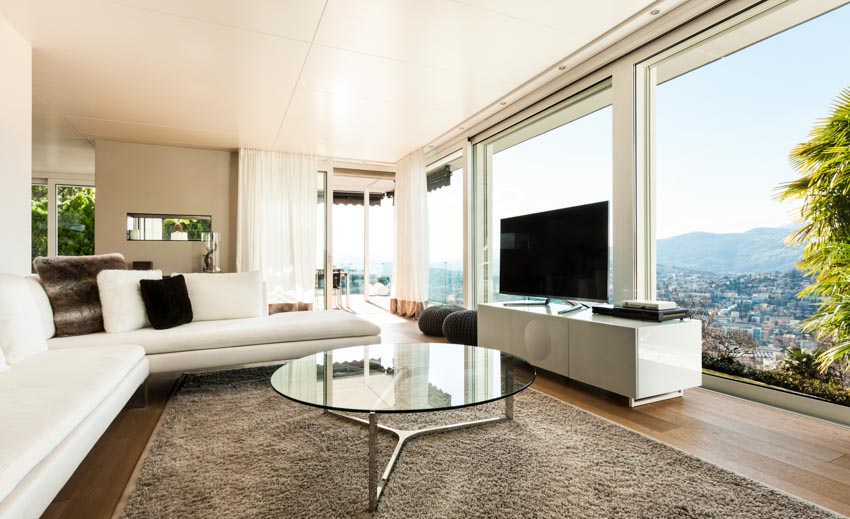 Gypsum has risen to prominence as the most popular ceiling board material. It is frequently accessible in the pattern of factory-manufactured square boards.
Arguably, the main reason why gypsum is popular is that it allows for quick and easy installation while producing very little dust throughout the process.
Furthermore, because the gypsum boards are available in huge sizes, there are very few apparent joint marks in the ceiling.
What Ceiling Board Is The Best?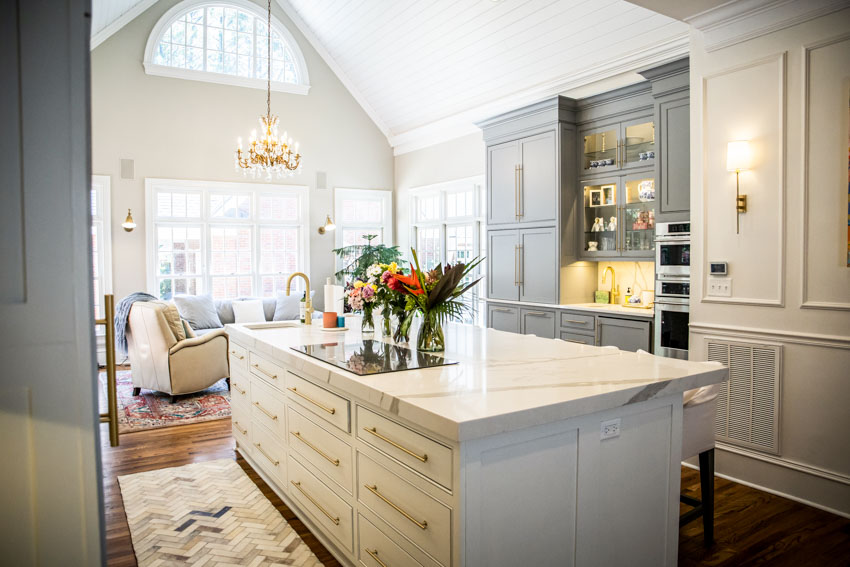 Beadboard is perhaps the best among the different types of ceiling boards. Air pockets naturally occur in the grain of beadboard ceilings. It preserves cold and heat within the cellular composition.
In terms of insulating capabilities, wood-made ceilings are reported to be over 400 times better than steel and over 1500 times better than aluminum.
Hence, any wood ceiling board such as beadboard can create an excellent overall interior atmosphere. Anyhow, the best ceiling board will always depend on your current needs and preferences.
See more related content in our article about the different types of wood ceilings on this page.