See pictures of limestone backsplash kitchen designs including what it is, the pros and cons, different backsplash styles & ideas, and limestone finishes.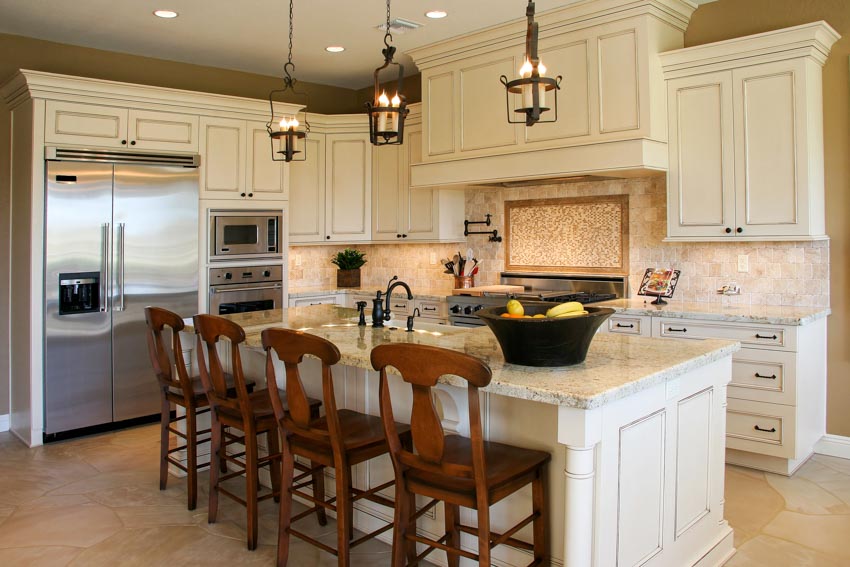 The kitchen is a battlefield and one of the ways you can protect it from your daily wars against grease and spills is to have a backsplash installed. A good and durable backsplash can help you protect your kitchen and at the same time add aesthetic value to the room. With many options to choose from, it can get overwhelming to plan and think about.
A backsplash is a feature of the kitchen that allows homeowners to exhibit the beauty of their cooking area through a range of styles, hues, materials, textures, and elements, and so that their sense of aesthetics can be appraised.
Normally, the material utilized for the backsplash is easy to maintain, attractive, and functional. It is the area of the house where elegance and efficiency must harmonize. It must look attractive. Fortunately, limestone backsplashes have magnificent, natural textures because they are manufactured from minerals that inherently rested on the earth's surface over centuries.
The richness that a limestone backsplash adds to your kitchen makes it an unrivaled part of the entire house. The natural mood provided by this stone is due to subtle patterning and toned-down neutral tones.
If you need a good place to start and an option to consider, why not check out these limestone backsplash kitchen designs? Learn more about what a limestone kitchen backsplash can offer you and weigh its pros and cons to know if it's the ideal option for you.
What Is A Limestone Backsplash?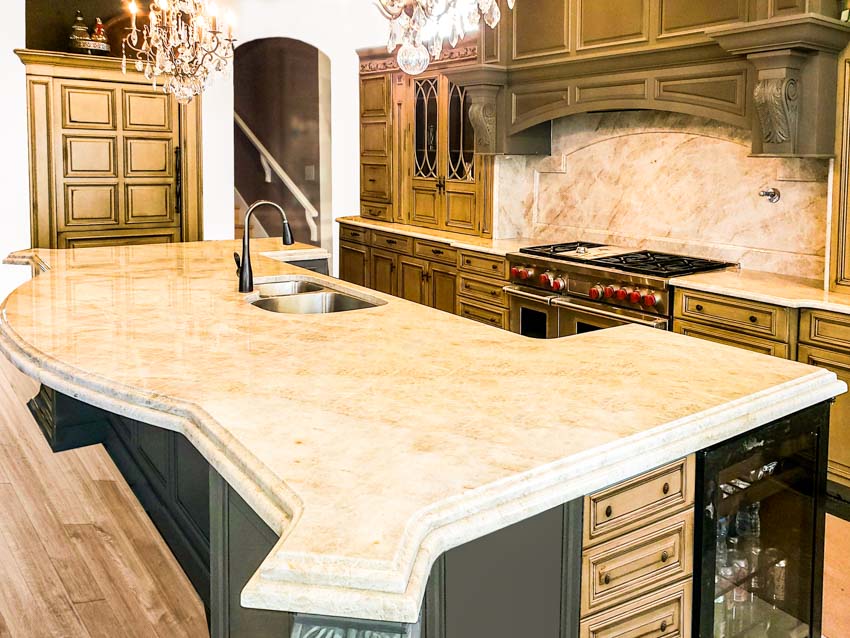 A limestone backsplash is a protective surface you can install on the wall perpendicular to your kitchen's countertop and stove. The role of the backsplash is to protect the wall from cooking oil splashes and other substances you use for cooking and preparing food. This is the reason why it's important to choose a backsplash that is resistant to these damaging substances.
Limestone is a solid sedimentary rock composed of minerals and various crystal structures of calcium carbonate such as calcite and aragonite. Limestone is composed of disintegrated fragments of shells of aquatic creatures and living beings.
Moreover, limestone is primarily produced when sea creatures absorb calcium carbonate from water to create shells and bones, including clams, oysters, and mussels. When they perish, their shells and bones descend to the seafloor and develop solid sedimentary rock over millennia.
They can also be created by rapid crystallization from water. This rock develops most typically in clear, warm, shallow seawater. Since limestone is a hard sedimentary rock, it is durable enough to serve as a sturdy backsplash.
This means that the material is composed of different minerals and crystal forms of aragonite and calcite, as well as skeletal marine organism fragments in the form of grains. Yes, if you choose this option for a backsplash what you have is a product of years of nature preserved in a stone. Nothing can get as natural as that if that's what you're going for.
Limestone backsplash kitchen designs can cover a few inches from the countertop or reach all over the ceiling. The decision is all yours, as well as the choice of colors, designs, and textures.
While kitchen backsplashes are highly functional, it is necessary that you use their aesthetic value to your advantage. With wide choices based on their appearances, you have the freedom to customize however you want.

Another offshoot of limestone is travertine which is a subset of the stone. Travertine is a land formed stone whereas limestone varieties are formed under the ocean. You can frequently find travertine countertops, backsplash and flooring available at a less expensive price than limestone.
Limestone Backsplash Cost
The cost of limestone backsplash kitchen designs range around $400 to $1,300, depending on several factors including the material's color, thickness, and finishing, as well as the total cost of labor. Limestone slabs and tiles range from $2 to $11 per square foot, where the low-cost materials are very porous while the high-cost ones have a more textured finish.
If you choose to DIY the backsplash, you will surely be able to save some money but you need to know how to be able to do it effectively, or else you'll just be wasting your time, money, and effort.
Limestone Backsplash Pros And Cons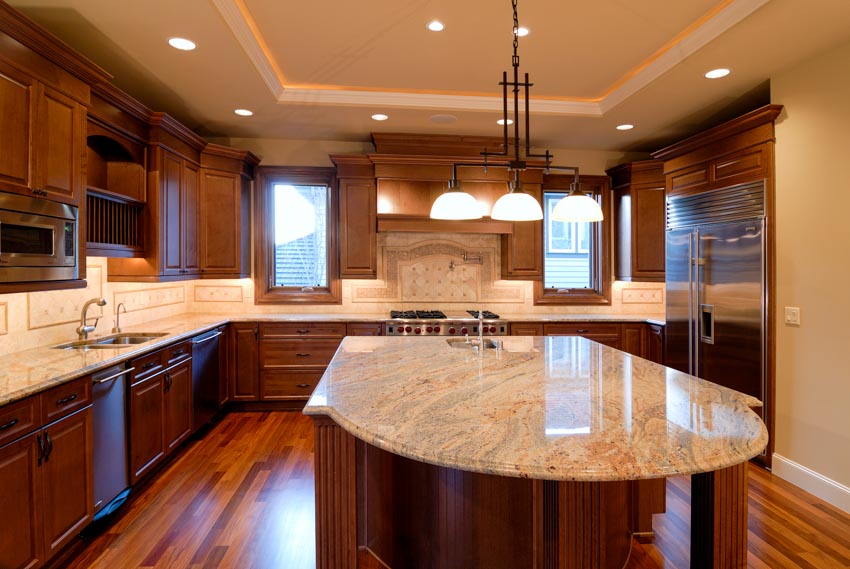 Limestone is an incredible natural stone. Using it as a kitchen backsplash provides several advantages you can make the most of and disadvantages that you need to take note of to assess if its benefits outweigh the drawbacks that come with it. Here are the pros and cons of going for limestone backsplash kitchen designs.
Limestone Pros
A limestone kitchen backsplash offers incredible benefits that make it one of the popular choices for homeowners. Here are some worth taking note of:
High Resistance & Durability: With its high mineral composition (if you choose a high-end limestone), this backsplash is incredibly durable and resistant to bacteria and mold, which is what you will need for your meal preparation and cooking in the kitchen. With proper installation, sealing, cleaning, and maintenance, this backsplash can stand the test of time and last for a long time.
Extremely Versatile: Considering limestone is a soft stone, it can be cut into different sizes and shapes, from a delicately small shaped design to large planks and slabs. Limestone is uncomplicated to trim and form to any size.
One of the reasons why customized limestone backsplash tiles are so widely known is that buyers can have exactly what they want and not have to compromise on the size that they do not prefer.
High Aesthetic Value: Limestone backsplash kitchen designs offer this stunning natural design showcasing class, elegance, and rustic ambiance. The material is seen in a variety of colors, from neutral colors tan and gray to pastel shades and blue.
These colors come from the specific organic material found in the stone, where yellow and brown are high in iron oxides and jet black shows high organic material content.
Since these limestone tiles are created from naturally derived minerals, they offer wonderful, natural patterns. The tiles can, without a doubt, give your kitchen a polished and gorgeous look.
Owing to its inherent aesthetic qualities, it has been utilized in homes for ages. It reflects the owner's personality in designing and organizing the kitchen. It is also available in a variety of colors, as aforementioned.
Safe: Limestone is a non-combustible rock and a non-flammable material. It is safe to use in kitchens since it does not spontaneously combust or catch fire. A non-flammable material such as limestone will be safe to be used in the kitchen where tasks can involve fire when you're cooking.
This is an important feature of limestone for kitchens. Limestone absorbs heat well, and unlike other synthetic backsplash tiles, it does not crack because of heat uptake.
Cost-effective: Purchasing and installing limestone is more affordable compared to other natural stones like granite and marble. It is a good option if you want the rustic and elegant aesthetic of a natural stone but can't afford the most common options.
Environmentally Friendly: A limestone kitchen backsplash does not require the forsaking of the environment and a long process just to develop the material (unlike synthetic tiles), helping conserve energy as a result.
Furthermore, limestone backsplash kitchen designs do not necessitate a lengthy production process, which benefits the environment by avoiding pollution. Limestone saves energy due to its brief manufacturing procedure and usage of natural resources.
Easy to Maintain & Clean: Limestone backsplashes are simple to clean and maintain. They necessitate normal sweeping and wiping only on infrequent occurrences. Regular cleaning may be necessary, but you only need to wipe the surface with water just to keep it hygienic.
Since the material is anti-bacterial, you don't often need to rigorously clean it. Limestone should last a long time if properly cared for and protected. You can also seal them to protect them from stains and extend their longevity and durability.
Timeless Style: Limestone is a versatile stone that can be incorporated into any style or design of a kitchen. It is a gentler stone than others and can be trimmed into small dimensions for mosaic or backsplash arrangements. Limestone backsplash tiles will complement practically any kitchen design. Its natural hue will never go out of fashion.
Limestone Cons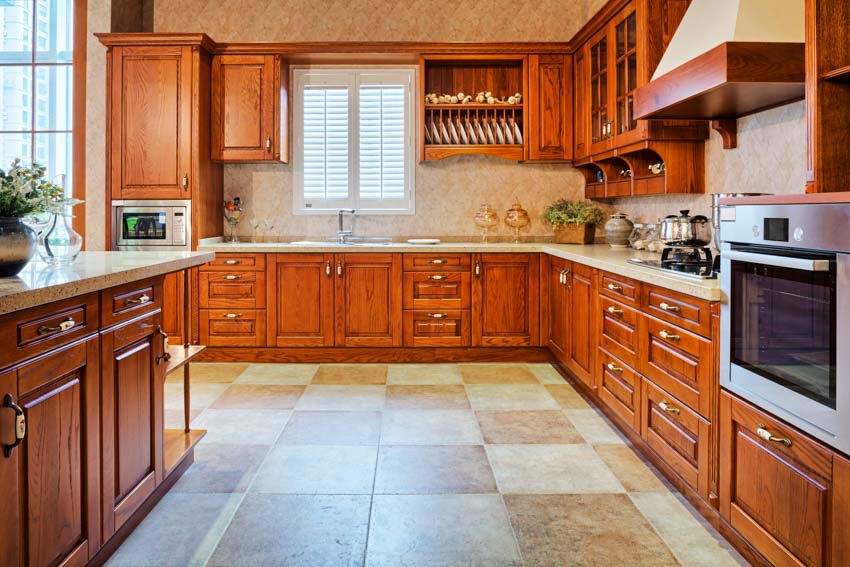 Limestone also has several drawbacks you need to be aware of in order to make a decision if it is the ideal material for your kitchen backsplash despite these disadvantages. Here are some of the relevant cons of limestone backsplash kitchen designs you need to take into account.
Weighty: Limestone is a weighty backsplash material, and its backsplash tiles, particularly the bigger ones, are quite heavy as well. Thus, they must be managed with care to avoid being dropped, fractured, or broken.
Because of their weight, limestone slabs frequently necessitate professional installation, and transporting them can be difficult. This, nevertheless, has no bearing on their efficiency, aesthetic value, or functionality.
Soft Material & Can Be Easily Scratched or Damaged: Compared to other hard raw stones, limestone is soft and susceptible to damage like breaking, chipping, and scratches from high foot activity and bumping with heavy types of furniture styles. Sealing the material and keeping the stone in a proper condition can help prevent these damages.
Porous & Needs Regular Sealing: Since limestone is a sedimentary rock, it is a porous type of stone that will require you to regularly seal the material. Unsealed limestone will have substances seep through the pores, making it unhygienic and can create irreparable damage after a short period of time.
To solve this issue, all you must do is seal it routinely; otherwise, the contaminant would permeate into the gaps and make the backsplash tiles look unattractive, ruined, and dirty. Regular sealing is vital, which can be costly after some time.
Types Of Limestone Backsplash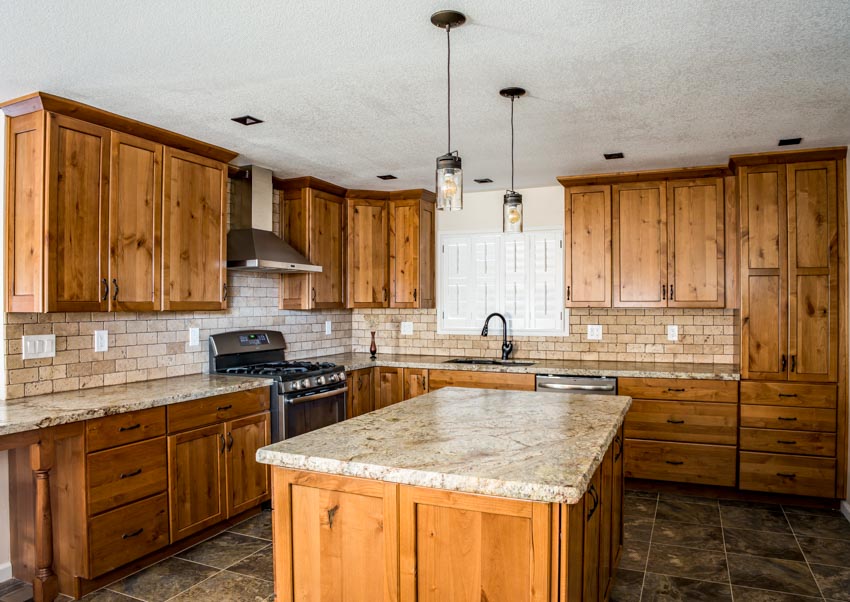 After weighing the pros and cons of limestone backsplash kitchen designs, the next step to take is to consider what options you have. And there is a variety of choices you can check out, especially in terms of colors and styles.
Limestone comes in colors depicting the organic material and components embedded in the stone. This is why it can be offered in a variety of colors, from light shades of beige and green to dark shades of blue and black. The material offers this elegantly natural yet rugged look you won't find in synthetic tiles.
Besides the range of colors you can choose from for your limestone backsplash, it also has different designs and patterns. Here are several you can explore:
Limestone Tile Backsplash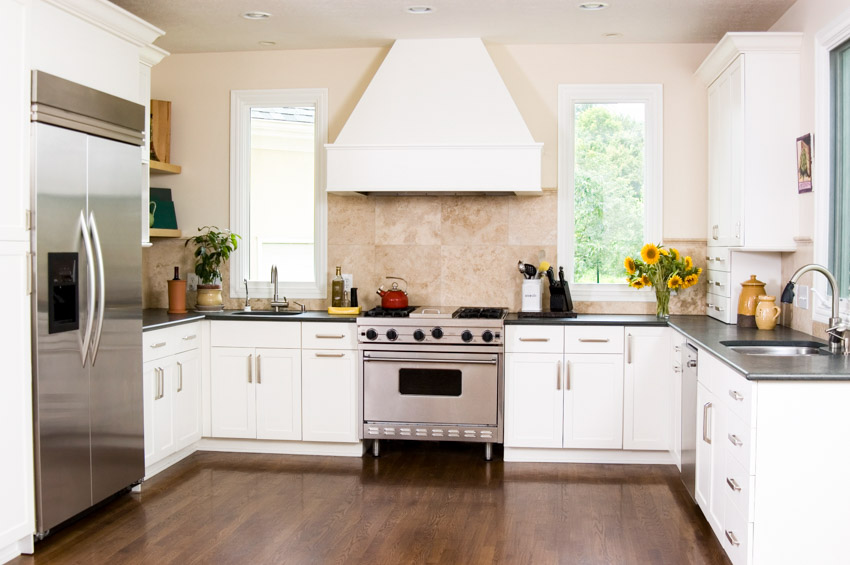 Not only is limestone tile backsplash an aesthetic choice because of its stunning colors and natural patterns but also an economic decision, considering it is comparatively more affordable than other natural stones. It is considered one of the most popular choices when it comes to limestone backsplashes.
A limestone tile backsplash is one of the best options for a wall backdrop because of the different patterns that can be created from it. The patterns are flexible and you can customize whatever design you want, from a diamond pattern to unique formations.
Since the patterns are easily customizable and you can choose from a variety of colors, integrating the backsplash into your kitchen's design is not a difficult task.
Limestone Mosaic Tile Backsplash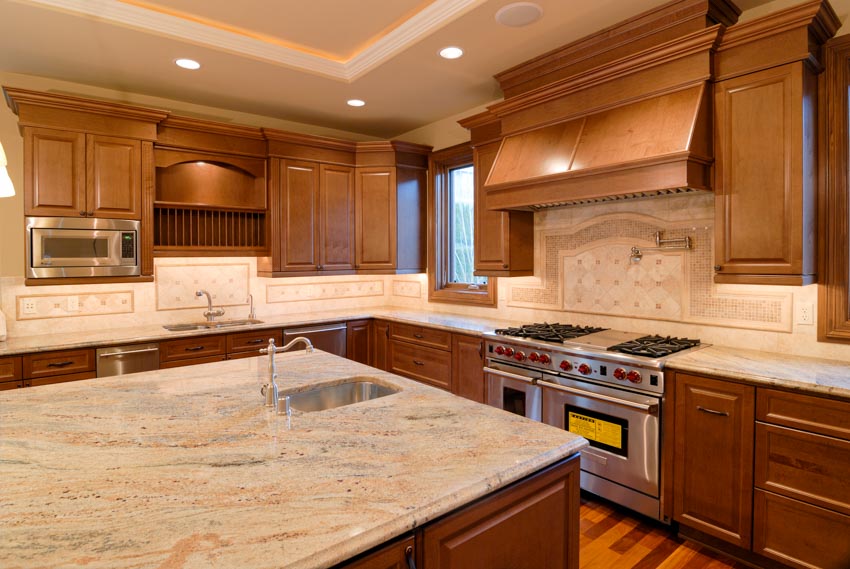 The term mosaic refers to a design made up of numerous little pieces of stone. Limestone mosaic tiles are made from small chunks and bits of stones in a mix of colors and arranged in a random pattern, which is made possible due to the natural stone's flexibility. Among all the limestone backsplash options, the mosaic ones scream artistry like no other.
A limestone mosaic backsplash does not only serve its main protective function but also its aesthetic role since they look like masterpieces glued on the kitchen wall.
The appearance of an exquisitely stunning limestone in an intriguing, patterned mosaic is a great combination of timelessness and modernity. While keeping the richness and charm of the limestone, a hexagonal, arabesque, or herringbone mosaic provides a modern touch to your kitchen. See different tile shapes on this page.

Installing a limestone mosaic tile is a superb option for a visually appealing kitchen backsplash. This type of limestone backsplash tile gives your kitchen a more rustic vibe, whether you choose multi-colored stones or a polished limestone surface in your cooking area. With so many fantastic selections, picking a specific style or arrangement with limestone mosaic tile would be easy.
Compared to regular limestone tiles, limestone mosaic tiles offer a twist in the patterns. You can create a diamond pattern with the tiles but using mosaic tiles will give it a unique yet more sophisticated look. The downside though is that you need to make sure it's sealed well and properly since it can be damaged faster due to how it's constructed.
Limestone Subway Tile Backsplash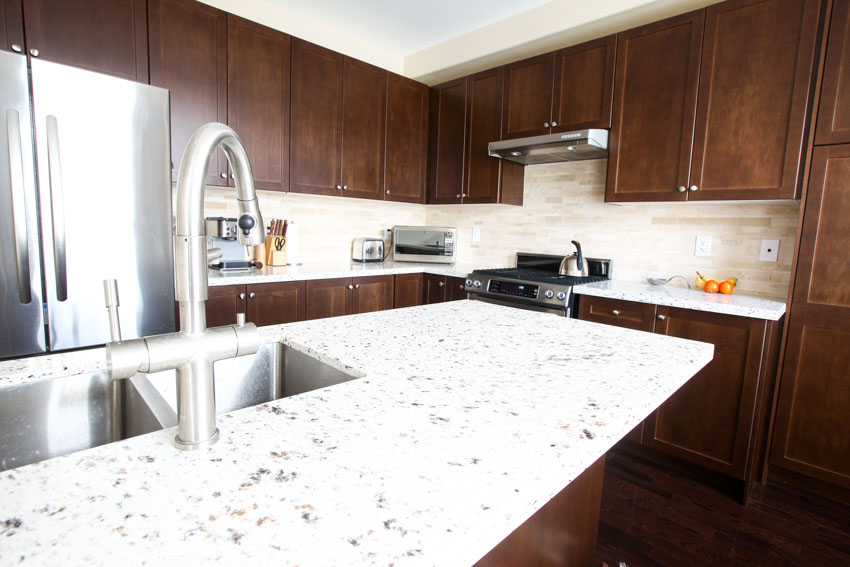 A subway tile originally became a trend in the early 1900s, when white glazed ceramic tiles were used all over the subway stations in New York City, hence the tile's name. The tiles are in the form of a rectangular brick shape, which is a classic and rustic wall look. And they were made from glazed ceramic in the past but now you can find a subway tile kitchen backsplash made from limestone.
Limestone subway tile backsplash has a traditional, subtle aesthetic that is quite adaptable and may be very affordable for a simple variety. It can also go with almost any kitchen décor, from traditional to ultra-modern.
Limestone subway tiles are typically modest to medium in size and rectangle in shape. However, limestone subway backsplashes normally have grout lines, which might accumulate dirt over time.
Vein Cut Limestone Tile Kitchen Backsplash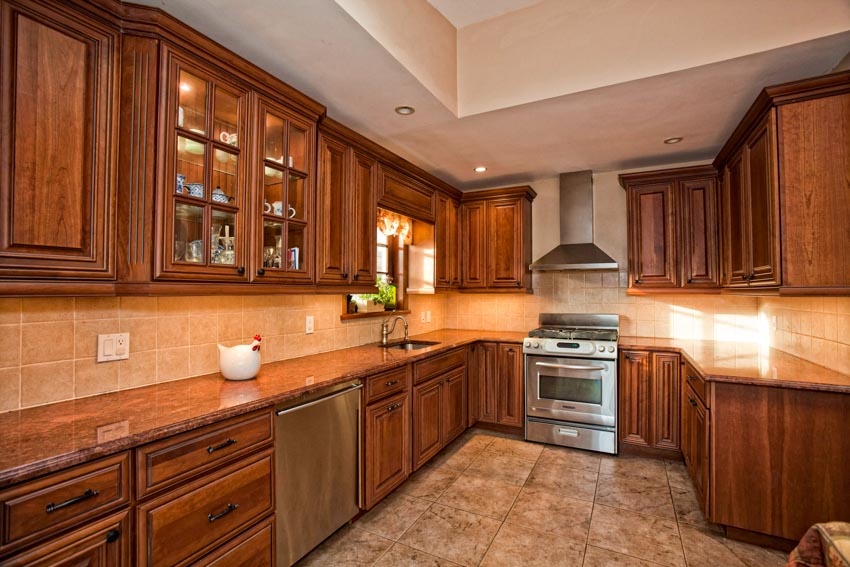 Limestone is formed through the compiling of organic materials gathered through the years. And the stone's selection of colors and veining come from the different elemental impurities in the material's formation.
And the veining can vary depending on how the material is naturally-made. While some limestone only has small specks, others have more prominent streaks and are in contrasting colors too.
You might use a vein-cut limestone tile to offer a more dramatic impression of your kitchen. The vein cut gives a little interest while maintaining that stylish yet minimalistic design, making this one of the newest trends in backsplash design.
With a vein-cut limestone tile kitchen backsplash, the stone slab is cut parallel to the bedding plane or bedrock. This means that the veins run along with the entire slab, which is entirely different from other stone slabs with veins that are cut along the grains.
Since the stone is cut following the grain in the vein-cut method it reveals the layers or lines of limestone and contains horizontally created veining. As opposed to the cross-cut procedure, vein cutting involves cutting the limestone tiles against the grain. The pieces may have veining but would not seem striped with this procedure.
Vein-cut limestone tile is increasingly becoming a popular choice for kitchen backsplashes. By employing grayish, vein-cut tiles in your kitchen, you could transform the ordinary into the exceptional. The finished backsplash appears to be something out of a high-end kitchen.
Considered the traditional among the different cuts, vein cut tiles offer a more dramatic showcase of the veins and patterns on the slab. This particular cut also allows better matching of styles and designs, which will be good for you once you add the backsplash into a kitchen with a design that's already been established.
Limestone Brick Veneer Backsplash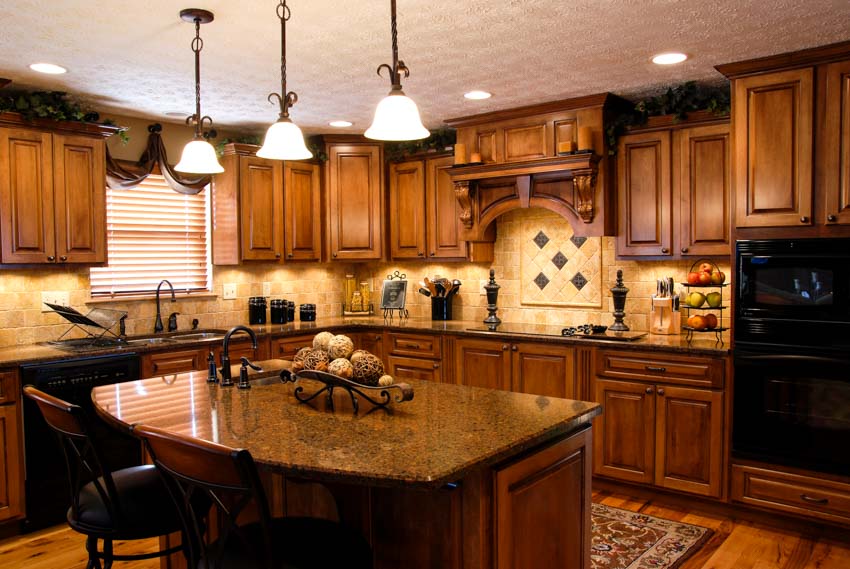 Limestone brick veneer backsplashes are natural stone materials that are preferred for their unique design, texture, and charm. This stone variety is often used in architectural designs stretching back to the medieval era. Limestone brick veneer is available in a multitude of colors to suit a wide range of design options.
Moreover, limestone brick veneer backsplashes are used in kitchens with rustic interior designs. These backsplash materials are often vintage-looking. On a positive note, these materials are quite durable, extremely fireproof, and can guarantee to protect your walls from food and oil spillages.
Limestone Backsplash Finishes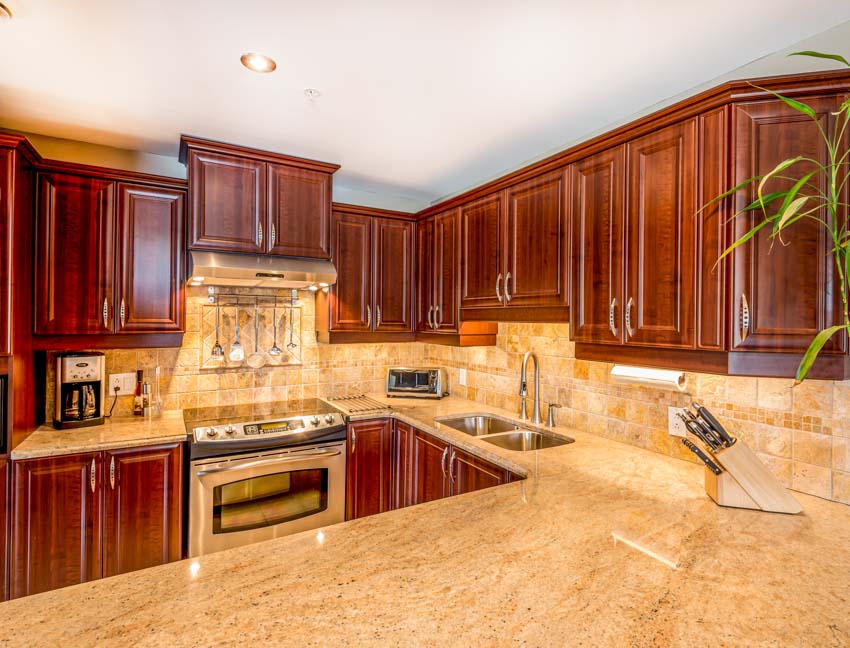 Besides the different limestone backsplash kitchen designs and patterns, there are also different types of finishes you can choose from. Some finishes are not possible for particular types of stones so it's important that you know which ones are applicable.
Once you've decided to go for a limestone kitchen backsplash, one of the next steps to take is to consider the finish you want it to showcase. Here are some considerations for limestone you can explore.
Tumbled Limestone
A tumbled limestone refers to when the stone has a rustic finish that delivers an ambiance of the old world and something antique. Tumbled limestone backsplash tiles go through a process to give them a gentle surface and a curved edge with an antique style finish.
This is among the limestone backsplash kitchen designs that add elegance to the room. This is done by creating the all-rounded effect that the stones by the seashores also showcase. Since the finish itself tries to imitate the "aging" look, a tumbled limestone is more textured.
If your kitchen has an aged and antique look that's authentic and true to its form and design, your limestone backsplash is ideal to have a tumbled finish to add rustic detail to the room. It also adds character to the kitchen and can even serve as the accent wall of the room.
In order to have this tumbled finish, the limestone tiles are placed inside large drums and are then shaken and aggregated so as to successfully have that ruggedly "aged" look. This kind of finish can hide marks and imperfections on the surface, which can be a good option for porous stones with noticeable marks in them.
The tumbling procedure gives the tile a smooth, weathered appearance with a moderately gritty surface. The most common tumbling process involves placing the limestone tiles into a rubber-made tumbling drum and then filling it with sand and water.
The machine is then tumbled, rotating the drum and its components. The sand gets to wear away the rough edges of the backsplash tiles as the machine tumbles, leveling the surface.
Manual tumbling with hand-chiseled edging is required for large tiles. Machine roughing is used in some limestone backsplash tiles to create a tumbled effect on larger tiles.
However, the tumbling procedure slightly degrades the limestone's natural luster by generating a chalky deposit that must be cleaned. Therefore, a color-enhancing sealer applied to the limestone helps to protect it from water disruption.
Not only does the sealer protect the limestone backsplash, but it also accentuates the natural hue of the stone, making the backsplash more aesthetically attractive.
Polished Limestone
A polished finish on a limestone showcases the highest luster compared to all types of finishes you can apply to a stone. Also known as glossy or high glossy, the polished finish makes it possible to see every grain and vein on the surface of the stone. For limestone tiles, this means that the veining will even be more transparent.
With polished limestone, the surface is sealed making the entire stone less porous and more durable. The big drawback in choosing a polished finish is that its smooth and reflective surface allows every scratch and mark to be visible, whether you intend for them to be shown or not.
And to achieve this sheen, the natural stone is exposed to a significant and thorough smoothing process using several polishing wheels. Unlike marble, limestone is not noted for its dazzling shine.
However, you may easily get a polished appearance on limestone. Polishing enhances the inherent color and contrasts of limestone by brightening its appearance. Limestone backsplash tiles can be polished using various methods such as mineral oil, hand polisher, and so on. Nonetheless, most polished limestone tiles are polished by machine.
When it comes to general aesthetics, polished limestone caters to a more traditionally elegant taste, which is why it is a good option for formal spaces. If you are going for something luxurious and artistically unique but timeless, this is the ideal finish for your natural stone. And yes, that includes your limestone backsplash.
Honed Limestone
If you choose honed limestone for your backsplash, you are going for a finish that's less smooth than satin and polished. Also referred to as matte, it offers something muted when it comes to its appearance but retains more texture and authenticity from the natural stone.
Compared to a polished finish, it is also able to hide minor scratches better. It is a good option if you're going for a more contemporary and warmer look, which is an interesting addition to the kitchen.
The downside in choosing honed limestone over polished limestone is that it does not fully seal the stone. And since limestone is porous, you will need to refinish and seal it in order to protect it from stains and moisture. In addition to that, the textured surface makes the surface more complicated to clean.
Brushed Limestone
A brushed limestone has a more textured finish compared to honed and polished limestones but is a bit smoother compared to a tumbled finish. If you are looking for a texture that is quite similar to an orange peel, this is the ideal finish for you.
The texture offers the limestone a more authentic look with more softness yet at the same time handles wear and tear well. This authentic textured look can be achieved by running the stone under the wheels and getting brushed with metal bristles and a steel comb. This process allows the stone to have more texture and enhanced natural color.
Limestone Colors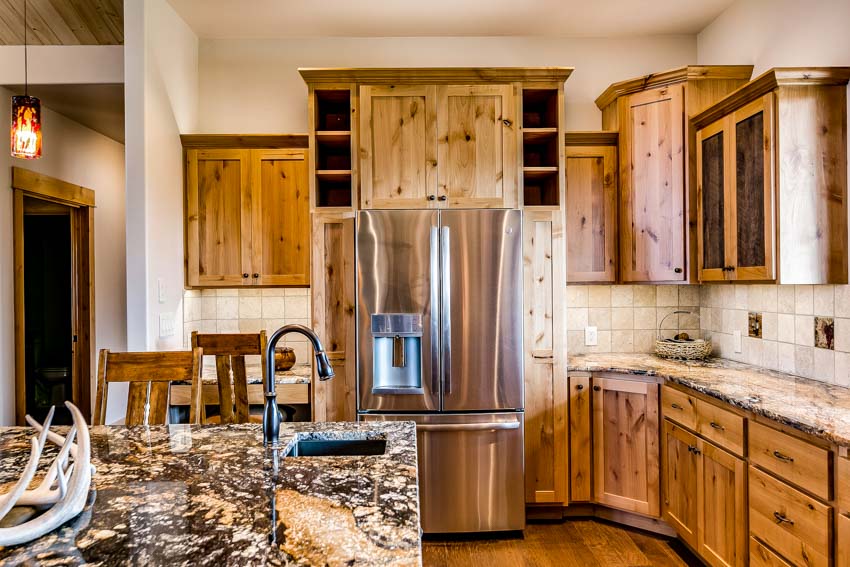 Most limestone backsplash kitchen designs are made up of unique grains with a variety of color variations. They are an incredible material for enhancing the kitchen area as they are frequently used to create backsplashes. The surface veining, streaking, and subtle shading of limestone backsplashes generate a variety of patterns and colors, which make it very appealing to a lot of homeowners.
Several types of limestones feature extremely fine specks, whereas others have lines. Within the natural attractiveness of the limestone tiles, they yield a variety of clashing colors. The wide spectrum of colors is caused by various elemental impurities inherent in limestone throughout its development.
Here are some of the well-known color combinations of limestone backsplashes:
• Gray and Light Gray
• Beige, White, and Off-White
• Raspberry, Plum, Burgundy, and Red
• Charcoal and Jet Black
• Gold and Yellow
• Pastel Pink, Pale Pink, and Rose
• Copper, Rusty, and Orange
• Tan, Light Brown, Brown, and Cinnamon
The light color variations of limestone backsplashes offer the kitchen an exquisite appearance and architecture. They are simple to combine with other design elements such as cabinets, countertops, and flooring. Read more about limestone kitchen countertops here.

Traditional, modern, retro, minimalist, and contemporary ambiances are often generated by limestone backsplash tile patterns.
Is Limestone Tile Durable?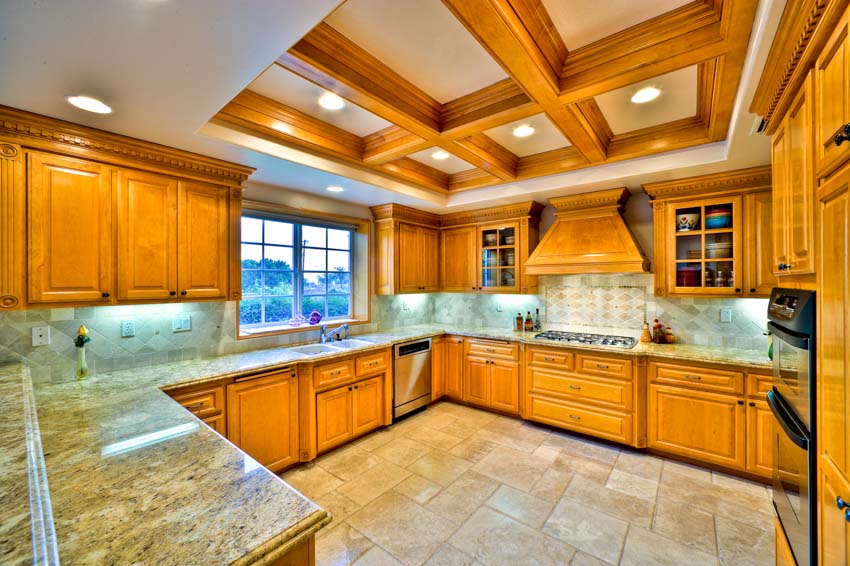 Limestone is a sedimentary rock composed of organic minerals and the denser the collection of grains is, the more durable the stone is. This is the reason why the darker the color of the limestone, the more durable it is and vice versa. So if you want something harder and more durable, go for a darker-colored limestone.
While limestone is a soft stone that's less durable compared to marble, it can be considered hard and durable among other soft stones. It is more stable and not susceptible to fragile vents just because it has veins.
It is incredibly durable provided that the natural stone is sealed properly and maintains that condition regularly. With proper sealing, the surface is protected from moisture and other substances that can easily damage it, especially because the stone is porous.
How Do You Care For Limestone Backsplash?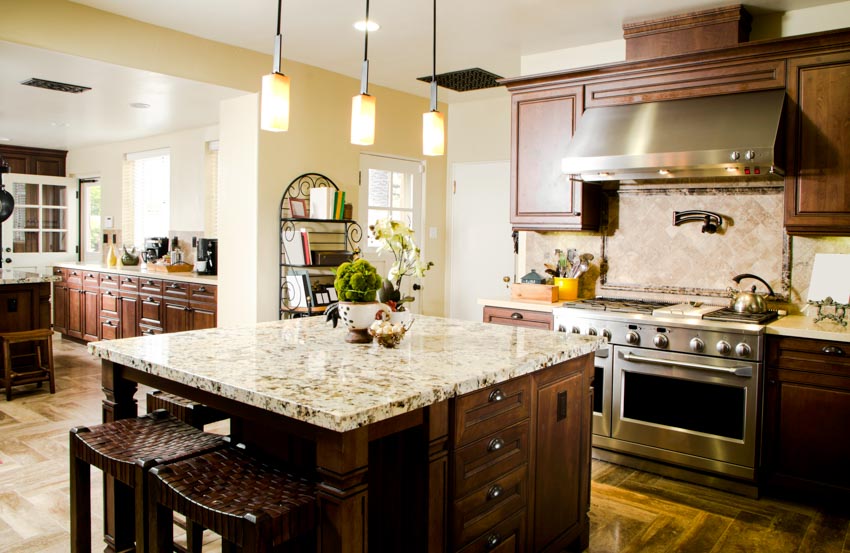 In taking care of your limestone backsplash, it is important to regularly clean it from damaging grease and dirt. This means that adjusting how you clean the limestone backsplash is important.
Regular cleaning only requires wiping the surface of the stone with a wet cloth and warm water but if you decide to use a cleaner, make sure to go for neutral cleaners since it has calcium carbonate that gets rid of acid, which is dangerous and damaging to the stone.
Limestone types of kitchen backsplash are prone to having oil splashes and leftover food particles and if they are left too long, they will turn into stubborn stains. Splashes need to be wiped immediately off the tiles and stubborn stains require the use of stone cleaners and grout.
Here are some of the steps you can perform to clean your limestone backsplash:
Vacuuming: To minimize scratches on the limestone backsplash tiles caused by abrasive cleaners, you can always vacuum them to remove debris and grit.
Steaming: You can steam the tiles to remove dust and water particles that have formed and blackened on the tiles' tiny pockets. It is preferable to steam the tiles on a constant schedule.
Water and dirt contaminants can create small pits on the tiles, which might discolor or blacken them. Such problems can be avoided with the help of steam. After steaming, you should immediately dry the tiles.
Wet Mopping or Wiping Using a Wet Rag: You can clean your limestone backsplashes with a wet mop every 2 to 3 days, using a moderate solution consisting of mild detergent and water.
Mild cleansers are a must in terms of cleaning limestone. Because it is largely composed of calcium carbonate, it can react with acids, potentially damaging the stone.
The mop you will use should not be your floor mop; it should be a different mop solely made for your backsplashes. Moreover, you should wipe away all the spills and splatters from the limestone tiles quickly as they are the source of tile stains.
Sealing: Limestone tiles need sealing regularly, around once or twice a year, because of their porosity. Sealing will protect the natural stone from stains and overtime wear and tear.
How To Clean Limestone Backsplash?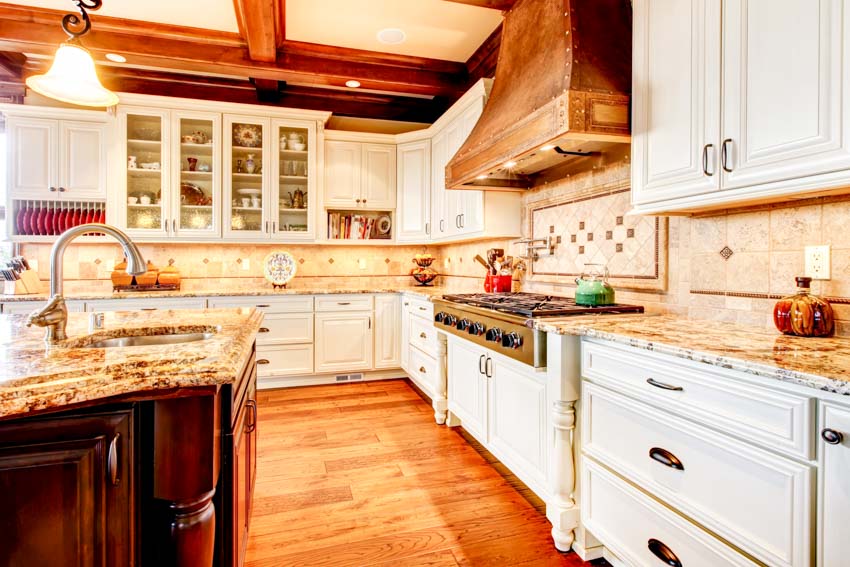 Cleaning your limestone backsplash will be an easy task once you've properly sealed the surface. The daily basic cleaning is not as complicated and you will only need the following things before you start:
• Clean Rug
• Soft-bristled Brush/Toothbrush
• Dish Soap/Natural Stone Cleaner
• Bucket
And these are the simple steps you can follow:
• Step 1 – Prepare a bucket of soapy water solution: Fill your bucket with water and soap. You can either choose a mild dish detergent or a pH-neutral cleaner made especially for natural stones.
The solution can help you clean your limestone backsplash, especially the oil splashes and grease, without having to worry about possible damages you can inflict on the surface. Mixing it with water will help avoid staining from the dripping and splashing cleaner.
• Step 2 – Wash the kitchen backsplash with a bristle brush: Dip the brush in your soapy water and generously apply the solution to your backsplash. Start brushing and be very thorough, especially if the finish you chose for your backsplash is not polished. Take time to brush the small crevices you see.
• Step 3 – Thoroughly rinse the backsplash: Get a bucket of clean water and a rag to wipe away the soapy solution and rinse it away. Make sure you don't miss any spot on the surface.
Tip: If the stain is not easily removed, mix baking soda with little water and apply it to the stain using a spatula. Leave it to dry for at least 30 minutes and then brush it off. If the stain is persistent, repeat this process and let the mixture sit for a longer time.
Do You Need To Seal Limestone Backsplash?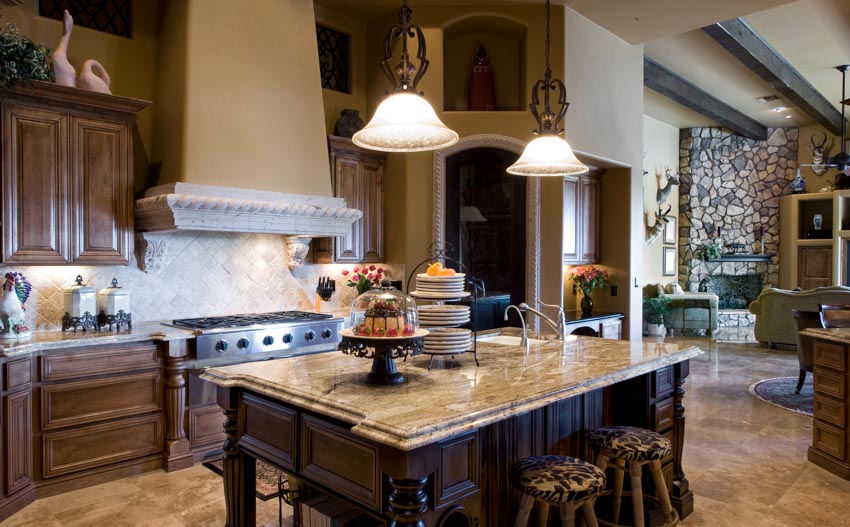 Yes. Since limestone is very porous, it must be sealed routinely every year or two. Sealing the limestone will assist in minimizing stains as well as wear and tear. More than just daily cleaning, you need to seal the limestone to maintain its quality and protect the surface from irreparable damage.
For instance, sections behind the stovetop that are prone to grease and cooking spatter, hence they need extra protection. And because limestone is more permeable than granite, it undoubtedly requires more frequent sealing.
Since limestone is a porous material, sealing is a vital part of using it. While sealing is not a complicated process, it can be expensive because limestone is highly porous. Sealant alone costs $100 to $200 per gallon and maintenance of limestone, in general, can set you back $40 to $300, depending on the size and needed cleaning.
The excellent thing is that applying sealer does not have to be a time-consuming or complicated task. Furthermore, sealing limestone backsplash tile can increase its natural attractiveness, providing you with the desire you need to complete the task.
Is Limestone Good For Backsplash?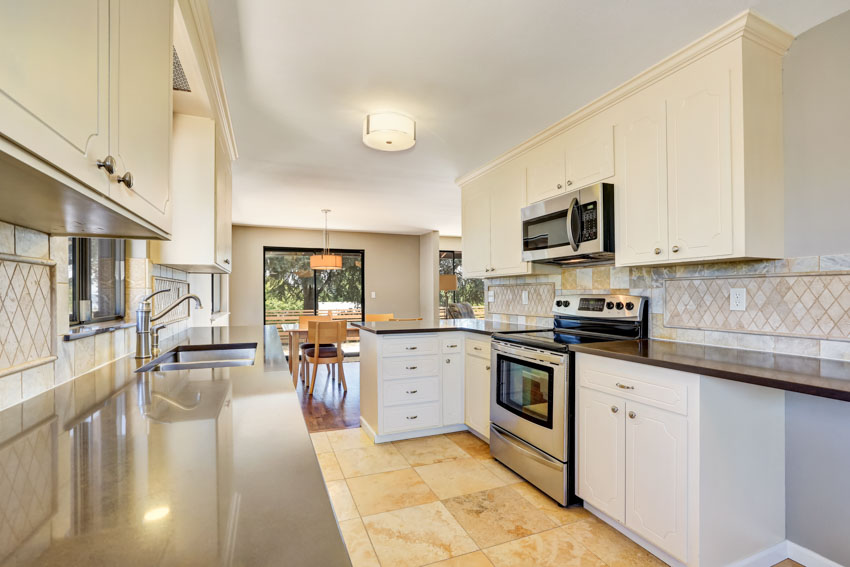 When you make a major purchase for your kitchen, you surely want it to be a perfect complement. When considering modifying something in your kitchen, such as installing limestone backsplashes, you want to make sure you will be satisfied with the results.
Limestone can be a good option for a kitchen backsplash despite being one of the "soft" options among the different types of natural stones. It is one of the most durable soft stones you can use and can provide an ambiance of authenticity and elegance that only natural stones can deliver.
Since it is highly porous, sealing the natural stone once a year can protect it from oil splashes and grease, and extend its lifespan. This is one of the drawbacks you must consider. If you weigh the benefits and drawbacks though, you are guaranteed to benefit more from limestone backsplash kitchen designs, even with these few drawbacks.
See more related content in our article about limestone flooring ideas on this page.