In this slab cabinet doors guide you'll see what they are, different styles, how to update & paint slab cabinets, and differences from shaker style cabinets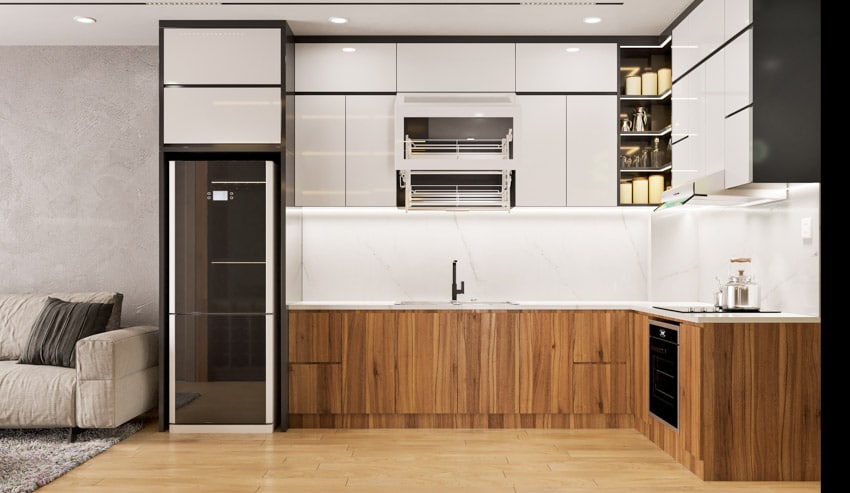 Why update your cabinet doors in the first place? Kitchen remodels are very costly and time-consuming. And yet, this is oftentimes on top of the priority list. A lot of homeowners turn to updating kitchen cabinets as they're the cheapest and fasted kitchen remodel available, even on a budget.
Slab cabinet doors are trendy and popular these days for good reason. They're clean, minimalist, and can almost immediately modernize your kitchen space. Here are some things to keep in mind when updating your kitchen cabinet doors into slab-styled ones.
What Are Slab Kitchen Cabinets?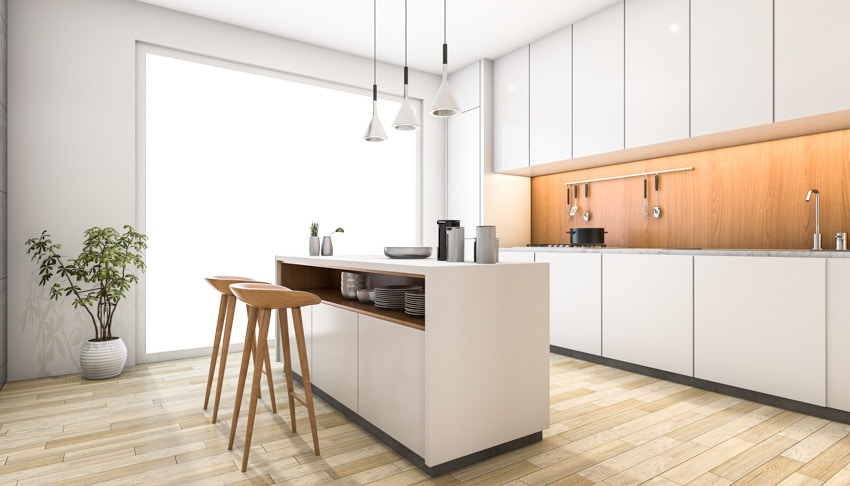 Slab cabinets are also nicknamed flat panel cabinet doors. This is because they create are very smooth and uncomplicated lines. There are no carvings or any type of ornamentation on them. In extreme cases, they don't even have handles or any type of hardware and instead employ a push-triggered mechanism that takes care of getting the cabinet doors open or keeping them closed.
They appear to be just flat slabs of wood. And oftentimes, this is really where the appeal comes from. They have no door frames at all and this creates a look and feel of a cleaner and much bigger horizontal space. They can be made out of actual natural wood, plywood, MDF boards, or even engineered wood.
They are the polar opposite of Victorian styles. The Victorian-style doesn't actually have cabinets at all and the key takeaway is that they look open whereas slab kitchen cabinets keep everything completely enclosed and hidden.
They deliver a distinct look and aesthetic. They can either be sleekly modern or create a look of plain and clean utilitarianism. It's perfect for when you're trying to create a kitchen look that has a contemporary design.
It's quite underrated and simplified but can work well for your kitchen as it gives your other kitchen elements a platform to shine on and be the focal point of the space. It can refocus the attention on your countertops, walls, backsplashes, types of lighting fixtures, appliances, and even your kitchen floors.
Slab Front Kitchen Cabinets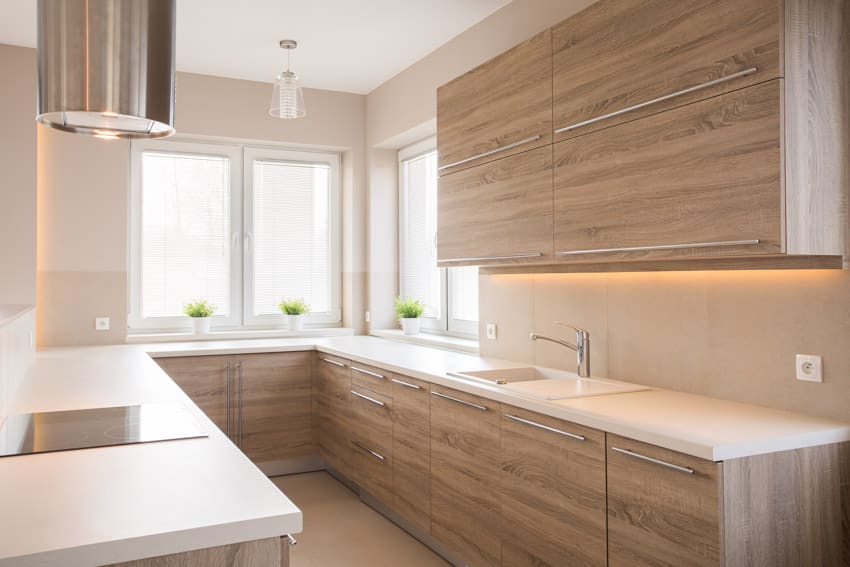 You would think that slab front kitchen cabinets are pretty singular in appearance and taste but there can actually be a lot of variations to them when you take a closer look. By and large, the main differentiators would have to be the kind of materials they're made of.
You can also introduce variety on the finishes, but ultimately, it's all based on what material they're made of and specific micro-details.
Here are some variations of slab front kitchen cabinets:
Solid Slab Cabinet Doors: As the name suggests, solid slab front cabinet doors are made out of solid slabs of natural wood. This is oftentimes the most durable out of all the slab styles because of its solidness.
It is also the most expensive mainly because of the fact that you can't readily get these types of doors from the stores. You would need to have them custom-made. Labor is usually the main reason why the cost of solid slab cabinet doors is so high.
Solid slab cabinet doors can be stained, painted, or sealed. This makes it very easy to customize them and come up with a design and color that's specifically meant to fit into your design preferences and tastes.
Flat Slab Kitchen Cabinets: Flat slab kitchen cabinets don't really vary or veer away too much from the look and feel of the solid slab variation, but they are made out of much lighter and cheaper materials.
This style of slab kitchen cabinets can be made out of MDF, plywood, or some type of composite or engineered wood. MDF is a material that can be easily refaced the moment the cabinet doors show limited signs of wear and tear. Plywood, usually the furniture grade or class A kind, is oftentimes made out of a ply or pinewood or some other type of softwood.
Flat slab kitchen cabinets are much lighter and much cheaper variations of slab-style cabinets but they deliver and clean and seamless look just as well as the solid slab ones.
Modern Slab Door Kitchen Cabinets: Modern slab kitchen cabinets can be made out of solid wood, MDF, plywood, or engineered wood but with specific details along the outside and inside edges.
The inside and outside edges are extremely angular or square and the panel grains are usually horizontal. In some cases, the panels may be raised but it's a very small and almost unnoticeable detail. This slab front style creates a very modern look that usually works best with contemporary kitchen designs.
How Do You Update Slab Cabinet Doors?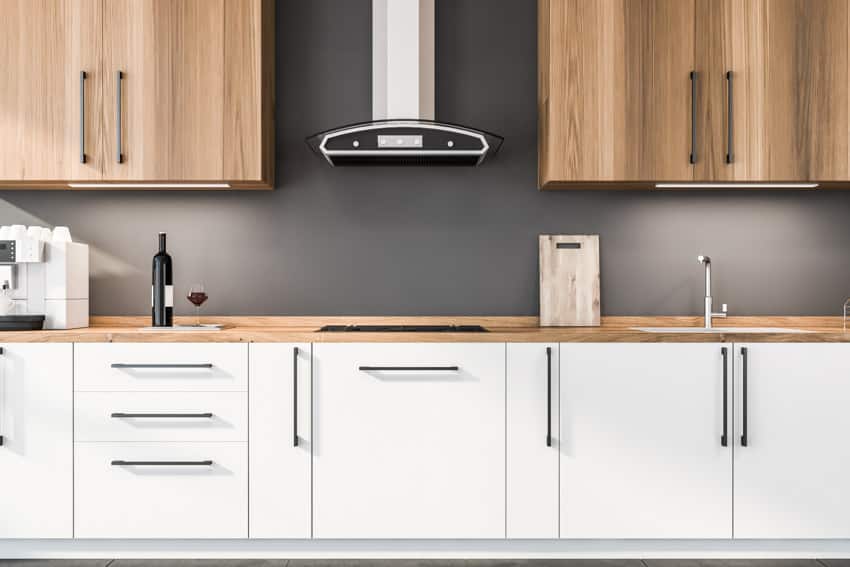 Updating your slab cabinet doors isn't complicated at all. You most likely won't be needing to hire a professional to get it done in the first place. This is the type of task that you can usually get done in just a single weekend.
The rewards far outweigh the cost and the amount of work that goes into a slab cabinet door update. Here are some of the easiest ways for you to get it done:
Repaint or stain them: This is the most affordable and effective of all the things you can do to update your slab cabinet doors. This can be easily done in just a single day or so. The best part of all of this is that almost all materials, including laminates, can be painted on.
Start off by cleaning your cabinet surfaces. Make sure that they are completely free from dirt, grime, and grease; which can be very common in kitchen cabinets since hot air rises when you cook, and along with it, is steam, grease, and other food-related particles.
Go over the clean surfaces with some soapy water and a soft-bristled brush. Don't be afraid to scrub a little rougher than usual since you're going to be smoothing out the surfaces and painting over them anyway.
Make sure that you allow the cabinet surfaces to dry out completely. A day or so should suffice, depending on where you're located and what the temperature is in your house.
Prime the surfaces first, before going over with the coat of paint. Do it in long and sweeping motions as the cabinet doors are completely flat. It's highly recommended that you use an adequately sized paint roller and opt out of using paintbrushes so that the look you create will be completely seamless and clean.
Change the cabinet handles: This is another fast and economical way to update your slab kitchen cabinets. When the kitchen hardware is outdated, it brings the entire look of the cabinets along with it and you can easily remedy this by simply swapping them out for something trendier and more modern.
You can shop around for cabinet handles, pulls or knobs either online or from your local home depot stores. With a handy screwdriver, you can just take the old ones off, slap the new ones on, and get cabinet doors that look like they're completely new. This is a great way for you to renovate without the burden of full-scale renovation costs.
Reface your cabinets or add moldings to them: For this update, you may opt to either go for a natural wood veneer or for an RTF (Rigid Thermofoil cabinet) material. RTF is a melamine-based product and can handle kitchen heat extremely well.
Make sure that your veneers or strips are neatly cut and make sure you have the rest of your materials ready from the pins, to the wood adhesives, to the paint (if applicable, and so on.
Prep the surface first by sanding it lightly. This will create a slightly rougher and easier-to-grip surface that will allow your adhesives to take on effectively.
Outline (for moldings) with a light pencil or painter's chalk so that you know exactly how and where to place it on.
Once added and secured, prime the veneers or moldings and paint with an identical color as with the rest of the surrounding cabinet doors.
Install lighting under your slab cabinet doors: It's very possible to give your slab cabinet doors an update without actually ever having to change anything – you just need to add lights underneath.
Under cabinet lighting is great for providing ambient lighting, especially at night. You will be able to subtly light up your kitchen by creating focused light so that you will be able to enhance its appearance.
You can use affordable LED strip lighting or color-changing light bulbs for this. It all boils down to your personal preferences. You get to adjust and set the brightness as well as the color of light it exudes. It all depends on what you're actually doing at any given time.
You can opt for brighter illumination when you're preparing food or when you're working in the kitchen, or you can opt for dimmer or warmer light to create cozy tones while you're sitting down to eat.
This is a really smart and easy way to introduce color into an otherwise blank or neutral kitchen. It can add texture and warmth and can embellish even the most sparsely designed kitchen spaces without incurring too much cost to get it done.
This will also give you the opportunity to highlight beautiful kitchenware. You can be as subtle, as playful, or as dramatic as you want, depending on your mood at any given time.
Painted Slab Cabinet Doors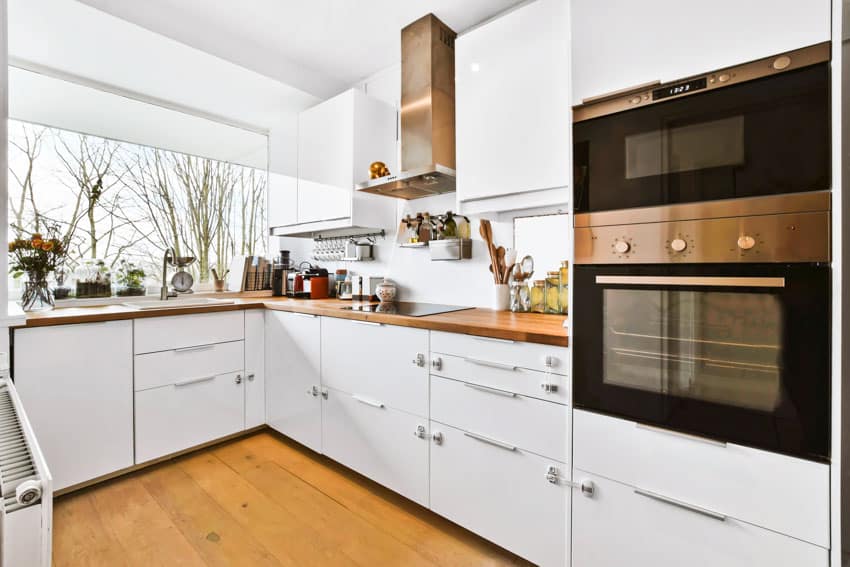 The beauty in slab or flat panel cabinet doors is that you can get them in literally any color and in any finish. It all depends on what your personal style preferences are. Your choice in your slab cabinet doors' paint color will dictate what your kitchen will look like.
It can be bright and airy, dark and somber, or something that's comfortably in the middle. The most popular finishes for painted slab cabinet doors come in either matte or high gloss finishes.
Matte: This can give you a very basic and clean look. But at the same time, something that can look extremely polished. If you want to create a really modern look without having to worry about too much maintenance, a matte finish is the way to go for your painted slab cabinet doors.
High gloss: This finish is very shiny and polished. It has an almost lacquer quality to it depending on how the light catches it and can create a very high-end and modern look to your kitchen space, not just to the cabinet doors. It is very eye-catching and attractive and is great for when you want your slab cabinet doors to be the highlight or focal point of the area.
Shaker Vs Slab Cabinets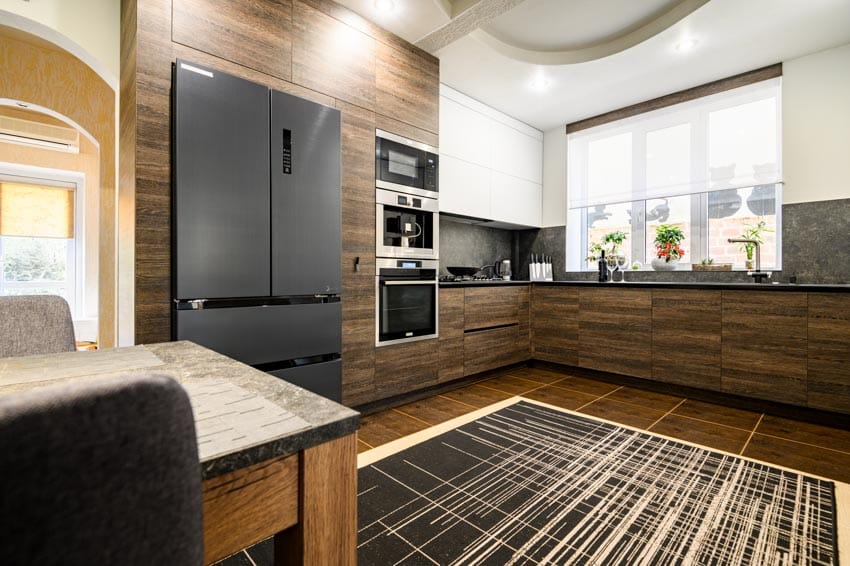 Shaker styled cabinets are comprised of flat panels as well but they have raised frames along the outlines of the cabinet doors. The shaker style because popular when the modern farmhouse look became a huge trend. Shaker style cabinet doors have five distinct pieces: a recessed center panel, two vertical stiles on both sides, and two horizontal rails, one at the top and one at the bottom.
It's simple, and functional, but has a little more creative element compared to the plain slab cabinet doors. It is still strictly traditional though. In a sense, it doesn't really differ too much from the slab cabinets except for the slightly elevated details near the edges.
Mixing Slab And Shaker Cabinets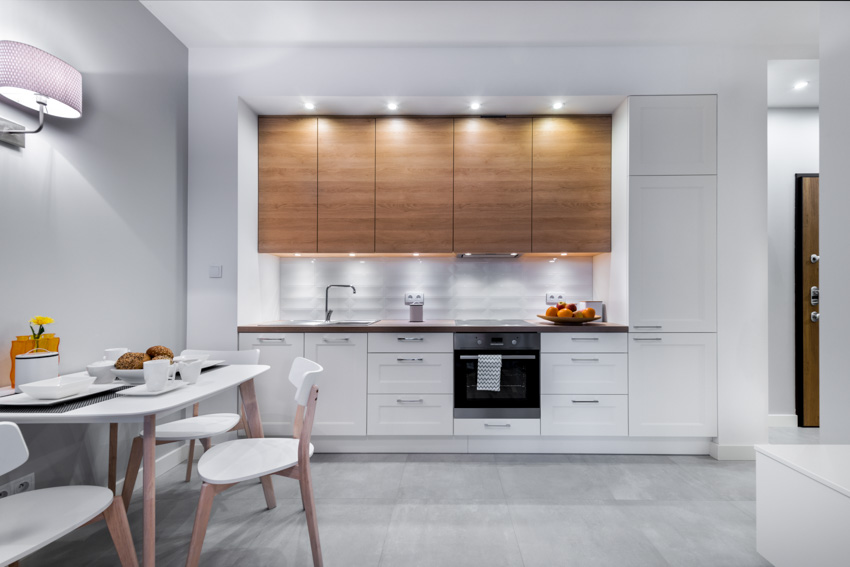 You can definitely mix and match slab and shaker cabinets for texture and variety. One can blend seamlessly right into the other if you map out the designs right. This is great for when you have extremely uniformly sized cabinet doors and you want subtle lines to kind of break up that uniformity.
At the end of the day, all that you really need to keep in mind is that there are no design rules that are set in stone. You can most certainly follow any style or pattern that's suited to your personality and tastes.
If you want to bring it up a notch, you can even play around with the different paint finishes or even with the paint patterns. You can play them up or play them down. What's important is that you assess the overall cohesiveness of the look that it will create.
See more related content in our article about acrylic kitchen cabinets on this page.