Here's our gallery of flat panel cabinet doors including what they are, pros and cons, different kitchen cabinet design styles, cost, and comparison to shaker cabinets.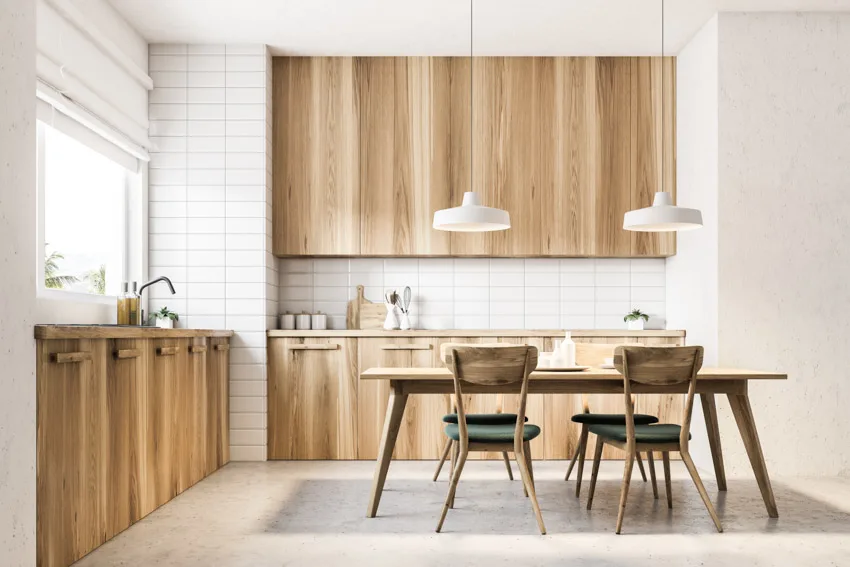 When it comes to your newly constructed kitchen, cabinet doors are one of the most important considerations. Cabinet doors are just as crucial as the worktop to make or break a kitchen theme or style. However, selecting the appropriate style can be more difficult than you think.
Flat-panel cabinet doors are a popular kitchen design today due to the cabinet doors having a minimalistic design. It can also feature a recessed panel surrounded by a frame. The clean surface is great for paint or stain finishes.
Kitchen cabinets with flat panels are popular right now, but that doesn't mean they'll stay that way in the future. The good news is that this cabinet style comes back in style almost as quickly as it goes out of style.
You can easily update other kitchen elements to make them look more contemporary by painting or staining the cabinets, changing drawer fronts, or adding new storage such as wall-mounted shelves to match the latest trends.
What Are Flat Panel Cabinets?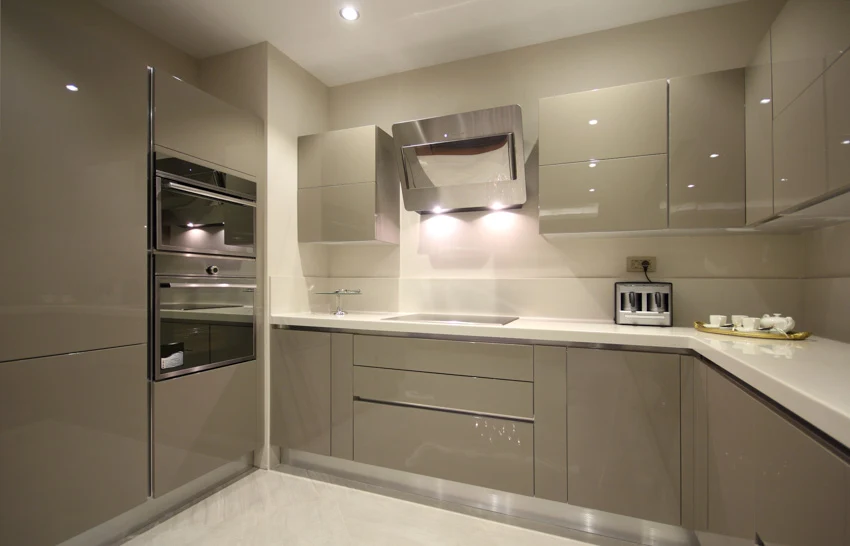 Also termed slab kitchen cabinets, flat-panel cabinets are characterized by having no frills or frames, leading to elegant and functional products with clean lines.
The flat panel cabinets lean towards the modern or contemporary look with little to no embellishment but can go well even for traditional themes.
The versatile flat panel cabinets make a statement by featuring mainly the types of wood grain patterns they're using, finish, and the chosen cabinet hardware.
The rise of mid-century modern design brought about the sleeker and more simplistic design solutions, and flat-panel cabinets became popular. The flat panel cabinets can be painted or stain-grade, making them more affordable.
Flat Panel Cabinet Door Advantages
• Flat panel doors are the easiest to keep clean of all the door styles.
• Slab cabinets are slightly less expensive than other door styles because they require less material.
• Flat cabinet doors are available in various colors, including various wood tones.
• Slab cabinets provide a simple backdrop in a kitchen with other busy elements.
• The flat appearance is ideal for mid-century modern designs, which are currently fashionable in a variety of settings.
• If you choose to paint or stain your slab kitchen cabinets, you can easily upgrade them over time.
• Flat cabinet doors have a lot of hardware, which is great if you want to draw attention to that aspect of your kitchen.
Flat Panel Cabinet Door Disadvantages
• For some kitchen designs, flat cabinets and doors may be too simplistic.
• Some people complain about fingerprints on flat panel doors, but this is due mainly to the color and finish. Black may show smudges, however, beige or white may not as easily.

• Warping is a problem with low-end slab cabinets, as it is with most low-grade materials. For our kitchen remodels, we use high-quality cabinetry.
• Flat panel cabinetry may not be the best choice if you don't want your hardware to stand out. They are often fitted with grooved pulls, but can work well with stylish knobs and handles.

Flat Panel Cabinet Door Styles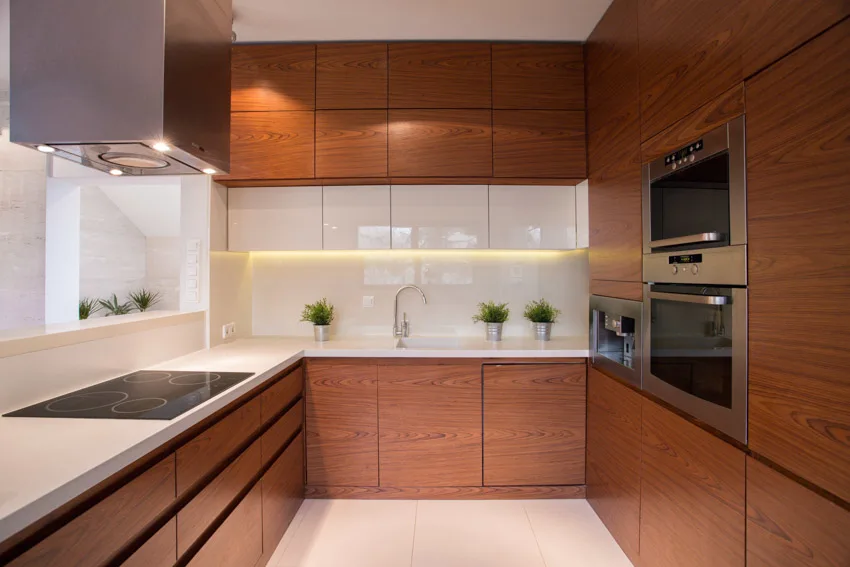 Flat panel cabinet doors are available in various styles, each of which is distinct in its own way. There are many options for incorporating slab cabinet doors into your interior, depending on your personal interior design preferences, the overall feel of your kitchen you are aiming for, and your available budget.
Matte: A flat panel cabinet door finished in matte showcases a simple yet clean and polished. They are perfect for people who want the modern feel of slab cabinet doors but don't want the higher maintenance of other styles.
Gray and matte black kitchen cabinets are trending now and give a striking look, especially in combination with honed brass or rose gold hardware.
High gloss: As the term implies, showcase high-gloss finishes showcase a shiny appearance, almost like a lacquer finish. The amount of sheen will depend on how the light hits the surface.
Since these will always be more expensive than other flat panel cabinet styles and colors, you should consider whether you want this look in your interior. The high gloss cabinet finish is typically in white and metallic colors.
Integrated handles: The inset handle keeps your cabinets looking clean and sleek by removing the need for protruding handles and pulls.
Glazed: A glazed cabinet finish, which is commonly used when applying faux finishes, can change the color and texture of cabinetry.
To highlight the details in the wood graining, a glazed finish can be applied over paint or stain. These finishes, usually hand-rubbed, often necessitate several rounds of sanding and re-staining.

Waterborne: Eco-friendly manufacturers provide a waterborne ultra-violet (UV) finish on high-performance cabinets designed to be environmentally friendly. Resistant to scratches, low in volatile organic compounds (VOCs), and formaldehyde-free, the waterborne finish is a great choice.
Waterborne finishes have less downtime between application and use because they are dispersed in water. These solutions meet or exceed stringent regulatory requirements while meeting or exceeding the highest performance standards.
This finish dries quickly and then requires UV light to cure. Kitchen cabinets that have been varnished, stained, or painted have a similar look.
Varnished: Most modern assembled kitchen cabinet manufacturers use a polyurethane catalyzed varnish as a topcoat. Varnish adds extra durability and heat resistance to cabinetry.
Natural cabinets will need to be varnished at the very least. Oil and resin are used in traditional varnishes. It undergoes a chemical reaction as it dries, resulting in a hard, non-dissolving surface.
Thermafoil: Thermafoil is a scratch-resistant surface vacuum-sealed to MDF after being thermally glued. Thermofoil cabinets are a good option ideal for a lifestyle that involves a lot of activity in the kitchen because it's simple to keep clean. White or linen are the only colors available.
Are Flat Panel Kitchen Cabinets More Expensive?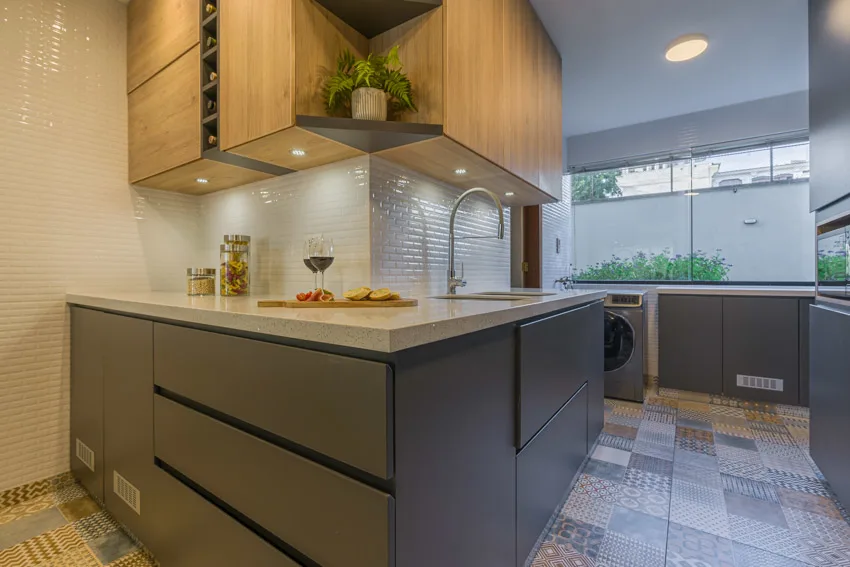 Using flat panel cabinets for your kitchen will typically cost less. The needed kitchen cabinet materials and skills when creating the elaborate designs, such as trim work, beadboard, or other design details, are eliminated. In addition, it requires less time and materials to construct.
However, keep in mind that the cabinet material you choose will significantly impact the cost of your kitchen renovation or build. You get what you pay for when it comes to cabinet materials.
Almost always, the more durable wood, the higher the cost. Some cabinets may also feature frosted glass which can add to the price and add a touch of sophistication to the room.
Painted flat panel kitchen cabinets are less expensive than wood cabinets since the materials are less significant. Its durability is more of a priority than its graining, ornamentation or appearance.
Aiming for a painted flat panel kitchen cabinet can be a DIY project that significantly cuts your project's cost while meeting your space and storage needs.

Few tools are needed, and you'll probably purchase a controlled flow spray painter for around $100. You will also spend a few dollars for small plastic pyramid shapes that will help keep your cabinets elevated during painting.
What Are Flat Panel Kitchen Cabinets Called?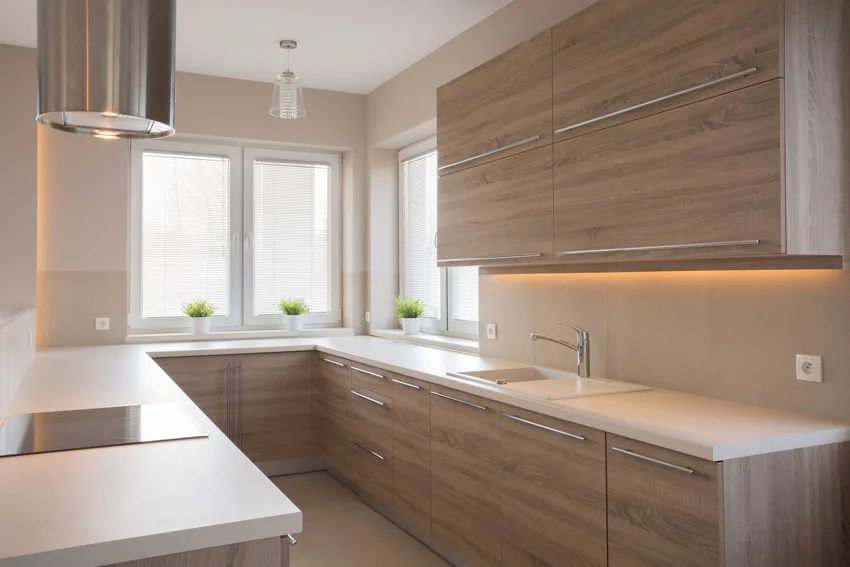 Unlike a set of trimmed doors that can be seen individually, flat kitchen cabinets, also known as flat slab kitchen cabinets, appear to be one continuous plane. Although the doors can still be distinguished, they have a uniform appearance.
Shaker Vs. Flat Panel Cabinets
Shaker cabinets have become increasingly popular in recent years. A flat panel distinguishes them with a raised frame running the length of the cabinet. You've most likely seen this look before.
With the popularity of the modern farmhouse look, this style, which was once considered traditional, has become more modern. Shaker cabinets complement modern farmhouse kitchens, while slab front cabinets complement modern, mid-century modern, and contemporary homes.

Mixing Shaker And Flat Panel Cabinets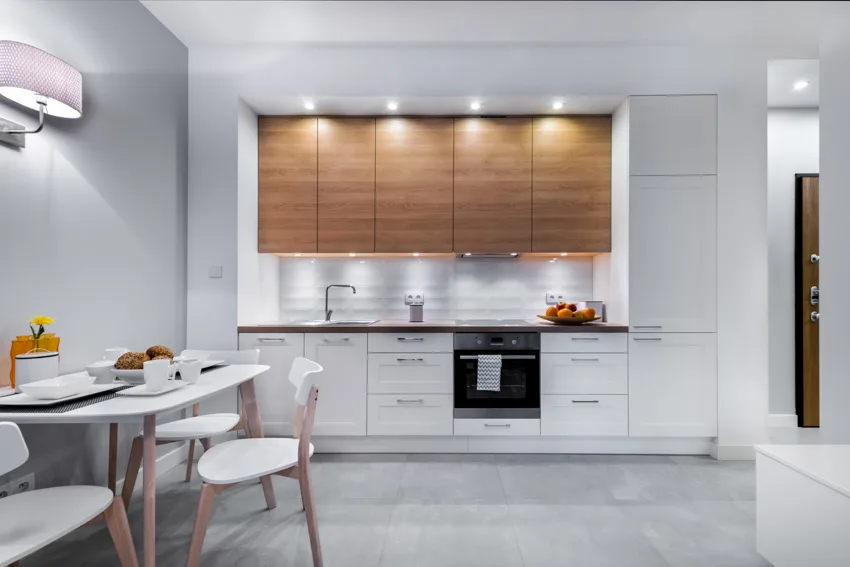 Shaker cabinets have the advantage of blending in with other styles. Shaker cabinet doors can be mixed with flat panel cabinets. These products are ideal for smaller doors, and combining the two styles breaks up the kitchen's uniformity.
By using two different door styles you'll get a visual interest while it breaks up the monotony of the design in a subtle way.
See more related content in our article about shaker cabinets vs raised panel on this page.