Matte black kitchen cabinets design guide including their pros and cons, and comparison to glossy vs satin cabinets to help you pick the best finish for your kitchen.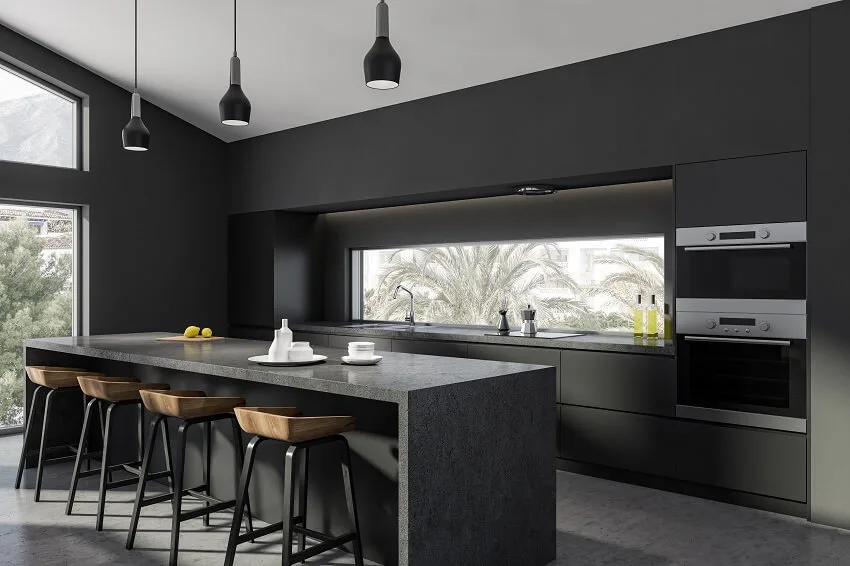 Designing your kitchen means choosing the right kitchen cabinets that can be perfect for your visioned design. And one of the leading trends in the market today is the rise of black kitchens.
An all-black kitchen is a bold trend that a lot of people are trying out. If you feel like this trend is a little too aggressive for your liking, why not try it out with your kitchen cabinets first? You can start with matte black cabinets.
What Are Matte Black Cabinets?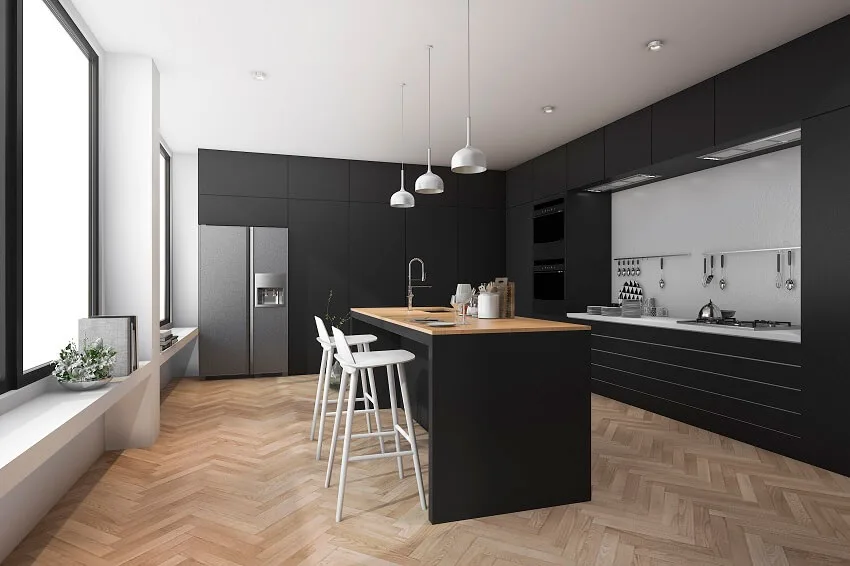 Matte black cabinets became popular along with the rise of the all-black kitchen trend. Matte black is one of the best choices because of its versatility, capable of contributing to a modern and minimalistic style, as well as an elegant and upscale design. The secret though is in knowing how to work with this color.
Choosing matte black kitchen cabinets may be bold but it is worth it. It can even be very intimidating to use and combine with the current design of your kitchen. See the best kitchen cabinet styles here.
If you use too much black, it might seem too gloomy and dark but if you use too little it might not even make an impact on your design in the first place. This is the reason why knowing how much black to integrate into your design is important.
Matte Black is a kind of finish that has this flat and dull black pigment, made possible by applying powder coating at the very end. It absorbs light and does not reflect light, making a great pastel-colored effect. This kind of finish can either be latex-based or oil-based, depending on what you're going to use it for.
You can consider matte black for kitchen cabinets, especially since it showcases both traditional and country styles. Black is a great color that makes a bold statement.
Since it is a dominant color, you have to think hard before using it. But of course, don't hesitate to dig deep into your creative side and use black matte and its uniqueness.
Pros And Cons Of Matte Finish Cabinets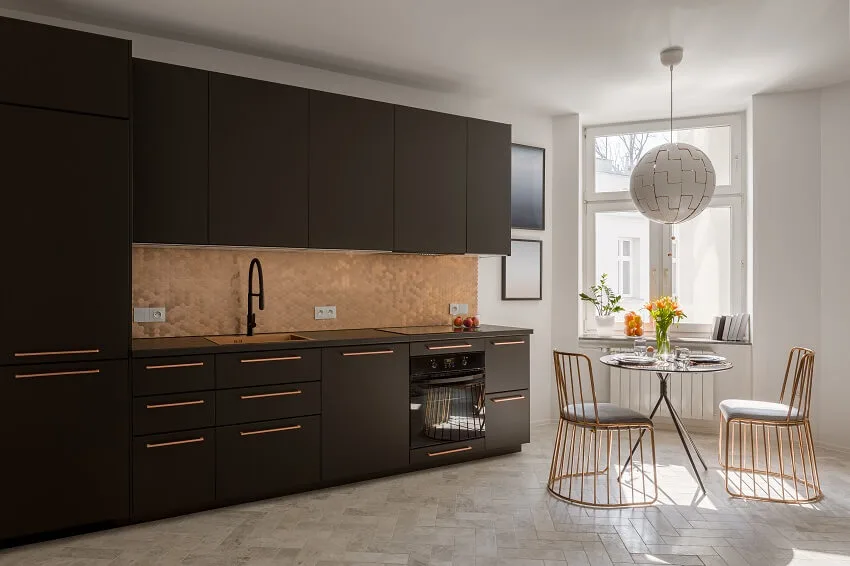 Before installing those gorgeous matte black kitchen cabinets you just saw, take into account the pros and cons that come along with it. You can't just go along with the trend without any research first about it.
And while it can be painstaking, it will also be worth it. After you've gone through all pros and cons of installing matte black kitchen cabinets, you can then make an informed decision.
To help you along, here are some pros and cons that you can get from choosing matte black kitchen cabinets.
| | |
| --- | --- |
| Pros of Black Matte Cabinets | Cons of Black Matte Cabinets |
| Highly versatile- freedom to mix up colors | Tendency to look boring and dull |
| Ideal for high foot-traffic areas (especially homes with pets and small children) | Can make your kitchen feel smaller and cramped |
| Dirt, marks, and scratches are less visible | Harder to clean and can be a chore |
| Creates texture that looks sleek and sophisticated & exudes a feeling of calmness | Doesn't reflect much light |
| | Can hide dust and grime but does not prevent them |
Pros of Installing Matte Black Kitchen Cabinets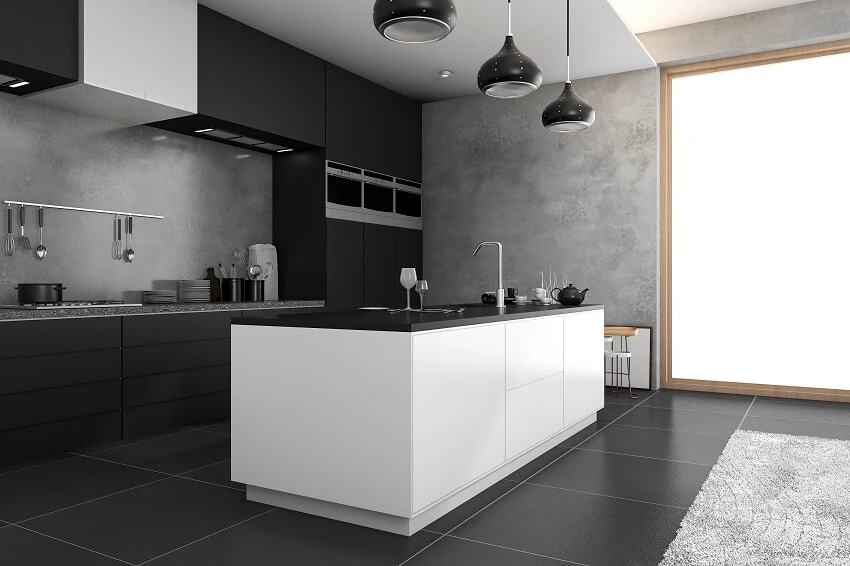 When thinking about installing matte black kitchen cabinets, let's start with the benefits you can get from choosing them. Matte kitchen cabinets started being a trend in 2012 and the use of the color black placed it on another level. This chic style became the very definition of modern kitchens.
Here are some benefits you can take note of.
Highly Versatile- Freedom to Mix Up Colors –Matte black kitchen cabinets have high versatility, which means that they can be easily matched with a wide variety of colors.
If you have a specific color palette in mind, it's guaranteed to work with matte black. This is especially because of the fact that matte has a certain muted and subtle appearance, making it very easy to blend with. And this goes the same for surfaces and materials, not just colors.
Matte finish, particularly matte black kitchen cabinets, works excellently with a wooden countertop and flooring.
Ideal for High Foot-traffic Areas – If you are looking for an element in your kitchen that's ideal for areas with high foot traffic, matte black cabinets are the way to go.
The subdued color makes the kitchen feel cozier and easily hides imperfections, which is perfect for children and pets.
Less Visible Dirt, Marks, & Scratches – Furniture with a matte finish like matte black kitchen cabinets easily conceals scratches and stains. The smooth and satiny texture of the finish easily masks the imperfections that the cabinets may have, especially since the finish does not reflect light.
Creates Sleek & Sophisticated Texture – When considering a piece of furniture for your kitchen, it is important that they match the room's style and design.
Matte black kitchen cabinets look sleek and sophisticated, exuding a feeling of calmness. If that's what you're looking for, this is a good addition to your home!
Cons of Installing Matte Black Kitchen Cabinets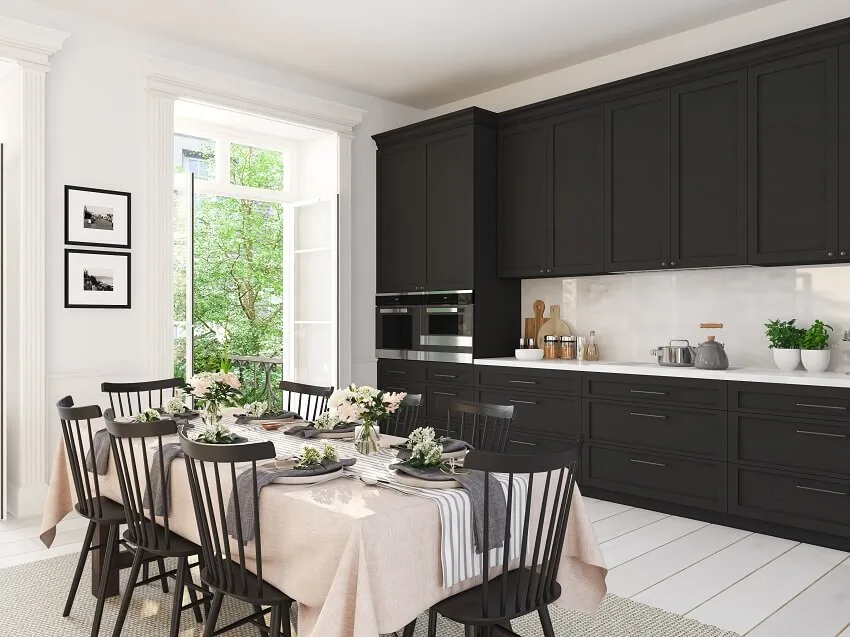 Looking at the other side of the coin, it is also necessary to check out the disadvantages that would come along with the benefits. Here are some things you should expect.
Smaller & Cramped Kitchen – Adding kitchen cabinets means that you are going to take up some space. And no, it doesn't necessarily add more storage space for you.
So, if you have a smaller kitchen, you will feel even more cramped. And since it doesn't absorb light, it won't create an illusion of more space. It might not be your option if you want to make your kitchen look more spacious.
Doesn't Reflect Light – Matte finish does not reflect light but absorbs it. Because of this characteristic, it doesn't add more space to a room and also hides imperfections that the surface may have.
Hides Dust & Grime But Does Not Prevent It – While matte finish hides dirt like grime and dust, it doesn't prevent them but just makes them less noticeable. And this leads to the last disadvantage in this list.
Harder to Clean – Surfaces with a matte finish are not easy to clean compared to other types of finishes. This is due to the fact that scratches and grime are hidden well on the surface because of the finish. Finding these imperfections one by one and eliminating them may be a chore to accomplish.
Is Matte Finish Good For Kitchen Cabinets?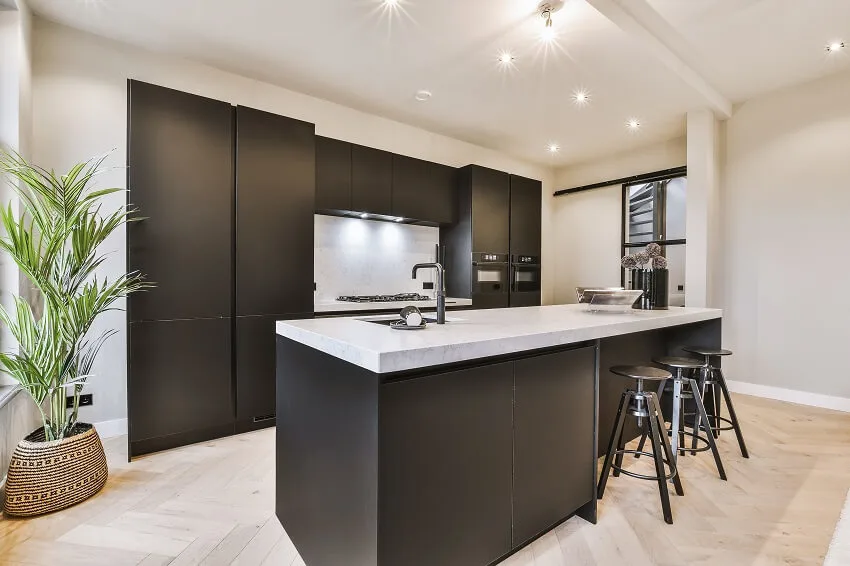 With all these pros and cons, is matte finish a good option for your kitchen cabinets? That really depends on what you're looking for and how you want your kitchen to look.
If you already have a small kitchen and you will add matte black kitchen cabinets to it, this might be a bad decision and end up making your kitchen all cramped.
If you have enough space in your kitchen though and want to try something bold and trendy, this is the right element you are looking for.
Matte black kitchen cabinets are stylish and easy to match. You will definitely have a good time using your creativity to make the most out of this trend.
How To Clean Matte Surfaces

Cleaning your matte kitchen cabinets is not as easy as wiping and down. The difficult part is in finding the mess, from scratches to smudges and stains. A matte finish can excellently hide them which makes the cleaning job a bit hard.
It is important though to clean them thoroughly so that the cabinets can last for 20 to 30 years.
If you don't know what to do and what solutions to use, here are some you can try out:
• Warm water and soap
• Vegetable-based soaps (½ cup of vegetable-based liquid/Castile soap mixed with ½ gallon warm water)
• Vinegar mixture (½ cup of vinegar with ½ gallon warm water)
• Alkaline-based cleaner (2 cups of hot water, ½ teaspoon vegetable-based detergent, ½ teaspoon Epsom salt, and 2 teaspoons sodium-borate detergent)
• Acidic cleaner (Equal parts of vinegar and distilled water and ⅛ cup of soap)•Baking soda and vinegar
Should Cabinets Be Matte Or Glossy?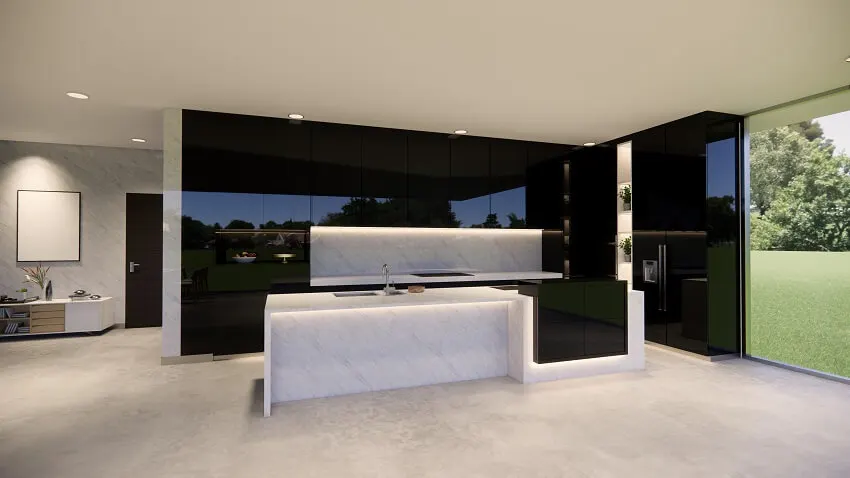 When deciding whether your cabinet should be matte or glossy, comparing them is the only way to go. Here are their differences.
| | |
| --- | --- |
| Matte Cabinets | Glossy Cabinets |
| Absorbs light- does not do anything to make the room look larger | Reflects light- makes the room seem larger than it really is |
| Harder to clean | Easier to clean |
| Hides scratches easily but does not necessarily prevent them | More prone to scratches (takes extra care to prevent this from happening) |
| Ideal for traditional style | Ideal for modern and contemporary styles |
Get more ideas on high gloss kitchen cabinets pros and cons here.
Which Is Better Matte Or Satin?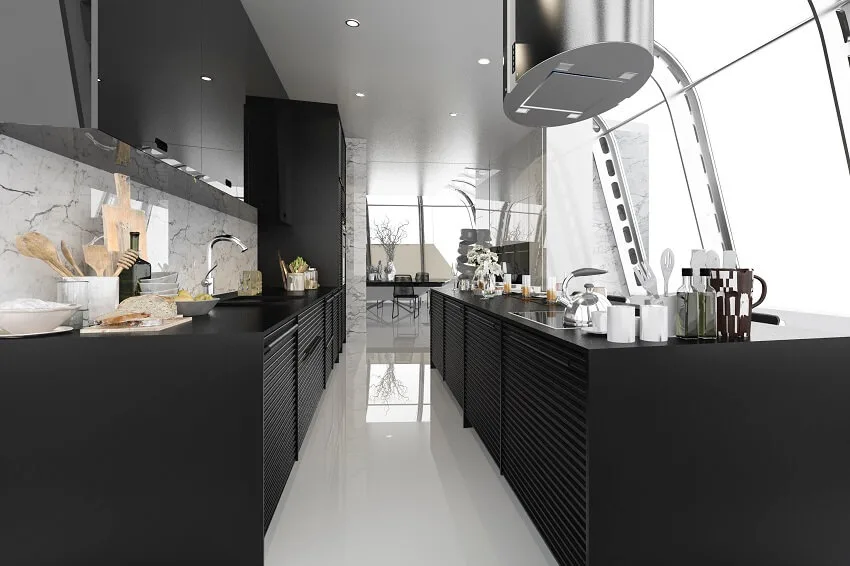 And finally, when it comes to comparing matte and satin, here are the characteristics of both finishes that you must be aware of.
| | |
| --- | --- |
| Matte Cabinets | Satin Cabinets |
| Does not reflect light | Reflects light more easily but not as easy as glossy |
| Has a dull but more natural appearance | Offers a shiny gleam |
| Ideal for traditional and rustic styles | Ideal for sleek and modern styles |
Visit our guide to the pros and cons of black kitchen cabinets for more related content.