Welcome to our beautiful gallery of designs featuring a kitchen with two islands including contemporary, modern, modern farmhouse, gourmet and open concept ideas.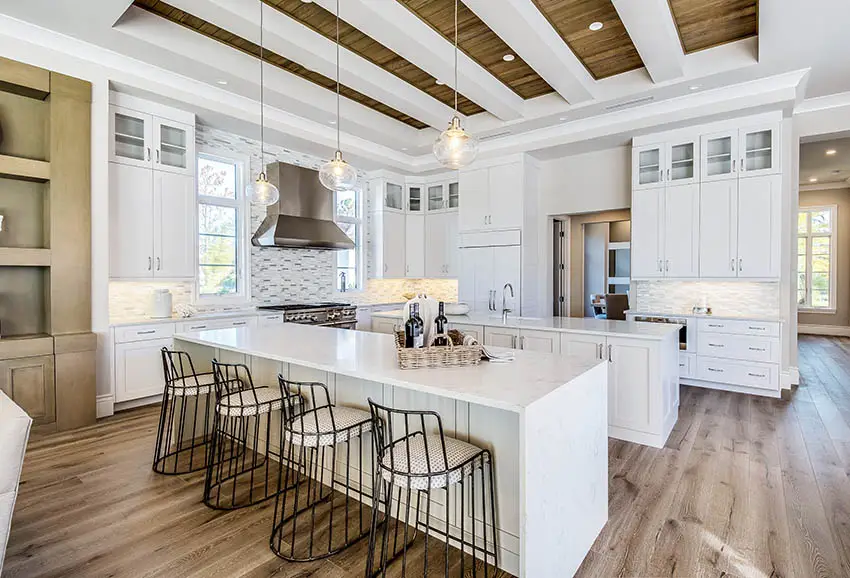 Not everyone has the luxury of space in their homes, especially for their kitchens. But for those who has very spacious kitchens, having double kitchen islands can actually be a practical and functional design decision that can work to your advantage.
It's definitely not for everyone, but if you have a very big kitchen, having double kitchen islands can be a practical choice.
For the contemporary white kitchen in the picture above, the 2nd kitchen island serves as an extra storage space, and a casual dining area.
The use of white painted wood for the island bases and white shaker style cabinets adds a welcome contrast to the natural oak wood flooring found in the rest of the kitchen. This adds a warmer, inviting ambiance to the space.
Kitchens Designs with Two Islands
Here are some of the main design advantages of having double kitchen islands:
Additional counter space – this is definitely the biggest selling-point of double kitchen islands, especially for those who love to entertain, or those into home cooking / baking, or has a small home cooking/baking business.
Extra Storage – More kitchen islands, means more storage space as well. You can utilize the counter space for dedicated storage, or use the space for extra appliances such as ovens, wine fridges, etc.
The secondary kitchen island is mostly used for additional storage and dining space. It can be used mainly as an informal counter dining area.
Kitchen Traffic – If your kitchen floor plan is large, having only an L-shape or U-Shape layout means your kitchen work triangle might become bigger than recommended, making it tiring and inefficient.
Adding a kitchen island will help break that excessive travel length from end to end of your kitchen, and will make the design more efficient to work on.
Dedicated dining space – Many people love to dine or entertain in the kitchen area, and having double kitchen islands will allow you to have one whole counter dedicated as a dining space.
Entertaining – The second kitchen island can also be a great space to entertain guests or bond with family members while preparing food. This provides space for others to sit and participate in kitchen duties or just hang out with the chef.
Food Prep – Two islands can be used to create an effective kitchen work triangle. For maximum productivity on island can be placed near the kitchen sink, oven and the fridge for a more efficient work triangle.
Adds Character & Personality – Kitchens with two islands can allow one to create a unique design that really stands out. Try adding a contrasting kitchen island that has the islands painted a different color than the primary cabinets to make it aesthetically pleasing and provide a custom feel.
Kitchen Floor Plans With Two Islands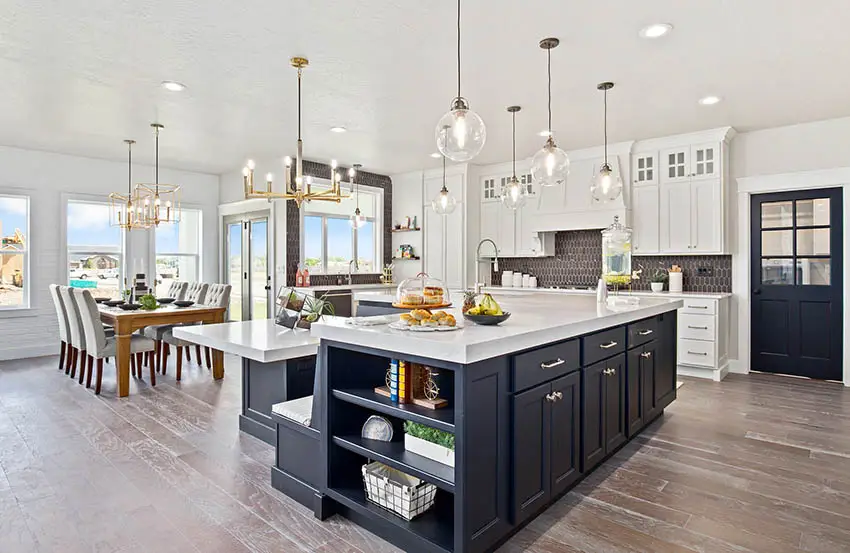 Using a contrasting color for your kitchen island is a great way to create a more balanced color palette in your kitchen.
These double kitchen islands showcases all white counters and main cabinets, paired with black island bases. This helps balance the whole look while bringing the focal point to the center of the kitchen.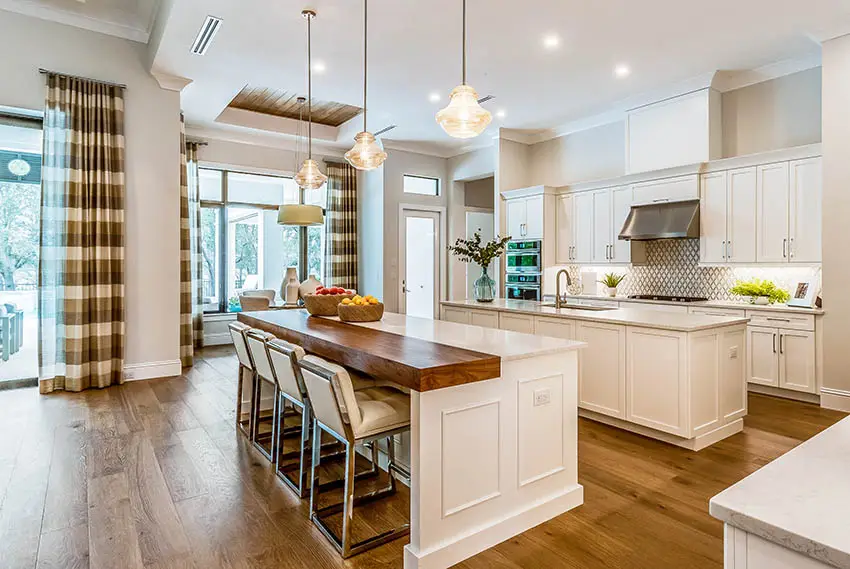 What makes this open concept kitchen kitchen a little bit unusual is that one of the kitchen islands has butcher block ledge space for dining.
The secondary kitchen island doesn't have a built-in sink, but with the use of table top decor, they were able to create a visual separation of the "work" space and the dining space of the kitchen.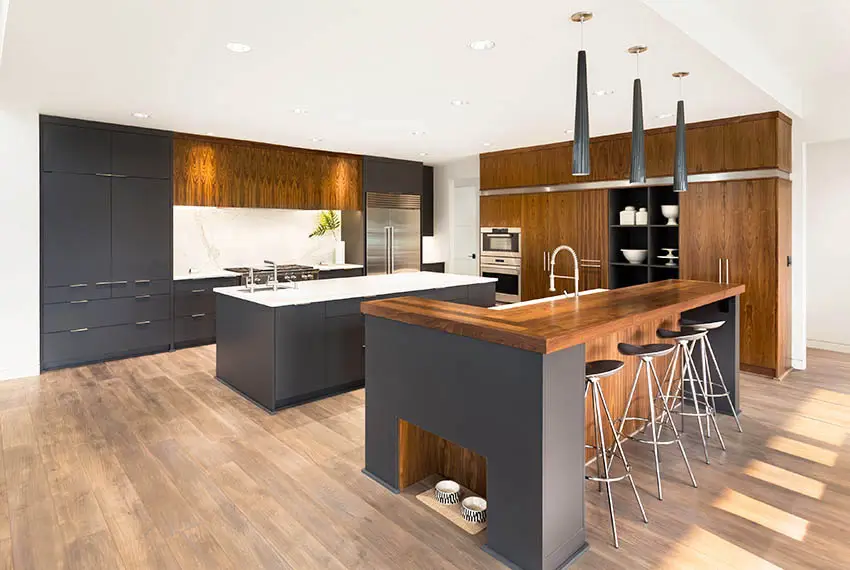 This modern kitchen has a central marble kitchen island and a wood topped breakfast bar island. It's another example of using the second kitchen island as a transition to other spaces in the room.
The walnut kitchen cabinets are "cut" but a higher bar counter connected to the second kitchen island, creating a visual partition between the kitchen and the other areas of the space.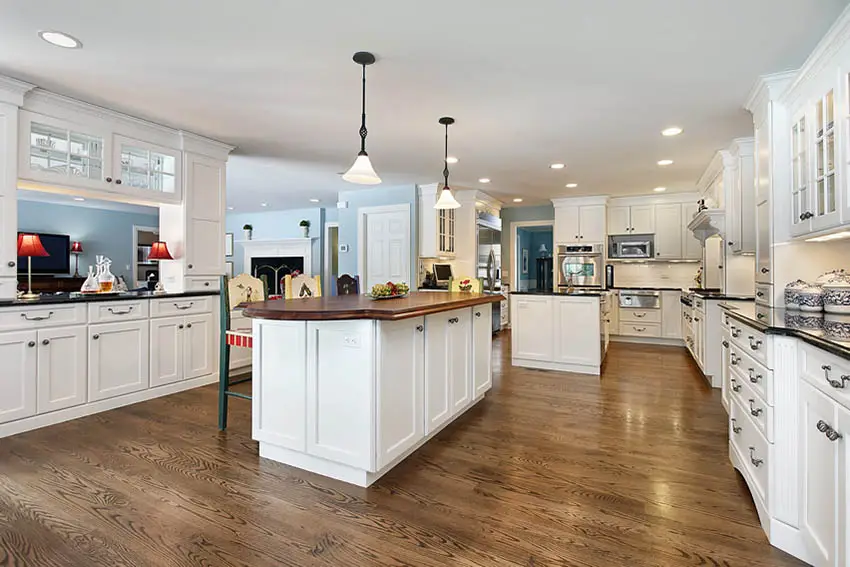 Having an open floor plan in older homes with classic style kitchen can be quite a challenge, especially if most of your new furniture pieces are more modern/contemporary in style.
This kitchen shows a classic French style kitchen with white paneled cabinets and black granite countertops. In this example, in addition to the two islands there is a second counter top to visually separate the kitchen area from the other parts of the house which helps smoothly transition the spaces.
Your two kitchen islands doesn't always have to be of the same size. In this example, a square and a rectangular kitchen island was used for the kitchen. The square island is placed near the kitchen hob and the fridge to make meal preparation easier.
This also allows a smooth entry from the dining area into the kitchen because of the large gap between the kitchen islands.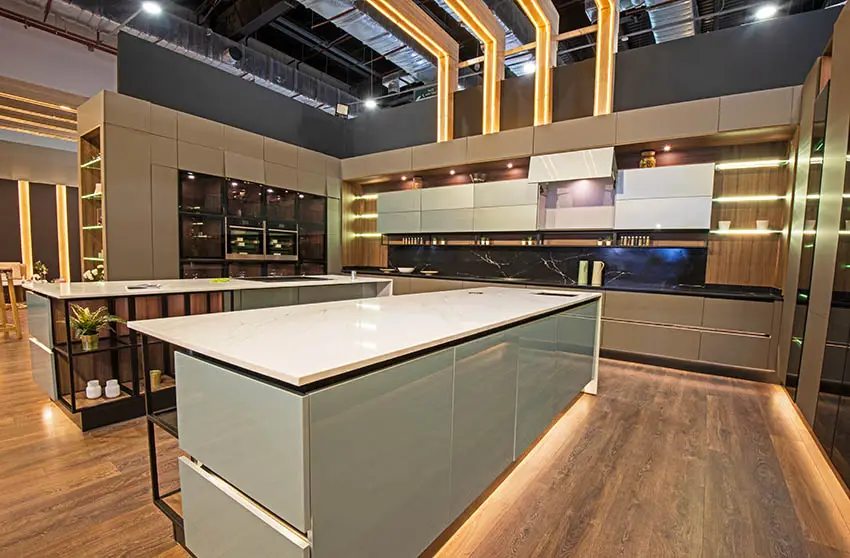 Using a contrasting color for your kitchen island is a great way to create a more balanced color palette in your kitchen. This large modern kitchen design with two islands shows all white counters and beige main cabinets, paired with gray island bases. This helps balance the whole look while bringing the focal point to the center of the kitchen.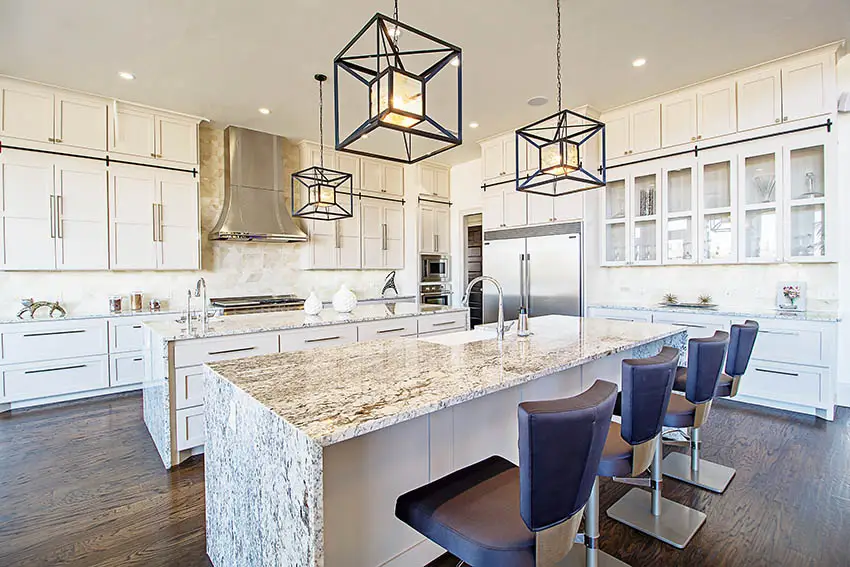 For this classical style kitchen, the massive layout was maximized with a mixture of storage space and counter top space.
It uses two kitchen islands, one is mainly for food preparation, and the other is a mix-use kitchen counter, with a ledge used for counter dining, and another side for storage and food preparation.
The kitchen uses a combination of white kitchen cabinets and white granite countertops, as it creates a good contrast with the dark wood flooring.
For more related designs take a look at our gallery of kitchen island ideas here.