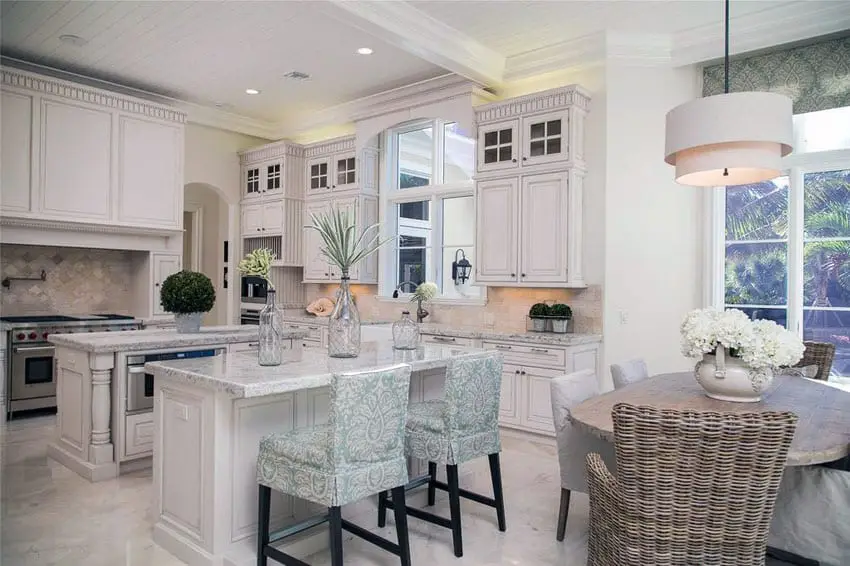 This gallery features double island kitchens in a wide assortment of sizes, shapes and design styles. Adding a kitchen island to your home provides extra space for food preparation, dining space and entertaining guests.
Setting up two islands in your kitchen is useful for getting additional storage, a second sink, a built-in cooktop/range, or breakfast bar style eat-in dining. Not only do two islands in the kitchen look luxurious and make a great conversation piece, they also give you much needed counter space and storage.
In the image above a fairly spacious classic-themed kitchen showcases a gorgeous all-white palette. It uses classic panel cabinetry in antique white finish and tops it with a thick slab of Damasco white marble-counters to complete the look.
This kitchen uses two kitchen islands: one serves mostly for storage and for the built-in oven, and the other is mainly for additional preparation area and as a small bar/breakfast table with seating for two. See more kitchen island ideas at out gallery here.
Double Kitchen Island Designs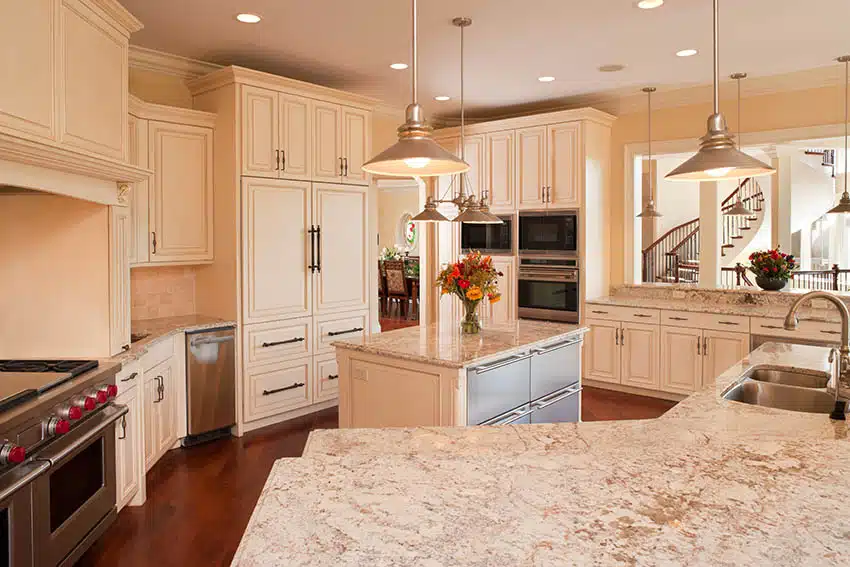 Double kitchen islands provide more storage and prep space for the cook and add additional seating for guests. One island can be used for food prep or cooking; the other can have guest stools so that no one is secluded to the kitchen when entertaining.
An extra island also allows you to install a sink, stove, or dishwasher without losing any counter space for serving guests. Offering enough seating for a large gathering in the kitchen can eliminate the need for a formal dining table.
There are a few ways you can arrange double islands that make the most sense for an efficient and attractive layout in the kitchen.
The first option is to have one island parallel to the kitchen counters and another parallel to that one, a distance away. The island closest to the cooking space would be the cook's prep space, and the farthest island is where guests would sit and face the kitchen.
You can also rotate the islands to be side by side and perpendicular to the cabinets, with three and a half to four feet between them. This option may take up more space, so a larger kitchen is necessary. However, this orientation allows the cook to face guests while preparing food and efficiently serve between the two islands.
You can create a T-shaped design with the islands opposite each other with space between and one is longer than the other to create the shape. This design allows the cook to work at one island and easily interact with guests sitting at the other.
A unique orientation of double islands connects them in an L-shape, with the outer corner facing the cooking space. This option allows the cook to quickly move around the middle of the kitchen, and one side of the L-shape can be used for work while the other is used for seating.
Double islands can be oriented in any way that makes sense for the flow of the space. How you place the islands often depends on your specific needs and where the current kitchen is lacking. For instance, perhaps you want an island, but a singular large island would block access to the sink or appliances.
The solution is to create a divide between the island and separate them into two. Double islands are a unique show-stopper in the kitchen, and although you need a large space for this design to work, it can solve your kitchen design dilemmas.
Below you'll find pictures of beautiful kitchen island ideas and plans you can use for your own layouts and remodel projects.
Double Island Style Kitchen with 3-Seating Capacity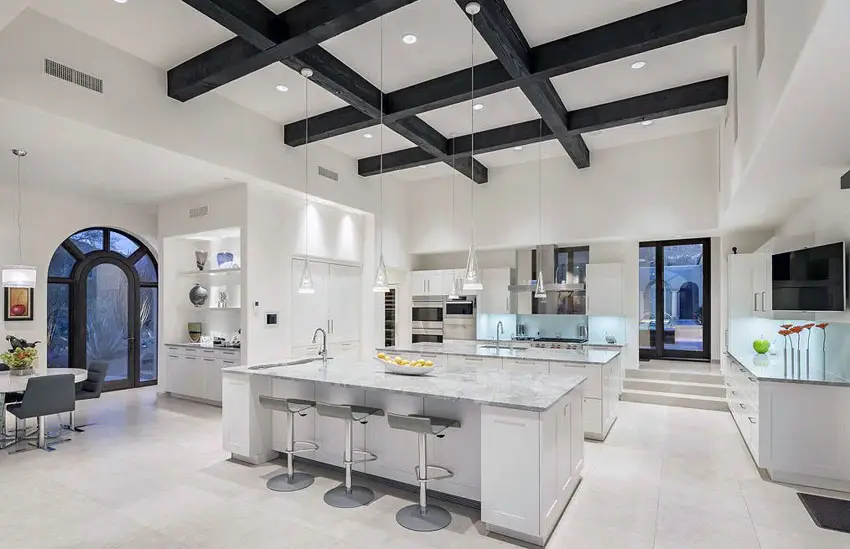 Similar to the previous example, this kitchen also goes for an all-white theme, but instead goes for a more modern look. The interior architecture style is simple and modern – plain white walls &high ceiling – which matches the minimalist look used in the kitchen.
The kitchen itself is spacious with a generous ceiling space which is very helpful for air circulation, helping keep a comfortable temperature in the cooking space. Due to its size, it is able to fit in two large islands, both equipped with a built-in sink and storage drawers & cabinets.
The white wooden base is topped with gray soapstone for a soft contrast and accentuated with modern pendant lamps.
French Country Style Islands with White and Mahogany Finish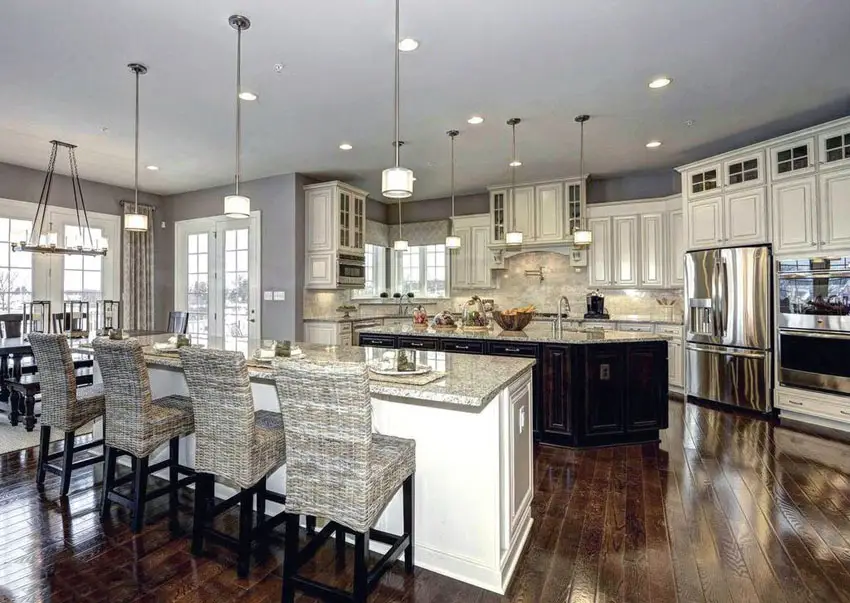 A French-style classic kitchen which uses off-white panel cabinets placed against plain gray walls. Because of the unique floor plan, the kitchen also follows a unique layout.
Two islands are in this design, the one at the center of the kitchen uses solid Mahogany base and the other is painted in white.
The center island also as an irregular shape following the contour of the cooking space layout. The other island functions as a low divider separating the kitchen from the other parts of the house, and as a bar counter.
Butcher Block and Quartz Countertops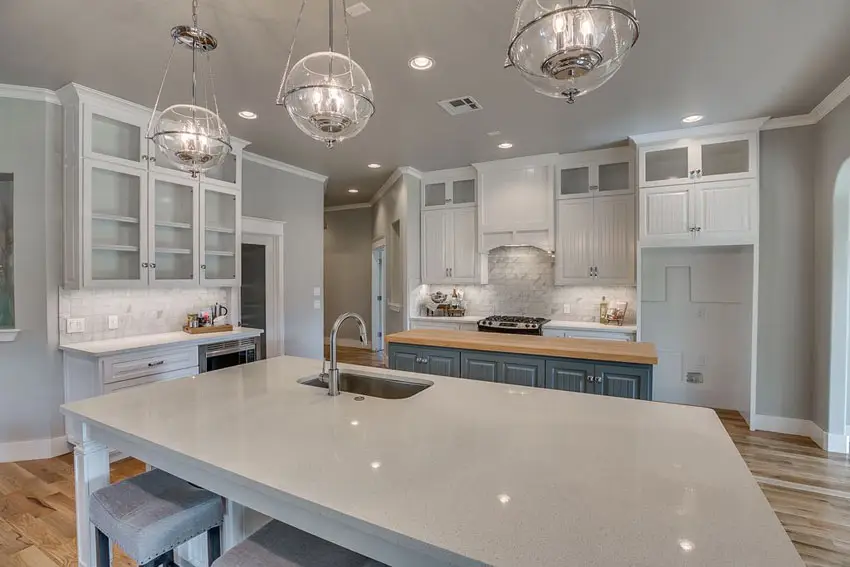 A gorgeous modern take on classic kitchen design, this transitional style kitchen gives the classic look a bit more twist with its combination of colors and finishes.
The main cabinets uses basic paneled cabinets in white topped with white quartz. There are two islands in the layout, the larger one has the same style and finish as the main cabinets, has a built-in sink and bar counter space.
On the other hand, the smaller of the two islands in the middle of the kitchen and while it uses the same style paneled cabinets, it uses gunmetal gray for its base and tops it with maple butcher's block instead.
OakWood Base with Granite Counters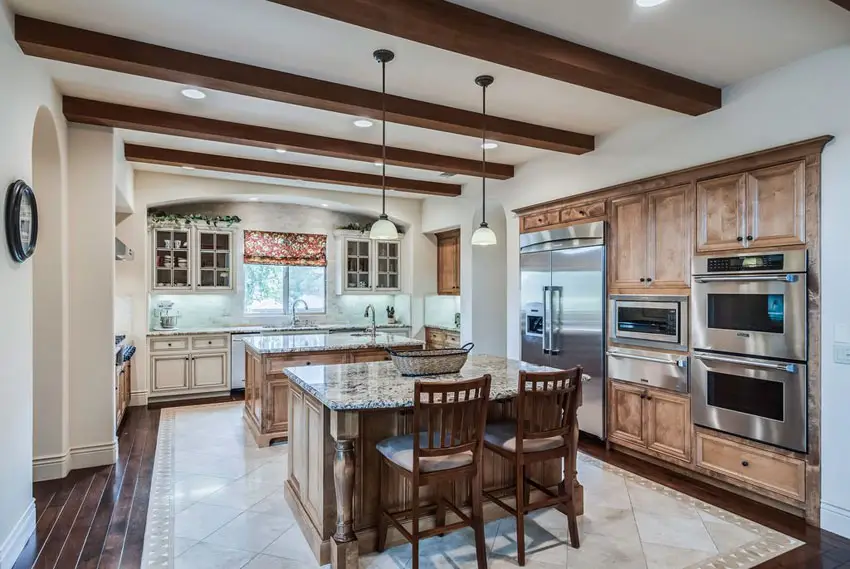 Since this kitchen is fairly spacious, it allows you to add more elements while still maintaining a good workflow and traffic in the kitchen. It features classic style cabinets in antique white finish and oak wood finish and has 2 islands.
One island is fixed with a built-in sink and functions mostly as a food preparation area, while the other island is used as a bar counter and a small dining area.
Despite the heavy wood finish in the kitchen cabinets and the redwood flooring, the plain off-white finish of the walls and ceiling helps balance the heavy-looking finishes creating a clean and bright ambiance.
Black and White Countertops with Charcoal Grey Islands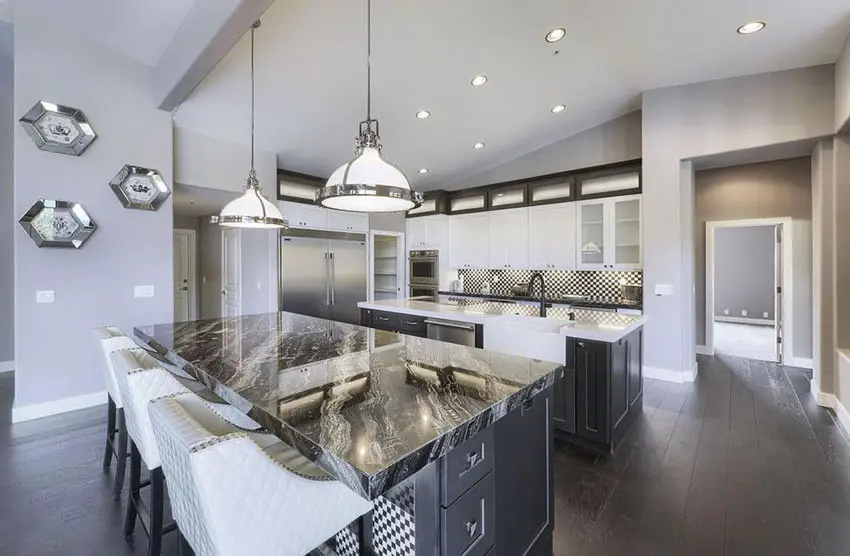 This modern kitchen oozes with masculine appeal with its gray-and-white color scheme. Dark wengue floors did not deter the use of dark finishes for this kitchen as it is also combined with a lighter gray paint for the wall color.
The open-plan cooking space uses white paint for the main cabinets and charcoal gray for the its two islands.
The central island uses white solid surface to contrast with its dark gray base, while the outer island, which also serves as the cooking space 'divider', uses black soapstone with prominent white grains.
Custom Islands with Rounded Corner Countertops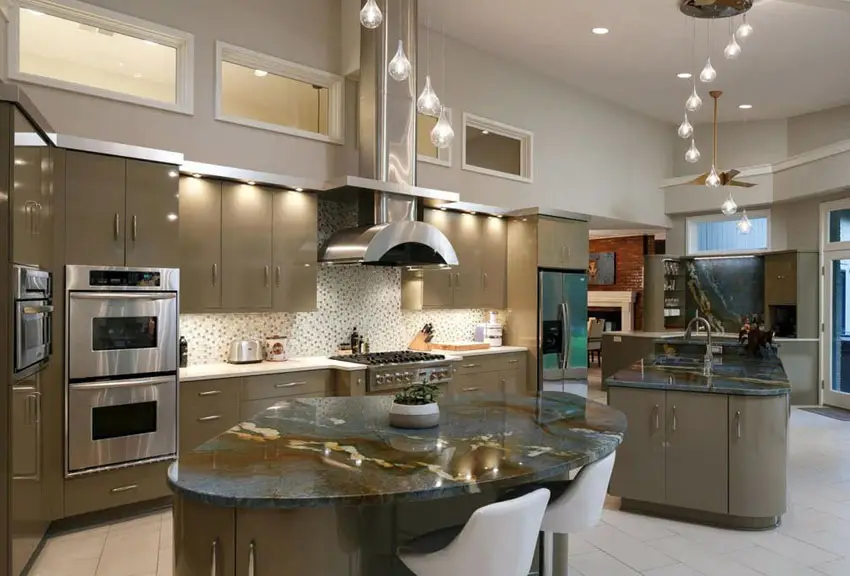 The unique element of this modern kitchen design would definitely be its two islands. While the finishes and the main kitchen cabinets is pretty basic (beige laminated cabinets and white solid surface counters), what makes its islands unique is its placement and shape.
The rectangular island is placed diagonally and has two rounded outer corners, while the other island has a more organic kidney-like shape. High ceilings makes this kitchen look big and also helps in air circulation.
U-Shaped Kitchen with Double Islands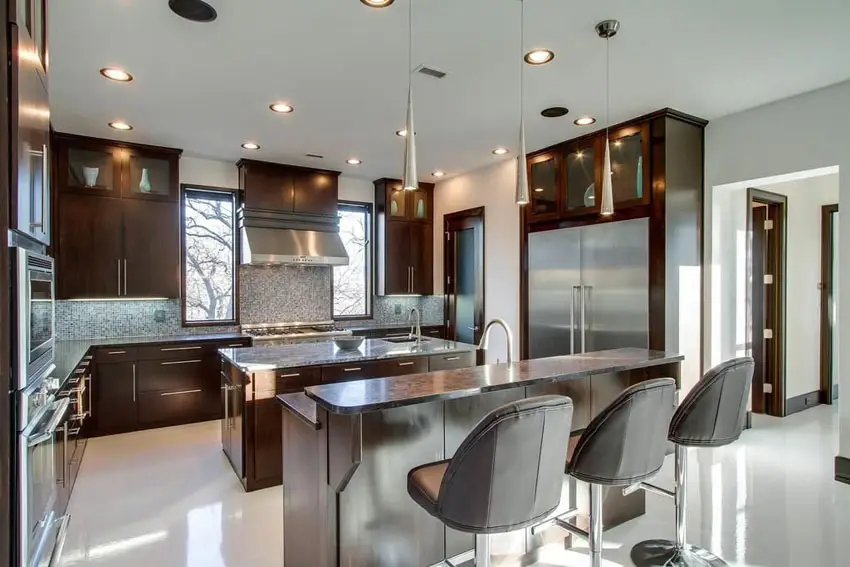 A full-sized kitchen with simplified traditional style kitchen cabinets in Mahogany finish. The whole area is quite spacious, allowing the use of two islands.
The center island is a basic rectangular island with built-in sink and storage, while the outer island is a bar counter type island, also fixed with a built in sink. The bar counter also serves as a divided, separating the kitchen from the other parts of the floorplan.
Two Countertop Units with Under-Counter Storage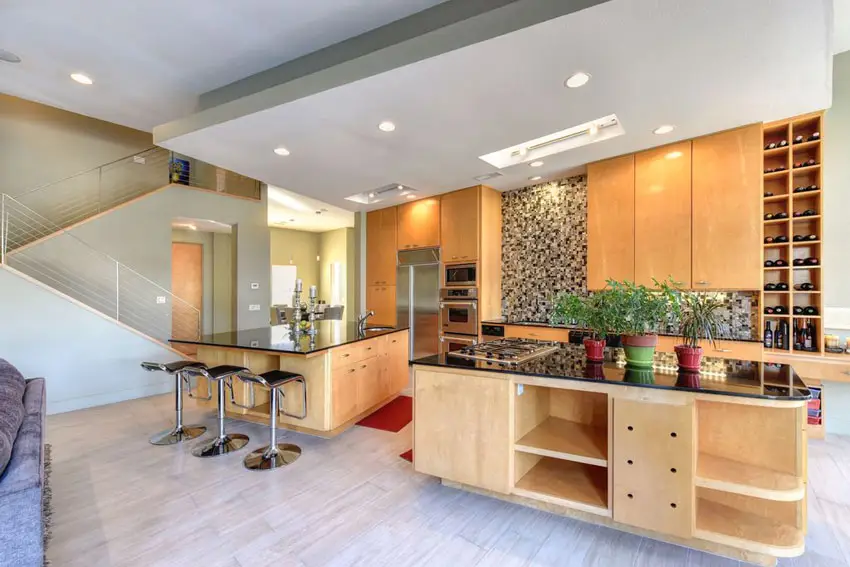 A bright and refreshing modern kitchen design which was really able to maximize the available space for both storage and preparation area, creating an efficient kitchen design.
The high ceiling is maximized with the use of overhead cabinets which reaches the ceiling, and it uses two massive islands which provides lots of storage and preparation space. You will also see a dedicated storage shelf for wines, and a nice mixture of open shelves and closed cabinets for the base cabinet storage.
Since the basic finish of the kitchen is on the neutral side (gray walls, white ceiling and pale ash floors), it used a brighter maple wood finish for the kitchen cabinets for that much-needed natural warm tone.
Bi-Level Islands Placed Adjacent to Walls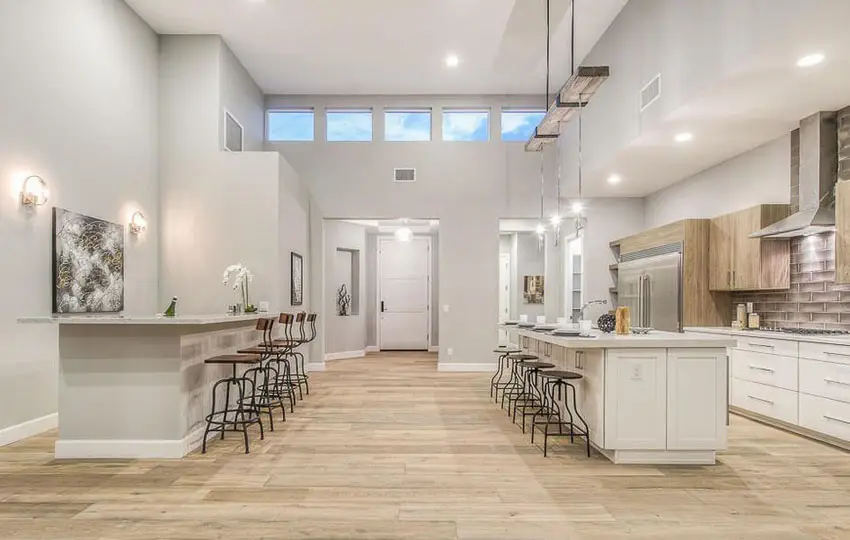 High ceiling and a large floor with light basic finish creates a bright ambiance for this kitchen design. The cabinets combine modern modular cabinets with more classic silhouettes, as well as some industrial style elements to create a more dynamic design.
The main kitchen cabinets are modern modular, with white base and teak wood laminated overhead cabinets. Parallel to the main counters is the island with simple white paneled base with white solid surface countertop. This island also serves as a bar counter/breakfast table, and uses industrial style stools and a nice industrial lamp.
On the opposite wall, there's another island made up from built-up gypsum and topped with white marble, serving has a bar counter area with industrial style high bar stools.
White and Wood Countertops with White French Style Islands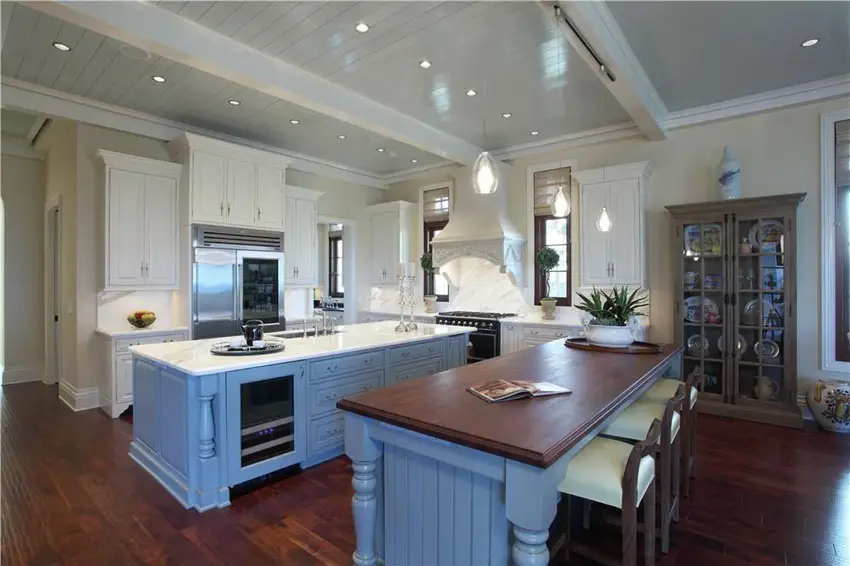 Classic French style cooking space is given a more refreshing look simply through repainting it. Main cabinets are all in white, allowing you much leeway for experimentation.
As a result, the two islands were given a new look with a slate gray paint and white marble top. To add more variety, the dining counter replaces the marble top with solid Mahogany butcher's block counter to match the finish of the floors.
White Beadboard Design Elements with Granite Tops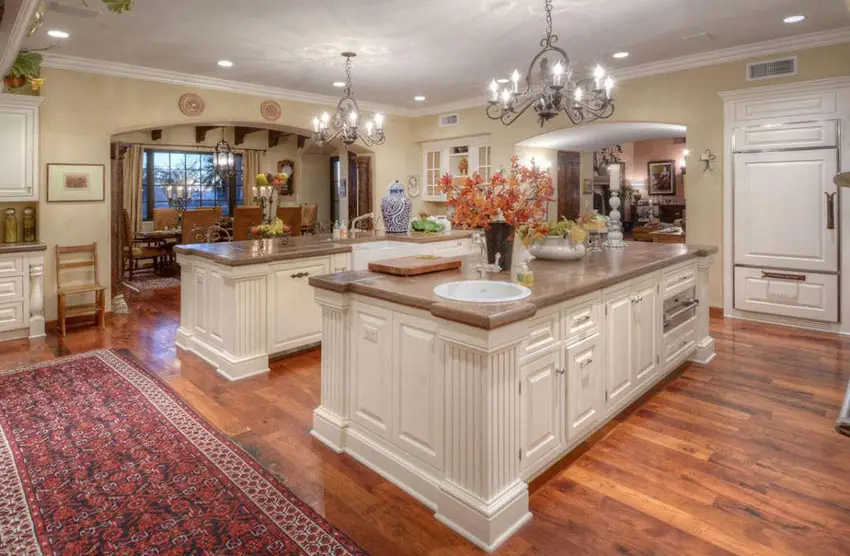 Double island kitchens are a great way to promote your own sense of style and personality to your space. This very spacious classic kitchen with a neo-classic style is loaded with charm and character.
Because of the massive scaling of the two islands in the middle of the cooking space, it has a bit of an intimidating feel to it, but is a bit toned down because the base is painted in white, therefore making them look a bit lighter.
The two islands allow an efficient workflow in the cooking space, and allows lots of space even if multiple people use the kitchen simultaneously.
Corner Island Used as Kitchen Partition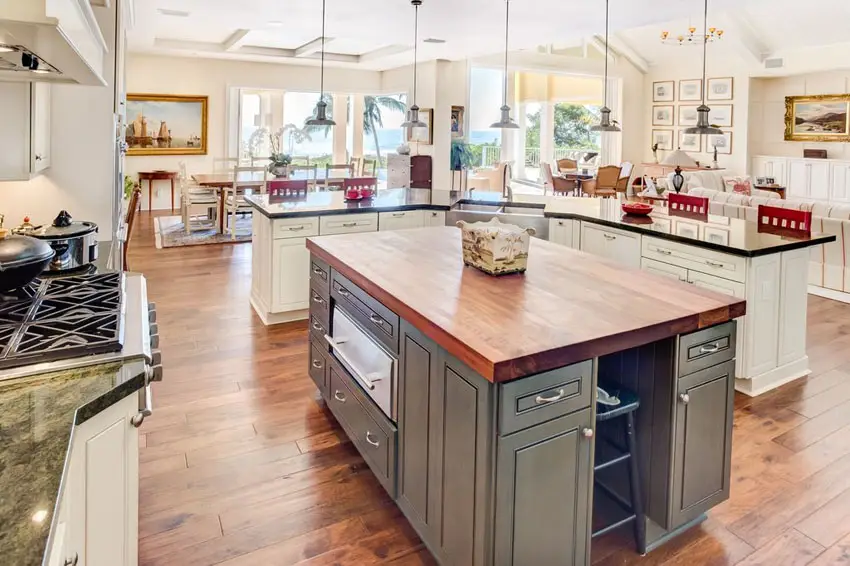 Going for a more retro feel, this cooking space combines classic panel cabinets with retro-style colors, giving that soft rustic feel which matches the overall theme of the house. The large open plan of the house create a very bright and airy environment.
It also uses a variety of antique and refurbished furniture pieces, adding more personality to the space. This is located in one big corner. It mainly uses white paneled cabinets with emerald green granite counters and a rustic grayisland with solid Walnut butcher's block countertop at the center.
Aside from these, there's also a corner island which helps separate the cooking area from the rest of the house without resorting on using a partition, allowing you to keep that bright open look of the layout.
White Islands with Overhang Counters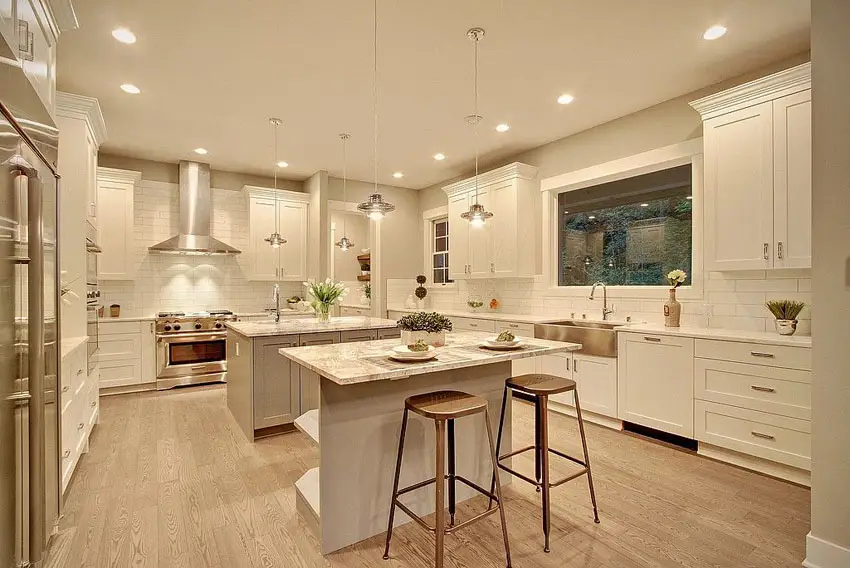 A gorgeous transitional style all-white kitchen with a touch of industrial style pieces that help add more personality to the space. The cabinets in this cooking space has a simple paneled design and are topped with white marble, paired with white subway tiles on light taupe walls.
Since the kitchen is quite spacious, it allows the addition of two small islands, one of which has a gray cabinet base, and the other has white base with open shelves paired with industrial-style metal bar stools.
White and Sage Green Islands with Chandeliers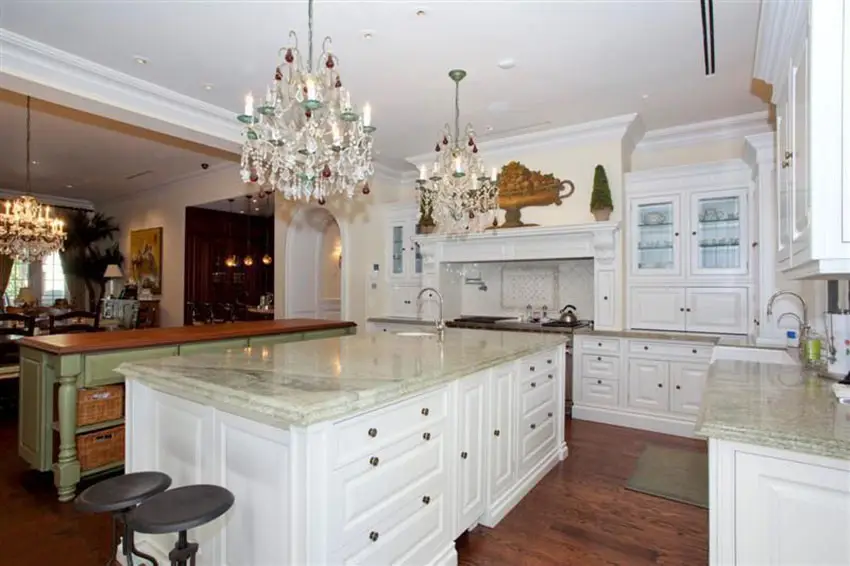 The use of small crystal chandeliers in this classic kitchen design definitely adds to its vintage/period-style feel. The elements of this kitchen is quite massive and has intricate details typical of classic design, but is given a fresher look by painting it over in white.
It uses sage green granite counter and has an additional freestanding island with sage green paint on its base to match the color of the other counters.
Match the Islands with Wood Cladding on the Ceiling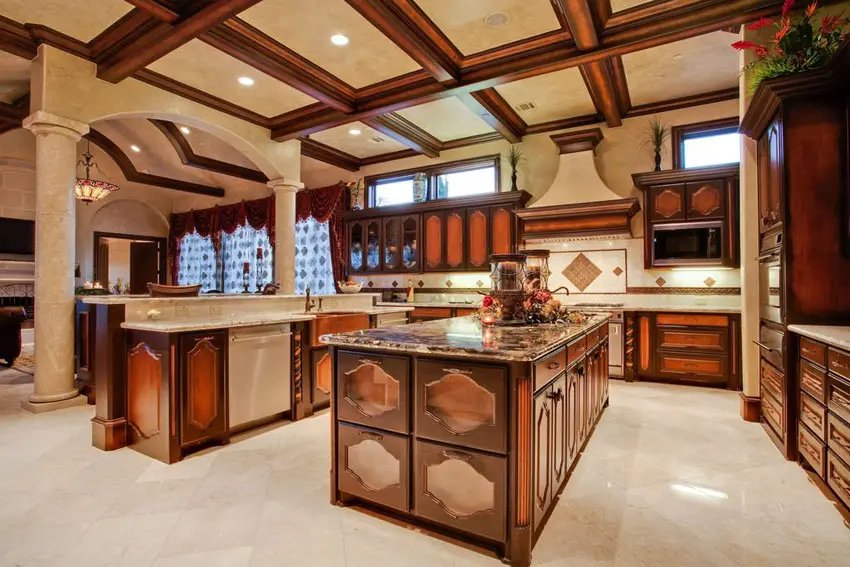 Natural stone finishes were liberally used on the walls and on the floors of this design, and uses a light off-white color to provide a bright and neutral base, allowing you flexibility on experimenting with other interior finishes.
As such, the spacious cooking area opted to use a combination of Cherry wood finish and dark Mahogany for a bolder look. The paneled cabinets uses cherry finish on its inner panels, while the outer panels and carcass uses dark Mahogany.
The finish of the cabinets also matches the wood cladding used on the coffered ceiling. Since this cooking space is adjacent to the living area, the bar island serves as a divider which separates he two areas without having to close it of.
Single and Two-Tiered Type Islands with Teak Wood Body
This modern cooking space design has quite a unique floor layout, but made more efficient with its excellent planning/cooking space layout. Solid Teak wood cabinets gives a gorgeous elegant look to the simple design.
It also features two islands: one at the center with a rectangular shape and one chamfered corner, while the outer side has a free-standing corner kitchen island breakfast bar helping separate the area from the rest of the house.
Six-Seater Island Design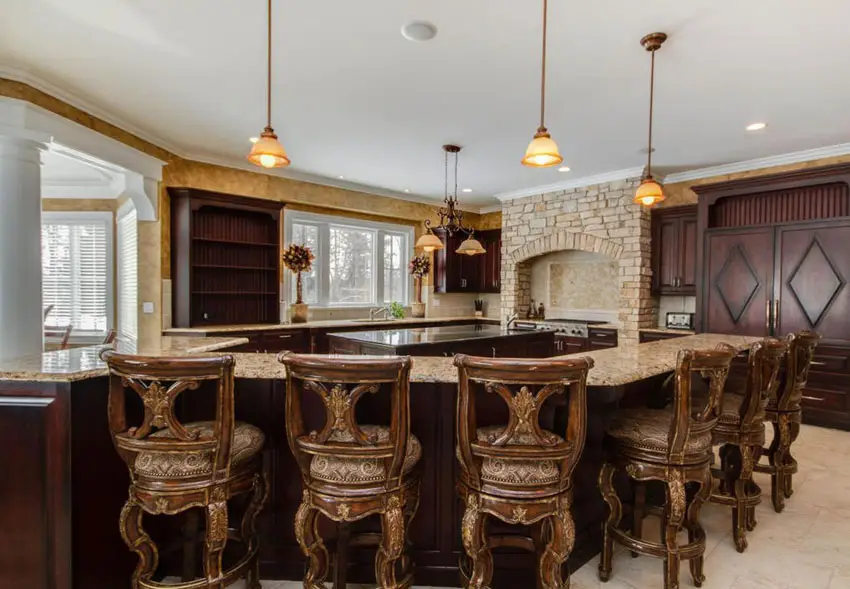 Heavy intricate details painted in gold can be seen on the antique Baroque style barstools of this large cooking area. Because of the heavy massing of these barstools which serves as the focal point of the area, the cooking space design keeps things more balanced by keeping its design simple yet elegant to match the antique barstools.
Cabinets are all solid redwood with a paneled design, topped with cream-colored granite, and black granite for the central island. The marbled yellow wall paint and the masonry cladding on walls also help add a subtle variety of texture to the space, giving it more dimension.
Classic French Style Antique Islands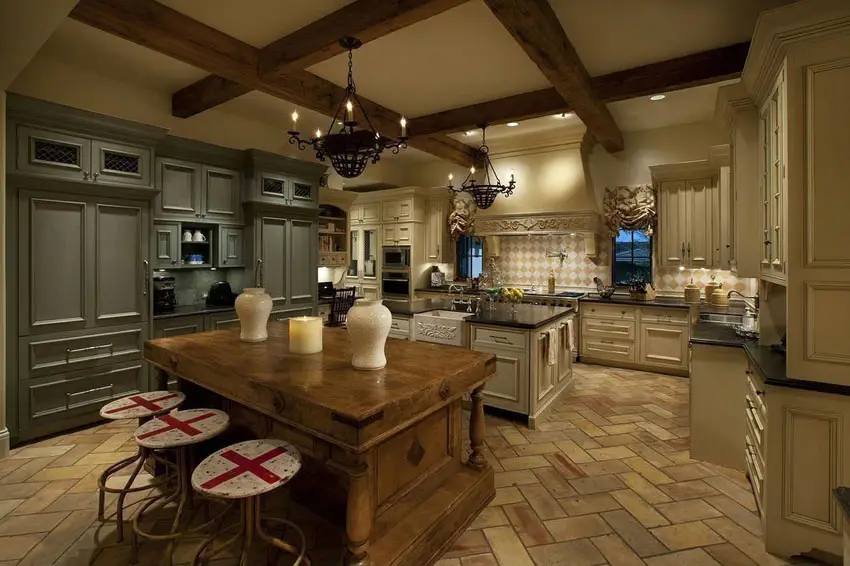 This is another gorgeous vintage style cooking space that combines different design styles and elements to create a very unique look. Classic French-stylecabinets make up most of the cooking space. The main cabinets use a light yellow-cream color, and the large pantry cabinet is painted in a matte sage green color, adding a subtle pop of color to the otherwise warm-toned space.
The ceiling has large weathered wooden beams, which give the space a rustic appeal and provide perfect support for the wrought iron chandeliers, which sets the ambiance of this cooking space.
This cooking area has an antique free-standing island (aside from its main kitchen island), made from solid Teak and topped with yellow amber granite with metal details to match the retro/vintage style metal bar stools.
Dark Wood and White Painted Center Islands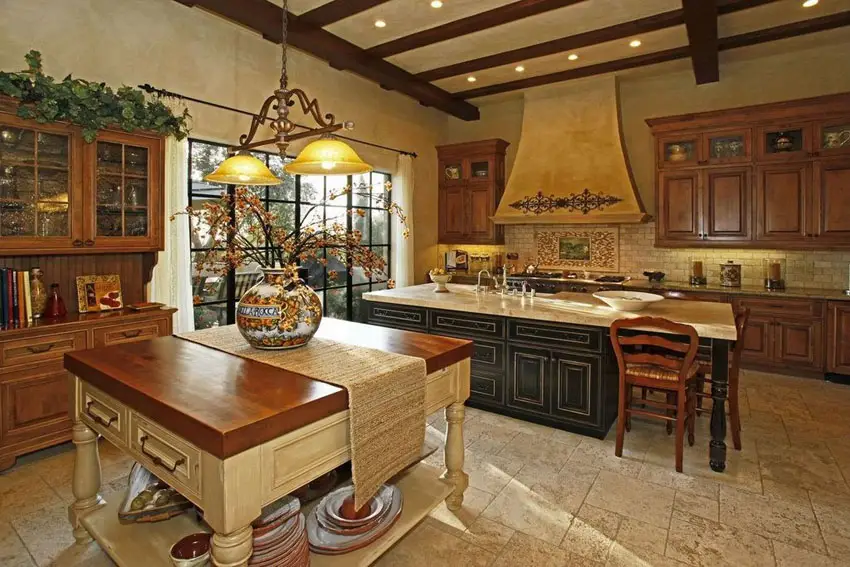 Antiqued paint finishes and wrought iron details really brings out the vintage vibe of this country-style classic cooking space. It uses a simple yet fun combination of finishes, creating a very appealing cooking space design even on a modern setting.
Main kitchen cabinets are all made from solid golden walnut for that warm natural wood tone that matches the over-all mood of the space, while the center of the cooking space experiments a bit with 2 islands.
One island has antiqued black base with cream granite countertop, and another rectangular free-standing one with antiqued white paint finish and golden walnut butcher's block countertop.
Barnwood and Rustic Wood Block Combination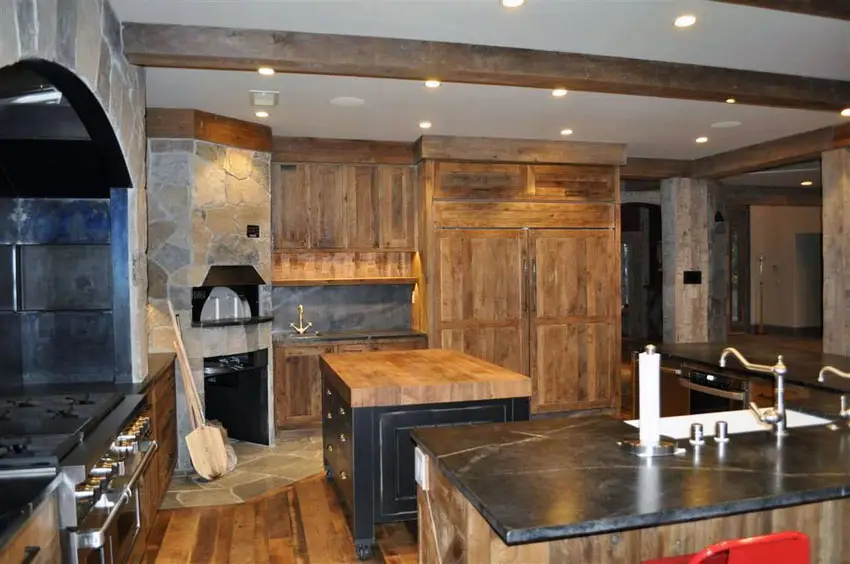 Going for a rustic look, this cooking space definitely emphasizes the natural weathered look of its wood finishes. The cabinets are made from gorgeous reclaimed wood and keep its natural color, giving a very rustic feel to the space and a variety of textures.
This cooking space as a rolling free-standing island as well, which has a antiqued black base and solid butcher's block top, as well as an L-shaped island which serves as the divider between the cooking space and the other parts of the house.
Base Cabinets with Built-in Sink and Oven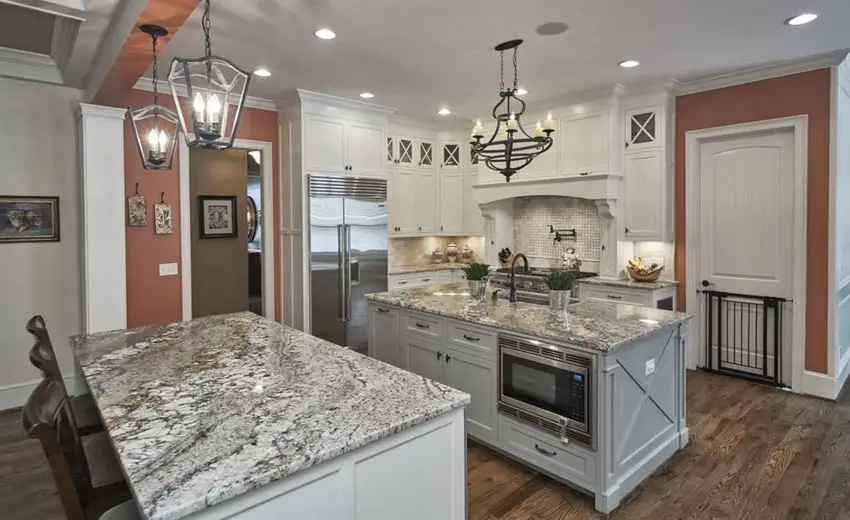 Double island kitchens are often sought after to provide an eat-in dining experience for guests. The bright marsala-colored walls adds a touch of femininity to this small and simple all-whitecooking spacedesign, giving it more personality and making it look more fun.
The French-style cabinets are all in white, and despite the limited space, the layout manages to fit in two islands, one of which serves more as a bar counter area, while the other has a built-in sink and oven.
White on White Color Combination in an L-Shaped Kitchen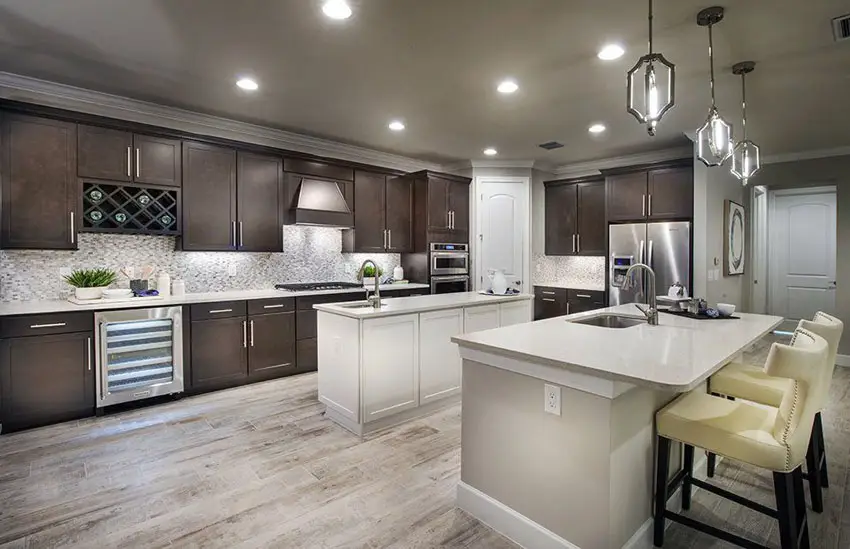 Another modern transitional style cooking space design that combines simple colors and finishes, yet achieves a timeless and elegant look. The walls are finished in a light oatmeal color to match the rustic wood tiles on the floor.
The nice light background colors help the wengue finished cabinets stand out from the walls, while the two islands which uses white and oatmeal finishes looks as if they're part of the interior architectural finishes.
Glass Door Cabinet and Marble Counter Design
Gorgeous chandeliers and pendant lamps adds a glamorous appeal to this classic cooking space design, adding a warm illumination to the culinary area. Classic paneled cabinets are used in this design, and all are finished in white and topped with white marble for that timelessly elegant look.
It also features glass cabinet doors for a more modern feel and double islands for a more efficient workflow in the culinary space.
Granite-Top Breakfast Bar and Narrow Food Prep Counter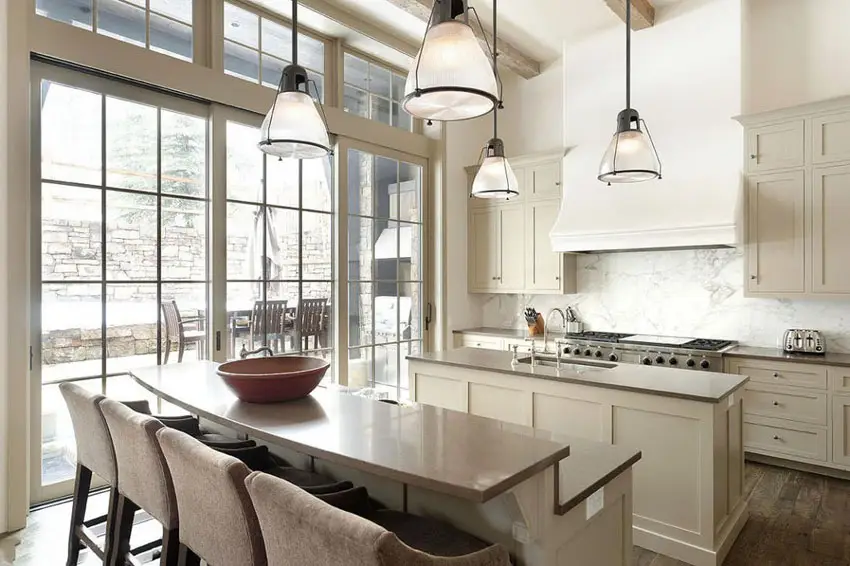 Double island kitchens benefit from work zones that define the layout so it works best for food preparation and entertaining. Simplicity is the key in this classic-inspired modern kitchenette that expertly defines its layout.
This design is characterized by clean straight lines, light warm-toned finishes, lots of natural light and plenty of ceiling space. The culinary uses only one uniform finish for its cabinets – a light taupe color topped with light beige granite, for that soft classic look.
The limited space meant a more narrow central island, a very simple bar counter for the secondary island. Vintage pendant lamps also add a touch of industrial feel to the space to complete the over-all look.
White Breakfast Bars with Stools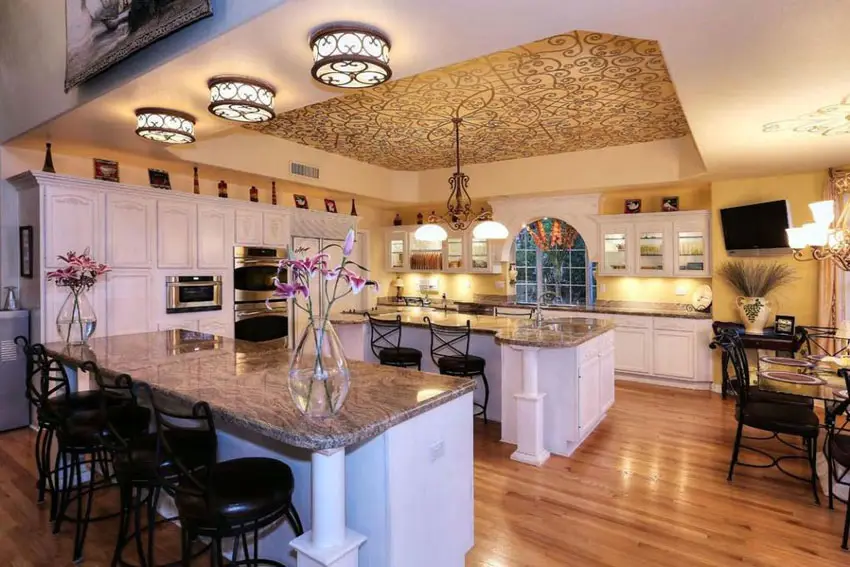 Most notable element in this culinary space design is the repetitive use of curved line details, especially on its ceiling. The recessed ceiling is painted with patterns inspired by bent wrought iron, which can also be found throughout the kitchenette.
The warm basic finishes, like the yellow walls and teakwood flooring, also help the white cabinets stand-out, creating a balanced look. This culinary space also features two islands, both of which provide space for barstools, creating a very flexible Culinary space layout.
Two-tone Double Island Style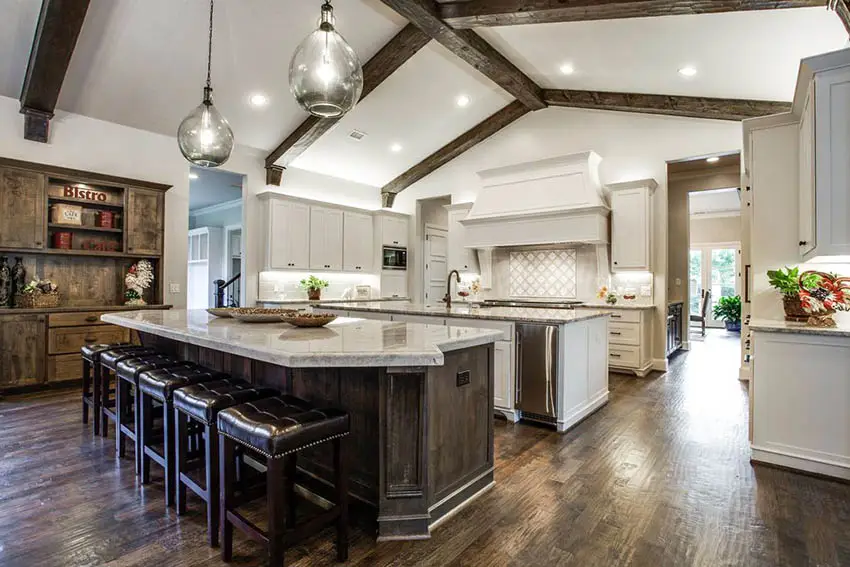 This beautiful expansive open concept culinary space provides plenty of space to entertain and cook your dream meal.
Offering contrasting kitchen islands the design features a central island with a built in sink and appliances with a white cabinet, and another island for dining that seats up to six guests with a dark wood cabinet.
Exposed wood beams, stone surfaces and hardwood flooring throughout gives this room a luxurious appeal.
Marble Top Dining and Standalone Islands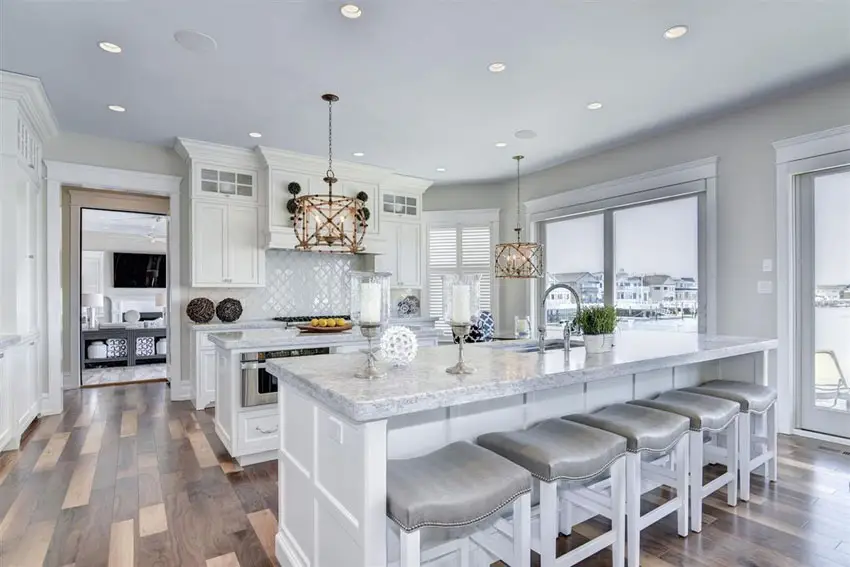 The compact size of this culinary space did not deter its use of double islands for that much needed additional preparation space. French paneled cabinets painted in white were used all through-out the culinary space and is topped with white marble, giving it a timelessly elegant look.
The kitchen island with seating in this design provides the much-needed preparation areas/surfaces due to its lack of wall culinary space counters.