Welcome to our gallery of white marble kitchen ideas including popular types, backsplash, flooring and countertop designs.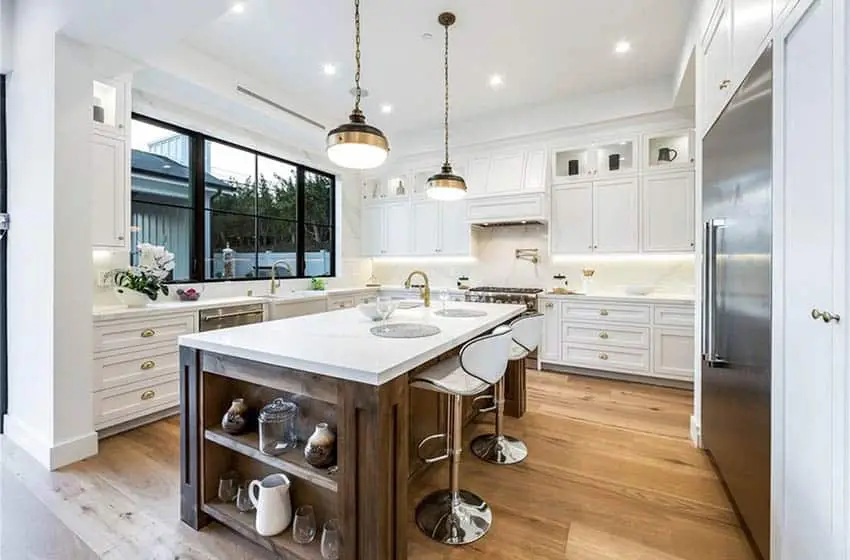 White marble has been used in kitchens for a long time. It has survived many design periods and has proved its aesthetic timelessness and adaptability. It is no surprise that marble brings a classic elegant appeal to any kitchen, making it feel more luxurious. Marble is usually used on kitchen countertops, and also found on backsplash in the form of solid slabs as well as marble tiles.
Marble is a beautiful natural stone that can have a big impact anywhere in a kitchen, with many different options. Marble can be refined into tiles, mosaics and even as simple but exquisite looking slab countertops.
White marble in particular can be paired with many other finishes in the kitchen to add some extra dimension to the space. Some fresh ideas could be pairing the marble with wood or concrete. By having one piece of marble in the kitchen, for example, the island, can push that into becoming the focal point of the kitchen, or even the home altogether. While using marble on all countertops, and even other surfaces in the kitchen will create an overall upscale, elegant space.
Polished white marble countertops and backsplash can be paired with striking black cabinetry to make the white stand out against its dark opposite. Having the marble polished and leaving the dark wood cabinetry in a matte finish will allow contrast to bring every ounce of focus to the marble with a modern feeling to the entire space.
White Marble Kitchen Countertops (Popular Types)
There are many types of white marble, and all of them posses different material characteristics. Depending on your location, locally available marble types, slab size and thickness, the prices would vary. The most popular and commonly used marble are the following:
Carrara Marble – the most popular type, this marble is known for its subtle gray color cause by the soft, thin veining against white background. Since the color and patterns and very soft and subtle, it's easy to match with any existing cabinetry.
Calcatta Marble – this Italian marble is a more expensive counterpart of the Carrara Marble. This specific type is know for its warm tone and its veins which vary in size and thickness. Compared to the overall gray tone of the Carrara, the Calcatta marble's veins come in beige, gold and gray.
Statuario Marble – another highly-prized Italian marble, this type is particularly favored for use on marble sculptures. It has a distinct bright white color, coupled with the grey veining similar to Calcatta.
Thassos Marble – this marble comes from Greece, and is known for its sparkly and bright appearance. It has been used since ancient times, and has been seen applied in both kitchens and bathrooms to give it a brighter atmosphere. Unlike the previous marbles which are known for their unique veins, this type has very little color gradation and is mostly prized for its clean and pure color.
White Himalayan Marble – another Greek marble, this type has very similar characteristics to Carrara, but has veins that varies in color, raning from gray, brown to purple hues placed against a clean, white background.
Mystery White Marble – if you want a more subtle look and don't like the bold contrasts of other marble types, the mystery white marble could be a better match, as it has cream-colored veins all throughout, as opposed to grays.
Is Marble a Good Choice for Kitchen Countertops?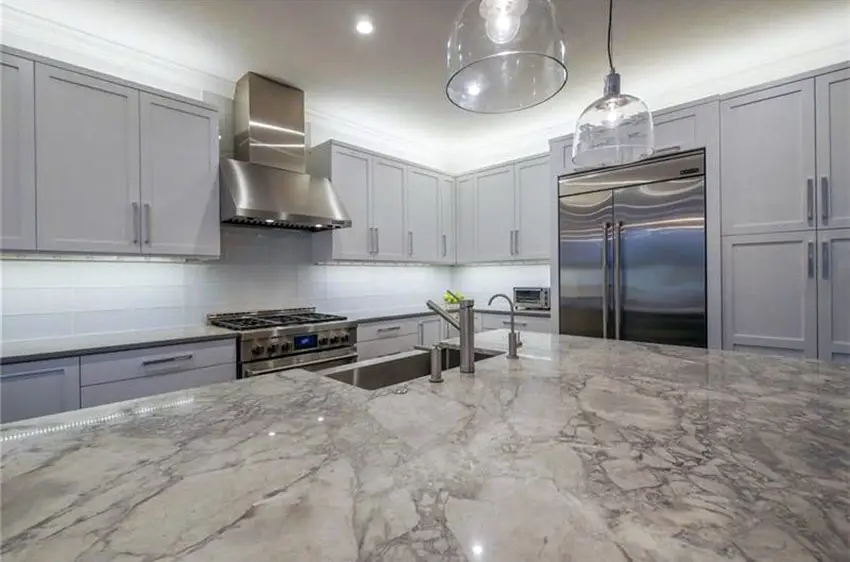 Depending on your needs and how you use kitchen, using marble countertops could be a great investment. Marble is known for its timeless beauty so you wouldn't really need to worry about it going out of style, and it also helps increase the value of your property, as marble is a fairly expensive material.
On the flip side, marble is not only expensive, but also requires maintenance as it is a relatively porous material. It is also quite heavy, and is prone to stains, so you need to make sure you use it on surfaces where you don't expect to place ingredients that can possibly stain that countertop.
If placed on low-traffic areas, marble can be a long-lasting materials, but also do note that marble is softer compared to other stones, and is prone to nicks and cracks, so proper maintenance and care is a must.
One of the most important things to remember when choosing marble countertops is that they are porous! This means that they can allow oils and stains into the stone itself. Marble is also softer than both quartz and granite, meaning potentially more scratches and chips.
This could be a detrimental con if one has individuals in their home (ex: children) that may not respect the countertops as much as they should. In some cases using a quartz countertop may be a better option based on the situation. If this is a worry though keep in mind that there are sealers and polishes that can help protect from these vulnerabilities.
Having children shouldn't hinder anyone from having their dream kitchen! Especially because even when a marble counter does get a small scratch, they're barely noticeable unless the lighting and angles are just right, well in this case just wrong! Everything is all about taking care of the marble and loving the way it becomes part of the kitchen.
While designing with marble countertops you may also want to carry it throughout the space onto the island. A kitchen island is perfect for entertaining or even just spending extra time while cooking with the family. An island is a counter that is detached from all sides, frequently one counter protrudes over the base of the counter. This allows for stools to be placed underneath to promote gathering in the kitchen.
Once people start gathering in the kitchen the homeowner can not only show off their cooking skills but also the glorious marble island, which will be sure to get many compliments. That being said, islands come in all shapes, sizes and uses. Some islands include plumbing and/or electrical, which can allow for a sink, plugins, and even a stovetop. If that is out of the budget though sticking with base cabinets is still a great option, or even a table island.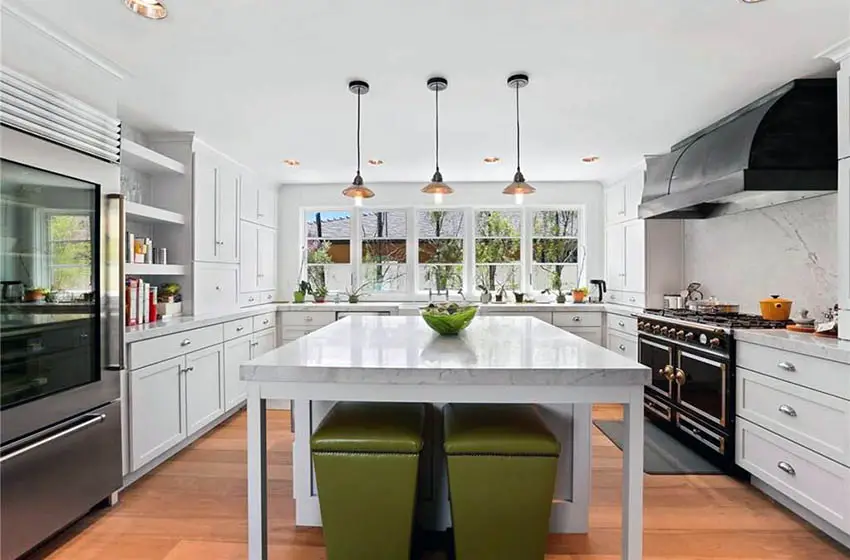 The design of this kitchen is relatively simple, but because Statuario marble was used on all countertops and backsplash, it is able to achieve a more elegant and luxurious appeal. The large kitchen island particularly highlights the beauty of this luxurious material.
Marble Countertops Cost
Natural stones are typically going to be more expensive than man-made stone. This being said there are many cost effective savings while still getting the luxury of marble. Different colors can also increase or decrease the price, as well as location, thickness, and design of the pieces.
Roughly marble countertop prices are around $125-$250 per square foot including installation. This puts you into a pretty competitive market with other available stones but still a bit above due to paying for the premium stone.
Marble Top Kitchen Island
Kitchen island often are the focal point of kitchens, mainly due to its layout placement, so it is natural to see marble countertops being placed on kitchen islands to showcase its beauty. The large surface area of kitchen islands also allows you to use bigger slabs that showcases the unique patterns of marble.
Multiple types of islands are available as well, base cabinet island, table island, fully functioning island, waterfall island, double tiered island, basically the possibilities are endless. Each of these options come with its own way to design and add marble features.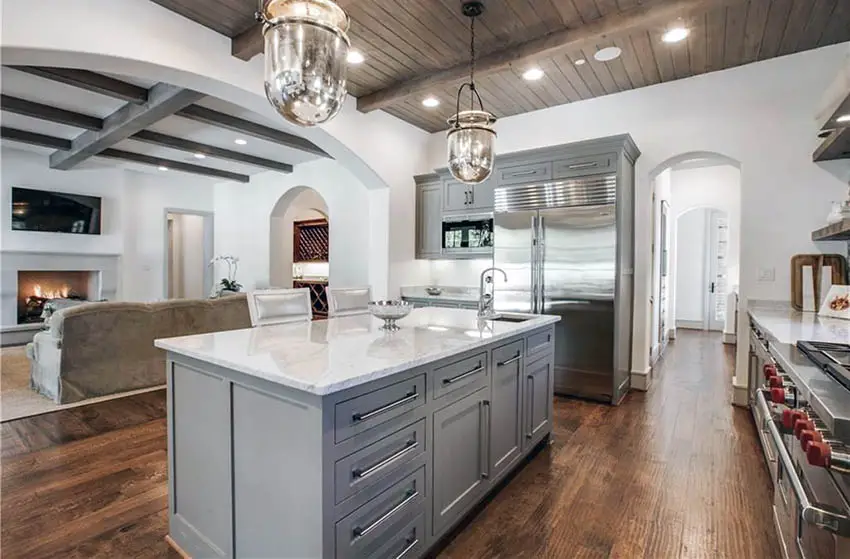 The soft veins of Calcatta marble match well with the steel gray paint of this kitchen. The bright white marble with its soft grey veins complements the dark color of the cabinets well.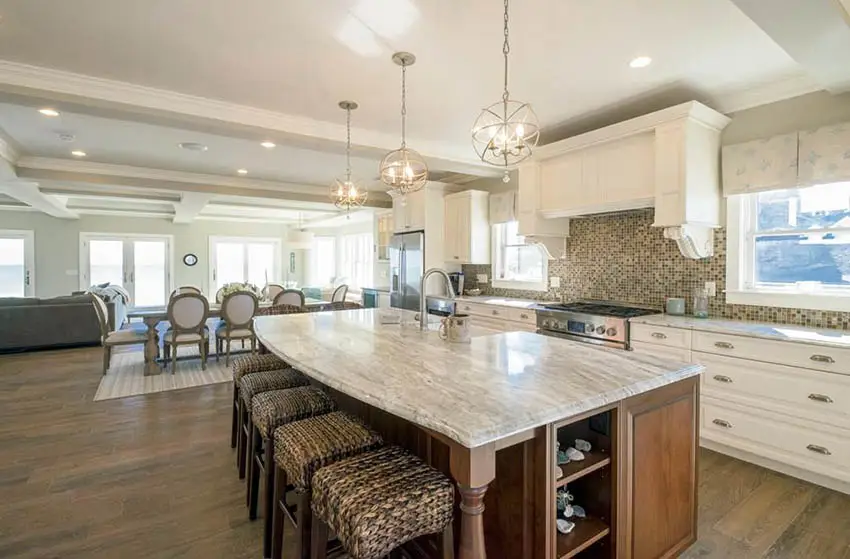 This kitchen uses a less-popular marble type, which is the silverwood marble. This marble has gorgeous wood-like grey/beige veins, with characteristic burls and curves similar to wood. This gives a softer and warmer appearance is a great choice if you prefer a softer look.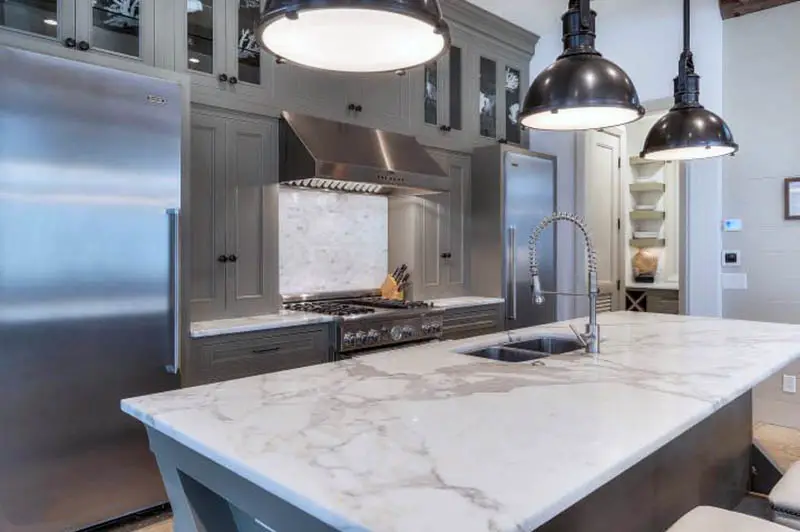 This gorgeous slab of Calcatta marble is seen used on both the kitchen island, the main countertop and the backsplash. Because of the gray color scheme of the kitchen, the bright white color of the marble is able to give the space a lighter and more cheerful atmosphere.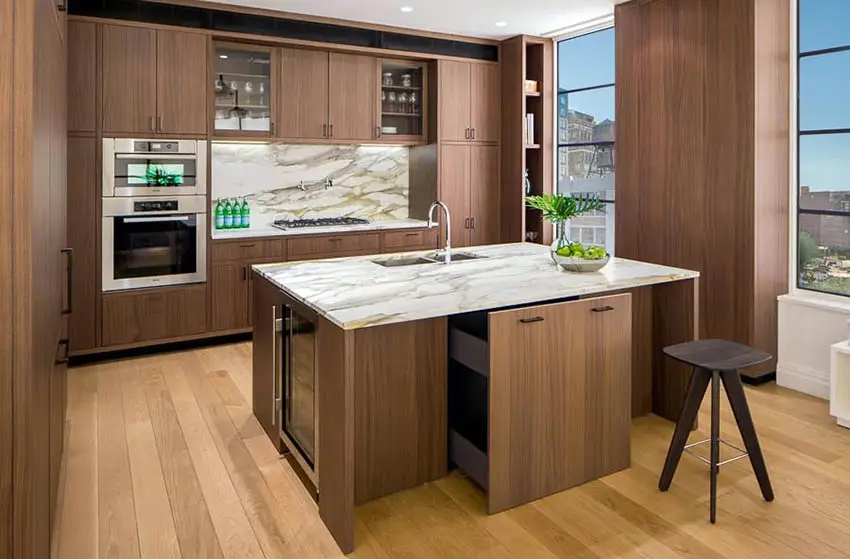 The Calcatta marble used in this modern kitchen features some veins with streaks of gold in it, giving it a very unique yet elegant appeal. The bright white background of the marble helps contrast and brighten the all-wood kitchen, and overall balances the whole look.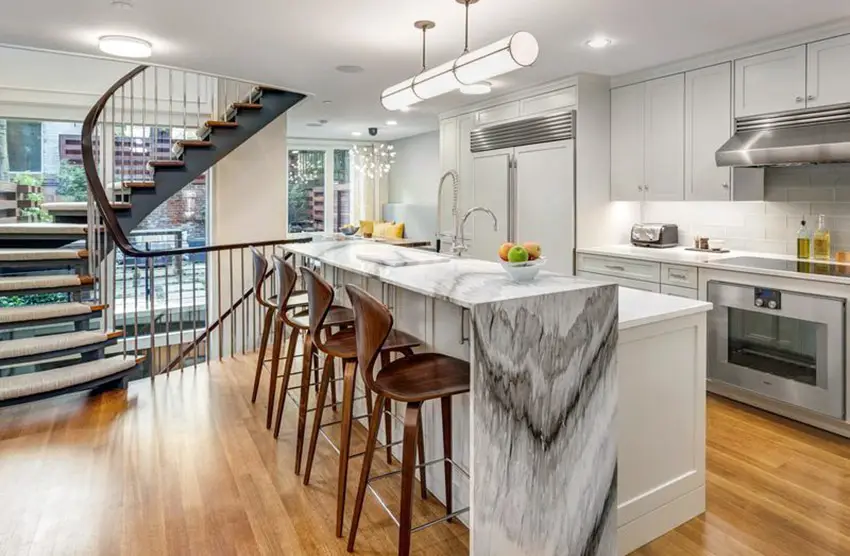 A waterfall island countertop could bring the marble all around from top to bottom as a vibrant accent piece. If in a cost saving project this could be a great option to avoid added cabinetry and plumbing that some of the other islands require.
What sets this waterfall design marble bar counter apart is that it uses a book-matched marble pattern instead of a full slab with random pattern. This allows consistent repetitive patterns on the top and the sides of the countertop. The bold black veining on the marble stands out against the bright white background, making the whole bar area stand out from the rest of the plain white kitchen.
The Calcatta marble used on this large kitchen island particularly has thick, dark gray veins that is spread out widely along the surface, creating a very unique and cleaner pattern which is perfect for the modern look of this kitchen.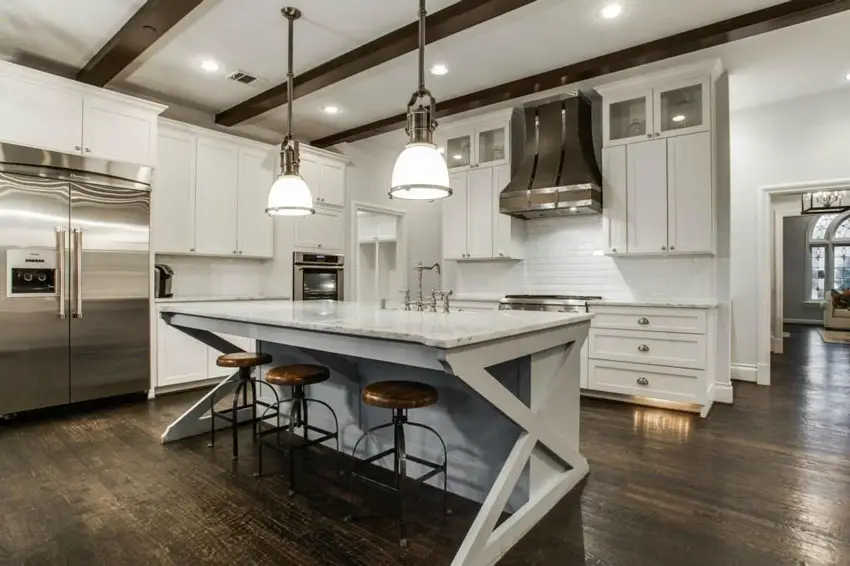 This country-style inspired kitchen also uses Carrara marble on both the main countertops and its large kitchen island. The subtle vein patterns of the marble complements the clean and soft look of the kitchen and completes the white color scheme of the space.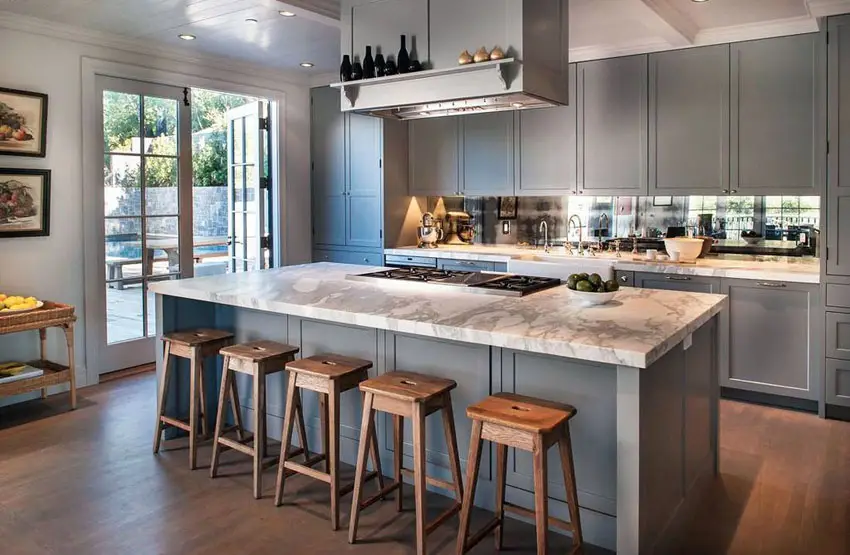 For this contemporary gray kitchen, a thick slab of Calcatta marble was used for both the main countertop and the large kitchen island counter. The bold gray vein patterns on the marble is definitely a perfect match for the color scheme of this space.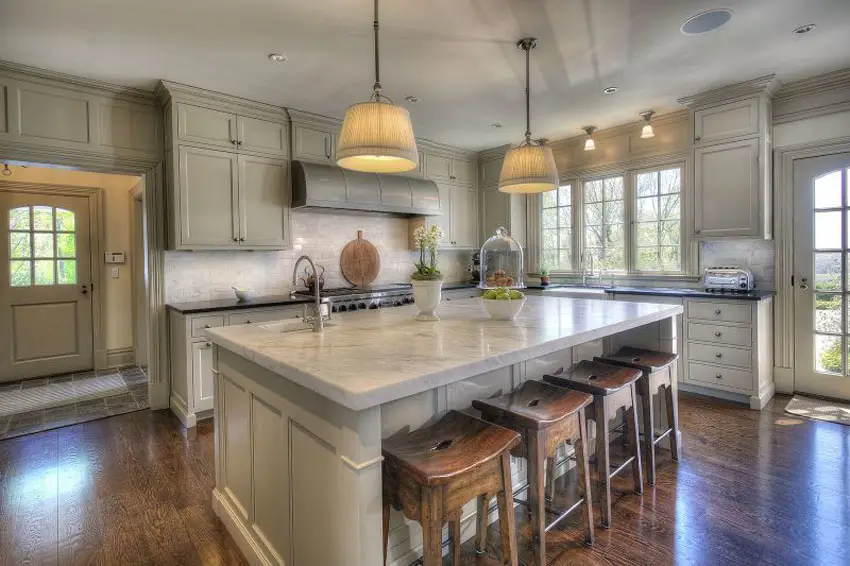 The thick slab of Carrara used on this large kitchen island has a very soft and dreamy look to it, to complement the soft green color of the kitchen cabinets. The soft pattern of the marble countertop and the marble backsplash tiles contrasts well with the bold solid walnut wood floors.
Portable Marble Top Kitchen Island
If replacing your existing countertop would be too costly, another way to add marble into you space is by using portable kitchen counters. These are small, freestanding countertops which you can easily move around the kitchen. They are available both custom and ready-made, in different design styles to match your existing kitchen.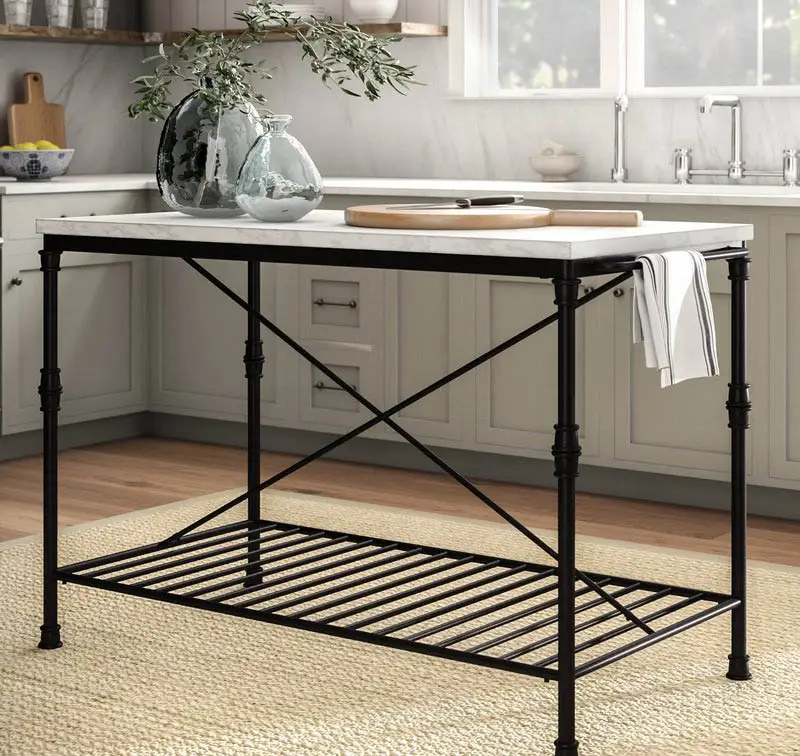 Portable marble top kitchen island – See at Amazon
This simple portable countertop is small and light because of its open metal leg base. This allows you to easily move it around the space. Because of its slim size, you can easily add this even on smaller kitchens.
Marble Backsplash Kitchen
Backsplashes can add spice to a kitchen, this is where a designer can get down to business. Backsplashes are typically drawn towards the (you guessed it) back of the countertops to avoid any of the (you guessed it again) splashes that may occur. Being shoved into the back means designers need to get creative so that the backsplash doesn't just fade and hide away under the cabinets.
Marble mosaics can add just that extra pop that makes guests see the backsplash among all the other beauties in the kitchen. While mosaic backsplashes are a popular option there are other choices that may work better in the home.
Slab backsplashes are also available to tie in with the countertops as well as marble tiles that you can use to make any desirable patterns, possibly even a custom mosaic! This is where the creativity can run wild and the colors can be bolder and different because the backsplash is not directly in people's faces and allows a smaller area to be vocal and eccentric.
A popular application of white marble in kitchens is the backsplash since it requires less daily maintenance. Compared to countertops, applying marble on the backsplash would not subject it to as much as wear-and-tear from cracks, moisture and stains, and would therefore definitely last longer. It usually gets exposed to oil and moisture when placed near the cooking range and the sink, but the amount of moisture it is exposed to is way less than when you place it on countertops.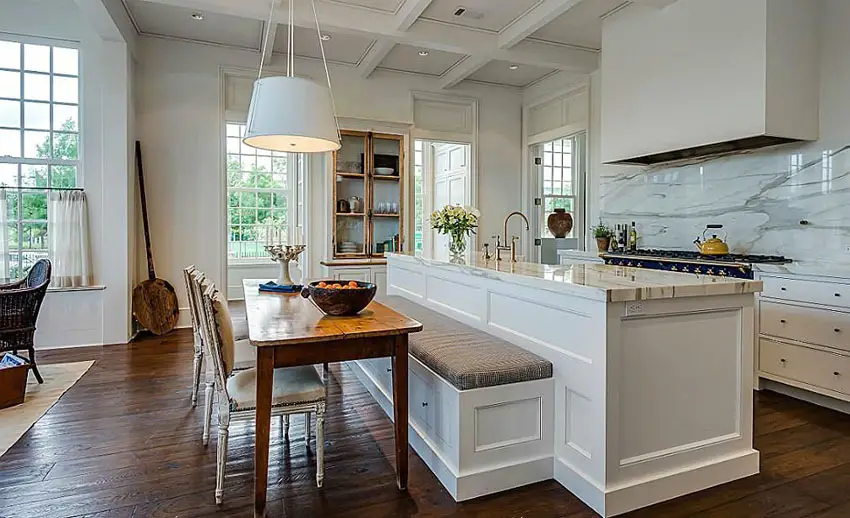 This all white contemporary kitchen uses a large full slab of Calcatta marble on its backsplash, creating a large seamlesss backsplash surface that perfectly matches with the countertop material used. The polished marble's lustrous shine and light gray vein patterns adds more pattern and a glossy texture to the mostly matte colors used in the space.
How do you take care of marble backsplash?
Although subject to less wear-and-tear, marble backsplash requires the same care and maintenance as marble countertops. It would be required less often than countertops, however, but methods and techniques are often the same. Here are basic care and maintenance for marble backsplash:
Seal – since marble is a porous material, sealing it is important so that moisture doesn't seep inside the material and cause bacteria build-up, as well as cracks. Use the appropriate sealing agent for your material as recommended. If water doesn't bead on the surface of your marble anymore, it's a sign you need to reseal.
Clean – marble can be damaged by acidic and abrasive cleansers, so it is better to use gentle cleaning agents, or simply use a damp sponge or rag regularly to keep it clean.
Stains – remove stains by using a poultice paste on the area or spots with stain. Cover it and leave it on for 12 to 24 hours, remove the paste of with a damp cloth, reapply as needed if stain remains.
Prevent stains – marble is an expensive material, so try to keep it away from citrus and acids as it will etch the material, as well as potential stains such as wines, etc. If you need to work with such ingredients near your marble surface, you can put a plastic or silicone mat, or use a cutting board so it doesn't directly get in contact with the marble surface.
Read more about how to clean marble countertops here.
For this kitchen, instead of a full marble slab, marble subway tiles were used instead. It uses Arabescato marble known for its blue vein patterns, giving the backsplash a cool touch to contrast with the other white surfaces. Because subway marble tiles are smaller, it will be less prone to cracks. However, the presence of grouting would make it susceptible to molds and dirt build-up, so proper care and maintenance should be observed.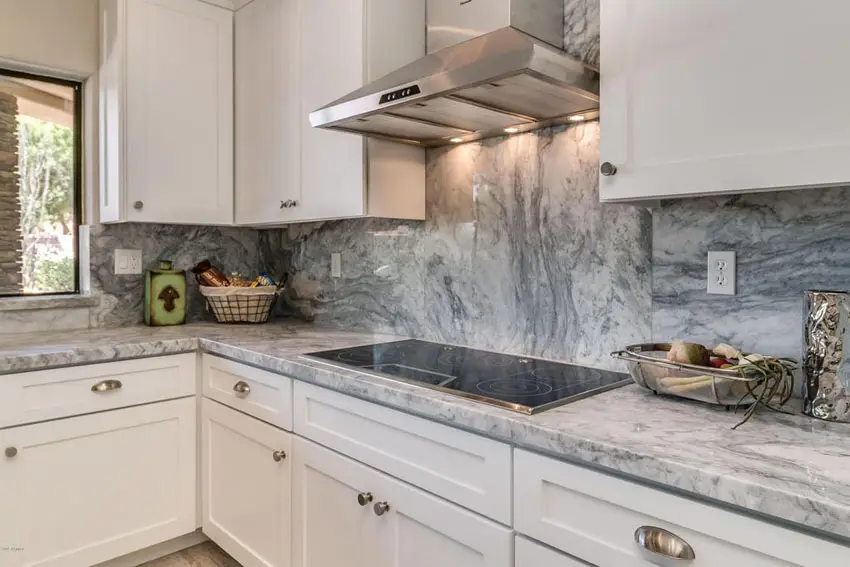 This white kitchen uses Arabescus white marble on both its countertop and the backsplash. This Brazilian marble is known for its white background and dark charcoal veins with dramatic, smoke-like / watercolor patterns which gives any space a bold and unique look.
Marble Kitchen Floor Designs
Maybe countertops are not the right fit for the home at hand, maybe this home deserves marble flooring. This will bring massive amounts of class and prestige to a room in seconds. Here the options are limitless.
Full white floors can bring the modern feel and when polished will light up a room. Another choice could be coming up with a pattern using different colors and shapes of marble tiles, while this breaks up the pure white, patterns can be extremely eye catching.
Plus if using black cabinets or appliances in pair with the white marble, adding some small black marble tiles can tie a room together. Some white marble is cut with black veins in the tiles that could be a very viable option when installing marble flooring.
Is marble good for kitchen floor? Aside from countertop and backsplash applications, marble is also used on kitchen floors. You should note that marble flooring has the same properties as marble countertops. They are always unique – each piece is unique, and are timelessly attractive. Because marble is expensive, marble adds value to your property if you maintain it well.
Are marble floors durable? You should keep in mind that marble floors are porous and needs constant resealing and maintenance, and is also prone to cracks and stains. If you are willing to spend time and money with the upkeep of marble flooring, then you will be able to enjoy its timeless beauty on your kitchen floors. If you are not willing to keep up with marble maintenance, however, it is best to use marble on surfaces with less exposure to wear and tear, such as the kitchen backsplash or kitchen counters.
Alternatively, if you really want the look of marble tiles in your kitchen, you can opt to use porcelain tiles instead. There are many high-quality porcelain tiles with marble look / patterns available on the market. Not only are they more durable, they are also less porous, easier to maintain, and are more affordable.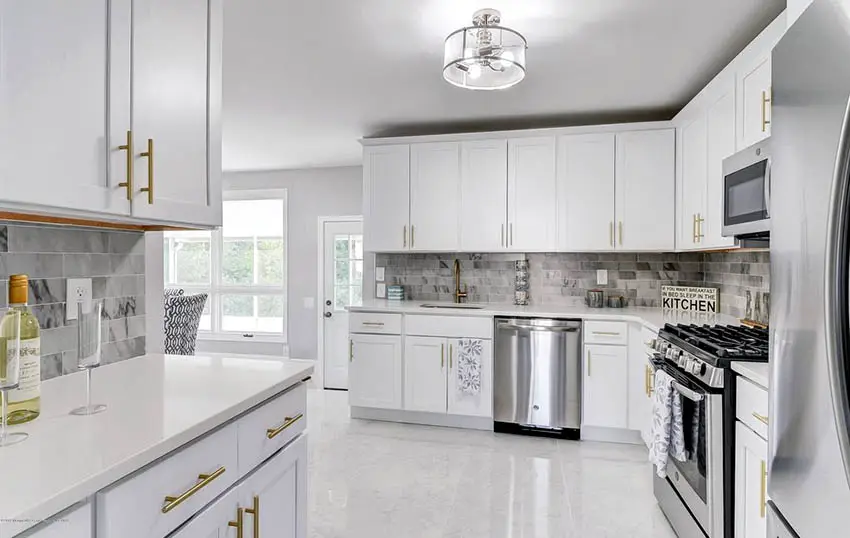 The soft vein pattern of Carrara marble really goes well with this kitchen design. Because the vein pattern of Carrara is very soft and subtle, the color and pattern doesn't disrupt the clean and minimalist aesthetic of the space.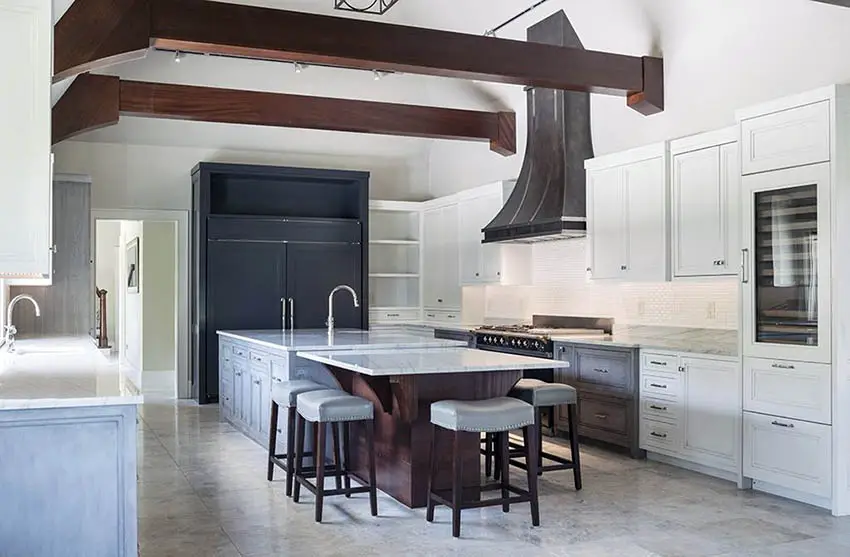 For this classic style kitchen, since the cabinetry uses a combination of flat white and cool gray cabinets, as well as white marble countertops, the floors used beige marble tiles to give the space a subtle warm tone, creating a more balanced look.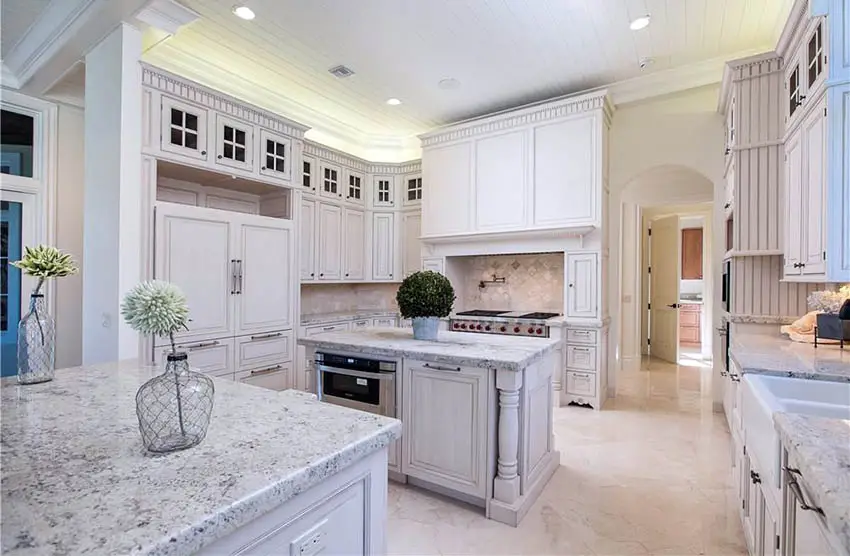 A classic French style kitchen, this space uses antiqued finish cabinetry in white, combined with white salt & pepper granite countertop. The floors uses polished mystery white marble with light beige veins to give the space a softer, warm tone.