Here's our guide to the best kitchen paint colors with maple cabinets together with the most popular kitchen wall colors for honey and white maple cabinets.

Maple cabinets are a distinctive, eye-catching feature in any kitchen. The other elements in the kitchen, from the lighting, flooring, and countertops, can add or detract from the beauty of the cabinets.
However, changing out these major elements takes a significant investment of time and money. Before you resort to a major kitchen renovation or throw up your hands in disgust, consider painting the walls in your kitchen.
In this article, you'll learn about different options for kitchen color schemes, and the most popular kitchen paint colors to pair with maple cabinets.
Quick Look – Paint Colors that Go With Maple Cabinets
| | |
| --- | --- |
| White | Cream |
| Greige | Light-gray |
| Green-gray | Blue-gray |
| Classic gray | Mint-green |
| Terracotta | Light yellow |
| Pale Pink | Lavender |
Kitchen Color Schemes With Maple Cabinets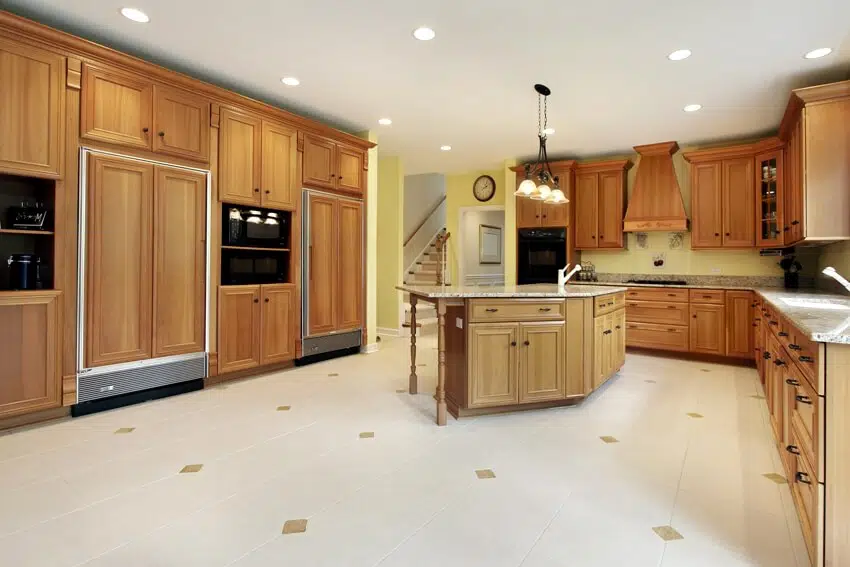 Before you can choose a color scheme for the walls around your maple cabinets, it's important to understand what kind of maple you're working with.
While there are over one hundred different species of maple world wide, most maple kitchen cabinets in America come from the same type of tree: Hard Maple.
This species, which is also called Rock Maple or Sugar Maple, produces beautiful wood that is also highly durable.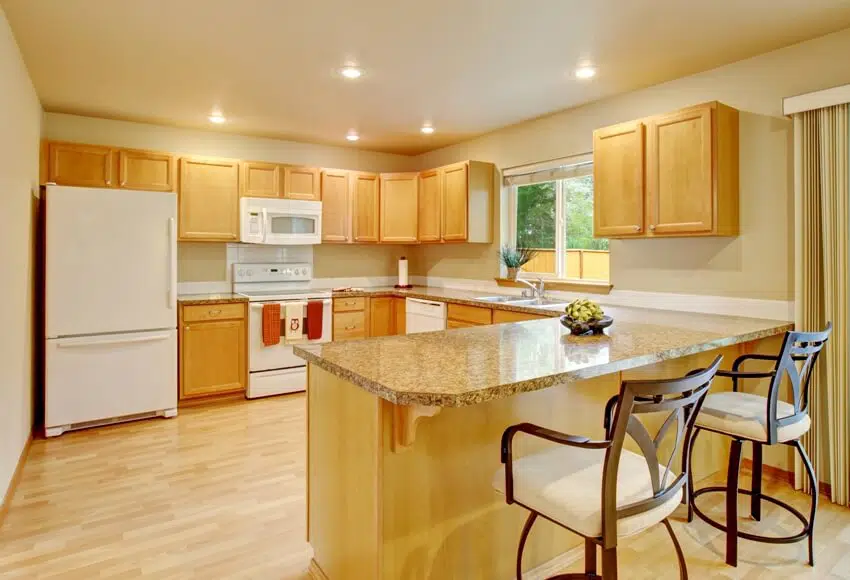 Maple cabinets can be made from planks cut from the center of the tree, or closer to the bark. The core or center of the tree is called the heartwood, and this can be a very deep, dark, reddish-brown.
In contrast, planks cut from the sapwood that surrounds the core has a very light white color with reddish brown flecks. See our guide to what color to paint for white cabinets for more ideas.
Both heartwood and softwood will change in color as they age. Heartwood maple that is very dark when installed generally mellows a bit as the years pass, becoming less intense.
Light-colored softwood will deepen from a light white to a creamy yellow, and then to a glowing honey-like color.
The color and material of your countertops and kitchen floor make up two large components of your color scheme.
Best Kitchen Color Scheme For White Maple Cabinets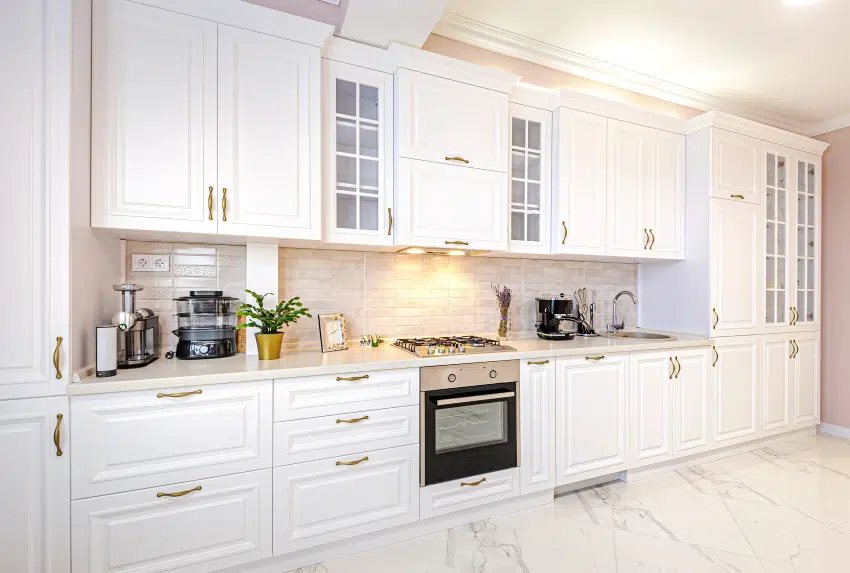 New maple is a creamy white color with pink or light-red streaks.If there are other red or pink elements in your existing color scheme, you can use a neighboring color from the pink/red family to tie all the elements together.
If the rest of your kitchen is made up of neutral colors or white and black elements, use yellow or orange paint to introduce warmth and prevent a sterile, commercial feel.
With light colored floors and cabinets, keep the kitchen feeling breezy and open by choosing a gray or blue tinged white paint.
Best Kitchen Color Scheme For Honey Maple Cabinets
As maple ages, it takes on a honeyed, amber glow. Bold or bright colors don't mesh well with maple of this color.
Stick to muted or faded tones with a touch of brown or gray to sustain the homey, hearth-like appearance of your kitchen.
Stay away from blue and blueish-purple paint, as it clashes with the yellow undertones of maple cabinets, leading to a slightly jarring effect.
Yellowy-greens pick up the glow of maple cabinets and spread it around your kitchen for a cohesive, woodsy look.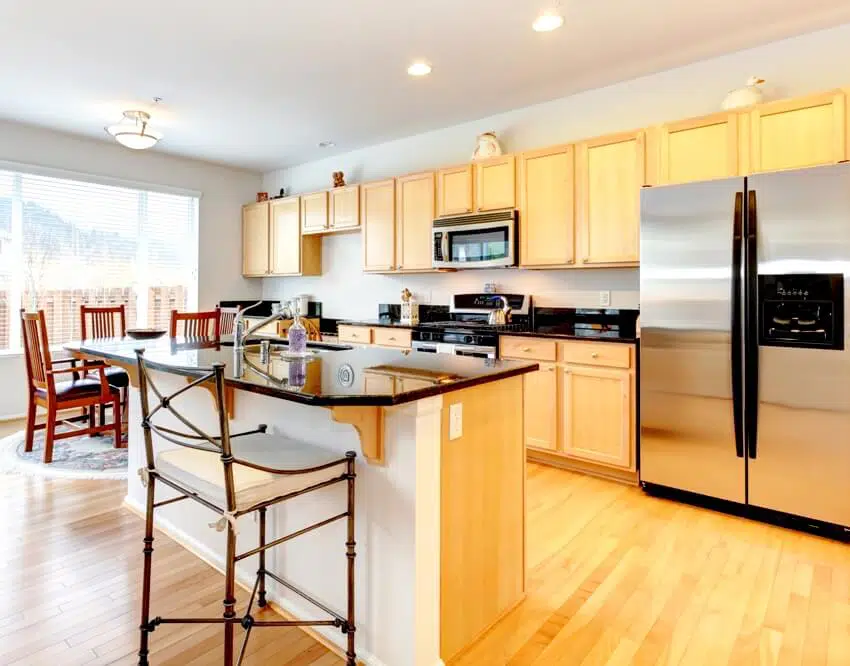 Avoid mustard yellows, as they have too much brown in them. The brown undertones will compete with your maple cabinets rather than showing them off.
Marigold tones pair well with maple cabinets, especially when there isn't a lot of exposed wall. A little bit of yellow goes a long way.
Popular Kitchen Paint Colors With Maple Cabinets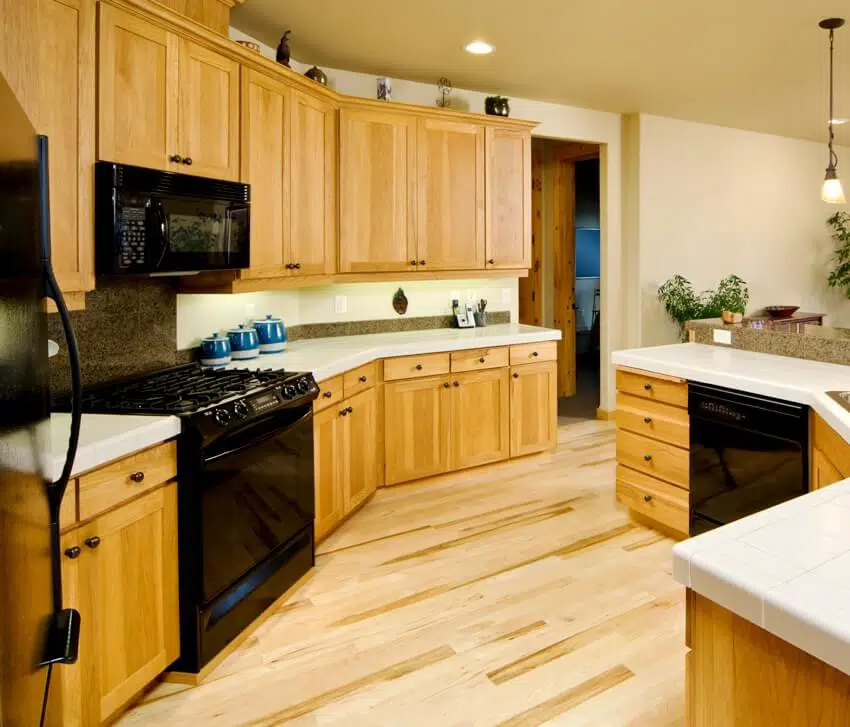 Kitchen cabinets not only need to support some of the heaviest items in your household, they are also highly visible.
Maple is an obvious choice for quality, long-lasting cabinets due to its durability and the natural beauty of it's grain, so it's not unusual to purchase an older home and find maple cabinets that look like they could have been installed yesterday.
The problem is, trends change over time, and trends in kitchen decor have a much shorter lifespan than maple cabinets do.
When paired with old, tired paint, maple cabinets can look dated or unfashionable, despite having years of life left in them.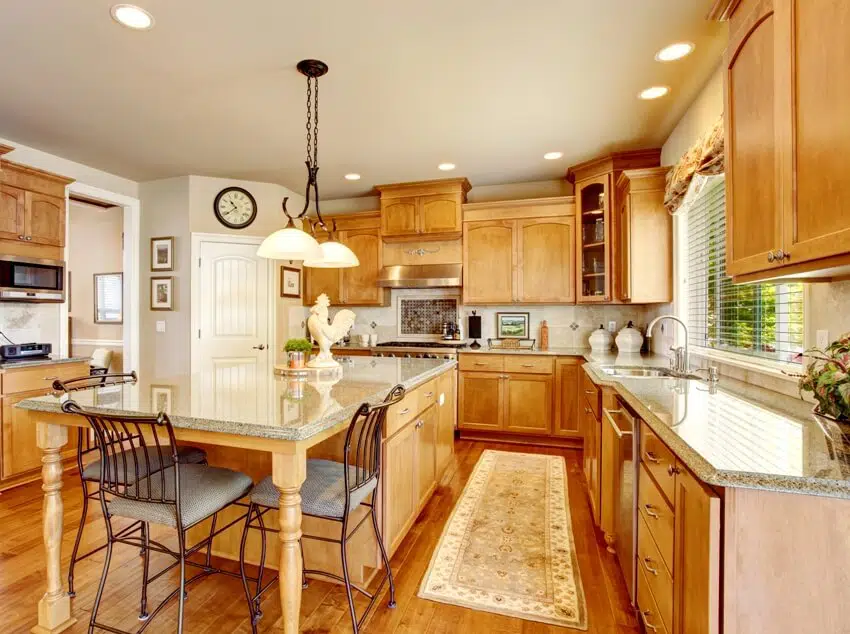 Check out our recommendations for the most popular, timeless, and trendy kitchen paint colors to pair with your maple cabinets for a current and up-to-date look. Read more about the best kitchen paint colors here.
Acacia Haze
The Haven line from Sherwin-Williams consists of misty, unobtrusive earth tones, reminiscent of the edges of a forest on a sunless day. Quiet and calming, Sherwin Williams Acacia Haze (SW 9132) is a greenish gray hue that will provide contrast to the reddish tones in your maple cabinets. Choose it for a cozy cottage feel in your kitchen.
Perfect Penny
From Behr's 2022 collection comes an earthy terracotta paint that lives up to its promise of perfection when paired with maple cabinets. Rather than the almost aggressive quality of some terracotta-colored paints, Behr's Perfect Penny (S180-6) is quiet and subtle.
The pinkish-red undertones of this paint make it an ideal choice to pair with any color maple, and you can expect it to look great even as the maple changes color with age.
Classic Gray

A true neutral from Benjamin Moore's Off-White collection, Classic Grey (OC-23) is, well, a classic. Sophisticated without being pretentious, versatile but not at all blah, a coat of Classic Grey paint next to maple cabinets updates your kitchen without trying too hard to be trendy.
This is an especially good choice if you're getting the house ready for sale, as bold paint choices can make it difficult for potential buyers to imagine themselves in the space.
Kitchen Paint Colors With Dark Maple Cabinets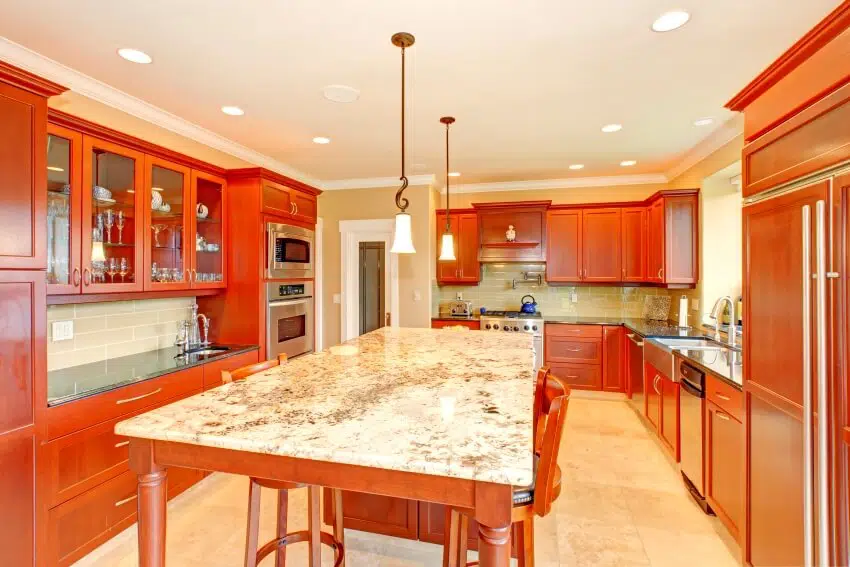 Dark maple cabinets are beautiful, but can overwhelm a kitchen with few windows or not enough lighting. See our gallery of the best kitchen wall colors with dark cabinets here.
To make the most of the light you do have, turn to bright and light neutrals. Skip plain whites in favor of light grays or pale, creamy yellows to help dark maple stand out.
To soften the look of dark maple, consider a very light blush-colored paint. This will help draw attention to the lighter red streaks in the maple rather than the dark brown, leading to an overall lightened effect.
For more related ideas check out what color countertops go with maple cabinets.