This guide to melamine kitchen cabinets includes what they are, the benefits & characteristics of this material, types of grain, pros and cons and updating melamine cabinets.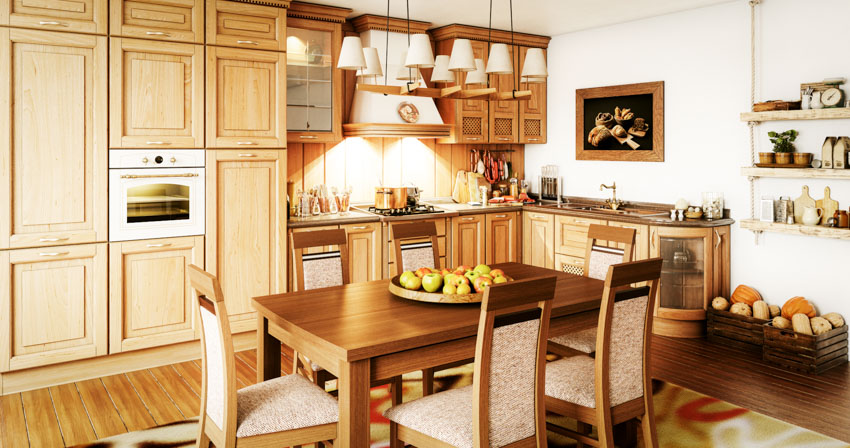 Cabinets will always be among the most prominent features in your new kitchen and are known for their attractiveness, durability, and affordability.
High-quality melamine cabinets are popular because they are more affordable than solid wood cabinets or other alternatives while looking attractive and natural.
What Are Melamine Cabinets?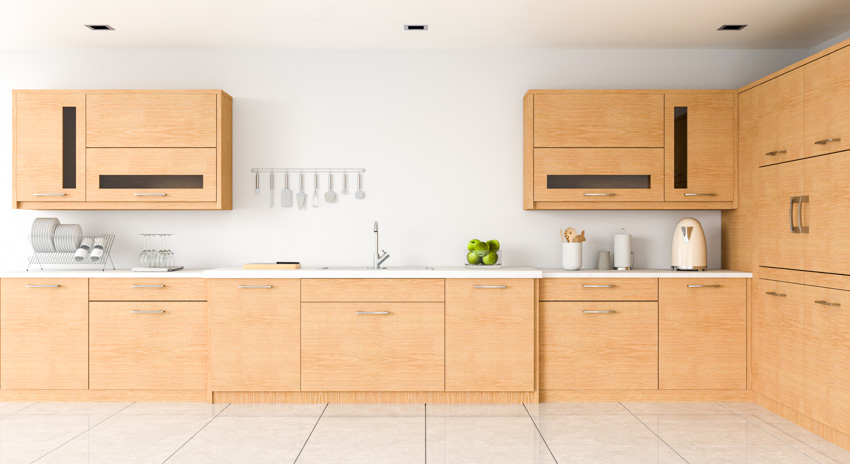 Melamine is a durable plastic material used in modern home cabinetry with various hues and patterns. Its consistent coloring ability provides a modern minimalist design at an affordable cost and is also the most sustainable option for cabinetry.
Melamine cabinets' popularity is due to their boundless and full spectrum of single colors to all simulated finishes. These melamine cabinets reproduce the look and feel of actual paint, wood grain, concrete, metals, or material designs. The cabinet doors typically come in ⅝" or ¾" thicknesses.
Melamine Kitchen Cabinet Material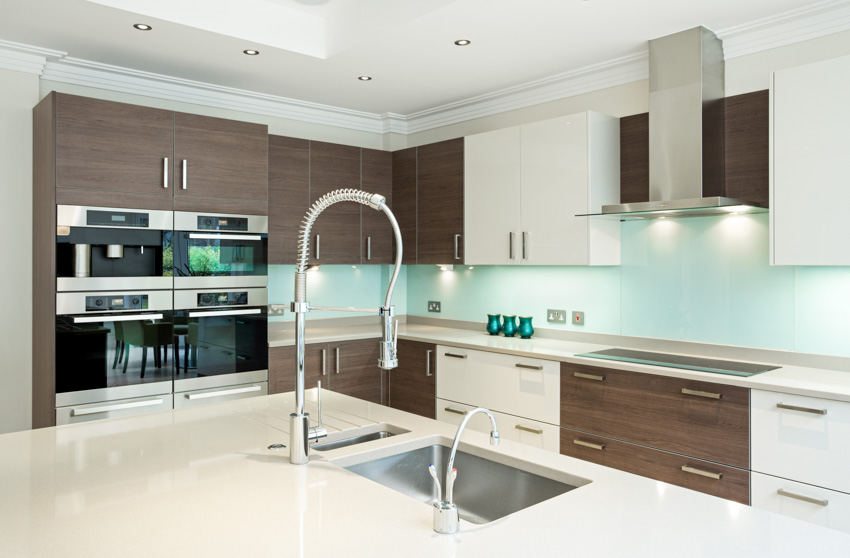 Melamine boards are constructed of raw particleboard substrate with resin-infused decorative paper permanently fused to both sides using heat and pressure to activate the resin to seal the substrate and produce cabinet doors effectively.
Due to the characteristic of melamine material that hardens when heated, the surface of the decorative cabinet is scratch-resistant, colorfast, and exceptionally durable.
It is similar to particle board; however, melamine is more robust and made using a different process. The melamine used in kitchen cabinetry is an engineered product such as Thermally Fused Melamine (TFM), or High-Pressure Laminate (HPL) is Melamine fused with MDF or Particle Board.
The latter is made from less expensive wood chips, yet as reliable as wood. TFM and HPL melamine laminate types are stain, heat, moisture, and abrasion resistant.
High-Pressure Laminate, compared to Thermally Fused Melamine, is the sturdiest type of laminate. HPL includes layers of kraft paper which offers a more flexible product and can be applied to more types of substrate board. It can even be bent for curved surface and have a wider variety of design options in terms of colors and patterns.
Compared to High-Pressure Laminate, Thermally Fused Melamine is less expensive and more commonly available. They are slenderer than HPL, so it is much more robust against scratches and chips. However, TFM cannot be bent, but since it is fused directly to the particleboard, it is also peel-resistant. Like HPL, Thermally Fused Melamine also have plenty of design options.
Many homeowners today who are concerned with preserving sustainable resources choose melamine as an alternative to hardwood cabinetry. Melamine has many inherent properties that contribute to its properties, making it fire retardant, resistant to moisture, and warp-proof. It is a competitive choice in any kitchen design concept.
Wood Grain Melamine Cabinets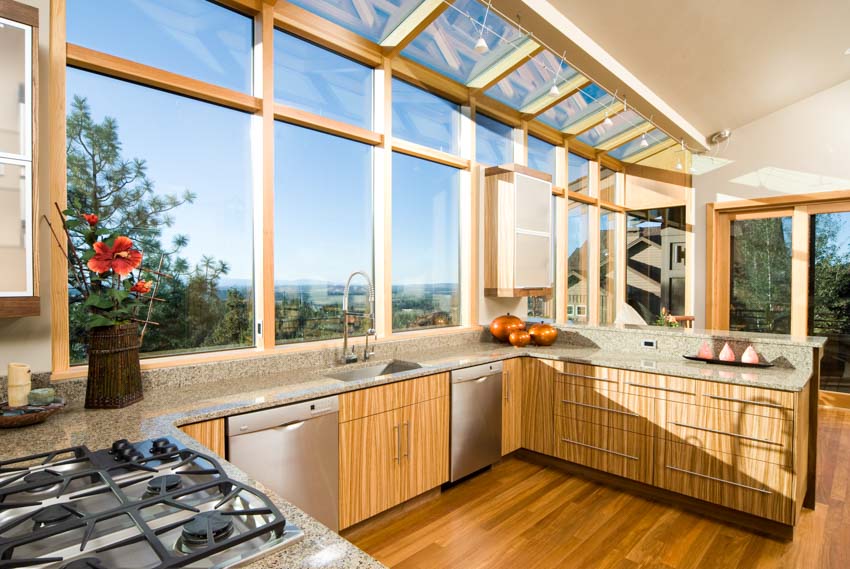 The aesthetic of melamine is versatile and flexible to match any design style due to the laminate applied to the outer surfaces of melamine. Textured melamine is a product produced by laminating a particle board substrate with resin paper printed with a high-resolution photographic image.
It also has a three-dimensional effect and provides seamless integration of pattern and color. Textured melamine is often the look of the natural wood grain that can be used to match any kitchen style.
This option is popular because of its durability, resistance to scratching and alterations from sun exposure, and modern look. It is easy to clean and maintain and will not quickly swell when it comes in contact with liquids.
Textured Melamine cabinets have a natural wood look and feel, creating a visual and tactile texture in kitchens. The nature-inspired texture of a woodgrain melamine finish adds depth to otherwise flat-looking kitchen cabinetry.
High-End Melamine Cabinets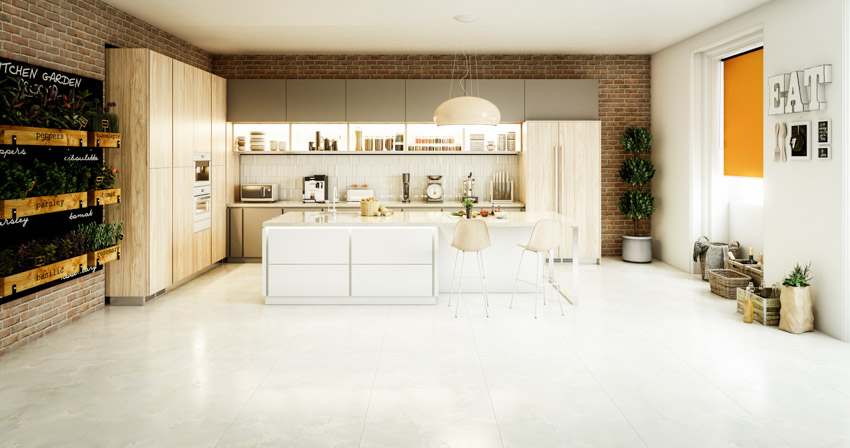 High-end melamine cabinets are ready-made or custom-made and come in both gloss-finish and matte-finish appearances. There is also a wide range of colors and designs to suit your aesthetic sense, whether you are looking for a sleek or minimal look.
The material's shiny appeal is also beautiful. Whether you prefer solid bold colors such as black, red, or stark white, high-end melamine cabinets have got you covered.
For years melamine was considered cheap and of poor quality. Today melamine has developed into a popular option for kitchens due to the availability of high-end materials used in manufacturing them.
Melamine Kitchen Cabinets Pros And Cons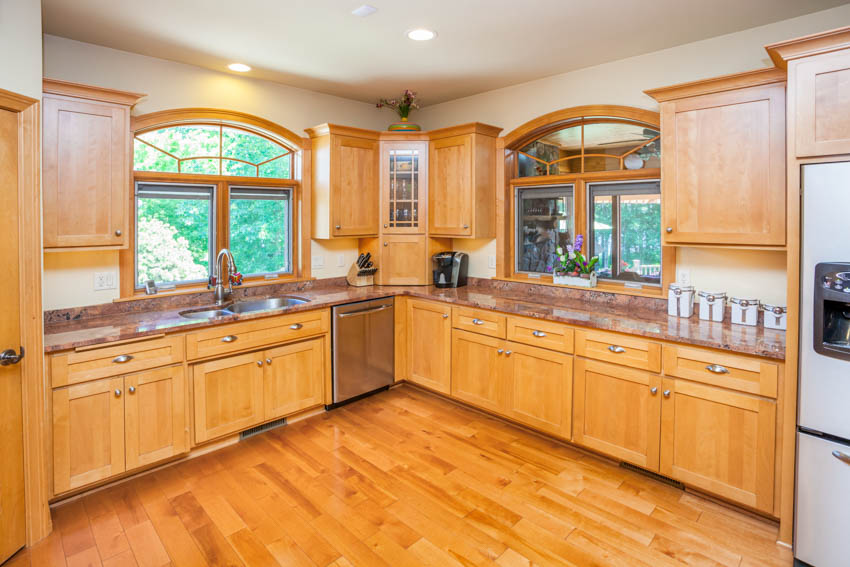 Melamine kitchen cabinets are now becoming a popular option for several reasons.
• Durability: This is one of the significant benefits of melamine kitchen cabinets. Melamine kitchen cabinets are exceptionally durable and resistant to the usual conditions common in kitchens, such as heat, moisture, and stains, due to their tough outer coating.
Unlike wood, it has a higher heat tolerance than raw wood and prevents shrinking and expanding. Melamine kitchen cabinets are harder to scuff and scrape and are designed to withstand exposure to too much heat.
• Maintenance: The smooth surface of these cabinets will make it easy to clean and will not require re-staining or sealing over the years.
• Variety of design: As a synthetic material, melamine kitchen cabinets come in various colors and patterns. It is also available in many finishes, including faux wood grain, wood tones, and textured melamine options. It can offer consistent and uniform finishes because it is manufactured within a controlled environment.
• Cost-effective: Melamine offers a less expensive, durable, and visually attractive option. Standard melamine is more cost-effective than premium kitchen cabinets made of painted MDF or natural wood. The cost-effective pricing of melamine is why it is such a popular and budget-conscious choice for kitchen cabinets.
While melamine has excellent benefits, there are some cons to using melamine as a material for kitchen cabinets.
• Weight: Melamine cabinets weigh more than other cabinetry materials. It would require upgrading brackets to more heavy-duty hinges or drawer glides. Not having the proper brackets for hanging can damage your cabinetry and the doors or drawers.
• Installation: Melamine can be harder to install since there is a greater risk of splintering the melamine during careless installation. If splintering, it will show the compressed wood core and can be more susceptible to water damage and moisture penetration. The cabinet's structural integrity can be compromised because water absorbs into melamine easier and quicker than solid wood.
• Susceptible to chipping: While the resin coating on the outside melamine is durable, it is still susceptible to chipping. When something hard impacts the surface of melamine, it can result in chipping or cracking of the surface material. If the cabinets chip, refinishing them or replacement can become expensive.
• Water Damage: If splintering, chipping, or cracking happens to the surface layer of melamine, water can make its way to the wood particle core and becomes saturated. This will do much damage and can weaken the cabinet's overall structure. Melamine's capacity to absorb water is nowhere near the amount that solid wood does.
• Recycling: The thermoset plastic melamine resin cannot be melted down and recycled. Since it is non-biodegradable, it is not easy to recycle discarded melamine cabinets.
• Limited Choice Of Shape: Typically, the melamine cabinet shapes are always square, limiting design options, especially when the space requires rounded or curved kitchen cabinets.
Melamine Kitchen Cabinets Price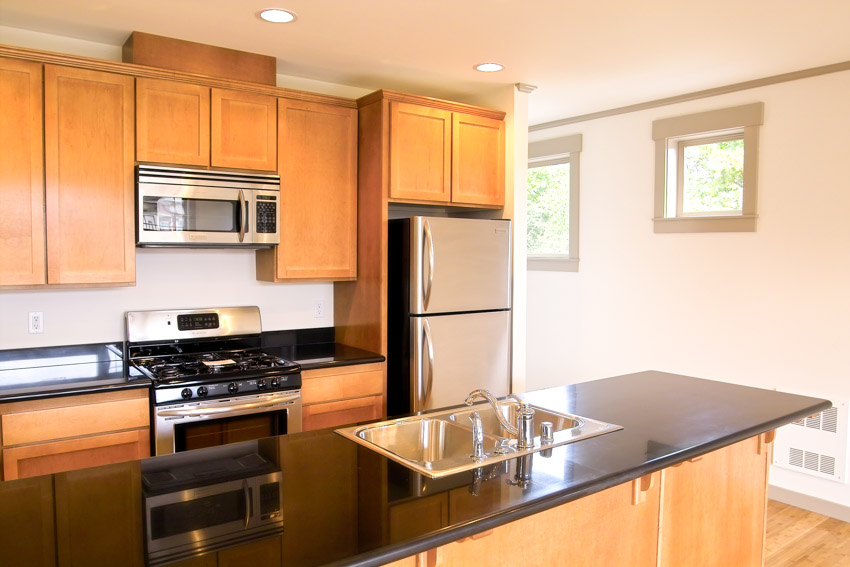 The advancements in cabinetry materials make it easier to choose better and longer-lasting kitchen cabinets. Melamine kitchen cabinets are the most common and affordable of all the laminate cabinets.
However, aside from the material, such as melamine, the style of cabinets can also be influenced by their cost, including the construction and hardware fitted into cabinet doors or frames.
Another aspect that plays a defining factor in the cost of kitchen cabinets is the price per linear foot. To give an overall estimate of the cost, you will need to measure how much cabinetry is required together with the cabinet's length, width, and height needs to be calculated.
Due to the thickness and special adhesives used, melamine kitchen cabinets' average cost is between $60 to $150 per linear foot. The average price of a melamine kitchen cabinet, including installation fees, can range from $ 4000 – $9000. On average, a medium-sized kitchen with new melamine cabinets will cost $9,200, including installation fees.
However, the cost will depend on the quality level of the cabinetry, which is available from low-end, mid-range, or high-end kitchen cabinets depending on the homeowner's budget.
Melamine Kitchen Cabinet Colors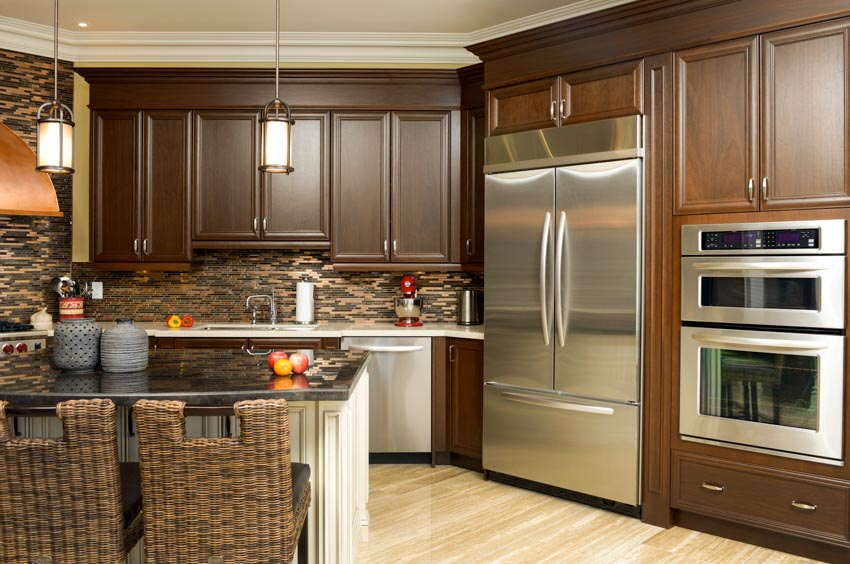 The choice of colors for melamine kitchen cabinets is immense and can get creative and customizable. You can choose various shades that suit your kitchen and complement its wall color. The possibility of different good combinations of colors makes your idea of a dream kitchen achievable, whether it is contemporary, traditional, or modern.
You can match melamine cabinets to any style, personality, or vibe, from sleek blonde wood for a Scandinavian-inspired look or all white and chrome for an ultra-modern feeling. Light wooden color melamine and solid color base cabinet combine to produce good cabinet design ideas. It also makes a custom kitchen modern and gives it a warm home feeling.
Melamine doors offer access to a vast range of colors and finishes. This allows homeowners and designers to create a customized space and will not be restricted by limited options.
From a neutral palette of white, cream, grey, or pale blue, or incorporating some vibrant color into the space, it is easy to find the perfect color, shade, and texture with your melamine doors.
Melamine Kitchen Cabinet Doors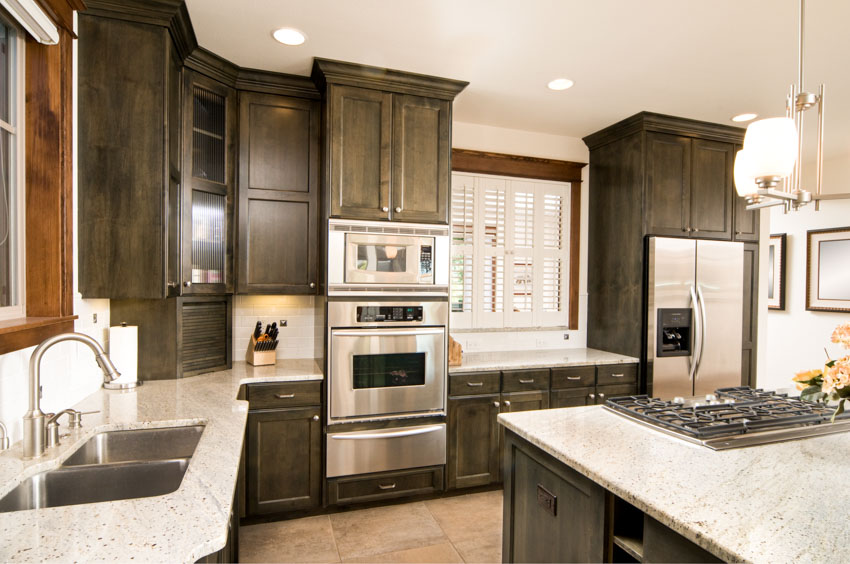 Melamine kitchen cabinet doors are functional as well as attractive. It makes sense that you want cabinet doors that withstand wear and tear. The hardened resin in melamine doors offers a tough outer coating, making it resistant to excessive moisture, heat, and stains.
The hard-wearing construction of melamine doors allows them to withstand dents, chips, and scratches and prevent doors from fading over time. Melamine kitchen cabinet doors are easier to clean. Wipe your melamine kitchen cabinet doors with soapy water regularly, then dry them with a soft cloth.
To avoid staining, wipe away food and liquid spills right away. However, avoid using abrasive cleaners or scourers, as this can lead to micro-scratches on the doors. It is also essential to ensure that solid hinges allow you to operate melamine cabinet doors smoothly.
How To Update Melamine Kitchen Cabinets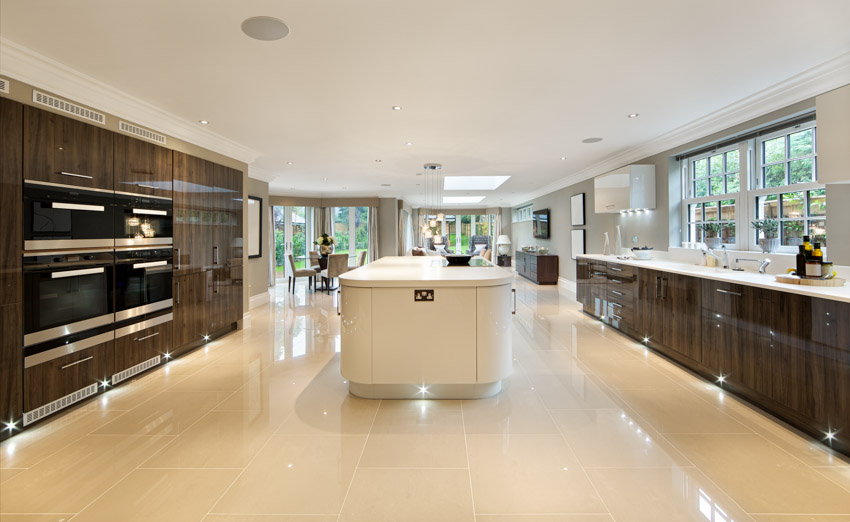 Melamine cabinets eventually show wear and tear like any other kitchen cabinets. There are several ways to update melamine cabinets; some refacing products are inexpensive, while others cost more.
Here's several options you can use for refacing melamine cabinets:
• A few coats of satin, eggshell, or semi-gloss paint is the most common upgrade. Play around with colors such as smoky gray, rich brown, or bold black for drama.
For a country, nautical or shabby-chic style, paint your cabinetry light aqua or mid-tone green.
For a modern approach, paint only the lower cabinets in a high-gloss finish with a darker shade than the upper cabinets.
• Applying self-adhesive paper is another option; make sure that the patterns need to match as you cut the pieces to fit on the cabinet frames and doors. Avoid getting any air bubbles under the plastic sheets of the self-adhesive paper.
• Ultra-thin wood veneer or self-adhesive laminate sheets are another way to update kitchen cabinets.
• Adding moldings such as creating a border for a Shaker-style look to plain melamine cabinets is another easy way to give your kitchen cabinets a face-lift. When applied over the melamine cabinet doors, a beadboard effect can add another dimension.
• Incorporating clear or frosted glass doors for the upper kitchen cabinets takes much less time and costs significantly less money to replace just the doors.
Painting Melamine Kitchen Cabinets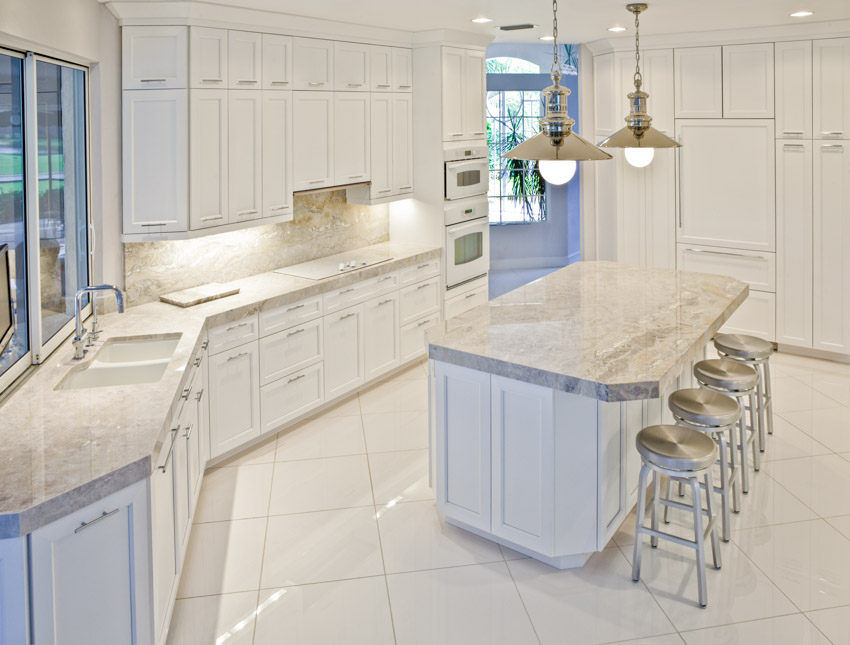 Melamine kitchen cabinets need to be cleaned when you update old melamine cabinets. Usually, a liquid dish detergent mixed with water does the trick.
To give any new covering product an excellent surface to bond to the melamine, sanding the cabinets with medium-grit sandpaper removes the outer surface and roughens the melamine surface. After sanding, remove any dust with a tack cloth.
Make sure to repair any damaged area with paintable putty or filler to even out any gouges, scratches, or nicks. Use a putty knife to spread the filler product and to even out the area until it blends with the melamine surface around it. Use a clean, lint-free cloth to wipe around the repaired area before painting.
Remove all cabinet doors, drawer faces, hinges, doorknobs, and drawer pull. You can cover these types of cabinet hardware entirely with painter's tape to protect them.
Choosing the right paint and brushes helps you achieve successful results when painting melamine kitchen cabinet surfaces. High-quality latex, acrylic, and chalk paints work well on melamine surfaces, but most require priming.
Coat the melamine surface on cabinets, doors, and drawers with a primer. It is essential to let the primer dry, as primers vary in drying time. If the primer does not cure properly, scratches will likely be more noticeable.
Using standard paintbrushes works well because they mimic the flow of the grain. However, since melamine is a plastic coating, it is best to use foam rollers and brushes for a brush-mark-free finish when painting melamine cabinets. Using a spray-paint device to paint the cabinets will give a completely smooth look and require less work.
After applying the first coat of paint, let it also dry thoroughly before using a paint roller to smooth on your second coat. This way, you can see how much more coverage you need to get the look you want for your kitchen cabinets.
Next, add a sealer compatible with your paint and let it properly cure before reinstalling the hardware and putting your cabinets back in place.
Cleaning Melamine Kitchen Cabinets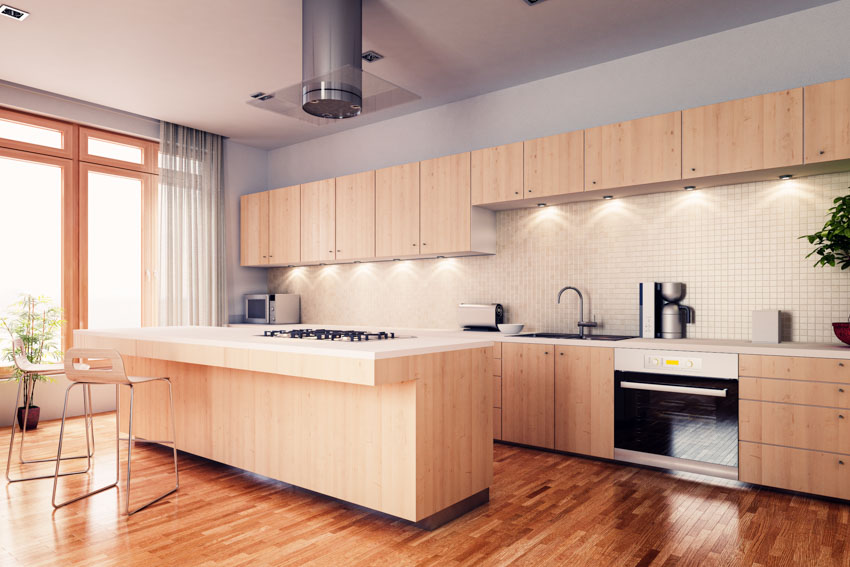 Caring for melamine cabinets is essential and extremely easy to do. For everyday cleaning, wipe the cabinets with warm, soapy water on a soft, damp cloth.
Next, follow up by using a streak-free glass cleaner on a soft cloth to remove residues. Always consider applying cleaning products to the fabric rather than directly on the melamine surface.
If your melamine kitchen cabinets have a textured finish, occasionally use a soft brush to remove dirt build-ups and residues left by some cleaners.
Always wipe up spills as soon as possible by rinsing the melamine surface with cold water and wiping dry, and at times, it might require applying methylated spirits and wiping them dry again.
For suborn marks, apply diluted Janola with a ratio of one-part Janola to three parts water; then wipe off with a warm damp cloth. Fingermarks and stickiness are best removed by applying one or two applications of acetone and wiping them over with a dry cloth.
Methylated spirits or mineral turpentine on a clean cloth or paper towel works best to remove newsprints, felt pens, or dry markers on melamine surfaces. Duco lacquer thinners or acetone can be used to remove paint, while lemon juice or vinegar will easily remove rust.
Melamine Cabinets Vs. Wood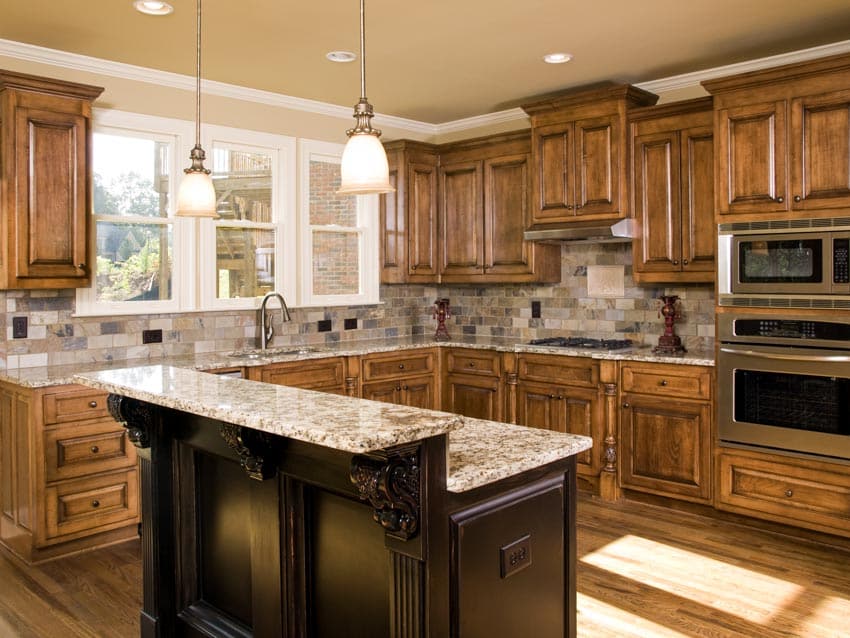 Natural wood is the most popular kitchen cabinet building material; maple, oak, and birch are the most common natural woods. On the other hand, walnut and cherry are known as elegant, high-end kitchen cabinet materials. These natural woods' rich hues and distinctive types of wood grains offer premium design options.
Melamine cabinets are popularly used to replicate various wood grains and match the surface textures of natural wood aesthetics. Textured melamine allows for deep, consistent wood grain visuals in a synthetic product.
Melamine can accurately replicate many wood grain species and produce a more uniform grain pattern than a natural wood species. At the same time, hardwood, as a natural material for kitchen cabinets, will offer an aesthetic uniqueness that does not come with melamine. Thus, no two cabinets will have the same grain pattern.
European textured melamine is considered higher quality, luxury line of melamine that produces a distinct material with deeper textures and colors, a more realistic-looking wood grain, and a texture that feels more like natural hardwood.
One of the most desired characteristics of wooden kitchen cabinets is the variety of finishing options available. Wood shows its versatility through the finishes that are applied to it. They can be finished in paint, stain, glaze, or worn and distressed finish, while melamine can only mimic the different finishes printed on a decorative paper fused to a substrate.
There are wide varieties and customization options when choosing to paint wood. However, a painted wood finish can be susceptible to joint cracking since natural wood expands and contracts due to temperature and humidity changes.
Melamine, on the other hand, joint separation will never be an issue since melamine only comes in slab doors and is also not painted when it comes to solid color options.
Stained natural wood cabinetry provides a rich, translucent finish. The knots and natural grain pattern and texture remain visible. Stained wood cabinetry offers a more durable finish that can hide damages or blemishes more accessible within those knots and grains.
Unlike melamine which only comes with predetermined levels of stain and can restrict the overall selection for wood grain designs, natural wood stains have significantly more options than melamine. The downside of staining natural wood is that stains seep into the wood and will not always adhere consistently. This can result in an uneven, or even sometimes blotchy, finish.
The beauty of working with natural woods is that the material has unique craftsmanship that cannot be replicated by decor paper and resin coating used in melamine.
Melamine is one of the most durable cabinet materials made with resin-filled paper permanently fused to the particleboard substrate. Melamine will not peel and has a strong resistance to excessive moisture, heat, and stains. Despite this, the underlying substrate is highly vulnerable to water damage when chips, scratches, or other damage occurs.
Natural wood can take significant moisture from changes in temperature and humidity. It can naturally expand and contract, while melamine will not.
There is also a difference in design flexibility between melamine and natural wood. Melamine is restricted to always come in a slab or flat door style. With natural wood cabinetry, there is always the opportunity to modify or customize the design.
Melamine is considered cost-effective and a popular, budget-conscious choice for kitchen cabinets. Alternatively, the price of natural wood cabinets will vary depending on the wood species and the finish.
MDF Vs. Melamine Kitchen Cabinets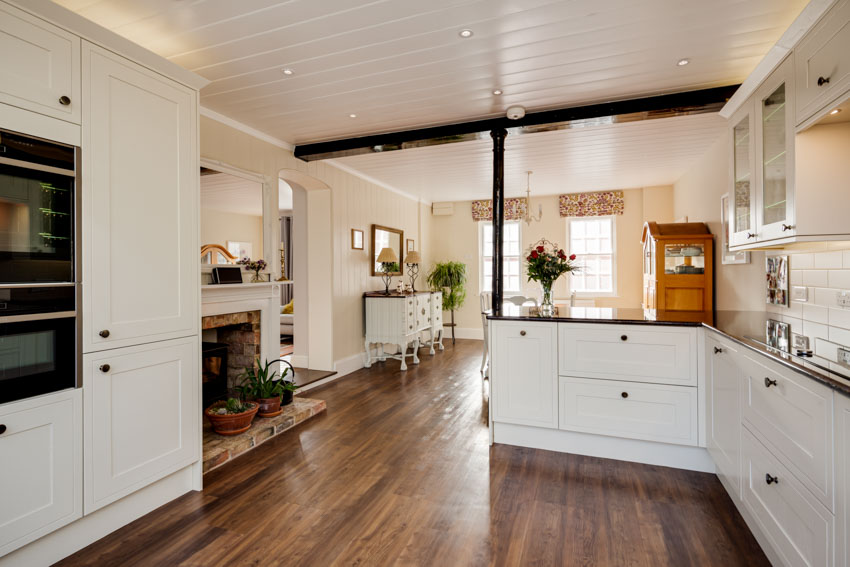 Fiberboards (especially MDF) or Medium Density Fiberboard are another kitchen cabinet material option. Melamine and MDF are two of the most popular types of manufactured boards. Both materials are strong, relatively moisture-resistant, highly workable, and affordable.
Medium Density Fiberboard (MDF) is made of engineered wood fibers blended with wax and a resin binder, applying high pressure and temperature forging it into panels. This composite material provides surface resistance from water, termites, and other elements that can damage the boards.
Different fiberboards are manufactured in various degrees of temperature and pressure. They are then categorized into several densities of the material. The MDF material is between HDF (High-Density Fiberboard) and particleboard in terms of density.
Usually, melamine boards have MDF as the core material or substrate for extreme durability. However, melamine is a more water-resistant type of particleboard and stronger than MDF. Melamine is also more cost-efficient than MDF.
Though melamine and MDF are manufactured wood products and share many component ingredients, the manufacturing processes are slightly different. Melamine laminate is a hard, plastic product, while MDF doesn't include any plastics.
Melamine is manufactured by combining melamine resin with formaldehyde, while MDF is wood fibers bonded with synthetic resin under high heat pressure to make strong boards.
Melamine is more robust, durable, and scratch resistant than MDF due to the extra coat of hard plastic. When it comes to waterproofness, melamine is highly waterproof, while MDF readily absorbs water and moisture and is prone to damage. However, MDF can be sealed to make it waterproof and protect the boards from everyday moisture.
Both melamine and MDF accept nails and screws readily, but MDF doesn't hold onto nails as well as melamine resulting in a weak hold. Melamine and MDF have a certain degree to which each surface can be worked or finished. MDF cannot be sanded but takes paints better than melamine. On the other hand, melamine can be lightly sanded and easily painted.
For flexibility, melamine has a more significant advantage than MDF. Although it is not the most flexible material, it is possible to bend melamine to a small degree without cracking the board. The thinner the melamine board, the further it can bend; unlike MDF, any slight attempt to bend MDF usually results in cracking and breaking.
Since both melamine and MDF are made from solid wood waste, they are sustainable and provide an excellent way to repurpose waste wood. MDF kitchen cabinets have a more significant advantage; made of 82% wood fibers and 8% water, MDF is more environmentally friendly and sustainable. MDF is more natural, safe, and 90% recyclable.
On the other hand, melamine isn't too bad either, but its plastic laminate is not as environmentally friendly. Finally, although both melamine and MDF boards are more economical than solid wood, MDF is more affordable than melamine.
Melamine Or Laminate For Kitchen Cabinets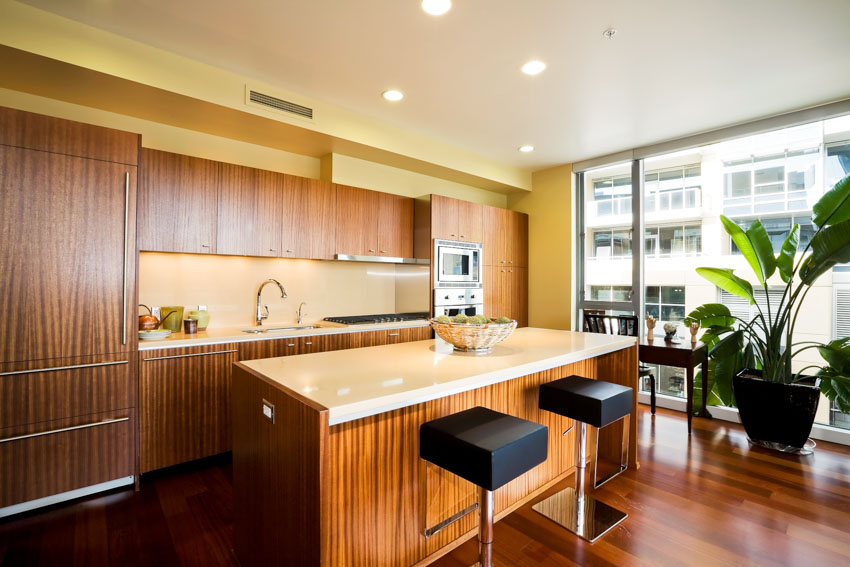 Carpenters extensively use melamine and laminate to make kitchen cabinets; despite the similarities of these products, there is a significant difference between melamine and laminate.
Melamine is referred to as direct-pressure or low-pressure laminate produced with a pressure of just 300-500psi. Laminate is also called high-pressure laminate (HPL) and is popularly known by the name Formica.
For making laminates, an extremely high pressure of 1400psi is required to use over 6-8 layers of resin-impregnated kraft paper, decorative paper, and a clear overlay. With this manufacturing process for both materials, melamine is cheaper than laminate by a method which has not cost-intensive.
Laminate is more durable and resistant to heat and chemicals than melamine, although HPL is more susceptible to chip and crack than a low-pressure laminate. HPL is a material that can be used for both horizontal and vertical applications such as counters and kitchen cabinets.
It has a higher level of impact resistance than melamine making it great for high-traffic areas. Melamine, on the other hand, is best suited for vertical, low-impact, or low-wear applications such as kitchen cabinets and shelves.
Laminates can be customized and are resistant to abrasion, impact, and scratches. They are also easily maintained and very hygienic. HPLs are available in many colors and finishes and can bond to various substrates and a wide range of thicknesses.
As for price difference, melamine is cheaper than HPL since it undergoes far less factory manufacturing and offers a better cost. HPL performs at a higher level than melamine, being malleable and can be used for curved or rolled applications, which is why HPL sits in a higher price bracket.
In a nutshell, achieving the best cabinet design for your home starts with understanding the differences in qualities, features, and costs, including the pros and cons of melamine kitchen cabinets compared to other materials available in the market.
Hopefully, at this point, you have a clearer understanding of the characteristics of melamine, and it will be easier for you to achieve your custom cabinetry need.
See more related content in our article about lacquer kitchen cabinets on this page.