These designs include curved kitchen cabinets and explain what they are, pros and cons, the different types, cost, and which kitchen styles use curved cabinetry.

Curved kitchen cabinets are becoming increasingly popular in recent years. A curved kitchen cabinet is indeed a fashionable, functional, and ergonomic option for family homes.
Furthermore, it overcomes the risks that sharp edges can cause to children, and it is great for small, awkward locations where bulging corners might impede mobility. Curved units' smooth contours will free up the space and generate the illusion of openness.
In this article, we will cover all of the essential information about curved kitchen cabinets, including their various types as well as pros and cons.
What Are Curved Cabinets in the Kitchen?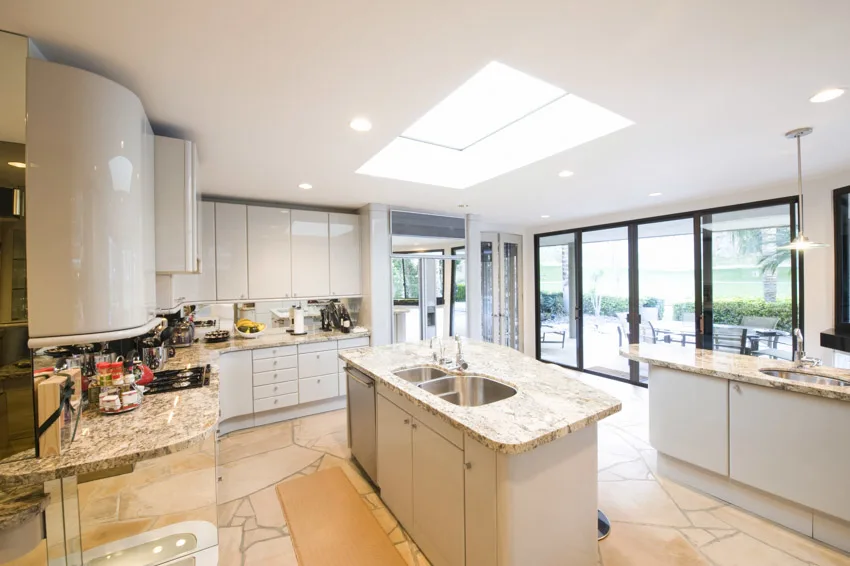 Curved kitchen cabinets are intended to create a comfortable kitchen environment. It has no sharp edges and a lovely flow that draws the eye. This style is elegant, functional, and ergonomically designed, making it ideal for a family setting.
The cabinet joints on curved kitchen cabinets are perpendicular to the radius of the curve. Young ones are safe because there are no jagged hard edges, and tiny, awkward places are flawlessly occupied. Truly, the soft lines that curved kitchen cabinets provide open up the kitchen space.
Moreover, this type of architecture is already becoming extremely prevalent since it is ideally suited to open-concept kitchen areas and can be a beautiful focal piece on kitchen islands. The gentle appearance complements the other areas and invites family members to spend time together.
Curved kitchen cabinets are rather novel as they were formerly reserved for modern homes, but with many classic residences transitioning to more modern styles, curves are enhancing them in the most delightful way.
Pros and Cons of the Curved Cabinet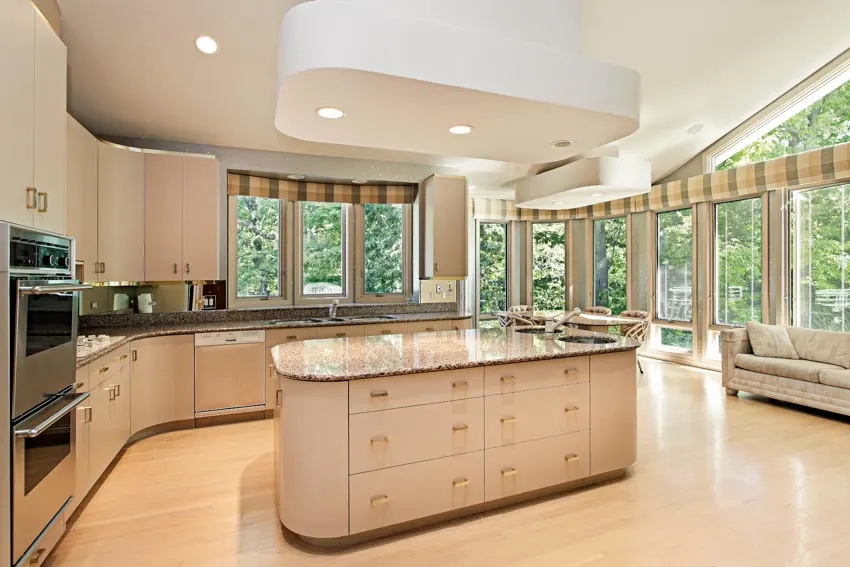 Here we share the advantages and disadvantages of curved kitchen cabinets.
Advantages of Curved Cabinetry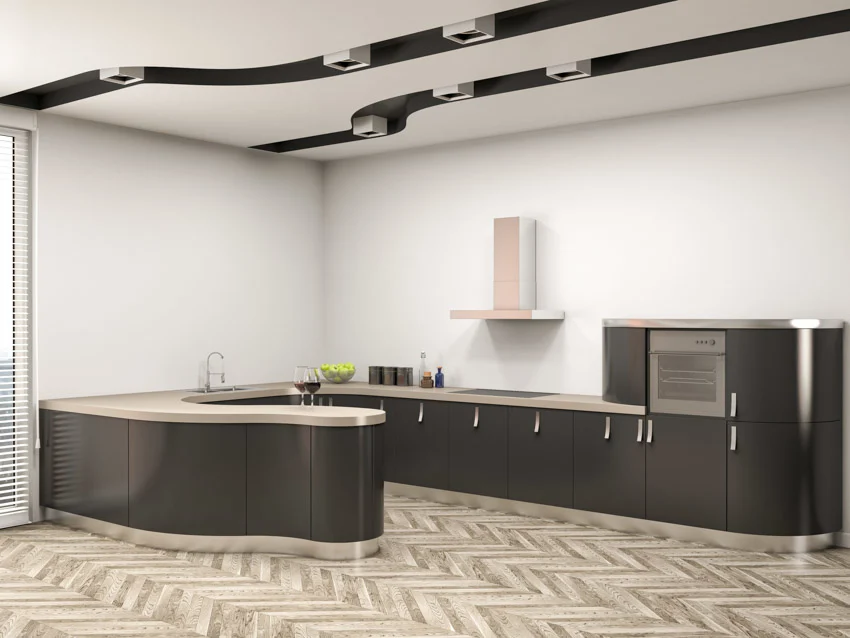 Practical and Aesthetically Appealing Design: When it pertains to being curvy, kitchens may be any size. Natural shapes play a key role, accentuated by a well-balanced mix of proper angles and semi-circles.
You can significantly soften the feel and look of your kitchen with a gentle sweep between corners that leads you to the movement of open kitchen space and minimalist design. Curved kitchen cabinets are easier to maintain and safer to use, with no sharp corners or abrupt ends that detract from the sophistication of a well-planned core hub.
Incorporating a curved feature balances sleek natural lines with classical form, whether your island is the major curved component in your kitchen layout or your top cabinet makes a smooth trip around the kitchen space.
Helps Add a Modern and Eye-Catching Interior Design: Curved islands are a significant aspect and add a truly genuine element to the kitchen; in its most basic form, the island can be rectangular with rounded sides to tone down the entire look, or it can be completely round. The most remarkable islands are semicircular in shape, with a hob in the center and a preparation area on either side.
Widely Available: Curves in the kitchen are a pretty modern occurrence that was formerly reserved for modern interiors, and there is currently a broad range of options accessible to accompany antique properties, spanning from comfortable countryside styles to large neoclassical designs. Built-in and freestanding curved kitchen cabinet models are now commonly available as well.
More Inconspicuous Kitchen Storage: One of the best aspects of curved cabinets is that there will be more inconspicuous storage spots for all of your kitchen equipment. Elegance is found in the adaptable elements, which are concealed under the smooth curves of easy-to-access storage solutions.
These curved kitchen cabinets are friendlier to those who normally bump into them than the harsh and tough corner cabinets that must be stored away, with a radius that provides more space for your cookware. You can experience all of the perks of any other cabinet, like built-in storage and pantry pull-outs, even in the most oddly shaped of spaces.
Looks Outstanding in Natural Colors: Curved kitchen cabinets look more natural, sliding over bends and rounds with undetectable elegance and simplicity. When it refers to equipping these naturalistic designs, it stands to reason for natural types of kitchen cabinet materials and earth-inspired hues.
Rich woods, weathered concrete, deep timbers, polished marble, and smooth chrome help make curved kitchen cabinetry sparkle the brightest. You can allow nature to speak for itself and bring peace into your daily existence around your kitchen space.
Fits in Tight Spaces: Curved kitchen cabinets work effectively in tight spaces as well. Its modest sweeping and organic curves help you maximize your kitchen space, merging your kitchen components with convenient storage and delicate architecture for well-designed and spacious privacy.
Disadvantages of Curved-Base Cabinets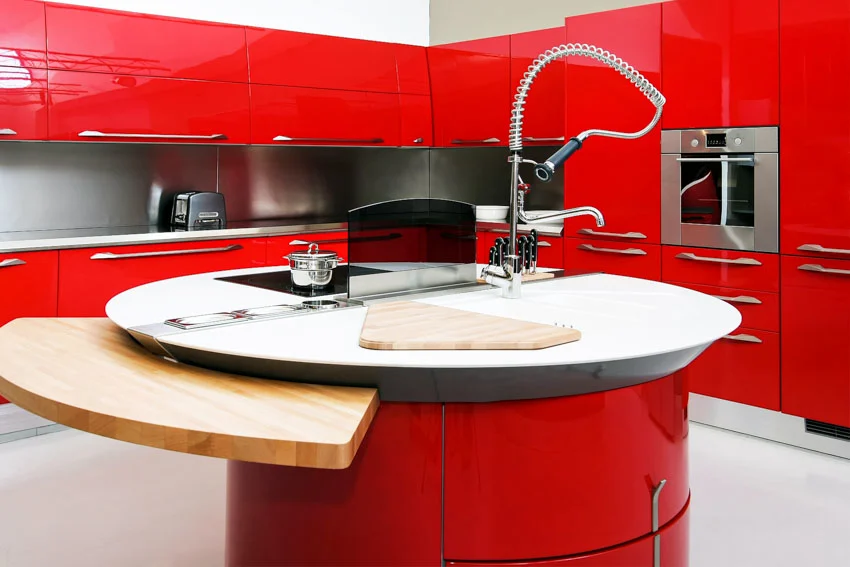 Expensive: Curved kitchen cabinets are usually more pricey than regular units due to the additional expertise required in their production. However, they can be included more discreetly and at a lower expense.
Some examples include at the end of a built-in run, a corner cabinet, or, if conditions allow, a kitchen island, which combines nicely with clean edges elsewhere in the kitchen.
Accessories are Slightly Demanding: Curved kitchen cabinet door furnishings must be smooth — you have to consider installing round handles, curved bar or cup knobs, or doors with built-in handle grooves.
The types of kitchen countertops you're using at home will have to be custom-cut, typically in solid wood, granite, or a composite, and ensure to incorporate curves in other components, such as sinks, to complete the design.
Types of Curved- Shape Cabinetry
Here we share some of the different curved kitchen cabinet types.
Rounded Kitchen Cabinets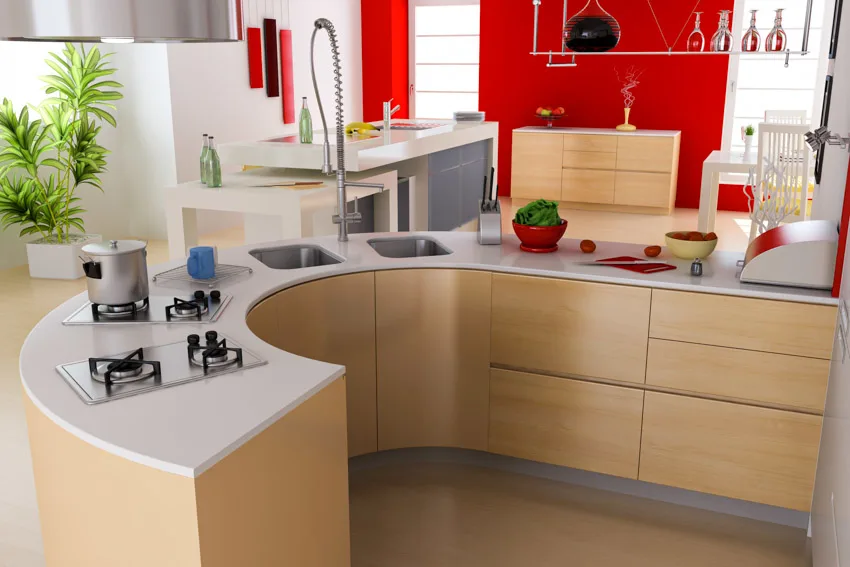 Beautifully rounded cabinets, which are commonly found in high-end kitchen designs, are an excellent choice for homes with pets or small children since they reduce harsh corners at the end of a row of drawers.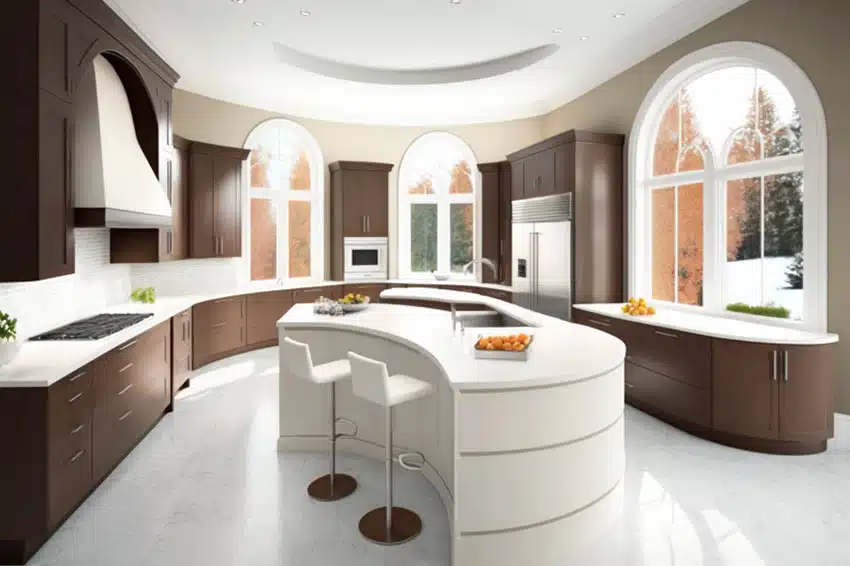 Curved kitchen cabinets with a rounded form create a sleek and seamless flow all over a room while adding significant storage space for organizing items.
Kitchen Cabinets With Curved Doors
Kitchen cabinets with curved kitchen doors have a contoured form and a smooth edge, providing a premium appeal in any theme and adding a luxurious touch to your modern kitchen space.
Curved kitchen unit doors, which are commonly utilized at the end of a row of cupboards, can also be used to complete an island for a striking effect.
Curved kitchen cabinet doors are also an excellent feature for youngsters or pets since they help to avoid accidents caused by knocks and bumps. With a number of sizes available when purchasing kitchen cabinets with curved doors, it can be simple to produce a customized effect in any design.
Curved Corner Cabinet Kitchen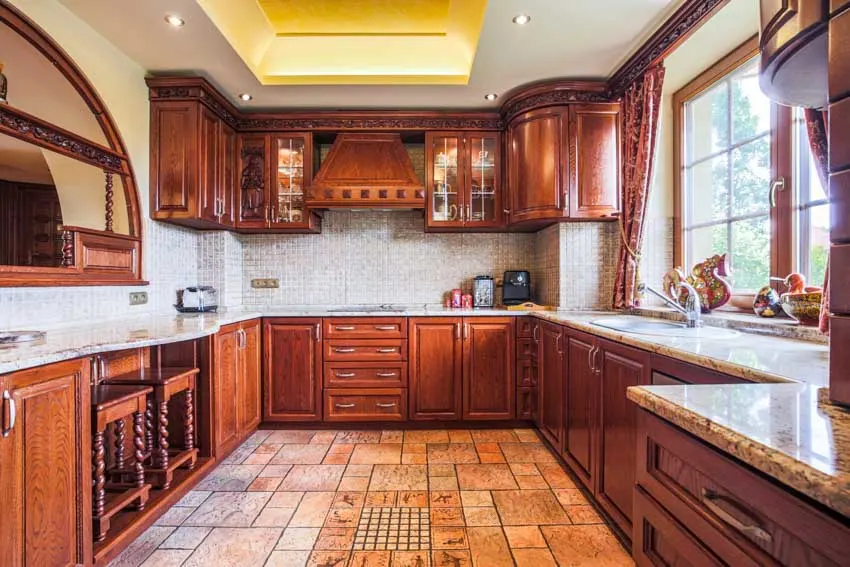 If an angled cabinet does not suit the aesthetic of your kitchen, there are alternative options. Consider installing a curved corner cabinet in your kitchen. It is an excellent choice if you want to boost the style of your kitchen design. It appears more customized and functional than the typical angled corner cabinet.
When exploring kitchen cabinet design and corner cabinets, you will most likely come across the words "blind corner cabinet." A blind corner is the space formed when two perpendicular cabinet lines intersect.
In most circumstances, installing a "blind corner cabinet," which stretches beyond the corner and occupies the space available, is a better utilization of restricted kitchen storage space.
Curved Cabinet Kitchen Island
You can easily incorporate a curved cabinet into your kitchen island. Modern kitchen islands with curving cabinets will provide a great visual impact like no other piece in the kitchen if you have enough space.
Curved cabinets on a kitchen island will not create uncomfortable angles for household members to travel around or corners for them to become stuck in. However, while visually appealing, curved cabinets typically have less storage space than square-shaped cabinets.
Are Curve-Designed Kitchens More Expensive?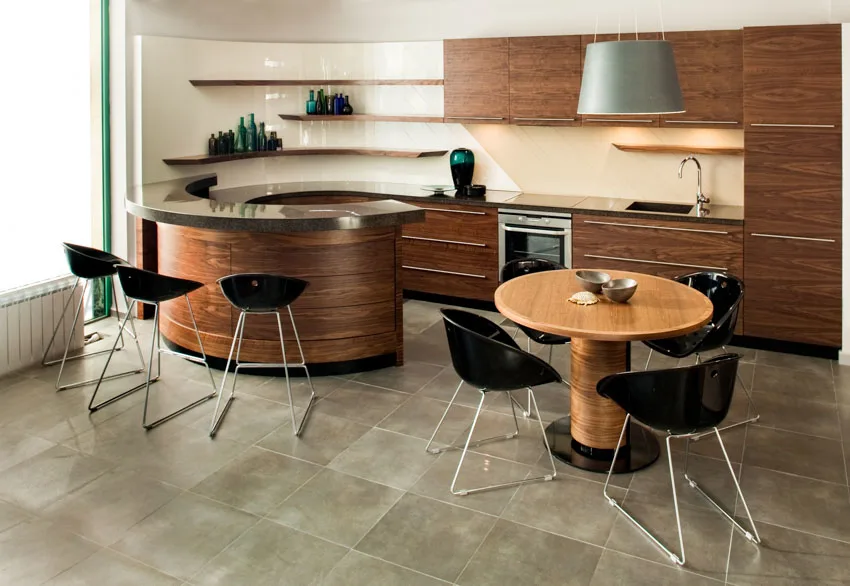 Normally, yes. Because of the additional craftsmanship required, curved kitchens can be slightly more expensive than regular versions. However, if they are positioned at the end of the central kitchen range or an island, they can be more discreetly added at a reduced cost.
What Kitchen Styles Have Curved Cabinets?
Traditional Style Kitchens: A traditional kitchen is distinguished by its clean, warm, and inviting style, which includes those lovely yet minimalistic curving kitchen cabinets. It uses classic design components and a wealth of natural colors to create an aesthetically ageless appeal.
Contemporary Style Kitchens: The contemporary-style kitchen is a trendy design element that homeowners have widely adopted. A contemporary kitchen combines new and old, relaxed yet polished materials to create a sleek design. This would be a perfect match since curved kitchen cabinets are mainly designed for modern and contemporary-style kitchens.
Transitional Style Kitchens: Transitional kitchens provide the perfect combination by merging classic and contemporary design principles. The transitional style kitchen is defined by its combination of historical and modern design elements. As aforementioned, curved kitchen cabinets complement both classic and modern kitchens, hence this would be a perfect match.
Transitional kitchens combine the warm comfort of a classic kitchen with the attractively pristine and minimalistic curving kitchen cabinets prevalent in contemporary kitchen styles.
Countryside/Beach Style Kitchens: Beach-themed kitchens provide a coastal atmosphere right in your house. Cool blues are combined with stylistically suitable accessories like seagrass, wicker, and sand to create a soothing, motivating, and entertaining vacation-themed setting. Since curved kitchen cabinets normally have natural colors, they are often seen in beach or country-style kitchens as well.
See more related content in our article about lacquer kitchen cabinets on this page.