Welcome to our guide to beautiful Cambria quartz countertops including the cost, most popular colors & styles.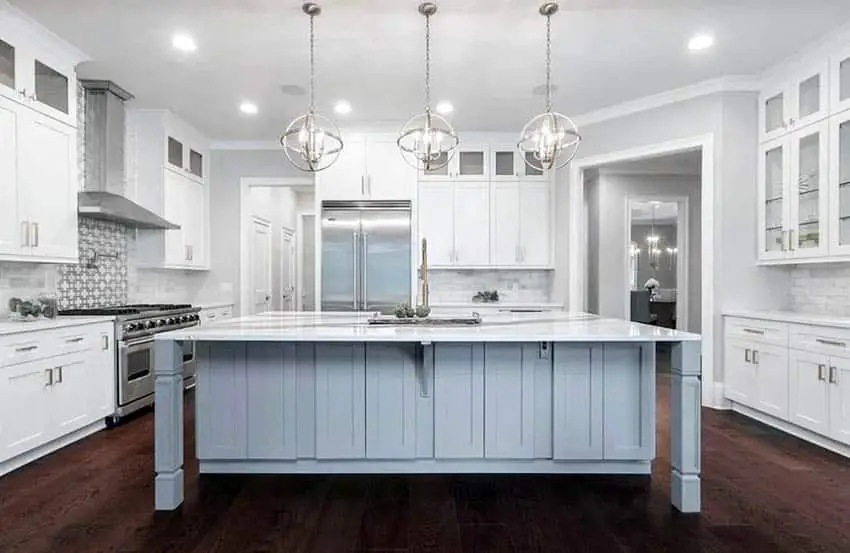 Cambria is a world class brand of quartz that has been a lead influencer in the market for 20 years. Cambria has some of the most elite colors as well as surface finishes and edge profiles. Cambria is made from pure and natural quartz, giving it extreme strength. Cambria as a company has great American made product with a good warranty to back it up.
Cambria Quartz Colors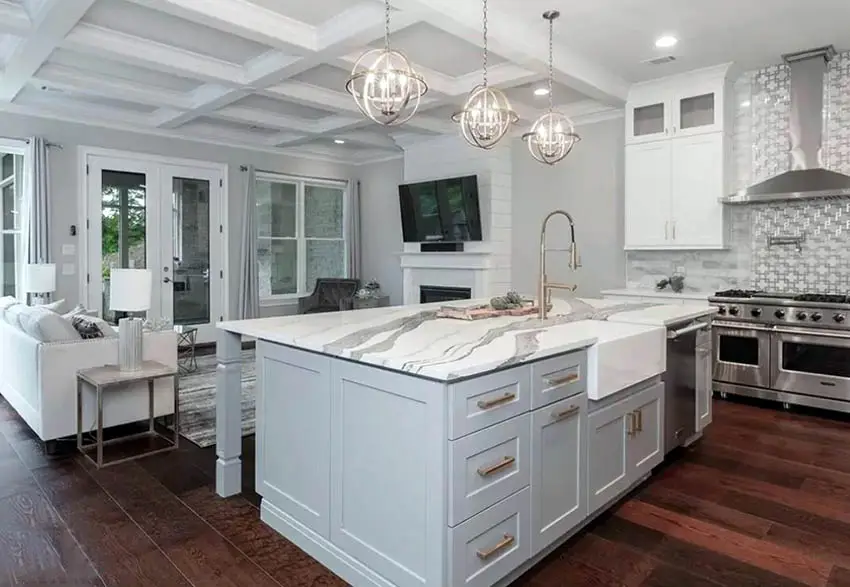 Cambria offers a great deal of colors and patterns for quartz countertops and the options are almost endless. Based on the other finishes in the kitchen or bathroom that the quartz is to be placed in can greatly differ the colors that can be chosen for the countertop.
There are options that have a marbled look or other variations of swirled colors. White bases are the most popular color choices for quartz countertops, with a ton of variations of the streaking in the slabs. Some of the most specific colors can be found below.
Most Popular Styles of Cambria Quartz

Cambria has over 100 different styles to choose from, with different marbling and veining to create any look you can imagine. Some of the most popular colors are listed below with brief descriptions of what they look like. A lot use similar color palettes and play on movement and patterns to create visual effects that spice up or dull down the countertops.
Brittanicca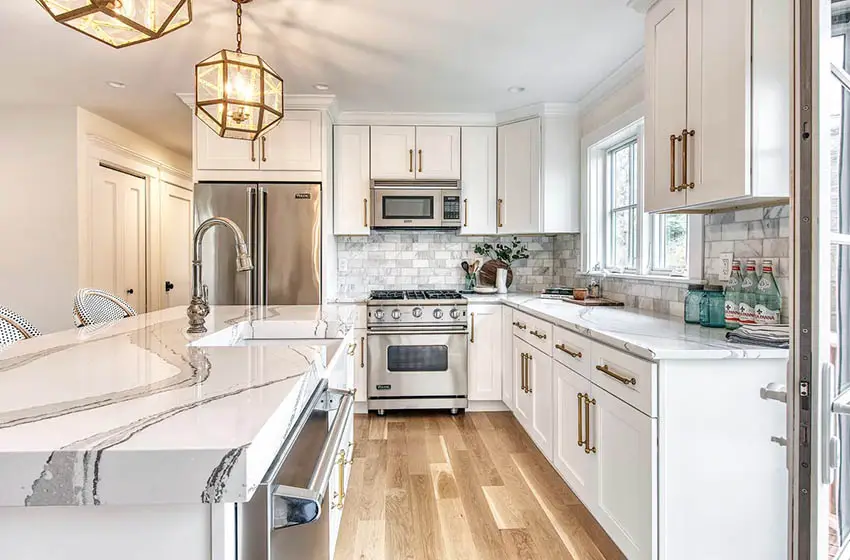 Brittanicca is one of the most popular Cambria Quartz colors as it is veined to look like a flowing river or clouds with its snow white background and soft gray veining through. This is type of quartz looks a lot like marble countertops with its distinctive deep veining and striations throughout.
Summerhill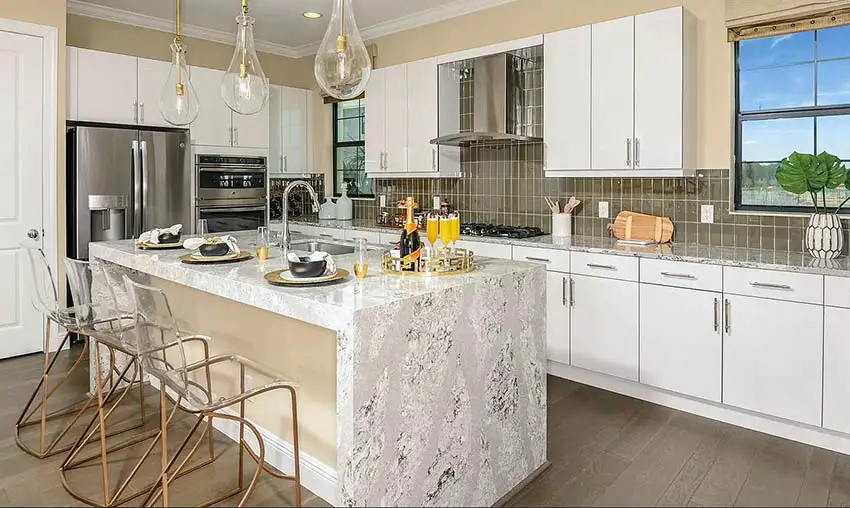 Summerhill is another popular color with Cambria Quartz, again it uses a white base with and array of thicker, and darker gray streaks and swirls through the quartz.
Torquay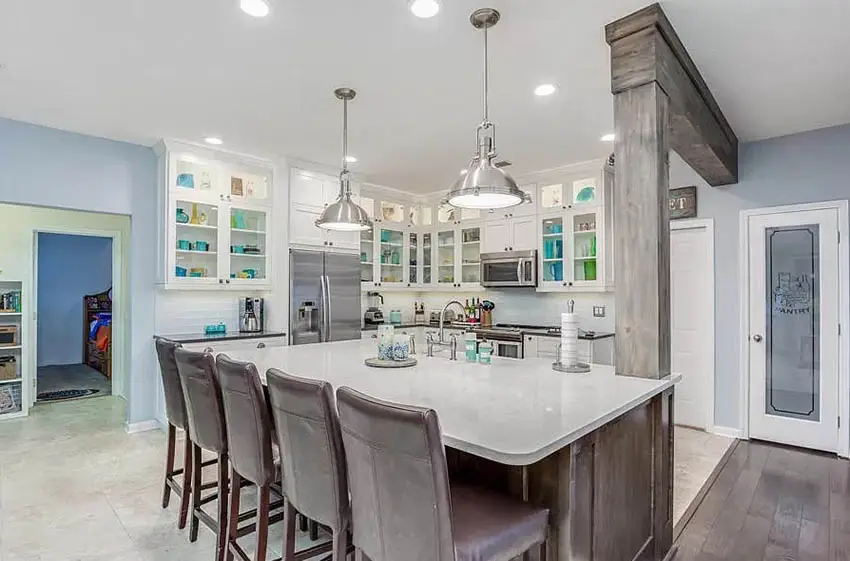 Torquay has a white base with an upscale gray marbled appearance. The casual yet elegant colors make Torquay a popular choice.
Berwyn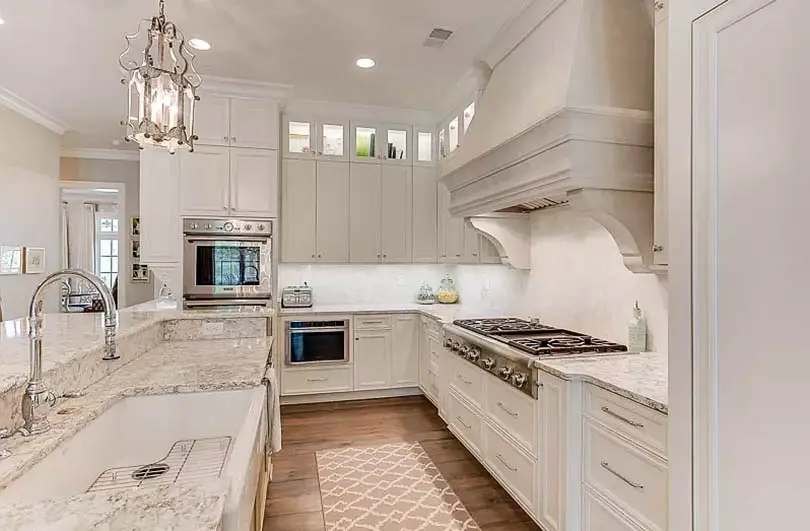 Berwyn takes a different approach that includes earthier colors with creams, gold, taupe and beige marbled together to create a warm environment.
Types of Cambria Quartz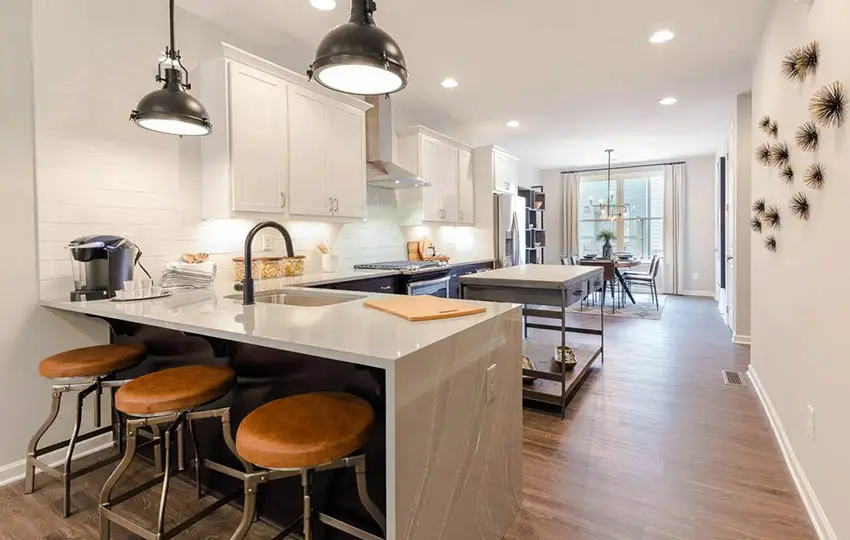 There are a great deal of types of Cambria quartz in a wide variety of different color categories. Each can provide a different feel and aesthetics for the kitchen design. Some of the broad types are below:
White Quartz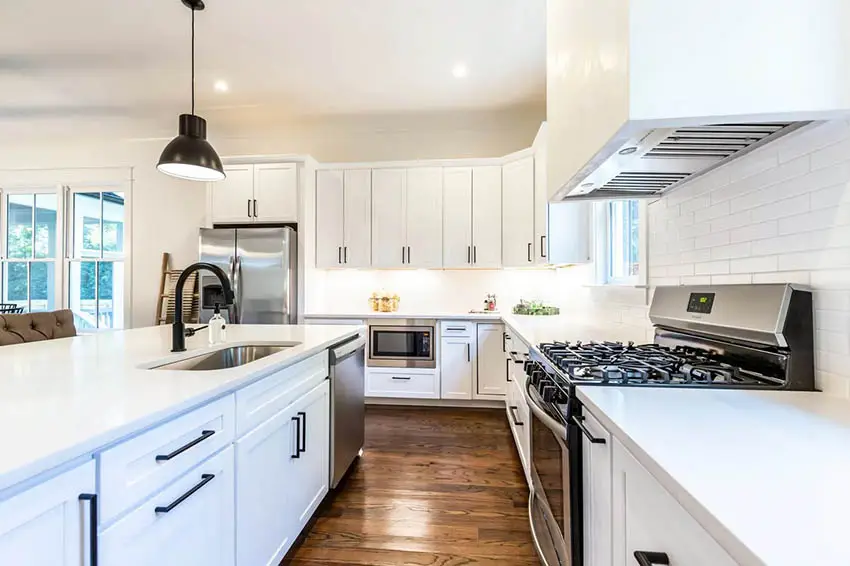 White quartz countertops give off a clean, airy and open appeal. The light color gives an inviting look to cook clean and light foods. White Cambria quartz in its many variations is are some of the most popular choice for countertops for Cambria.
Black Quartz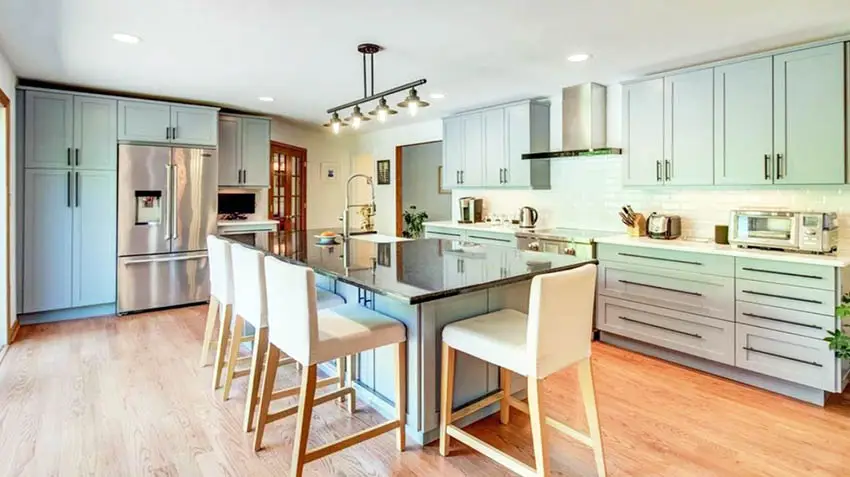 Though less common, black Cambria quartz offers a rich and heavy appeal to a kitchen countertop. This offers a beautiful alternative to black soapstone, granite or marble countertops.
Medium Tone Quartz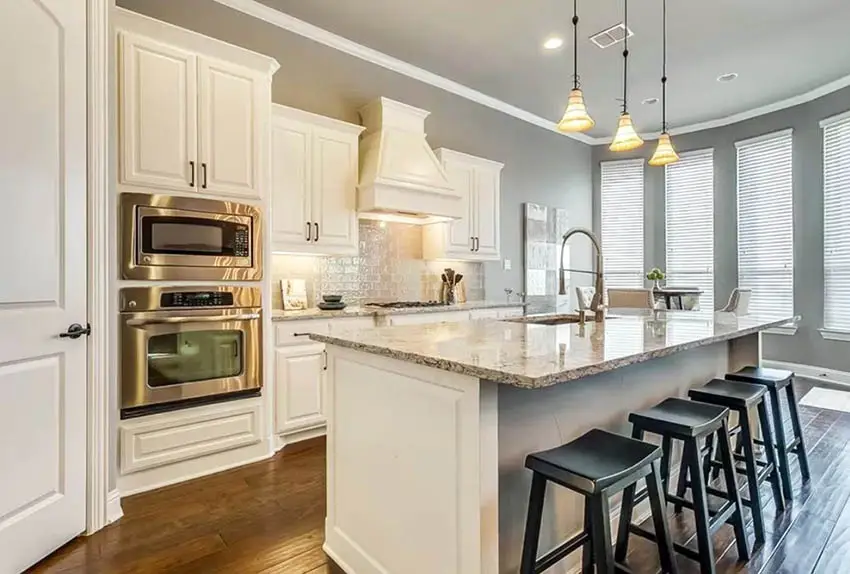 If neither pure black or pure white quartz are the countertops for you there are happy medium tones available. Browns, beiges, grays, etc are all available that can give a more traditional feel without overwhelming or overpowering the space. These give a good space to create comfort foods and participate in everyday life.
Once you choose the specific color type of Cambria quartz that fits your style and needs there are a few more considerations to make. These will primarily include choosing lighting, flooring and cabinetry that provide a cohesive design. Would you like patterns that resembles a natural stone slab or something more modern and abstract? Selecting the other finishes in the kitchen greatly depends on what the exact style of countertop that's best to choose.
Cambria Quartz Cost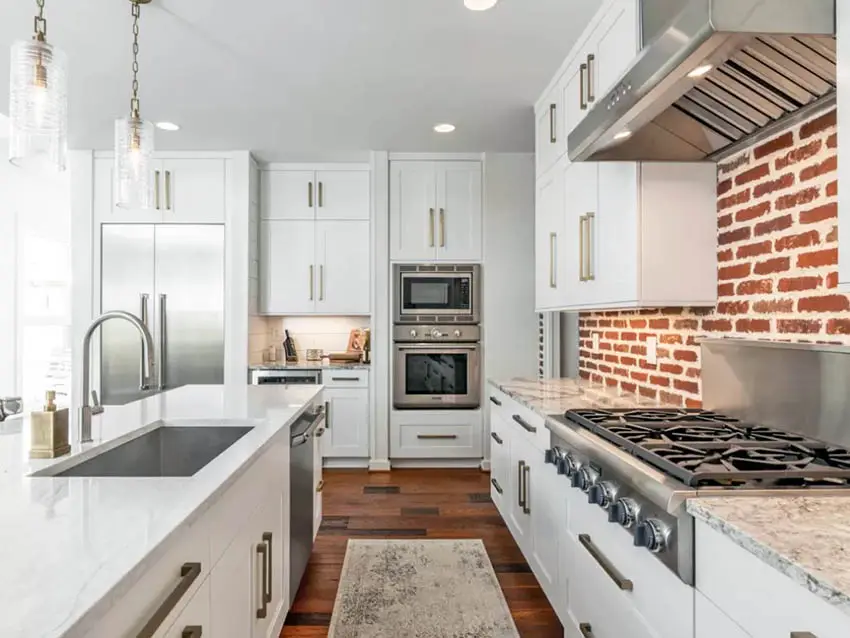 Cambria Quartz is a mixture about 95 percent natural quartz elements and then only 5 percent resins as fill in and binders, which is needed to create a anti microbial and clean countertop surface. This leads to an extremely fair pricing for all the types of Cambria Quartz. Typically, depending on the sizes and types selected Cambria Quartz runs between $60 dollars to $200 dollars per linear foot, installed.
Adding different items to the slabs also changes the pricing. Backsplashes, curves, turns, connecting pieces, oversized pieces, all can add expenses to the slab itself, and also make an install a little more difficult. When designing the kitchen keep track of the different expenses per feature to make sure you can weigh the pros and cons of each thing to make sure you get the right fit and price range for you.
Cost to Install Cambria Quartz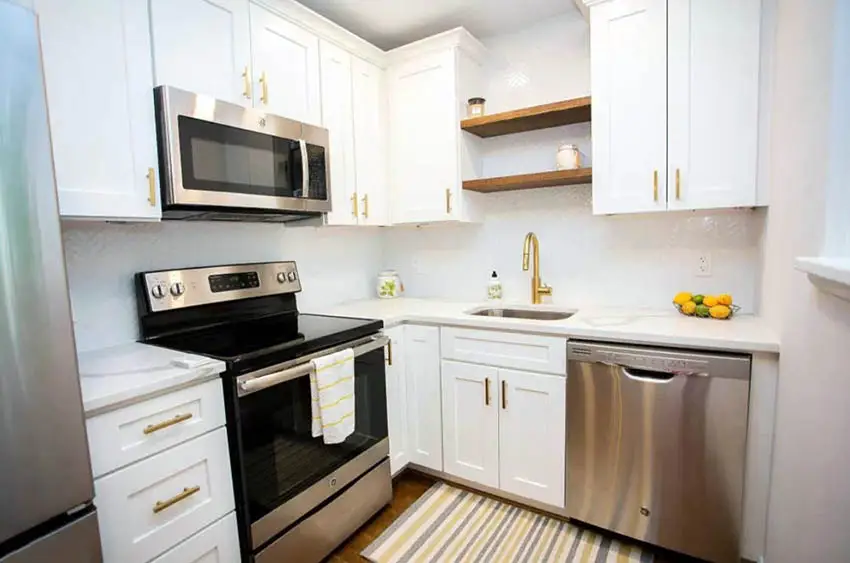 The cost of installation is actually one of the larger portions of the cost due to the size of the slabs and skill level installation takes. The installation is typically rolled into the pricing of the Cambria Quartz itself, otherwise it is typically $60 to $120 per linear foot, depending on the layout of the countertops.
Unfortunately you cannot easily turn the installation of a Cambria Quartz countertop into a do it yourself project to save money. These are heavy pieces of slabs and should only be handled by professionals, as the warranties become void when they are not installed and checked by the manufacturer's team. This is also a good thing, as it takes some heavy lifting choice off your plate.
How Durable is Cambria Quartz?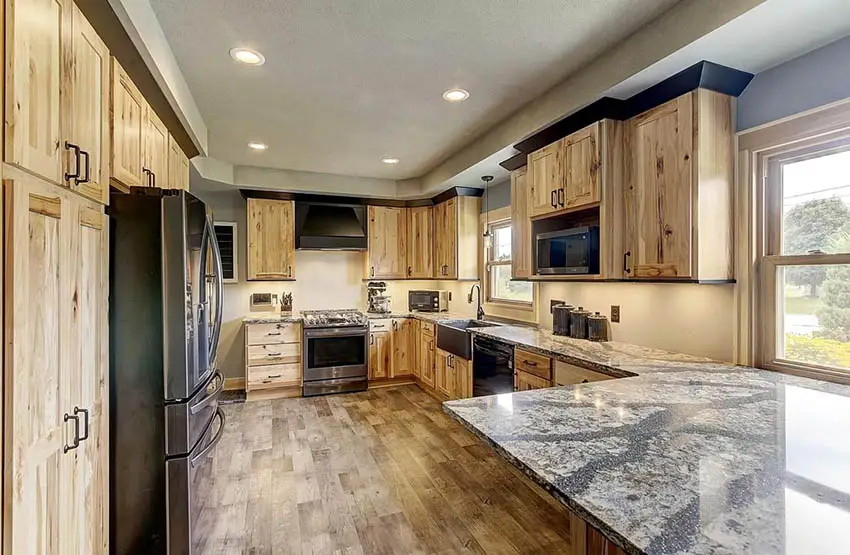 Cambria is extremely durable and can withstand almost anything that is thrown at it. It typically has a 25 year to lifetime warranty on it just to show how confident the manufacturers are that this product is resistant to chipping, denting or any other physical issues. The durability is one of the greatest features of Cambria Quartz and can often outlive the occupant of the home.
Is Cambria a Good Countertop Material?
Cambria Quartz is not just a good countertop material, it is a top of the line material. Cambria Quartz is made up of about 5 percent binding resin which also makes the material anti microbial and have extremely low maintenance requirements and easy cleaning instructions. Not only that, but Cambria Quartz durable, as mentioned above, which makes it great for any situation. The durability is a feature that makes the countertops so great as they are resistant to cracking, chipping and any other physical imperfections or problems.
Can You Put Hot Pans on Cambria?
NO! You should not put hot pans on any surface without a pot holder or a towel underneath between the countertop and the hot pot or pan. This is a precaution to avoid heating the surface too much to melt, crack or stain any surface or countertop, including Cambria Quartz. Even though Cambria Quartz is some of the most durable surfaces it is still not recommended to put an unprotected hot metal object directly on the countertops.
Cambria vs Quartz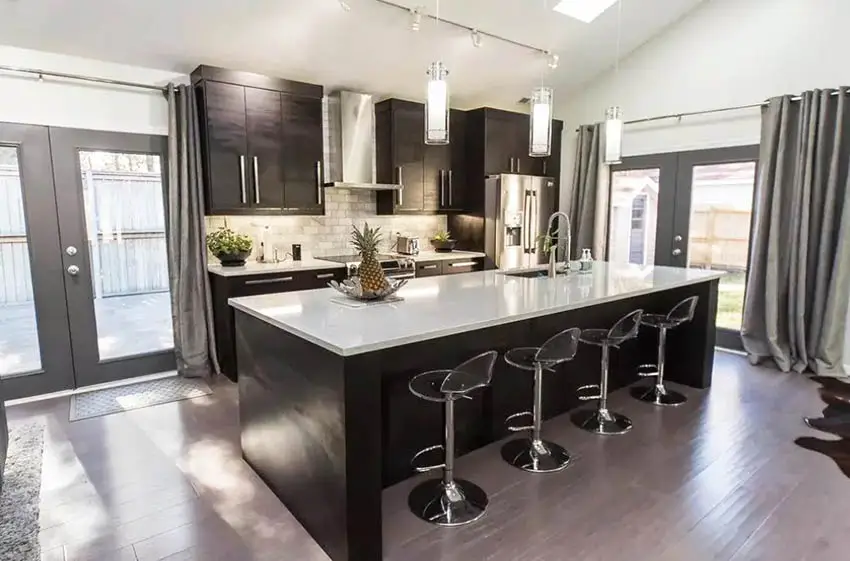 Cambria Quartz has a higher density than regular quartz, running about 2.65 t/m3 higher. Cambria in particular is environmentally friendly in many ways. Cambria recycles all their metal tooling, plus they use all recycled water when the polish their quartz. On top of that Cambria's mines use hydroelectric power, unlike most other quartz manufacturers. Cambria Quartz is American made, saving on shipping power and costs in the United States.
Cambria Quartz vs Granite Countertops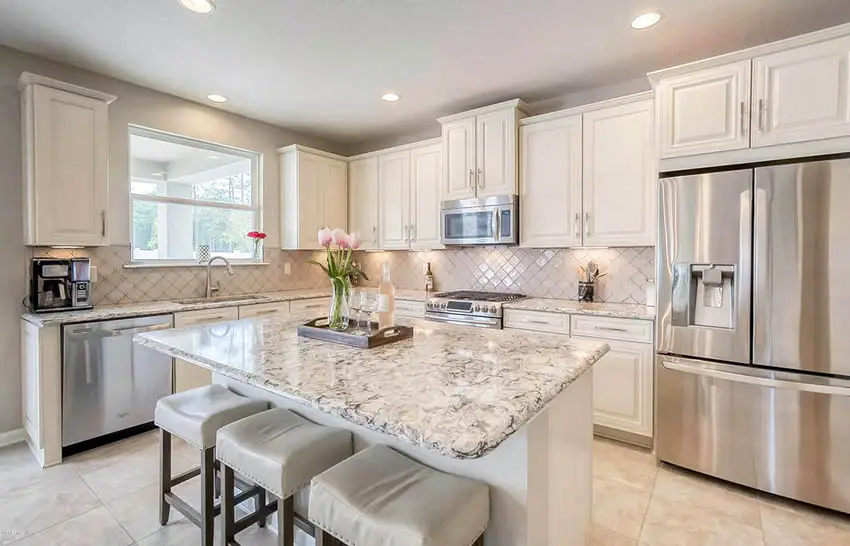 Cambria Quartz is an extremely dense as mentioned previously and shows up on the list of tonnes when granite does not even show up. While granite has a 10 year warranty it warns against the possible destruction form heat and collision. Cambria quartz has warranties based on each of the types but has at leave a 25 year to lifetime warranty without any exceptions for heat or collision.
Granite offers beautiful natural colors, but are limited to that. Cambria quartz has over 126 different color selections. As mentioned before, Cambria quartz has great sustainability and environmentally friendly qualities including its acceptance of certification of the GREENGUARD Indoor air quality for safe low emitting products. While granite is quite sustainable and environmentally friendly, it does not have this certification.
Is Cambria Quartz Better Than Granite?
Cambria Quartz Counters are top of the line. Cambria can withstand just about anything you throw at it and comes in a plethora of colors. Cambria quartz can also be cut in a variety of different that granite cannot offer. This gives opportunity to add different tricks and features to the countertop which is better than granite. Both granite and Cambria are great choices for countertops, Cambria just beat out granite every time. Cambria can withstand just about anything (besides insane natural disasters) and can be modified into and shape or size needed.
Is Cambria More Expensive Than Granite?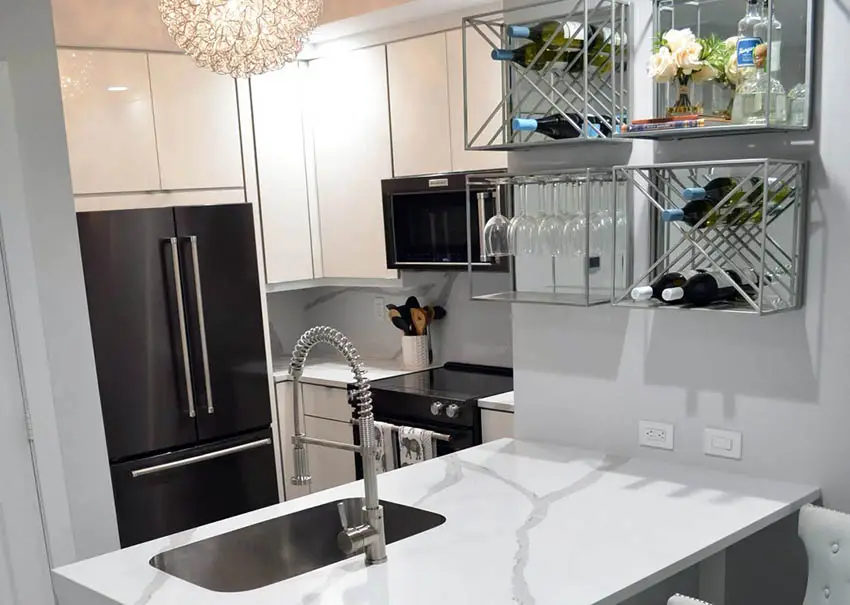 Each slab of quartz is specifically selected based on its veining, minerals, colors and purity levels, which can cause the price to rise a little over granite. There is a mixture about 95 percent natural quartz elements and then only 5 percent resins as fill in and binders, which is needed to create a anti microbial and clean countertop surface to use. Granite runs about 80 dollars to 120 dollars per square foot installed, while Cambria quartz costs about sixty dollars to two hundred dollars per square foot installed and ready to use.
This being said as Cambria becomes more popular and widely sourced, prices go down thanks to more of a mass producing, which can bring some prices lower down to the prices of granite. The higher pricing is still reasonable when considering Cambria quartz is pretty indestructible, while granite can chip and cracks, not to mention it is not anti microbial like Cambria Quartz is. Read more about quartz vs granite countertops here.
Buying Considerations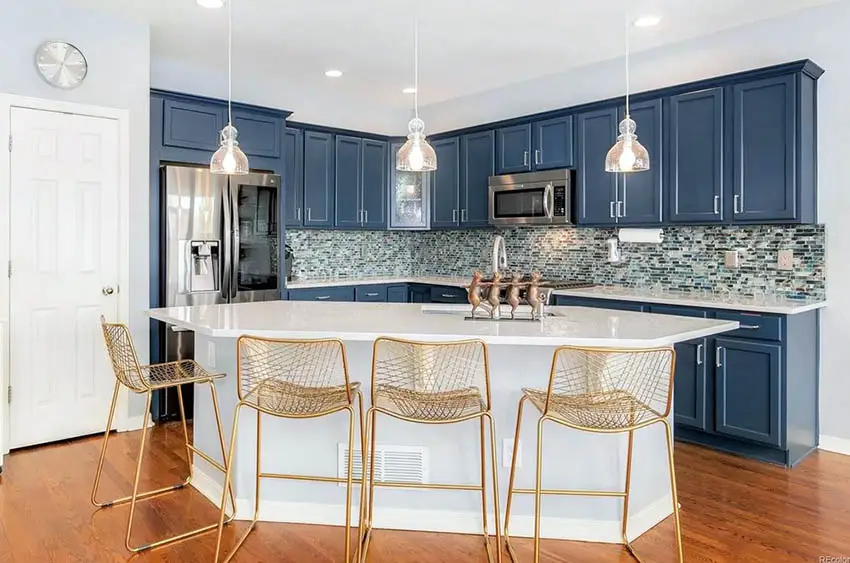 The first consideration when buying Cambria quartz is that while other types of quartz use tier pricing, and price the slabs by color, Cambria does not. Which makes the selection process a bit easier, not having to worry about bumping up the price with every color change you make.
The slab itself is 35 percent of the price, while the rest is for fabricating and installing the counters. The making and installing is extremely important and best to have professionals take care of it as it is not an easy task. The size and weight of the slabs is what changes the price astronomically as it changes the amount of effort and materials is needed.
Cambria Quartz Slab Size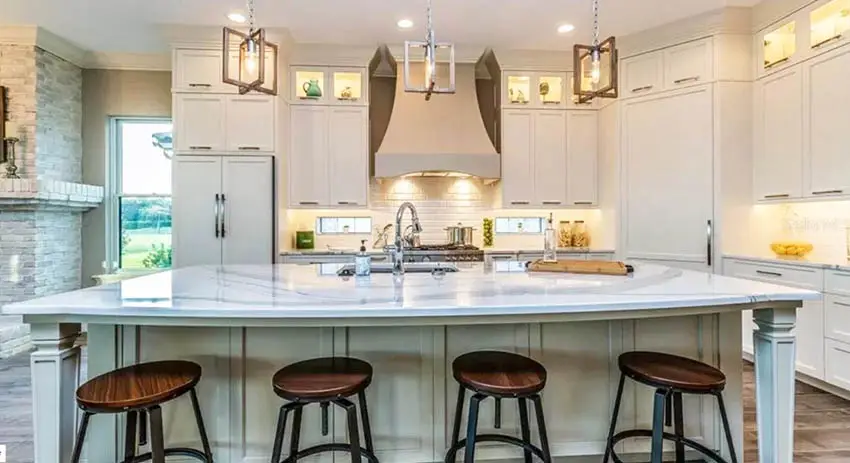 Cambria quartz slabs can come in a great deal of shapes and sizes, only restriction is the size of your imagination. Cambria quartz does have standard sizes.
A standard size slab is 55.5 inches but 122 inches.
A Jumbo size slab is 65.5 inches by 132 inches.
As mentioned, Cambria Quartz can come in a variety of shapes and sizes. Whether you are trying to get an L shaped kitchen, U shape, island, gallery layout, or anything you can imagine, this Quartz can be shaped into it. Custom sizes and orders are welcome. These cannot be bought at the local home improvement store, and are not in stock items. To get Cambria Quartz countertops you have to go to a kitchen and bath specialty store and special order the slabs you need and set up an installation time.
Sizing Considerations
One of the first things you should think about when considering the sizes of Cambria Quartz countertops is the saying "the bigger the better." It is easier to cut off extras than to have to add on extra piece and worry about the seams. In some layouts seams are necessary, but if they can be limited that is the best direction to head in. Each slab is unique, so mixing and matching when unneeded usually not something that is wanted, plus one big piece is less costly than two small pieces.
How to Clean Cambria Quartz Countertops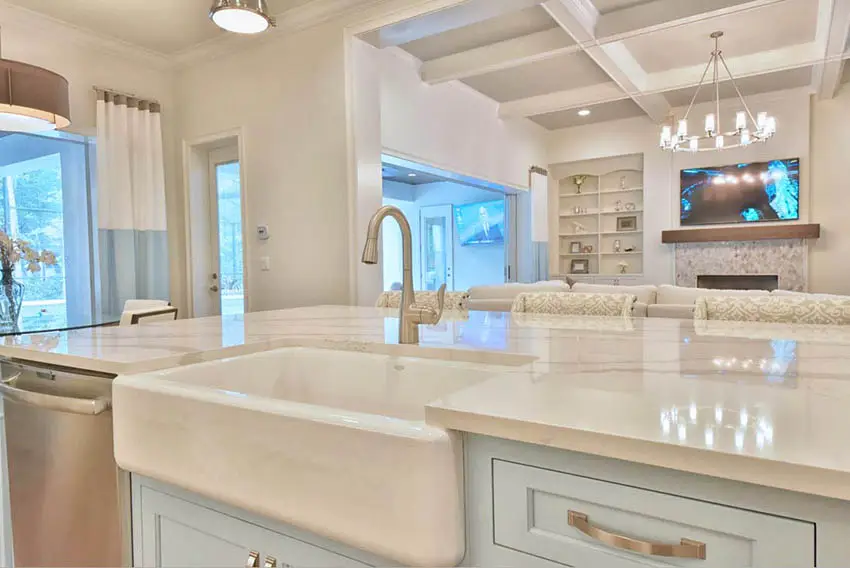 Thanks to the exceptional quality of Cambria Quartz Countertops there is no need to seal or polish the surfaces, making it pretty much maintenance free. Trying to seal it or to use any abrasive bleaches or soaps actually dulls the quartz.
All that is needed to clean the Cambria Quartz Countertops is a soft cloth and warm water, maybe some soft soap if needed. Cambria Quartz has a high durability as well as long warranties which makes maintenance and cleaning a breeze.
Check out this page to read more about quartz kitchen countertops pros and cons including special precautions needed to ensure they stay looking new and beautiful.