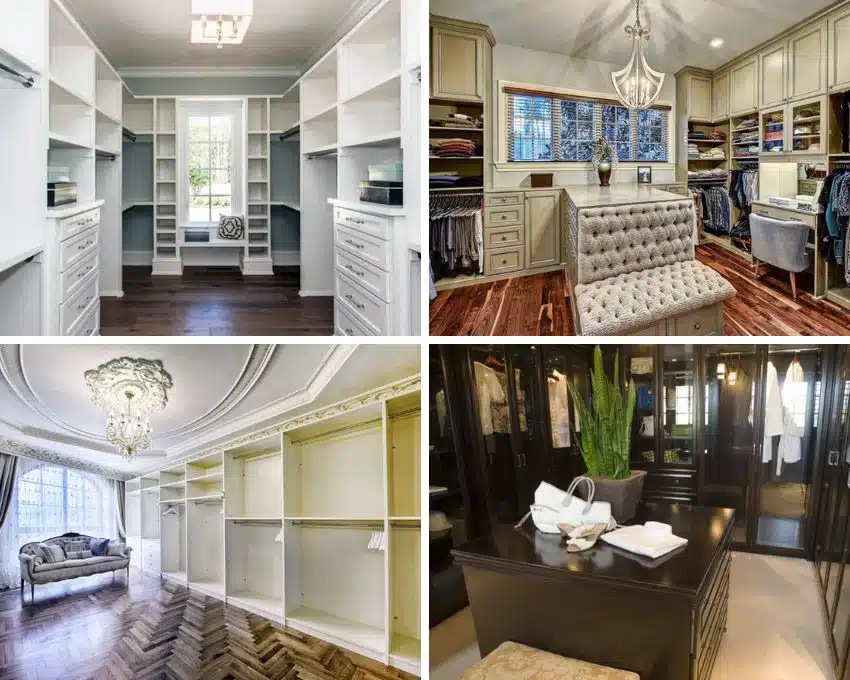 Welcome to our gallery of top luxury walk in closet ideas. A well designed walk-in closet can be a great way to store your clothing, shoes and accessories. Below you'll find beautiful closets with essentials such as great storage cabinets and elegant lighting along with some really fun vanity features you'll love.
The walk-in closet shown in the image above maximizes all sides of the available walls for storage. The U-shape cabinets are built from wood with dark wengue finish with simple molding details, but instead of a solid wood door, the doors are wood-framed clear glass so you can easily see what's inside it. A separate closed shelf is dedicated for the bags, and at the center is an island of sorts, with additional drawers for belts, jewelry and other items.
Walk In Closet Design
Here are some of the most important elements to be considered when looking at different walk in ideas:
Storage cabinets: Storing your shirts, sweaters, purses and accessories is important to save both time and energy to help you easily find what you need. A small glass fronted China cabinet can also work great for storing shoes so you can easily find them at a glance. Get more closet shoe storage ideas here.
Drawers: Many people when designing their own custom closets prefer to see their drawers facing the entrance for convenience.
Lighting: Illumination will help keep your this space bright, cheerful and help you quickly find what your looking for on those hectic days. It's a good idea to select fluorescent lights rather than incandescent to cut down on extra heat the bulbs give off.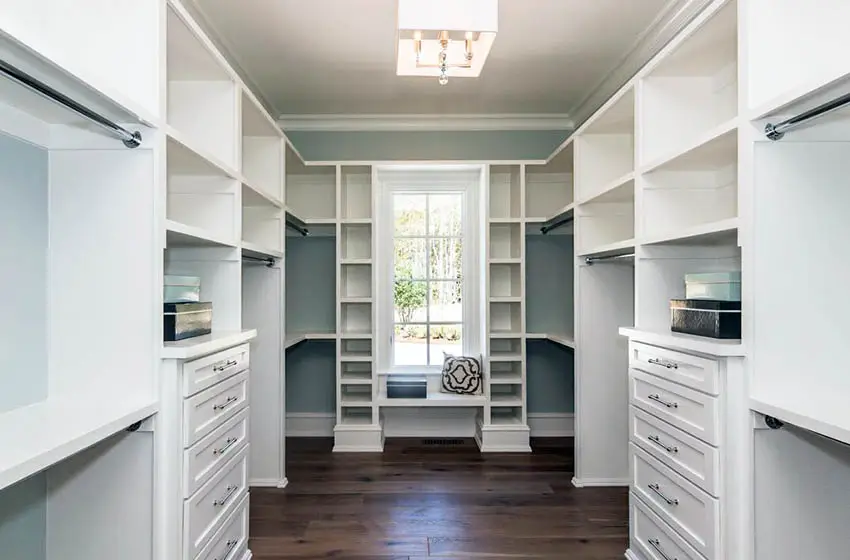 Windows: If you have a window in your walk-in you can benefit from natural light. Just remember that sunlight can bleach your clothes. To avoid this you may want to consider blinds or window coverings.
Hamper: Including a hamper is really convenient and keeps things tidy.
Mirrors: An assortment of mirrors in your walk-in can be a real time saver. Mirrors can also make this space appear larger and help provide a lighter space.
Peninsulas and Islands: If you've got the room islands can really be a nice addition as they give you room for additional storage compartments and help when laying out an outfit. When considering a island make sure you have 36″ around the island on all sides so you have plenty of room to maneuver
Benches or stools: Benches can give you an easy place to sit and try on shoes. Stools are great for when you need a little extra help reaching those items way up on the top shelf.
Chandeliers: I left this for last because it's not just functional, but for fun. Adding a chandelier is a great way to add your own flair and sense of style to your space.
To visualize your own ideas you can use a closet design software program. These will let you input your rooms dimensions and layout, then add different storage racks, hangers and accessories to see how your space would look.
Luxury Walk In Closets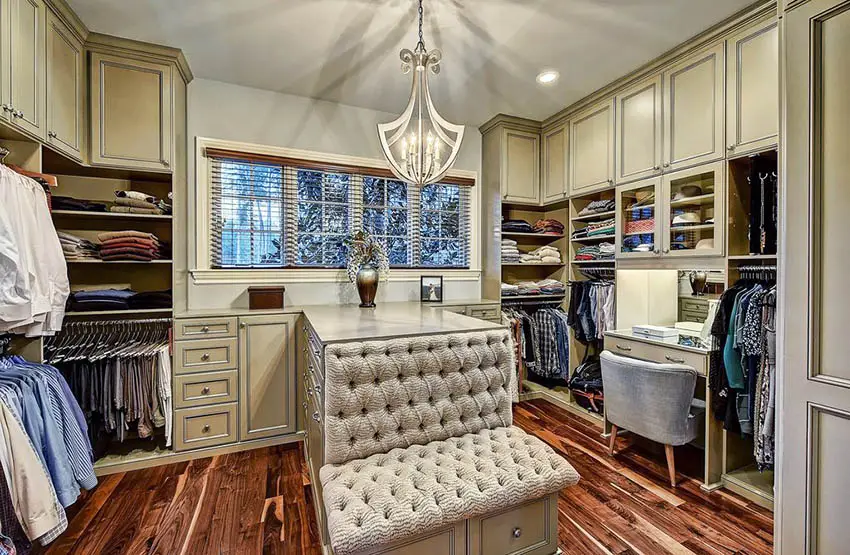 This large inviting walk-in area makes a real statement with its custom sitting island complete with plush upholstery. A contemporary chandelier and multiple recessed lights provides plenty of illumination and keeps things bright while cream dresser cabinets with satin pull knobs give a more traditional feel. A built-in vanity with extra wide seating is a great spot for applying makeup or jewelry, making it one of the ideas to consider.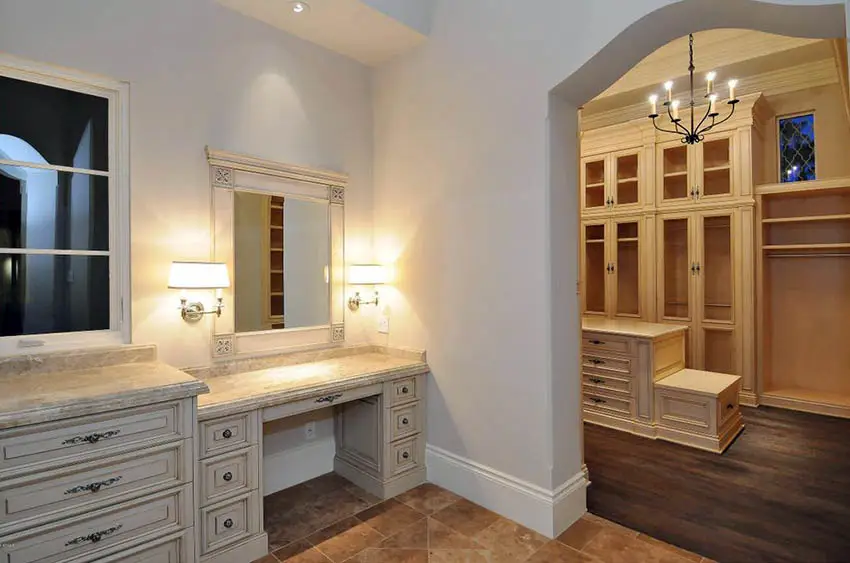 This beautiful walk in closet is situated off the master bathroom. The layout features a large island with bench to help with changing and putting on shoes. The island has a chest of drawers to store clothing items as well as an elegant marble countertop. A chandelier gives this room a decidedly traditional elegance that is further enhanced by the glass door wardrobe and hardwood flooring.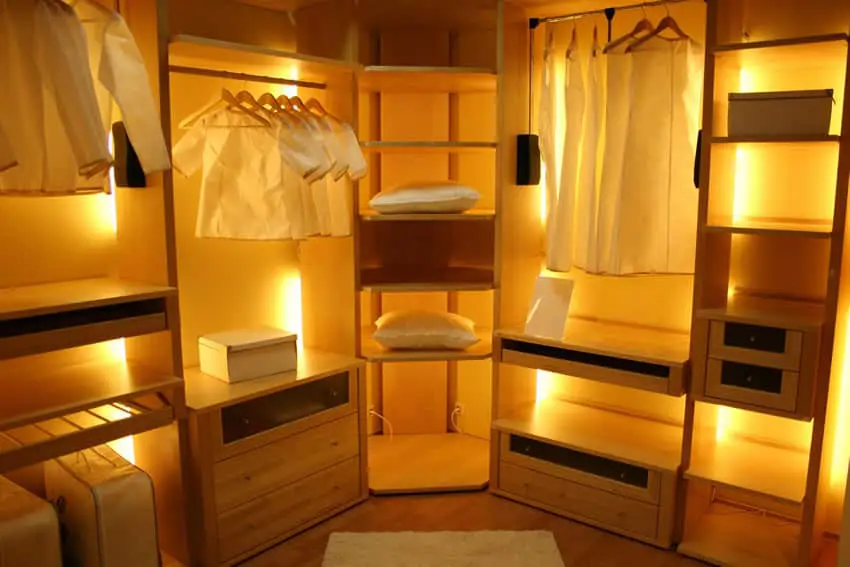 In contrast to the previous walk in closet ideas shown, this one uses open type closet with no cabinet doors. The maple laminated wood framing features high-tech hardware, including a pull-down hanging rod for easier access and a pants rack which you can pull out like a drawer. The open design allows ease of access and relieves the space which will possibly be taken by cabinet door swing. It also integrated LED lighting to its design so you can easily view the clothes.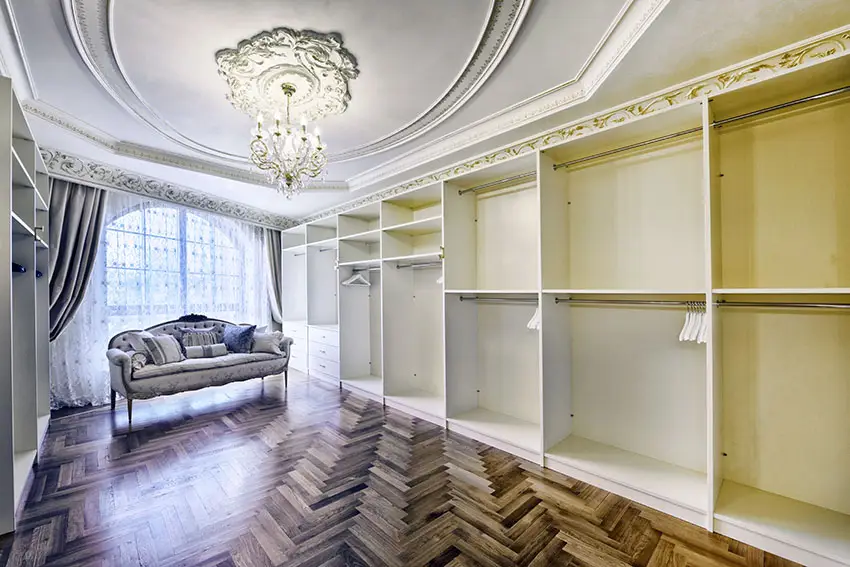 This is among the luxury walk in closet ideas that feature a beautiful chandelier with a decorative tray ceiling and large arched window. Sheer curtains allow in natural light while large curtains are available to keep the room private. With plenty of room for hanging clothing and a few chests of drawers this large closet offers plenty of space. A Victorian style love seat, natural wood floors and decorative molding are additional touches that convey a sense of elegance.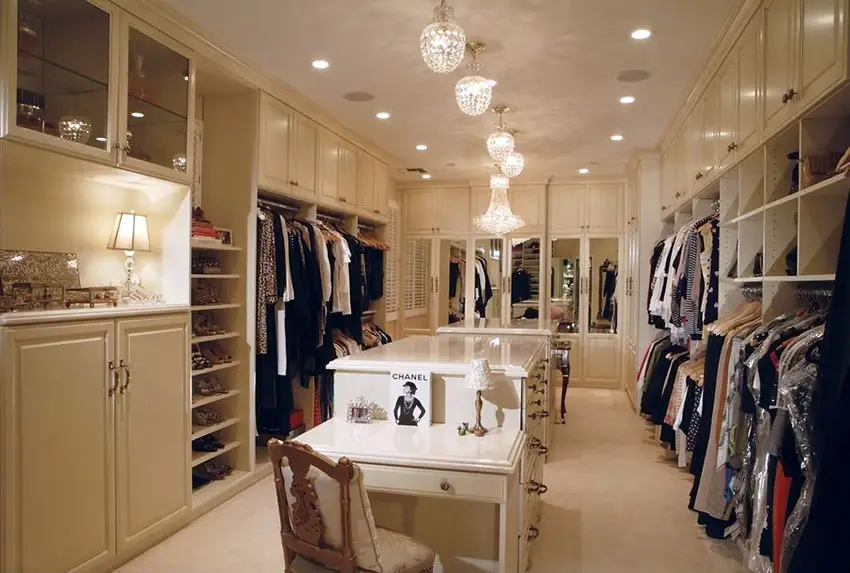 This is one of the dream walk in closet ideas that's outfitted with almost everything you could want. It's got a shoe rack with lots of storage capacity, glass-faced cabinet doors, and open cubby-style shelving so everything is easy to see and access.
There's a white quartz countertop island with built-in dresser of drawers and a sitting/makeup area. At the end of the room are mirrored doors to help with trying on clothing. Finally, the room is brightly illuminated by four mini chandelier pendants and one large hanging chandelier.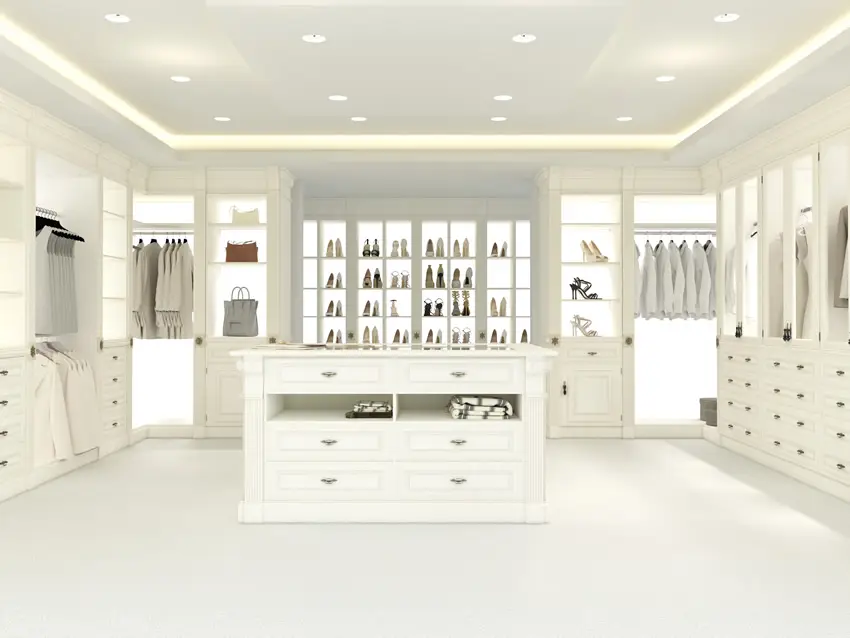 A modern walk-in closet design with an impressive layout and size. Due to its expanse, it can separate clothes into multiple sections, even including a large shelf for shoes.
Although it is also open-type with no doors, more intimate items can be stored in one of the many drawers. Also, due to its all-white scheme, not only is the space bright, it also helps the color and material of the clothes stand-out, making it easier to view your wardrobe,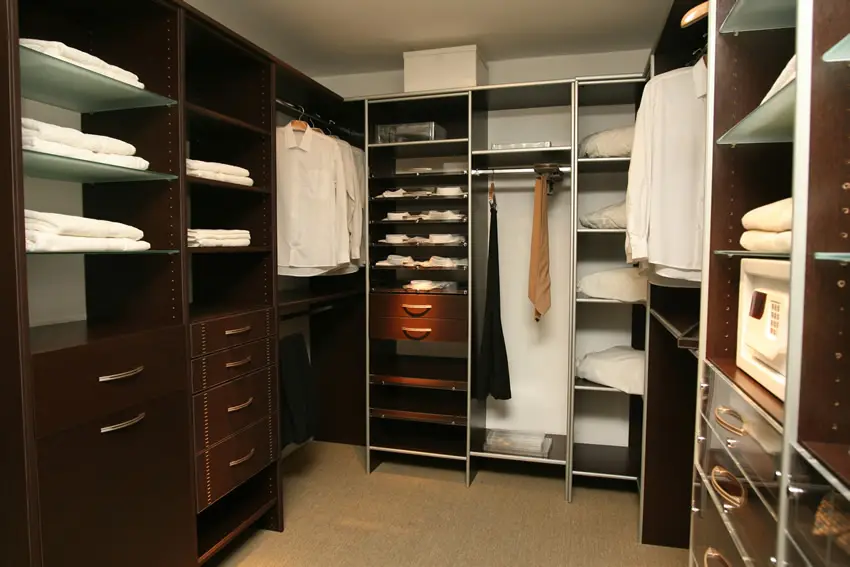 This is one of the many examples of small walk in closet ideas that integrates modular closet units. The framing is all laminated in wengue. With a combination of wood and frosted glass adjustable shelves. The layout is also open-type with no closet doors. and it even has drawers with acrylic drawer faces, allowing you to easily see the items stored inside.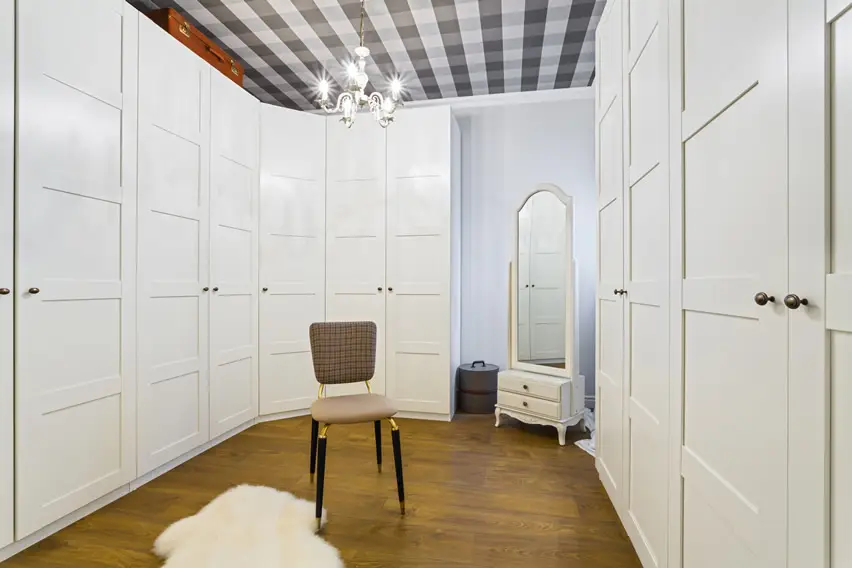 This large walk-in closet has some very attractive features, such as floor-to-ceiling wardrobe space, wood flooring, a glass chandelier, and a large oval carving mirror with drawers. The ceiling has an interesting grey and white striped pattern that contrasts nicely with the flat white cabinetry of the room.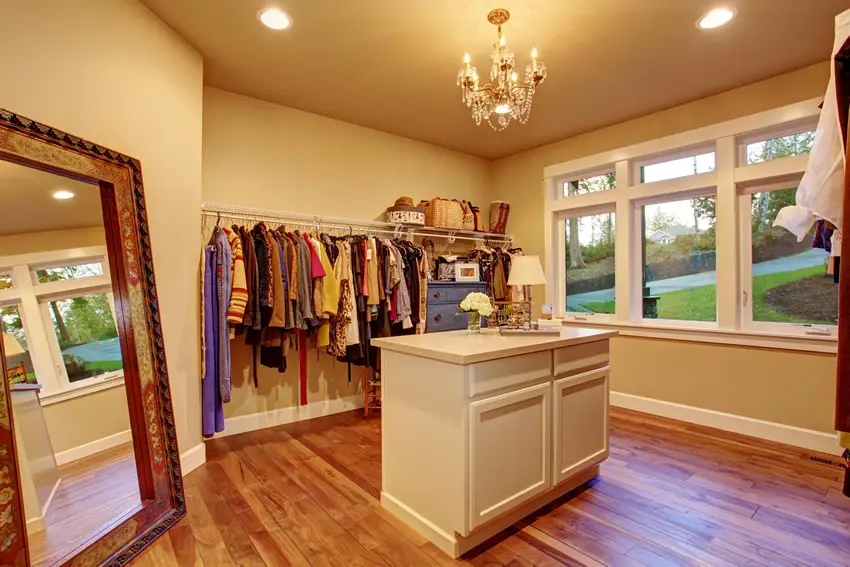 This romantic closet set-up cannot maximize the space available, but the combination of movable storage pieces and wall-mounted hanging rods gives it a romantic clothing boutique look. The large antique floor mirror is a nice touch to the space and the small crystal chandelier.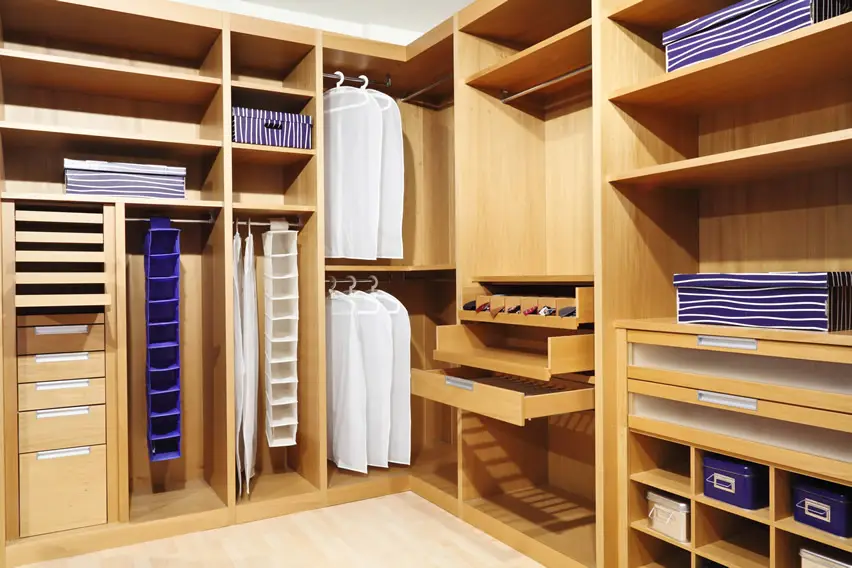 This is among the modular walk in closet ideas that uses pine laminates and a variety of shelves and drawers to address closet storage needs. Some of the notable features of this simple closet is the tie drawer which has separate divisions for each tie. Also drawers that combine wood and glass for its face to identify the contents easily. And the additional storage solutions hung on the rods like the hanging shelf for shoes and file boxes,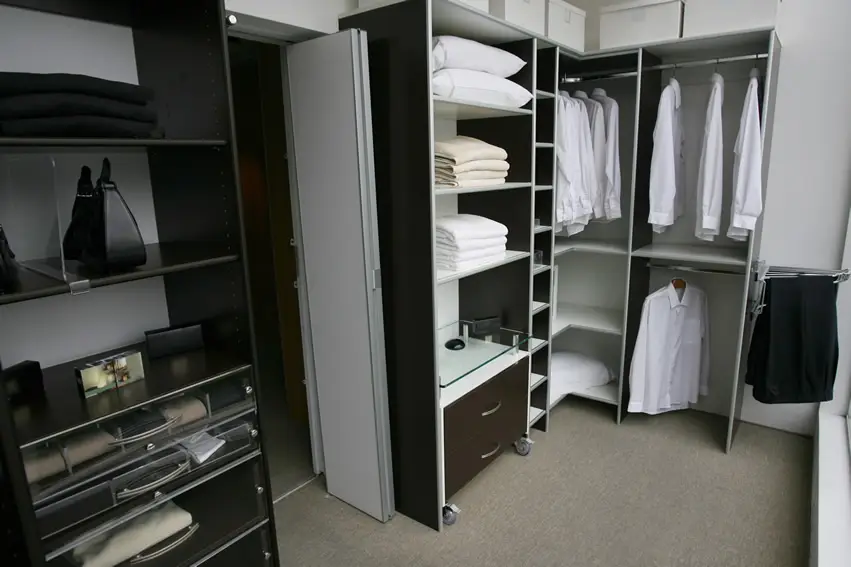 This small walk-in closes uses modular cabinetry with very masculine sensibility. It uses dark wood laminates combined with plain white,creating a nice contrast. It has adjustable shelves and a good balance of shelf and hanging rods.
It also has one column of acrylic drawers especially ideal for storing wallets, small bags and purses and other items. The see-through material makes it easier to find certain items without having to check every drawer.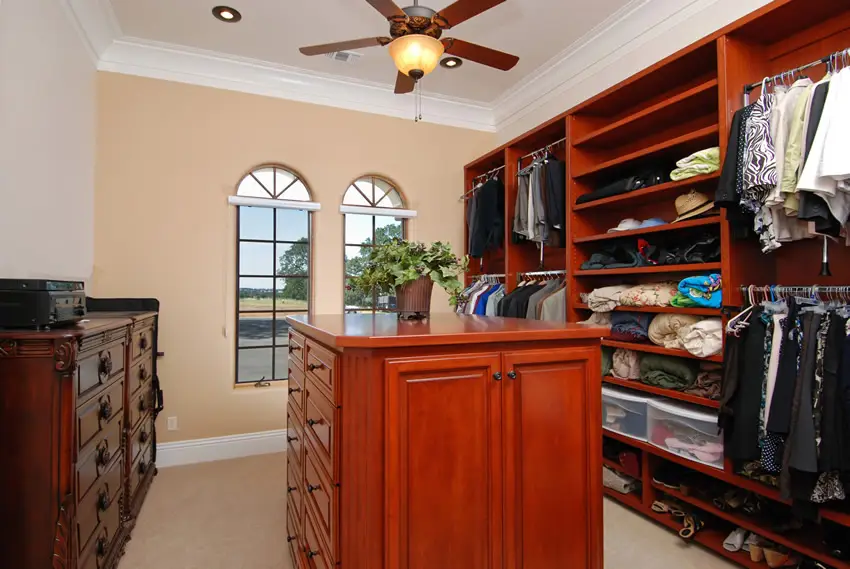 This is among the walk in closet ideas that combine a modular piece of open cabinets and shelves with movable storage pieces with ornately carved drawers and solid wood construction. Despite the variety, all of them are matched in an orange-tone Mahogany color.
The large modular piece dedicates the central area for open shelves, while two sides are for the hanging rods. The whole unit has a 2-level bottom shelf which are used to store shoes and small bags.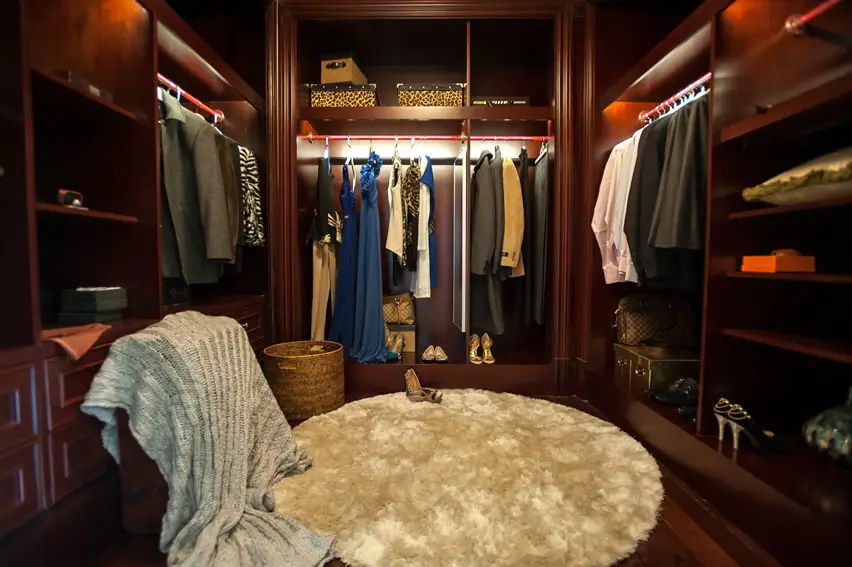 This walk-in closet has a classic elegant appeal with its use of dark mahogany finish for its cabinets. Instead of laminated boards, it uses ribbon-grain plywood stained in mahogany finish to give the appearance of solid wood. It also has simple molding details on the edges and on drawer faces. Because of the dark wood finish, the closet might appear too dark so cabinet lighting was used to help illuminate the clothes.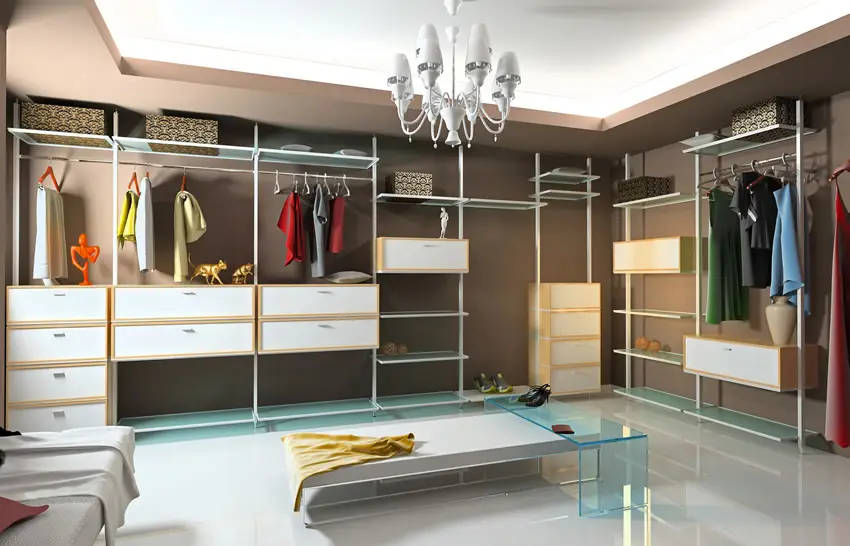 This modern closet space is fairly large and well-illuminated because of its windows. Instead of traditional cabinets made from wood or plyboards, this walk-in-closet uses minimal wood in its design.
It is among the walk in closet ideas that use metal bracing which is attached on the floors and ceiling to hold the drawers, shelves and hanging rods. These are adjustable so you can easily rearrange your cabinets according to your needs. The absence of wood sides and backing also make the closet look lighter and brighter.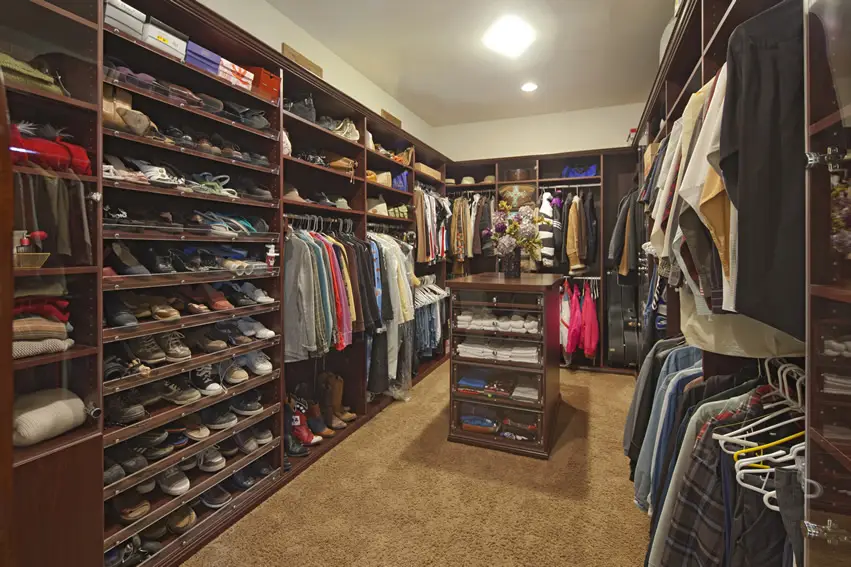 Unlike the previous examples, this walk-in-close is very well-used and filled with clothes and other items. The cabinets are simple and modular with mahogany laminates. It has a nice variety of space for hanging clothes and shelves, as well as a large adjustable shelving for shoes. It also has shelves with acrylic doors to keep the items inside from being exposed and a square storage island at the center of things like socks and underwear.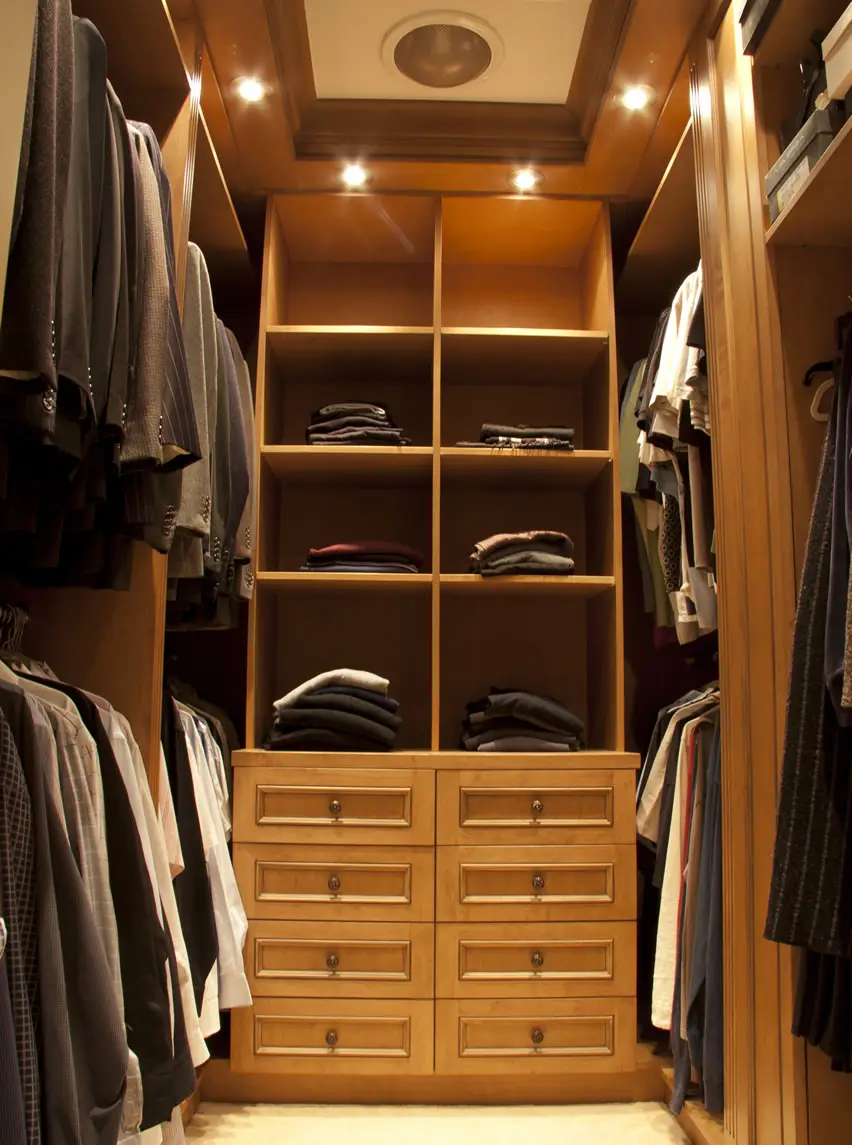 Walk in closet ideas for small spaces need to pack a lot in to their designs. Because of the small space, this design uses a lighter shade of wood to help it look bigger and brighter. It uses Maple wood finish and opted to use open-type of cabinets.
Two parallel walls were dedicated for hanging clothes, while the wall at the center is where all the drawers and shelves are, making it easily accessible and offering plenty of space for clothing accessories.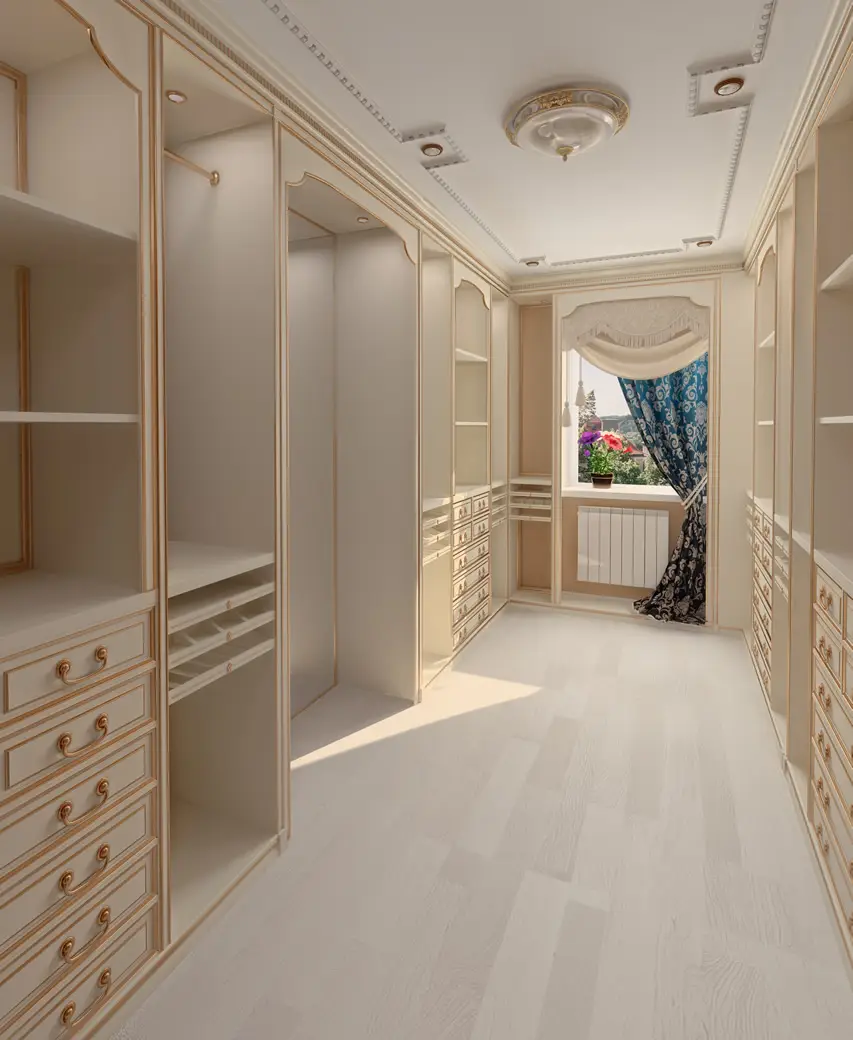 Aside from the presence of a window, this walk-in-closet looks light and bright because of its use of whites. It has white laminate floors and white cabinets with gold details. The white and gold combination of the cabinetry make for a very elegant and luxurious look, also using gold drawer pulls. It has a good balance of hanging rods, drawers and shelves, and even has a large part dedicated for a body mirror.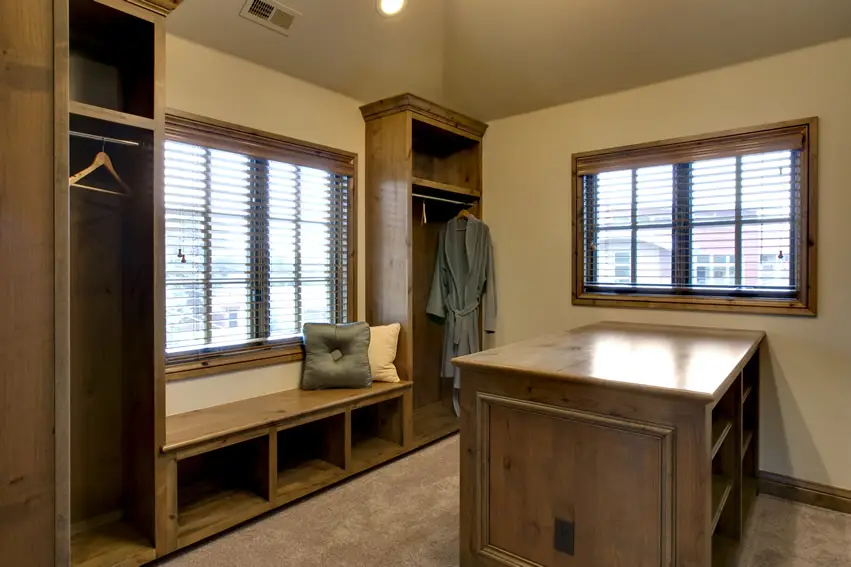 A walk-in-closet that has a very rustic appeal with its use of walnut cabinetry. The presence of two windows in closet eats a lot of wall space that could have been dedicated for full cabinets, but it makes it up y adding a rectangular island with drawers and shelves for storage. The space also has a bench built-in with the cabinets just below the window which also has storage underneath.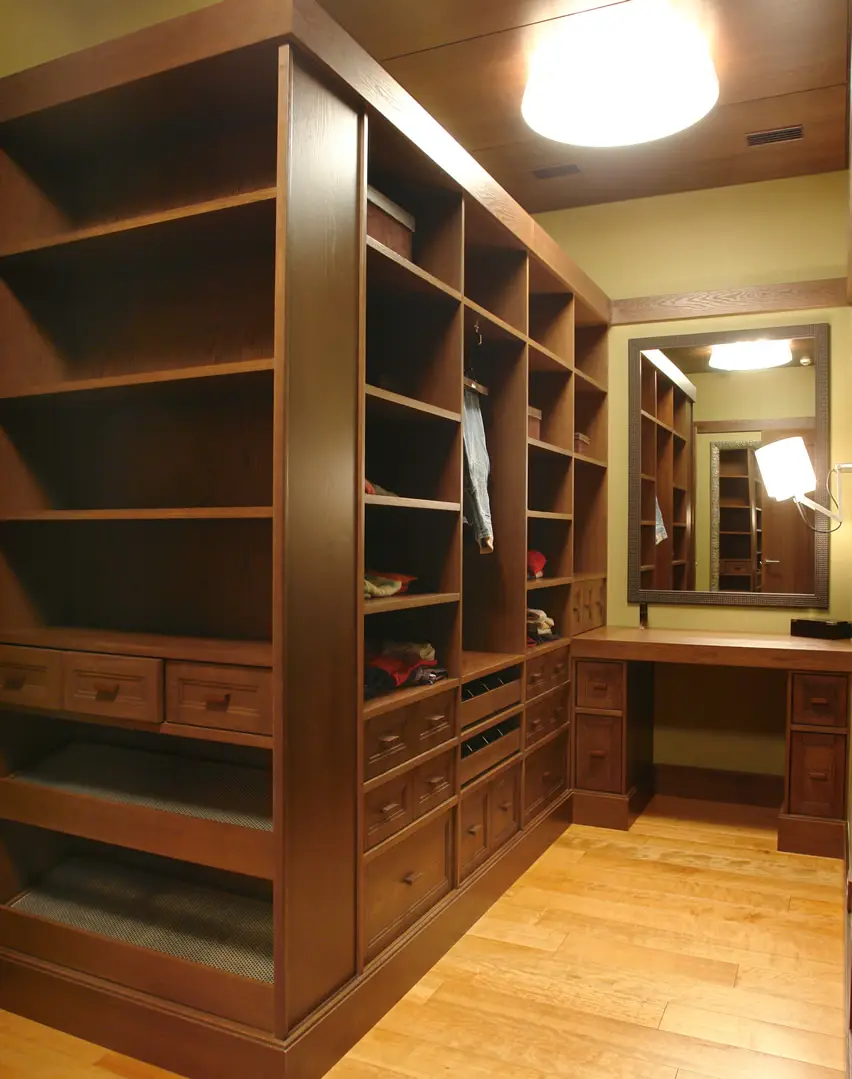 Having a unique layout, this is one of the many walk in closet ideas that maximizes all the free walls of the spaces and uses them as storage/cabinets. We can only see one side of the closet because of the limited space, but you will be able to see the teak-stained open cabinets with a variety of open shelves, shoe shelf, drawers and even tie/belt organizers. There is also a dresser/vanity table at the end of the closet built-in with the main cabinets.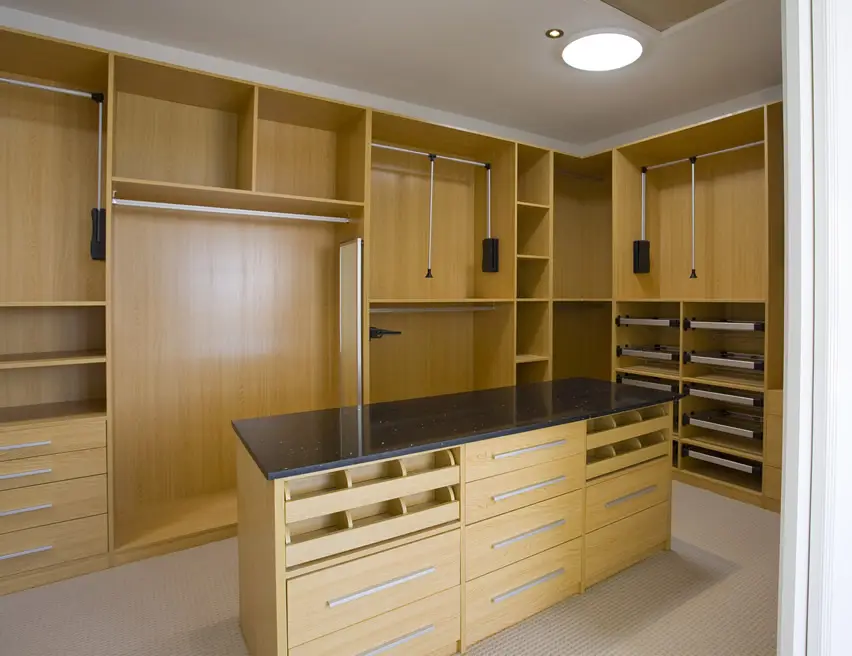 This is a simple closet design which uses light colored materials to create a bright and refreshing closet space. It uses light Maple laminated MDF boards for its modular cabinets which are fitted with hi-tech hardware like a pull-down hanging rod for easy access. Aside from the open cabinets, it also has a long island "counter" with a black granite top and lots of drawer space for additional storage.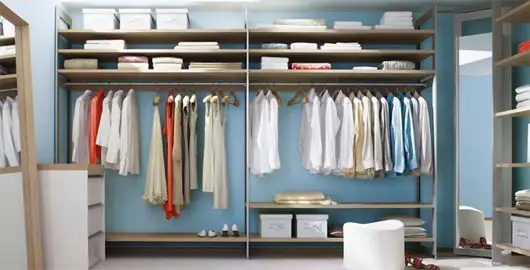 Another example of a walk-in-closet which uses adjustable metal framing in favor of wooden framing. This results to a brighter, lighter and more spacious looking closet. The sky blue paint is visible due to the cabinet set-up, and facilitates in making the space fresher-looking.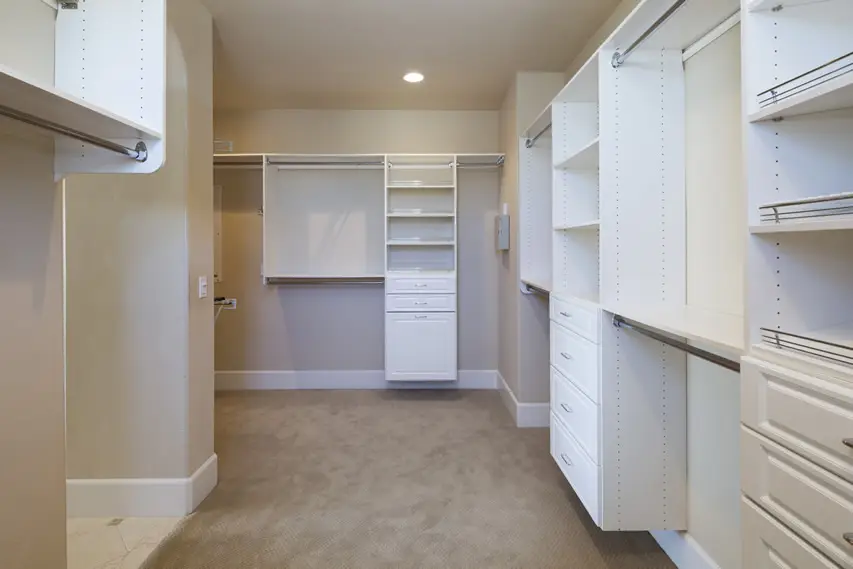 The oatmeal paint color and carpet flooring used in this room makes the walk-in-closet look bigger and lighter. It's a warm color which isn't too heavy and can easily match whatever cabinet finish you intend to use. In this example, the open cabinets are white and doesn't have wood backing, revealing the oatmeal colored walls. The cabinets are modular and have adjustable shelves and hanging rods.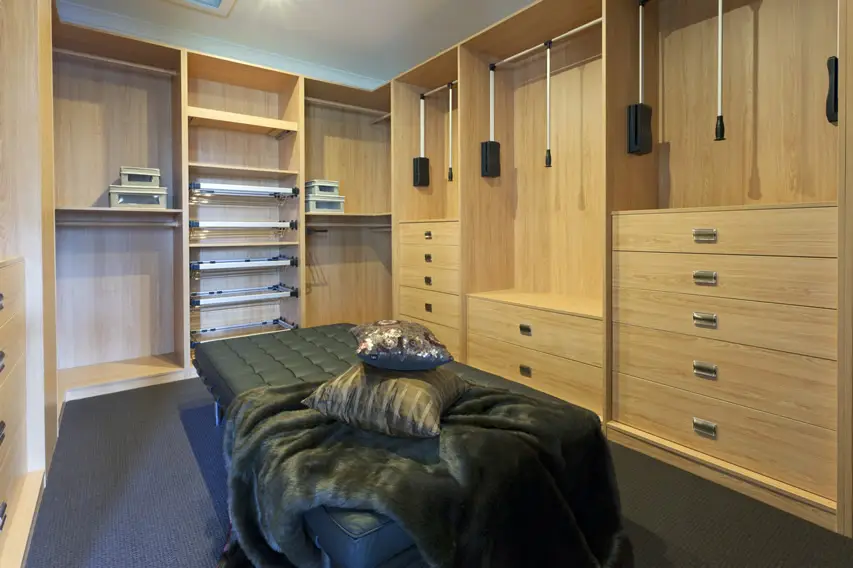 This walk-in-closet has a nice contrast of dark and light colors, with dark gray flooring and light maple laminates for its modular cabinets. It also has a large daybed at the center of the room with matching dark gray throw and pillows. The cabinets are open type with large drawers and open shelves. The shelves are not adjustable, but the cabinets are fitted with adjustable hardware like the pull-down hanging rod.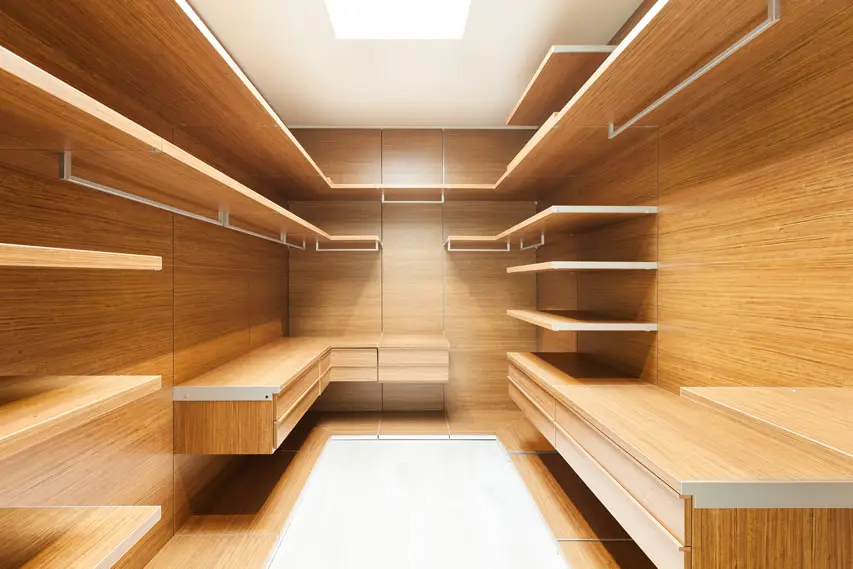 The previous examples have shown cabinet modules with not wood sidings and backings, and are supported by metal bracing anchored on the floor and ceiling. For this example, the cabinets have no sidings, giving you that open effect, but uses laminated teak backing for a luxurious look.
Teakwood is suitable for the manufacture of decoraive plywood. The proverbial durability of teakwood is attributable to its two key elements, namely, high silica content and the oil present in the wood. – Stranger at Home – Teak Forests of Karnataka, Dipak Sarmah, IFS (Retd.)
The open shelves and drawers are attached on the wall supports concealed between the laminated backing boards, and are all adjustable. Since it doesn't have wood sidings, the hanging rods are attached underneath the shelves instead.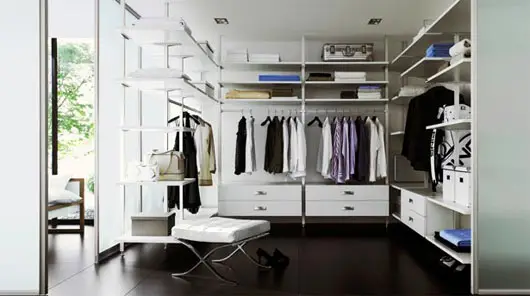 This is modern walk-in-closet divides itself from the bathroom and the bedroom only through a frosted glass partition. In order to not obstruct the glass partition, the cabinets used are supported by metal bracing attached on the ceiling and floor. There are all open and adjustable so you can easily customize it according to your needs. The white laminate and metal also matches the white-framed frosted glass partitions, making the space look unified.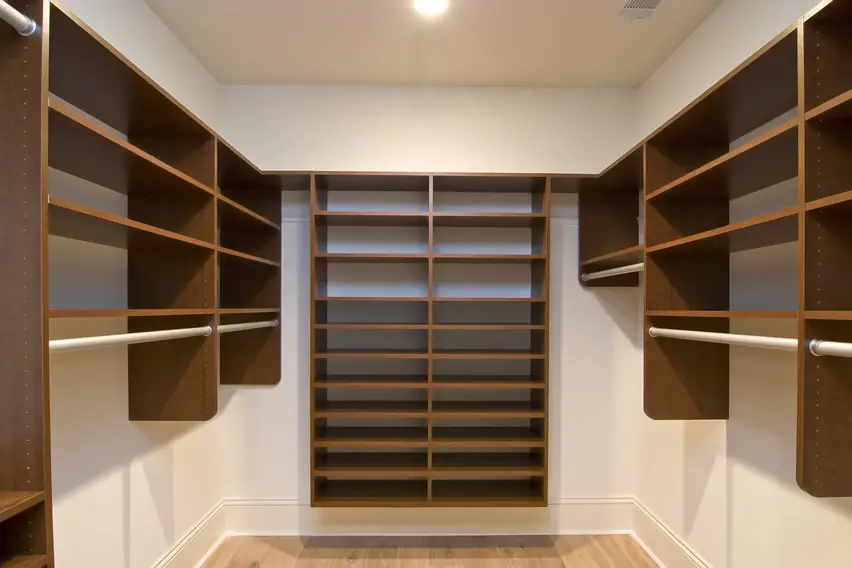 Similar to the previous examples, these modular cabinets have no backing, helping make the small space look bigger. The cabinets also have no base, and they are all attached / supported by the walls. The shelves are all adjustable and so is the hanging rods so you can easily adjust your cabinet set-up according to your changing needs.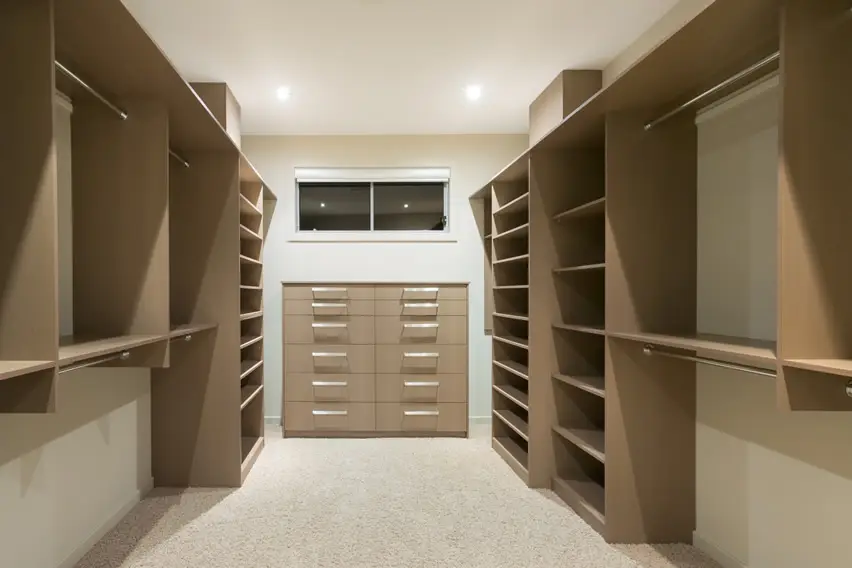 Similar to the above example, the cabinets used in this walk-in-closet also has no backing, but some shelves does have base supports. It uses a light beige colored laminate for a fresh and light appeal. The open shelves are pin mounted, and although adjustable, you are limited by the current locations of the pin-mounted supports. There is also a small window at the end of the closet and underneath is a chest of drawers for additional storage.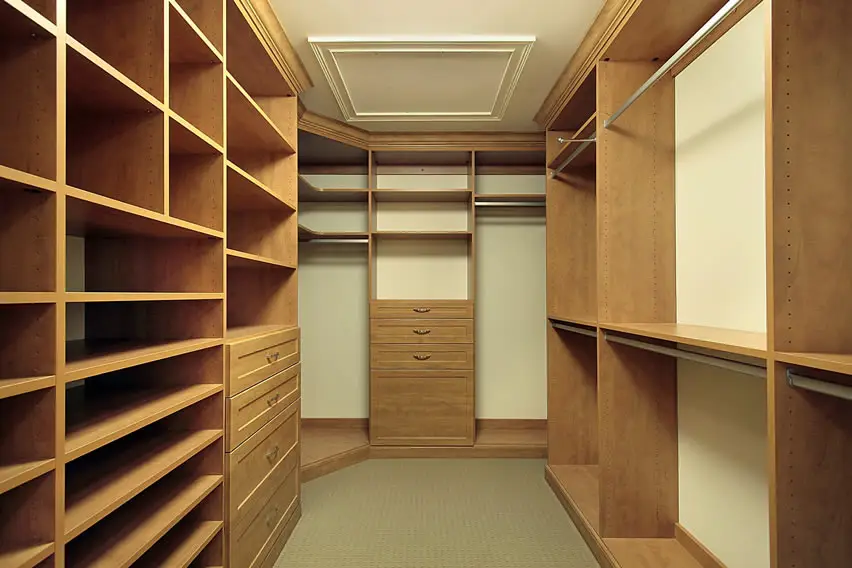 This master bedroom walk-in-closet uses a more earthy walnut tone for its open cabinets. The unique floor plan of the closet space also results in quite a unique cabinet set-up. The cabinets are all floor to ceiling, with adjustable shelves and hanging rods and with no wood backing. It also has a good variety of drawers and shelves with different sizes for different storage needs.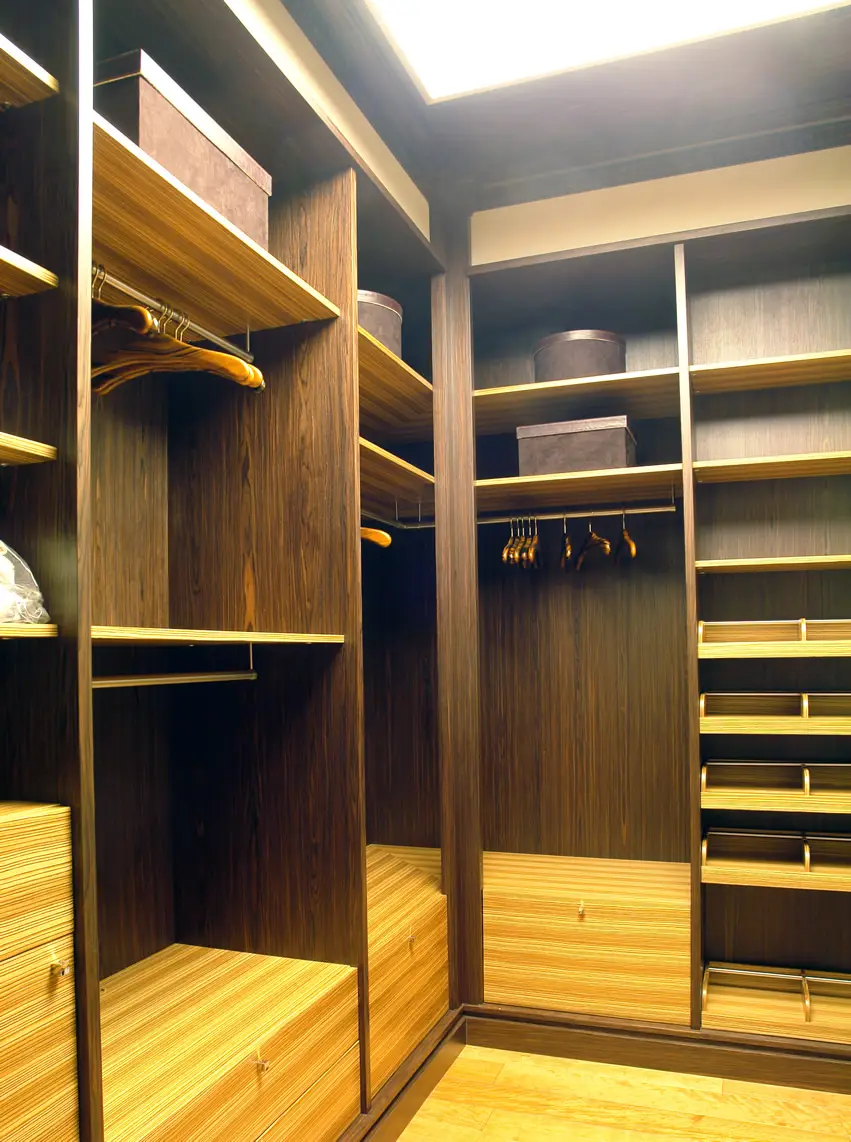 The cabinets for this walk-in-closet uses a unique combination of wood tones for its laminates. Shelves and drawers are laminated with a pine laminate similar to the flooring used in the closet, while the main framing, sides and backing are all laminated in a dark mahogany color. The contrast of the wood tones brings a dramatic interest to the cabinets. It has a good variety of drawers, tie/belt organizer drawers and pin-mounted open shelves. The hanging rods are attached underneath the shelves.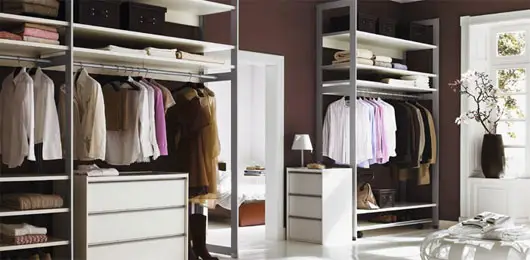 The dark purple paint of this closet brings a refreshing look which is unique and interesting but not overbearing. The cabinets are open type and metal-framed, but is not attached on floors or walls but are movable. The shelves are adjustable, but the hanging rods are fixes. It also has movable drawers in white which is separate from the metal-framed open cabinets so you can place them wherever you need them be.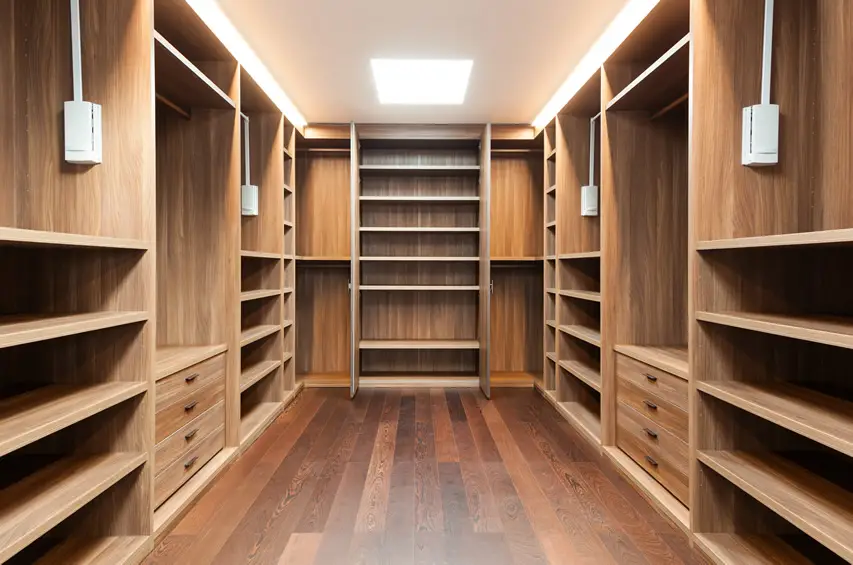 A fairly spacious walk-in-closet with a soft wood tone laminated cabinets. The cabinets are floor to ceiling, with adjustable shelves and small drawers. It is also fitted with pull-down hanging rods for easy accessibility. While the cabinets are open-type, there is a large shelf at the back of the closet with doors, ideally for storage of bags or shoes.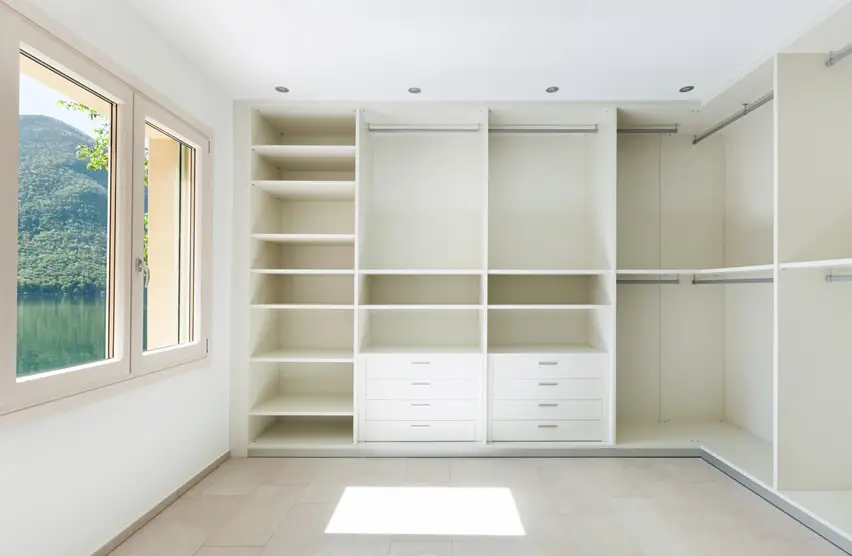 This is a large closet space with a large casement window, bringing in light into the space. The cabinets are simple and open-type despite the large floor area of the closet, and are laminated in white. One end of the cabinets are dedicated for shelves, and only a portion is for drawers. There's a lot of hanging rod space, but they are non-adjustable and are attached below the shelves.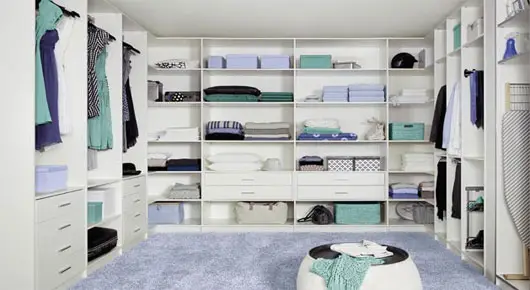 Like the previous example, this closet is large, but this one does not have the luxury of a window to help naturally illuminate the closet space. Nonetheless, the closet still looks bright due to adequate artificial lighting and white-laminated cabinets. The lilac carpet also helps soften the look of the space and add a pop of color to the space.
A large walk-in closet with a high and wide window which help illuminate the space. The high position of the window allows light into the closet, and at the same time, maintaining a fair amount of privacy and allowing a space to add more storage. In this case, the space under the window was allocated for a wall-mounted chest of drawers. The open cabinet at the end of the room is all for hanging clothes, while the side opposite the window is a combination of fixed open shelves and deep drawers.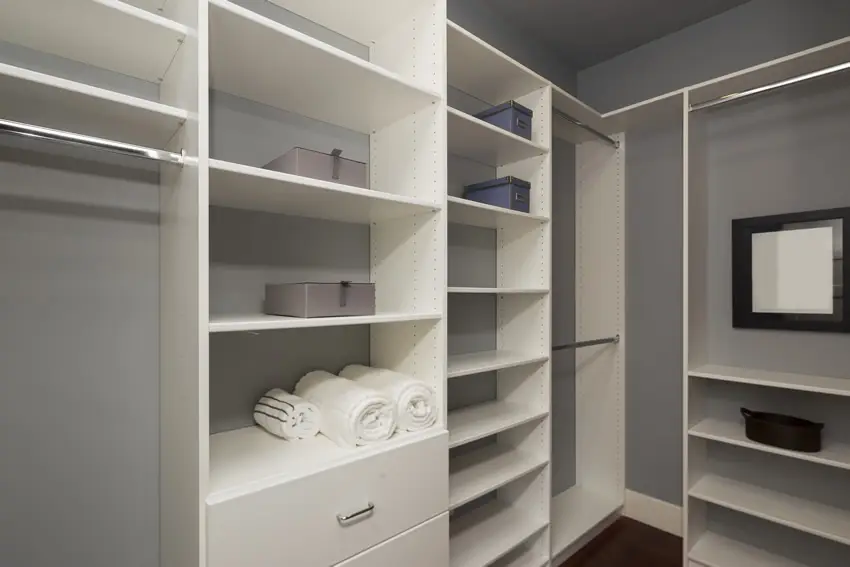 This closet space has a cool palette mostly credited to the shade of gray used for its walls. The modular cabinets used have no wood backing so it exposes the gray paint of the walls, and the white laminates also help emphasize the gray walls. The cabinets are open, with an excellent variety of adjustable shelves, hanging rods and fixed drawers.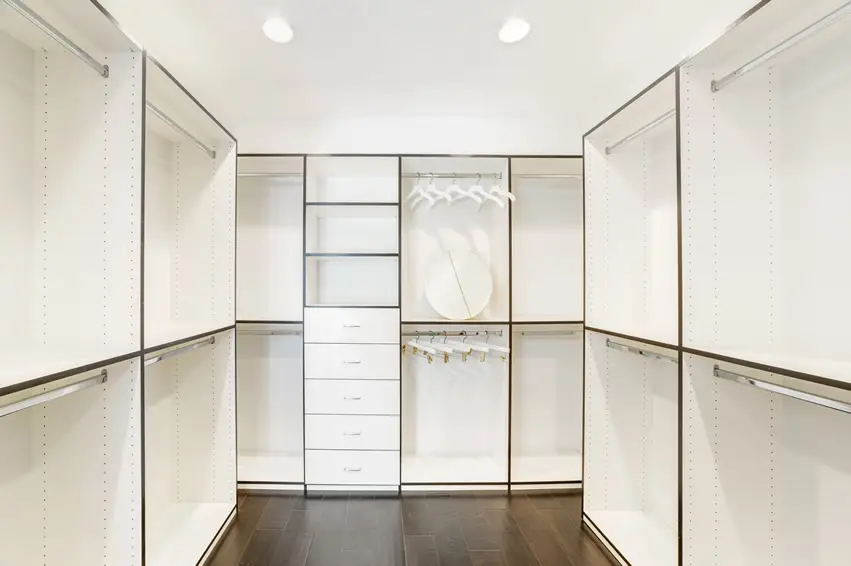 This is another large modern closet with modular open cabinets. You will notice that most of the space is dedicated for hanging clothes and only one small section is for drawers and open shelves. The hanging rods and horizontal dividers are adjustable, so if you need a space for your long gowns, you can remove the horizontal divider and on of the lower hanging rods to accommodate them. The finish of the cabinets are unique. The face of the boards are laminated in white, wile the sides/edges have gray PVC siding, creating a unique contrast.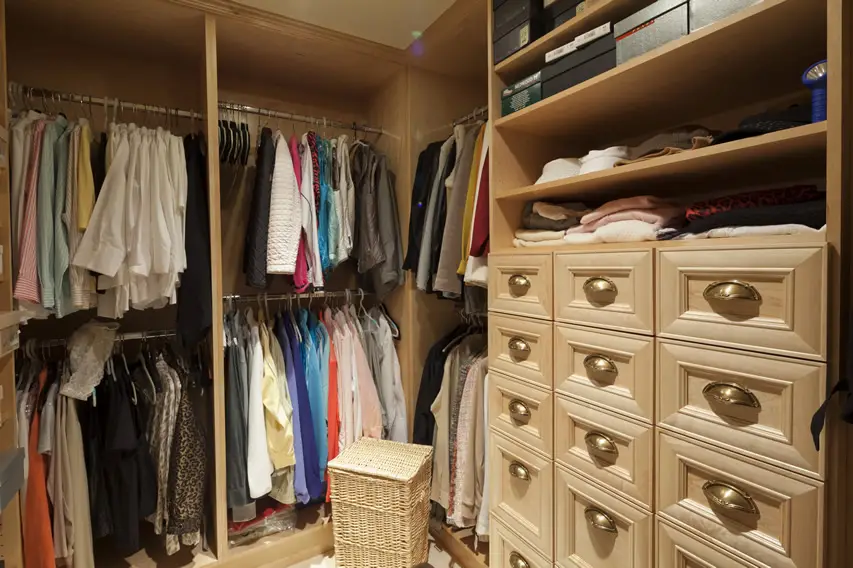 This is among the small walk in closet ideas that use a gorgeous light shade of maple for the finish of its open cabinets. The space for hanging clothes are separated from the shelves and drawers, allowing you to easily separate items. It also has cute small drawers in a variety of sizes with molding details and a classic brass oval pull.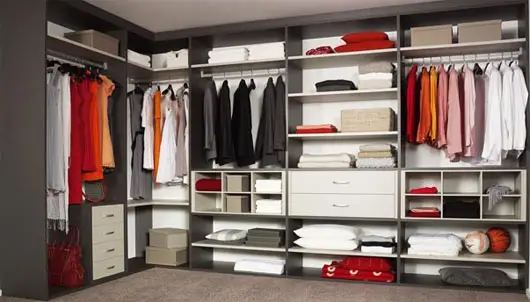 A modern walk-in closet which combines two laminate colors: gray and white. The gray laminates are applied on the main framing of the cabinets, while the white laminates were used on drawer faces and shelves. The shelves and drawers, however, are all fixed, along with the hanging rod, but there is enough variety of shelves and drawers for your storage needs.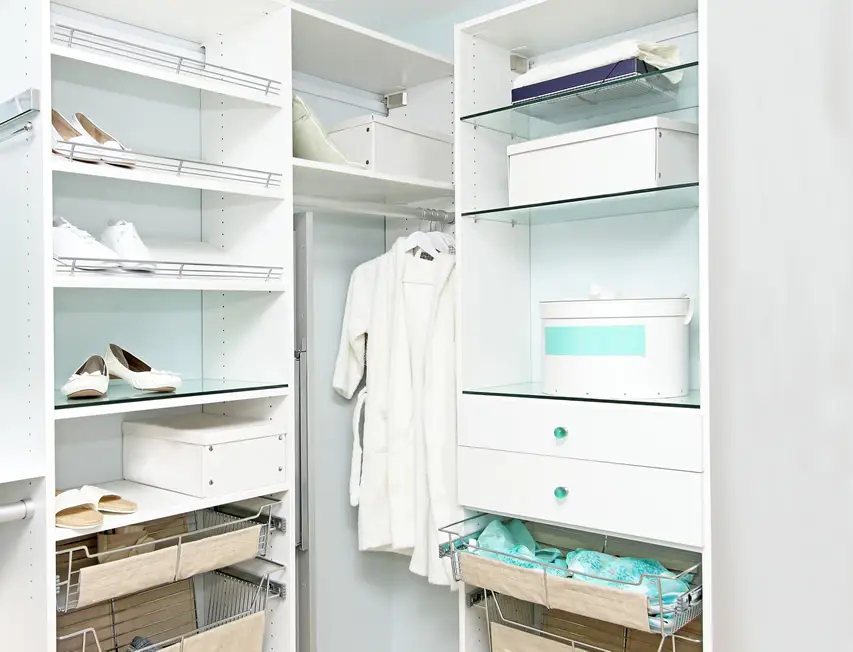 Because of the very limited space, this closet used a white modular cabinet with adjustable shelves. It also uses glass shelves give a more light and open feeling, as well as metal drawers. You will also notice the inclined shoe shelf which makes accessing your shoes easier.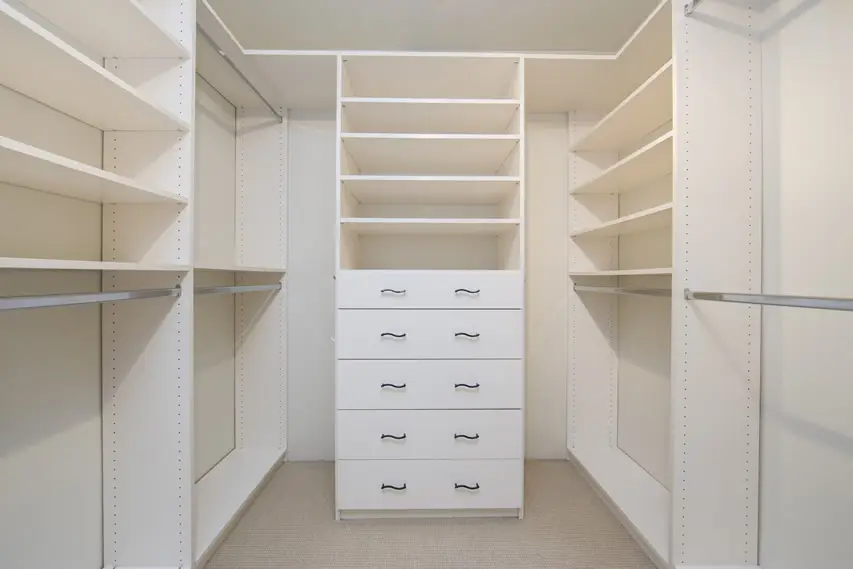 This small closet successfully uses all of the available wall for the cabinets, but avoids creating a corner for the cabinet to maximize the walls for the whole length of the hanging rods. 2 sides are mostly dedicated for adjustable hanging rods and shelves, while at the end are all the drawers and more shelves. The white laminates of the cabinets also help in making the space look bigger.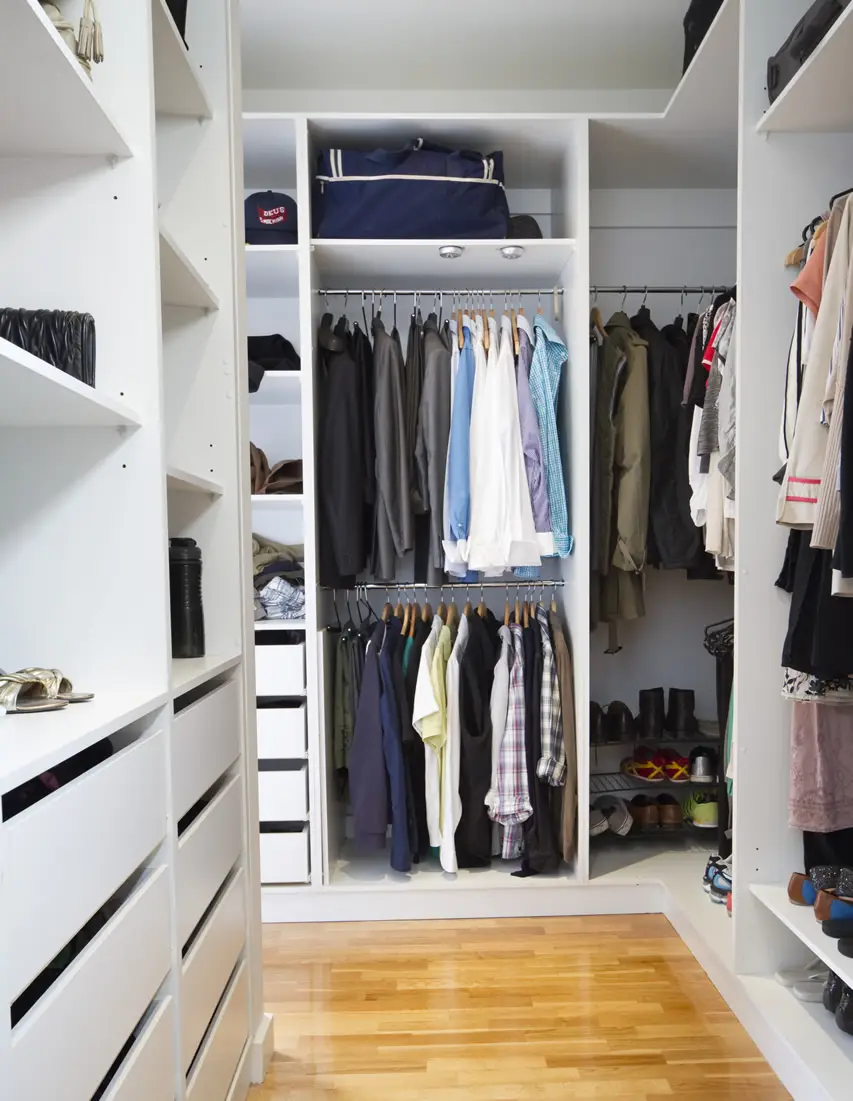 When coming up with small walk in closet designs its important to consider paint colors to help brighten the space and give it the appearance of being larger. Since this closet is small, it uses white-painted cabinets with no doors to help make the closet look bigger.
The cabinet design separates the space for hanging clothes with the section for open shelves and drawers. The open shelves are adjustable but limited to selected pin-mount heights, and the drawers are not fully enclosed so you can peek at its contents via its small upper opening/grab.
[expand title="Show Image Sources" swaptitle="Hide Image Sources"](1) jingdianjiaju1 from Flickr (Creative Commons License) (2) jingdianjiaju1 from Flickr (Creative Commons License) (3) jingdianjiaju1 from Flickr (Creative Commons License) (4) jingdianjiaju1 from Flickr (Creative Commons License) [/expand]