Welcome to our gallery of closet shoe storage ideas including luxury designs and how to organize with racks & shelving.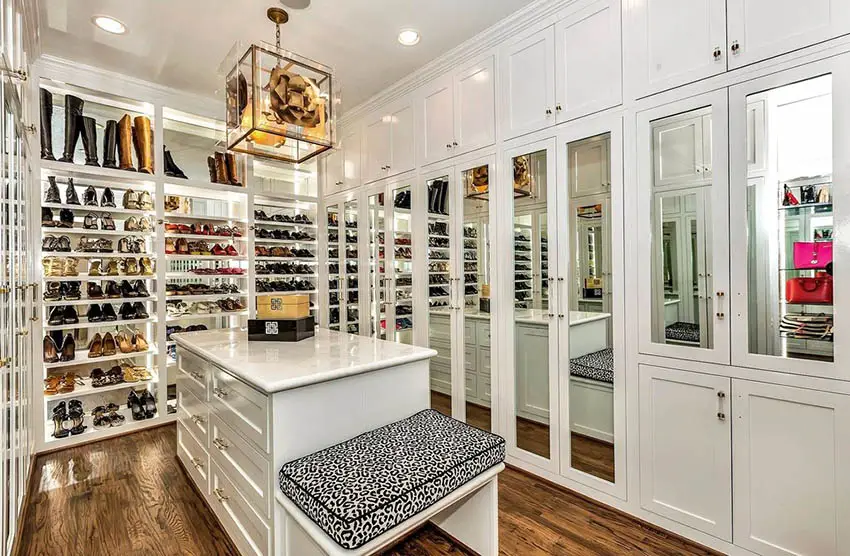 People who love fashion and dressing-up often run into the same problem: storage space. Not everyone has the luxury of space in their homes or apartments, and oftentimes, we have to make some sacrifices to make everything fit into whatever space is available.
Good to know however, that there are a lot of storage solutions and technology available on the market, and depending on your budget and your space and storage requirements, you might find one that works best for you!
Unlike clothes, shoes are a bit trickier to store. Some shoe materials need to be stored in specific temperature range to keep it at its best quality. Items like boots require more space and is quite tricky to store.
Some simply do not have not enough space for the amount of shoes they have. Depending on your closet size, preference and requirements, there are a couple of smart shoe storage solutions you can use.
The closet pictured above has a good amount of available closet space, and a lesser amount of shoes, so it's not too difficult to display everything in an open type shoe shelf.
To make the closet look bigger and help with getting dressed, a mirror backing and shelf lighting has been installed. Another cool addition is the marble countertop closet island with attached bench that makes putting on shoes to match an outfit much easier.
Shoe Storage Options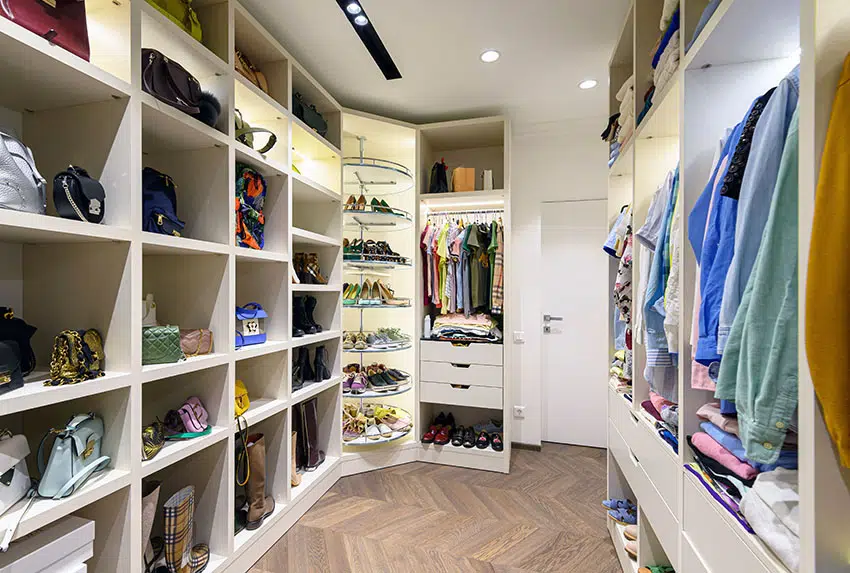 Here are some of the popular closet shoe storage options:
Shelves – The classic shoe shelf is usually made of wood or particle boards. Ideally, they have height-adjustable mounting brackets so you can easily adjust your shelf heights (this is especially useful for boots, heels and high-cut shoes).
Open shelving is often preferred because it lets you easily look through your collection of shoes. Other people add mirror backing to make the closet look spacier, as well as shelf lights to help you see the shoes.
Tip: Tilt the shelves a bit downwards (around 3 to 5 degrees) so you can easily view even your top-shelf shoes from the front.
Racks – Freestanding shoe racks are inexpensive and ideal for those with smaller spaces. Popular types include behind the door, three level and rotating racks. We share pictures of these with more information below.
You can use one of the many closet design software programs to try out different clothing racks, shelving and cabinetry on your own bedroom layout to create a functional and attractive space.
How to Organize Shoes in a Closet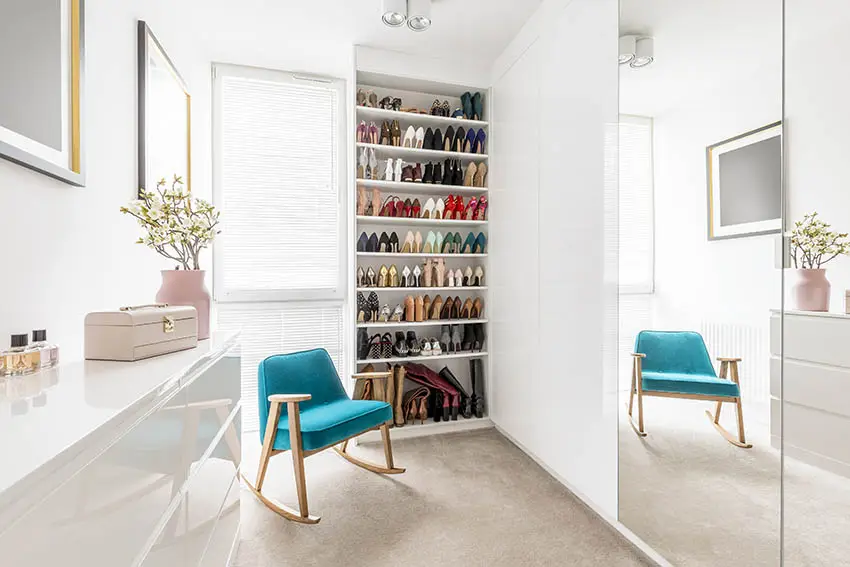 Maybe you're running out of storage space, or you find that your current shoe storage isn't really working well anymore. Or if you've been watching Marie Kondo on Netflix, it might have driven your urge to reorganize your closet. Whatever your reasons are, organizing you closet in general, has more benefits despite the initial labor required for it.
Evaluate your shoes – Take all your shoes out of your storage first and assess them all. This sounds very Marie Kondo, but after taking them all out of the storage, you might discover some shoes you haven't been using. This could be because you couldn't see it among the mess, or find shoes that doesn't really fit anymore or are severely damaged and should already be disposed. Basically, try to lessen what you have to store, if you can.
Separate your shoes according to type – group together your sneakers, heels, boots, sandals, etc. If you want to be even more specific, you can even organize it by color or how often you use them.
Choose a type of shoe storage – Check what type of storage solution would work best for the space available, amount and type of shoes you have. Wire and metal organizers usually don't work for heels, but would be enough for sneakers and flat shoes. Generally, wood or any flat surface shelf works for most types of shoes. Also consider getting height-adjustable shelf options as it will make it easier to organize
Store according to category – we all have different needs, so make sure you store your shoes according to how you like it. Consider placing your favorite pairs in easy to access shelves, and placing your "special occasions only" and seasonal shoes on the higher shelves. It would also help if your shelves are tilted downwards so you can easily see all of your shoes
Shoe Closet Storage Designs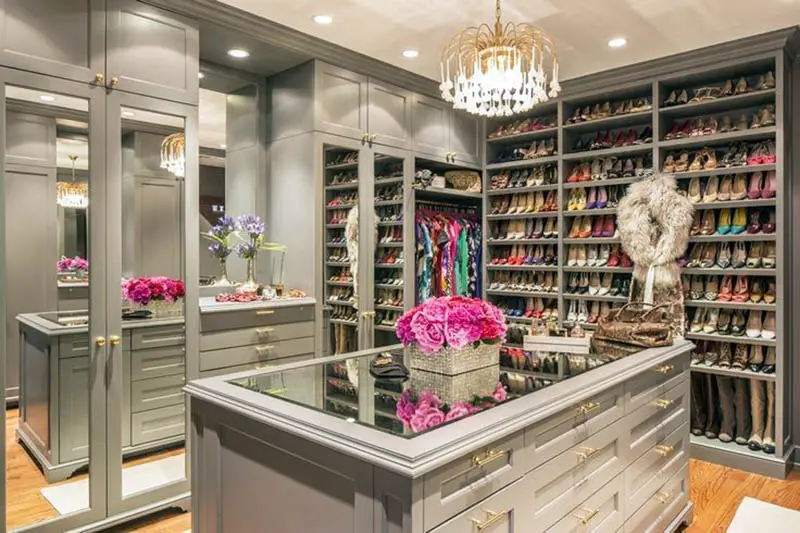 Similar to the other example, this walk in closet design features an open shoe shelf. This example, however, places the boots storage at the bottom, and tilts its shelves downwards to maximize available space and be able to clearly see the shoes from the front.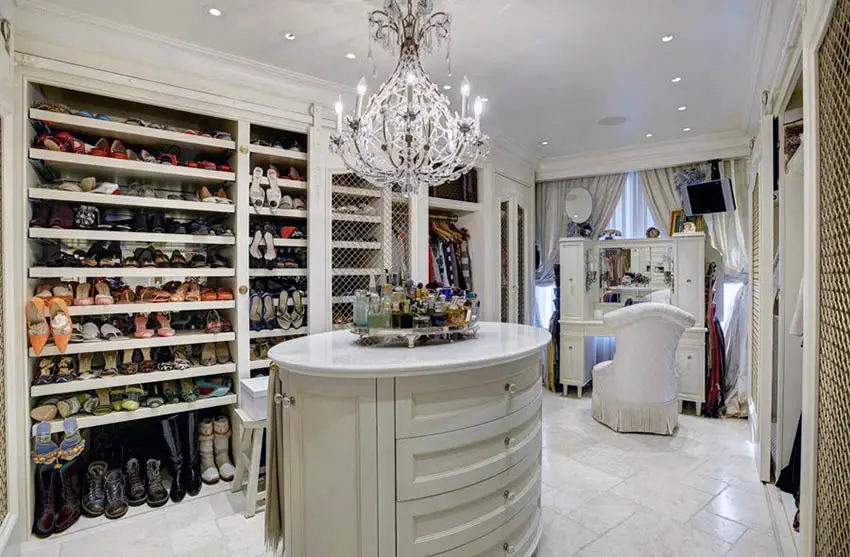 Compared to the two previous examples this shoe storage uses adjustable metal brackets to hold the shelves in place. These brackets are attached on a slotted metal support which will allow you to move the height of your shelves as needed.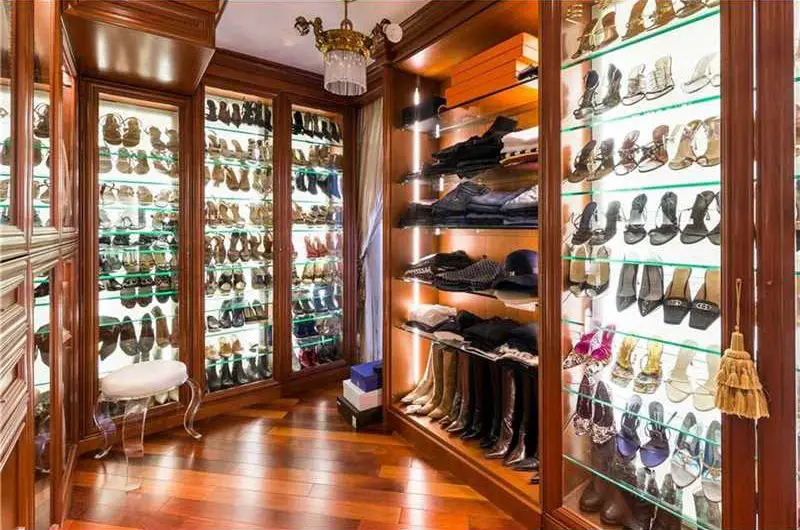 If you don't like how wooden shelves look, then you can also use glass shelves to store you shoes. This will make your shoe closet look a bit lighter and will allow you to use less lights to illuminate the shelves.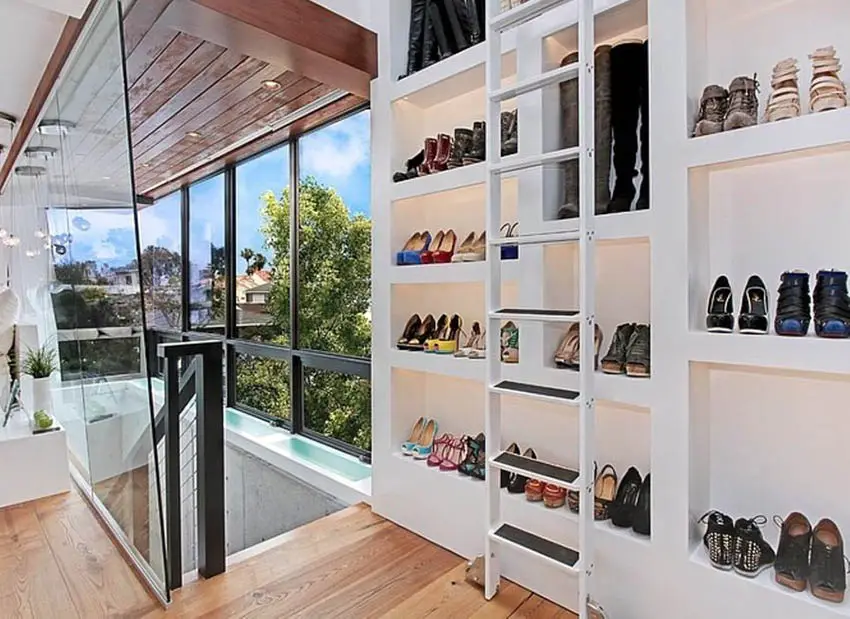 Turning this wall into a built-in shoe display shelf is a great way to maximize the wall space after the stairs. A movable ladder has also been attached for you to easily access the shoes stored in higher shelves.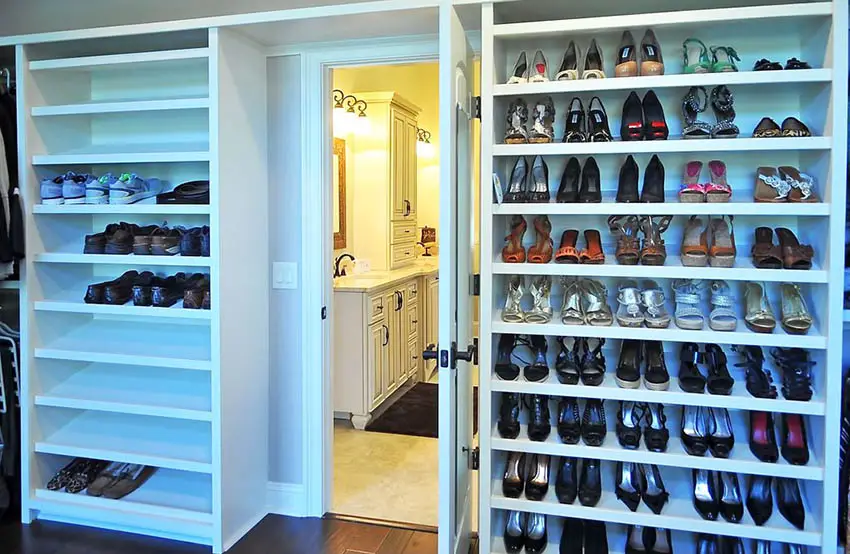 This layout maximizes the space around the door for shoes storage. If you have a similar layout at home, this is a good idea if it fits your needs.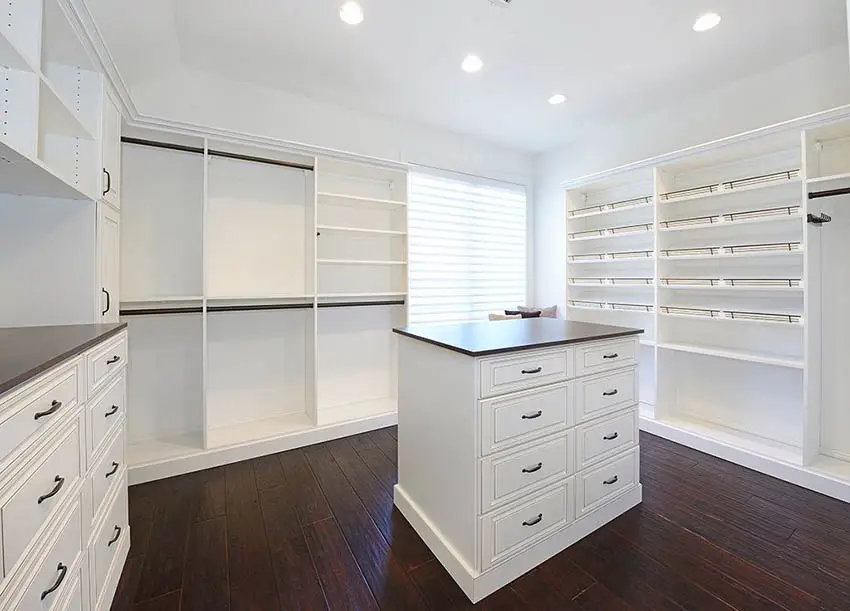 You can also integrate your shoe shelves with your clothes cabinet. This example shows open type closets with integrated fixed height shoe shelves.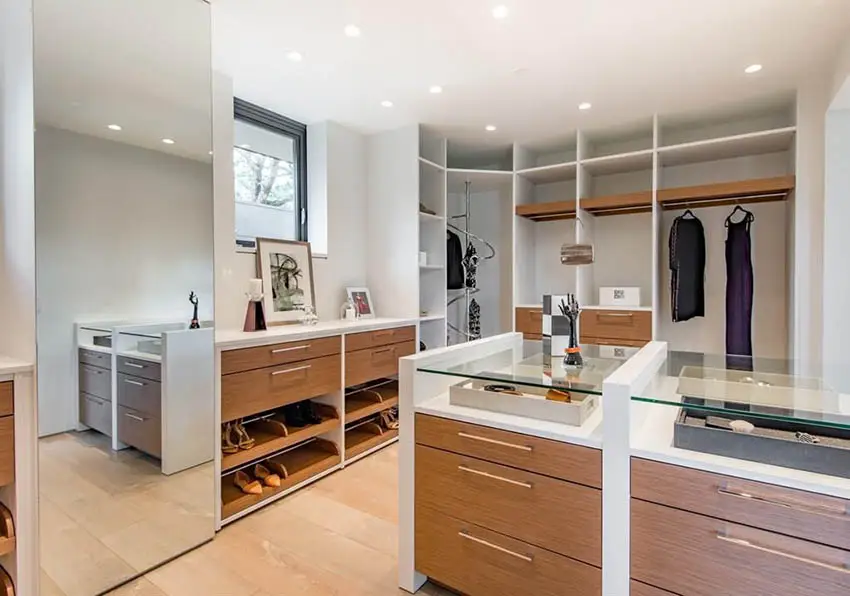 If you don't have as much shoes as the other examples, then this storage solution might work for your needs. This is an open drawer/pull-out type shoe shelf, in which the shoes are kept only on the lower part of the cabinets.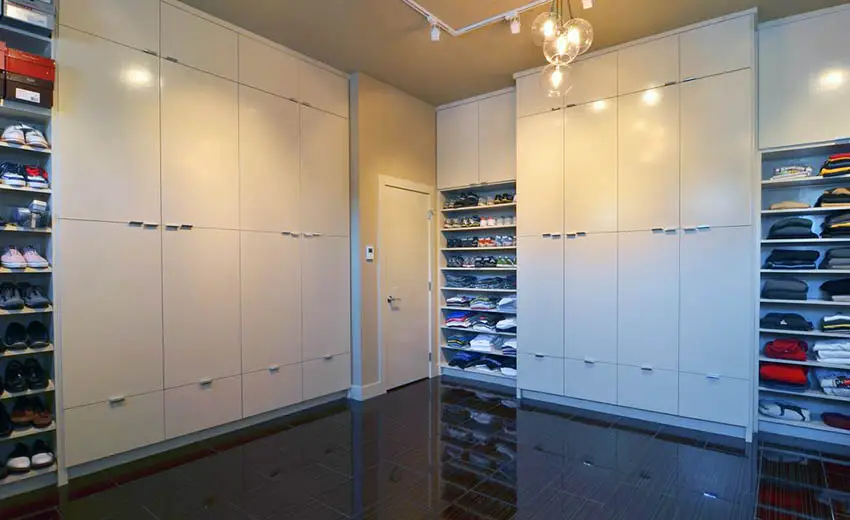 This closet shoes a mixture of open shoe storage and closed cabinet storage which definitely maximizes the amount of shoes stored. However, this are usually done only if you have as much storage space available.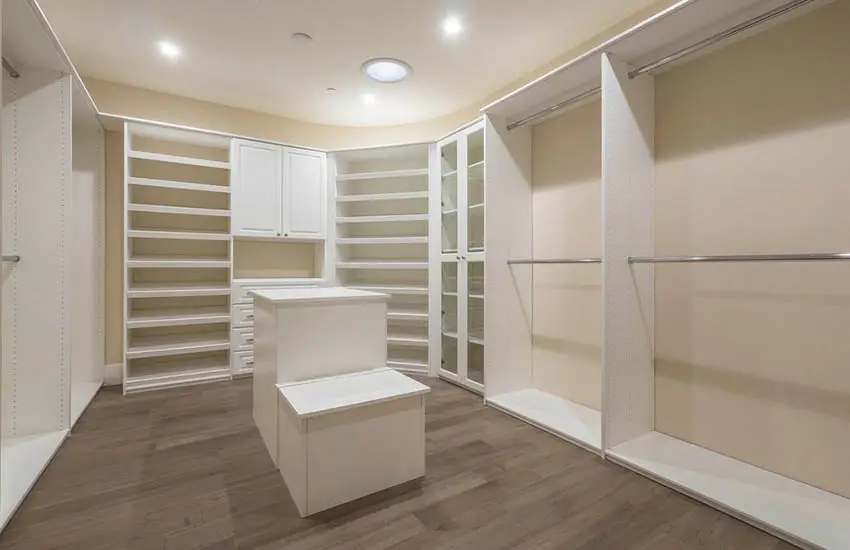 This is another built-in open type shoe shelf with height-adjustable tilted shelves.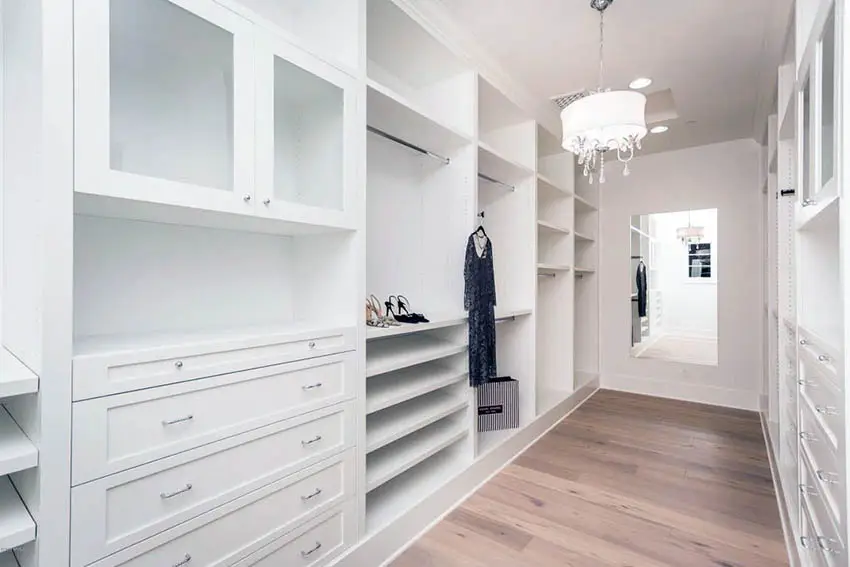 If you don't want to have to use a stool or reach over to get your shoes on the topmost shelves, consider installing shoe shelves similar to this example – placed only until the middle level of the cabinet for easy access.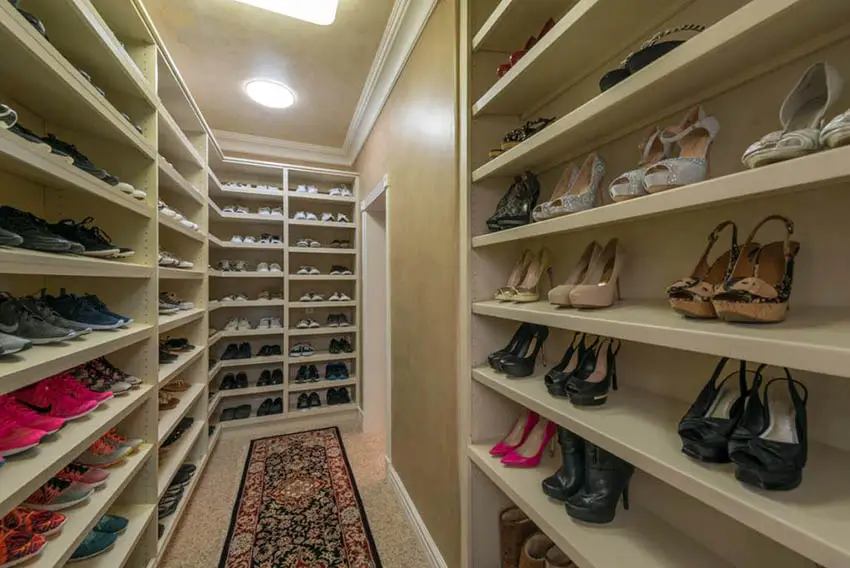 This is a closet dedicated for shoes with pin-mounted brackets to easily adjust the shelf heights.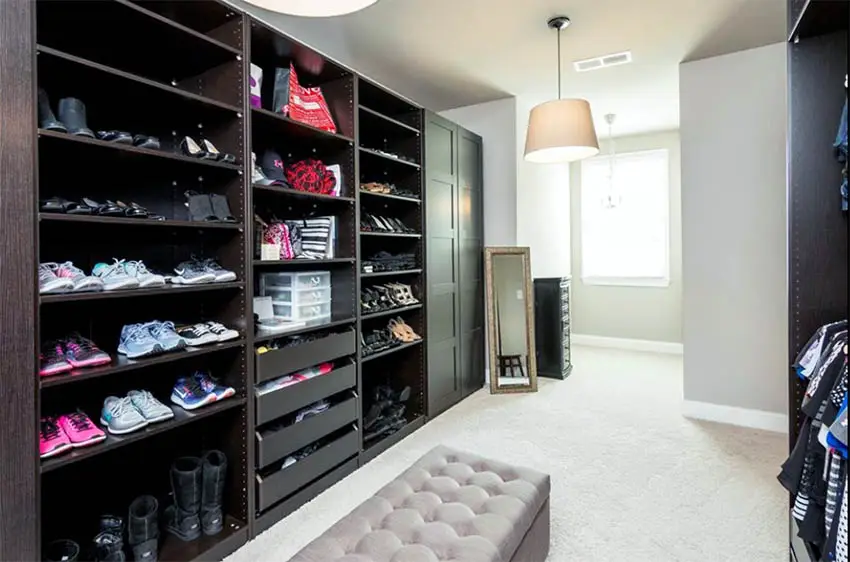 Another mixed used cabinet combining shoe and clothes storage. This laminated closet also uses pin-mounted height-adjustable shelves.
Shoe Shelves for Closet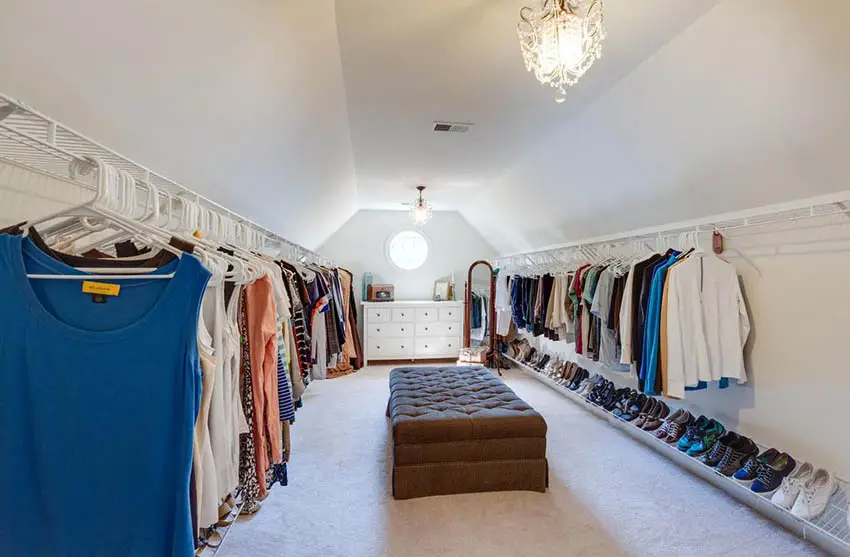 This attic closet doesn't have much ceiling/wall space, so instead of a tall cabinet for shoes, it uses the whole length of the walls for a wall-mounted metal shoe rack.
Sliding Shoe Shelves
This is another storage solution for limited closet spaces, although it also does take a bit of space, but it does help double your shelving capacity without taking too much room. This works by layering 2 or more shoe shelves and attaching the front shelves on a sliding hardware.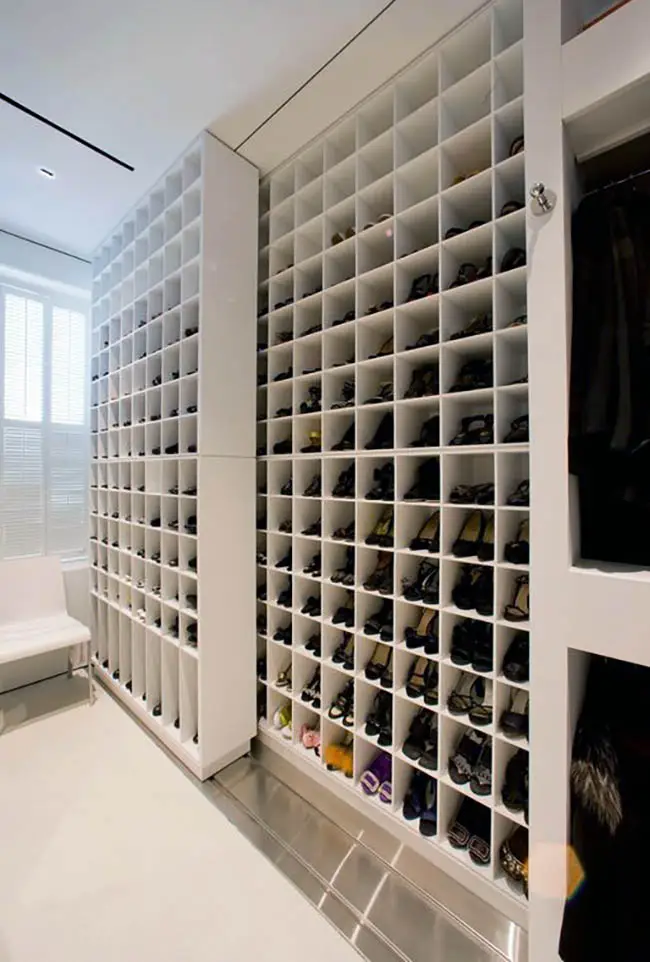 A custom sliding shoe shelf rack is a really nice storage solution if you have a lot of shoes to keep but not enough space. This allows you to double-stack your shoe storage space.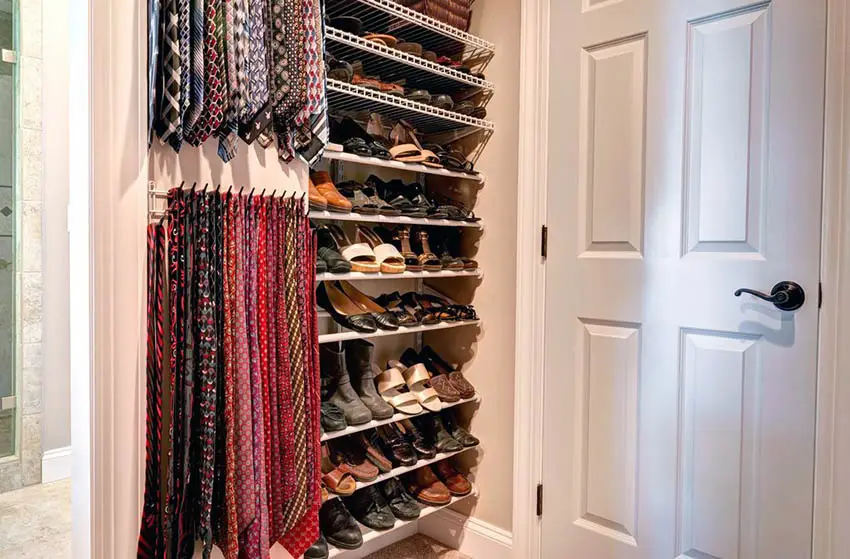 For small spaces, adding wooden shelves might be too space consuming, so a good alternative would be using height-adjustable metal shelves that you can easily purchase and install in any small nook/space available.
Behind the Door Shoe Rack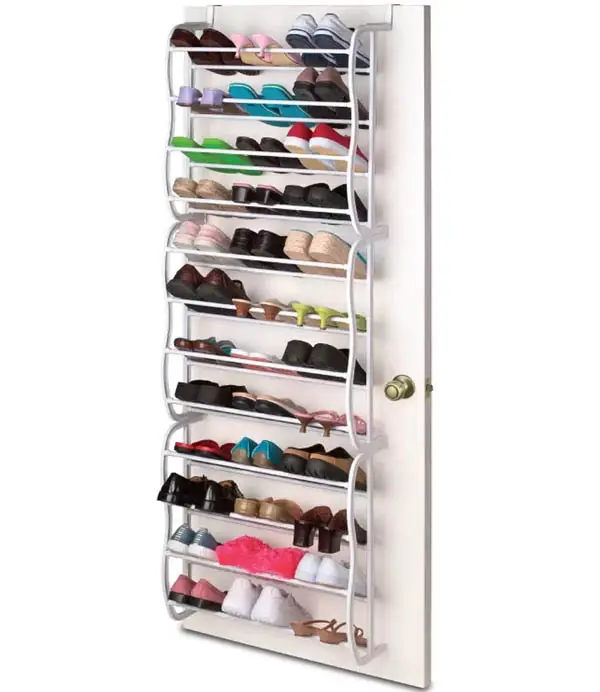 Behind the door shoe rack – See at Amazon
Freestanding & Behind the Door Shoe Racks
If you simply have no more space in your room or closet, you can simply add a freestanding shoe rack that you can move around as needed, or get one of those shoe racks that can be connected to the back of your door. The closet door racks are able to hold many pairs of shoes, but just make sure that your door hardware and material is sturdy!
This behind the door shoe rack simply hangs on the top rail of the door and runs the whole height of the door, allowing you to use the space for shoe storage. If you'd like to use something similar, do check your clearances and make sure it doesn't hit anything or any wall.
Best Shoe Rack for Closet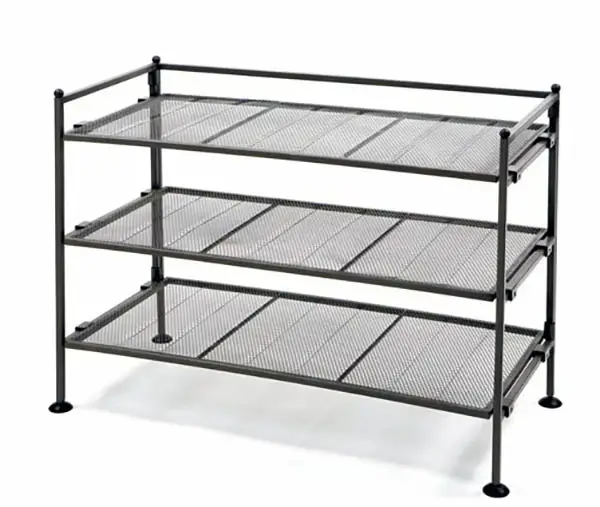 Three level shoe rack – See at Amazon
3 Level Shoe Rack
You can place these freestanding shoe shelves on any existing cabinets to instantly make use of the bottom space of your cabinet. Read more about popular shoe rack dimensions here.
Rotating Shoe Closet
A rotating rack design is great if you're out of space but in dire need of shoe storage space. These rotating shoe closets are often made built-in and are able to make use of the dead corners of closets.
If you don't have the budget or the space of a built-in rotating shoe closet, there are also freestanding rotating shoe hangers which does a similar job, albeit stores less amount of shoes.
This is a built-in rotating shoe closet placed on the corner of the closet, allowing you to maximize the dead corner space.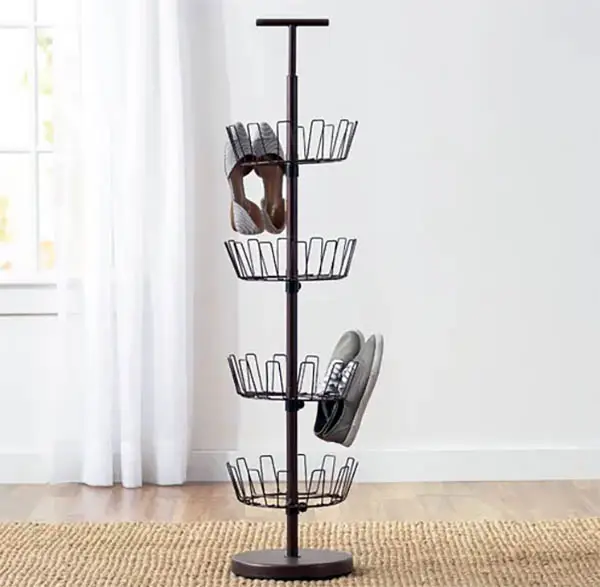 Rotating shoe rack – See at Amazon
This rotating metal shoe hanger allows you to store a few pairs of shoes but occupies only a little space. Do note however, that this type of shoe rack isn't able to store all types of shoes unlike shelves.
Shoe Storage Ideas for Small Closets
For small closets, you are really limited when it comes to storage choices, and depending on your current layout, a few of these might work for you:
Portable Shoe Cube Racks – These racks come in a variety of styles and can be used to display anything you want.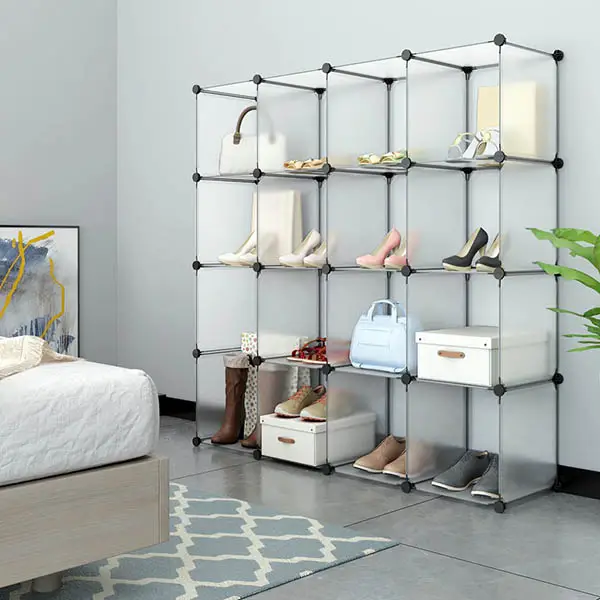 Shoe cube – See at Amazon
This shoe cube has a frosted plastic design that is attractive enough to be placed in your bedroom or it will look just as good in a closet.
Metal Grid Panels – You can attached them or hang them on a wall or in your closet. These metal grid panels can be used to hang shoes with heels.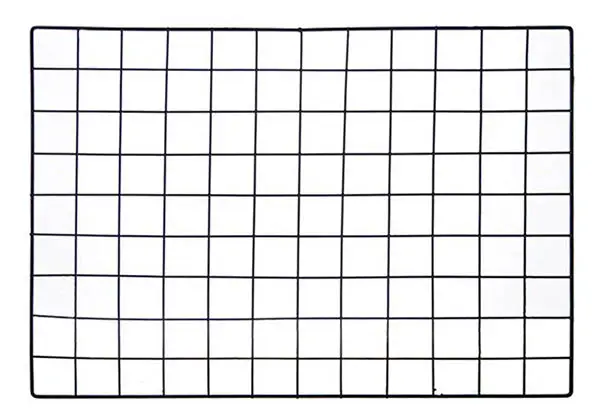 Metal Rods – Use metal rods to create a small shoe shelf at the bottom of your closet area or buy an inexpensive pre-made kit.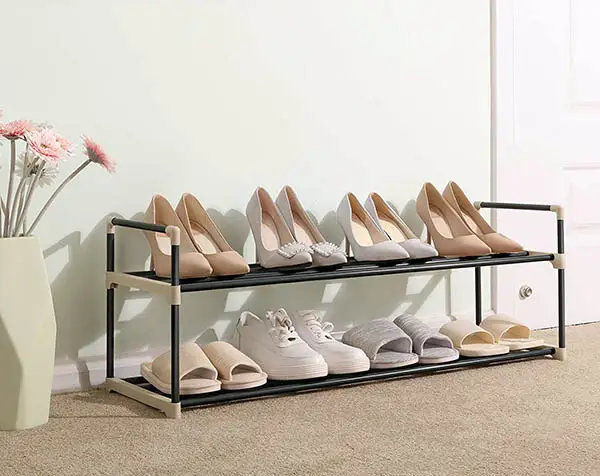 Small metal tube shoe storage rack – See at Amazon
Behind the Door Shoe Shelf – If your door has enough clearance behind it, this can also work well.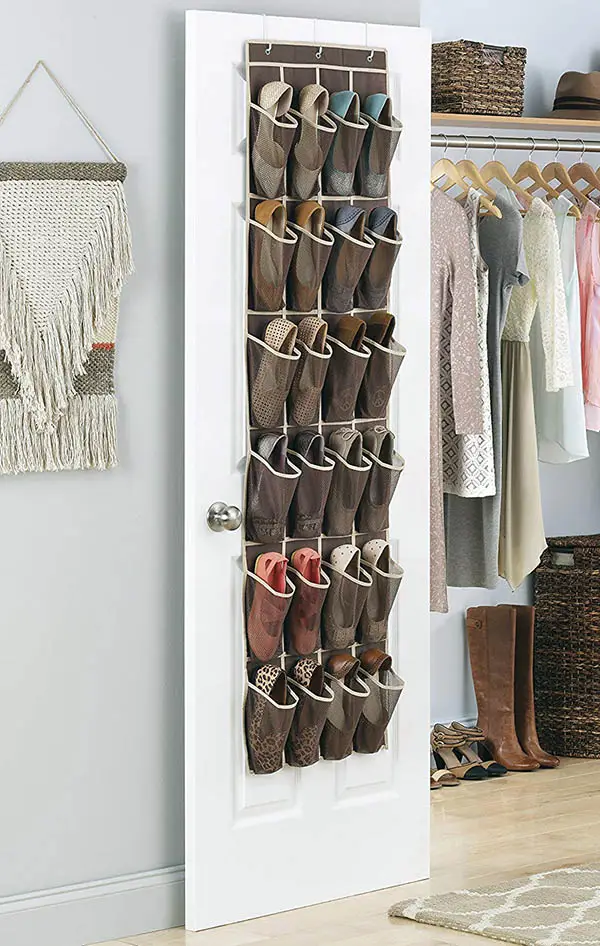 Behind the door shoe storage – See at Amazon
Shoe Stacker – You can buy space-saving plastic shoe stackers to place at the bottom of your cabinets. This will allow you to save space and store quite a few pairs of shoes. You can also use these on existing shelves to save even more space.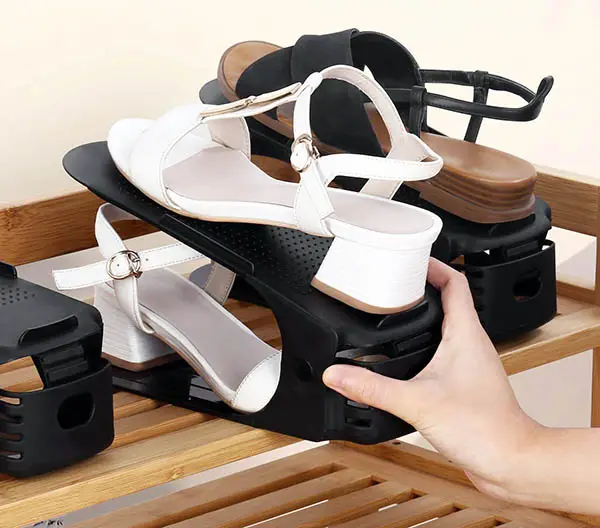 Plastic shoe stacker – See at Amazon
Visit this page to see more walk-in closet ideas and designs.