Welcome to our guide to the best 15 closet design software including free, paid, 3D, apps & online programs.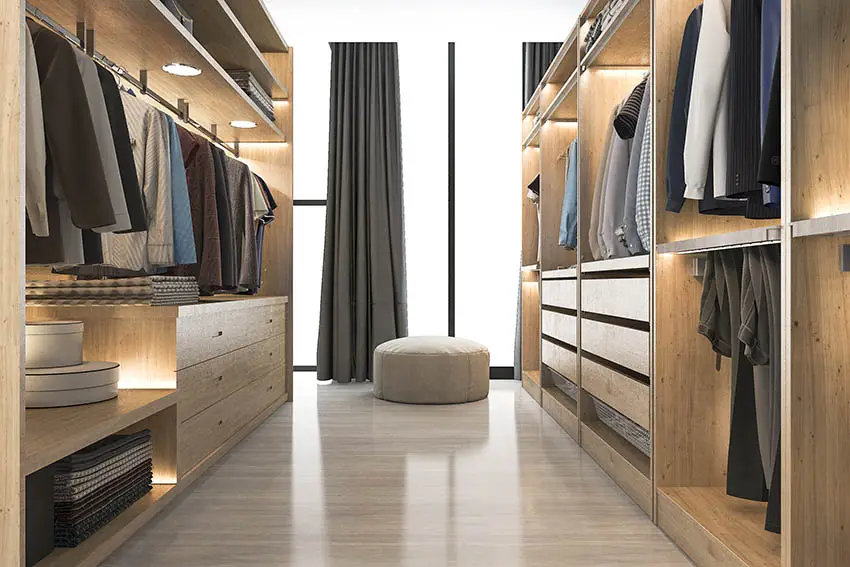 This article will give you some of the best online closet design software to assist you in designing and organizing your home closet which can save money and simplify your life.
Whether you are building your dream house or remodeling your home, you want your closet organizers done right and tailored to your personal style. Stress no more and achieve that storage solution systems of your dreams at your fingertips.
Just by investing a little bit of your time, you can create your own reach-in or walk-in closet design using some awesome online closet organizer software for free.
Free Closet Design Software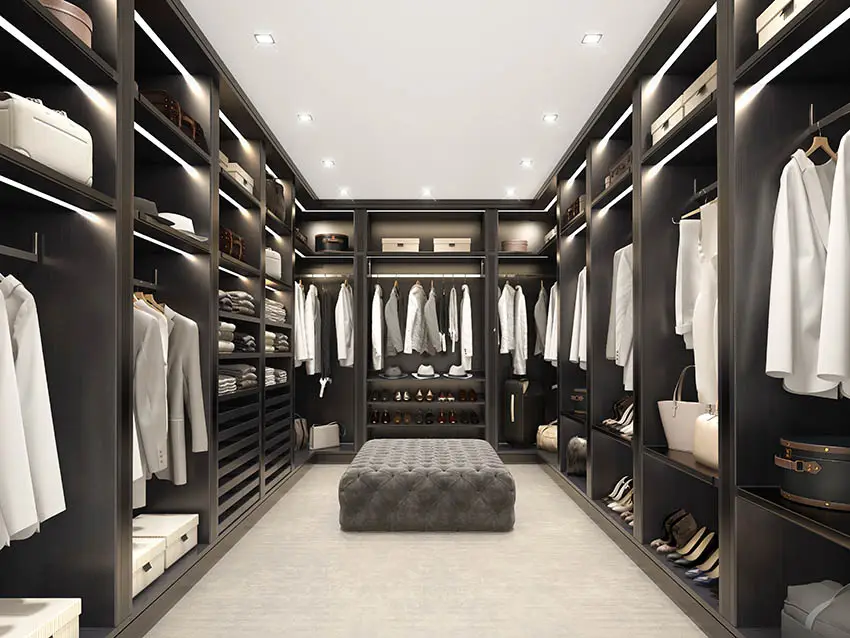 Nobody wants to spend ages trying to find the right shirt or have their clothing scattered everywhere. Clutter and mess can be very stressful; but a well-arranged closet or wardrobe space makes for an organized mind.
Though hiring an interior designer to design and plan a walk-in or reach-in closet is the next best thing, it can also be expensive. Fortunately, homeowners can now customize and design their closets using free closet design software which they can use online and be able to transform their closet dreams into a reality.
These programs have free versions available. However, many of them have advanced features such as additional images, colors and design styles behind a paid version.
EasyClosets
EasyClosets is a custom closet company which offers high quality, durable, custom closet organization and storage system. EasyClosets component parts and hardware pieces are designed for self-installation which helps customers save big on the project.
EasyClosets also features a very impressive free online planning and design tool which allows customers to design their own closets, wardrobes and storage. This design tool makes customization easy from providing dimensions, choosing of materials, colors to configuration of other organizational elements.
It also offers a free design review and recommendation from their professional design team to aid customers to double-check that everything fits and all orders will work in the space provided. Live price updating is available and ordering customized closet directly from their website is stress-free.
EasyClosets Video Tutorial
Easy Closets Website: https://www.easyclosets.com/design/
Closet Organizers USA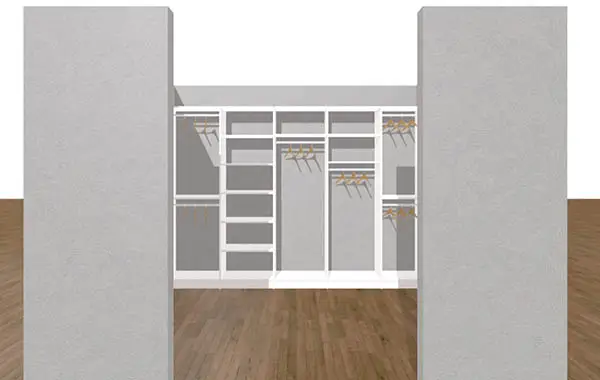 Closet Organizers USA features a free online closet organizer design service to help homeowners design their own closet system using the Closet Organizers USA design tool.
At the same time, the homeowners have the option to get support from a professional space management designer to enhance any closet organization and storage space.
Simply by filling up the closet design questionnaire online, the form can be saved across devices such as desktop, tablet and smartphone and then email to design@closetorganizersusa.com and expect return of the drawings within 24 hours. This design tool is very easy and safe to use.
Closet Organizers USA design tool creates a beautiful, custom closet layout using the measuring guidelines and design basics.
With closet organizer unit specifications, homeowners are able to build custom closet organizers for walk-in closets, reach-in closets, pantry shelving, linen closets, office shelving or any home or office area that needs organizing.
Closet Organizers USA Website: https://you-design.closetorganizersusa.com/weblogin.aspx
Home Depot Closet Layout Tool
Home Depot has partnered with SimplyNeu to offer a free online closet design tool. To get started you select from a reach-in or walk-in closet shape. Then enter in your closets measurements and select from several different storage configurations to visualize your project.
E-design services are a growing market, and Home Depot is giving the best service for their customers by working directly with a professional on staff designer to assist customers in creating a personalized closet system from initial consultation to the final reveal of their closet design, completely free.
This Home Depot Layout Tool is accessible online with no download needed. It allows customers to select the room they are interested in designing and select a design package which can be customized by using the resources, supplies and an increasing array of ready-made products from Home Depot.
The design tool is capable of estimating instantly the price for the cabinetry design or help customers design a solution which would best fit the customer's needs and budget.
Home Depot Closet Tool Website: http://www.simplyneu.com/start-design/closet/
Ikea Pax Planner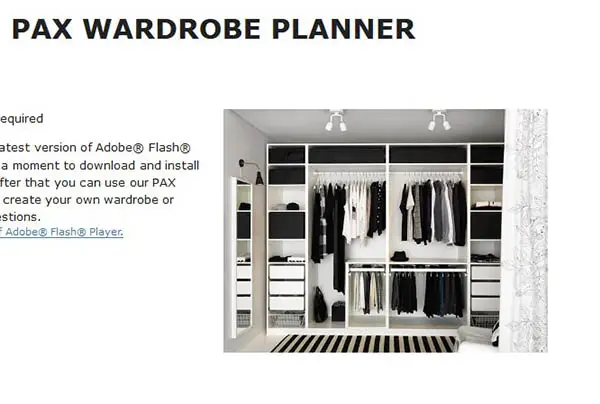 IKEA Pax Planner is an in-browser applications built using Flash, so choose a browser wisely – for now Chrome works best; you may also get plug-ins for Firefox and Internet Explorer. IKEA Pax Planner is unavailable for iPads/iPhones due to it running on flash.
At the same time, IKEA Pax Planner is a total wardrobe solution with a flexible wardrobe design system in many styles and customizable functions which allows customers to layout any room they want to design.
Customers can start with one of the many pre-designed combinations. Additionally, one can build their own reach-in closet design from scratch by providing the exact measurements of the area into the dimension fields.
This design app offers many different ways to organize and customize closet systems depending on their needs and style; as there are a lot of cabinetry materials and product accessories options to choose from.
Ikea Pax Planner Website: https://www.ikea.com/us/en/planner/pax-planner/
Online Design Tools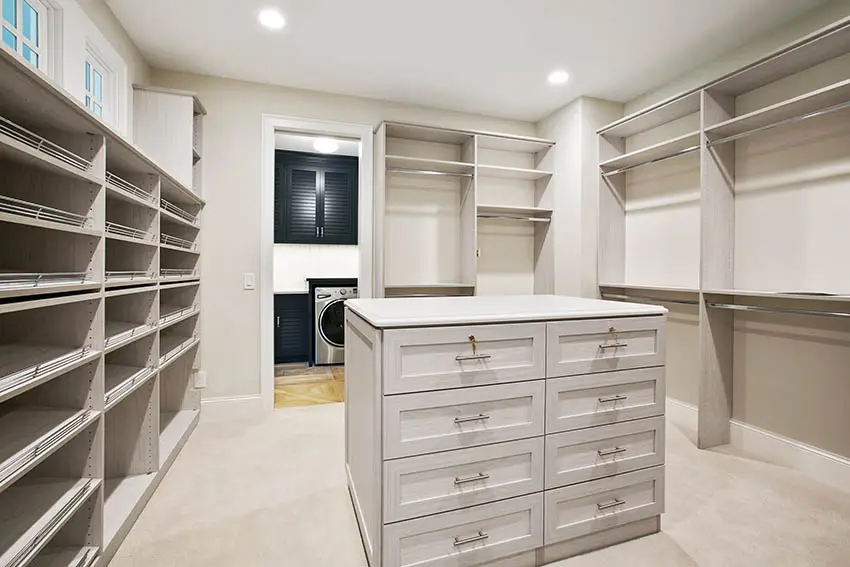 The following online design tools allows users to personalize closet designs; after submitting their design this online tool calculates the price for the whole closet system and gives the users an option to purchase their customized closet system from these manufacturers.
Elfa by The Container Store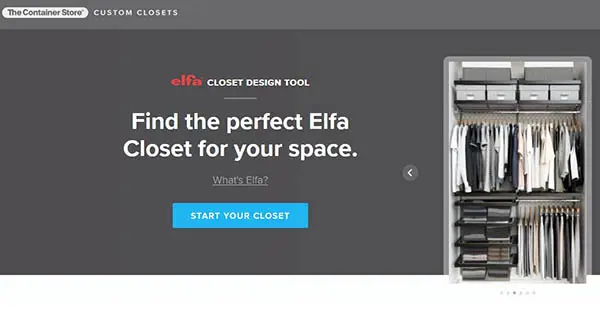 The Container Store is one of the leading specialty retailer of storage and organization products in the United States. As part of their dedicated customer service, they have created a solution that will enable their customers to save time by providing free in-home or free in-store design consultation. They also offer an online closet design tool – Elfa.
This is an awesome interactive design software which allow customers to design their own reach-in closet by providing the dimensions of the closet space and customizing design using Elfa closet design tool with custom closets template guaranteed to fit any closet space, budget and style in minutes.
Once customers have customized and designed their closet space, they can now purchase their perfect closet by door-to-door delivery or avail of the store's Online Order Curbside Pickup. elfa™ also offers Installation service or customers also have the option of installing elfa™ closets DIY.
Elfa Closet Design Tool Website: https://www.containerstore.com/design-center/walk-in-closet-design-tool
Closets to Go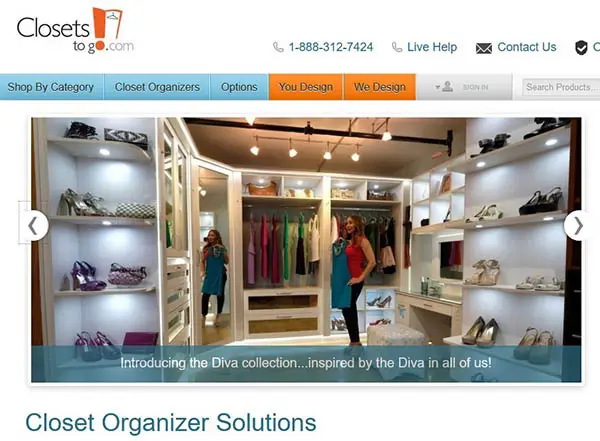 Closets to Go offers an easy online closet design tool enable users to create their closet or wardrobe design project from beginning to the end on the user's own terms.
This online design program allows users to build, save and make changes in the design.
When satisfied, users can save their customized closet designs and the company's in-house design staff can review and walk the users through the process of buying the newly designed closet system.
Closets to Go Video Tutorial
Closets to Go Website: https://www.closetstogo.com/
Closets.com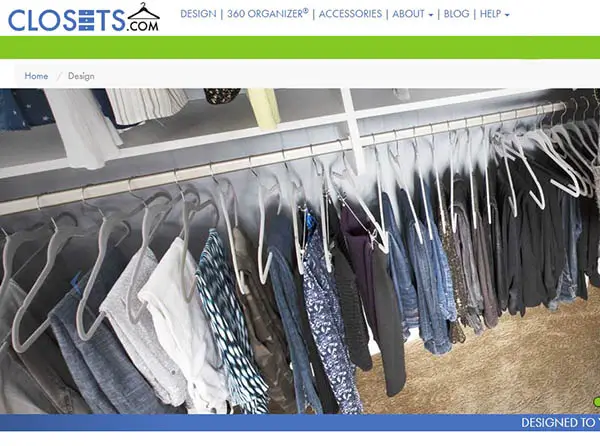 Closets.com offers customers free use of their online design tool with instant price quotes which aims to guide customers in creating their own design and specification. Customers are also able to see their designs rendered in 3D.
For customers who prefer to have their closet space be designed by their in-house designers, Closets.com offers a professional design service which is free of charge to all customers.
We hope that the different closet design software, which we have featured in this article will help you save time in creating the perfect custom design closet of your dream by designing your closet on your computer from the comfort of your home.
Many types of closet design software will allow you to see the total price and accordingly changes with each update you make to your design. By using different closet design software or application, you are able to investigate which offers the best price for you; thus, saving you money.
By using a closet design software online or offline, you will have the advantage of preventing errors from occurring while trying to complete a real-life custom closet design.
If in case, you opt to hire the services of a custom closet manufacturing company it is certain that they will build a solution that suits your design needs. These in-house professional designers will guide you in getting exactly what you need, which will suit your space.
Closets.com Website: https://www.closets.com/design
Easy Track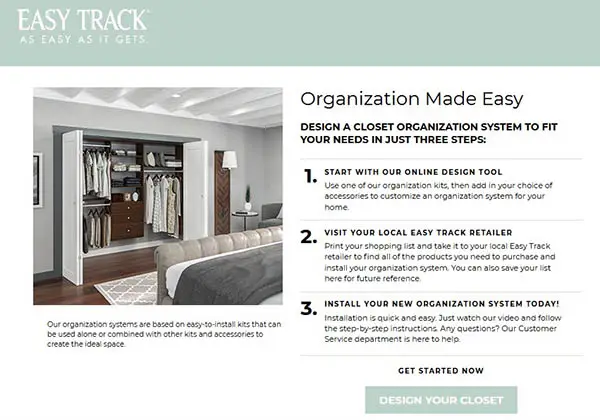 Another excellent online service is Easy Track, it is a free user-friendly closet organization software tool which offers a variety of closet organization products.
This design tool allows customers to draw a floor plan, mix and match each section of the closet using their "organization kits" and enables customers to save their design.
It also enables customers to add their choice of accessories, view live price update for the whole design scheme. Easy Track also offers an option to generate a shopping list of products and accessories to be bought from a local Easy Track retailer or reliable vendors.
Easy Track Tutorial Video
Additional videos that provide step-by-step instructions on how to install the closet system are available on the website or Youtube channel..
EasyTrack Website: https://design.easytrack.com/
ClosetMaid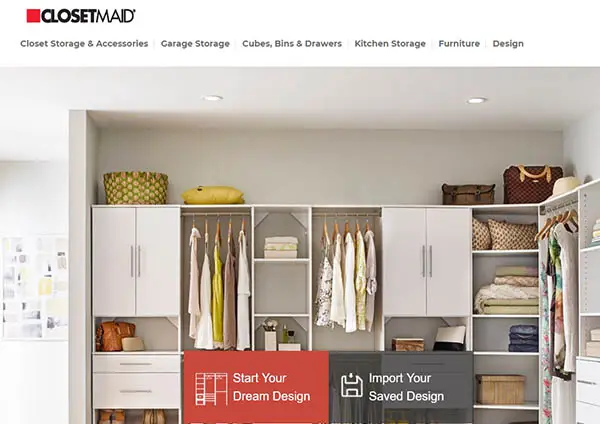 Customizing the exact needs for installing a new closet or storage system is made possible and easy by ClosetMaid which offers a free online easy-to-use design tool with their DIY systems including SpaceCreations and SuiteSymphony.
This allows customers to design their own dream closet and transform any area of their home with customizable solutions to fit all their storage needs.
This design app lets customers select the type of closet they want – walk-in wardrobe closet, reach-in closet or even a custom space layout.
Based on the information the customer provides, the design tool offers a variety of design options for customers to choose from to customize their own dream closet design style.
Customers can save and print their design or have the option to buy online. ClosetMaid also offers Professional Design Services. This allows customers to import a saved design, answer design questions and within a few days will receive two professional design variation including a product part list and an option for where to buy – all these for only $5.
Closetmaid Video
Closet Maid Website: https://closetmaid.com/
Organized Living
Organized Living offers a state-of-the-art, easy to use Online Design Tool for creating the perfect closet and providing their customers the best home organization and storage solution.
Organized Living Online Design Tool features multiple components, full functionality of its control panel, enabling customers to rotate and pan the closet to view every angle of their closet design.
It provides custom-generated styles from basic to fully packed designs and allows the user to add on custom accessories or make modifications.
This design tool allows customers design their custom closet on their desktop or tablet and send the designs to their professional design team to review. Customers' designs can be saved, edited, shared, printed or emailed.
Organized Living Video Tutorial
Organized Living Website: https://designer.organizedliving.com/onboarding/Bedroom%20Closet
Design Apps for Designing Closets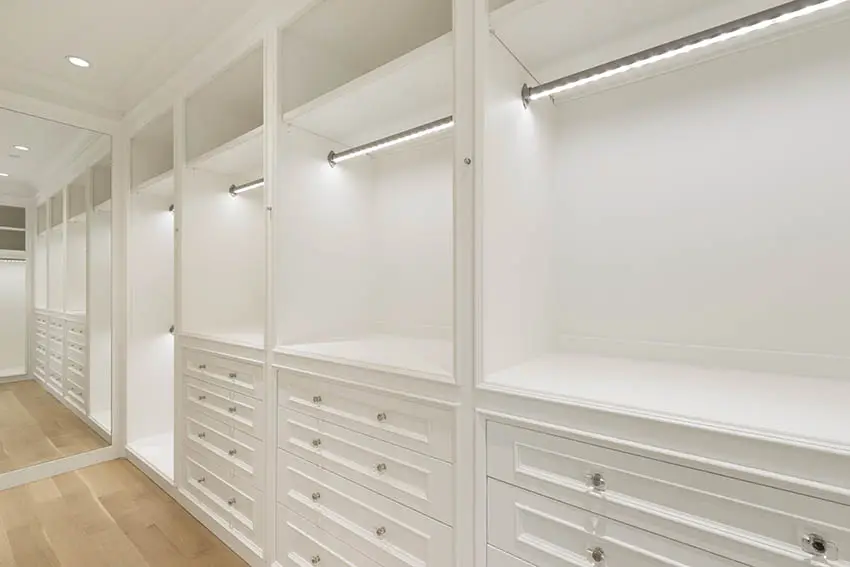 The following closet design apps work best on mobile devices such as Android or the Iphone. The type of device the program is compatible with is specific in the description.
Closet Planner 3D for Android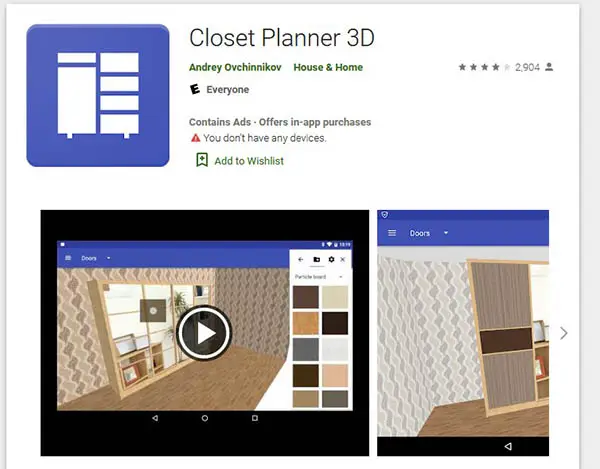 Closet Planner 3D is a free software application which can be easily used by both professional and amateur designers. Currently, this 3D design software is available in English and the program can be installed on devices using Android as its operating system.
Closet Planner 3D latest version 2.7.1 has 12.58MB file size and available for download from https://www.soft112.com/ under the subcategory Plan Interest and as part of the Home & Hobby category.
Closet Planner 3D 2.7.1 allows designing every detail of the customized closet in real time. Available functions are divided into two versions – Free version and Pro version.
Free version allows the user to adjust the content of the wardrobe such as shelves, partitions, pantographs, baskets and other modules. It also permits the user to configure sliding doors such as mirror, particle board and glass.
This version also has room, floor and wall color settings. Another feature of this free version is that it allows saving the wardrobe images and opening of the project possible.
On the other hand, the Pro version having the same functions that of the free version, has added features such as it enables the display of the shelves sizes and its dimensions.
The Pro version makes it possible for the user to undo the action which makes it more convenient perform changes in the design. This version also allows importing and exporting of the project for file transfer between devices or sending by email.
Closet Sketcher 3D Video
Closet Planner 3D – Android download on Google Play: https://play.google.com/store/apps/details?id=com.closetsketcher&hl=en_US&gl=US
Sketch Arm – 3D Closet Designer 2.0 for Iphone
Sketch Arm 3D Closet Designer version 2.0 i is an free software application that is compatible with Apple Iphone devices.
Sketch Arm 3D Closet Designer helps the user create and conceptualize in 3D a fully customized closet with its intuitive interface.
This design tool allows designers to easily divide the closet into compartments, create shelves and partitions, add accessories, customize door design in detail and makes it possible to combine several panels with different colors and materials.
Sketch Arm 3D Closet Designer also features total interactivity and enables designing in real time. It also includes auxiliary tools such as automatic adjustments of the design grid and precision tool for ease in the design process.
This software also features a library for accessories, illustrated basic guide, sample projects and video tutorials for closet designers.
Sketch Arm 3D is available in English and in Spanish with iOS 6.0 as its operating system requirement and has a file size of 45.72MB. This app has been updated by Apple making the interface lighter, modern and clearer; and it is compatible with iPad.
Sketch Arm 3D Video:
It is available at https://www.soft112.com/ under the subcategory Food & Drink and as part of the Home & Hobby category. Sketch Arm 3D Website: www.sketch-arm-3d-closet-designer-ios.soft112.com/
Read more about Sketch Arm for Apple devices: http://sketcharm.com/
EZ Closet+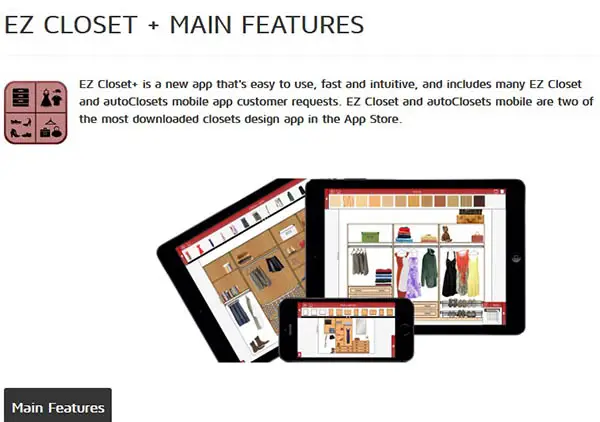 EZ Closet is one of the most downloaded free closet design app in the App Store. It allows users to design a closet using their iPad, iPhone or iPod. It requires iOS 8.0 operating system or its later version.
EZ Closet enables users to design using measurements in millimeters, centimeters, meters or inches. It allows users to select up to four walls with different lengths and let the user to drag and drop cabinets and accessories in the design.
Users can also modify their elevations, height and depth of the cabinet by entering the values for a more accurate specification; change materials for cabinets and accessories independently; create material combinations for walls by selecting among paints, tiles, wood and marble.
EZ Closet can also automatically generates a list of items incorporated in the design and it includes a file manager to enable users to save, open and delete designs across all devices.
One of the best features of EZ Closet is to enable drawings to be save as DXF file, which can be opened and edited with AutoCAD or any CAD program.
EZcloset Video
EZCloset Apple store download: https://apps.apple.com/us/app/ez-closet/id793734714
3D Designer Software for Closet Layout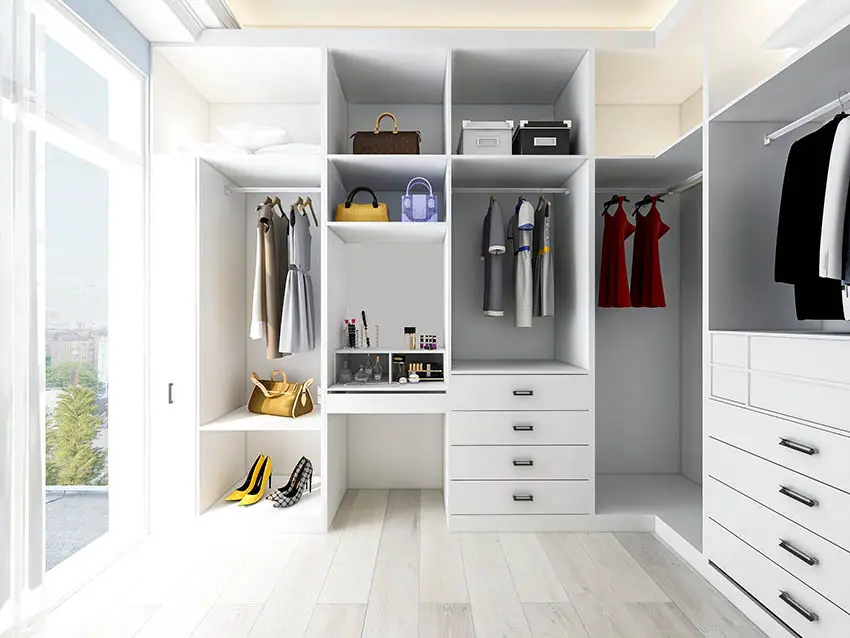 This type of software lets you design your closet in 2D and visualize it in 3D. This gives you the ability to step inside your design and see how it will look as if you were there.
17Squares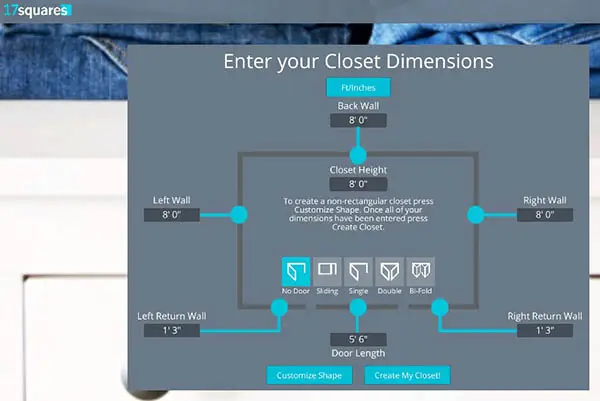 17Squares is another custom, web-based 3D design and sales software solution for closet space-planning needs which can be used from a computer, tablet or phone.
This software features 3D applications for closet and storage space planning visuals.
17Squares specializes in drawing of interior spaces and the quick and easy automatic configuration of any design layout.
17 Squares Website: https://17squares.com/
Pro100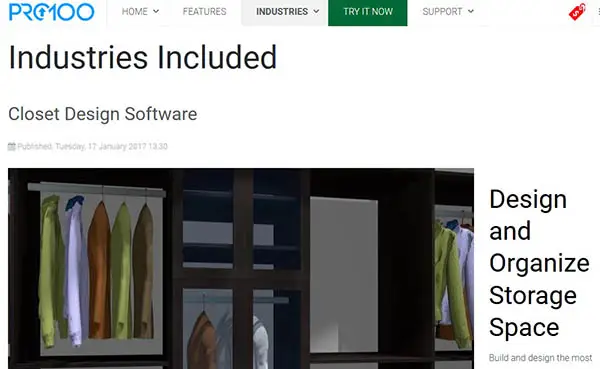 Pro100 is an excellent closet software for wardrobe closets, walk-in closets, reach-in closets, utility and linen closet. For dealers, this software has the most functional design features which lets you choose parts and accessories and price them individually.
Pro100 let manufactures be in control of designing custom closets because the software can generate a cutting diagram based on your own measurements and be able to estimate and calculate projects by parts or by a complete unit depending on your manufacturing preference.
Pro100 enables architects and designers create their own closet design using different materials from suppliers or ready-made closet cabinets from manufacturer and upload it into their own catalog complete with dimension display feature which can be shown or turned off, lighting effects, 3D rendering, price integration and reports.
Pro100 works very well with CNC machine used in the production of closet cabinets.
Pro 100 Video Tutorial
Pro100 Website: https://www.pro100usa.com/closet-design-software
ProBoard Closet Planner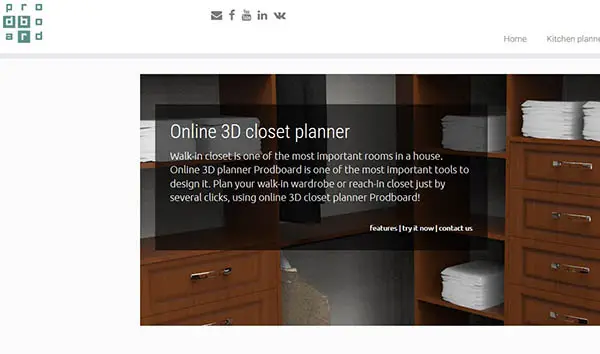 Another online 3D closet planner is the ProBoard is a great online solution for furniture companies engaged in the closet and kitchen manufacturing industry.
ProBoard has a user-friendly interface with clear tool tips and an automatic cost calculation that can update the cost of the closet while altering the project designs. It has a single price base method which uses integration via API for product price synchronization that enables the user to upload price lists and their automatic update.
This software incorporates a catalogue customization system which enable the user to customize and upload their database of walk-in and reach-in closet materials, colors, sliding door systems, carcass, and accessories.
ProBoard has high-realistic rendering feature, auto generation of profiles and has incorporated control of camera modes which enables to switch to different view modes and configure displaying of layers. It also features image generation for reports.
Proboard Closet Planner Video
ProBoard Website: https://prodboard.com/closet-3d-online-planner/
Closet CAD Pro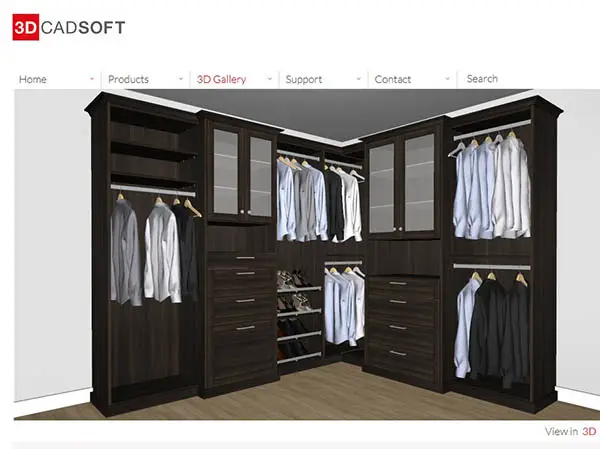 ClosetCADPro is a product of 3DCADSOFT. This product is a desktop software application developed for companies engaged in customizing storage designs.
This software has been specifically designed for professional sales designer which will aid them to design, create visual presentation for clients and enable them to price custom storage solutions on site or in the showroom.
The key benefits of this software is that it is very simple to use and is ultra-fast in building up a custom storage design using a 2d elevation view using predefined components and individual objects which can be found in a template library.
ClosetCADPro can also easily generate a real-time fully textured interactive 3D model of any custom storage or wardrobe design which can be published and viewed online and can even be linked with social media.
This software is also designed to be able to automatically calculate the selling price for the whole system and since this software is not an online web application, it can run on a desktop PC, Laptop or Windows Tablet without an internet connection.
However, it does use online resources extensively to perform online updates, save data remotely and for email purposes. ClosetCADPro is an all in one design solution in one easy to use design tool.
Closet Cad Pro Website: http://3dcadsoft.com/products/closetcad/
Home Design 3D (For Basic Interior Design Layouts)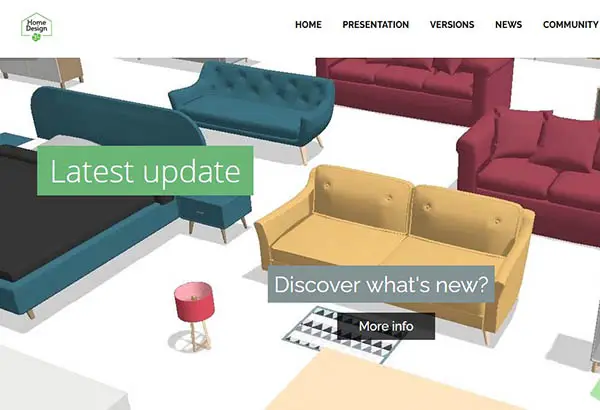 Mainly for online interior design reference, Home Design 3D is an app which allows home décor enthusiasts, students, interior designers and other professionals to plot and draw floor plans in 2D or 3D.
It is an all-around design program that is not specifically for closets. However, you can use it to plan a home layout.
Home Design 3D has a free version that offers 200 objects. To really get the most out of the program you will need a paid account which offers many more features like saving and import/export.
Home Design 3D features a design tool which enables the user to design and decorate the interior and exterior of the home. It's easy-to-use and lets the user edit the size, color, position and height of the walls stress-free.
Users can duplicate items with this design tool's copy and paste function and can edit by the undo and redo feature. It has also an eye dropper tool which can find an existing color in the plan and has the capability to import picture as texture and apply it to any object or item in the design scheme.
Another great feature is the creation of design in real-time 3D using its photo-realistic 3D rendering.
Home Design 3D allows importing of blueprints for more accuracy and enables the user to save it via Dropbox, OneDrive or simply sending designs via email.
Designing with Home Design 3D, users are able to continue their projects across various devices such as smartphones, tablets, PC and Mac. Designing and remodeling your dream house with Home Design 3D is easy and intuitive.
Home Design 3D Website: https://en.homedesign3d.net/
Home Design 3d on the Apple Store: https://apps.apple.com/app/id463768717
ClosetPro (For Business & Websites)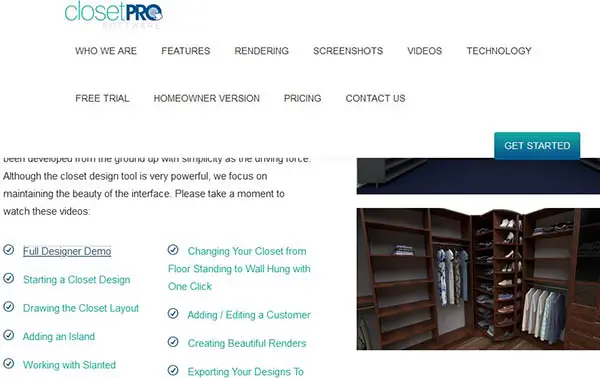 ClosetPro is a simple, intuitive, and powerful web-based front-end closet design software is highly recommended for use by dealers and sales personnel who use the services of supplying closet hardware and those who take on supplying modular closet cabinets.
This software is also best for use by people engaged in the retail closet space who are in need for a simple, and innovative solution for a closet design tool.
Closet Pro provides online storage solutions for companies which help business owners to increase sales and can easily make customers shift from "visitor" to "purchaser".
This online closet design software can easily be integrated into the company's website and has incorporated a project cost calculation and price management which saves time and optimizes the company's selling performance.
Customers are given an opportunity to design their reach-in or walk-in closet all by themselves or they can choose from a gallery of designs without the need for installation.
This ClosetPro software has unlimited colors, finishes, door styles, drawer box options and can carry out custom pricing for all closet parts, options, and accessories.
Plus, it updates immediately once the closet design is finished or if there are some changes in the design options. It has also an option where the user can quickly flip the entire closet design to fit any requirements.
ClosetPro is a software which is fully responsive and can display the closet design exquisitely on any size of device – from a computer screen as well as to a small screen of a smart phone.
This software has an amazing interactive 3D which allows the user to walk through the closet area, pan a view left to right and enables the user to raise or lower their viewpoint.
ClosetPro also features a revolutionary closet 3D rendering technology which shows a beautiful high-resolution render of a certain view request. All the closet design rendering is done on their cloud-based servers mainly dedicated for creating rendered images.
Once the rendered images are complete, a copy of the closet design is emailed to the user, ready to be downloaded and printed.
This software also offers without any additional fees, an online closet proposal system which the user can use for sending the closet designs to their customers and allows designers to brand their designs with their own logo.
ClosetPro Software Video
Available in Enterprise version, draw version and online homeowner version. Link: https://www.closetprosoftware.com/home/ClosetProSoftwarePriceSheetFull.pdf
Closet Pro software Website: https://www.closetprosoftware.com/
Paid Software for Closet Designs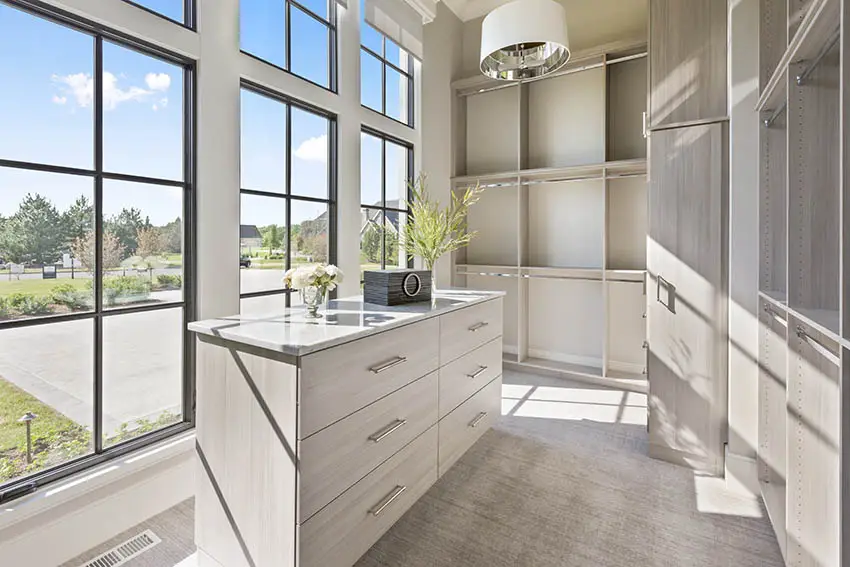 Here we share the best paid closet design programs.
Smartdraw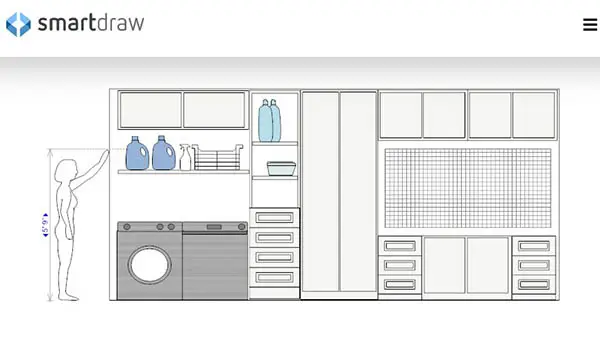 Smartdraw is a cabinet design software which has an extensive library of ready-made visuals for cabinets and a collection of quick-start cabinet plan examples and templates which homeowners can choose from and customize to suit their every requirement.
This software is so easy to use with their intuitive interface that allows user to simply drag and drop designs.
It's an effective, reliable and simple platform to use even for first timers and amateur designers. Professional designers will find this software to be excellent, since they can collaborate with their team and work on the designs simultaneously.
Smartdraw offers two ways to get started – by signing up to their online edition of Smartdraw (https://cloud.smartdraw.com/) on any computer or tablet or by downloading the Windows desktop edition of Smartdraw.
(https://www.smartdraw.com/downloads/download.htm). It also features an effortless collaboration with a team of designers who can work on the same design project by sharing it using file sharing apps like Dropbox, Google Drive, Box, OneDrive or simply share files by emailing the link.
The best part of this design tool is allowing the user to plan cabinet layout across all computer, browser or mobile device such as Windows, Mac, Android, iOS or any other platform using an internet connection. After finalizing the design, it can be saved as a PDF or PNG graphics format.
Smartdraw Video
SmartDraw allows sharing of files in PDF and PNG formats via Dropbox, OneDrive or Google Drive. SmartDraw is compatible across devices such as PCs, tablets and smartphones and can work on iOS, Android, Windows, and Mac operating system.
Smartdraw Website: https://www.smartdraw.com/cad/cabinet-design-software.htm
Planner 5D – Home & Interior Design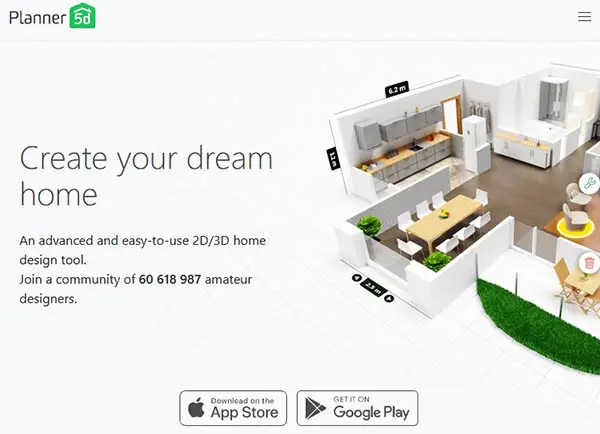 Planner 5D is an advanced and easy to use home design tool which enable users to create detailed 2D floor plans layout and 3D design. It has a "Snapshot" function which create photo-realistic images with realistic lighting textures and shadows directly from any device, online or offline.
Planner 5D allows one to use the basic functionality for free, however many of the best features requires the premium version.
The 150+ item catalog and 600+ texture catalog are available for the free version while the premium version has 3000+ item catalog and allows the user to alter size and appearance of all furniture.
Planner 5D includes item editing wherein users can apply custom colors, patterns and materials to furniture, walls and floors. It allows users to switch between metric and imperial systems of measurement.
This is ideal for anybody looking to do an interior layout project such as closet space, bedroom, kitchen, dining room as well as other exterior DIY projects.
Planner 5D Video
Recommended operating system are Xbox One, Windows 10 version 14393.0 or higher.
Planner 5D Website: https://planner5d.com/
Microcad Autoclosets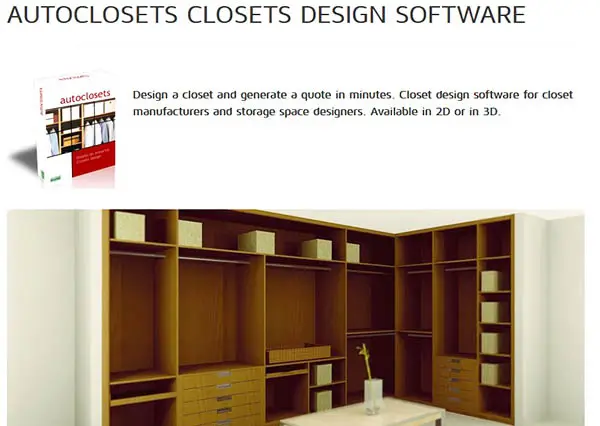 This design tool is highly recommended for professional designers and closet manufacturers for a top-notch storage solutions.The program has a hefty price tag running at $1995 for the complete version.
Microcad Autoclosets allows designers and manufacturer to involve and collaborate with their clients because the users can easily incorporate every single detail of their client's requirements all throughout the design scheme.
It allows users to choose from a series of design options and lets user create closet or wardrobe designs schemes in real time.
Microcad Autoclosets features a realistic 3D colored rendering with customized materials, colors and lighting effects for photo-realistic presentations. It can also generate a report containing all relevant technical information in order to properly manufacture the cabinetry.
This app can also be linked with other app from the same creator, such as autodecco and autokitchen.
Microcad Autoclosets website: https://en.microcadsoftware.com/productos/autoclosets/autoclosets.php
Best Software for Closet Plans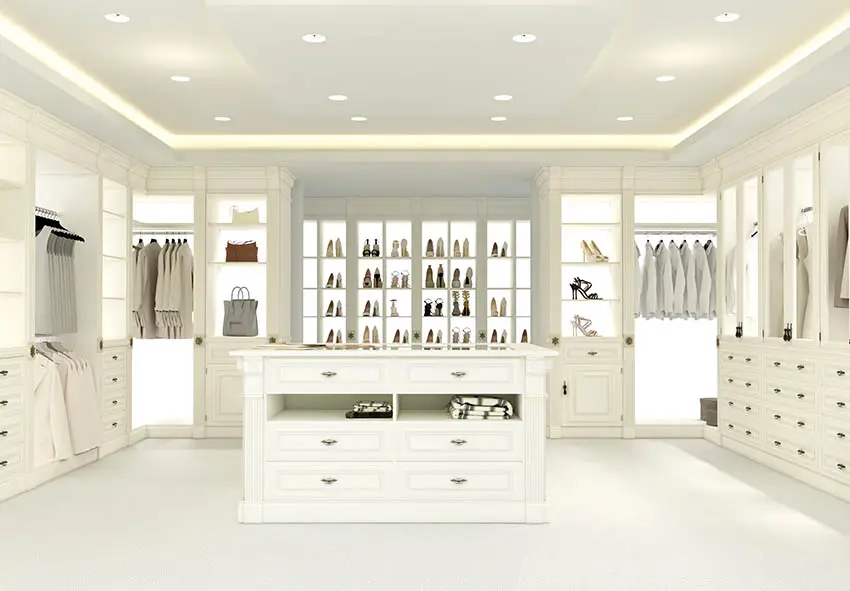 There is no perfect closet design software for every type of person. Whether you are a novice designer or pro, as well as the level of functionality you require will help to determine which program is best for you.
As a general rule of thumb if you are a beginner who wants a basic easy to pick up and use closet design program here are the best options.
Free & Easy to Use:
#1 EasyClosets
#2 Elfa Closet Design Tool by The Container Store
#3 Home Depot Closet Tool
Best App for Apple Iphone/Ipad:
Best App for Android
Best All Around Layout Design App
#1 SmartDraw
#2 Planner 5D
An all-time favorite app among design communities is SmartDraw – this is a free software which allows the user to experiment with multiple layout design techniques and gives the design project a professional look.
One of the best online programs for professionals is Microcad Autoclosets created by Microadd, makers of closet design software.
Do you have a favorite closet design program? Let us know in the comments your thoughts. Visit our walk-in closet ideas gallery for more related content.