Welcome to our guide to fence design software including the best free & paid programs.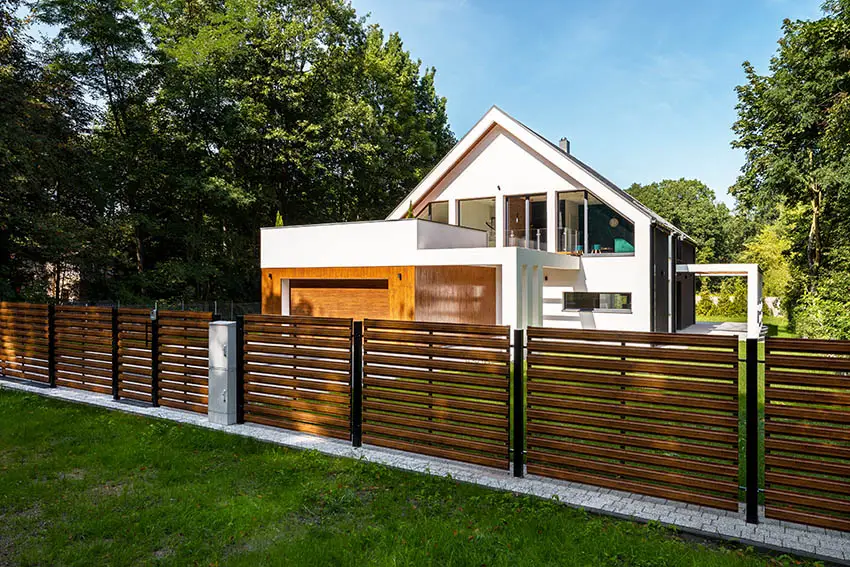 Having a fence around your home can provide a variety of benefits. For one, you can use it for privacy or even for its aesthetic value. You can also depend on a fence to help keep pets or even children safe in your yard while they play.
However, there are a lot of options out there when it comes to fence design and it can be hard to visualize them all on your own. Luckily, there are some tools out there that can help you. These are some of the best fence design software packages, both for free and at a price.
BigHammer (Free)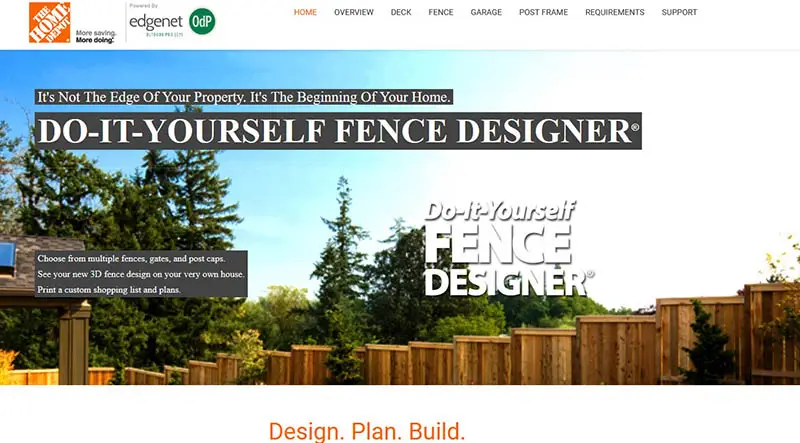 BigHammer DIY Fence Design is a great choice for a few different reasons. You can help tackle your fence design project by taking advantage of a number of layouts and even brand-name materials. You can also tackle concepts such as adding fence posts or gates to the design.
This is all available in 3D as well. This means that you'll be able to access an accurate design tool that gives you a better estimate of what the designs would look like in real life. This can make visualizing a design much easier.
There is one major downside to BigHammer DIY Fence Design, though. Namely, it only operates in the Internet Explorer browser. Of course, this isn't impossible to find but it is an option that not many people are fans of. Unfortunately, this also means that if you use a Mac or other Apple or iOS product, you can't access this particular tool either.
Home Depot is already a retailer that many people trust for their home improvement projects. If you're already a fan of the store, you might want to try out the Home Depot DIY Fence Designer. In fact, you might want to try it anyway. The good news is that it's free as are a number of similar tools from Home Depot.
This tool is rather basic but it gives you everything you need. This includes a variety of fence designs to choose from and look at your options from a variety of angles. This is supported with 3D rotations that will let you twist the design for different viewpoints.
You can also use this tool for more detailed aspects of the design process. This includes deciding where fence posts will go and you can print out your plans. It's important to note that if you want to use this program, you'll need Microsoft's .NET Framework.
| | |
| --- | --- |
| Pros | Cons |
| Free to use | Need Internet Explorer to use |
| 3D design functionality | Need to download on computer to use |
| Works in browser | Need broadband internet connection |
| Different fence layouts | No MAC support |
| Easy to use | |
Home Depot Bighammer Fence Design Software – Website
Betafence (Free)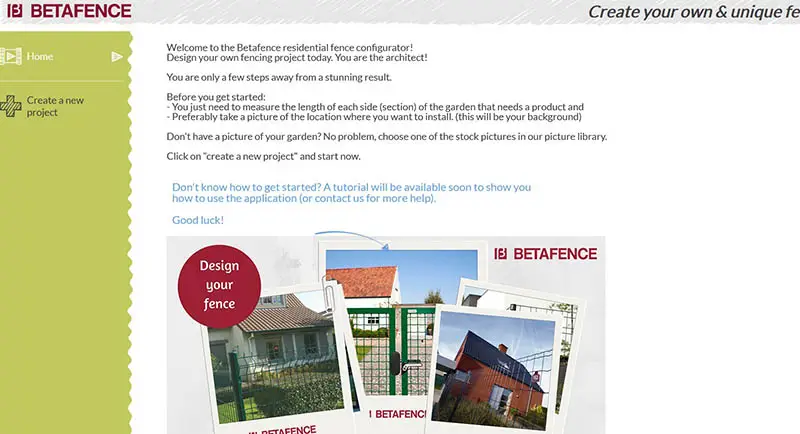 Betafence is a fairly new program as it was released in 2018. It's meant to guide you through your design process as well, making it a great choice for homeowners who aren't already familiar with design software.
The program has been praised for its easy-to-use app interface as well, so you won't get caught up in trying to find features either.
To get started, you have two options. The most accurate option is to upload an image of your own property. If you don't want to do this or can't for some reason, you can also choose a preset asset in the Betafence library in its place.
Once you're ready to start designing your fence, you have a lot of options. This includes different styles, gate options, and more. Once you've completed your design, you can directly start sending it to contractors to find out quotes and get to work on your renovations!
How to Create a Fence Design with Betafence
| | |
| --- | --- |
| Pros | Cons |
| Free to use | Not as customizable as other design programs |
| Can add gates to fence designs | |
| Easy to use | |
| Library of images to use | |
Betafence Fence Designer – Website
CAD Pro (Paid)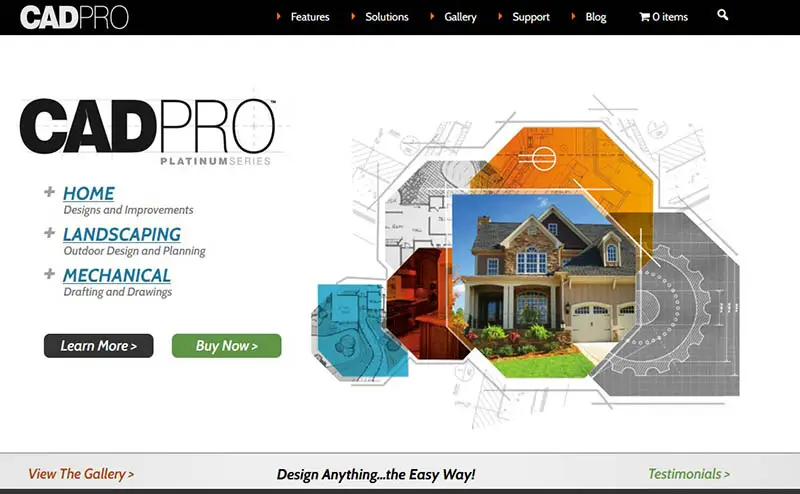 The CAD Pro Program has a specific section dedicated to fence design software. This is sometimes specifically referred to as the CAD Pro Fence Design Software. The program isn't free but it comes with plenty of capabilities. This includes the ability to create both a flat blueprint and take a look at dimensions.
Of course, the program is full of fence styles, materials, and designs as well as access to multiple gate options as well. However, if you want to insert your own digital photo to specify your design, you can do that as well.
Once you're done creating your fence design, you have a few options. You can save it as a PDF or even share it through additional programs like Google Drive, Dropbox, One Drive, SharePoint, or export them with Microsoft Offices. If you wanted, you could even send it straight to your contractor to get the job started!
| | |
| --- | --- |
| Pros | Cons |
| Professional quality results | Costs money |
| Save results as a PDF | Can be time consuming to learn |
| Ability to create blueprints | |
| 3D visualization | |
| Auto snap tools | |
Cadpro Landscaping Design Software – Website
Sketchup Pro (Paid)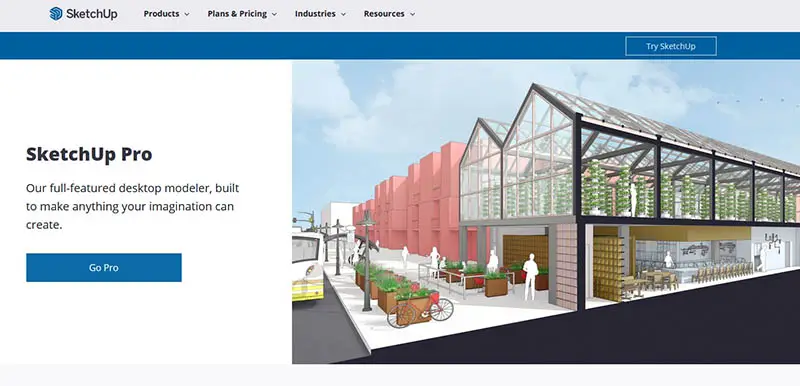 Sketchup Pro is a paid program but it offers a lot of versatility for your money. This particular program is focused on offering you control over all the aspects of your home, not just offering a targeted solution for your fence design software needs. You may have even heard of this program before under its former name, Google SketchUp.
As for your fence specifically, there are still plenty of features to experiment with for this purpose alone. The program allows you to change the color, pattern, and overall placement of your fence. If you aren't sure where to start, Sketchup Pro has plenty of templates you can use as a starting place.
You can also manipulate features in your design comparative to the size of a human body, symbolized by gray silhouettes in the program. This will help give you a sense of scale to ensure that you have exactly the design that suits you.
How to Design a Fence With Sketchup Pro
| | |
| --- | --- |
| Pros | Cons |
| Works on desktop and web | Expensive and paid by yearly membership |
| 3D modeling and visualization | Can be complicated to get used to |
| Free 30 day trial | |
| VR model viewing | |
| Unlimited cloud storage | |
Sketchup Pro – Website
Sketchlist (Paid)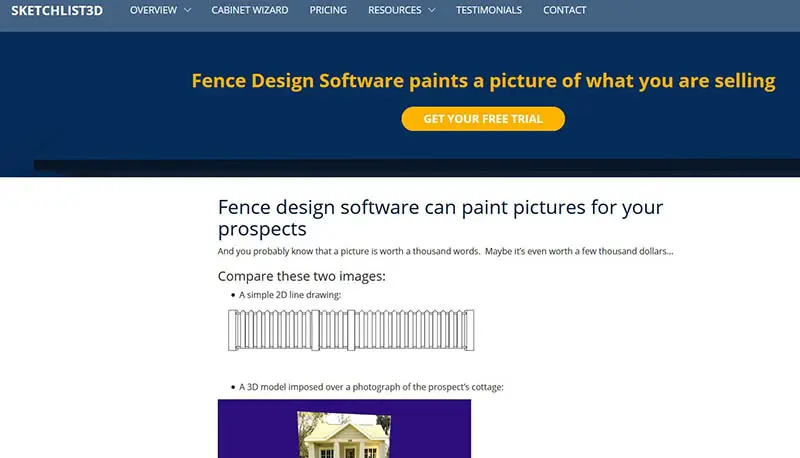 At $750, Sketchlist can be an expensive option to rely on in the long term. The good news is that the program also offers a free trial if you want to give it a try before committing or even just use the program for a smaller period of time.
The Sketchlist program is easy to use as well. Once you get your bearings, it won't take long to design your fence. For users who are a little lost, though, there is a Sketchlist blog with tips. Despite being aimed at contractors, there are some concepts useful to individual homeowners on the site as well.
To get started, all you have to do is upload a picture of where you want the fence. In a homeowner's case, this means uploading a picture of your house. From there, you can follow the prompts to create and customize your fence. It will help you create a cost estimate for materials as well.
Using Sketchlist to Create a Project
| | |
| --- | --- |
| Pros | Cons |
| Training videos available | Expensive |
| Can also use to create kitchen cabinets, pergolas etc. | |
| Free 14 days trial | |
| Create 3D fencing models | |
Sketchlist Fence Design Software – Website
SmartDraw Garden Design & Layout Software (Paid)
While it does come at a cost, SmartDraw is meant to help you nail down your home design just the way you want it. This includes plenty of options when you're trying to design your fence to fit your wants and needs.
The good news is that SmartDraw does offer new users a free trial. So, if you're only coming to this program to create a layout of your fence alone, you don't need to necessarily purchase the entire program. However, it's versatile enough to make the cost of the program worth it since it offers far more than just fence design.
To start, SmartDraw will create a blueprint of the landscape of your home based on the information you input into the program. From there, you can start to build your fence with the template of your landscape beneath it for a more accurate idea.
The program is great for creating a layout of your yard with its square footage and adding fences, plants, walls, paths, pools and other landscaping design elements to complete your design.
How to Draw a Landscaping Layout with Smartdraw
| | |
| --- | --- |
| Pros | Cons |
| Works on desktop and online | Paid per month and billed annually |
| 4500+ templates to choose from | |
| Free limited online version | |
| Easy to use | |
Smartdraw Garden Design Software – Website
Home Designer Pro (Paid)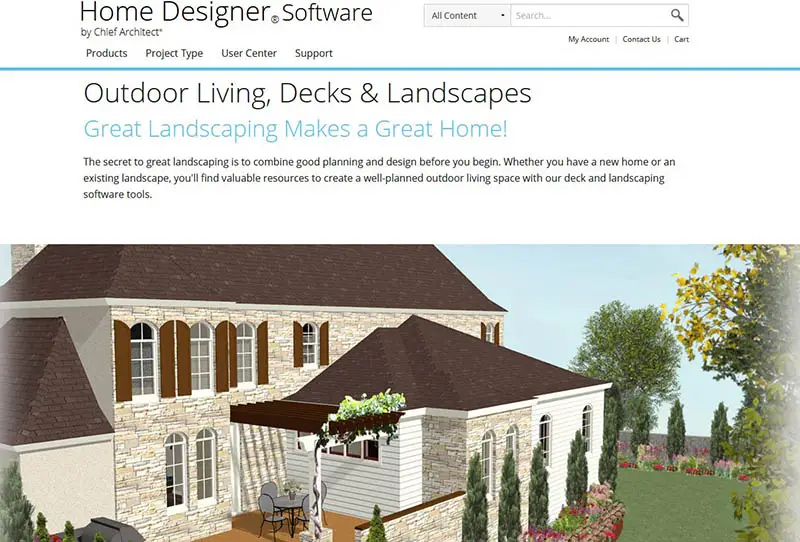 Home Designer Pro, or Home Designer Professional, is another paid software package that you can rely on to nail down your fence design. The best part is that this software package has a section that is made for creating fences and they made sure to get into the details.
First, you'll have the choice to put a yard around the perimeter of your entire home or just a section. This can be handy if you just want a play area for pets or kids or just want a fence around an area like a garden. The program is also compatible with irregular lot patterns, so you're in luck if you don't have a standard square or rectangular property line.
On top of this, you can rely on Home Designer Pro for some of your other design needs as well. This includes deck plans, landscaping plans, and even cost estimations for renovations. It's available for both Mac and PC.
Home Designer Pro Video Tutorial
| | |
| --- | --- |
| Pros | Cons |
| Available for PC and MAC | Expensive |
| 30 day free trial | Must keep up to date |
| Visualize your design in 3D | |
| Over 3600 types of landscaping elements | |
| Add pools, pathways and water features | |
| Import a photo as a backdrop for design | |
Home Designer Pro – Website
FabCad AutoRail (Paid)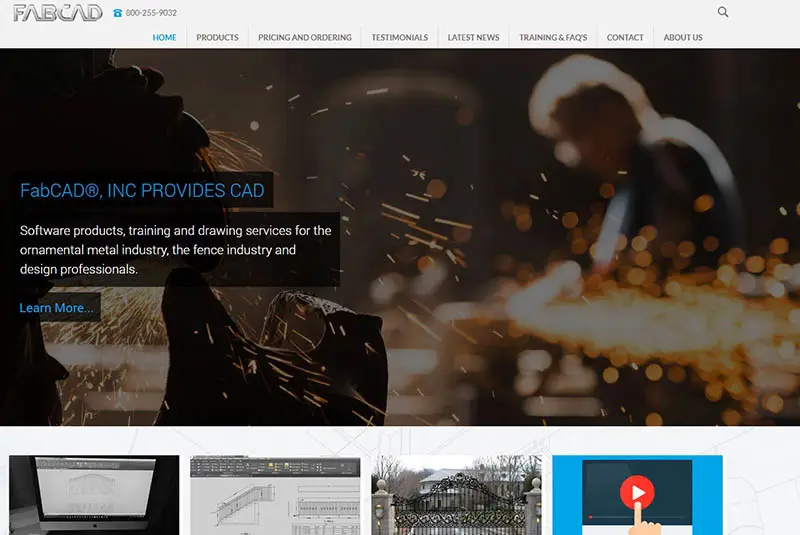 FabCad AutoRail is designed for metal designers and creators but it's great for anyone who needs to create a fence design. FabCad itself is a subsidiary of a Virginia-based company called Colonial Iron Works and has been around since 1989. The specific creation of FabCad Autorail happened 25 years ago. As such, they have plenty of experience in the industry.
You have plenty of options when it comes to this program as well. Before the program was even launched, Dave Filippi, the owner of FabCad compiled a library of 15,000 items including forgings, hardware, and ornamental casings.
It's easy to use too. All you need to do is choose the style you want and pair that with the measurements you need. If you aren't sure how to do this, you can take advantage of their online training. The only downside is that this isn't a free program.
Fabcad Autorail Video Tutorial
| | |
| --- | --- |
| Pros | Cons |
| Massive design library | Can be complicated to learn |
| Templates & Different Types of Fencing | Expensive |
| Training videos | |
| Generates bill of materials used | |
| Generates total cost of materials & weight | |
| Enter dimensions and program automatically draws design | |
Fabcad Autorail – Website
Ultra Studio (Free)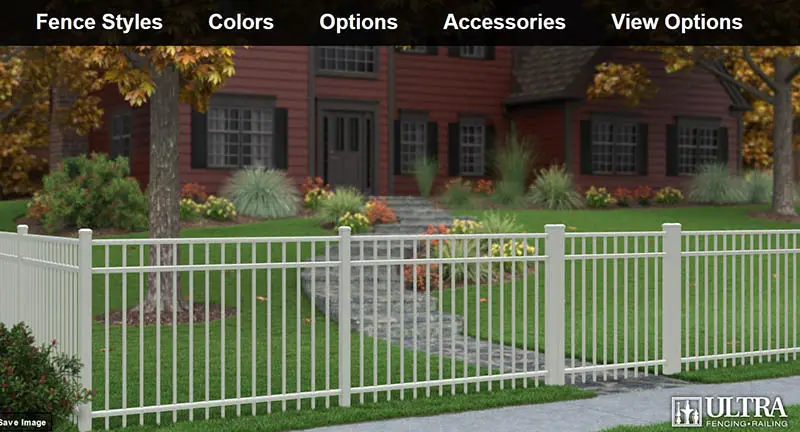 Ultra Fence Design Studio is a fairly specific program that's primarily dedicated to metal fences. However, it does have the benefit of not only being great at that specific job but it's free and easy to use as well.
You have plenty of options too despite the program focusing on metal fences. You can change the type of fence you have, work on railing designs, and design gates with this design software. You can even add accessories to help make your fence look like the one-of-a-kind creation it is.
This is a great program to turn to if you want to design a modern fence. Despite all of the designs being metal as well, you can still opt for privacy fences as well as for aesthetic appeal and security.
| | |
| --- | --- |
| Pros | Cons |
| Free to use | Limited customization |
| Can visualize with your own image | |
| Can save images to your computer | |
| Program created to sell their products | |
Ultra Fence Design Studio – Website
VizTerra (Paid)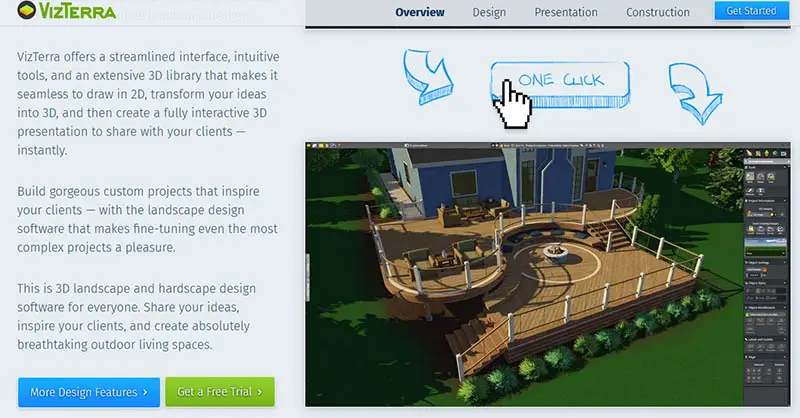 VizTerra is another tool that's made to cater to professionals but it can do a lot for individual homeowners as well.
The fence design software comes at a cost but you can choose between three rental plans that range from $95 to $165 depending on what you need. In addition, you can take advantage of a free trial period as well.
This is a fairly versatile program that gives you a lot to work with. You can start with a flat, 2D sketch and convert it into a 3D design when you're ready to do so. From there, you can even turn the design into a 3D presentation, making it easier to show to contractors or anybody else what type of design you're considering.
Vizterra Landscaping Design Software Video
| | |
| --- | --- |
| Pros | Cons |
| 3D and 2D visualization | Expensive |
| Online training classes | Requires 11 gigabytes of computer space |
| Calculate area and perimeter | |
| 1733 plants and trees | |
| Real time walk-throughs and 360 photo views | |
Vizterra 3D Landscape Design Software – Website
Punch! Home and Landscape Design Software (Paid)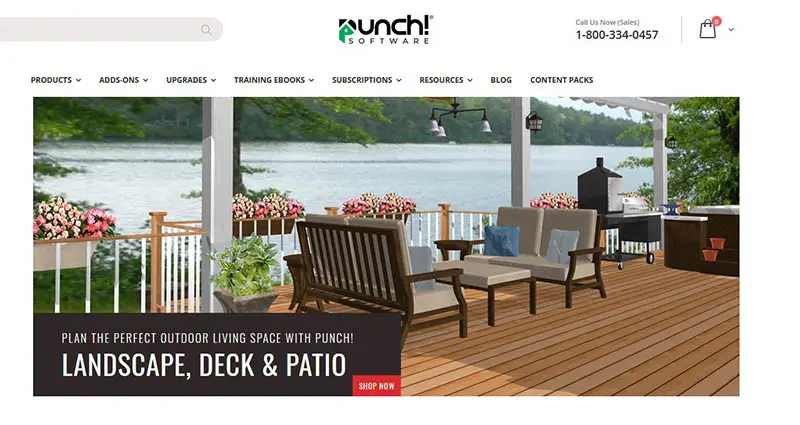 Punch! Home and Landscape Design Software is actually one of the paid options when it comes to fence design software. However, it's available on a variety of platforms and offers features that will come in handy.
For one, the program has a fence building module that's particularly useful to users who are new to these types of programs. On top of that, it's versatile. You can tackle everything from perimeter fences to other plans.
The program takes a lot into account as well. You can do much more than just place a fence and its posts. It will also allow you to adjust the slope of the landscape and the dimensions of the land.
On top of that, as the name suggests, you can do more than just adjust the settings for your fence. You can adjust other features of home design and landscape design as well. This allows you to make sure you have all the tools you could need, making it versatile.
Punch Landscape Design Software Video
| | |
| --- | --- |
| Pros | Cons |
| Inexpensive | Some complaints about documentation |
| Create then instantly view in 2D or 3D | May be complicated to learn |
| Add your own pictures to design | |
| Large plant & landscape library | |
| Estimate materials cost | |
| Drag and drop tools | |
Punch Landscaping Design Software – Website
Realtime Landscaping Pro (Idea Spectrum) (Paid)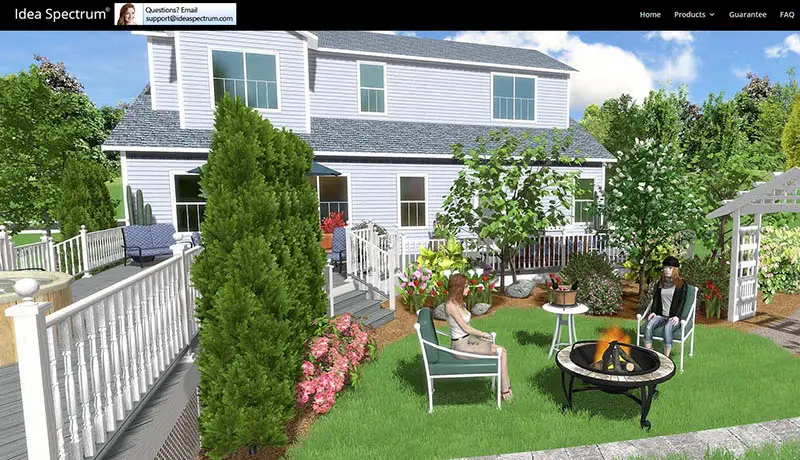 While Realtime Landscaping Pro does come at a cost, it has a promise that intrigues many users. If you aren't happy with the results you get from Realtime Landscaping Pro, the company offers a 30-day money-back guarantee on the fence design software.
Realtime, as a company, has been around for 14 years. This has given them plenty of time to perfect the program and they're now on their 12th version.
Best of all, if you get stuck, it's easy to get in touch with their tech support the company offers. You will need Windows Vista or above, so Mac users won't have access to this product.
The program is aimed at designing garden elements, making this a great choice if you're looking for a garden fence. The only drawback is that since it is focused on garden design, you'll find fewer design options for fences specifically within this program. However, you can edit in both 2D and 3D.
Realtime Landscaping Pro Tutorial Video
| | |
| --- | --- |
| Pros | Cons |
| Design in 3D over a picture or see in 2D | Moderately expensive |
| 12000 objects and 5700 plants to use | No MAC version |
| Can design all types of landscaping with decks & patios | |
| Many types of fencing available | |
| Generate cost estimates based on materials | |
Idea Spectrum's Realtime Landscaping Pro – Website
EDraw (Free & Paid)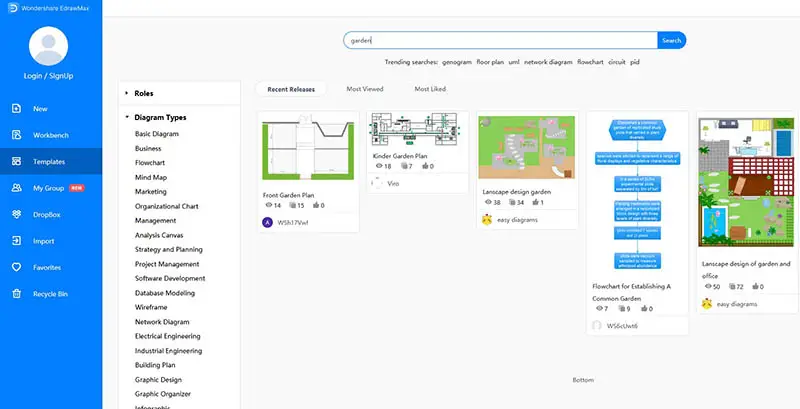 If you don't mind relying on a slightly older program, EDraw can help you out. Even better, this is a free software option, so it won't add to your renovation costs to make plans through.
The full name of the EDraw software is the EDraw Simple Garden Design. This means that the focus is on designing a garden even though it allows you to control other landscaping features such as fences.
This perspective gives you the chance to have further control over where your fence goes whether that's just around a garden or specific area or completely wrapped around the property's perimeter.
The downside is that this program isn't the best for determining exactly what your fence will be made of and look like. This is better used for a technical perspective on how large a fence should be and where posts will need to be set. Once you're done, you can save the plan as a PDF.
| | |
| --- | --- |
| Pros | Cons |
| Free for older online version or 15 day free trial | Expensive for full version |
| Robust range of features | Complicated variety of programs |
| Save to PDF | Not setup for fence design |
| Predesigned templates & create home floorplans | |
Edrawsoft Garden Design Online Software – Website
QwikDraw (Paid)
Qwikdraw is an estimating software for contractors to help quickly create a rough sketch of a job and get an estimation of costs and materials.
QwikDraw Fence Design has been around for quite some time, so you aren't going to access a new or incomplete program. Right now, version 20 is the latest update to QwikDraw Fence Design. It's particularly beneficial because it's both free and available to a variety of devices.
To allow it to adapt to tablets and mobile devices, you can depend on QwikDraw Fence Design for handwriting recognition when you don't have a mouse and keyboard handy.
You have plenty of options once you start using the program as well. You can choose from material options like wood, vinyl, or metal and you can even choose from different fence types as well. Whether you want a purely ornamental fence or something for security, there are design options here for you.
How to Use Qwikdraw Fencing Estimation Software
| | |
| --- | --- |
| Pros | Cons |
| Designed for professionals in the fence industry | Very expensive |
| Can create rendering from rough sketch | |
| Estimate cost of materials such as chain link, wood, vinyl, ornamental and wire panel fences | |
| Can design multi-height fences | |
Qwikdraw Estimating Software – Website
FenceSoft (Free)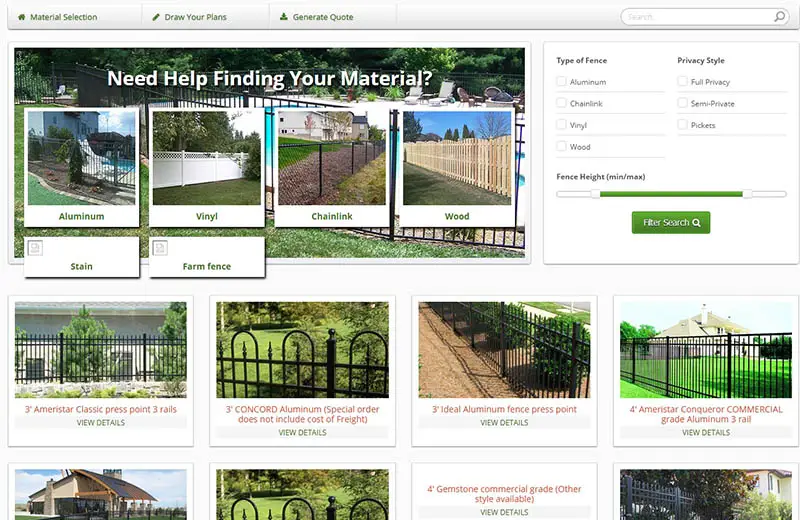 The first thing to note about FenceSoft Computer Fencing System Software is that it's created with contractors and fence sellers, not the average consumer.
On the other hand, this program is still well-suited to the needs of most average homeowners who want to come up with a fence design themselves. The biggest downside of this targeted audience is that the program comes with a significant cost.
The good news is that if you want a program that will offer you plenty of flexibility, FenceSoft can do that! This can even be a little overwhelming at first but it doesn't take long to locate the tools you need and overcome the learning curve.
While you're using FenceSoft, you can experiment with a lot of different fence types and designs. This way, you can see how all your options look before nailing down exactly what you want and create a working design concept for your new fence.
| | |
| --- | --- |
| Pros | Cons |
| Free to use | Created to sell the company's products |
| Can visualize many types of fences | Requires a login with website |
| Offers different types of privacy fencing | |
| Basic design use | |
Georgia Commercial Fencing System Software – Website
Fence Design Software Final Takeaway
The type of fence design software you choose to use will largely depend on your individual needs. However, for a basic, easy to use program you could consider the Big Hammer Fence Designer.
Edraw garden design tool is another simple and free program that can create a quick design without too much trouble.
For a paid program with basic functionality for homeowners a program such as Realtime Landscaping Pro or Punch Landscape Design Software may suit your needs.
Are there any fence design software programs that are you're favorite or we've left out? Let us know in the comments section which fence design program is your favorite.