Here's the best outdoor kitchen design software programs including free & paid options to help you visualize your outdoor kitchen renovation, layouts or construction plans.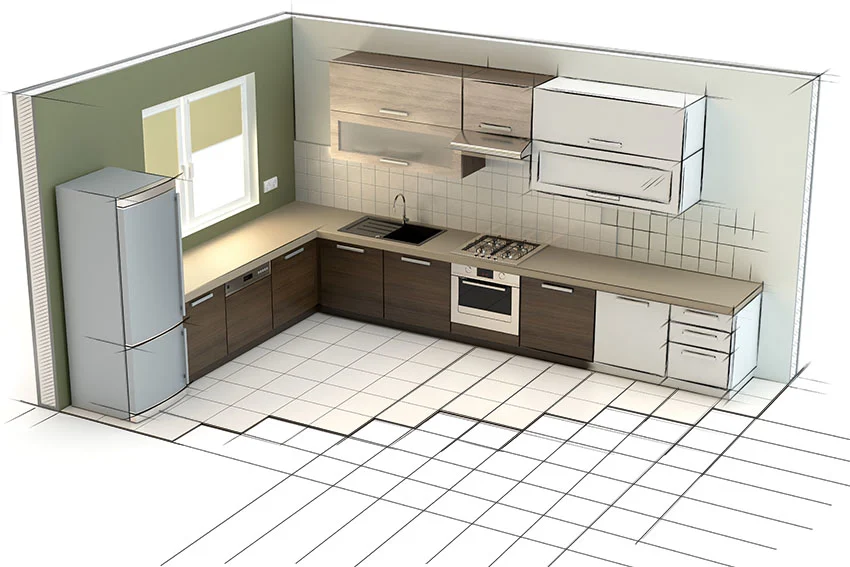 Are you ready to begin constructing the outdoor kitchen of your dreams? Do you intend to renovate the one you already own? There are numerous methods to enhance your outdoor space, whether it is establishing the ideal eating area or merely placing some ornaments.
Fortunately, various types of outdoor kitchen design software may be found online. These design software programs are the most important methods for creating a functioning and visually attractive outdoor kitchen.
Whether you are finishing a new build, remodeling, or simply undertaking minor repairs, employing an outdoor kitchen design software will save you funds, help you convey your concept for space with absolute clarity, and thus improve the project's success.
Without further ado, we will show you a list of the top free and paid outdoor kitchen design software that will indeed help you with your outdoor kitchen renovation or construction plans.
Free Software
Planner 5D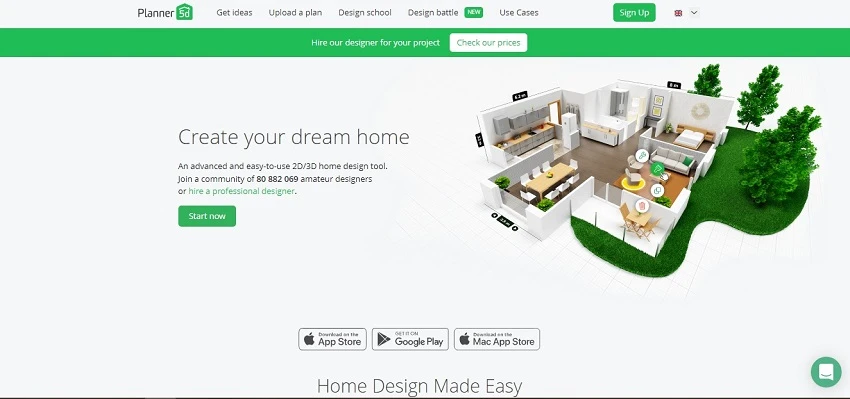 • Cost: Free/Online
• Website – https://planner5d.com/
The Planner 5D design software can be used in your online browser, and you can use your smartphone to create some fantastic outdoor kitchen ideas. With nothing to purchase, all you must do is sign up and start arranging your outdoor kitchen. You can save your project with a single click and proceed with all your options.
Yes, you can do the task outside where you will design using the outdoor kitchen design software on your iPad to figure out exactly where you will put it. It is indeed getting closer to turning into a reality. This is completely available online.
If you want to work outdoors, they mentioned that you can use the mobile version, but it is recommended that you utilize a tablet, laptop, or desktop for the best outcomes. You can visit their website and look at some of the sample photographs; you might be impressed, and your creativity will go daring.
You may also see what you can achieve by looking at the "Home Exterior" sample. You can create 2D or 3D creations, save them to the cloud, and drag and drop as much as you want. If you are eager about sending the design to a building company, you may surely save it and send it to the builders through email and other means.
Danver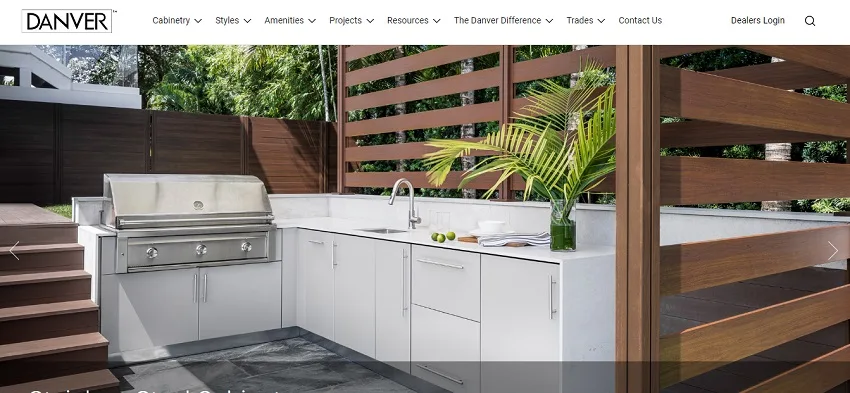 • Cost: Free/Downloadable Design Tool
• Website – https://danver.com/
• Tutorial Video – https://www.youtube.com/watch?v=aaEI79SplQI
The constantly updated outdoor kitchen design software, which was launched in September, is gaining popularity. The drawing tool was designed in Microsoft Word so that anyone may use it without needing a particular software application or learning unique drawing techniques.
Danver offers word-based layout software that demonstrates how to make your outdoor environment flourish. The directions are seen on their website, and it is so simple and lovely to begin designing your outdoor kitchen from flooring to outdoor kitchen cabinets.
They truly make it simple, and you will be shocked at how imaginative you can be using this software. You can enhance your outdoor environment with their simple software system. To construct their own kitchen layouts, the user just opens the Danver Cabinet Library document and uses conventional Word commands like copy, cut, and paste.
On the first page, you may download the outdoor kitchen design tool document, which includes instructions and commence in quickly developing your outdoor kitchen ideas and layouts. You may genuinely enjoy the originality you uncover by building your own outdoor kitchen with cabinets for your patio or deck.
The drawing tool now only offers an elevation, but we have observed that it greatly helps individuals visualize what their kitchen would look like. Because it is so simple to use, different variations may be developed in minutes to assist finalize a design. Several of the appliances are accessible in the cabinet library, many of which are offered by Danver.
Trex Design Tool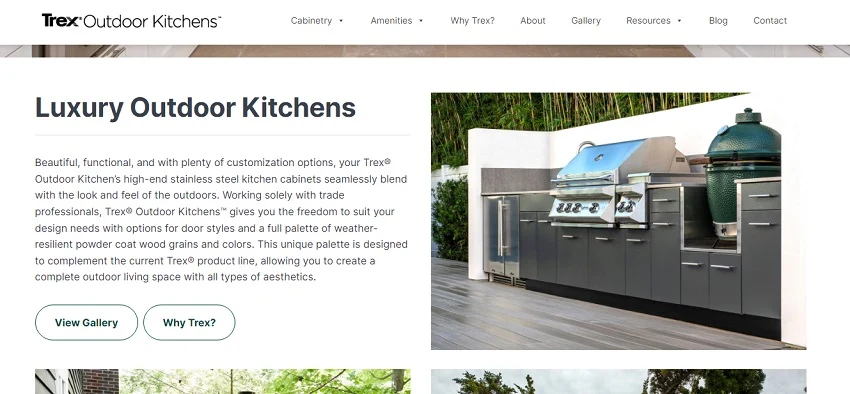 • Cost: Free/Downloadable Program
• Website – https://trex-outdoorkitchens.com/
• Further Details About the Software – https://trex-outdoorkitchens.com/design-your-own/
The Trex outdoor kitchen design tool encourages you to be creative in planning your outdoor living and entertaining environment. Your ideal kitchen may become a reality for you and your household with the correct outdoor kitchen appliances, cabinet design solutions, and other outdoor cooking space requirements.
Trex also offers a free, simple-to-use Word-based layout application for planning and creating an outdoor kitchen. There are instructions provided as well. You can go to the Navigation Pane for easier navigation. This allows you to switch between working spaces and product categories.
Moreover, you can fill out the Project Information page, including the outdoor kitchen cabinet depth, cabinet door design, counter width, and any further notes. It is quite fine to leave some of these elements empty if you are not sure what to do with them.
Coyote Designer Tool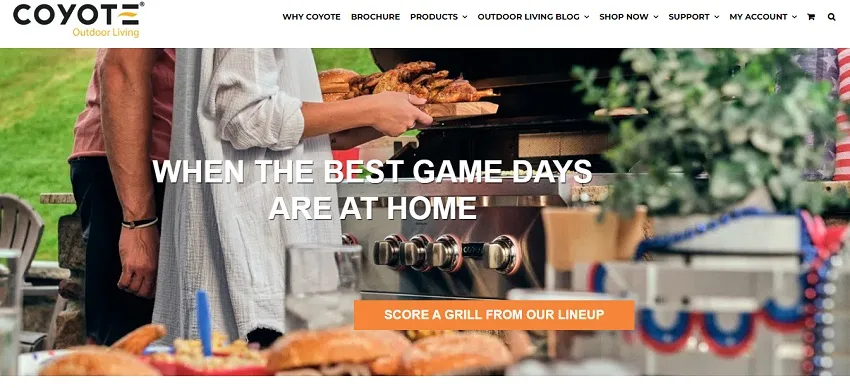 • Cost: Free/Online
• Website – https://coyoteoutdoor.com/
• Outdoor Kitchen Design Guide – https://coyoteoutdoor.com/outdoor-kitchen-design-guide/
It is indeed challenging to come up with backyard kitchen ideas. Making them a reality, on the other hand, is another issue. The logistics of creating a unique outdoor kitchen can be intimidating. Locating a contractor, architectural designs, cutting tile, and putting stone – just thinking about it is tiring.
That is where the outdoor kitchen design software from Coyote Outdoor Living gets in. Using this software portal, you may quickly generate a functioning 3D model. Their software helps users to design the perfect outdoor cooking and barbecue space with no engineering or programming skills required.
Coyote Outdoor Living's free software will assist you in turning your outdoor kitchen concepts into a workable course of action. It will undoubtedly have you grilling burgers in your new outdoor kitchen in a matter of weeks.
RTA Software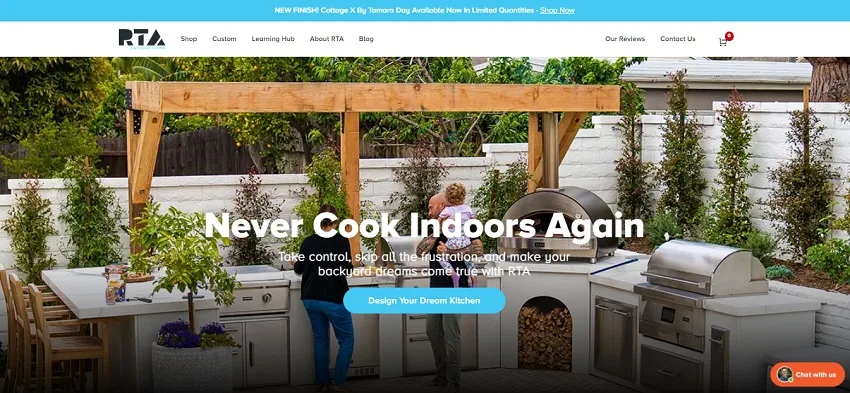 • Cost: Free/Online
• Website – https://rtaoutdoorliving.com/
• Kitchen Design Software Link – https://design.rtaoutdoorliving.com/layout
Designing an outdoor kitchen can be extremely demanding. You can design it on paper manually, which is only ideal if you are an architect. Numerous companies will include a line drawing alternative, which is fine as well, but it just does not improve your vision.
Certain designers can even provide an elaborate 3D model of your ideal outdoor kitchen, but the challenge is you must pay for it. Fortunately, RTA understands the difficulties of designing and creating an outdoor kitchen.
They have designed free online software for designing your outdoor kitchen. This free outdoor kitchen design program allows you to quickly design, customize, rearrange, and envision your design in a matter of minutes.
Truly, you can effortlessly customize and design your own outdoor kitchen with RTA outdoor kitchen design software's self-serving 3D design builder. It is extremely easy to use and will not require you to have particular computer or designing skills. Indeed, taking charge of your outdoor kitchen project will undoubtedly excite you using this software.
What you can do is design your perfect outdoor kitchen in about 5 minutes using their 5-step 3D design software. You can consult with an RTA outdoor kitchen design specialist one-on-one to further tailor your arrangement and plan for every phase of your project.
Furthermore, RTA makes your concept a reality by delivering everything you need such as the countertops and other necessary appliances for your outdoor kitchen.
Paid Software
RoomSketcher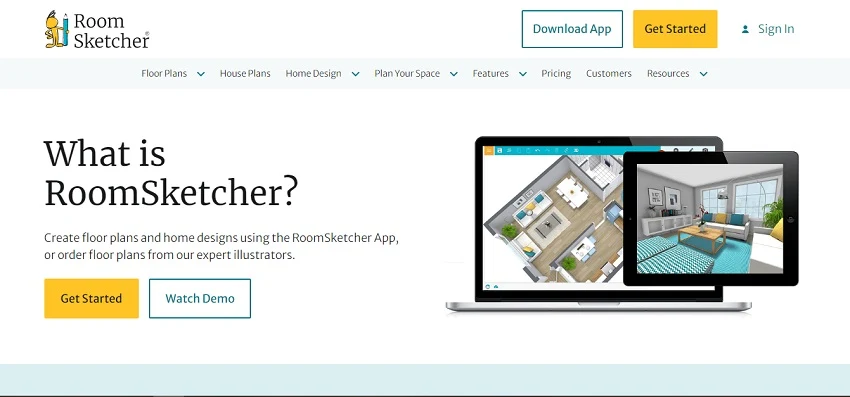 • Cost: Per Level is $38; Annual Fee for Pro is $99 (Free Trial is available as well)
• Website – https://www.roomsketcher.com/
• Instructions on How You Can Design Your Outdoor Space using RoomSketcher – https://www.roomsketcher.com/blog/create-outdoor-areas-with-roomsketcher/
A home's or property's landscape design is equally as significant as the structure itself. Fortunately, you may present the complete property with outstanding site plans in 2D and 3D with RoomSketcher design software.
You can also effortlessly integrate your kitchen layout with your landscape ideas, garden projects, backyard layouts, and more. You can quickly outfit your site plan with outdoor components and then visualize it in realistic 3D.
The RoomSketcher software aids in the planning of everything from the preliminary setup to the positioning of outdoor kitchen items. This is a simple site-plan software that is completely online and will undoubtedly transform your backyard into the gorgeous location it was intended to be.
The RoomSketcher library contains hundreds of methods to decorate your home, ranging from outdoor finishes to landscape accessories to furnishings and outdoor grill and appliances.
You can design not only the kitchen but also the surrounding area. You can line the route to the kitchen with flowers or tiny plants. Alternatively, if you have a swimming pool, you may use this design software to develop a pool and then a kitchen beside it to see how everything looks.
You may easily use the RoomSketcher trial version to determine what works best for you. It is really simple to use; simply construct the floor plan, add your preferred pieces of furniture, fixtures, and appliances, and then view your concept in 3D.
Chief Architect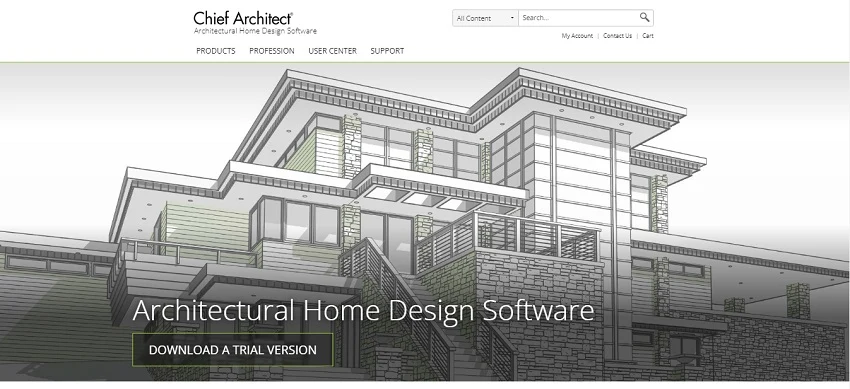 • Cost: $199 per month
• Website – https://www.chiefarchitect.com/
The Chief Architect outdoor kitchen software is most likely one of the finest-quality design models available. It is utilized by both professionals and do-it-yourselfers and is perhaps the best picture of what your outdoor kitchen will accurately look like on print before you start creating it.
To install in your design, you may easily purchase sets of varied kitchen cabinets, appliances, light fittings, and flooring. This is similar to purchasing DLC video games, which is a bit pricey, but, if this is a genuine dream of yours, you will want to see what it genuinely looks like before spending any more funds on it.
This software has been operational for around 20 years, which was developed in 1992. It was also the earliest object-based 3D CAD program. Since then, the application has evolved significantly and is now frequently used to create and construct mock-ups and projections required for acceptable design and construction.
The program has even made its way into the mobile realm, allowing today's builders and architects to take their smart devices and operate on the go. Room Planner and Chief Architect 3D Viewer are 2 Apple and Android applications that allow customers and designers to see projects before they are completed.
The latter allows you to preview your concepts in virtual reality, whereas the former allows you to measure and create patio floor plans with a conventional tape measure or Bluetooth-powered laser.
3D Software
3D Bull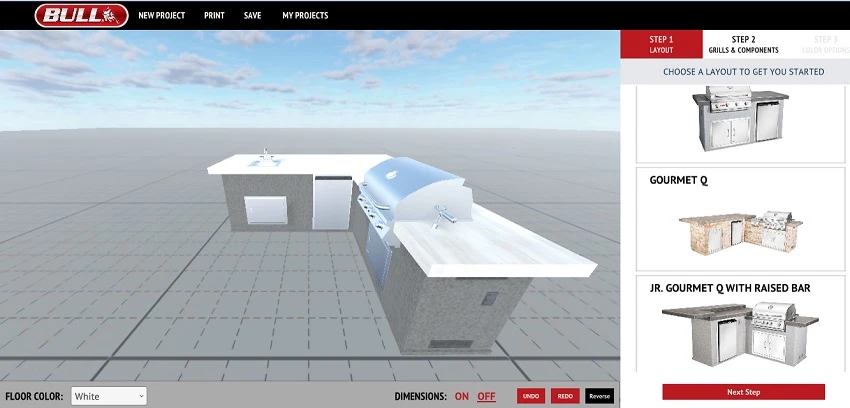 • Cost: Free/Online
• Website – https://www.bullbbq.com/bull-3d-outdoor-kitchen-design-tool
• Details about 3D Rendering – https://www.the3darchitect.com.au/3d-rendering
The Bull outdoor solutions company is a prominent developer and manufacturer of high-quality branded products for the outdoor lifestyle industry. Its goods are marketed to buyers in specialized retail, hearth, hardware, appliances, construction materials, as well as the building trade throughout the United States, Europe, Canada, Central, and South America.
Bull is dedicated to offering the most comprehensive array of superior products at the best price in the business. Grills, grilling equipment, and other outdoor essentials are among the particular product categories.
Bull Outdoor Products prioritized the customer purchasing experience to differentiate themselves in the grilling sector. The company assessed a variety of visual 3D product services that proved mobility and versatility, but Bull's executives also placed a high value on the vendor's main focus.
The Bull outdoor kitchen design software is among the finest free outdoor design apps we discovered. Simply input the password and login, and you may begin creating a 3D depiction of the location you want to create outdoors.
When it comes to architecture, 3D rendering offers a wide range of applications. It is quite simple to use. One point to note before using this design program is that it only works on a desktop computer, not a smartphone, thus you have to ensure you have desktop accessibility before getting started.
Axonom was chosen by Bull Outdoor Products to provide an easy-to-use graphical setup solution for Bull dealers and merchants. The 3D design software allows salespeople to collaborate closely with customers and visually guide them through the design, quoting, and purchase processes. Truly, transactions as well as the 3D design technology that Bull provides are reliable.
AlfrescoPlus 3D Software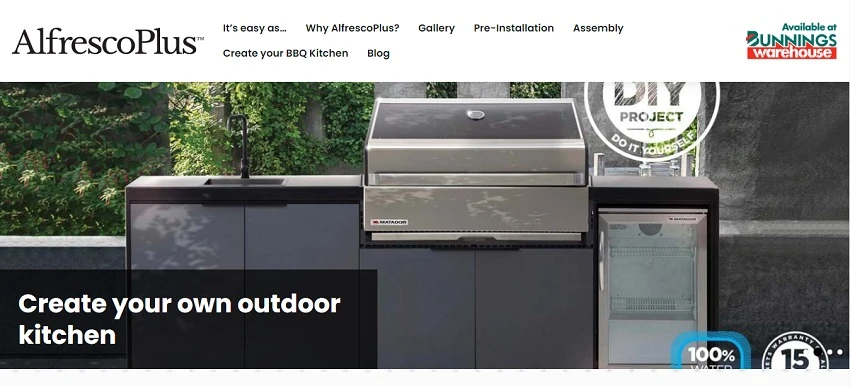 • Cost: Free/Online
• Website – www.alfrescoplus.com.au
• Tutorial Video – https://youtu.be/mlhUl42Bk_Y
Your outdoor kitchen can be as tiny or as huge as you would like to fit your outside space and your finances as well. The AlfrescoPlus 3D Planner software makes it simple for homeowners to plan, design, and install a new outdoor kitchen.
You can begin by measuring and noting the measurements of your alfresco area, then use the grid as a reference for the arrangement of the outdoor layout. Keep in mind to calculate precise kithen island, cabinet, bbq areaand end panel dimensions.
After designing your outdoor kitchen with the AlfrescoPlus software, you can easily enter your information and a file of your design, along with a quotation, will be given to you. All you have to do immediately is send your design and quotation to the Bunnings Store Website, go to the Special Orders Department, and complete your transaction.
Wrapping Up
When you can accurately design an outdoor kitchen using what is accessible on the internet, it will be so much simpler than ever to plan it. This is an excellent method to visualize what your outdoor area can be transformed into.
You can experiment with the designs and tweak, change, or rearrange them until they are exactly right. Have fun designing using these top-rated outdoor kitchen design tools!
Visit our outdoor kitchen dimensions for more related content.