Here we share the best outdoor kitchen appliances including kitchen layout ideas and some tips on how to choose the perfect appliances for your outdoor kitchen.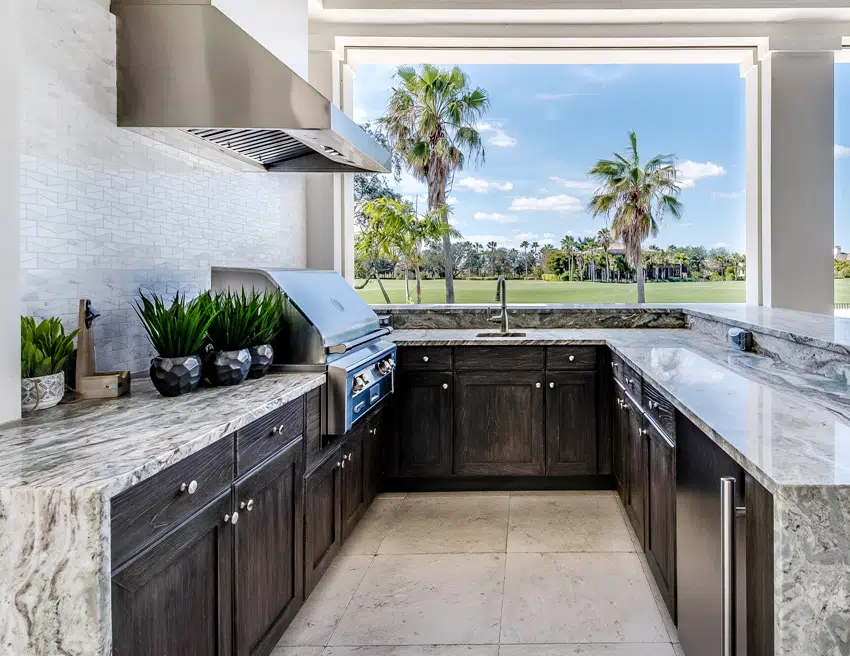 You may have realized how essential it is to invest in the finest outdoor kitchen equipment after celebrating several events at home. Choosing the right appliances, like every other aspect of your outdoor cooking area, is a highly personal decision.
It's the appliances that may dramatically change the convenience aspect of your brand-new outdoor kitchen. These appliances are what really complete the area. And besides, no one wants to sit at the bar only to discover they will have to go all the way inside to get a beer.
While a typical landscape contractor may recommend a prefabricated grill set or build a nearby faucet to provide flowing water, you may want to look for more creative alternatives.
You are browsing through a range of choices and pondering which would be ideal for your backyard. While a barbecue grill is a gold standard for outdoor cooking, there is a plethora of other equipment to choose from too.
If you don't know where to start, worry no more since our outdoor kitchen specialists developed this guide to assist you in creating your fantasy kitchen.
Barbecue Grill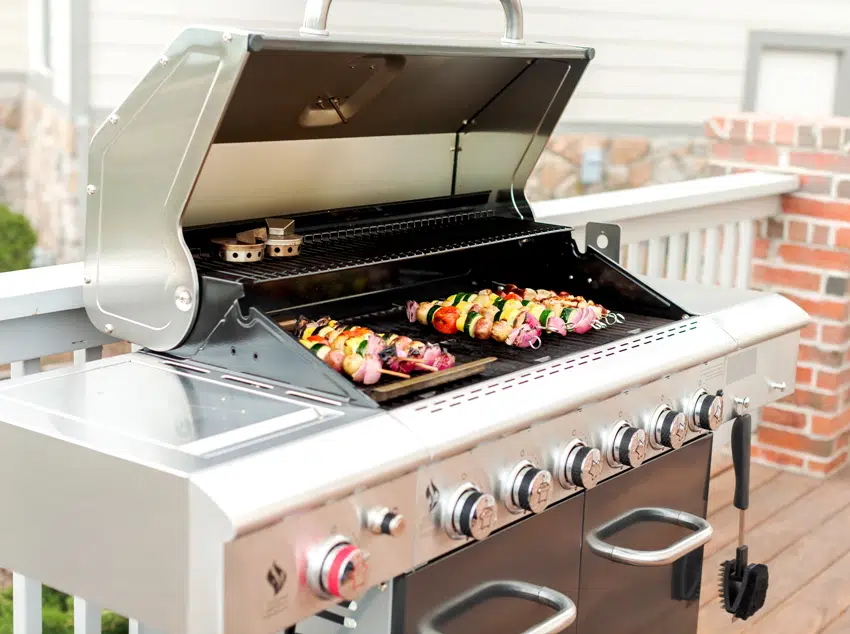 Of course, the barbecue grill is the crown gem and perhaps the most essential of every outdoor kitchen. It is where you will conduct the bulk of your outdoor cooking, so it is a must-have for the whole area.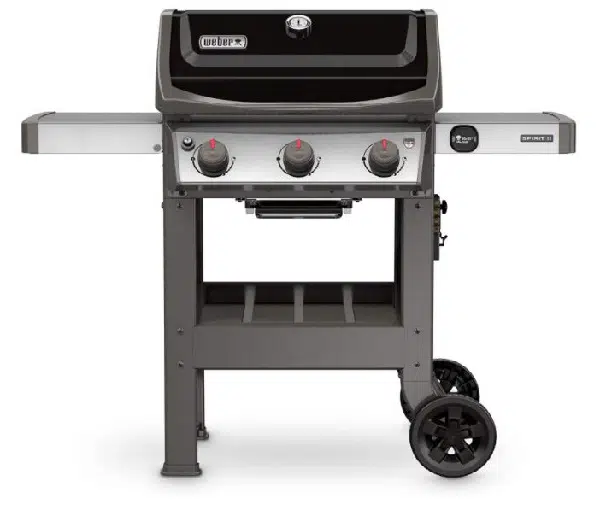 See this Weber spirit burner liquid propane grill at Amazon [sponsored link]
Deciding which type of grill you want is personal preference and how serious you are about cooking. You may use a stone hardscape to house built-in barbecues or freestanding grills placed in a cart.
Size is also a consideration, and depending on how often you cook, you may want to go for a bigger grill, such as the 48-inch grill, which enables you to cook for the whole family.
Flat Top Grill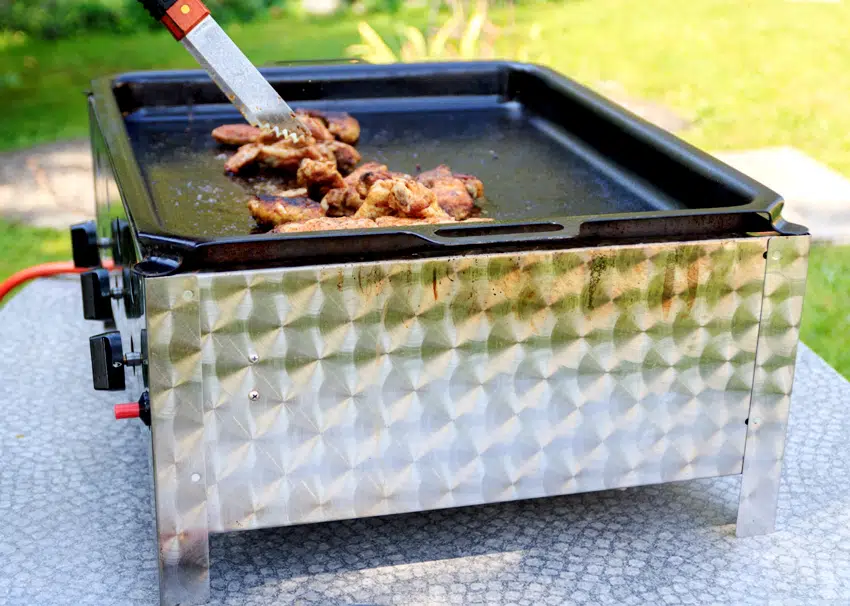 Although not as popular as traditional grills with grates, flat-top grills are an excellent outdoor appliance that can cook various meals. While a flat-top grill is technically another grill, it is distinct enough to warrant its category.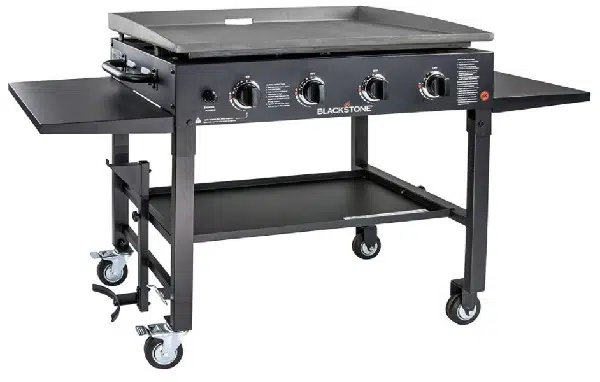 See this Blackstone flat top gas grill at Amazon [sponsored link]
There are many ways to utilize your flat-top grill, from burger patties to eggs to meat. It will not give you the distinctive sear markings that grill grates do, but it will get the job done when it comes to searing things at high temperatures. A flat-top grill is a fantastic way to step up your grill game.
Smoker
Having an outdoor kitchen with a built-in smoker is the crème de la creme for a barbecue setup! Putting it into the countertop is a beautiful choice for an additional working area while preparing meats.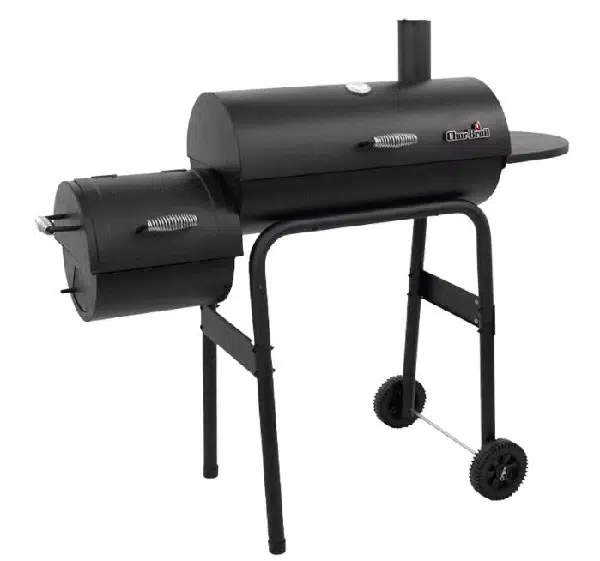 See this Char broil American gourmet offset smoker at Amazon [sponsored link]
We have even built galley kitchens with a cart that could push the smoker inside. If you have already invested in a smoker cart, you will need an outdoor kitchen design that allows you to wheel the cart in and out of the area.
A built-in smoker will provide you more space to cook any food you want to smoke, while a freestanding smoker will fit easily in your garden and can be moved around to make room for other equipment.
Hybrid Fire Grilling Drawers
The quickness of gas grilling is combined with the taste of charcoal and wood in a hybrid fire grilling drawer.
The innovative hybrid fire grill design makes switching between gas and charcoal cooking much more straightforward. The reengineered drawers now function better and are easier to use, thanks to precisely designed holes and slanted surfaces.
It also has a compartment for smaller bits of wood and charcoal. There are many hybrid drawer models to choose from.
All models can generate high heat for searing and at a very low temperature for slow, smoker-style cooking. Hybrid grill drawers are constructed of superior stainless steel that is intended to resist outdoor weather.
Power Burner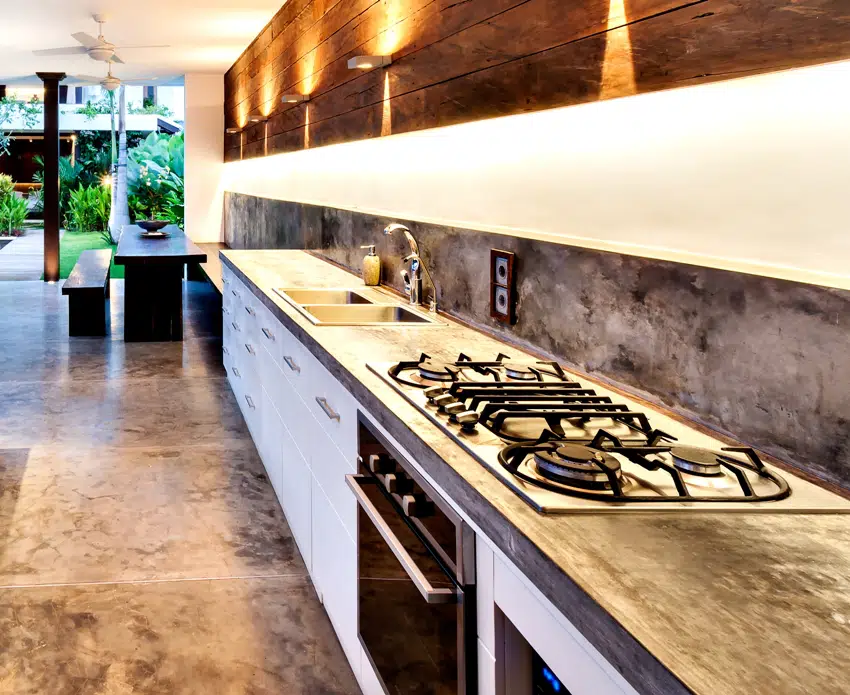 A power burner is a high-intensity burner that can quickly heat a large pot of water to boiling point. It is popular with homeowners who want to cook corn outdoors while grilling meat nearby.
Power burners are particularly appealing since they offer a wide power range, from very high to extremely low. This means you can melt butter or, in some instances, the whole pot.
We usually recess a power burner approximately eight inches below the countertop when we install it. This enables you to place a large pot on top of it without raising it too high. You will be able to cook quicker and enjoy cooking outdoors with a power burner. See our gallery of outdoor kitchen countertops here.
Warming Drawers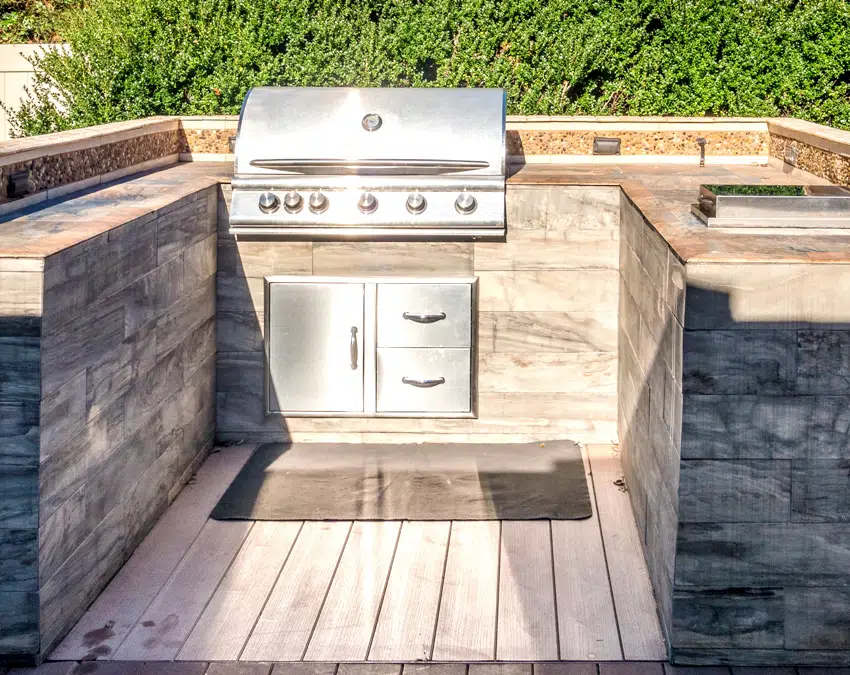 A built-in warming drawer makes life in the kitchen a lot simpler when you need to serve several meals at once. If you often host large groups, a warming drawer will undoubtedly make your job simpler.
Warming drawers are great for keeping food warm until it is time to serve. When you are entertaining guests, keep various meals warm in your outside warming drawer and serve them as needed.
Instead of sweating away in the kitchen or continuously checking on the food, you can enjoy the company of your visitors.
Utility drawers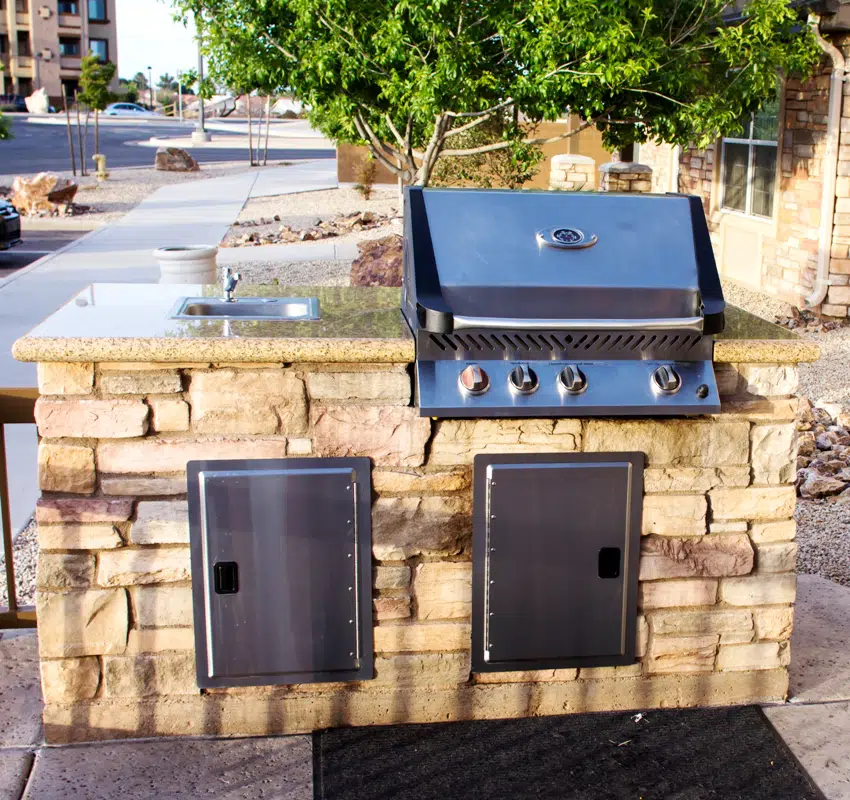 The last thing you want with a lovely outdoor cooking area is to fill it with garbage or trash cans. At your party, say goodbye to the sight of plastic trash cans and large waste bags.
You can be sure that garbage has somewhere to go with a built-in trash receptacle. Utility drawers include an enclosure, gutters, and slides and are designed to be versatile. In terms of aesthetics, you may change the handles to match the style of your outdoor kitchen flawlessly.
Heating trays, trashcans, and paper tower rods may all be stored in the multi-purpose utility drawers. For additional elegance and versatility, you may also hide them behind cabinet doors.
Mini Refrigerator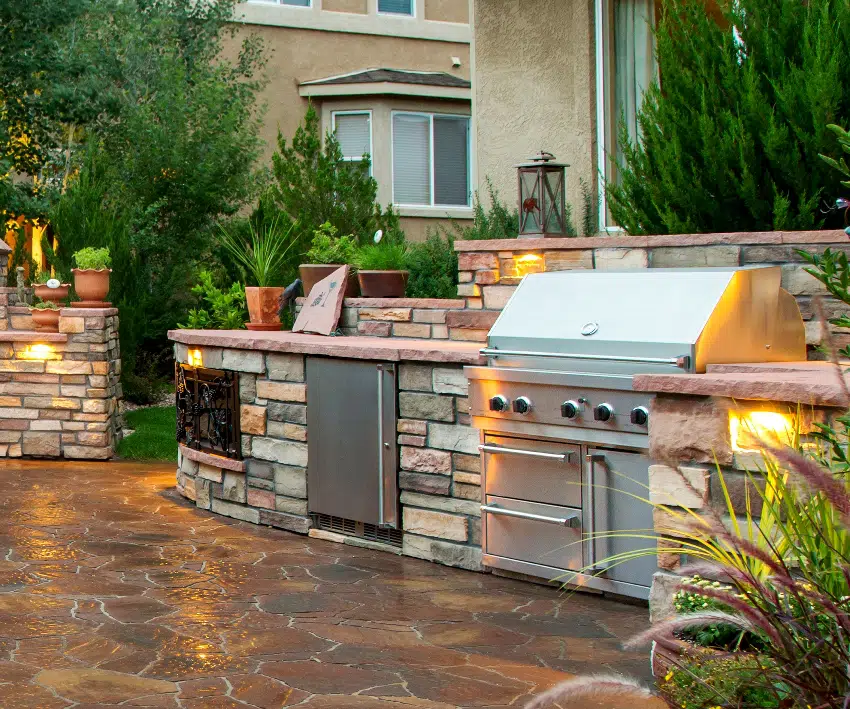 We spoke about keeping things warm when cooking outside, but what about keeping things cold?
Rather than running back inside the house or owning a cooler full of ice, you will be ready to get a cold beverage from your outdoor mini refrigerator at any time. And if you prefer to store meat or other frozen goods outdoors, a freezer is an alternative.
Aside from drinks, an outdoor fridge is useful for chilling leftovers, storing meats or sauces, and keeping ready-to-cook goods at a safe temperature.
Outdoor Pizza Oven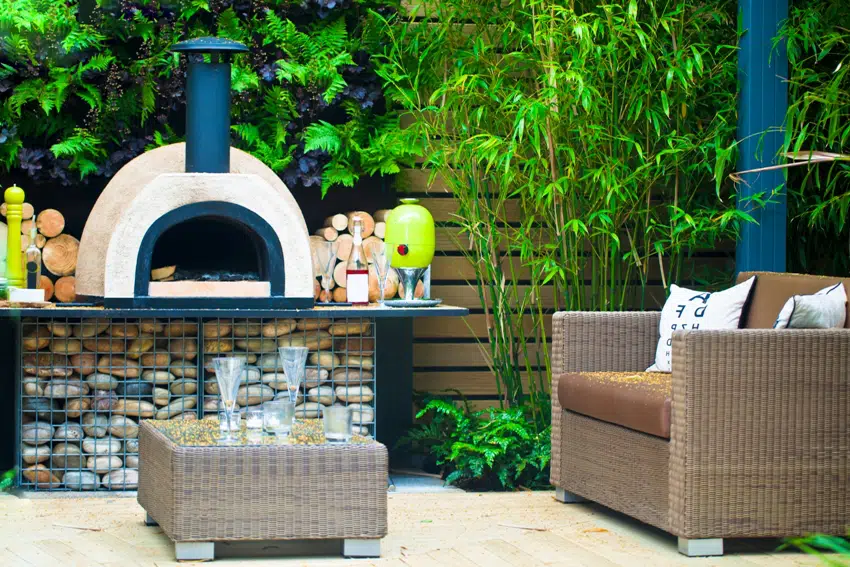 Imagine a backyard pizzeria where guests come to help assemble and bake their own. Some pizza ovens are 36 inches and have adequate cooking area for three medium-sized pizzas.
With the assistance of a built-in pizza oven, you can effortlessly create artisan pizza at home. A pizza oven will not only elevate your outdoor pizza-making, but it will also allow you to bake bread, cookies, and meals such as fish or steak.
Because of their short cooking periods, culinary flexibility, and simplicity of use, outdoor pizza ovens have grown in popularity. To create a pizza prep area, we also build kitchen cabinets with granite counters next to the pizza oven.
Ice Maker
Although you may purchase ice bags at the store, nothing beats the convenience and purity of fresh ice from an outdoor ice maker.
The searing heat may be overpowering on summer days and the easiest method to cope with it is to get your hands on some ice. An ice maker is an excellent addition to any outdoor kitchen. It is often constructed of durable materials like stainless steel.
If you maintain your outdoor ice maker properly, you won't have to worry about breaking down or causing structural damage. They are designed to resist a variety of weather conditions.
Dishwasher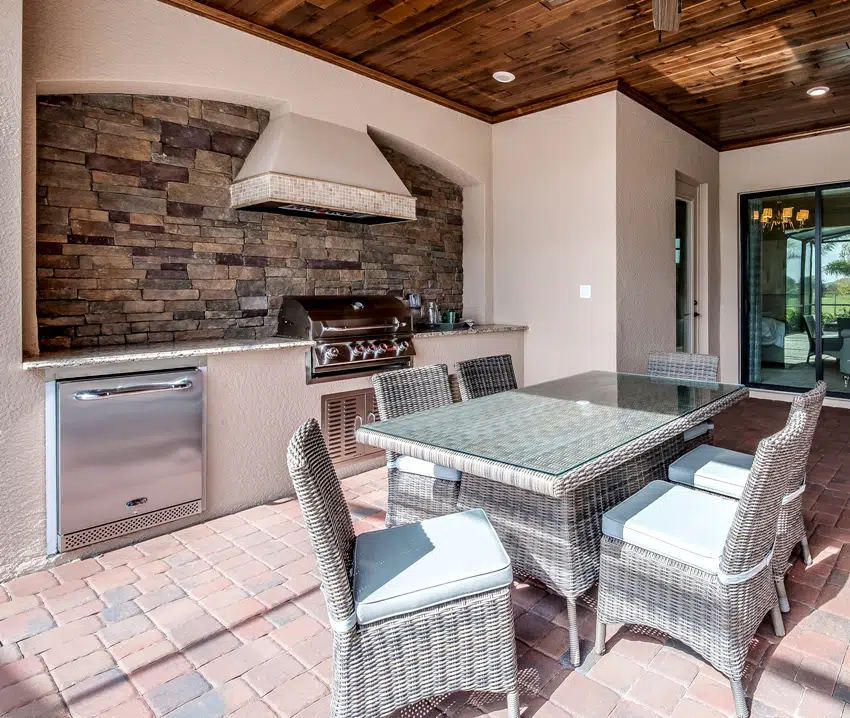 With any kitchen, having a place to clean up after mealtime is essential. Dishwashers offer a handy area for washing hands, doing dishes, and rinsing vegetables.
It may seem minor, but it may make a significant difference in creating an outdoor kitchen that is both comfortable and comprehensive. It transforms the kitchen into a much more inviting and full outdoor retreat.
Outdoor dishwashers are made to withstand severe weather, filth and feature a particular wash cycle for difficult-to-clean goods. Keep in mind that plumbing installation will be necessary for dishwashers. See dishwasher dimensions and standard size guide for more ideas.
The Best Appliance Layout for an Outdoor Kitchen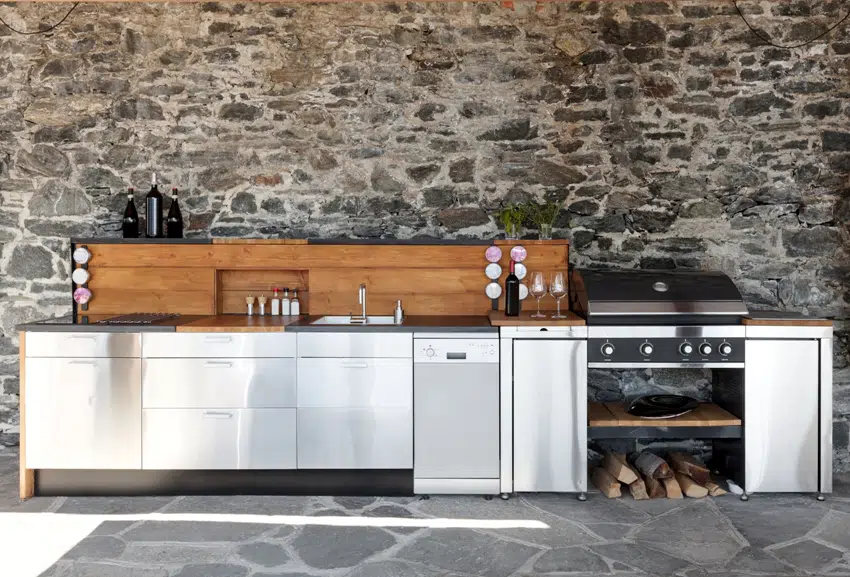 In the end, the layout of your appliances is just as essential as the equipment itself. Specific elements should be considered in your landscape design. Check our gallery of outdoor kitchen ideas and designs here.
Will you be engaging with the people for whom you're cooking? What will be the seating arrangements for the guests?
There are a lot of things to think about when it comes to the layout. The aim is to get to the core of your desires and needs to create a place that is tailored to you.
Selecting Appliances Wisely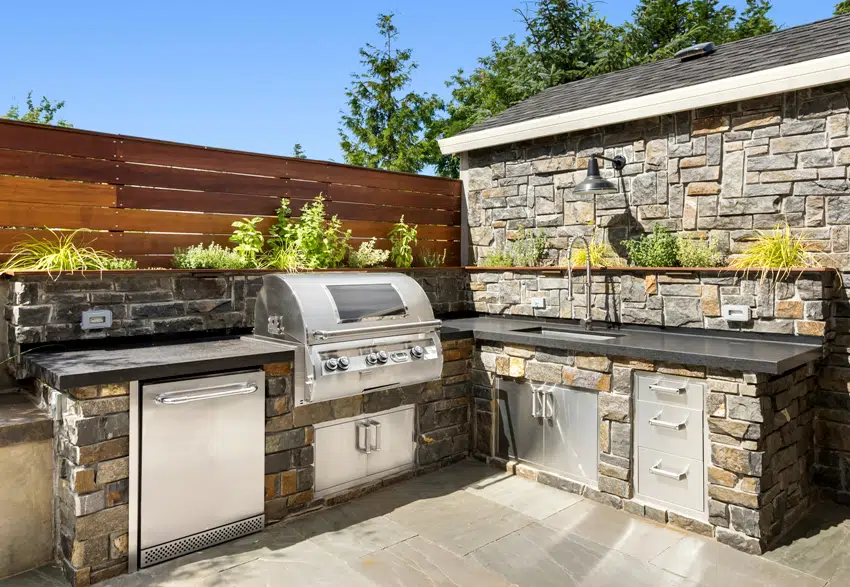 But there is one more piece to the pie, and it's the one that will guarantee that all of your ideas come together as planned. The next step is to choose an outdoor kitchen contractor who is qualified for the task.
You can be sure that the work will be finished the way you want it if you choose a company that understands what it takes to bring all aspects of the project together. You know there is a lot to consider, but by hiring a contractor with the necessary abilities and expertise, all you'll have to do is relax and enjoy your new outdoor kitchen.
Feel free to browse our complete inventory of outdoor kitchen equipment online. We'll be as ecstatic as you are to assist you in achieving the appearance and level of comfort you've always desired for your outdoor kitchen.
For more related ideas visit our outdoor kitchen must-haves design guide here.