Here we share pergola privacy wall designs with how to make this backyard structure more private, different ideas, and the best options for decks with pergolas.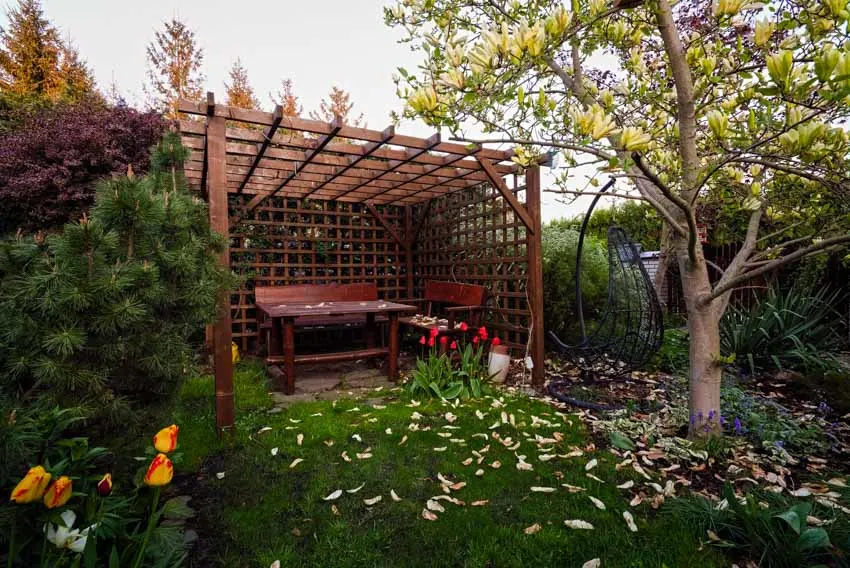 Pergolas are becoming more popular as more people enjoy outdoor living. They provide a dynamic area for gatherings, productive meetings, work, exercise, and relaxation.
They are ideal for creating a space that allows a cool summer breeze while shielding you from the sun's harsh rays. Because contemporary pergolas inherently draw attention, choosing pergola privacy wall designs that meet your lifestyle and budget is critical.
How Do I Add Privacy To My Pergola?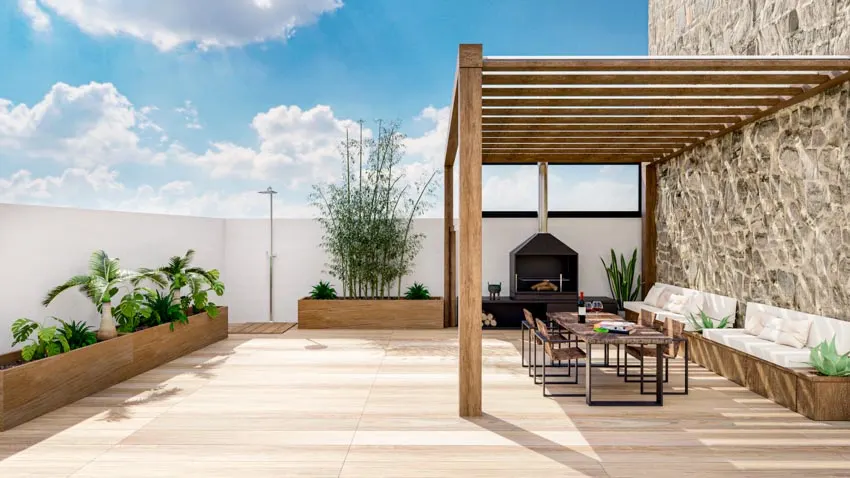 Here are some examples of how to add privacy to your pergola.
Plant Your Pergola: Fill in the sides and open the top of your pergola canopy with twining plants for comfort and shade. The cross beams and poles provide the ideal foundation for climbing flora, particularly in a sunny location.
The vines may take a long to reach the summit, but it will be well worth the wait. When it comes to growing on a pergola, honeysuckle is a popular choice in the south, as well as passion flowers and grapevines.
Hide With Curtains: A few opaque panel curtains, just as valuable for the bedroom as in the garden, will hide your neighbors' view and add to the sensation of an outdoor room. Curtain rods are the simplest method to hold your panels in place. You can also consider drapes around the pergola's sides.
Pergola With Privacy Wall Ideas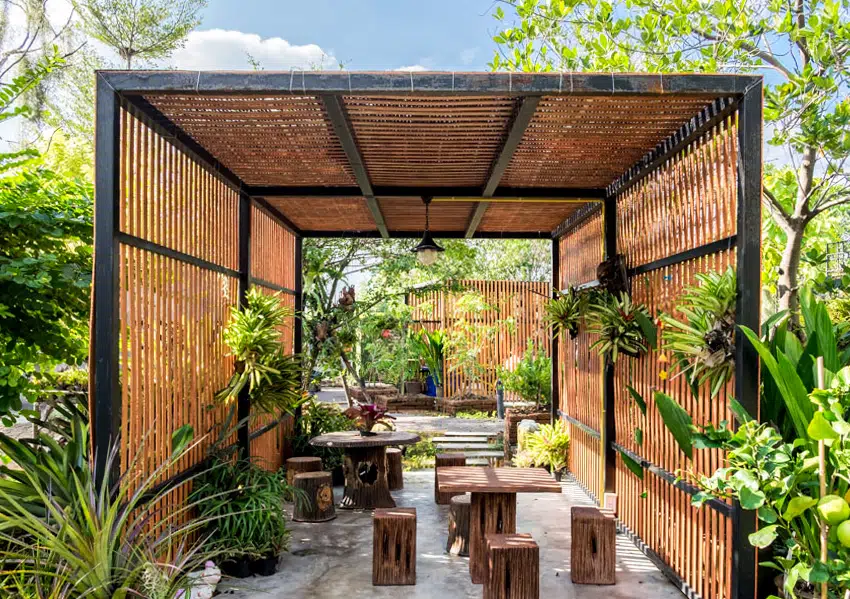 When considering pergola privacy wall options, consider how they will fit into the layout and aesthetics of your home.
Fashionable Screens: Remotely controlled screens or a permanent screen may let you control the appearance and feel of your pergola. If you want to utilize your pergola all year, an aluminum or cloth privacy screen will provide extra protection from the weather.
A well-placed screen is ideal for a contemporary outdoor workplace since it maintains a minimalist design while keeping insects, wind, and rain out.
Strategic Landscaping: Use hanging types of pergola plants to cover an open trellis or a lattice wall to add a new depth to your outdoor area. Another fantastic alternative is to border a pergola with hedges or bamboo rows artistically. Take some artistic license so that any landscape elements don't look to be a privacy wall right away.
Wooden Panels with a Rustic Look: Wooden panels are a good choice if you want extra privacy and like a rustic or farmhouse-type appearance. Slide the doors or panels open or closed to lessen ambient noise or modify the illumination.
If doors are not your style, gain extra privacy for a pergola with a wooden slat privacy screen. Fabric, wood, and even aluminum panels are all sustainable materials that work well with the elegant look of contemporary pergolas.
Pergola Privacy Panel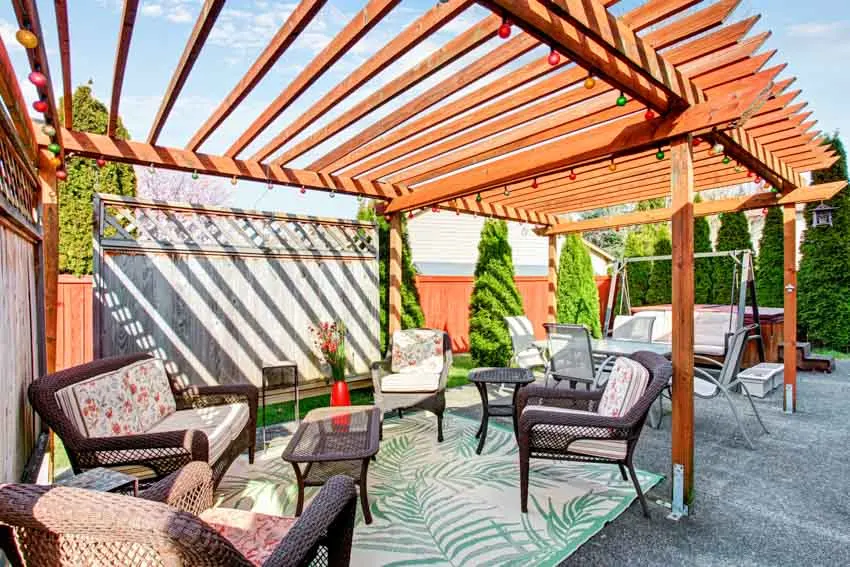 Pergola privacy panels are a great way to make your outdoor space feel more private. These panels are available in various materials, including wood and metal, and painted or stained to match the color of your home. Pergola privacy panels come in various shapes and sizes, so you can find one that will perfectly fit your yard.
Privacy panels are straightforward to install and are typically glass or any materials. You may want them to block out sunlight, or you may want them to let a specific amount of light through. Pergola privacy panel windows can also be curved or straight, depending on their purpose.
They can also be durable aluminum that withstands weather conditions, including rain and snow. The aluminum also resists rusting, making it easy to clean after use. They won't fade over time like steel does under the sun's rays; instead, they'll retain their original color and texture for decades.
Pergola With Privacy Screen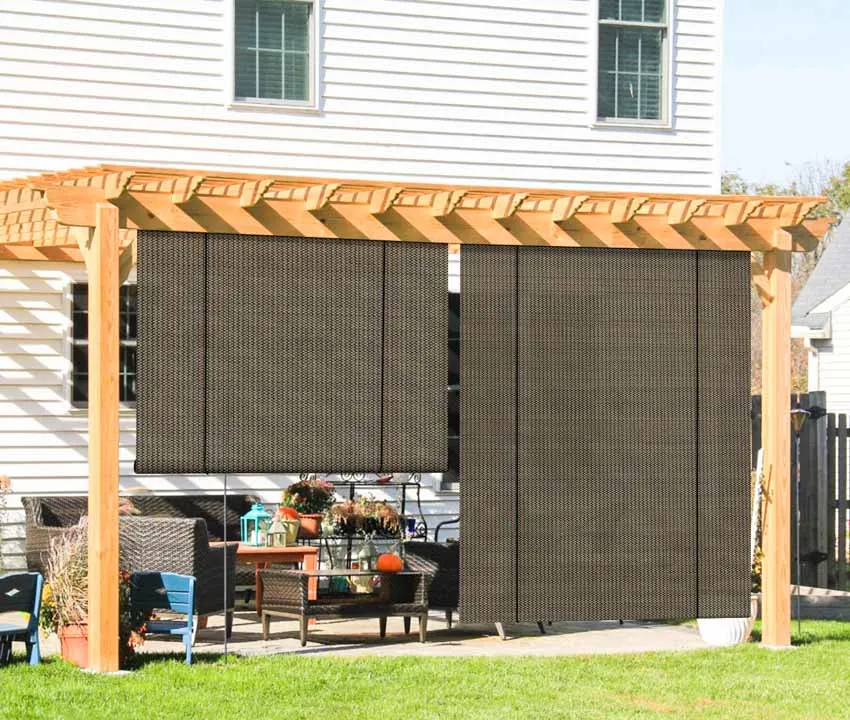 See this pergola privacy screen set at Amazon [sponsored link]
A privacy screen is a fantastic place to start whether you need to block out a noisy neighbor or want to create the impression of outdoor tranquility. You can use pressure-treated timber, cedar, and vinyl to construct pergolas with privacy screens.
Pergola privacy screens are available in the following styles:
• a 36″ lattice privacy wall
• a 69″ privacy wall with a lattice top
• a complete privacy wall
• a lattice top
• a lattice corner
Pergola Privacy Slats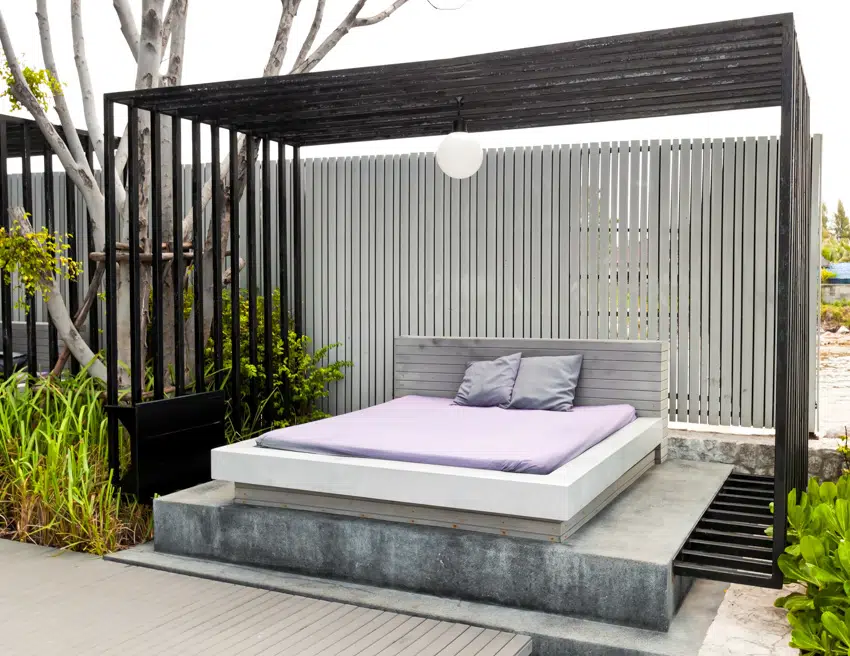 A privacy slat is a piece of material placed over a pergola. These slats provide shade for people who want some privacy but don't want to build a whole new pergola structure. In addition to providing shade from the sun, these slats also add additional support for the pergola structure to stand up better in windy conditions.
You can use pergola privacy slats in many different ways, including as a seating area for your patio or deck or as an extra layer of shade for your backyard. They come in various styles and materials, such as a wood slat wall, so you can find something that suits your style.
Deck With Pergola and Privacy Wall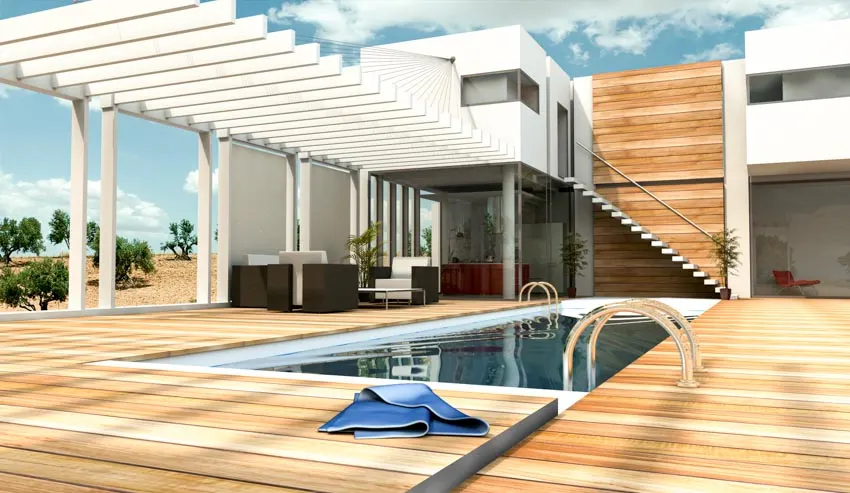 You've constructed a new patio and deck and now have excellent sun and rain protection, but what about your neighbors? Having a backyard that offers your little refuge is essential.
Shutters Or Slatted Screens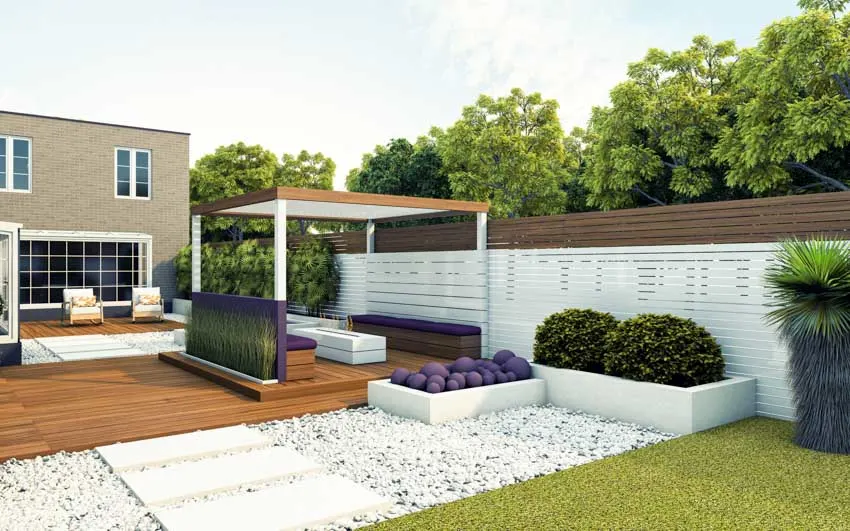 With a more contemporary twist on a conventional pergola, you may create a sense of solitude while reducing the view from neighboring houses with different types of shutters or slatted privacy screens. You can also use stained hardwood, painted treated wood, or aluminum fence slat screens.
Metal Panel Screens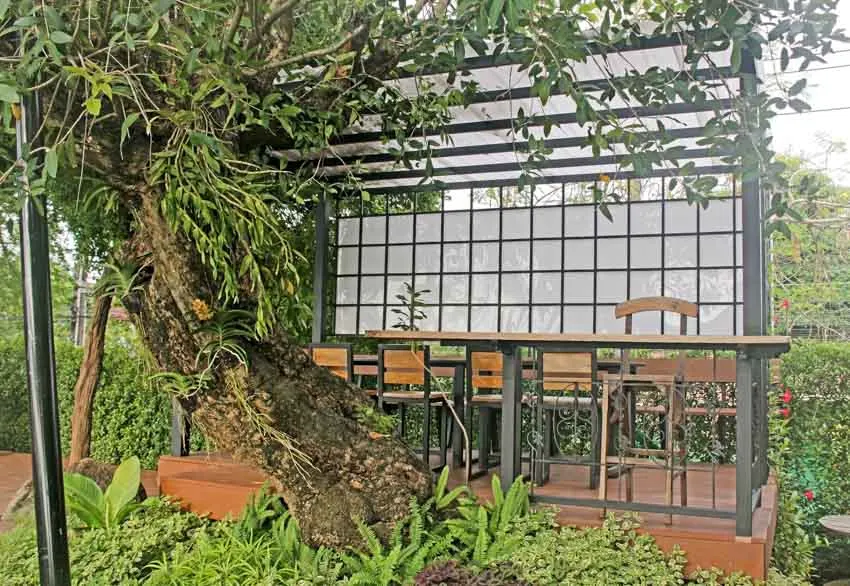 Metal panel screens compliment any garden design and are ideal for enclosing a deck or pergola side area. They may also be used as a free-standing screen wall in the yard or as an aesthetic addition surrounding a spa. They also look excellent as a piece of wall art against a wall.
Stand-Alone Partitions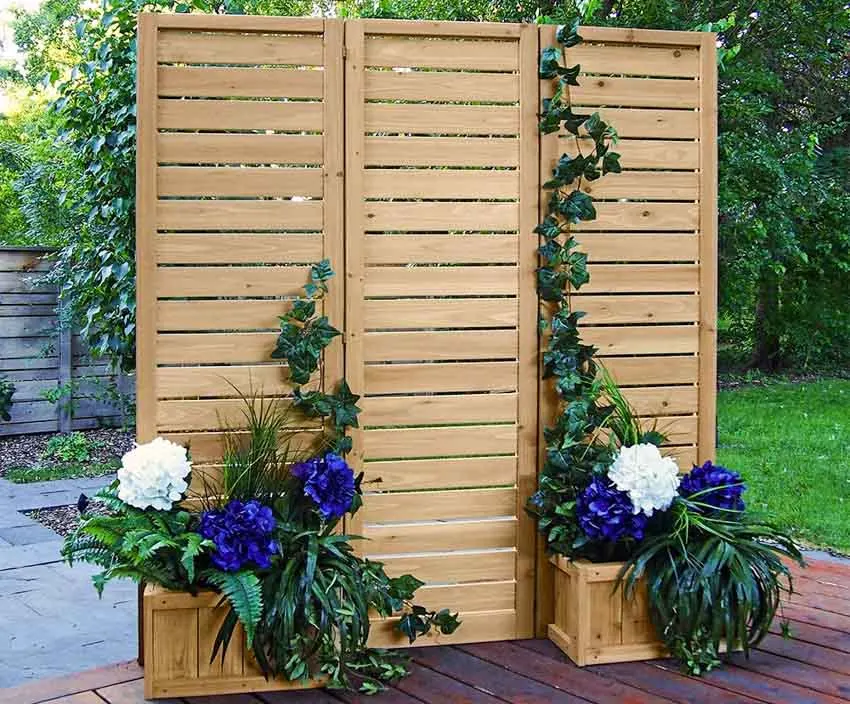 See this outdoor stand-alone partition at Amazon [sponsored link]
We do it in offices to establish work areas, and we can do it in a garden or yard. The partition barriers may be total panels, but they are staggered in location and varied heights such that they obstruct views into the deck while not making you feel confined.
Best Screening For Pergolas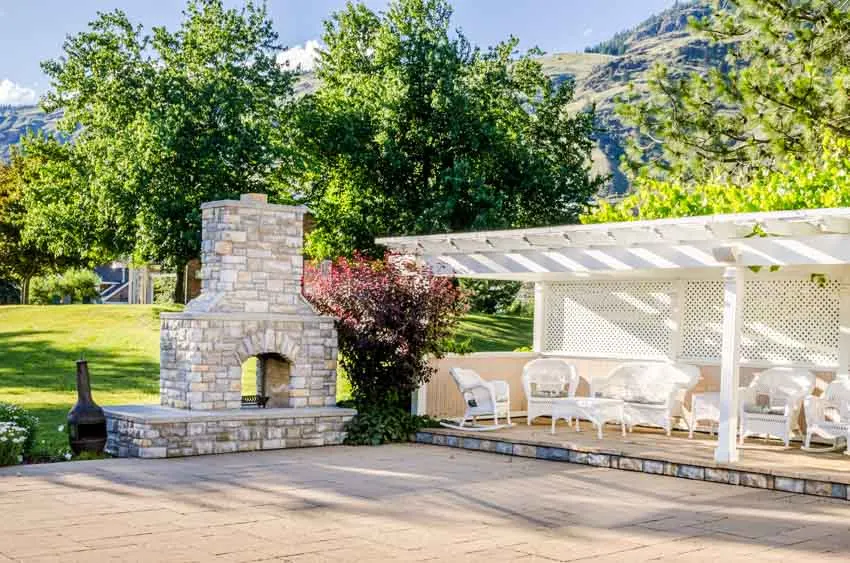 To help you select which screening material is suitable, below are some of the most frequent forms of screening material.
Fiberglass: Fiberglass mesh is the most popular form of screen, not just for pergolas but also for most types of porches. It is inexpensive and improves sight by reducing glare from exterior lights. Fiberglass is flexible and does not readily fold, unlike other materials. On the other hand, it is more prone to tearing and stretching.
Screen for Pets: Pet paw damage — at least on the bottom half of your screened pergola – may be a concern if you have dogs. Pet screen is far more durable than regular mesh.
It is constructed of a split and puncture-resistant plastic mesh and is most suitable for pet owners or parents of little children. It gives less visibility than other displays due to its thickness and might be more costly.
Aluminum: Aluminum is also a popular screen material, although it is more costly than fiberglass. Although it gives superb vision, you may be bothered by the glare, especially if it is bare aluminum. It is less flexible, making installation harder, but it is also stronger.
Bronze, Steel, and Copper: Bronze, copper, or stainless steel are solid, long-lasting, and famous because of their distinct color and more beautiful appearance than conventional mesh. These metals, unlike aluminum, can withstand the elements better in coastal settings.
How To Screen In Pergola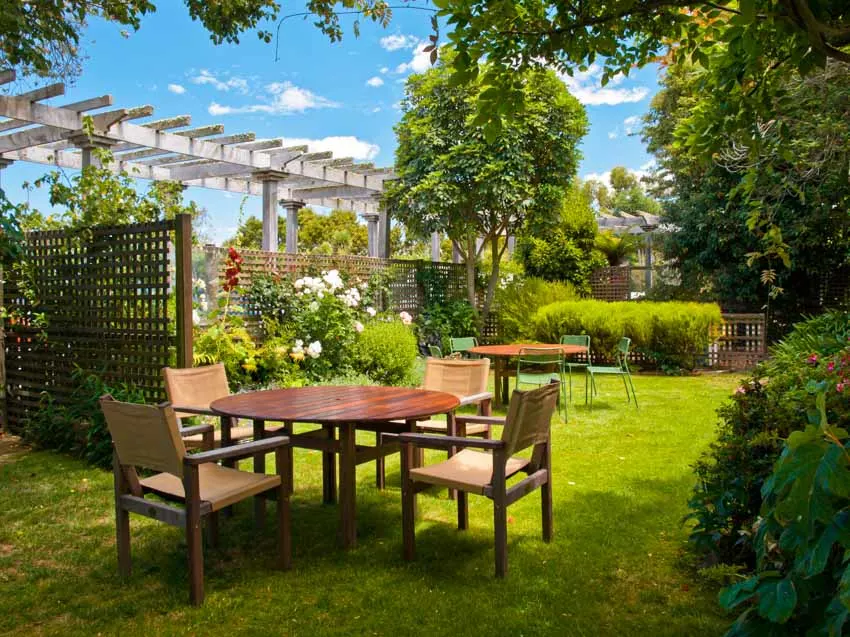 You may follow these easy instructions if you want to add a screen to your pergola to give further pest protection.
Using a Shade Cloth: If you don't want to deal with the inconvenience of pergola screens, a shade cloth is a simple solution to enclose your pergola. It gives complete privacy and is removable.
You may attach it to an existing structure, such as an arbor or pergola framework, or build one yourself out of wood, metal, or plastic.
Removable Screening: These low-cost screening materials are readily available at most local hardware shops. You can do it yourself or hire a contractor to do it for you. Although it is not difficult to install your detachable screen in a pergola, get guidance and assistance from a handyman if you are unsure how to do it.
A pergola is an excellent investment since it boosts the value and appeal of your home. A pergola privacy wall, fence, or strategically placed plants may enhance the mood of an outdoor area while keeping inquisitive eyes at a distance. A privacy wall for your pergola is a wise investment, even if you don't believe it is essential.
See more related content in our article about pergola dimensions on this page.