This beautiful gallery of pergola fence ideas includes what it is, the different designs, their benefits, and how close should a pergola be to a fence.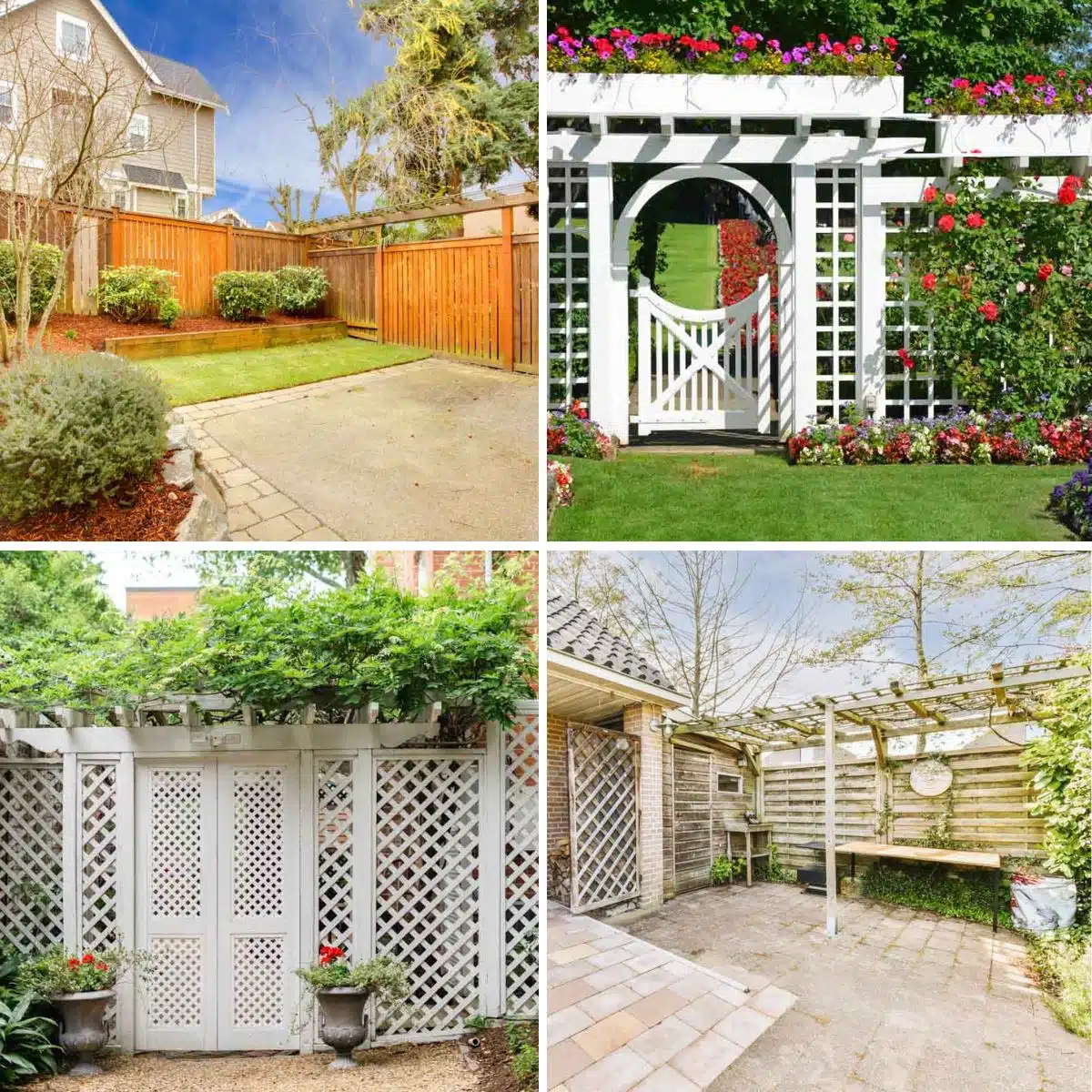 Check out why Pergola Fences are the bee's knees! Not only do they add a touch of class, they're sure to boost your curb appeal. With amazing visuals that'll take your outdoor space to the next level, be proud of your pergola fence – it's sure to turn heads and create an inviting outdoor living space.

Transform your backyard into a chic and functional outdoor oasis with a pergola fence. Get an effortless blend of style and functionality for a spot that looks and feels amazing. Roam around the sophisticated atmosphere while enjoying coffee in the morning or chatting with friends in the evening – blissful relaxation in its finest form.
A pergola fence is poised to elevate your outdoor space to a whole new level – ensuring comfort, offering an entertaining space, and providing an eye-catching backdrop for gatherings.
Whether it's around your patio, pool or garden adorned with vibrant flowers, this structure transforms the experience of outdoor living. It's the ingeniously perfect solution for the aesthetic and functional revamp of your precious outdoor space.
What Is A Pergola Fence?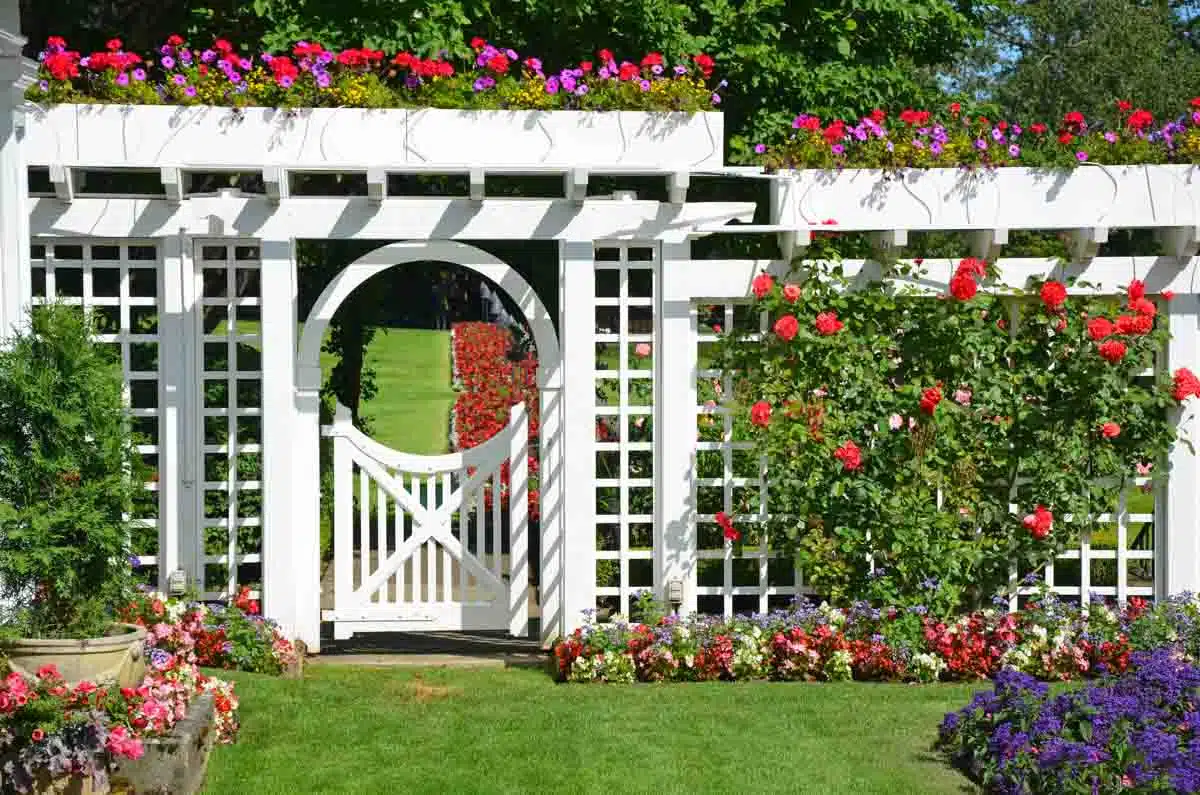 A pergola fence is a multifunctional and aesthetically pleasing outdoor feature that combines the calming atmosphere of a traditional pergola with the added bonus of privacy. A pergola fence can make for the perfect grilling station or a comfortable spot to unwind by the pool.
What's more, it gives your space the perfect touch to stand out from the rest. It also serves as an excellent boundary line and security measure– enhancing the overall comfort and experience of your outdoor oasis.
Customarily, this outdoor design is usually composed of upright posts that prop up multiple horizontal beams or rafters – a setup all-too familiar to us. This beautiful pergola idea creates an attractive element of aesthetic appeal.
Contractors can construct your pergola fence from reliable materials like wood, vinyl or metal, and customize it to seamlessly fit in with the style of your outdoor area. Adding some pops of color with plants or hanging flowers can really make it stand out.
Stimulate your guests' sense of sound by hanging wind chimes that create a soothing, entertaining backdrop for your gatherings.
Pergolas, offer just the right amount of light and shadows and latticed ceiling design types lend a refreshing hint of sophistication while allowing you to create a cozy, comforting seating area that further complements your patio dining experience.

The ultimate advantage of a pergola fence is its open-air style: it ensures perfect air circulation and gives an awesome sense of spaciousness; which, is exactly what interior designers look for when they design outdoor areas that beg to be enjoyed.
Fence Design Styles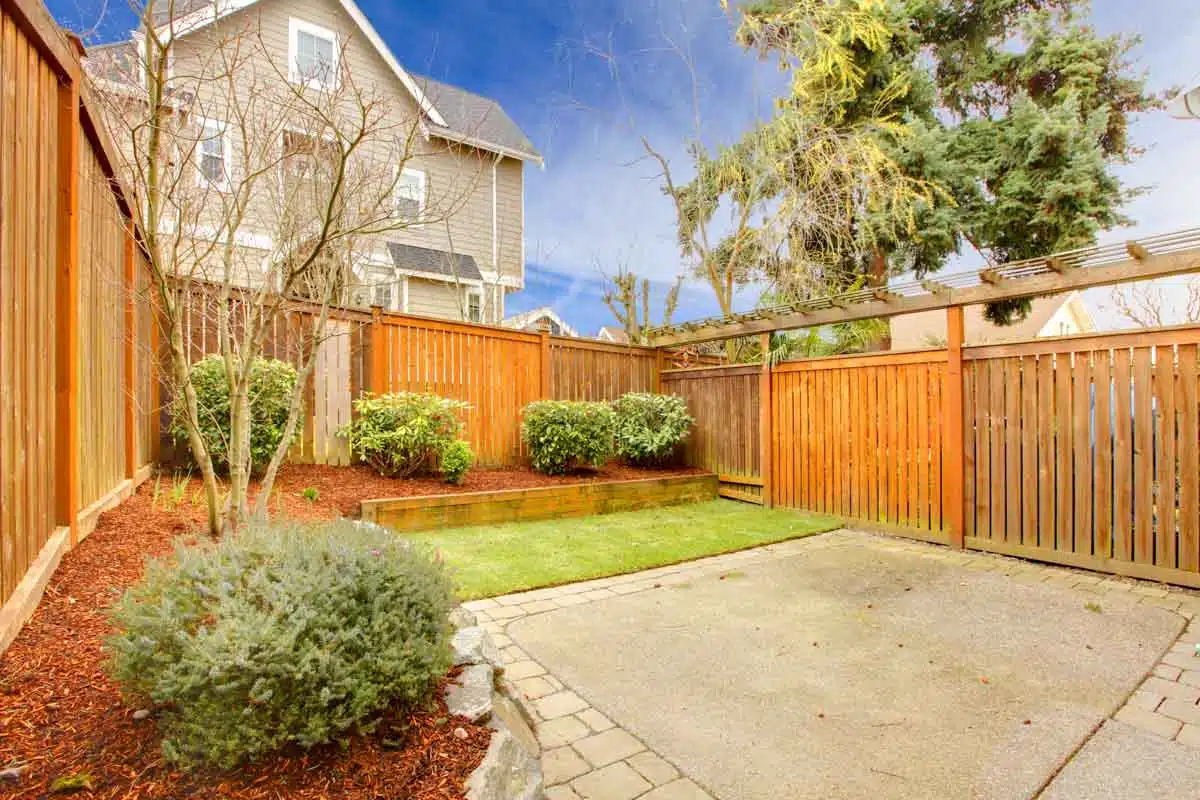 Traditional Pergola Fence: Whether you're looking for a perfect secluded hideaway or just want to spruce up your garden, a timeless traditional design will add class and elegance, and a fantastic ambience for entertaining.
These amazing creations come in all sorts of shapes, sizes, and styles, however, here are some of their primary characteristics:

Vertical columns and posts
Evenly spaced crossbeams
Lattice panels or slats
Climbing plants
Decorative end caps
A pergola has got it all: vertical posts, horizontal beams, and a lattice- or slatted-roof. This timeless addition is sure to make any setting look amazing and can be painted to match your home's exterior.

Modern Pergola Fence: Still searching for that wow-factor? A modern pergola fence seamlessly integrates with your patio, promising an entertaining, stylish, and chic outdoor experience.
This modern, outdoor décor shouts sleek and minimal. It's got its clean lines, geometric shapes, and cool materials like metal or glass – ideal for a city environment or small layout. It'll give your pad an up-to-date, streamlined vibe – just the right setup for a fun BBQ grilling session with friends.

A few features of a modern pergola fence include:
Clean minimalist design with modern look
Eco-friendly construction with composite or recycled building materials
Built-in tech like outdoor speakers, wifi mesh systems, or misters.
Motorized sun shading louvers
Integrated lighting with solar power and light detection
Wider roof design with grid design
Low maintenance powder-coated or rust proof materials
Privacy Pergola Fence: Strategically have both style AND security with a privacy pergola fence. This cutting-edge solution redefines cool practicality.

Want a bit of extra privacy? This pergola fence design is perfect for you. Solid or slatted ceiling panels, curtains or screens—you name it—all these goodies will help keep nosy passersby out of sight.
You can even add climbing plants or grapevines to create a lovely green wall that looks and smells wonderful and creates privacy for your space.
Attached Pergola Fence: Attaching a pergola to your fence, house or wall is a great idea for creating separate mini-living spaces in your yard. Add built-in bench seating or a bistro set and you have a restful place for a morning coffee or to read a book.
Not only will it look lovely but it'll also come in handy – giving you respite from the sun or cover in case of rain. A total win-win!
Multifunctional Pergola Fence: This design is totally awesome—it takes the classic pergola fence, a property-enhancing option, and elevates it to a super stylish outdoor living area complete with top-quality products.
With let's-chill seating, outdoor kitchens, fire pits, and cozy pergola lighting combined with installation–quality gates, hanging out here is more conducive to relaxation. So, if you really want to spruce up your shindig or chill-out space while remaining within your budget, this is definitely the way to go.

Some of the attributes of a multi-functional pergola fence crafted from robust material include:
Built-in planters
Storage compartments for storing pillows, cushions, and garden tools
Built-in bench seating with storage
Attached outdoor kitchen
Sliding shade screen panels
Electrical outlets
Water features such as water walls or fountains
Pergola Fence Topper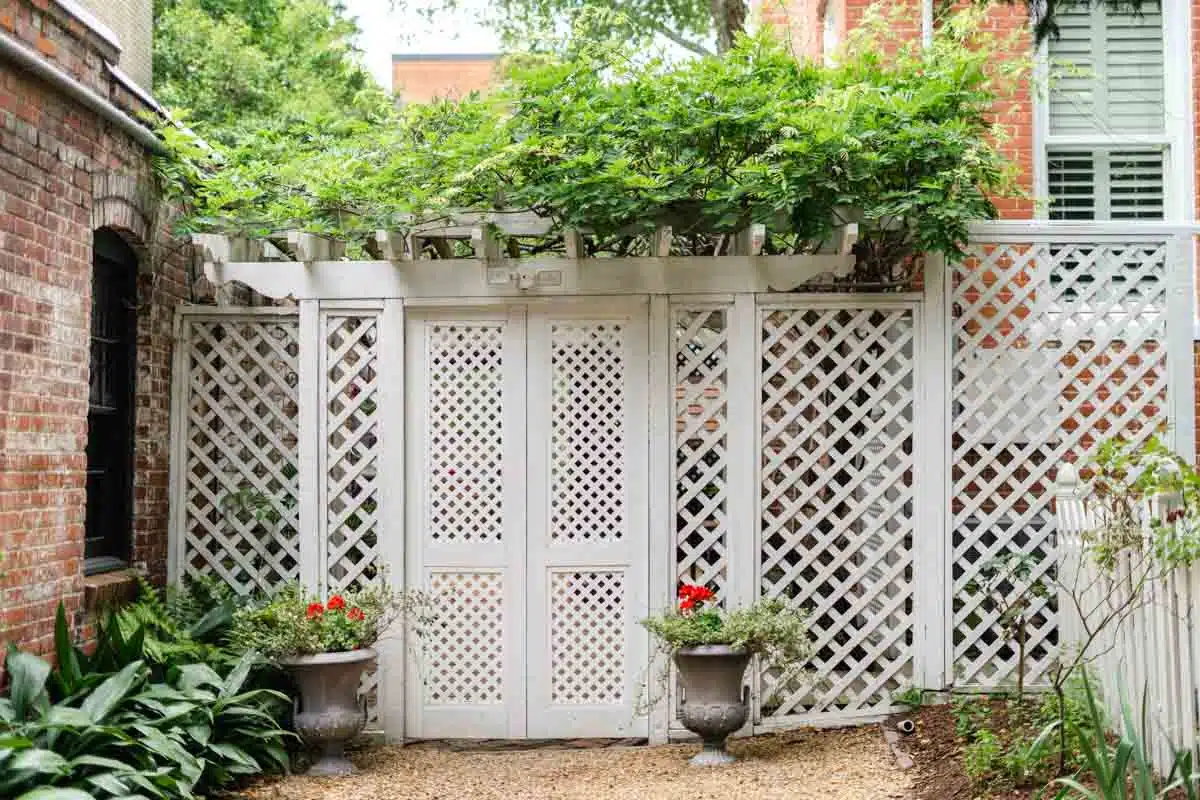 A pergola topper can turn an otherwise boring fence into an absolute showstopper. Combining wood fencing with other materials makes such a stunning statement and gives your outdoor living area charm and beauty. Who would've guessed that it was so simple to mix up the mundane?
Sprucing up the fence with a fresh coat of paint will make quite a difference. One can totally transform its look in just a few hours and give an old fence some new life.
Installing a pergola fence topper tops off your fence to increase height and keep those nosy neighbors from peeking in. What's more, a pergola fence topper gives you an opportunity to let creepers and other climbing plants grow, adding a natural and luscious element to the fence.
That way, your privacy is maximized and your outdoor space looks gorgeous – making for a vibrant focal point with gates adorned with shades of green everywhere.
Some of the best plants for a pergola topper installation include:
Wisteria
Trumpet vines
Jasmine
Honeysuckle (favorite for hummingbirds and butterflies)
Clematis
Climbing roses
Grapevines
Fence Pergola Trellis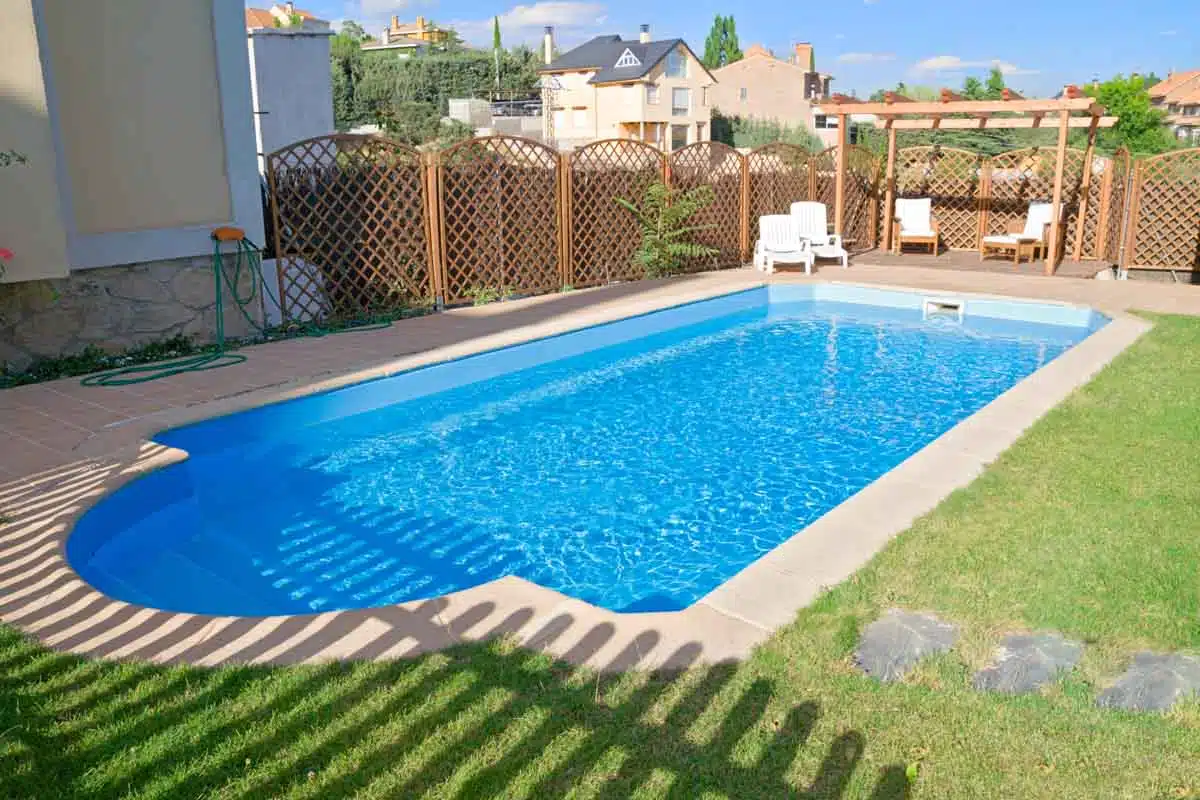 Add a bit of pizzazz to your landscapes with fences, pergola, and trellis. These timeless yet stylish designs are perfect for creating an elegant outdoor oasis.

The fence that surrounds a garden may well do double-duty as a trellis, so long as the crops grown on the fence can be rotated or grown on different sides in different years. – Solar Gardening: Growing Vegetables Year-Round the American Intensive Way, Leandre Poisson, Gretchen Vogel Poisson
What a great way to get the best of both worlds – a fence pergola trellis, combining all the features of these three elements, you can create an elegant look that offers both privacy and style. Plus, it'll add a truly stylish touch to your outdoor design – talk about a major upgrade.
With the fence pergola trellis, homeowners can easily breathe life into their backyard – no need to keep a worried eye out for prying eyes. And if you've got a knack for gardening, why not take it one step further and grow some stunning vines and foliage? It'll give you even more privacy, plus there's something so enchanting about having your own little green oasis.
Don't take any chances; make sure to hire a professional contractor. Unless you're a serious DIYer, bring in the experts who can answer questions and offer information about your project, budget and installation to help you transform your regular fence into something really special.
Garden Fence Pergola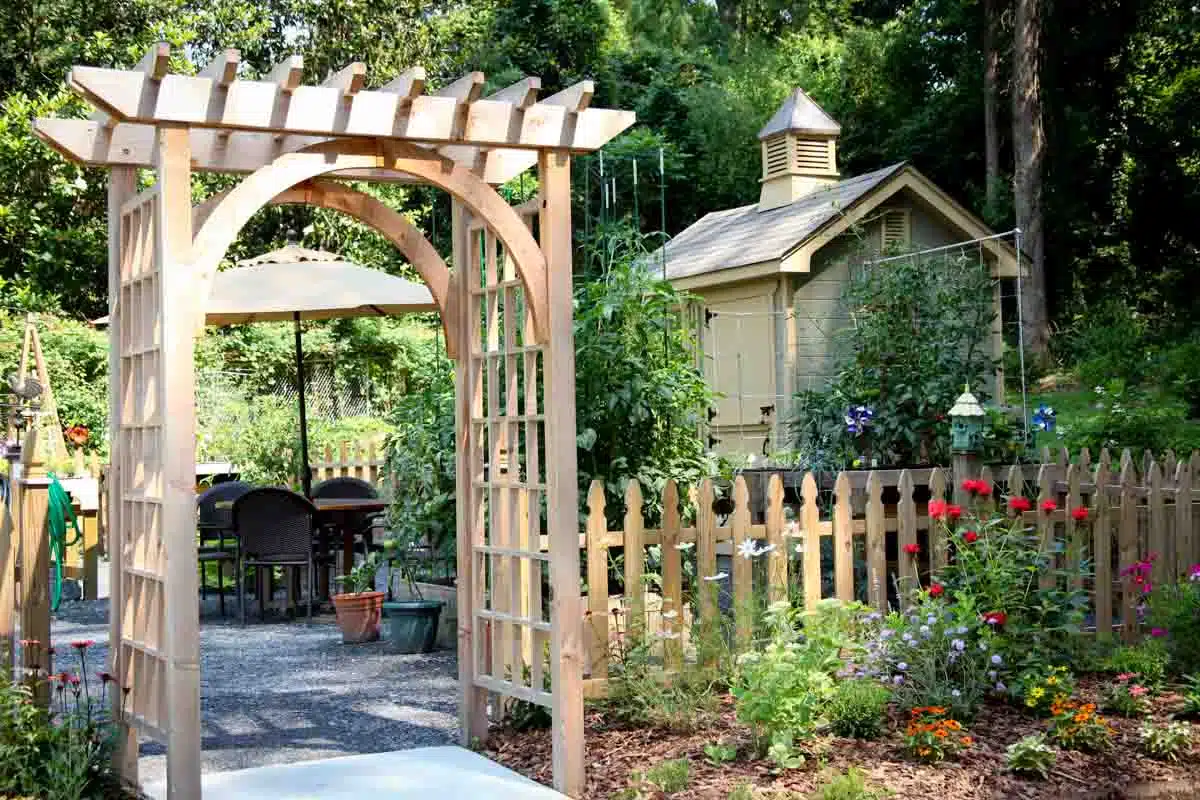 A garden fence pergola takes the functionality of a fence and makes it even better with all its decorative, green features. Just like an arbor or trellis, it offers a perfect backdrop so pergola plants have something to climb and you get sweeping swathes of gorgeous greenery.
Furthermore, this fence design definitely gives your garden an eye-catching look and totally transforms the outdoor space. Adding some stylish panache to the area, it's a great way to spruce up your backyard garden.
You'll discover that a pergola garden fence is usually crafted with vertical posts or columns, connected by horizontal beams to form a framework mostly used for vines.

Some ways to enhance your garden fence is to add the following:
Go vertical with plants up the structure to create a living green wall
Lay down an outdoor rug to create a peaceful sitting area
Add decorative elements that reflect your personality like sculptures are art pieces
Bring in a blissful water feature to create a soothing ambiance
Add string lighting or hanging lanterns to really enhance the look and feel in the evening hours
Flex Fence Pergola
Read more about this high quality flex fence pergola company at Amazon [sponsored link]
With adjustable louvers and slats, the Flex Fence pergola, available in an array of colors, is designed to provide you and your family with optimal protection from the elements.
You can really customize your outdoor area, infusing your personal ideas to enjoy it all year round – no matter what comes your way. Plus, it looks great too – adding style and flair to any setting.
The FLEXfence Louver System – simply a brilliant invention for giving us control of sunlight, shade and privacy. This awesome hardware turns your outdoor space into a thing of beauty and practicality. So no more worrying about the sun in your eyes or nosy neighbors.
Designers far and wide have been turning to the FLEXfence Louver System company in droves. It's an awesome hardware kit that helps whip up adjustable louver pergolas, fences, and more of those outdoor structures quickly.

These state-of-the-art louvers are a cinch to adjust, helping homeowners swiftly dial in just the right amount of airflow, sunshine or shade. It's awesomely easy to customize your environment and find the perfect balance for a cozy atmosphere.
Benefits Of A Pergola Fence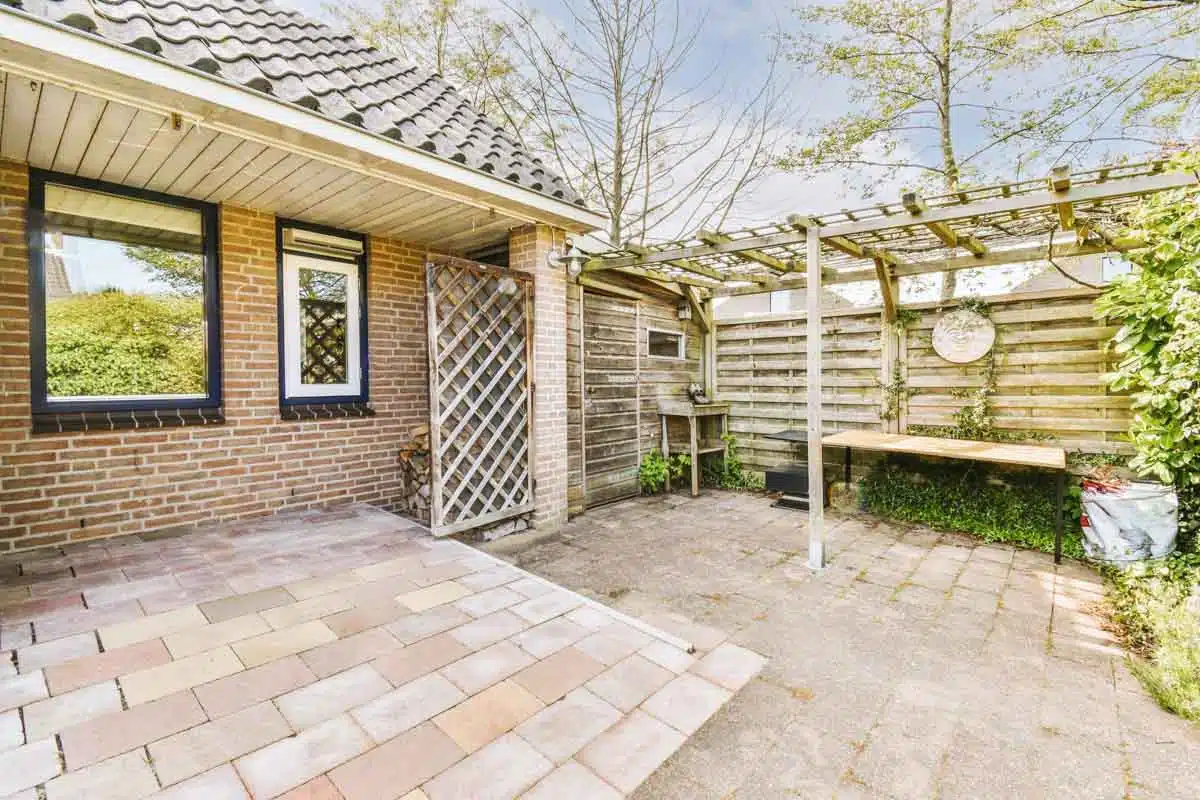 Enhance the look of your backyard – A pergola fence is a great way to spice up your outdoor decor and make it feel cozy and inviting- maybe for a dinner with friends, an awesome party, or just relaxing in style. These fences add a desirable element to family gatherings, providing ample shade for decks.

Shade you from the sun – Moreover, this fence is the perfect way to beat the heat and enjoy some time out on your pergola furniture without a second thought about those pesky, harmful UV rays. Plus, you can soak up that sunshine and still be sheltered from its harshness.
Create a cozy outdoor living area – A pergola fence can also give your backyard a cozy, "getaway-from-it-all" feel – letting you take pleasure in some fresh air away from prying eyes. So, go ahead and take advantage of this one-of-a-kind privacy.
Match your backyard theme and aesthetic – No matter your style preference, pergola fences are bound to give your outdoor space a winning touch.
There are loads of diverse materials and exciting styles to select from so you can effortlessly find a fence that meshes perfectly with your house and landscaping – voilà!
Add a serene and peaceful feel with plants – Sprucing up your garden with a pergola fence is pure perfection for you and your family. Let it be an invitation to the outdoors, facilitating lush vegetation as it adds a touch of tranquil charm.
Say hooray for some radiant greenery – you won't regret it! Plus, who doesn't love a bit of variety? It'll make way more than just the scenery pop. Introducing plants can bring your ideas to life, creating a vibrant and dynamic space for family and friends.

Customization options – Designing your pergola to fit your vision has never been so effortless and fun. Whether it's a certain size, shape, or style you're looking for, customize it 'til you've created the perfect outdoor paradise. You can integrate lighting, storage, seating, and shade canopies just to name a few.

How Close Can a Pergola Be To a Fence?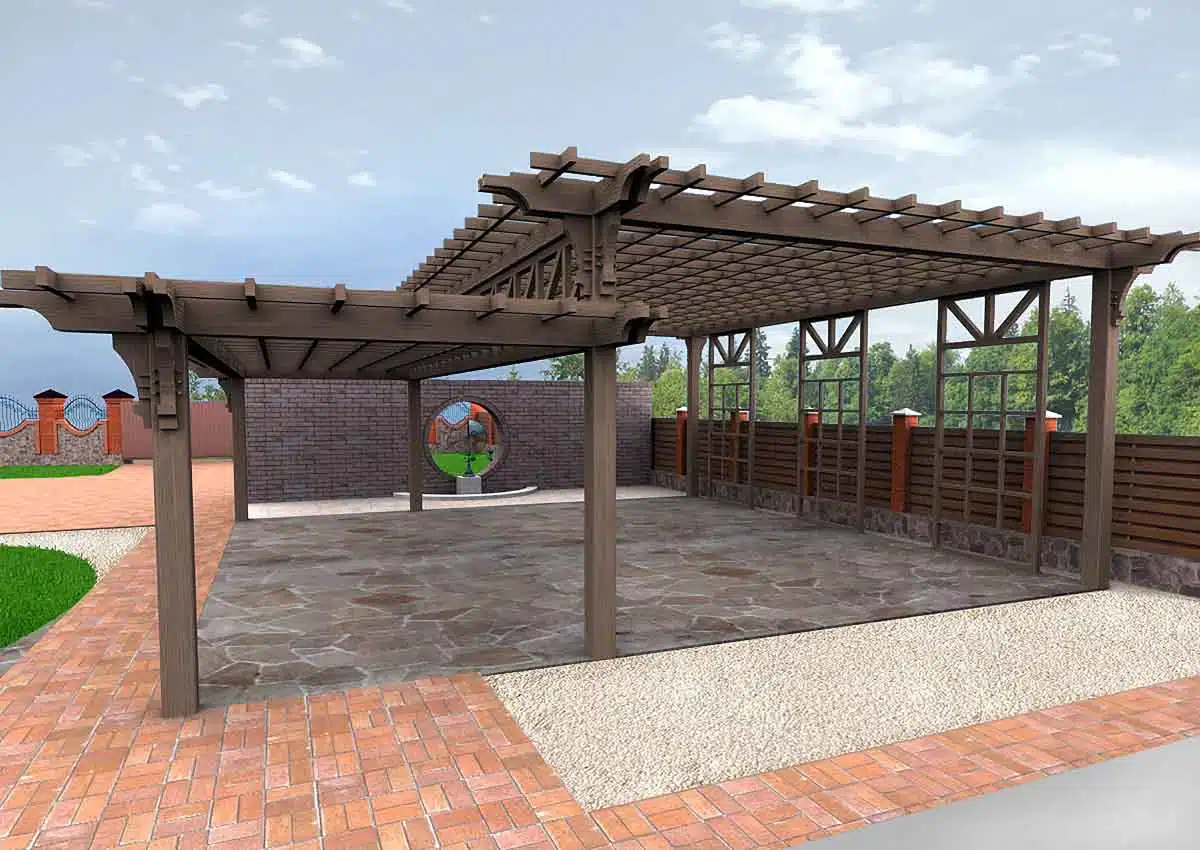 It really varies when it comes to the distance between a fence and a pergola—depending on your locale—so be sure to check out local housing regulations or homeowners' association rules.
Generally speaking though, there's usually a gap of at least 16 feet from a perimeter fence according to Outdoor Elements.

Some factors to consider are:
Fire safety – many building codes range from 3 to 5 feet (approximately 0.9 to 1.5 meters) minimum distance to reduce the risk of a fire spreading
Accessibility – is there room to maneuver around the structure for maintenance and repair
Structural integrity – will the structure interfere with plant growth, snow accumulation or put undue pressure on the fence from wind loads?
So, how far is it? Well, that's quite the loaded question. It could be right around the corner or miles down the road; it all depends. You've gotta do your homework to close that gap – and there's no leeway here.
See more related content in our article about the best wood fence alternatives on this page.